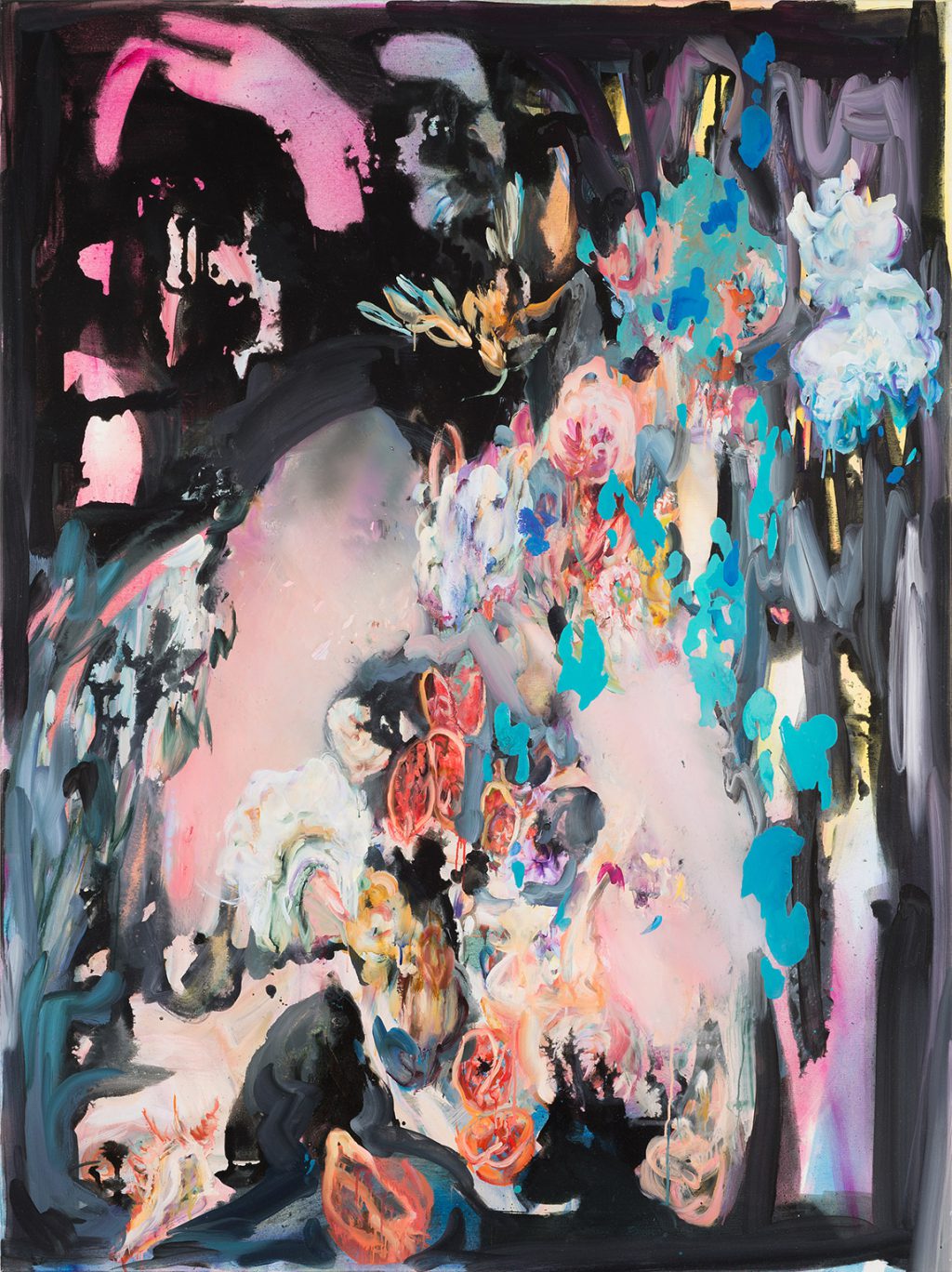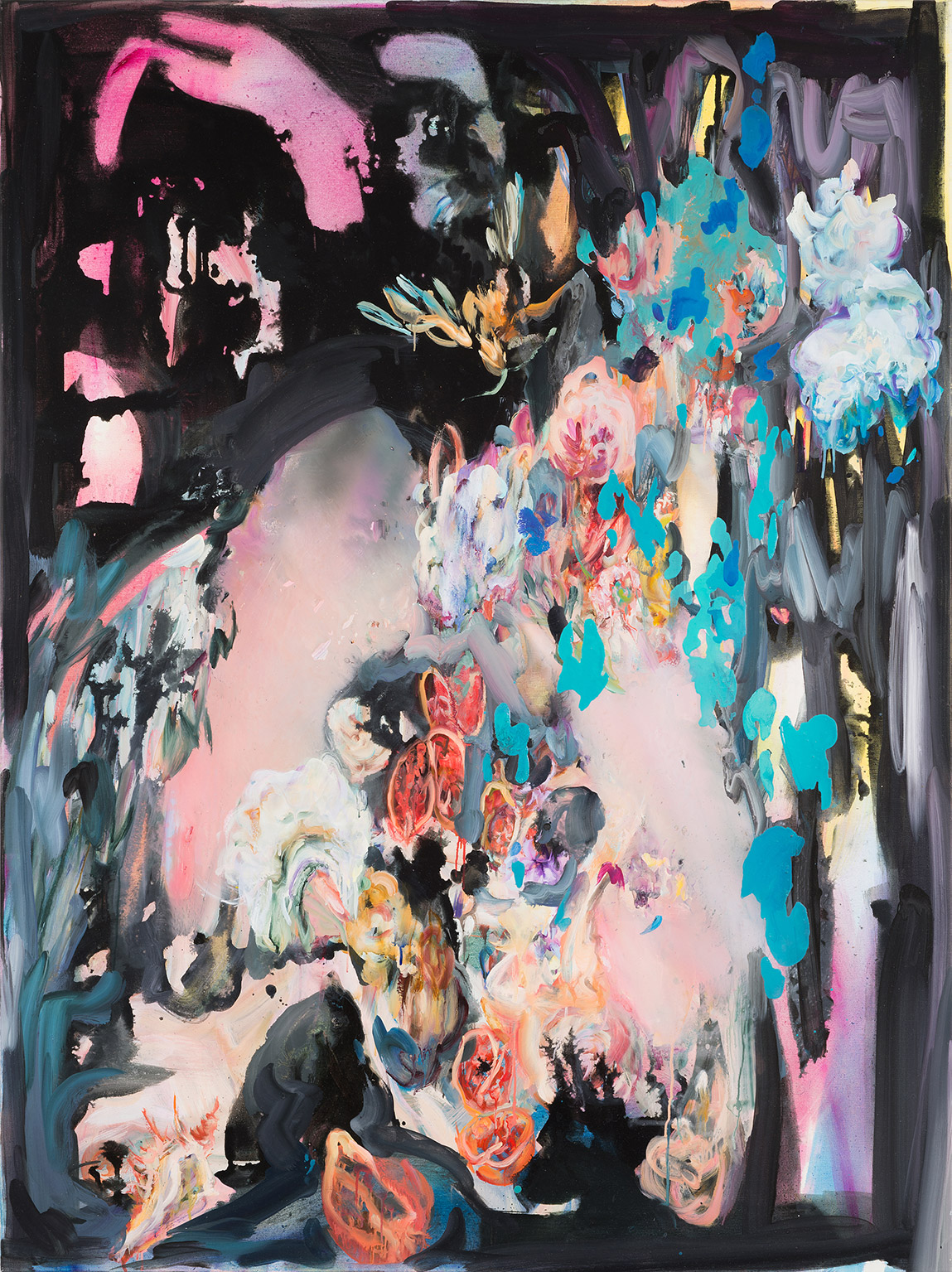 Kiss them for me
2014
Mixed media on canvas
160 × 120 cm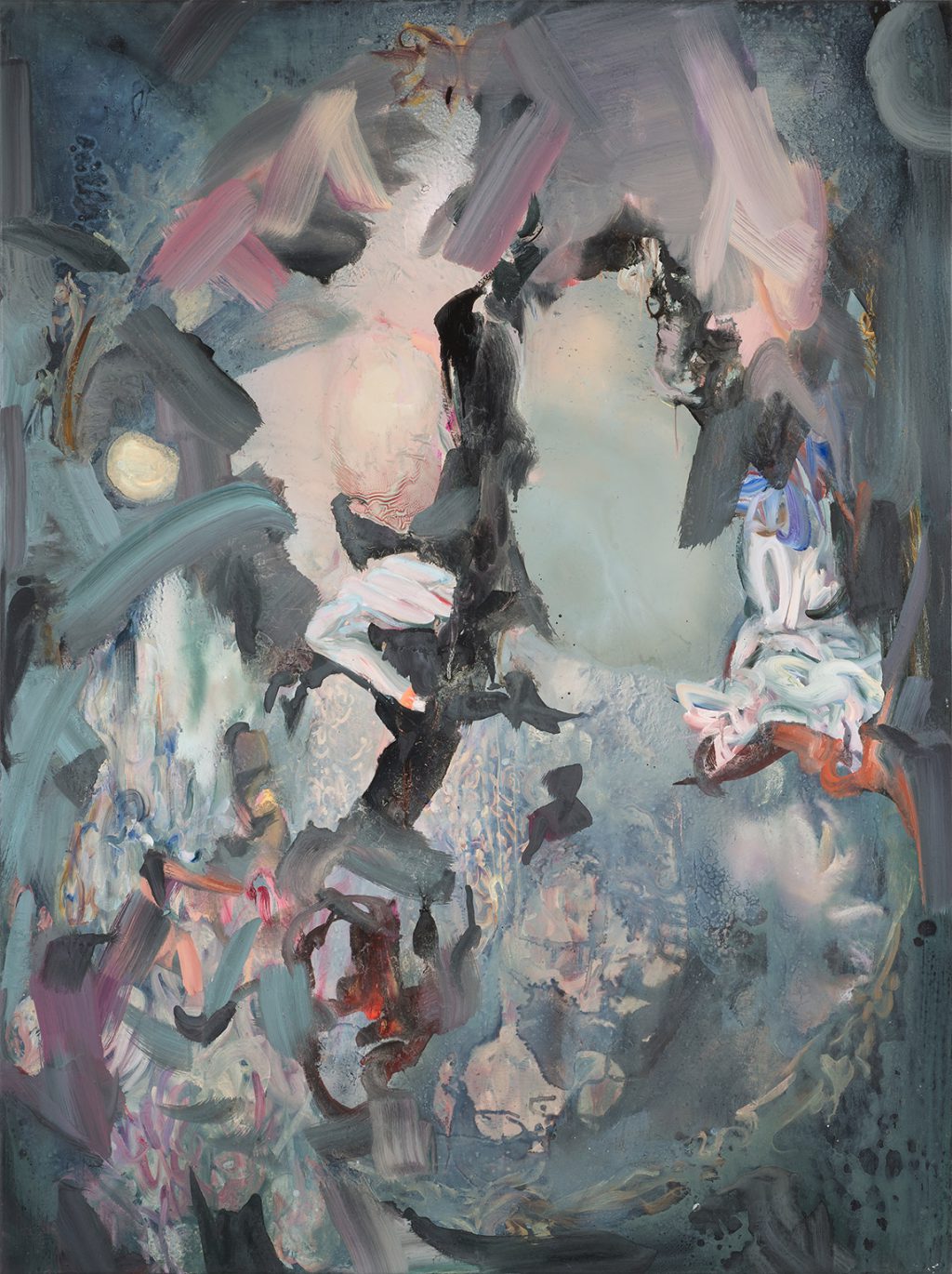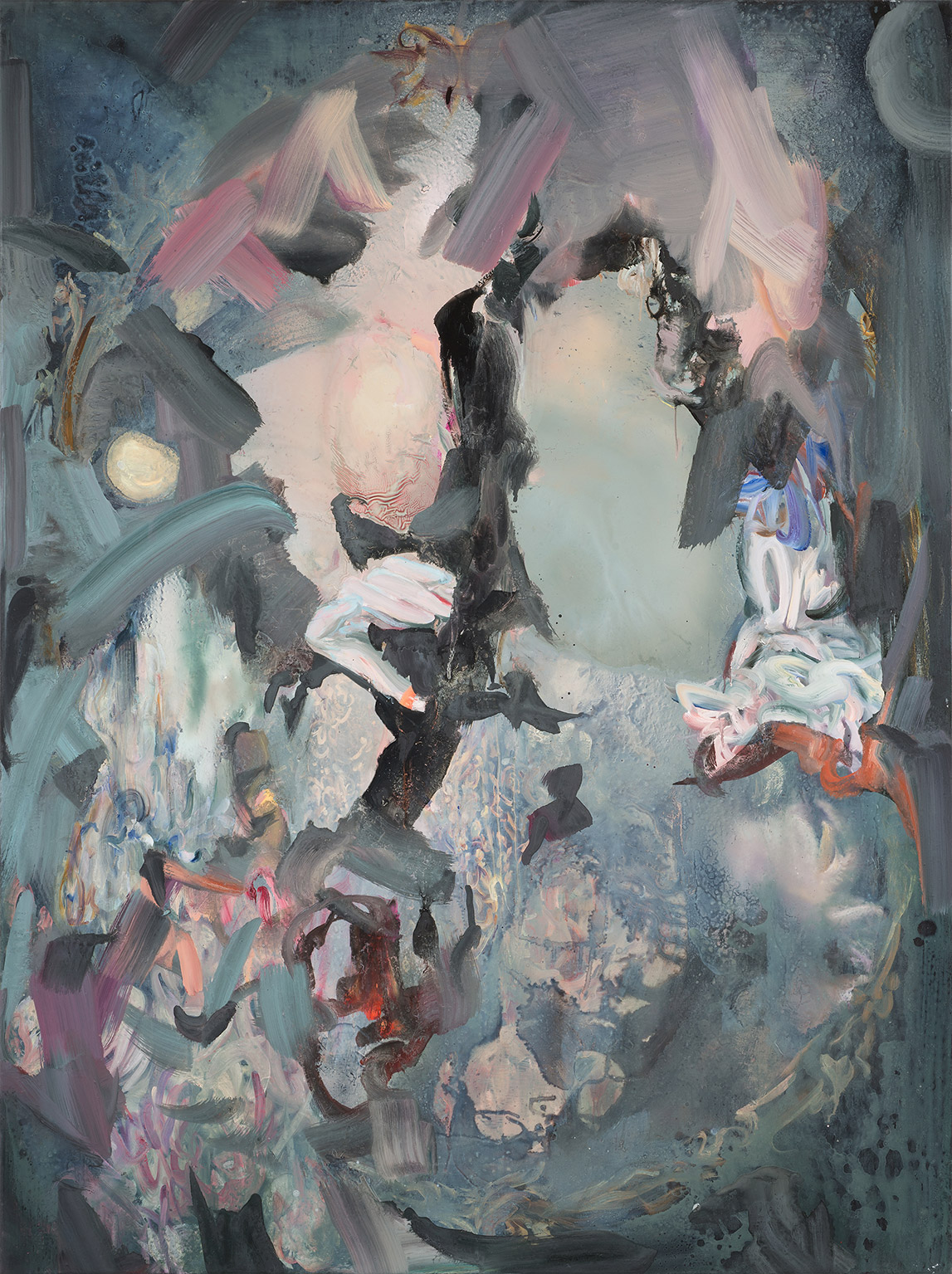 Double Portrait
2014
Mixed media on canvas
160 × 120 cm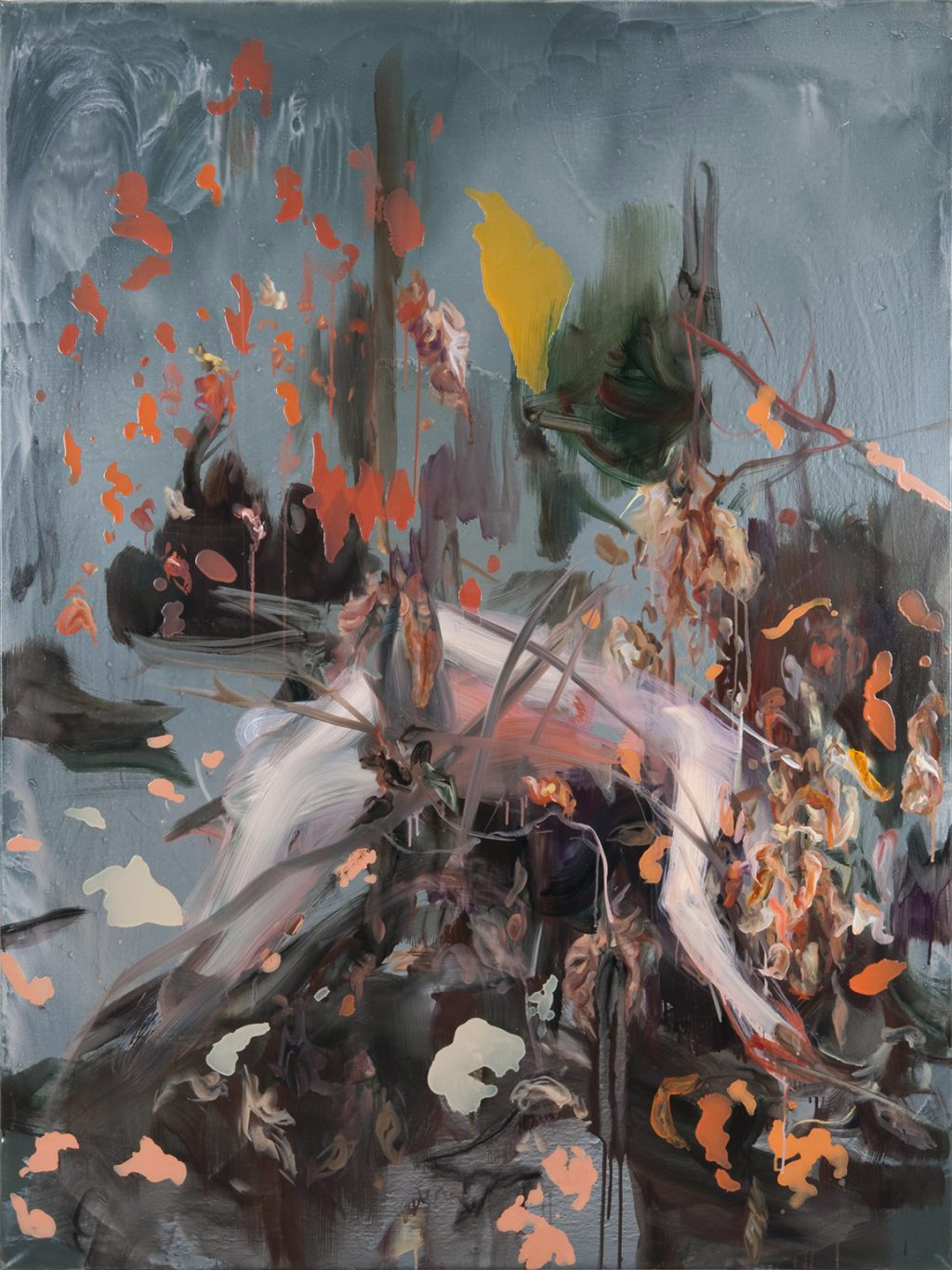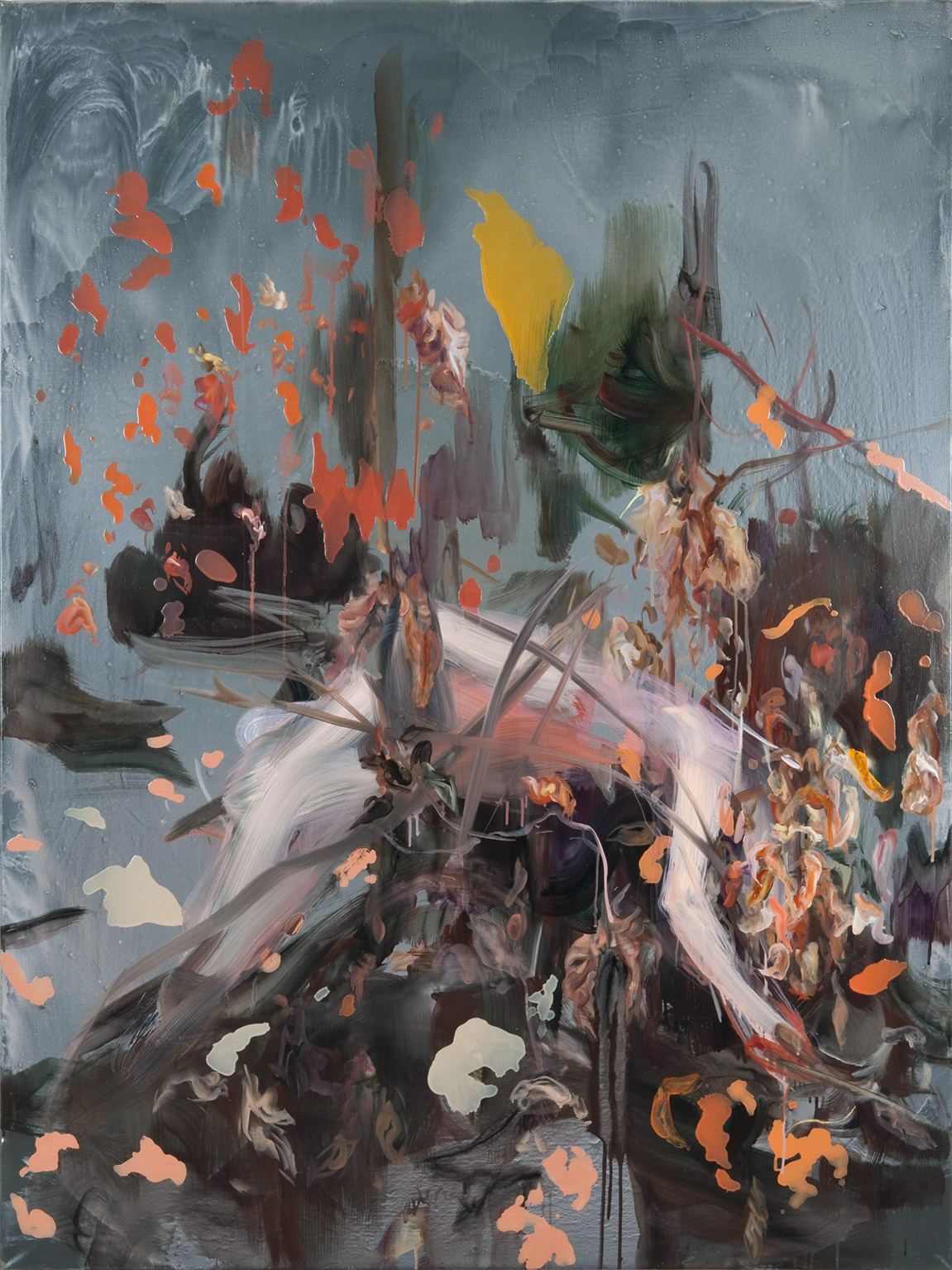 You Are One in a Thousand – Forest Nude I
2010
Oil and resin on canvas
160 × 120 cm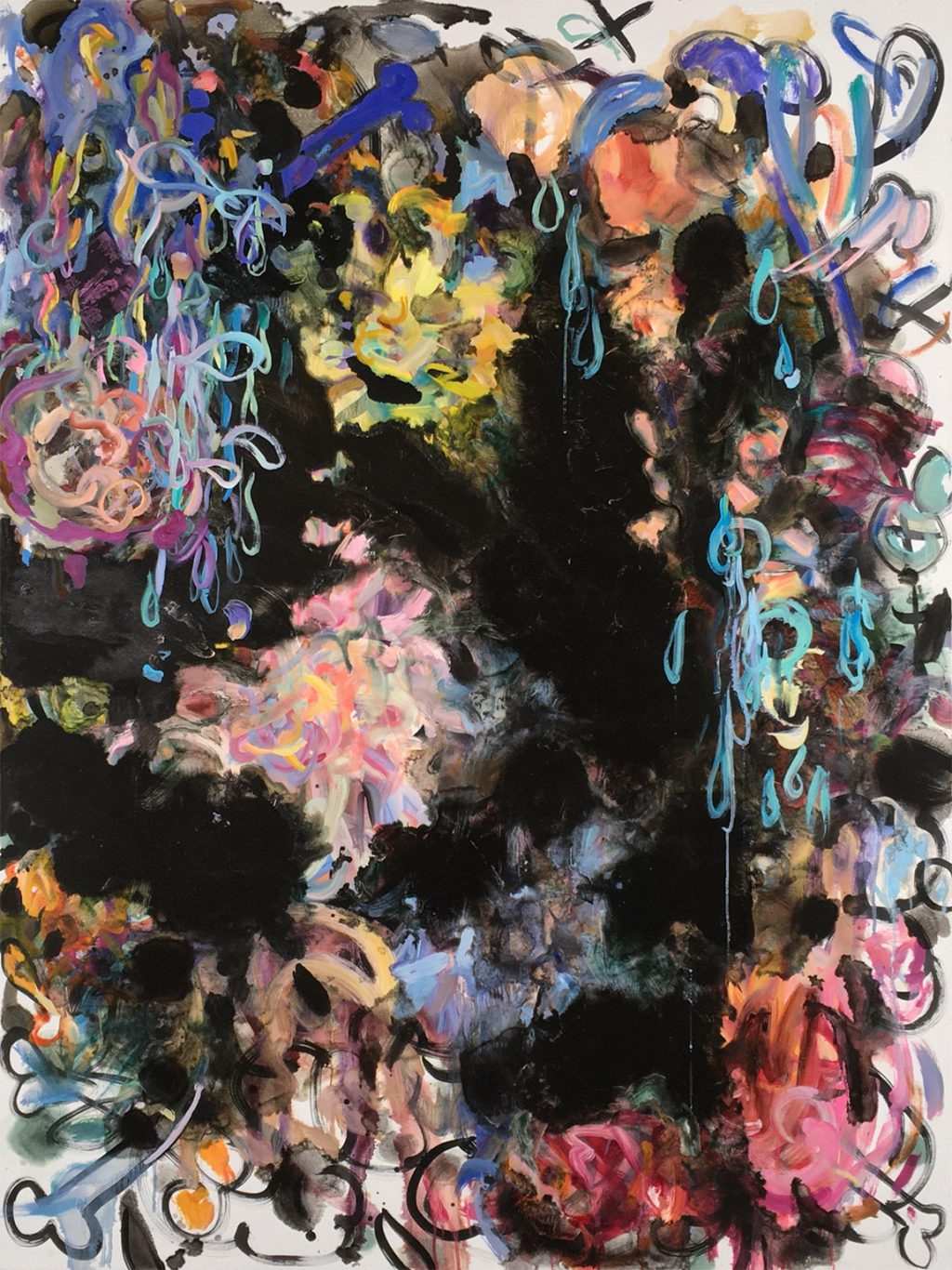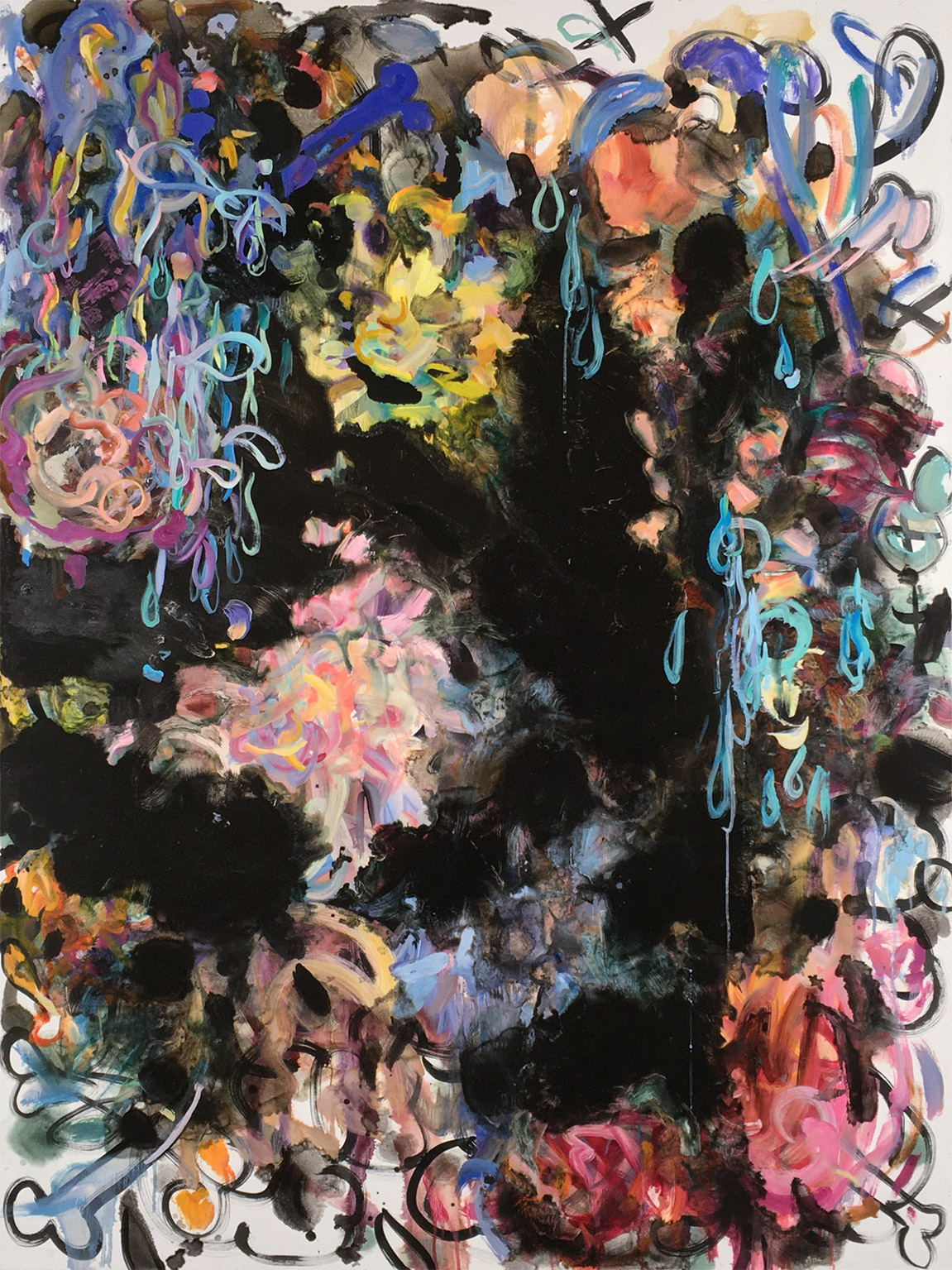 Overseas
2016
Oil, resin, and paper on canvas
160 × 120 cm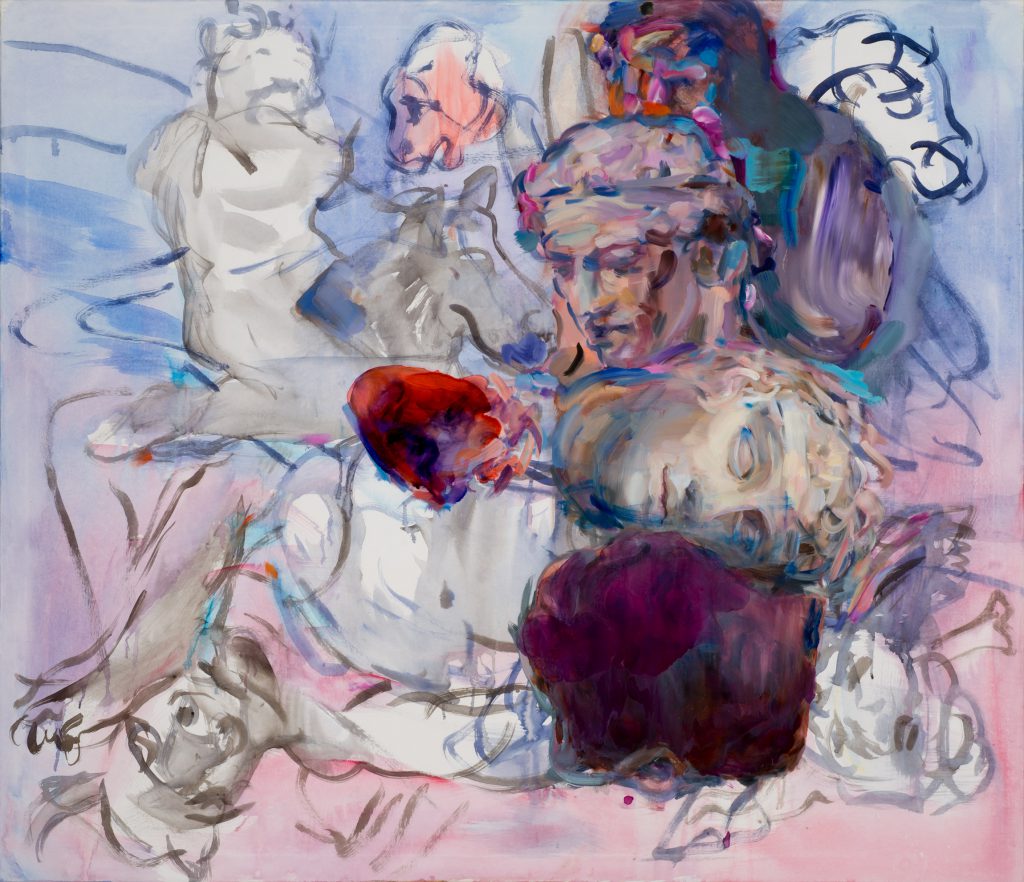 Totem Pole
2018
Oil, alkyd resin and India ink on canvas
125.2 × 146.1 cm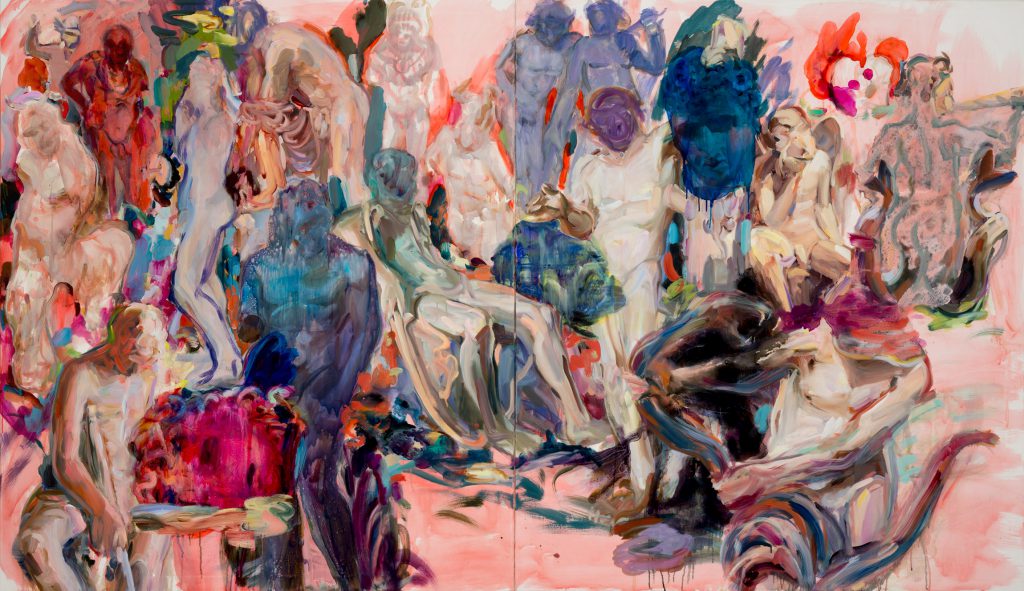 Fieldwork
2018
Oil, alkyd resin and India ink on canvas
145.6 × 250.6 cm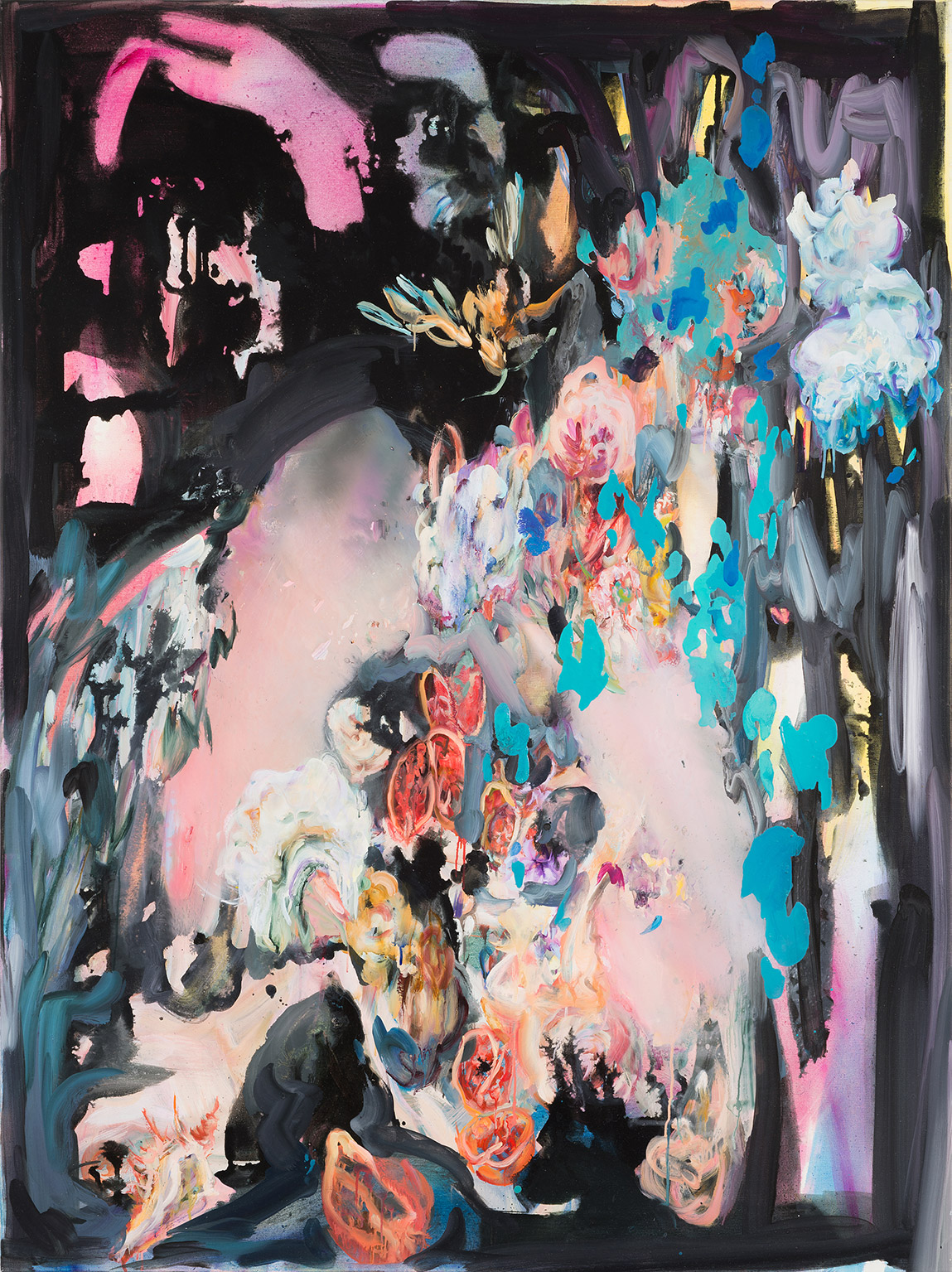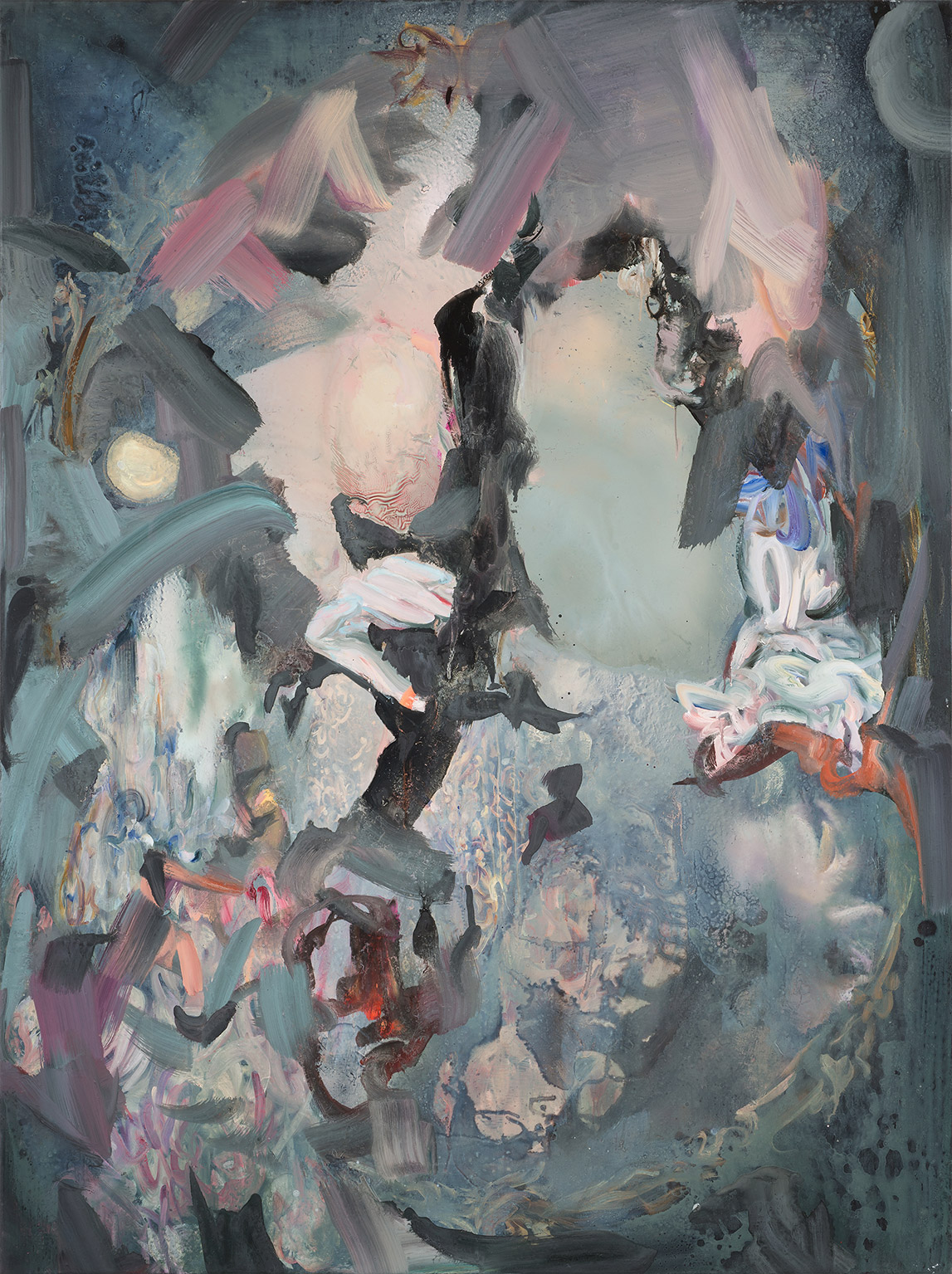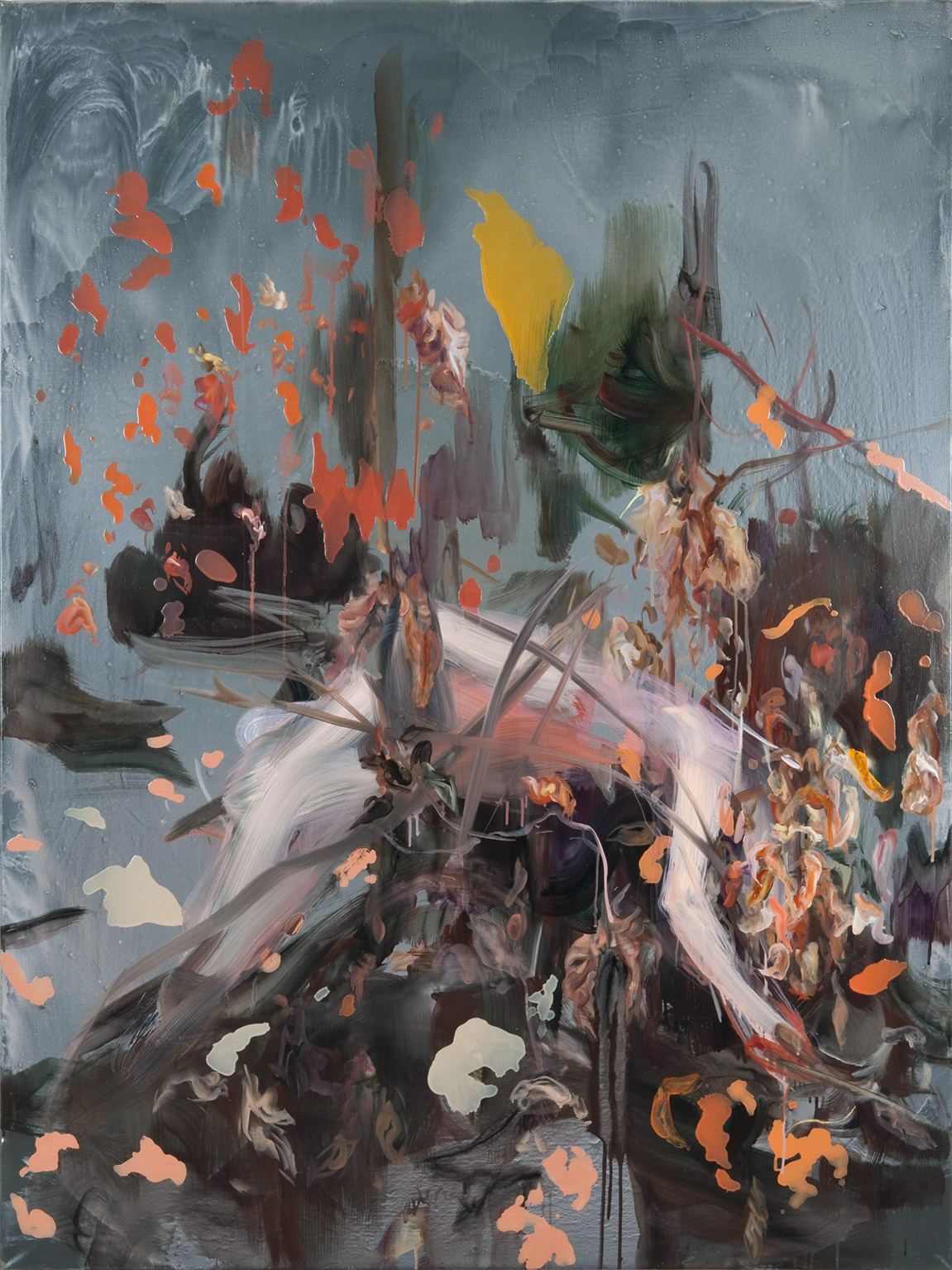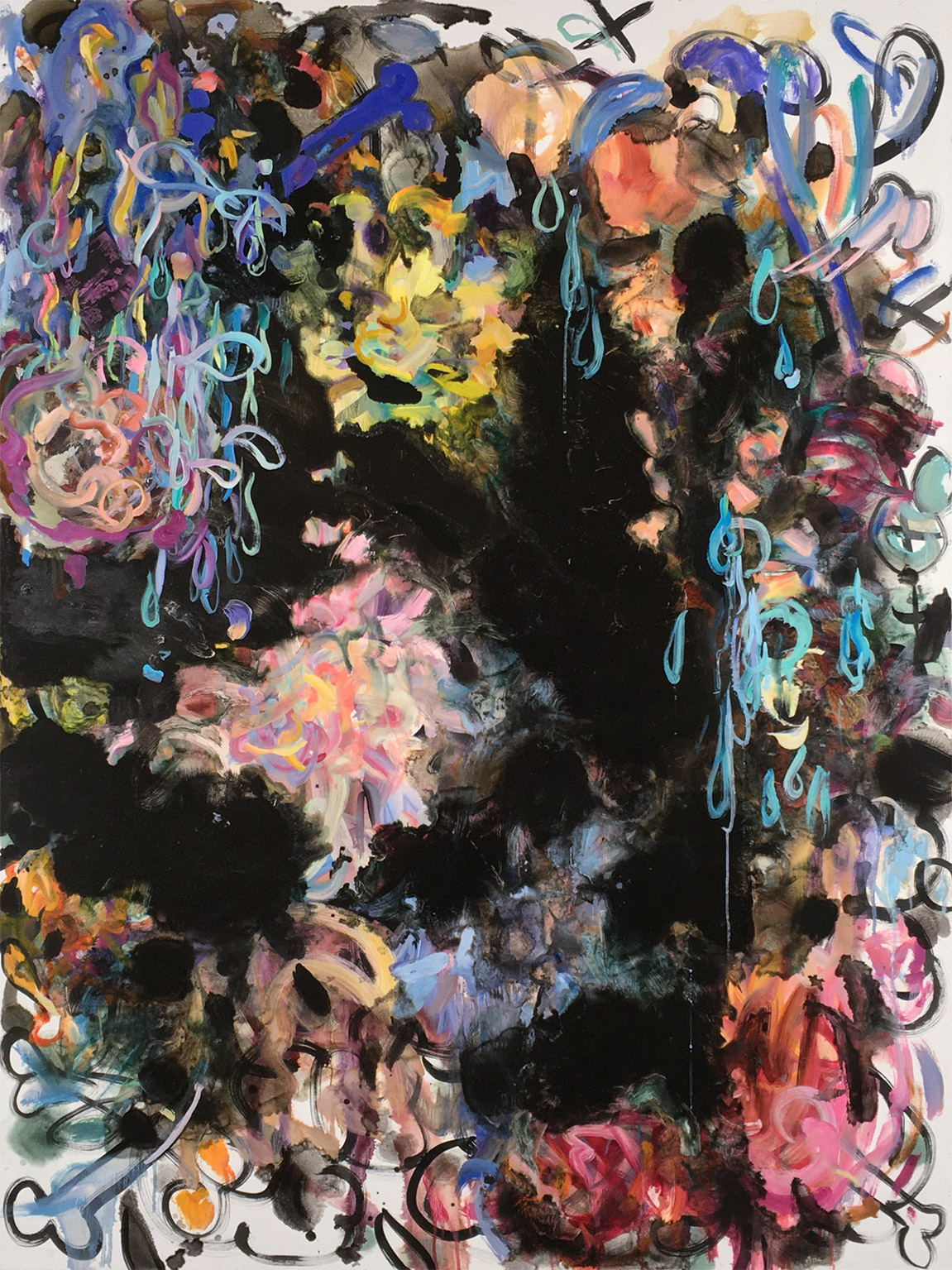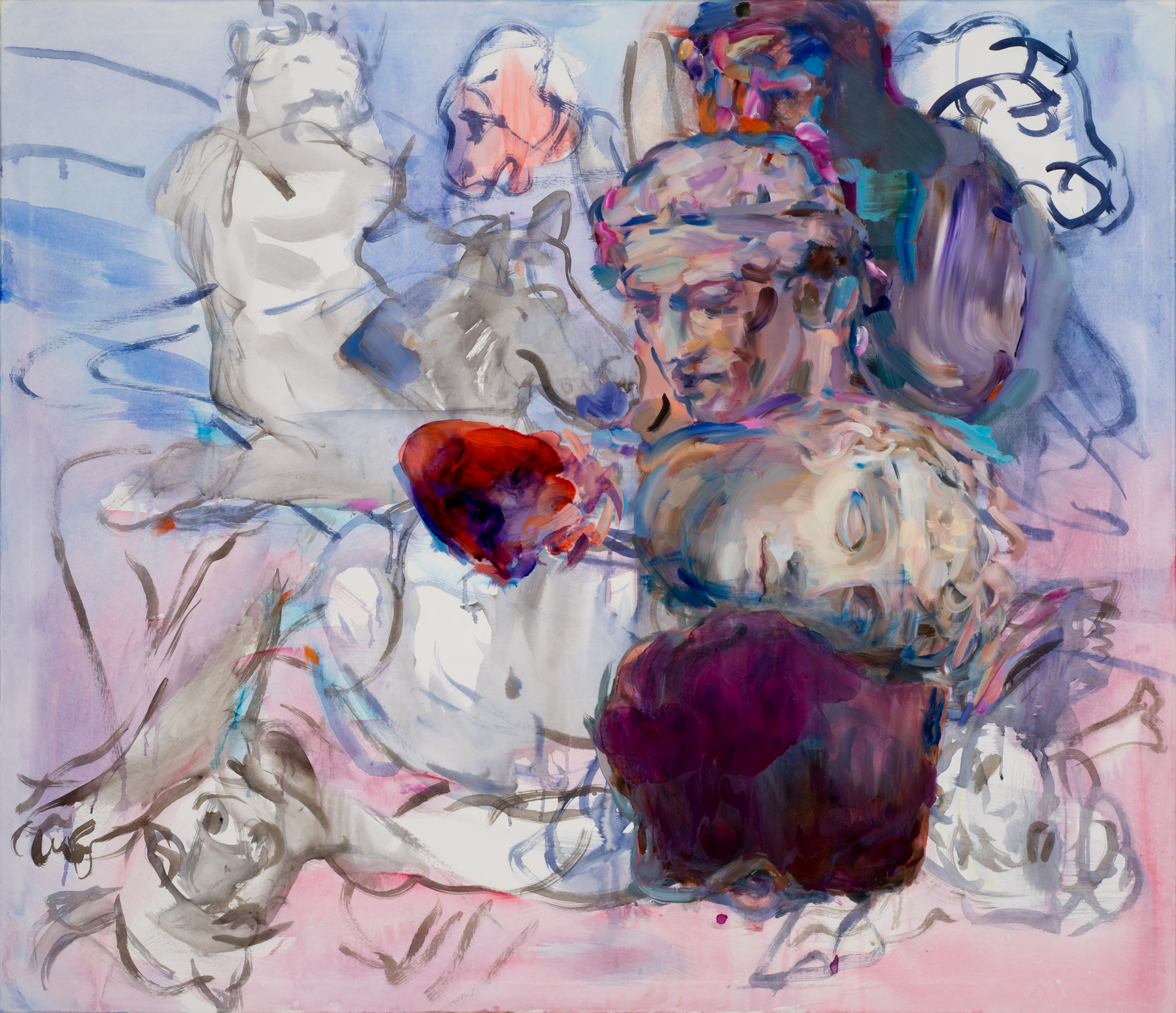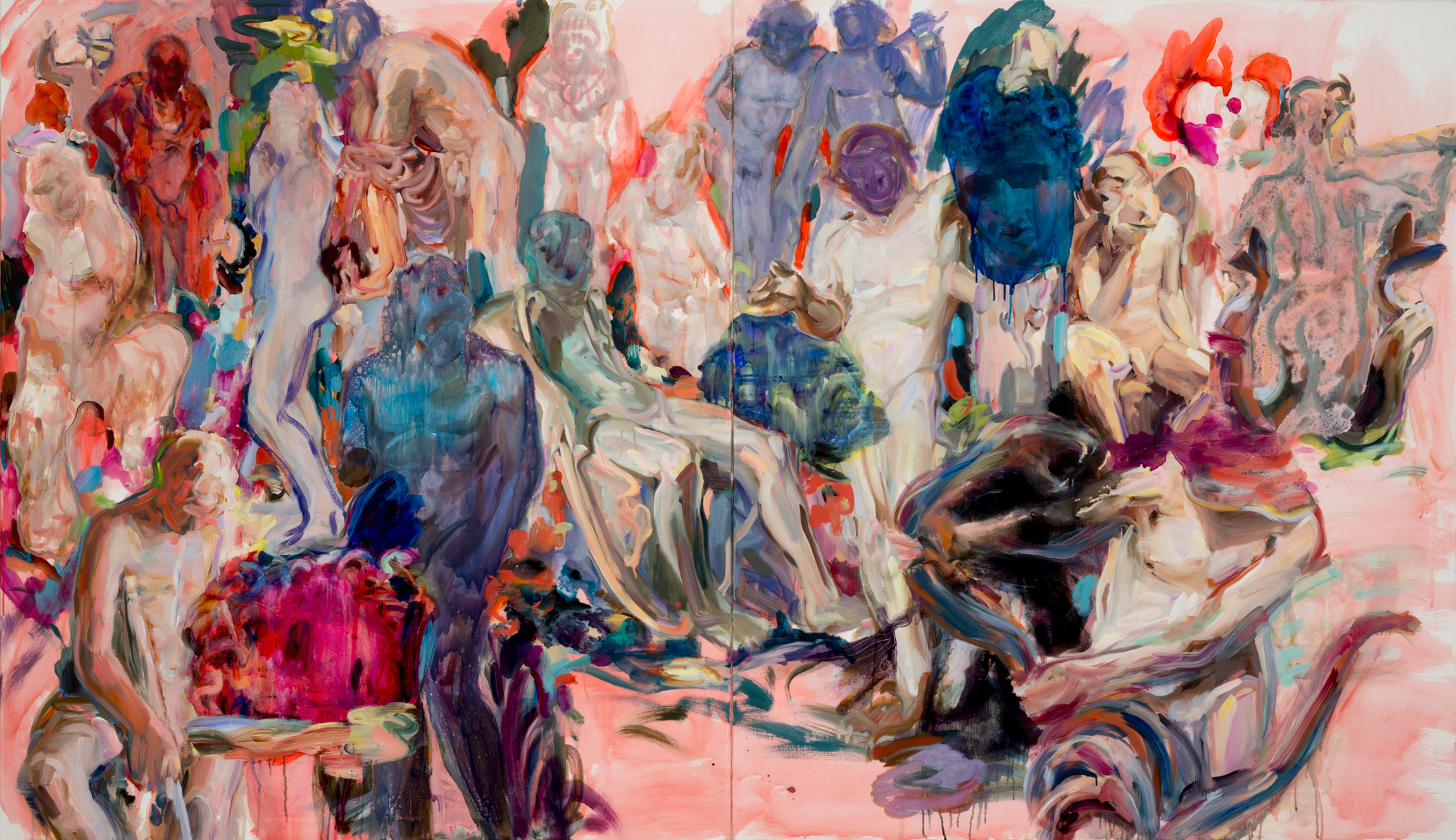 ---
About
Alisa Margolis was born in Kiev in 1975. She studied art in New York, where her family had settled in 1979. Eventually Margolis found herself back in Europe. Since 2009 the painter has been living and working in Berlin. Unsurprisingly, impressions and traditions from both Europe and the United States feature equally in her art.
Initially, after graduating from Columbia University, American pop culture became a frequent element in Margolis's paintings. There were recurring groups of cheerleaders, layered and interlocked to sculptural effect. With fine, precise strokes, the artist estranged the bodies of her protagonists, conveying a sense of shifting states: body parts seem to liquefy, dissolve, or proliferate. Soon, however, Margolis turned her back on this decidedly American motif and the slick technique used to portray it, and she embarked on a quest for a universal motif and a new idiom to match it. Exploring expressive techniques with a broader appeal, the artist began to test the potential of site-specific installations outside of traditional art institutions, seeking to extend the reach of her artistic message.

Continue reading
During a two-year stay in Amsterdam, Margolis discovered the paintings of the "Golden Age"— the 17th-century Dutch art that articulated the cultural, social, and political identity of a trading nation that had become a world power. More paintings were produced during that period than in any time before or after, and until this day they are numerously and prominently displayed in museums and private collections. Consequently, we are still very familiar with the meanings of the symbols they deploy. Margolis was fascinated by the lasting popularity of this Baroque art form. She developed a critical preoccupation with its floral still life paintings: the works are decorative and colorful, but there are also enigmatic vanitas compositions, in which insects and wilting plants testify to the transience of all earthly life, thus calling for obedience to God. This contradiction between beauty and decay tempted the artist to tackle the theme herself. She began to use Dutch floral still lifes as a springboard for her own works. With a special focus on dramatic lighting in her compositions, she eventually created a neo-Baroque way of painting, combining the methodical painting from the Low Countries with the gestural impulsiveness of Abstract Expressionism in the United States. To this end, Margolis would contrast, for example, triangular filigree compositions containing countless thin layers of almost translucent paint with gestural, at times impastoed pigment and entirely non-representational brushwork. This gave rise to mostly large-format compositions of brightly colored bouquets, based on illustrations of historical paintings, often in black and white.
It is not only in this way that secondary sources play an important role for Margolis; relying on them is very much part of her modus operandi. Her studio floor is often littered with pages taken from magazines and books. Occasionally, printouts of reproductions are glued to her canvas and integrated into the work with thick overpainting.
Not all the sources depict flowers. A second thematic pillar of the Margolis spectrum involves scenes from American glam rock and heavy metal. Many of her paintings portray highly abstracted concert scenarios. Only on closer scrutiny do the sweeping streaks of color reveal light beams, a mass of spectators, or microphone cables. And anyone familiar with the milieu might even identify the protagonists: most frequently Axl Rose, lead singer of the hard rock band Guns N' Roses. Like other motifs the artist deploys, Rose is emblematic of an era and an attitude — and is depicted by Margolis as a hero of pathos and nostalgia.
At first, the two series seem connected only by the distinctiveness and universality of their respective motifs. But the approach to composition is another common denominator. For one thing, in both these series the professed motif takes a back seat to form, such that many of these creations initially strike us as abstract paintings. For another, the musical element is also central to the floral bouquets in a metaphorical sense: the artist claims that all her compositions transpose personal impressions and memories of rhythm and melody. Margolis's intense use of dramatic lighting also unites both bodies of works. It is precisely through the element of light that sublime Baroque still lifes are transformed into painterly spectacles and concert spectacles into vibrant, neo-Baroque paintings.
---
---
---
Chronology
---
Biography
1975
Born in Kiev
1993–97
B.A. Visual Arts and Art History, Columbia University, New York, NY
1997
Red Grooms Award, National Arts Club, New York, NY
2001–03
Postgraduate Fellowship, De Ateliers, Amsterdam
2005–06
Delfina Studio Trust Artist Residency, London
2009–10
Scholarship Akademie Schloss Solitude, Stuttgart
2015
The Villa Romana Fellowship, Florence
2018
Residency at CCA Andratx, Mallorca
2021
Professorship for painting at Staatliche Akademie der Bildenden Künste Stuttgart
Lives and works in Berlin.
Selected Solo Exhibitions
2020
Alisa Margolis: Breathers, CCA Andratx
2019
Alisa Margolis: Soothsaying, Sonntag, Berlin
2016
Alisa Margolis: Sorry Superhero, Galerie Wilma Tolksdorf, Frankfurt am Main
2014
Alisa Margolis: The Disappearance, Galerie Judin, Berlin
Alisa Margolis: Gótico, Galerie Wilma Tolksdorf, Frankfurt am Main
2012
Alisa Margolis: Sha la-la-la-la, Galerie Reinhard Hauff, Stuttgart
2010
Alisa Margolis: You Are One of a Thousand, Akademie Schloss Solitude, Stuttgart
Alisa Margolis: Ecstatic Liberation Schtück, Akademie Schloss Solitude, Stuttgart
2009
Alisa Margolis: Dark as Ten Feet Down, Galerie Wilma Tolksdorf, Frankfurt am Main
2008
Alisa Margolis: East Shakes the Messenger, Galerie Diana Stigter, Amsterdam
2007
Alisa Margolis: Ancient History, Galerie Wilma Tolksdorf, Berlin
2006
Alisa Margolis, Vilma Gold, London
2005
Alisa Margolis: Theory of Everything, Galerie Diana Stigter, Amsterdam
2004
Alisa Margolis: Private Life – Paintings for the Blue Drawing Room, Museum van Loon, Amsterdam
2003
Alisa Margolis: New Paintings, De Ateliers, Amsterdam
Selected Group Exhibitions
2018
Helene Appel, Alisa Margolis, Helen Verhoeven, Galerie Judin, Berlin
2016
Say It With Flowers! Flowers and Artificial Nature Since 1960, Museum Schloss Moyland, Bedburg-Hau
Drift – Alisa Margolis, Diana Sirianni, Alex Hubbard, Haus Coburg, Städtische Galerie, Delmenhorst
2015
Florenz Contemporary – Villa Romana Fellows 2015, Embassy of the Italian Republic, Berlin
Villa Romana Fellows 2015, Villa Romana, Florence
2013
The Phylogenesis of Generosity, First Prinzessinnengarten Outdoor Sculpture Triennial, Berlin
2012
30 Days of Peace Love and Painting, Ellen de Bruijne Projects, Amsterdam
Stillstehende Sachen – aus der Sammlung SØR Rusche, Museum Abtei Liesborn, Wadersloh-Liesborn
2011
Flamboyant Body – Discoteca Flaming Star, Arcade Fine Art, London
2010
The Mountain Where the Whales Once Lived, Union Gallery, London
Another Romance – The 2010 Wight Biennial, UCLA New Wight Gallery, Los Angeles, CA
Re-Mediate, Merz Akademie & Akademie Schloss Solitude, Stuttgart
Get Behind Me Satan and Push, Peres Projects, Berlin
2009
Walker Evans and the Barn, Stedelijk Museum Bureau Amsterdam
Rehang, Buyuk Londra Oteli, Istanbul
2008
FREEZE FRAME, Thrust Projects, New York, NY
Guasch Coranty International Painting Prize 2008, Tecla Sala Metropolitan Cultural Centre, L´Hospitalet de Llobregat
2007
Out of Art, Kunsthaus Pasquart, Biel
2006
Painting Codes, Van Gogh Museum, Amsterdam
Fresh, The Renaissance Society, Chicago, IL
HYBRID, Galerie Wilma Tolksdorf, Frankfurt am Main
MRKS&SPNCR, Delfina Project Space, London
The Afternoon of a Faun, Eleni Koroneou Gallery, Athens
The Triumph of Painting, The Saatchi Gallery, London
2005
The Prague Biennale 2, Prague
Altmejd, Beninati, Everberg et Margolis, Galerie Éric Hussenot, Paris
2004
I Just Don't Know What to Do with Myself, Primo Marella Gallery, Milan
When the Lights Go Out, Cohan and Leslie, New York, NY
Expander, Royal Academy of Art, London
Vixen, Galerie Diana Stigter, Amsterdam
Her Kind, The approach, London
Now Is a Good Time, Andrea Rosen Gallery, New York, NY
2003
Intravention, W139 at Museum Ons' Lieve Heer op Solder, Amsterdam
2002
Untitled, De Ateliers, Amsterdam
Typewriting Aloud, Gallery of Arts in Nové Zámky
1997–2001
Women of the Book – Jewish Artists, Jewish Themes, Florida Atlantic Finegood Art Gallery, West Hillset et al.
1997
Bad Habbits, Watson Gallery, New York, NY
Monographs and Catalogues
2016
Say It With Flowers! Flowers and Artificial Nature Since 1960. Edited by Stiftung Museum Schloss Moyland, Sammlung von der Grinten and Joseph Beuys Archiv des Landes Nordrhein-Westfalen. Exh. cat. Museum Schloss Moyland, Bedburg-Hau. Köln: Wienand
Drift – Alisa Margolis, Diana Sirianni, Alex Hubbard. Edited by Städtische Galerie Delmenhorst and Annett Reckert. Exh. cat. Städtische Galerie / Haus Coburg, Delmenhorst. Delmenhorst: Städtische Galerie
2011
Theory of Everything. Edited by Akademie Schloss Solitude and Jean Baptiste Joly. Stuttgart: Merz & Solitude
2010
Another Romance – The 2010 Wight Biennial. Edited by Regents of the University of California. Exh. cat. UCLA New Wight Gallery, Los Angeles. Oakland: UCLA New Wight Gallery
2005
The Triumph of Painting. Edited by Mark Holborn, Friederike Huber and The Saatchi Gallery. Exh. cat. The Saatchi Gallery, London. London: Jonathan Cape
2001
Women of the Book – Jewish Artists, Jewish Themes. Edited by Judith A. Hoffberg and Florida Atlantic University Friends of the Libraries. Exh. cat. Finegood Art Gallery, West Hillset et al. Boca Raton: Florida Atlantic University Friends of the Libraries