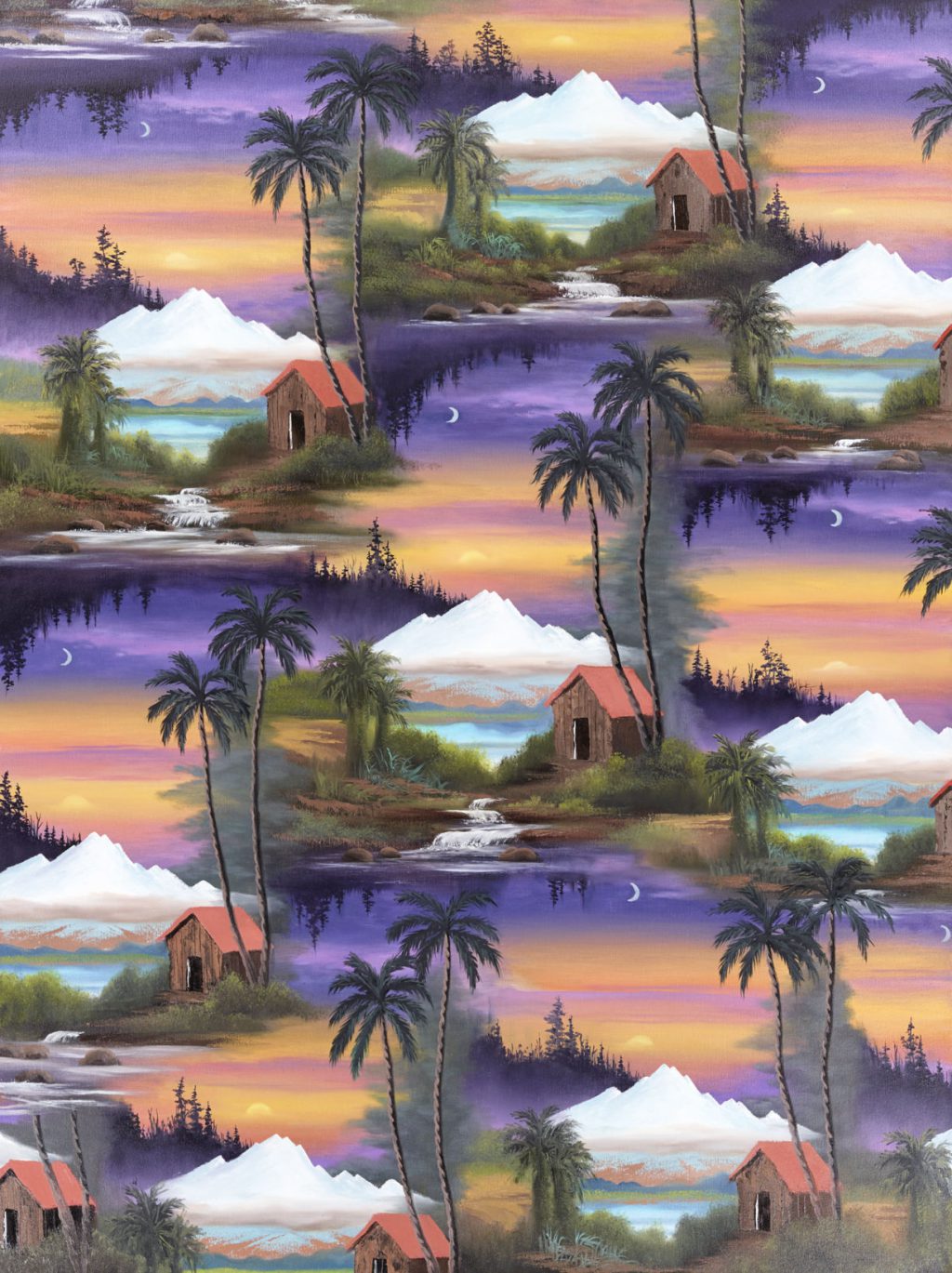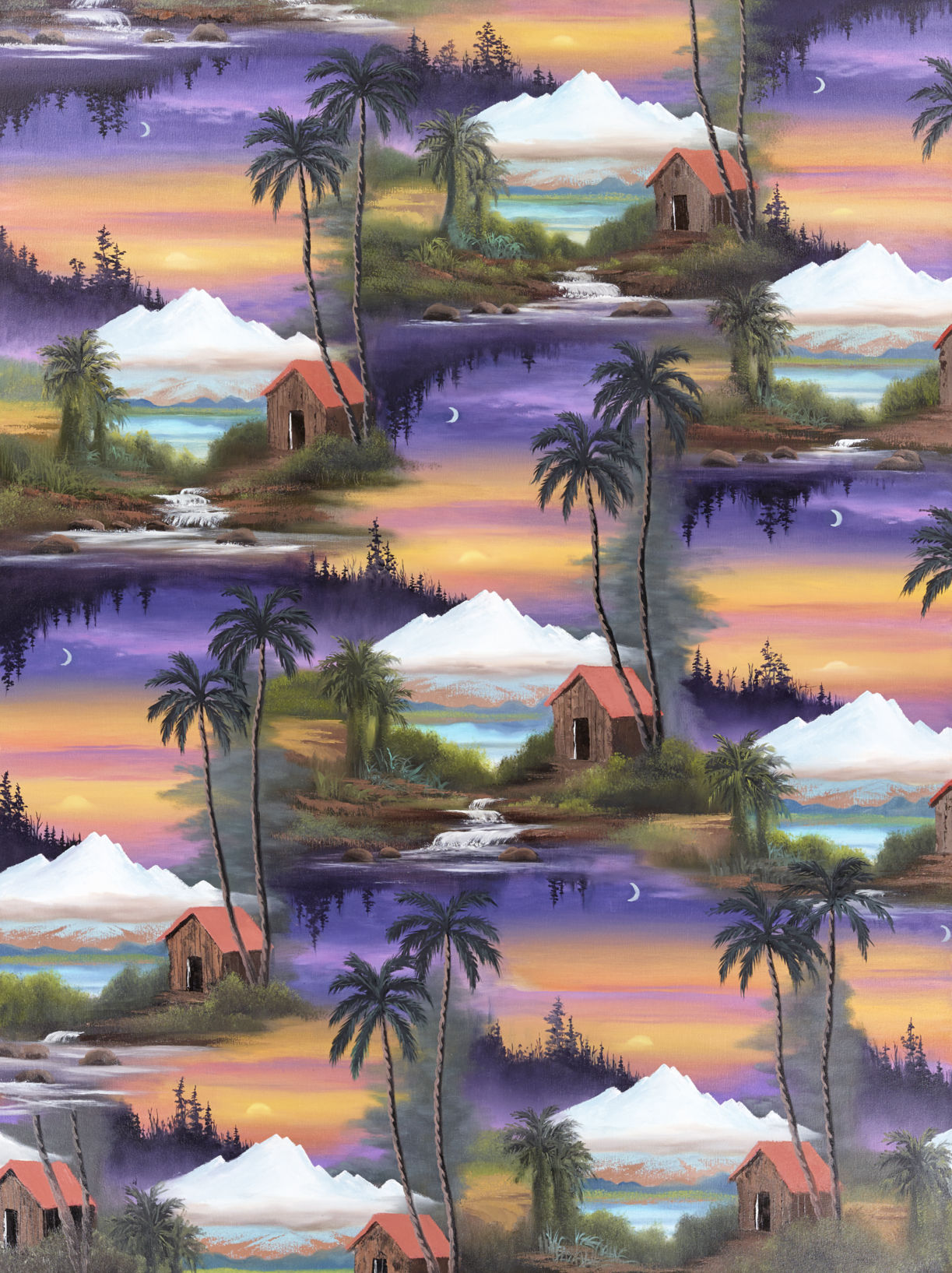 Crescent Moon (Cayambe Repeat)
2022
Oil on canvas
121.5 × 91 cm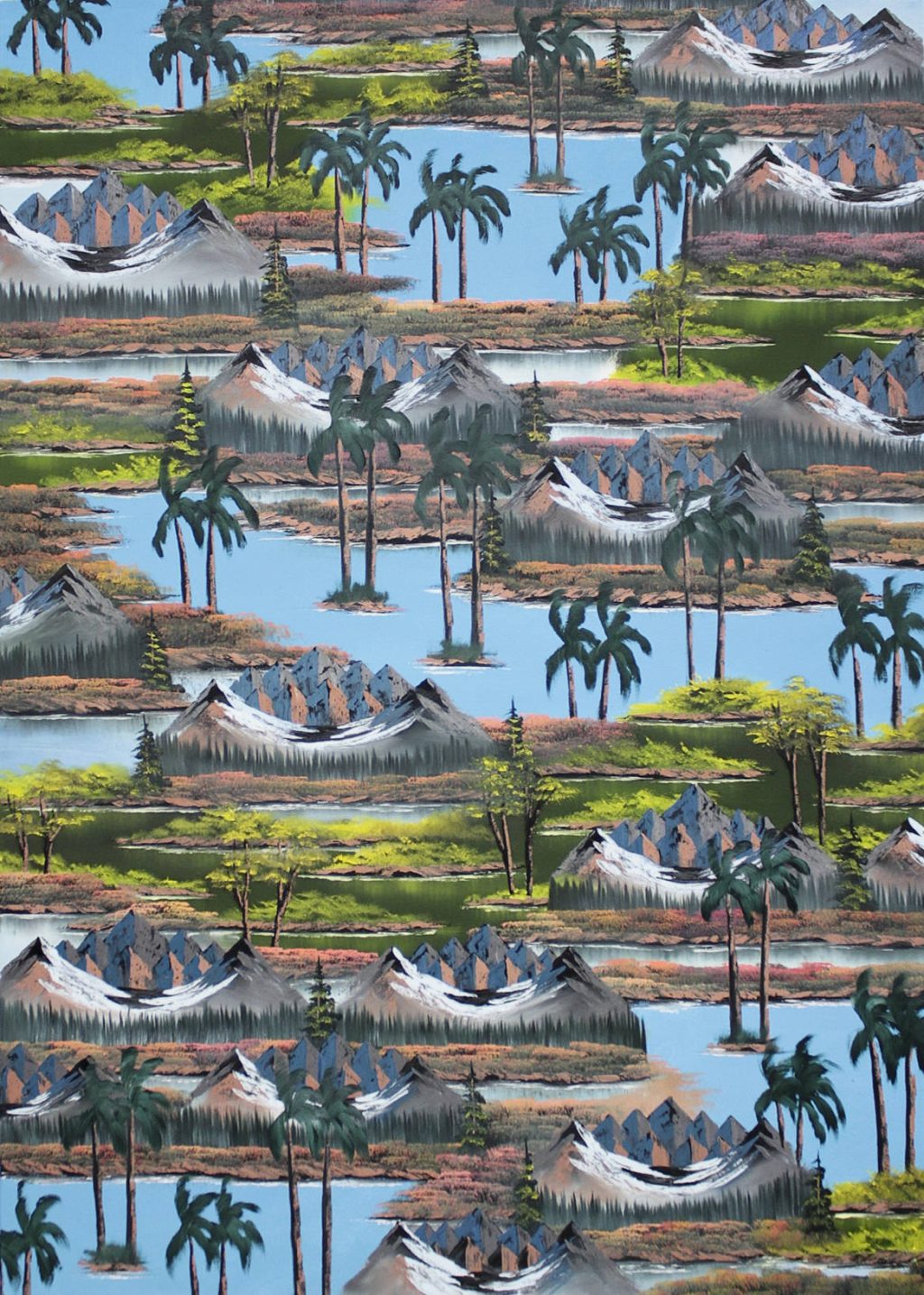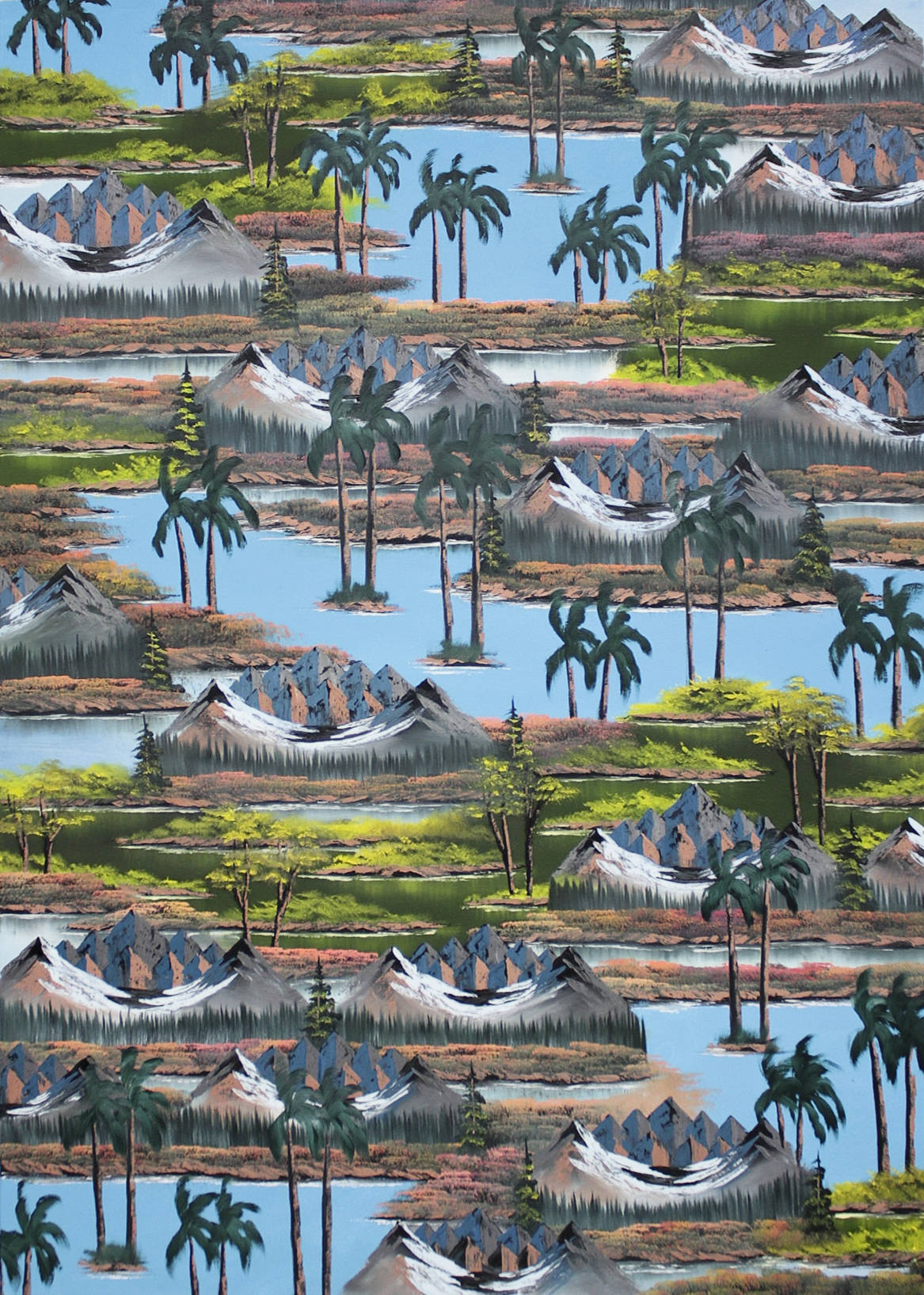 Emerald Waters (Esmund)
2016
Oil and acrylic on canvas
140 × 100 cm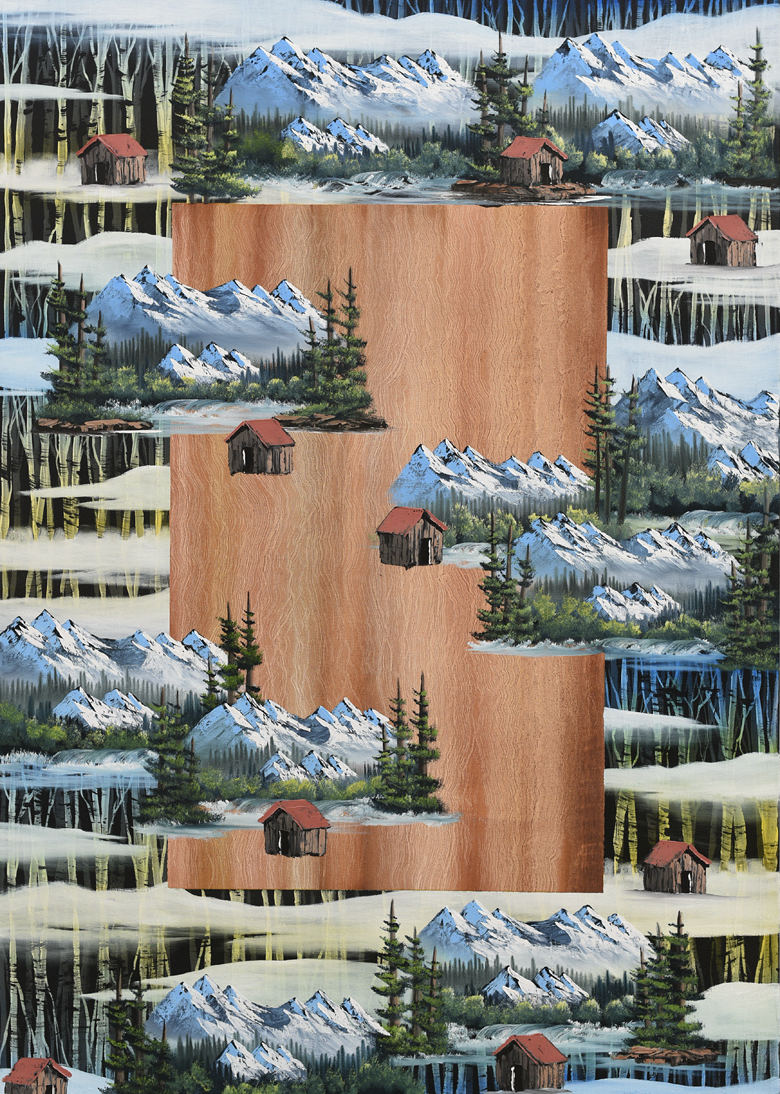 Birch Mountain (Veneer Centre)
2017
Oil and acrylic on canvas
140 × 100 cm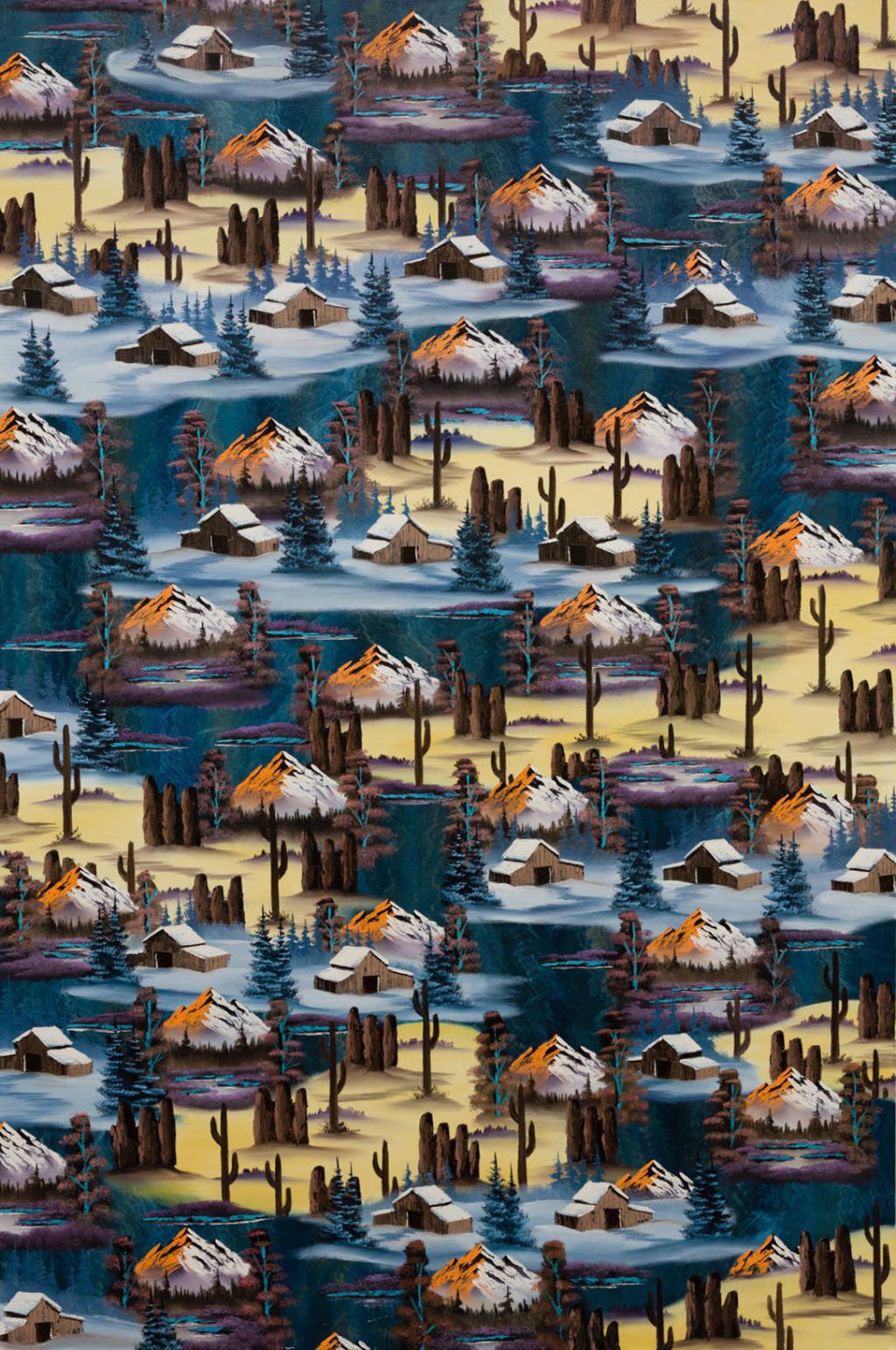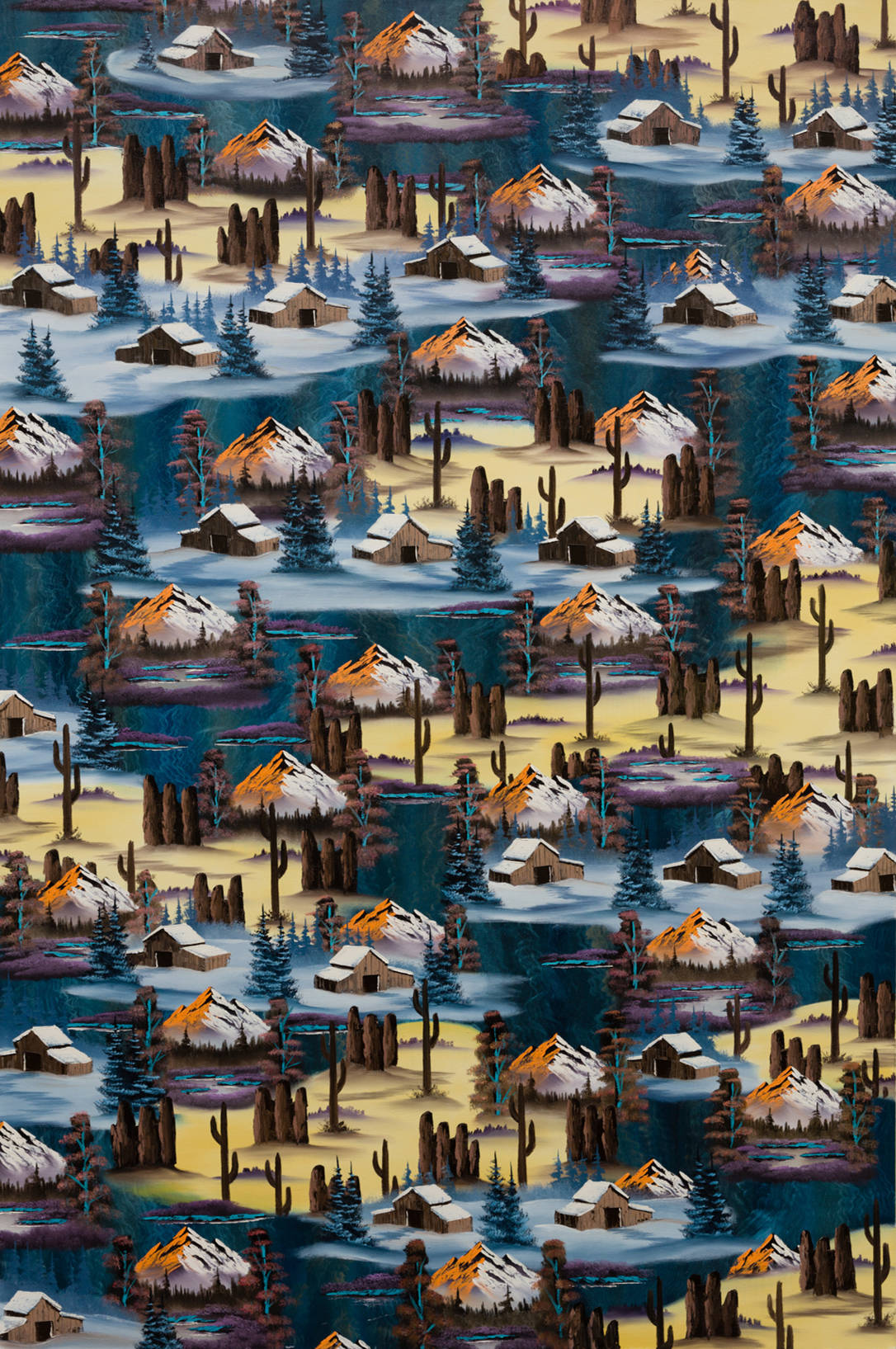 Mountain Valley (Blue Veneer)
2017
Oil and acrylic on canvas
213.4 × 141.6 cm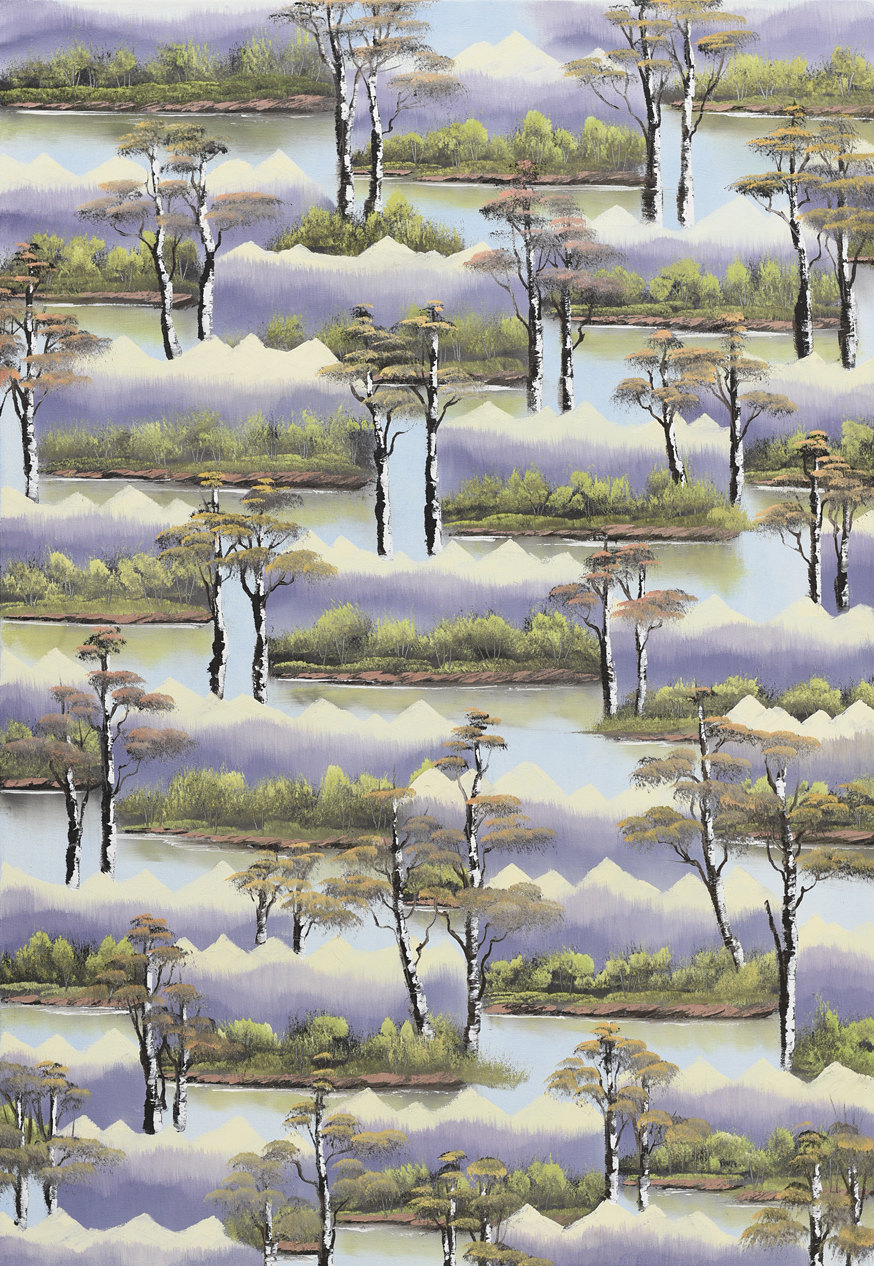 Violet Foothills (Birch Cross)
2017
Oil on canvas
99.1 × 71.1 cm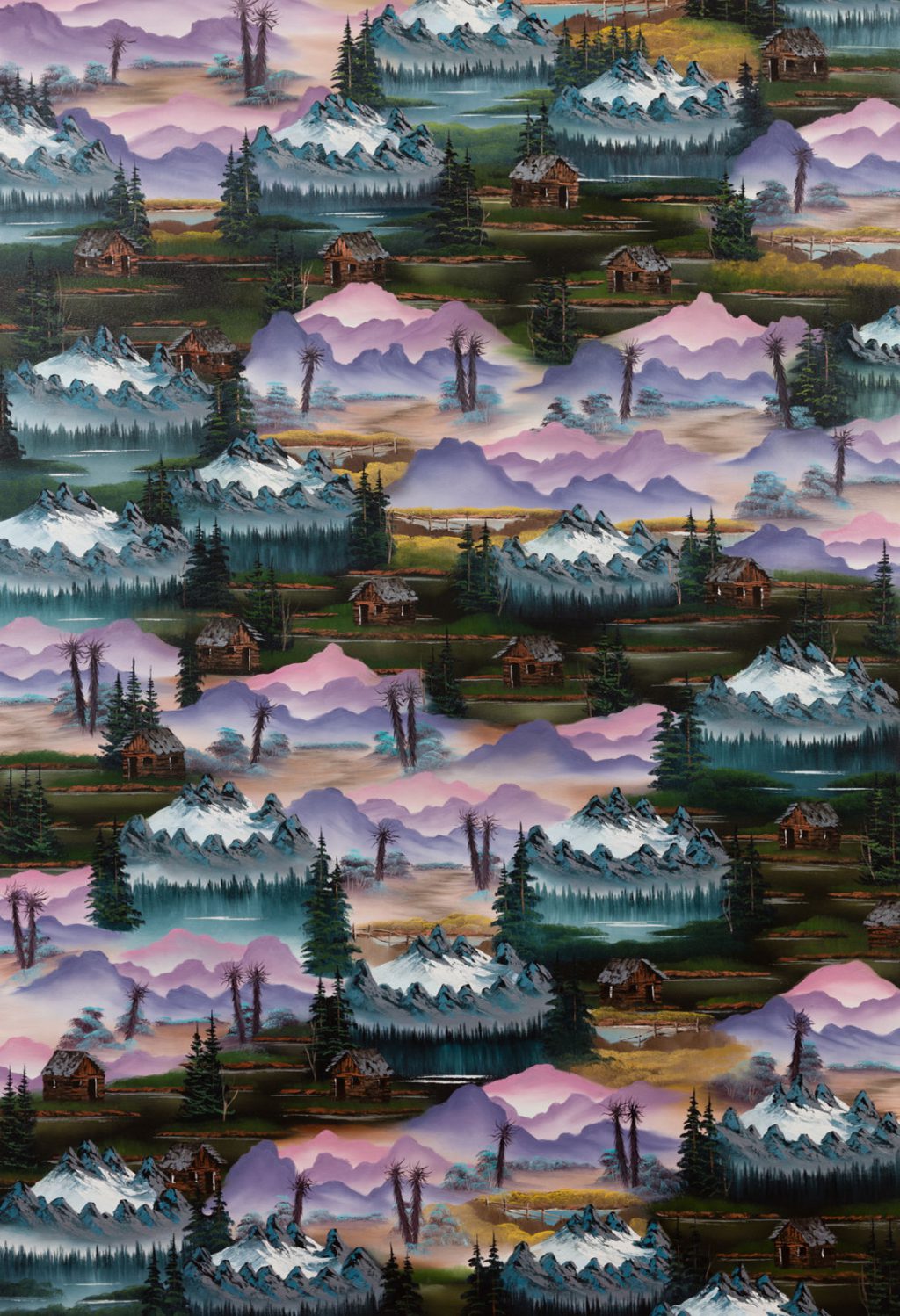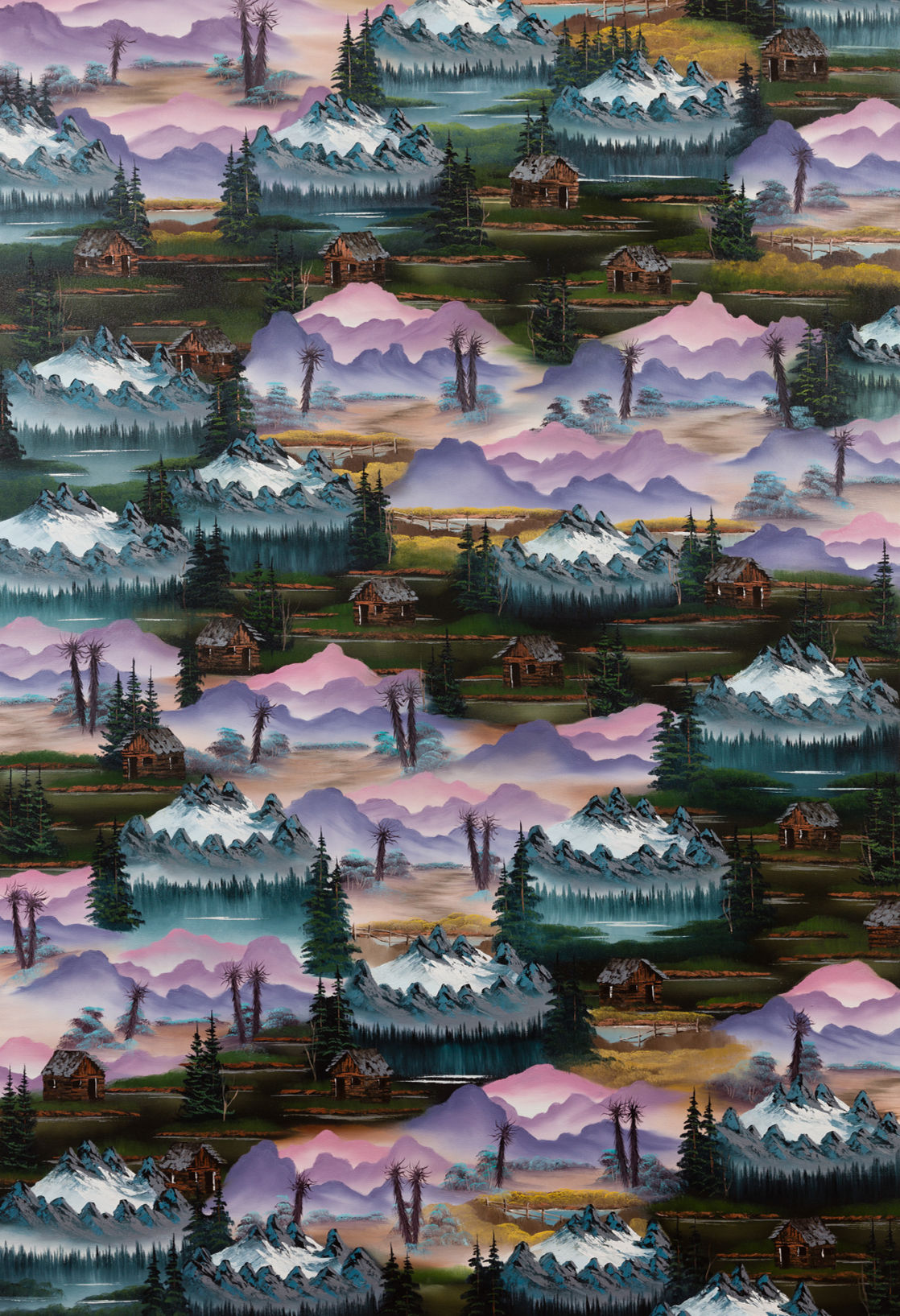 Icecap Mountain (Yucca Valley 180 Edit)
2018
Oil on canvas
177.8 × 122 cm
Show more works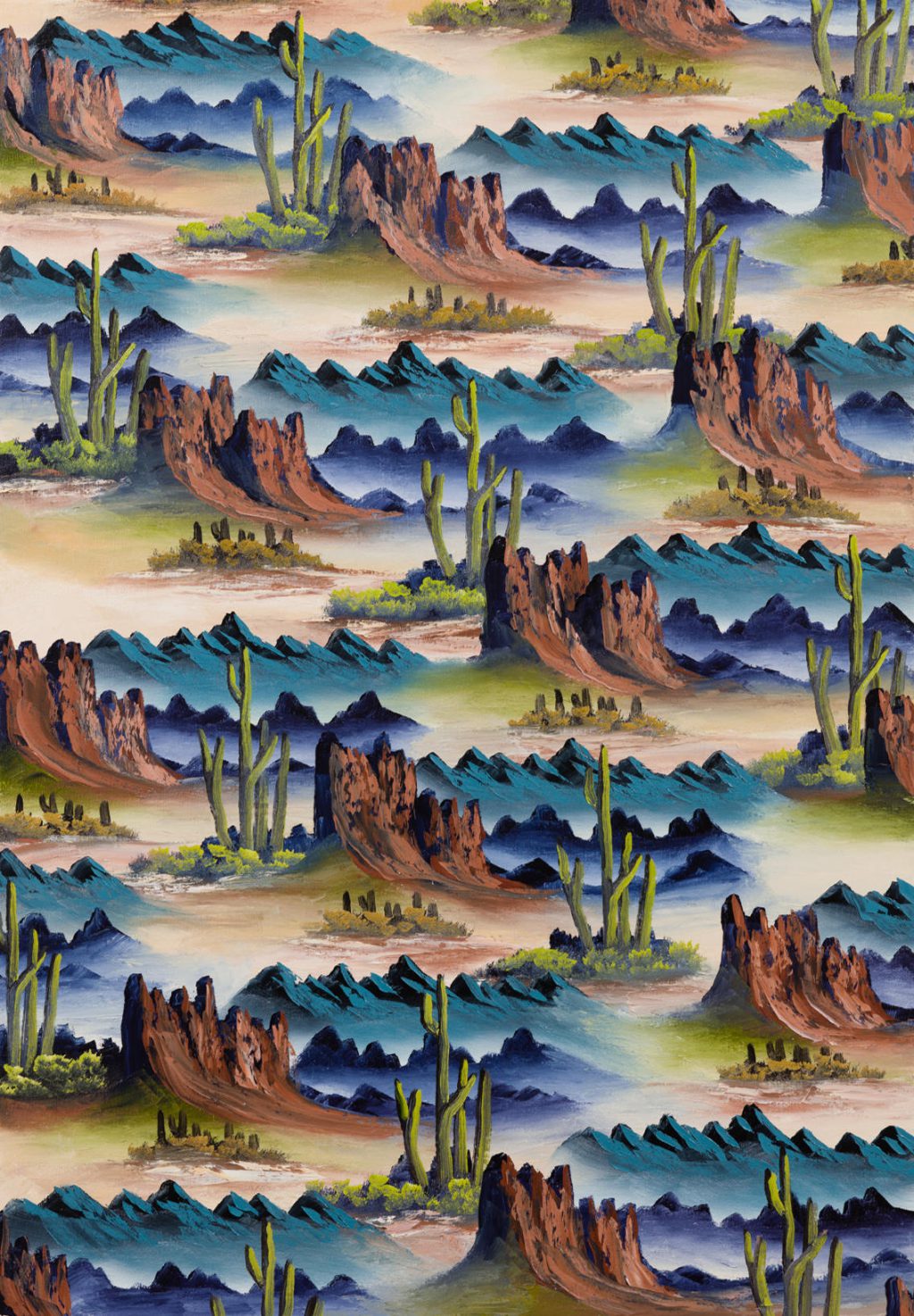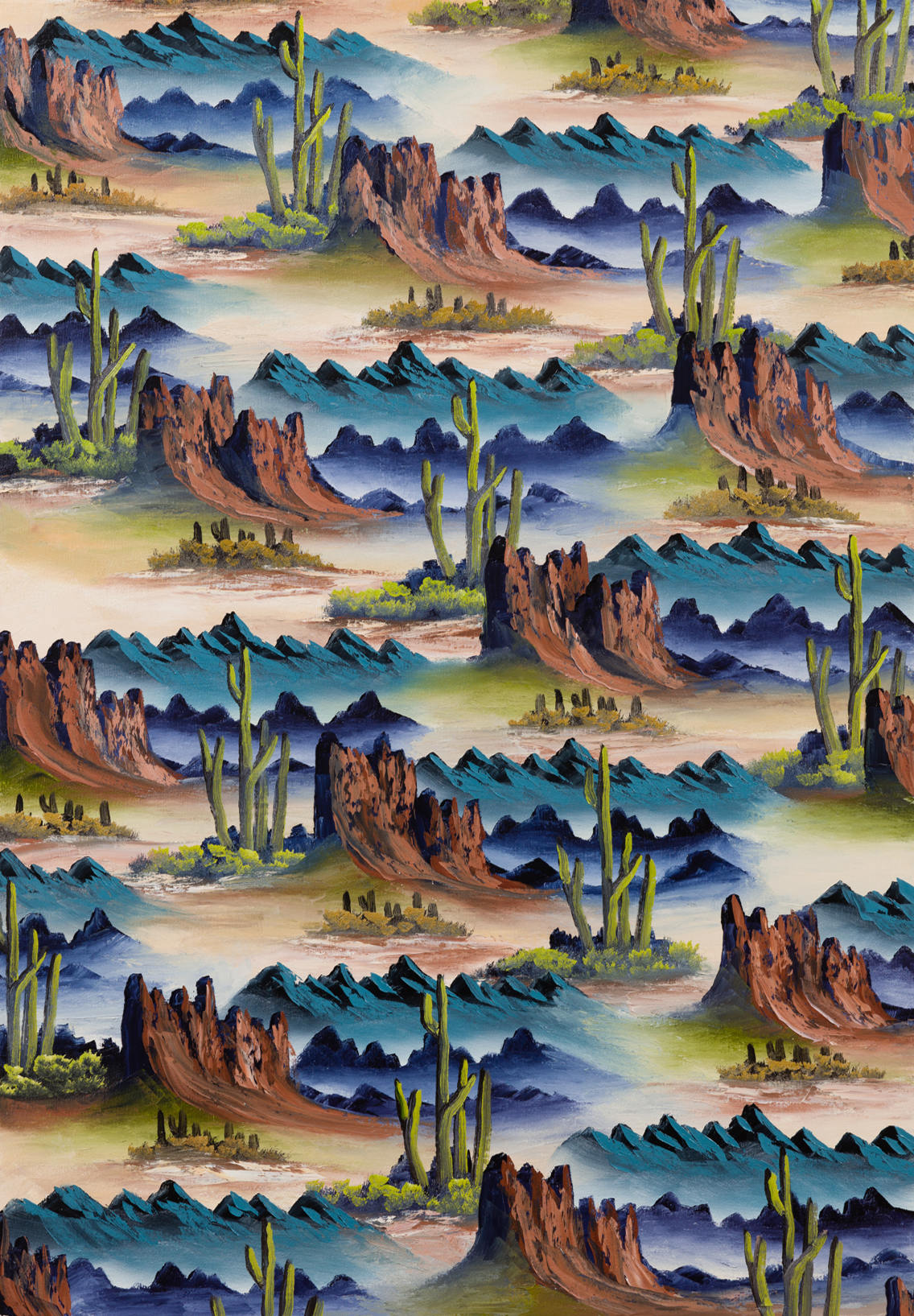 Desert Haze (Jerry)
2018
Oil on canvas
99.1 × 71.1 cm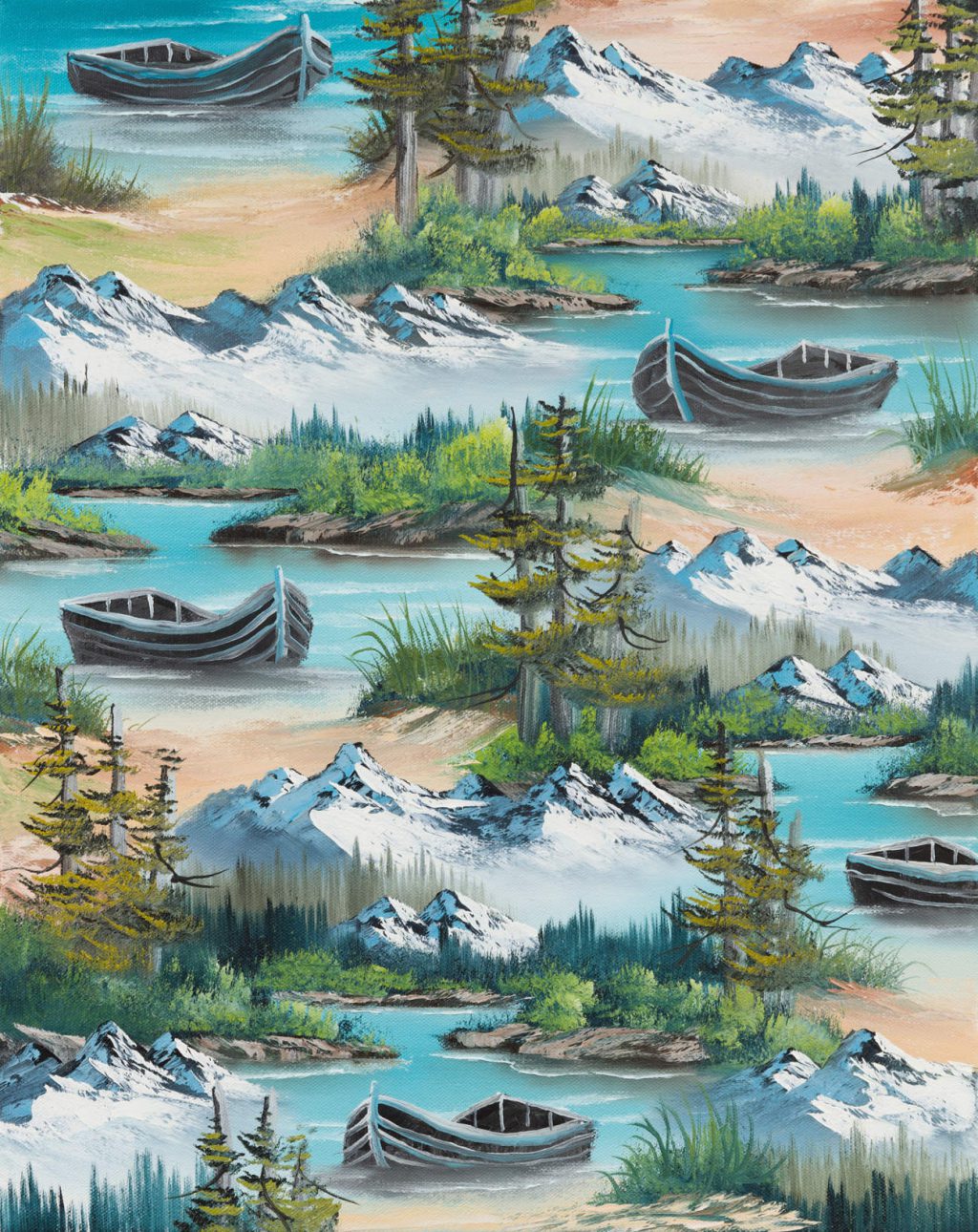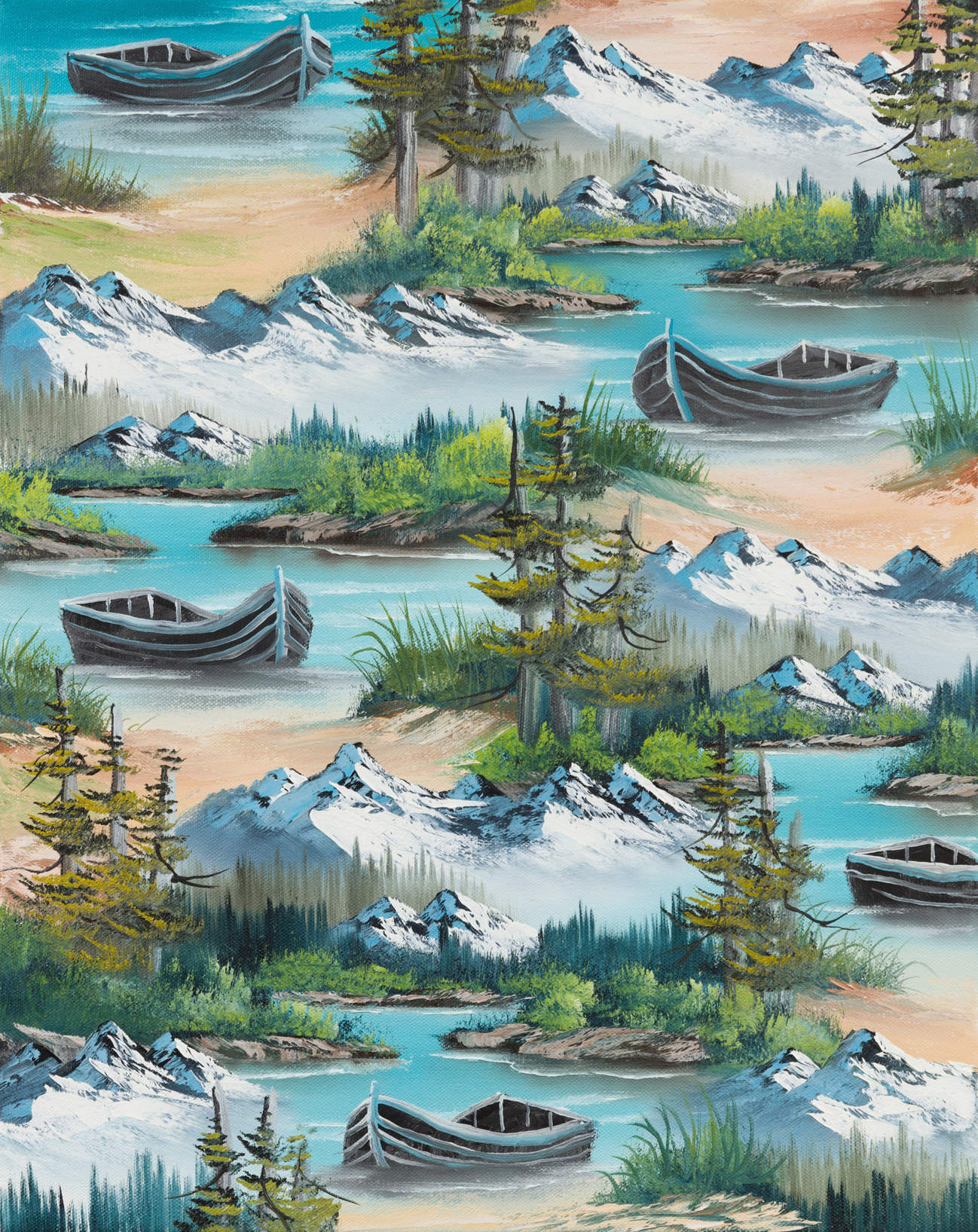 Emerald Lake (Rowboat on the Beach)
2018
Oil on canvas
50.8 × 40.6 cm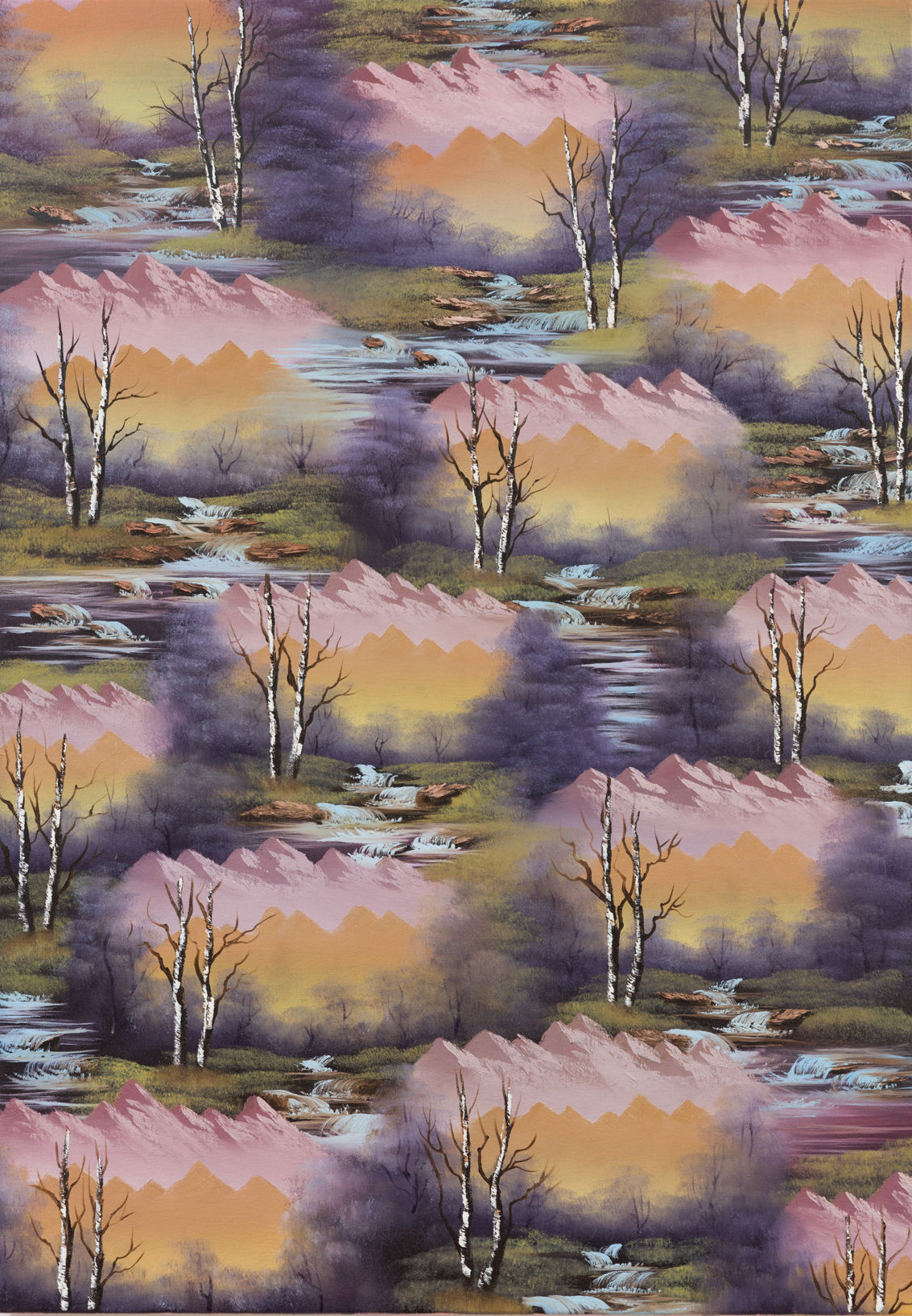 Purple Valley
2018
Oil and acrylic on canvas
99.1 × 71.1 cm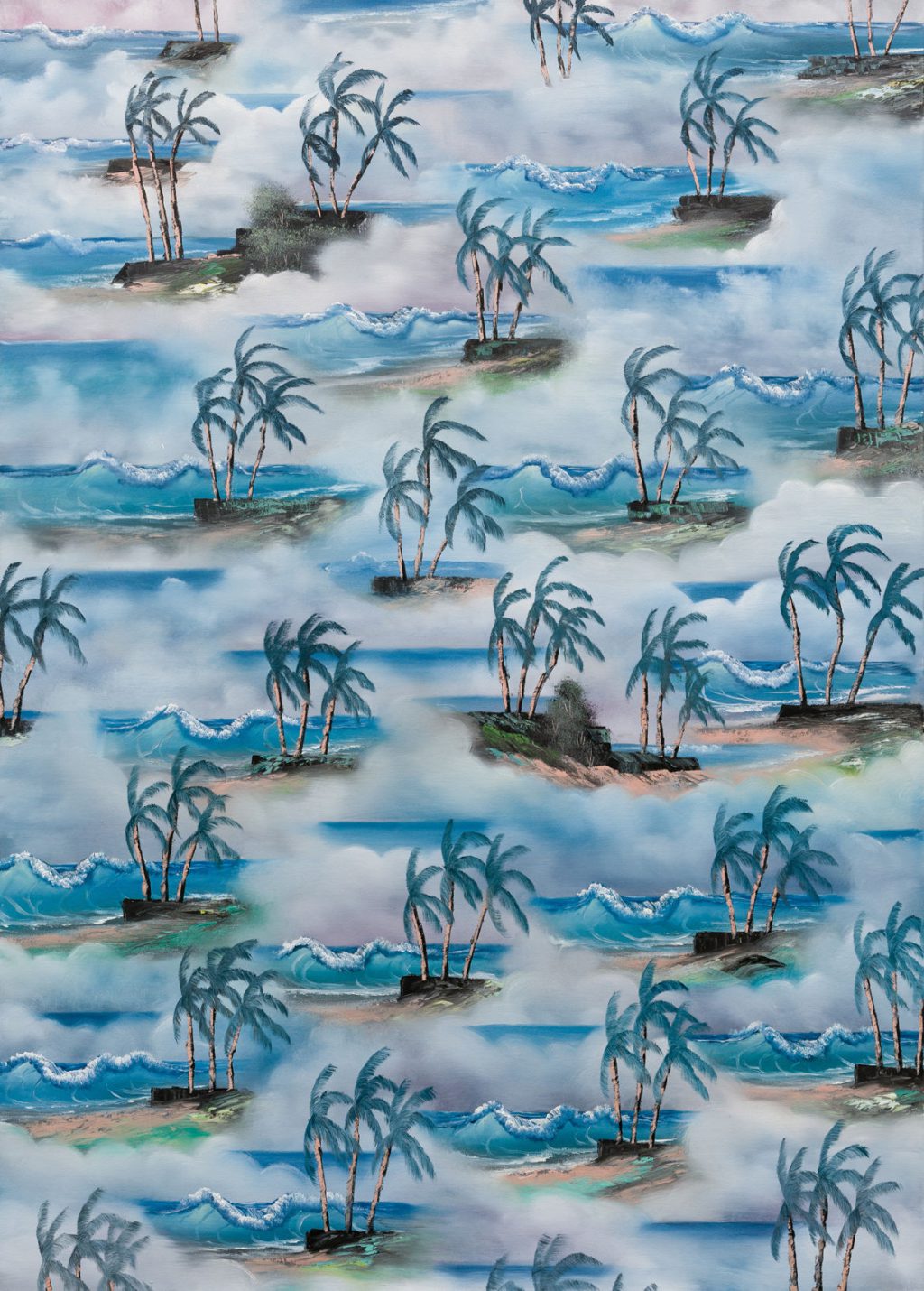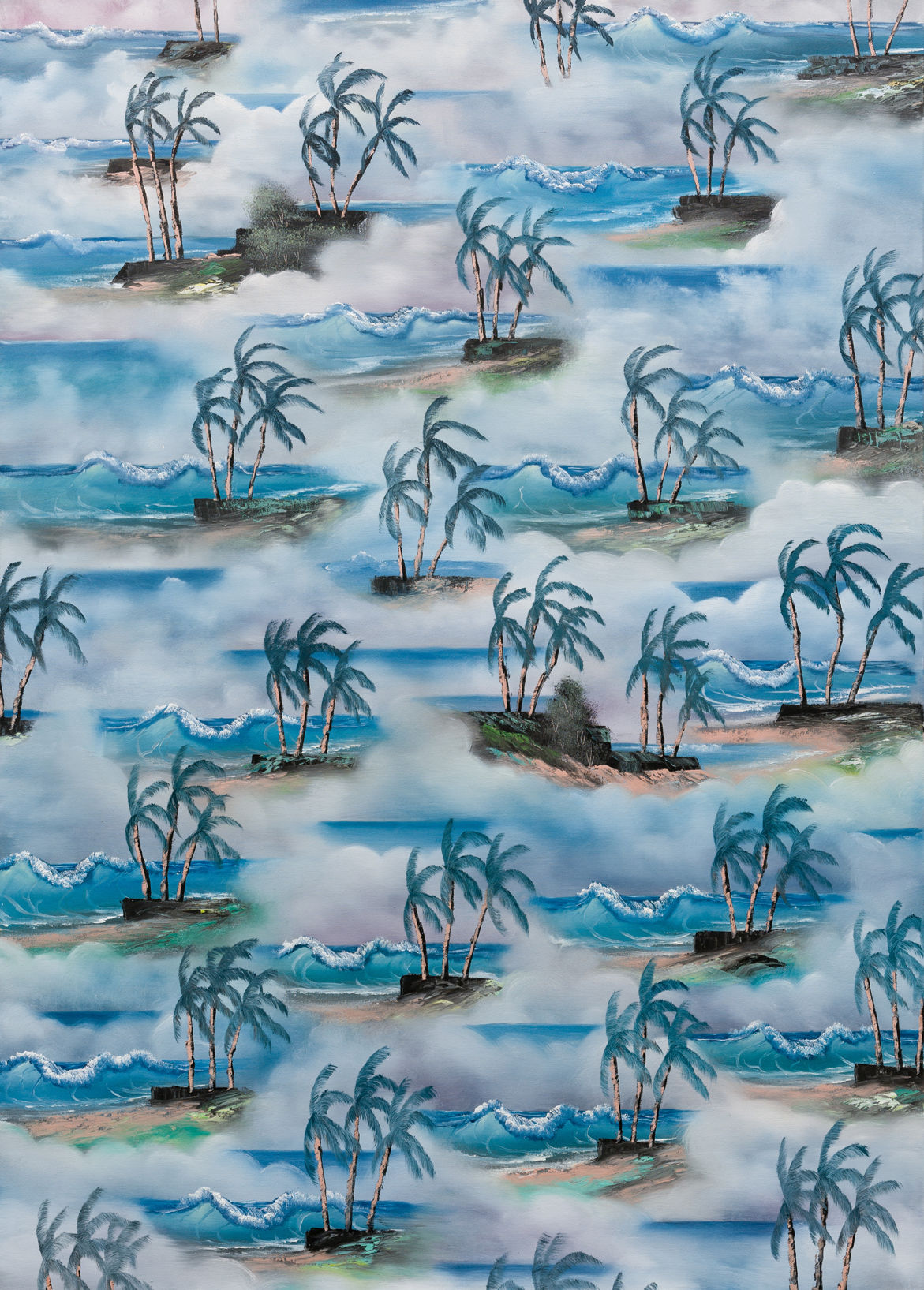 Windy Waves (Bodhi)
2015
Oil on canvas
140 × 100 cm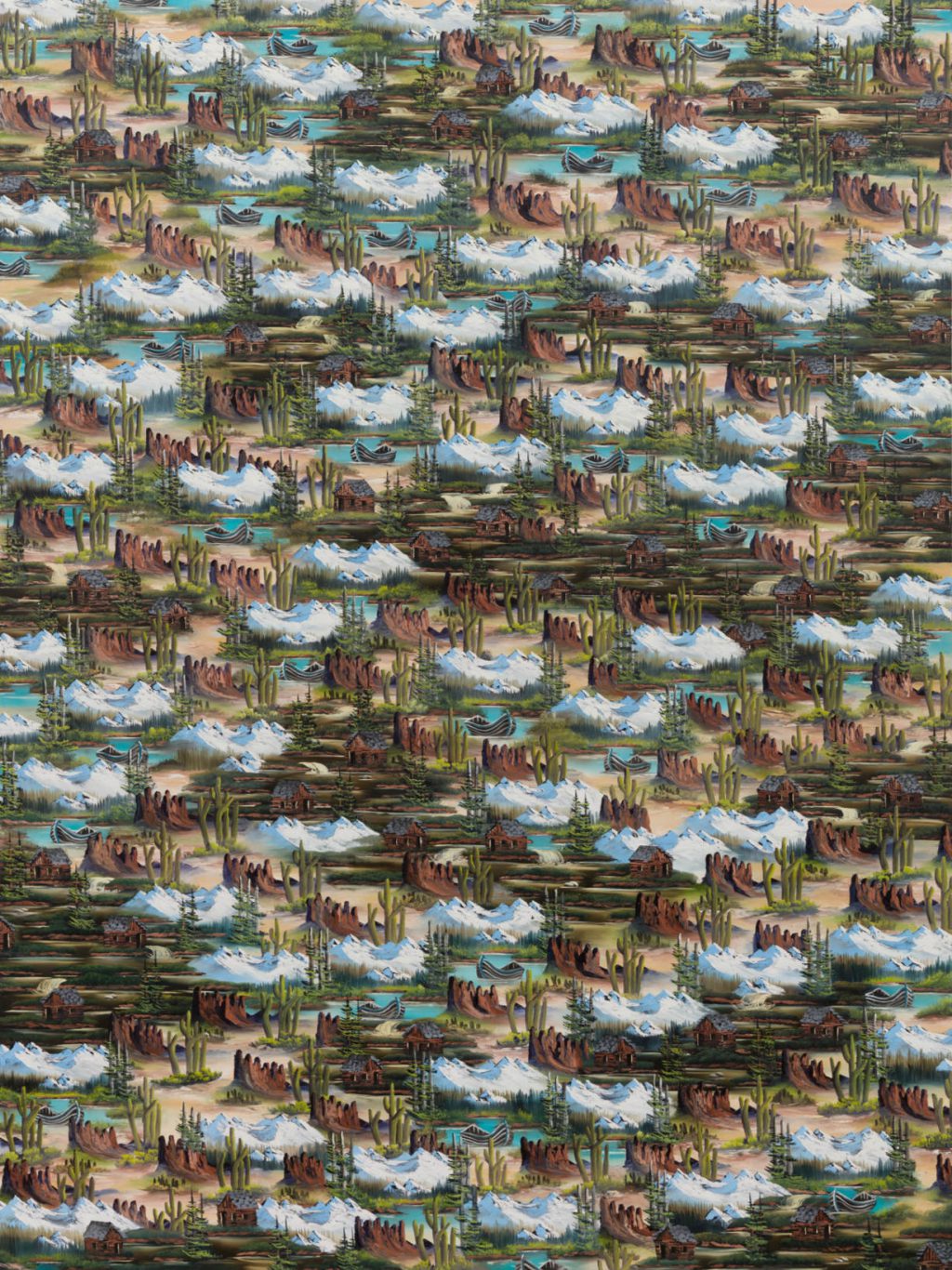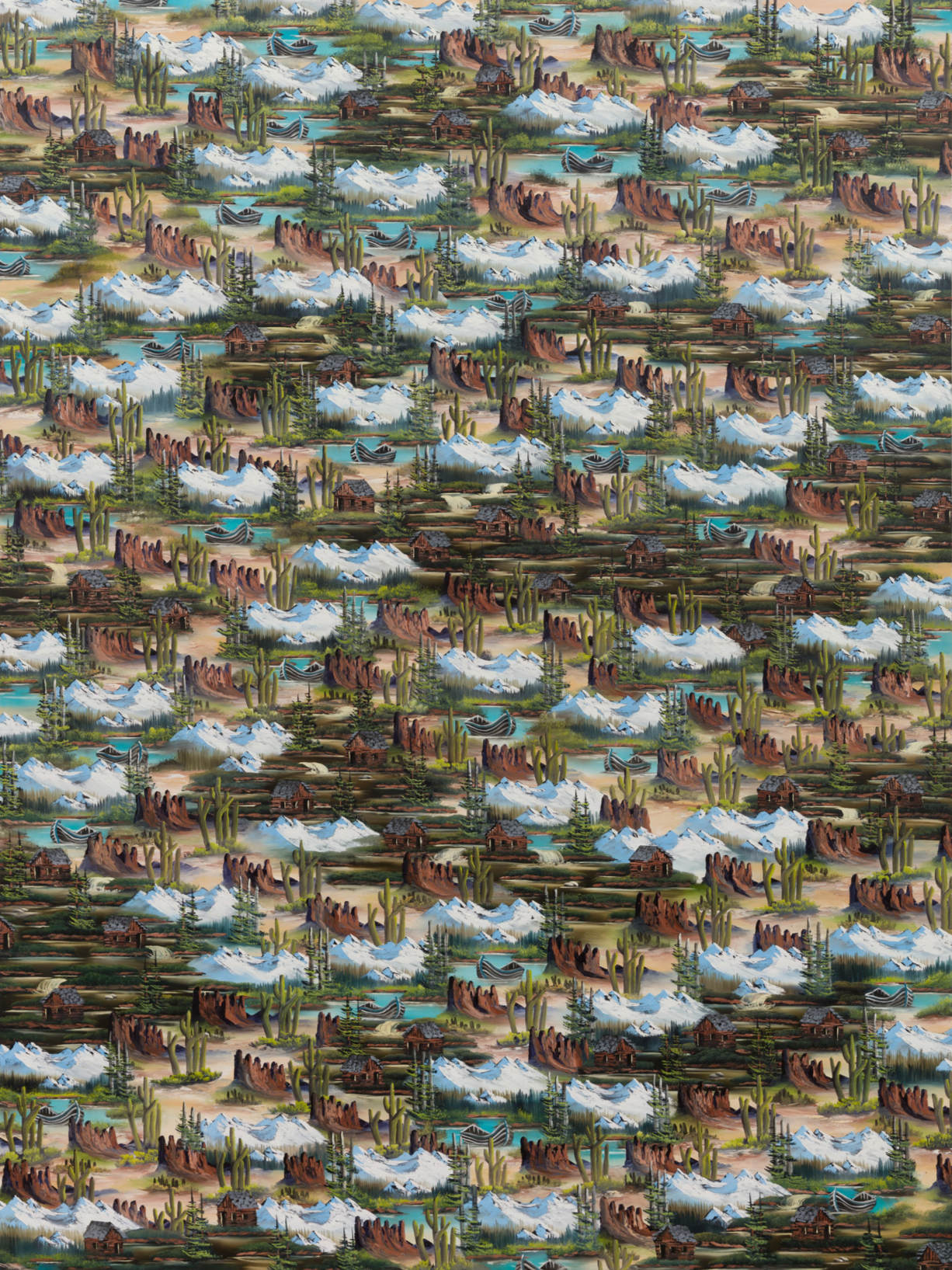 Desert Haze (Emerald Lake 240 Edit)
2018
Oil and acrylic on canvas
240 × 180.5 cm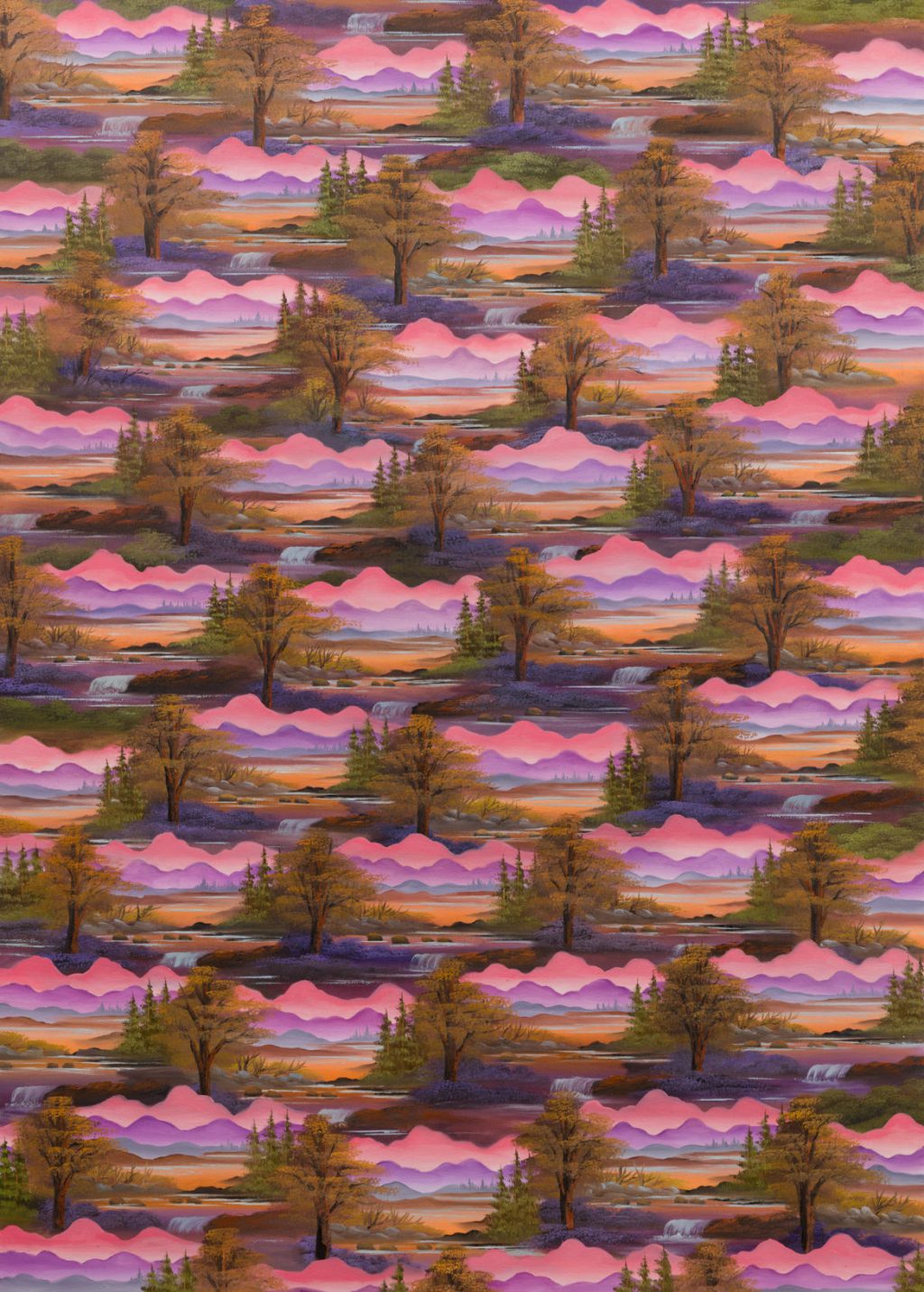 Mountain Valley (Violet)
2019
Oil and acrylic on canvas
140 × 100 cm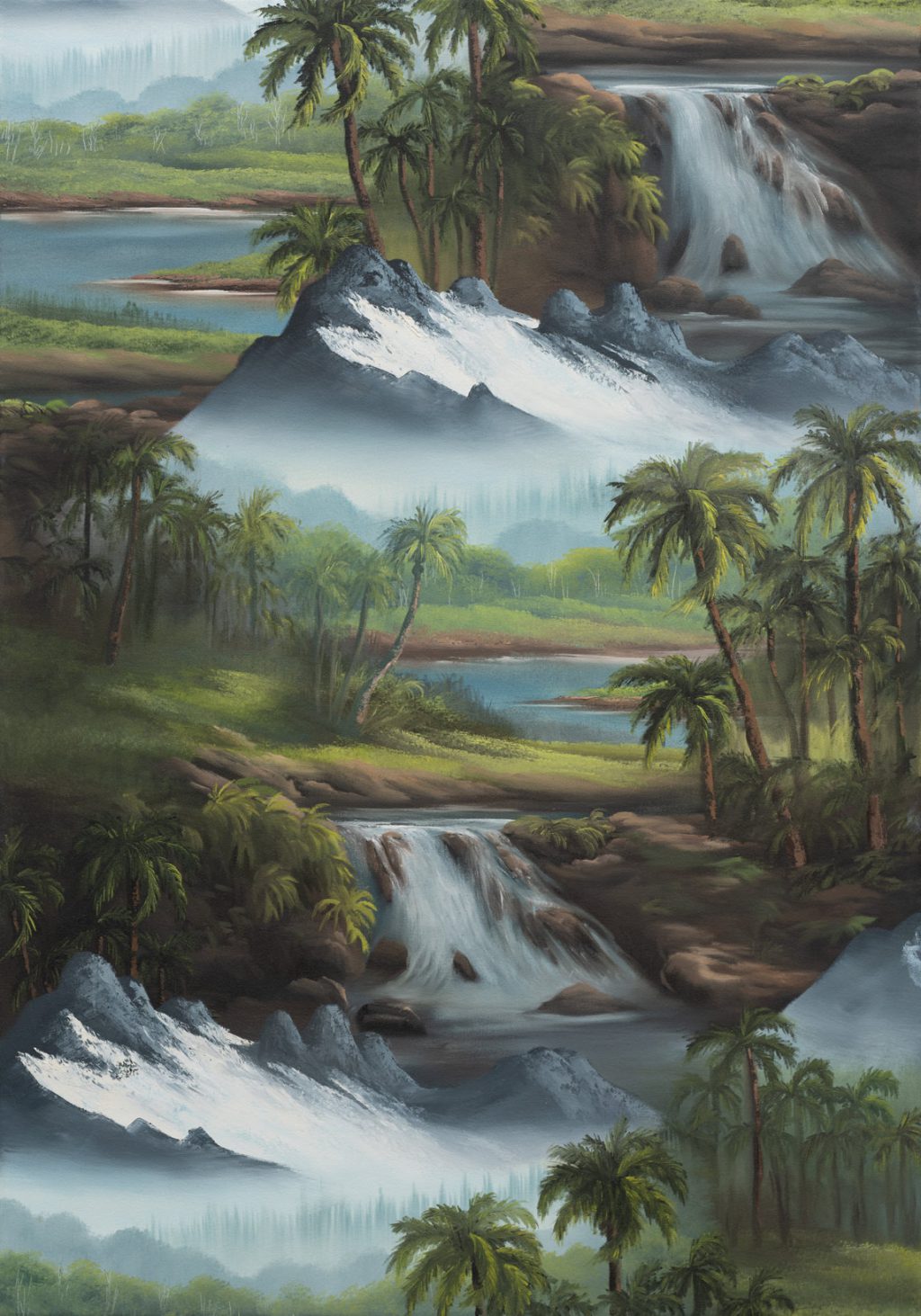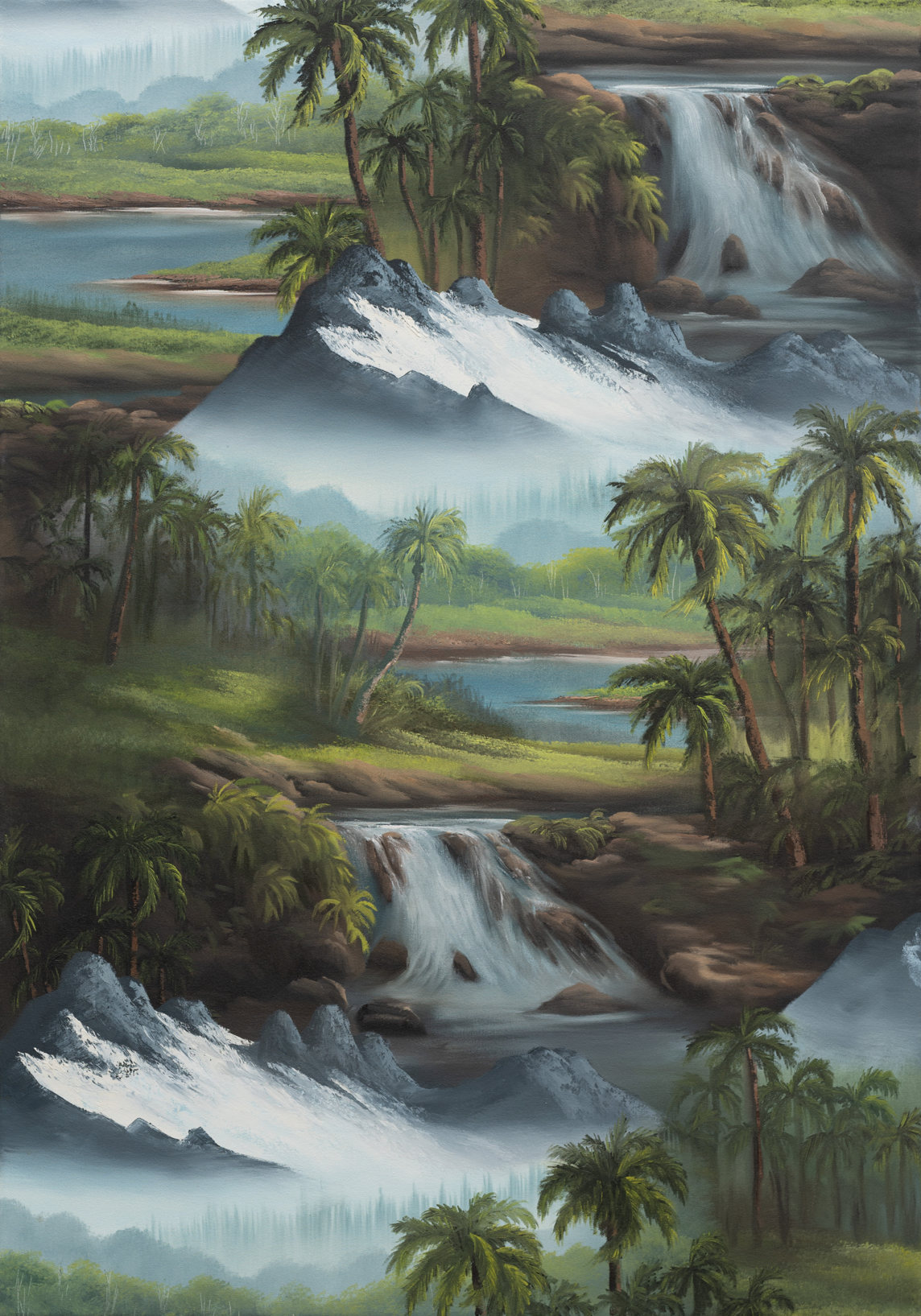 Black Forest Mountain (Double Crop)
2020
Oil on canvas
100 × 70 cm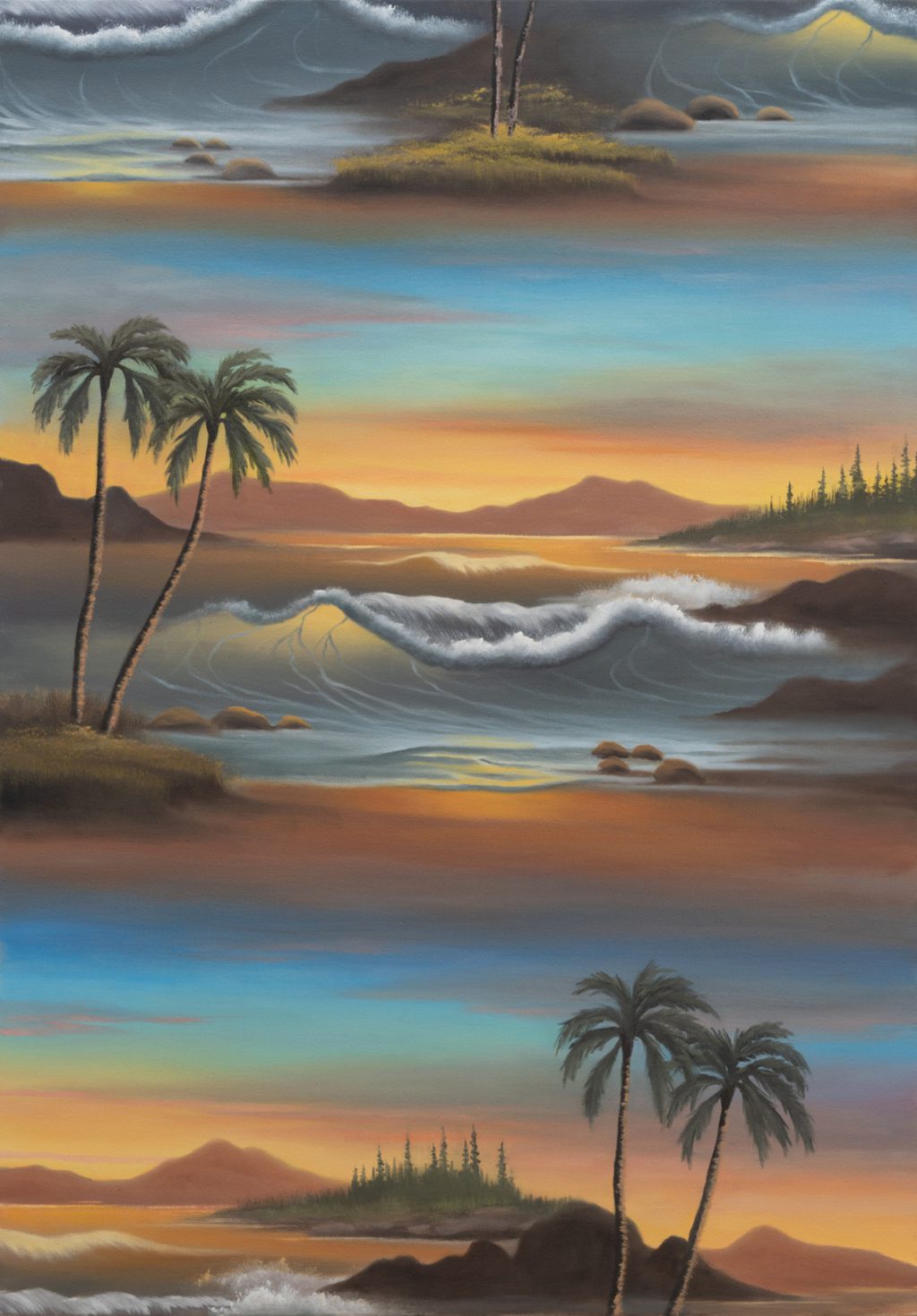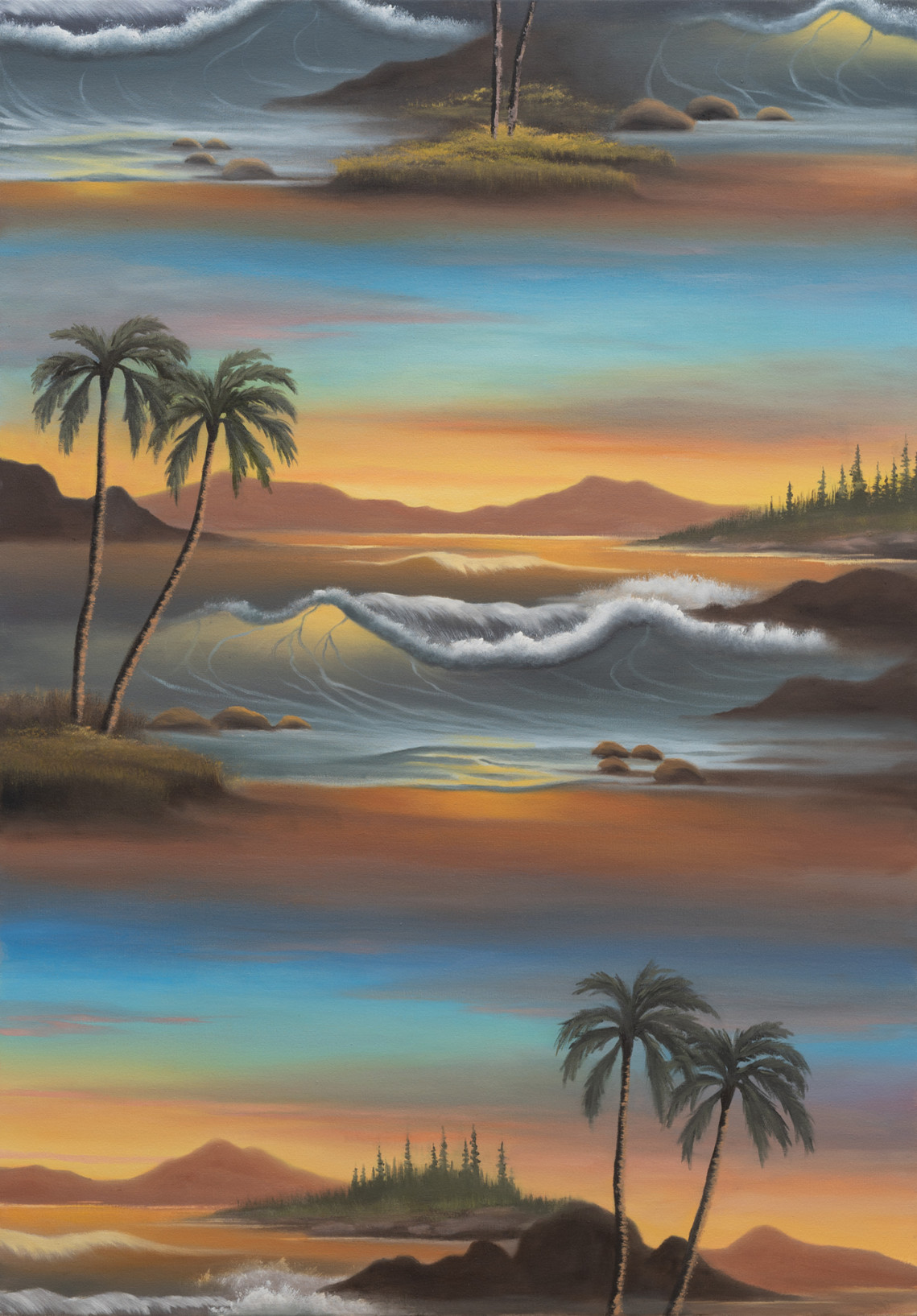 Sunset Tide
2021
Oil on canvas
100 × 70 cm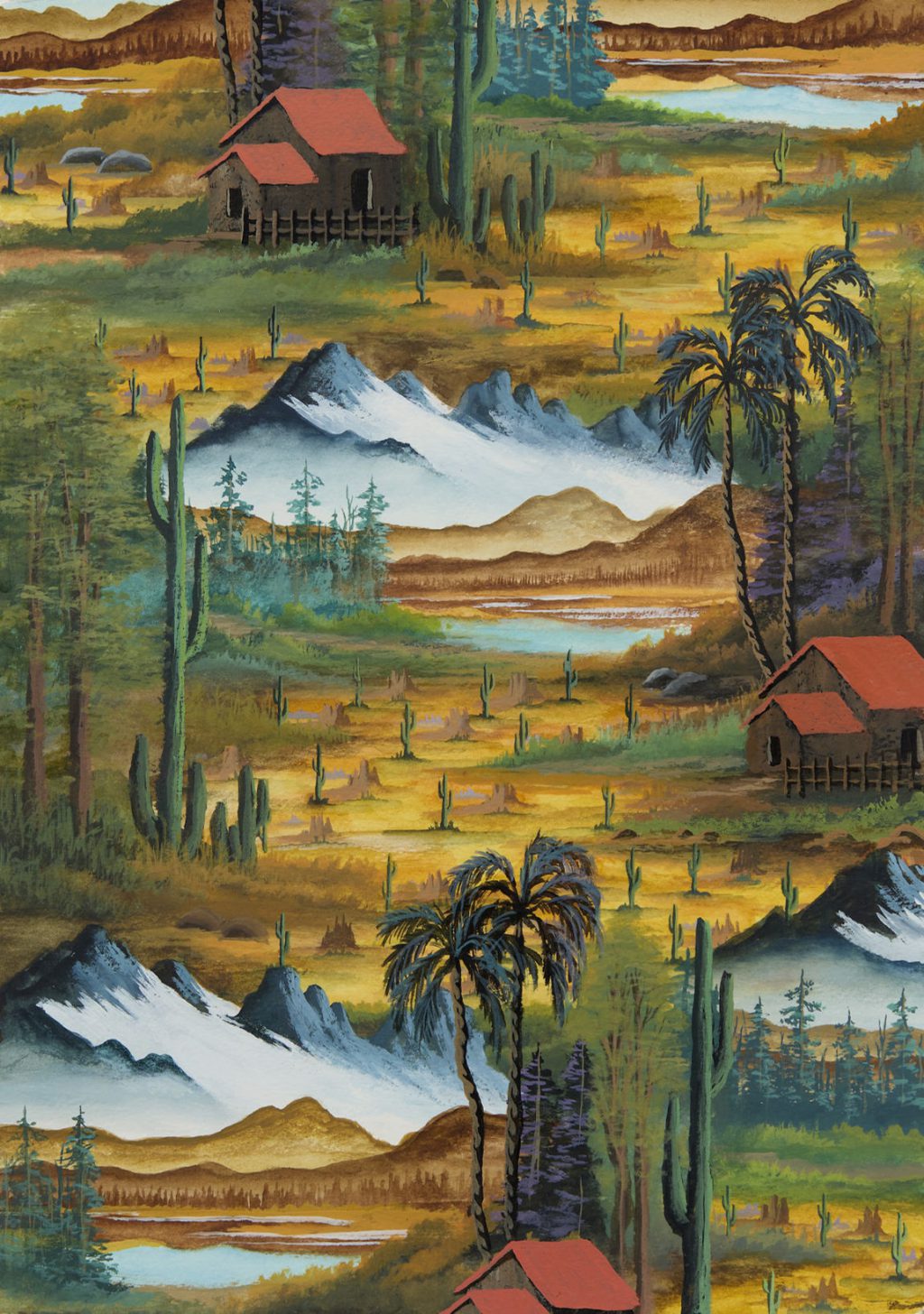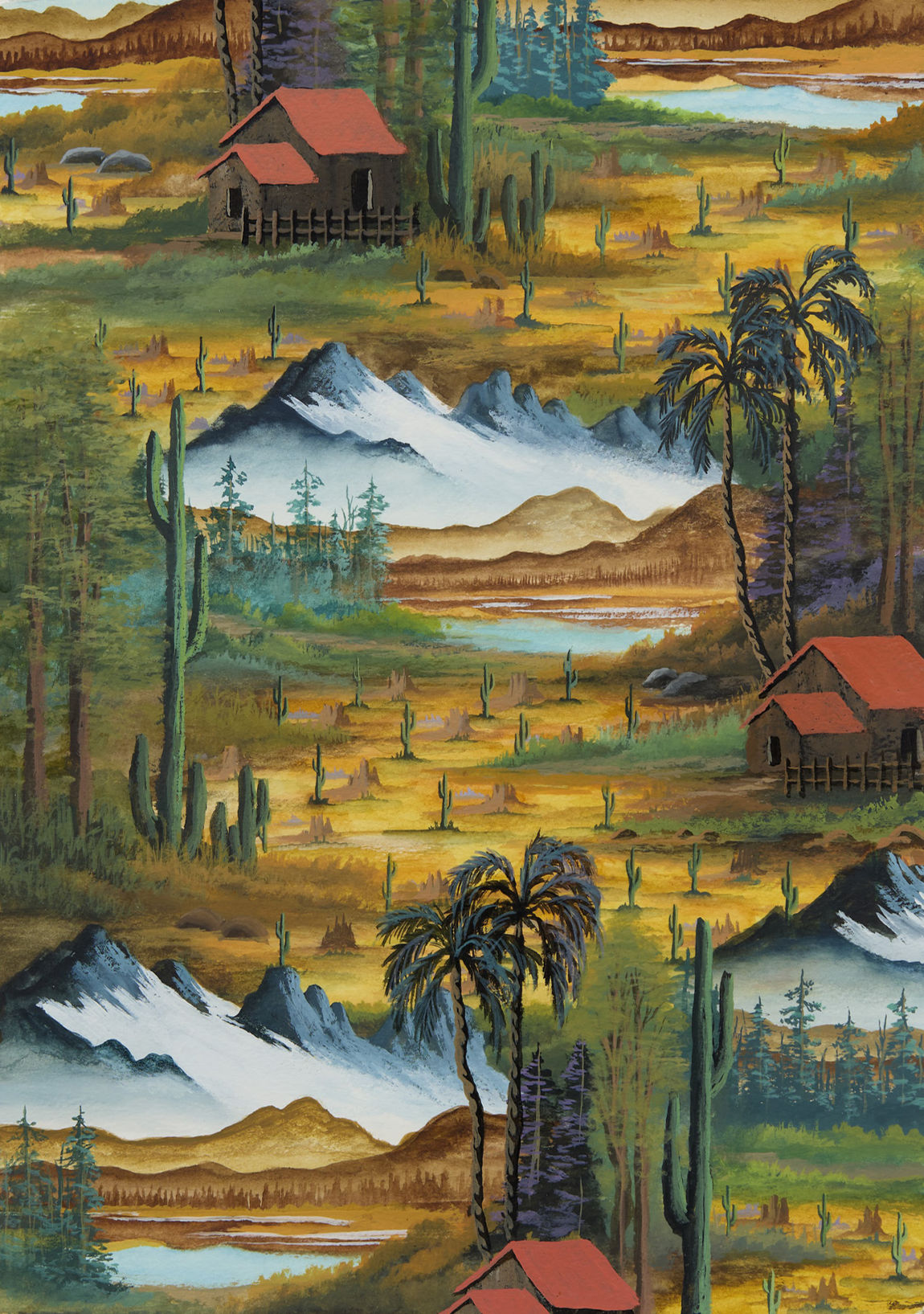 Tropical Desert Zoom
2021
Acrylic, gouache, and watercolor on paper
49 × 37 cm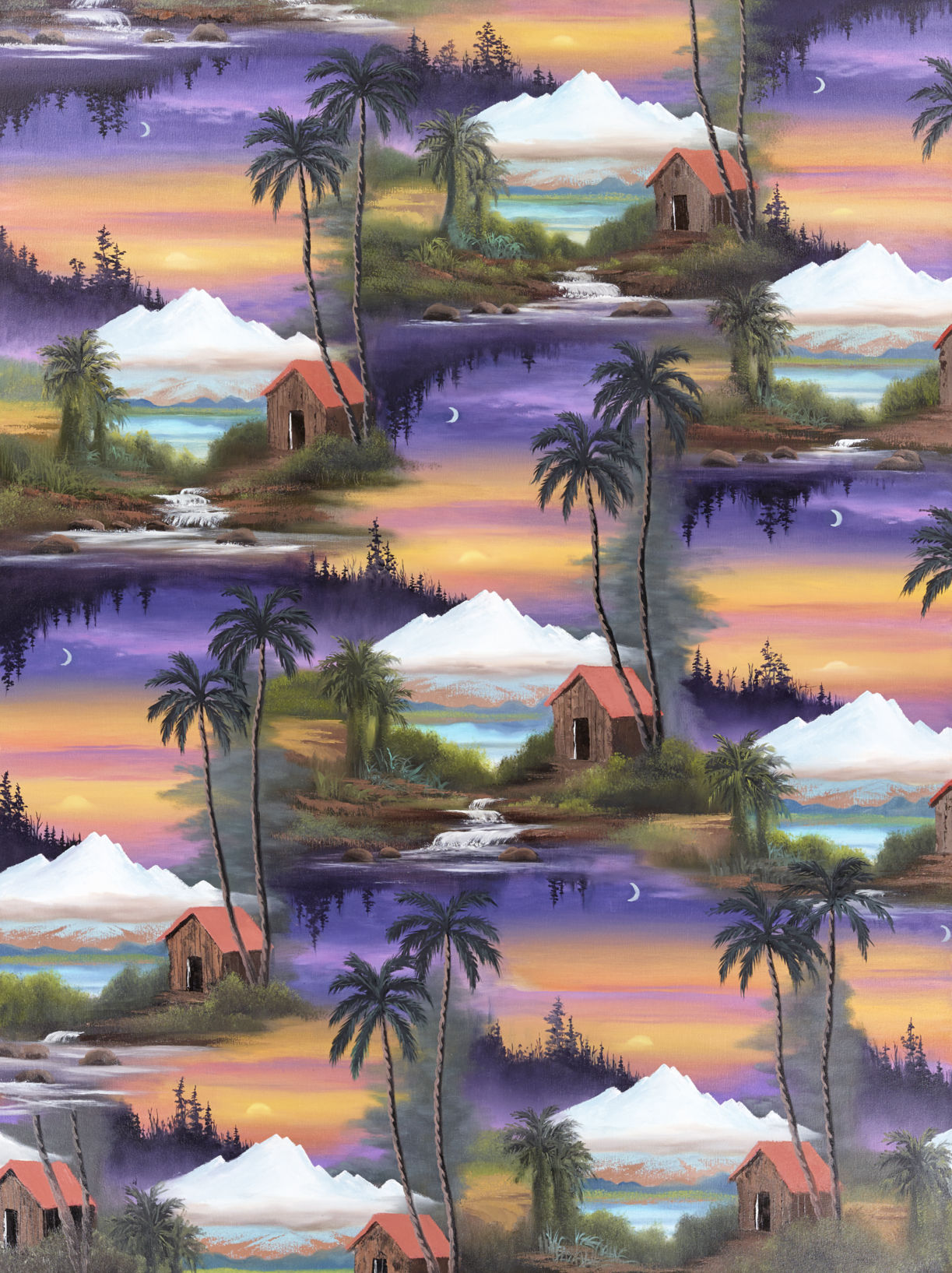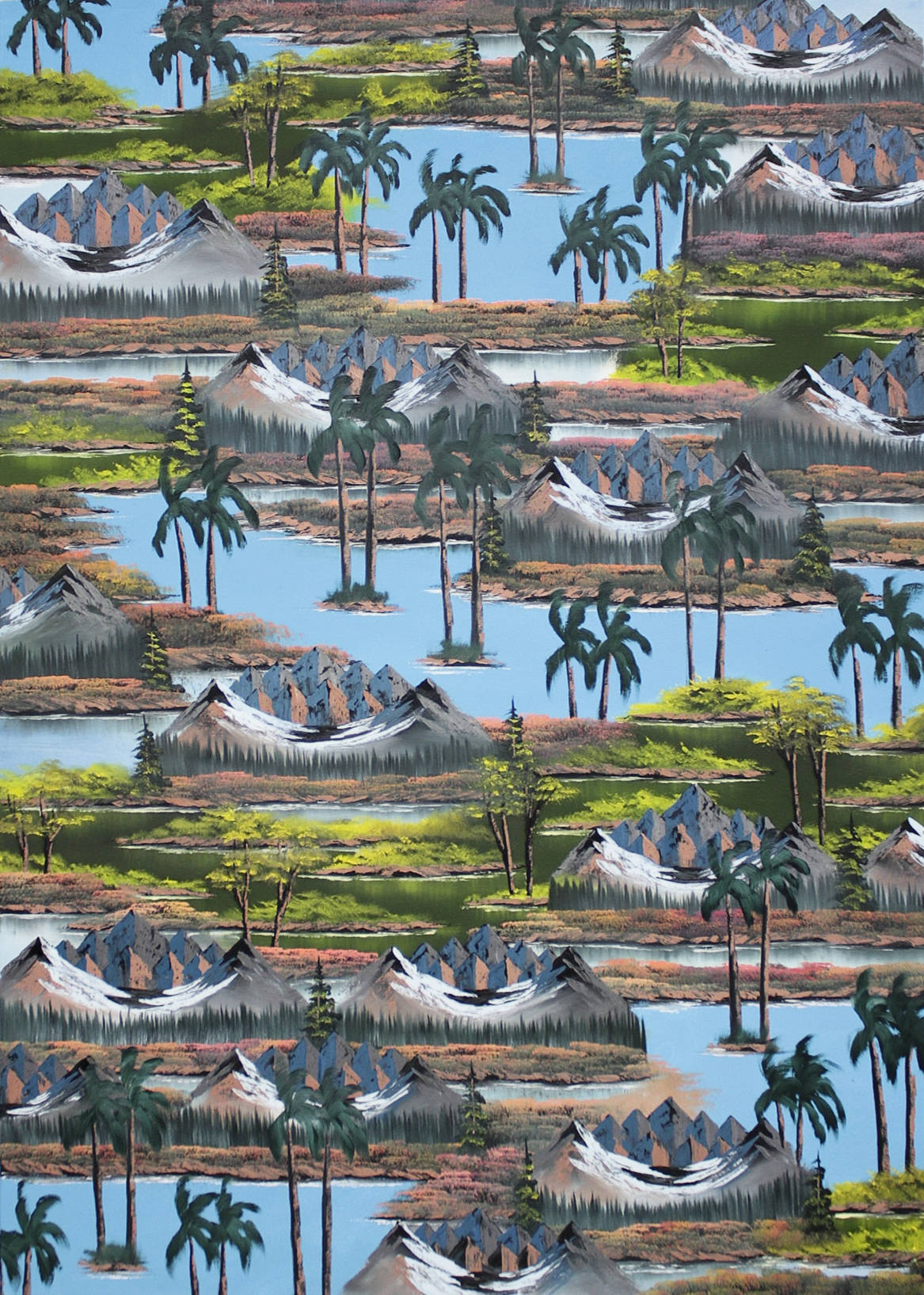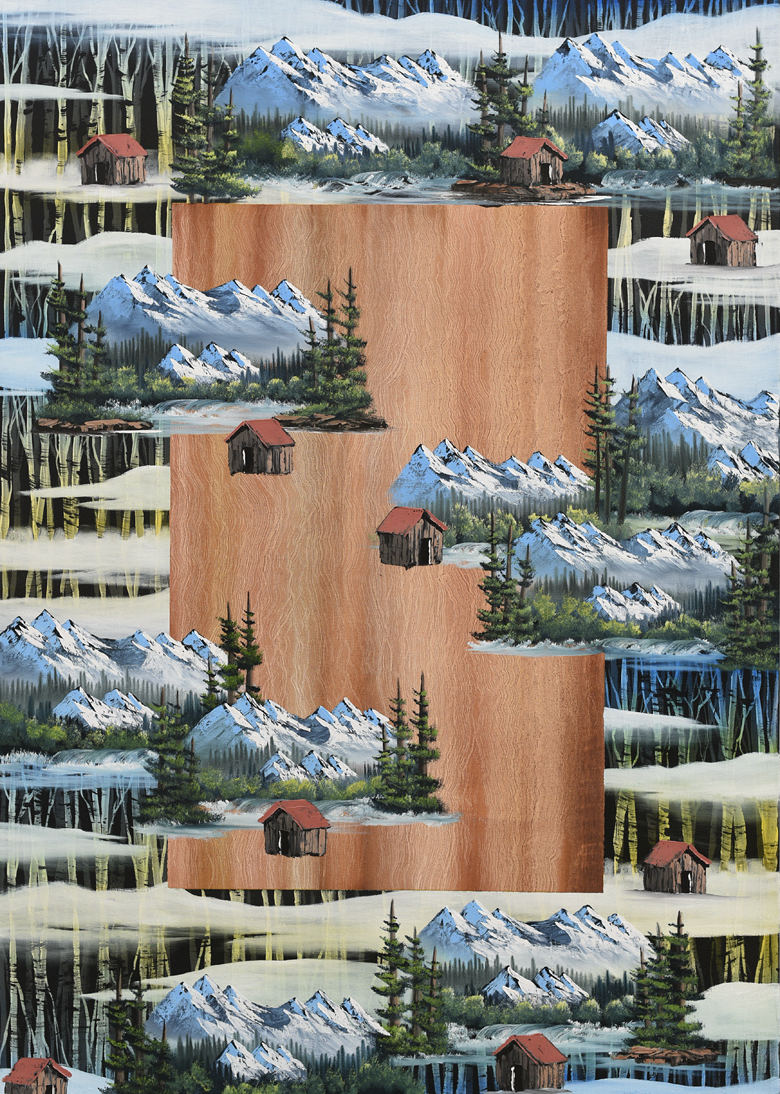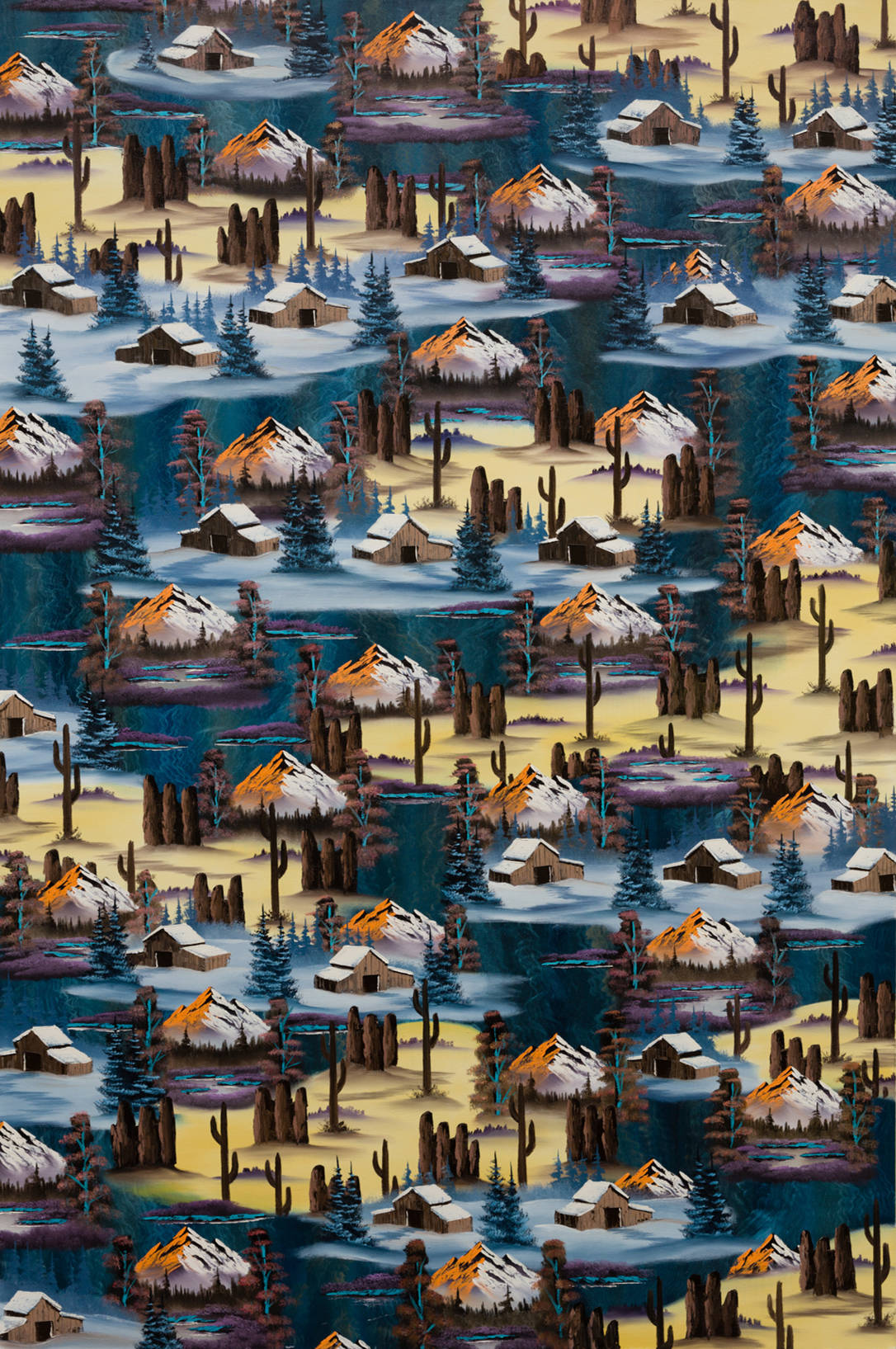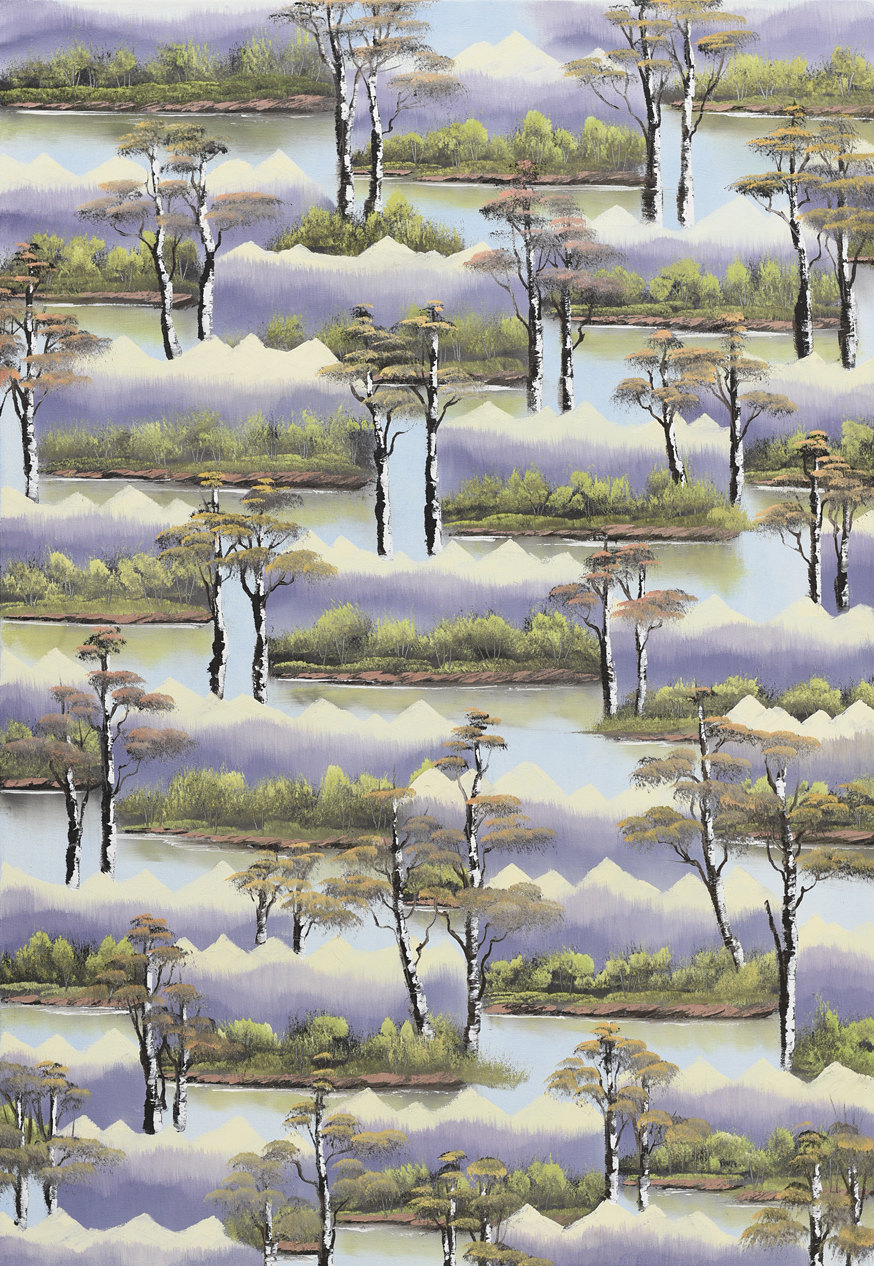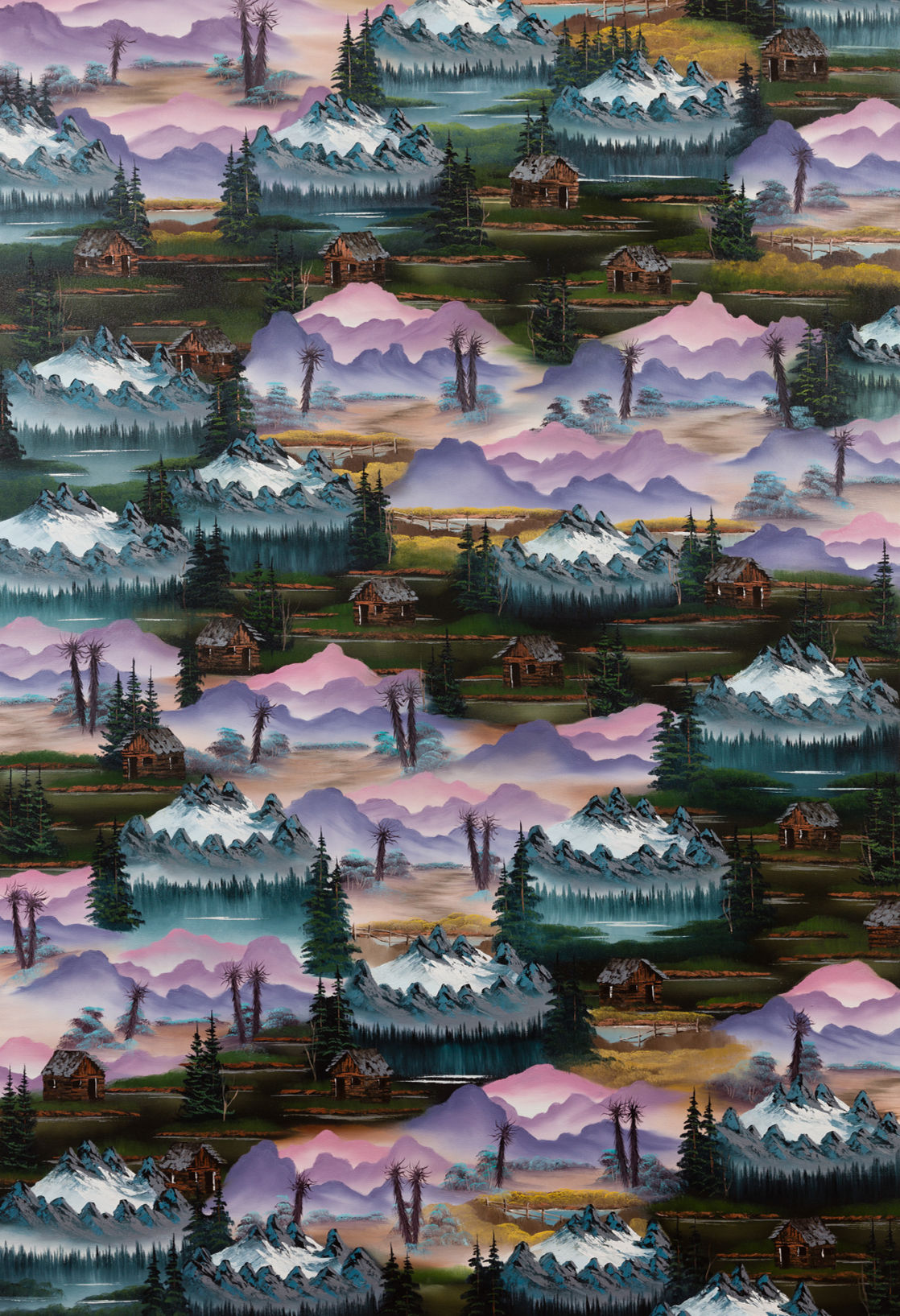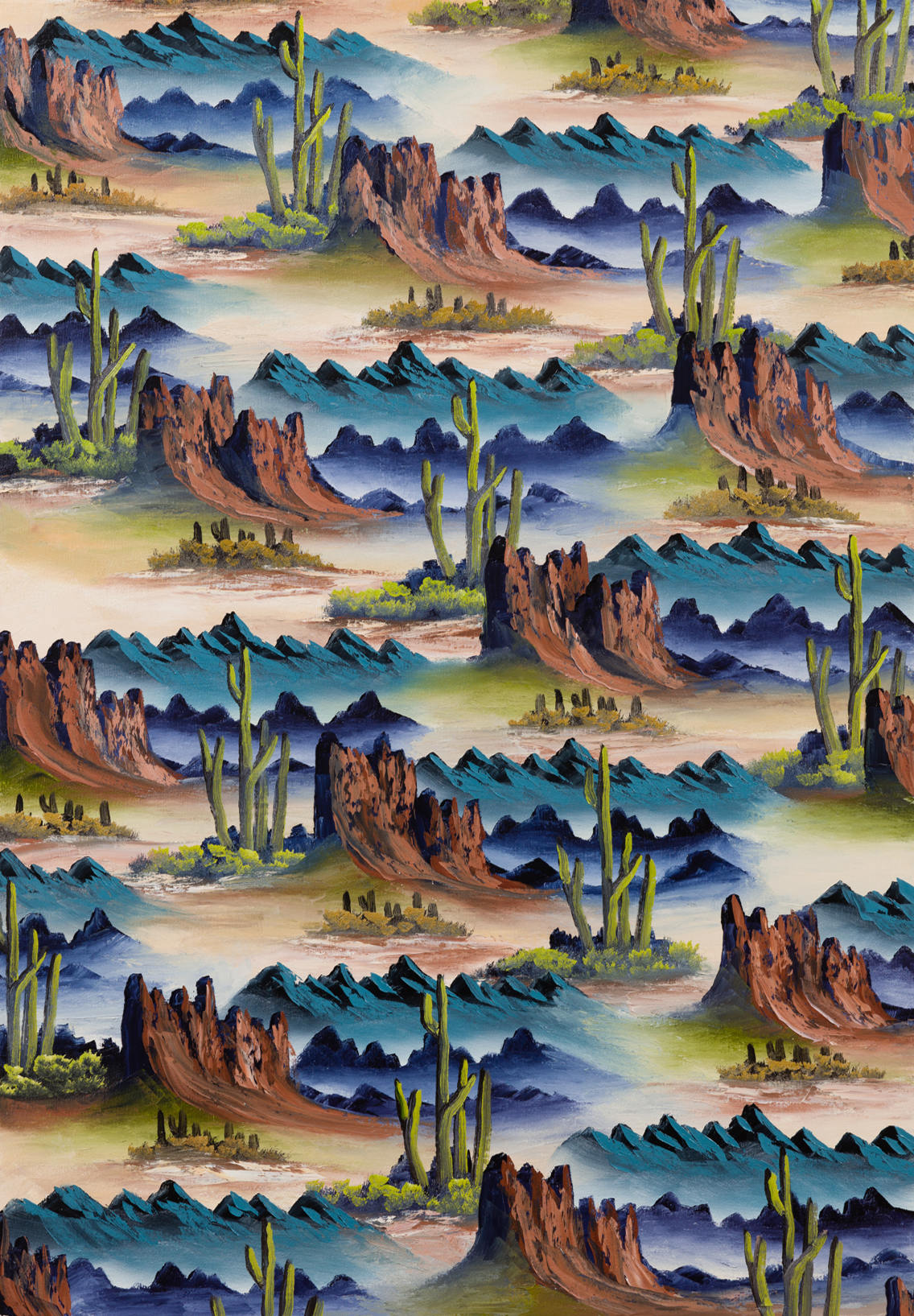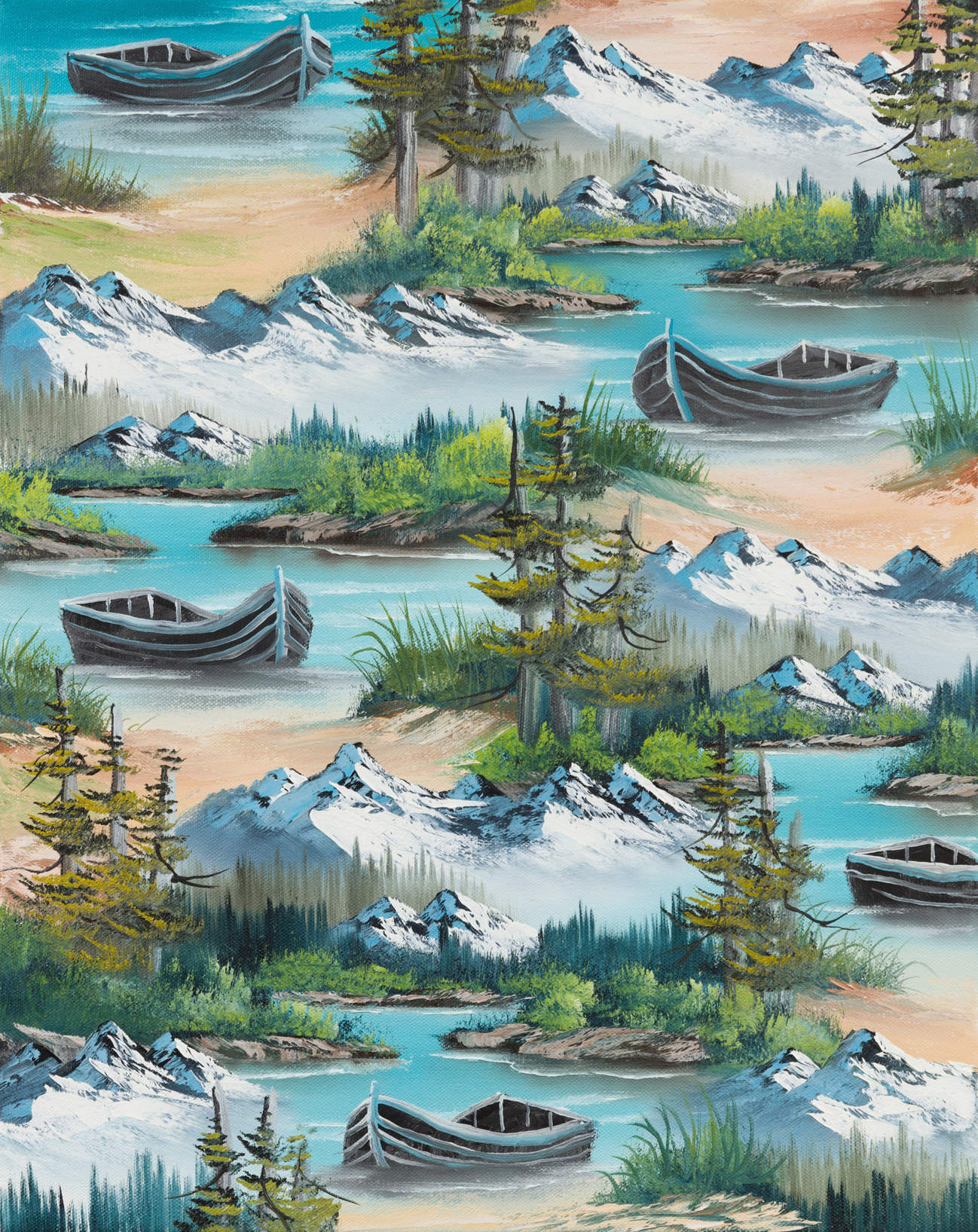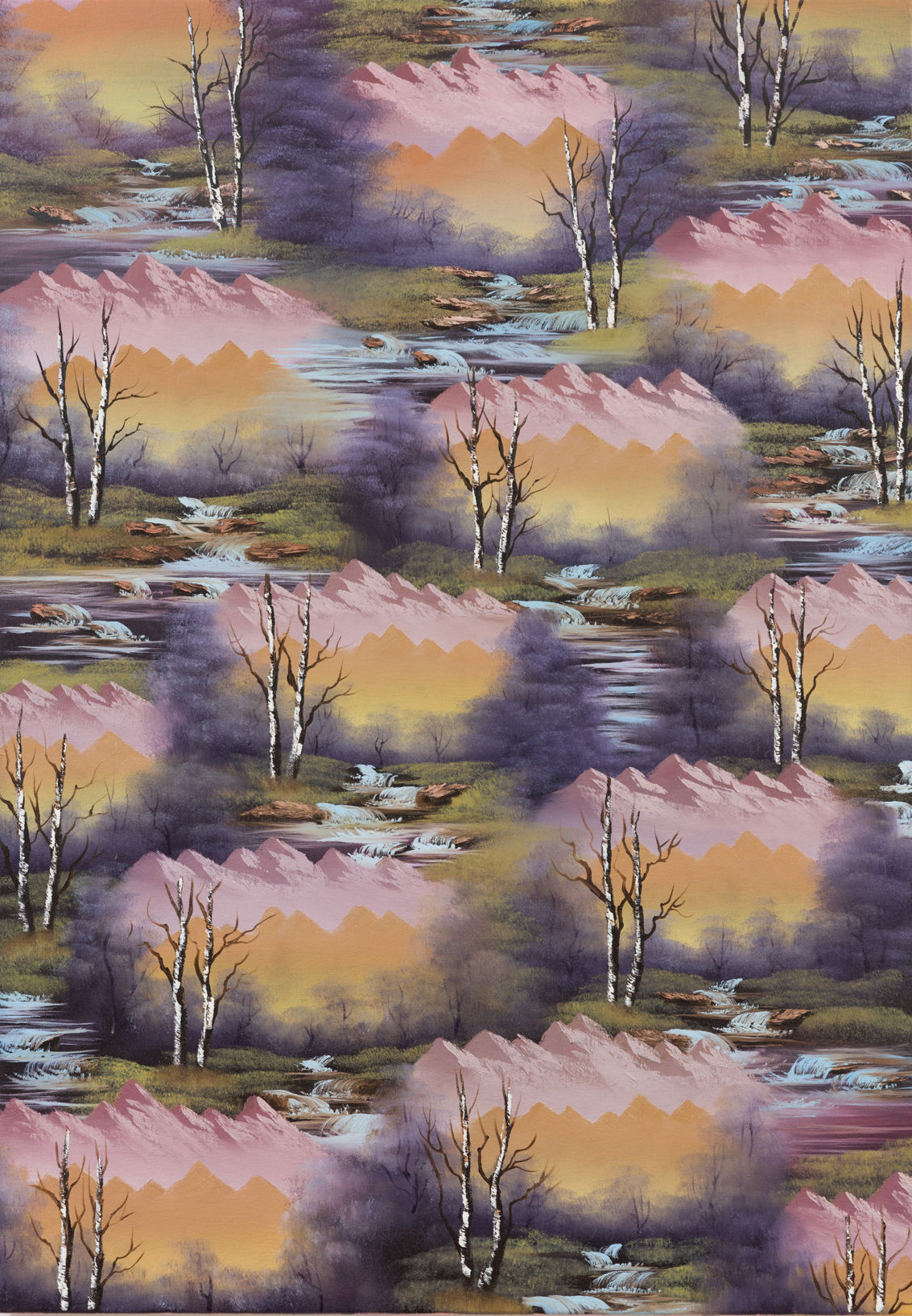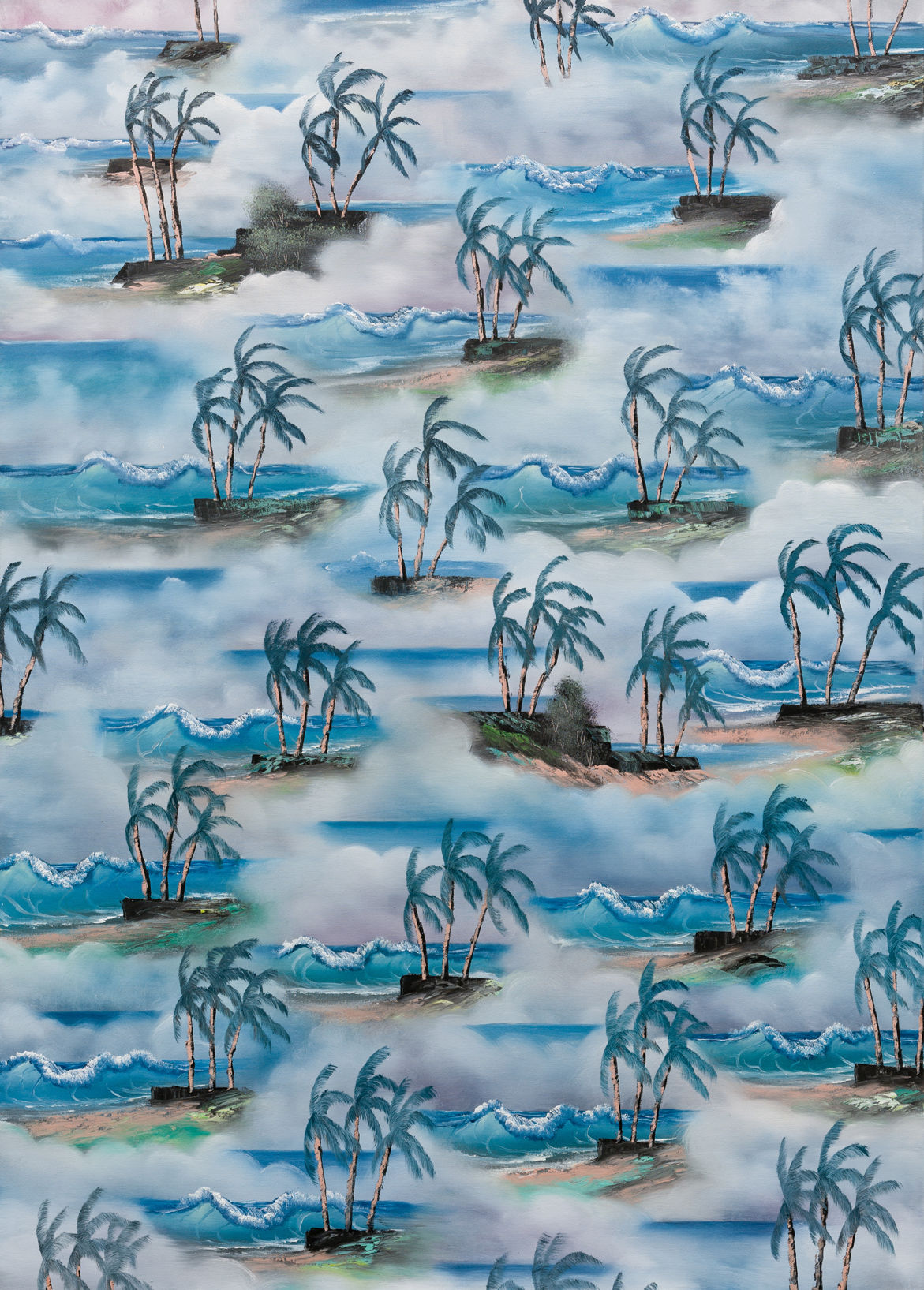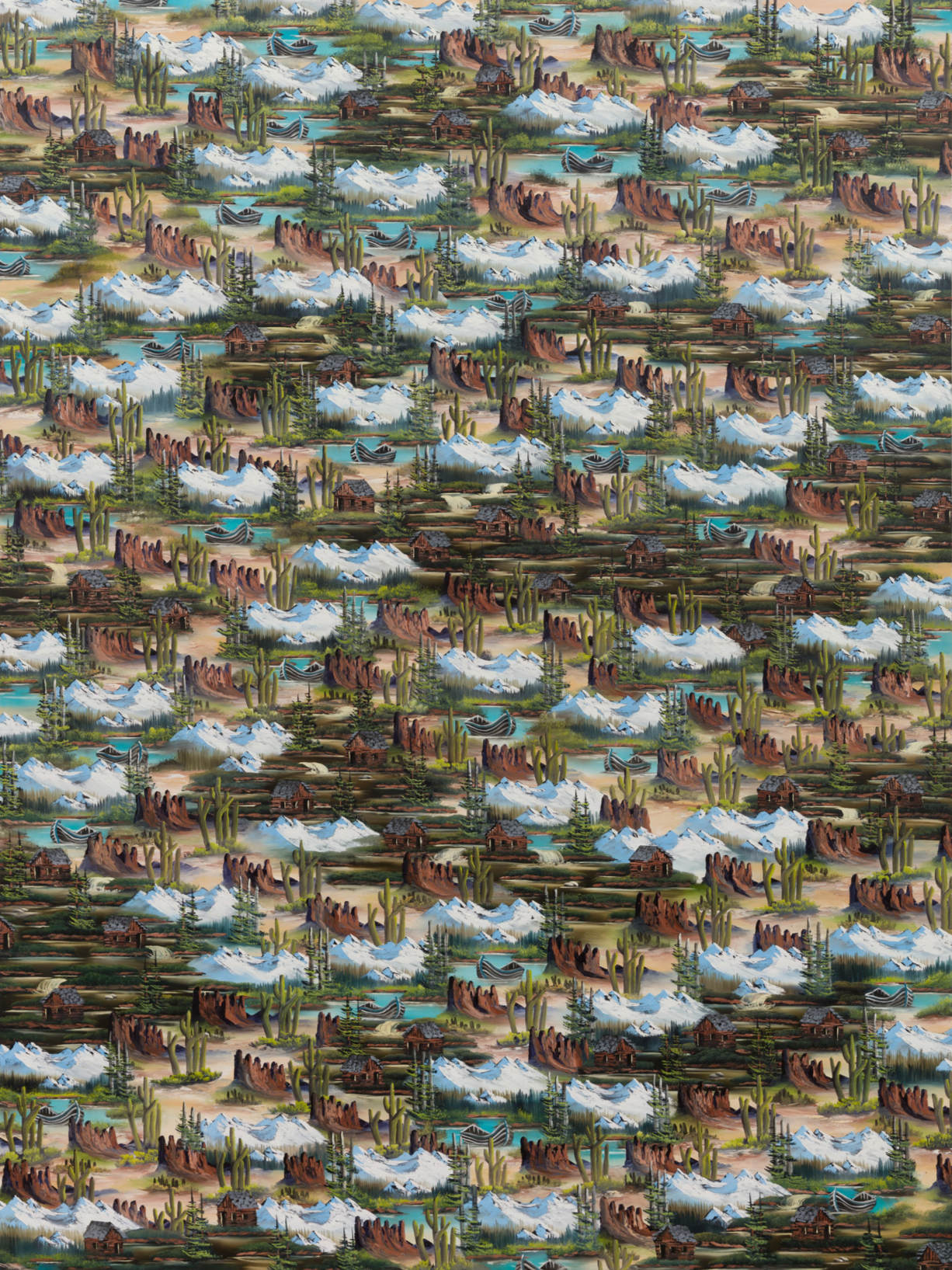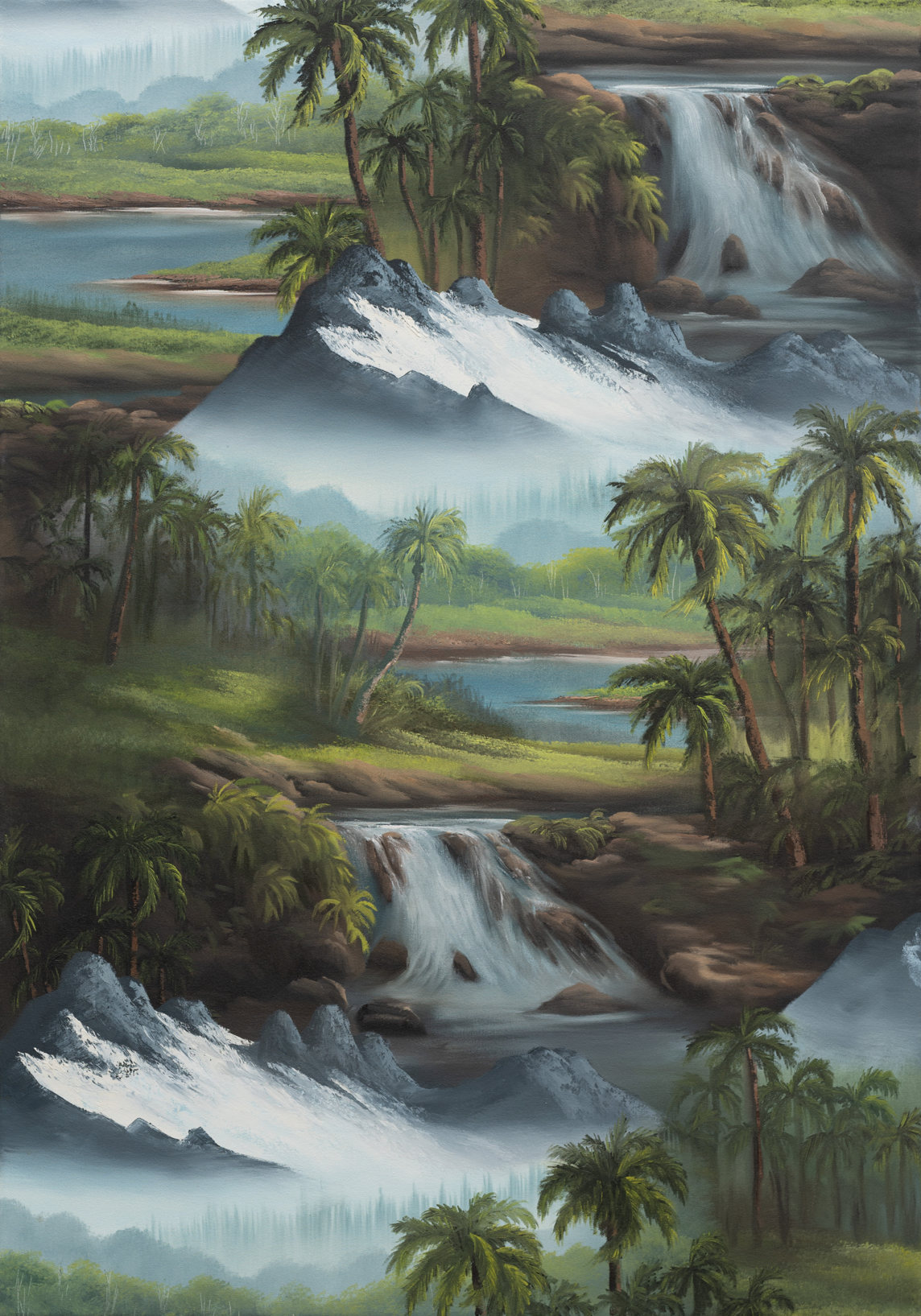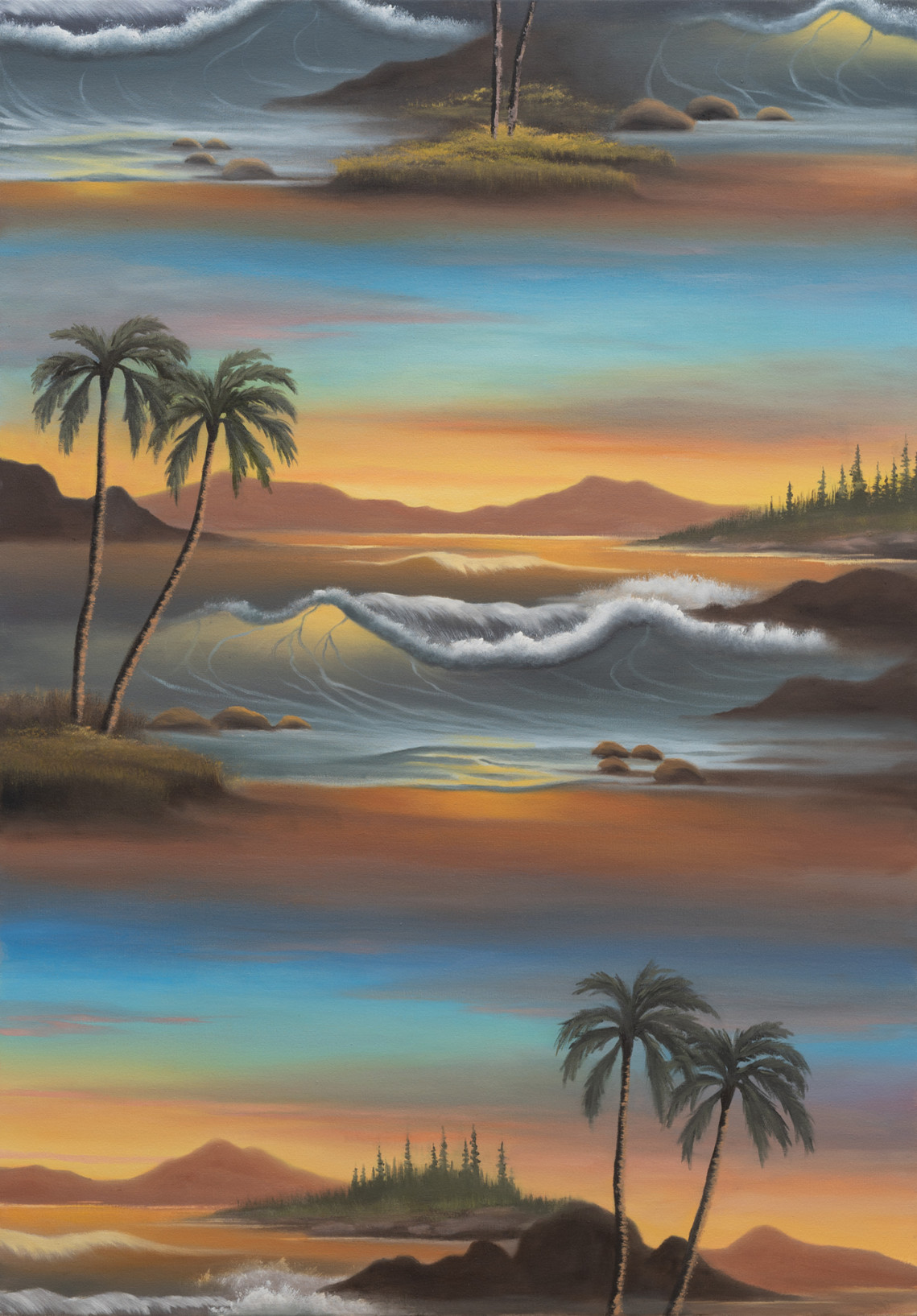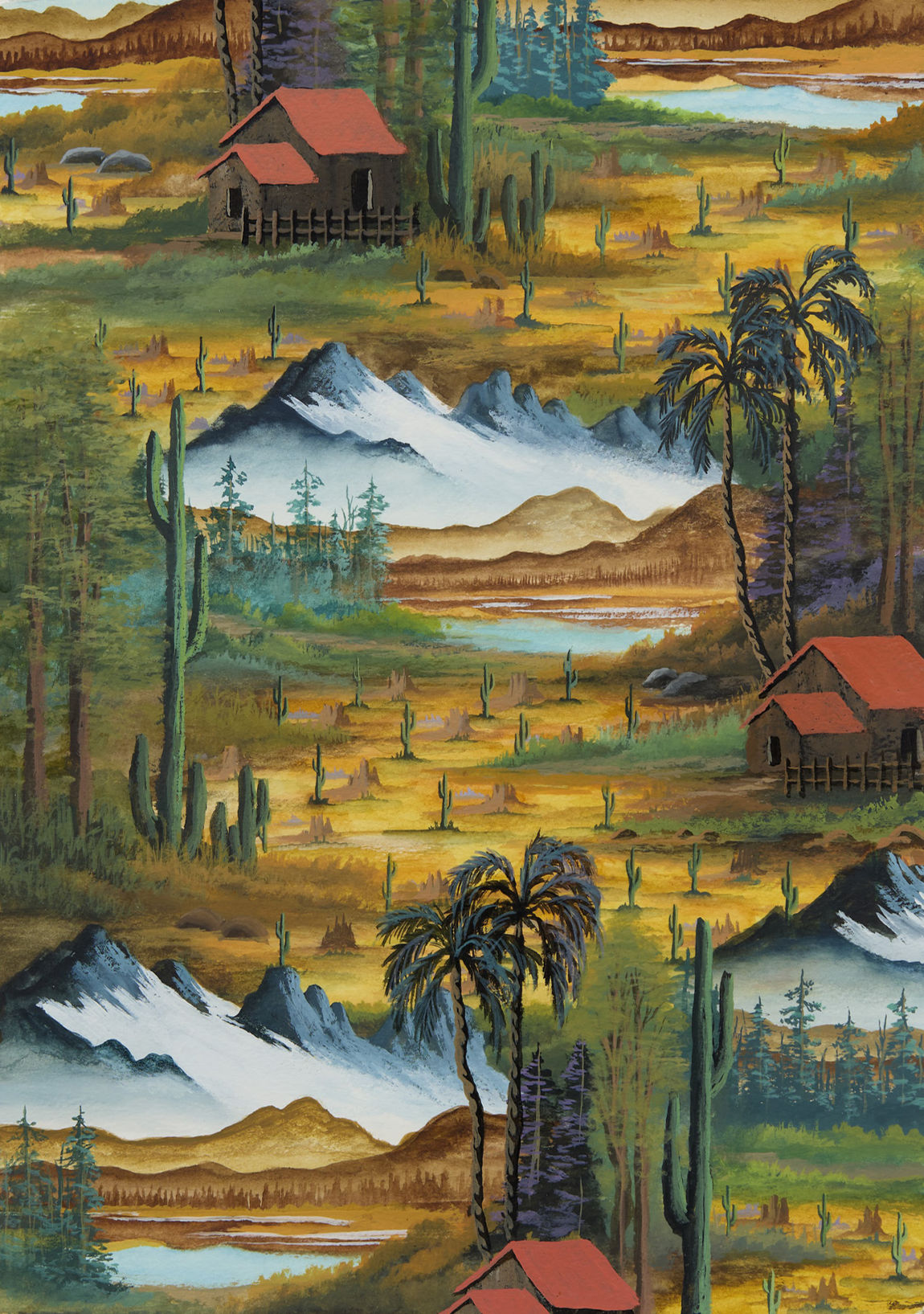 ---
About
Neil Raitt's work would not suggest that he is a born-and-bred Brit. But Raitt was indeed born in Leicester in 1986 and went on to study Fine Art at Norwich University College of the Arts and Painting at the Royal College of Art in London afterwards. Ever since, Raitt has lived and worked in London. The visual world of his paintings, however, is dedicated to another country, the United States. Since his youth, Raitt has been fascinated by the land of unlimited opportunities and landscapes. He is equally fascinated by its broad spectrum of artistic traditions, especially by the fact that naive and hobby art enjoy a very different appreciation than, say, in Europe. In view of these affinities, it is not surprising that Raitt made Bob Ross' legendary TV series The Joy of Painting – in which all this cumulates – the springboard for his artistic practice. Since about the end of his studies, Raitt's canvases present Ross' spectrum of American landscapes – from the sunny, palm-studded beaches of the West Coast to the Blue Ridge Mountains not far from the East Coast – as well as his palette and style, including his famous "happy accidents," of course. But Raitt doesn't stop at quoting this nostalgic mélange of patriotism, romanticism, and perhaps even kitsch. There's a twist, or rather: a glitch in the matrix. Raitt transfers the known into the unknown by repeating motifs, varying them, or interweaving opposing motifs. This way, patterns and labyrinths emerge that are completely in tune with the pulse of the digital age. It is conceptual, digitally funded painting. Raitt's pleasurable repetitions, however, are neither artificial nor lifeless though they do indeed reference mass production from the industrialization over Andy Warhol's Factory until today's digital consumption. His compositions are, on the contrary, wonderfully painterly, at times downright impasto. That is why Raitt's repetitions do not make our eyes tired, but rather sharpen our senses. They do allow us to get to the core of things by addressing the big questions of today's art "production," e.g., about where the border between art and kitsch actually runs. Therefore, one could say that Raitt's painting is quite in keeping with the old Roman proverb, according to which repetition is the mother of all wisdom.

Continue reading
In 2014, the Goss-Michael Foundation in Dallas hosted Raitt's first major solo exhibition. Since then, his work has been shown in numerous international solo and group exhibitions, such as at the Halle des bouchers in Vienne, the Villa Du Parc in Annemasse, and the DePaul University Art Museum in Chicago. Works by Raitt are held in the collections of the Los Angeles County Museum of Art (LACMA) and the DePaul Art Museum in Chicago, among others.
In the winter of 2022, Galerie Judin will present Raitt's first solo exhibition with the gallery, which will be accompanied by a comprehensive exhibition catalogue published by the Verlag der Buchhandlung Walther und Franz König.
---
---
---
Chronology
---
Biography
1986
Born in Leicester
2009
BFA Norwich University College of the Arts
2013
MA Painting, Royal College of Art, London
Lives and works in London.
Selected Solo Exhibitions
2022-23
Neil Raitt: Tangerine Sunset, Galerie Judin, Berlin
2021
Neil Raitt: Between a Rock and a Setting Sun, Anat Ebgi, Los Angeles, CA
2018
Neil Raitt: Imitation Sand, Galerie Chez Valentin, Paris
2017
Neil Raitt: Misty Rock, Anat Ebgi, Los Angeles, CA
2016
Neil Raitt: Chasing Bridges, The Cabin, Los Angeles, CA
Neil Raitt: Landscapetual, Mon Chéri Gallery, Brussels
Neil Raitt: Fantasy Traveller, Nicelle Beauchene, New York, NY
2015
Neil Raitt: Happy Painting, Anat Ebgi, Los Angeles, CA
2014
Neil Raitt: CABINECTOMY, Goss-Michael Foundation Residency, Dallas, TX
Neil Raitt: Catlin Art Prize, Londonewcastle Project Space, London
Selected Group Exhibitions
2021
Good Company: Pt.1, Anat Ebgi, Los Angeles, CA
2020
Staycation, Anat Ebgi, Los Angeles, CA
2019
Abstracted, Rental Gallery, East Hampton, NY
The Conversation, Anat Ebgi at Minnesota Street Project, San Francisco, CA
2018
Mythologies of a Sublime, Pedro Cera Gallery, Lisbon
Sky Above Clouds, Darrow Contemporary, Aspen, CO
DPAM Collects: Happy Little Trees and Other Recent Acquisitions, DePaul Art Museum, Chicago, IL
As You Like It, Praz-Delavallade, Los Angeles, CA
2017
Small Enough to Keep Me Happy, Big Enough to Keep Me Occupied, Eighteen Gallery, Copenhagen
Coquet Mais Pas Trop, Centre d'art contemporain La Halle des bouchers, Vienne
First Star, Last Snowflake, Villa Du Parc centre d'art contemporain, Annemasse
Currents, Lin & Lin Gallery, Taipei, Taiwan
2016
Divers, Galerie Chez Valentin, Paris
Neil Raitt, Joshua Sex and Alfred Wallis, Brendan Lynch's Porch Museum, New York, NY
Neil Raitt and Joshua Sex: The Hermits' Cave, The Porch Museum, New York, NY
2015
POST-ANALOG PAINTING, The Hole, New York, NY
2014
Jack, Neil, Shane, Gareth and Matthew, Choi & Lager, Cologne
Morphol Scowl, Piccadilly Place, Manchester
The Back of Beyond: Neil Raitt, Adam Bainbridge & Sam Irons, Hus Gallery, London
2013
Painting Show and Performances, Winter Projects, London
Buddy System Invitational, Breeze Block Gallery, Portland, OR
SHOW RCA, Royal College of Art, London
SATELIKE, Departure Foundation, London
Spooky Action, Blyth Gallery, London
Form From Form, Matthews Yard, Greater London
Freya Douglas-Morris, Nicholas Johnson and Neil Raitt: Near That Place, Hockney Gallery, Royal College of Art, London
2012
Summer Exhibition, Royal Academy of Arts, London
Painting Summer Show, 15 Howie Street, London
DRUMM, Queen of Hoxton, London
Young Master's Exhibition and Auction, Rupert Cavendish, London
WIP, Royal College of Art, London
2011
Time and Travel, Ku'damm 101, Berlin
RCA Secret, Royal College of Art, London
Summer In the City, Ben Uri Gallery, London
At Play 3, South Hill Park, Berkshire
Somewhere, KT Contemporary, Dublin
2010
Artist's Advent Window, Wolf & Badger, London
Ishihara 13, The Book Club, London
Open, Open!, Swiss Cottage Library, London
2009
Hans Brinker Budget Trophy, Hans Brinker Hotel, Amsterdam
Open 21, The City Gallery, Leicester
Intern Show, Salem Art Works, New York, NY
Degree Show, Norwich University of The Arts, Norwich
Monographs
2022
Neil Raitt: Tangerine Sunset. Edited by Juerg Judin and Pay Matthis Karstens. Text by Mark Gisbourne. Exh. cat. Galerie Judin, Berlin. Cologne: Buchhandlung Walther und Franz König
2017
Neil Raitt. Edited by Anat Ebgi. Texts by Ansel Krut and Lxo Cohen. With a conversation between Lauren Bergman and Neil Raitt. Los Angeles: Anat Ebgi
Prizes and Awards
2016
Northern Trust Purchase Prize, Chicago, IL
2014
The Catlin Art Prize, London
2013
Artist's residency, Martini Arte Internazionale, Turin
2009
The Attenborough Prize, London
2008
Hans Brinker Budget Trophy, Amsterdam
Selected Collections
Cedars-Sinai Collection, Los Angeles, CA
DePaul Art Museum, Chicago, IL
Los Angeles County Museum of Art, Los Angeles, CA
The Franks-Suss Collection, London
The Saatchi Collection, London