Eugen Schönebeck
The Drawings
14 January – 25 February 2012
---
Works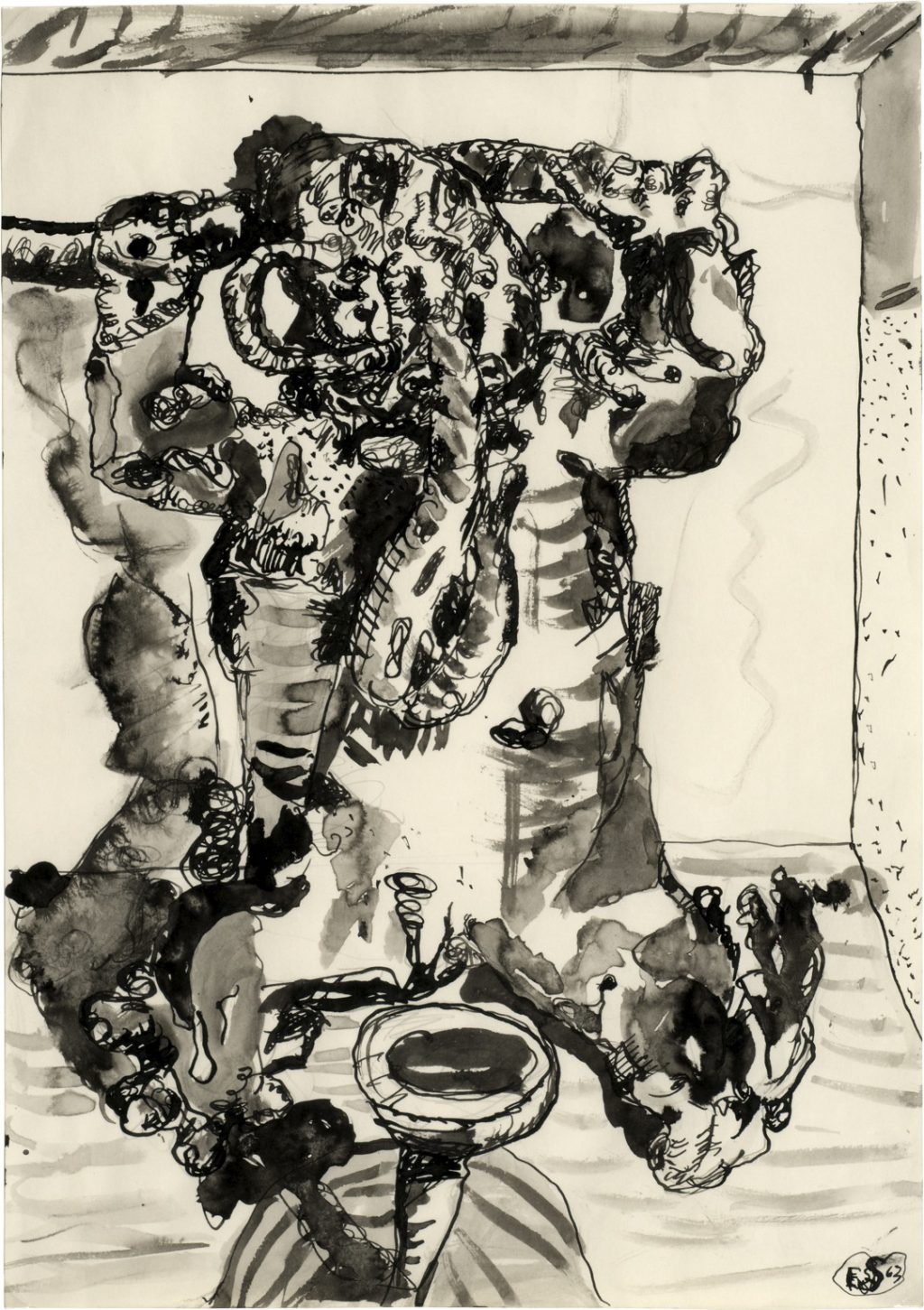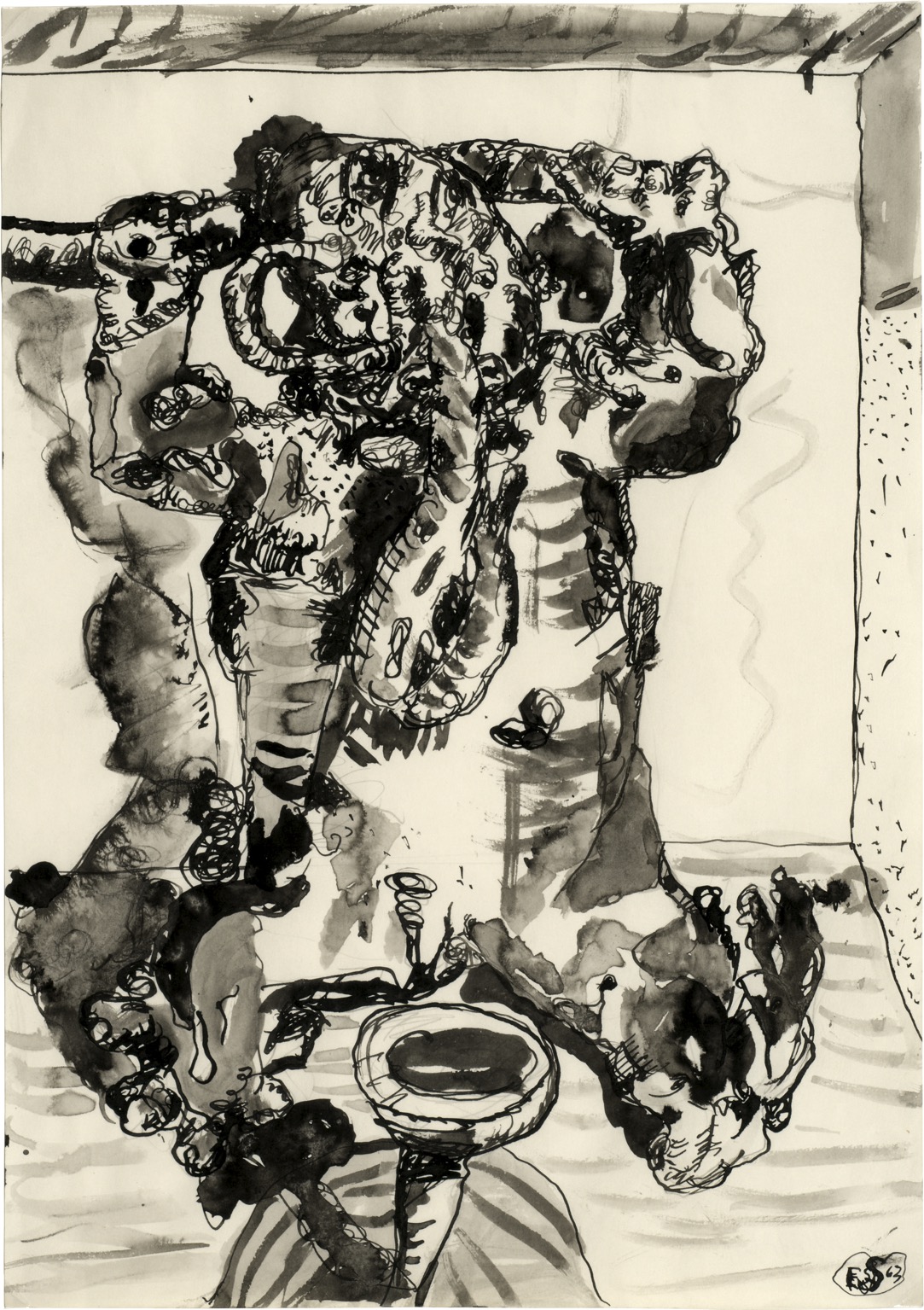 Untitled
1963
Pen and tusche wash on paper
42 × 29.5 cm
Private collection, Berlin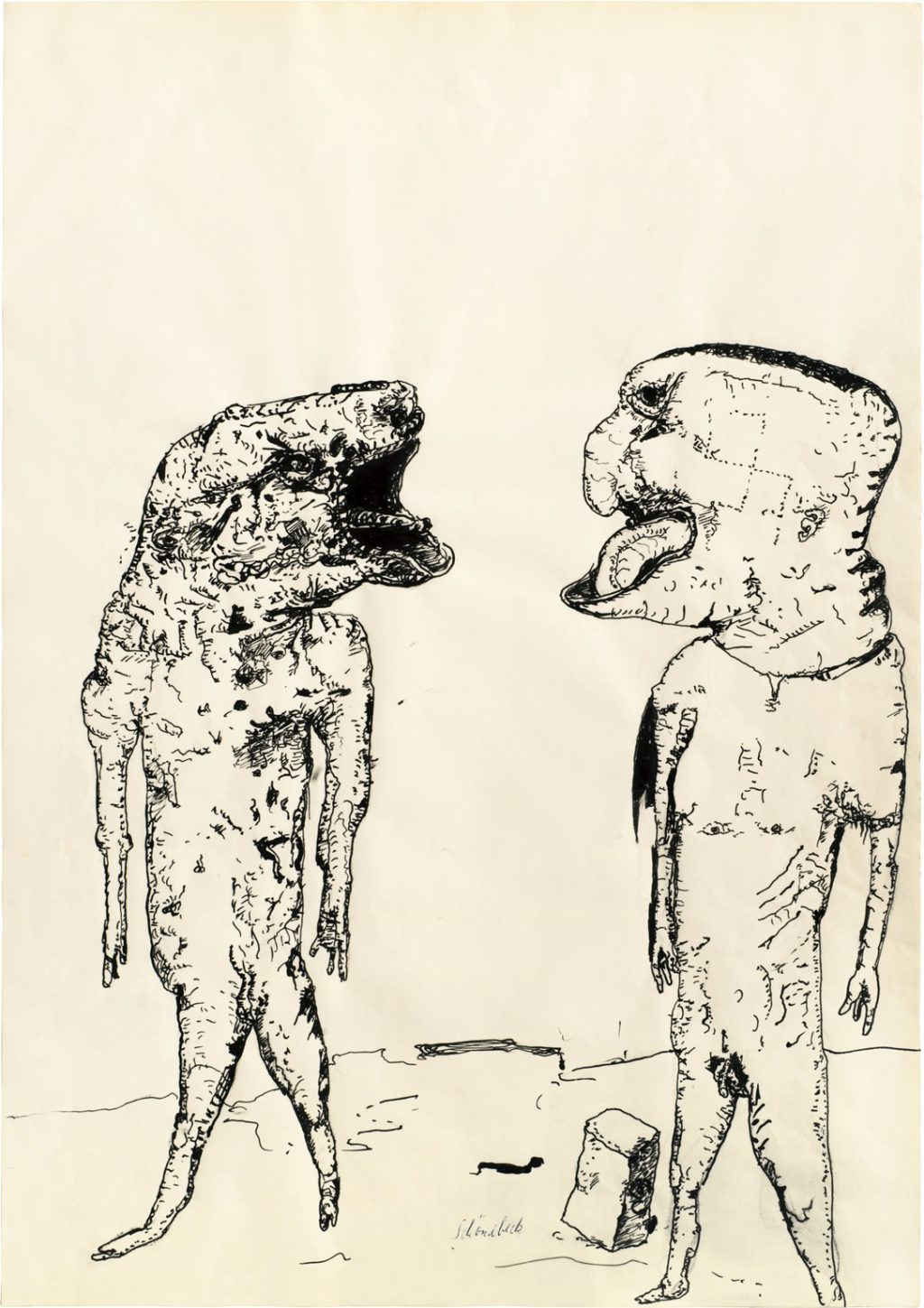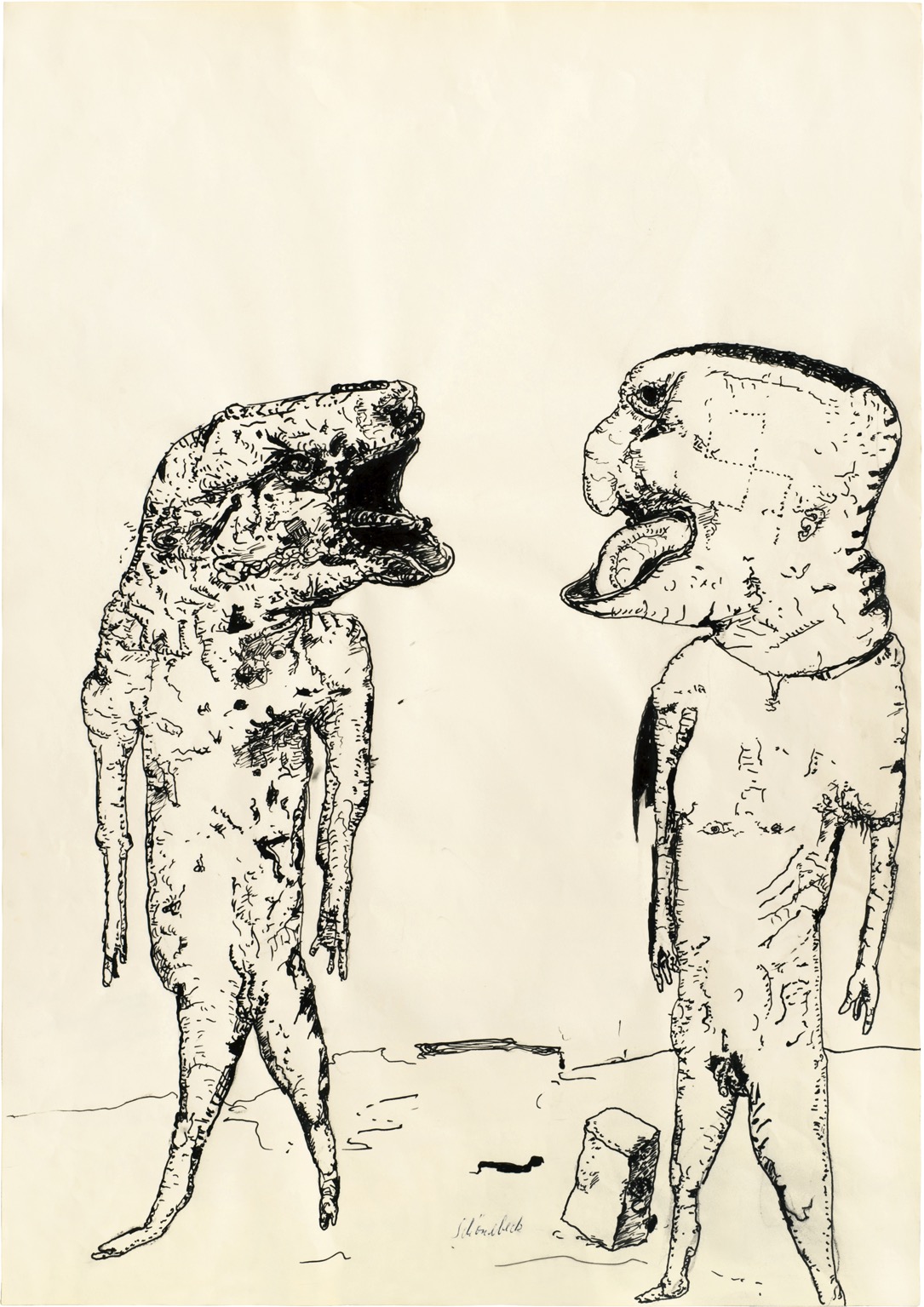 Untitled
ca. 1963
Pen and ballpoint pen on paper
60.8 × 43 cm
Berlinische Galerie, Landesmuseum für Moderne Kunst, Fotografie und Architektur, Berlin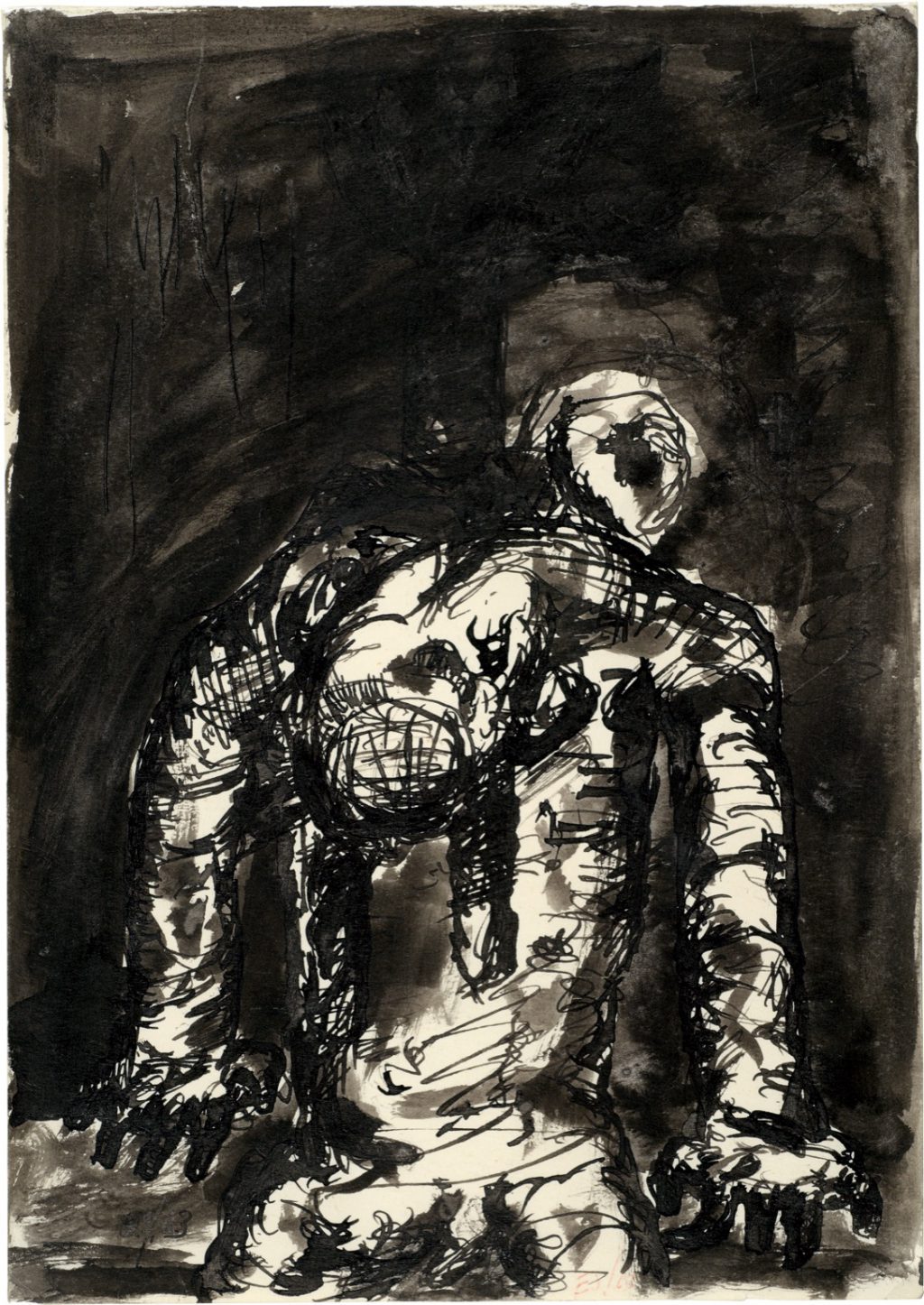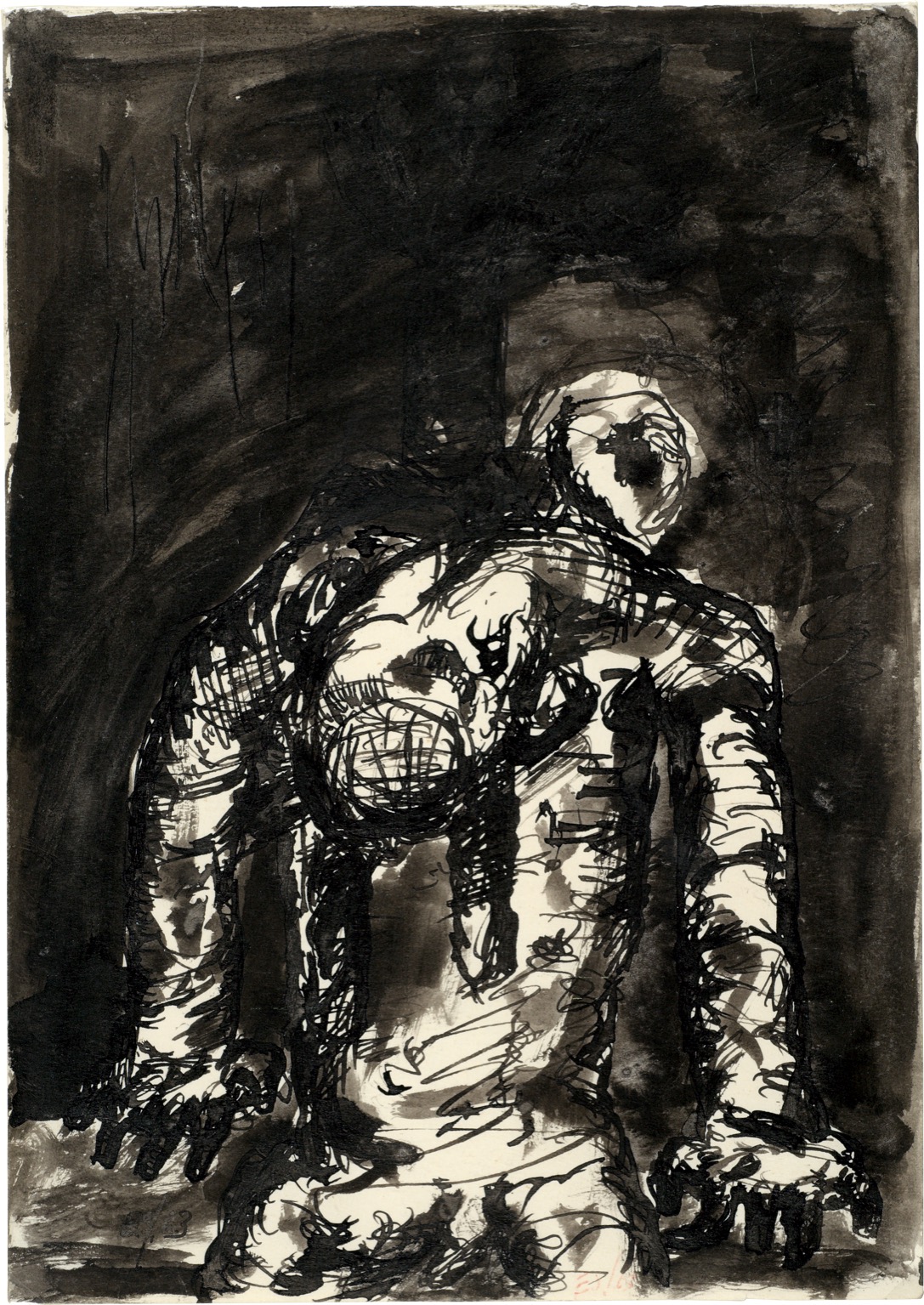 Crucifixion
1963
Pen and tusche wash on paper
29.5 × 21 cm
Frisch collection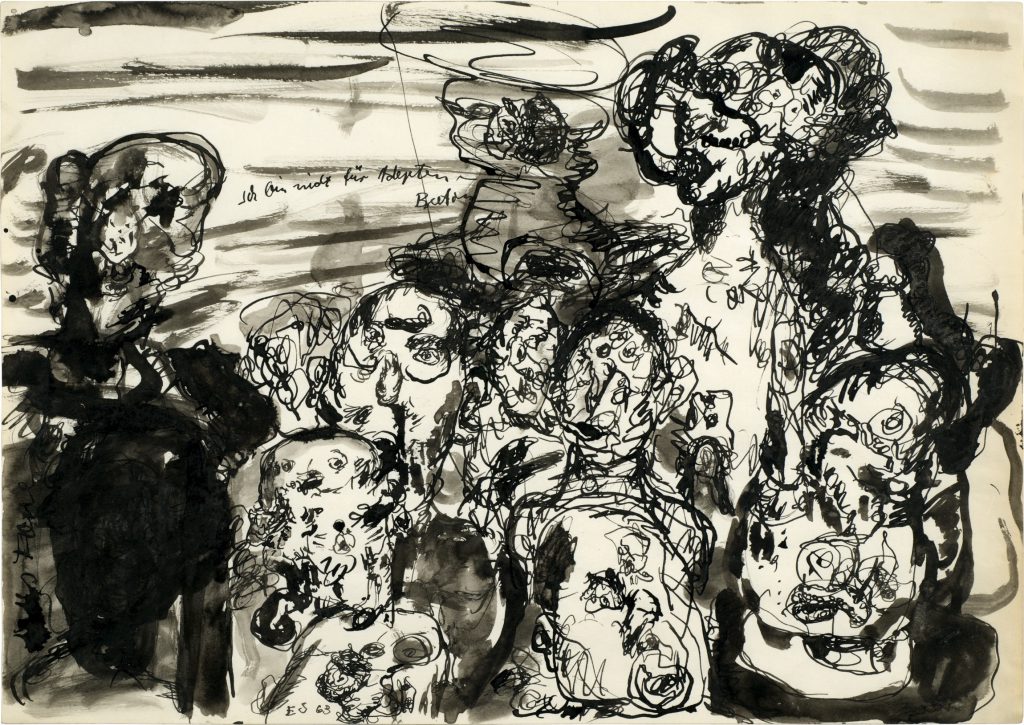 Untitled (I am not for adepts – Breton)
1963
Pen and tusche wash on paper
29.7 × 42 cm
Private Collection (Courtesy Silvia Menzel, Berlin)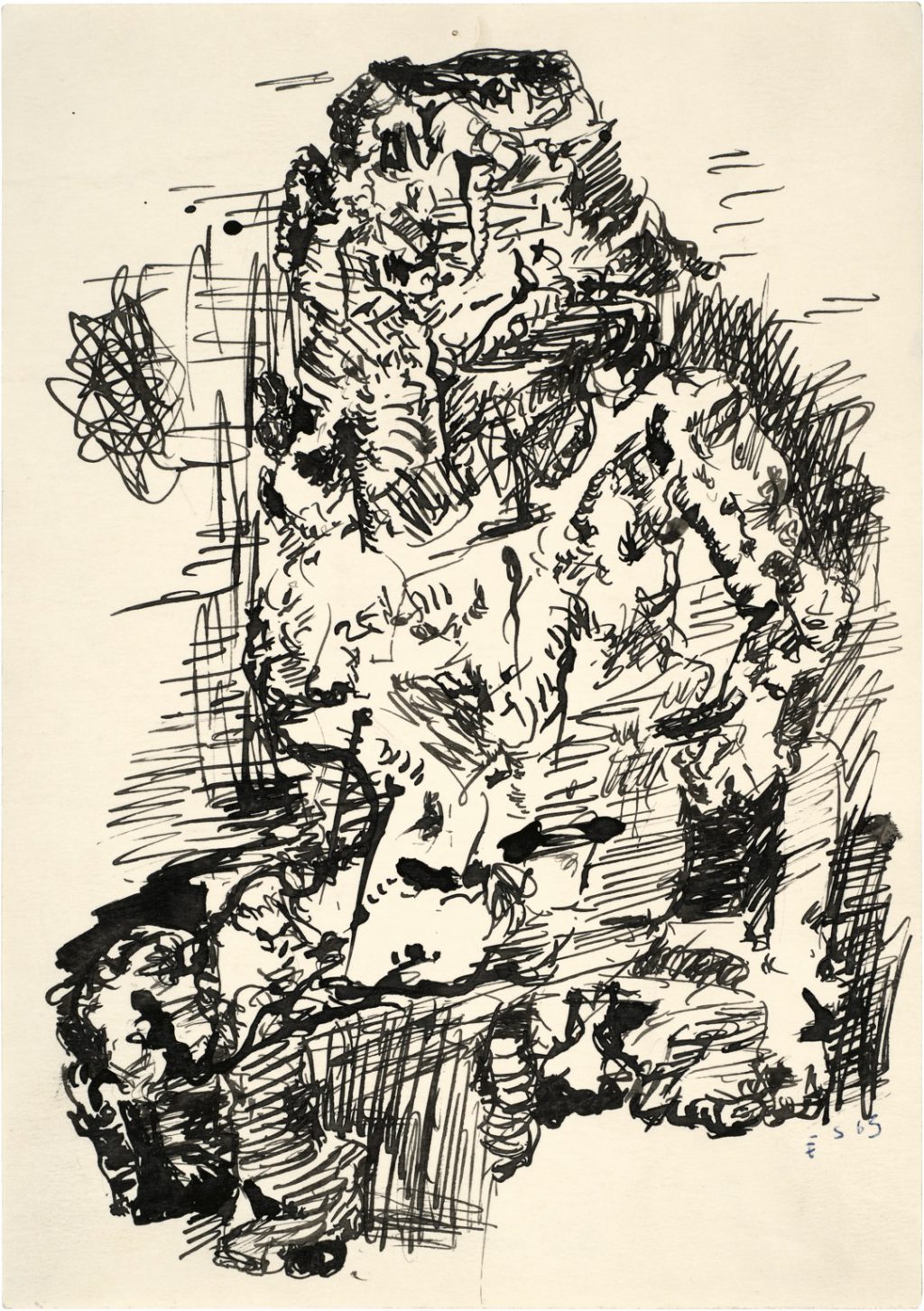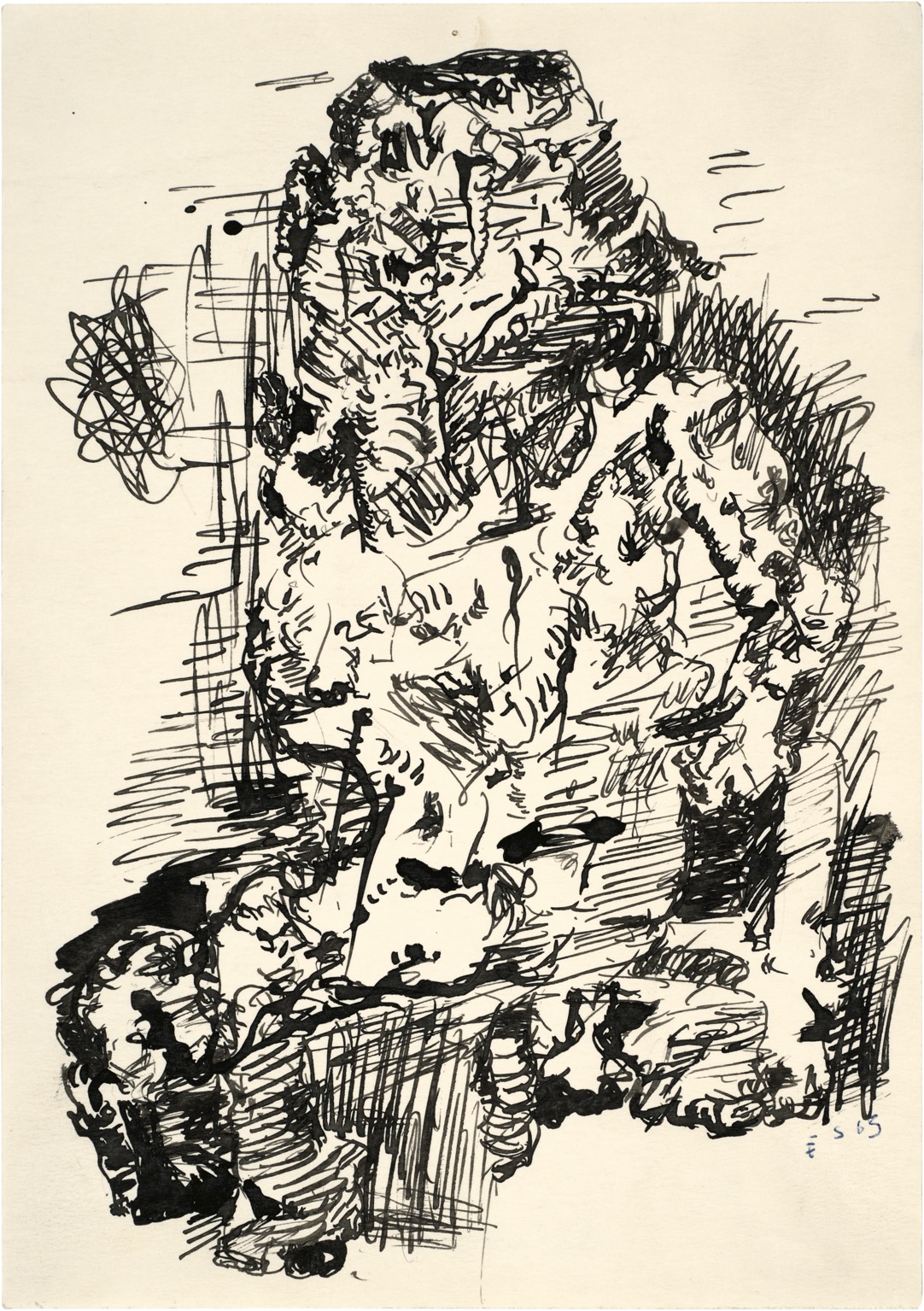 Untitled
1963
Tusche on paper
29.6 × 20.9 cm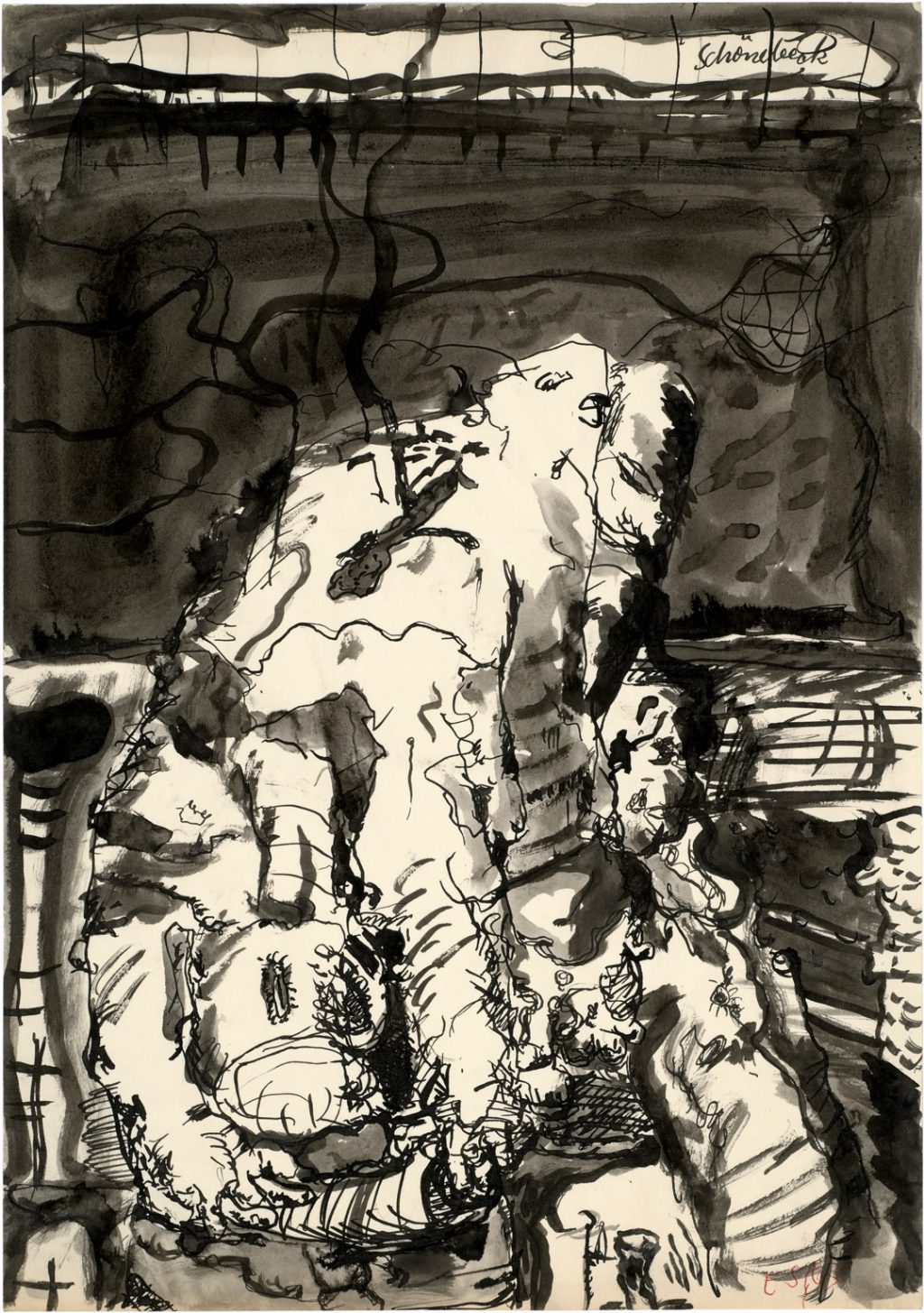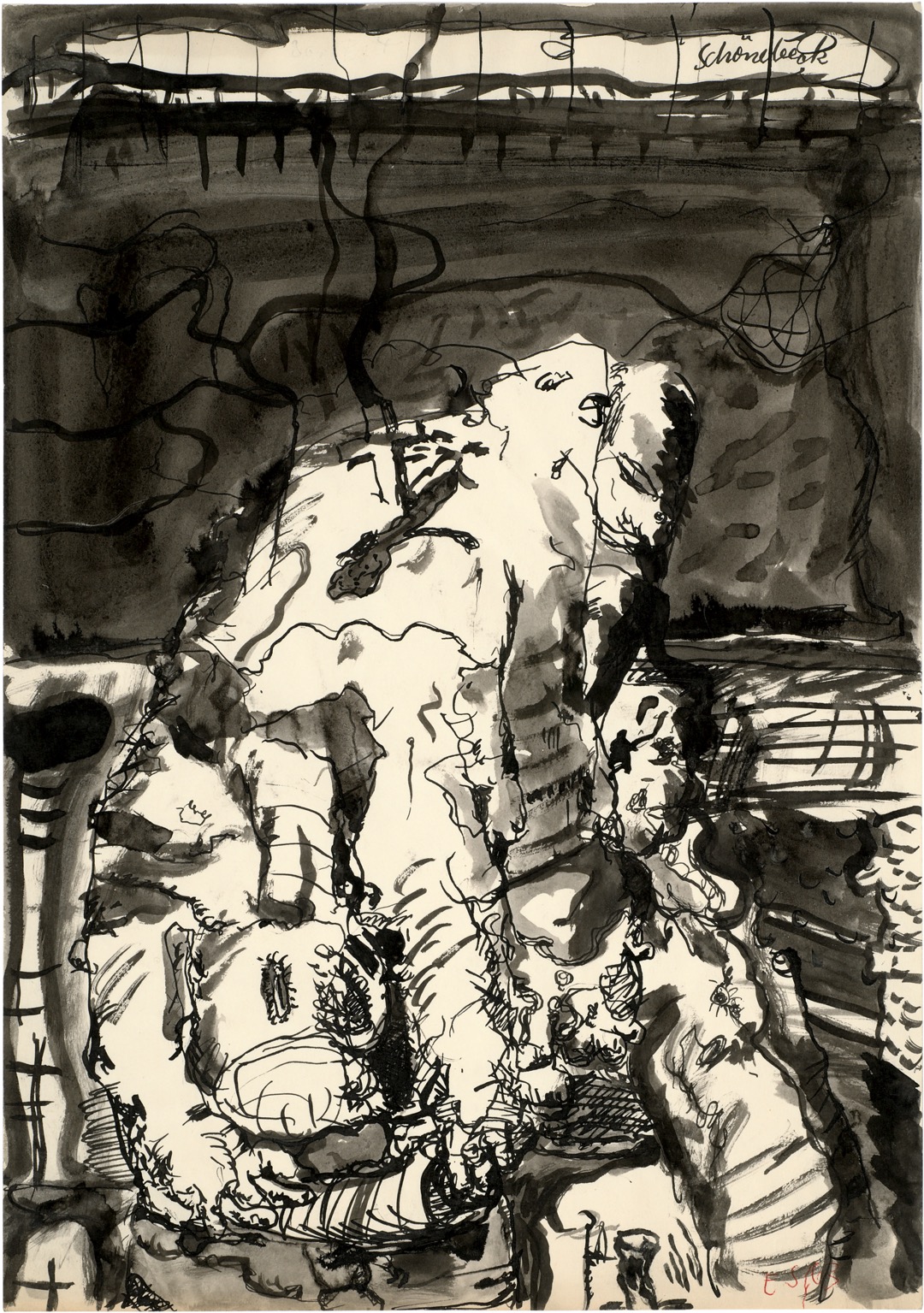 Untitled
1963
Tusche on paper
41.8 × 29.7 cm
Show more works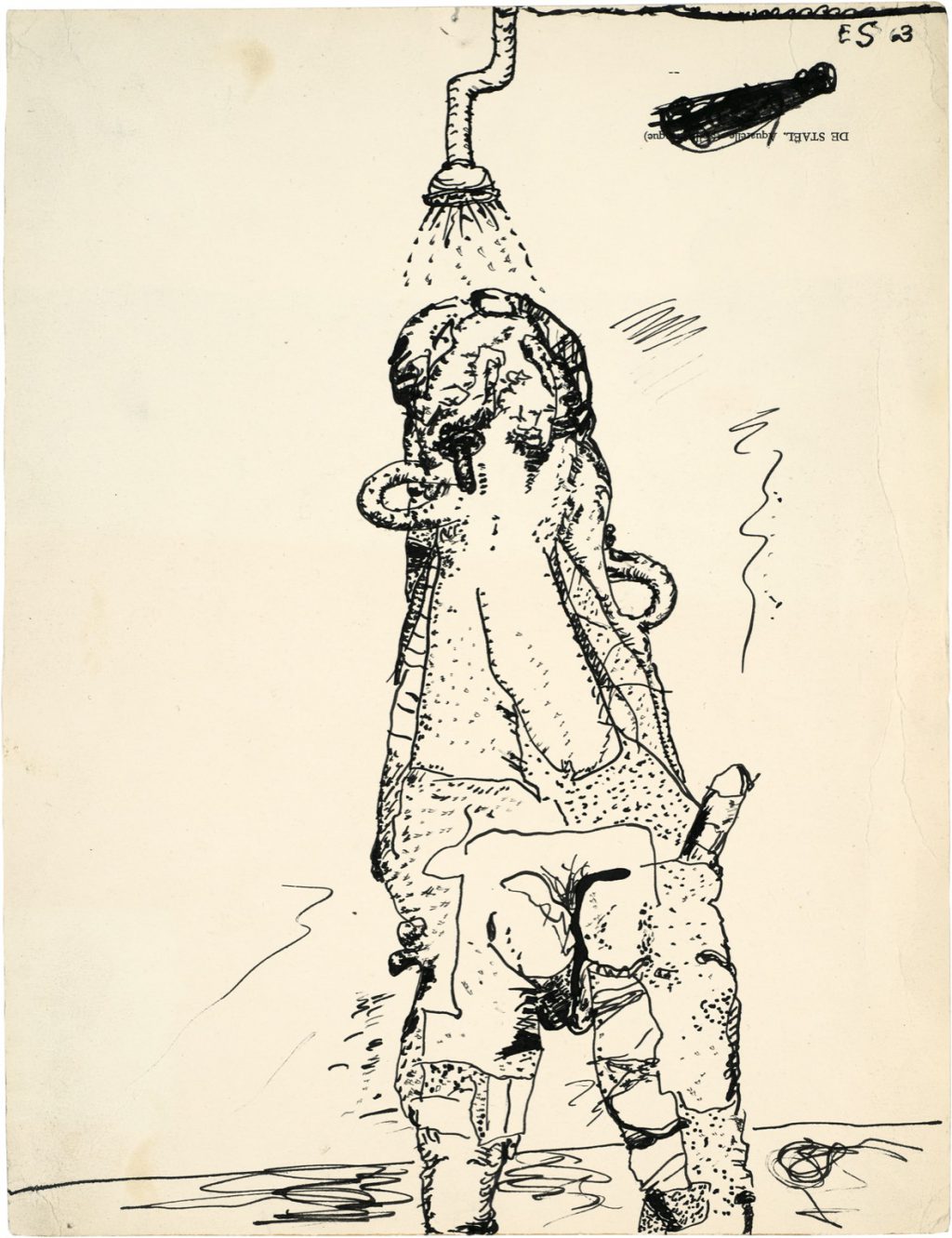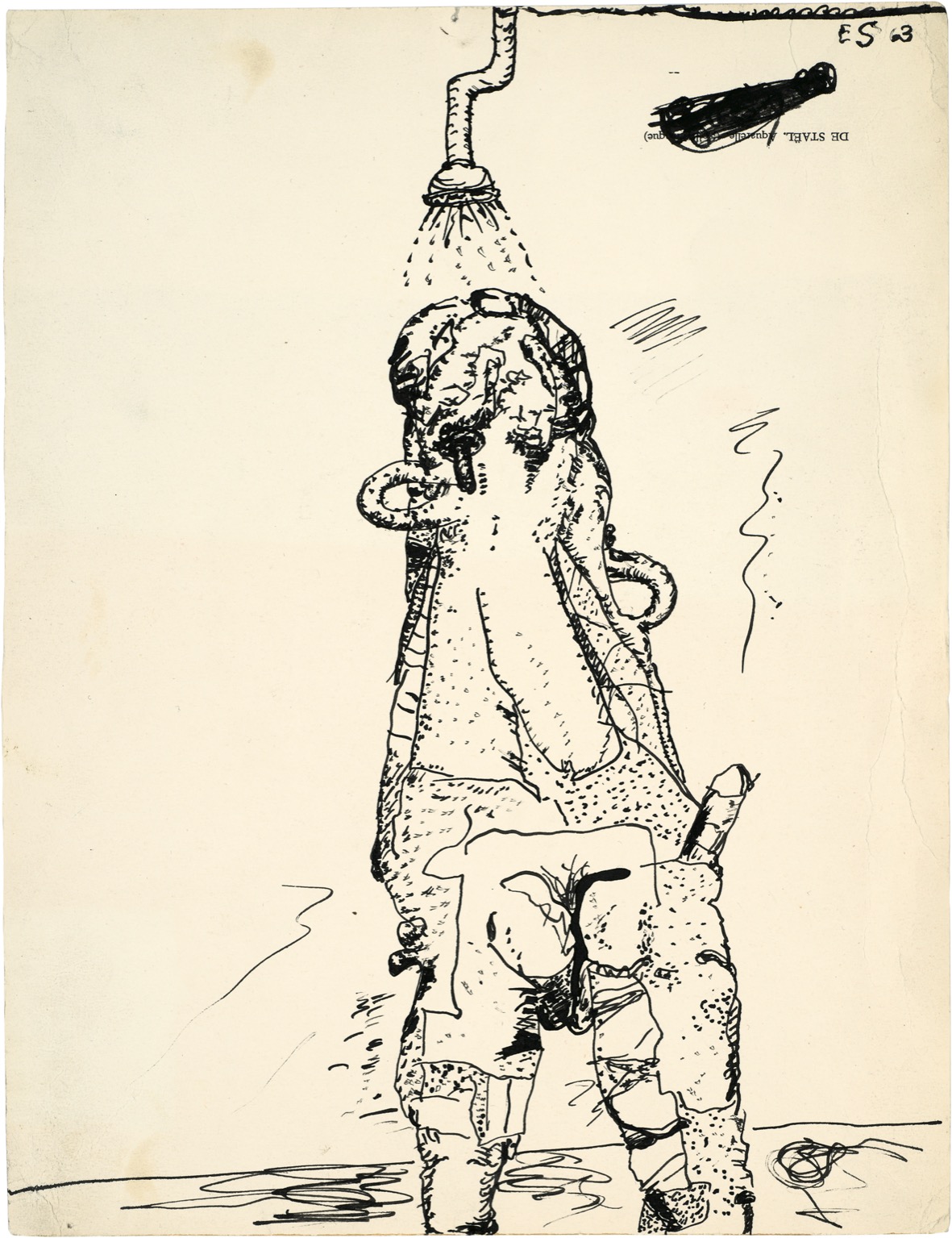 Untitled
1963
Pen on paper
31 × 23.8 cm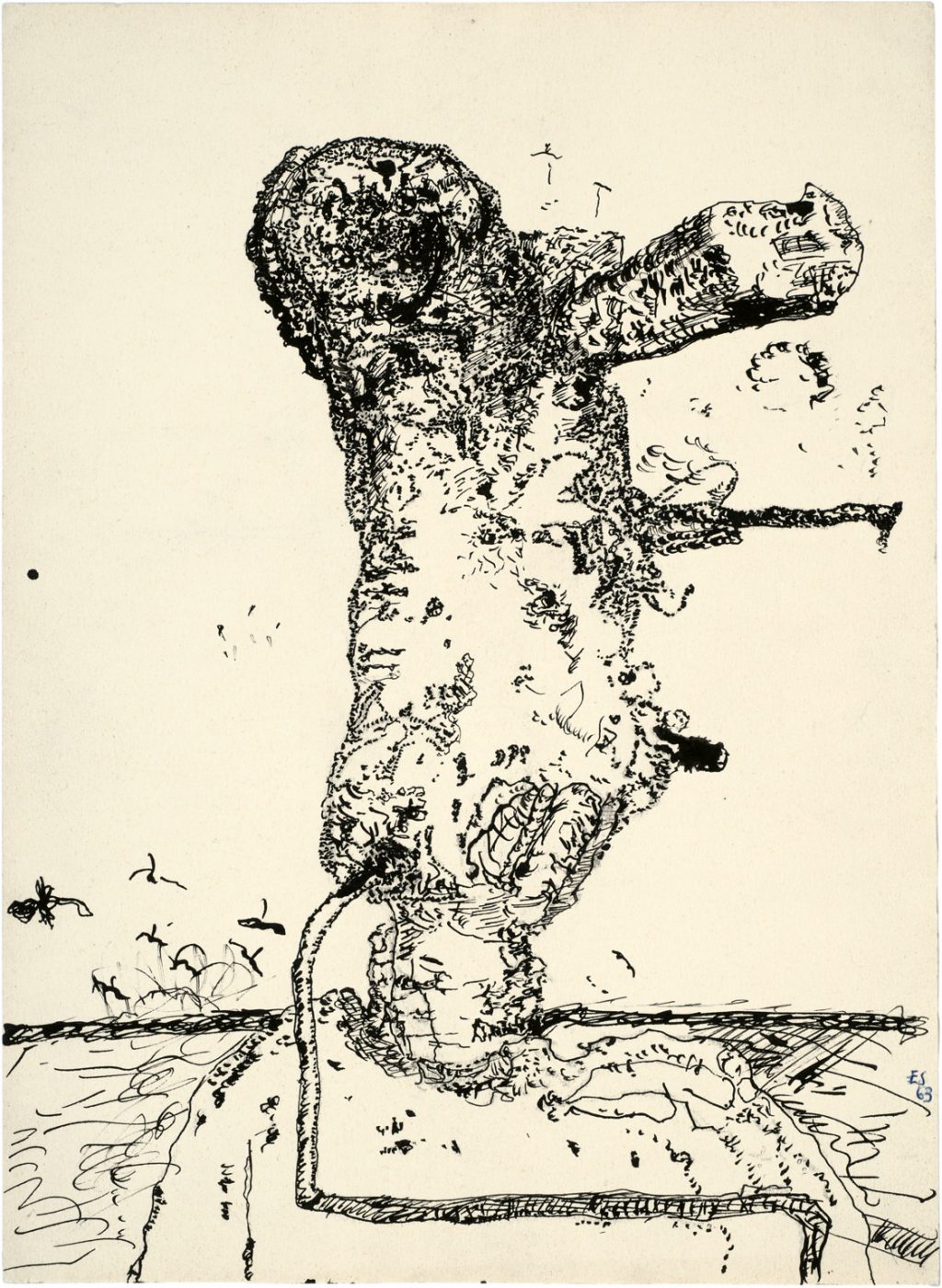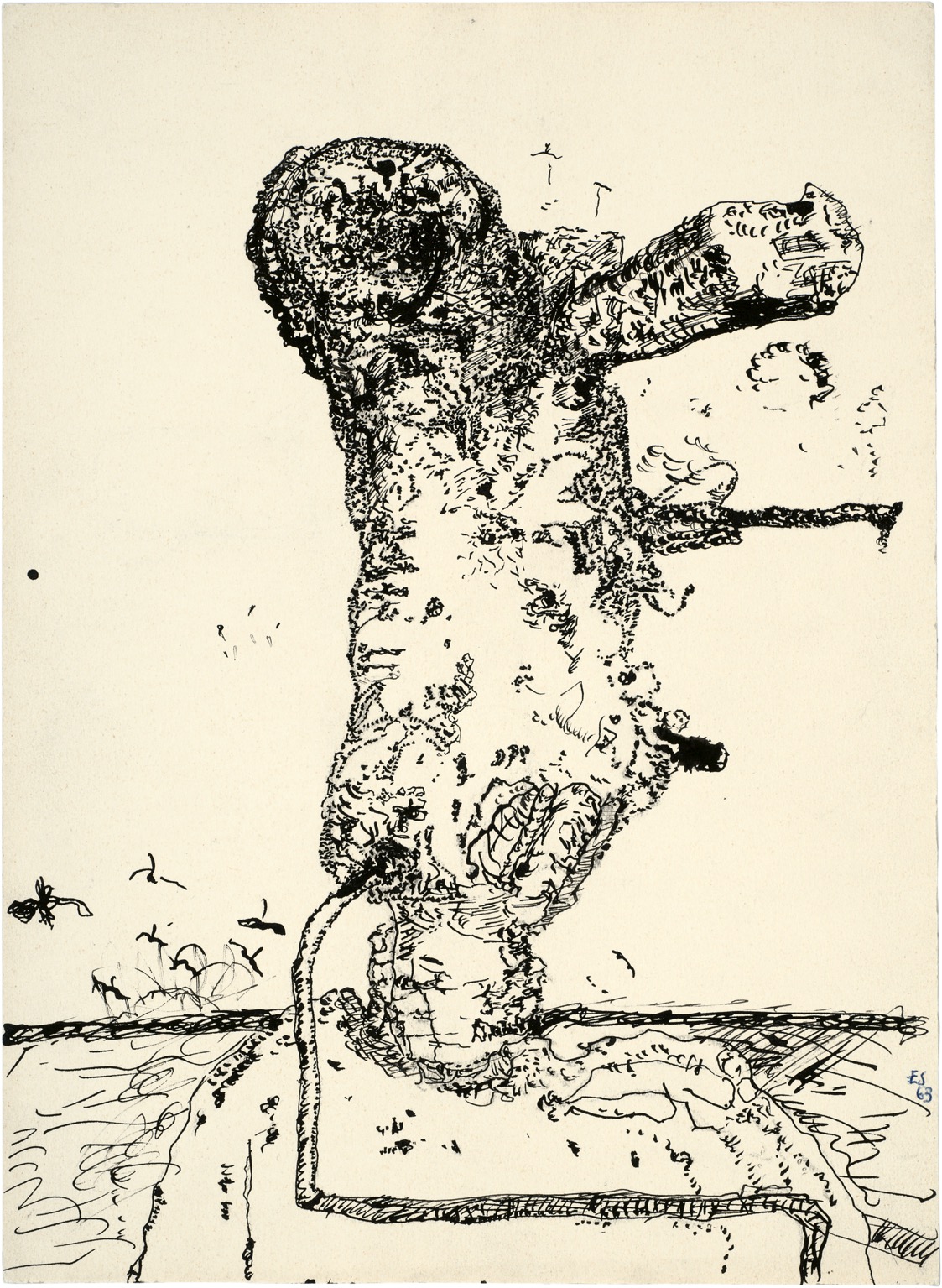 Untitled
1963
Tusche on paper
37 × 27 cm
Hall Collection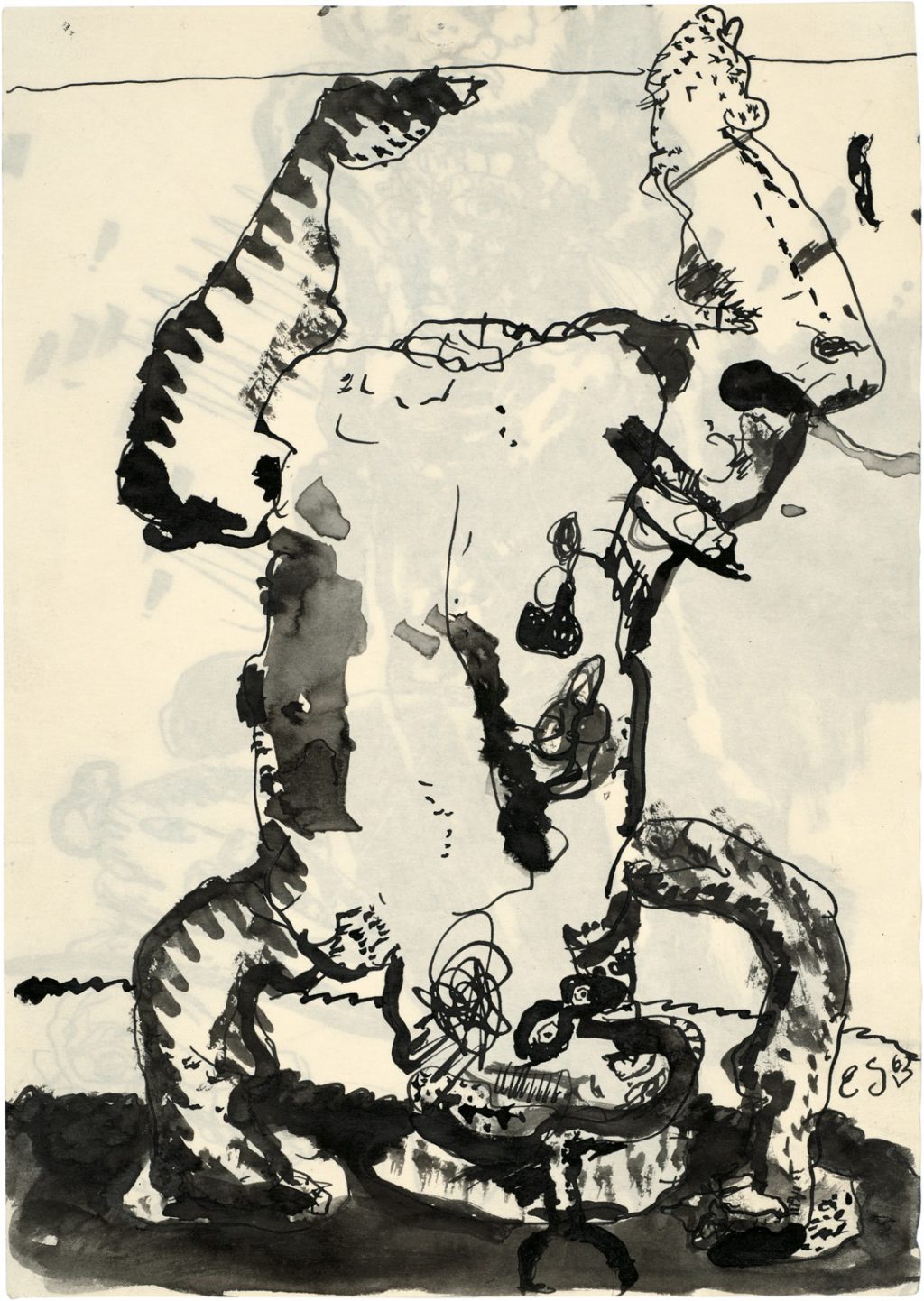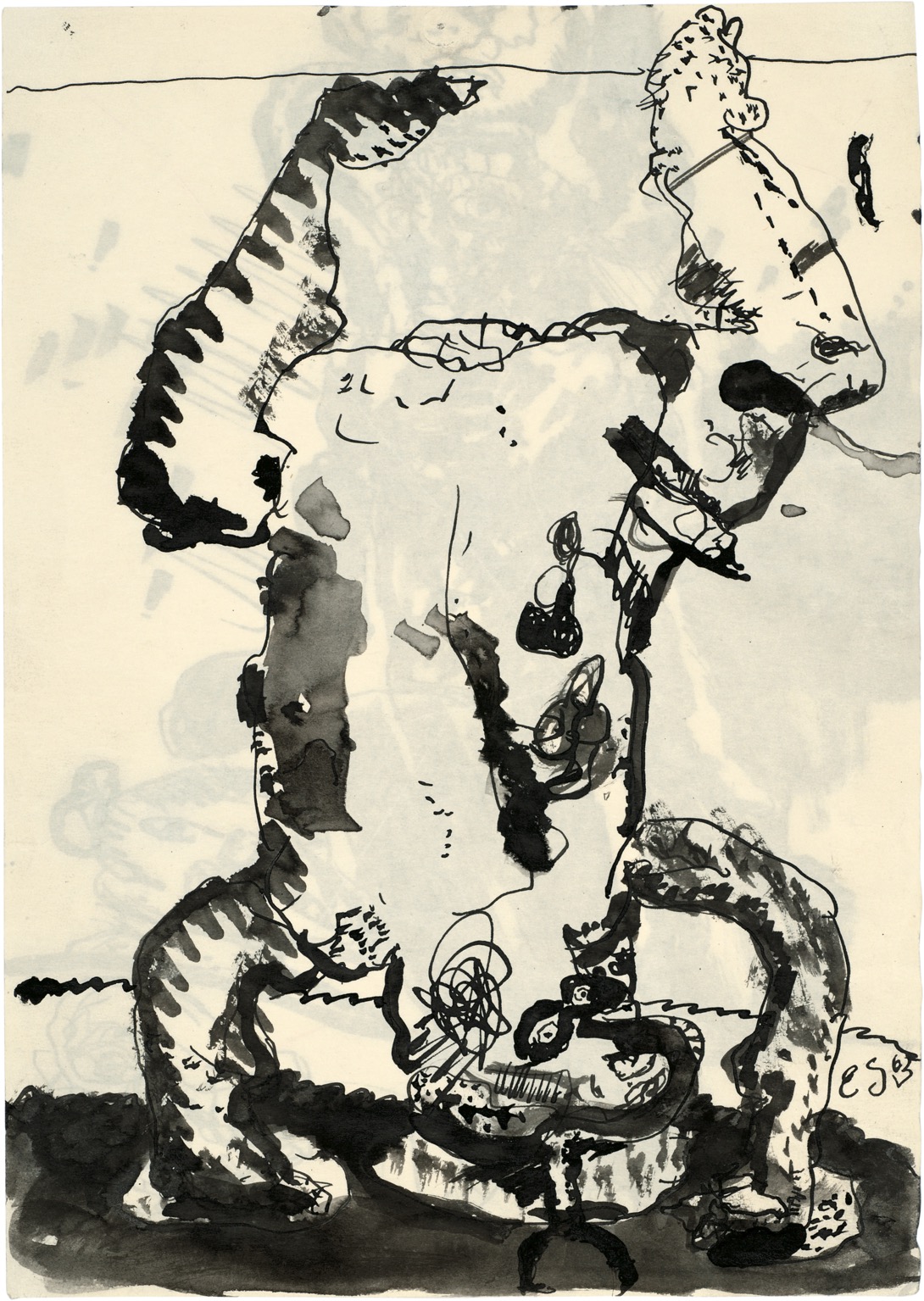 Untitled
1963
Tusche on paper
29.6 × 21 cm
Hall Collection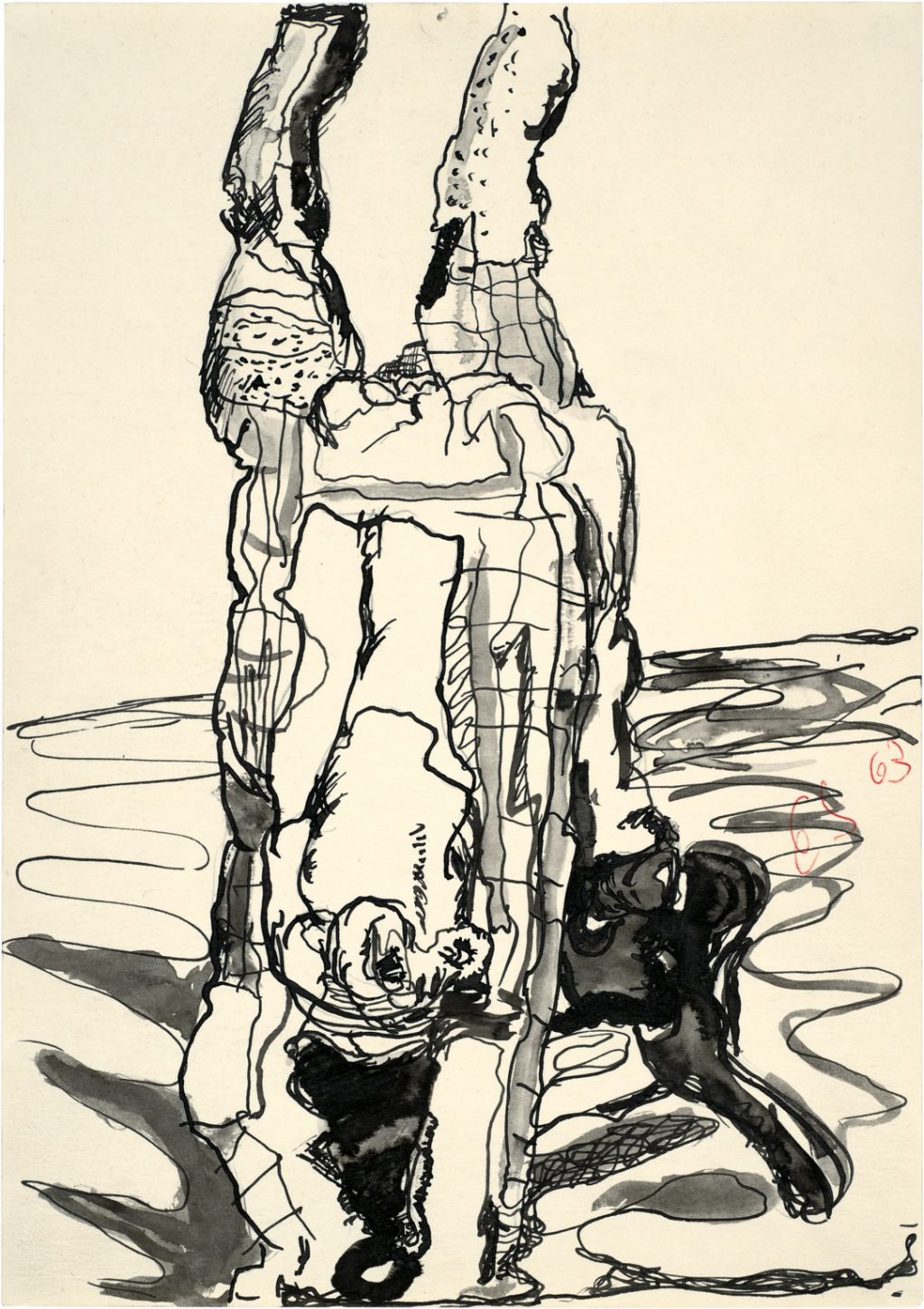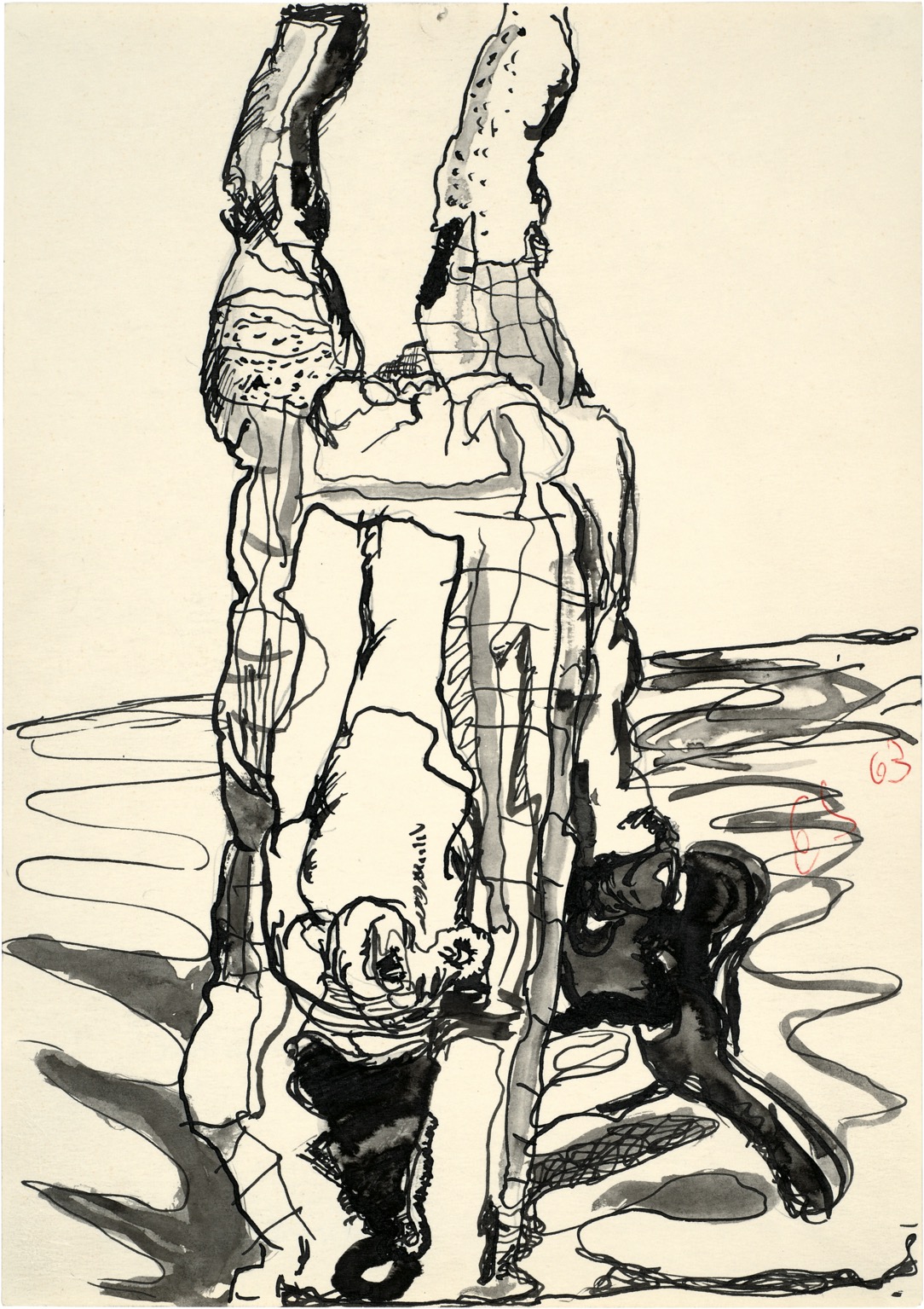 Sonnenbad / Sunbath
1963
Tusche on paper
29.7 × 20.9 cm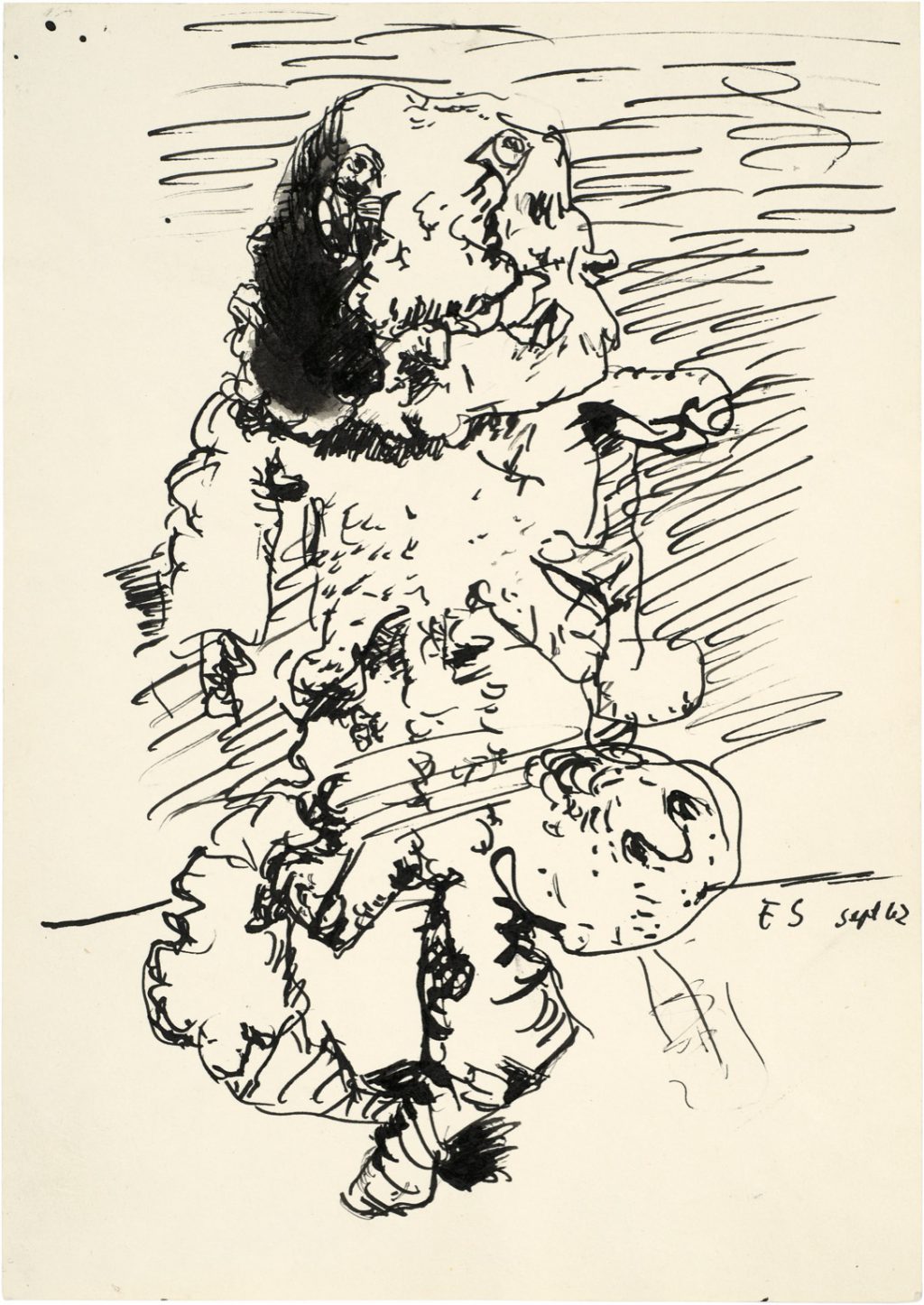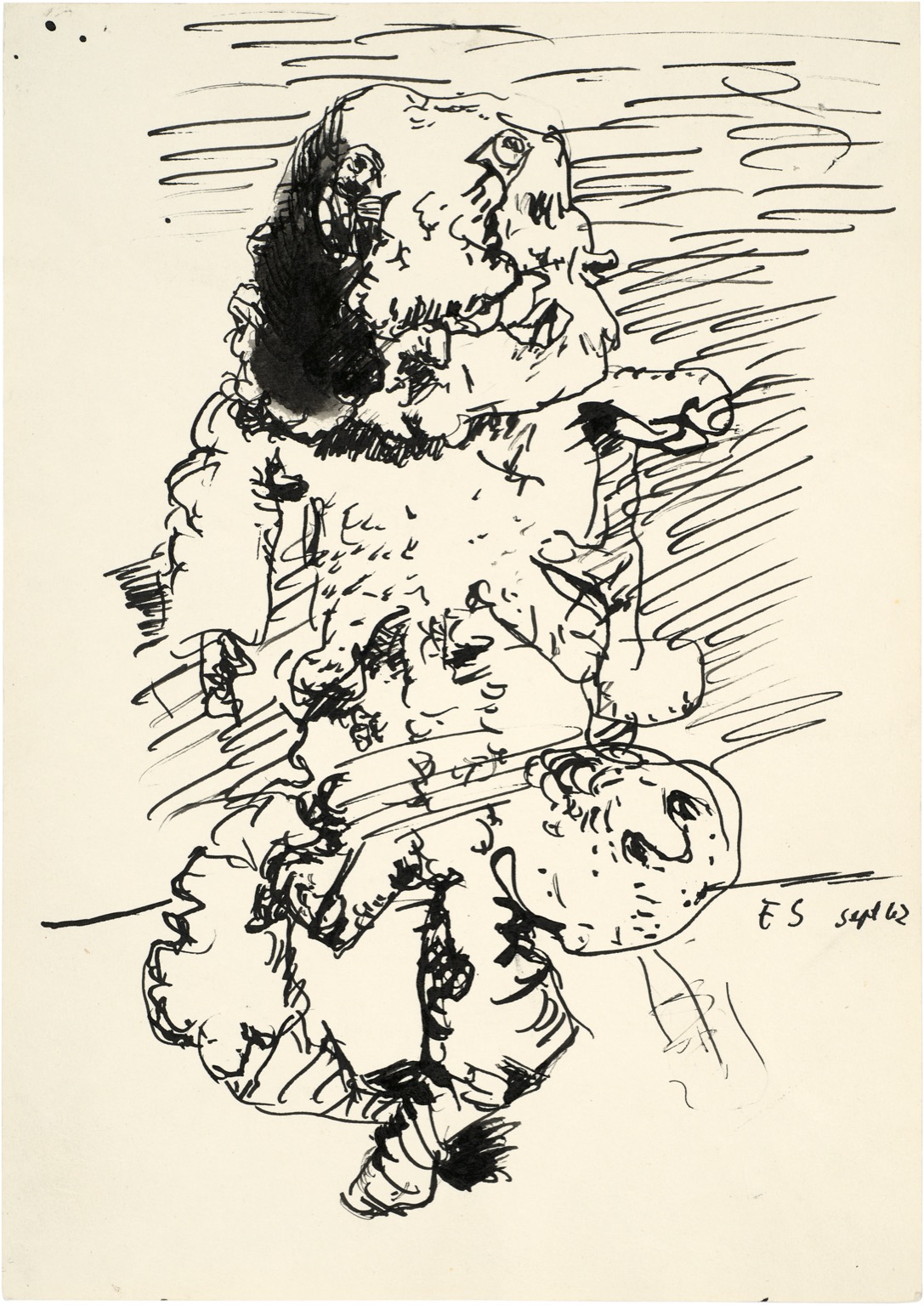 Untitled
1962
Tusche on paper
29.6 × 21 cm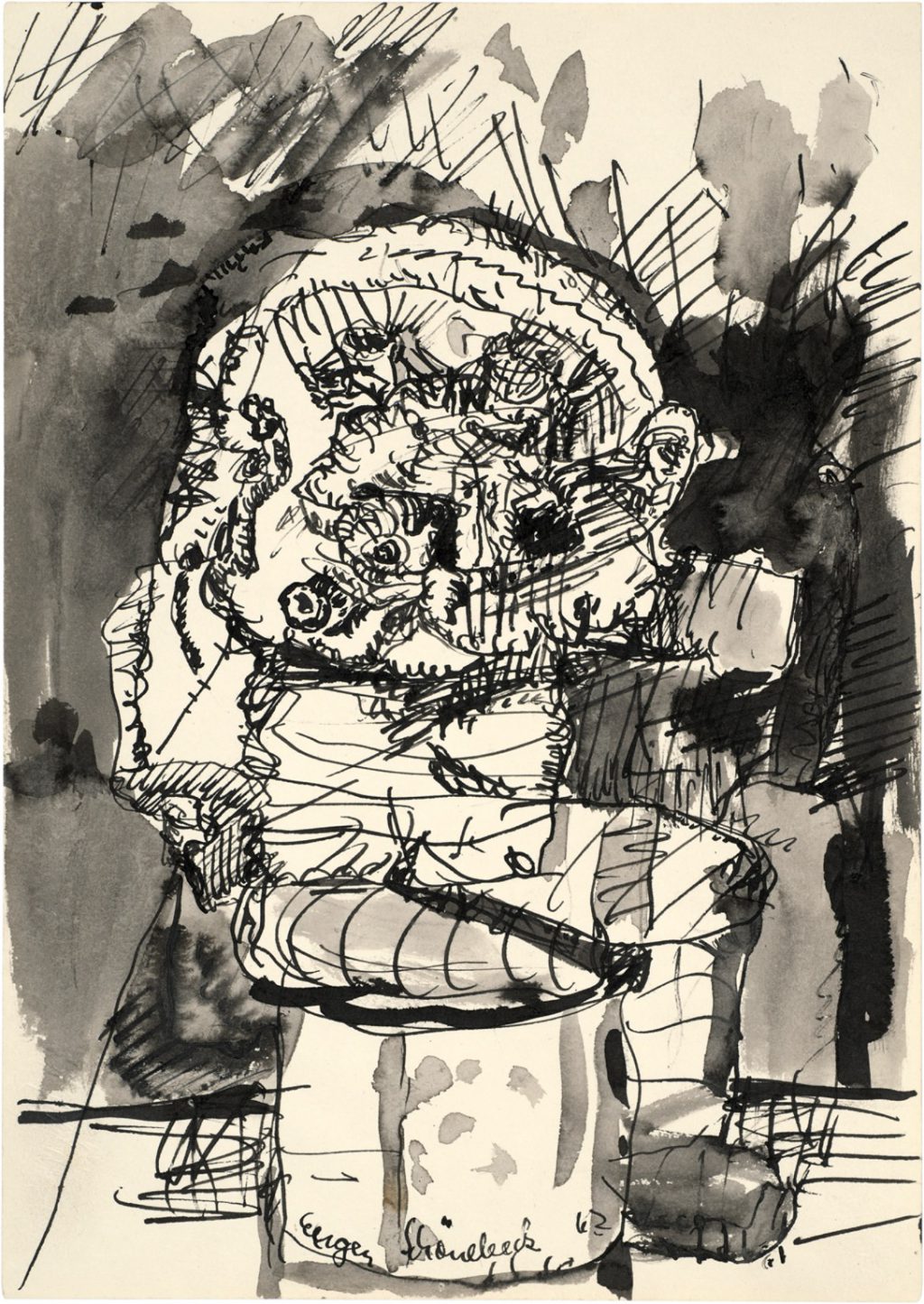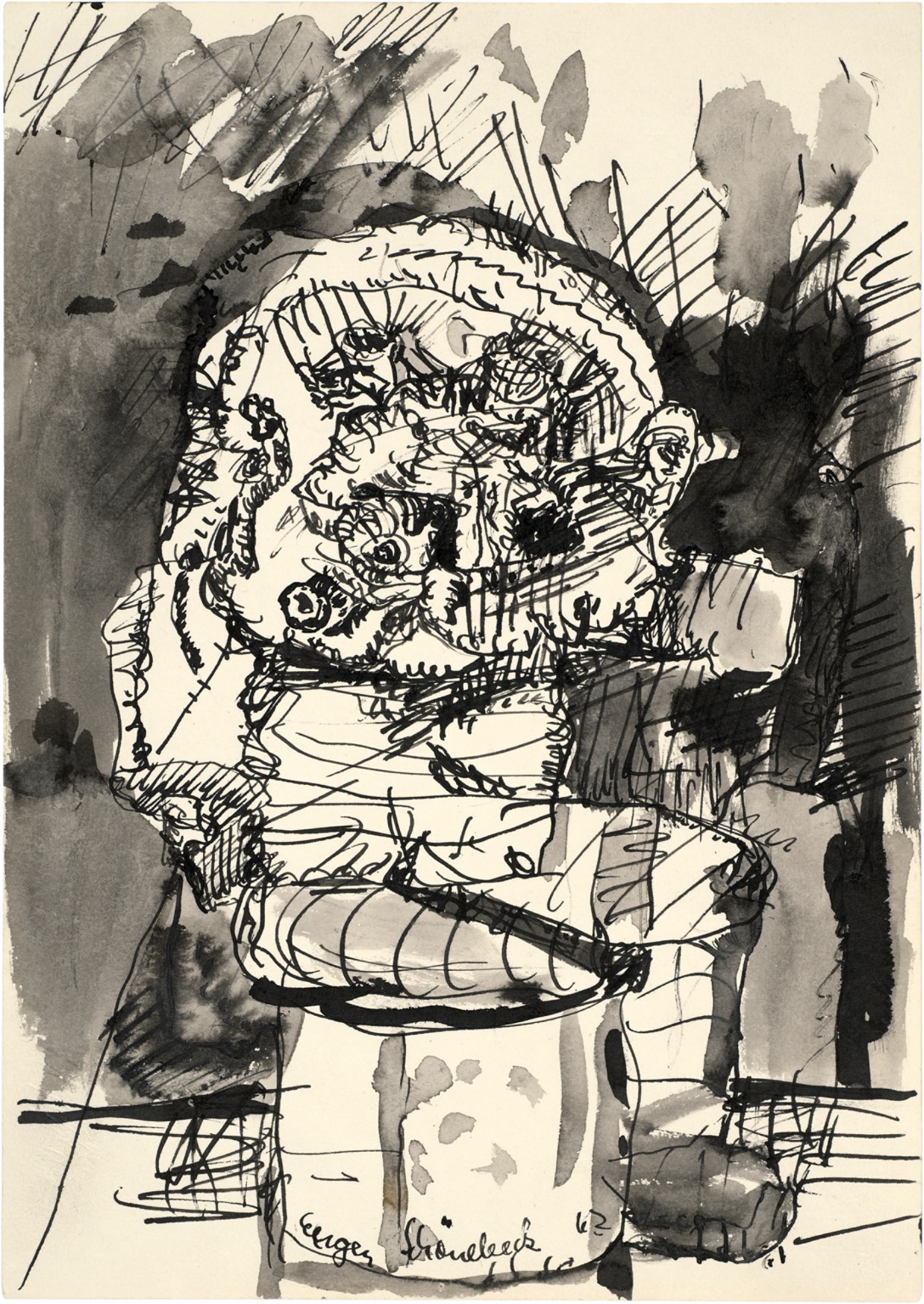 Untitled
1962
Pen and tusche wash on paper
29.6 × 21 cm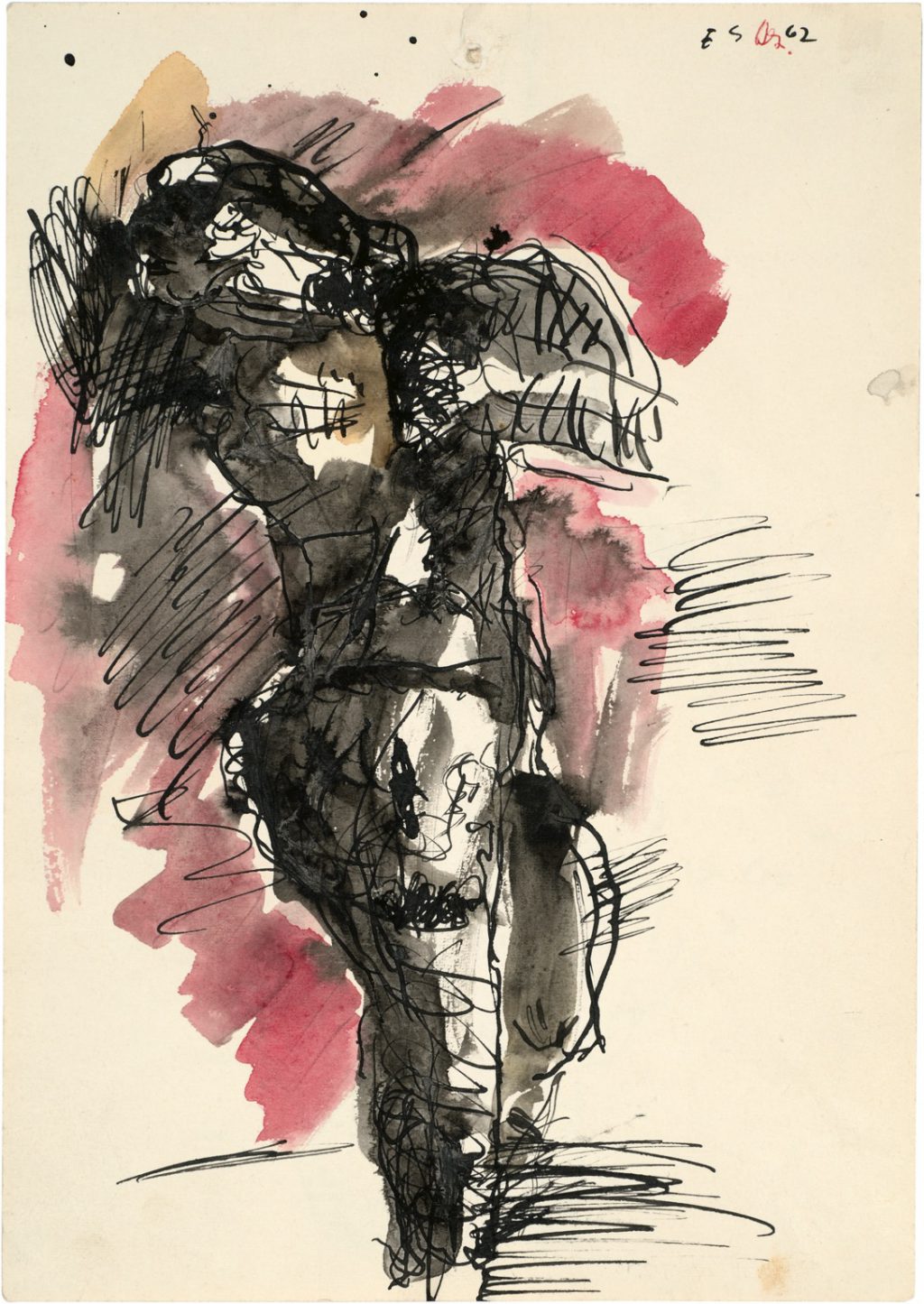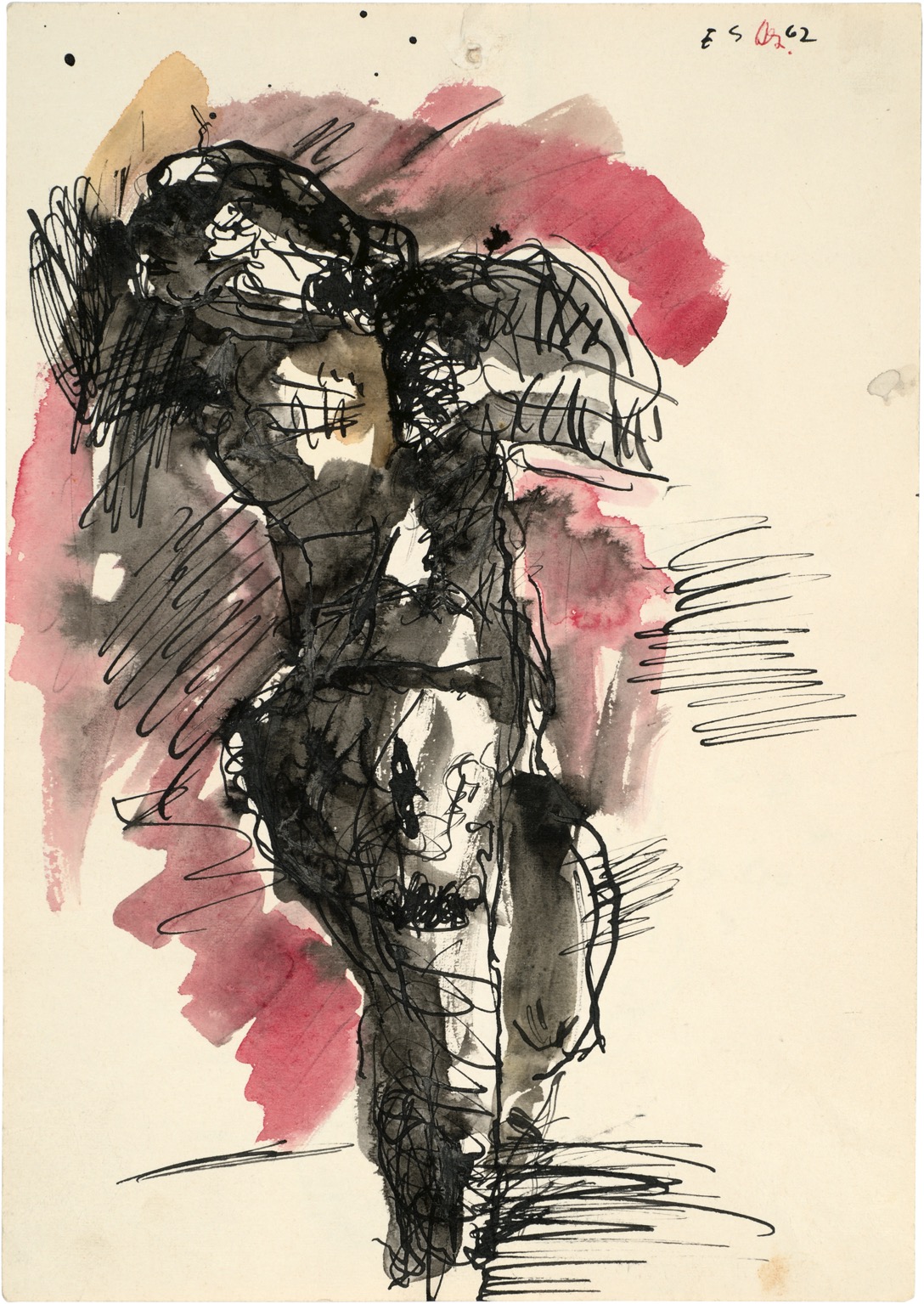 Untitled
1962
Pen and tusche on paper
29.5 × 21 cm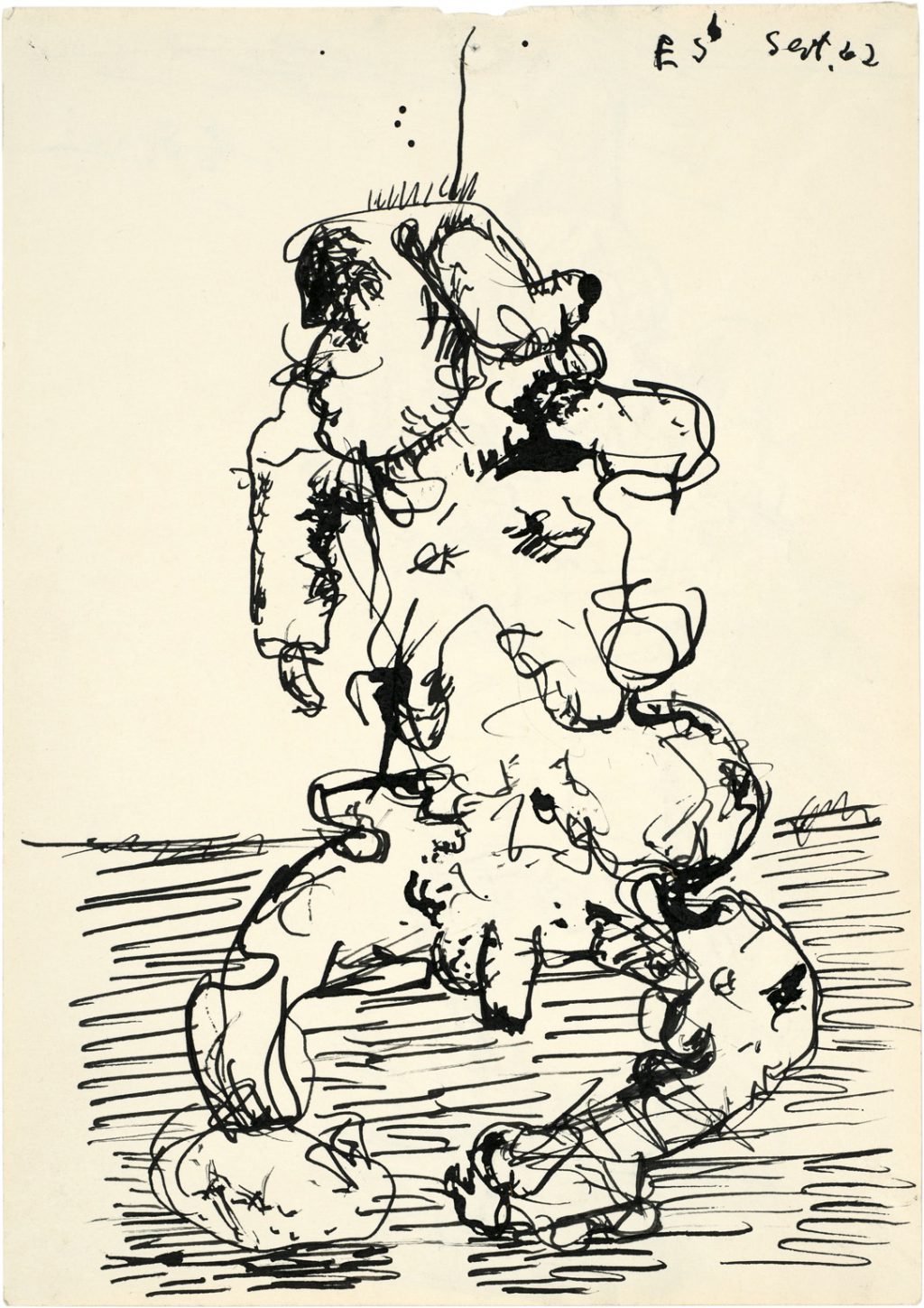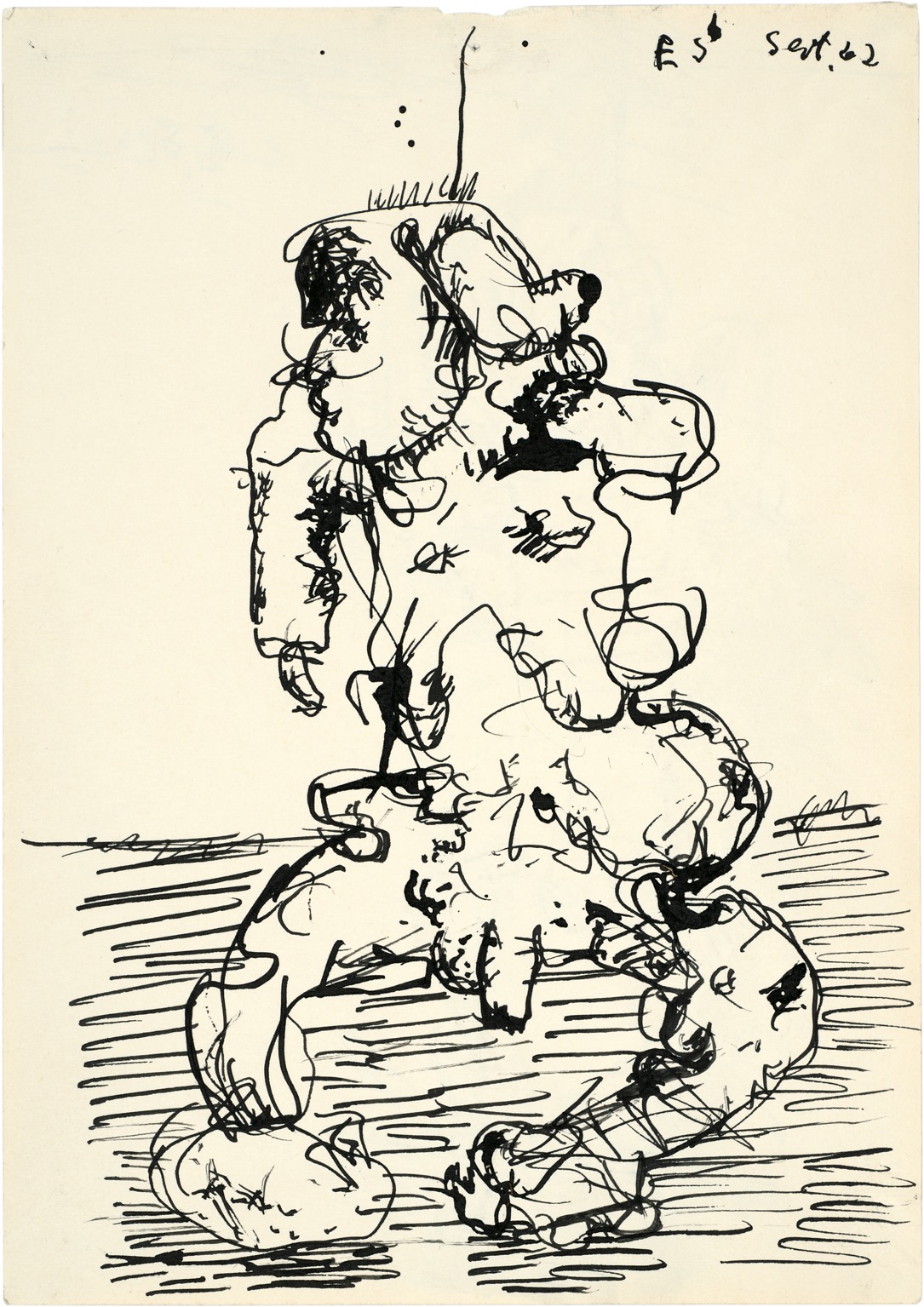 Untitled
1962
Pen on paper
29.7 × 21 cm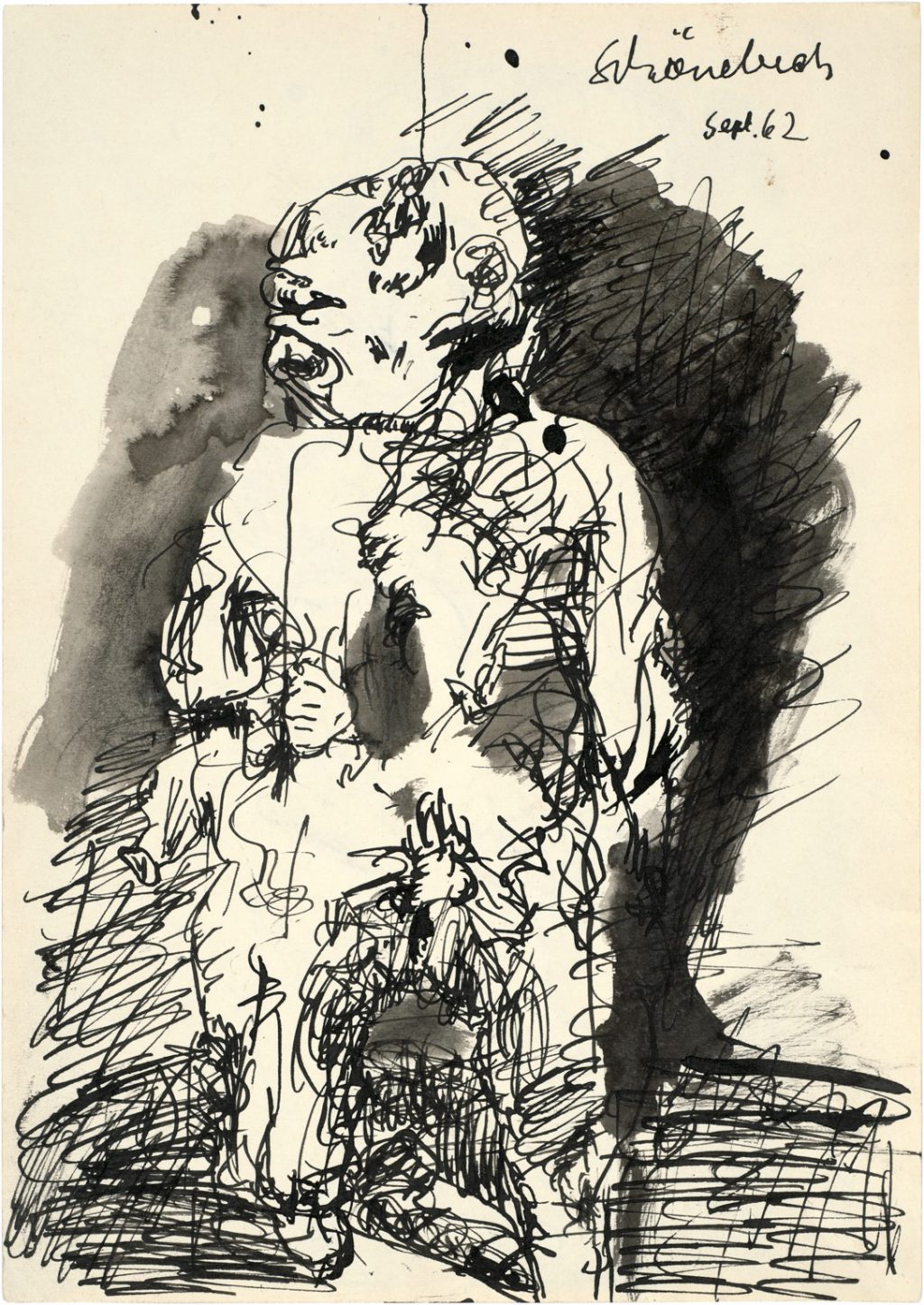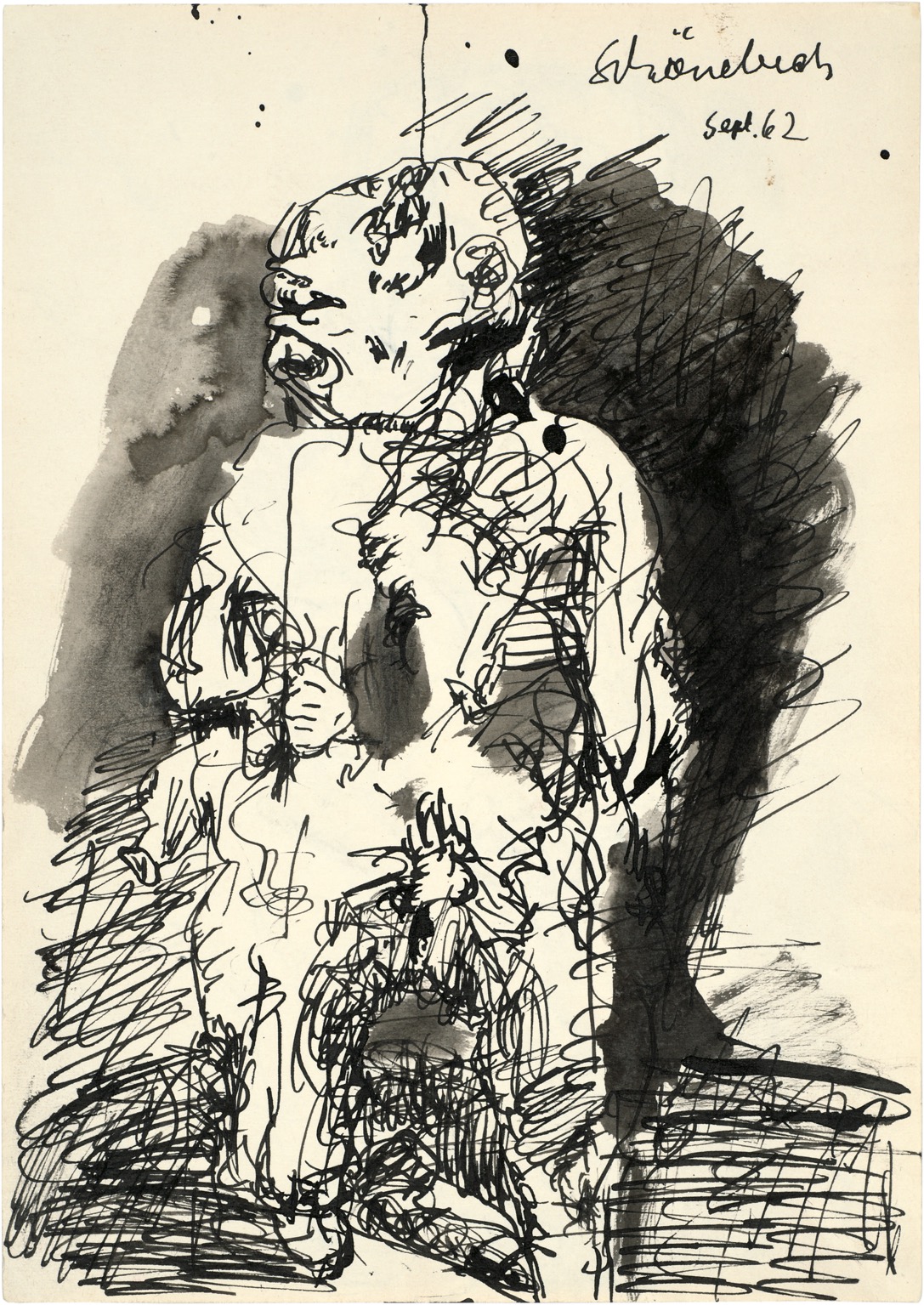 Gehängter / Hanged man
1962
Tusche on paper
29.5 × 21 cm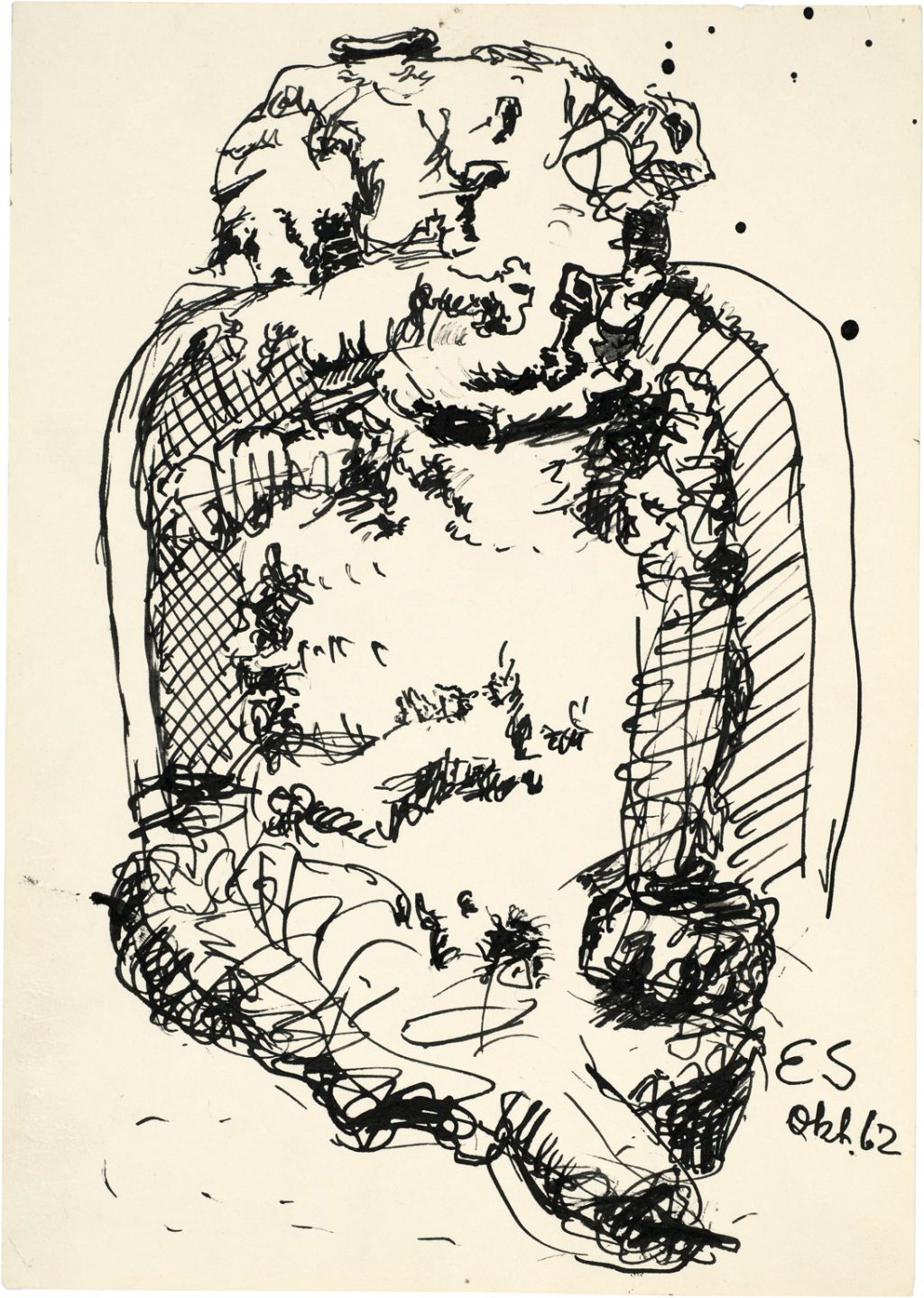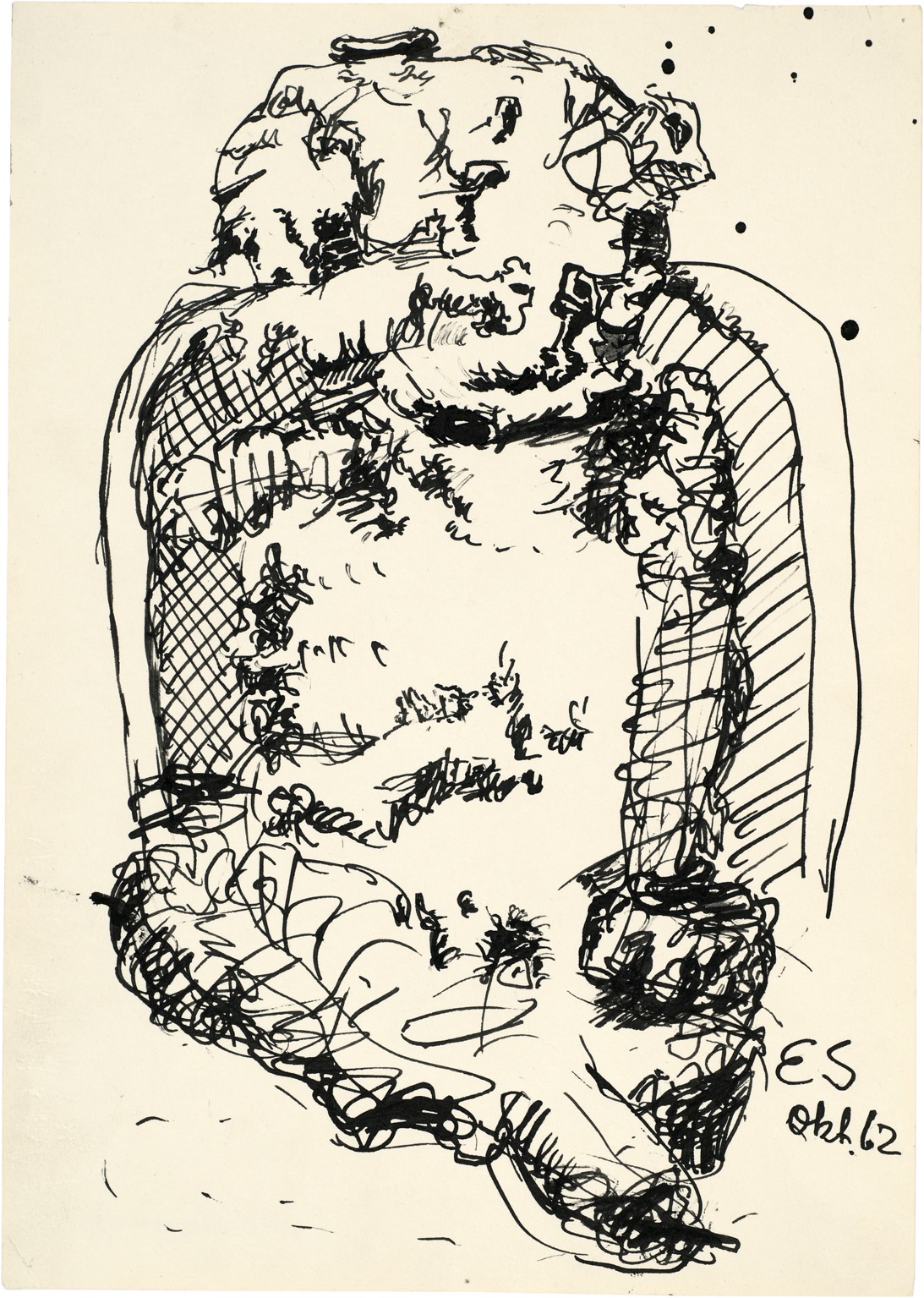 Untitled
1962
Pen on paper
29.6 × 21 cm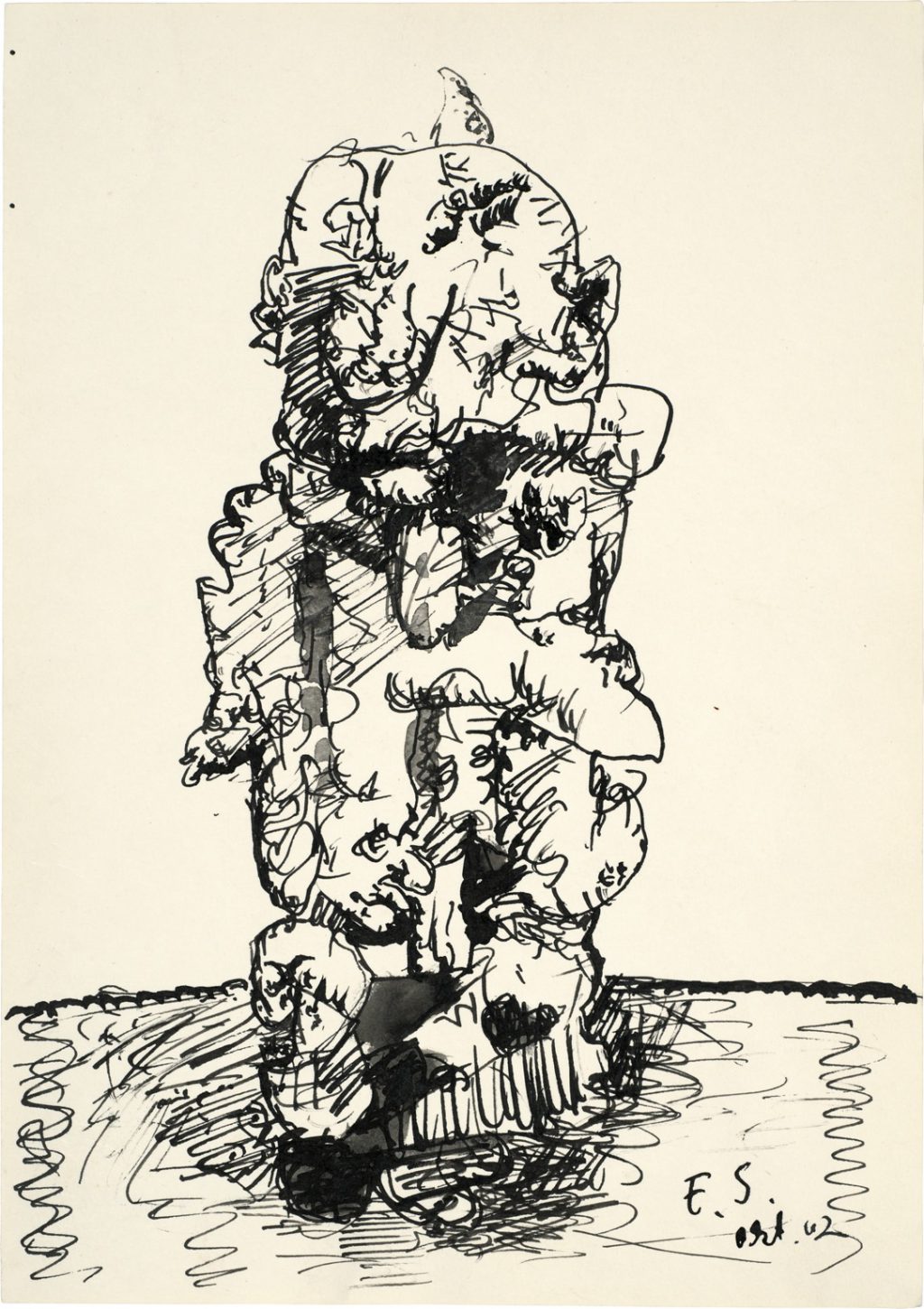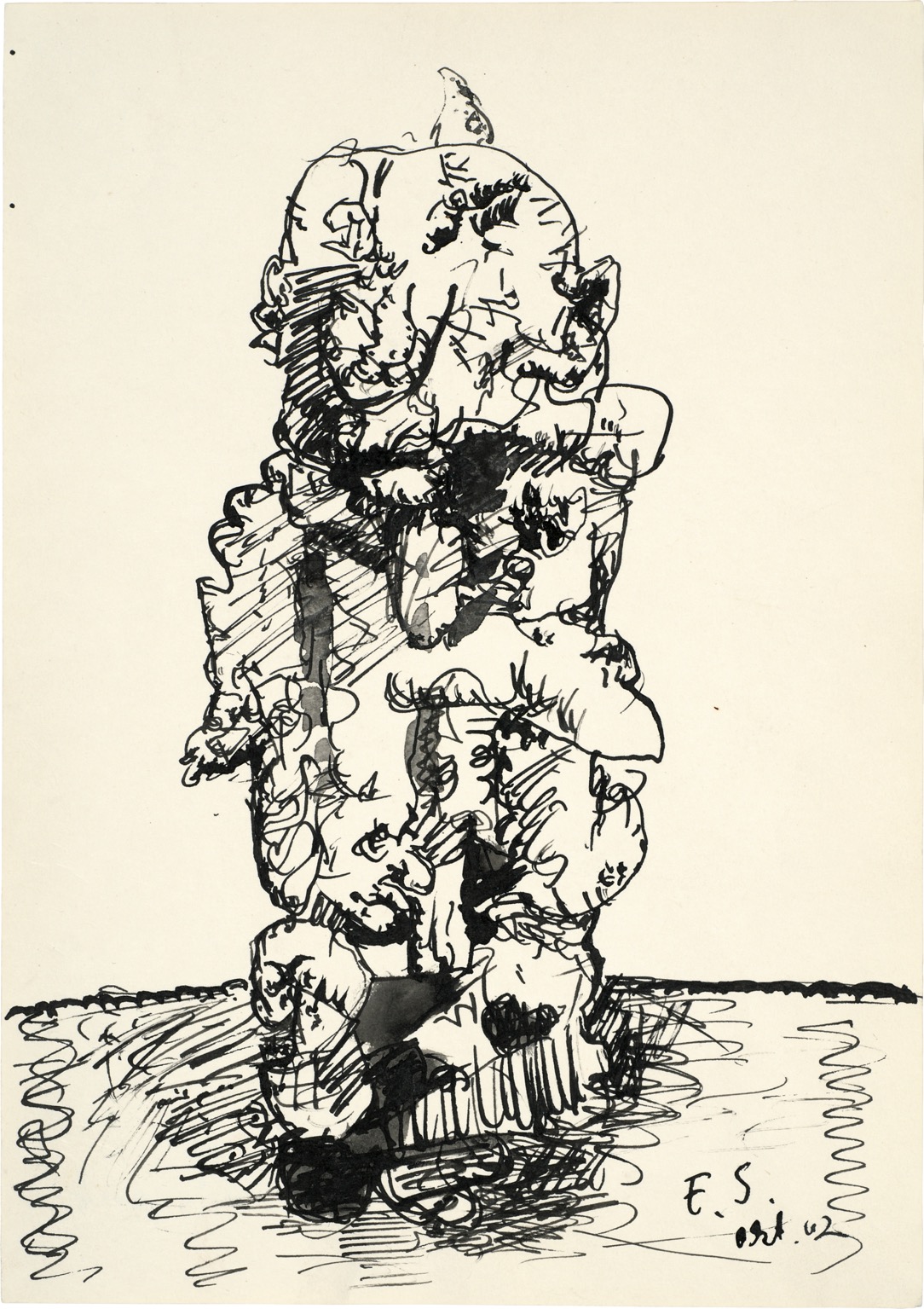 Untitled
1962
Pen and tusche wash on paper
29.5 × 21.5 cm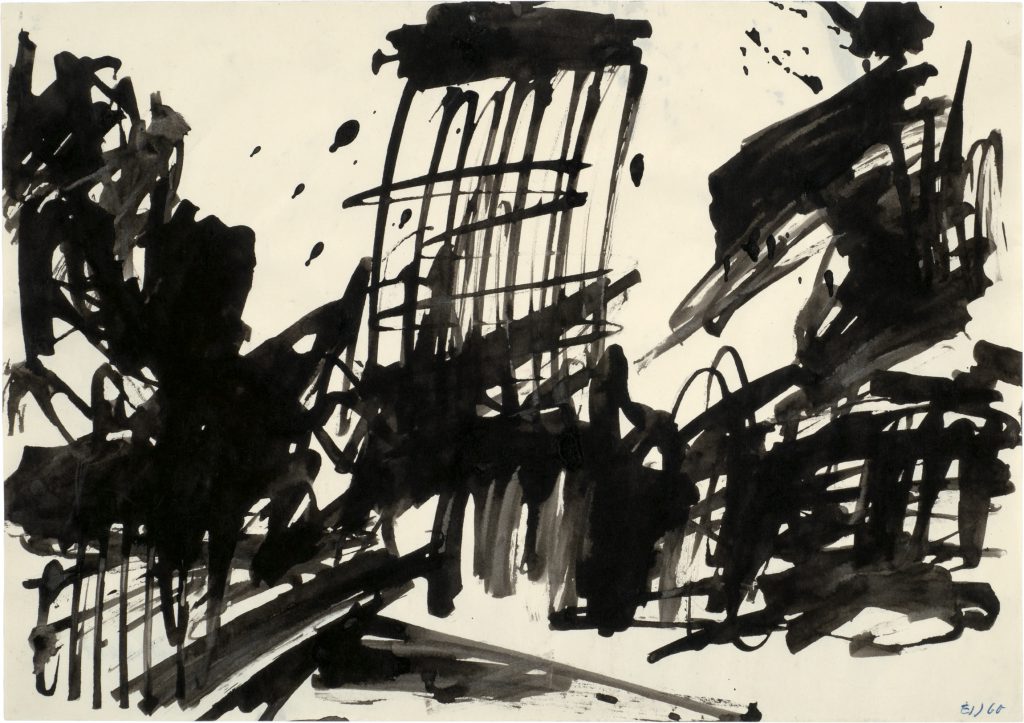 Landschaft / Landscape
1960
Tusche on paper
20.9 × 29.6 cm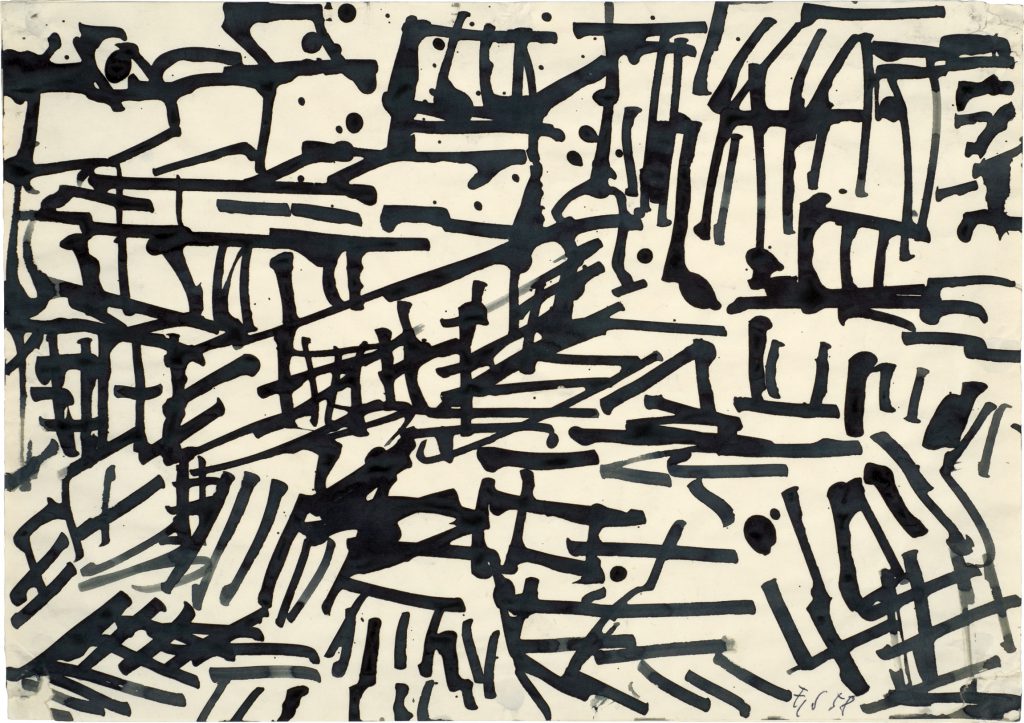 Landschaft / Landscape
1958
Tusche on paper
21 × 29.6 cm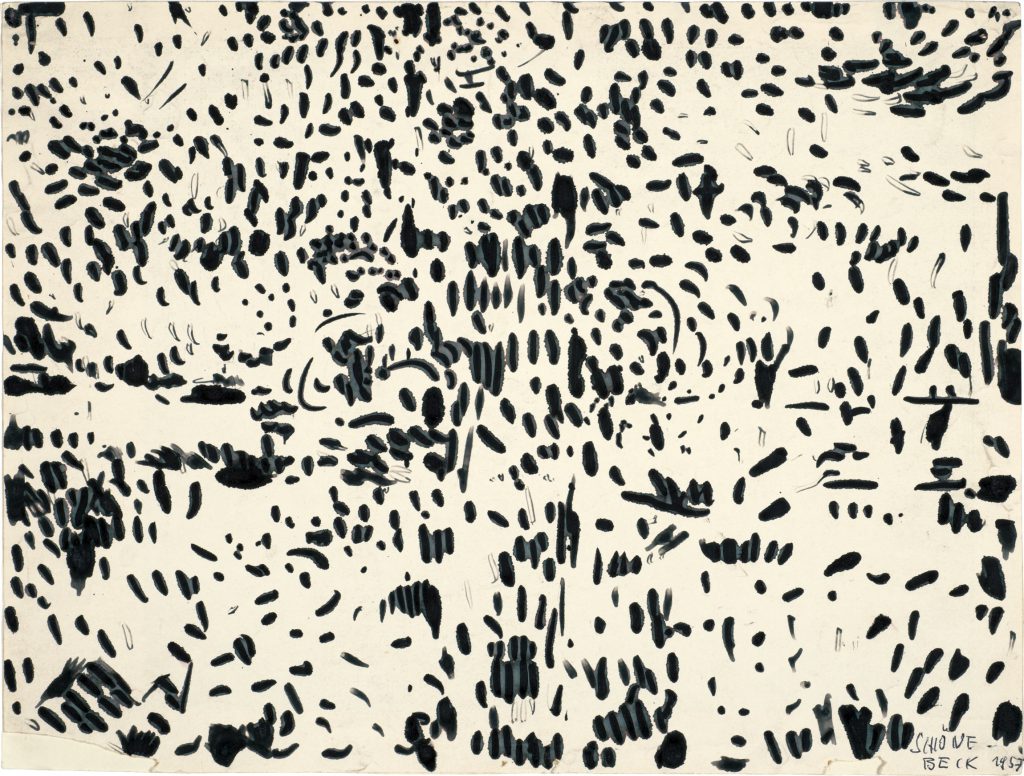 Untitled
1957
Tusche on paper
20.3 × 27 cm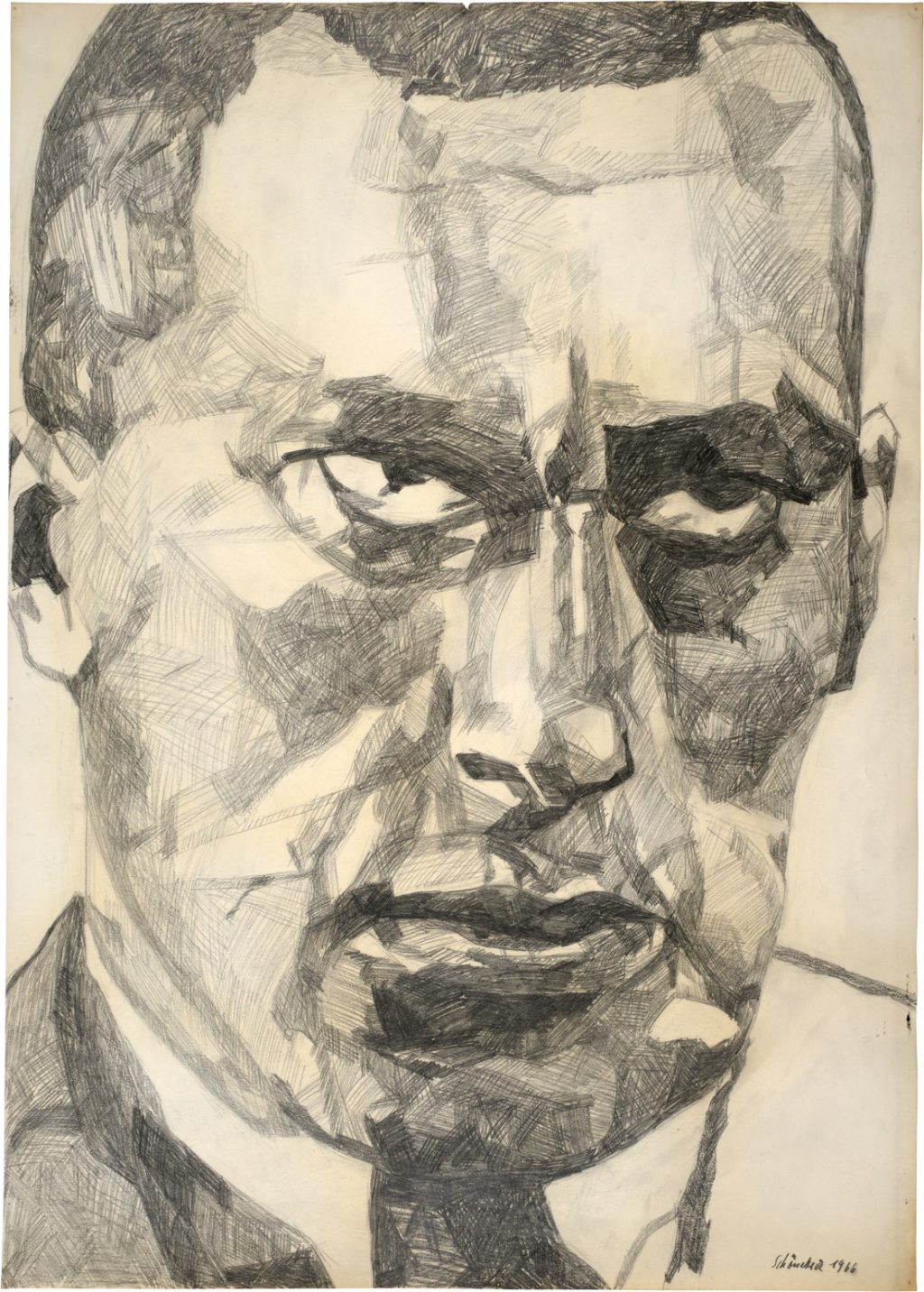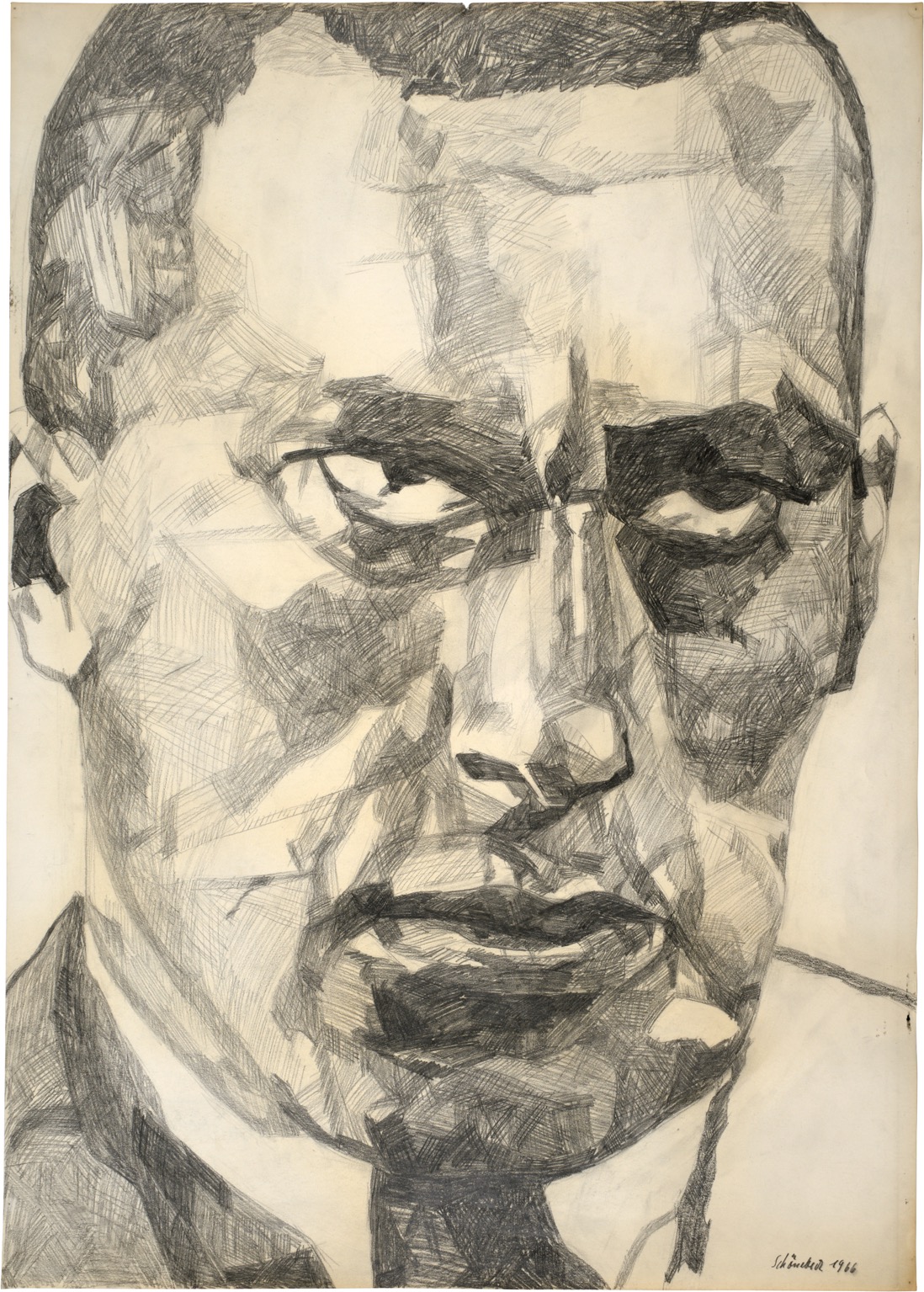 Majakowski / Mayakovsky
1966
Graphite on paper
80 × 60 cm
Hall Collection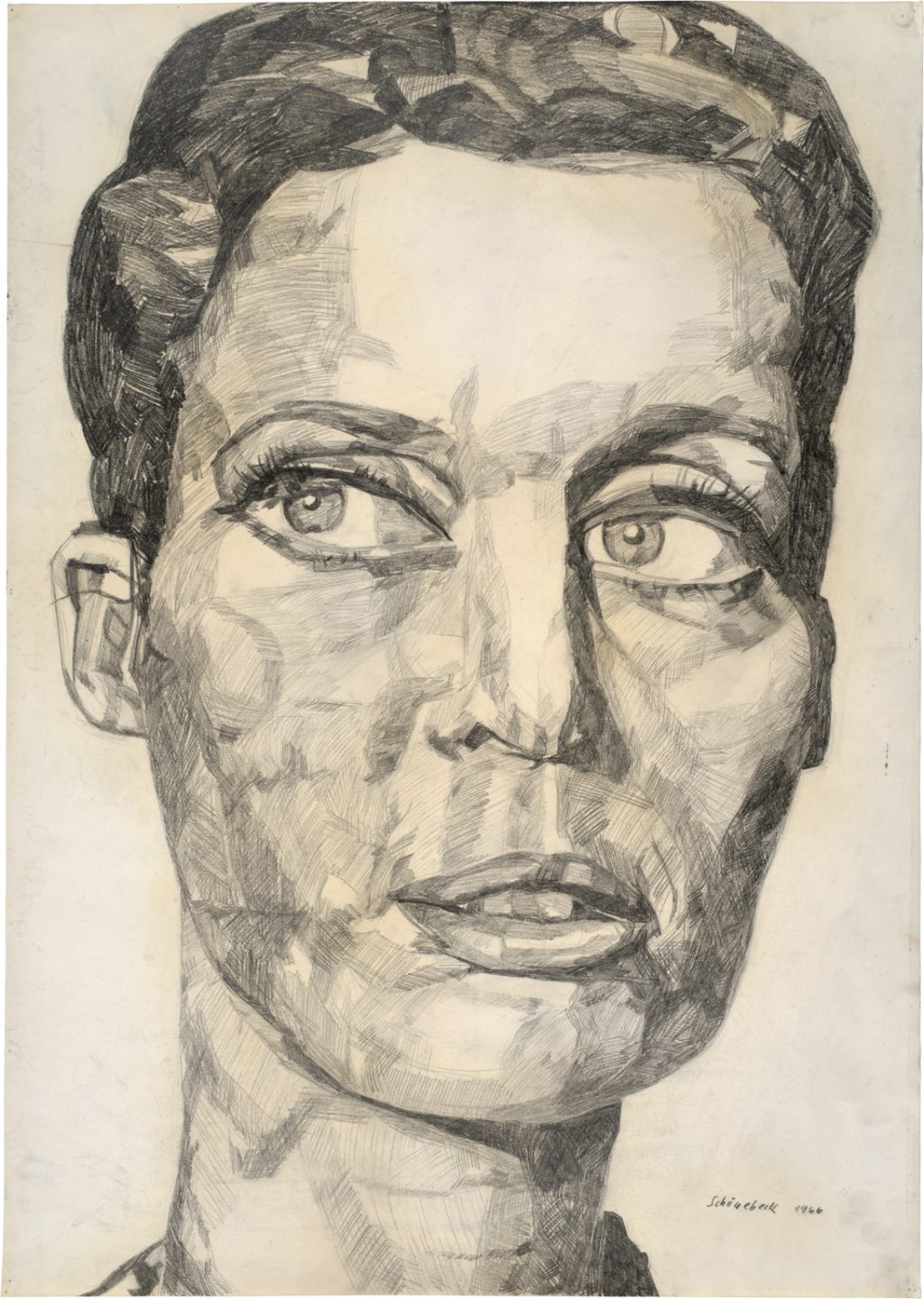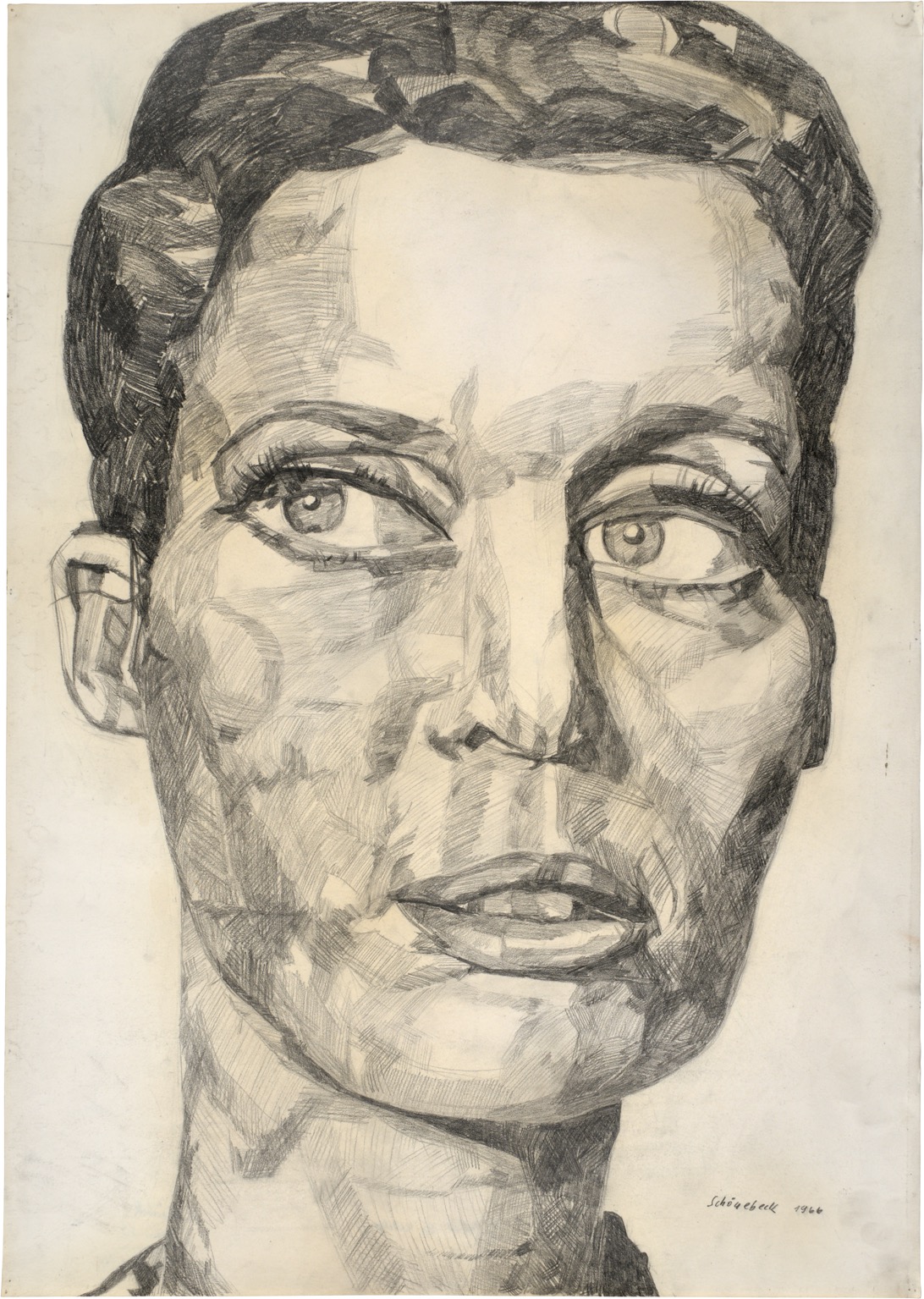 Portrait Liz Kertelge
1966
Graphite on paper
86 × 61 cm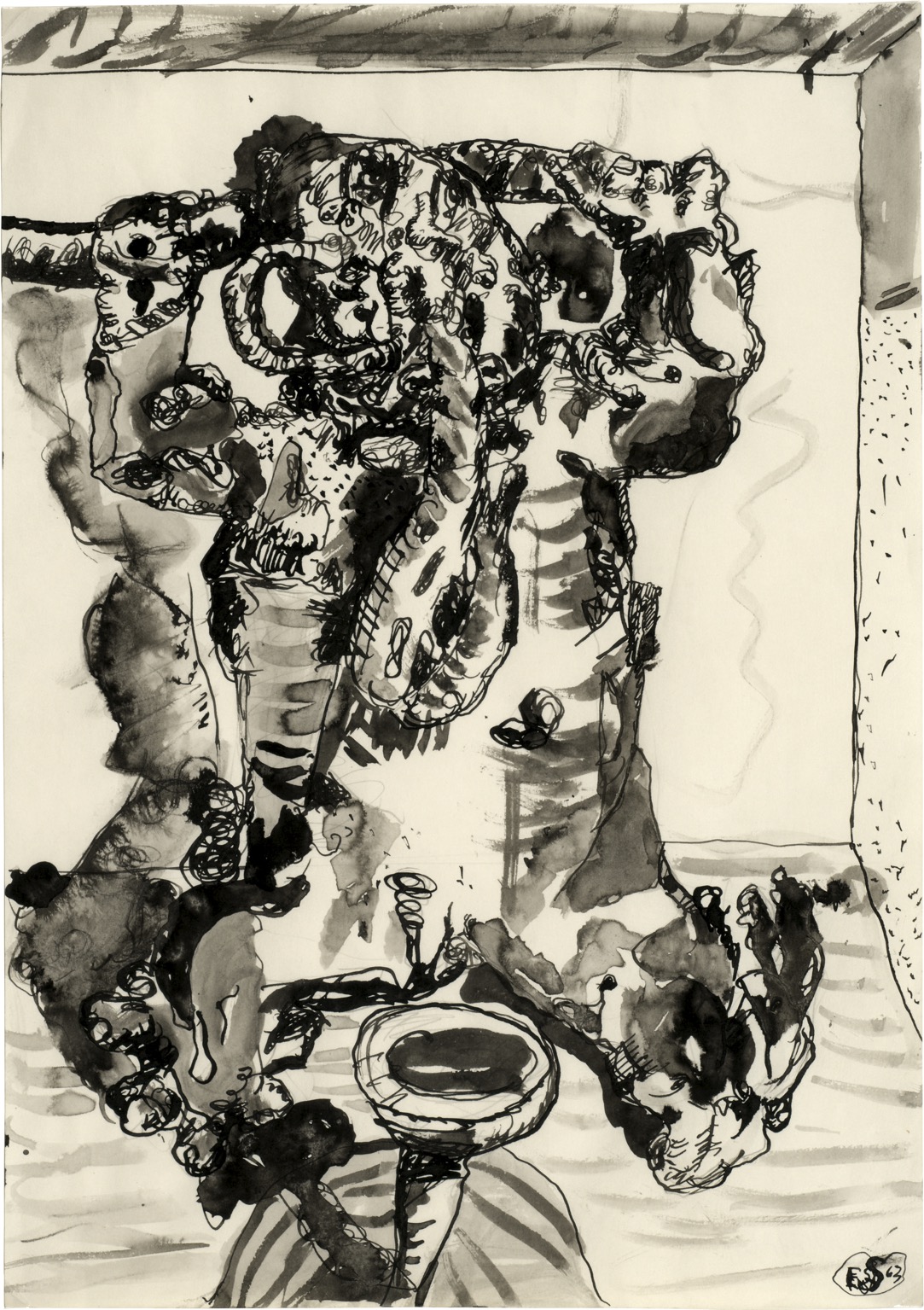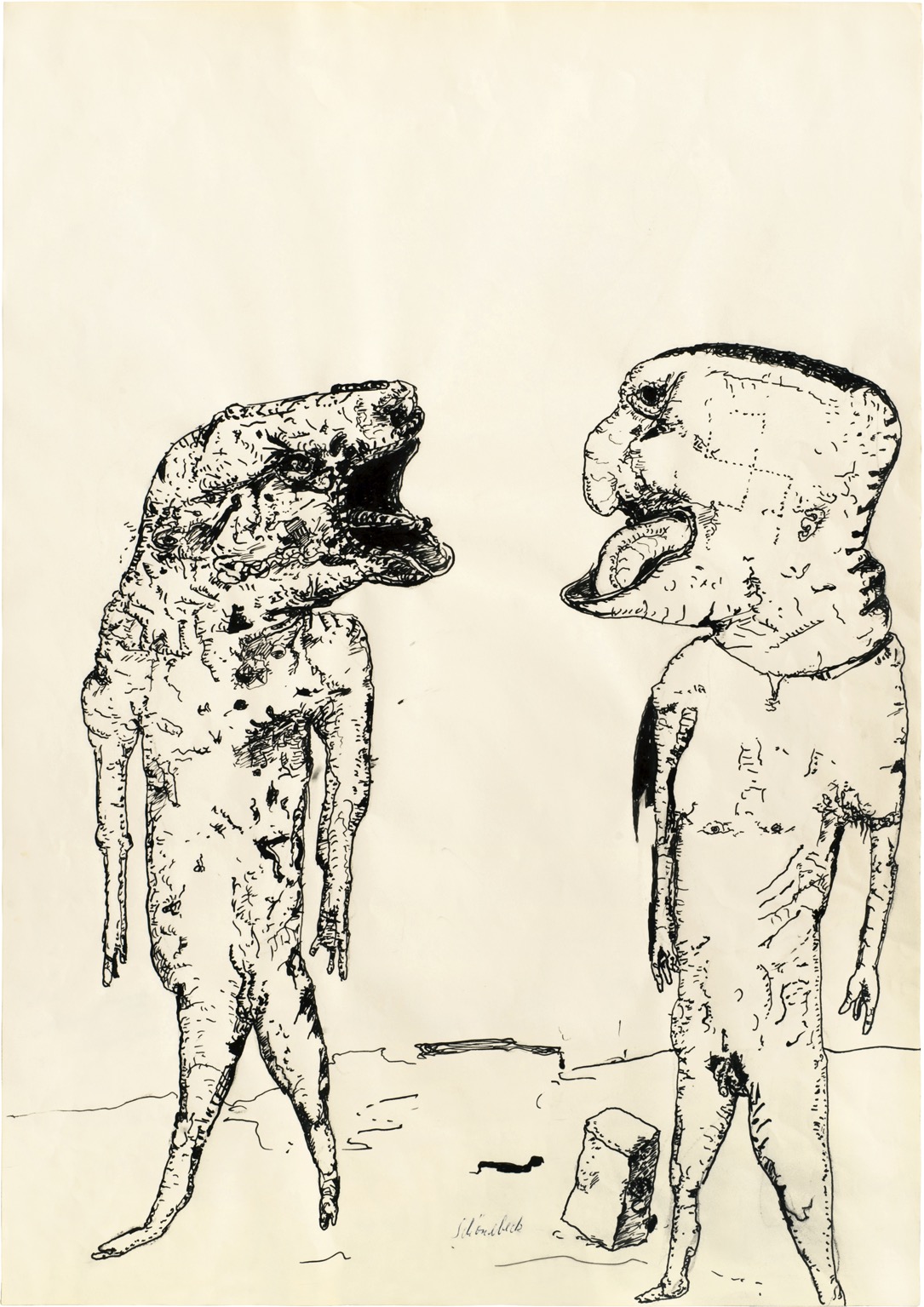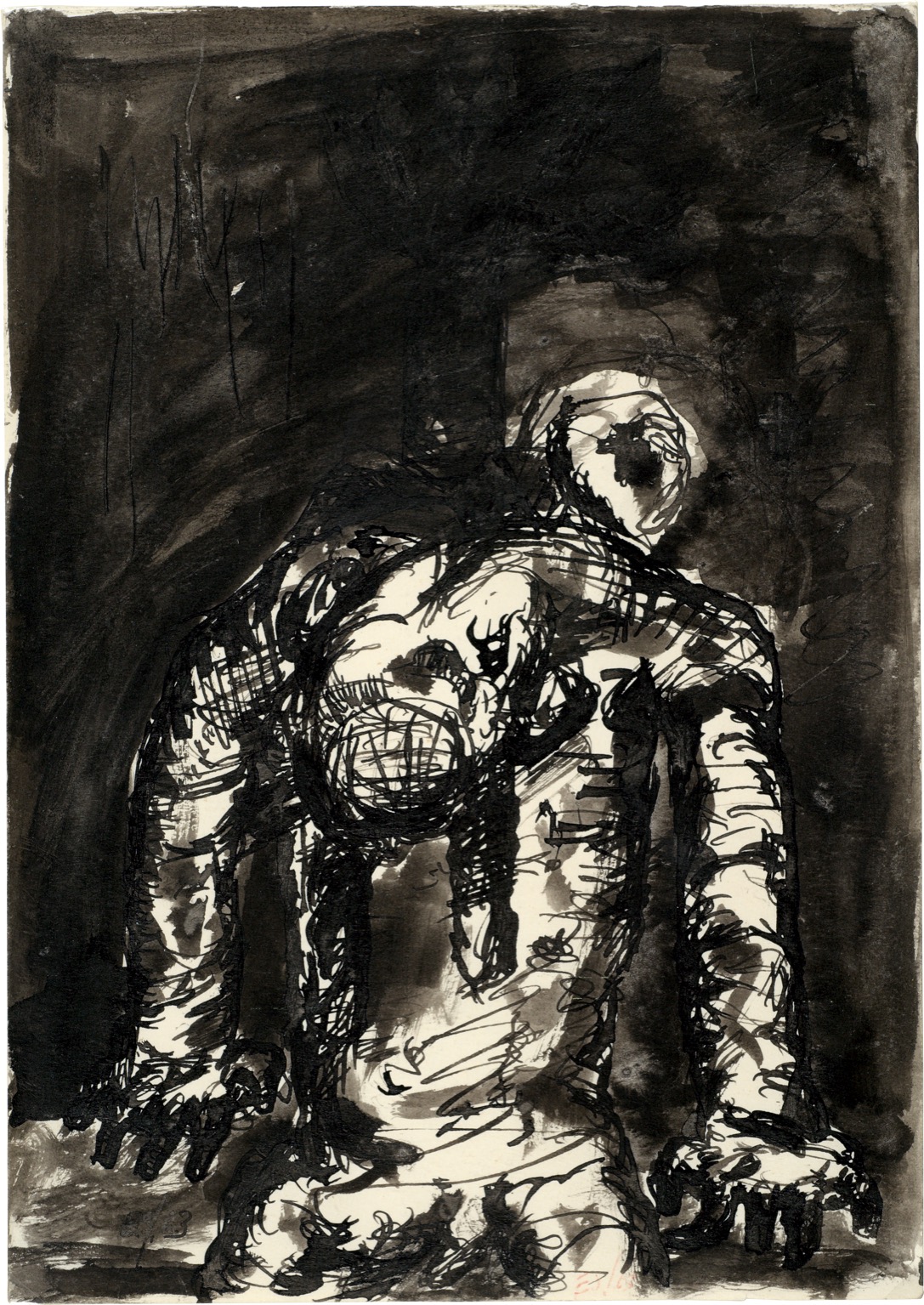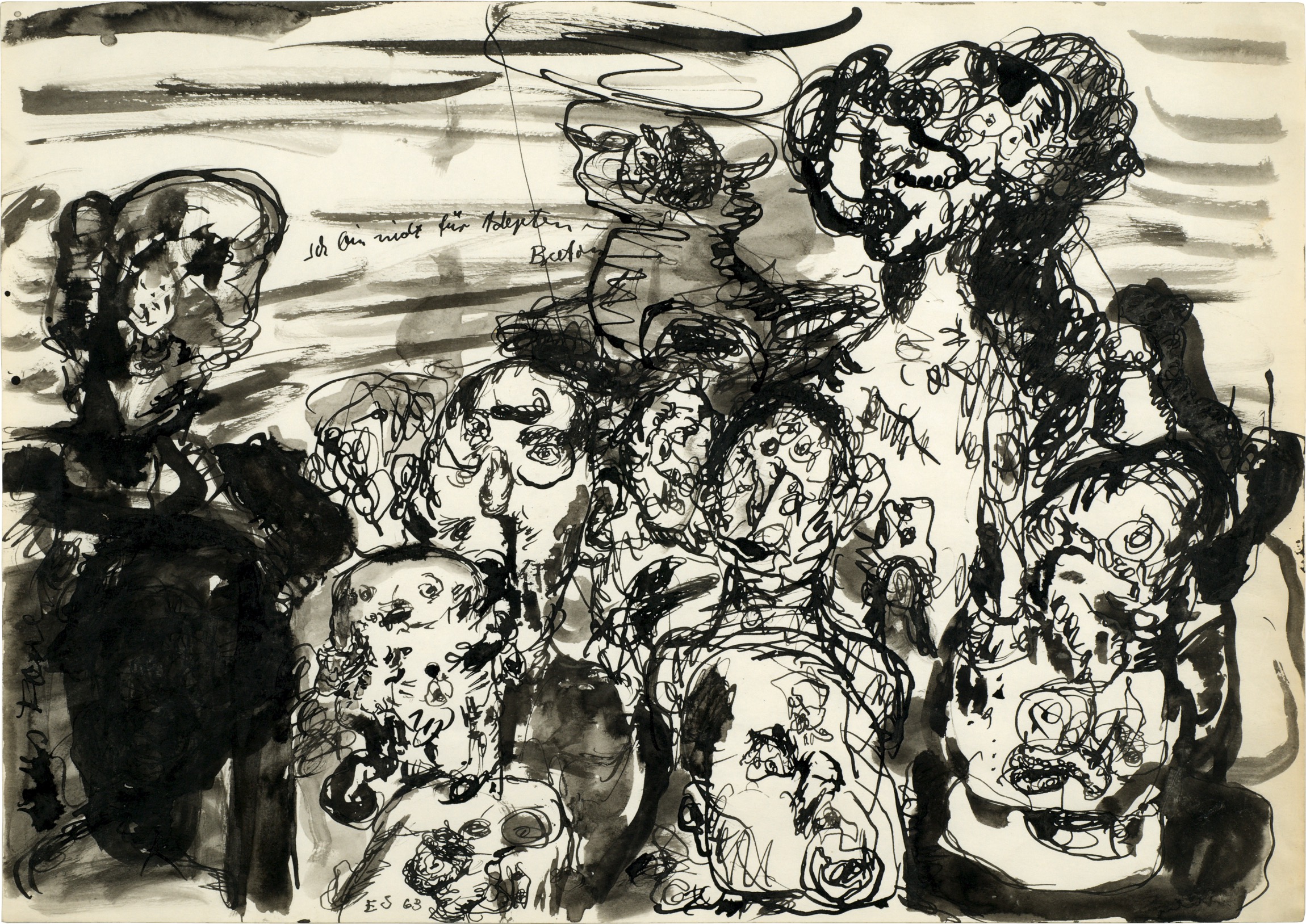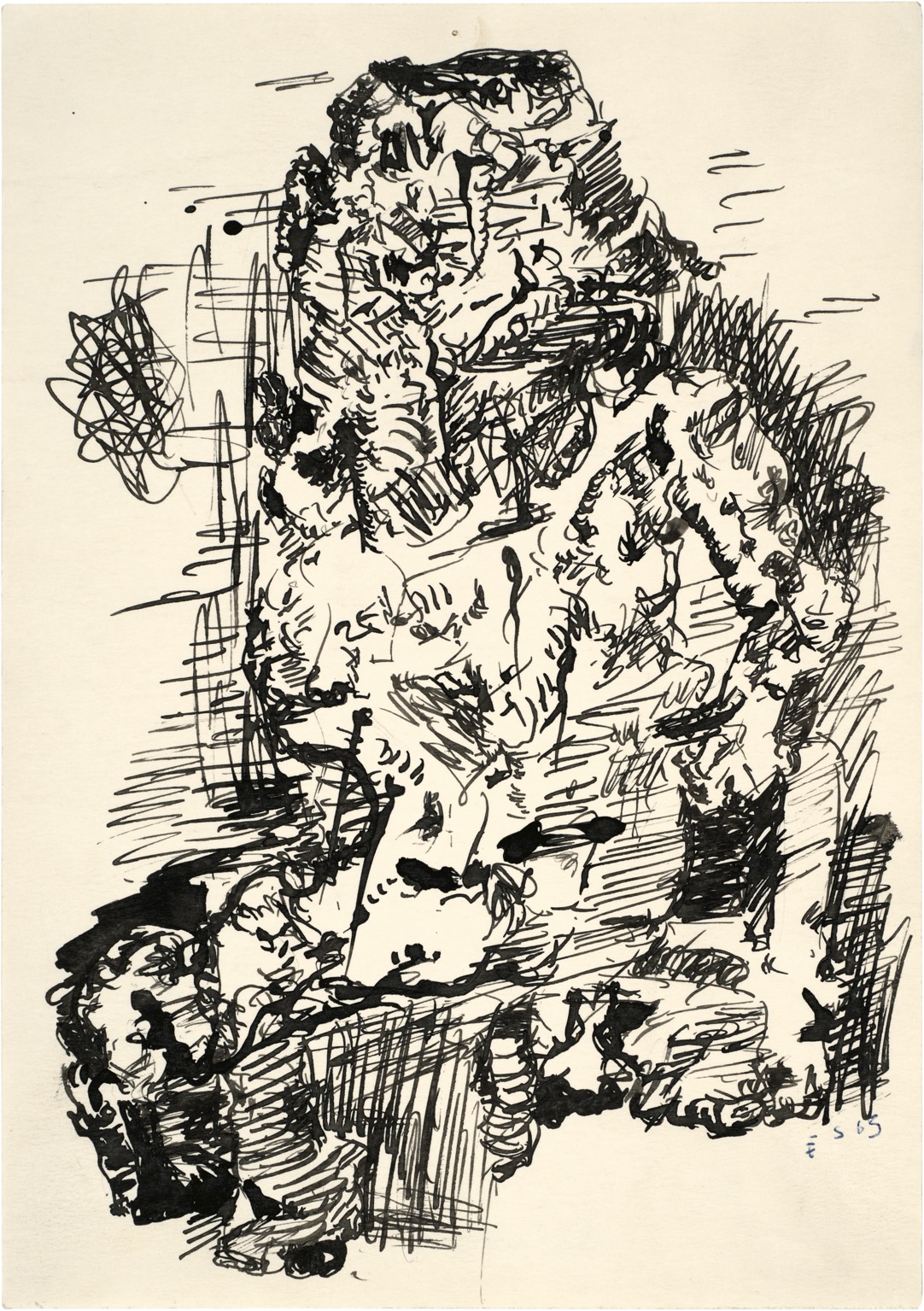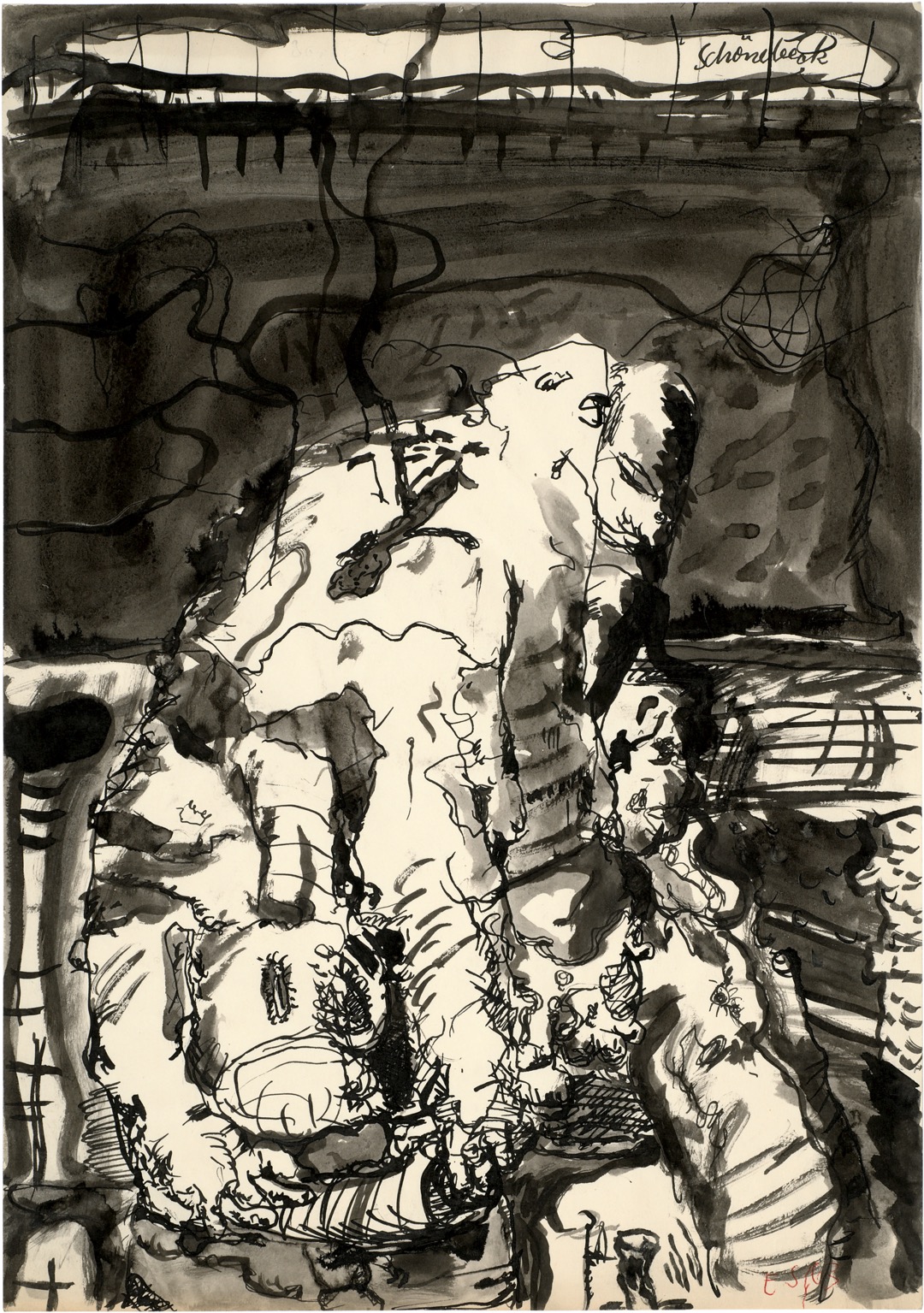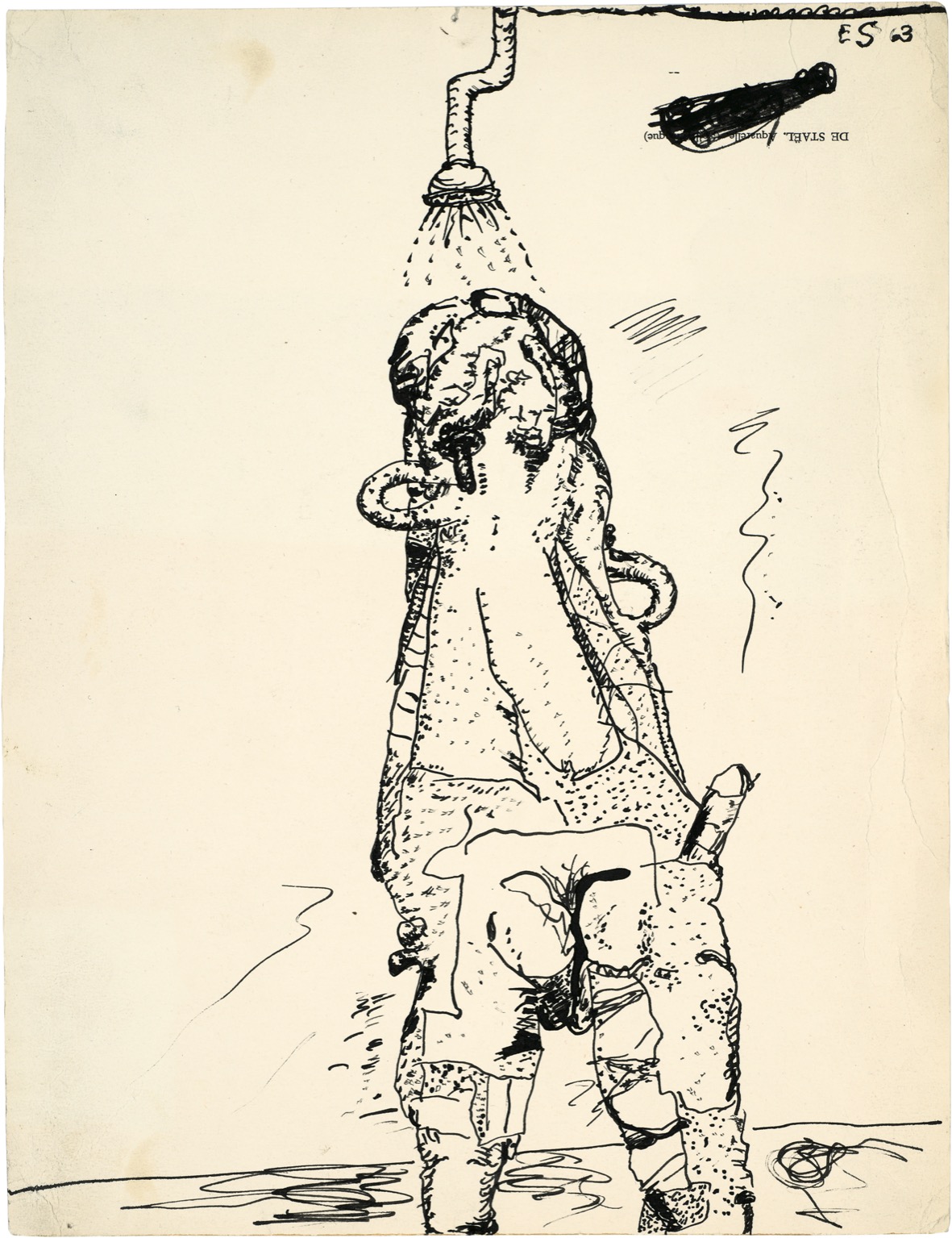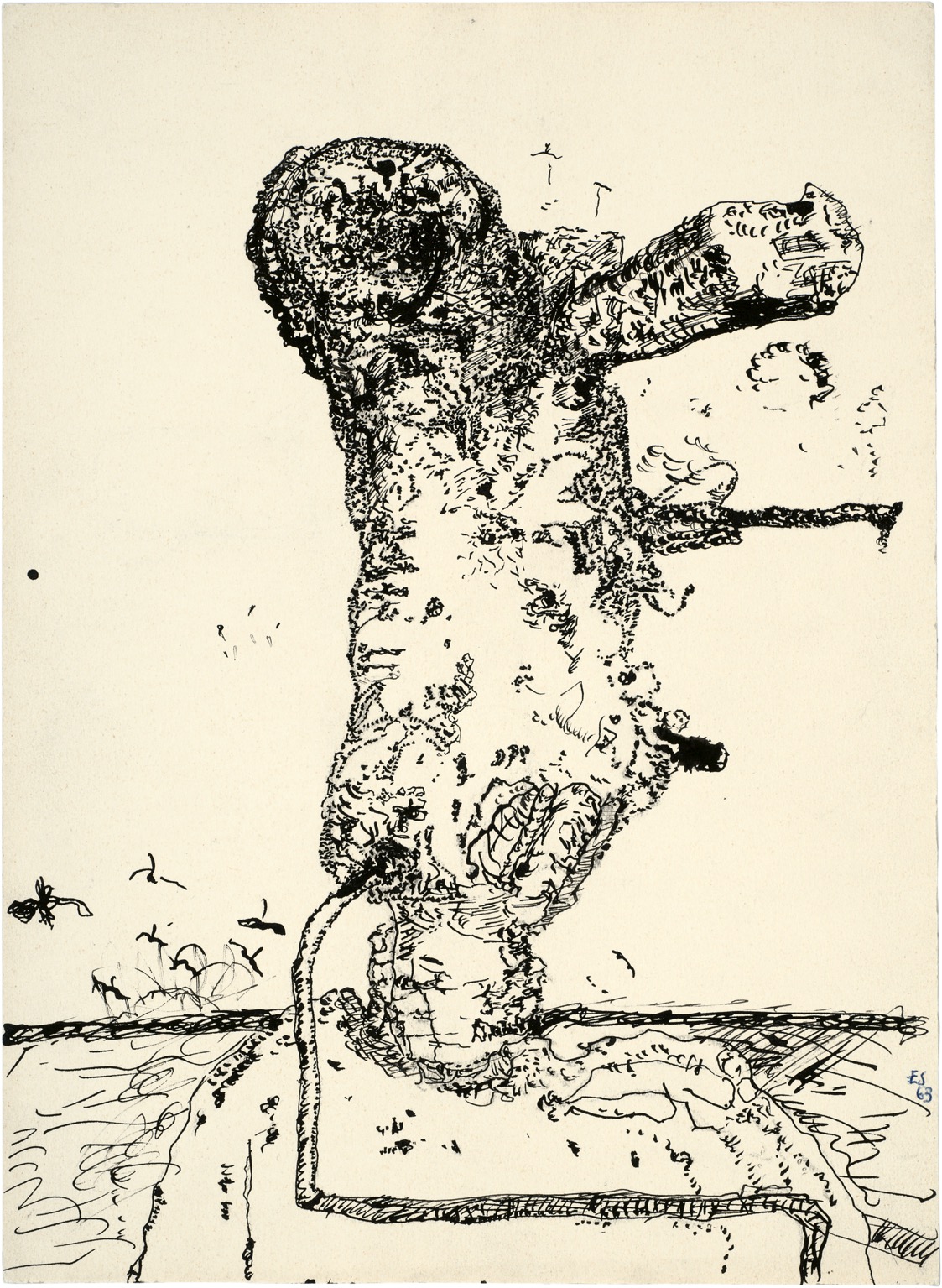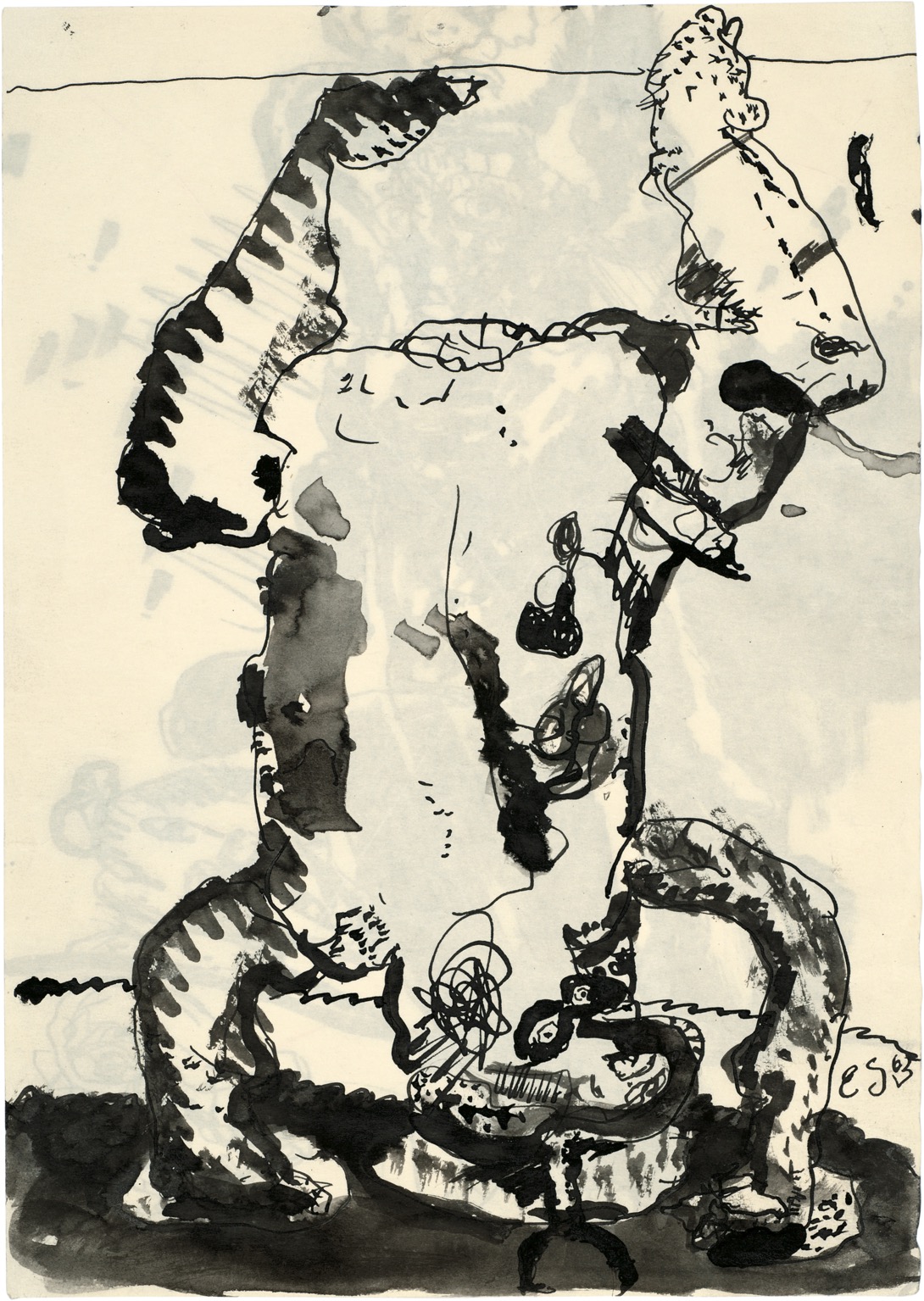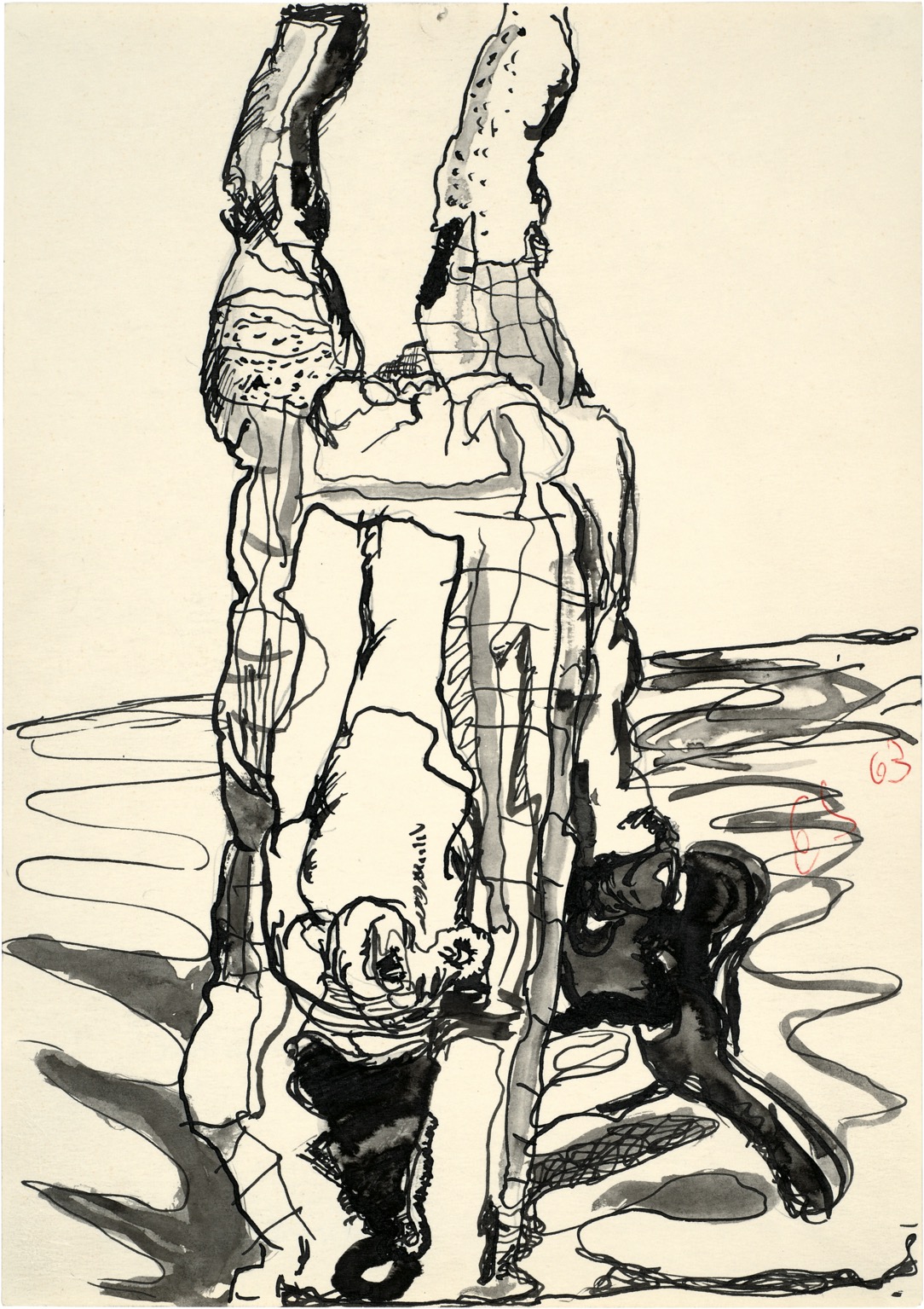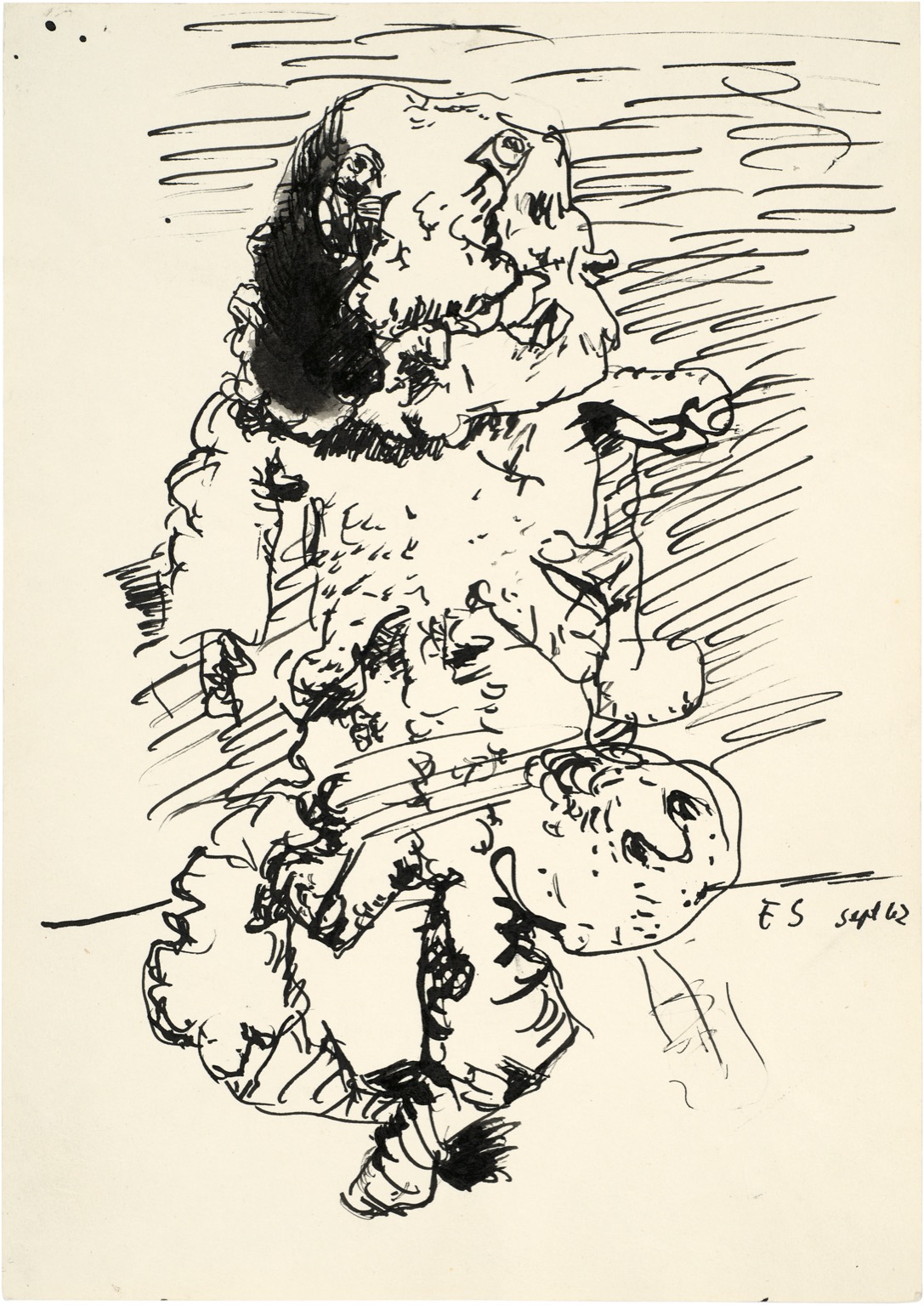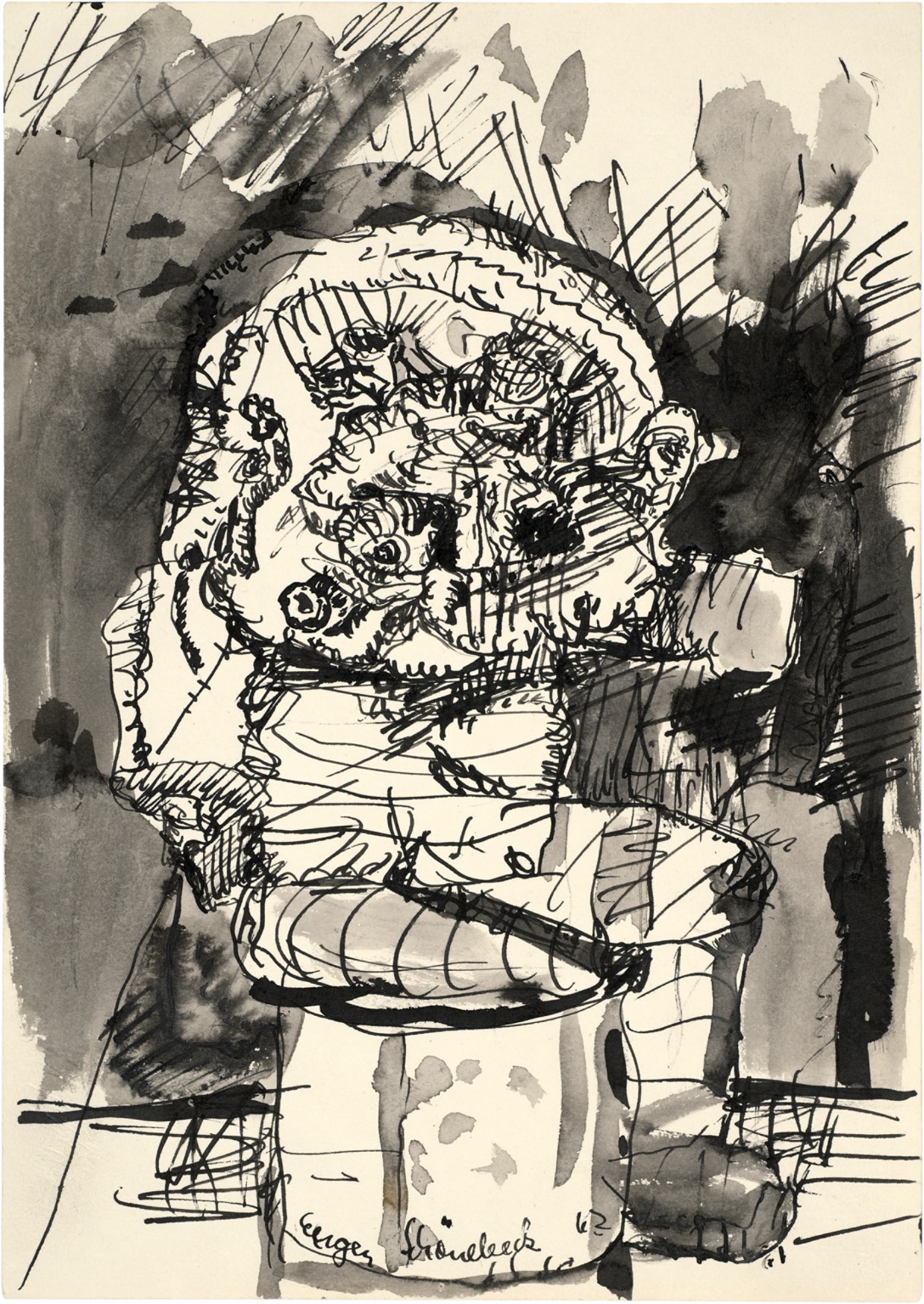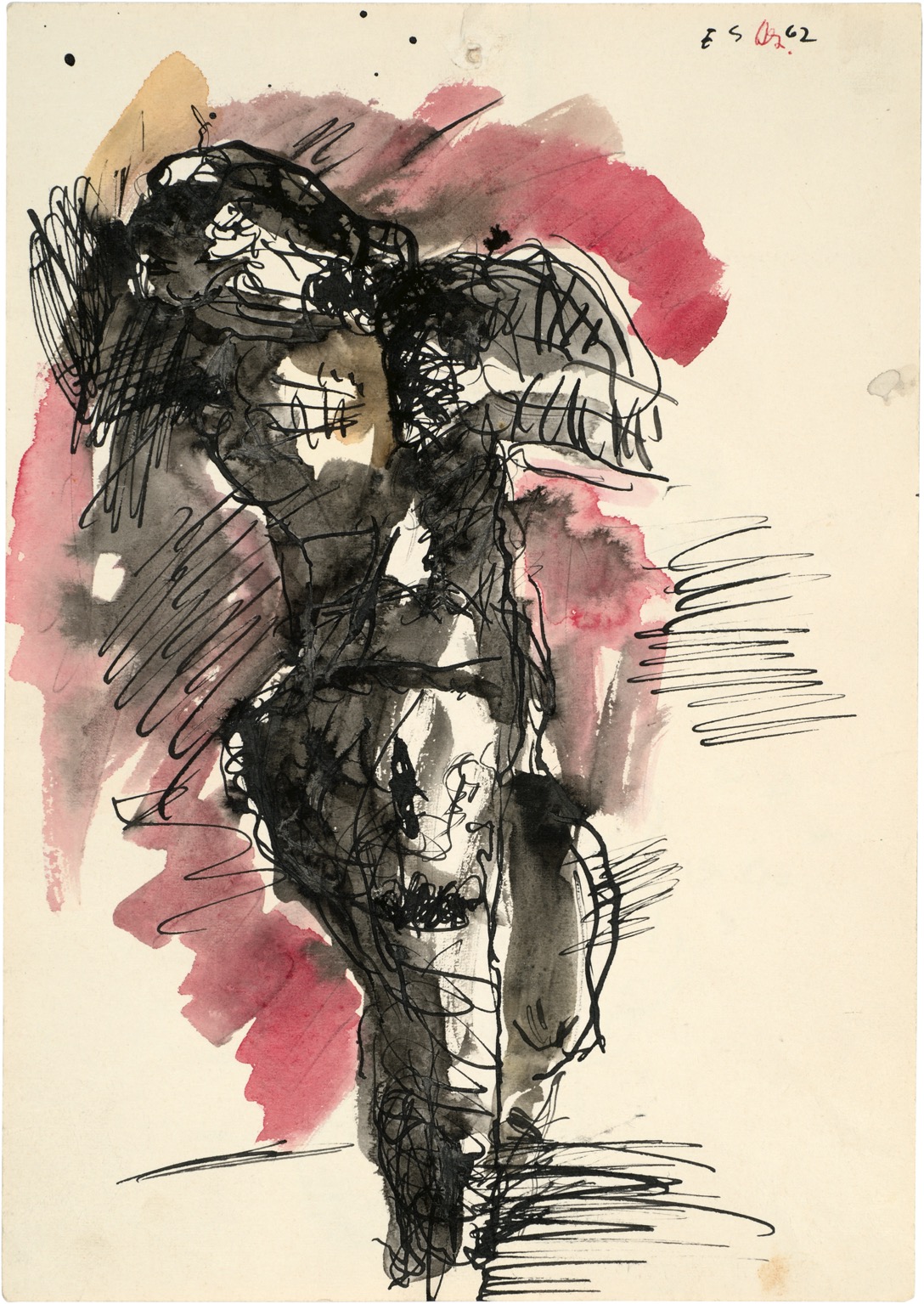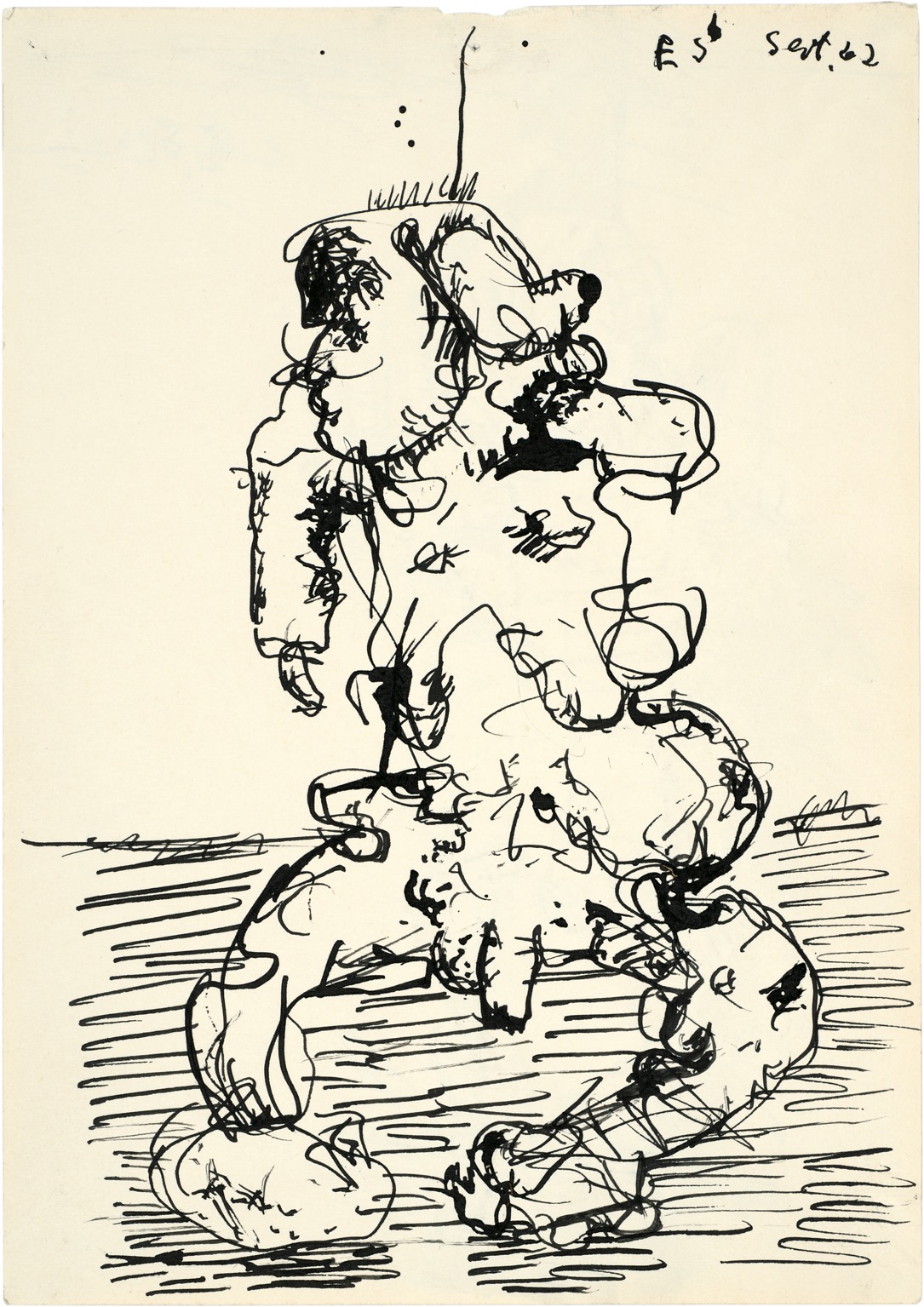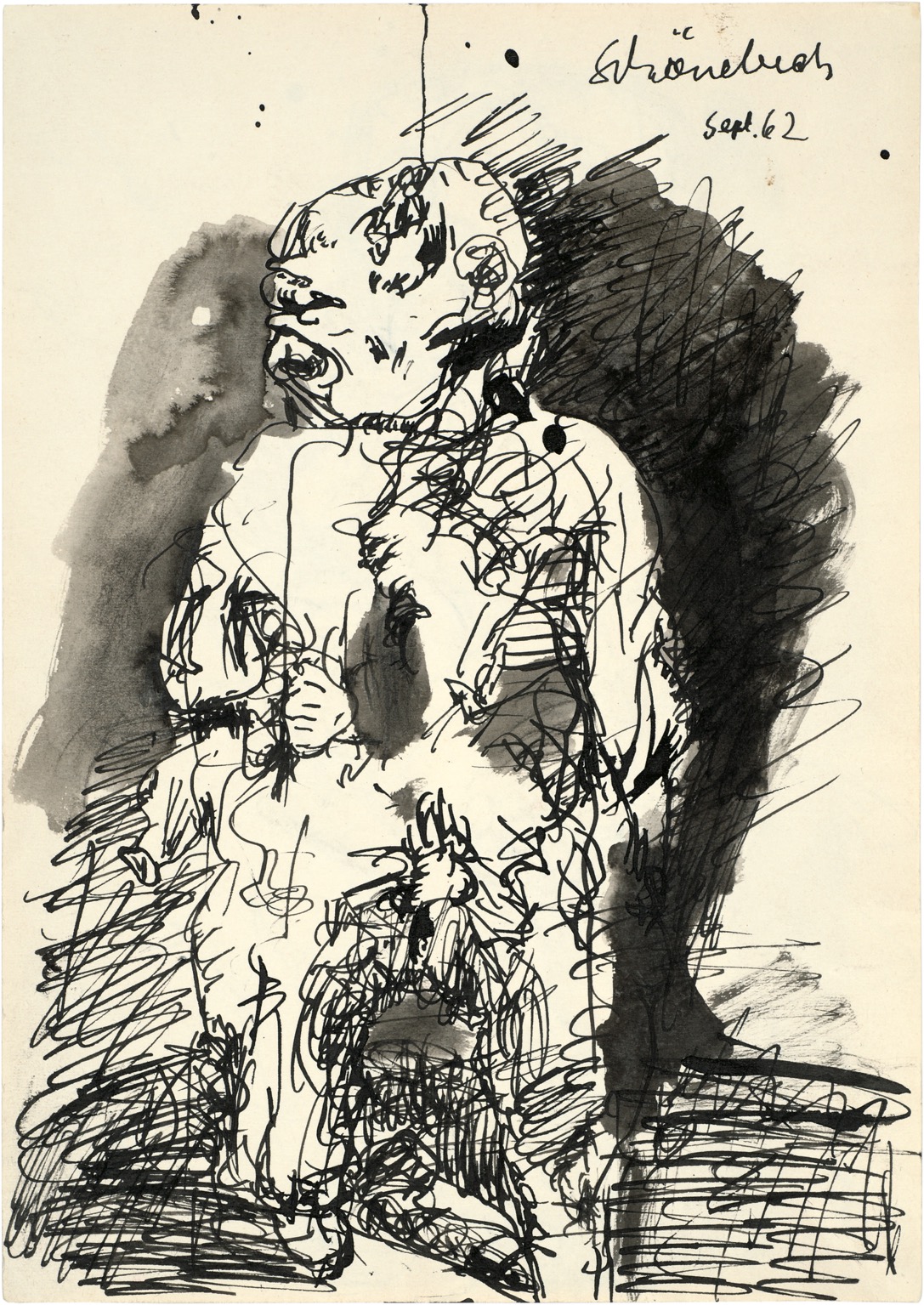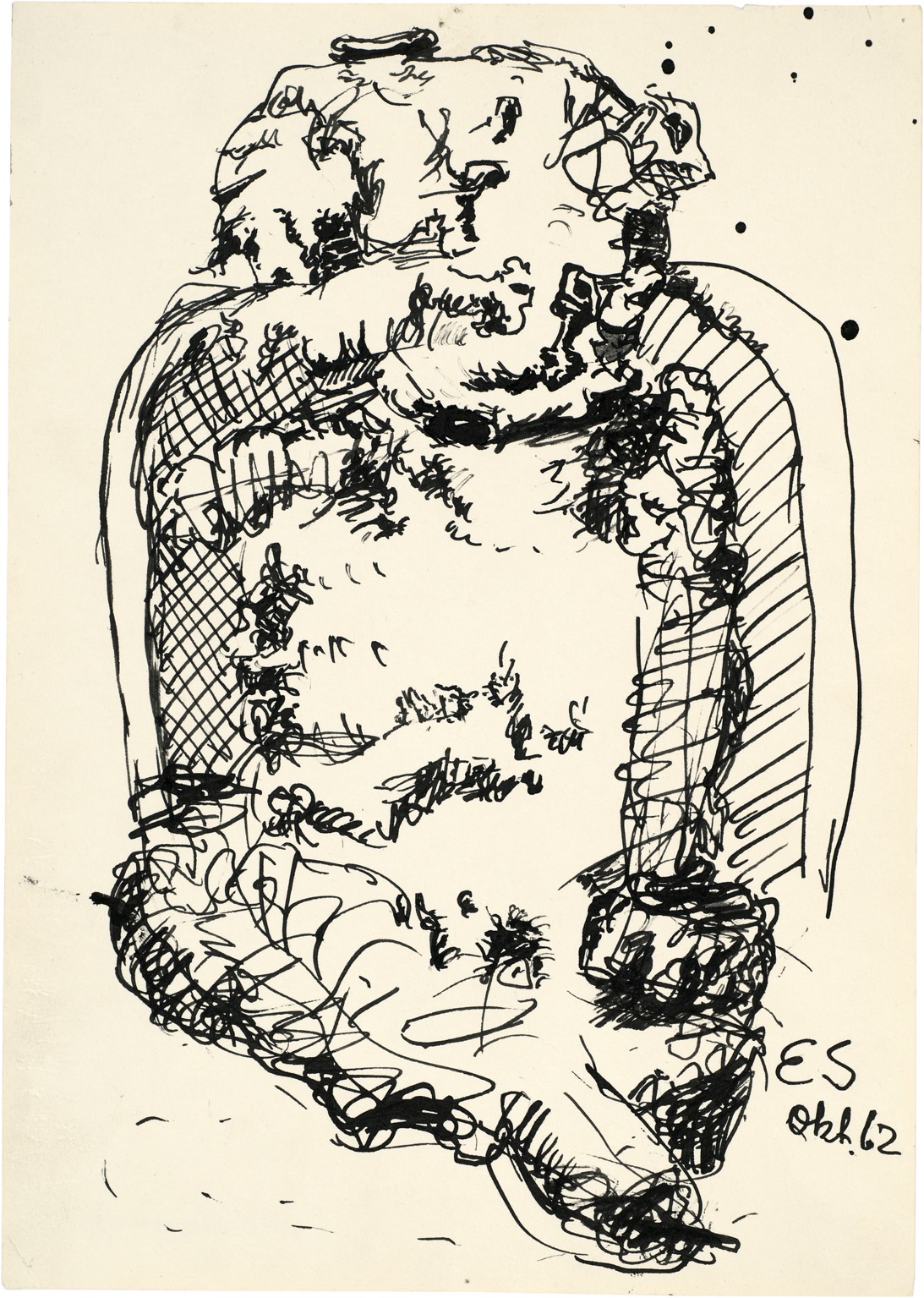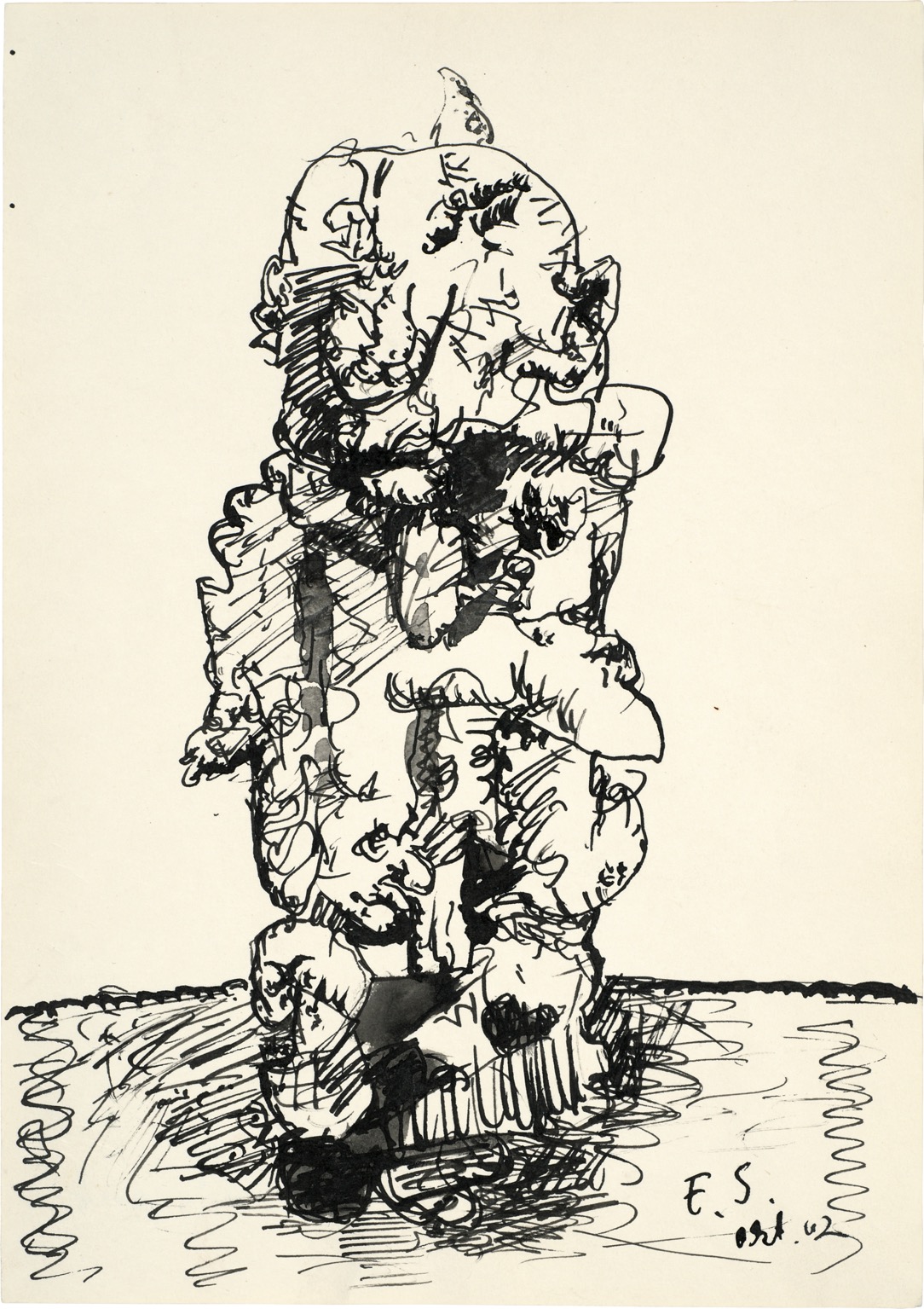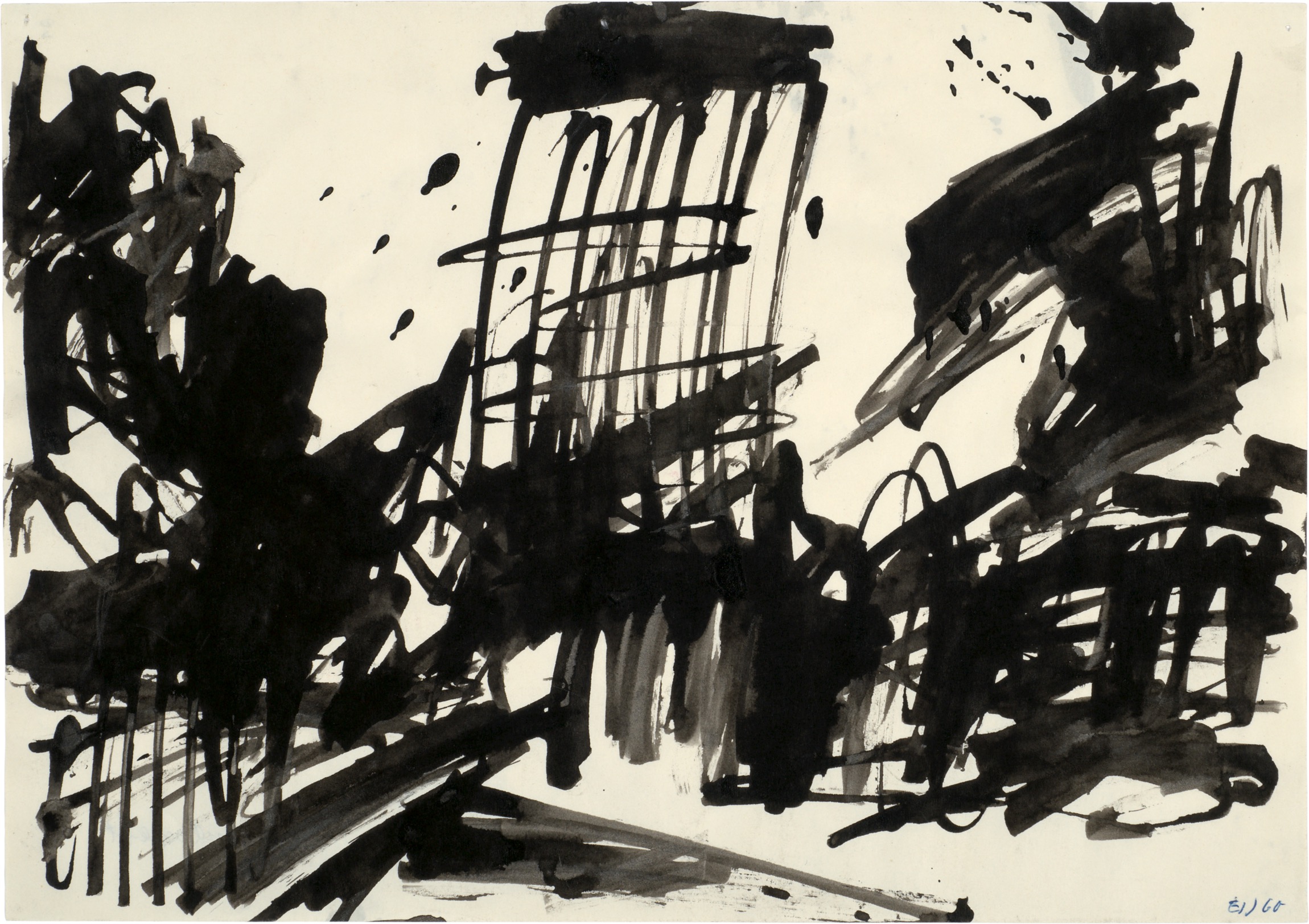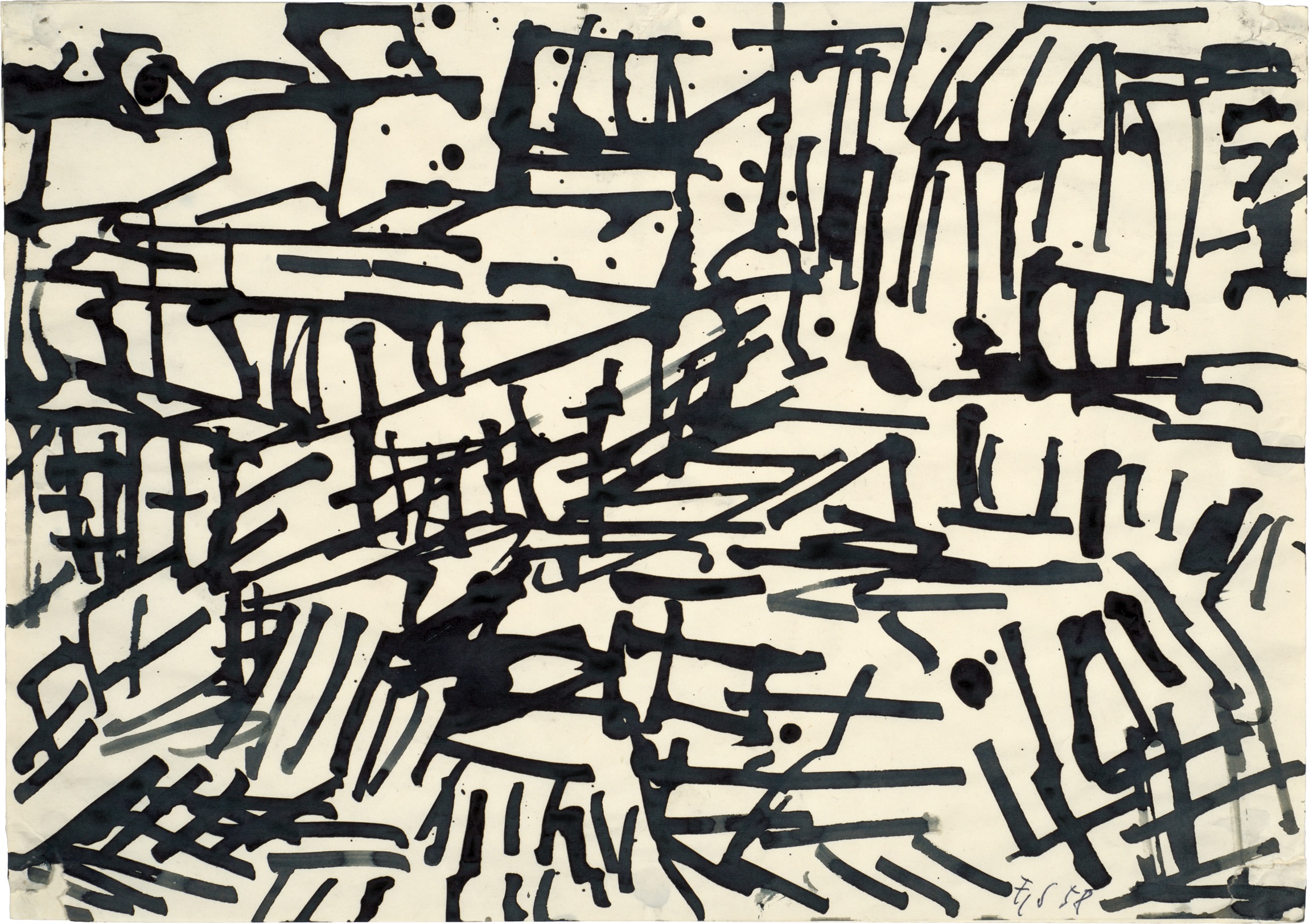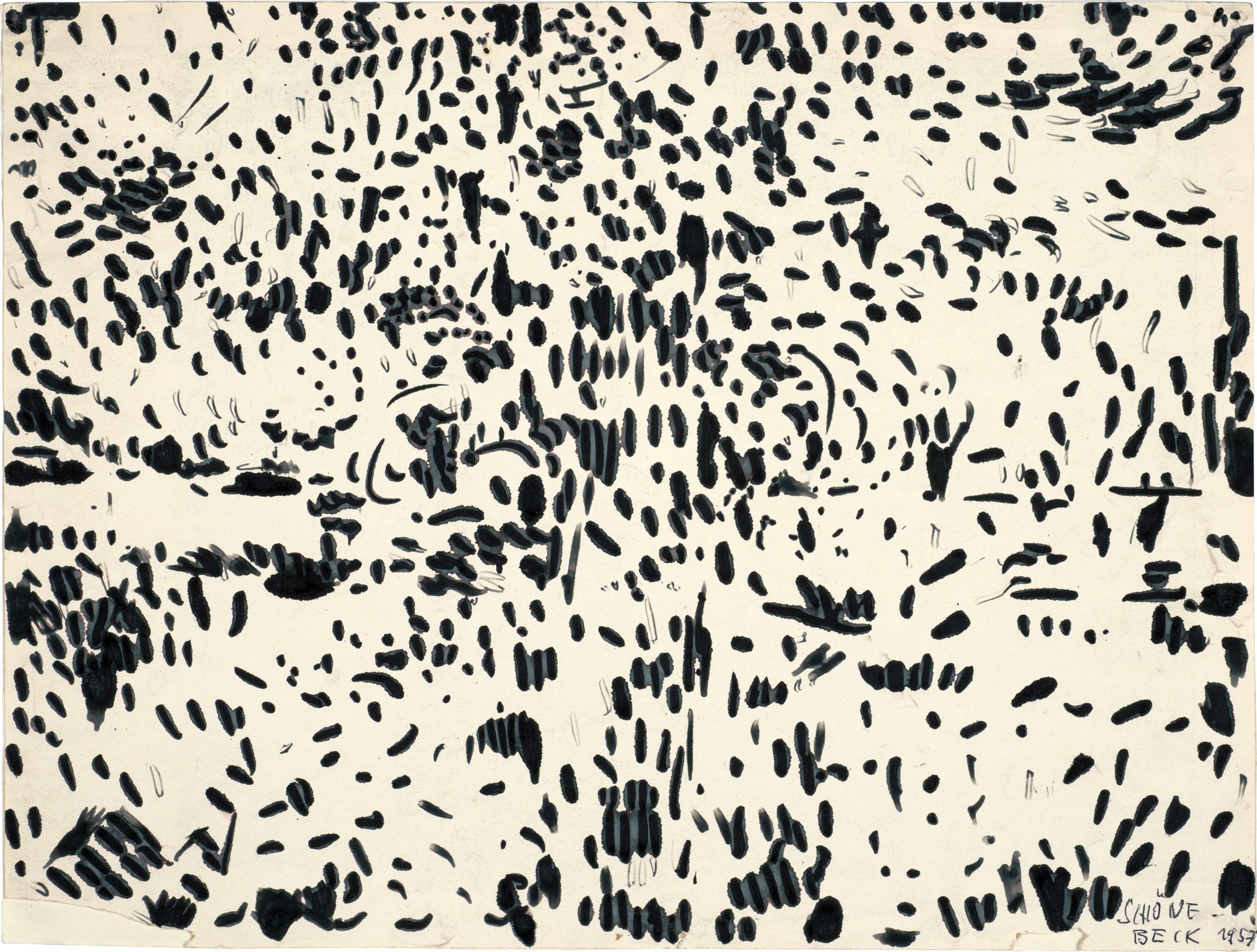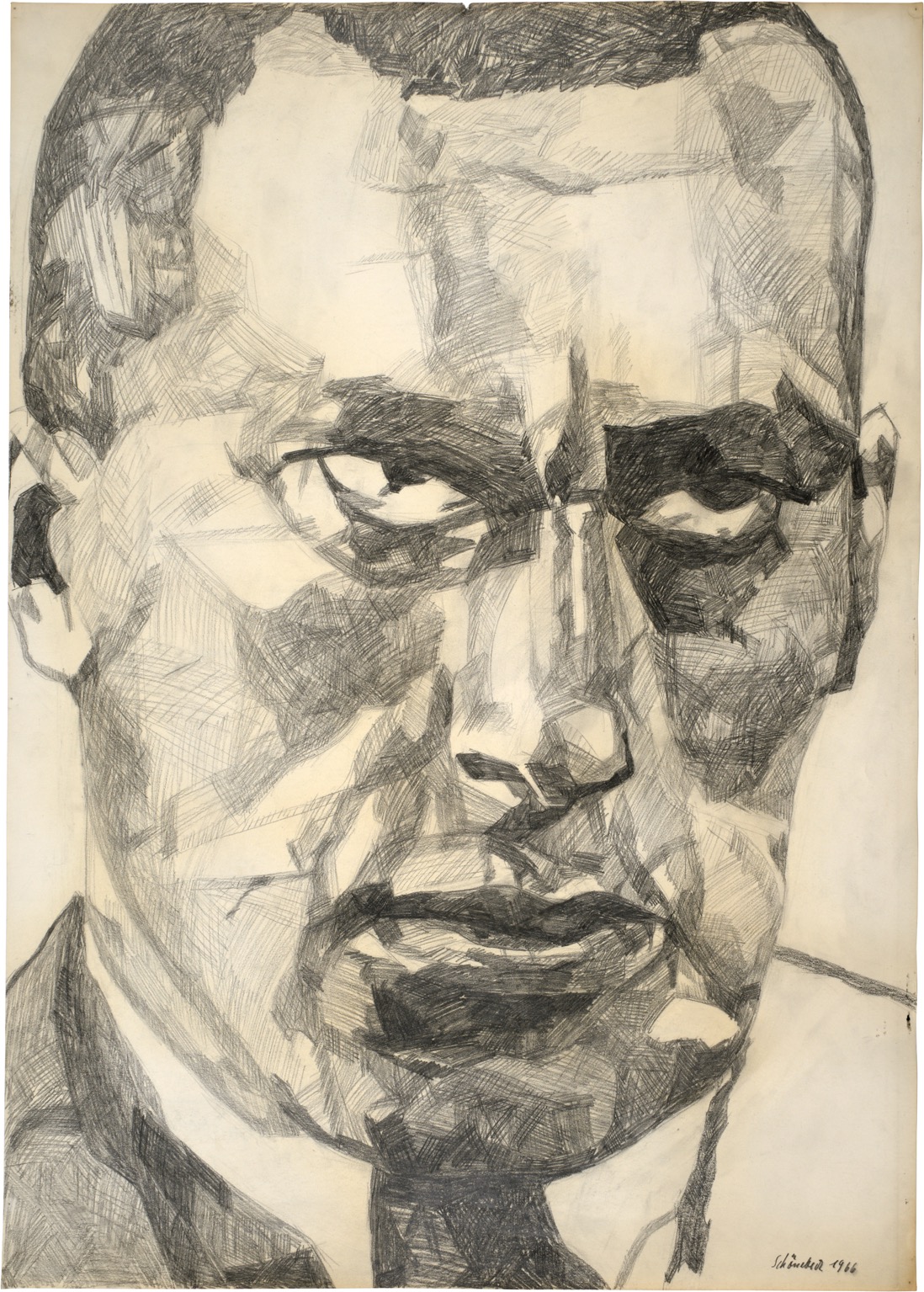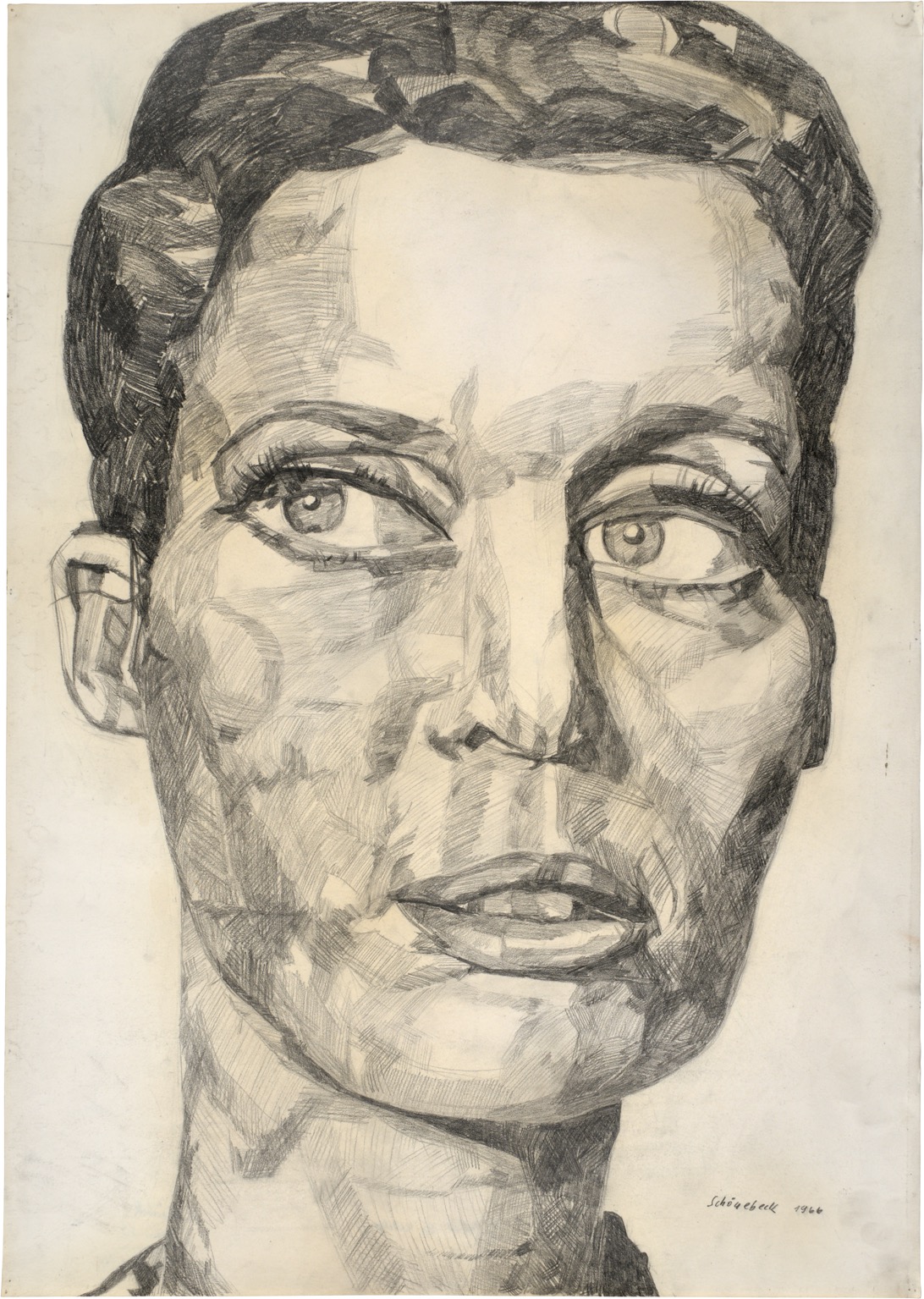 ---
About
Nolan Judin is pleased to present Eugen Schönebeck – The Drawings, the most comprehensive exhibition to date of works on paper by Berlin-based artist Eugen Schönebeck. Born near Dresden in 1936, Schönebeck is a myth in post-war German art. When, to everyone's surprise, he declared his career as a painter over in the late 1960s and all but withdrew from the public eye, he had created just 52 oil paintings (of which 39 have survived) and around 600 drawings.
After having trained as a decorative painter, he began his formal artistic education in 1954 at the Fachschule für Dekorative Malerei in East Berlin. But within a year he relocated to West Berlin, where he studied at the Hochschule für Bildende Kunst (now UdK) under Hans Jaenisch and Hans Kuhn, among others, until 1961. This is where he met Georg Baselitz, two years his junior, with whom he created what was later called the First Pandemonic Manifesto in 1961, which served as the exhibition poster for a joint show in a derelict building. Together, the student friends developed a new, violent expression in painting and self-consciously rebelled against the art establishment and its prevailing dictate of abstraction. They affirmed this in their Second Pandemonic Manifesto of 1962, after which they parted ways. That same year Schönebeck had his first solo exhibition in Berlin. Only seven more solo exhibitions have followed to date – all in Germany – including the highly acclaimed retrospective at the Schirn Kunsthalle Frankfurt in spring 2011. His importance has, however, been recognized in numerous seminal group exhibitions on German (and "German-German") post-war art, including German Art in the 20th Century (London and Stuttgart, 1985/86), Deutschlandbilder (Berlin, 1997), and Art of Two Germanys/Cold War Cultures (Los Angeles, Nuremberg, and Berlin 2009).
Schönebeck, like many artists of his generation, had to live through the horrors of the Second World War. But he was one of only a handful of artists to make coming to terms with the traumatic events of the Second World War the subject of his artistic work. Schönebeck is especially appreciated for his depictions of the tortured, grotesque and often comical human body, in which the post-war years found a disturbing pictorial expression. In the materialistic times of the Wirtschaftwunder, the "economic miracle", he demanded "morality" from art and sympathized with socialism. In his opinion, the formlessness and spontaneity of the prevailing "Informel" were not suitable for the renewal of society. Schönebeck opted for figurative painting as a revolutionary gesture, visibly wrestling with his motifs.
Eugen Schönebeck – The Drawings includes nearly 60 drawings spanning the years 1957 to 1966, from the early Tachist compositions to the later, monumental portraits. Many of them come from the artist's own collection and are exhibited here for the very first time. They are supplemented by important loans from the collections of the Berlinische Galerie and the Städel Museum as well as from private collections. Three exemplary paintings from 1962 and 1963 provide an insight into the artist's working methods. The exhibition is accompanied by a comprehensive publication and was curated by American art historian Pamela Kort.
---
---
---
---