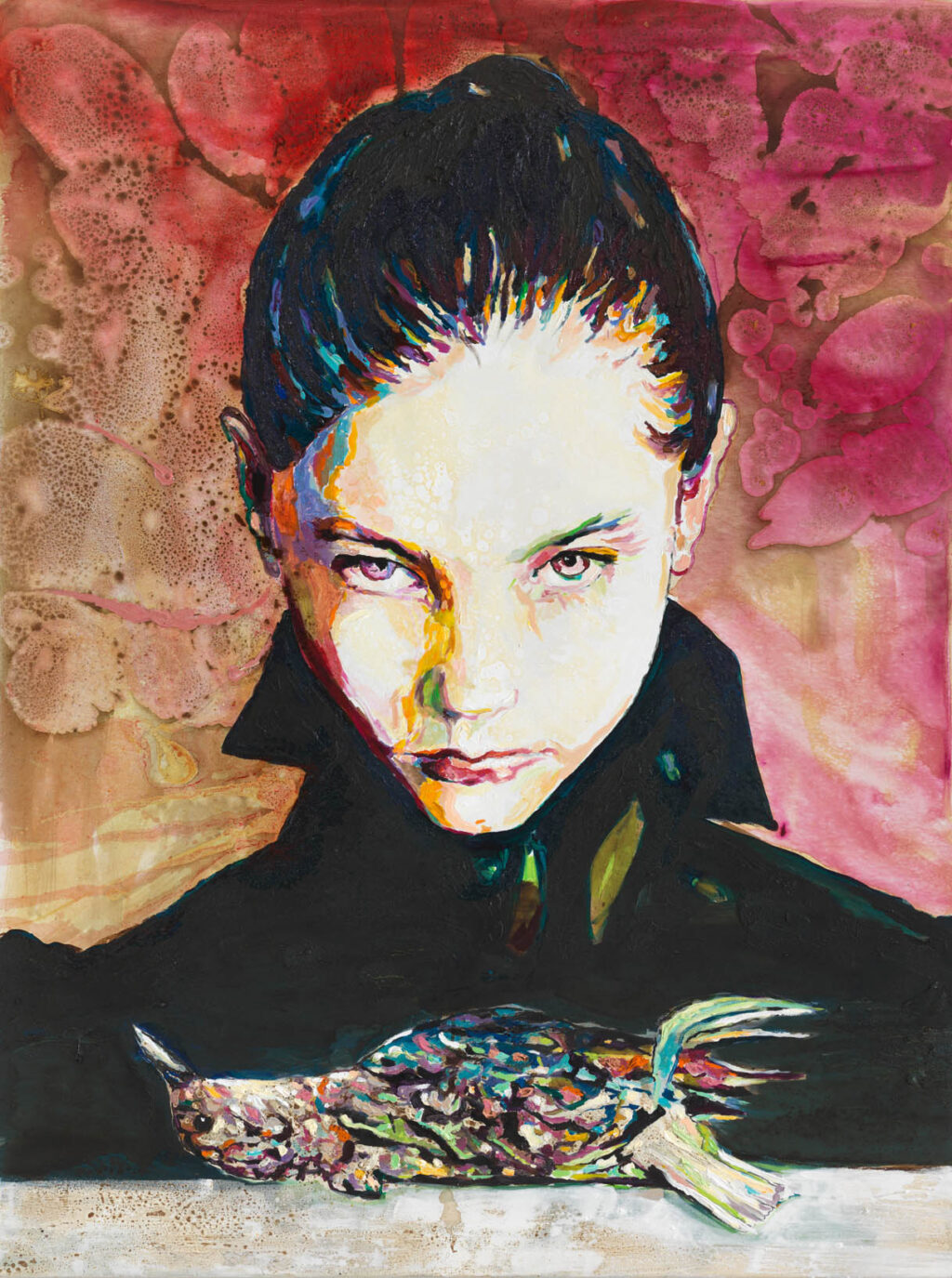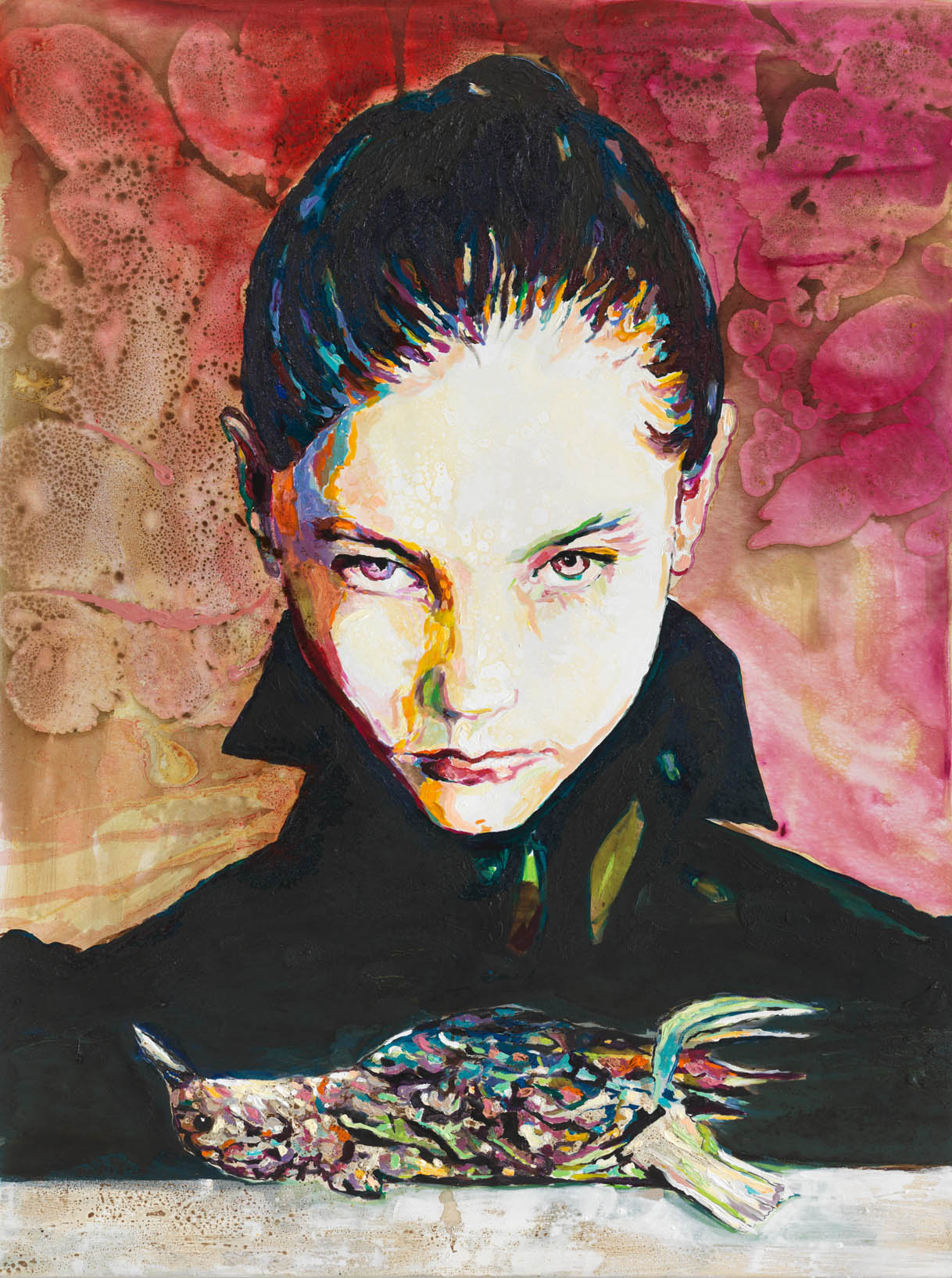 Und dann war der Himmel rot
2022
Acrylic, asphalt varnish and shellac on canvas
140 × 120 cm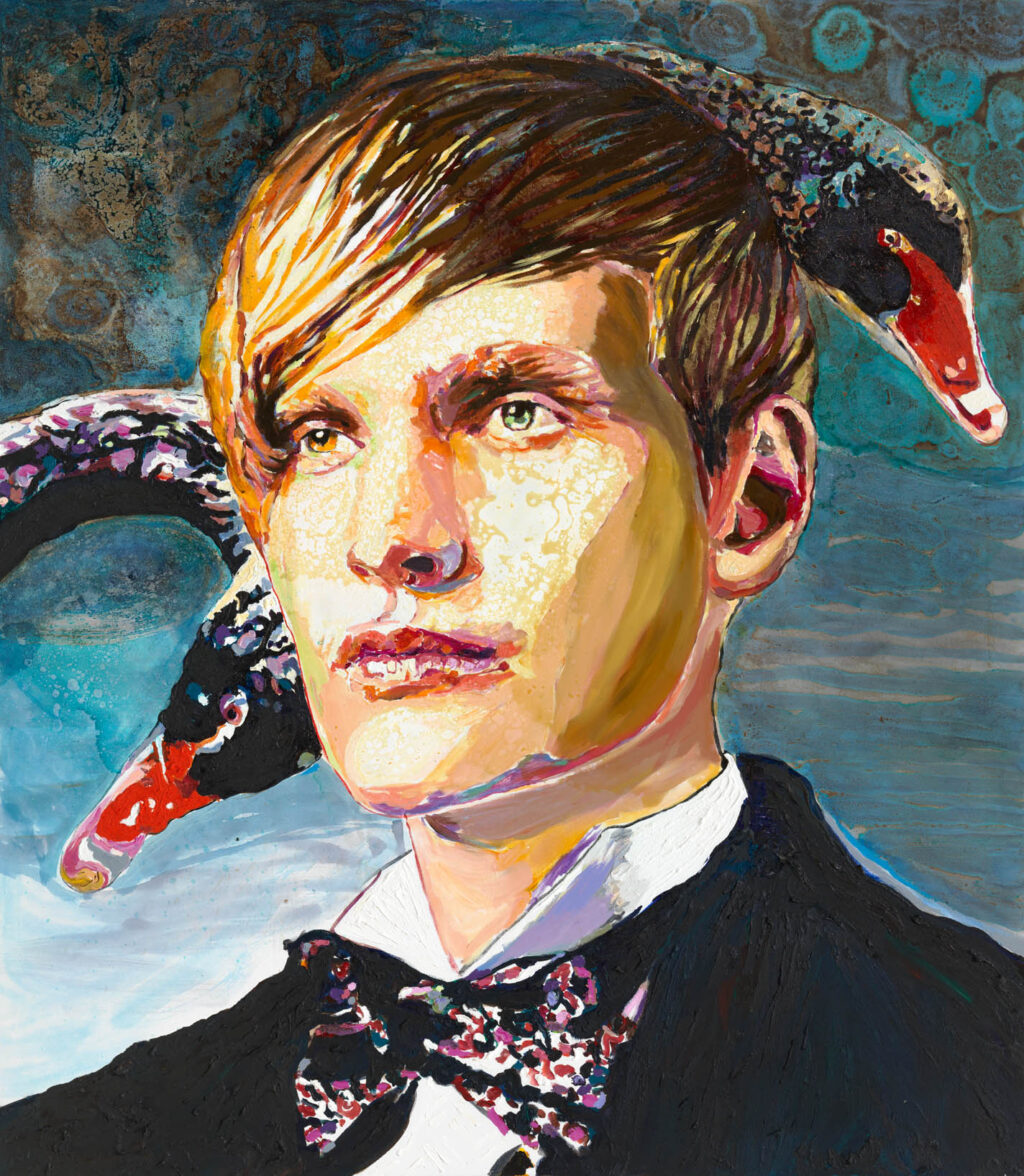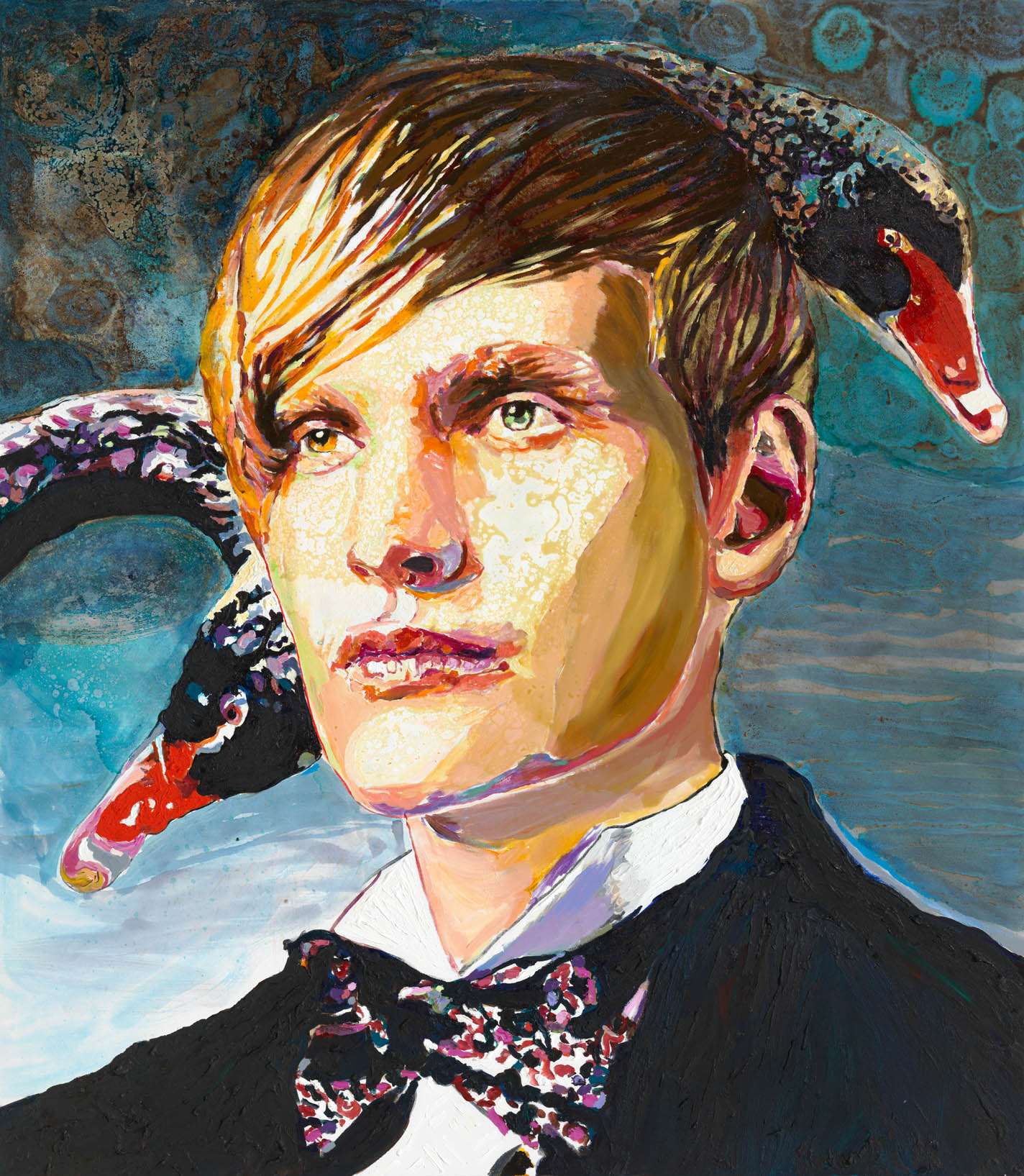 Unerwartetes Ereignis
2022
Acrylic, asphalt varnish and shellac on canvas
160 × 140 cm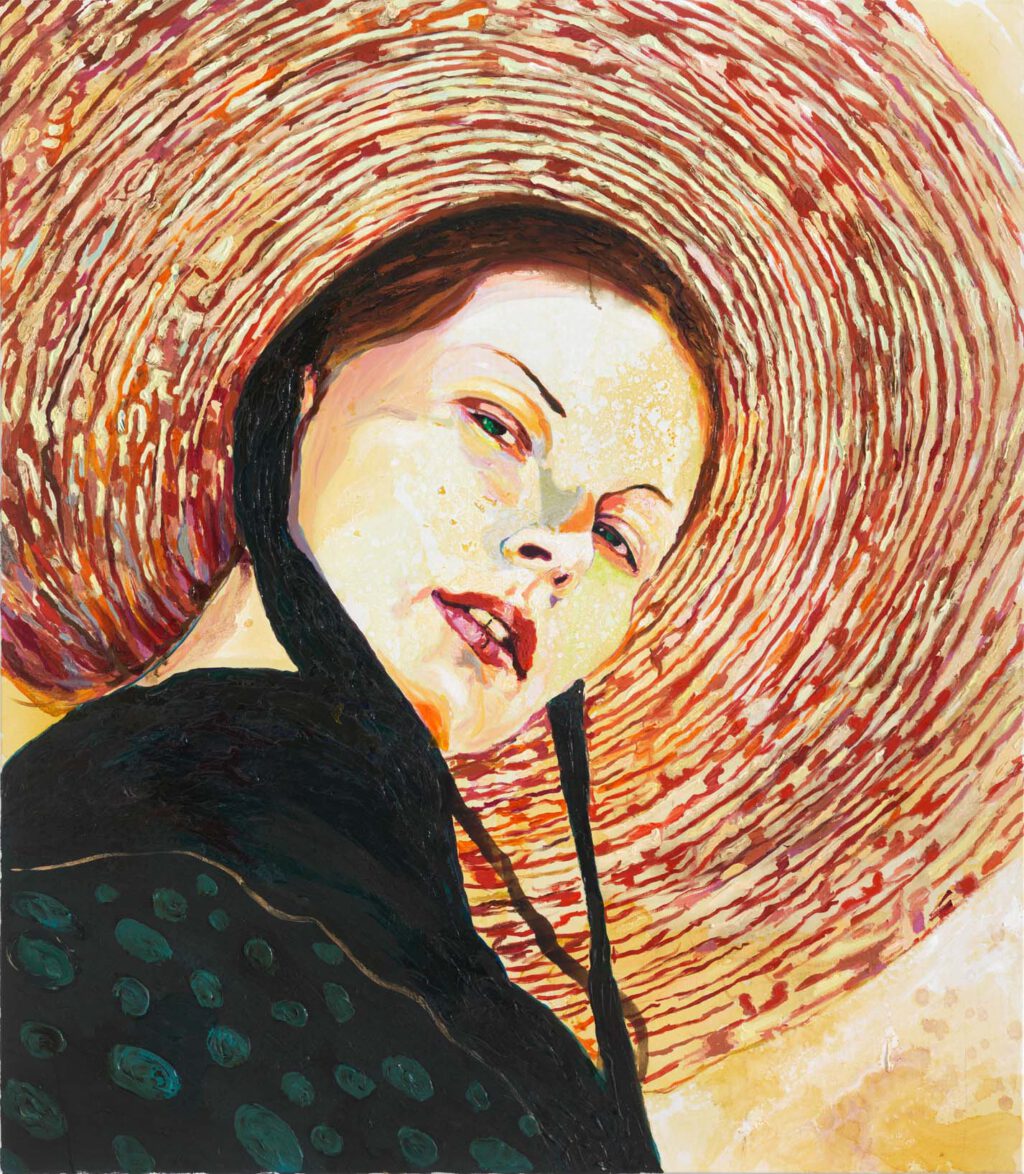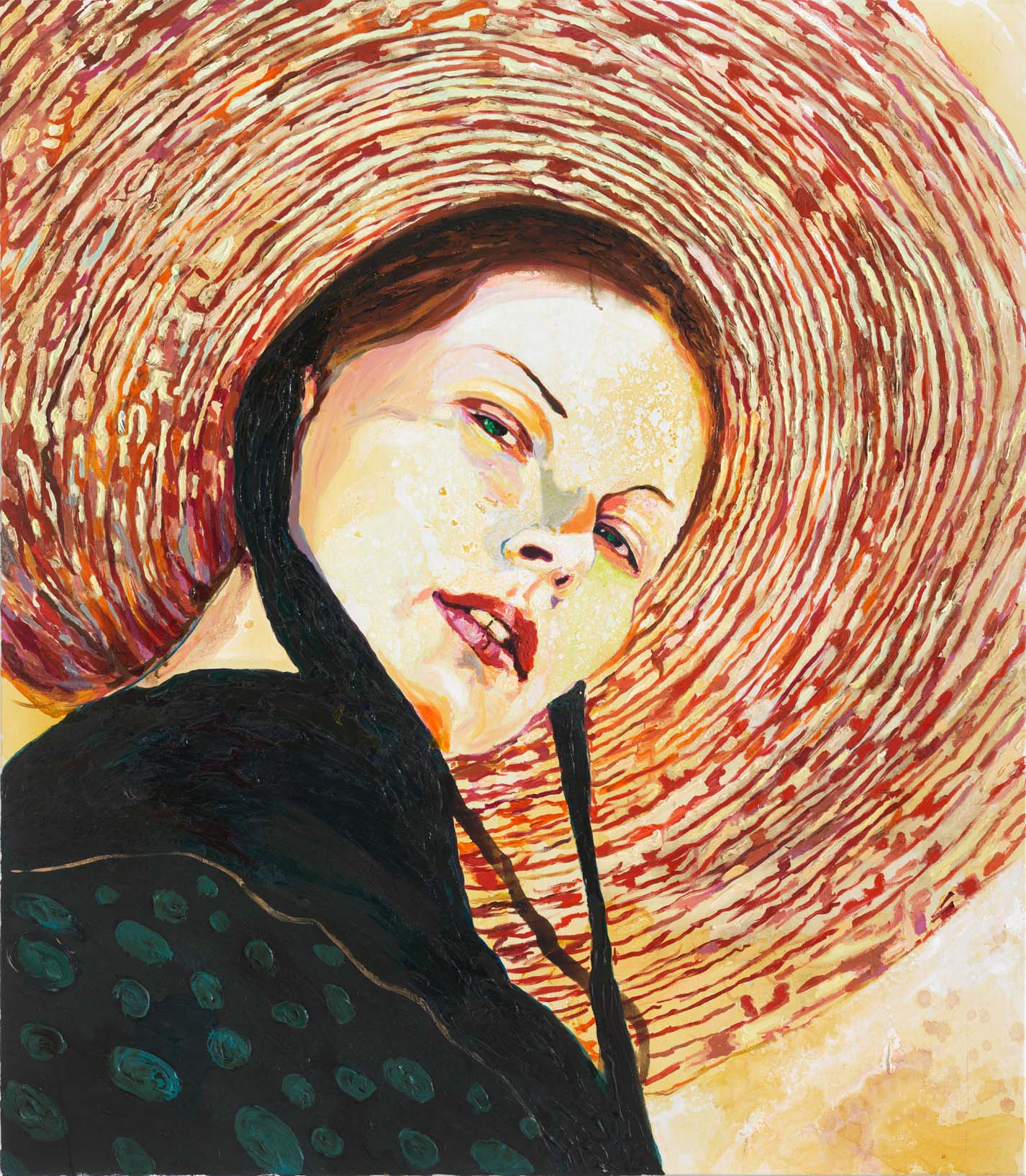 Sonnenrand
2021
Acrylic, asphalt varnish and shellac on canvas
160 × 140 cm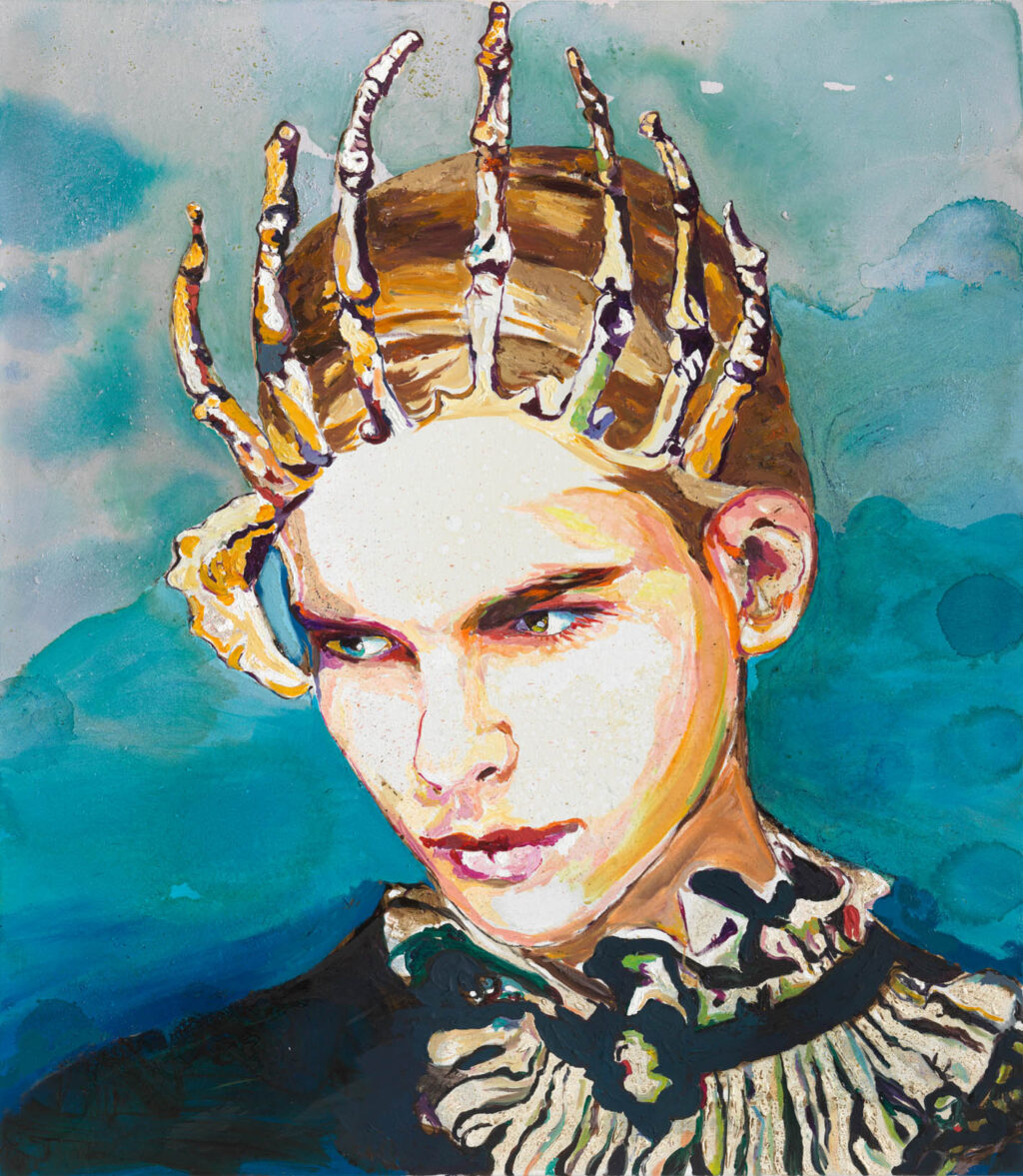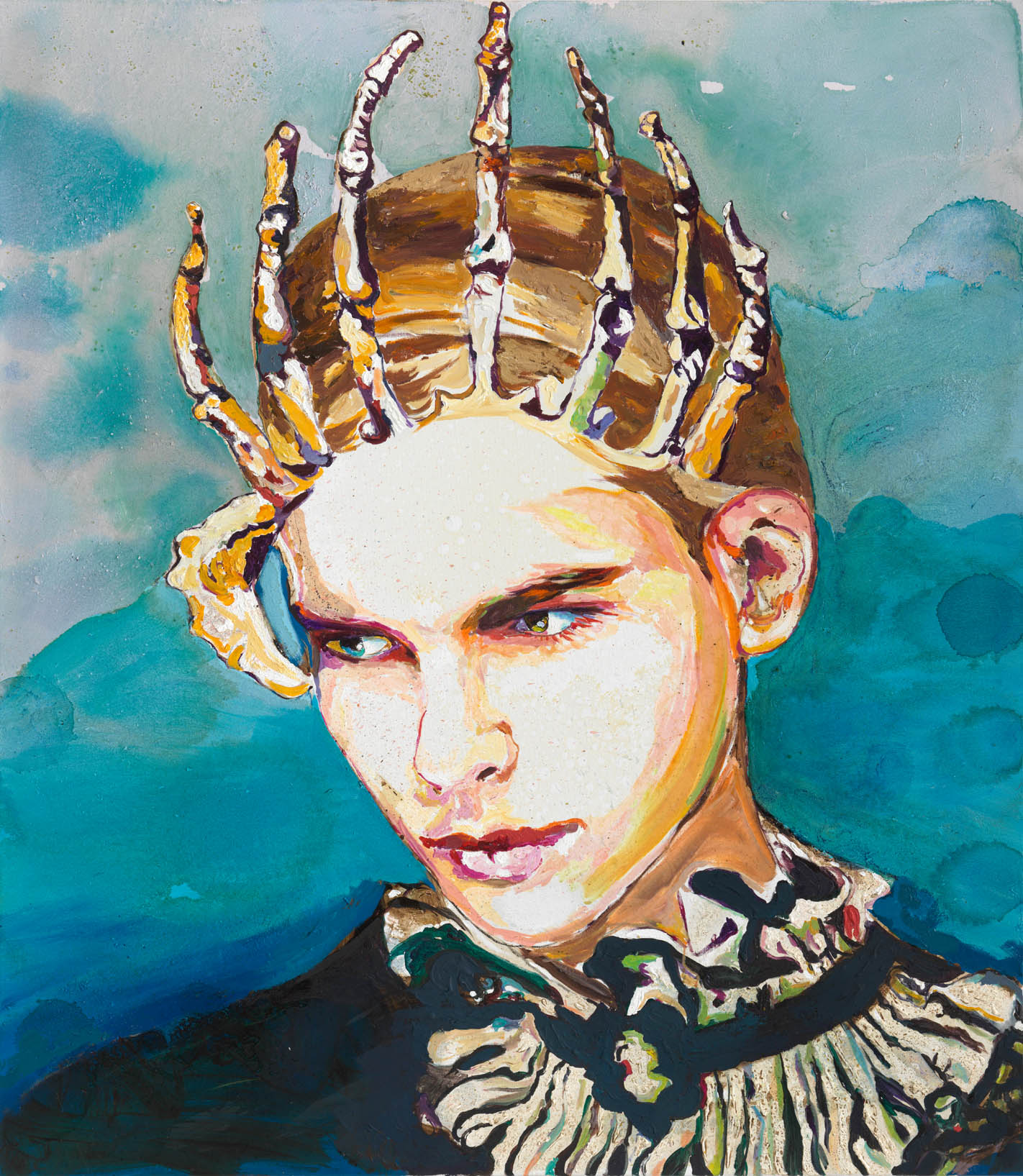 Reserveprinz
2022
Acrylic, asphalt varnish and shellac on canvas
160 × 140 cm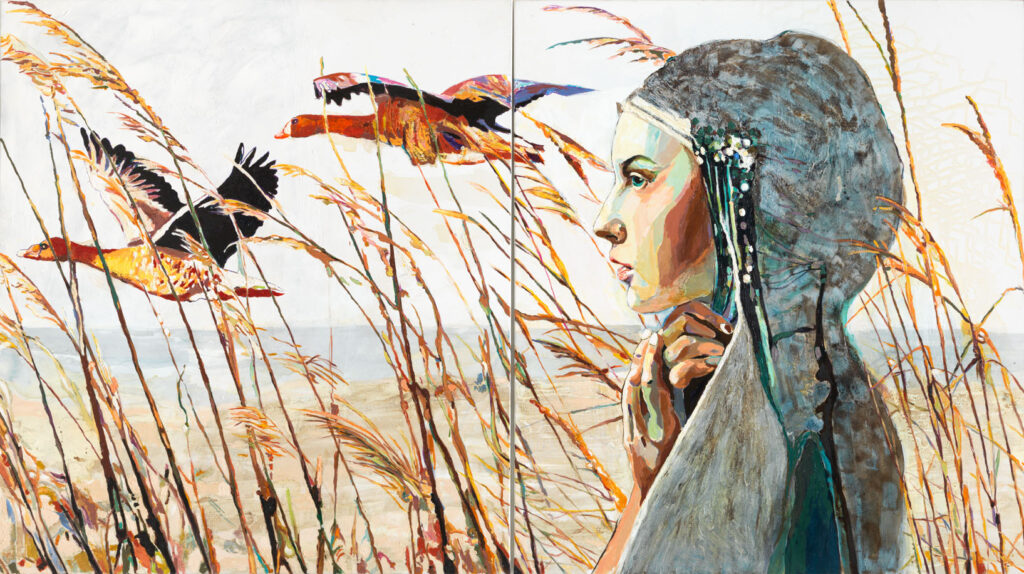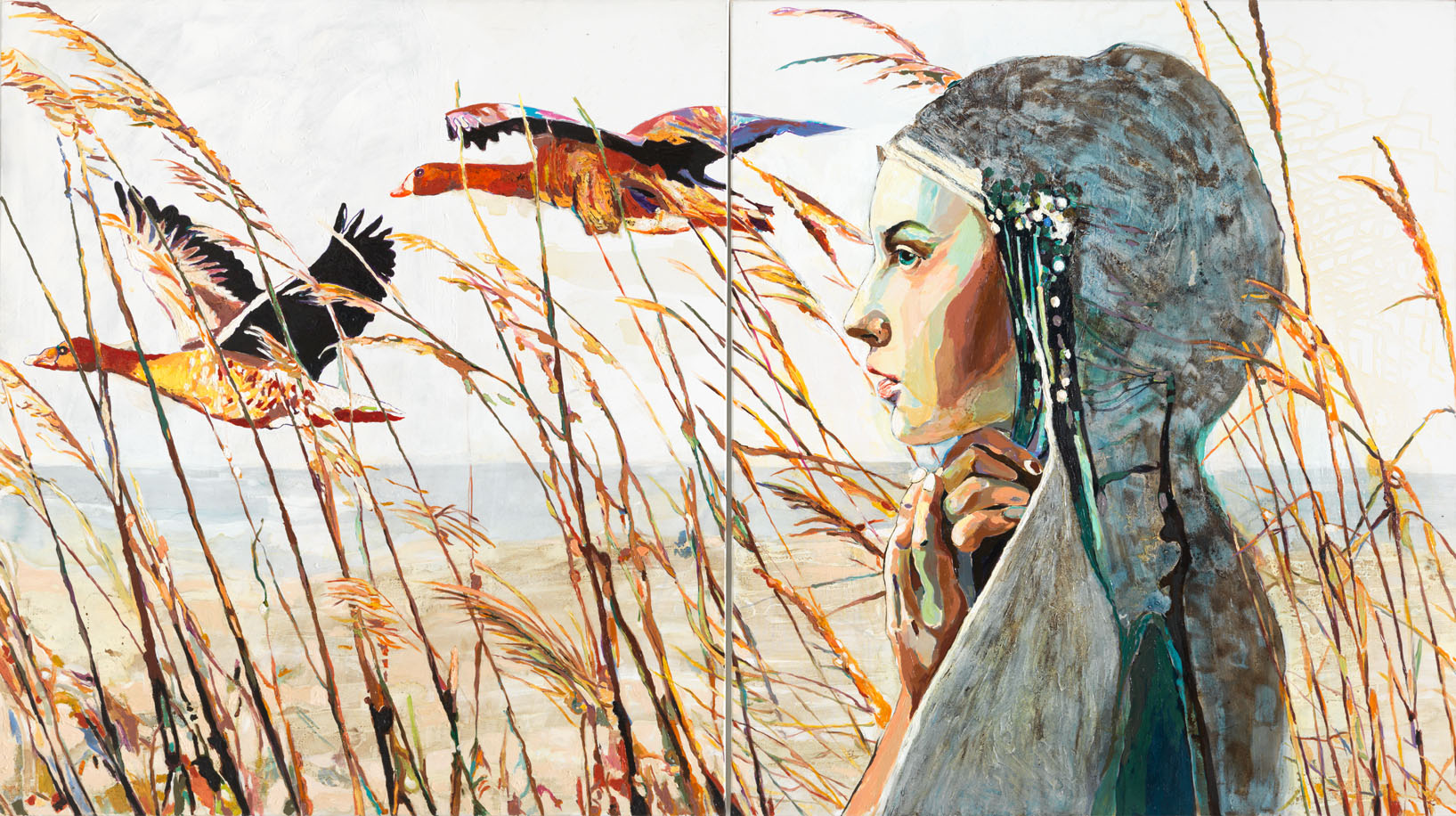 Und still liegt der See
2019
Acrylic, asphalt varnish and shellac on canvas (diptych)
180 × 320 cm (in total)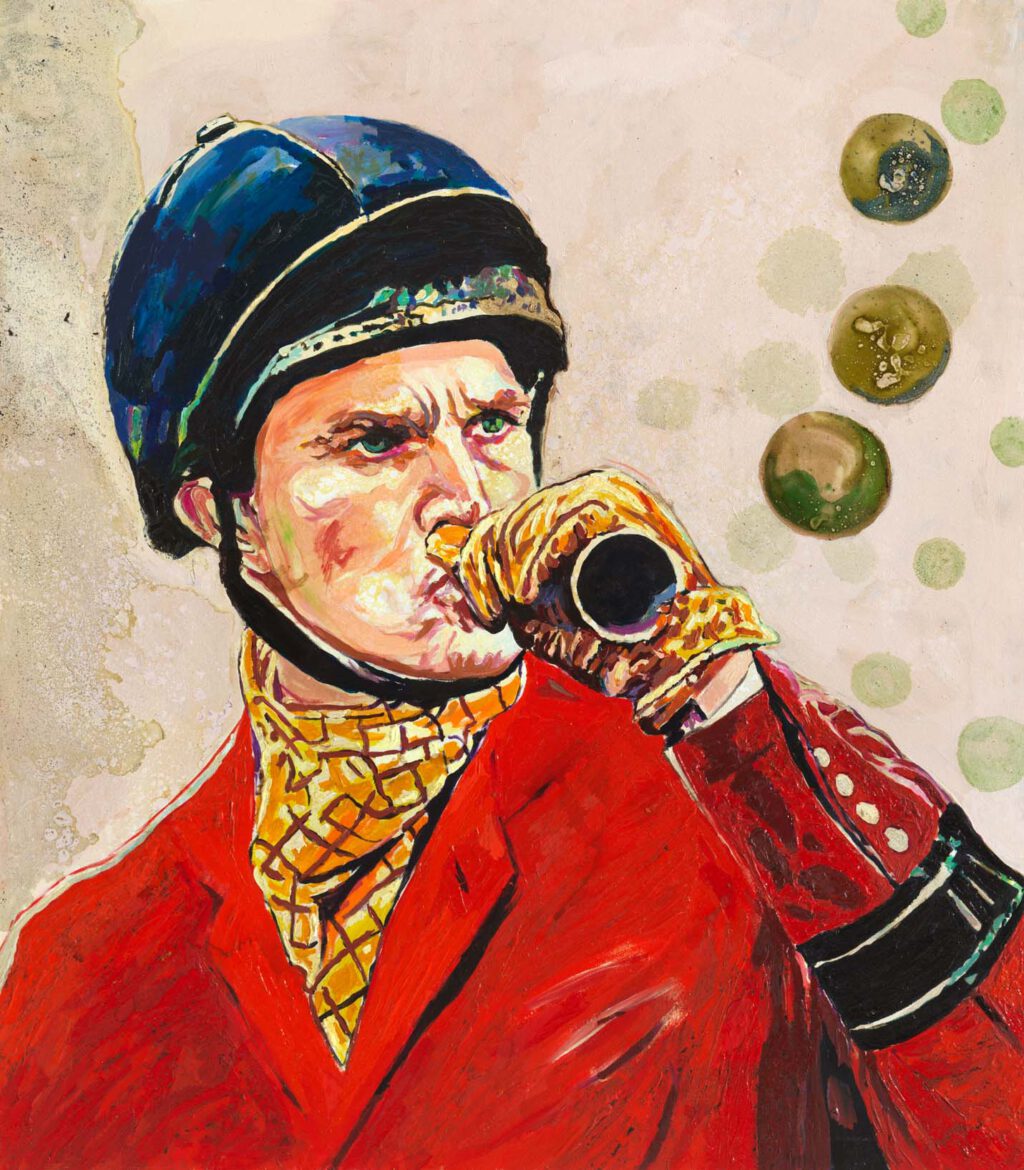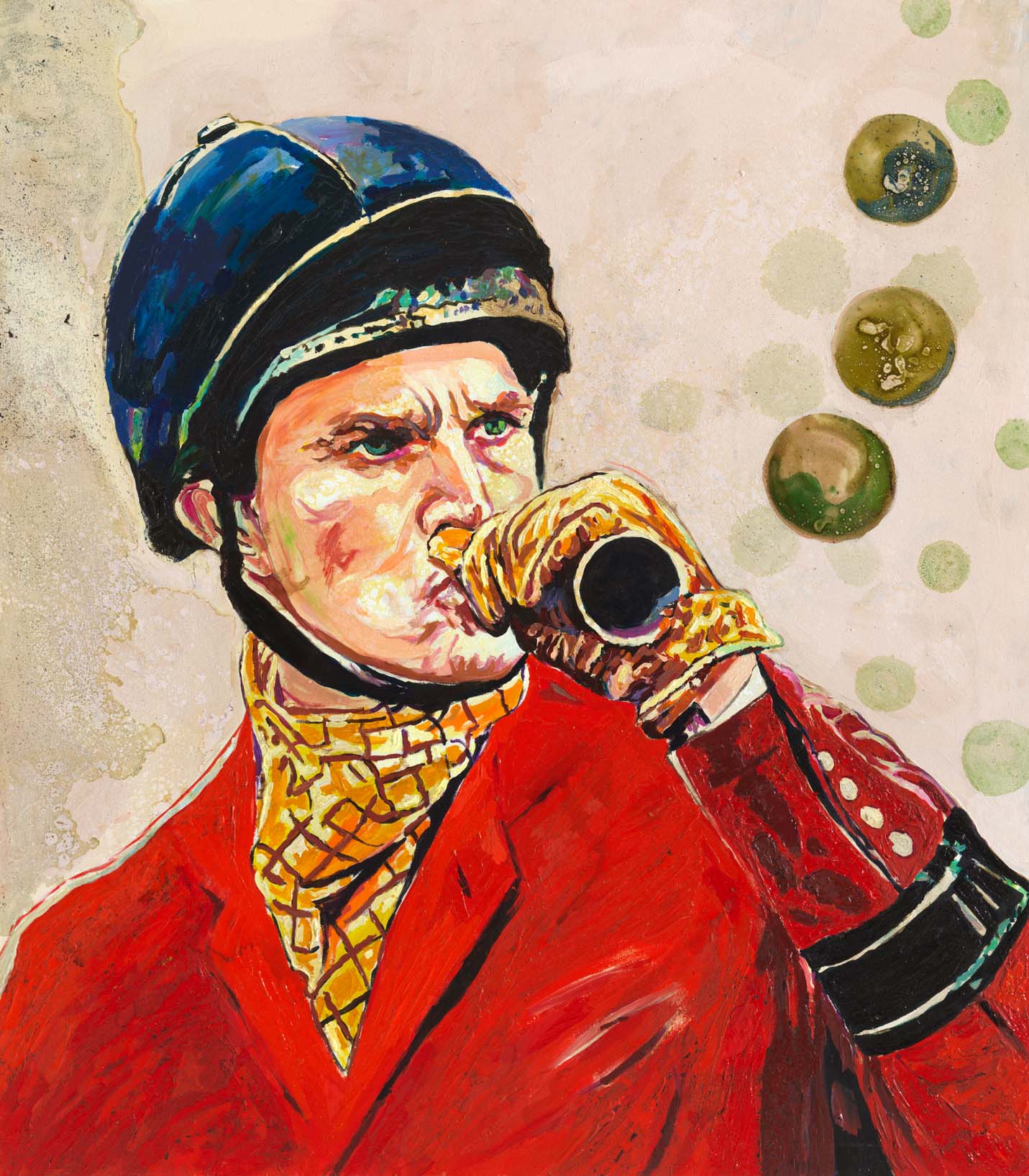 Letzte Ehre – Hallali
2018
Acrylic, asphalt varnish and shellac on canvas
160 × 140 cm

Show more works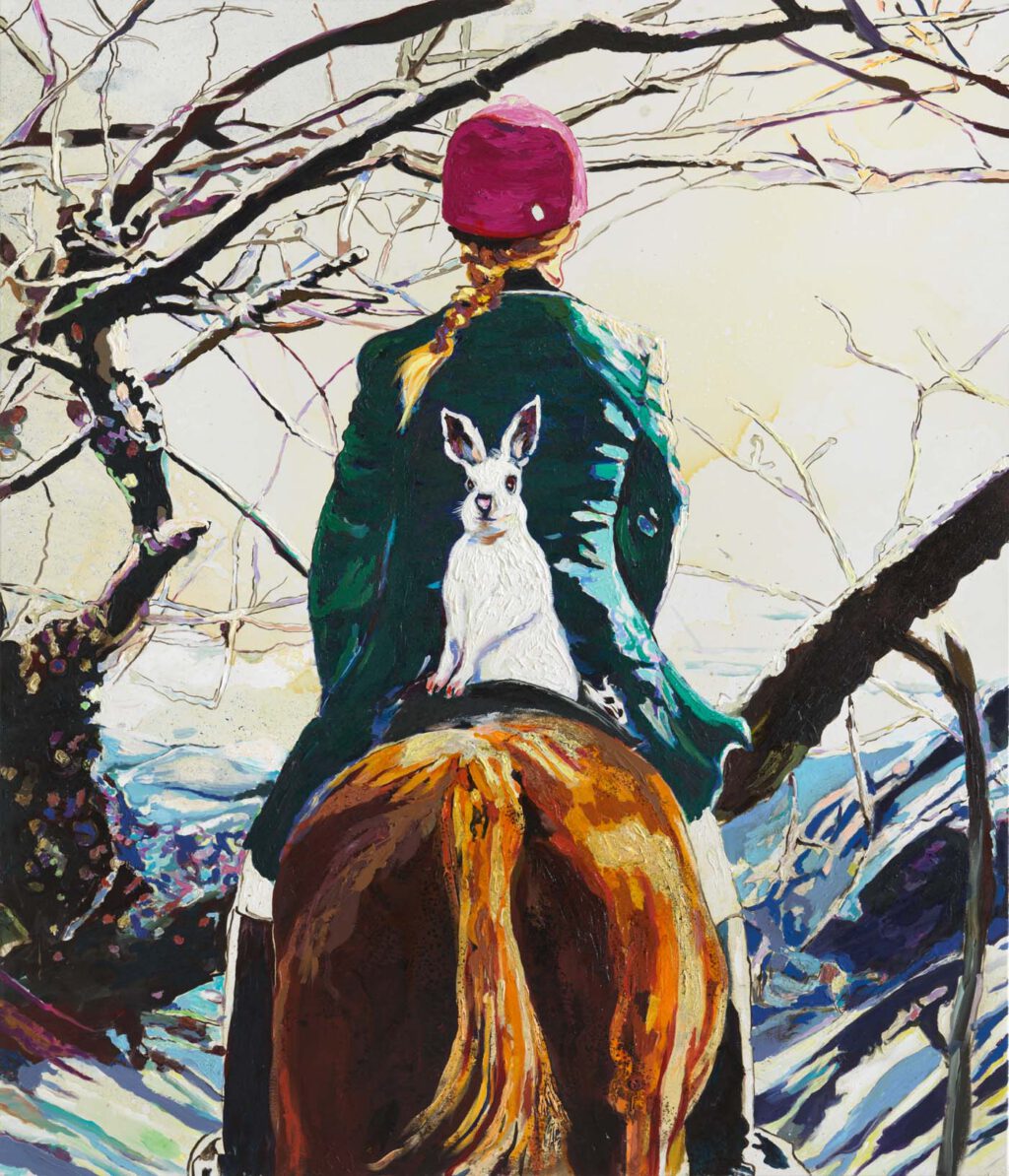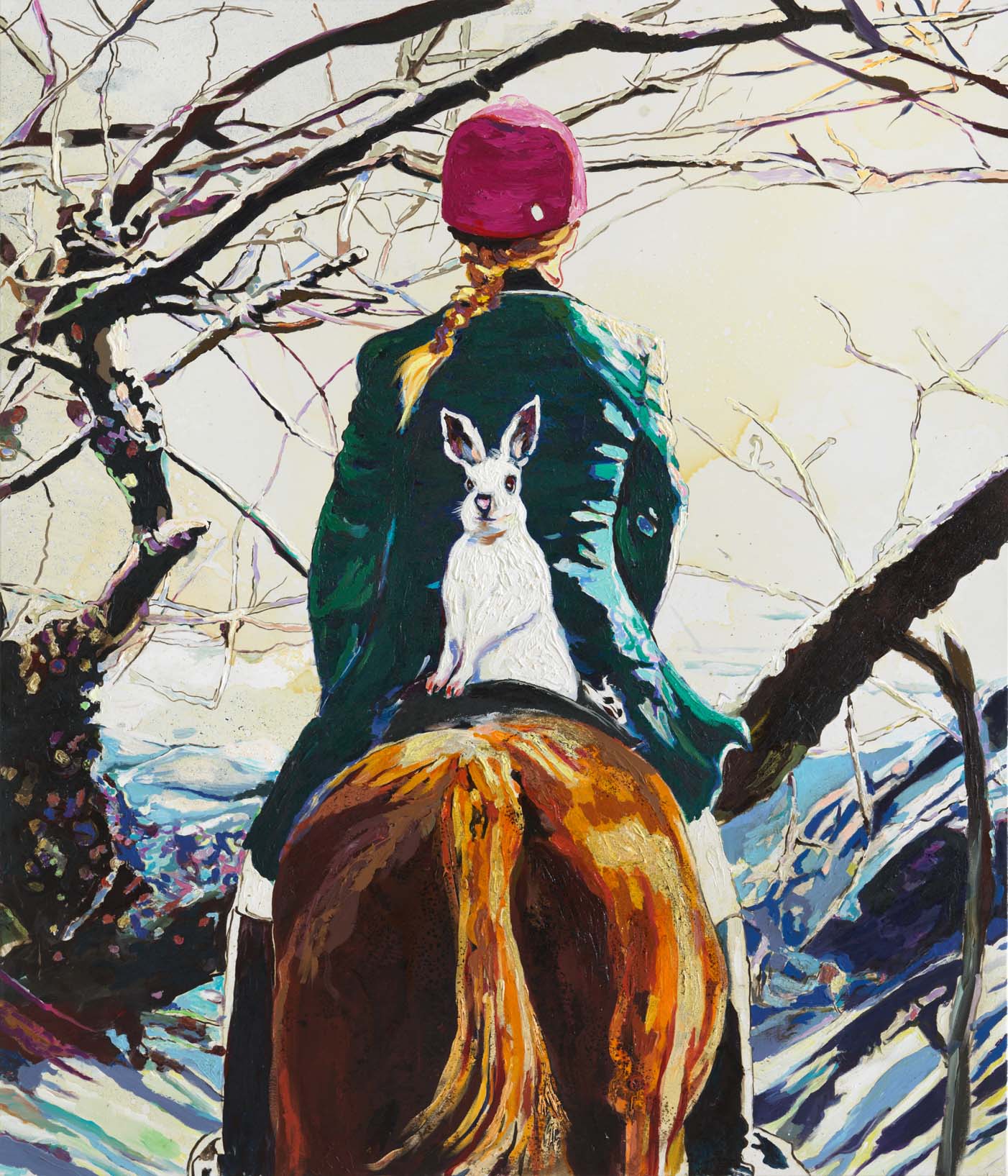 Rotkäppchen
2020
Acrylic, asphalt varnish and shellac on canvas
210 × 180 cm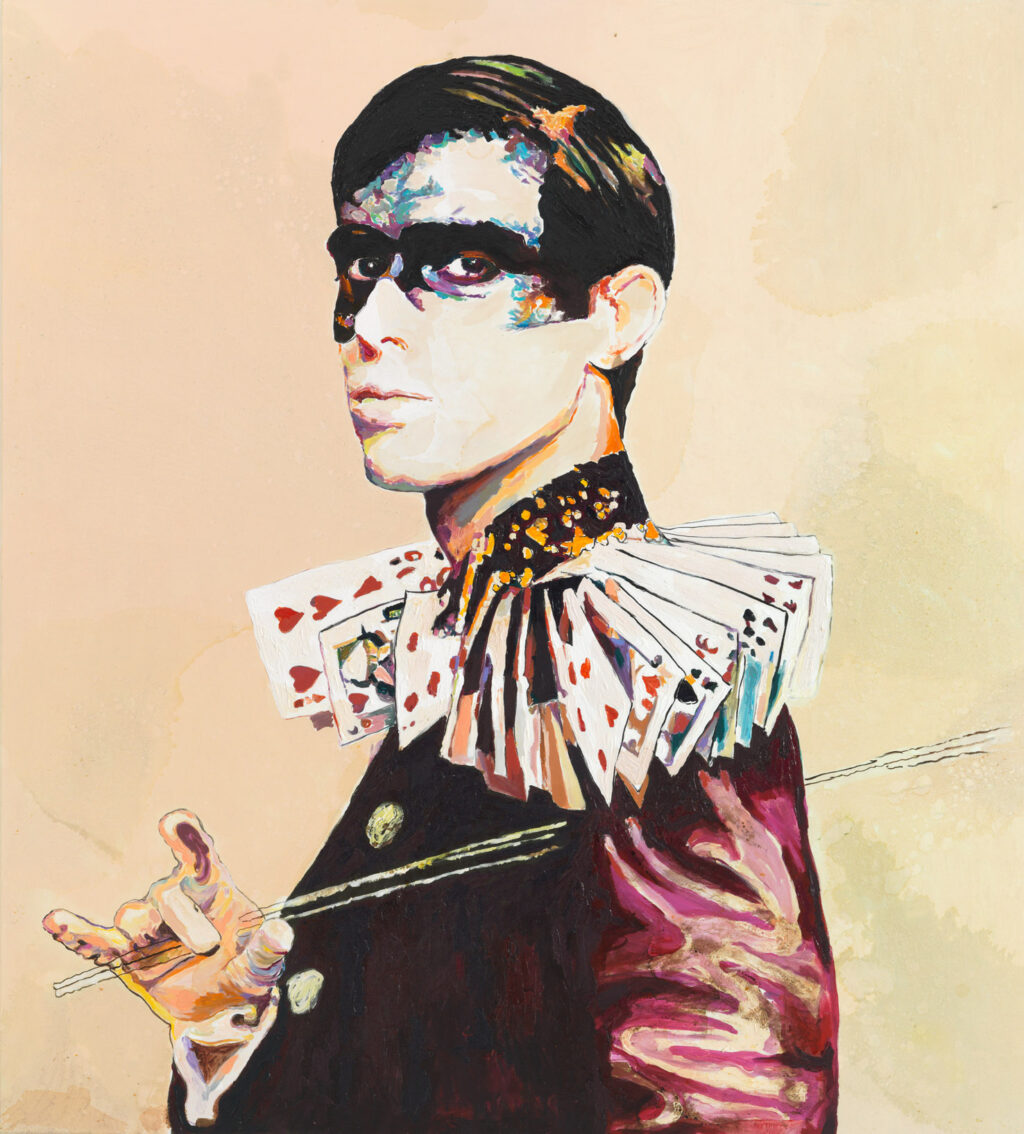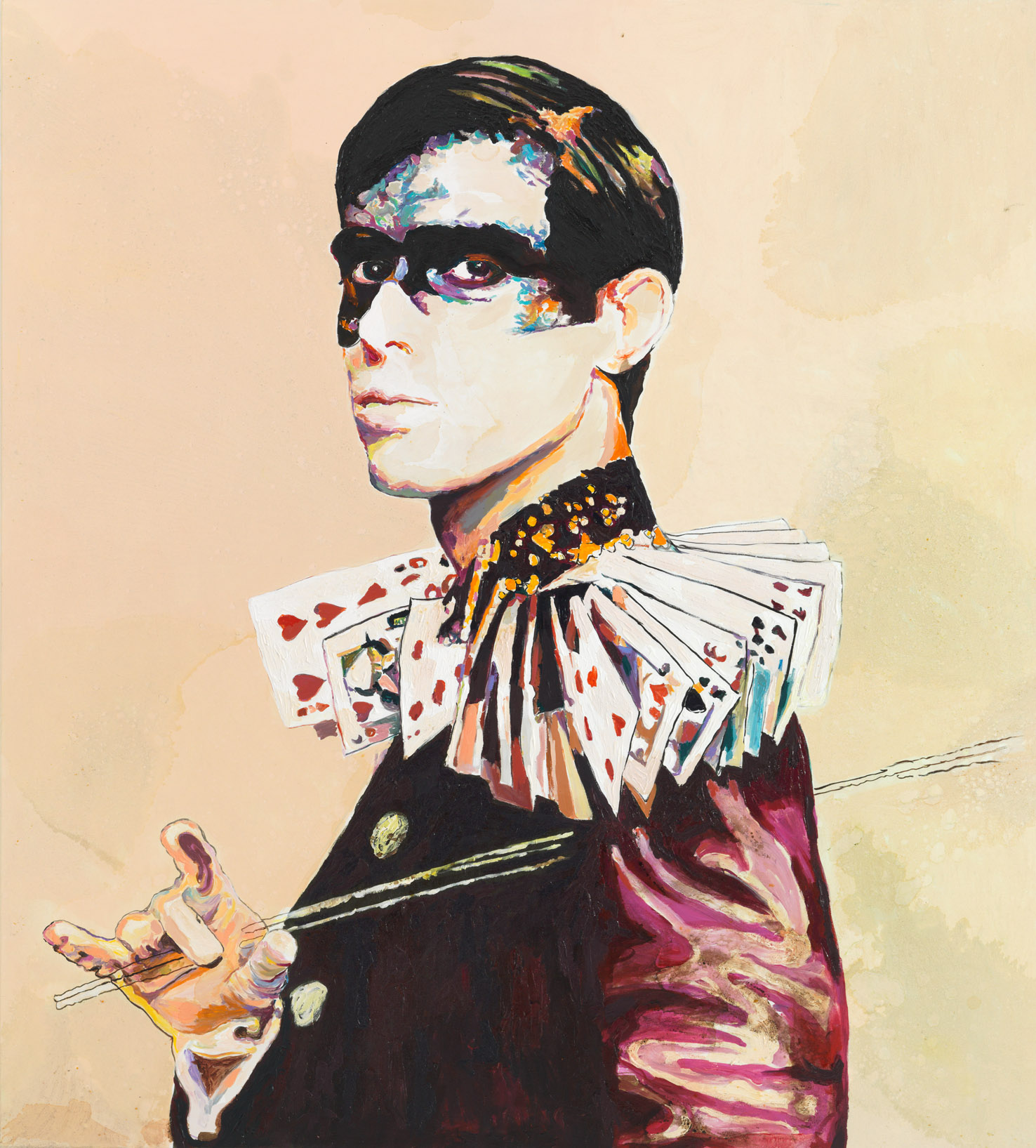 Der Banker
2017
Acrylic, asphalt varnish and shellac on canvas
200 × 180 cm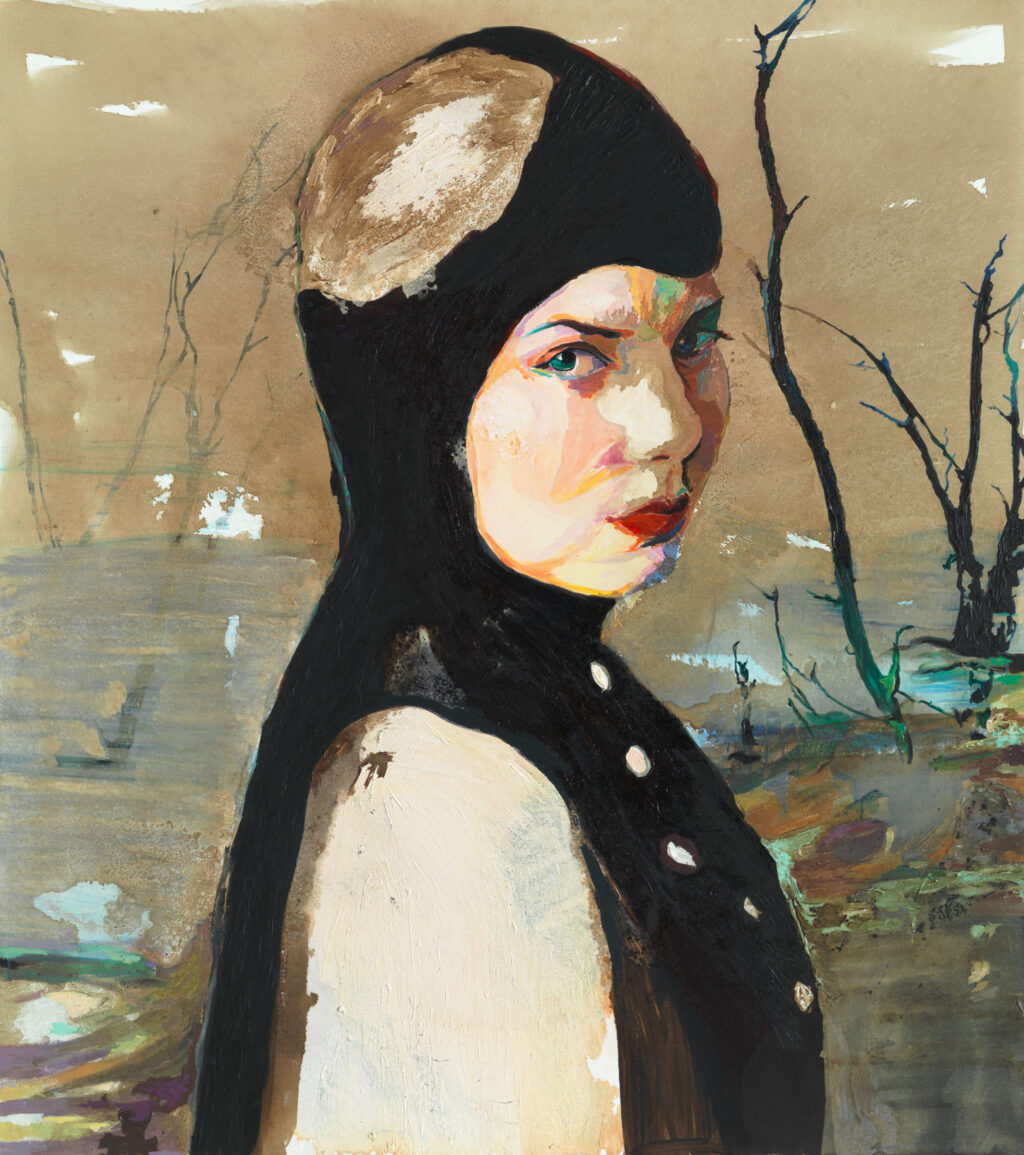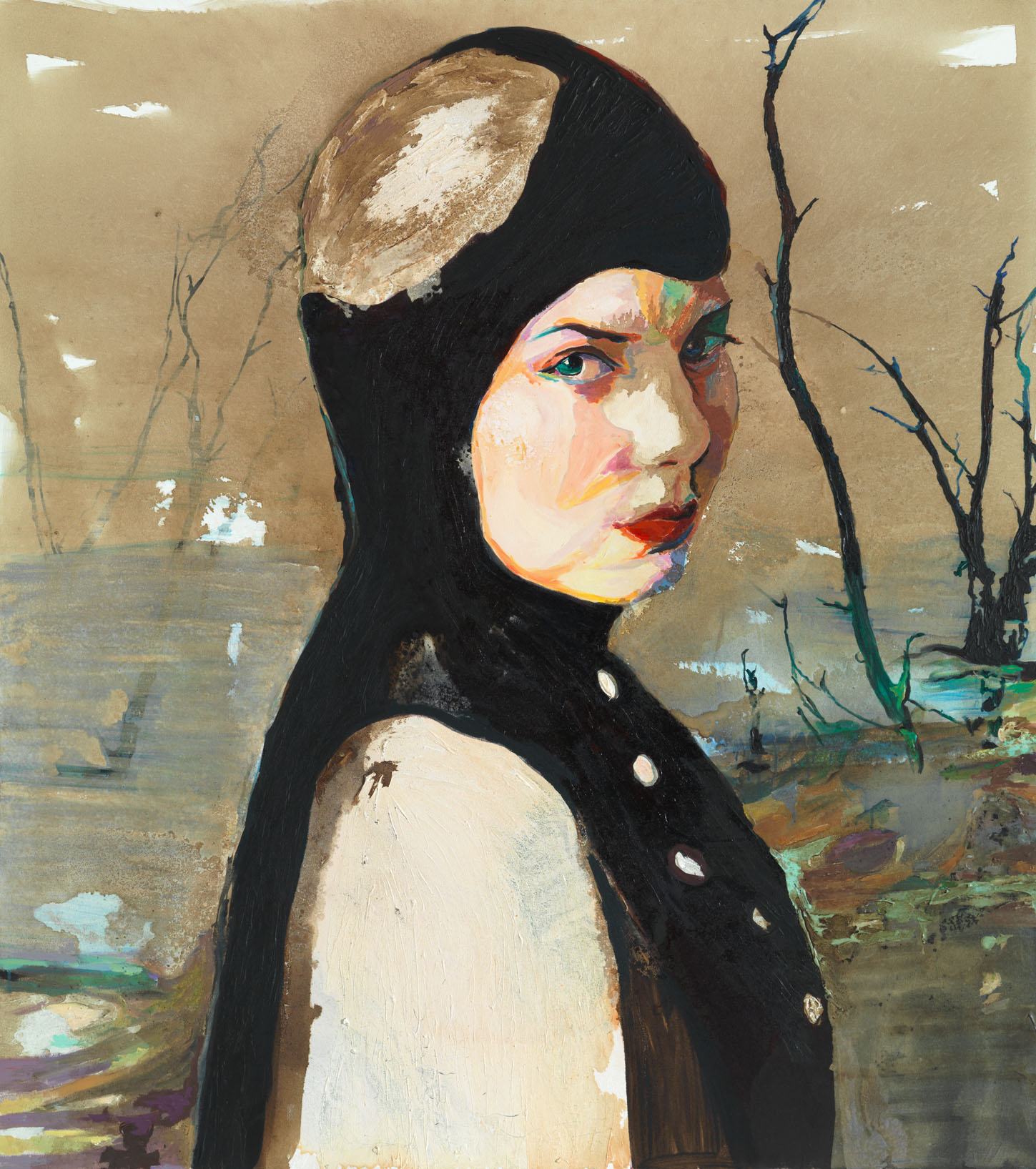 Die Argonautin
2015
Acrylic, asphalt varnish and shellac on canvas
180 × 160 cm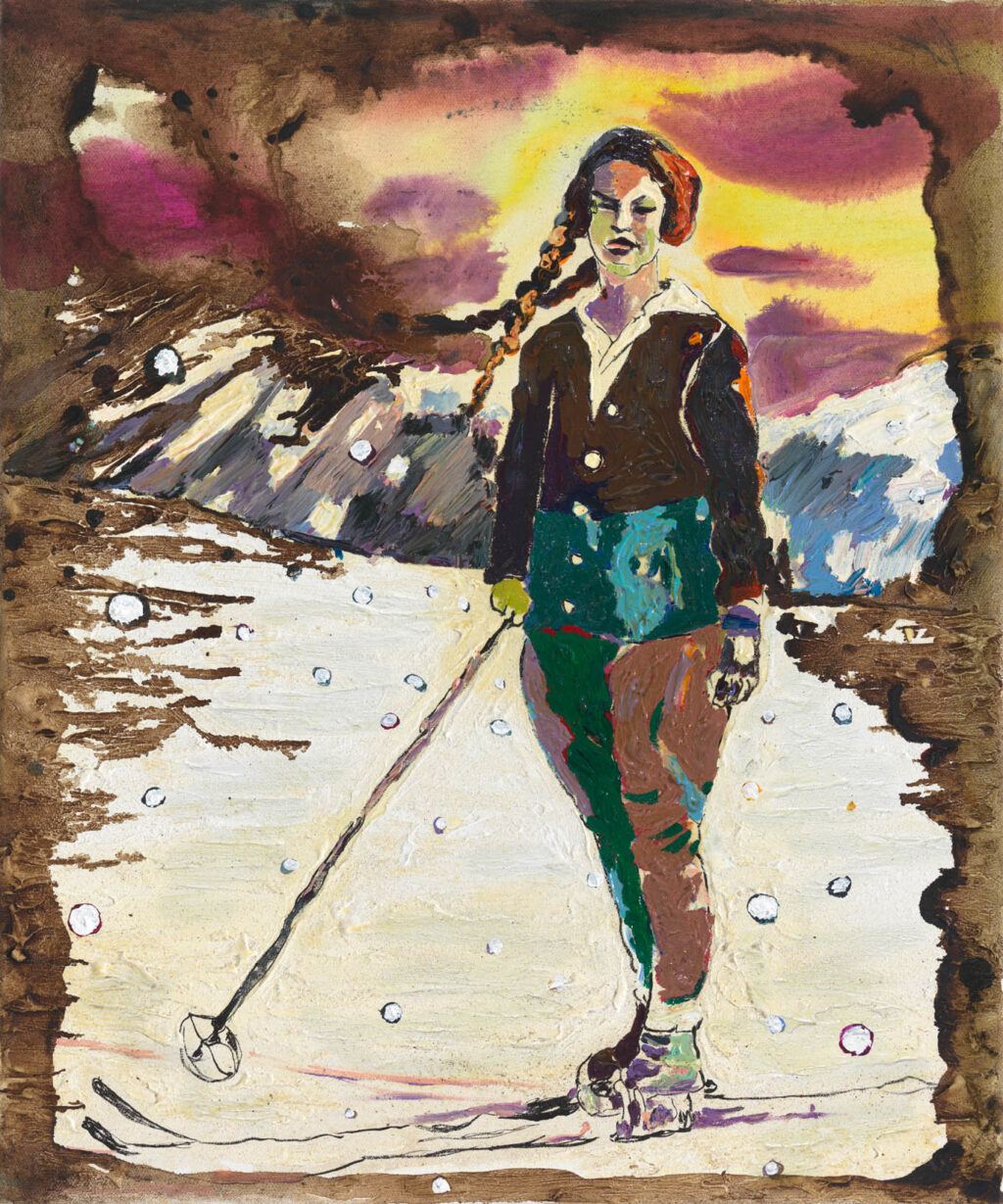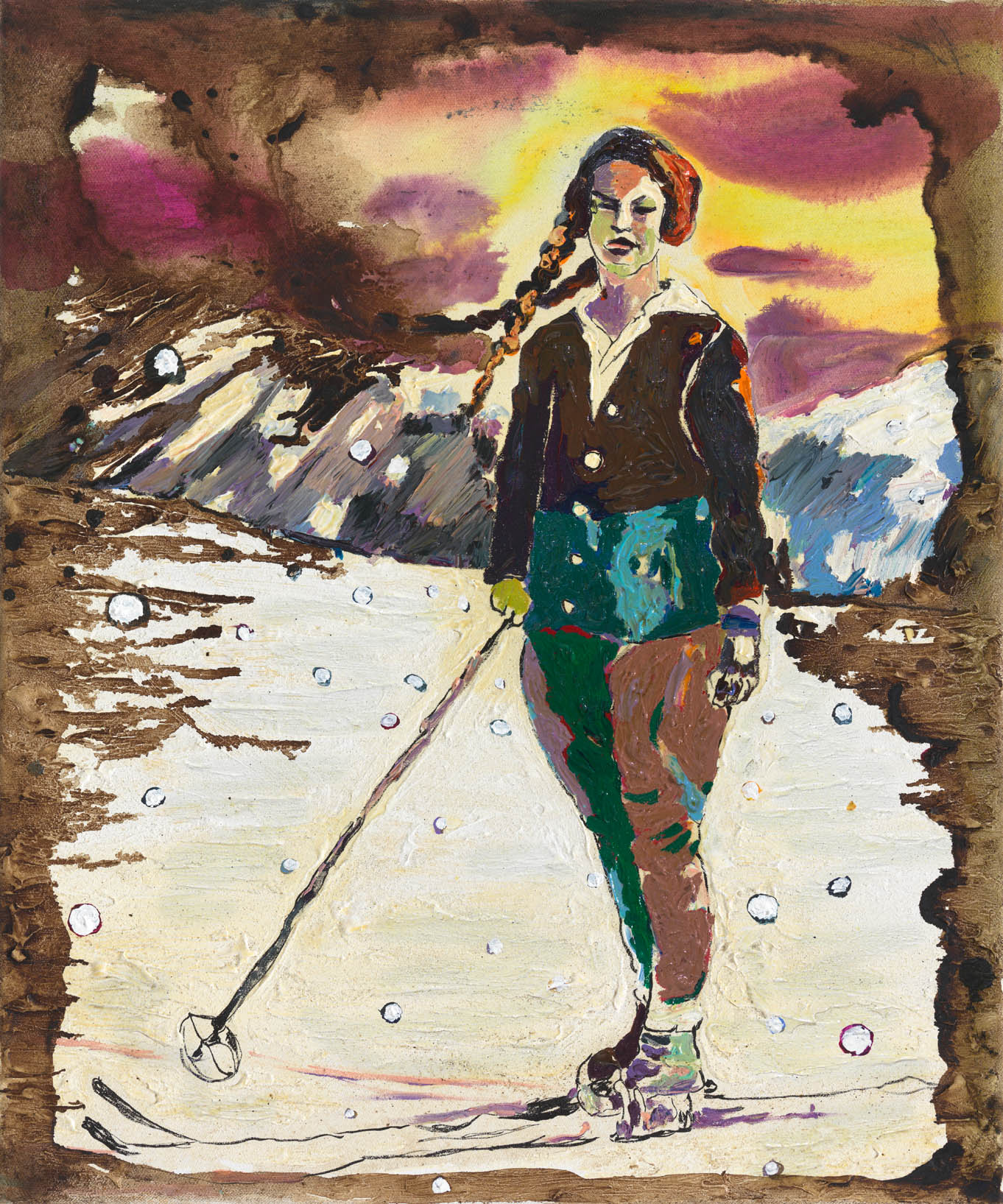 Ohne Titel
2022
Acrylic, asphalt varnish and shellac on canvas
60 × 50 cm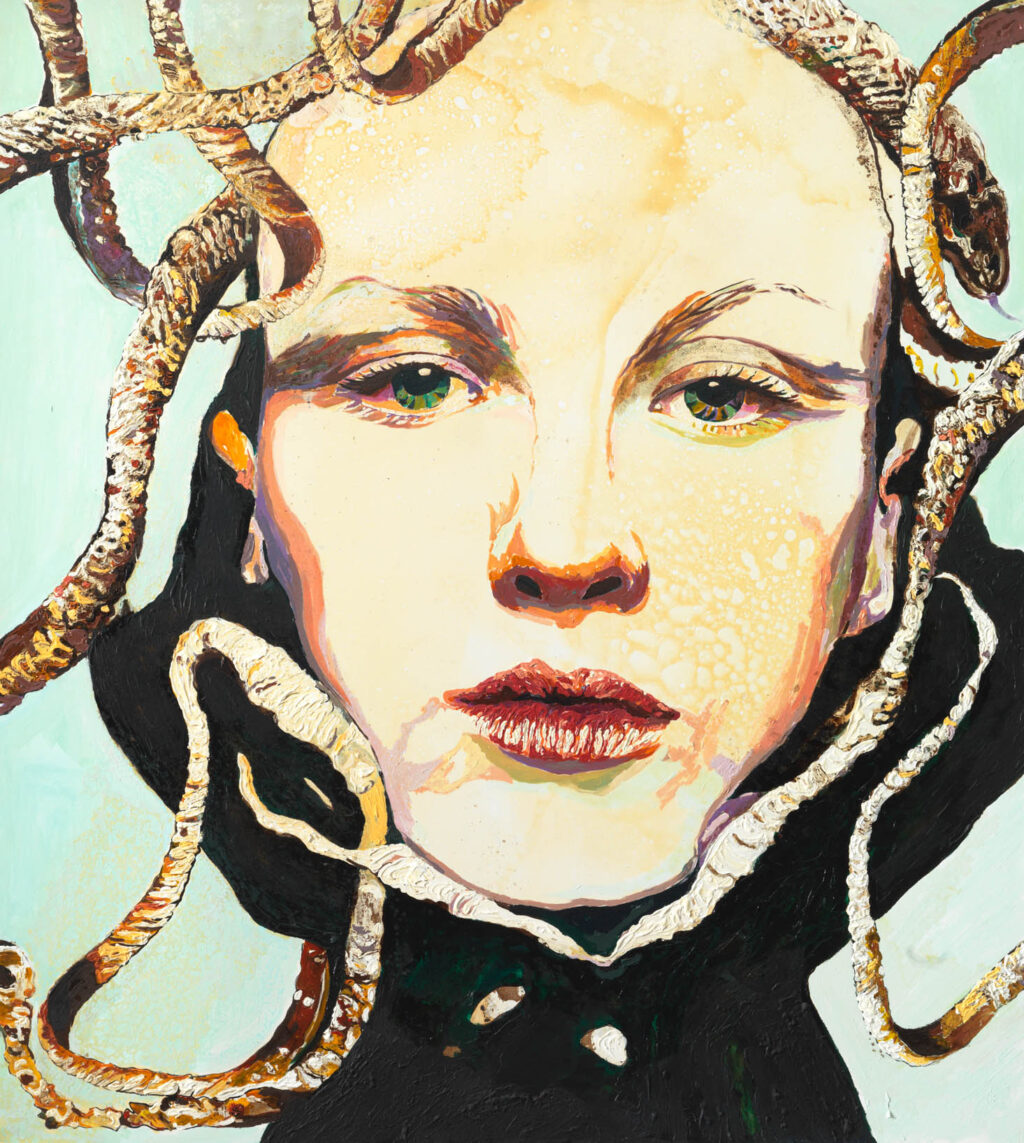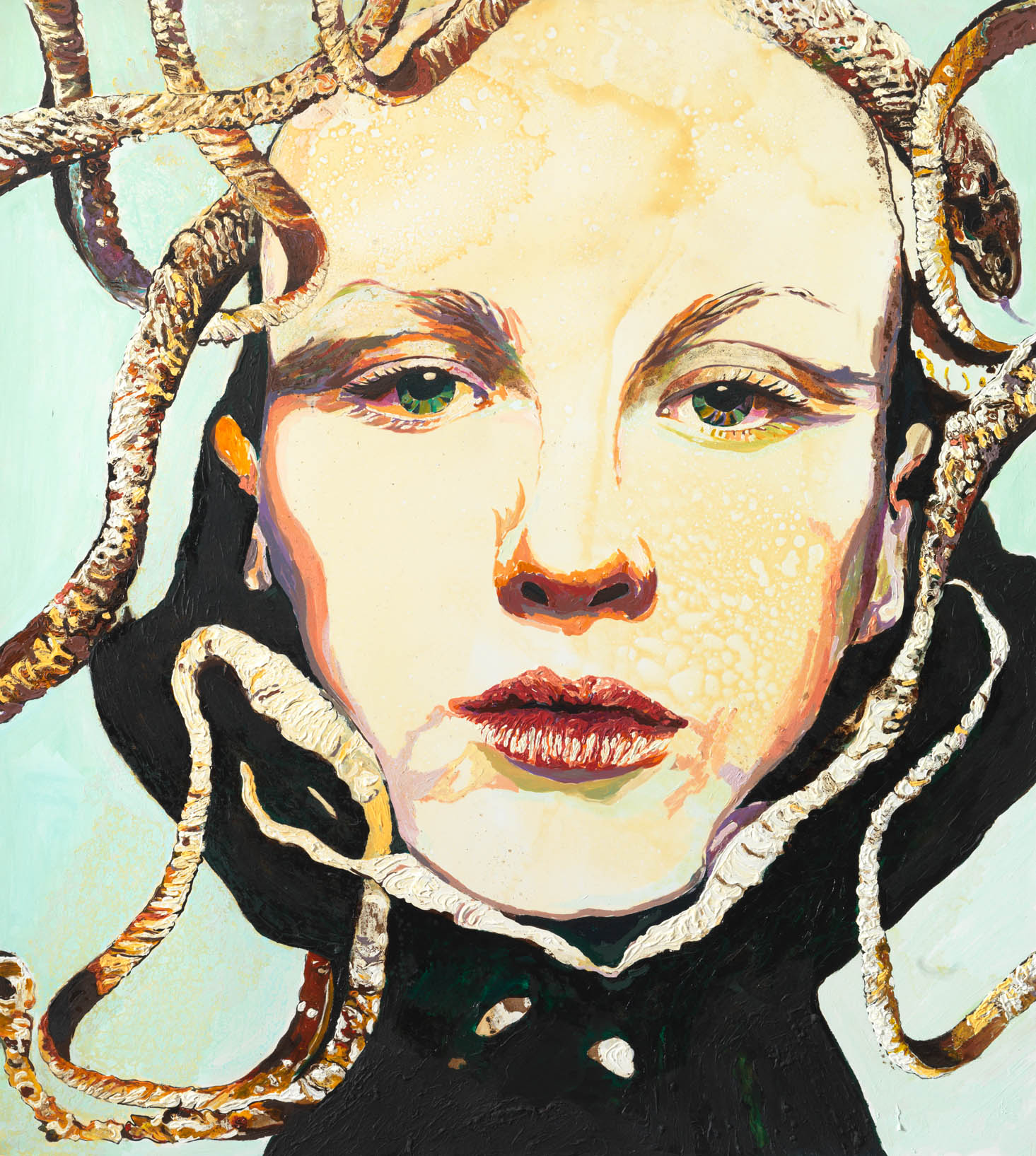 Kaltes Schlingen
2017
Acrylic, asphalt varnish and shellac on canvas
200 × 180 cm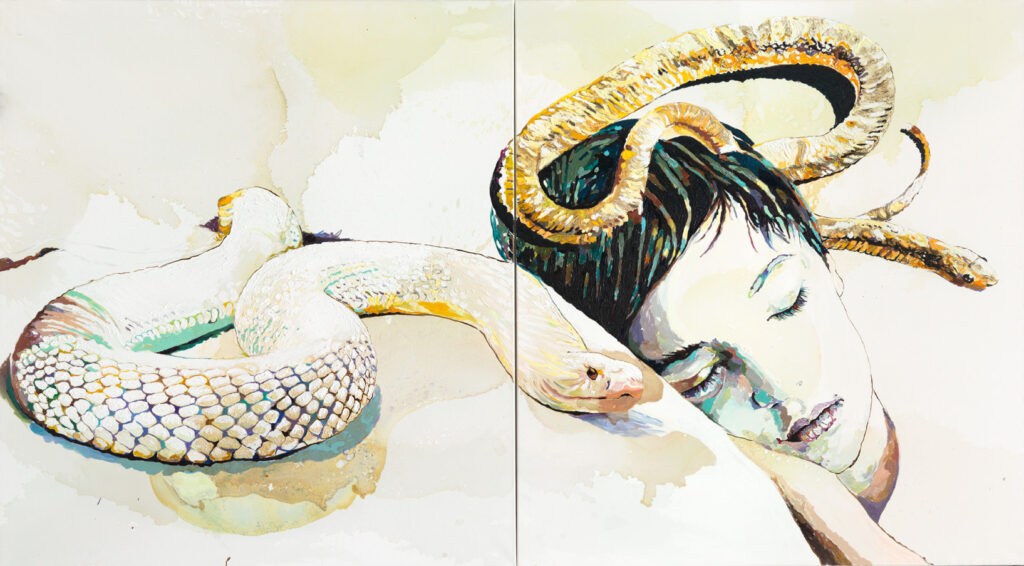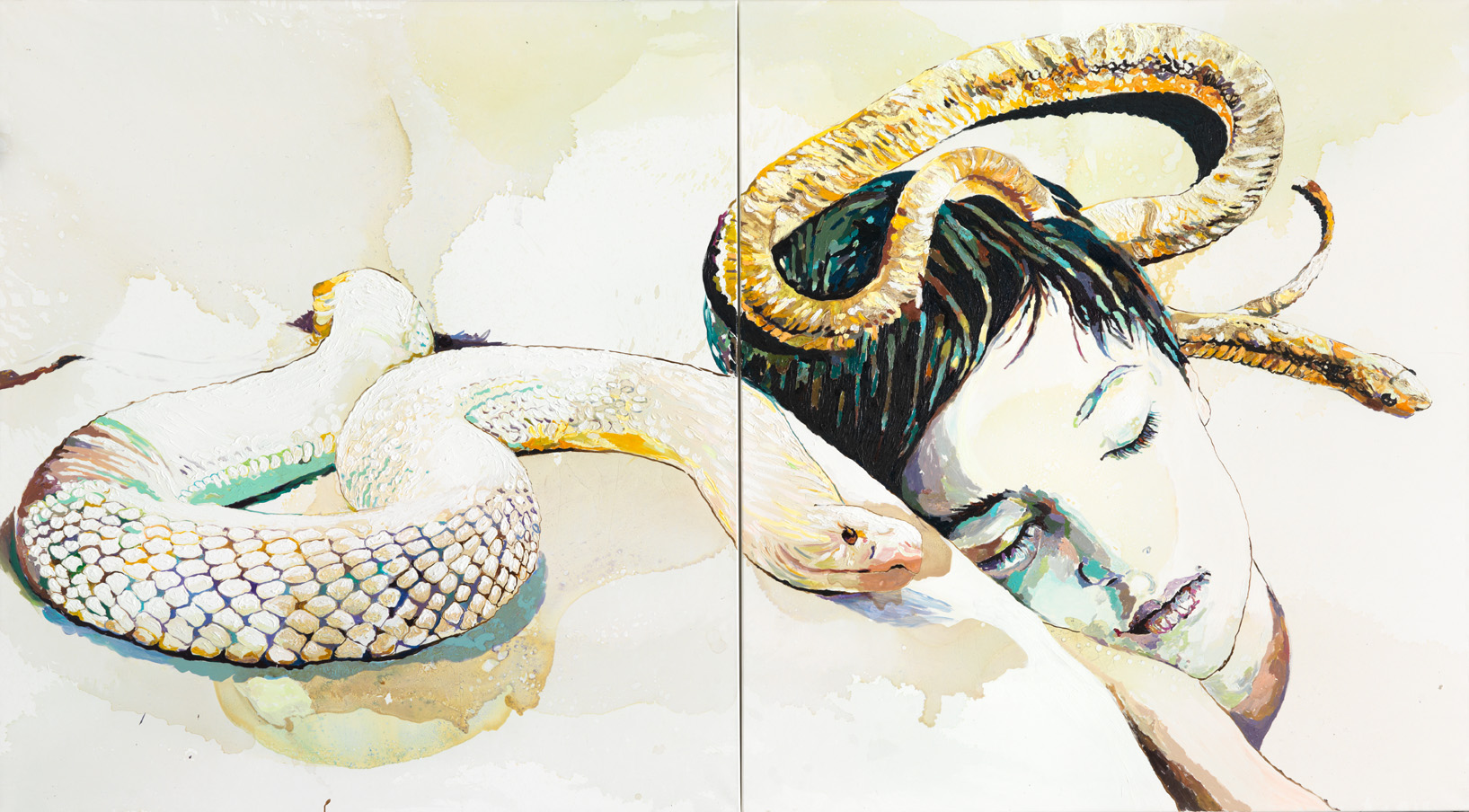 Leise spricht die Zunge
2012/13
Acrylic, asphalt varnish and shellac on canvas (diptych)
200 × 360 cm (in total)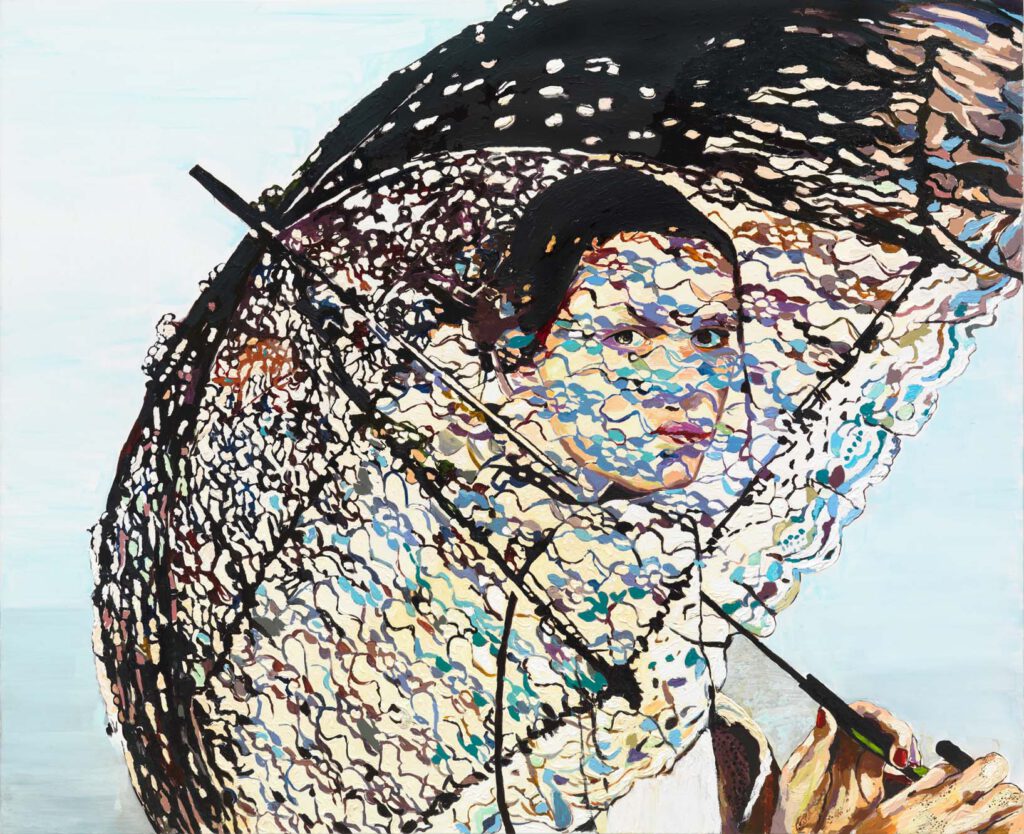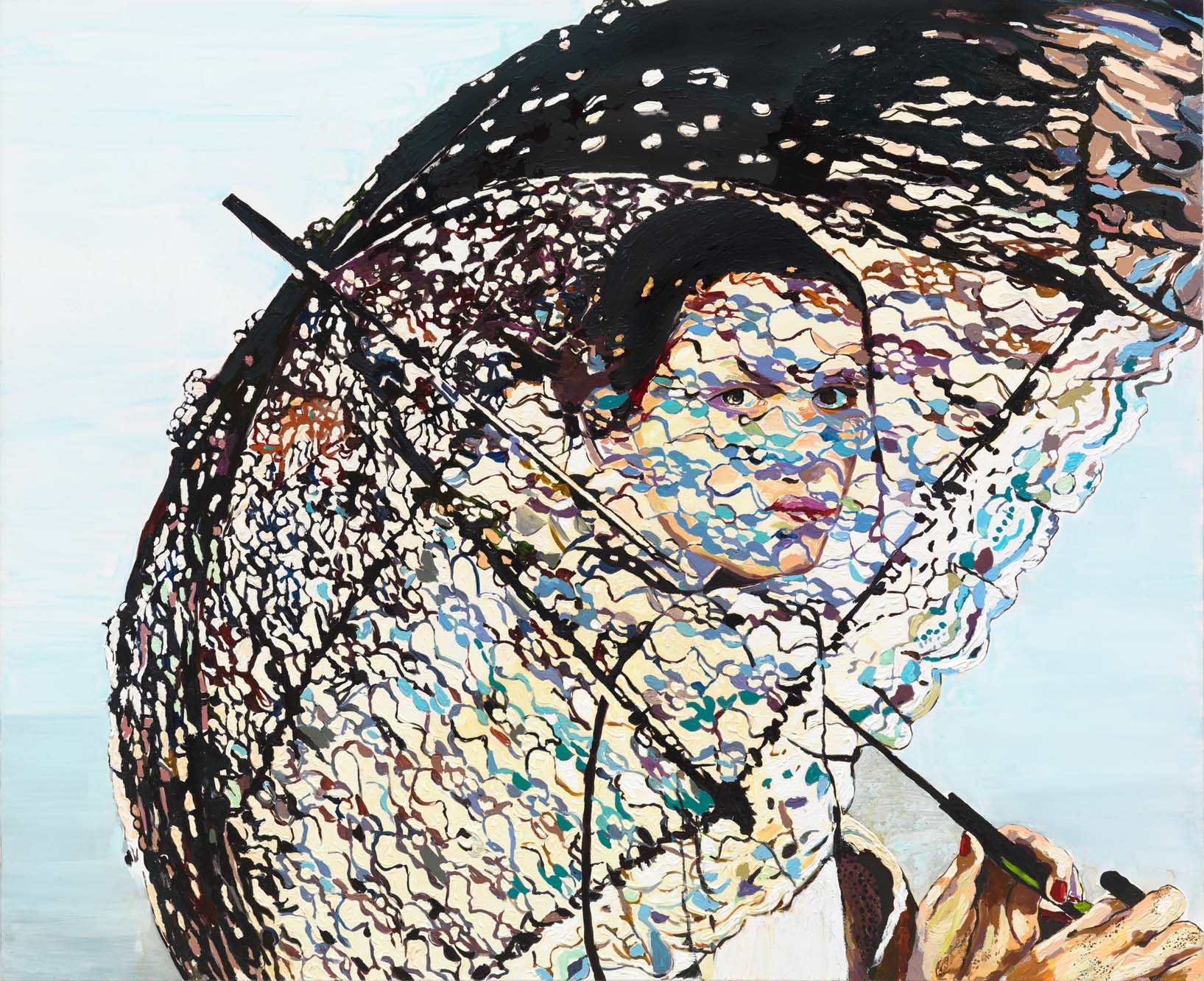 Lass' der Sonne Stich
2013
Acrylic, asphalt varnish and shellac on canvas
180 × 220 cm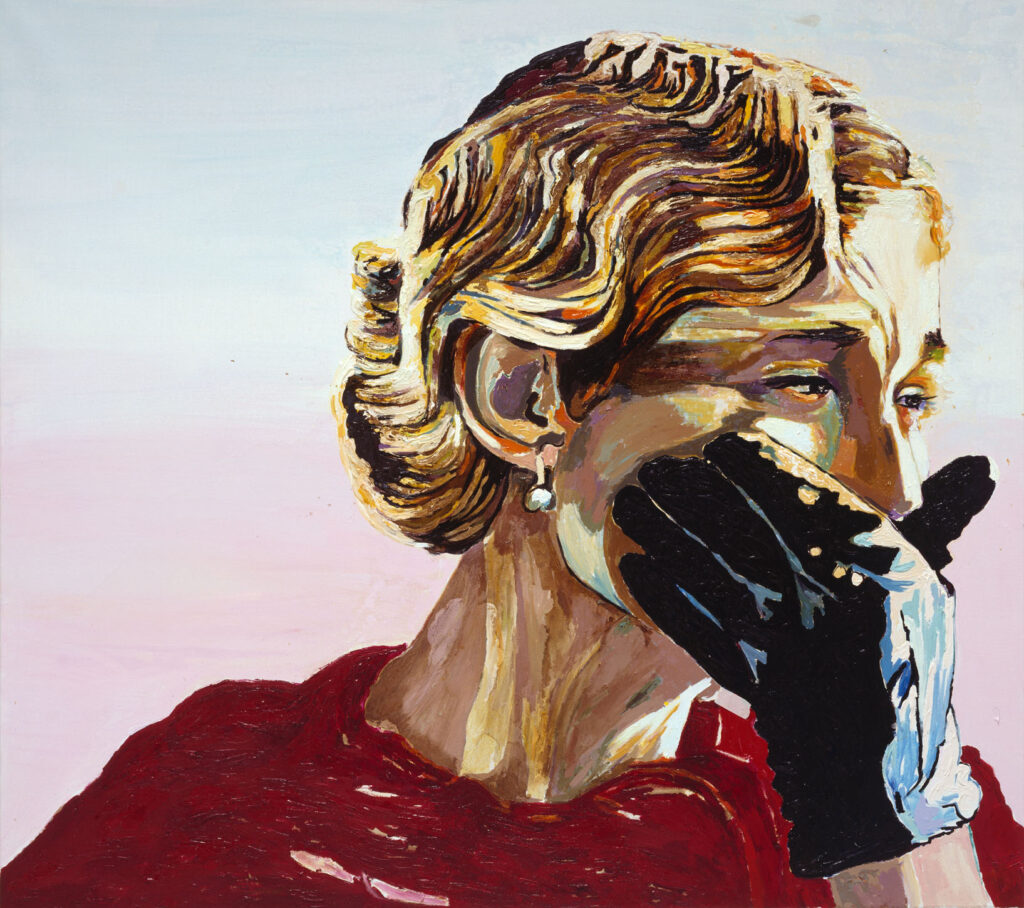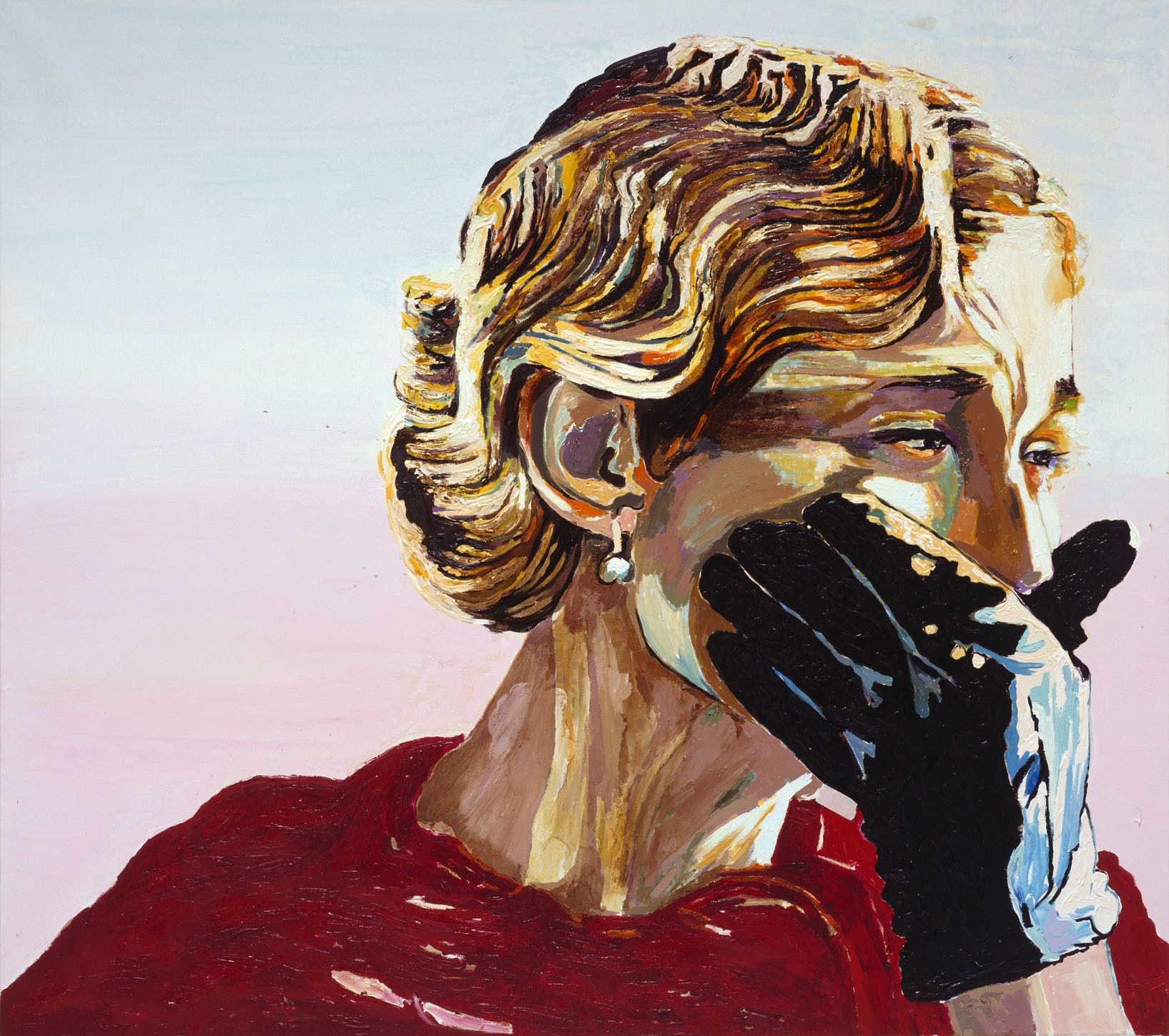 Meine Hand ist deine Bewegung
2008
Acrylic, asphalt varnish and shellac on canvas
160 × 180 cm
Private collection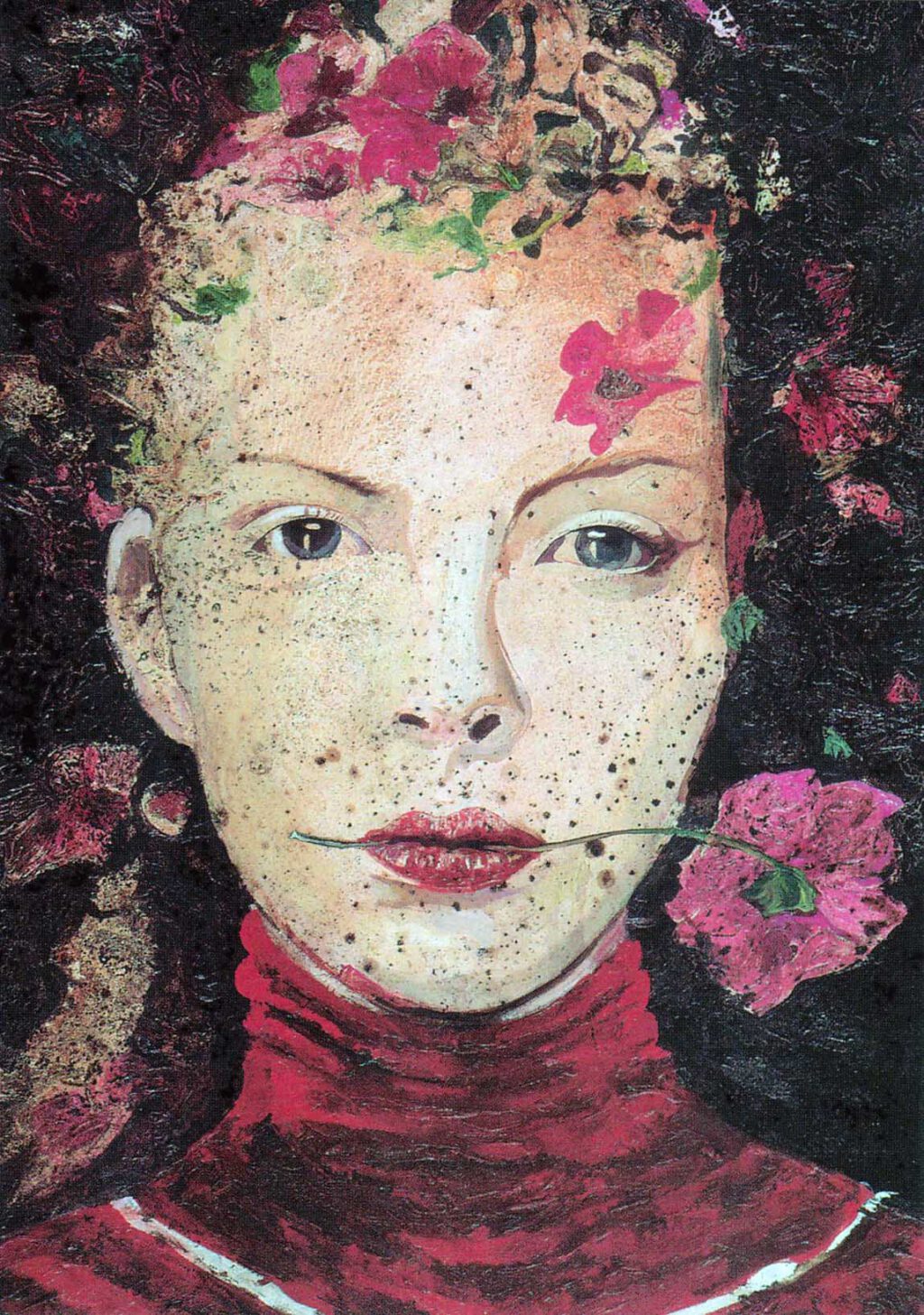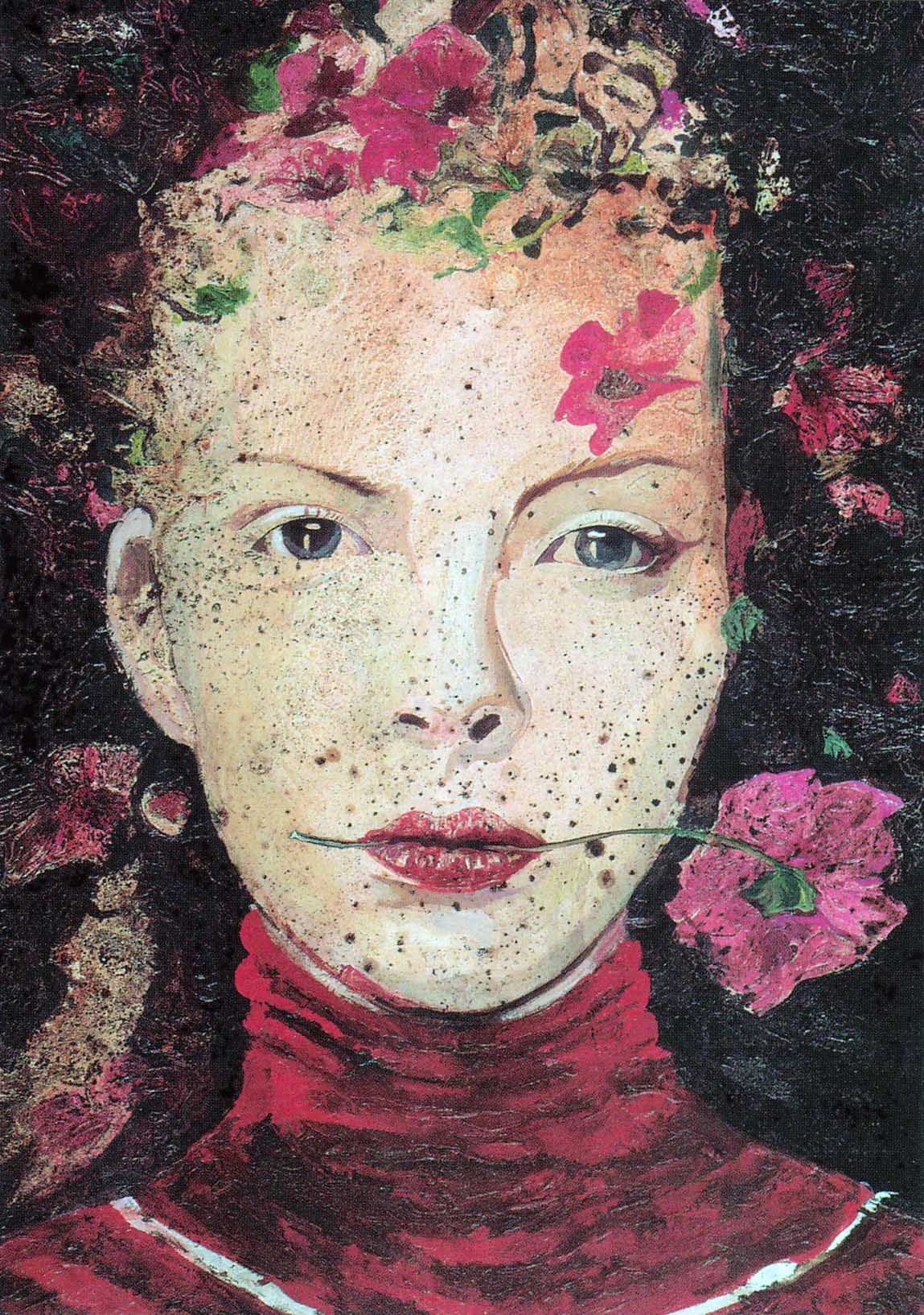 Ohne Titel
1998
Acrylic, asphalt varnish and shellac on canvas
145 × 200 cm
Private collection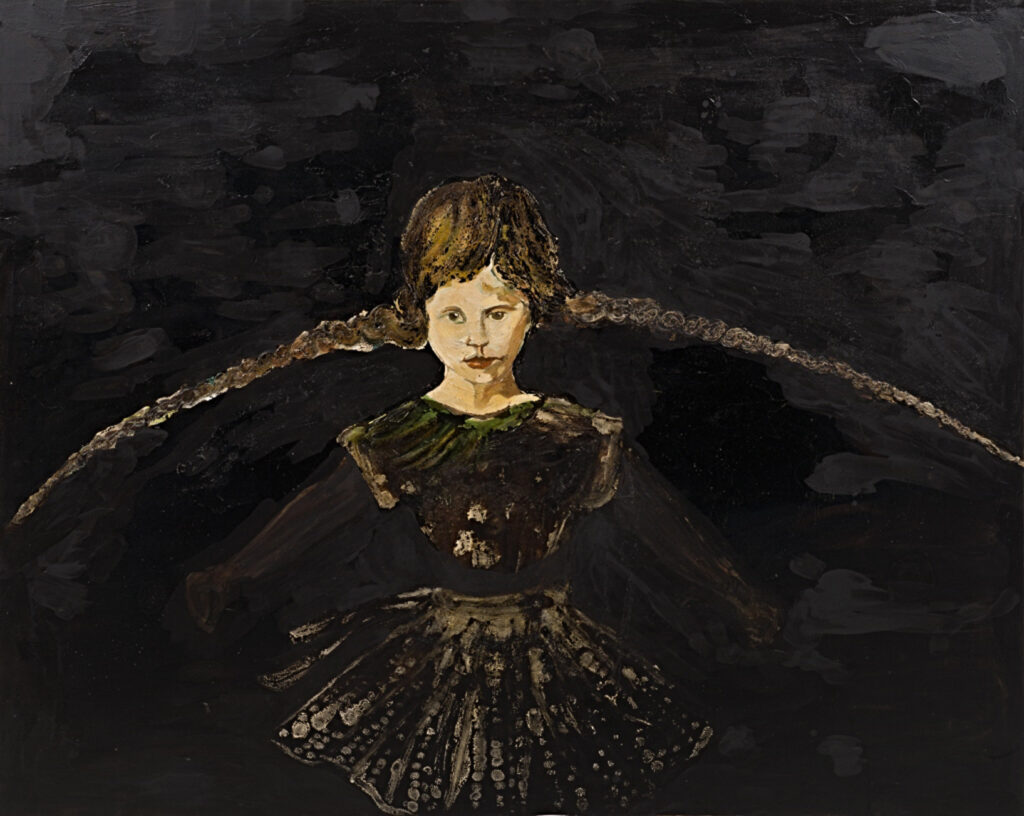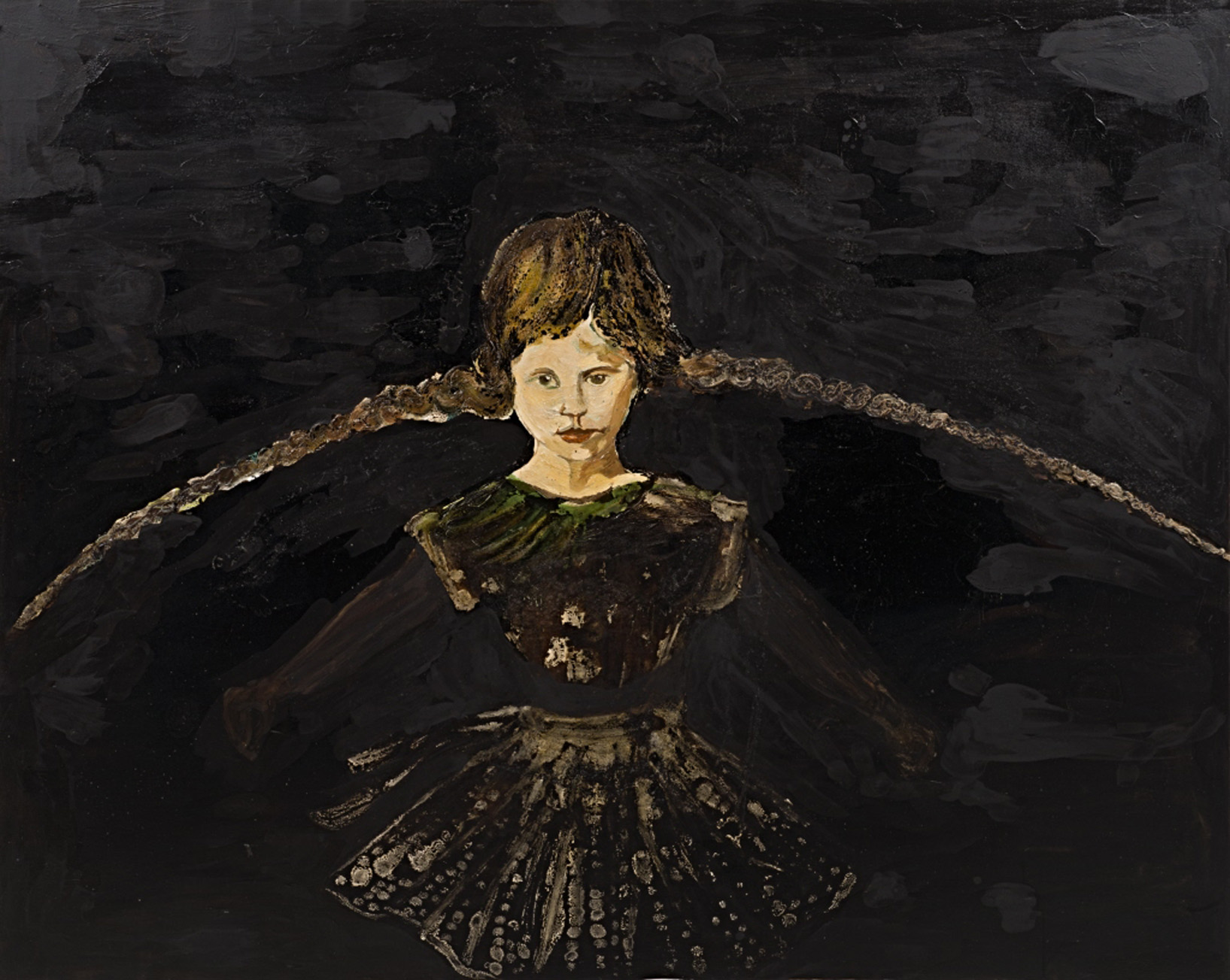 Die Nacht hat Flügel
1996
Acrylic, asphalt varnish and shellac on canvas
160 × 200 cm
Berlinische Galerie, Berlin (Inv.-no. BG-M 8157/96)


Der Verräter (The Traitor)
1991
Oil and asphalt varnish on canvas (triptych)
Left: 25 × 160.5 cm; center: 145 × 120 cm; right: 34.5 × 170.5 cm
Albertinum | Galerie Neue Meister (Inv.-no. 95/01)
© Photo: Albertinum | GNM, Staatliche Kunstsammlung Dresden, Ursula-Maria Hoffmann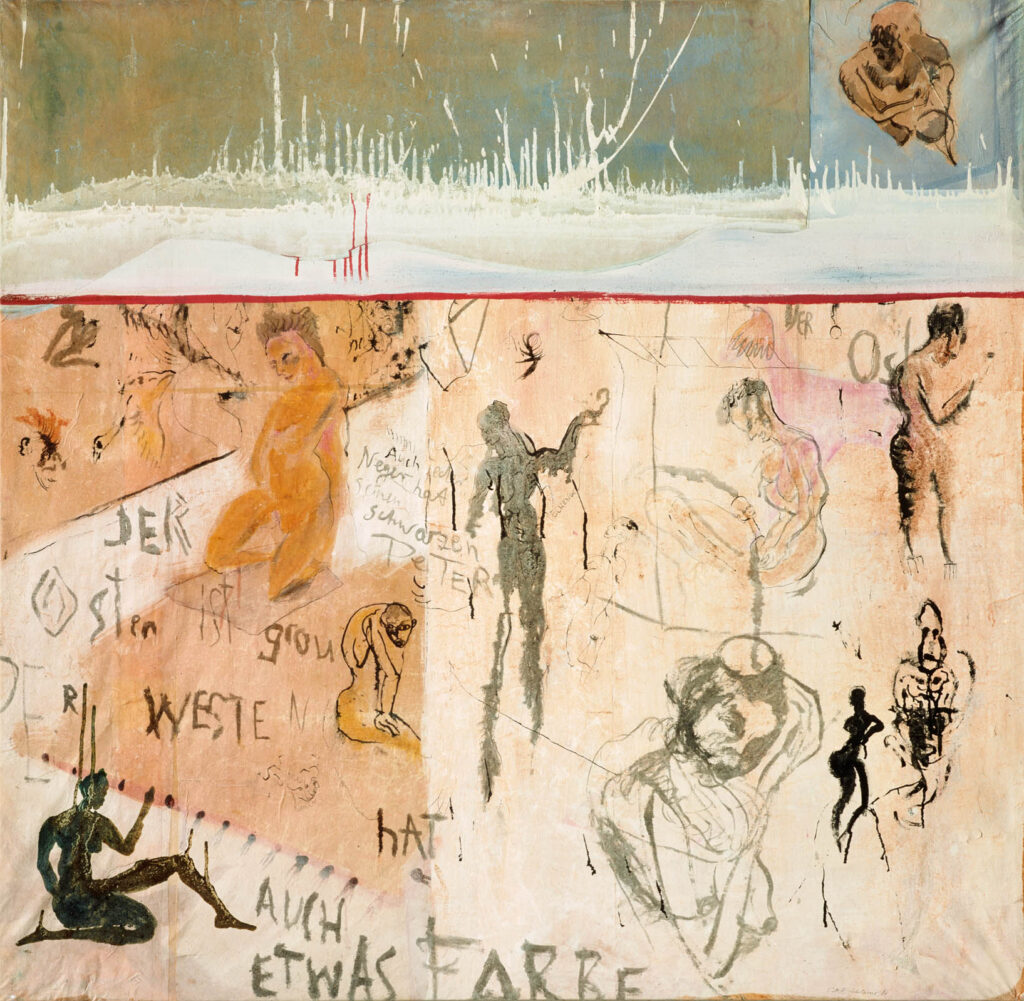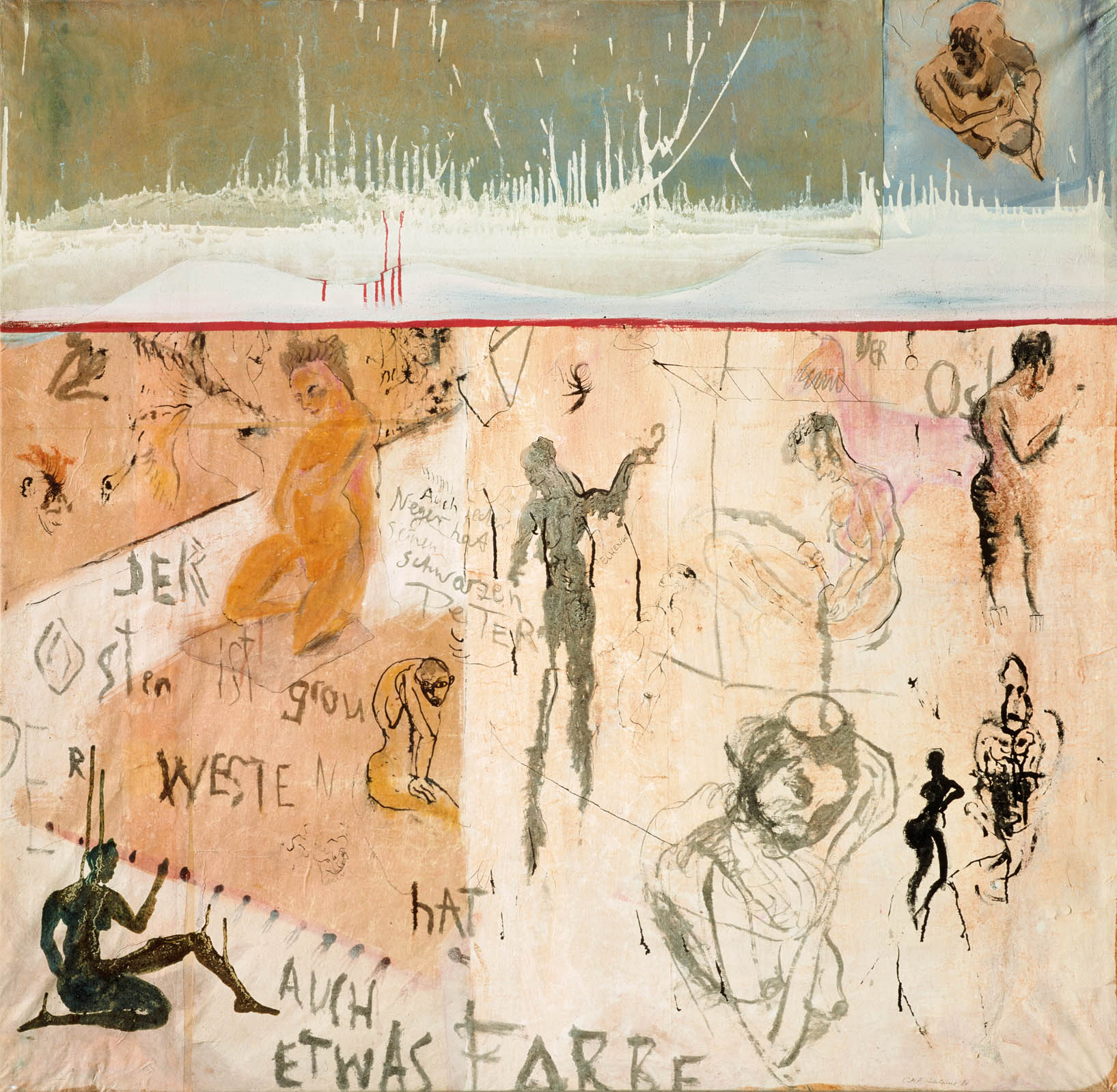 Der Osten ist grau, der Westen hat auch etwas Farbe
1986
Ink on japanese paper, laminated on non-woven
145 × 145 cm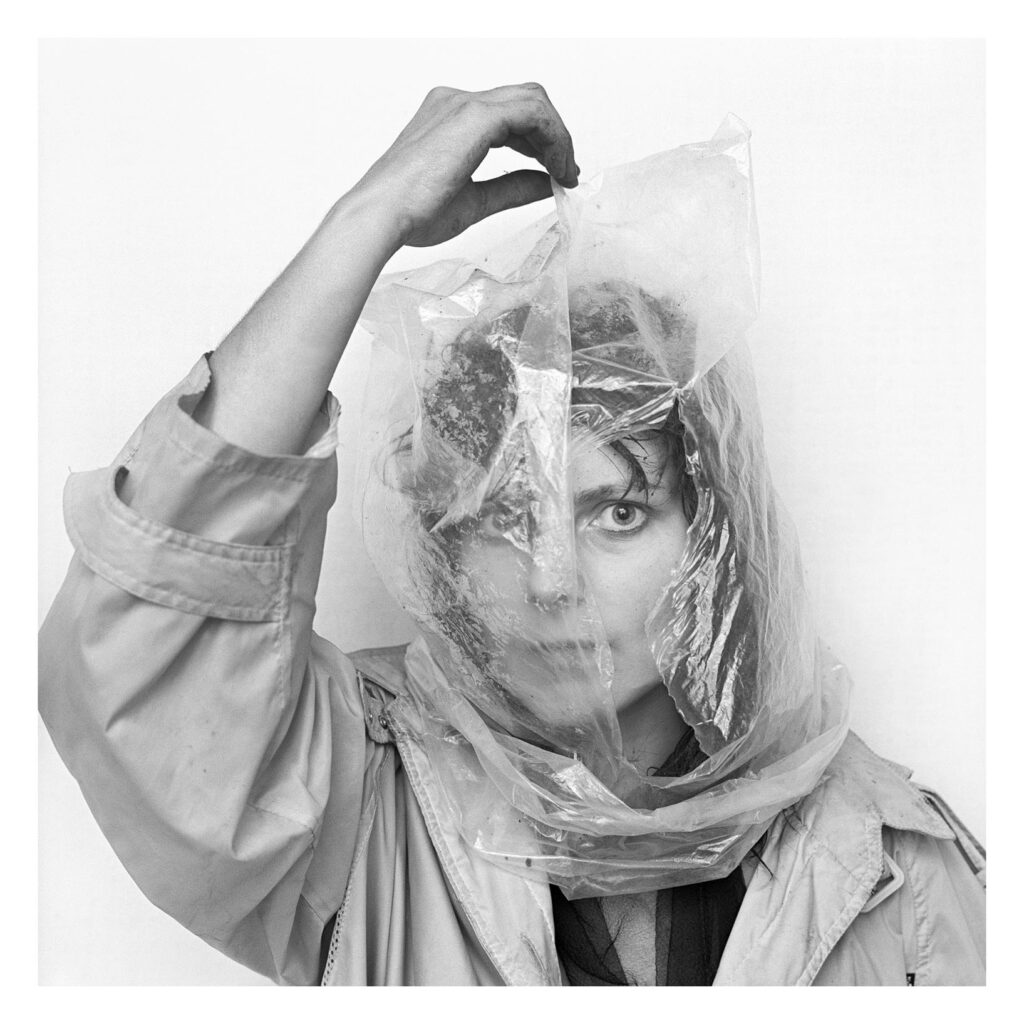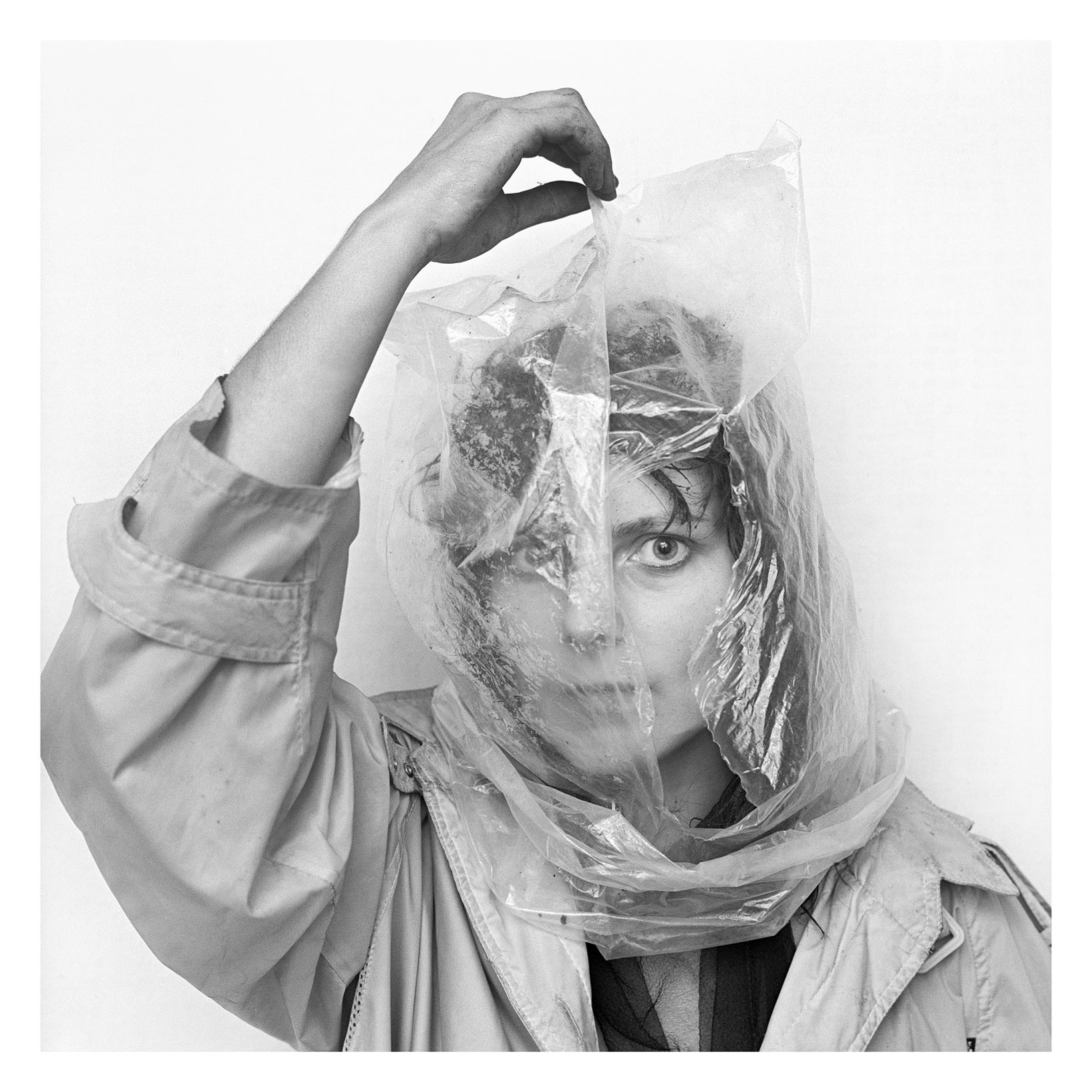 Ich halte doch nicht die Luft an
Selbstinszenierung in Hüpstedt
1982 / reprint 2016
Inkjet print on baryta paper
42 × 29.7 cm
Edition of 6
Photo: Bernd Hiepe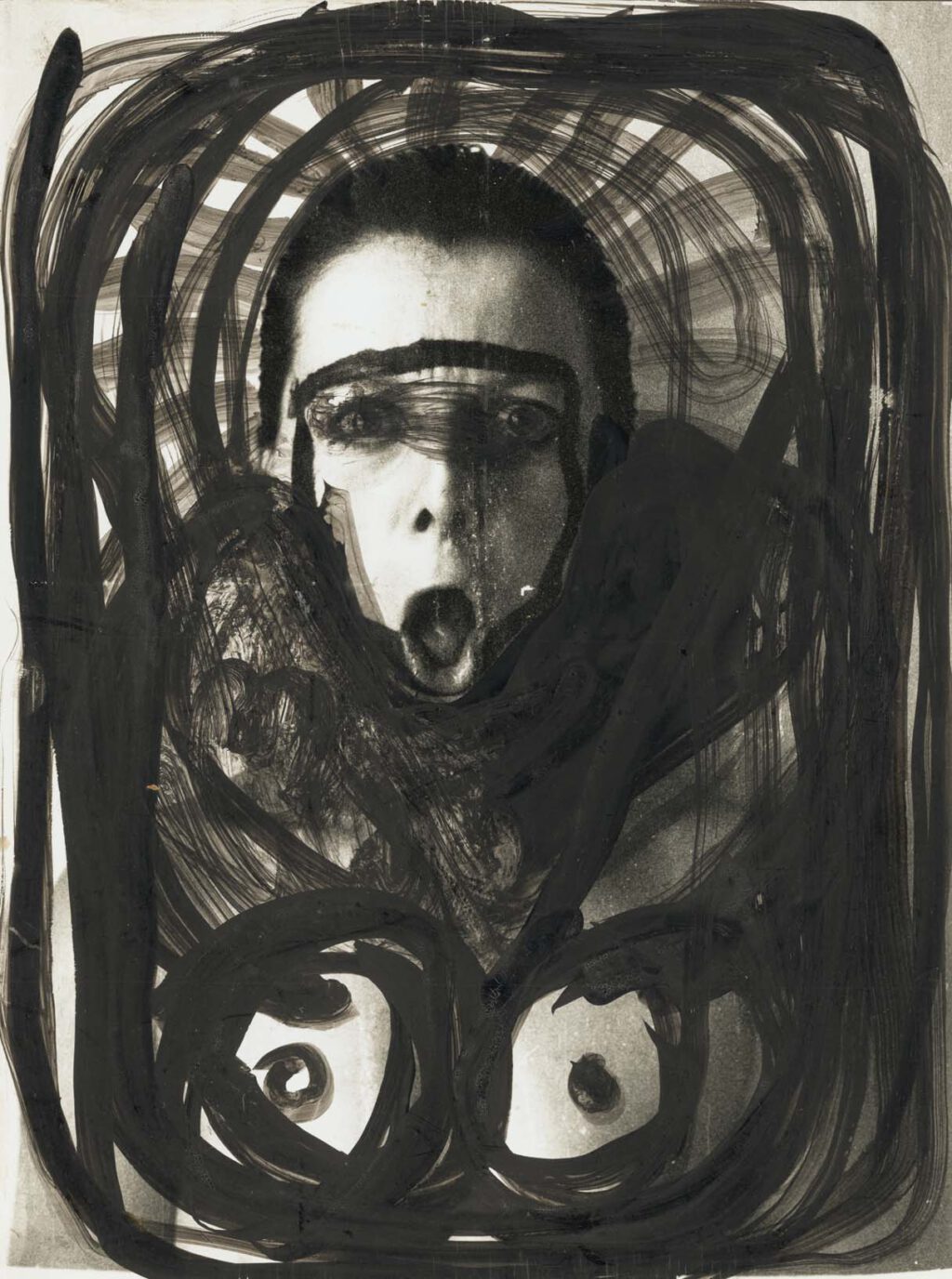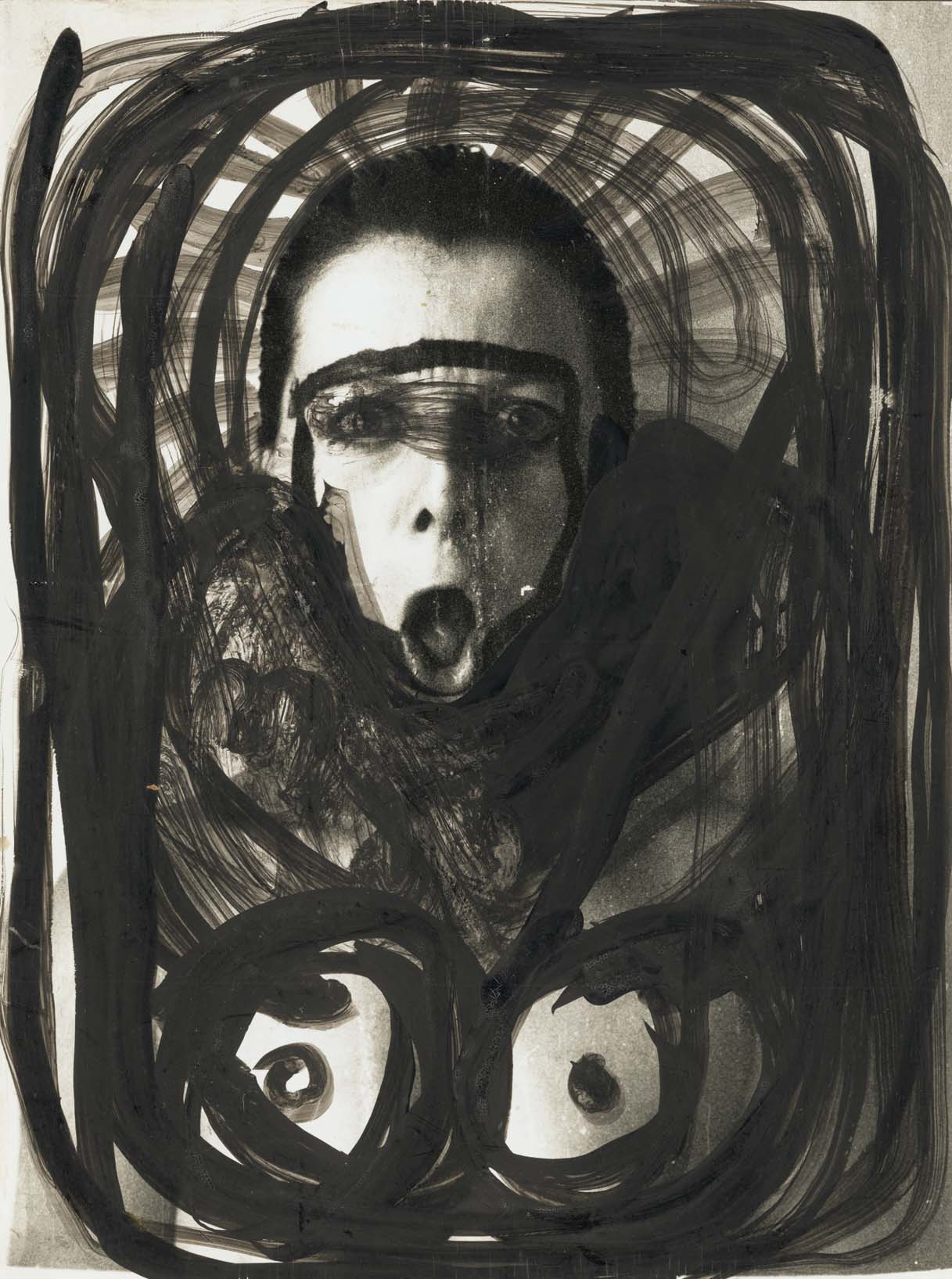 Selbstinszenierung
1982
Silver gelatin paper, painted over with ink
24 × 18 cm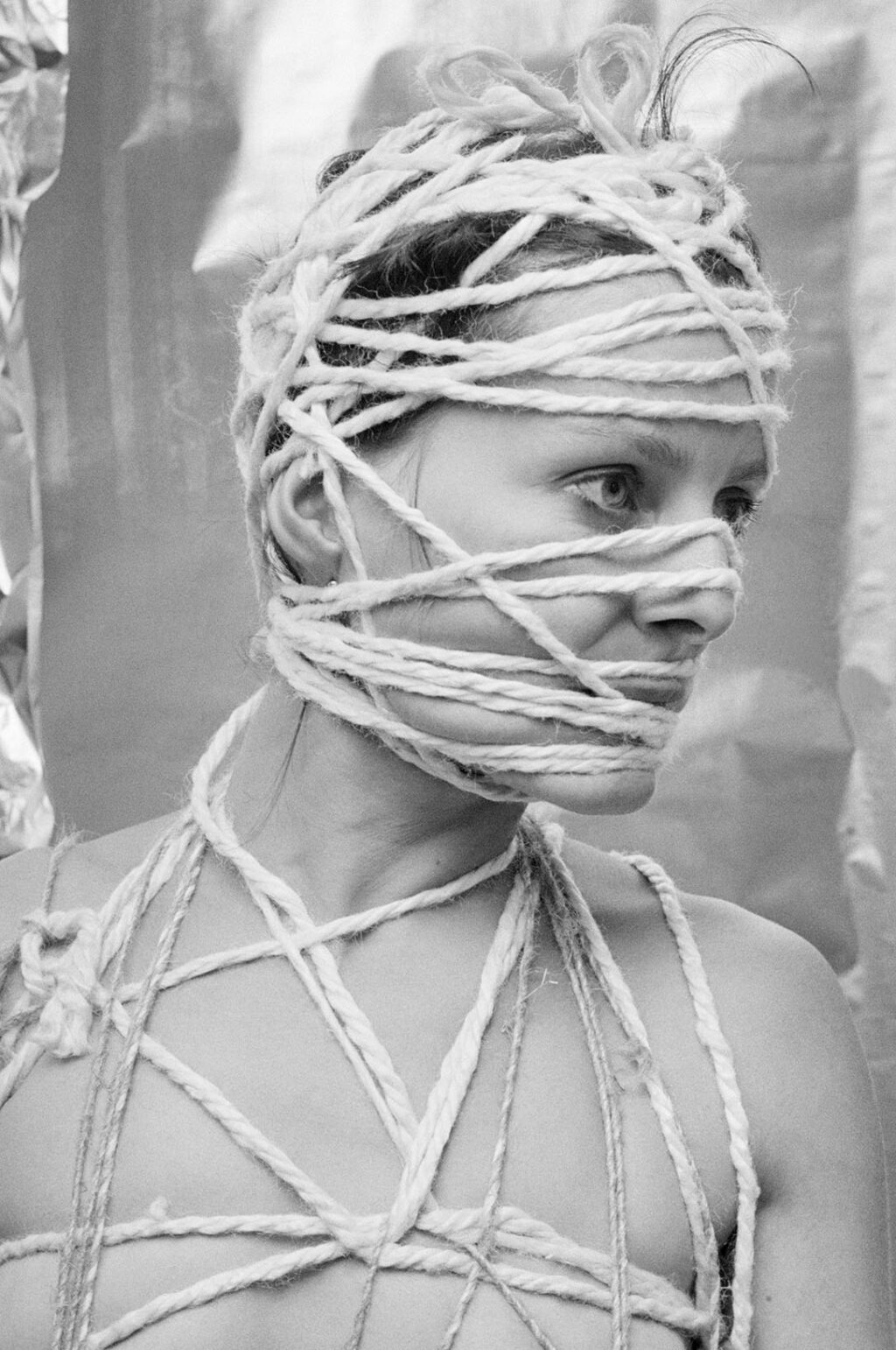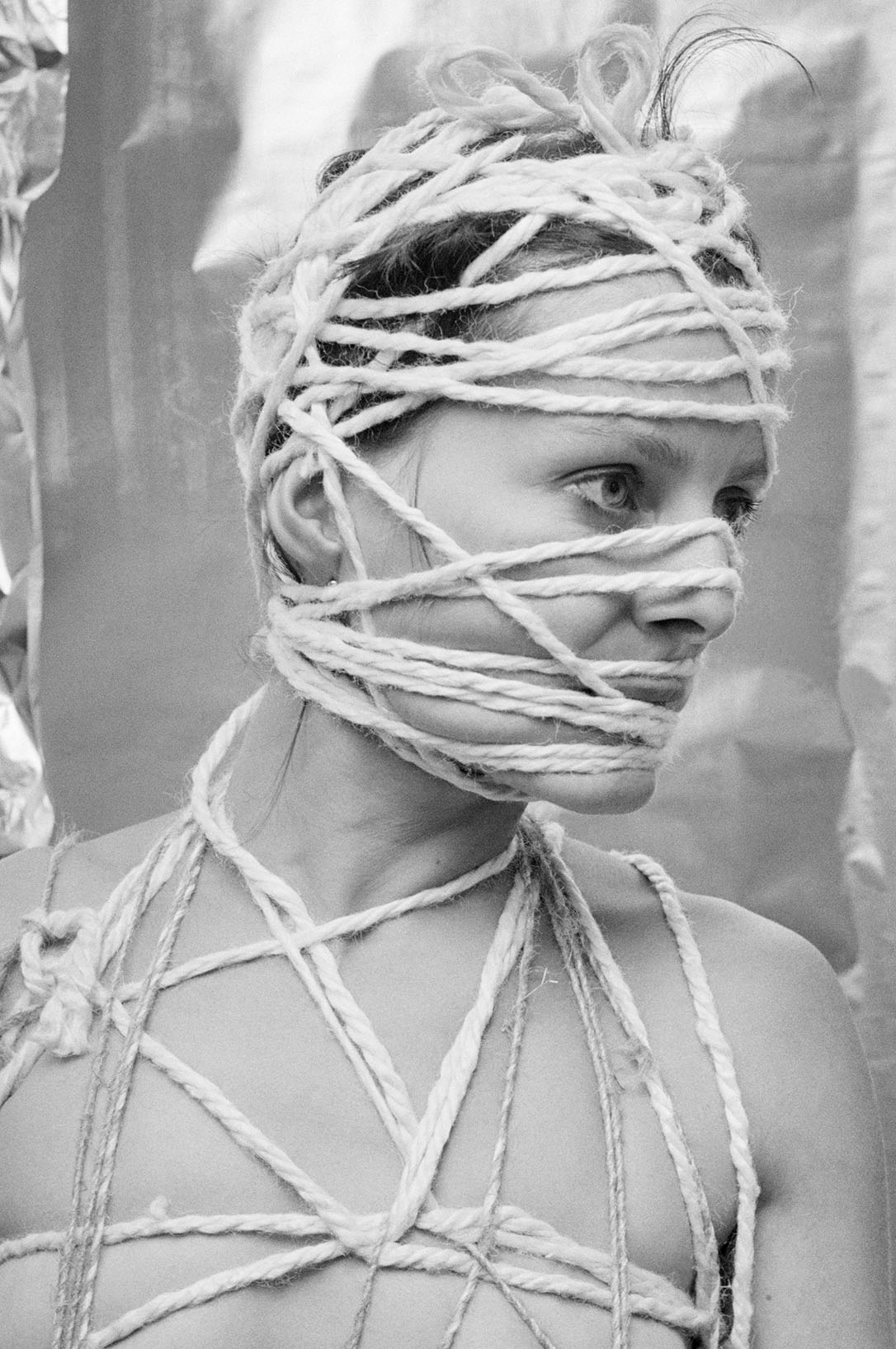 Bondage-Selbstinszenierung in Hüpstedt
1982 / reprint 2016
Inkjet print on baryta paper
42 × 29.7 cm
Edition of 6
Photo: Bernd Hiepe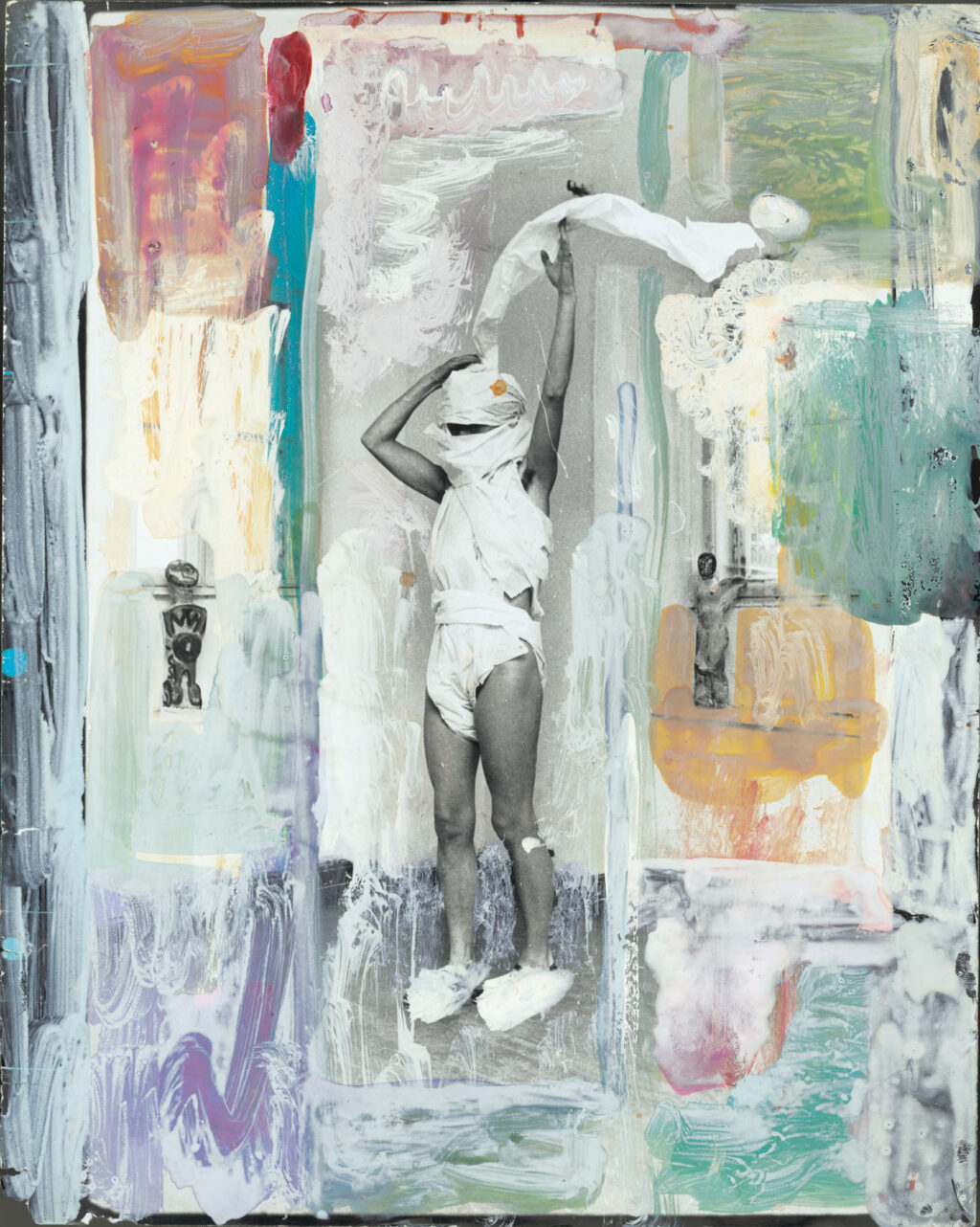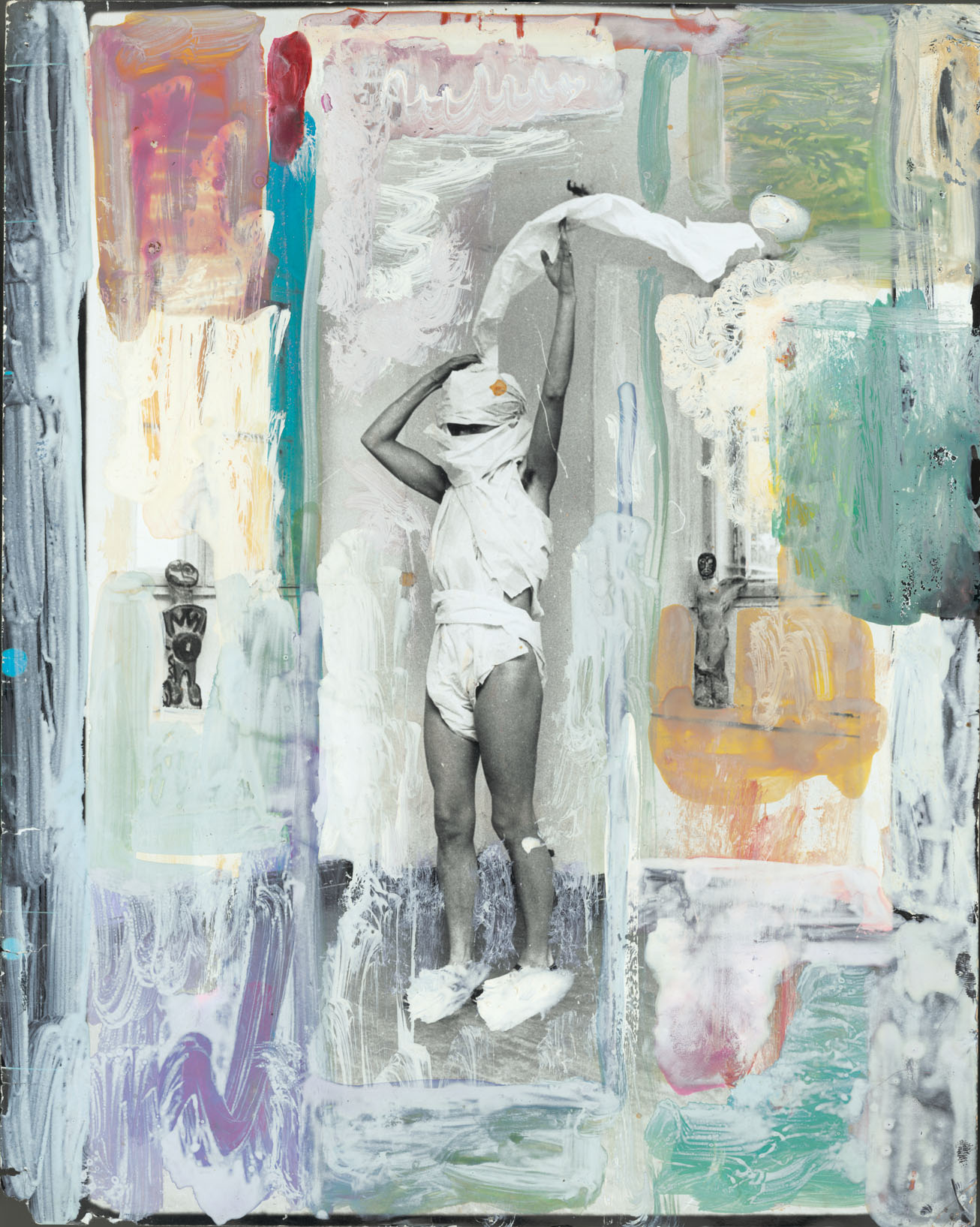 Selbstinszenierung in Hüpstedt
1982
Silver gelatin paper, painted over with ink and watercolor
30 × 24 cm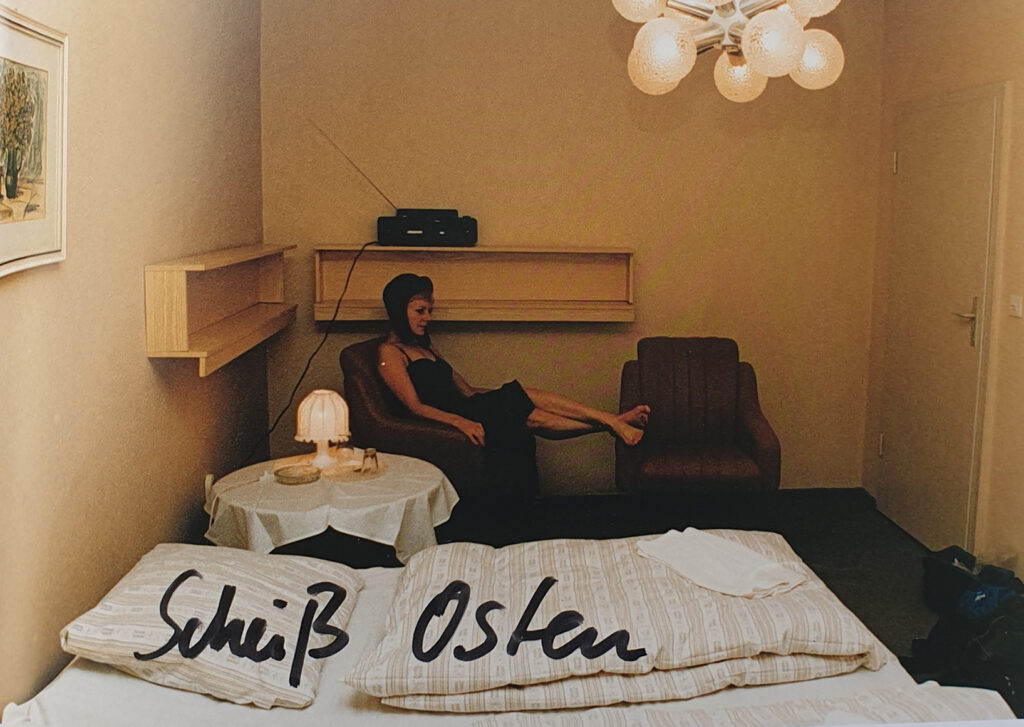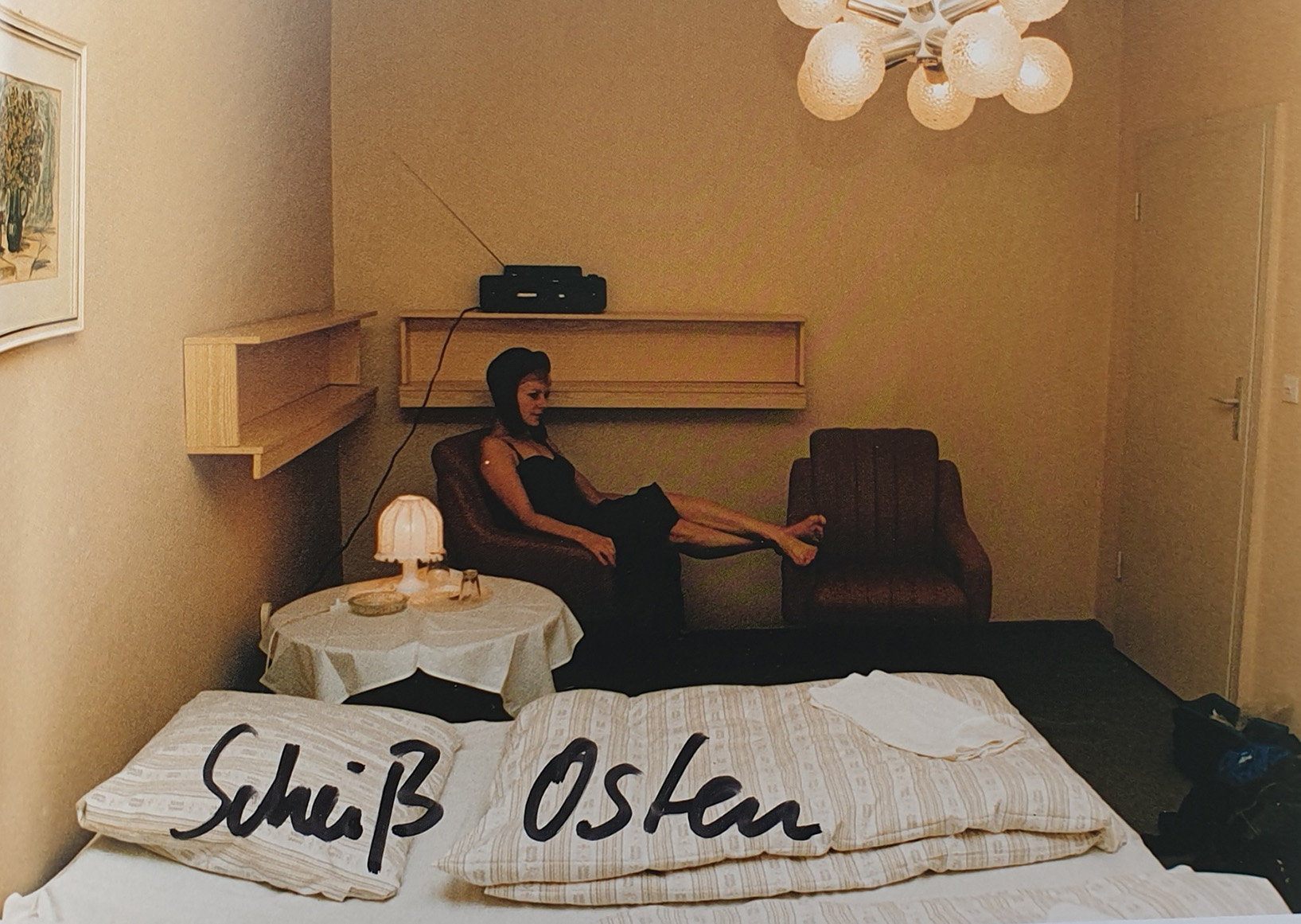 Scheiß Osten
1992
Inkjet print and felt-tip pen
20 × 30 cm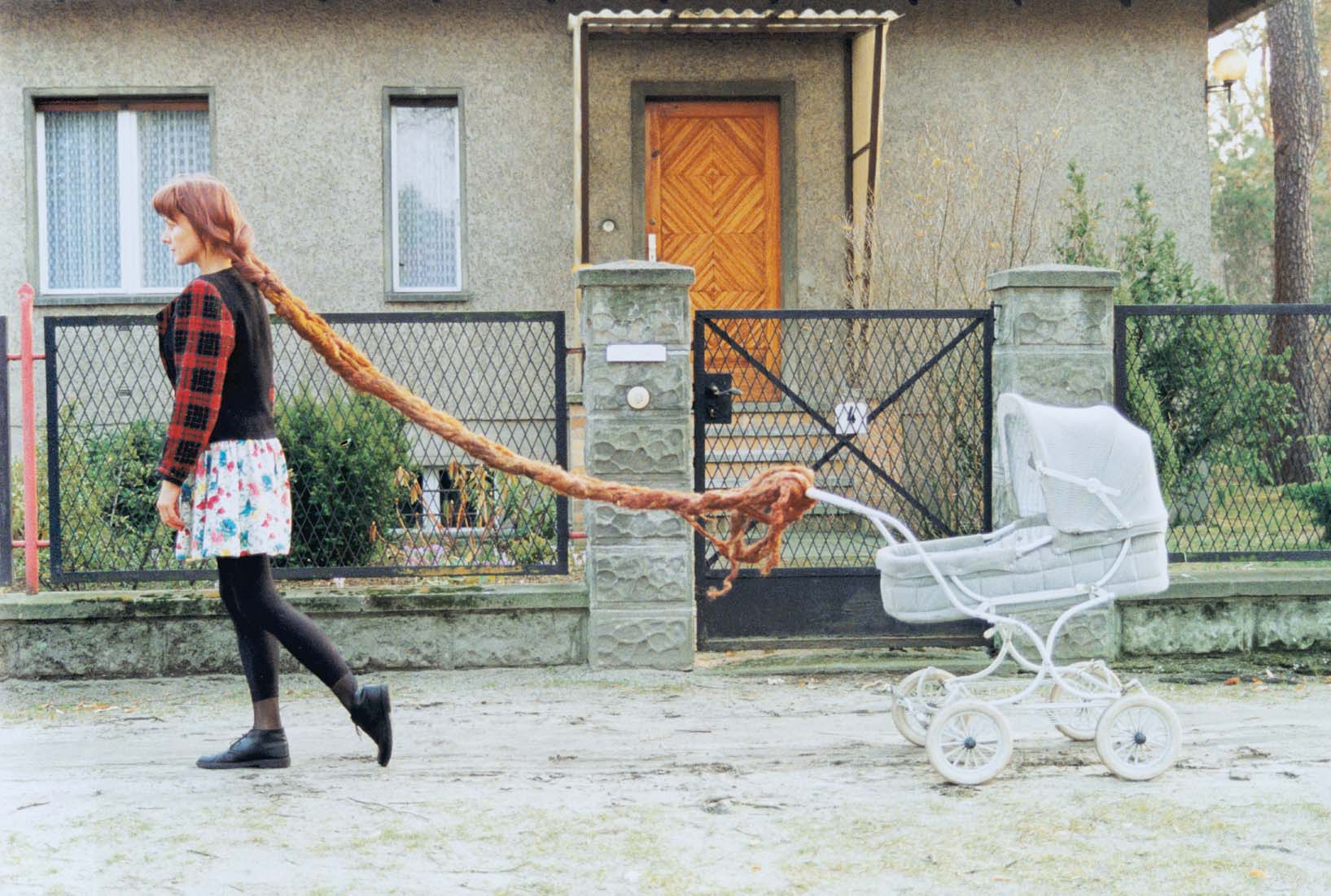 Selbstinszenierung vor dem Haus eines Stasi-Offiziers
1993
Inkjet print on paper
30 × 45 cm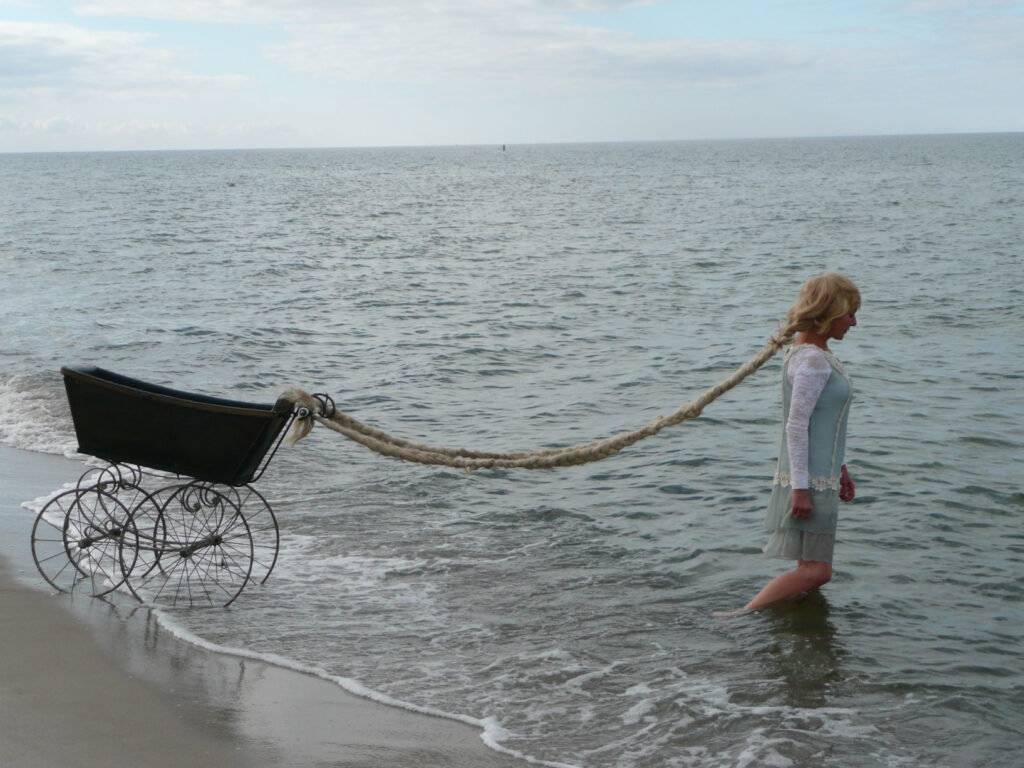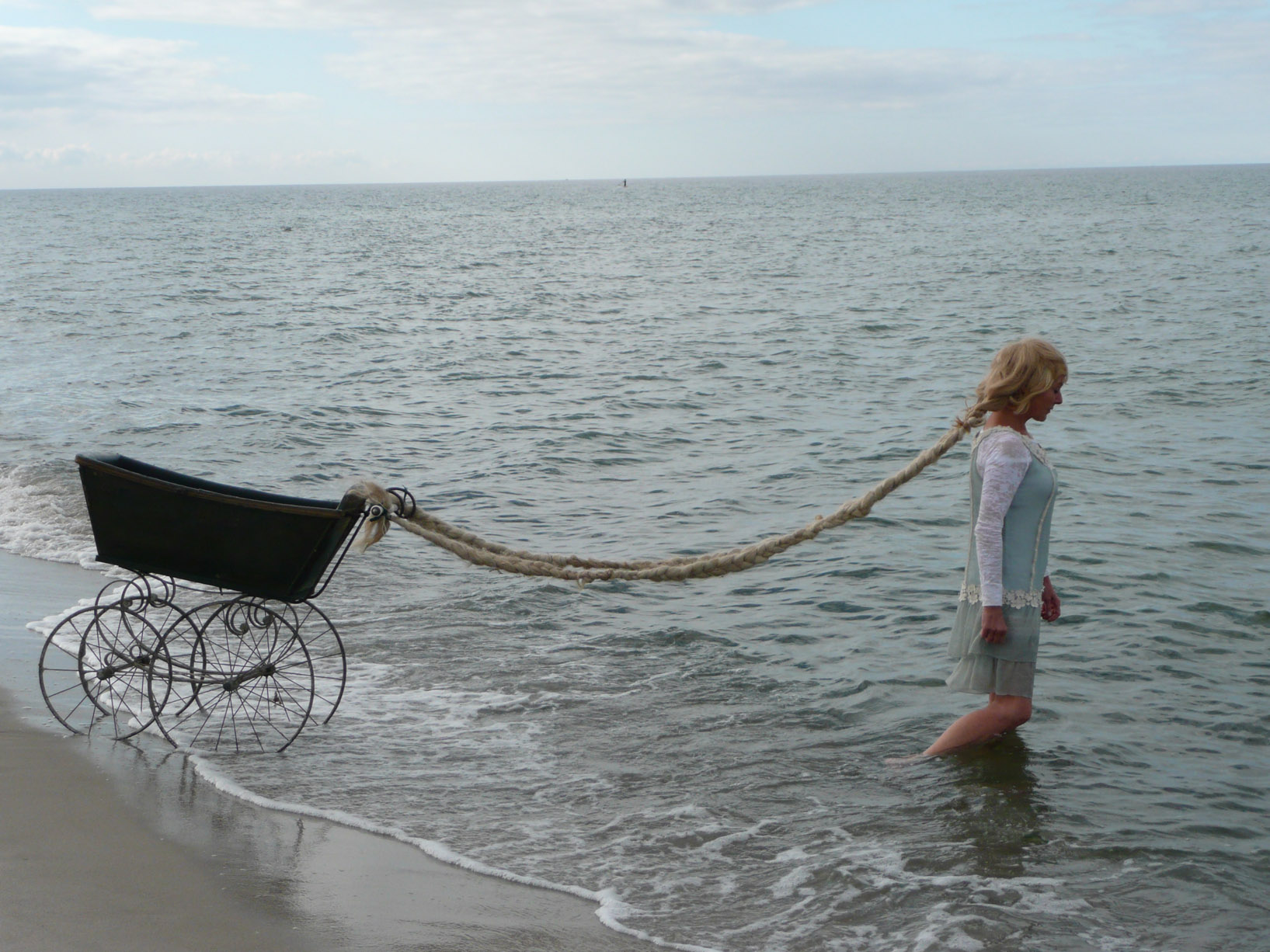 Selbstinszenierung in Ahrenshoop
2010
Inkjet print on paper
30 × 45 cm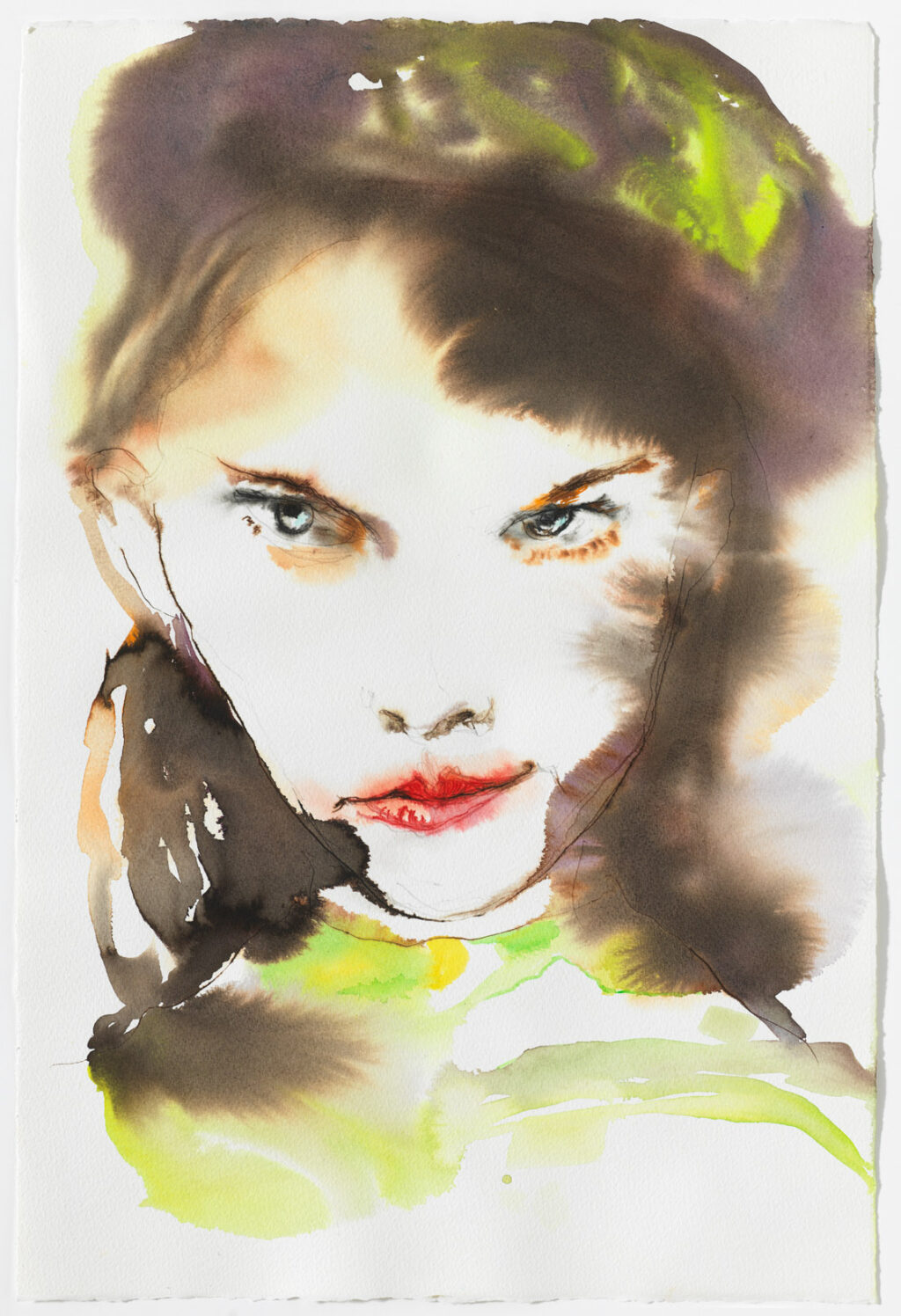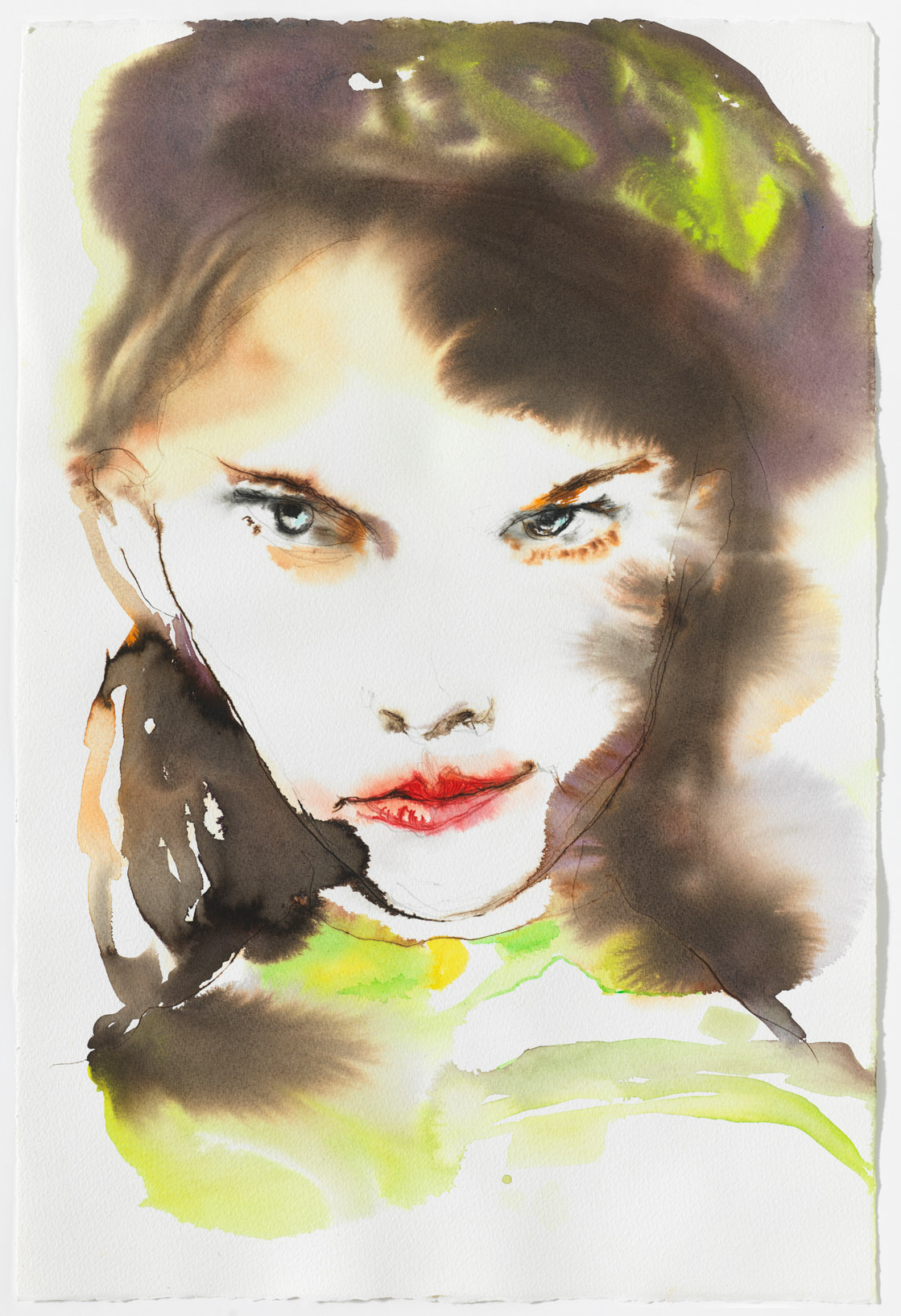 Grünes Gift
2022
Ink and watercolor on handmade paper
57 × 38 cm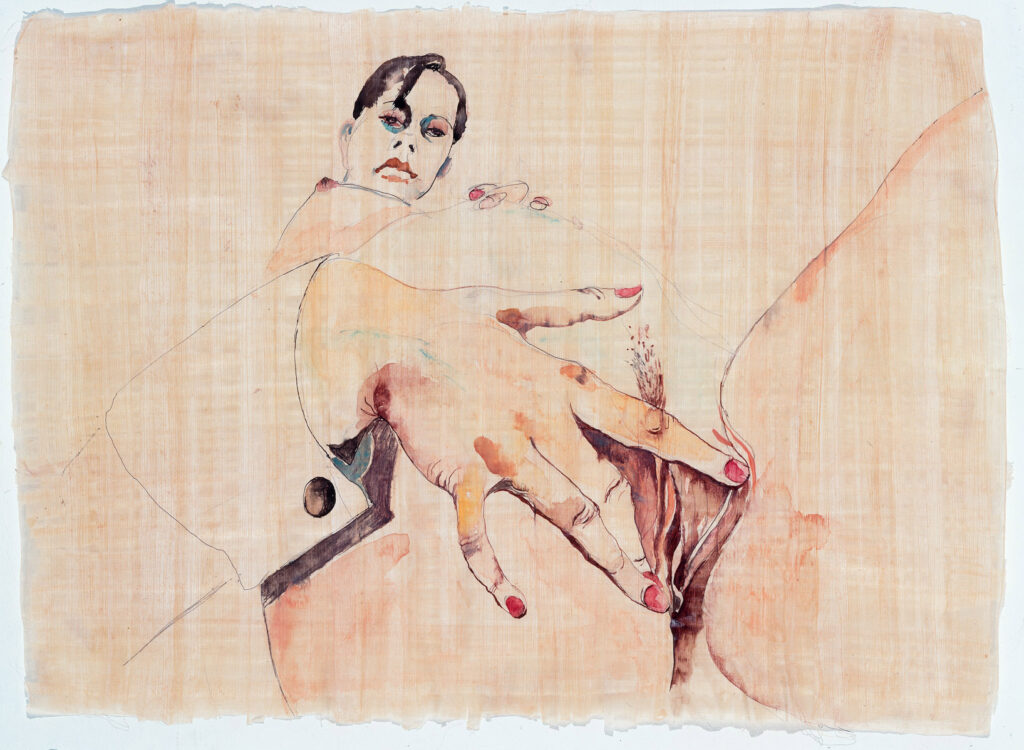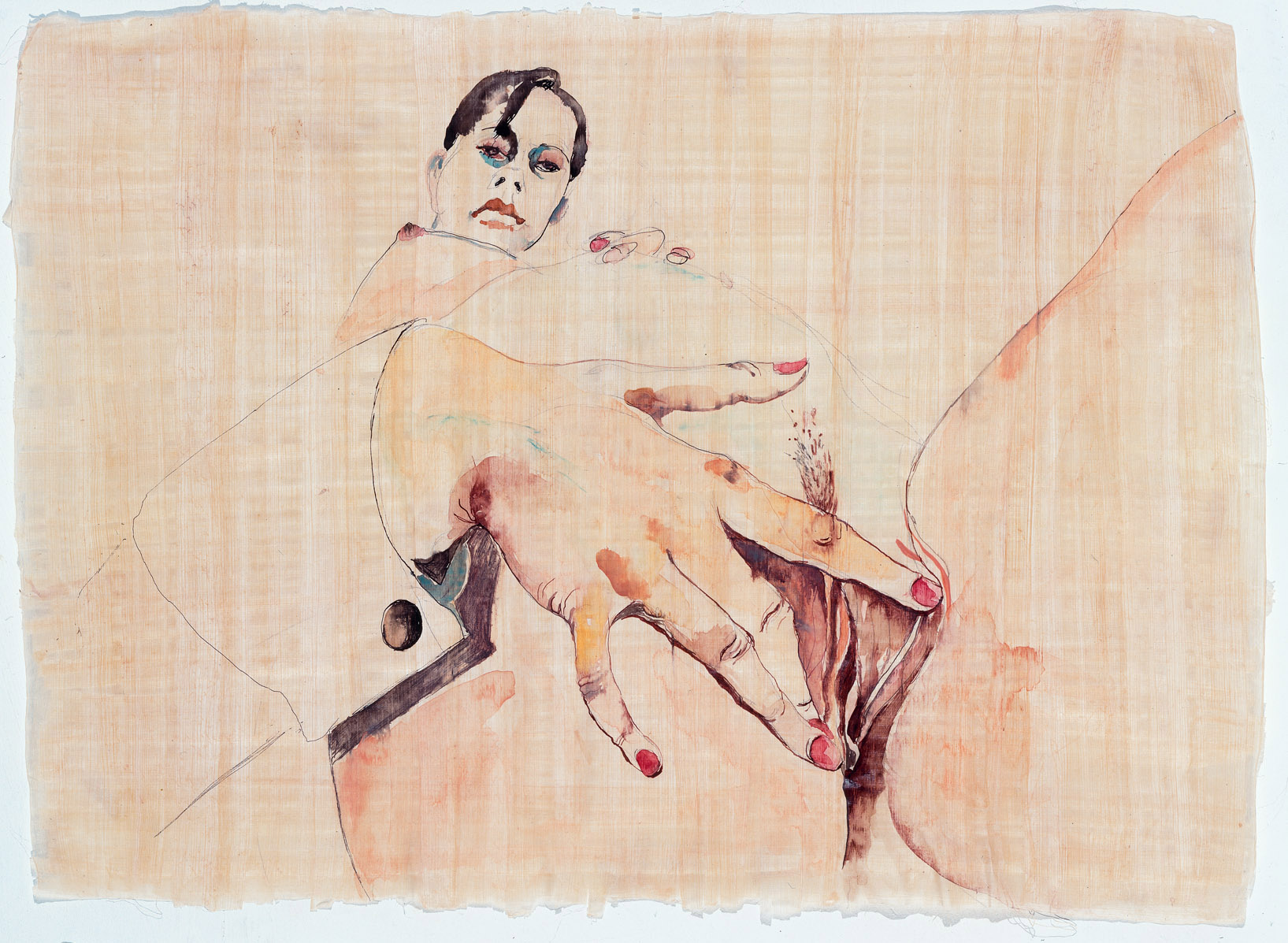 Sesam öffne dich
From the series Leibeslust
2004
Ink and watercolor on papyrus
64 × 83 cm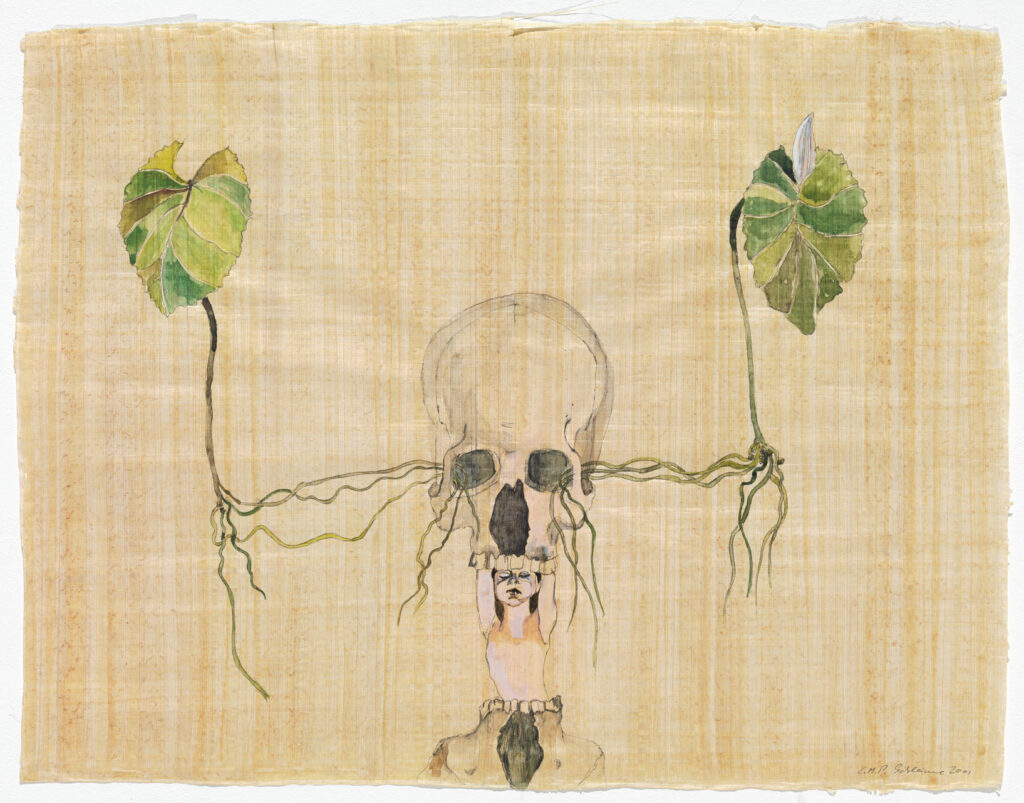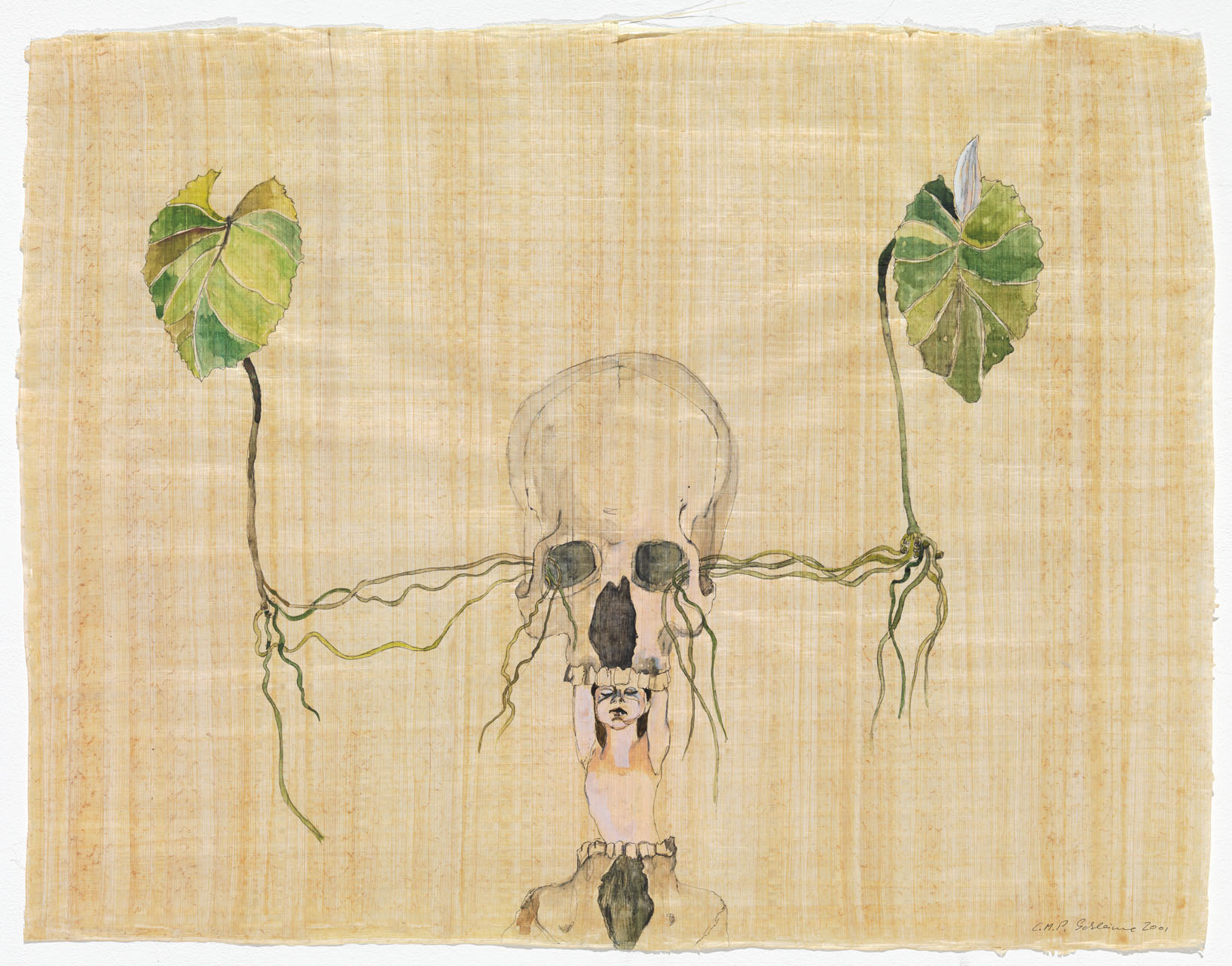 ohne Titel
From the series Mutation
2001
Ink and watercolor on papyrus
61 × 80 cm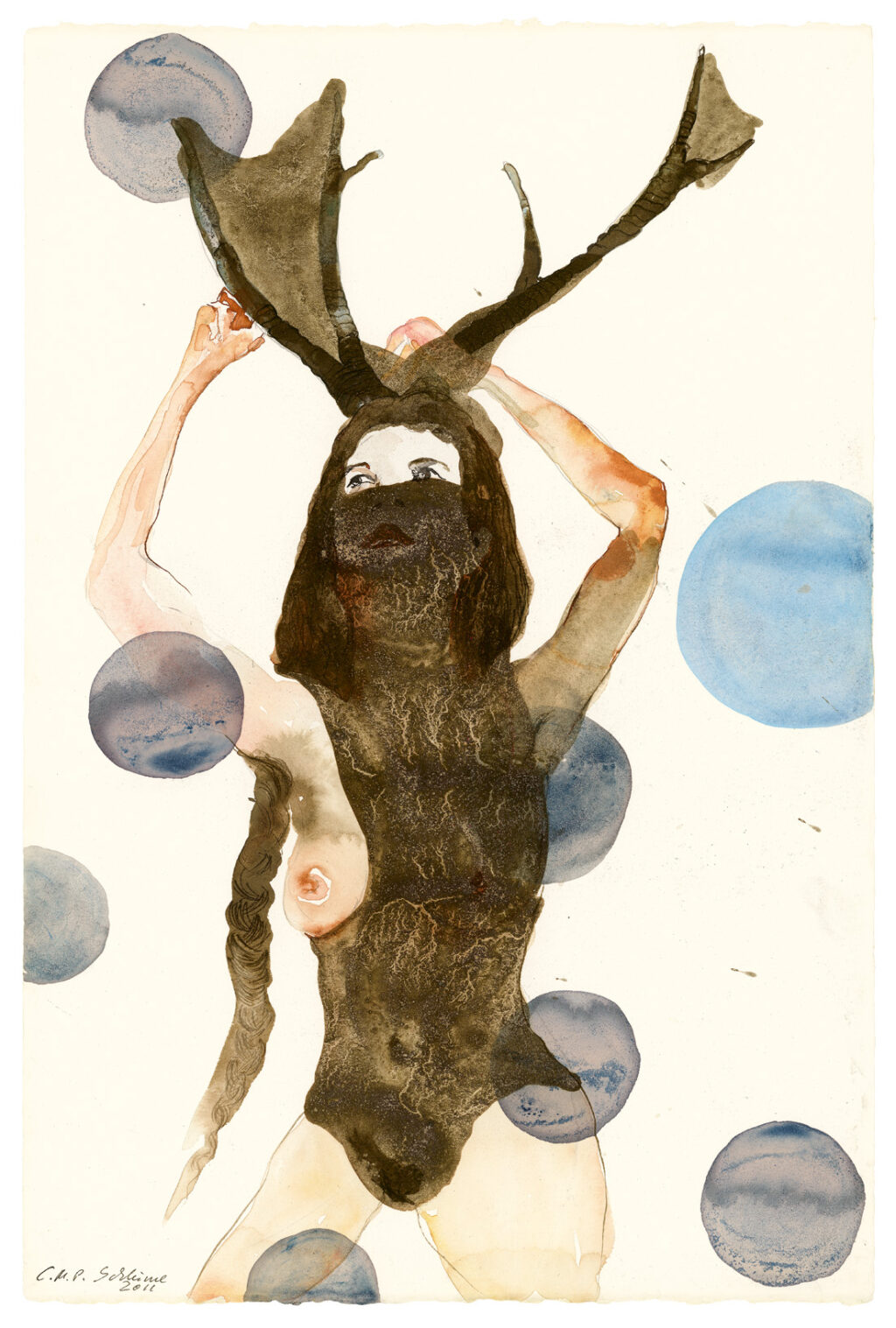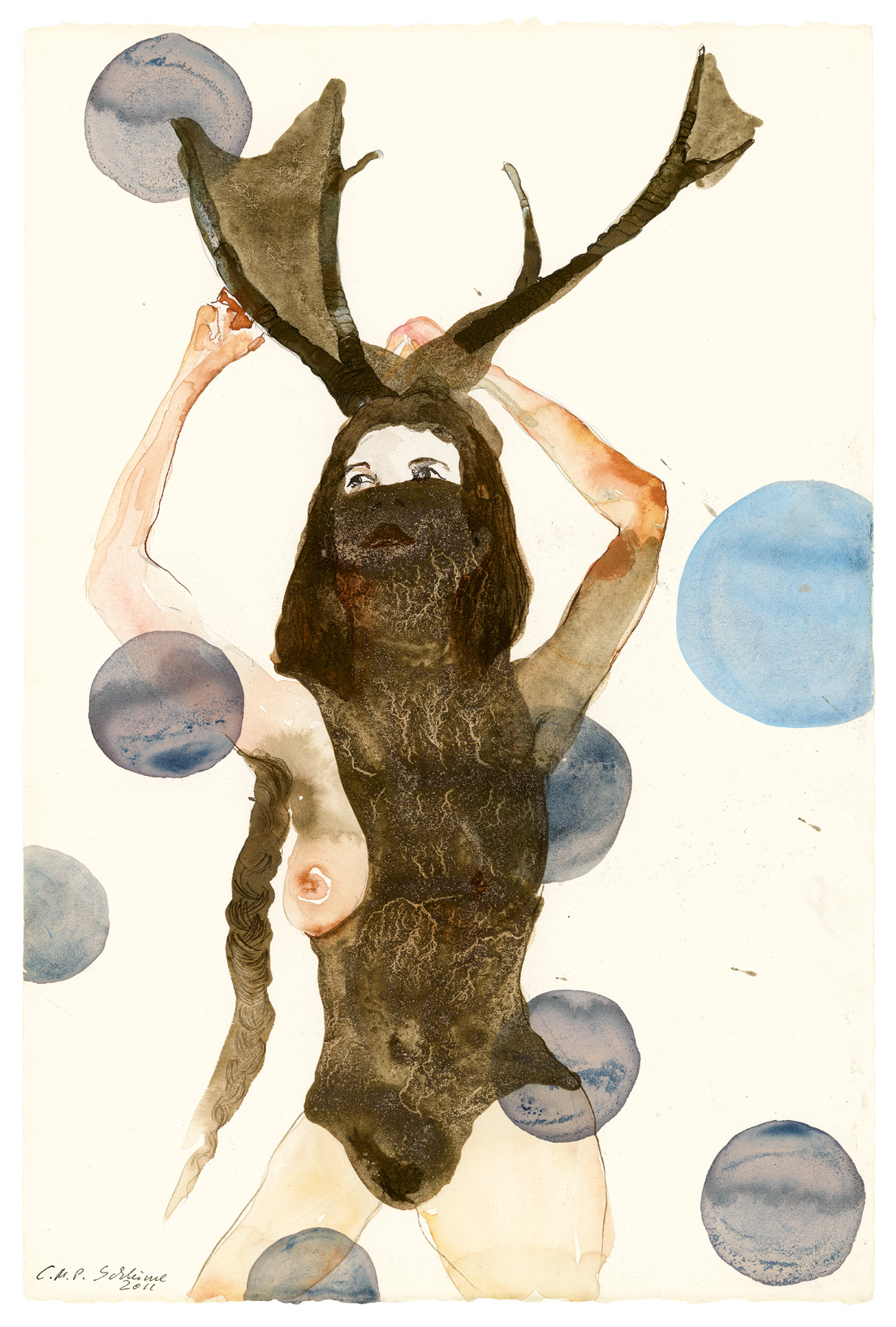 Ich zeig' nicht alles
2011
Ink and watercolor on handmade paper
57 × 38 cm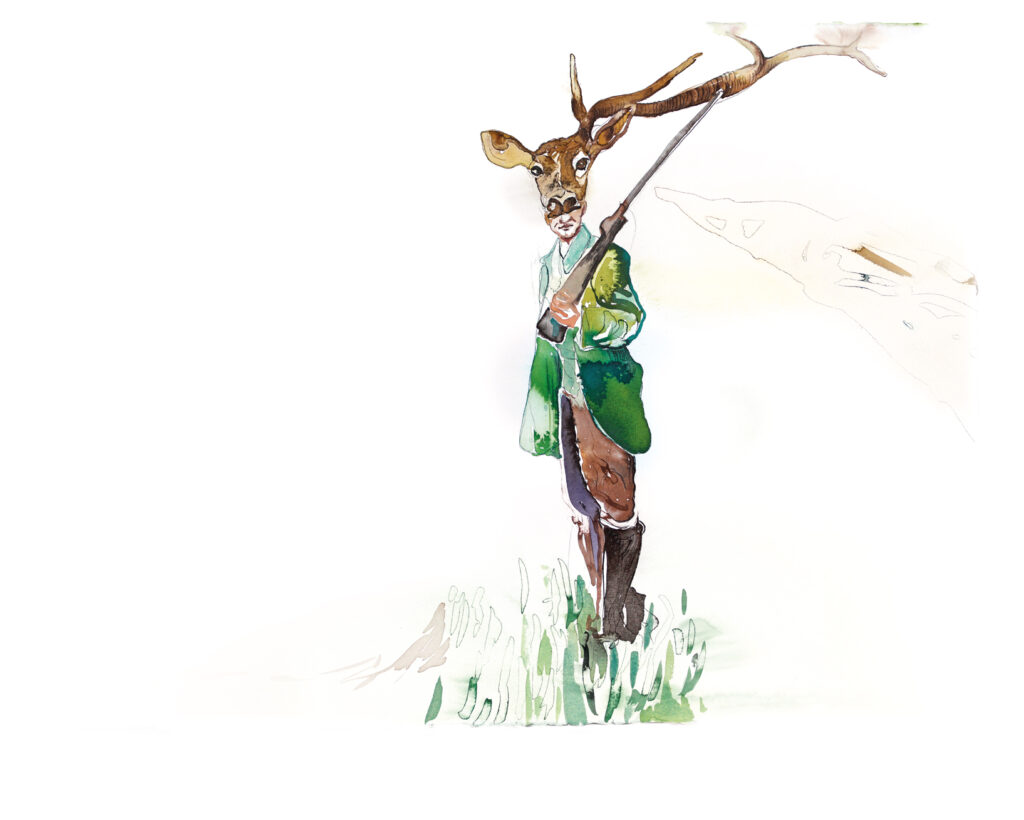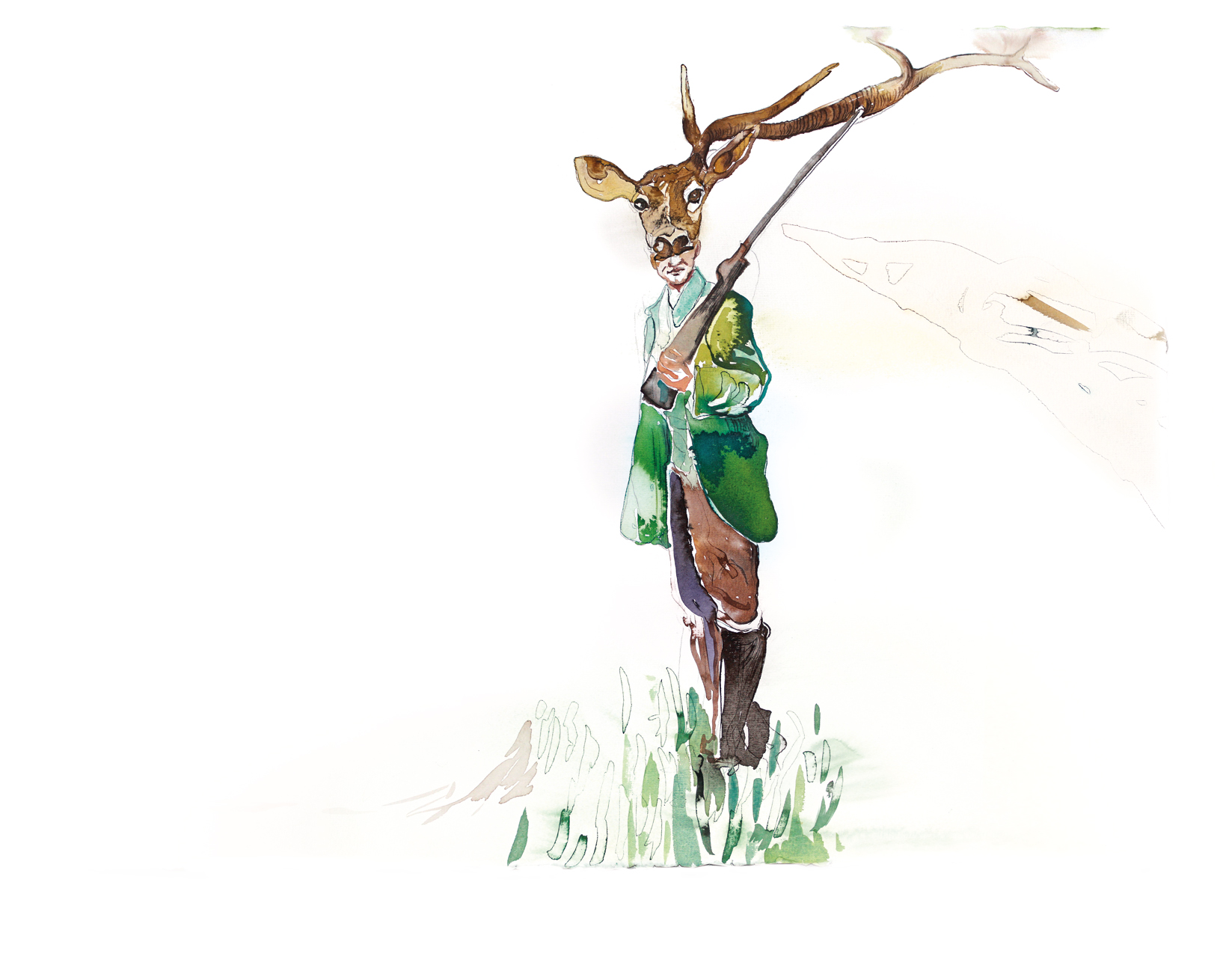 Jägermeister
From the series Camouflage
2005
Ink and watercolor on handmade paper
56 × 76 cm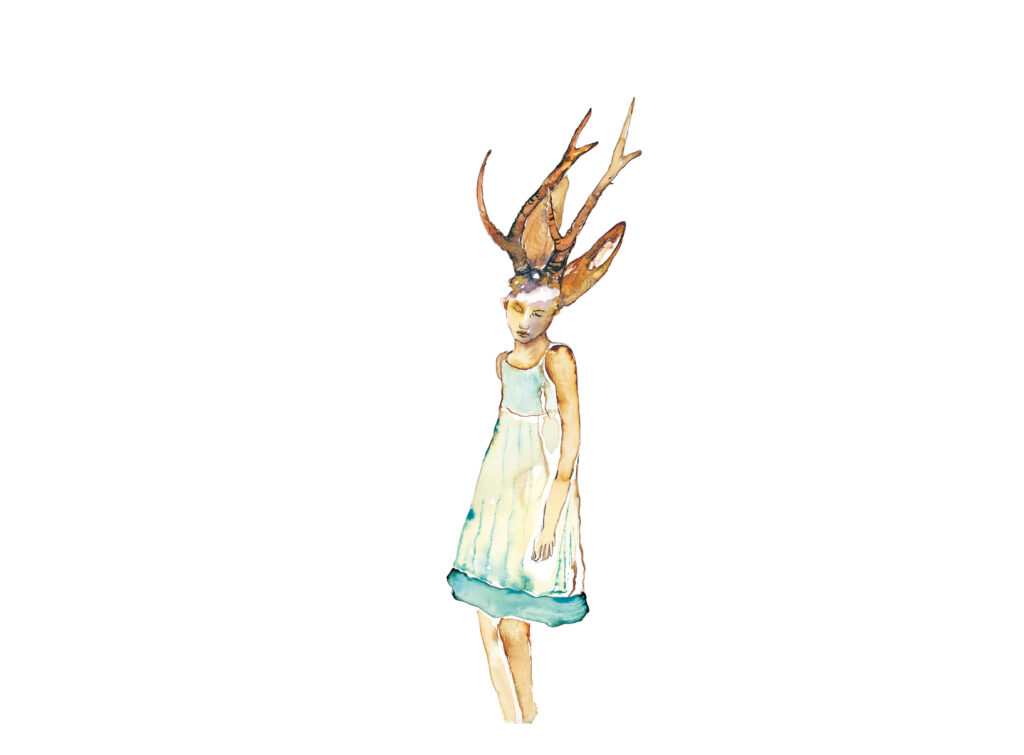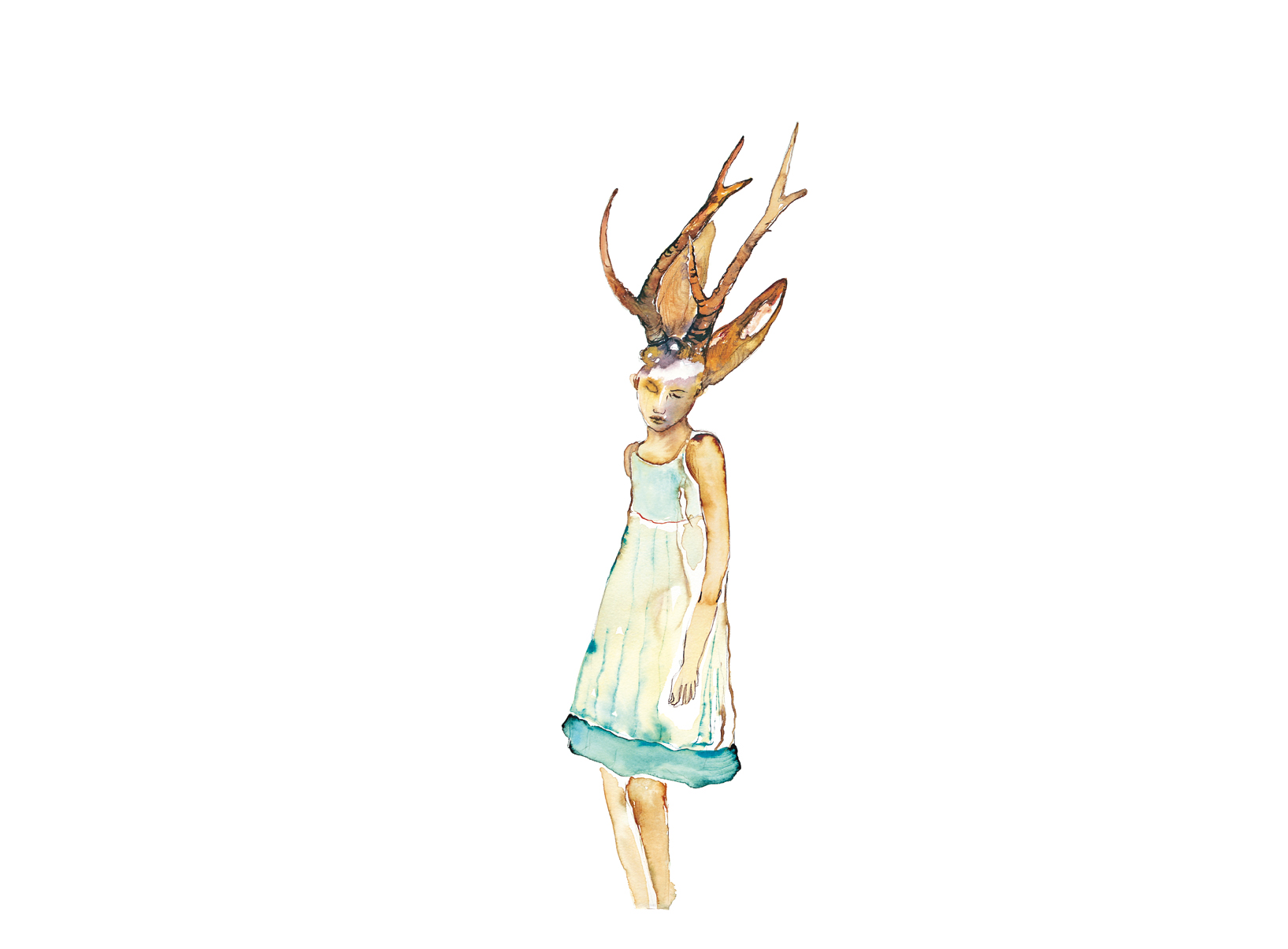 Waldmädchen
From the series Camouflage
2011
Ink and watercolor on handmade paper
56 × 76 cm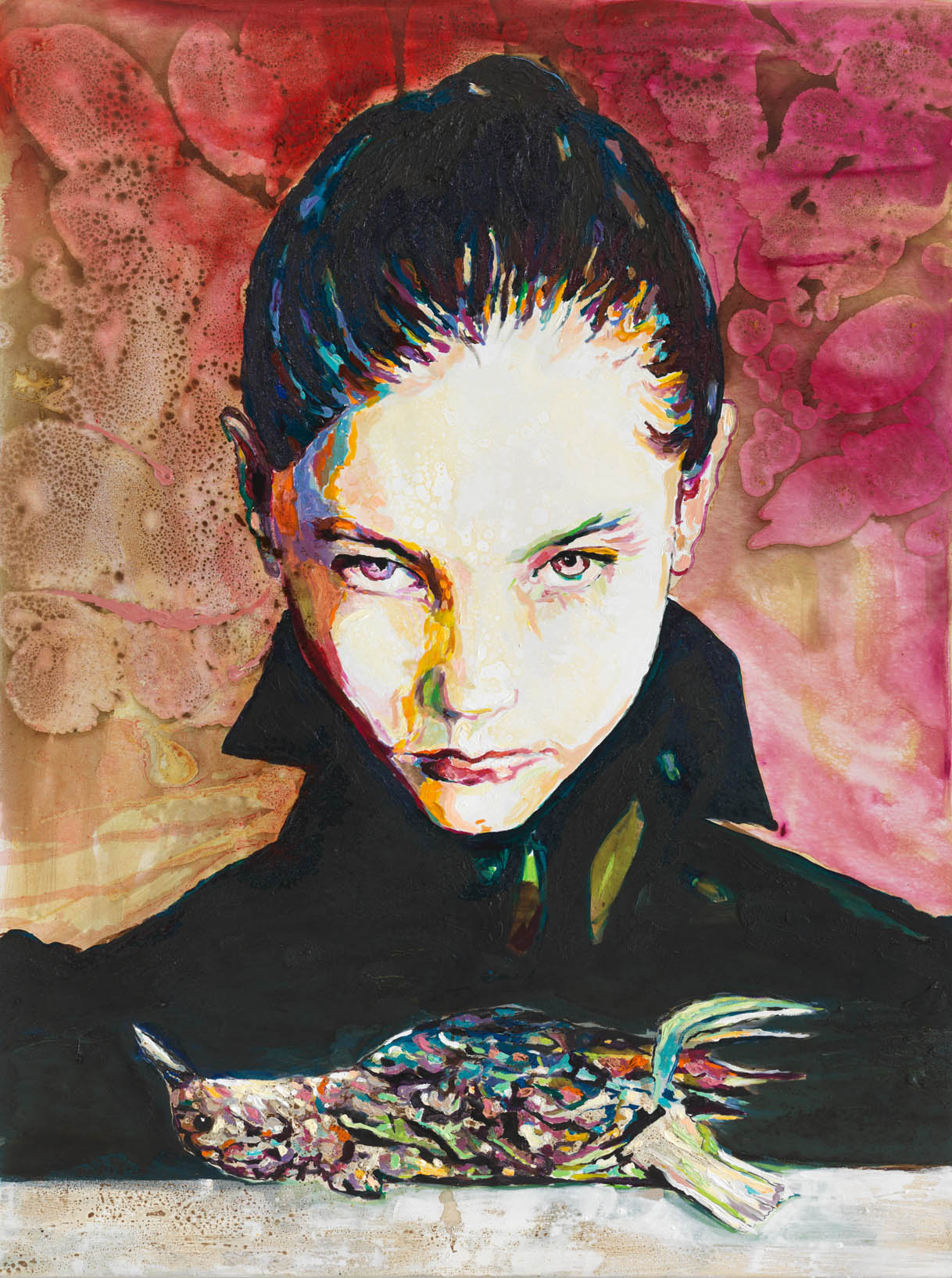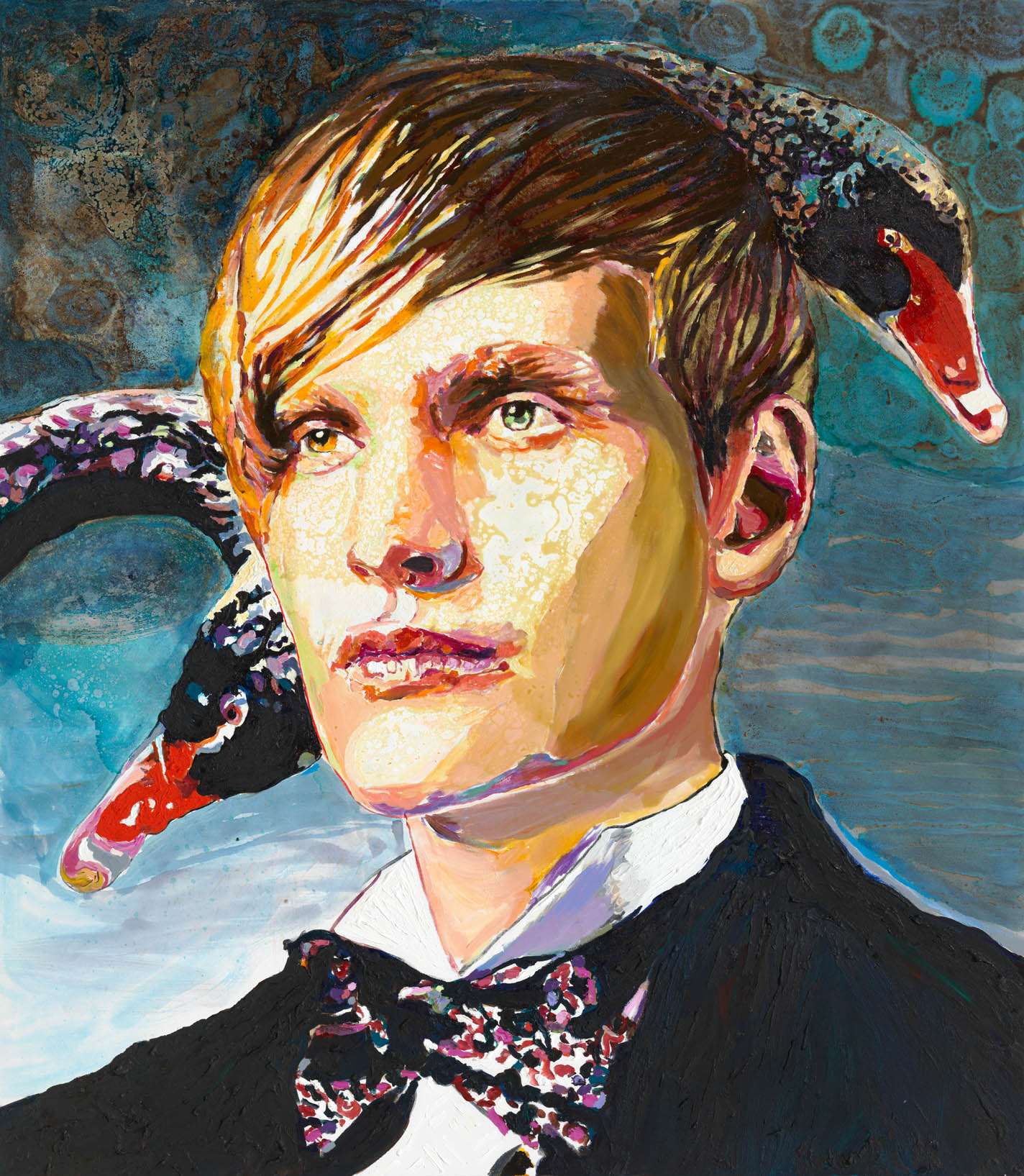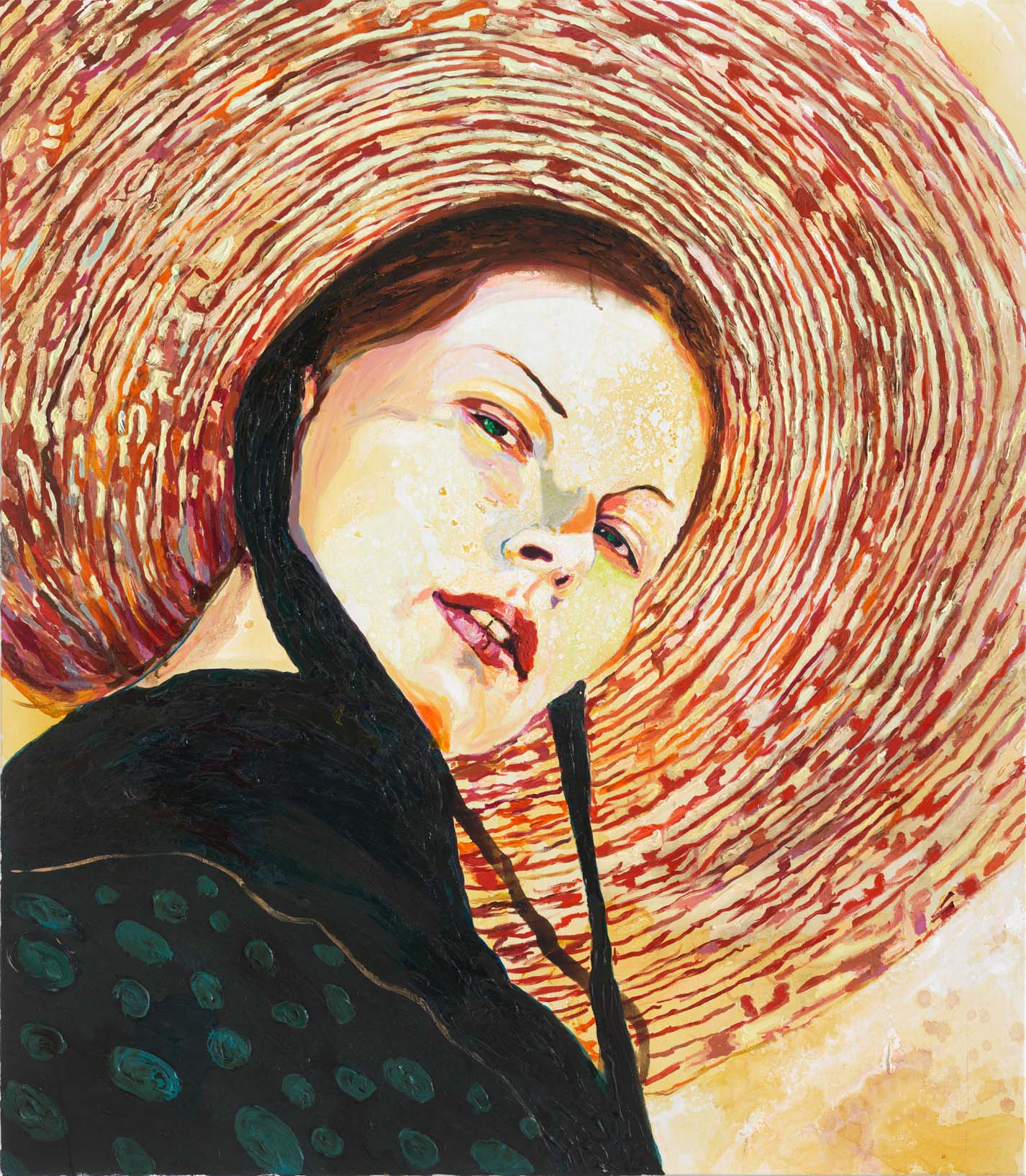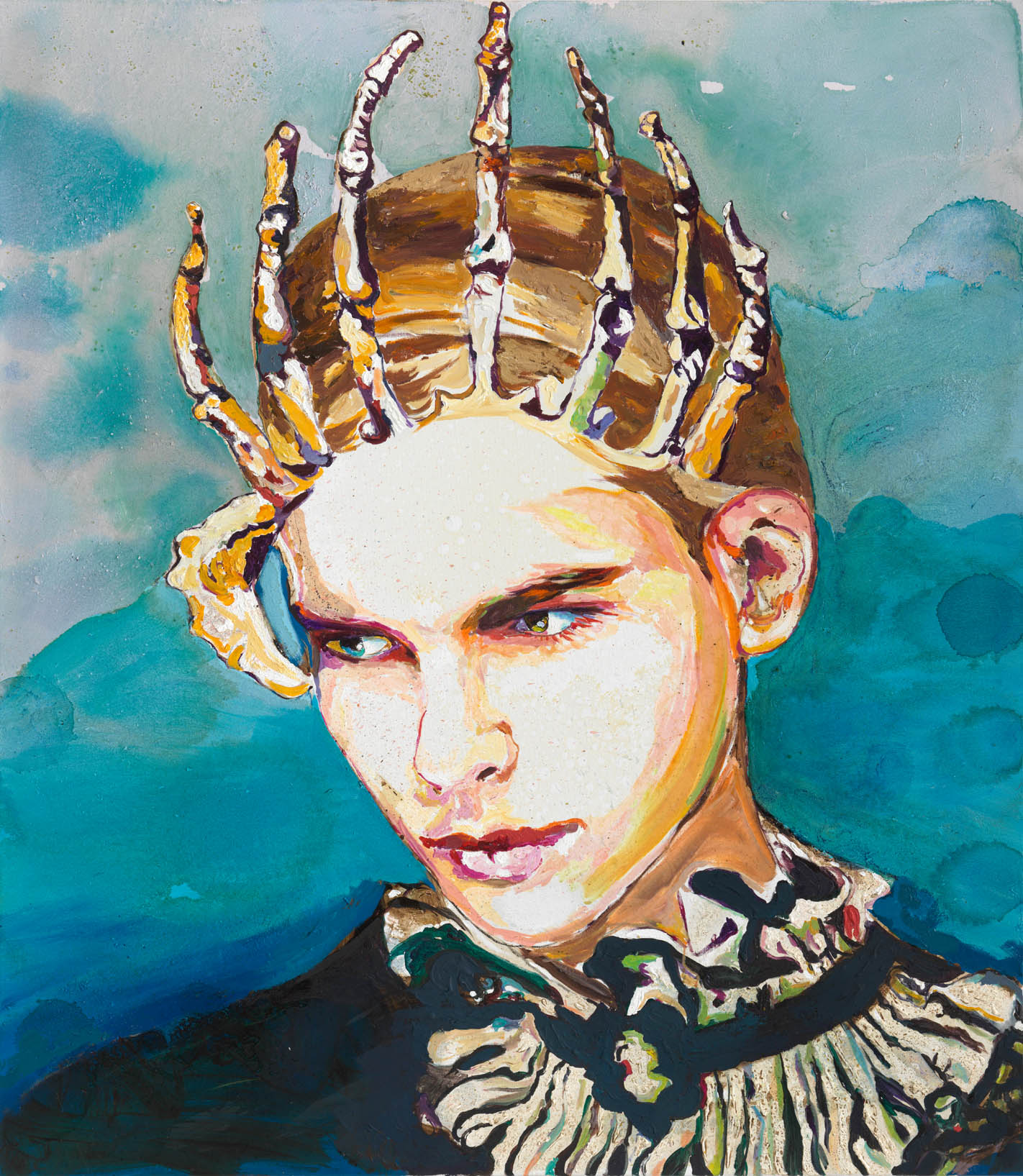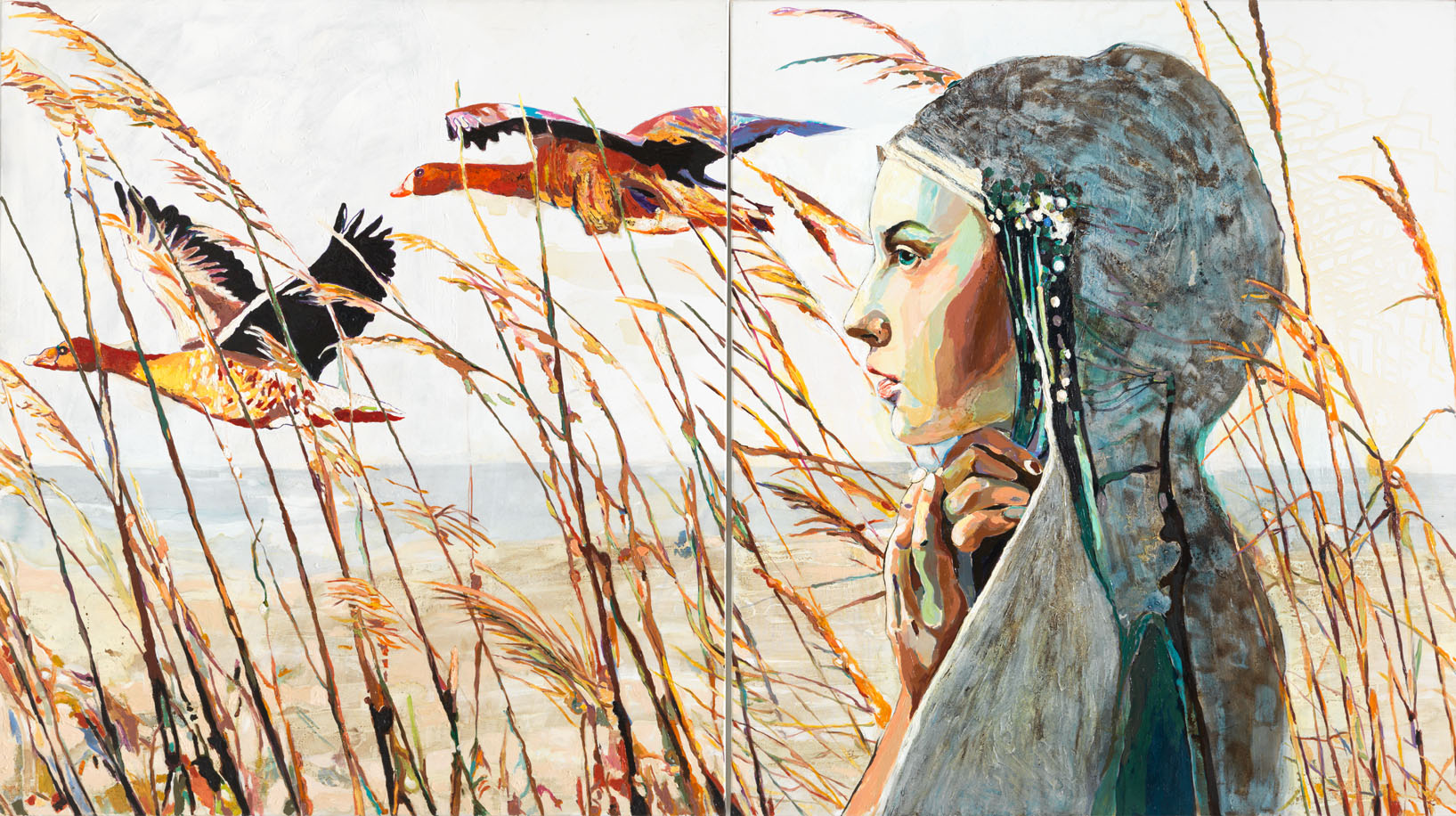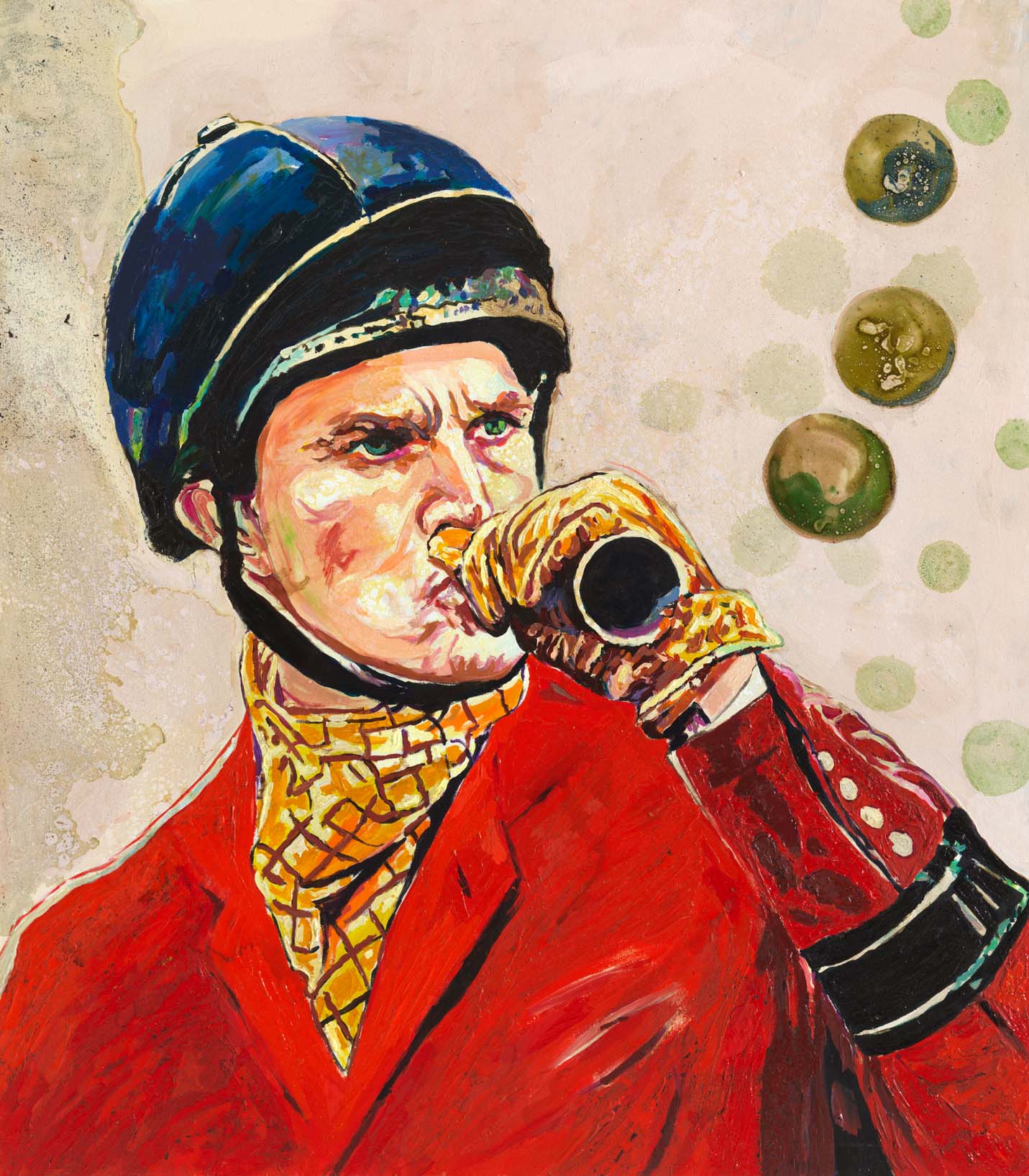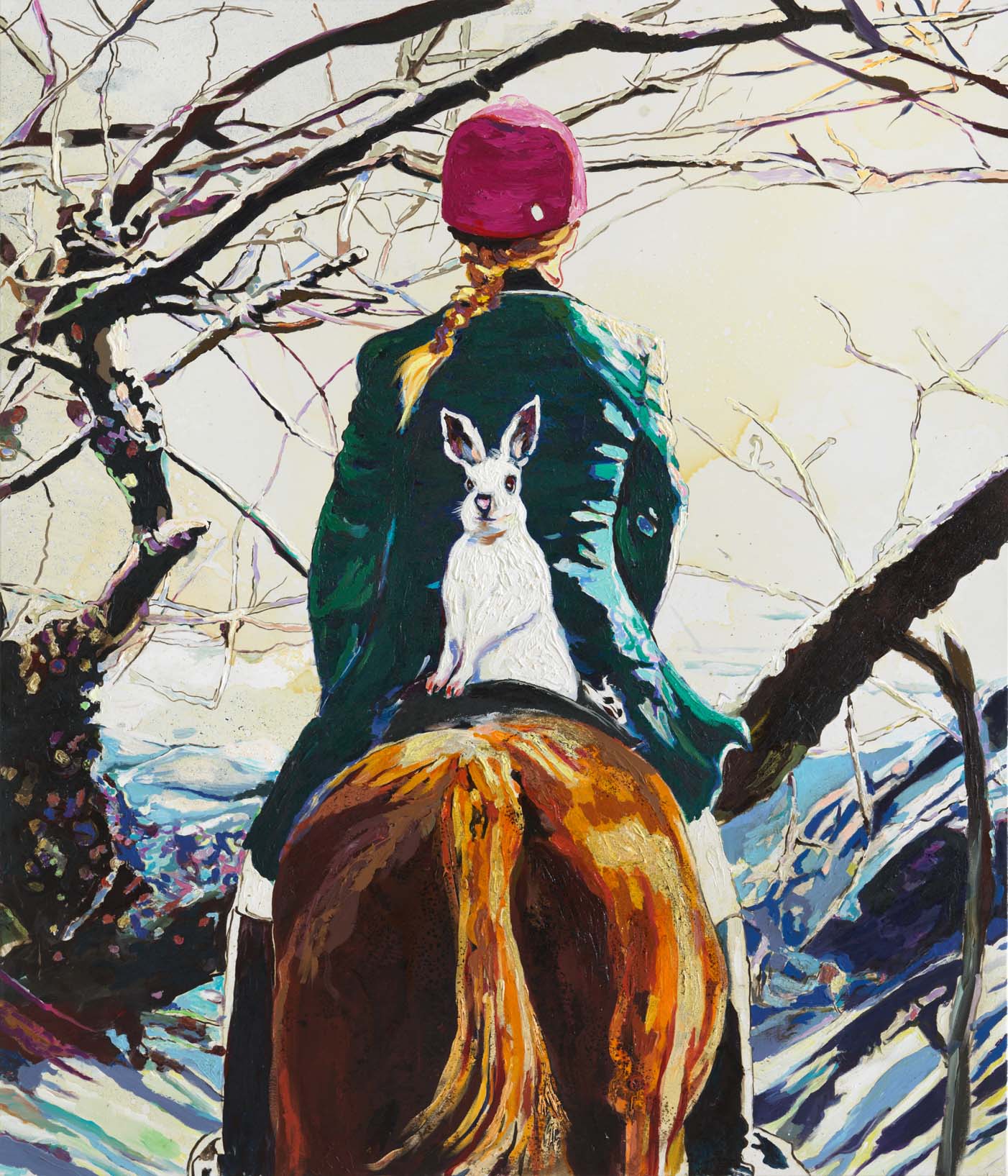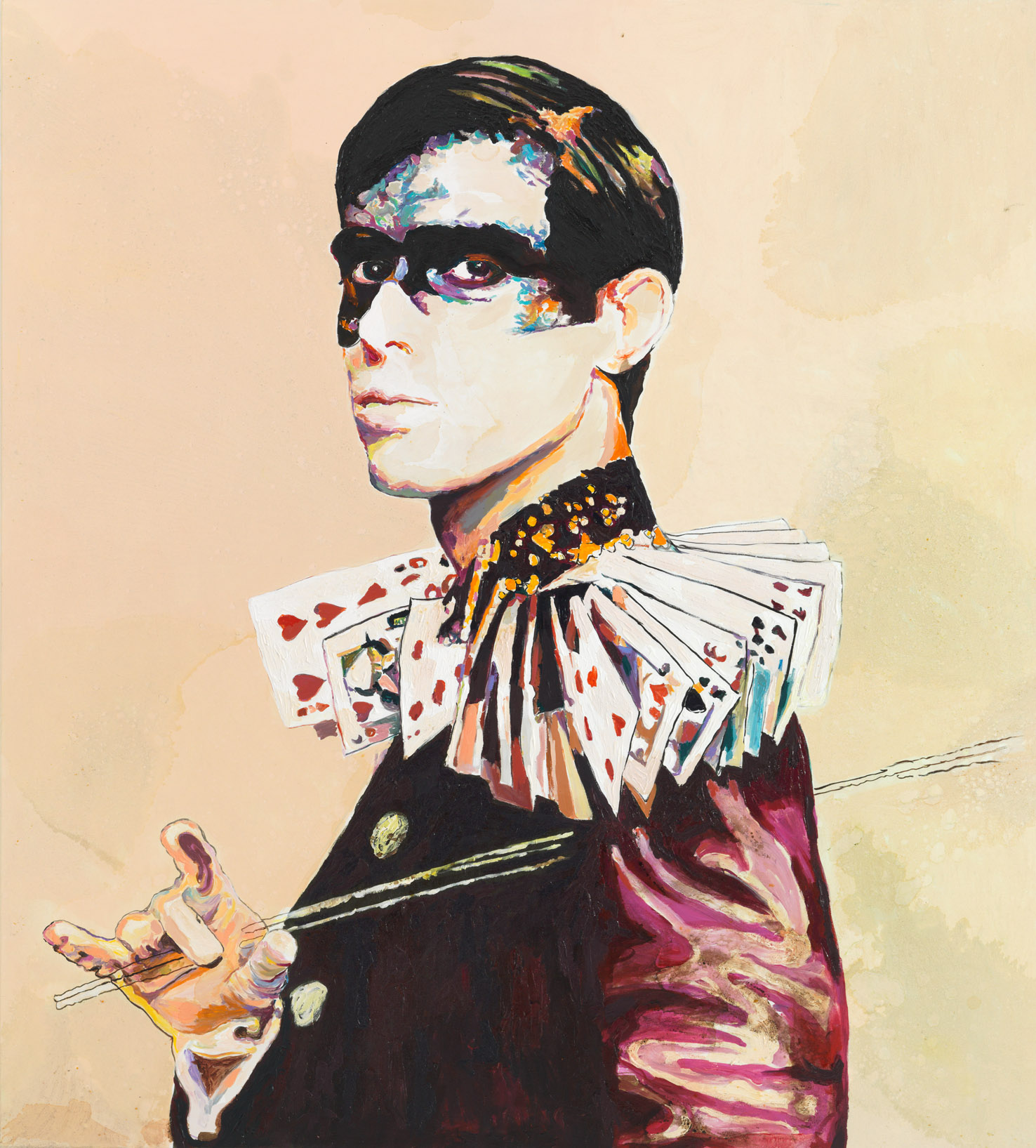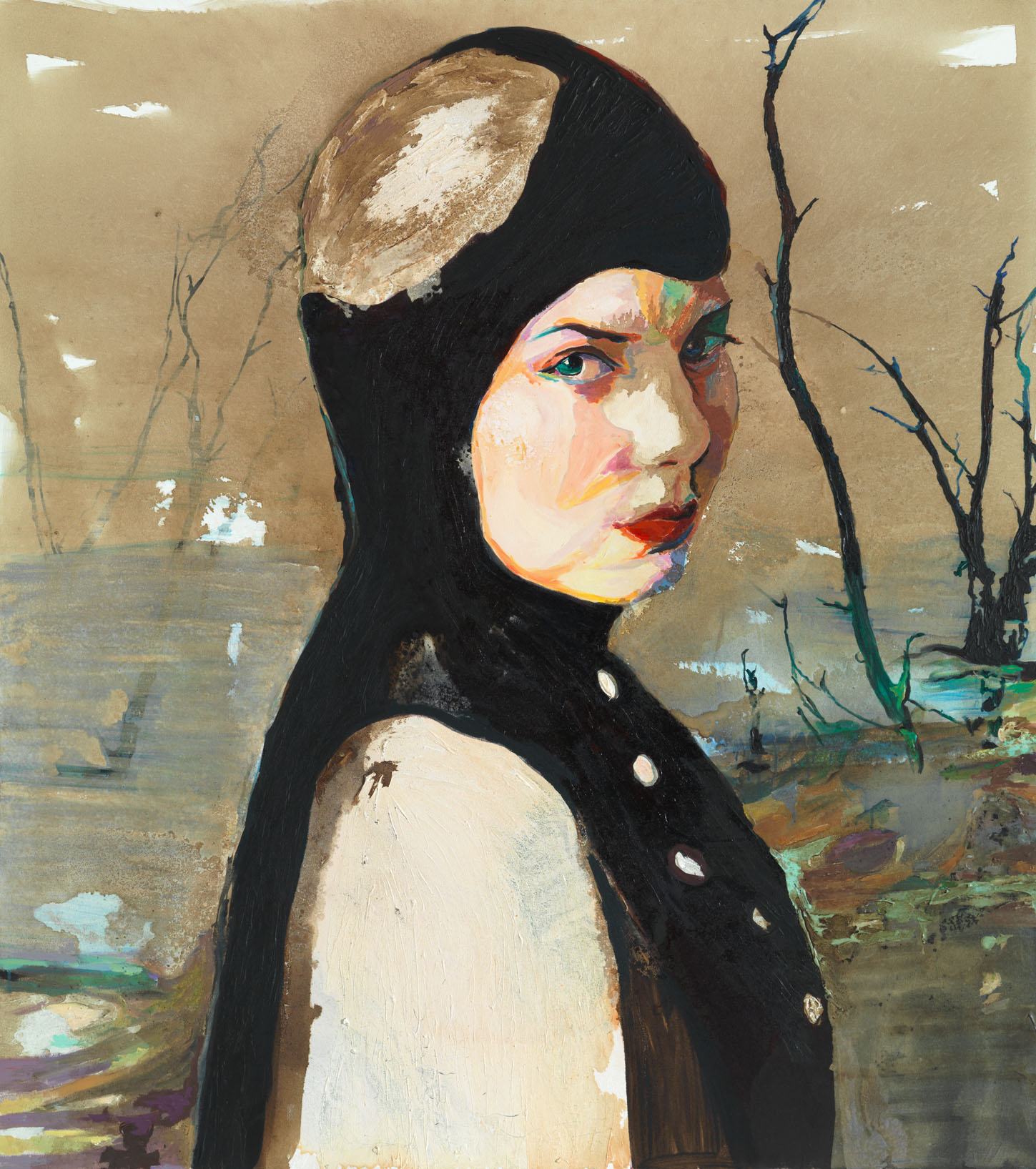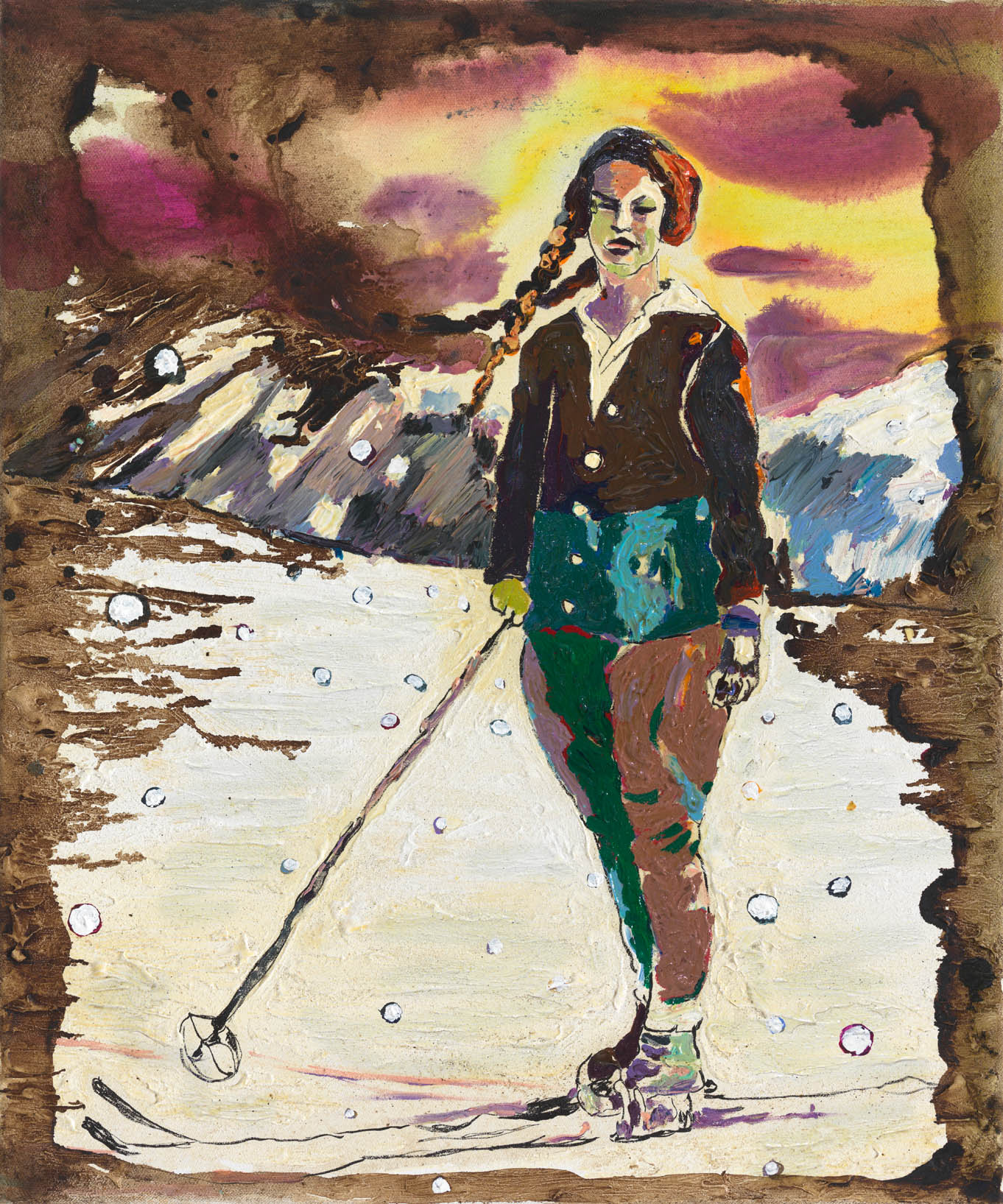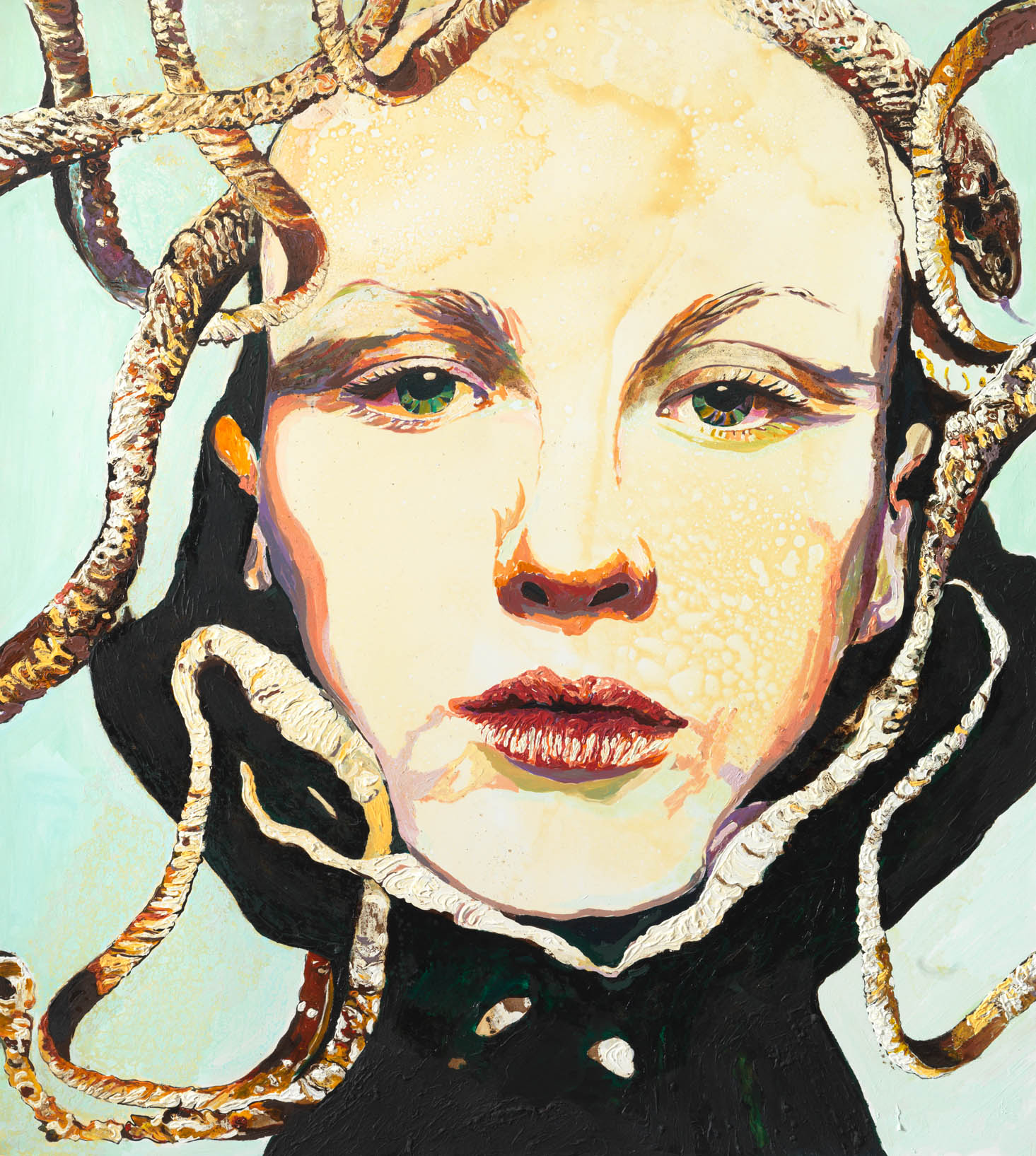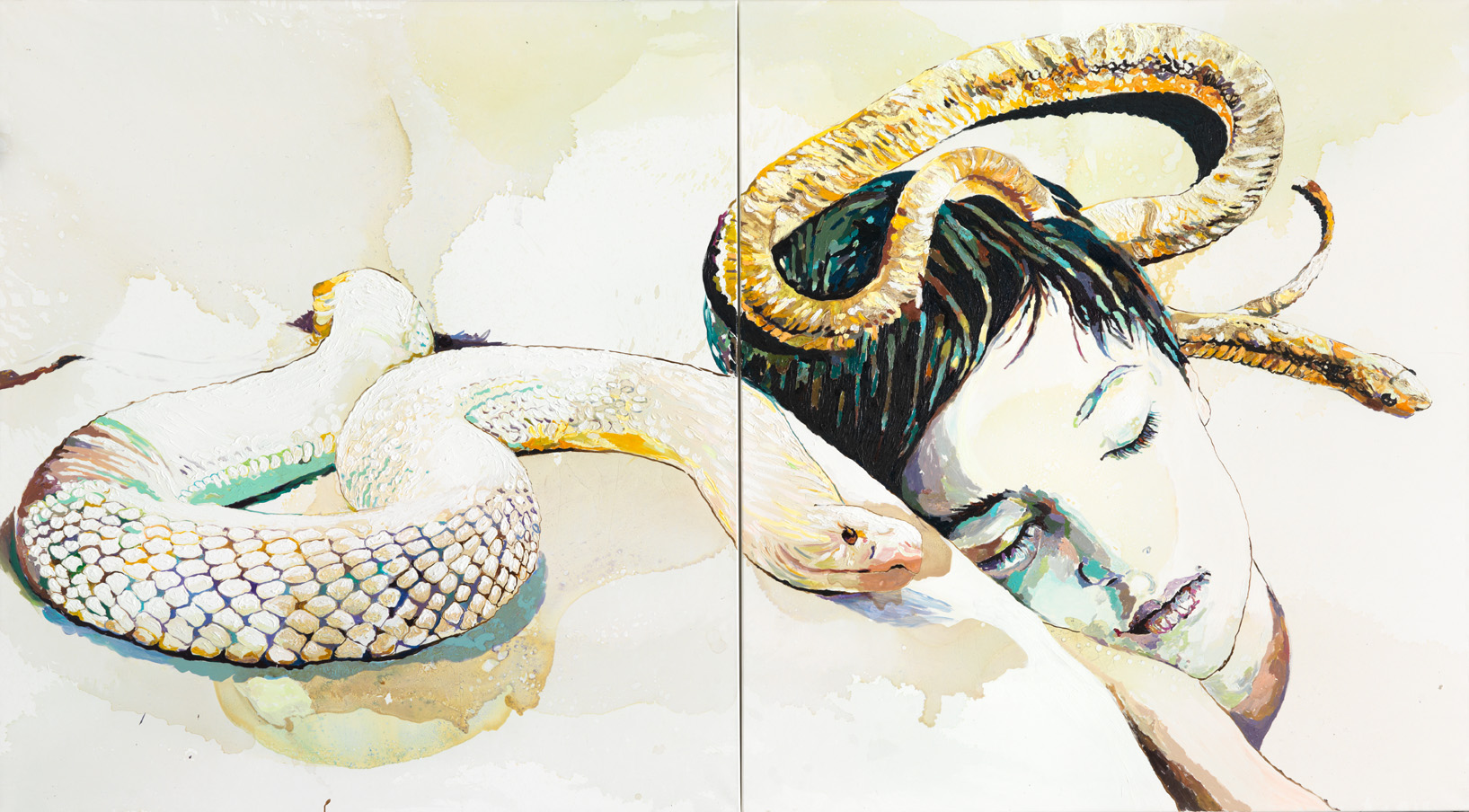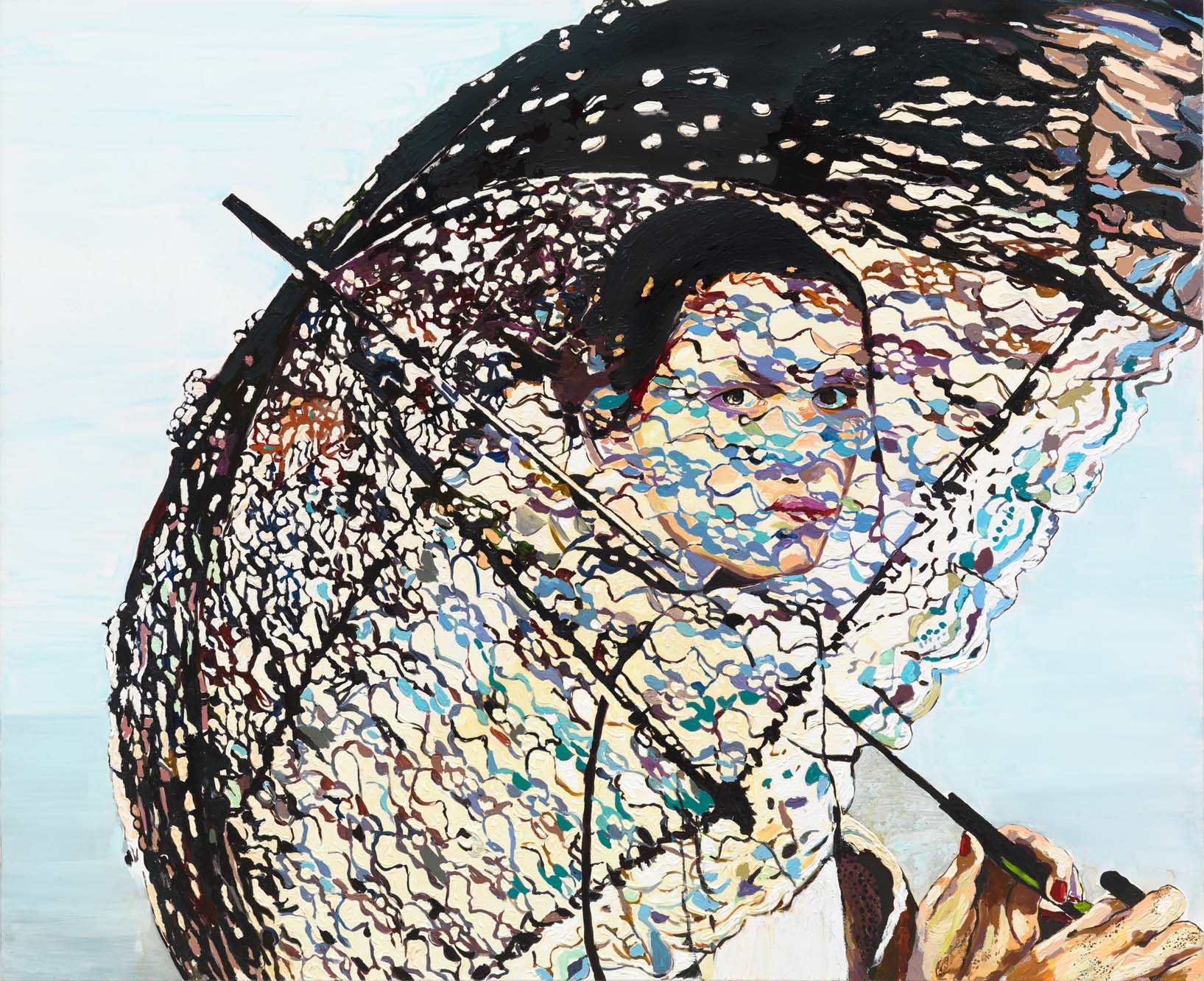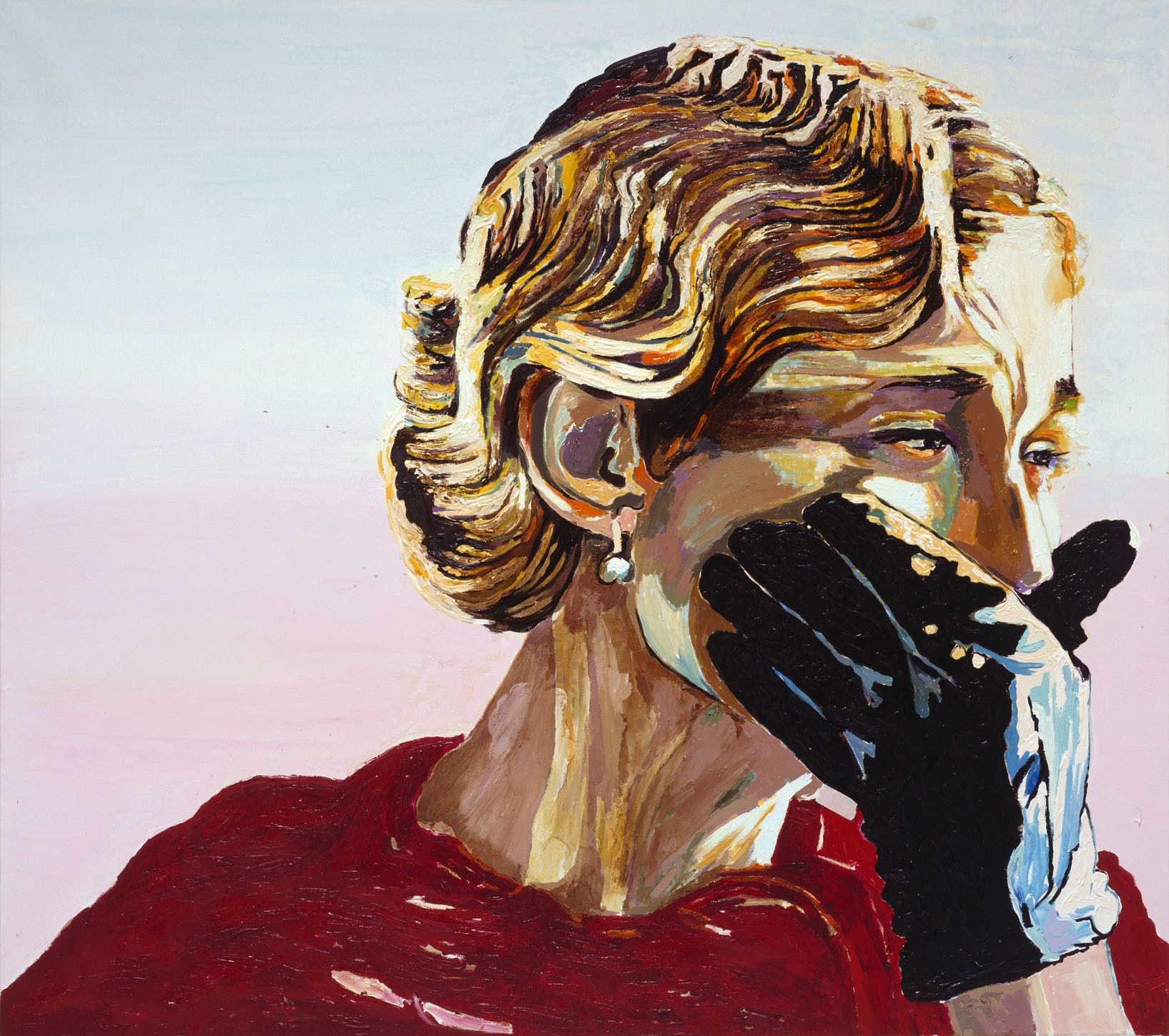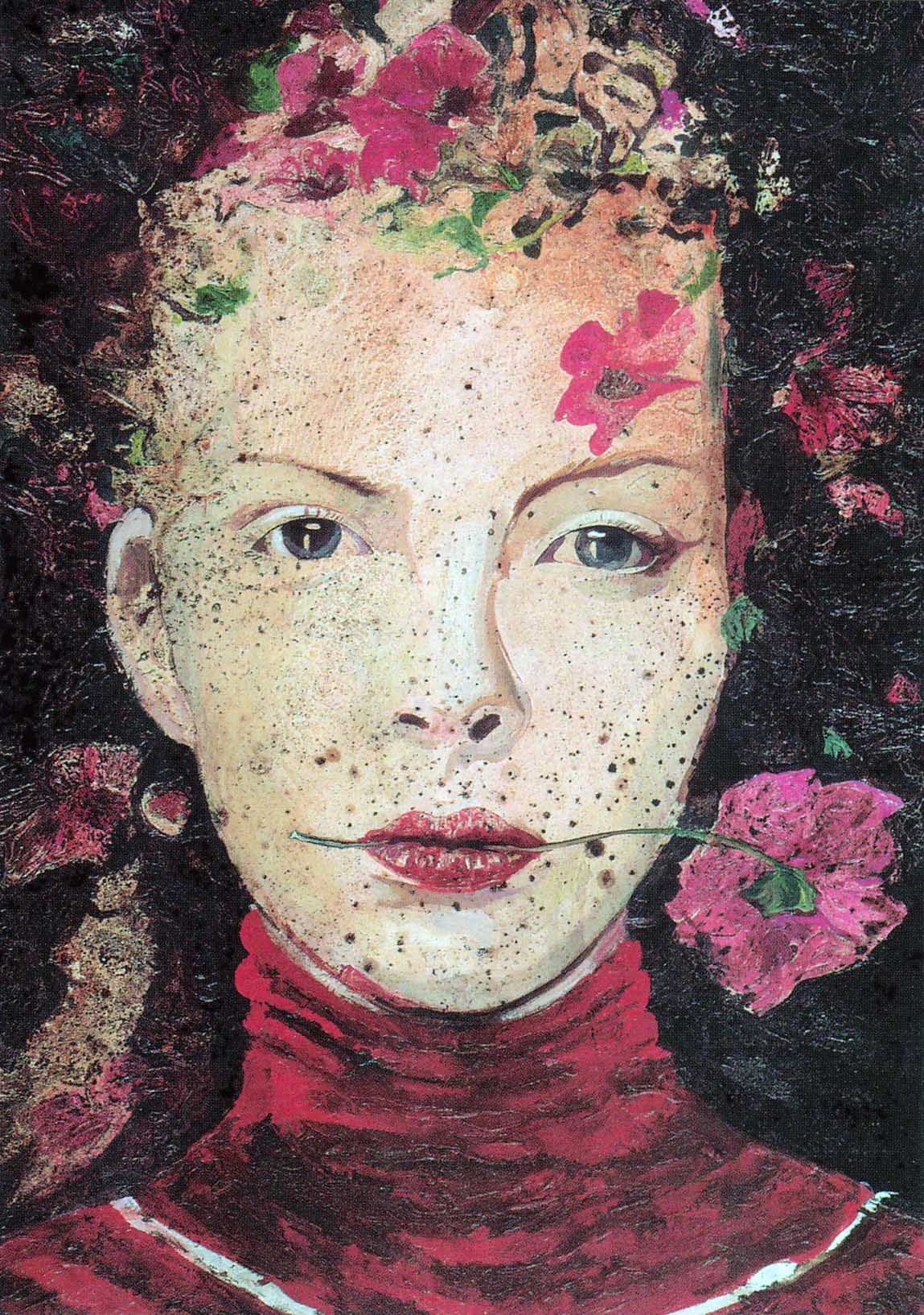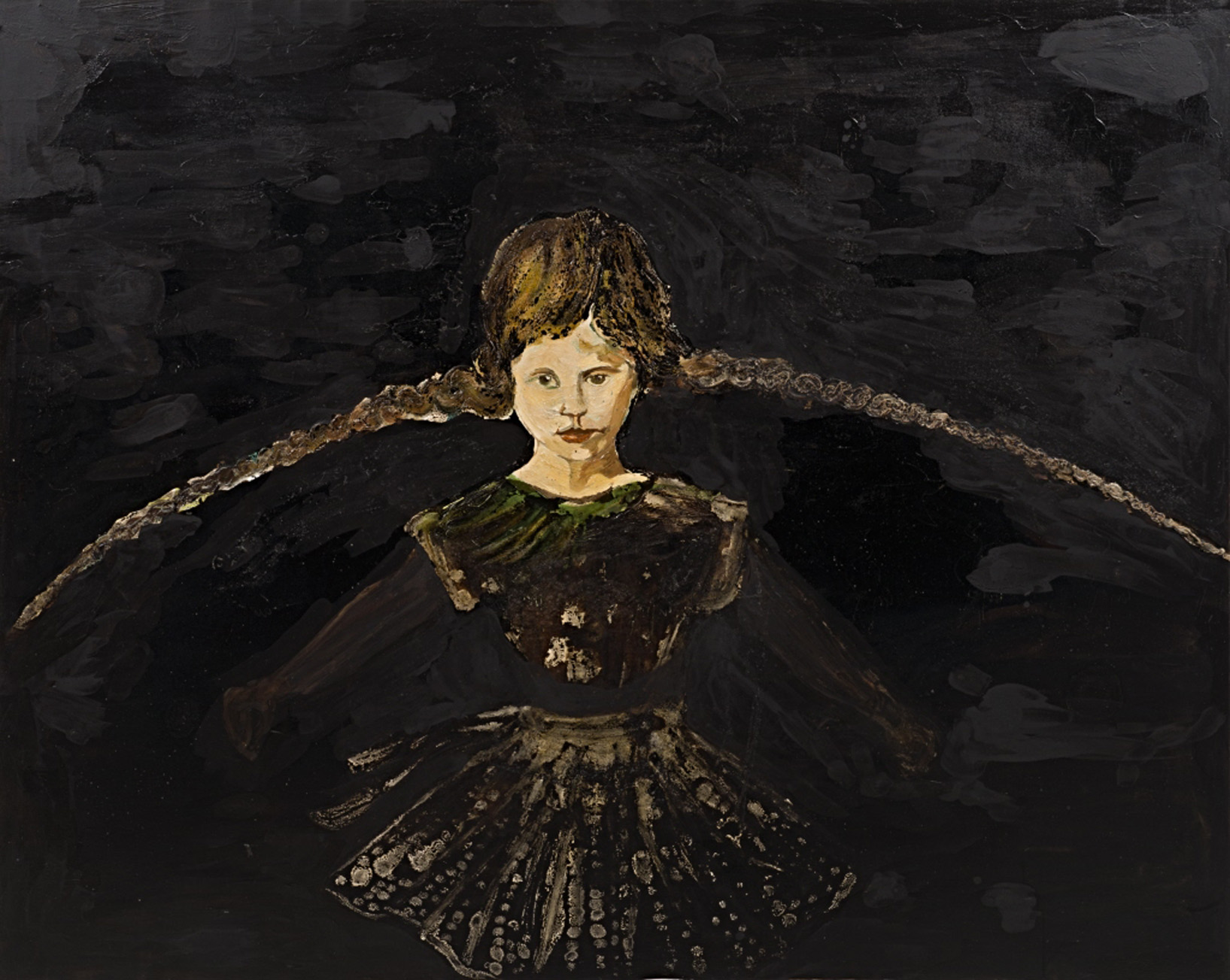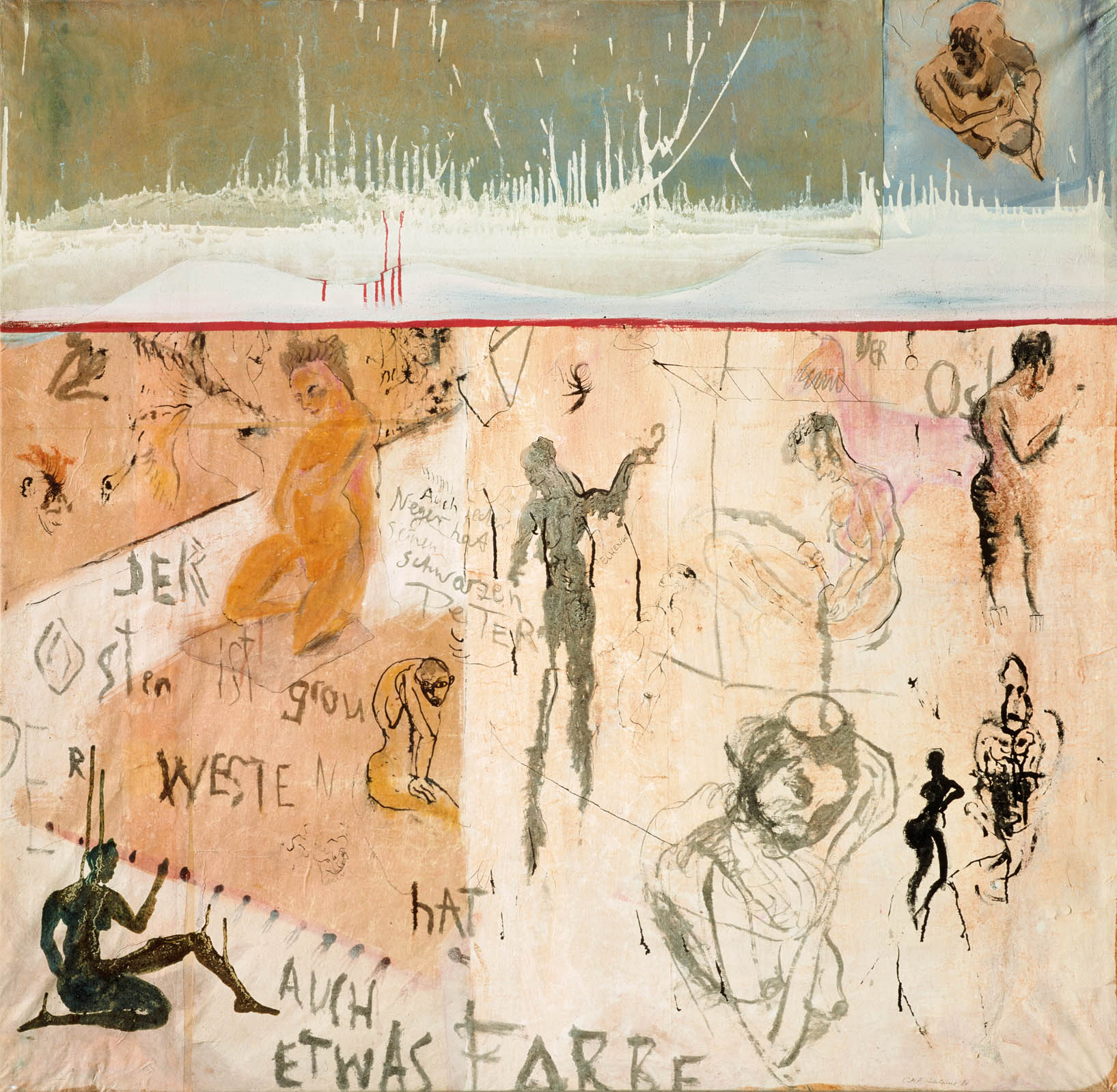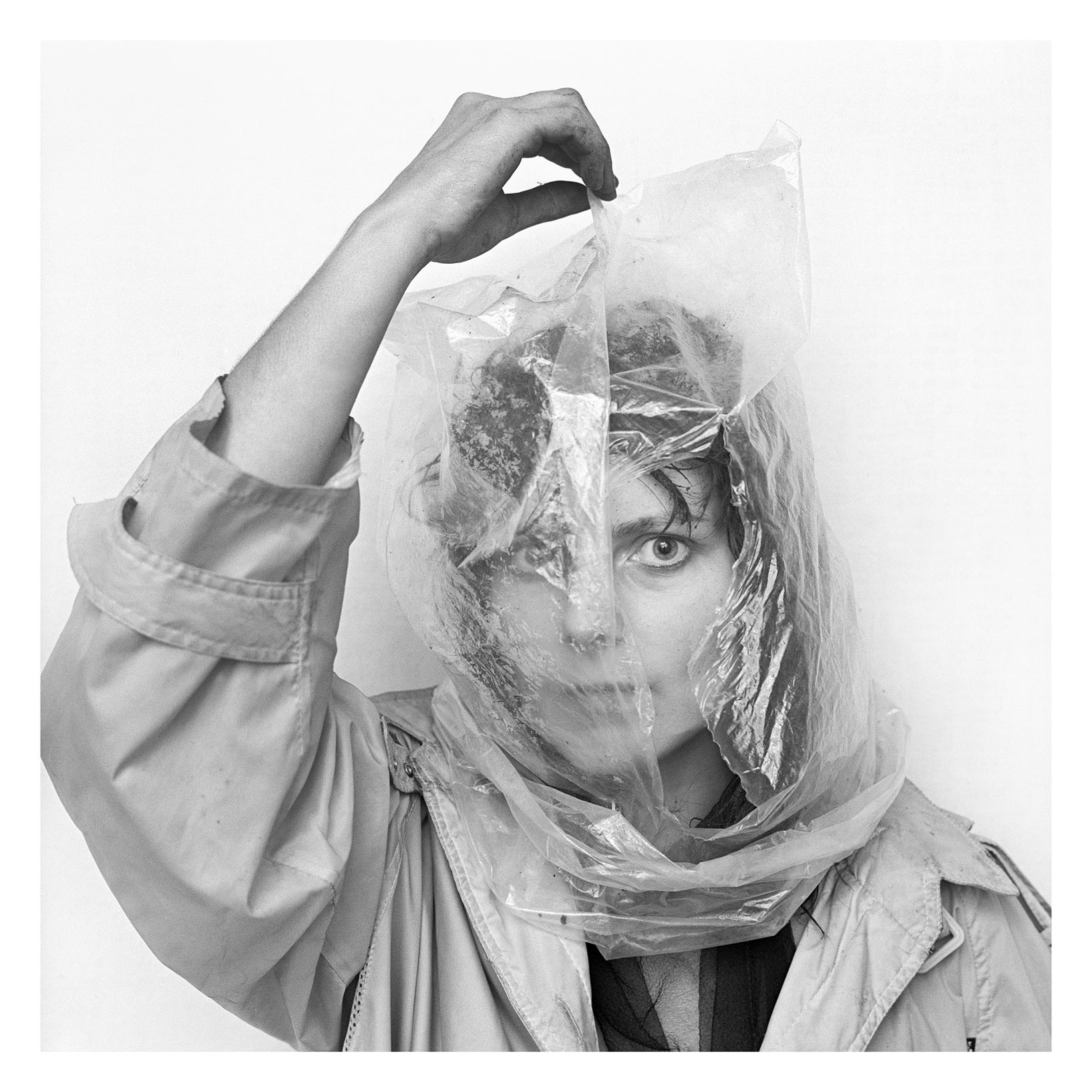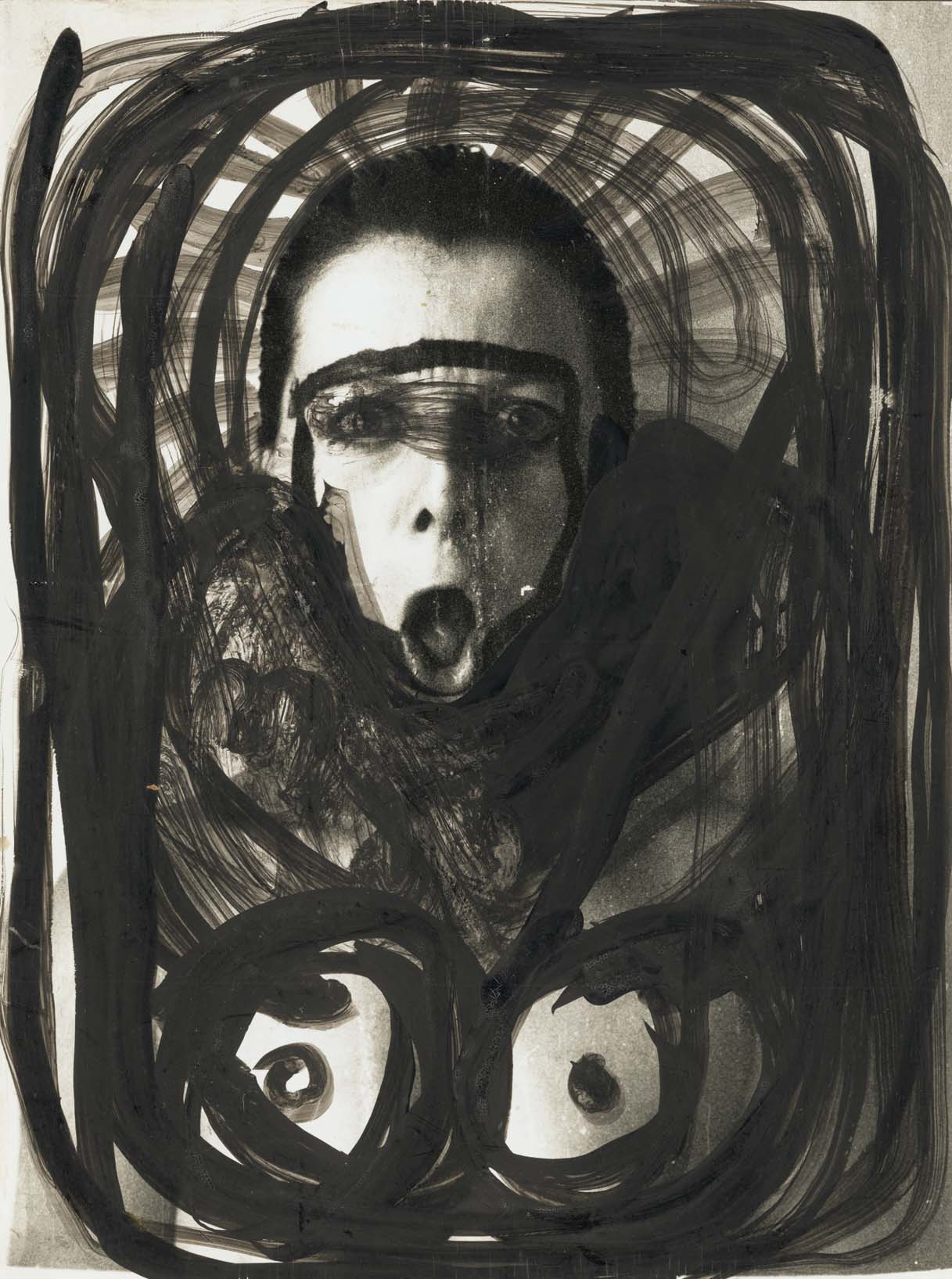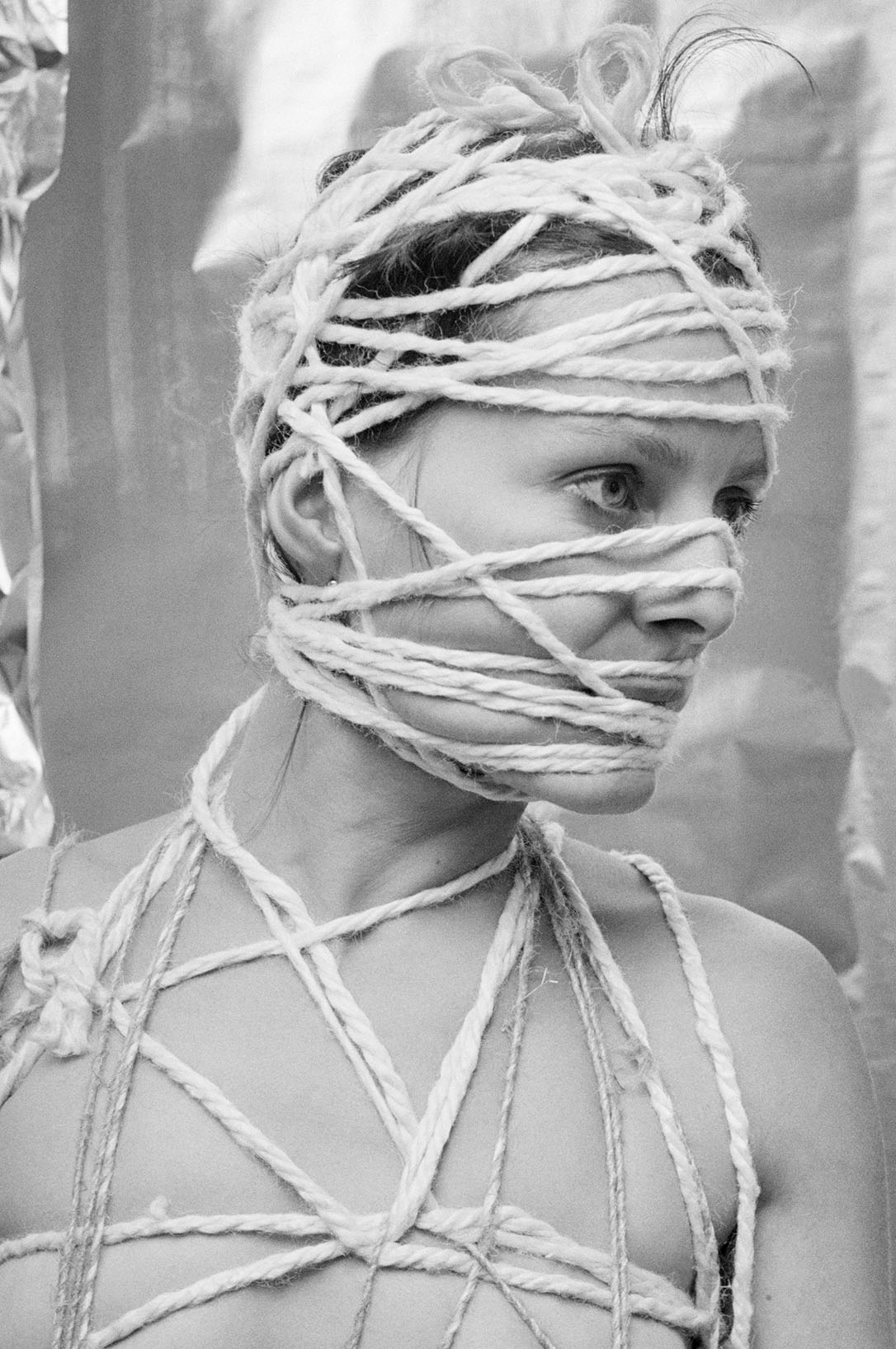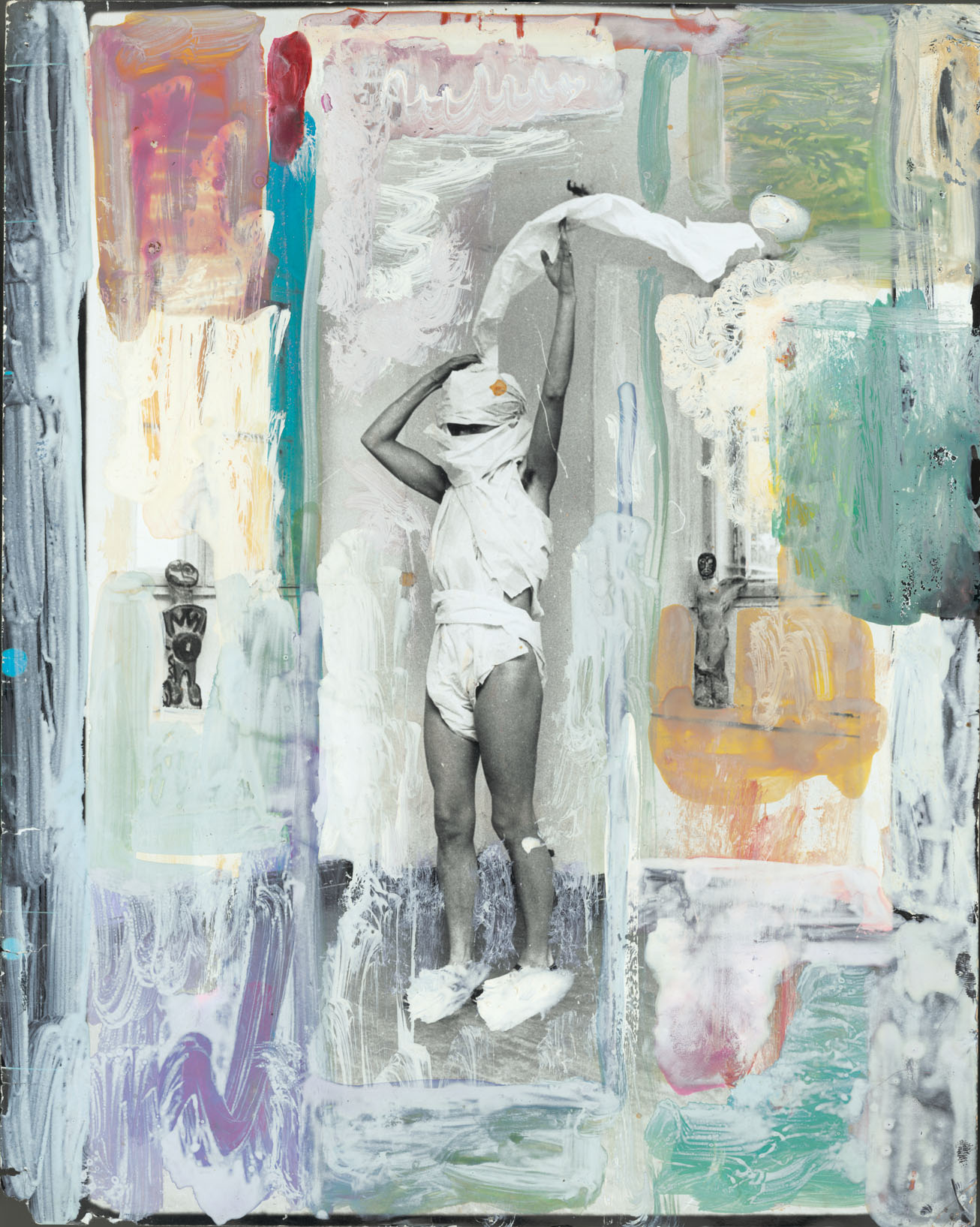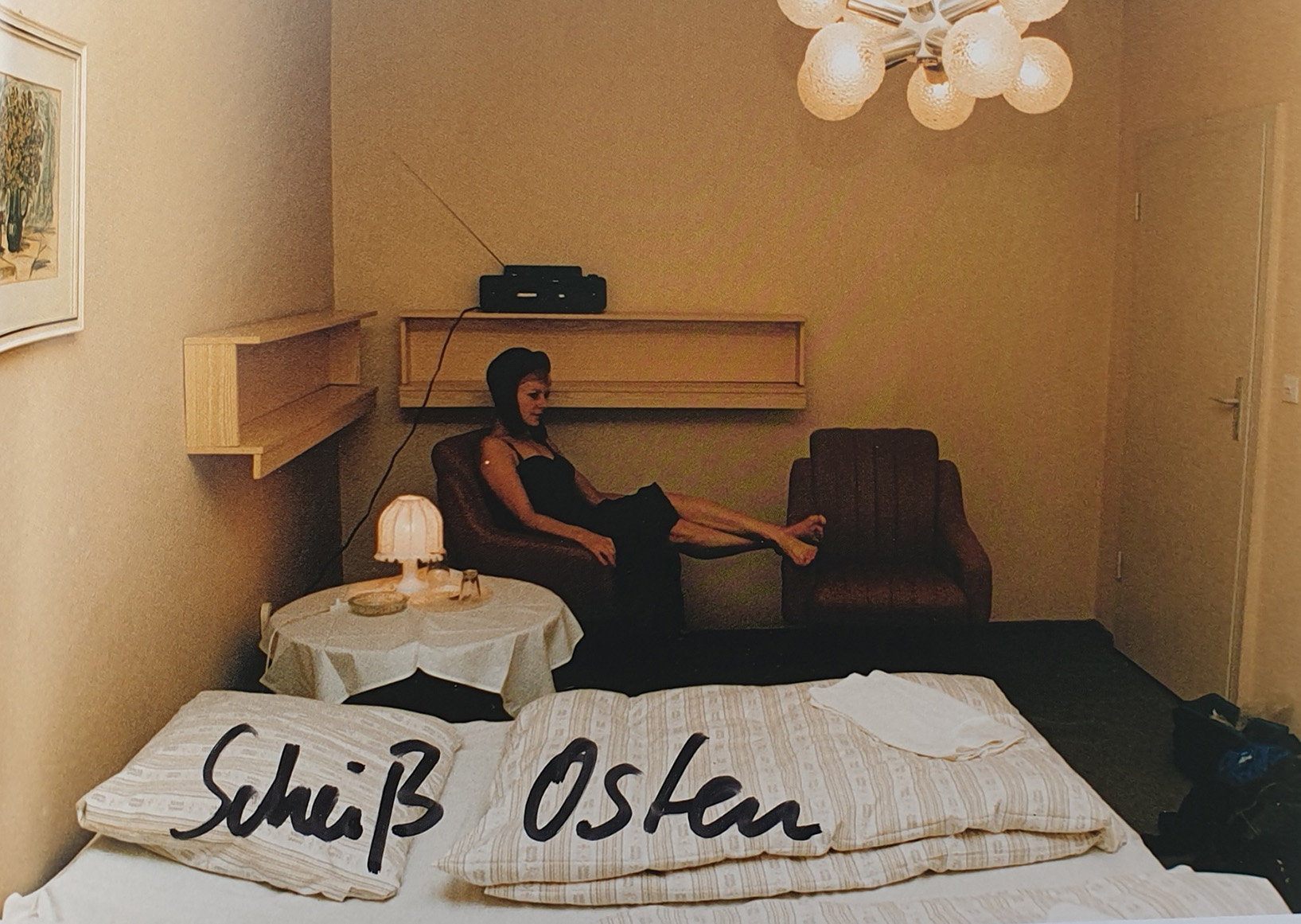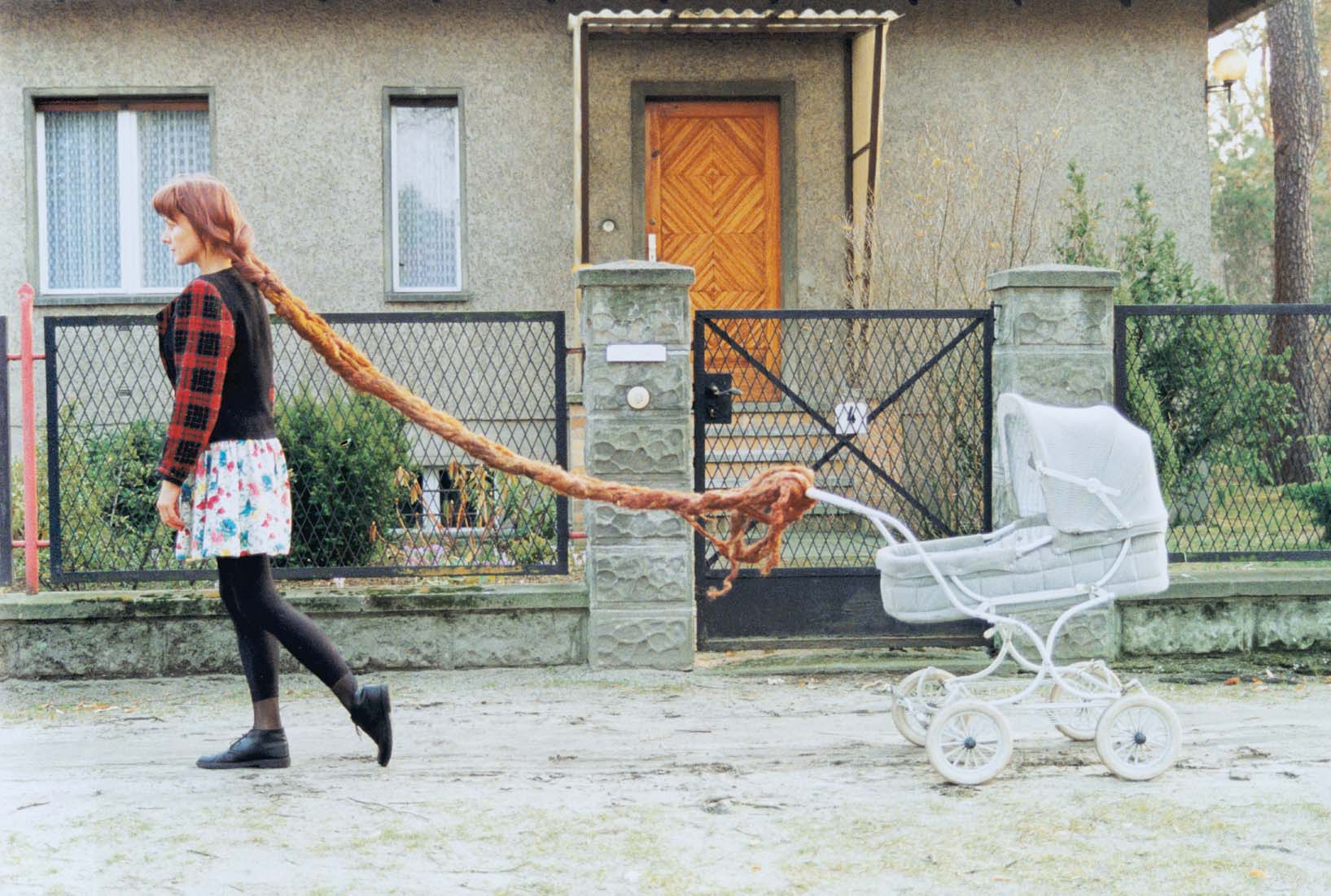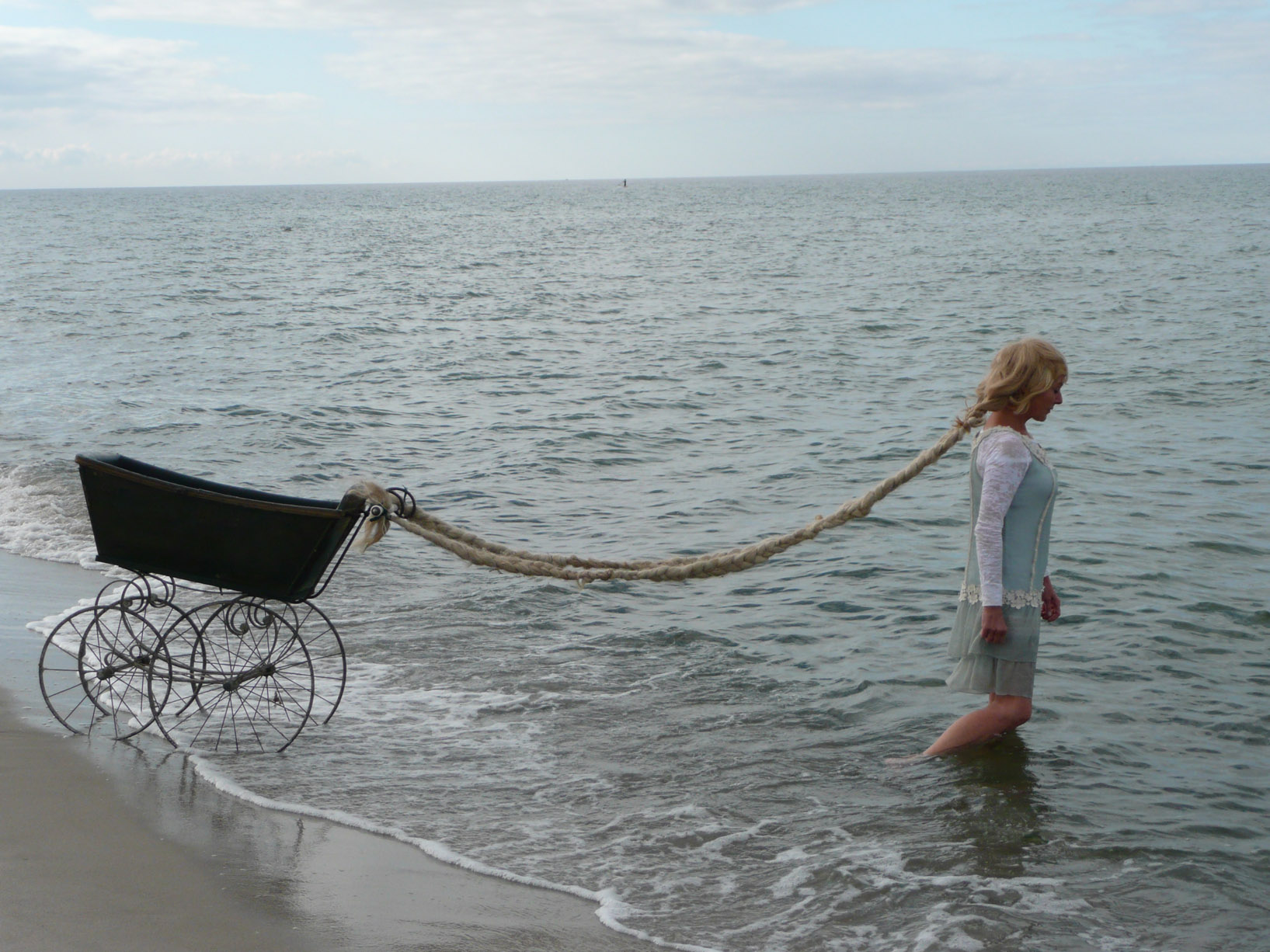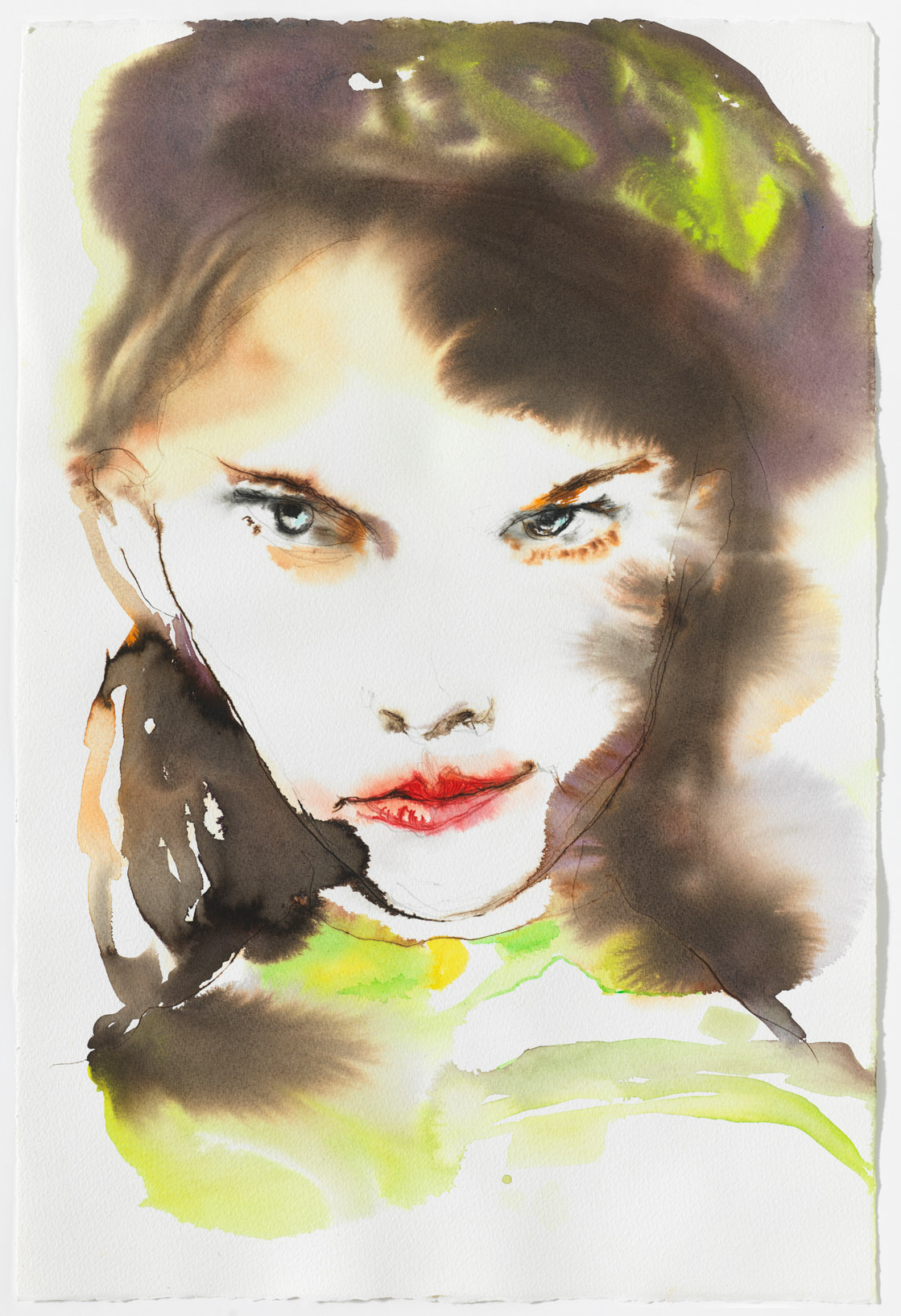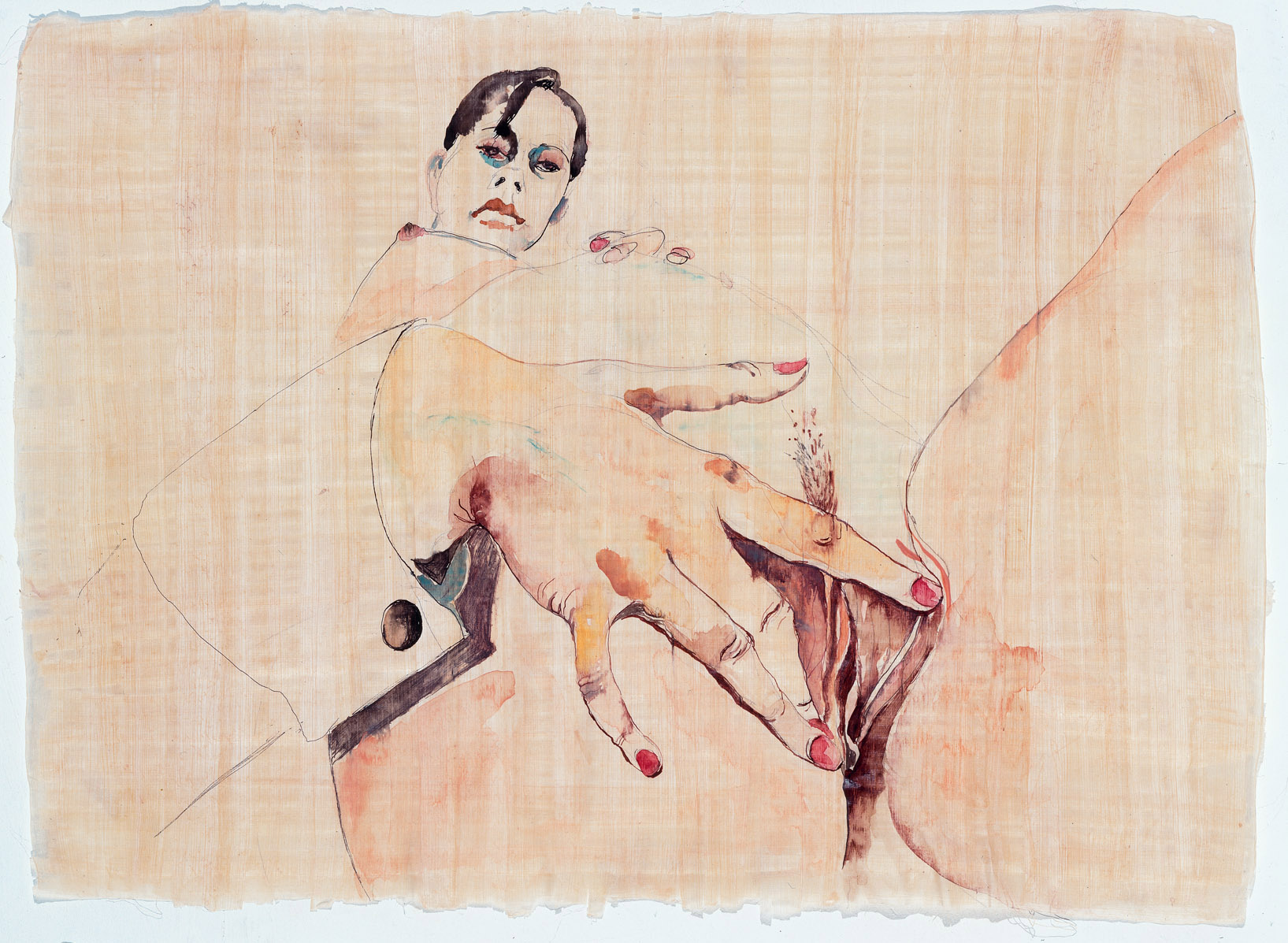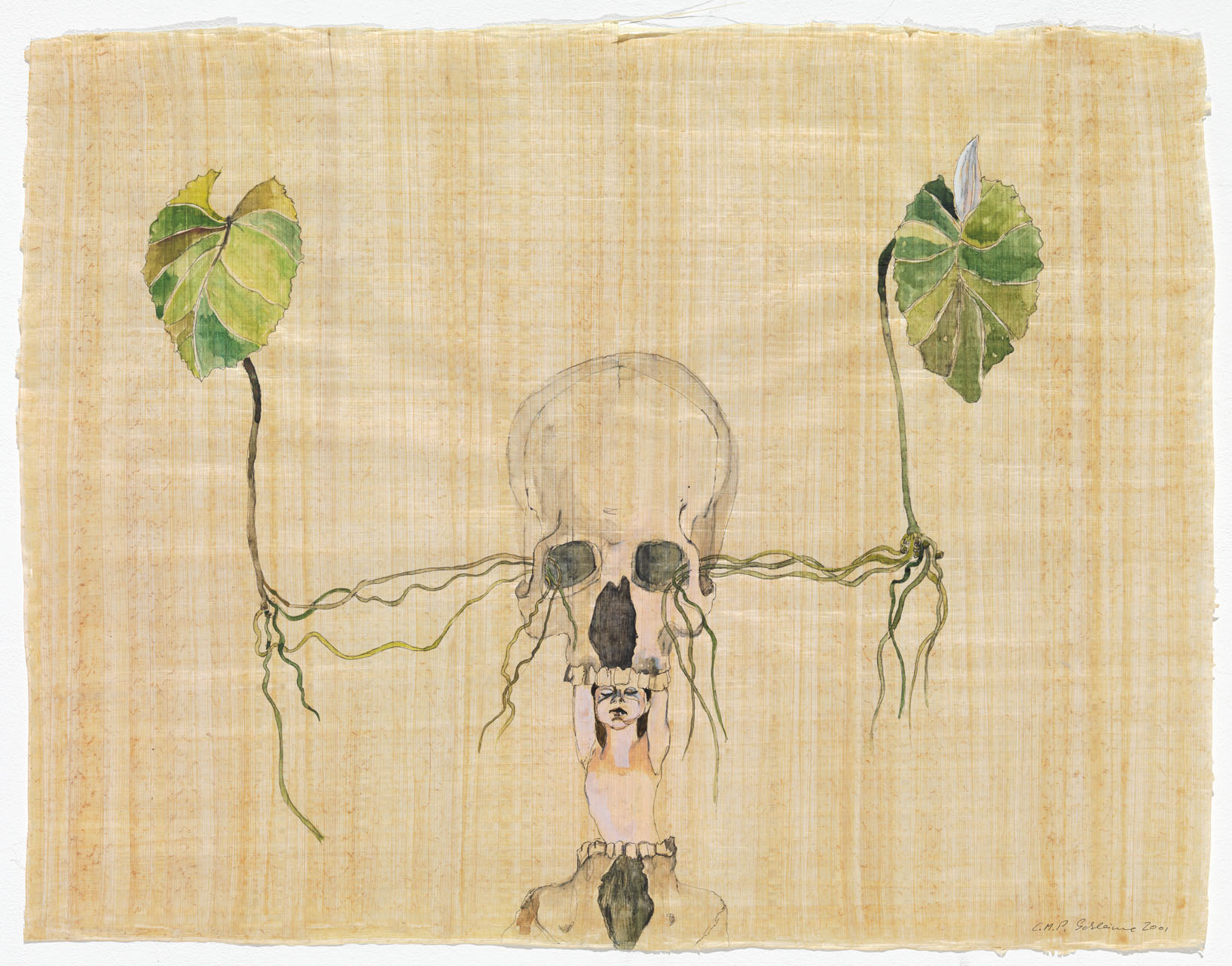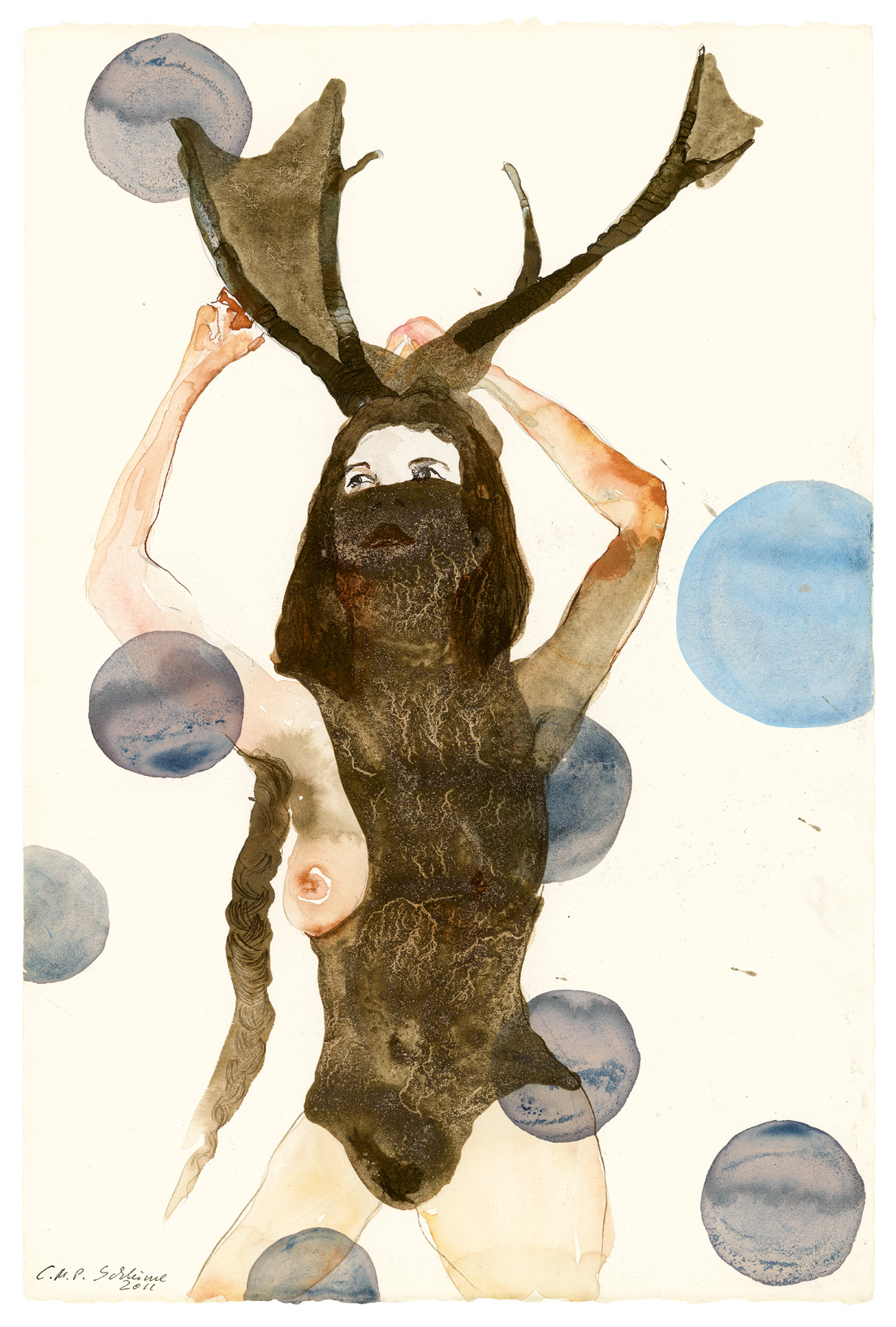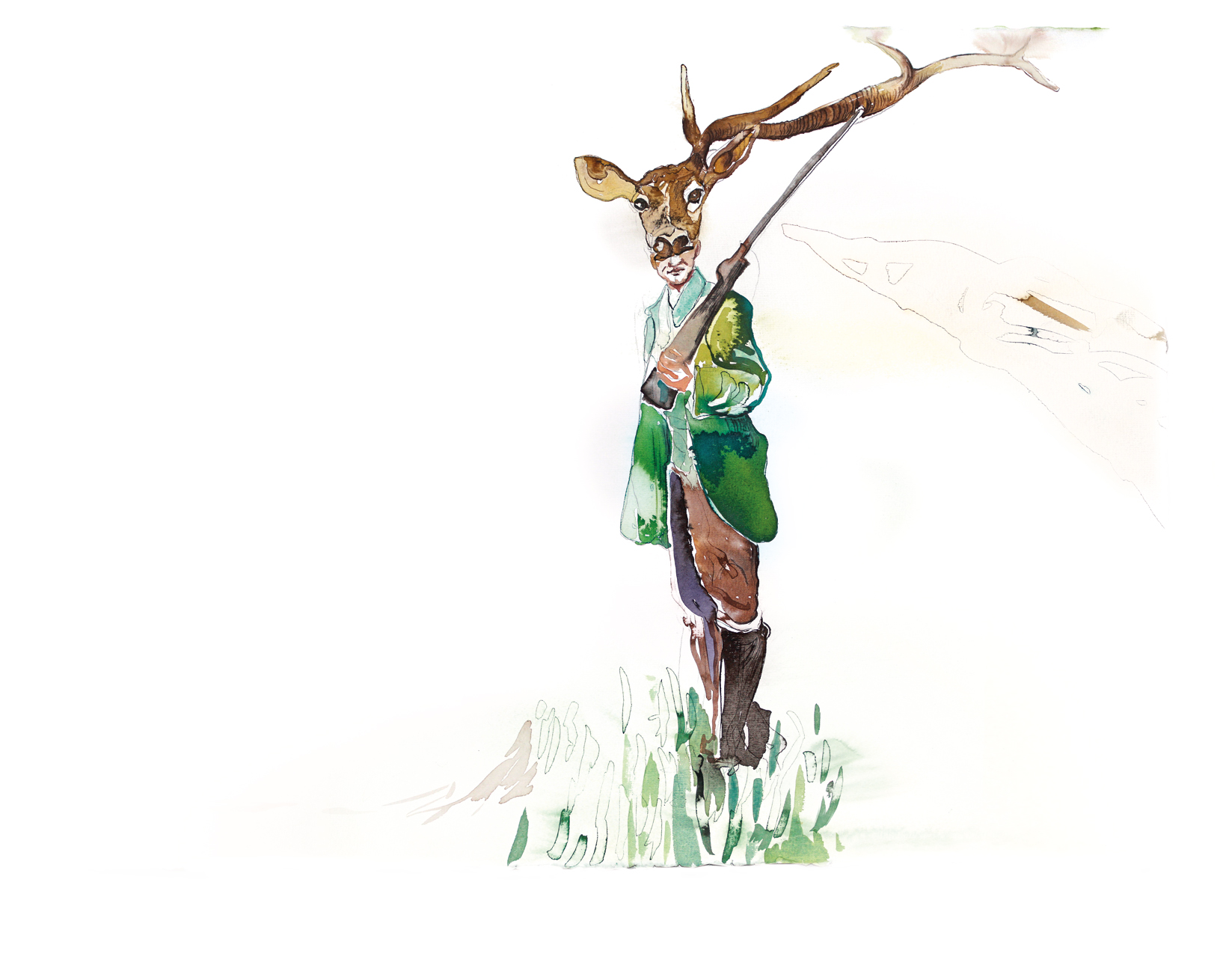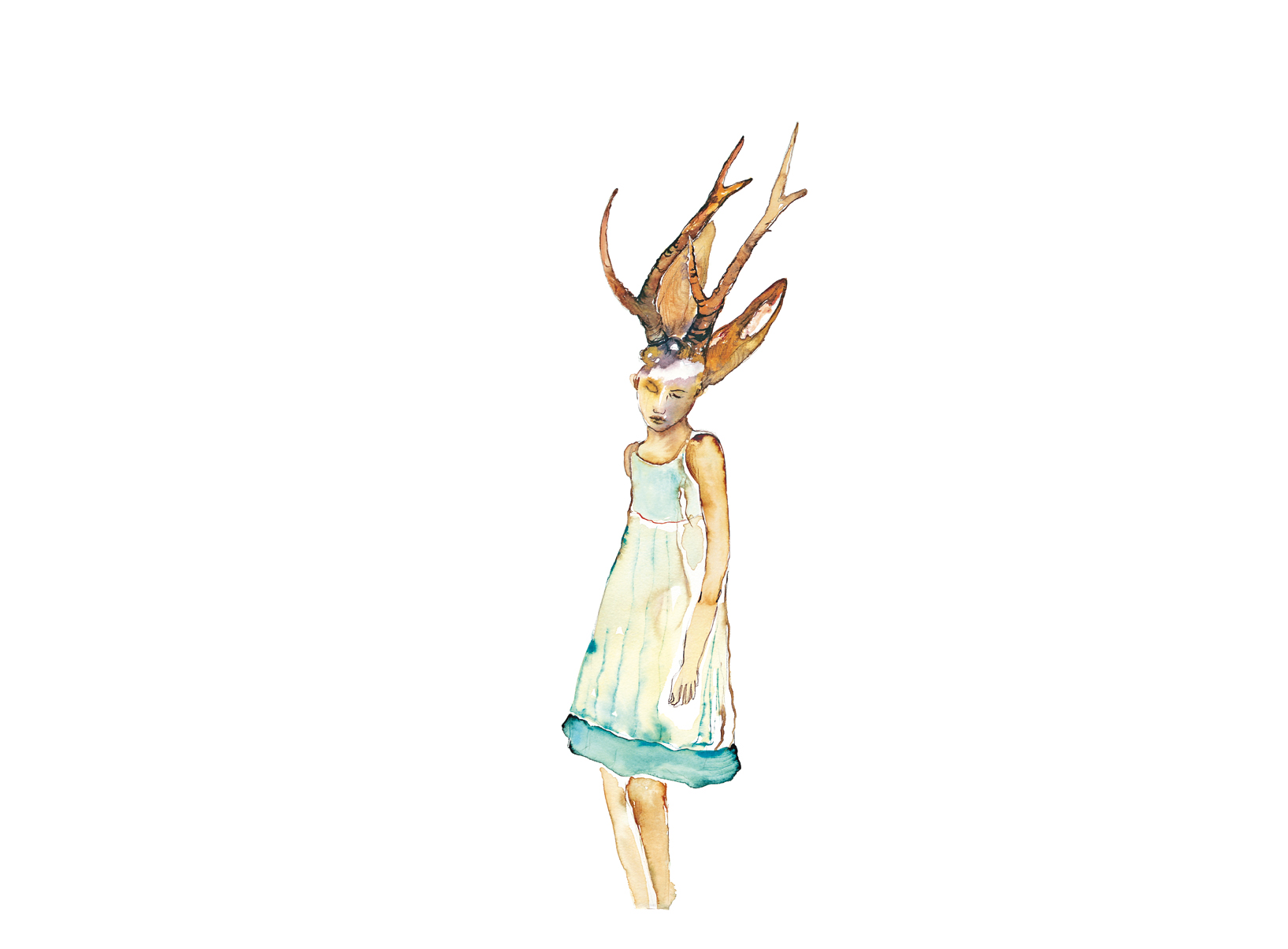 ---
About
Cornelia Schleime is the grande dame of German painting, the great observer and storyteller who effortlessly blends reality and fantasy into visually powerful compositions, and in doing so persues German Romantic traditions in a way that is as sophisticated as it is aesthetical. Meanwhile, the artist, who celebrates her 70th birthday in 2023, can look back on an oeuvre that is not only of art historical, but also of political and social relevance.
Cornelia Schleime was born in 1953 in East Berlin, where she trained as a hairdresser and makeup artist. Early on, her interest in visualizing the many "faces" of people is apparent, and becomes a common thread throughout her work. In 1975 Schleime took up the study of graphics and painting in Dresden. Her radical and political works soon hit the confines of what was possible in the GDR and drew the displeasure of the authorities. Undeterred, she nevertheless continued her path, with performances, for instance, which she recorded in the form of photographs or films. Photographs show the artist putting a plastic bag over her head or, despite being gagged, looking fearlessly into the camera. She is never the victim, but the protester and rebel. These works, which blatantly denounced the repression she personally experienced as well as the general state of repression in the GDR, already drew noticeable criticism. After participating in an exhibition that addressed the concept of freedom on a metaphorical level, she was finally banned from exhibiting altogether in 1981. Schleime subsequently applied to leave the GDR. After several rejections, the application was granted in 1984 under fateful circumstances. The single mother and her young son were ordered to leave the GDR within a few hours, forcing her to leave her belongings – including her entire oeuvre – behind. Only her Super 8 films, photographs and artist's books were saved and brought to West Berlin with a diplomat's help. Later, in her autobiographically inspired novel Weit fort (2008), Schleime even extracted something "liberating" about this rupture: "One can always redefine oneself, even with empty pockets. Dreams, energies, experiences cannot be robbed."

Continue reading
No sooner had the artist settled in West Berlin than her world began to falter again. After the German reunification, Schleime discovered that a former lover with whom she had played in the punk band Zwitschermaschine had acted as a Stasi informer and spied on her. Once again, however, she was not prepared to play the role of victim, but courageously launched a counterattack. Under the title Auf weitere gute Zusammenarbeit (1993), she contrasted the absurd notations from her state security files with artistic satire. Witty, poignant, and visually powerful, she transformed the intrusion into her private sphere into an impressive, universal work of art. The artistic breakthrough in reunified Germany followed on its heels. The first editions of the series were purchased by German museums. With her portraits of people and animals – and corresponding hybrid creatures – she then experienced success and recognition on a broad scale. To this day, Schleime has a penchant for portraying expressive and mysterious individual figures that continue both cheerful and somber traditions of German Romanticism.
Schleime has become known primarily as a grandiose painter of fictional portraits. However, this abbreviation in no way does justice to her oeuvre. The artist looks back on a broad spectrum of media, ranging from paintings, watercolors, collages, and artist's books to performances, photographs, films, and literature. In her novel, Schleime described artists as "hunters," which also applies to herself. Regardless of the medium, the artist chases after a certain motif, a certain expression. The medium itself is of secondary importance. It is the image that counts. Her motivic hunting ground is just as extensive. Her travel diaries, for example, lead into realms outside our Eurocentric gaze, or her frivolously playful watercolors and collages into erotic fantasies. Even before the churches' sexual abuse scandals become omnipresent, she investigated Catholic bigotry in a comprehensive group of works. Incidentally, the arsenal of her techniques in painting is just as versatile. Through the application and removal of paint and the use of asphalt or shellac, pastose, relief-like surfaces emerge, on the contrary, almost translucent and fragile skins.
With Cornelia Schleime's work exhibited in countless national and international exhibitions and publications and awarded many prizes, the artist's catalogue raisonné has been in the works since 2022. For the first time, it will provide a complete overview of the motivic, stylistic and medial "hunting grounds" of this artist. The first volume will concentrate on the performative work of her years in the GDR and will be published in 2024 – to coincide with Schleime's first solo exhibition at Galerie Judin.
---
---
Chronology
---
Biography
1953
Born in East Berlin
1970–75
Apprenticeship for hairdresser and makeup artist
Apprenticeship as stablehand
1975–80
Studies at Hochschule für Bildende Künste, Dresden
Since 1981
Exhibition ban in the GDR
1984
After many unsuccessful attempts, Schleime is finally permitted to leave the GDR for West-Berlin, but with just a few hours left to pack and at the price of leaving behind almost her entire oeuvre
1985
Scholarship granted by the Senat für Kulturelle Angelegenheiten, Berlin
1989
Scholarship from German Academic Exchange Service (DAAD) for a one-year-residency at PS1 in New York, NY
1992
Fellowship of the Kunstfonds Bonn
Travel Scholarship from the Stiftung Neue Kultur, Kenia
1993
Travel Scholarship from NUR, Indonesia
1997
Workshop at the Deutsch-Brasilianische Kulturelle Vereinigung e.V., Salvador da Bahia
1998–99
Travel Scholarship, Hawaii
Since 2000
Member of the Sächsische Akademie der Künste, Dresden
2005
Professorship for Painting at Kunstakademie Münster
2010
Honorary Fellowship at Künstlerhaus Lukas, Ahrenshoop
Lives and works in Berlin and in the Ruppin region (Brandenburg).
Selected Solo Exhibitions
2023
Cornelia Schleime: "Ich lass mich nicht spannen – lass mich nicht flechten," Städtische Galerie Dresden
Focus Albertinum "Ich halte doch nicht die Luft an." Cornelia Schleime – frühe Werke,
Albertinum, Staatliche Kunstsammlung Dresden
2022–23
Cornelia Schleime: An den Ufern ferner Zungen, Kunstverein Münsterland, Coesfeld;
Kunsthaus Apolda Avantgarde, Apolda
2022
Cornelia Schleime: Moonland – übermalte fotografische Selbstinszenierungen, Livingstone
Gallery, The Hague
2021
Cornelia Schleime: Drei Schritte und ein Atemzug, Galerie Schlichtenmaier, Stuttgart
Cornelia Schleime: Ein Sommer der mir aus der Hand fällt, Edition Rene Schmitt, Berlin
2019
Cornelia Schleime: ICH BEISS DOCH NICHT AUF GRANIT. Fotoselbstinszenierungen, Galerie
Michael Schultz, Berlin
Cornelia Schleime, Schloss Detmold at the Lippische Gesellschaft für Kunst, Lippe
2018
Cornelia Schleime: Mother Meets Sun, Rosenhang Museum Weilburg
Cornelia Schleime: Seidenspinnerei, Ludwig Galerie Schloß Oberhausen at Kabinett Seidenspinnerei, Oberhausen
2017
Cornelia Schleime: Full House, Galerie Michael Schultz, Berlin
Cornelia Schleime: Entfesselt, Schloss Achberg, Ravensburg
2016–17
Cornelia Schleime: Ein Wimpernschlag. Hannah-Höch-Preis, Berlinische Galerie, Berlin
2016
Cornelia Schleime: Ich zeig nicht alles. Arbeiten auf Papier – Retrospektive, Museum van
Bommel van Dam, Venlo
2015
Cornelia Schleime: Augen im Fokus – Schleife im Haar, Galerie Michael Schultz, Berlin
Cornelia Schleime: Sehe nicht, was Du siehst, Institut für Moderne Kunst Nürnberg, Nuremberg
Cornelia Schleime: Augen zu und durch, Livingstone Gallery, The Hague
2014
Cornelia Schleime: Echofenster – Oeuvres sur papier 1998–2014, Musée d'art moderne et
contemporain de Saint-Etienne Métropole, St.Etienne
2013
Cornelia Schleime: Die Frau, die Rose, das Meer, Galerie Martina Kaiser, Cologne
Cornelia Schleime: Mitternachtsschwester. Bilder und Aquarelle, KunstHaus, Potsdam
Cornelia Schleime: Leise spricht die Zunge, Galerie Michael Schultz, Berlin
2012
Cornelia Schleime: Camouflage, Livingstone Gallery, The Hague
Cornelia Schleime, Michael Schultz Gallery, Seoul
Cornelia Schleime: Die Farbe, der Körper, das Antlitz, die Augen, Museum Franz Gertsch, Burgdorf
2011
Cornelia Schleime: Die sind ja nicht von hier, Neue Galerie Gladbeck
Cornelia Schleime: Augen-Blicke, Galerie Ludorff, Düsseldorf
2010
Cornelia Schleime: Wer aus mir trinkt, wird ein Reh, Galerie Michael Schultz, Berlin
2009
Cornelia Schleime: Love Affairs, Museum van Bommel van Dam, Venlo
Cornelia Schleime: Natural Transformations, Livingstone Gallery, The Hague
Cornelia Schleime: Es kommt und geht. Malerei und Zeichnungen, Kurt-Tucholsky
Literaturmuseum, Schloss Rheinsberg, Rheinsberg
2008
Cornelia Schleime: Blind Date, Kunsthalle Tübingen
Cornelia Schleime: Love Affairs, Galerie Michael Schultz, Berlin
Cornelia Schleime: Face to Face, Michael Schultz Gallery, Seoul
2007
Cornelia Schleime: schilderijen en werken op papier, Galerie Willy Schoots, Eindhoven; Livingstone Gallery, The Hague
2006
Cornelia Schleime, Galeria Maior, Palma
2005
Cornelia Schleime: "Ich sehe was, was Ihr nicht seht," Horst-Janssen-Museum Oldenburg;
Kulturspeicher im Stadtmuseum Oldenburg
Cornelia Schleime: In der Meute steht die Beute, Galerie Michael Schultz, Berlin
2004
Cornelia Schleime: Gabriele-Münter-Preis, Martin-Gropius-Bau, Berlin
Cornelia Schleime: Fred-Thieler-Preis für Malerei 2004, Lapidarium, Berlinische Galerie, Berlin
2003–04
Cornelia Schleime: Von Angesicht zu Angesicht, Anhaltinischer Kunstverein Dessau;
Kastrupgardsamlingen, Kastrup; Kunstmuseet Brundlund Slot, Aabenraa; Kunstverein
Uelzen; Museum Junge Kunst, Frankfurt an der Oder; Kunstverein Bamberg; Kunstverein
Oberhausen, Ludwig Galerie, Museum Schloss Oberhausen; Leonhardi
Museum Dresden
2003
Cornelia Schleime: Retratos, Museo de Navarra, Pamplona
Cornelia Schleime: Das Paradies kann warten, Galerie Michael Schultz, Berlin
2002
Cornelia Schleime: Leinwandgemälde und Bilder auf Papier, Anhaltischer Kunstverein Dessau
Cornelia Schleime: Von Angesicht zu Angesicht, Orangerie des Georgiums, Anhaltischer Kunstverein Dessau
2000–01
Cornelia Schleime: Von hier nach dort verändert sich der Ort, Galerie Michael Schultz, Berlin
2000
Cornelia Schleime: "Ein Schiff wird kommen …", Mannheimer Kunstverein, Mannheim
1999
Cornelia Schleime: Die Schöne und das Biest, Galerie Willy Schoots, Eindhoven
1998
Cornelia Schleime: "Eine etwas umständliche Art sein Herz zu verlieren", Galerie Michael
Schultz, Berlin
Cornelia Schleime: Hotline, Goethe-Institut Krakau, Krakow
Cornelia Schleime: Zeichnungen, ARVORE Cooperativa de Actividades, Porto
1997
Cornelia Schleime: Kunst ohne König, Kutschstall, Potsdam
1996
Cornelia Schleime, Kunsthalle Dresden
Cornelia Schleime: Arbeiten von 1985–1996, Galerie Michael Schultz, Berlin
1995
Cornelia Schleime, Aschenbach Galerie, Amsterdam
1994
Cornelia Schleime: Bis auf weitere gute Zusammenarbeit, Nr. 7284/85, at the Federal
Commissioner for the Records of the Former GDR in Berlin at Molkenmarkt, Berlin
1993
Cornelia Schleime, Galerie Hübner & Thiel, Dresden
1992
Cornelia Schleime: Keramikbemalungen und Plastiken, Droysen Keramikgalerie, Berlin
1991
Cornelia Schleime, Galerie Aschenbach, Amsterdam
1989
Cornelia Schleime: Super 8, Painting, Diaries, and Poems, Hallwalls Contemporary Arts
Center, Buffallo, NY; Collective for Living Cinema Inc., New York, NY
1988
Cornelia Schleime, Galerie An, Flensburg
1987
Cornelia Schleime, Galerie de Beerenburght, Utrecht
1986
Cornelia Schleime, Galerie Aschenbach, Amsterdam
Selected Group Exhibitions
2023–25
Zerreißprobe: Kunst zwischen Politik und Gesellschaft 1945–2000, Neue Nationalgalerie, Staatliche Museen zu Berlin
2023–24
Multiple Realities: Experimental Art in the Eastern Bloc, 1960s–1980s, Walker Art Center, Minneapolis, MN
SIRANI: Thirteen Contemporary Painters and an Arresting Baroque Masterpiece: Ellen Akimoto, Alexander Basil, Norbert Bisky, Kyle Dunn, Adrian Ghenie, Christoph Hänsli, Hortensia Mi Kafchin, Brandon Lipchik, Lydia Pettit, Cornelia Schleime, Kiriakos Tompolidis, Hugo Wilson, Uwe Wittwer, Galerie Judin, Berlin
2023
Gegen den Strom: Zwischen Realismus und Fantasie, Museum No Hero, Delden
2022–23
herzwärts wild: Umbrüche 1982–97 Künstlerinnen aus der DDR, CB Dieselkraftwerk, Brandenburgisches Landesmuseum für Moderne Kunst, Cottbus
Broken Music Vol. 2: 70 Jahre Schallplatten und Soundarbeiten von Künstler*innen, Hamburger Bahnhof – Nationalgalerie der Gegenwart, Staatliche Museen zu Berlin
Ortswechsel: Die Kunstsammlung der Deutschen Bundesbank zu Gast im MGGU, Museum Giersch at Goethe-Universität, Frankfurt am Main
2022
Aufbrüche. Abbrüche. Umbrüche, Stiftung Kunstforum Berliner Volksbank, Berlin
2021–22
Beat the System!, Ludwig Forum Aachen
2022
WIR. Nähe und Distanz, Kunstsammlung Stiftung Kunstforum Berliner Volksbank, Berlin
2020
WE NEVER SLEEP, Schirn Kunsthalle, Frankfurt am Main
Berührend: Annäherung an ein wesentliches Bedürfnis, Paula-Modersohn-Becker-Museum, Bremen
NEUE WILDE UND ANDERE AUS DER SAMMLUNG STEFAN NEUKIRCHEN, Kunstverein Münsterland, Coesfeld
KOSMOS OST: Kunst in der DDR 1949–89. Das Albertinum Dresden zu Gast, Ernst-Barlach-Haus, Hamburg
Aquarell, Neue Sächsische Galerie – Museum für zeitgenössische Kunst, Chemnitz
2019
The Medea Insurrection: Radical Women Artists behind the Iron Curtain, The Wende Museum at the Armory, Culver City, CA
Artists & Agents: Performancekunst und Geheimdienste, HMKV – Hartware MedienKunstVerein, Dortmund
Utopie und Untergang: Kunst in der DDR, Museum Kunstpalast Düsseldorf
Point of no Return, Museum der Bildenden Künste Leipzig
2018
Medea muckt auf: Radikale Künstlerinnen hinter dem Eisernen Vorhang, Kunsthalle im Lipsius-Bau, Dresden
The World on Paper, Palais Populaire, Berlin
New Horizons III: The Action of the Sense, Frissiras Museum, Athens
Ostdeutsche Malerei und Skulptur 1949–1990, Albertinum, Staatliche Kunstsammlung Dresden
Blick-Wendungen, Museum Junge Kunst, Frankfurt an der Oder
2017
Hinter der Maske: Künstler aus der DDR, Museum Barberini, Potsdam
Grafik Ost, Sprengel Museum, Hanover
/Malströme/, Mannheimer Kunstverein, Mannheim
Kuss: Von Rodin bis Bob Dylan, Bröhan-Museum, Berlin
Malstrom 2, Museum Junge Kunst, Frankfurt an der Oder
Die Revolution ist tot. Lang lebe die Revolution!, Kunstmuseum Bern, Berne
2016
Gegenstimmen: Kunst in der DDR, Martin-Gropius-Bau, Berlin
2015
Elles, Frissiras Museum, Athens       
2014
A Glorious Gift: Collectie Knecht-Drenth, Museum van Bommel van Dam, Venlo
In Furs, Künstlerhaus Bethanien, Berlin
Blickwechsel Ahrenshoop: Gestern & Heute Teil 2, Kunstmuseum Ahrenshoop
Zwischen Ausstieg und Aktion: Die Erfurter Subkultur der 1960er, 1970er und 1980er Jahre, Kunsthalle Erfurt
2013
4 Art, Pinakothek der Moderne, Munich
Von Tagebuch bis weblog: Tägliche Strategien in der Gegenwartskunst, Städtische Galerie Bietingheim-Bissingen
Kunst in Berlin 1945 bis heute: Sammlungspräsentation, Berlinische Galerie, Berlin
Frauen: Liebe und Leben. Sammlung Klöcker, Lehmbruck Museum, Duisburg
Die Kunst der Zeichnung, Museum Junge Kunst, Frankfurt an der Oder
Infinity / Neoexpressionism / Contemporary Art, Zhan Zhou International Cultural and Creative Industry Park, Beijing
Sachsen: Werke aus der Sammlung Deutsche Bank, Museum der bildenden Künste, Leipzig
2012
Aus Passion: Zeitgenössische Kunst aus der Sammlung Hanck, Museum Kunstpalast, Düsseldorf
Eros & Thanatos. SØR Rusche Sammlung, Leipziger Baumwollspinnerei, Leipzig
geteilt/ungeteilt: Kunst in Deutschland 1945–2010, Galerie Neue Meister, Albertinum Dresden
2011
Poesie des Untergrunds, Generalkonsulat der BRD, New York, NY; Universitätsbibliothek Basel
Re.Act Feminism #2: A Performing Archive, Centro Cultural Montehermoso, Vitoria Gasteiz
Kunst im Werden: Skizzen, Projekte und Arbeitsbücher, Buchmuseum der Sächsischen Landesbibliothek, Dresden
Entdeckt! Rebellische Künstlerinnen in der DDR, Kunsthalle Mannheim
Hotspot Berlin, Georg-Kolbe-Museum, Berlin
2010
Poesie des Untergrunds, Deutsches Haus, New York, NY
Gender Check, Zachęta National Gallery of Art, Warsaw
Berlin zeichnet, Ludwig Museum, Koblenz
2009
Gender Check, Museum moderner Kunst Stiftung Ludwig Wien, Vienna
Und jetzt: Künstlerinnen aus der DDR, Künstlerhaus Bethanien, Berlin
Defiance & Melancholy: German Painting from the Dresden Albertinum/Galerie Neue Meister, Helsinki City Art Museum, Helsinki
Kunst und Kalter Krieg: Deutsche Positionen 1945–1989, Germanisches Nationalmuseum Nürnberg, Nuremberg; Deutsches Historisches Museum Berlin
Subversive Praktiken: Kunst unter Bedingungen politischer Repression. 60er–80er, Südamerika, Europa, Württembergischer Kunstverein, Stuttgart
Ohne uns! Kunst & alternative Kultur vor und nach '89, Projektzentrum für zeitgenössische Kunst, Dresden
Gemeinsam in Bewegung: Zeitgenössische Kunst aus Deutschland und China, Wuhan Museum of Art, Wuhan 
2008
Art of two Germanys / Cold War Cultures, Los Angeles County Museum of Art, Los Angeles, CA
2007
100 Jahre Kunsthalle Mannheim, Kunsthalle Mannheim
German Painting, Marlborough Fine Art, London
2006
Urbane Realitäten: Fokus Istanbul, Kunsthalle Budapest
German Figurative Painting, Neuhoff Gallery, New York, NY
Revisiting Home, Neue Gesellschaft für Bildende Kunst, Berlin
2005
Commemoration of the 60 Years of Victory over Fascism, National Art Museum of China, Beijing
International Biennale of Contemporary Art, National Gallery, Prague
Urbane Realitäten: Fokus Istanbul, Martin-Gropius-Bau, Berlin
Ost Punk: Too Much Future, Künstlerhaus Bethanien, Berlin
Zwischen Tür und Angel: Professorinnen und Professoren der Kunstakademie Münster im Dialog mit der Sammlung, Westfälisches Landesmuseum für Kunst- und Kulturgeschichte Münster
2004
Declaration: 100 Artists for Peace, National Museum of Contemporary Art, Seoul
Gabriele-Münter-Preis, Frauenmuseum, Bonn
Aus deutscher Sicht: Meisterwerke der Sammlung Deutsche Bank, The Pushkin State Museum of Fine Arts, Moscow
2003
Rituale in der zeitgenössischen Kunst, Akademie der Künste, Berlin
Lieber zu viel als zu wenig, Neue Gesellschaft für Bildende Kunst, Berlin
Kunst in der DDR: Eine Retrospektive der Nationalgalerie, Neue Nationalgalerie, Staatliche Museen zu Berlin
Berlin–Moskau/Moskau–Berlin 1950–2000, Martin-Gropius-Bau, Berlin
Fackelherz & Falkenrot: Sammlung de Knecht, Georg-Kolbe-Museum, Berlin
2002
Cornelia Schleime & Norbert Bisky: Essig und Blut, Brandenburgischer Kunstverein Potsdam e.V., Potsdam
Klopfzeichen: Kunst und Kultur der 80er Jahre in Deutschland, Wahnzimmer, Museum der Bildenden Künste, Leipzig; Museum Folkwang, Essen
2001
CTRL [SPACE], Zentrum für Kunst und Medientechnologie, Karlsruhe
2000
De la couleur et du feu, Musée de la Faience, Château Pastré, Marseille
1997
Bohème und Diktatur in der DDR, Deutsches Historisches Museum Berlin
Standort Deutschland, Staatliches Museum Leverkusen – Schloss Morsbroich, Leverkusen
Workshop 97: Artistas alemães e brasileiros / Workshop 97: Brasilianische und Deutsche Künstler, Museu de Arte Moderna da Bahia
1995
Unsere Freunde, die Maler: aus der Sammlung Christa und Gerhard Wolf, Kurt-Tucholsky-Gedenkstätte, Schloss Rheinsberg
1993
Découvertes: Bilder aus Deutschland. Zehn Künstler aus der Sammlung der Deutschen Bank, Grand Palais, Paris
1992
Echtzeit: Positionen Deutscher Kunst, Nasjonalmuseet, Oslo
1991
International Artist Program, PS1, New York, NY
Außerhalb von Mittendrin, Neue Gesellschaft für Bildende Kunst, Neues Kunstquartier, Berlin
1990–91
Ausgebürgert: Künstler aus der DDR und aus dem Sowjetischen Sektor Berlins 1949–1989, Kleine Deichtorhalle, Hamburg; Staatliche Kunstsammlung Dresden
1989
Eberhard Roters zu Ehren, Martin-Gropius-Bau, Berlin
1988
Verborgenes Museum, Akademie der Künste, Berlin
1987–88
Momentaufnahme, Staatliche Kunsthalle Berlin
1986
Gegenlicht, Staatliche Kunsthalle Berlin
Malstrom: Bilder und Figuren 1982–1986, Haus am Waldsee, Berlin; Kunsthalle
Wilhelmshaven; Kunstverein Mannheim; Galerie Aschenbach, Amsterdam
1985
Tiefe Blicke, Hessisches Landesmuseum Darmstadt, Darmstadt
1984
Die Zusammenhänge sind einfach, Galerie Suspekt, Amsterdam
1983
Transit, Galerie Suspekt, Amsterdam
Prizes and Awards
2023
Hans Platschek-Preis für Kunst und Schrift, Hans Platschek Stiftung, Hamburg
2016
Hannah-Höch-Preis des Landes Berlin, Berlinische Galerie, Berlin
2005
Award of Excellent Painting, National Art Museum of China, Beijing
2004
Fred-Thieler-Preis für Malerei, Berlinische Galerie, Berlin
2003–04
Gabriele-Münter-Preis, Bundesministerium für Familie, Frauen und Jugend, Berlin
Selected Collections
Anhaltinische Gemäldegalerie Dessau
Baden-Württembergische Bank, Stuttgart
Berlinische Galerie, Berlin
Collection Klöcker, Bad Homburg
Collection Muñoz Garcia, Madrid
Collection Sander, Darmstadt
Deutsche Bank – Sammlung zeitgenössischer Kunst, Deutsche Bundesbank Kunstsammlung, Frankfurt am Main
Deutscher Bundestag, Berlin
Deutsches Historisches Museum Berlin
Frissiras Museum, Athens
Hessisches Landesmuseum, Darmstadt
J. Paul Getty Museum, Los Angeles, CA
Kulturfonds Sachsen
Kunstmuseum Dieselkraftwerk Cottbus – Brandenburgische Kulturstiftung, Cottbus
Museum Junge Kunst, Frankfurt an der Oder
Museum Meermanno Westreenianum, The Hague
Museum No Hero, The Netherlands
Museum van Bommel van Dam, Venlo
Staatliche Kunstsammlungen Dresden
Staatliche Museen zu Berlin, Kupferstichkabinett, Berlin
Selected Books by the Artist
2022
Cornelia Schleime und Martin Walser: Das Traumbuch. Postkarten aus dem Schlaf. Hamburg: Rowohlt
2015
Cornelia Schleime: Wüstenmoos. Faksimile of the Reisetagebuch Marokko (3 – 20 November 2012). Berlin: Fuchs & Fuchs
2014
Cornelia Schleime: Das Paradies kann warten. Storys. Berlin: Fuchs & Fuchs
2010
Cornelia Schleime: Weit fort. Roman. Munich: Hoffmann und Campe
Cornelia Schleime: In der Liebe und in der Kunst weiß ich genau, was ich nicht will. Bielefeld: Kerber
2008
Cornelia Schleime: Lust. Erotische Aquarelle. Edited by Ulf Meyer zu Küingdorf. Munich, Berlin, London, New York: Prestel
2002
Cornelia Schleime: Hawaii-Tagebuch. 19.12.98–4.1.99. Faksimile edited and published by Galerie Michael Schultz, Berlin
1984
Cornelia Schleime: Gefederte Augen. Berlin: the artist
Selected Monographs and Solo Exhibition Catalogues
2022
Cornelia Schleime: An den Ufern ferner Zungen. Edited by Andrea Fromm. Exh. cat. Kunsthaus Apolda Avantgarde and Kunstverein Münsterland, Coesfeld
2019
Cornelia Schleime: Ich beiß doch nicht auf Granit! Selbstinszenierungen. Exh. cat. Galerie Michael Schultz, Berlin. Berlin: Berg und Feierabend
2017
Cornelia Schleime: Full House. Exh. cat. Galerie Michael Schultz, Berlin
2016
Cornelia Schleime: Ein Wimpernschlag / A Blink of an Eye. Edited by Thomas Köhler and Stefanie Heckmann. Exh. cat. Berlinische Galerie, Berlin. Berlin and Bielefeld: Kerber
2015
Cornelia Schleime: Augen im Fokus – Schleife im Haar. Exh. cat. Galerie Michael Schultz, Berlin
2014
Cornelia Schleime: Echofenster. Oeuvres sur papier 1988–2014. Exh. cat. Musée d'Art Moderne et Contemporain de Saint-Étienne Métropole. Berlin: Galerie Michael Schultz
2013
Cornelia Schleime: Leise spricht die Zunge. Exh. cat. Galerie Michael Schultz, Berlin
2012
Cornelia Schleime: Die Farbe, der Körper, das Antlitz. Edited by Jean-Christophe Ammann and Anna Wesle. Exh. cat. Museum Franz Gertsch, Burgdorf. Berlin and Bielefeld: Kerber
Cornelia Schleime: Zungenschlaf. Arbeiten auf Papier. Edited by Eckhard Hollmann and Jürgen Krieger. Berlin: Jovis
2010
Cornelia Schleime: Wer aus mir trinkt, wird ein Reh / Whoever Drinks From Me Will Turn Into a Deer. Edited by Christiane Bühling-Schultz. Exh. cat. Galerie Michael Schultz, Berlin. Berlin, Bielefeld and Leipzig: Kerber
2009
Cornelia Schleime: Natural Transformations. Exh. cat. Museum van Bommel van Dam, Venlo, Livingstone Gallery, The Hague and Galerie Willy Schoots, Eindhoven
2008
Cornelia Schleime: Love Affairs. Edited by Christiane Bühling-Schultz and Martin Hellmold. Exh. cat. Galerie Kunsthalle Tübingen. Munich, Berlin, London, New York: Prestel
2006
Cornelia Schleime: German Figurative Painting. Edited by Jürgen Schilling. Exh. cat. Neuhoff Gallery, New York
2005
Cornelia Schleime: "Ich sehe was, was ihr nicht seht." Gemälde und Arbeiten auf Papier. Eine Auswahl aus den Jahren 1983–2004. Edited by Jutta Moster-Hoos. Exh. cat. Horst-Janssen Museum and Kulturspeicher Oldenburg at Stadtmuseum Oldenburg
Cornelia Schleime: In der Meute steht die Beute. Exh. cat. Galerie Michael Schultz, Berlin
2004
Cornelia Schleime und Ulrike Rosenbach: Gabriele-Münter-Preis für bildende Künstlerinnen ab 40. Edited by Annemarie Helmer-Heichele et al. Exh. cat. Martin-Gropius-Bau, Berlin and Frauenmuseum, Bonn
Cornelia Schleime: Fred-Thieler-Preis für Malerei. Edited by Berlinische Galerie, Berlin. Exh. cat. Berlinische Galerie, Berlin
2003
Cornelia Schleime: Retreatos. Exh. cat. Museo de Navarra, Pamplona. Pamplona: Gobiero de Navarra
Cornelia Schleime: "Das Paradies kann warten". Exh. cat. Galerie Michael Schultz, Berlin
2002
Cornelia Schleime: Von Angesicht zu Angesicht. Exh. cat. Anhaltinischer Kunstverein Dessau; Leonhardi Musuem Dresden et al.
2000
Cornelia Schleime: Von hier nach dort verändert sich der Ort. Exh. cat. Galerie Michael Schultz, Berlin
Cornelia Schleime: "Ein Schiff wird kommen…". Exh. cat. Mannheimer Kunstverein, Mannheim
1998
Cornelia Schleime: "Ein etwas umständliche Art sein Herz zu verlieren". Exh. cat. Galerie Michael Schultz, Berlin
1996
Cornelia Schleime: Arbeiten von 1985–1996. Exh. cat. Galerie Michael Schultz, Berlin
1991
Cornelia Schleime. Exh. cat. Aschenbach Galerie, Amsterdam
Selected Group Exhibition and Collection Catalogues
2017
Malströme: Ralf Kehrbach, Helge Leiberg, Hans Scheib, Cornelia Schleime, Reinhard Stangl. Edited by Martin Stather. Exh. cat. Mannheimer Kunstverein, Mannheim and Museum für Junge Kunst, Frankfurt an der Oder. Mannheim: Mannheimer Kunstverein
2016
Gegenstimmen: Kunst in der DDR 1976–1989 / Voices of Dissent: Art in the GDR 1976–1989. Edited by Eugen Blume and Christoph Tannert. Exh. cat. Martin-Gropius-Bau, Berlin. Berlin: Deutsche Gesellschaft
2014
Zwischen Ausstieg und Aktion: Die Erfurter Subkultur der 1960er, 1970er und 1980er Jahre. Edited by Tely Büchner, Reinhard Zabka, et al. Exh. cat. Kunsthalle Erfurt. Bielefeld and Berlin: Kerber
2013
Frauen: Liebe und Leben. Sammlung Klöcker. Edited by Denise Wendel-Poray. Exh. cat. Lehmbruck Musuem, Duisburg. Ostfildern: Hatje Cantz
Sachsen: Werke aus der Sammlung Deutsche Bank. Edited by Friedhelm Hütte. Exh. cat. Museum der bildenden Künste Leipzig. Frankfurt: Deutsche Bank, CC Kunst
2011
Kunst im Werden: Skizzen, Projekte und Arbeitsbücher. Edited by Sächsische Akademie der
Künste and Alexandra Schellenberg. Exh. cat. Buchmuseum der Sächsischen Landesbibliothek, Staats- und Universitätsbibliothek Dresden. Dresden: Sandstein
Entdeckt! Rebellische Künstlerinnen in der DDR. Edited by Susanne Altmann and Ulrike Lorenz. Exh. cat. Kunsthalle Mannhein
2010
Galerie Neue Meister Dresden: Bestandskatalog in zwei Bänden. Band 1. Edited by Ulrich Bischoff. Coll. cat. Galerie Neue Meister, Dresden. Cologne: Verlag der Buchhandlung Walther König
Subversive Praktiken: Kunst unter Bedingungen politischer Repression. 60er–80er, Südamerika, Europa. Edited by Hans Christ and Iris Dressler. Exh. cat. Württembergischer Kunstverein, Stuttgart
2009
Gender Check: Femininity and Masculinity in the Art of Eastern Europe. Edited by Edit András and Bojana Pejić. Exh. cat. Museum Moderner Kunst Stiftung Ludwig Wien, Vienna. Cologne: Verlag der Buchhandlung Walther König
Und jetzt: Künstlerinnen aus der DDR. Edited by Angelika Richter. Exh. cat. Künstlerhaus Bethanien, Berlin. Nuremberg: Verlag für Moderne Kunst
Kunst und Kalter Krieg: Deutsche Positionen 1945–89 / Art of Two Germanys: Cold War Cultures. Edited by Stephanie Barron. Exh. cat. Los Angeles County Museum of Art; Germanisches Nationalmuseum Nürnberg, Nuremberg; Deutsches Historisches Museum Berlin. Cologne: DuMont
Ohne uns! Kunst und alternative Kultur in Dresden vor und nach '89. Edited by Frank Eckhardt and Paul Kaiser. Exh. cat. Projektzentrum für zeitgenössische Kunst, Dresden. Dresden: Efau
2007
German Painting: Paintings and Works on Paper by Karin Kneffel, Schleime and SEO. Exh. cat. Marlborough Fine Art, London
2006
Zurück zur Figur: Malerei der Gegenwart. Edited by Christiane Lange and Florian Matzner. Exh. cat. Kunsthalle der Hypokulturstiftung, Munich
2005
International Biennale of Contemporary Art. Edited by Ivan Hartmann, Svetlana Michajlová and Katarina Rybková. Exh. cat. National Gallery, Prague
"Too much Future Ostpunk!": Punk in der DDR 1979–89. Edited by Michael Böhlke and Künstlerhaus Bethanien. Exh. cat. Salon Ost, Berlin. Berlin: Künstlerhaus Bethanien
Zwischen Tür und Angel: Professorinnen und Professoren der Kunstakademie Münster im Dialog mit der Sammlung. Edited by Westfälisches Landesmuseum für Kunst- und Kulturgeschichte Münster. Exh. cat. Westfälisches Landesmuseum für Kunst- und Kulturgeschichte Münster
2004
Declaration: 100 Artists for Peace. Exh. cat. National Museum of Contemporary Art, Seoul
2003
Rituale in der zeitgenössischen Kunst. Edited by Nina Muecke and Angelika Sommer. Exh. cat. Akademie der Künste, Berlin
Lieber zu viel als zu wenig. Edited by Neue Gesellschaft für Bildende Kunst. Exh. cat. Neue Gesellschaft für Bildende Kunst, Berlin. Berlin: Vice Versa
Kunst in der DDR: Eine Retrospektive der Nationalgalerie. Edited by Eugen Blume and Roland März. Exh. cat. Neue Nationalgalerie, Staatliche Museen zu Berlin. Berlin: G-und-H
Cornelia Schleime & Norbert Bisky: Essig und Blut. Exh. cat. Brandenburgischer Kunstverein Potsdam e.V., Potsdam
1997
Bohème und Diktatur in der DDR: Gruppen, Konflikte, Quartiere. 1970–1989. Edited by Steffen Damm, Paul Kaiser and Claudia Petzold. Exh. cat. Deutsches Historisches Museum Berlin
Workshop 97: Artistas alemães e brasileiros / Workshop 97: Brasilianische und Deutsche Künstler. Exh. cat. Museu de Arte Moderna da Bahia, Bahia
1995
Unsere Freunde, die Maler: Bilder, Essays, Dokumente. Edited by Peter Böthig, Christa and Gerhard Wolf. Exh. cat. Kurt-Tucholsky-Gedenkstätte Schloss Rheinsberg. Berlin: Wolf, Janus Press
1990
Ausgebürgert: Künstler aus der DDR und aus dem sowjetischen Sektor Berlins 1949–1989. Edited by Werner Schmidt. Exh. cat. Kleine Deichtorhalle, Hamburg; Staatliche Kunstsammlung Dresden. Berlin: Argon
1987
Momentaufnahme. Exh. cat. Staatliche Kunsthalle Berlin. Berlin: Nicolai
1986
Malstrom: Bilder und Figuren 1982–1986. Ralf Kerbach, Helge Leiberg, Cornelia Schleime,
Reinhard Stangl. Edited by Thomas Kempas. Exh. cat. Haus am Waldsee, Berlin
1985
Tiefe Blicke: Kunst der achtziger Jahre aus der Bundesrepublik Deutschland, der DDR,
Österreich und der Schweiz. Edited by Freunde und Förderer des Hessischen Landesmuseums Darmstadt. Exh. cat. Hessisches Landesmuseum Darmstadt. Cologne: DuMont
Films about the Artist
2022
Rebellinnen – Fotografie. Underground. DDR: Tina Bara, Cornelia Schleime, Gabriele Stötzer. Documentary directed by Pamela Meyer-Arndt
2014
Anderson – Anatomie des Verrats. Documentary directed by Annekatrin Hendel on behalf of Rundfunk Berlin-Brandenburg and Hessischer Rundfunk
2009
Cornelia Schleime: Das Leben ist mein Goldkoffer. From the documentary series "Lebenslinien" on behalf of Bayerisches Fernsehen, directed by Julia Benkert
2007
Ostpunk! Too Much Future. Documentary directed by Michael Boehlke and Carsten Fiebeler on behalf of Rundfunk Berlin-Brandenburg
1994
Verrat. Documentary directed by Frederik Krusenstjerna on behalf of BBC