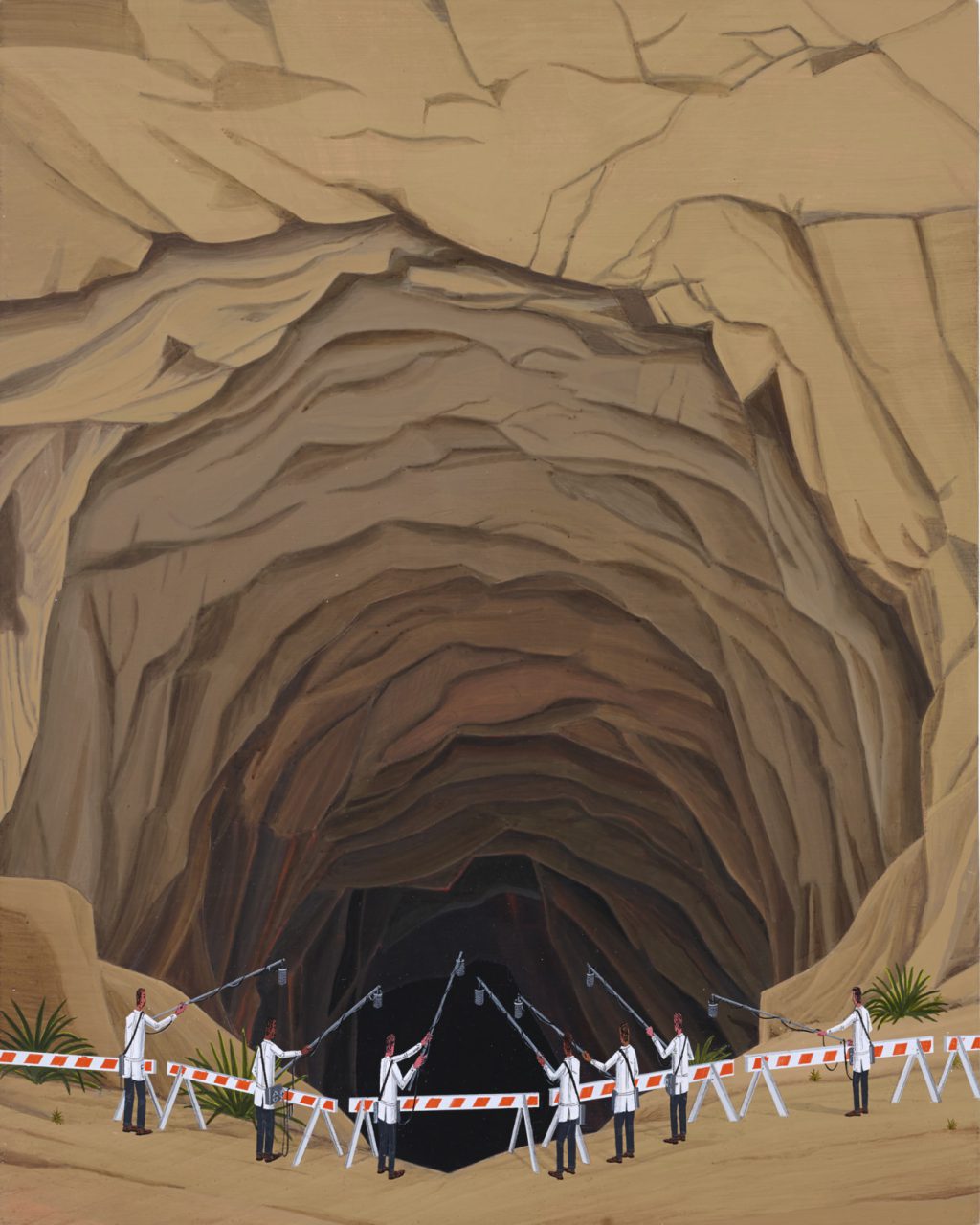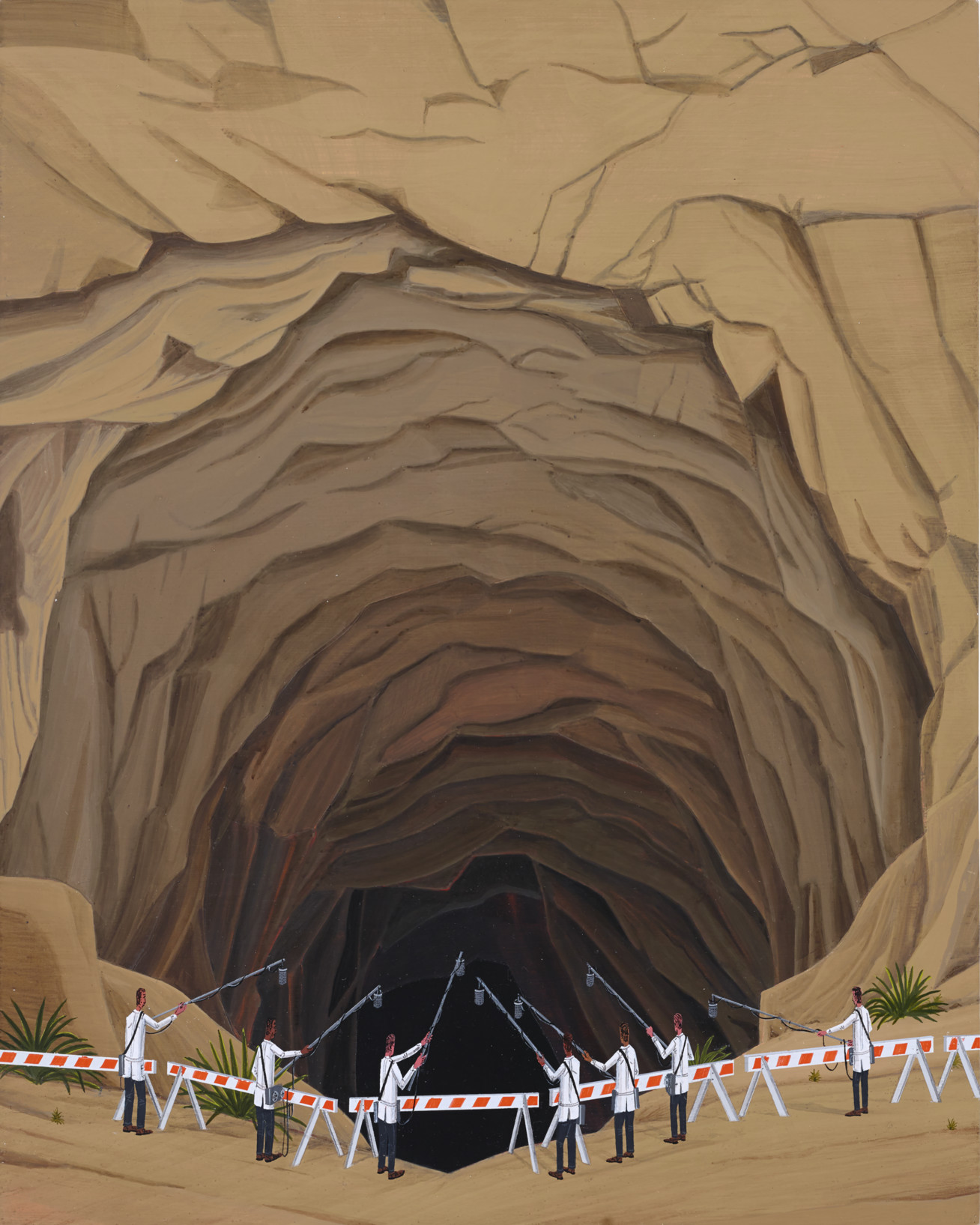 Cavern
2021
Acrylic on panel
51 × 40.5 cm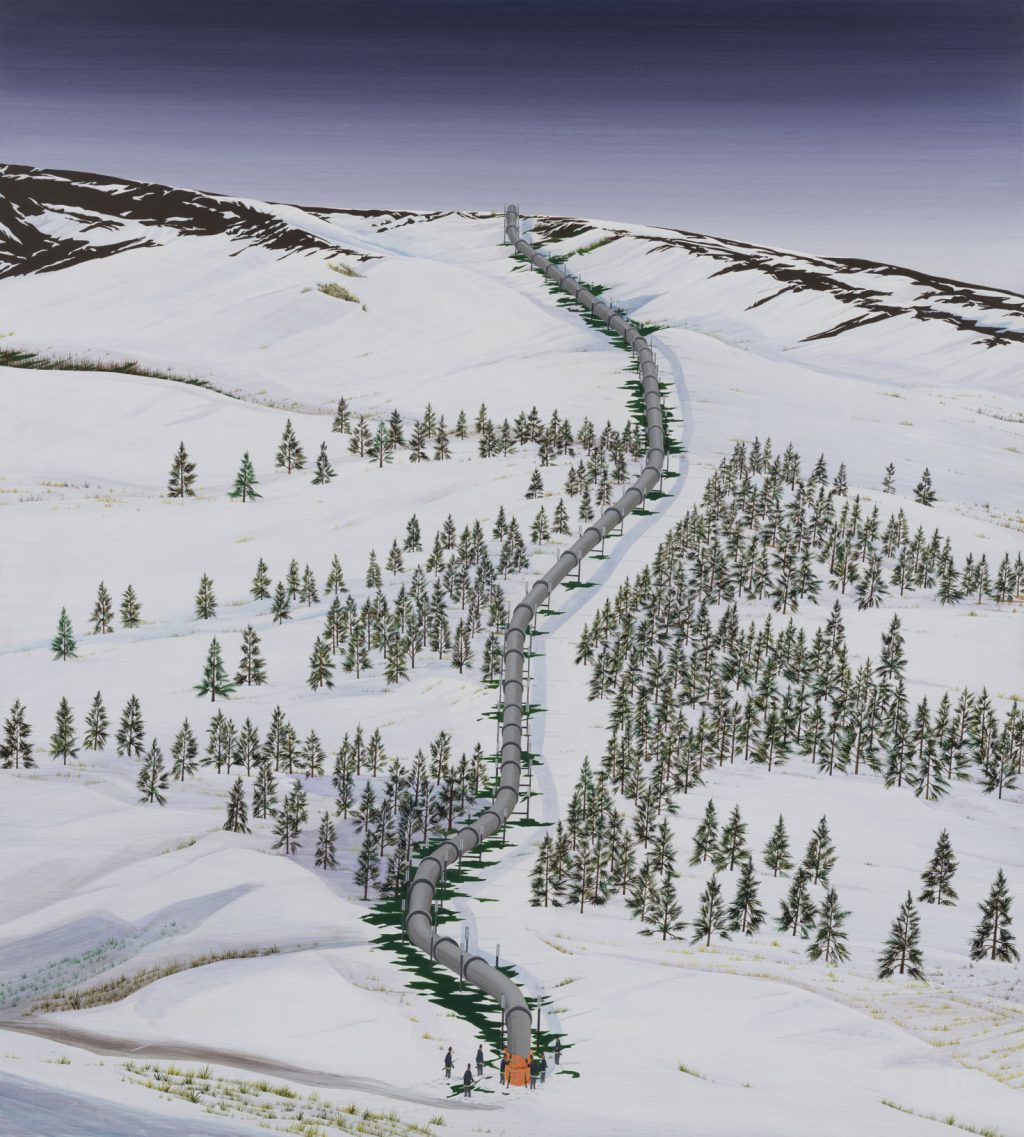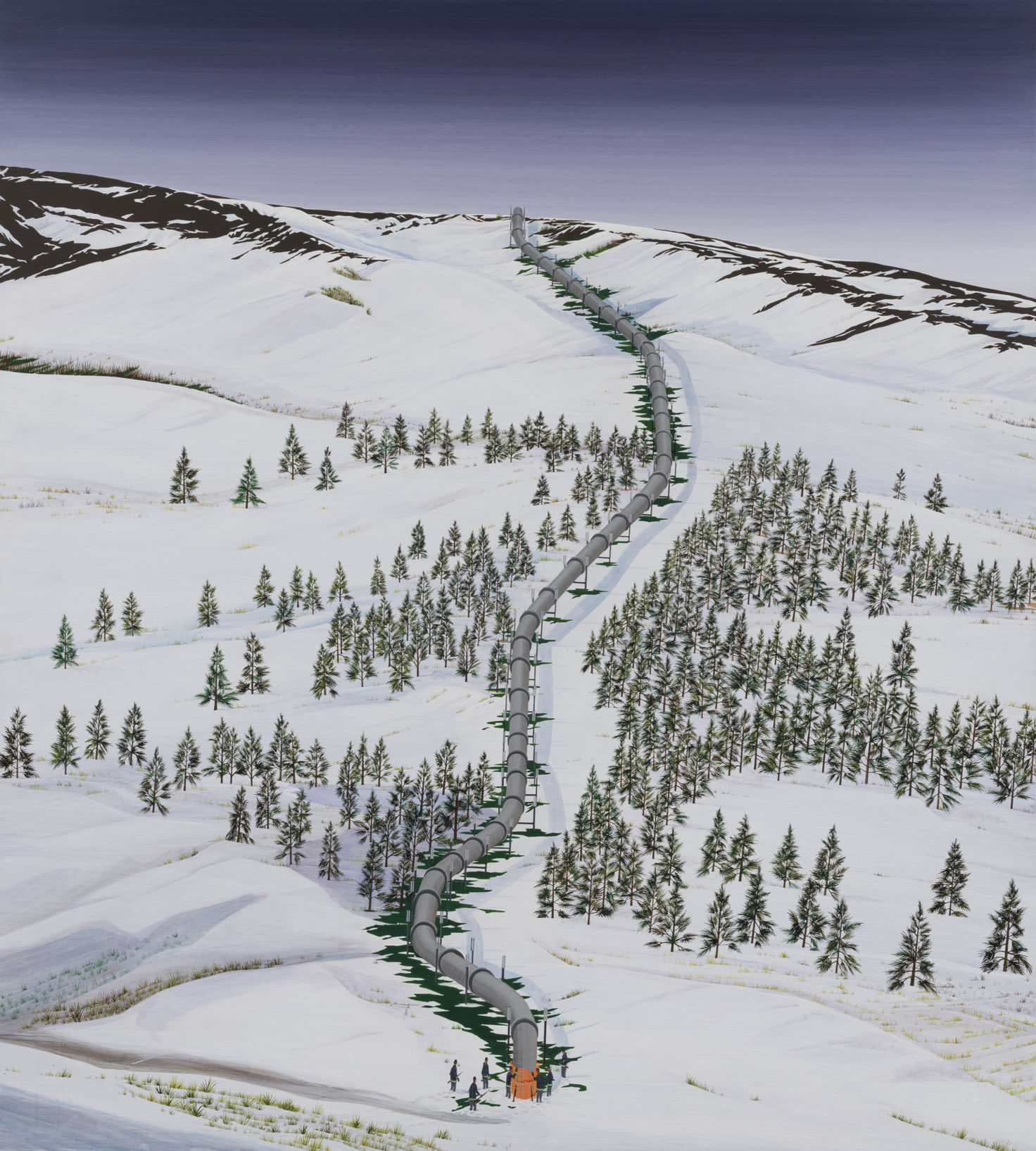 Apotheosis
2021
Acrylic on panel
127 × 114.5 cm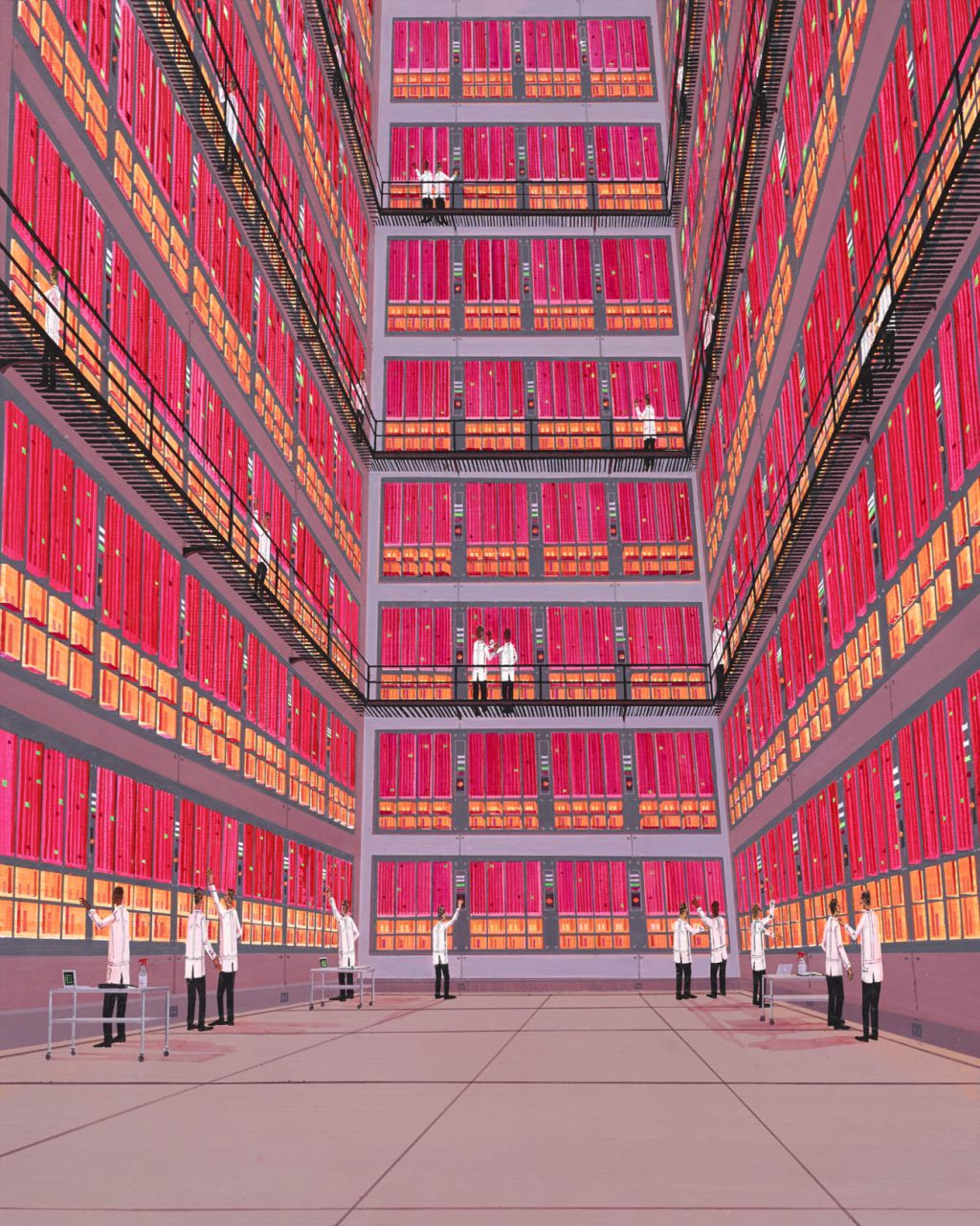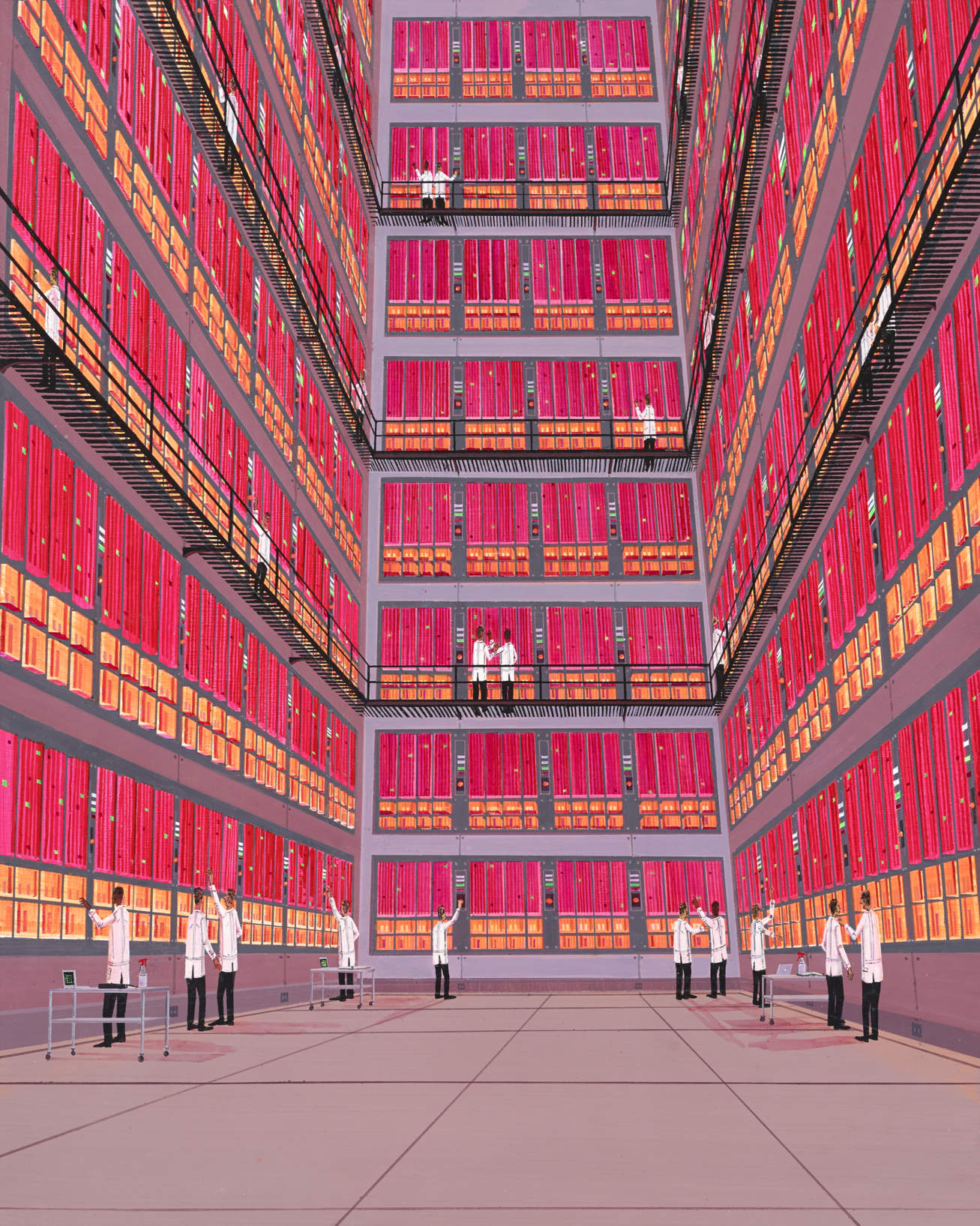 Interior
2021
Acrylic on panel
51 × 40.5 cm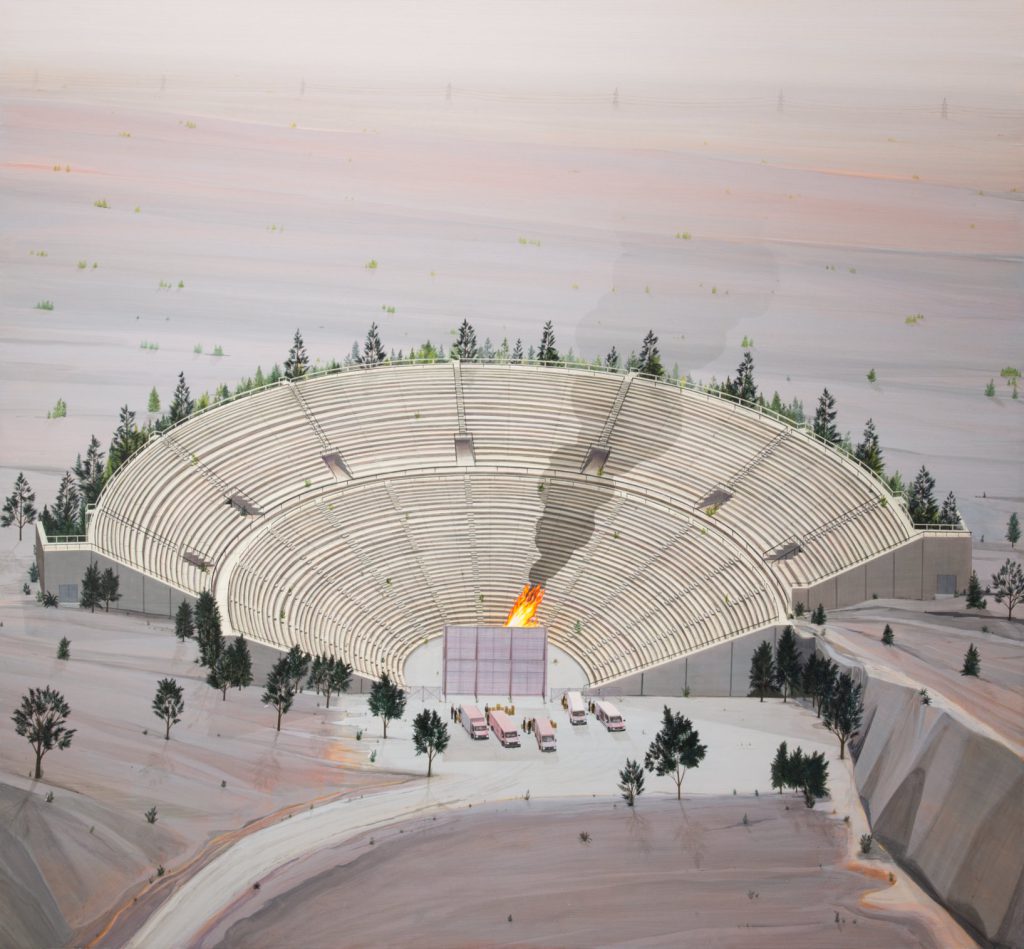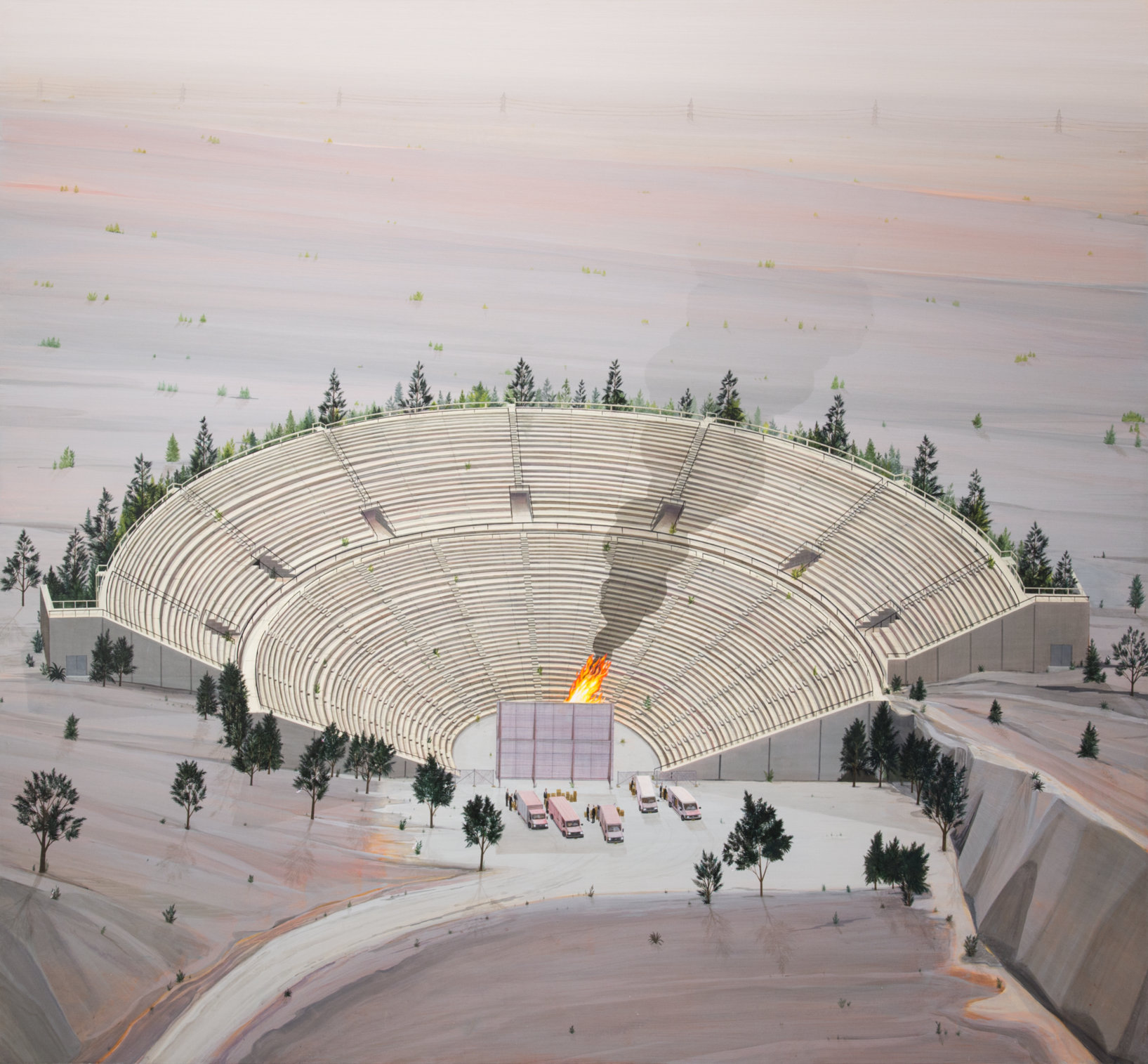 Tragedy
2018
Acrylic on linen
165 × 178 cm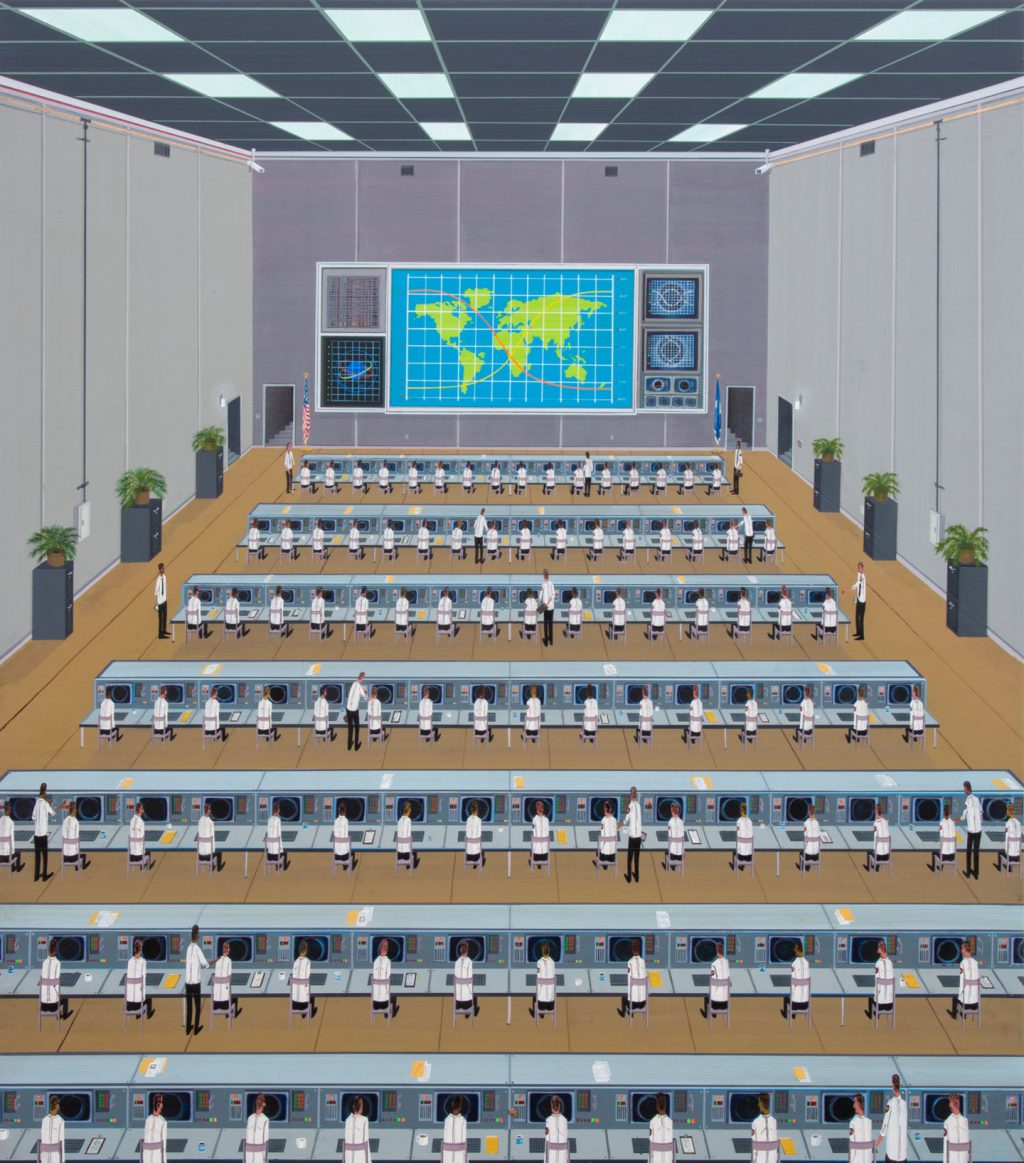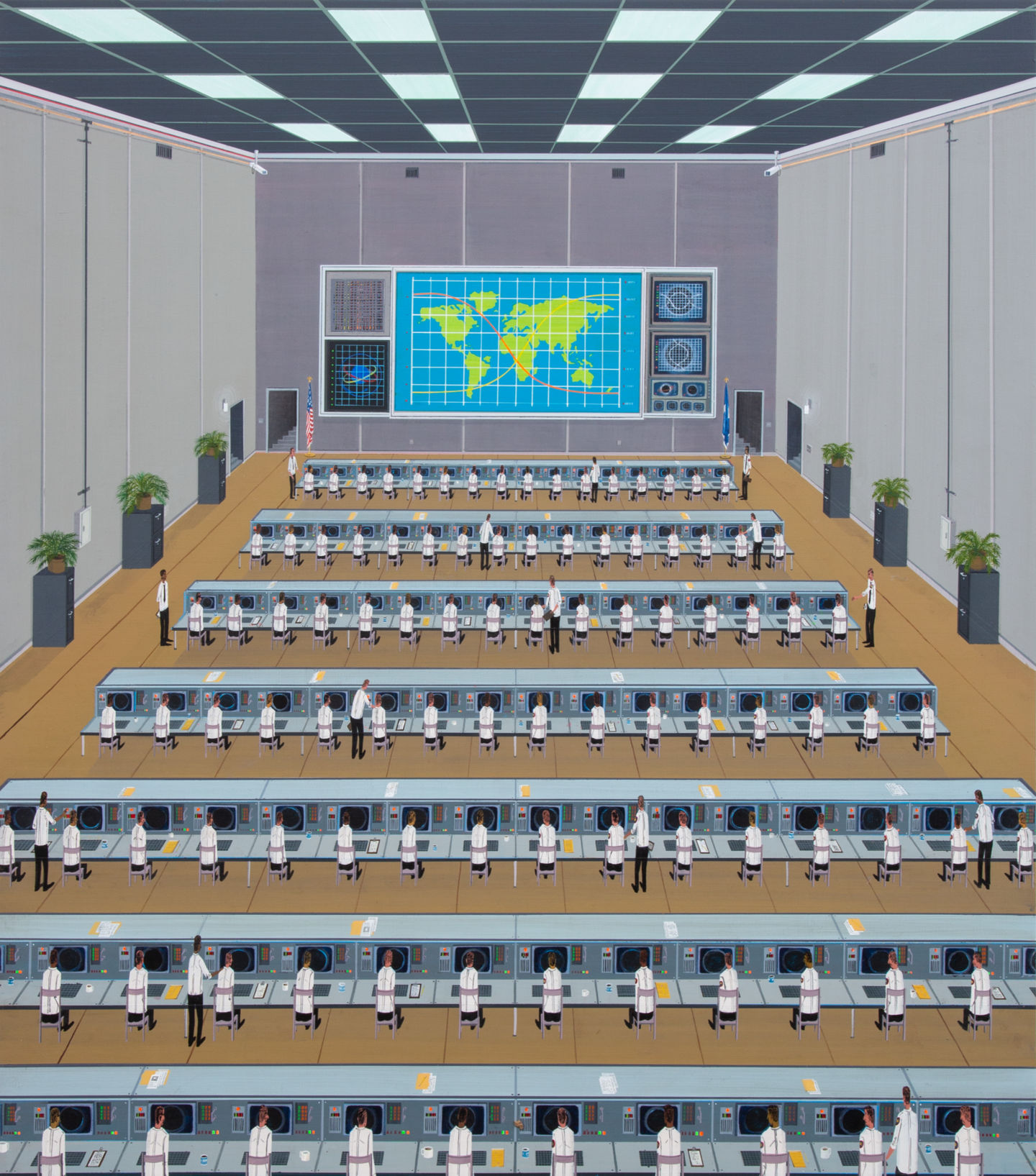 Technocrats
2020
Acrylic on panel
86 × 76 cm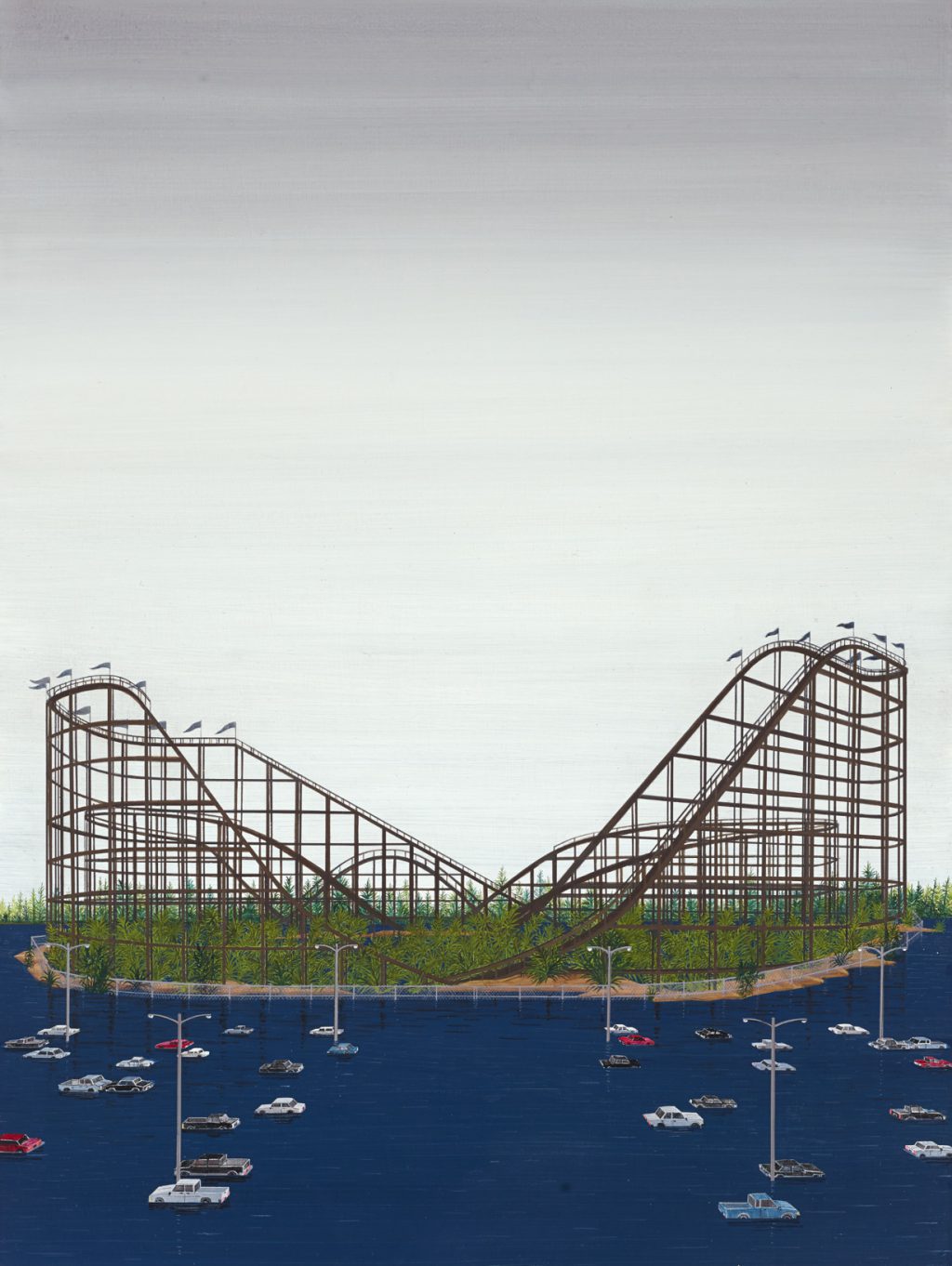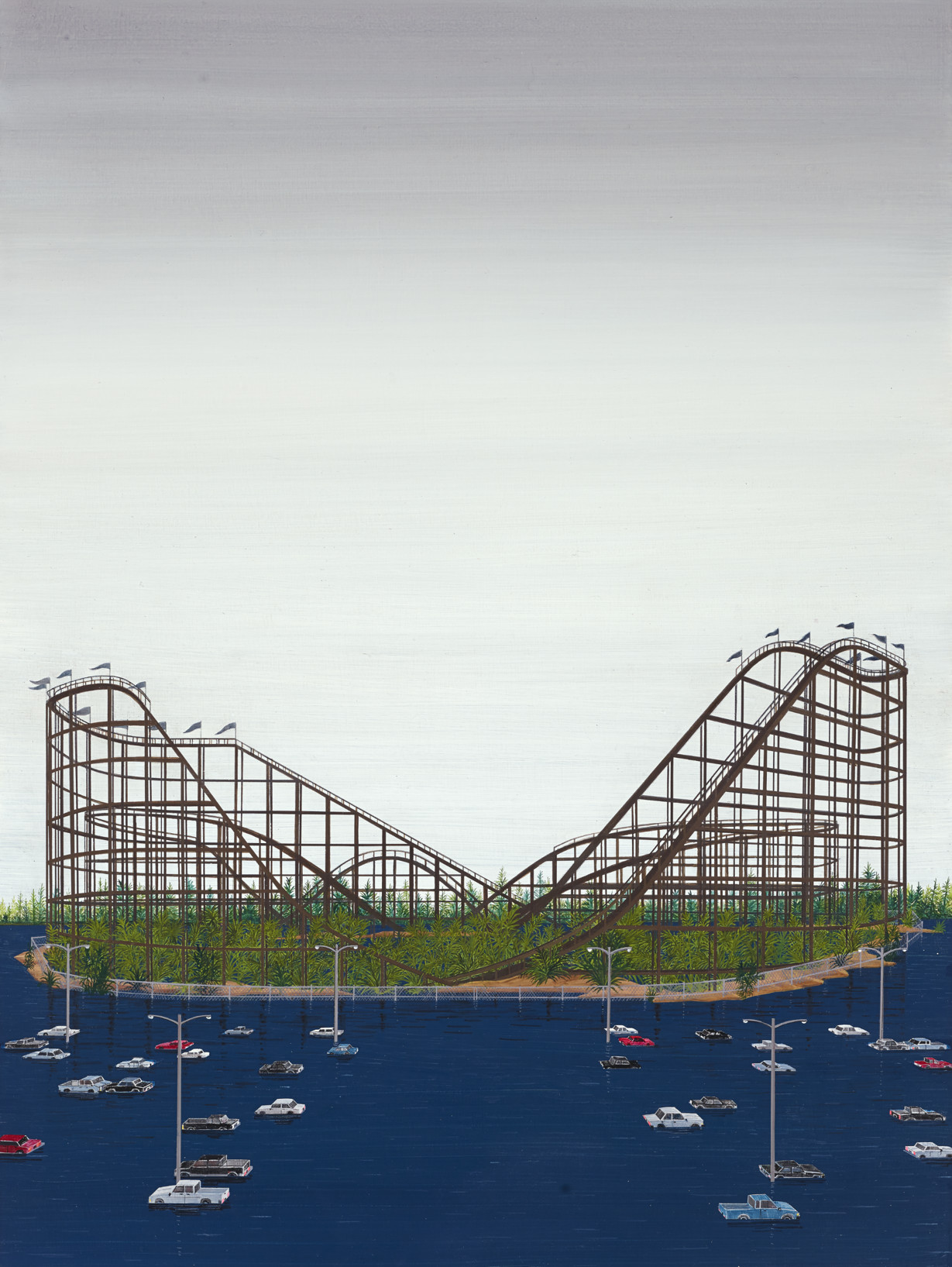 Rollercoaster
2021
Acrylic on panel
61 × 46 cm
Show more works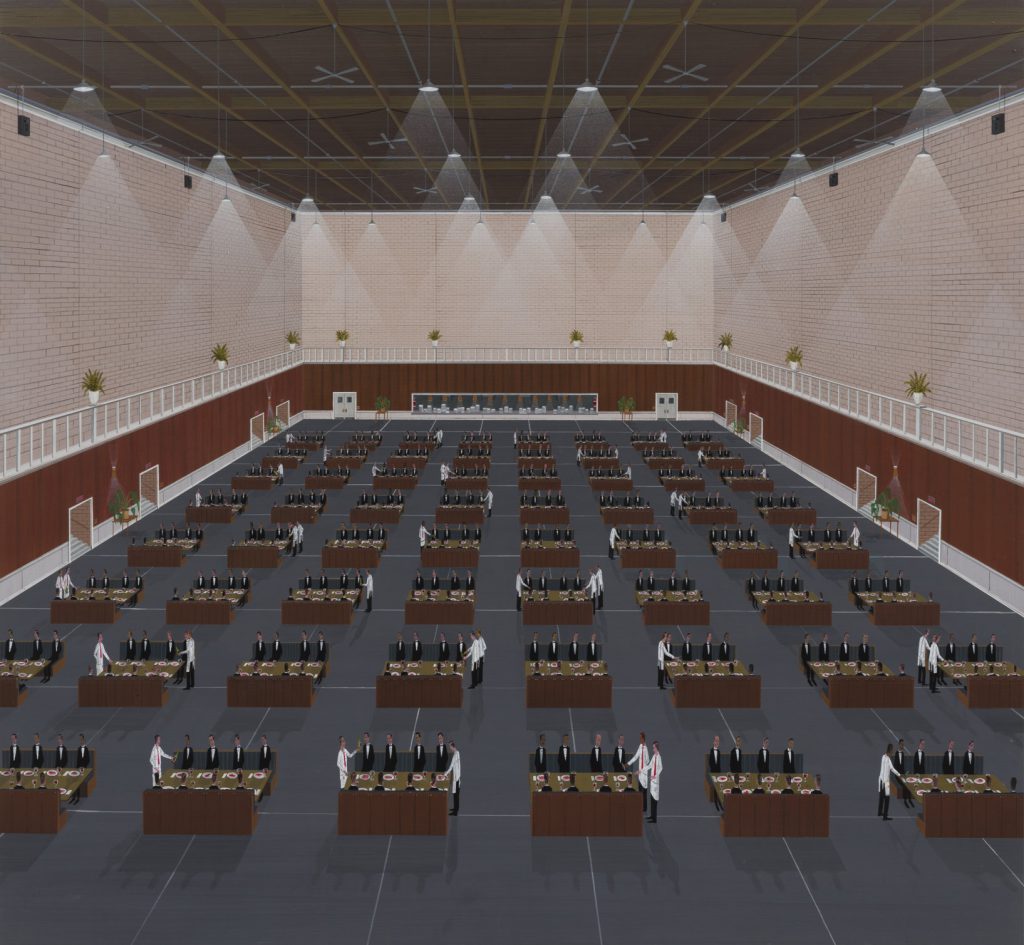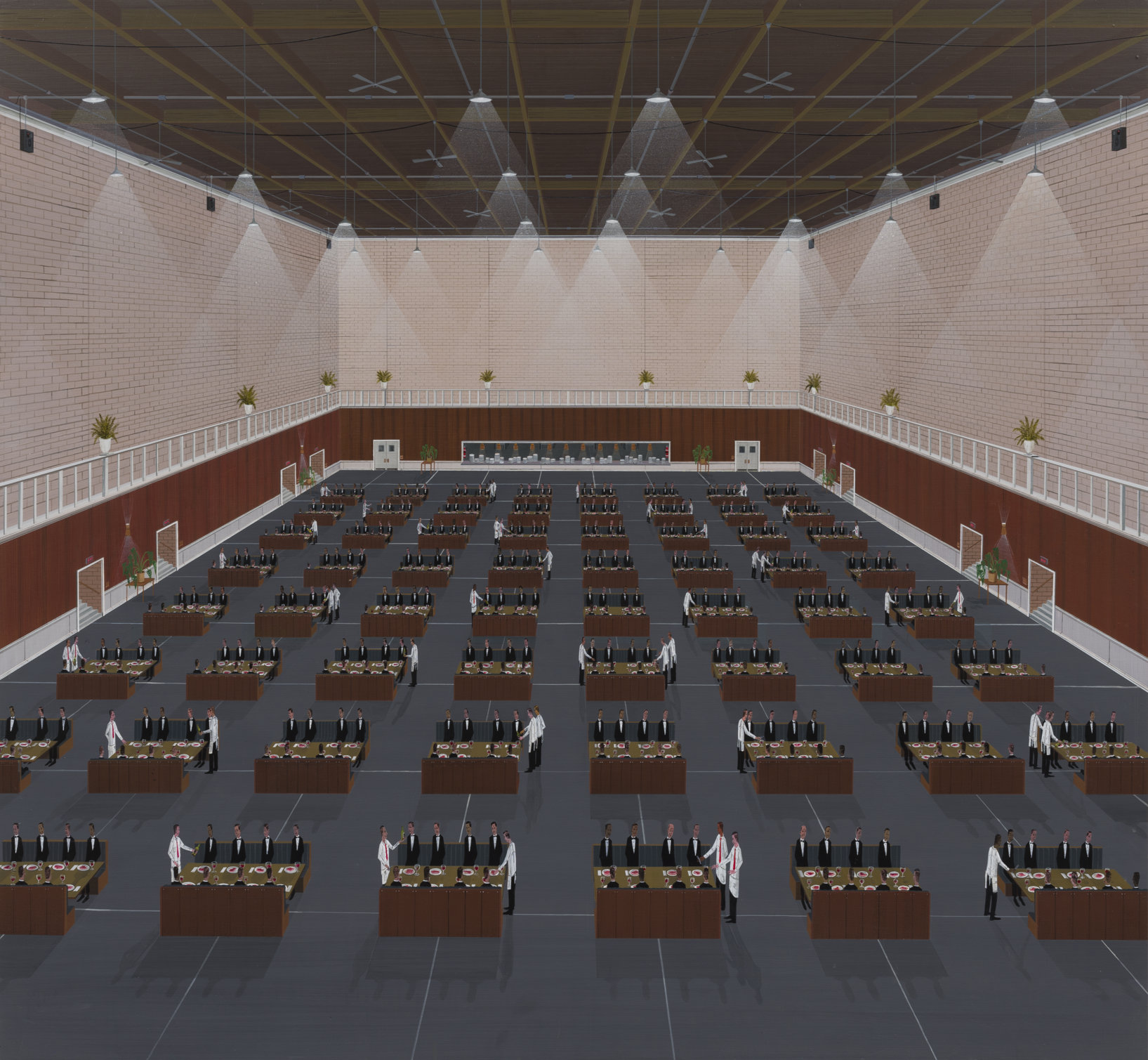 Propagate
2019
Acrylic on panel
127 × 137 cm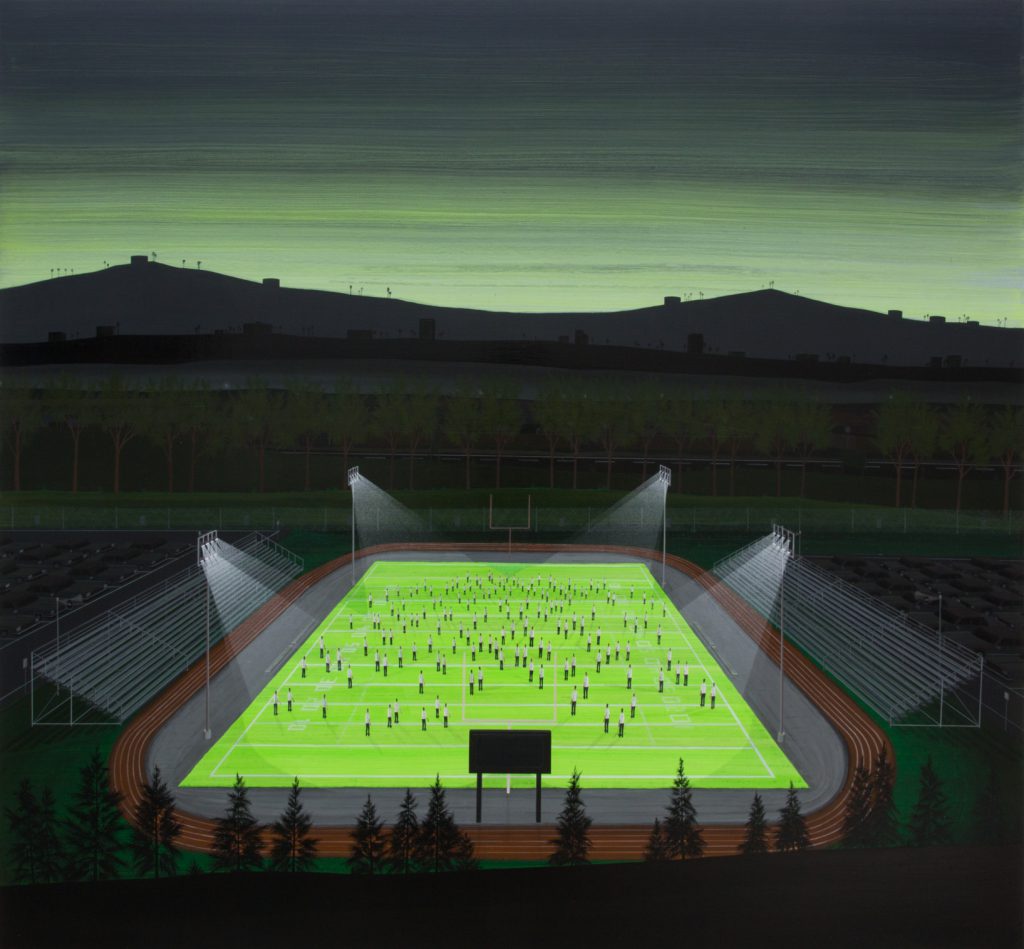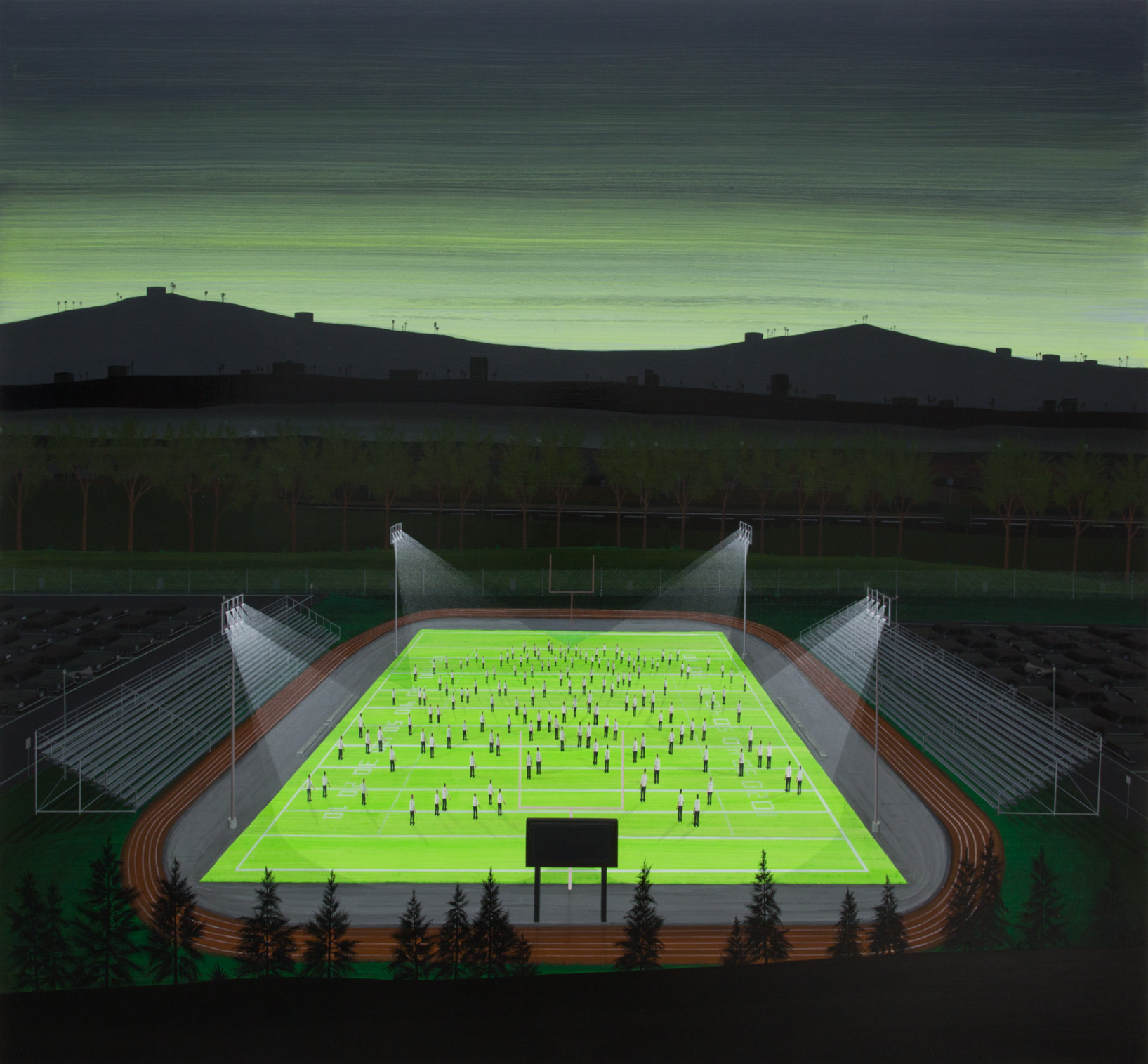 Spectacle
2019
Acrylic on panel
127 × 136.5 cm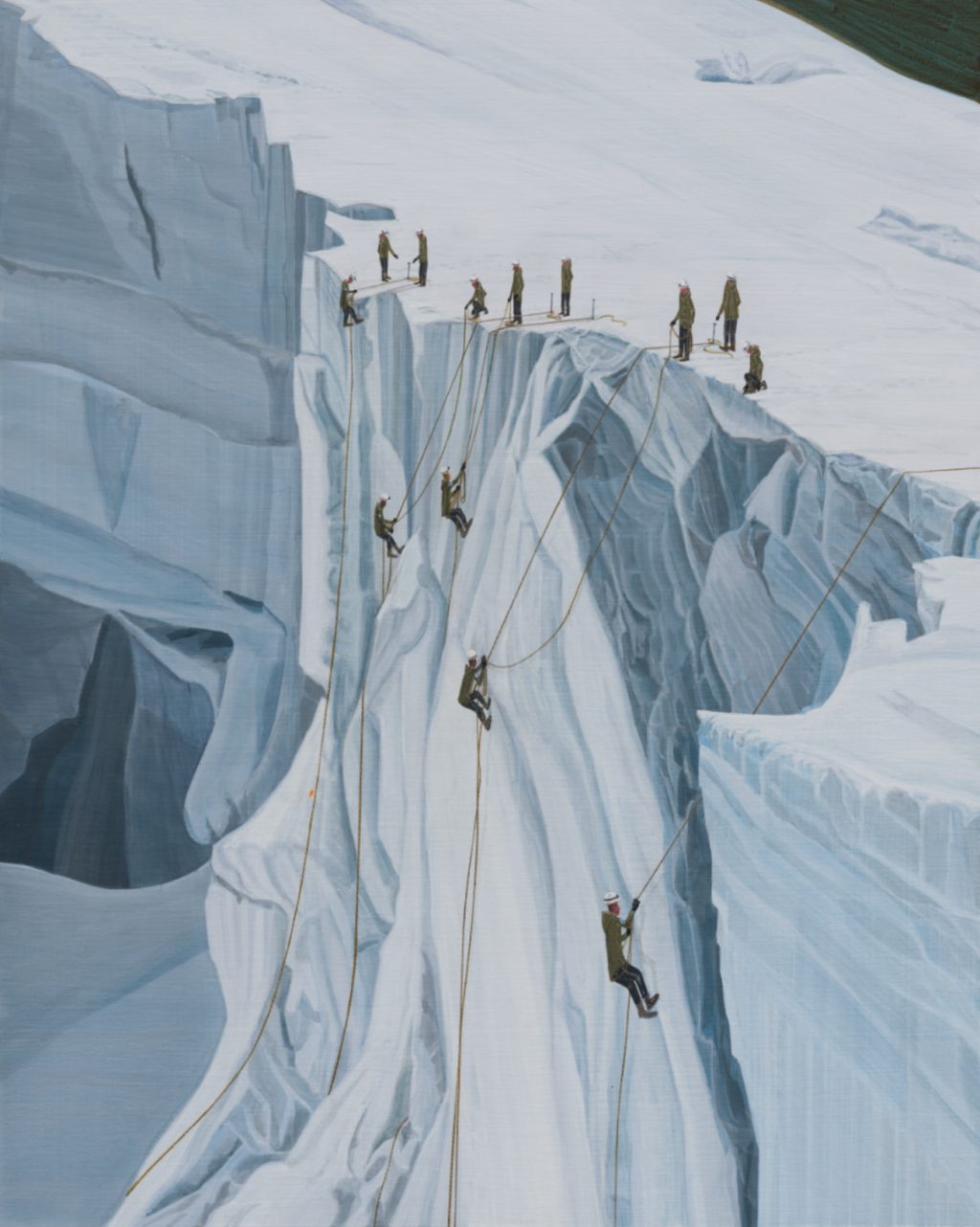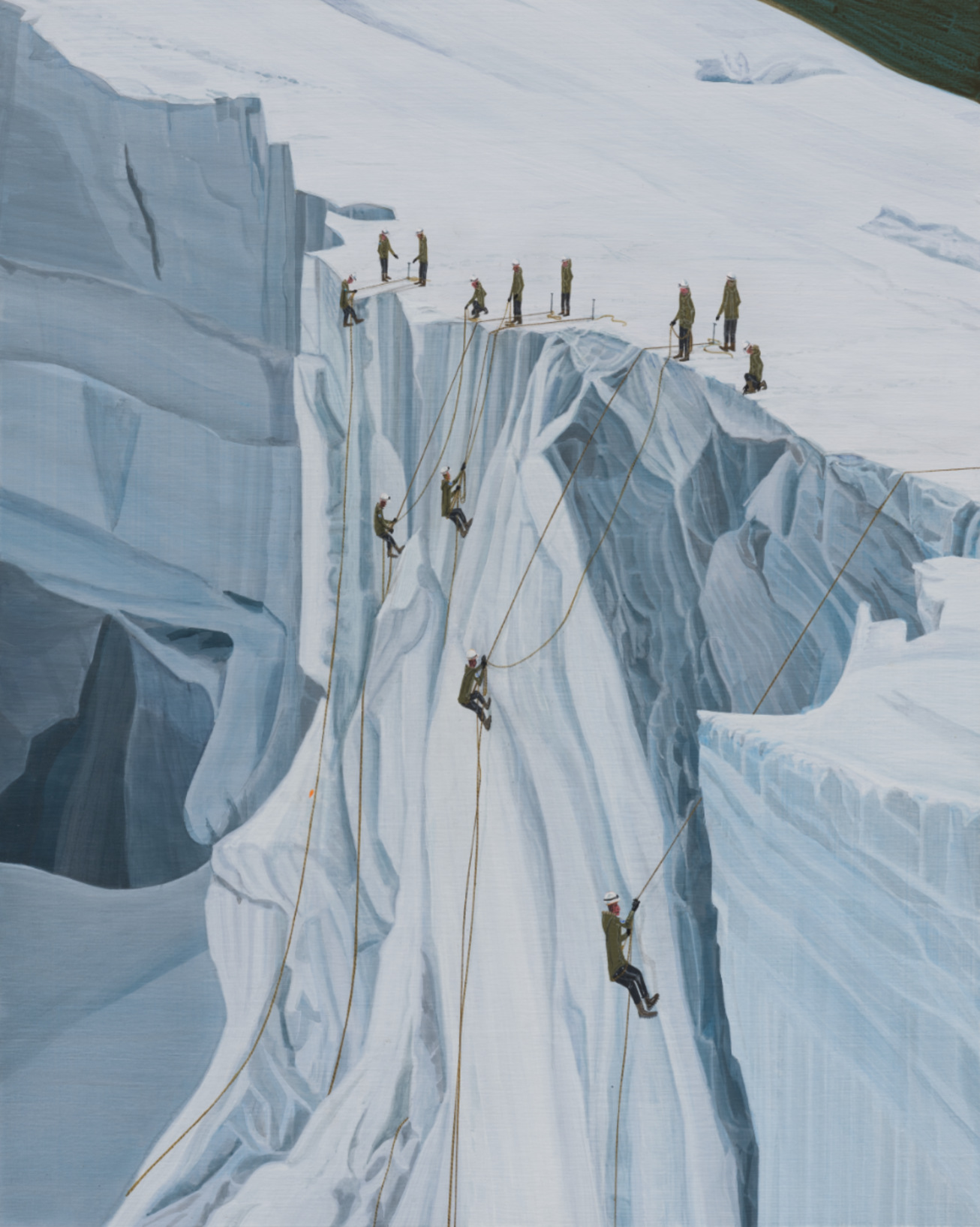 Climbers
2021
Acrylic on panel
51 × 40.5 cm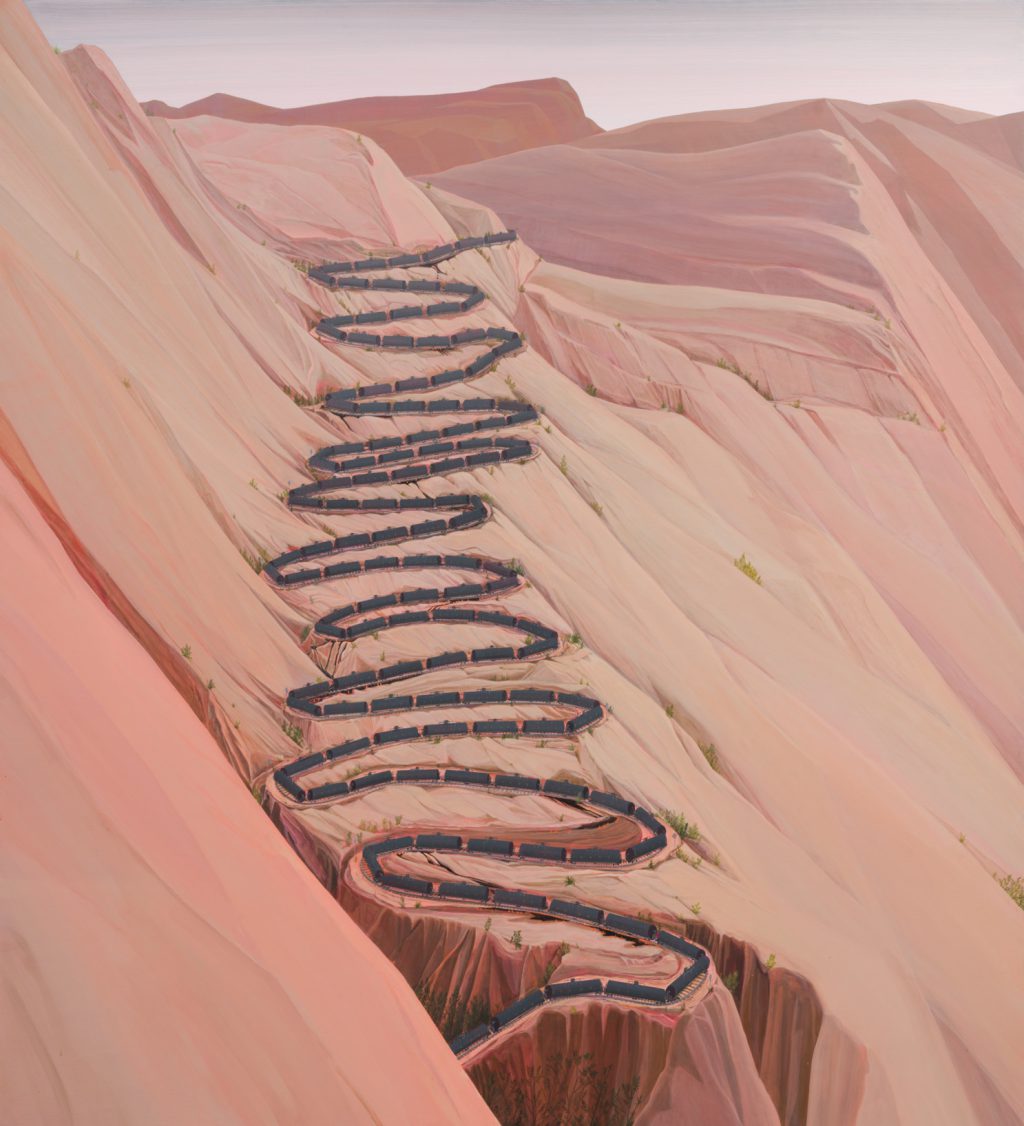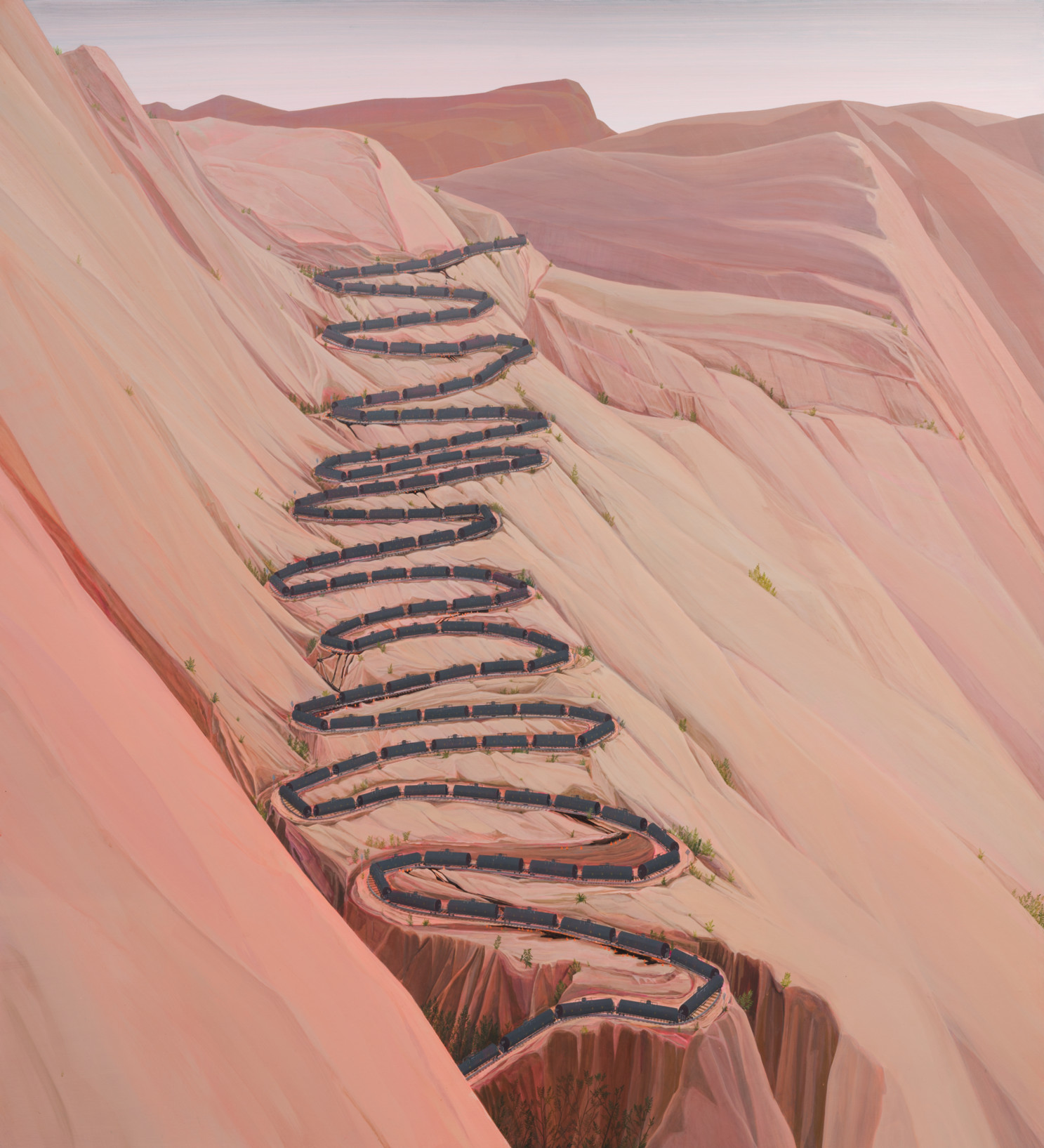 Oil Tankers
2018
Acrylic on linen
167 × 153 cm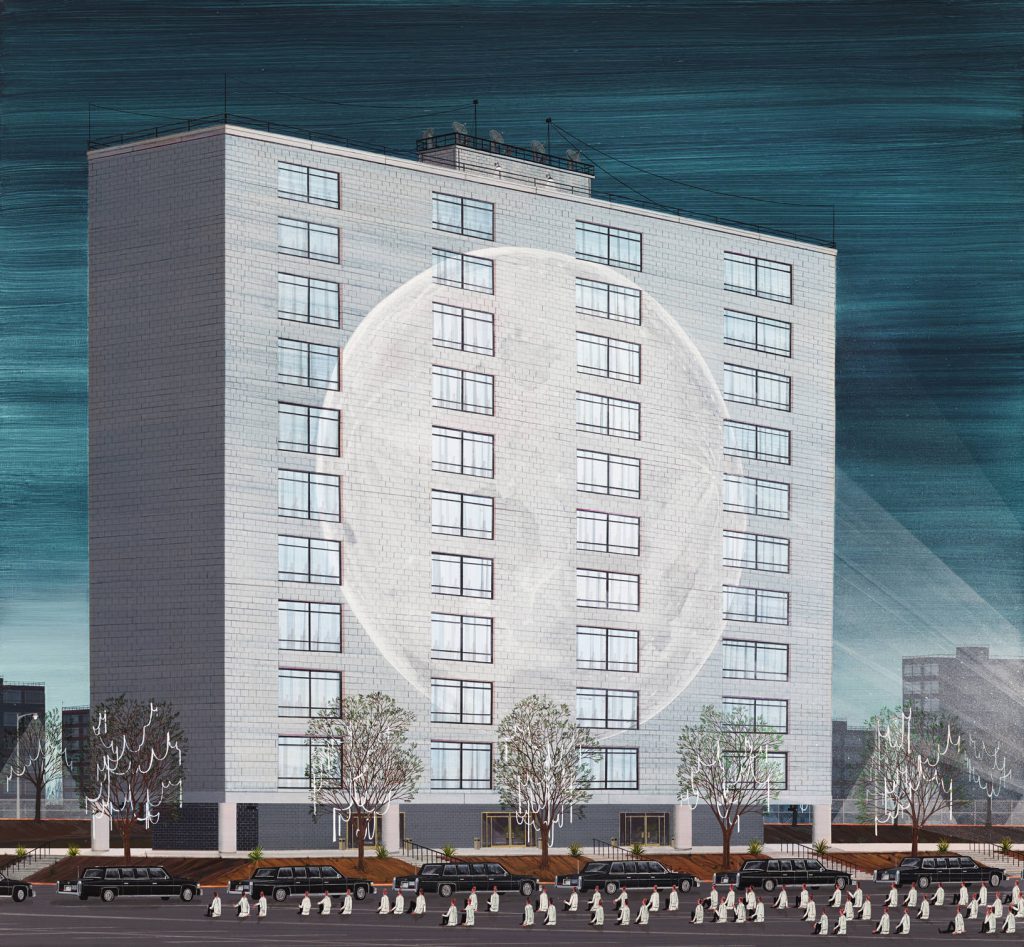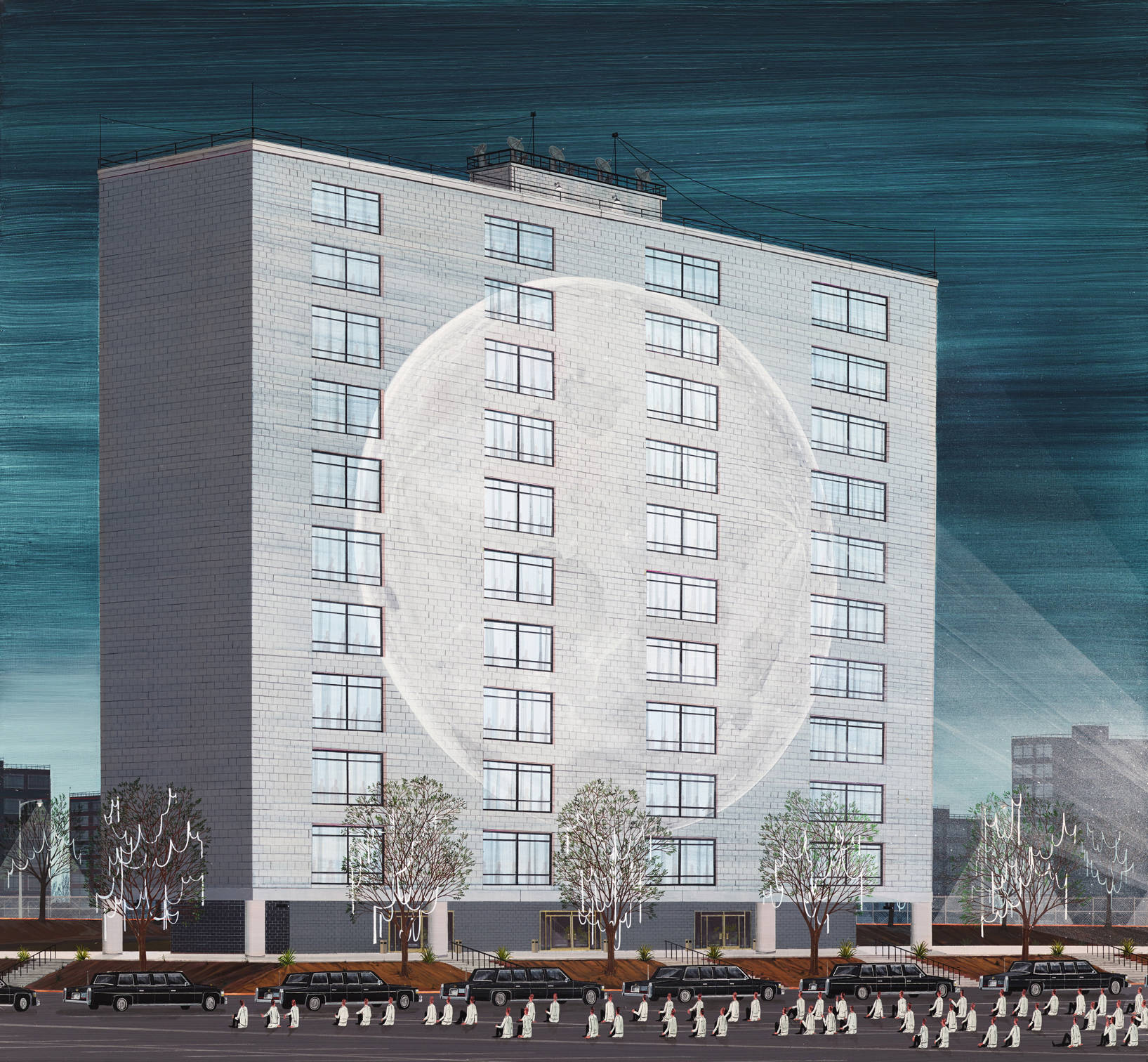 Projection
2014
Acrylic on linen
127 × 137 cm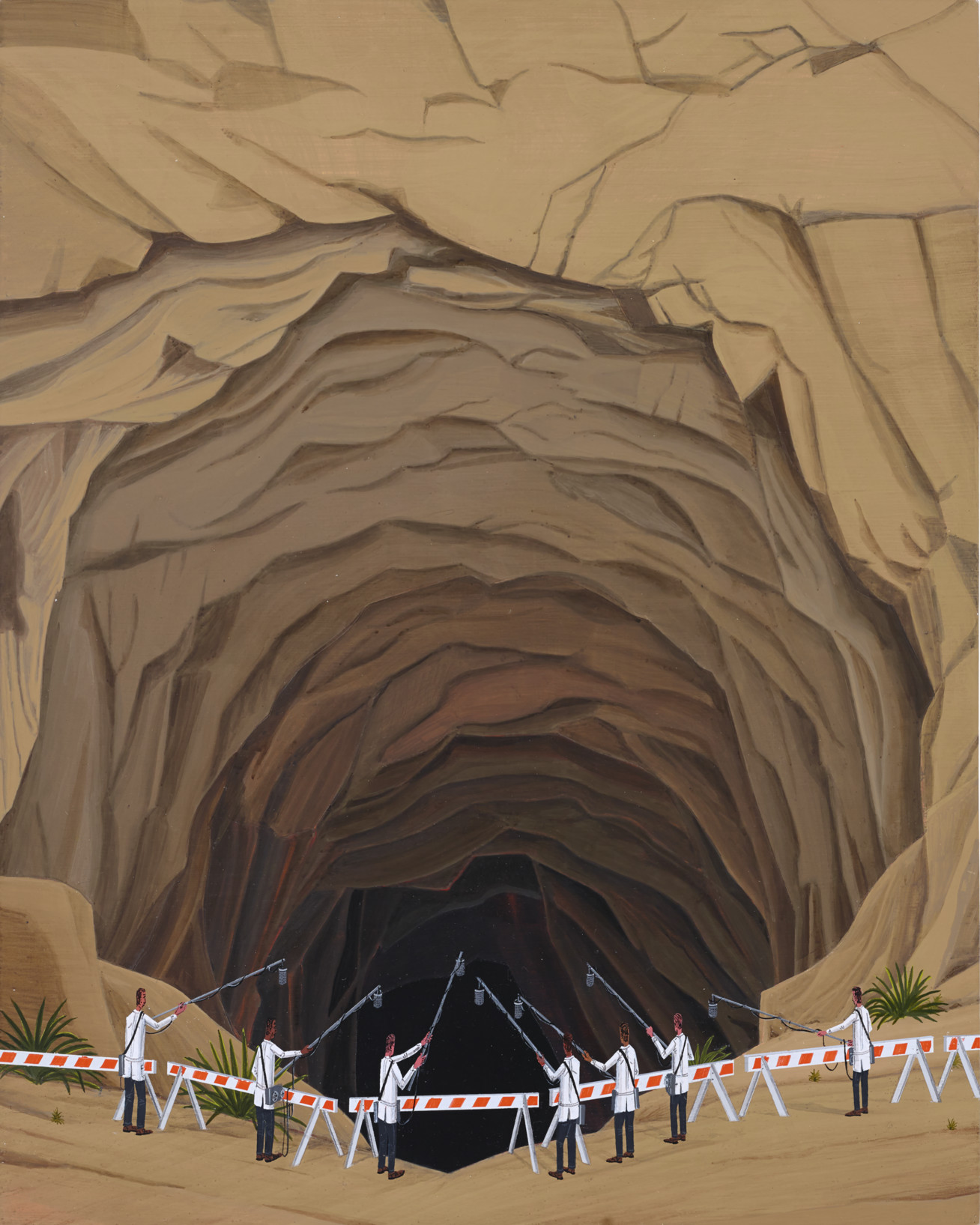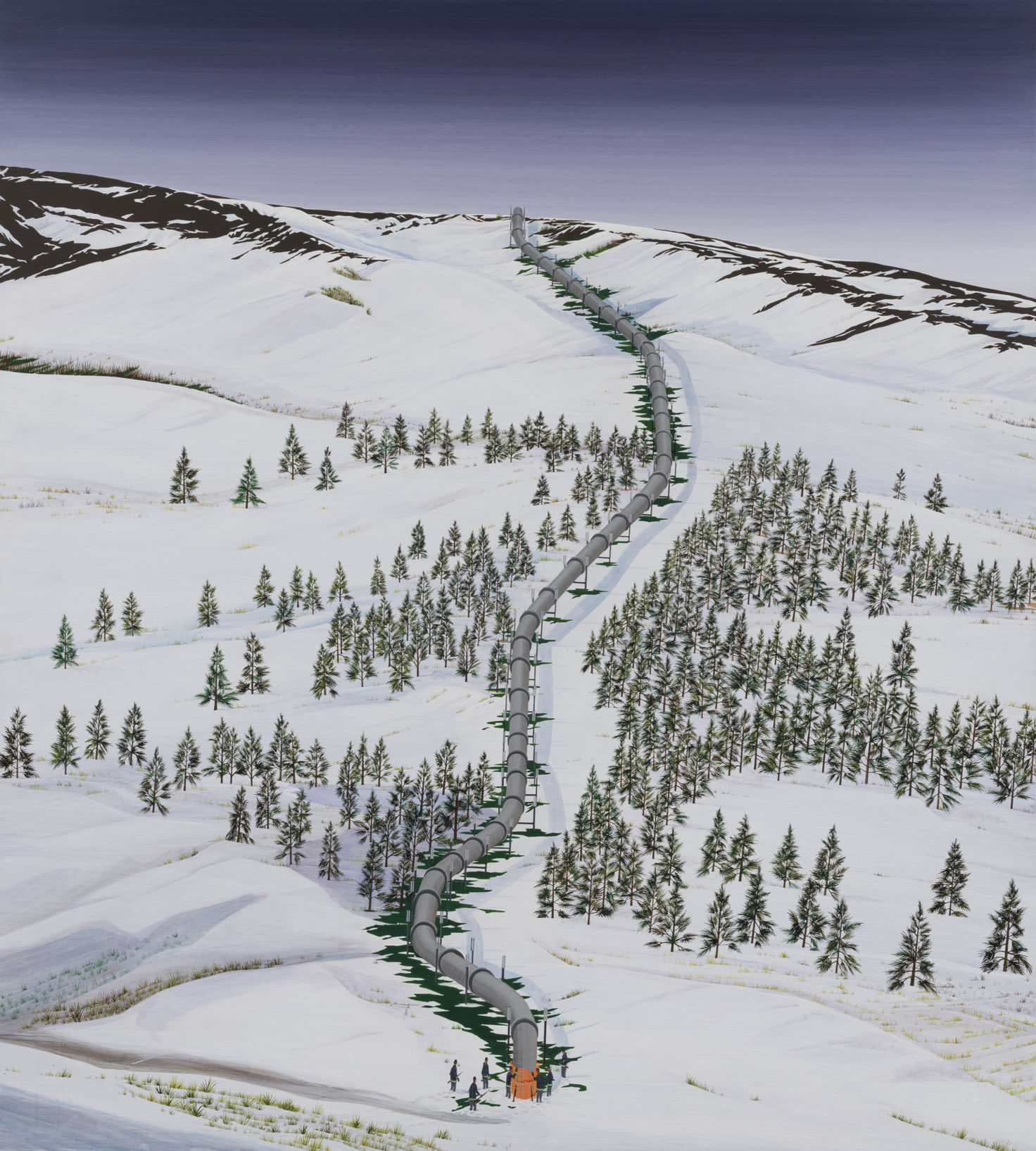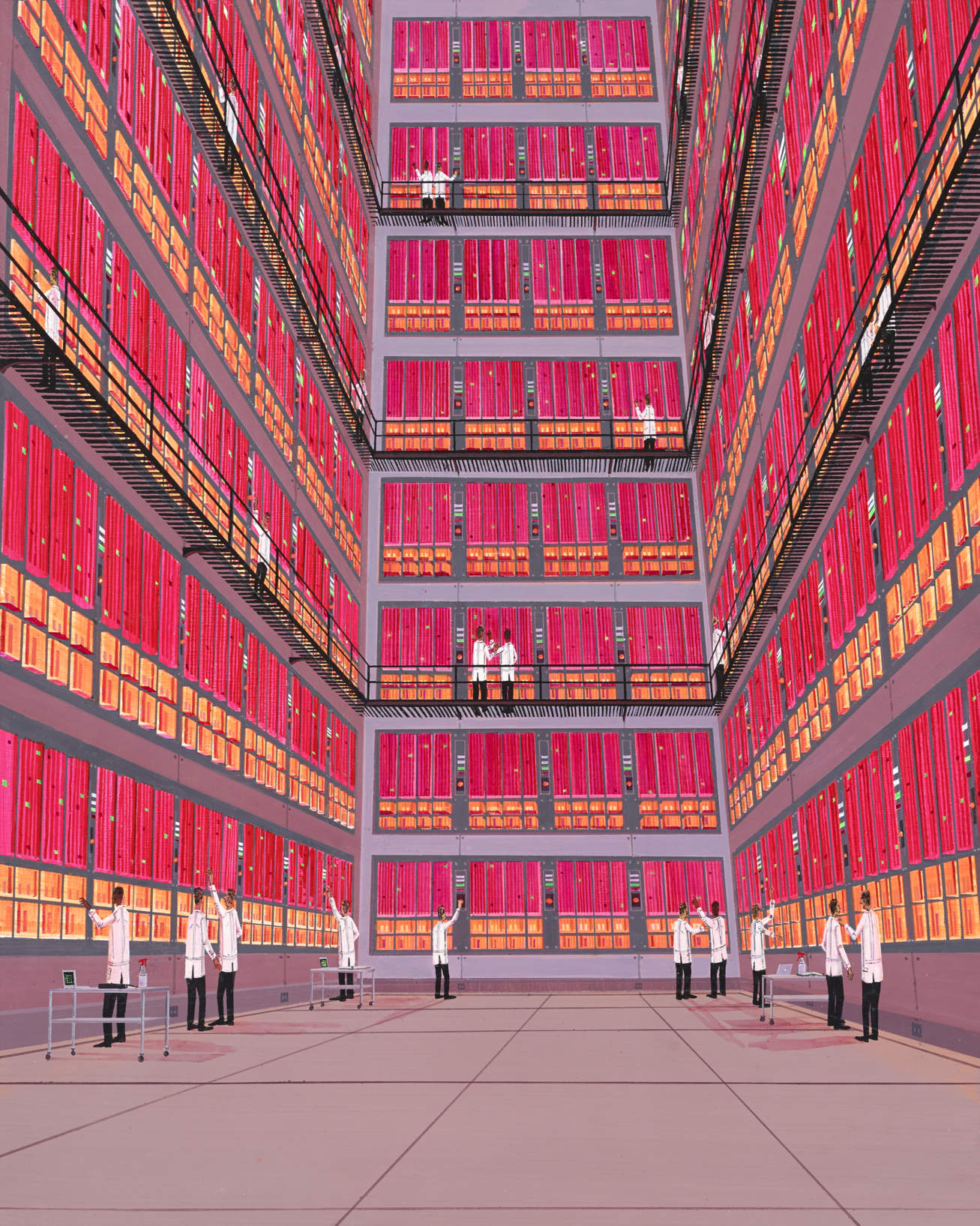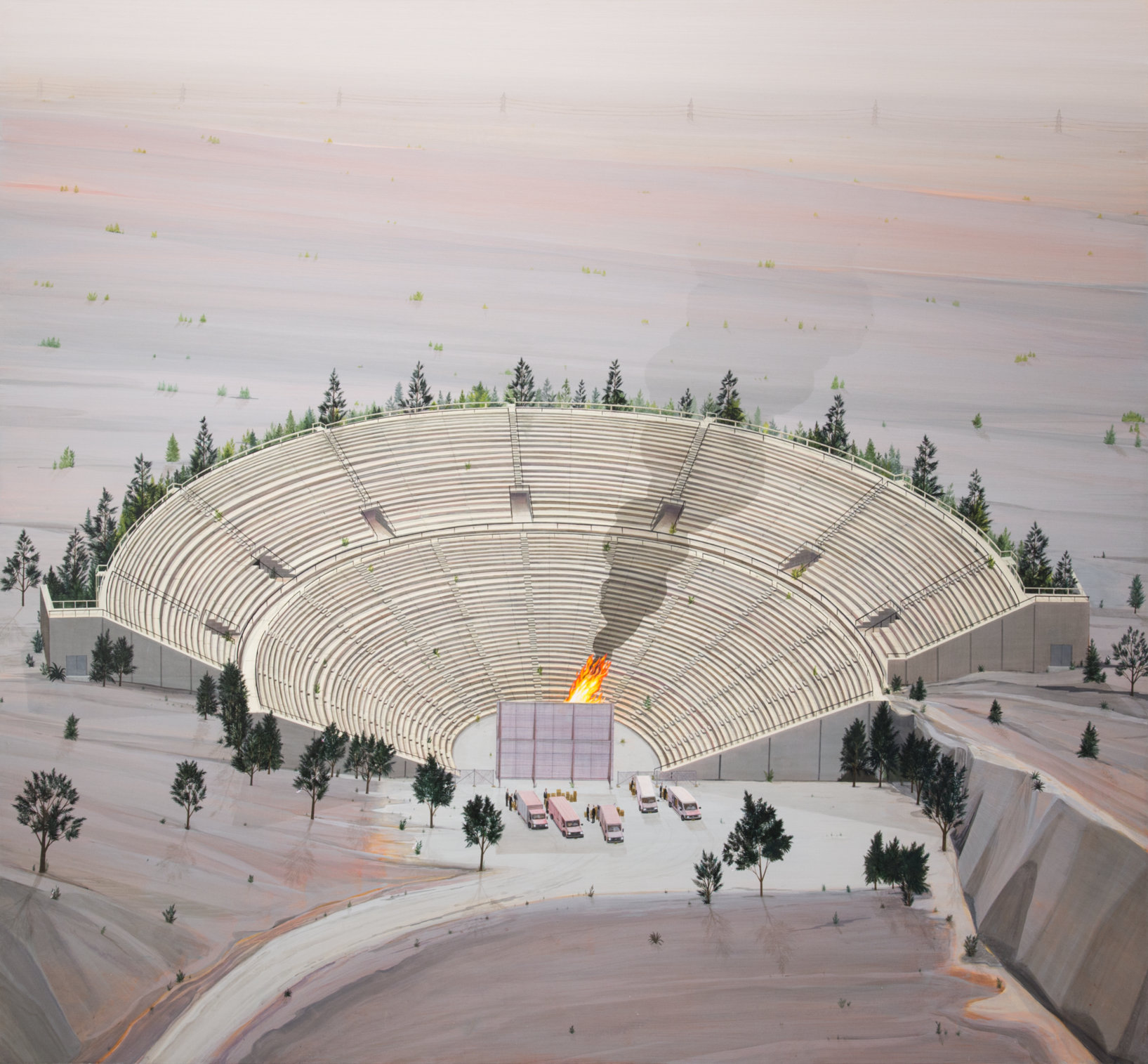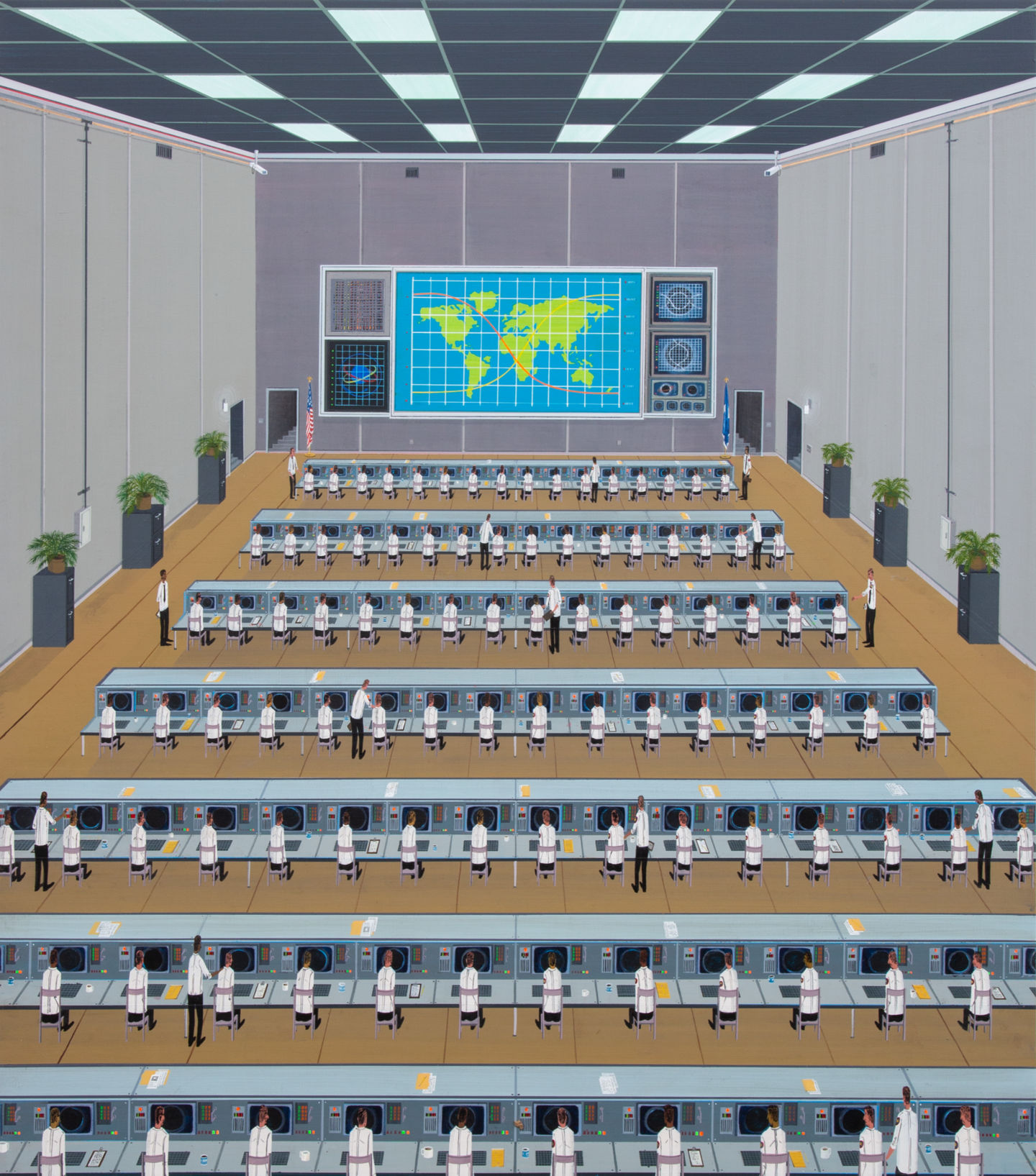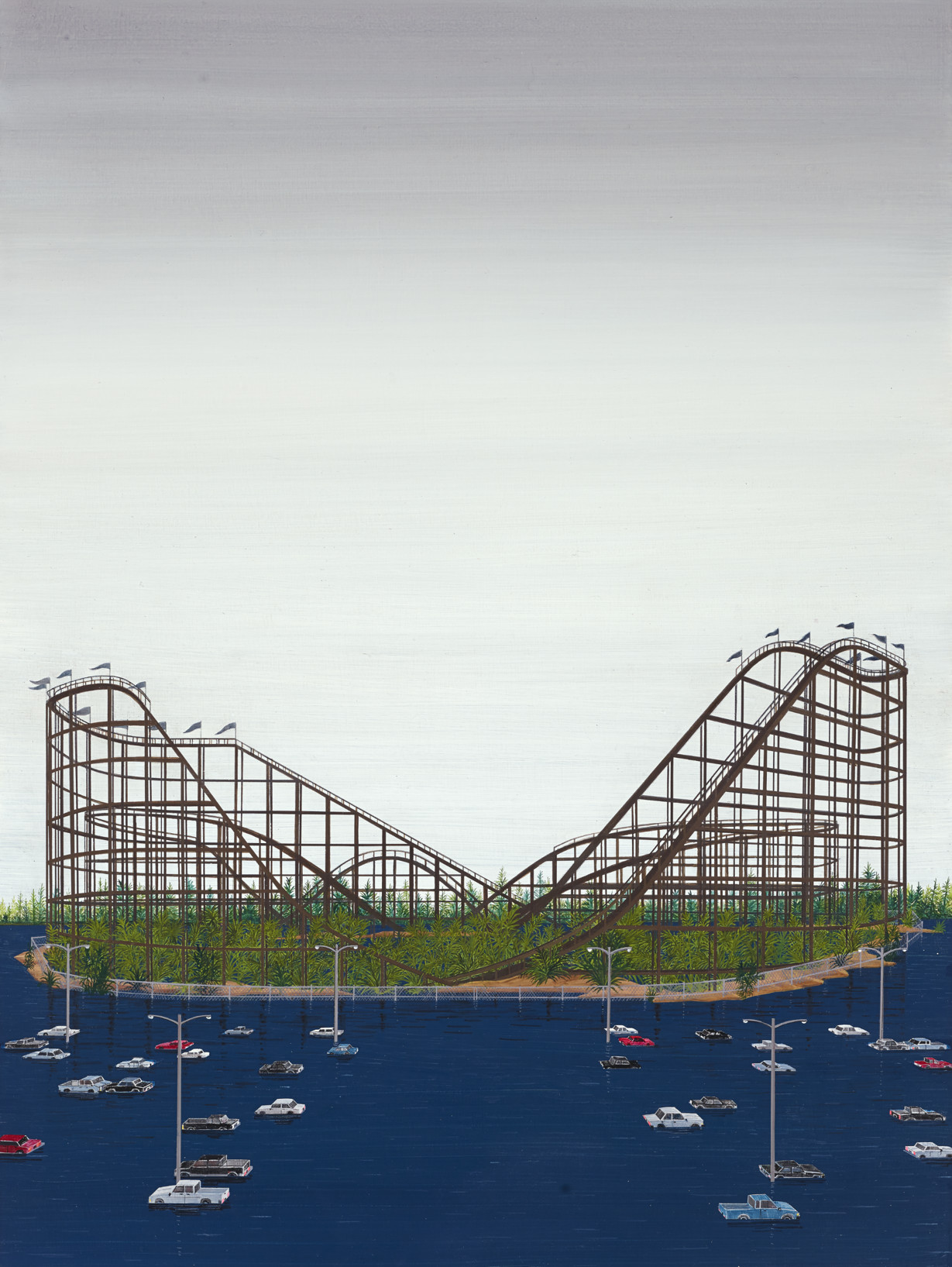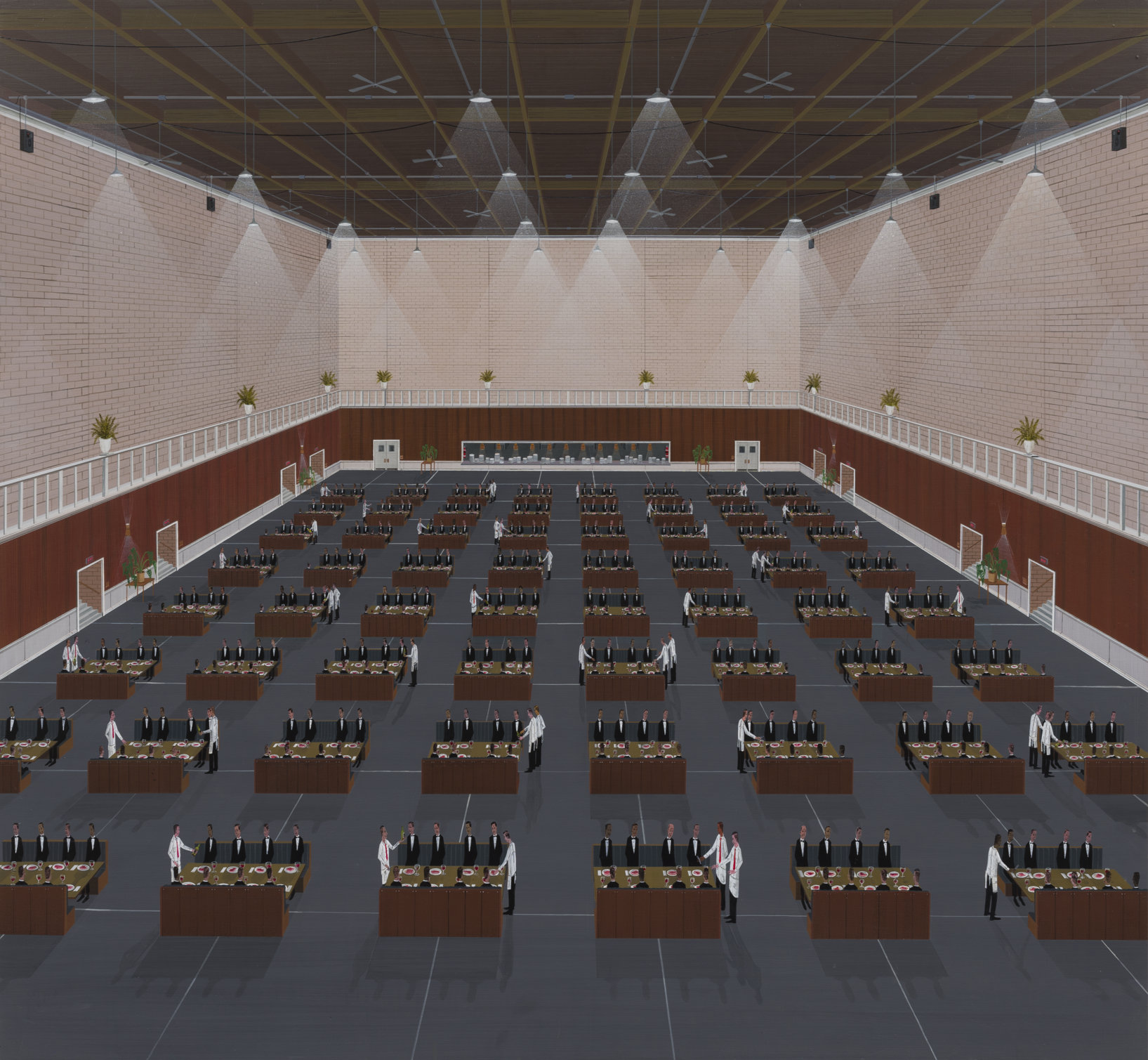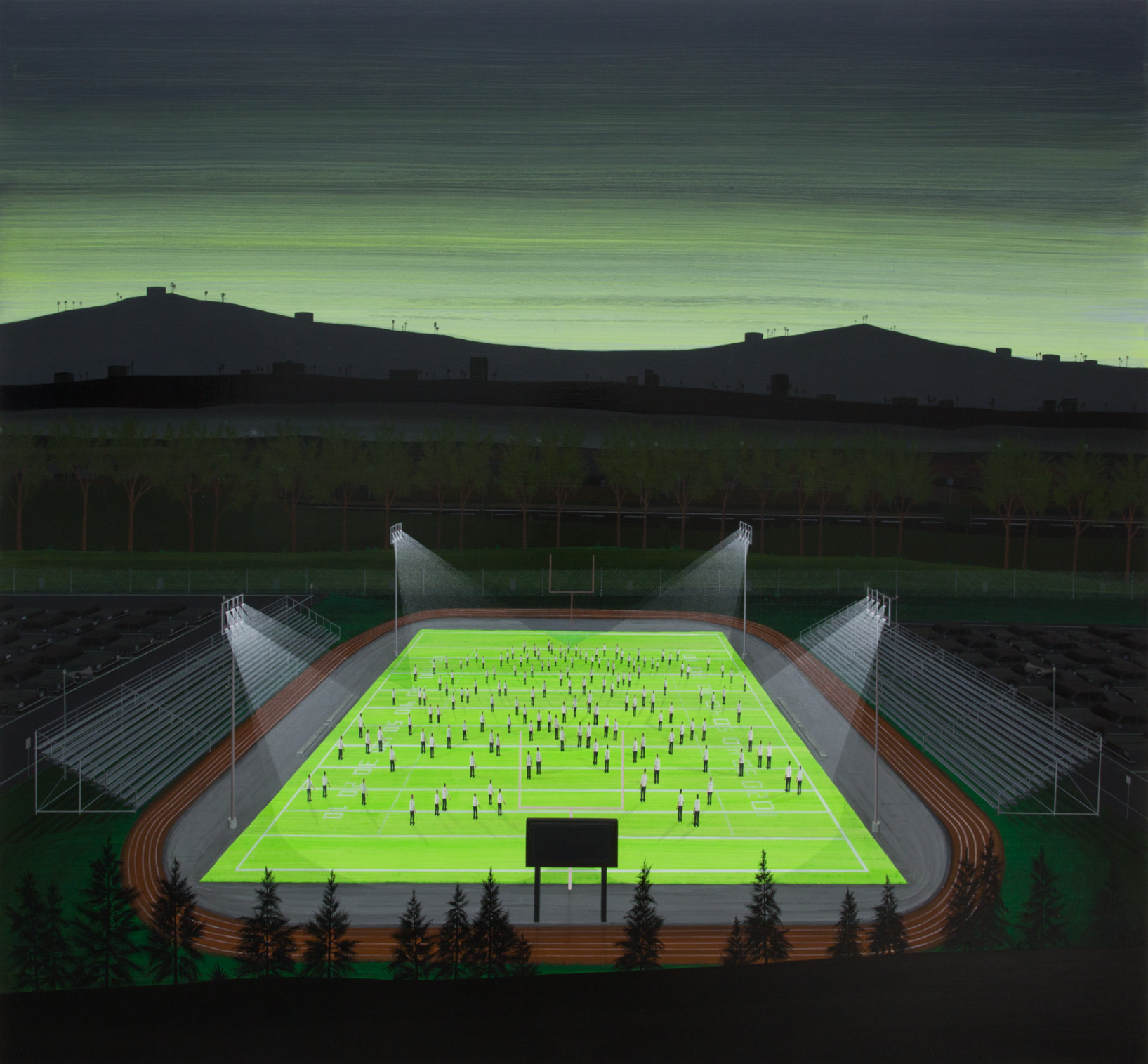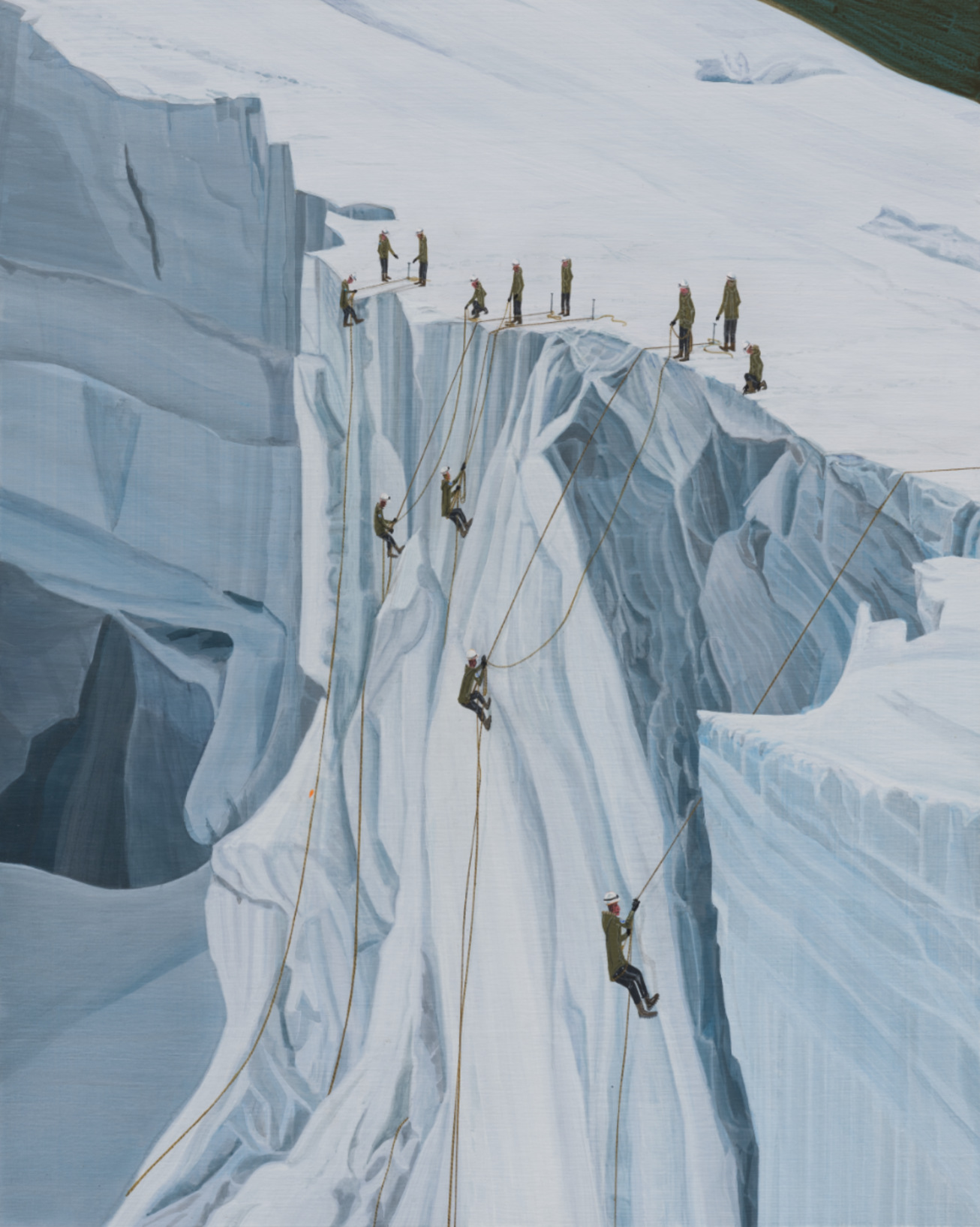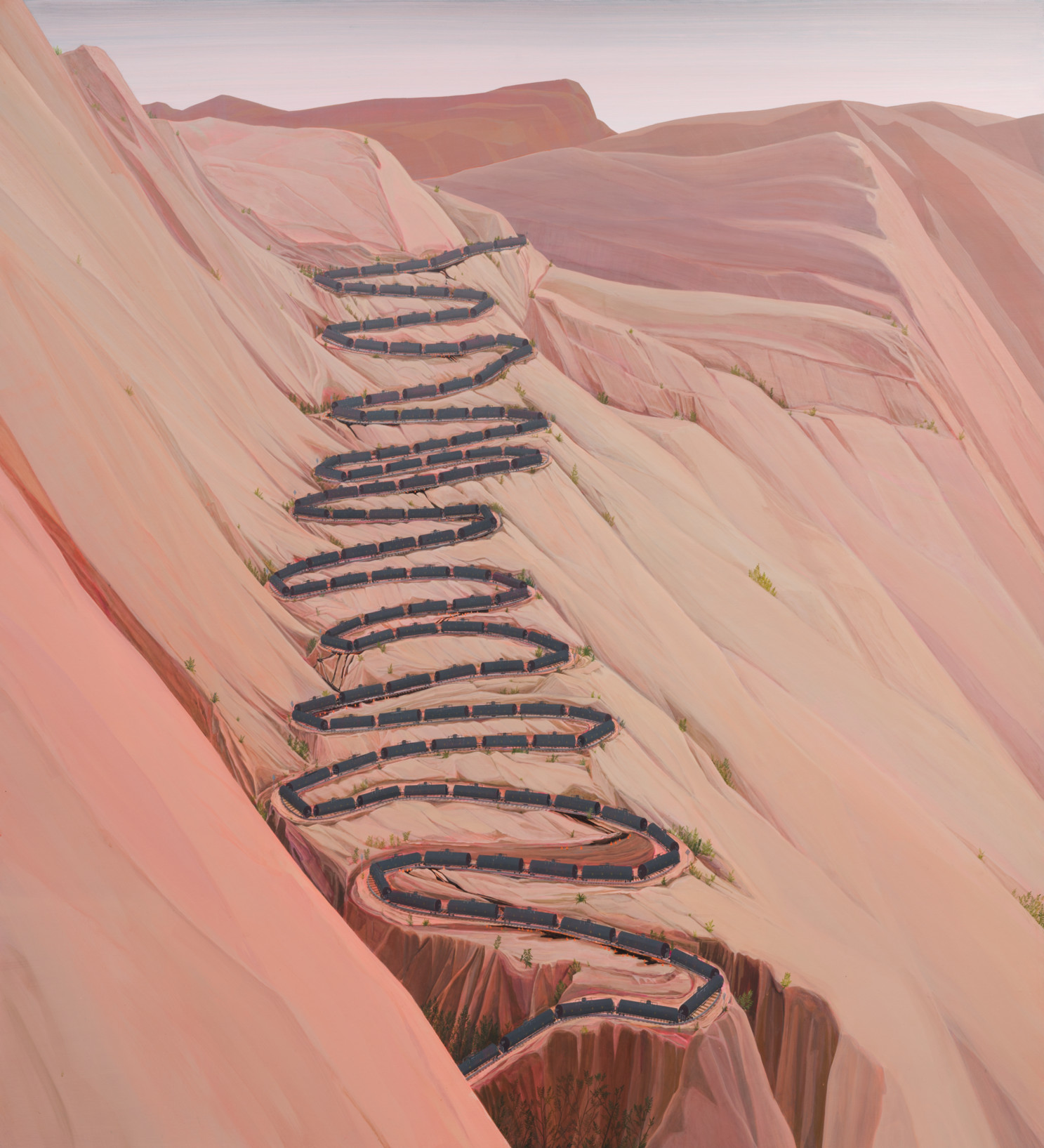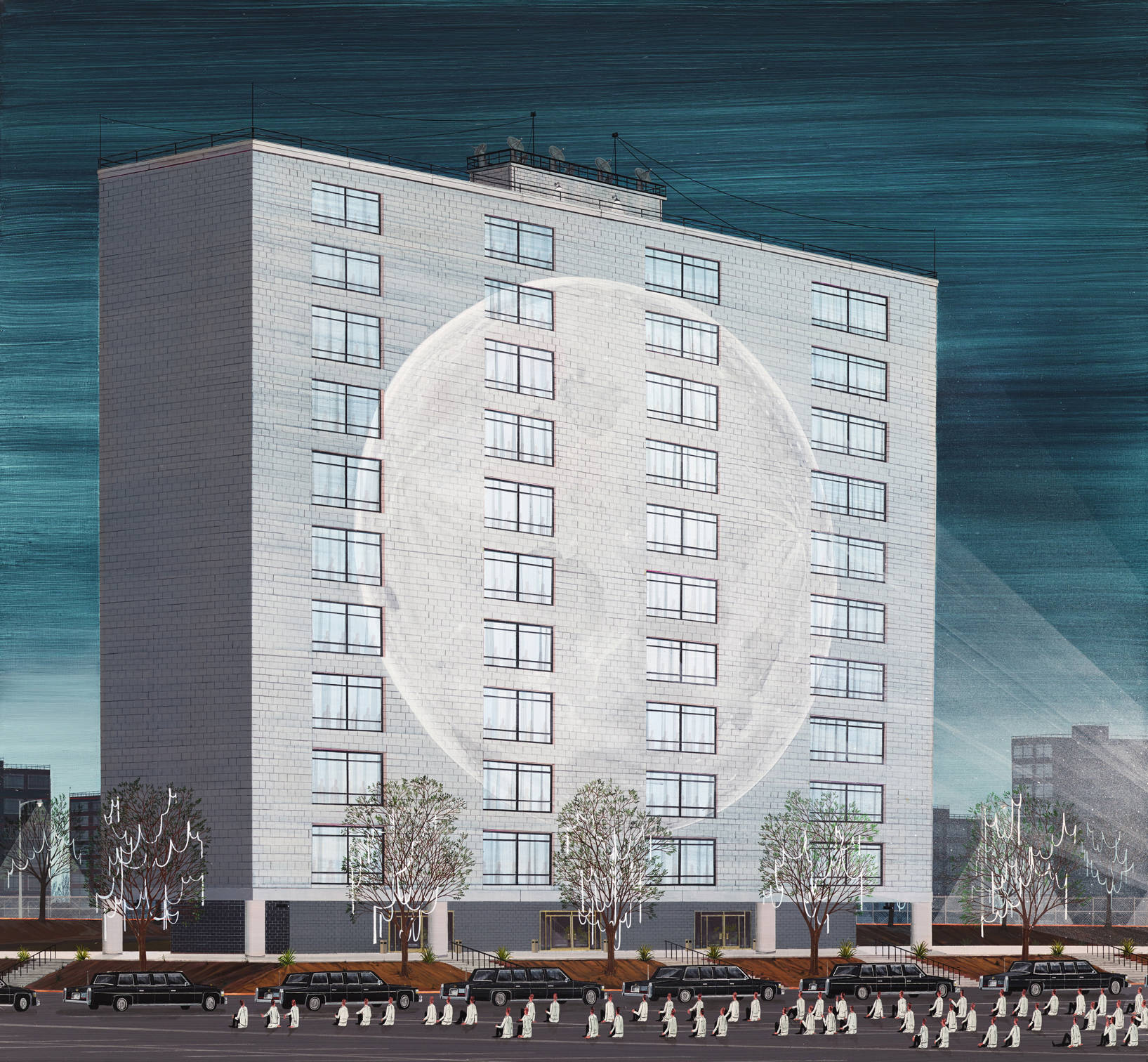 ---
About
Over the past 20 years, American artist Ian Davis, born in Indianapolis in 1972, has created a body of work that is just as recognizable as it is enigmatic. In highly narrative, darkly humorous and downright surreal settings, Davis chronicles moments of human gatherings, often immediately before or after an event, usually a disaster of sorts. The tension of these pre- and post-apocalyptic situations is always palpable. And yet Davis rarely moves beyond these dystopian snapshots. As highly condensed and finely rendered his compositions are, nothing is revealed about the triggers or the aftermath. The identity of the tall, lanky men, who almost always appear in dark suits or lab coats, also remains obscure. They are faceless, supra-individual figures – placeholders of a patriarchic and bureaucratic society, one could reckon. These bureaucrats never turn up on their own. They come in herds and packs, and as such the artist likes to arrange them somewhat ornamentally. Davis' societies thus seem like an illustration of the famous essay by the German sociologist Siegfried Kracauer with the telling title The Mass Ornament (1927). In it, Kracauer states that the ornament of masses can always tell us more about a time than any contemporary theory: "The position that an epoch occupies in the historical process can be determined more strikingly from an analysis of its inconspicuous surface-level expressions than from that epoch's judgments about itself." Supposedly, if one looks from a slightly elevated angle at people and at how they – as private individuals, professionals, and citizens – are arranged into masses, one could learn everything about their relationships, organization, and dependencies. In this sense, Davis' "mass ornaments" may be read as mirror images of today's society and its structures. They reveal something we not yet fully grasp: that our own time is shaped by an extreme division of labor and the resulting interchangeability of "human capital" – while the occurrence of catastrophes, ranging from natural disasters to terrorism, is multiplying.

Continue reading
Ian Davis studied Fine Arts at the Arizona State University and the Skowhegan School of Painting and Sculpture. His paintings are featured in the collections of the Nerman Museum of Contemporary Art in Overland Park (Kansas), the Kemper Museum of Contemporary Art in Kansas City (Missouri) and the Sheldon Museum of Art in Lincoln (Nebraska), amongst others. After living in upstate New York for many years, Davis relocated to Los Angeles in 2015.
---
---
---
Chronology
---
Biography
1972
Born in Indianapolis, IN
1994
BFA Arizona State University, Tempe, AZ
2005
Skowhegan School of Painting and Sculpture, New York, NY
Lives and works in Los Angeles, CA.
Selected Solo Exhibitions
2022
Ian Davis: The Mass Ornament, Galerie Judin, Berlin
2018
Ian Davis: 2nd Dark Age, Night Gallery, Los Angeles, CA
2016
Ian Davis: Expert Advice, Josh Lilley Gallery, London
2014
Ian Davis: Rituals. New Paintings, Leslie Tonkonow Artworks + Projects, New York, NY
2012
Ian Davis: Jewel Sermons. New Paintings, Leslie Tonkonow Artworks + Projects, New York, NY
2010
Ian Davis: Faith in the Future, Kemper Museum of Contemporary Art, Kansas City, MO
2009
Ian Davis: Strange Geometry, Leslie Tonkonow Artworks + Projects, New York, NY
2007
Ian Davis, Leslie Tonkonow Artworks + Projects, New York, NY
2006
Ian Davis: The Great Divide, Acuna-Hansen Gallery, Los Angeles, CA
2000
Ian Davis, Art One Gallery, Scottsdale, AZ
1999
Ian Davis: Paintings and Drawings, Art One Gallery, Scottsdale, AZ
1998
Ian Davis: Eight Million Stories, New School for the Arts, Scottsdale, AZ; Art One Gallery, Scottsdale, AZ
Selected Group Exhibitions
2022
Liminal Spaces: Tom Anholt, Ian Davis, Rabia Farooqui, Emma Fineman, Arthur Lemaitre, Radu Oreian, Hiroe Saeki and Waswo X Waswo with R. Vijay, Galerie Isa, Mumbai
2021
Time Takes a Cigarette, Josh Lilley Gallery, London
2020–21
Gifts from the Flat Files, Tamarind Institute, Albuquerque, NM
2020
Majeure Force: Part Two, Night Gallery, Los Angeles, CA
2019
Go Ahead: Stories of Location and Belonging, Tamarind Institute, Albuquerque, NM
Stains on a Decade, Josh Lilley Gallery, London
We Contain Multitudes, Galerie Isa, Mumbai
2017
Apocalypse Summer, ltd los angeles, Los Angeles, CA
True Lies, Night Gallery, Los Angeles, CA
2013
50 Gifts for 50 Years, Sheldon Museum of Art, Lincoln, NE
Peekskill Project V, Hudson Valley Center for Contemporary Art, Peekskill, New York, NY
2012
Collapse, RH Gallery, New York, NY

Oppenheimer@20, Nerman Museum of Contemporary Art, Overland Park, KS
Corporations Are People Too, Winkleman Gallery, New York, NY
2011
Streams of Consciousness: The Histories, Mythologies, and Ecologies of Water,
Salina Art Center, KS
2009
I Thought Our Worlds Were the Same, Zeitgeist Gallery, Nashville, TN
2008
The Freedom Centre: 'This Show Will Change Your Life!', Hales Gallery, London
Utopia/Dystopia, Leslie Tonkonow Artworks + Projects, New York, NY
Maritime: Ships, Pirates, and Disasters, Contemporary Art Galleries, University of Connecticut, Storrs, CT
2007–08
The Colonial Show, Second Street Gallery, Charlottesville, VA
2007
Works from the Permanent Collection, Nerman Museum of Contemporary Art, Overland Park, KS
Block Party II: An Exhibition of Drawings, Daniel Weinberg Gallery, Los Angeles, CA
Sheldon Survey: An Invitational, Sheldon Memorial Art Gallery, Lincoln, NE
2006
25 BOLD MOVES, House of Campari, Los Angeles, CA
Reality Effect, Santa Ana College, Santa Ana, CA
2004
Miscegenation, The Chocolate Factory, Phoenix, AZ
Merry/Peace, Sideshow, Brooklyn, NY
Born in the U.S.A., Galerie Art One, Zurich
2003
Group Show, GRA Gallery, New York, NY
Group Show, Fugitive Art Space, Nashville, TN
2002
Group Show, GRA Gallery, New York, NY
2001
Above Ground, Dam, Stuhltrager, Brooklyn, NY
1999
Horror, 381g, San Francisco, CA
Three Painters, 381g, San Francisco, CA
1998
Group Show, Whole Gallery, San Francisco, CA
1997
Four, 111 Minna Gallery, San Francisco, CA
1996
Group Show, Artworks Gallery, San Francisco, CA
1995
Transitions, Arizona State University West Gallery, Phoenix, AZ
1994
Painting and Sculpture, Step Gallery 9999, Tempe, AZ
Joe Robbins, Ian Davis, Matthew Kruse, Step Gallery 709, Tempe, AZ
Residencies and Awards
2017
Residency, Tamarind Institute, Albuquerque, NM
2012
New York Foundation for the Arts, Artsit's Fellowship, New York, NY
The MacDowell Colony Artist Residency, Peterborough, NH
2001
Stonehouse Residency for the Contemporary Arts, Miramonte, CA
2000
Arizona Commission for the Arts, Fine Arts Grant, Phoenix, AZ
Selected Collections
Fidelity Investments, Boston, MA
Harvard Business School, Cambridge, MA
Kemper Museum of Contemporary Art, Kansas City, MO
Nerman Museum of Contemporary Art, Overland Park, Kansas, MO
Sheldon Museum of Art, Lincoln, NE
The Progressive Art Collection, Mayfield Village, OH
The Saatchi Gallery, London
Wellington Management Company, Boston, MA
Selected Catalogues and Monographs
2022
Ian Davis: The Mass Ornament. Edited by Juerg Judin and Pay Matthis Karstens. Text by Krist Gruijthuijsen. Exh. cat. Galerie Judin, Berlin. Cologne: Verlag der Buchhandlung Walther und Franz König
2019
We Contain Multitudes: Ali Bansisadr, Jules de Balincourt, Amy Cutler, Ian Davis, Maryam Hoseini, Matthew Ronay. Exh. cat. Galerie Isa, Mumbai. Mumbai: Prodon
2007
Ian Davis: Paintings. With a conversation between Leslie Tonkonow and Ian Davis. Exh. cat. Leslie Tonkow Artworks + Projects, New York
The Colonial Show: Calvin Burton, Ian Davis, Omer Fast, Matthew Fisher, Mark Wagner, Kate Woodliff. Texts by Leah Stoddard and Richard Guy Wilson. Exh. cat. Second Street Gallery, Charlottesville