Lydia Pettit
In Your Anger, I See Fear
29 April – 8 July 2023
---
Works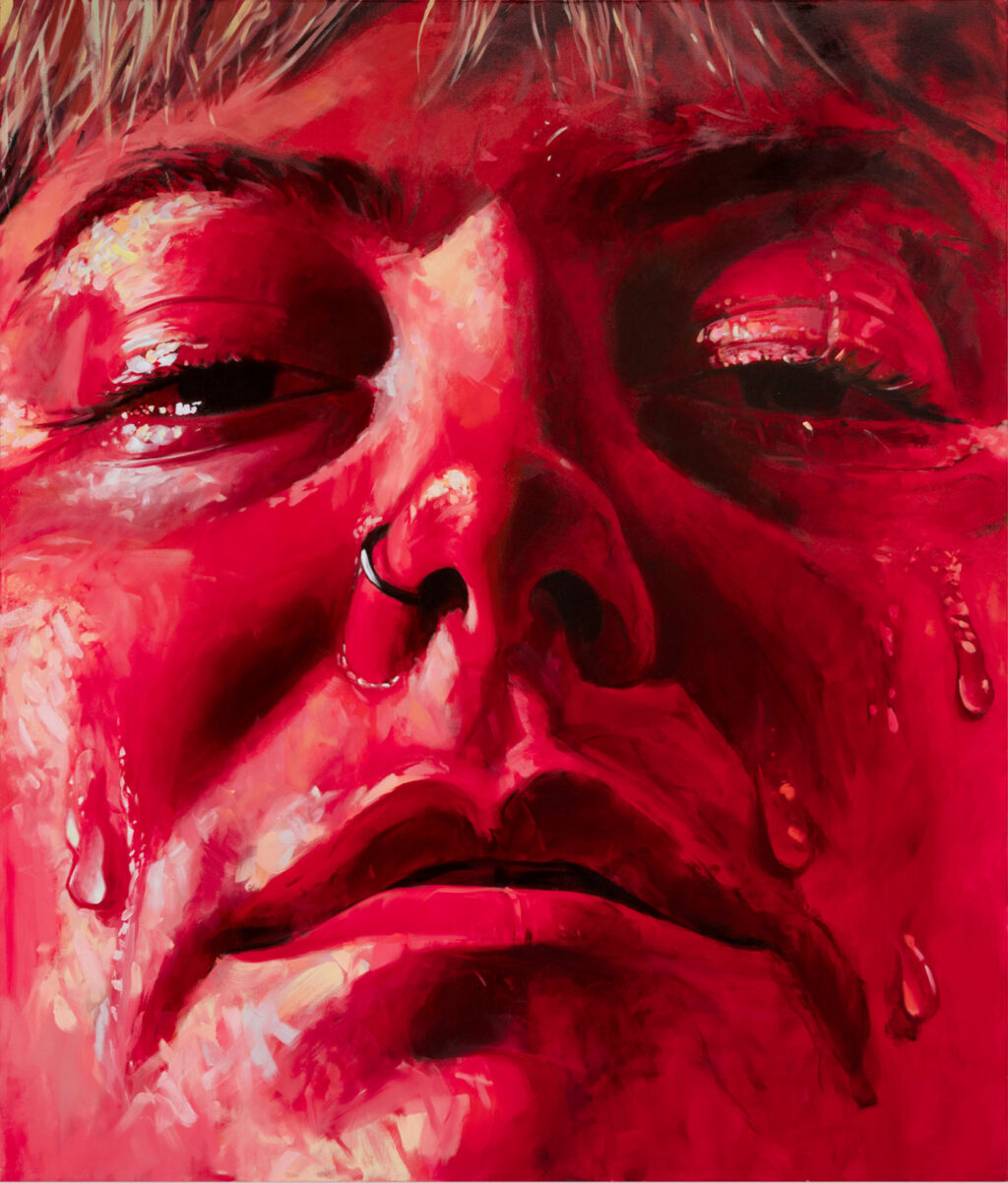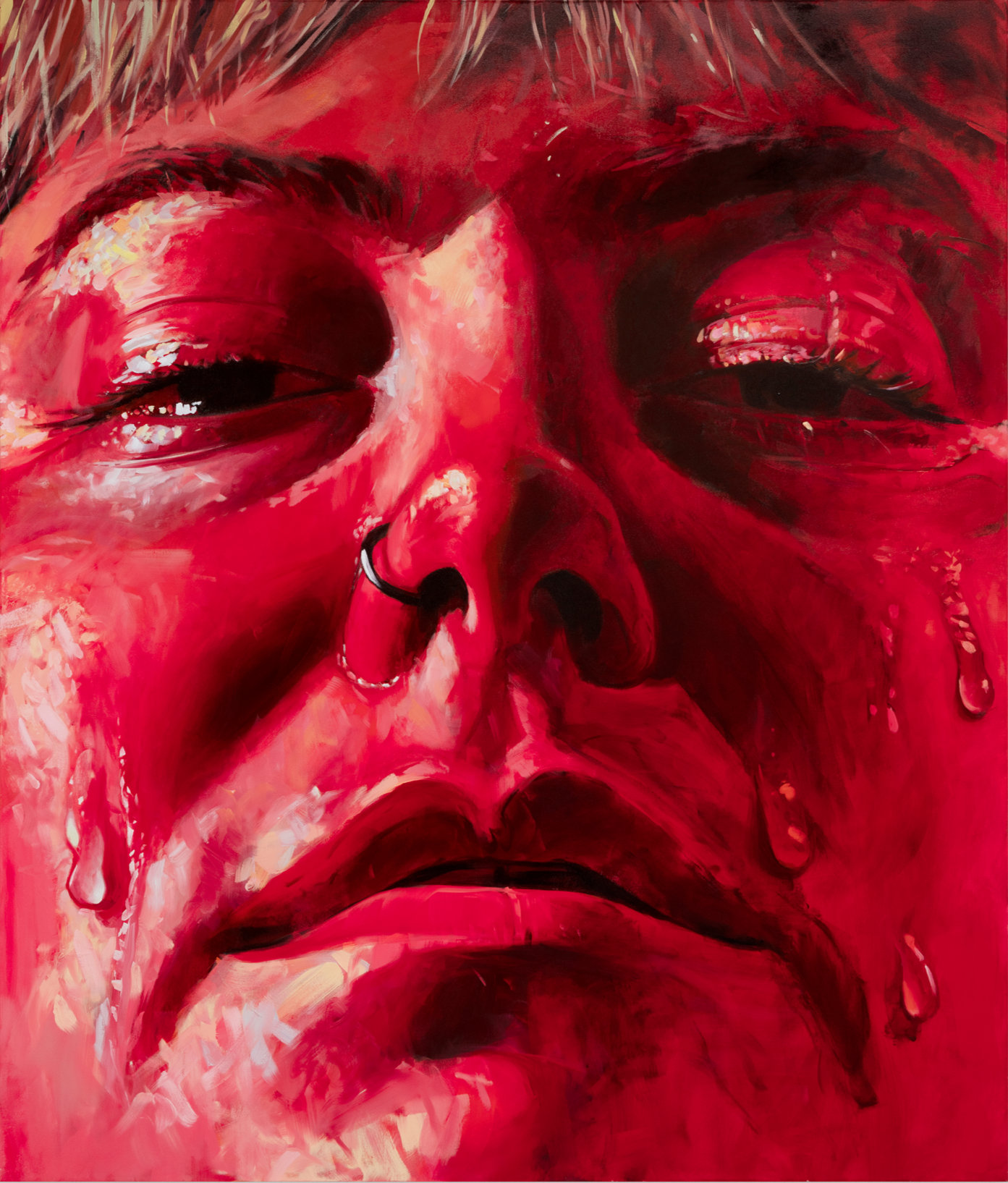 Mercy
2022
Oil on canvas
200 × 170 cm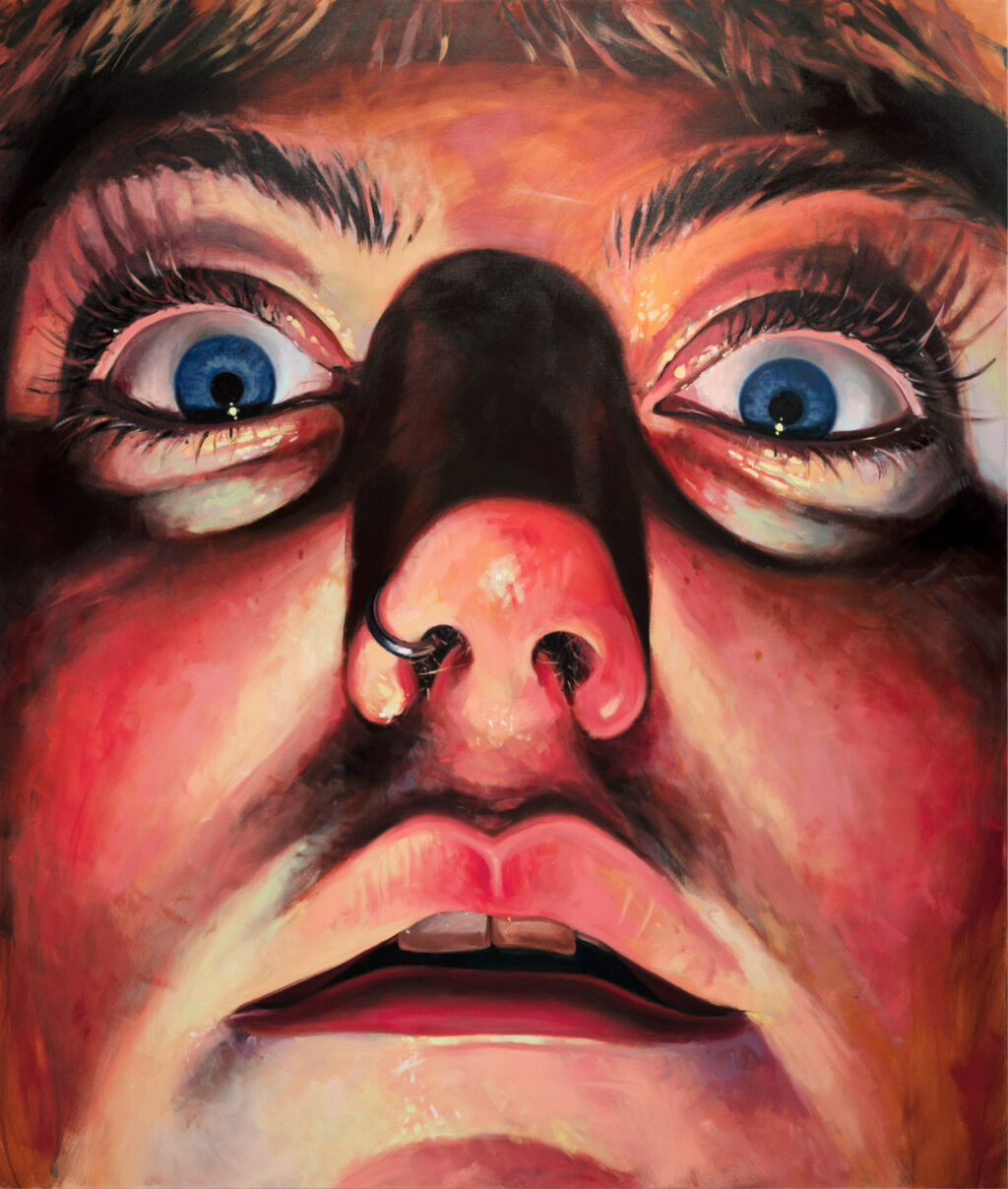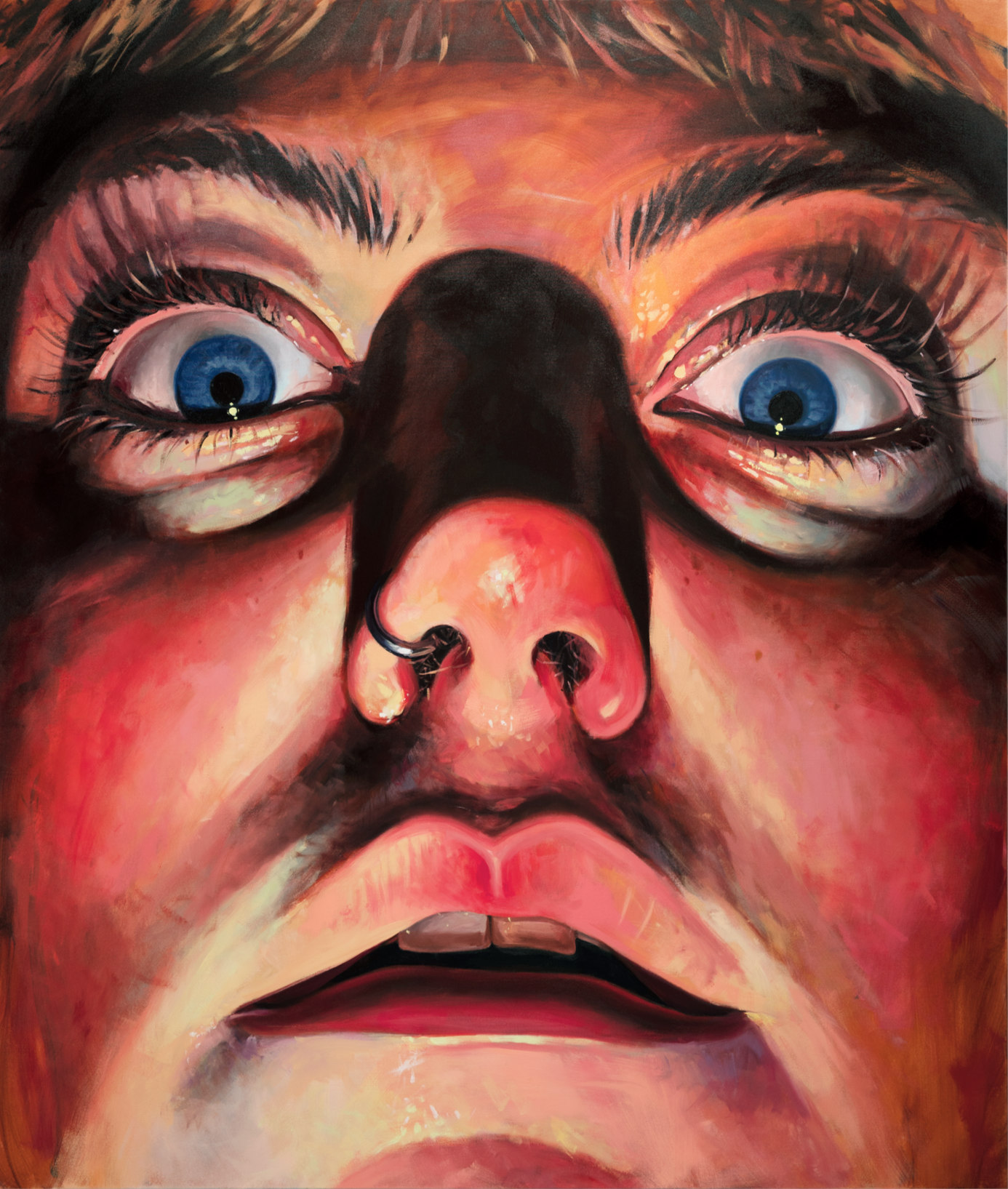 You Watched Me Burn
2023
Oil on canvas
200 × 170 cm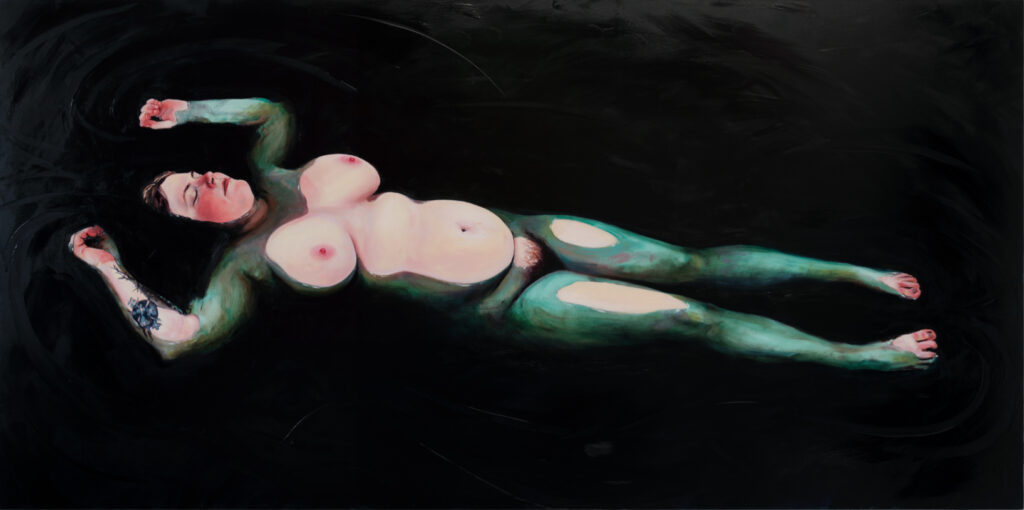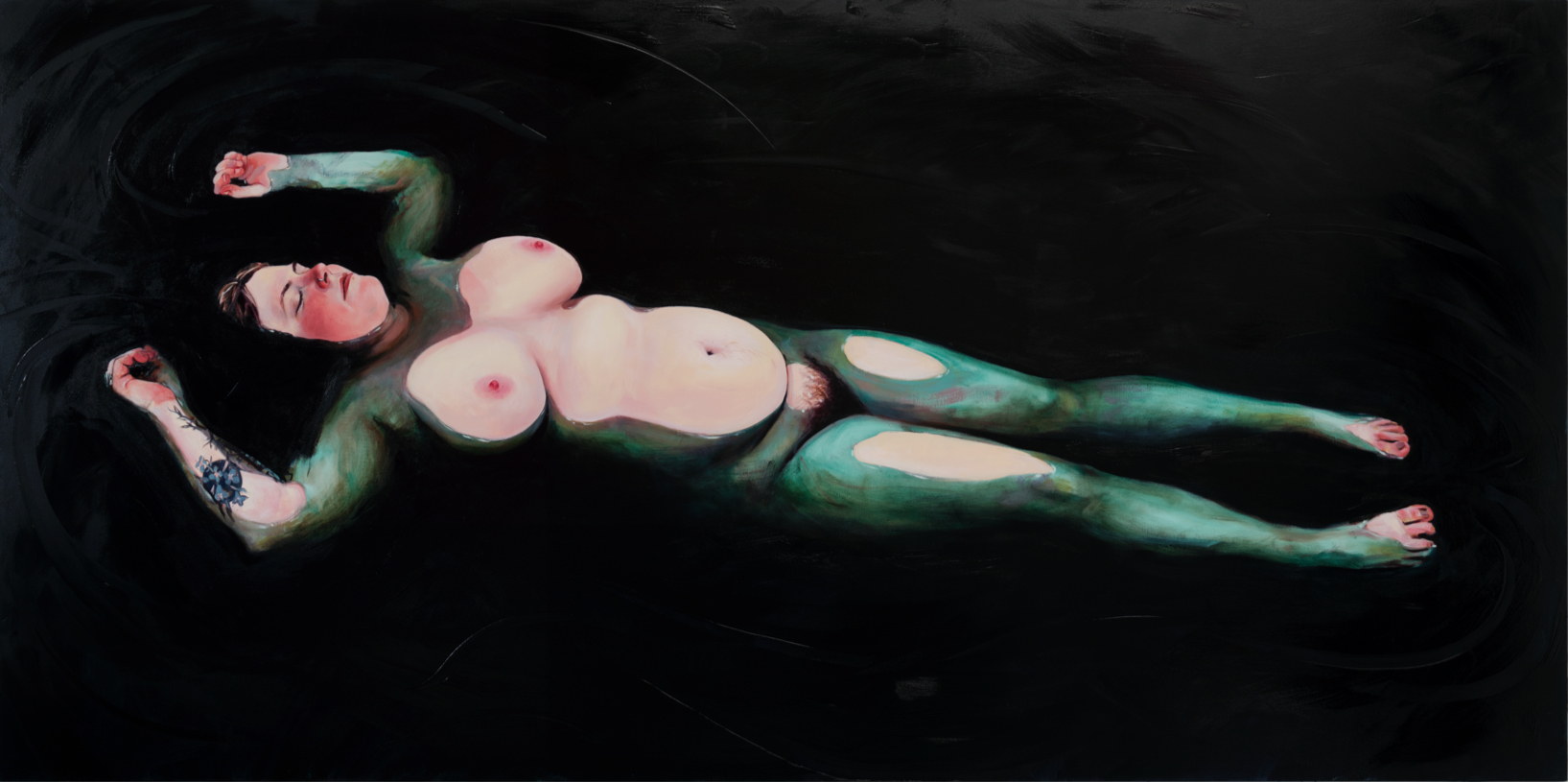 What Lies Beneath
2023
Oil on canvas
150 × 300 cm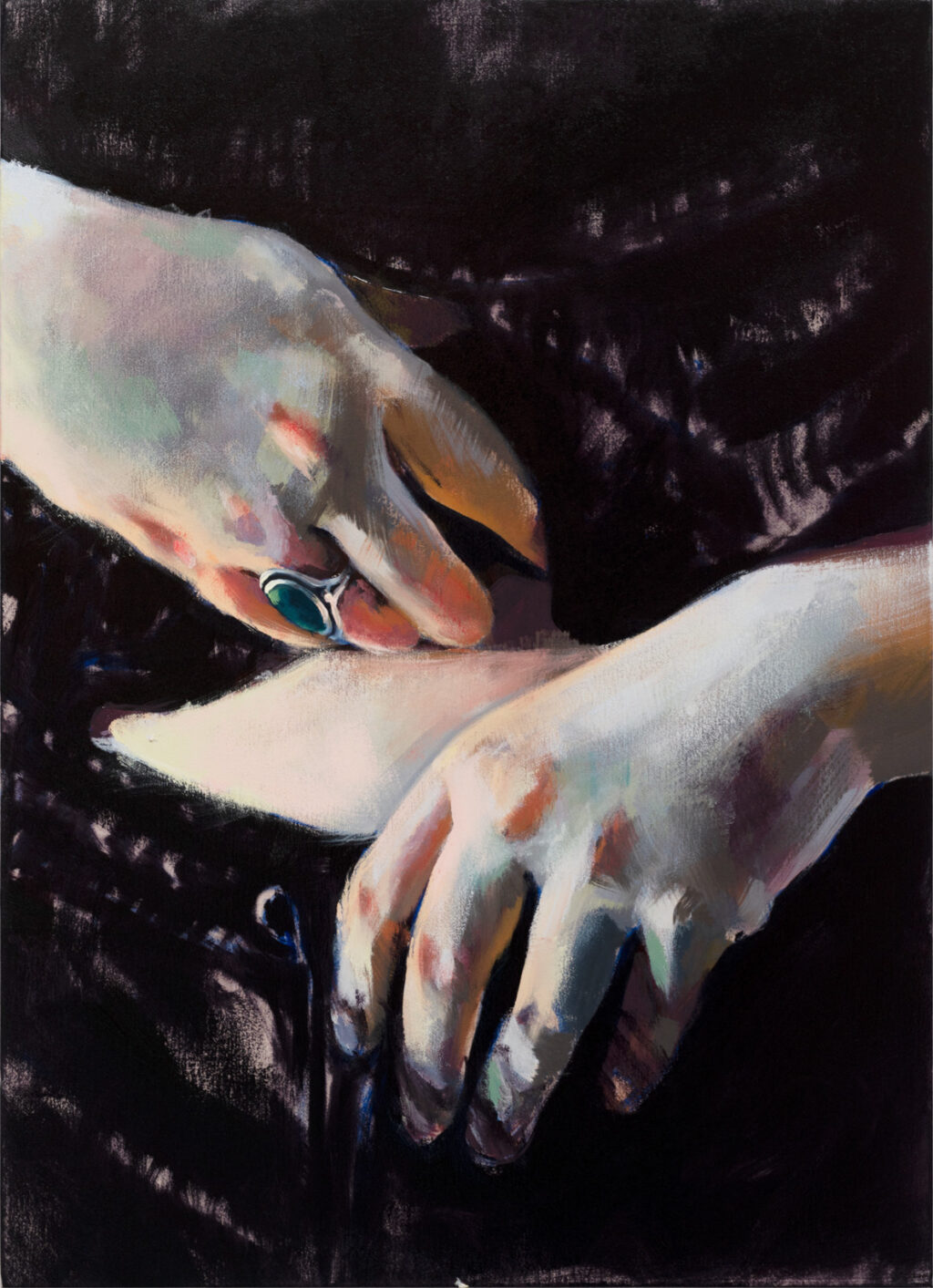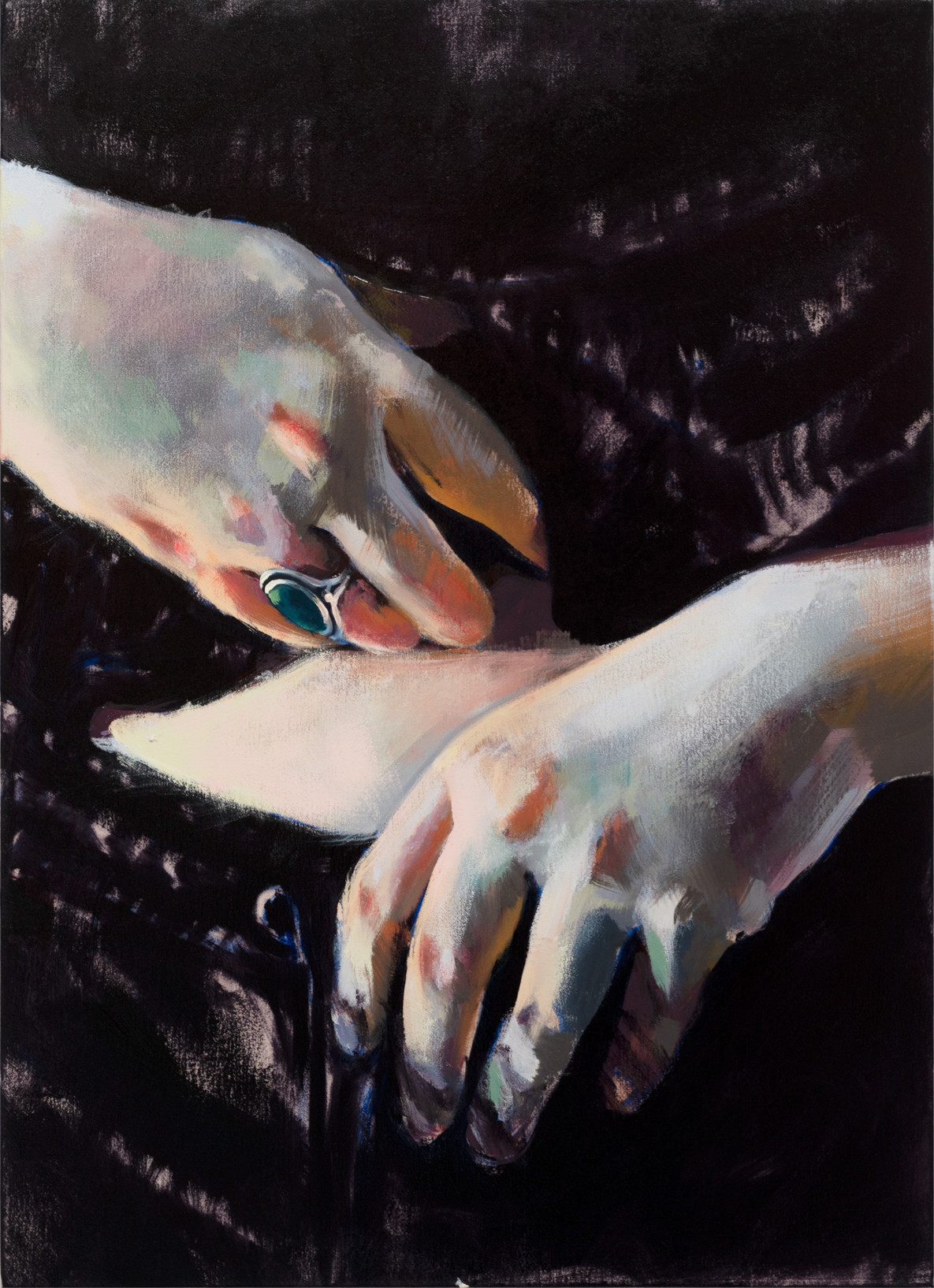 Presentation 3
2022
Oil on linen
70 × 50 cm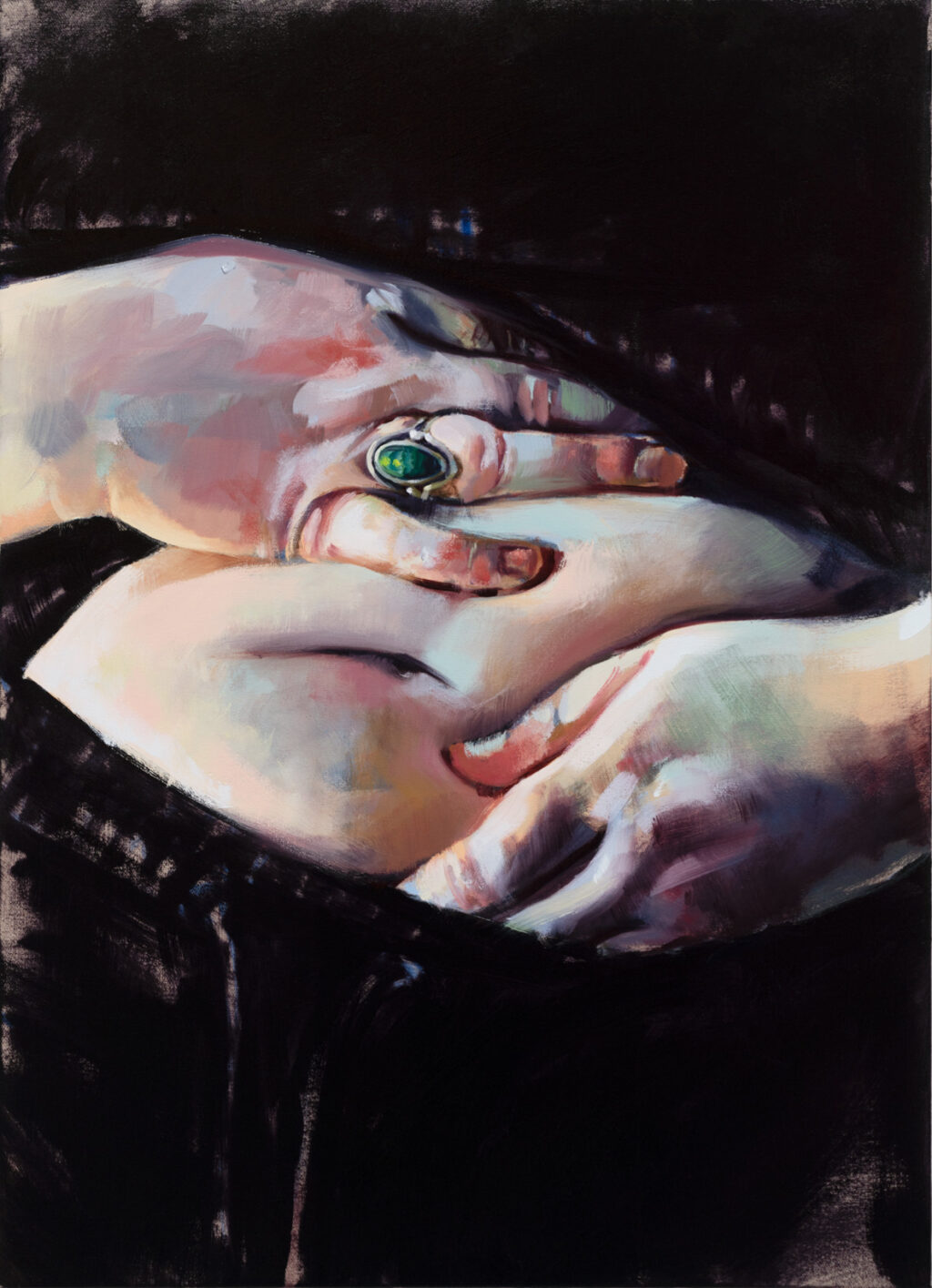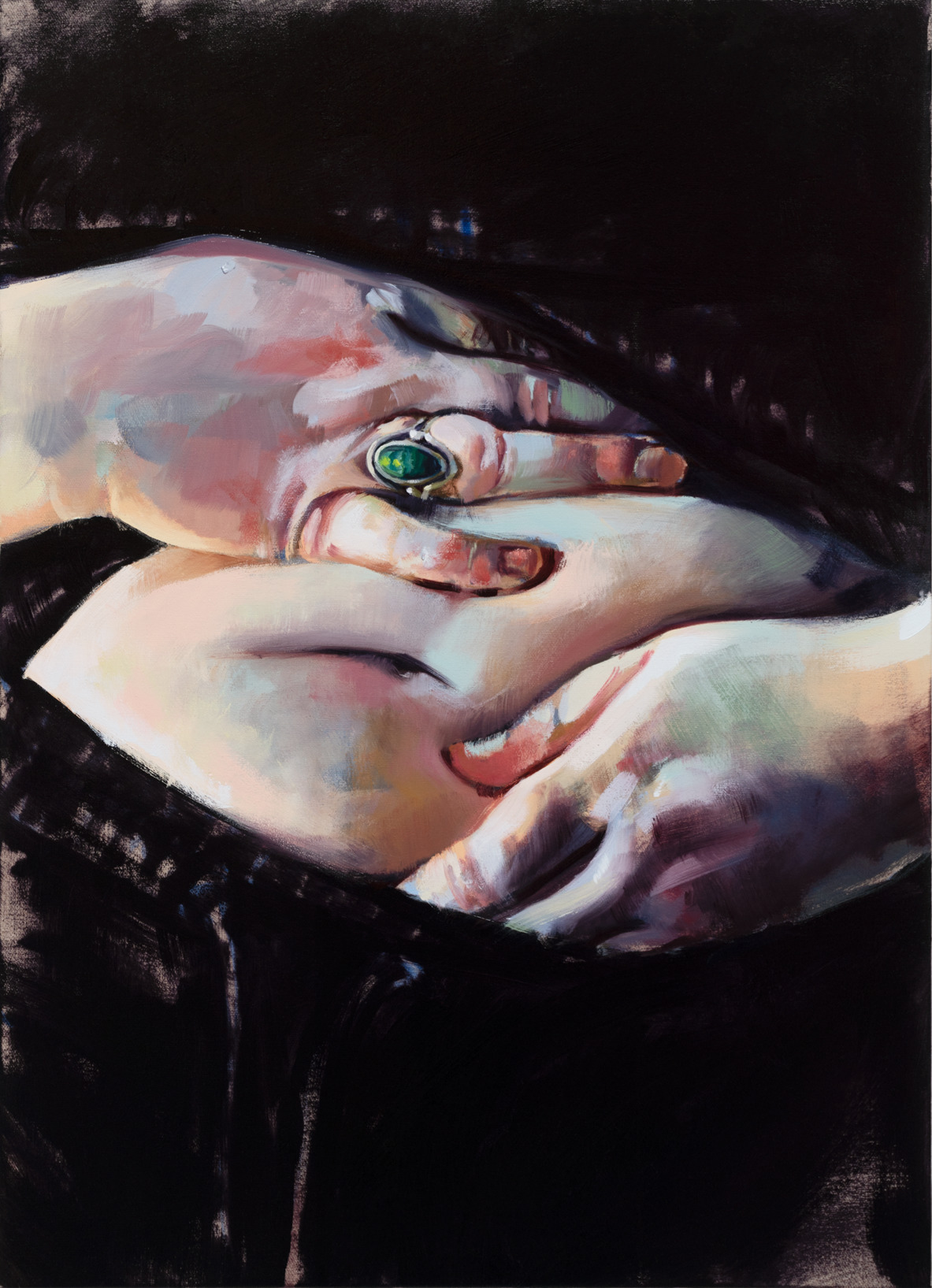 Presentation 4
2022
Oil on linen
70 × 50 cm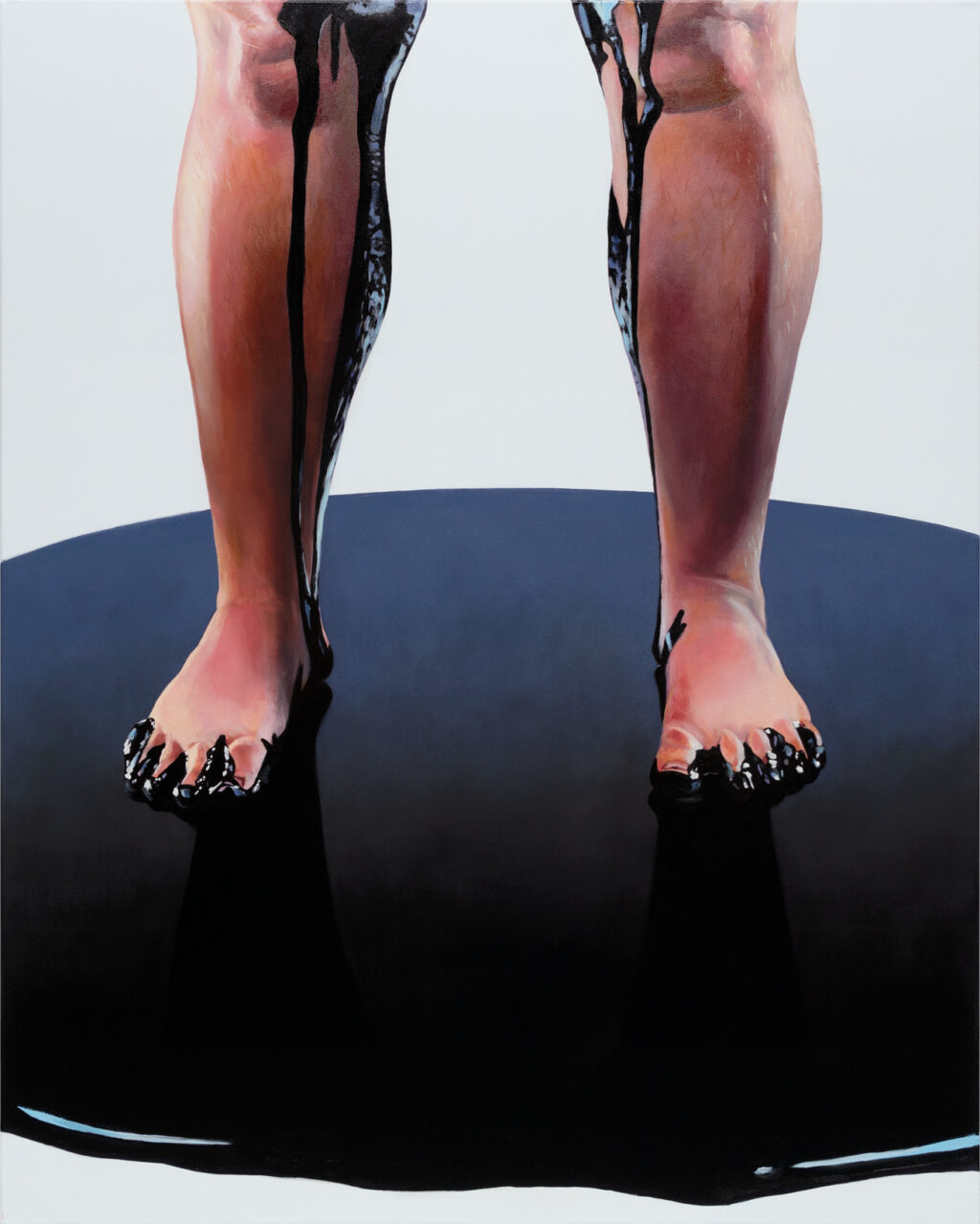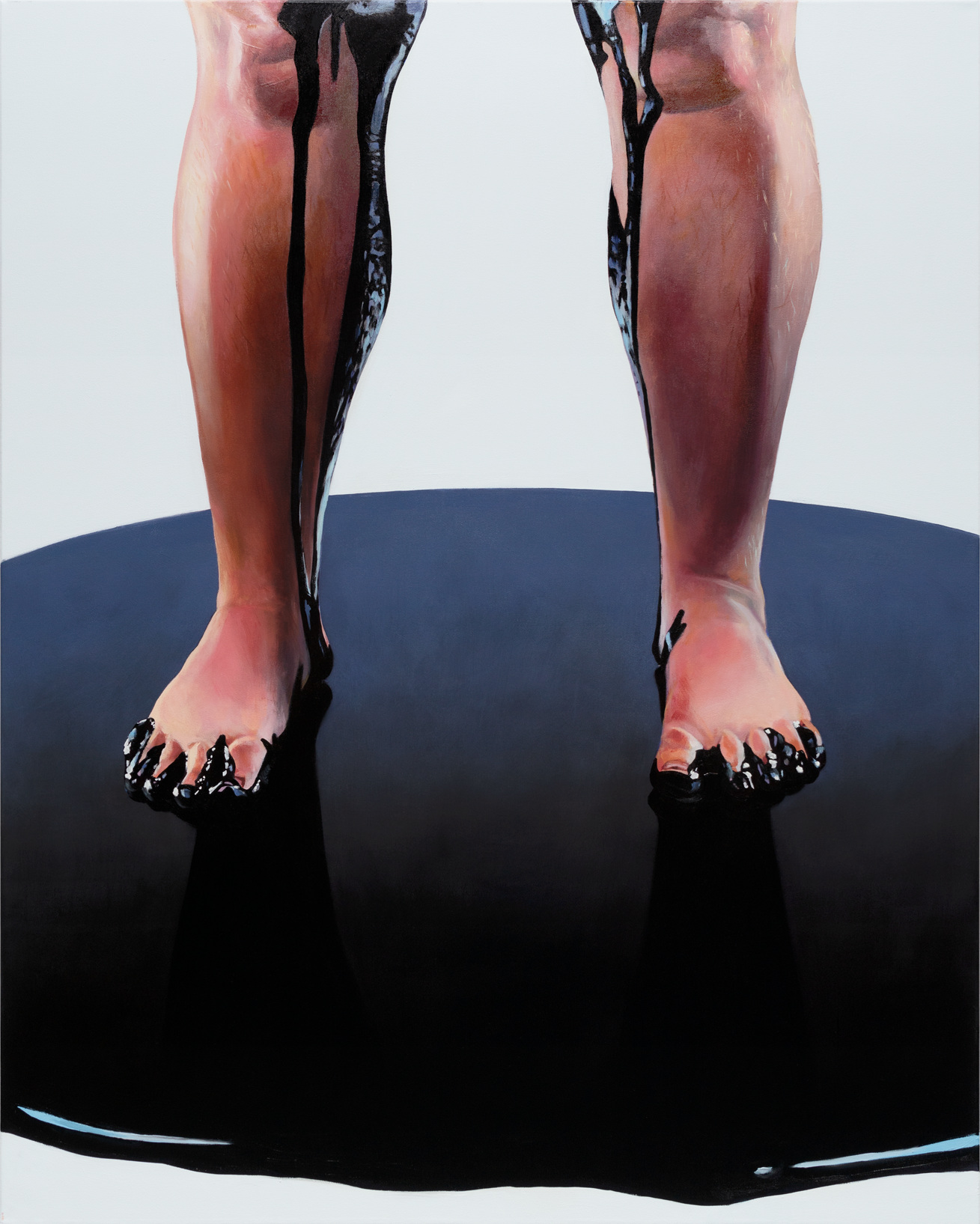 Is This All I Am to You?
2022
Oil on canvas
150 × 120 cm
Show more works

The Seduction
2023
Oil on canvas
200 × 65 cm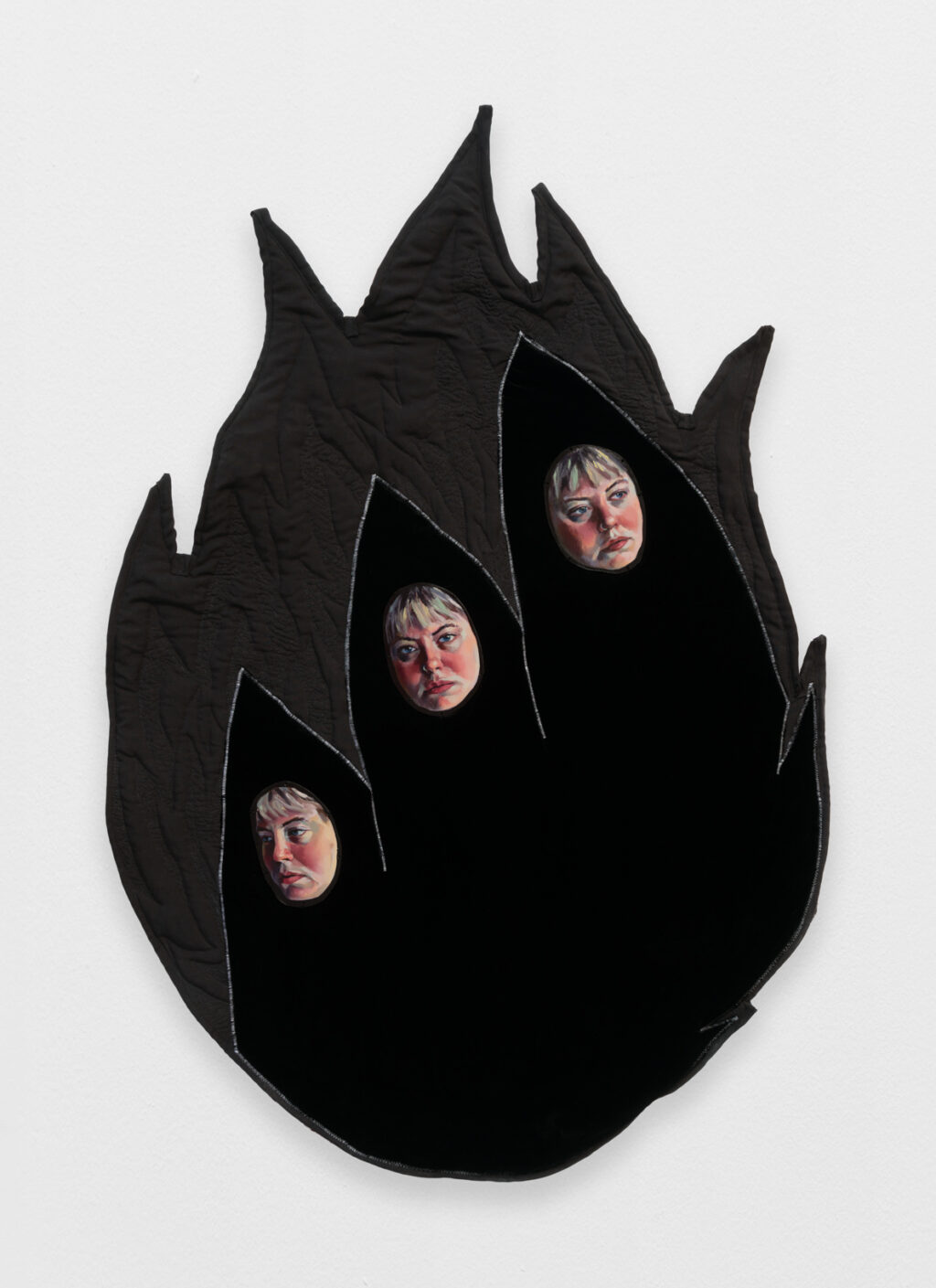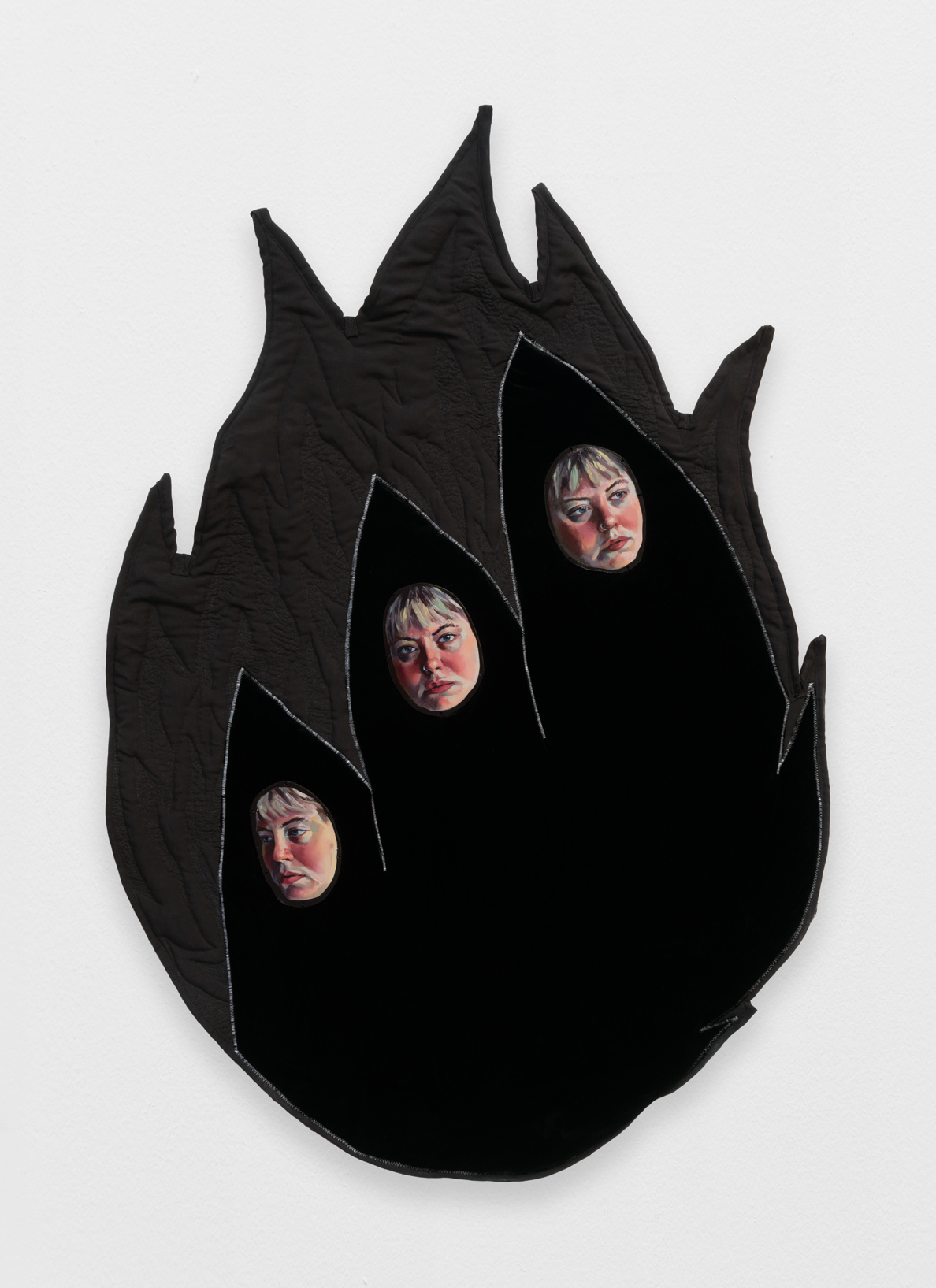 We Can Share the Pain
2023
Oil on MDF on quilted textile
152 × 102 cm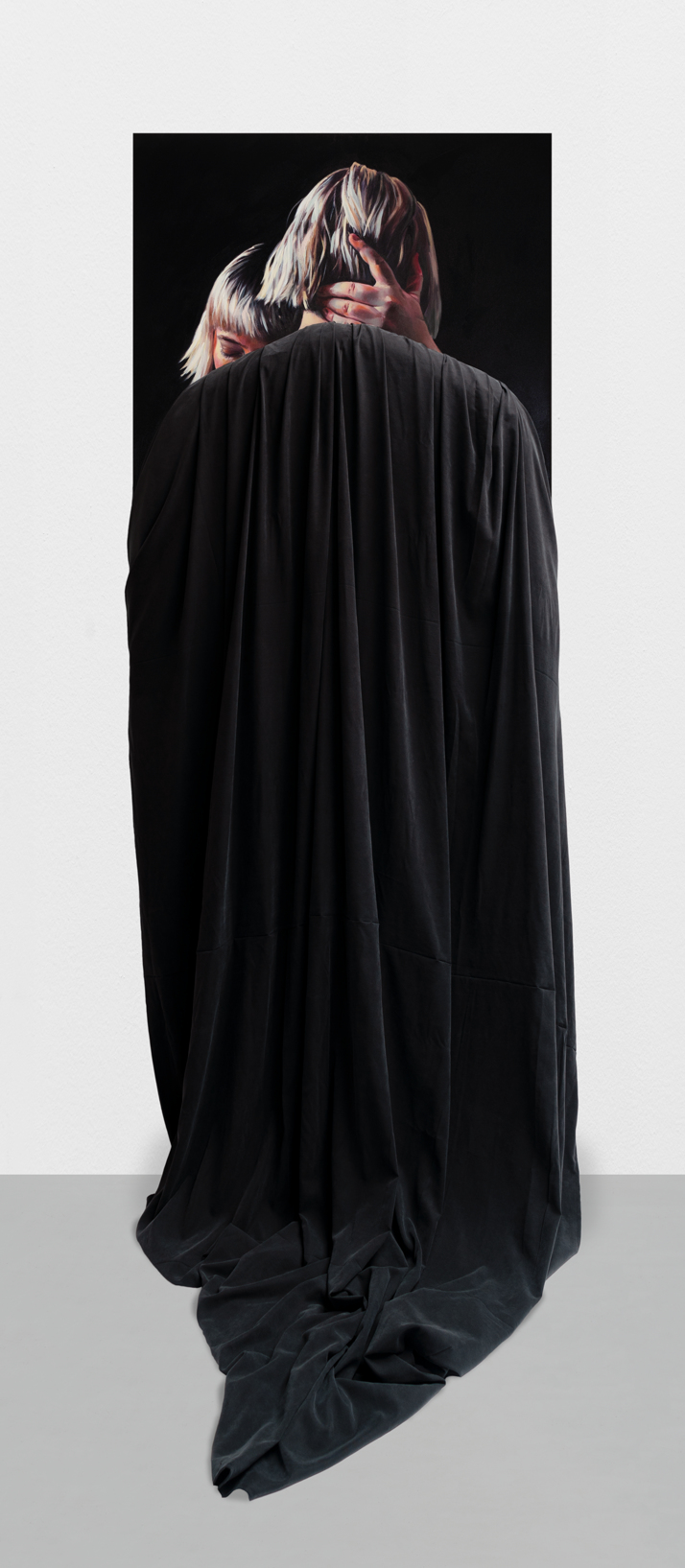 I Can Be So Hard on Myself
2023
Oil on canvas with upholstered MDF and textile
250 × 100 × 15 cm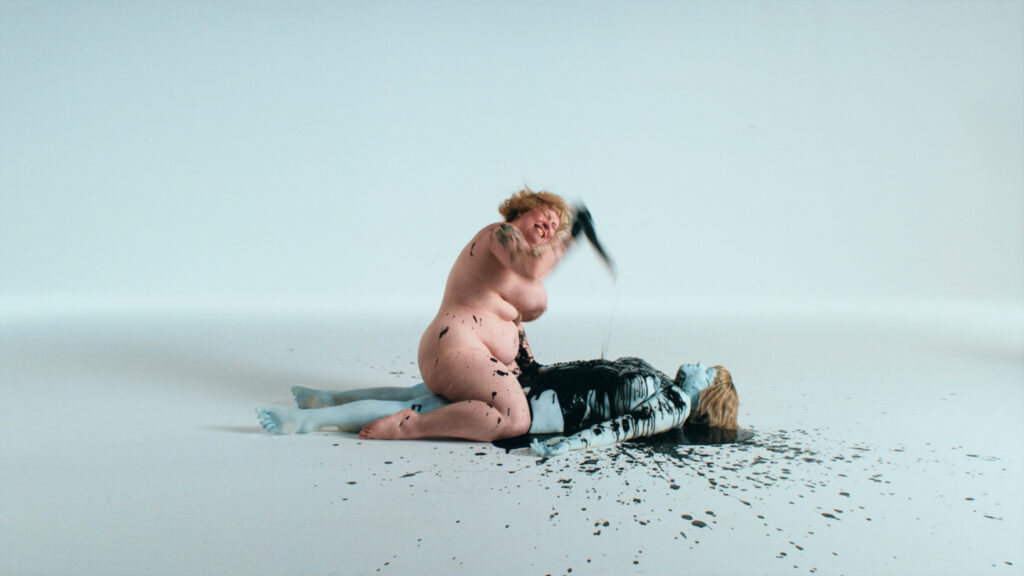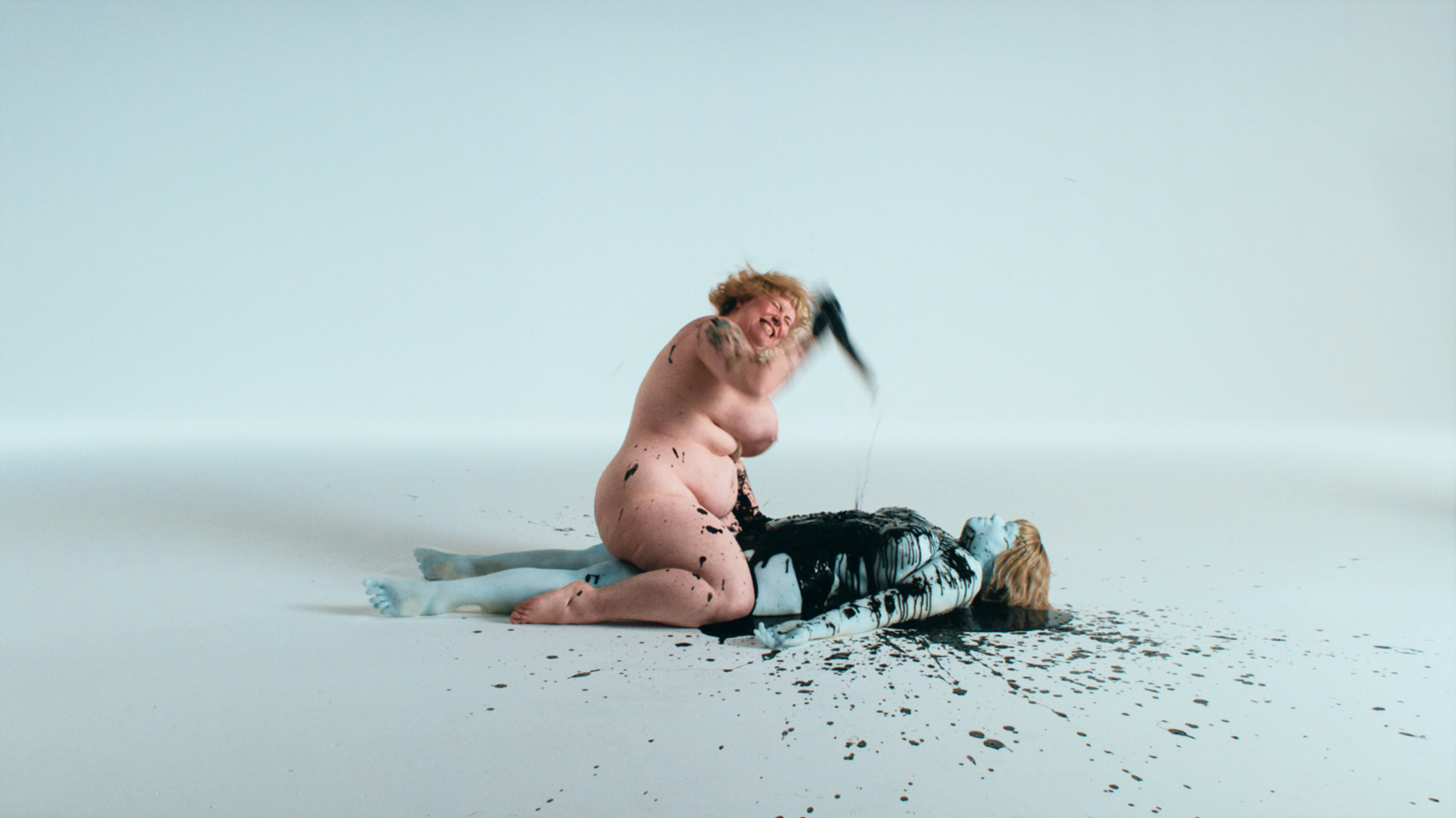 The Body
2023
16:9 digital video, 4:23 mins., color, sound
Edition of 3 + 2AP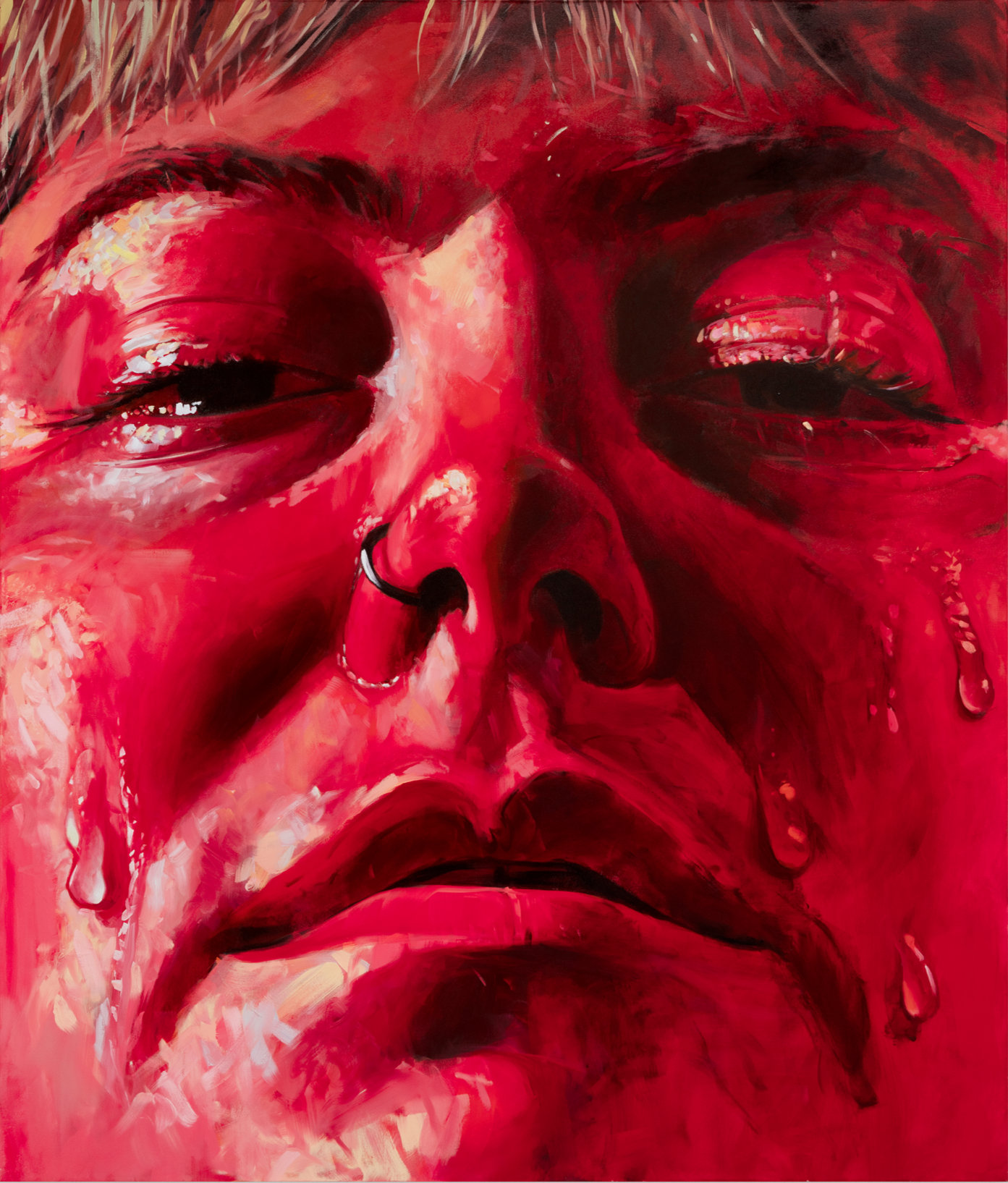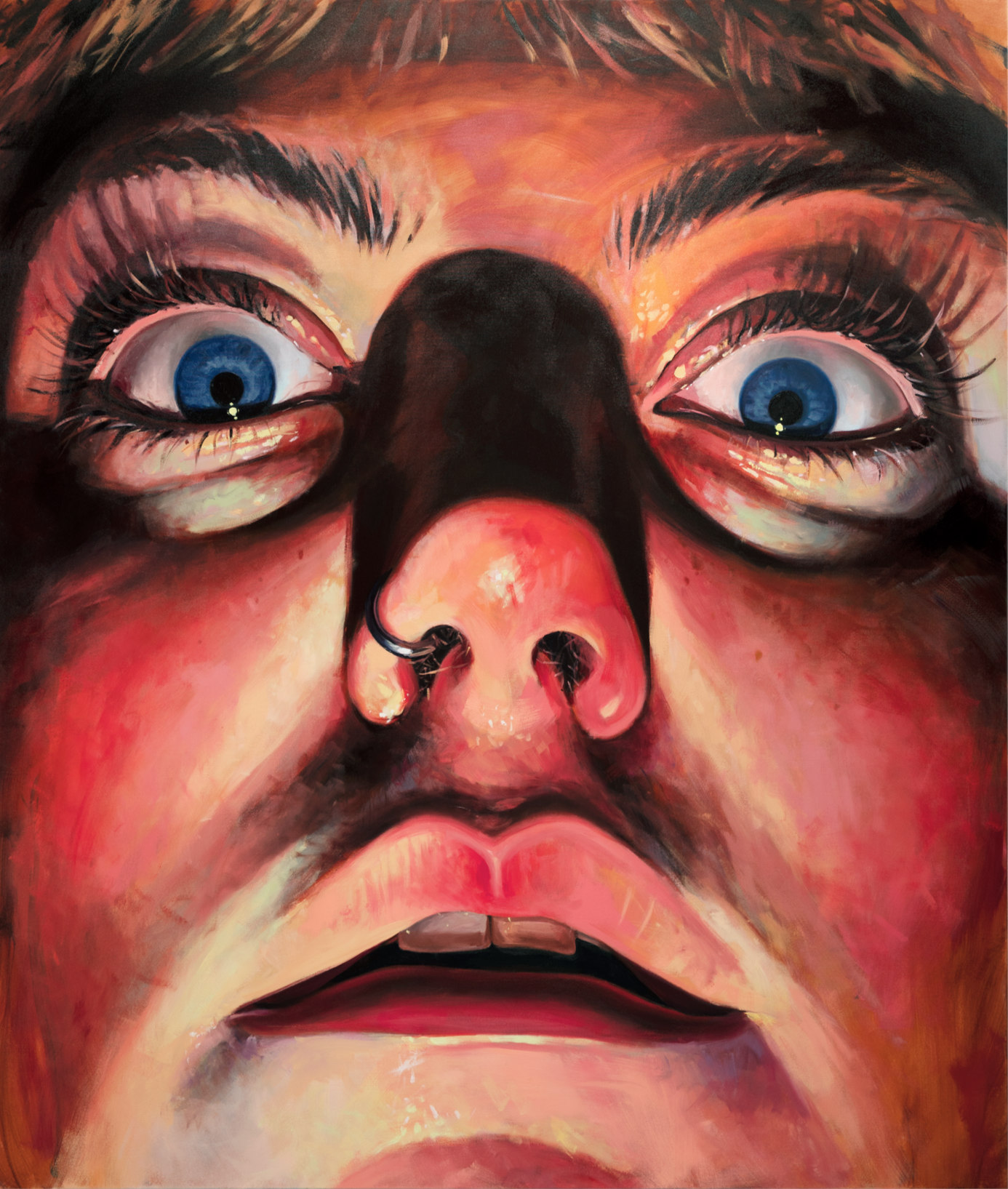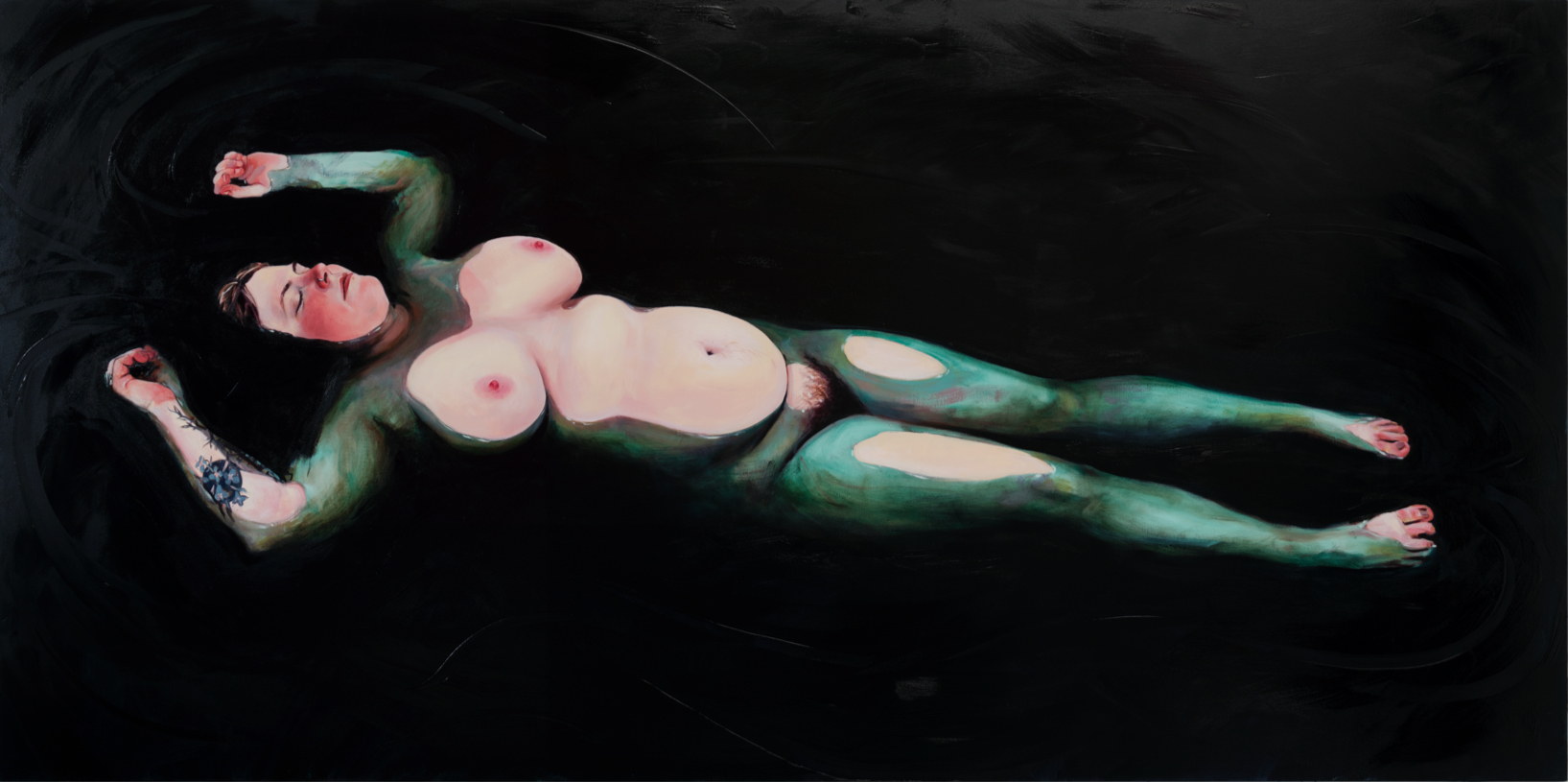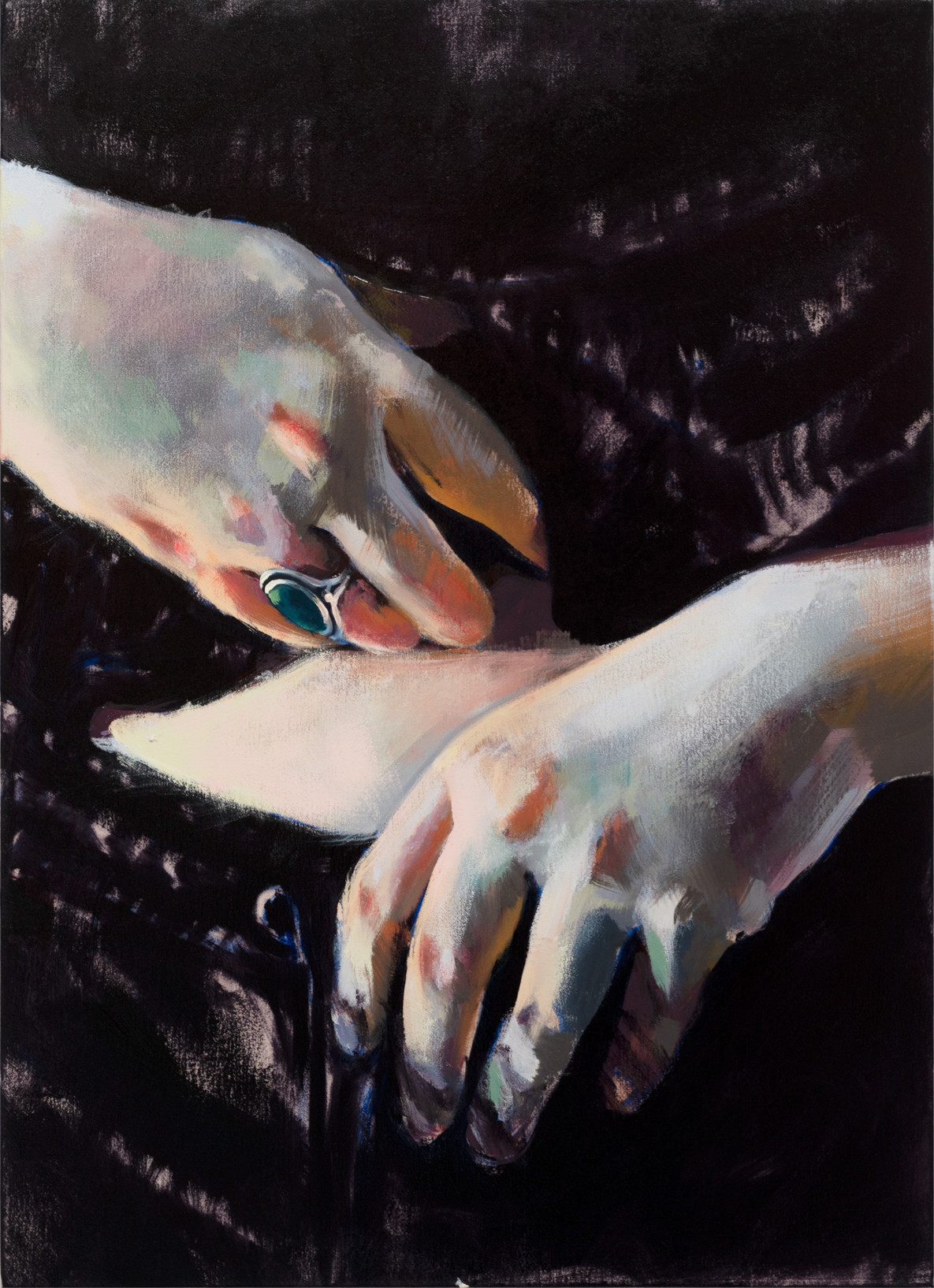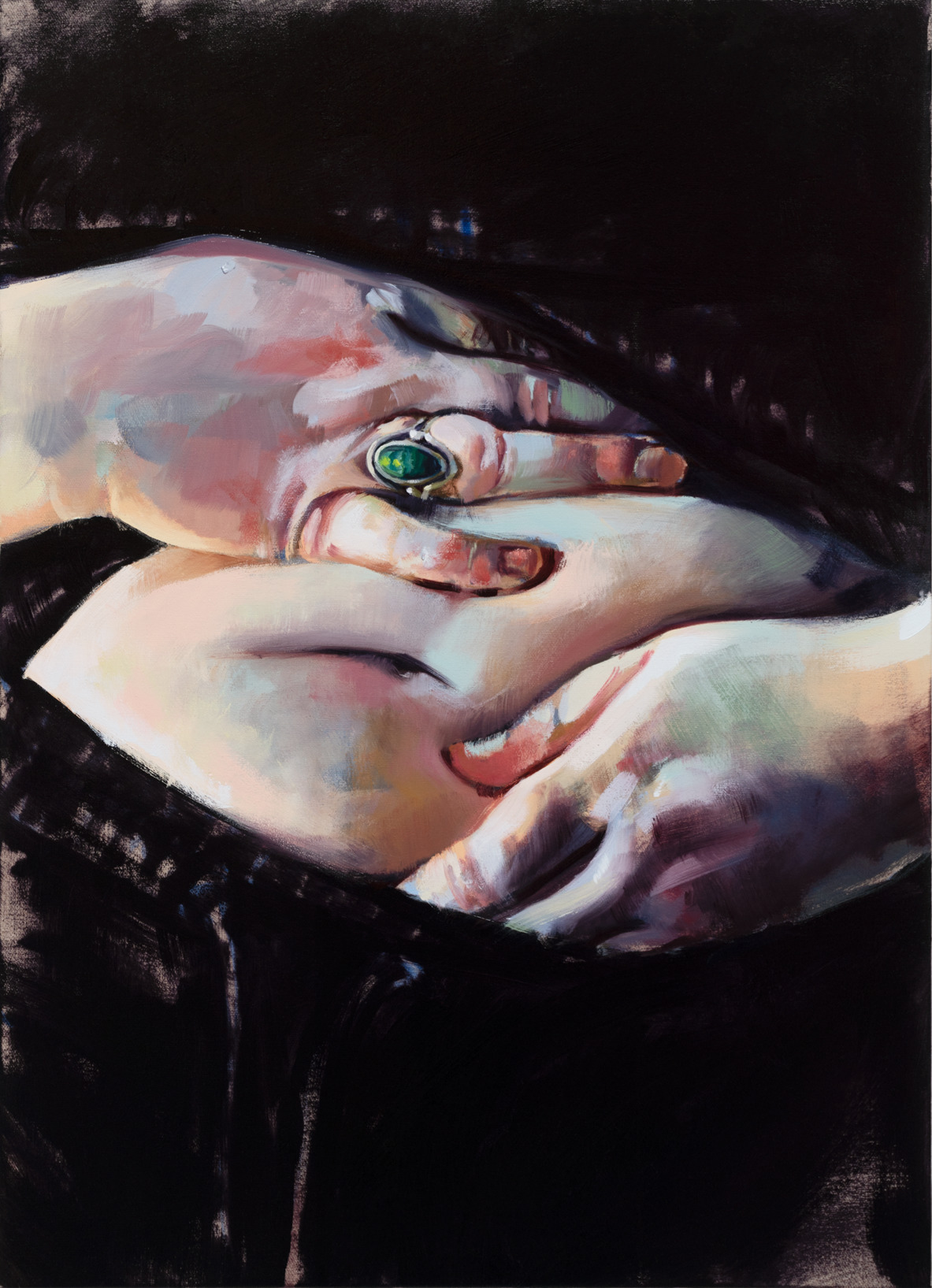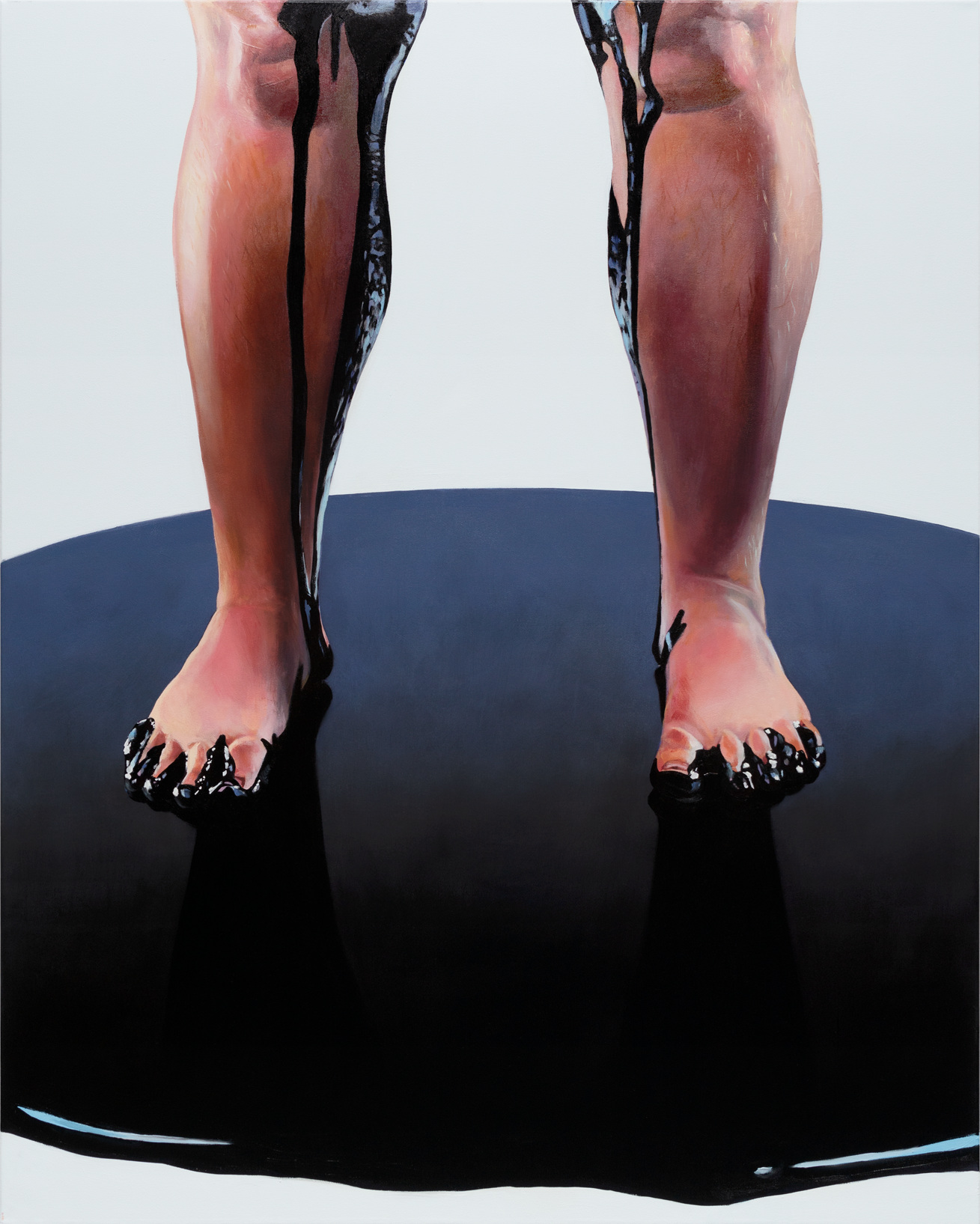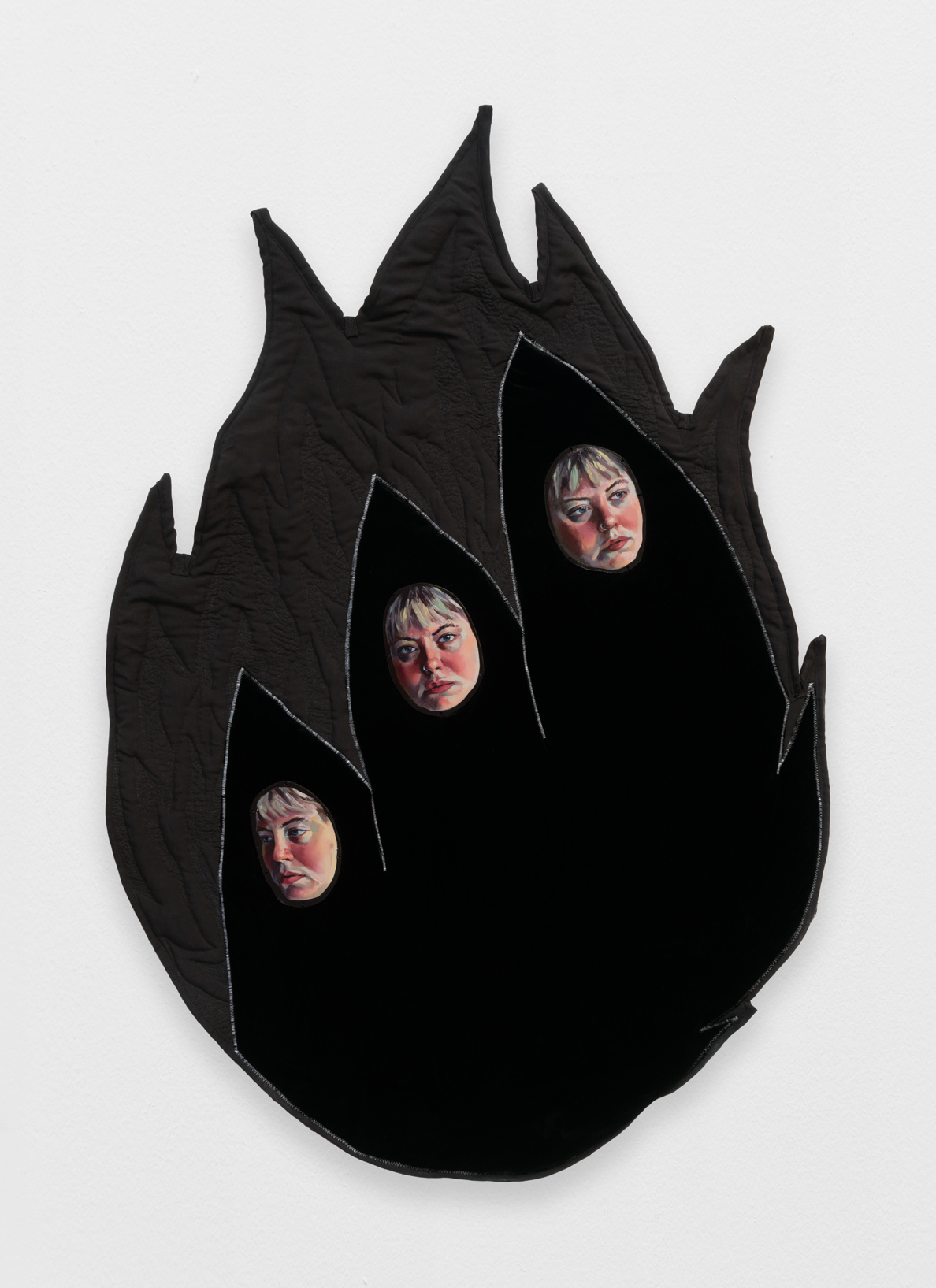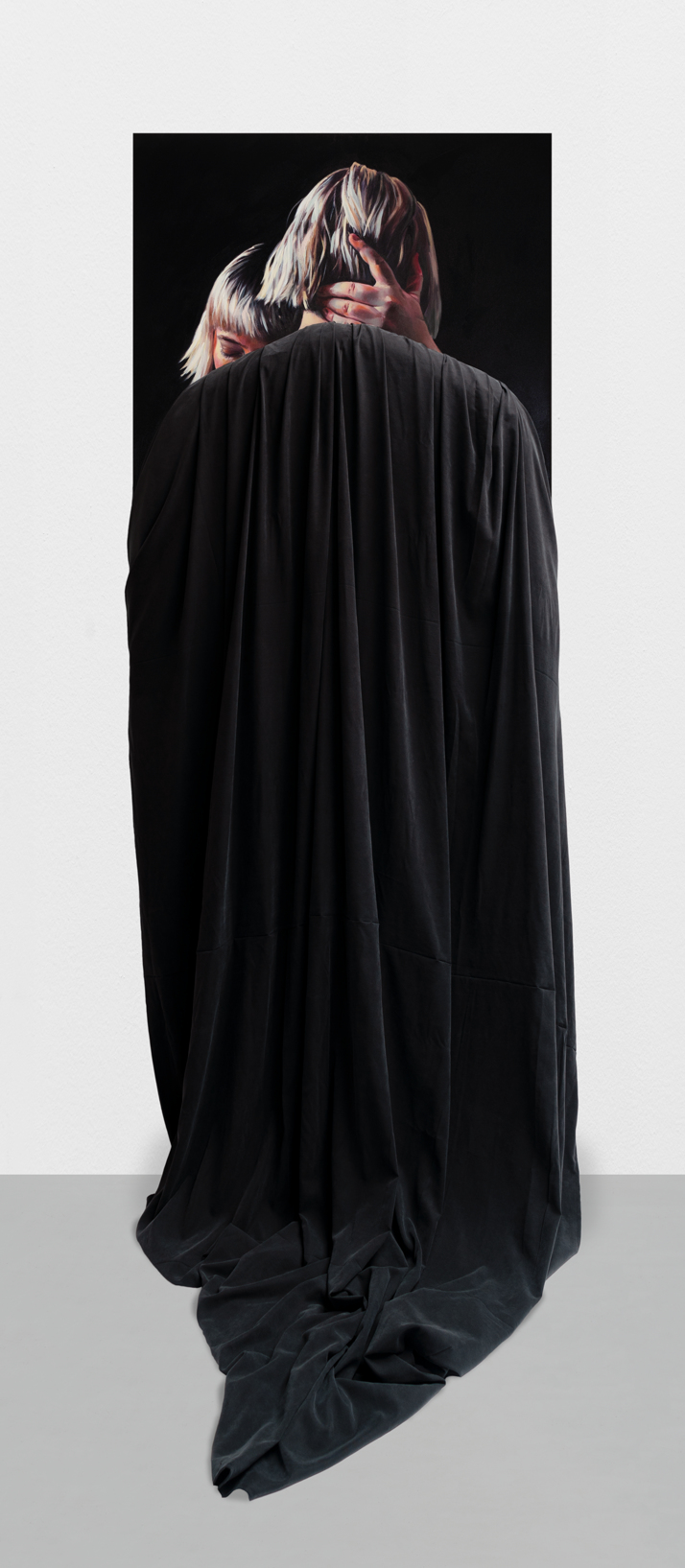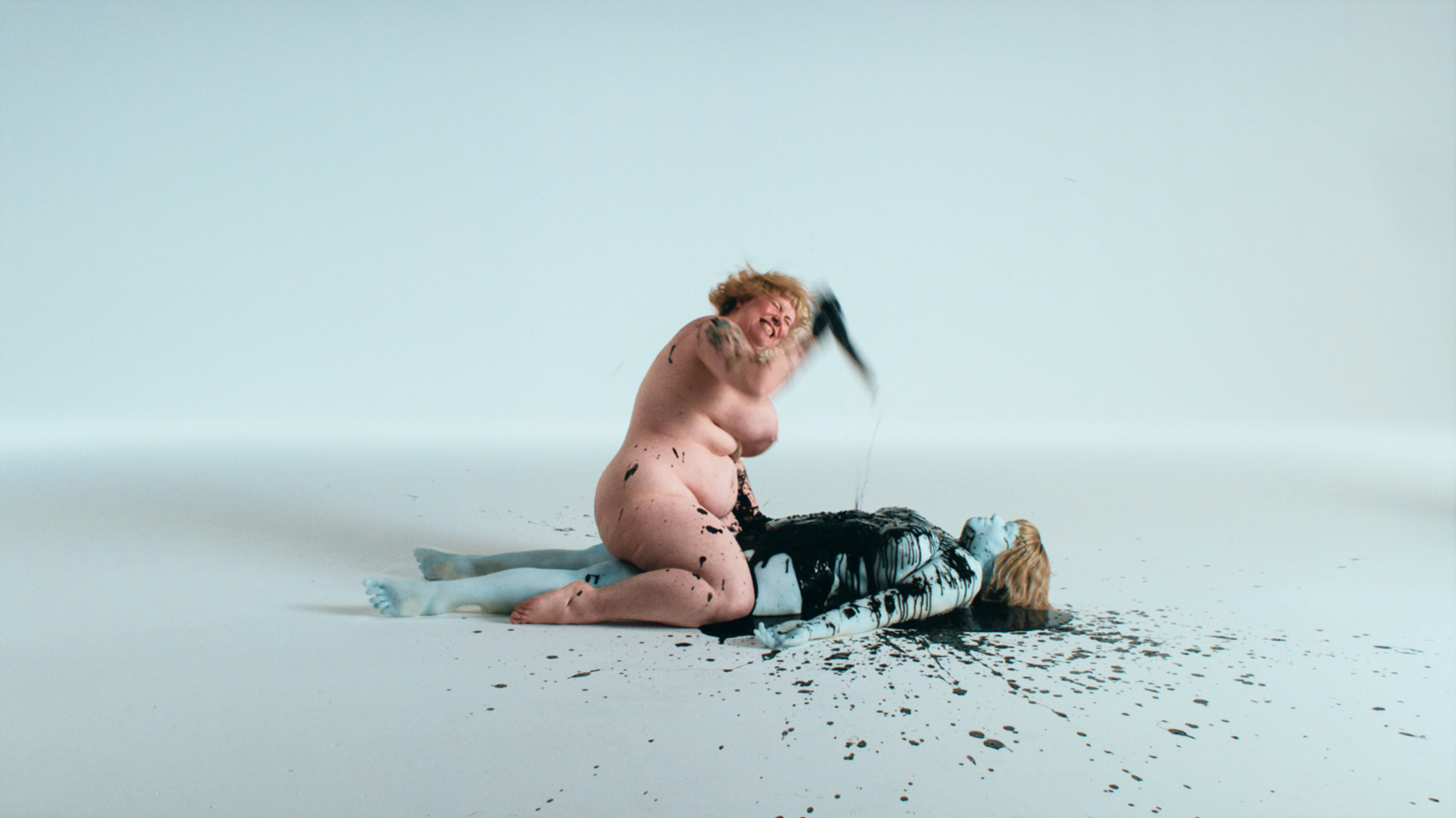 ---
About
Galerie Judin is pleased to present its first solo exhibition with Lydia Pettit, which will open during Gallery Weekend 2023. With her unabashed and explicit works – all self-portraits created in 2022/23 – Pettit doesn't spare herself or the viewer. On the one hand, she presents her body as a sanctuary, on the other as a battlefield of her own and others', mostly pejorative, attributions. In her work, which spans large-format paintings, quilts, fine embroidery, and combinations of these techniques, Pettit strives for a truce: "For some people, ignoring anger and pain ruins their lives and turns into something violent. That is so dangerous. None of us have been raised to deal with anger."
The artist's first film, The Body, culminates this struggle. Pettit has made a life-size replica of her body, which in the film, she attacks ferociously with a knife. Black blood sprays out of the artist's clone while she continues to stab it as if in a blood frenzy. Pettit stages the destructive power of self-hatred in a very unsettling, yet touching way. The short film ends on a conciliatory note. Both bodies lie side by side, Pettit gently caresses her alter ego. She succeeded to make peace with her body. The same is expressed in the painting I Can Be So Hard on Myself, which shows the acceptance of one's self in the form of a self-embrace. Pettit explains, "When I go back and make work about trauma, it's not an act of dwelling. It's an act of understanding. In understanding, there is always an element of care. Maybe that's what's coming through: that I do care for myself, my younger self, and who I am now."
In addition to the artist's central content-related concerns, the film also highlights another key source of inspiration for her artistic inventions: the horror film genre with its visual language and narrative style. While working through her own post-traumatic stress disorder (PTSD) caused by a traumatic sexual experience, Pettit found a convincing symbol for her own condition in making recourse to horror films. She compared having PTSD to being a haunted house: a nasty surprise can lurk around every (supposedly familiar) corner, throwing you back in time. In the wake of this analogy, numerous horror film motifs found their way into the oeuvre, including the view across the mirroring blade of a sharpened knife (The Seduction). In her works, Pettit continuously switches roles: sometimes she is the perpetrator, sometimes the victim – and sometimes, as in the film, she embodies both roles simultaneously. By doing so, she also touches on the dichotomy of the toxic "whore or saint" (perpetrator or victim) image of women that is still common.

Continue reading
By referencing the drama of horror films, sometimes exaggerated to the point of slapstick, humor and campness have become a strong element in Pettit's artistic practice. She also skillfully fuses horror and humor in the motif of the witch (We Can Share the Pain and Welcome Witch). The artist describes why the witch has become a symbol of self-empowerment and emancipation for her: "For me, the witch has come in as this symbol of victim blaming: the witch hunt, someone deemed unworthy for society. Someone who is killed for not doing what men or the church told them to do." In our exhibition, she addresses these historical tragedies of strong women by offering a different perspective on the "witch." As a kind of prelude to the exhibition, we are greeted by the peaceful Welcome Witch, which with its huge, cozy beanbag hands offers a place of rest and retreat. Even the large hood painted on the wall does not appear threatening, but rather becomes a protective cloak for those sitting. In this way, Pettit also counteracts our associations with the color black, which is usually read as an expression of melancholy and danger – and, in a positive reversal, permeates the artist's work.
Is This All I Am to You? leads into contemporary, misogynistic debates. It is Pettit's artistic response to the U.S. Supreme Court's decision to overturn federal abortion law, named after the prominent case Roe v. Wade, leaving legislation to the individual states. In Pettit's painting, we see her larger-than-life legs with a black, viscous liquid trickling down them. The title's question conveys her frustration: Why is she, as a woman, reduced to her reproductive organs and subsequently deprived of her right to self-determination? Here a bridge can be made to the title of the exhibition – In Your Anger, I See Fear – and to the motif of the witch. Countless angry acts against women (and minorities) were driven by one thing above all: Fear. Through her radical self-portraits, Pettit helps us recognize these patterns in the past and present – and invites us to become more courageous.
Lydia Pettit was born in Maryland in 1991 and graduated from the Maryland Institute College of Art in 2014 with a Bachelor of Fine Arts in painting and photography. That same year, she and a business partner founded the Platform Arts Center in Baltimore, which supported emerging local artists by providing affordable studio space and a gallery. In 2017, they closed the gallery; Pettit turned back to her own art making from then on. She moved to London, where she completed her Master of Arts degree at the Royal College of Art in 2020. Today, Pettit works and lives in East London. On the occasion of her solo exhibition at Galerie Judin, a comprehensive exhibition catalogue has been published by Verlag der Buchhandlung Walther und Franz König.
---
---
---
---