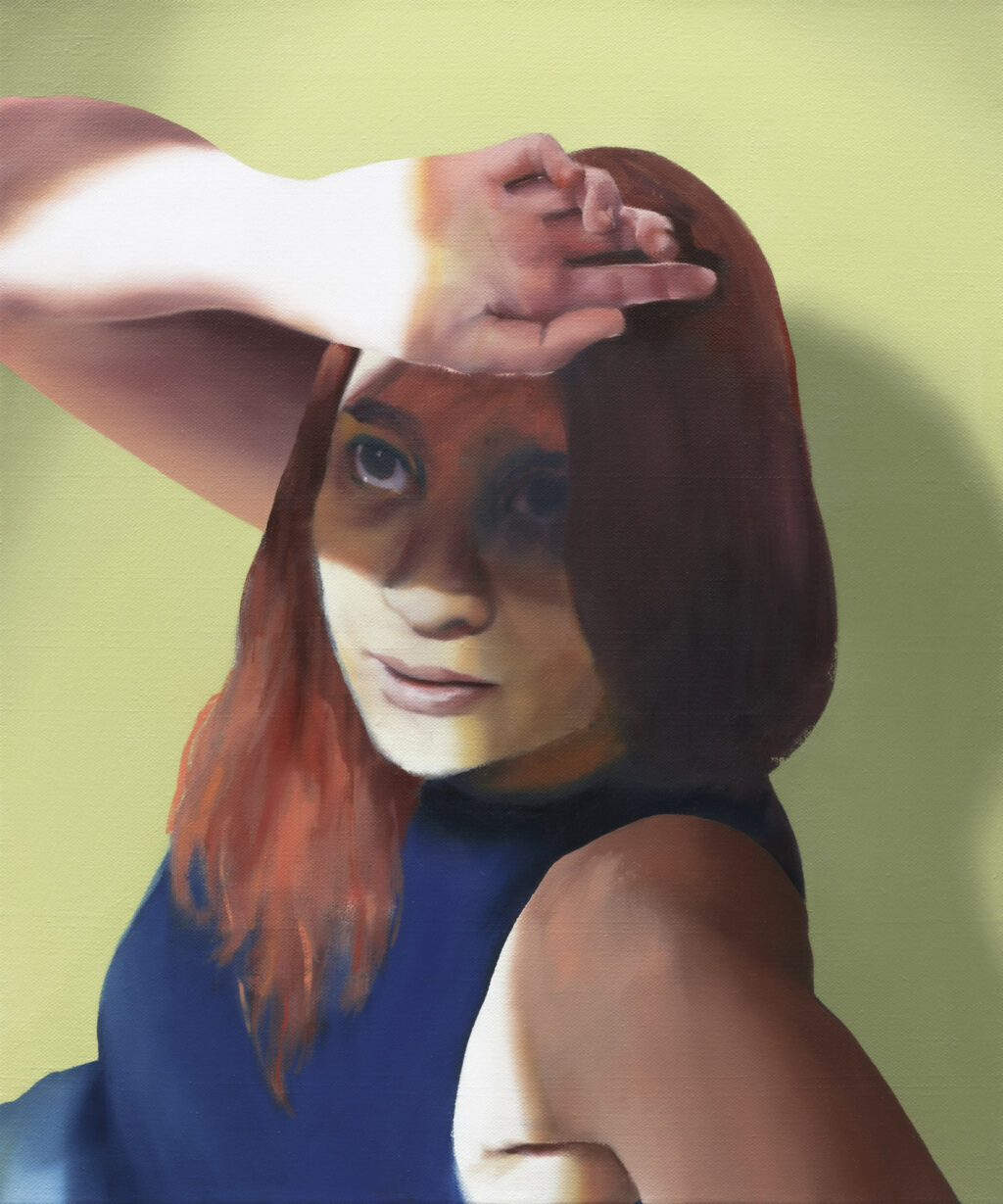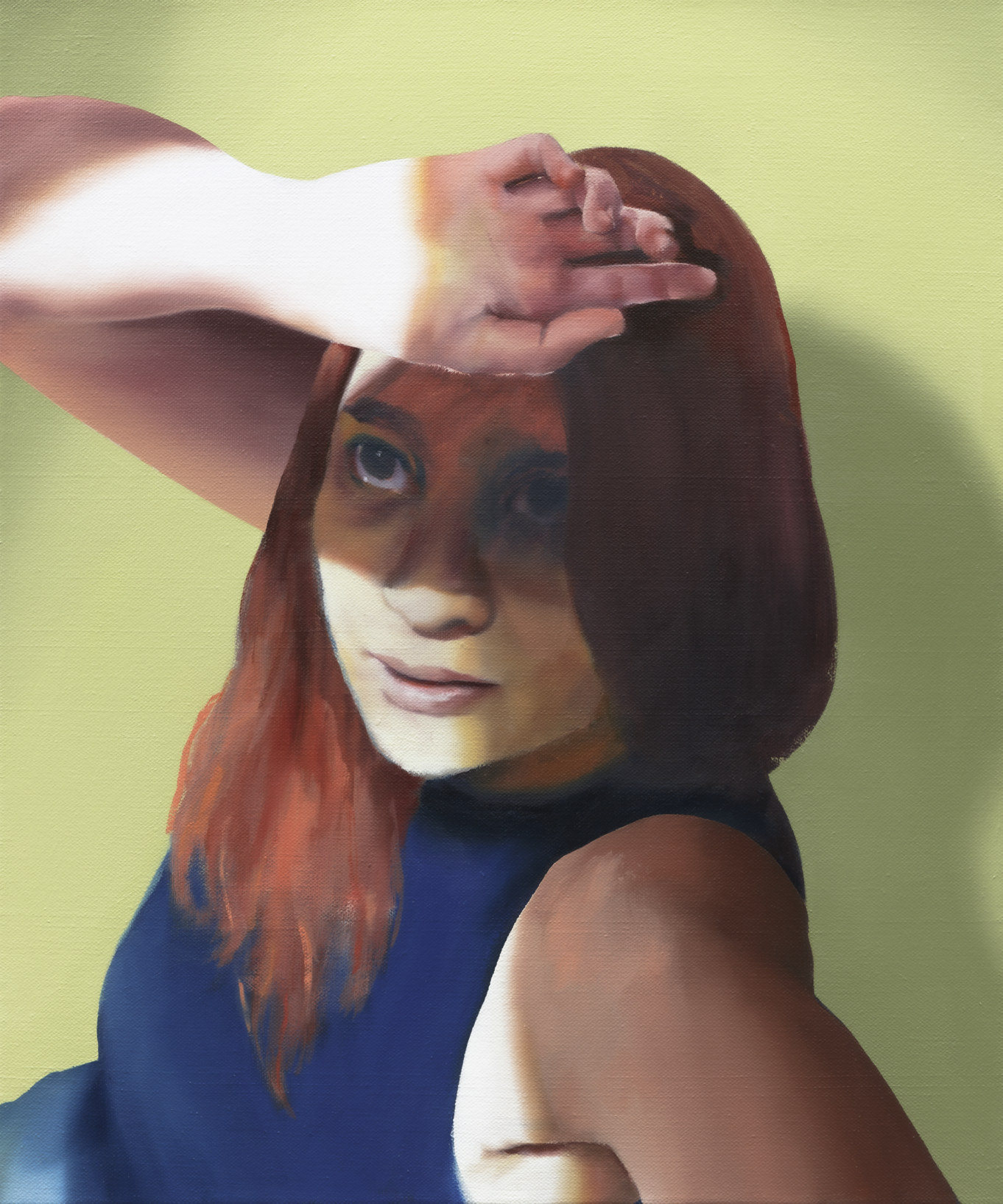 Shielding
2022
Oil on canvas
60 × 50 cm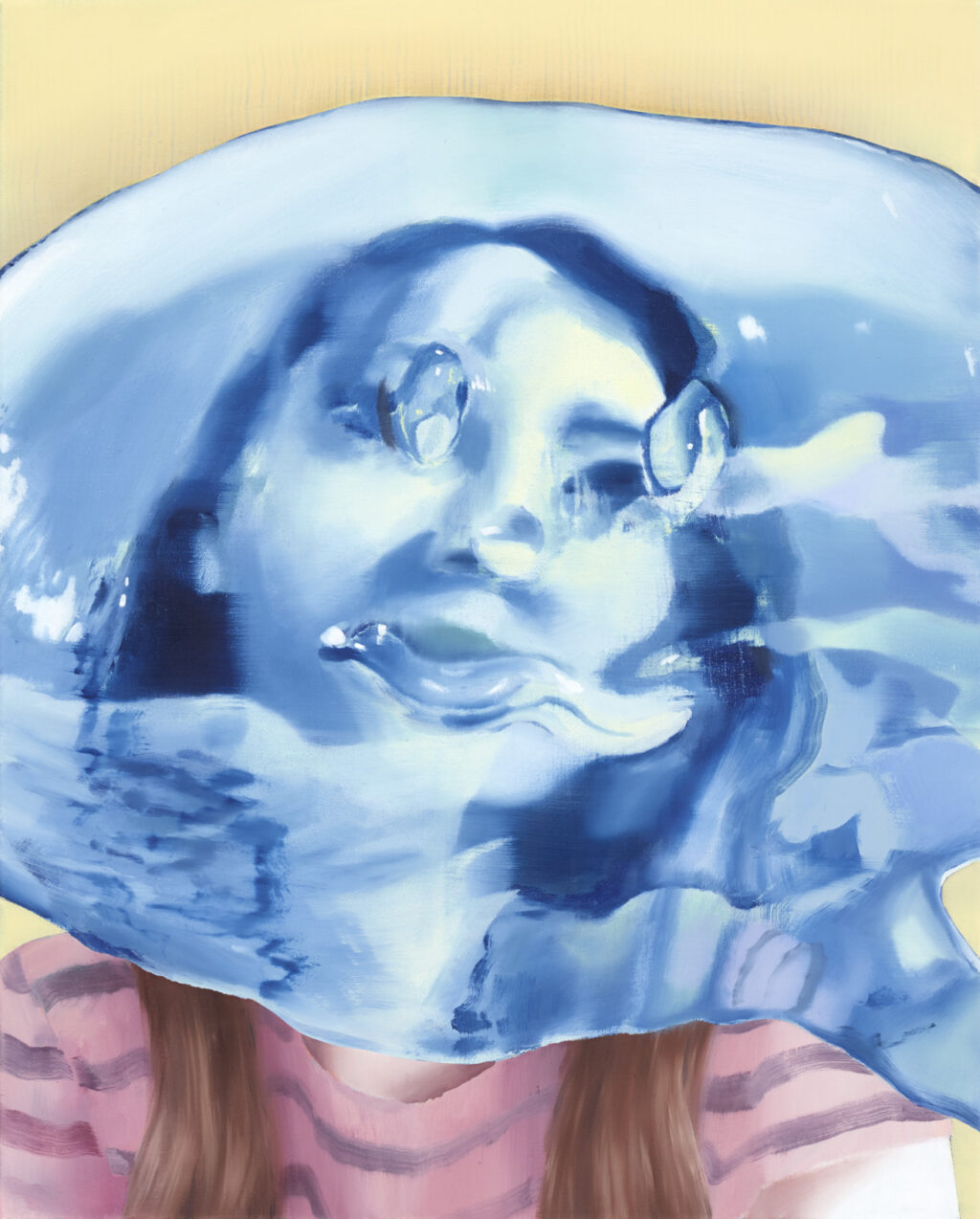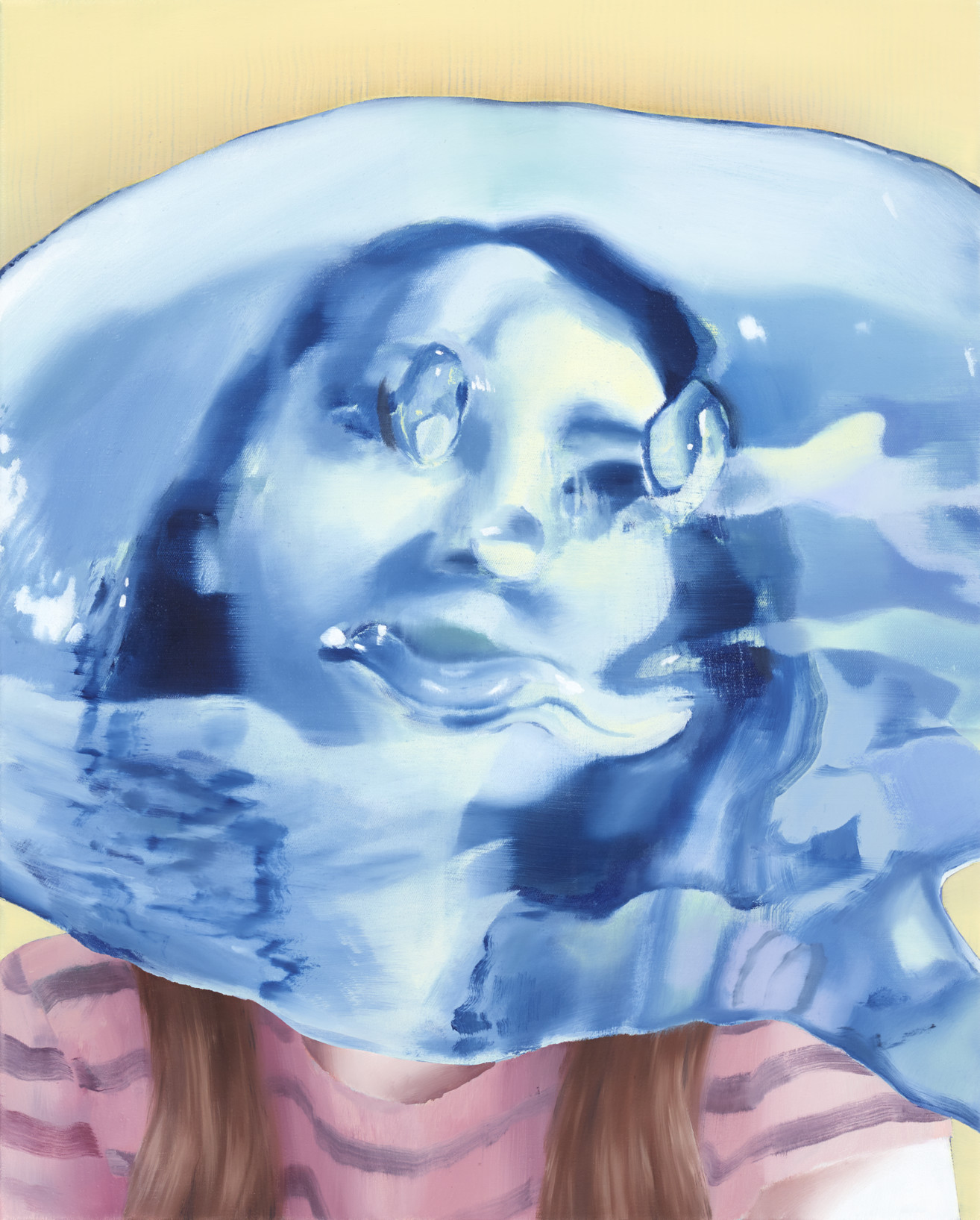 Misconstrued
2022
Oil on canvas
50 × 40 cm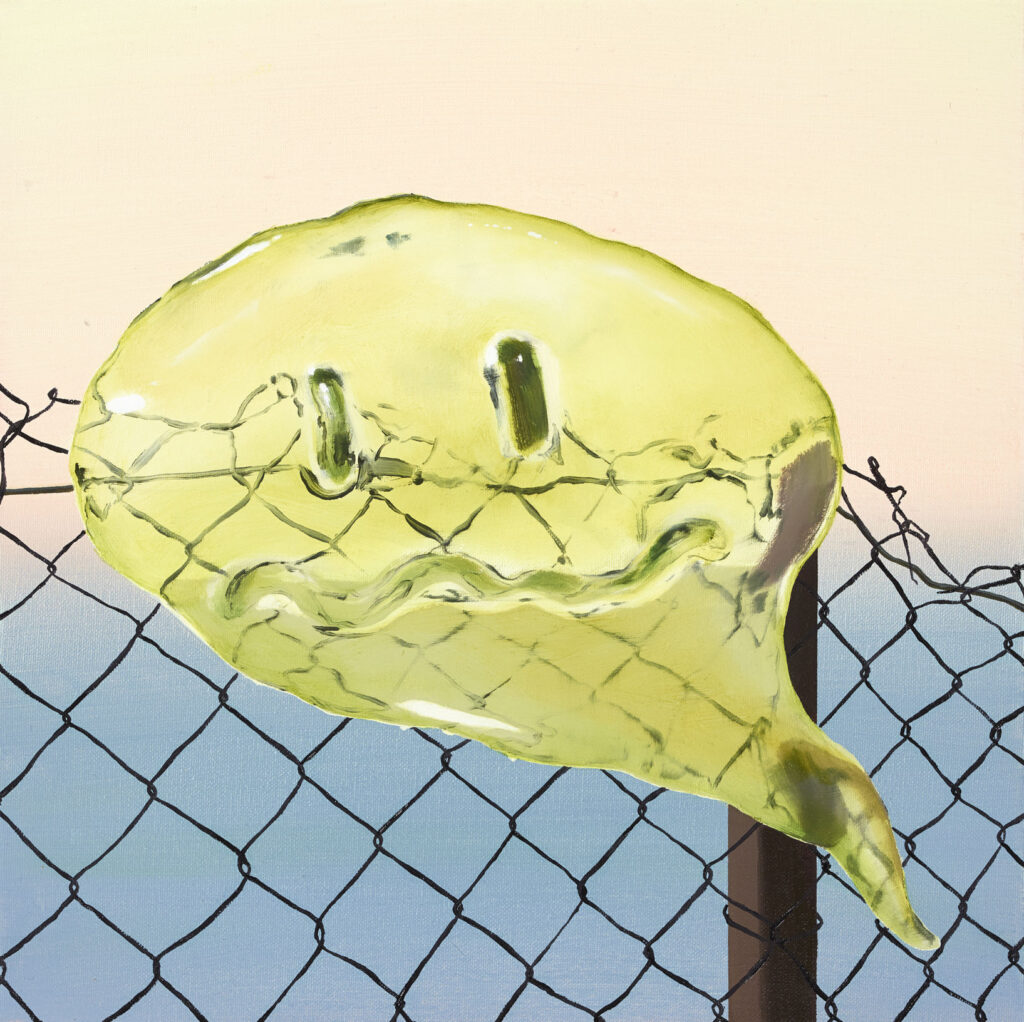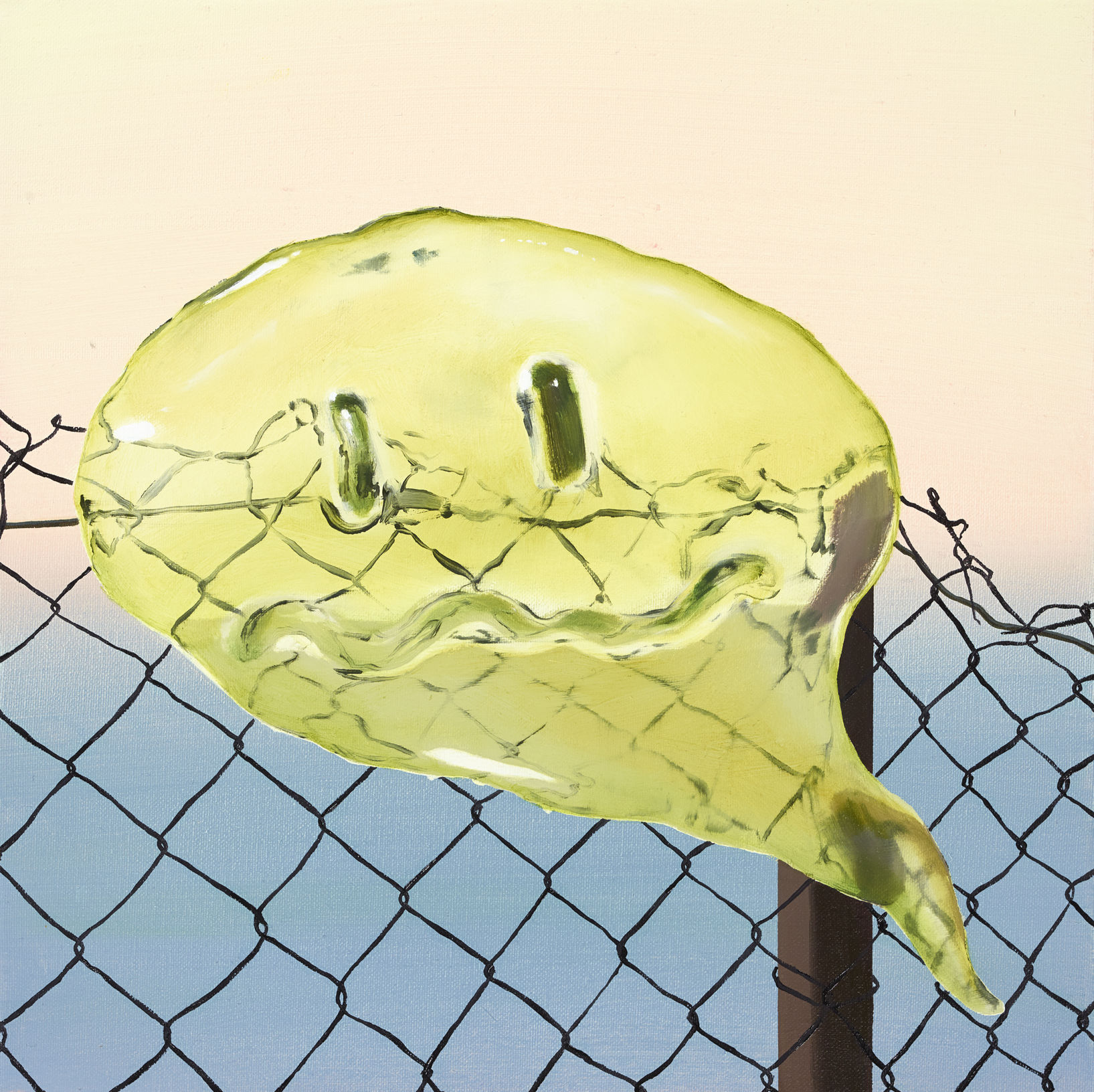 Talking about Our Feelings by the Sea
2022
Oil and acrylic on canvas
40 × 40 cm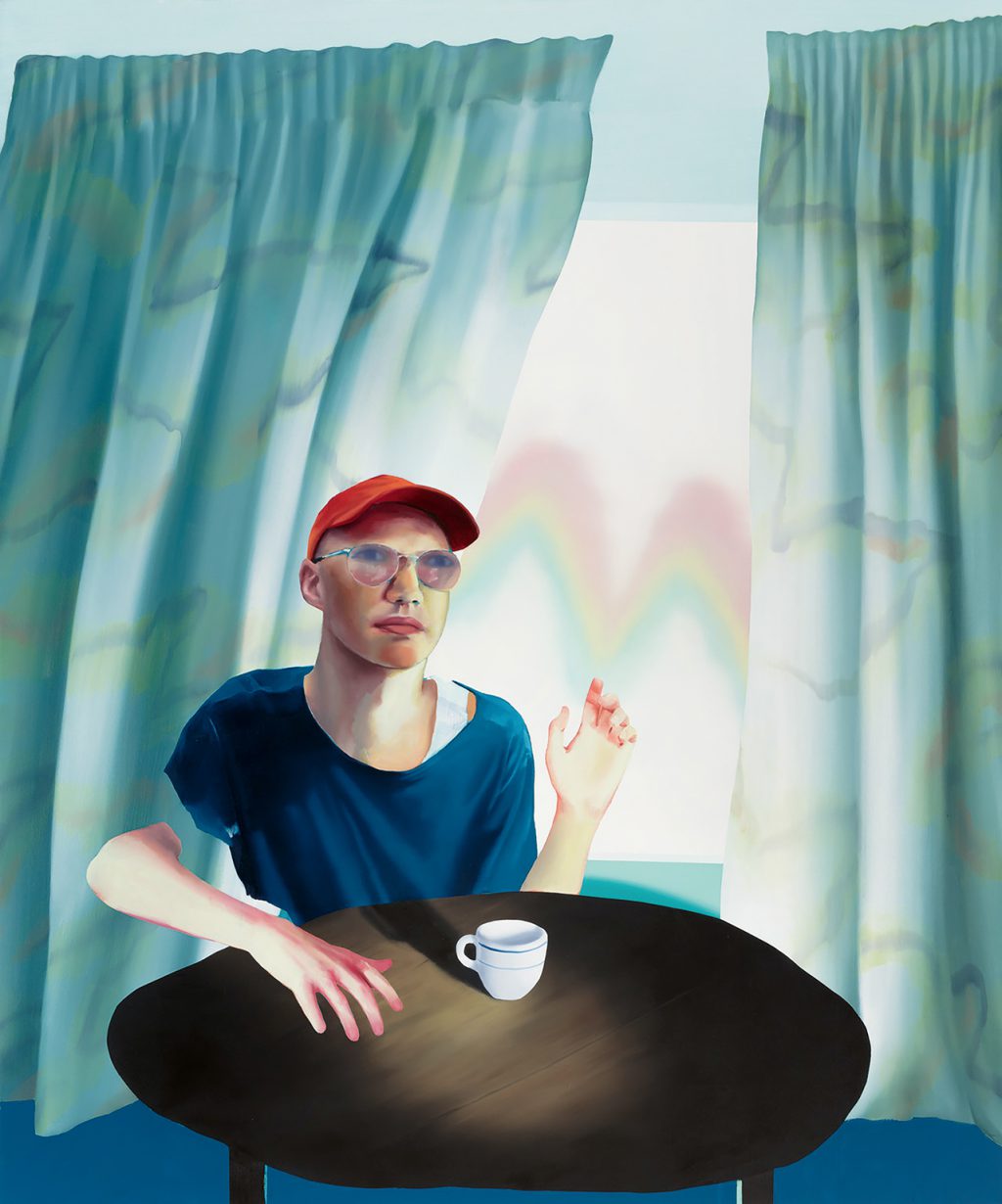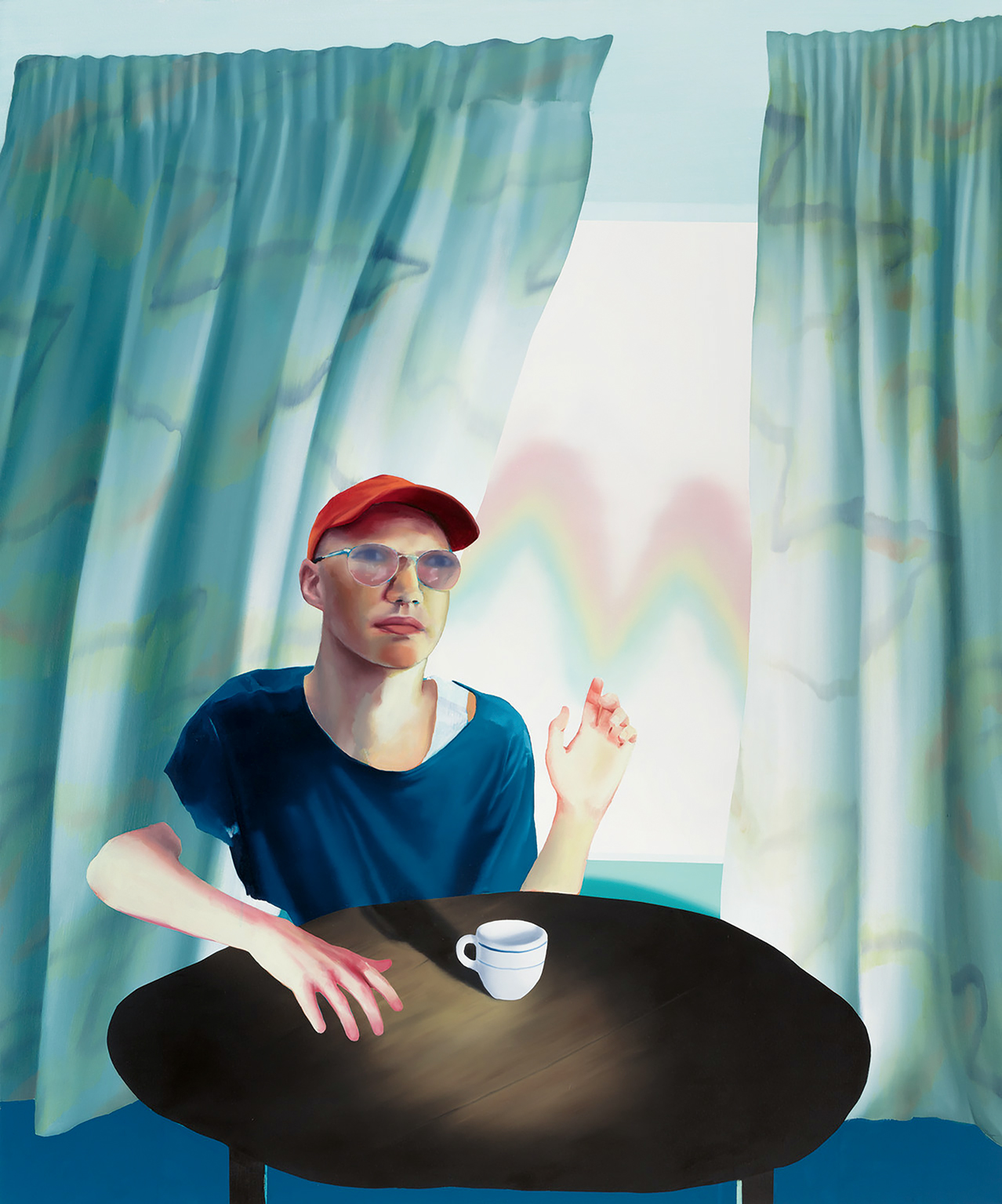 Summer Michael
2022
Oil and acrylic on canvas
152.4 × 127 cm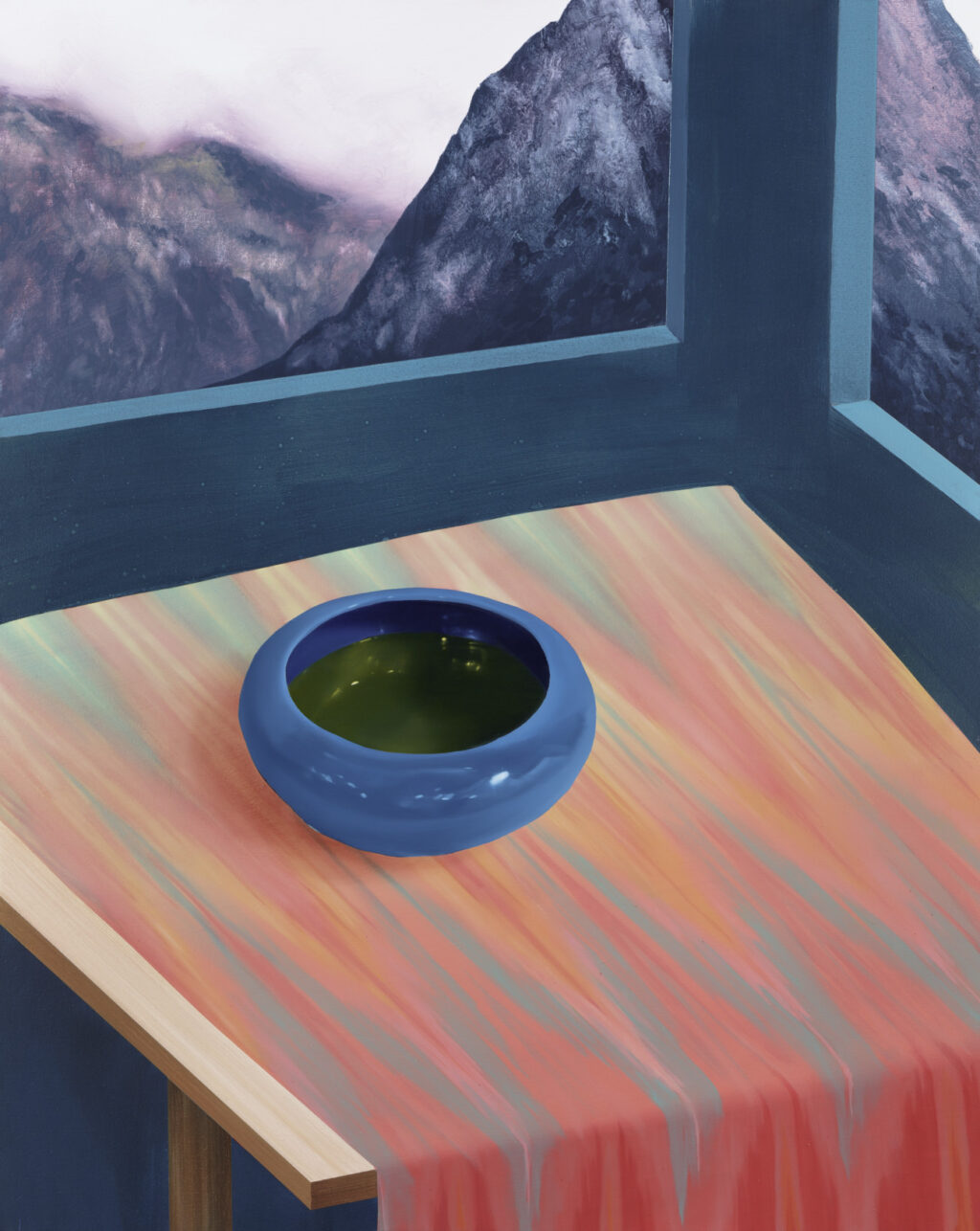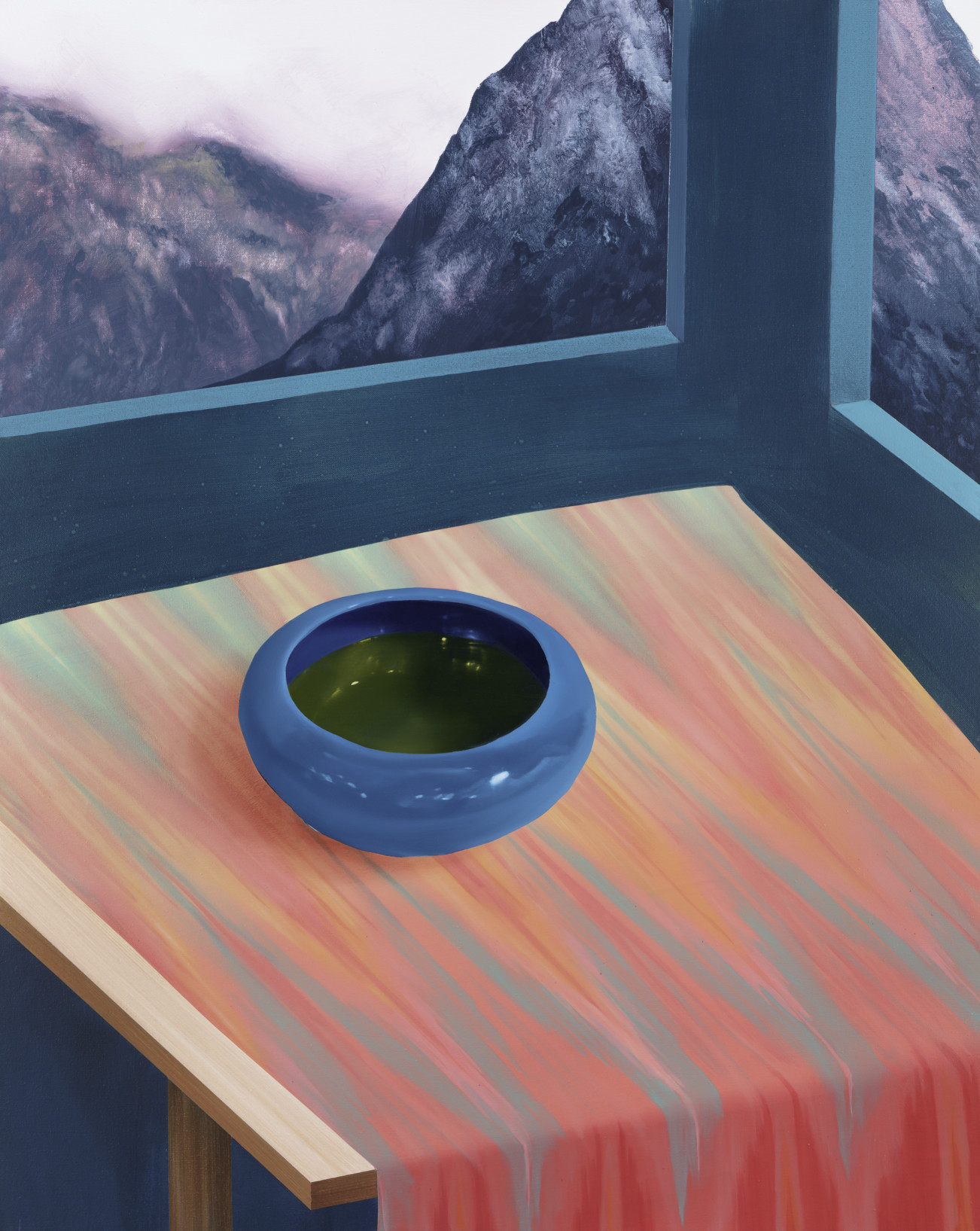 Where I Put It
2022
Oil and acrylic on canvas
100 × 80 cm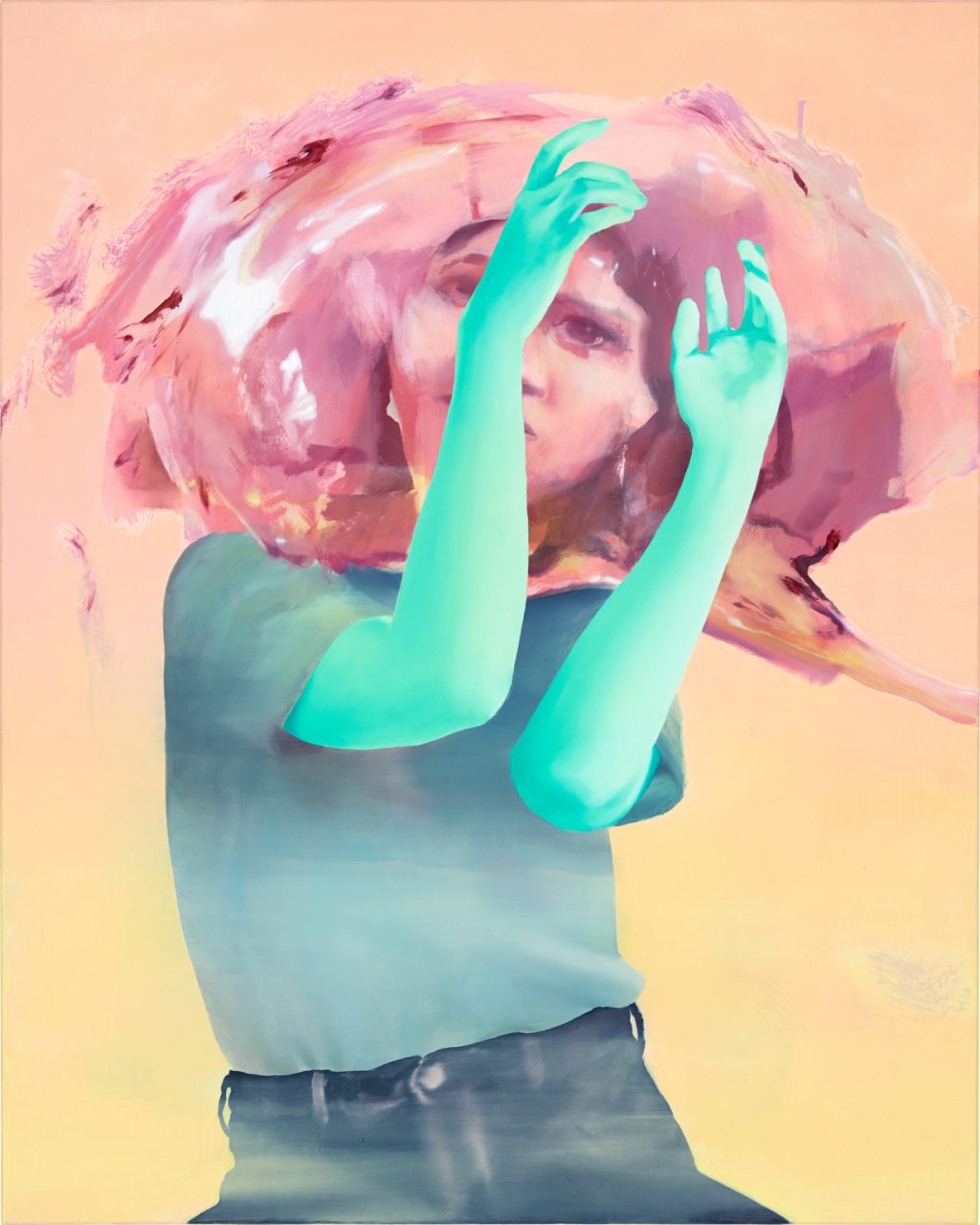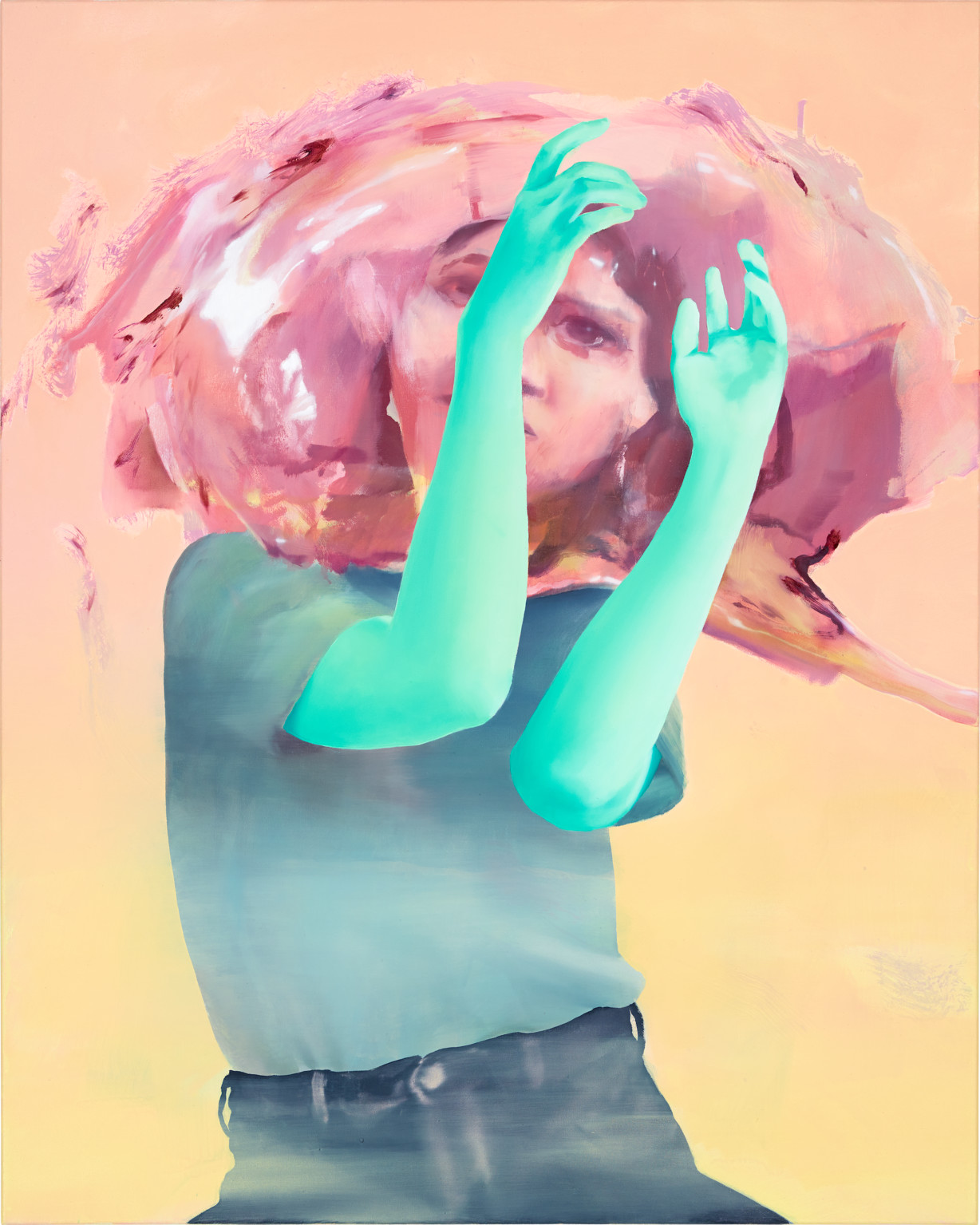 Curious Onslaught
2022
Oil and acrylic on canvas
100 × 80 cm
Show more works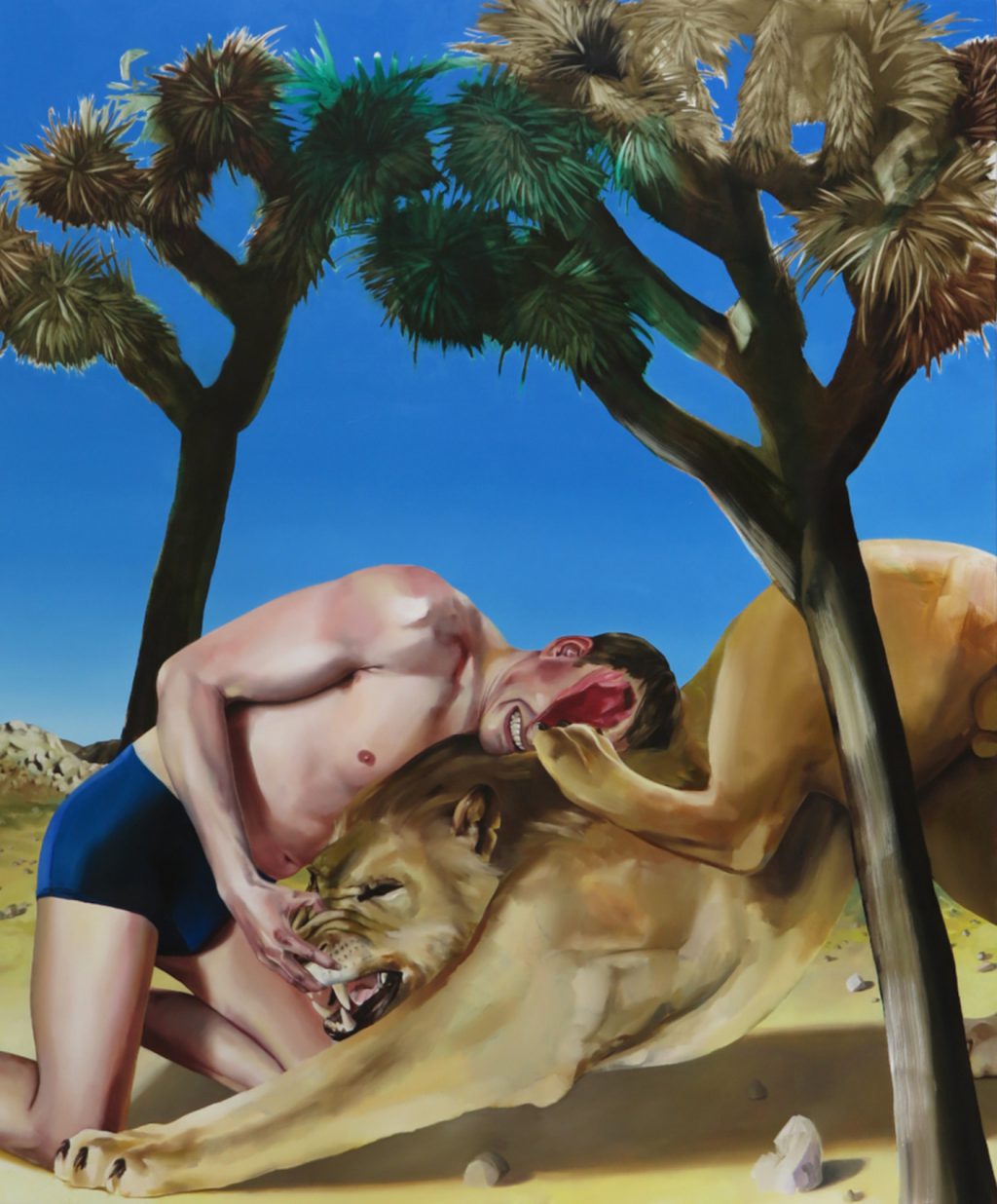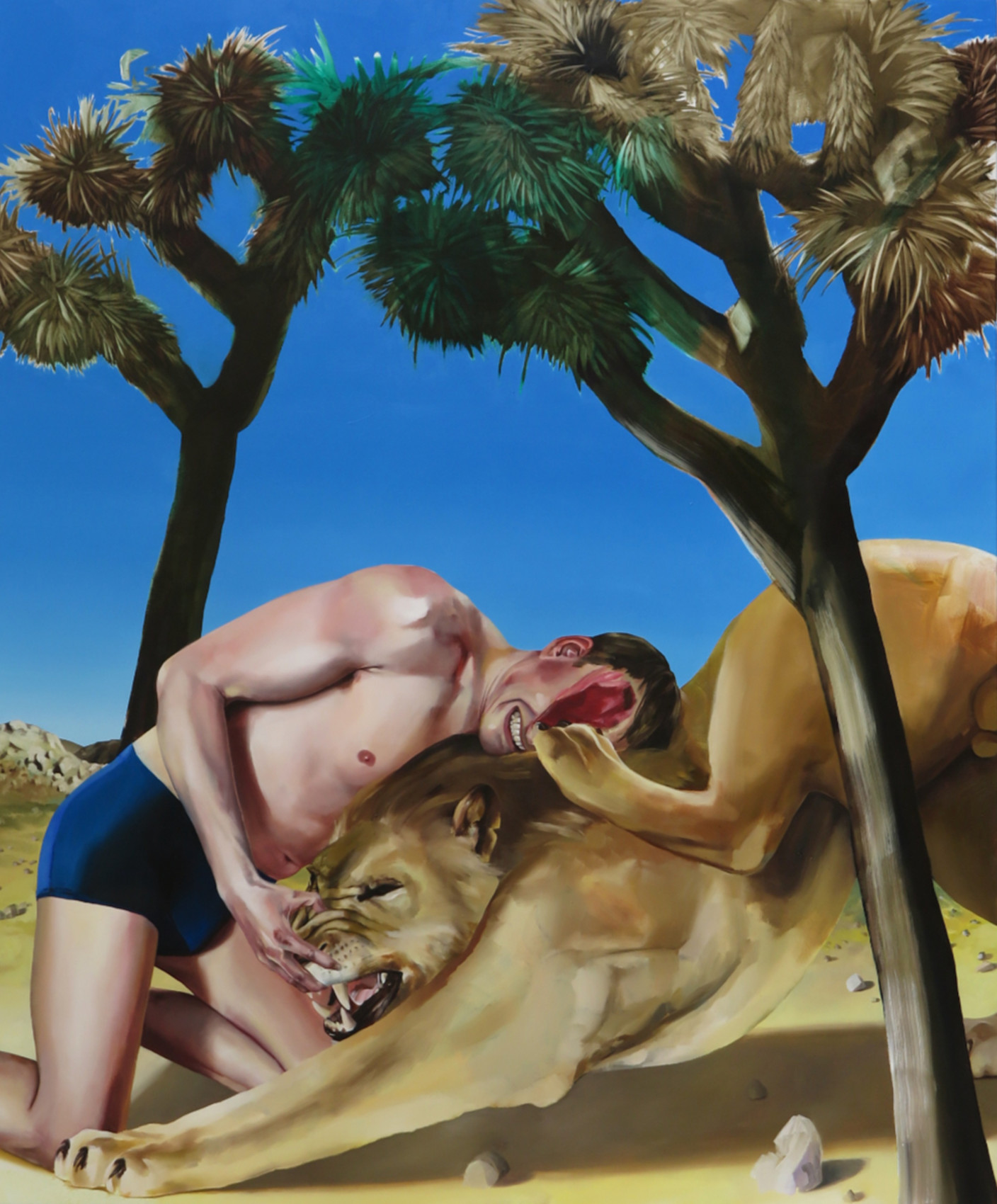 Hercules Wrestling the Nemean Lion
2015
Oil on canvas
180 × 150 cm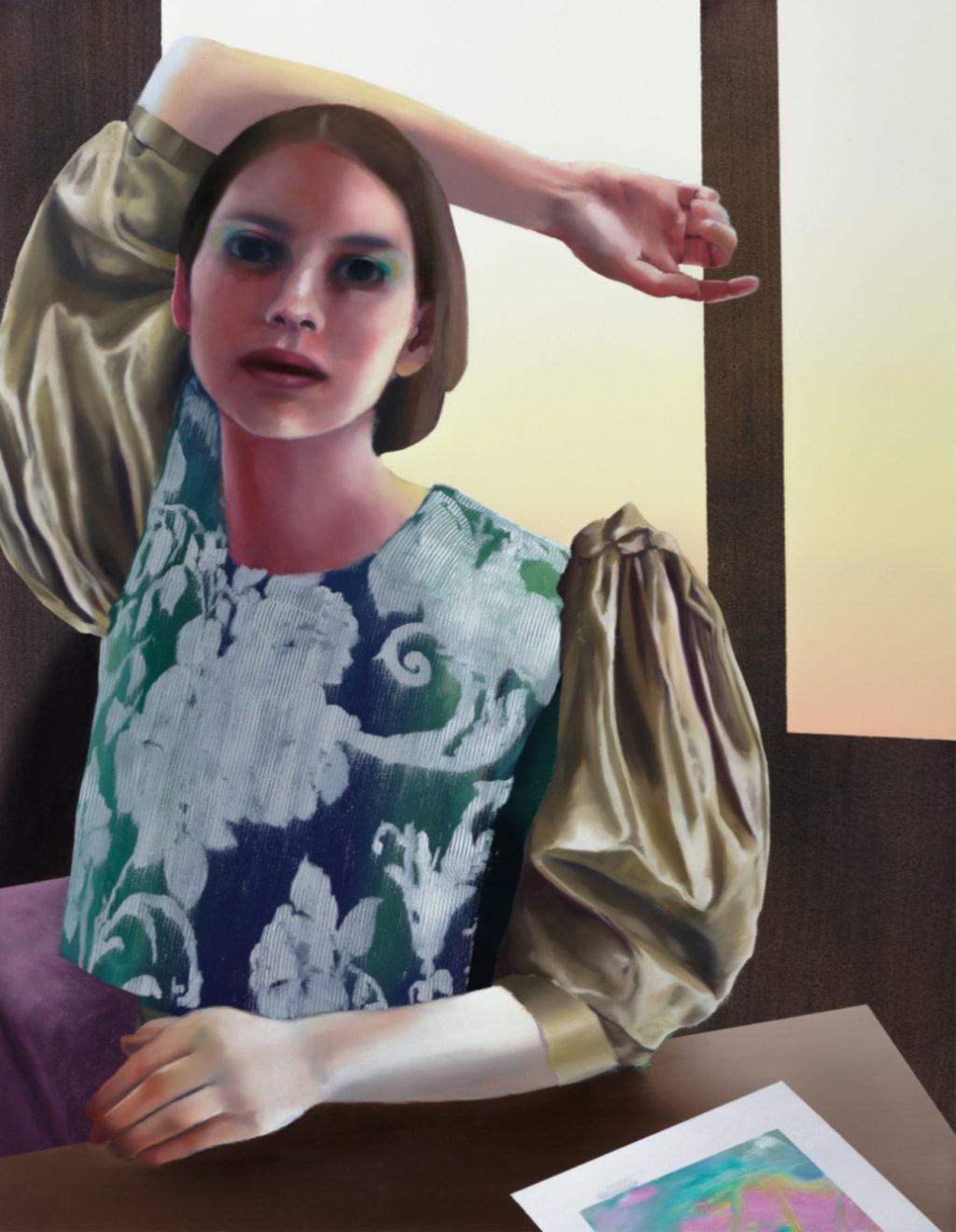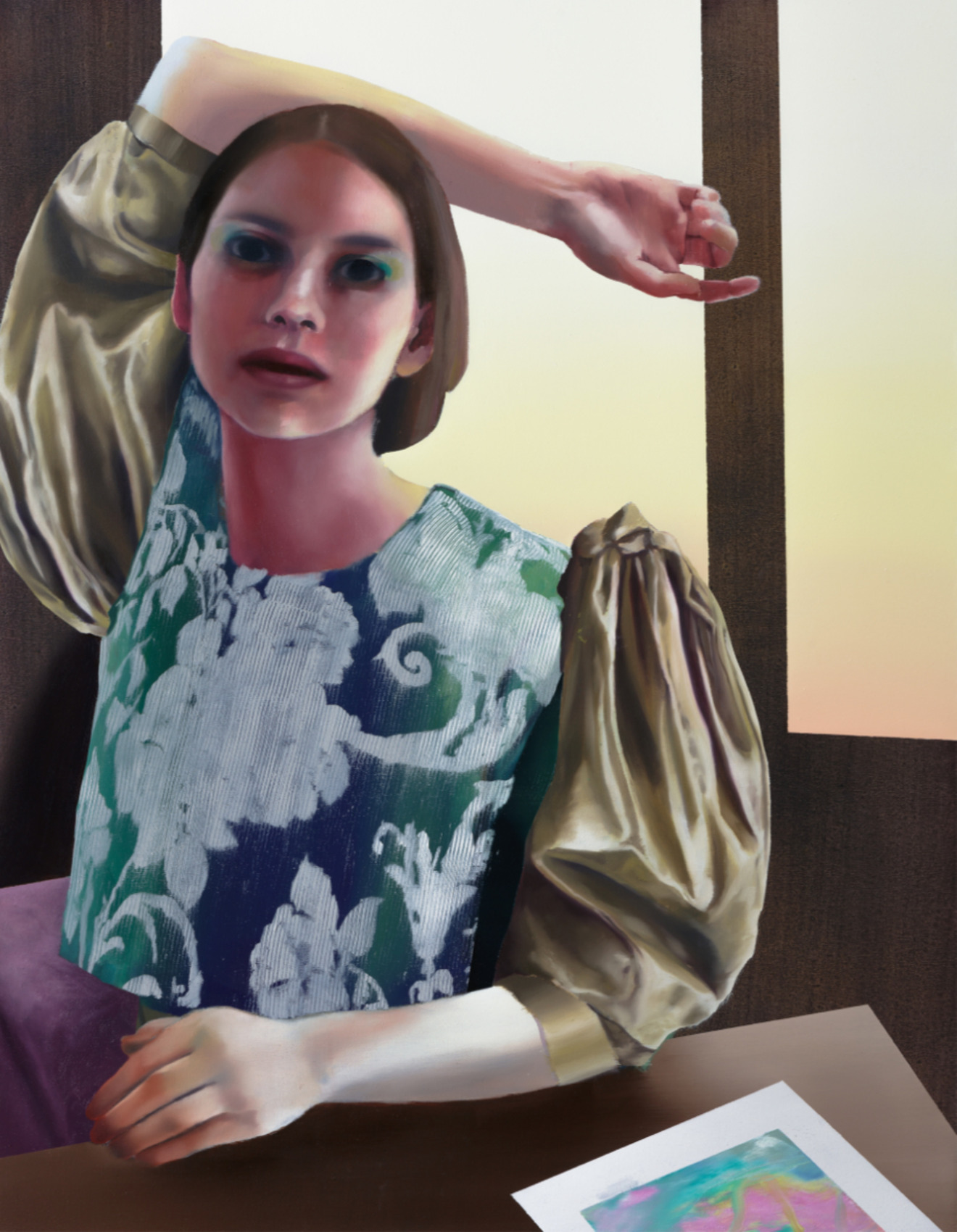 Wearing Sleeves
2021
Oil and acrylic on canvas
90 × 70 cm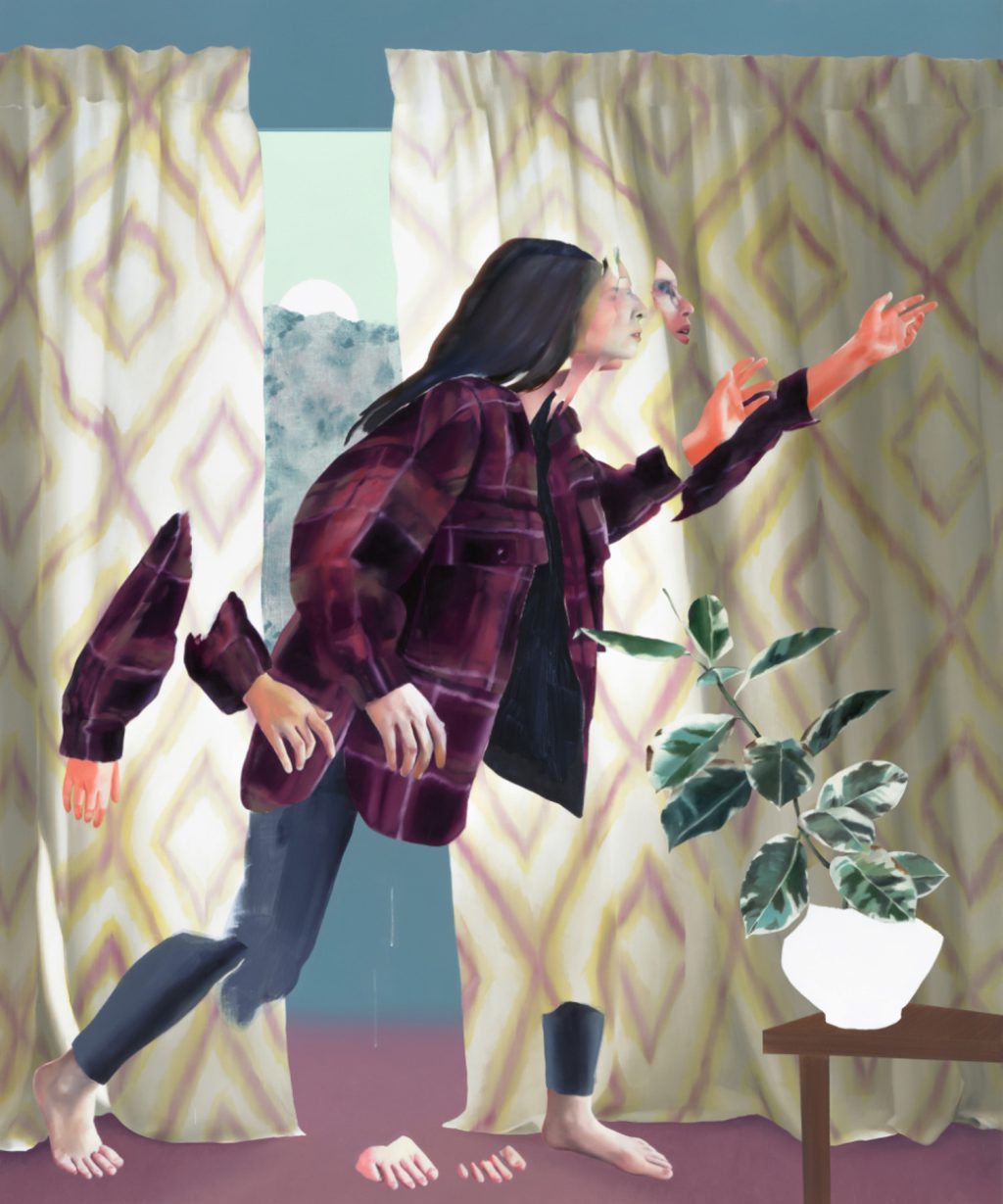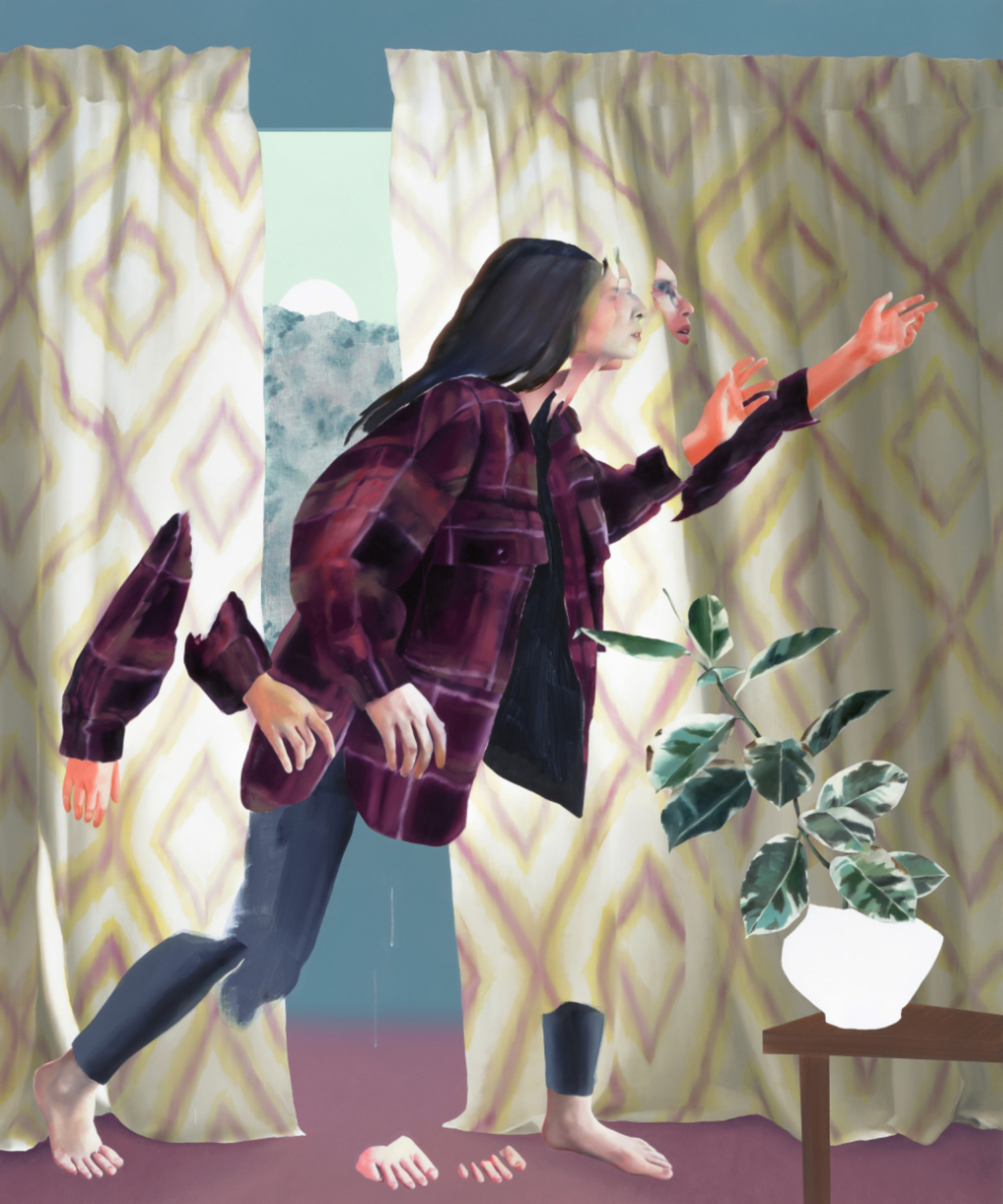 Disintegration
2021
Oil and acrylic on canvas
180 × 150 cm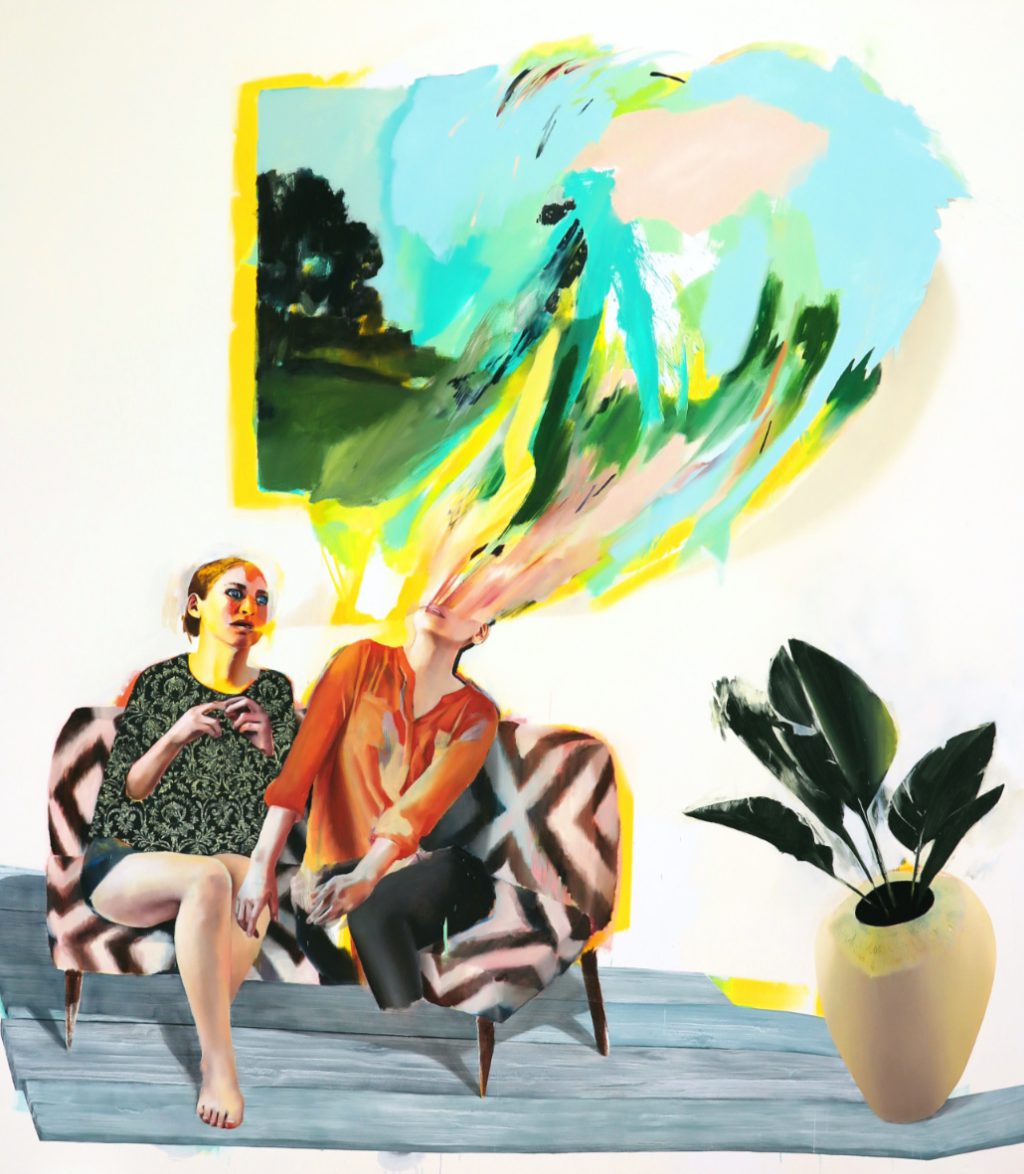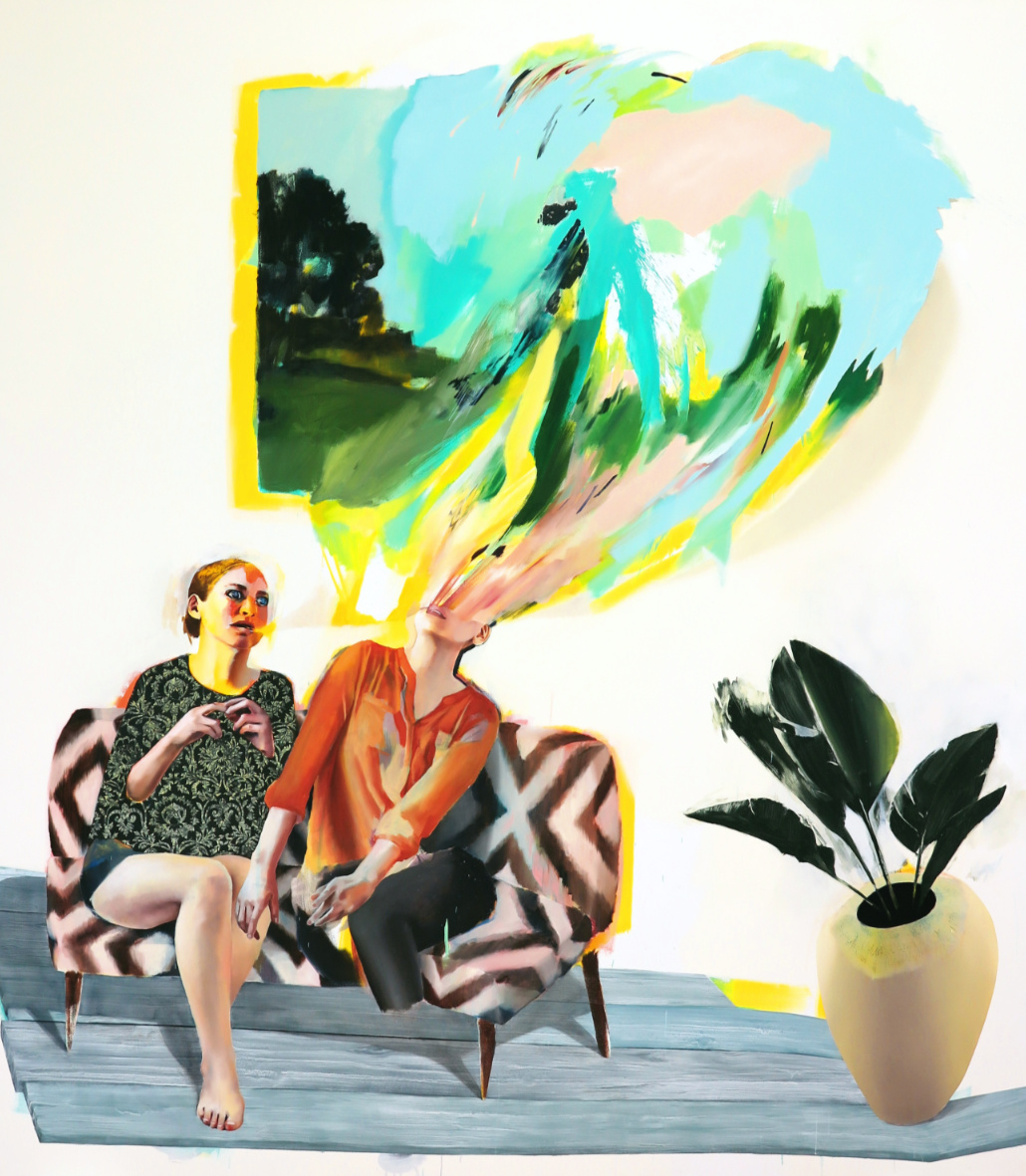 Speaking Persuasively
2018
Oil on canvas
240 × 210 cm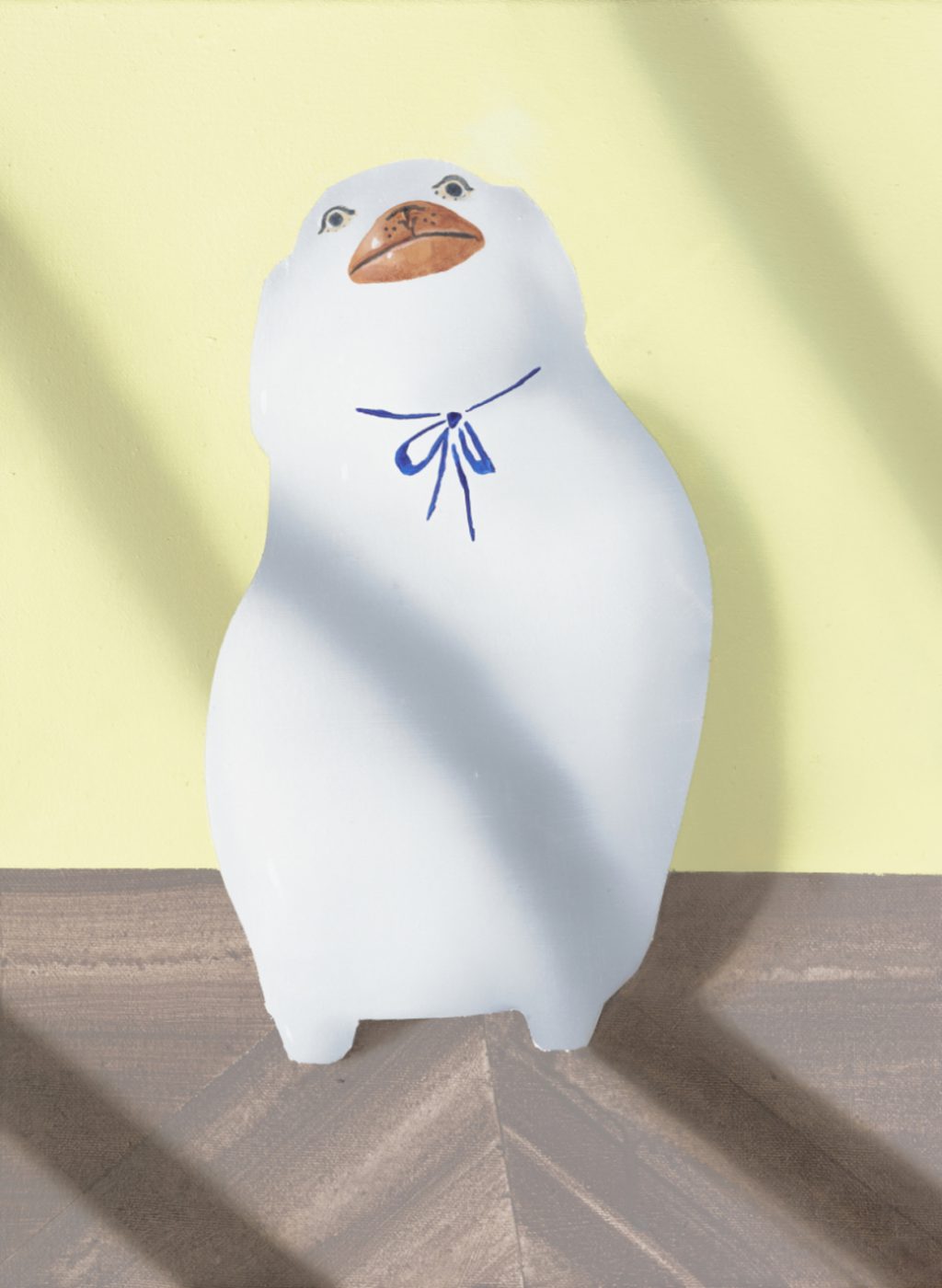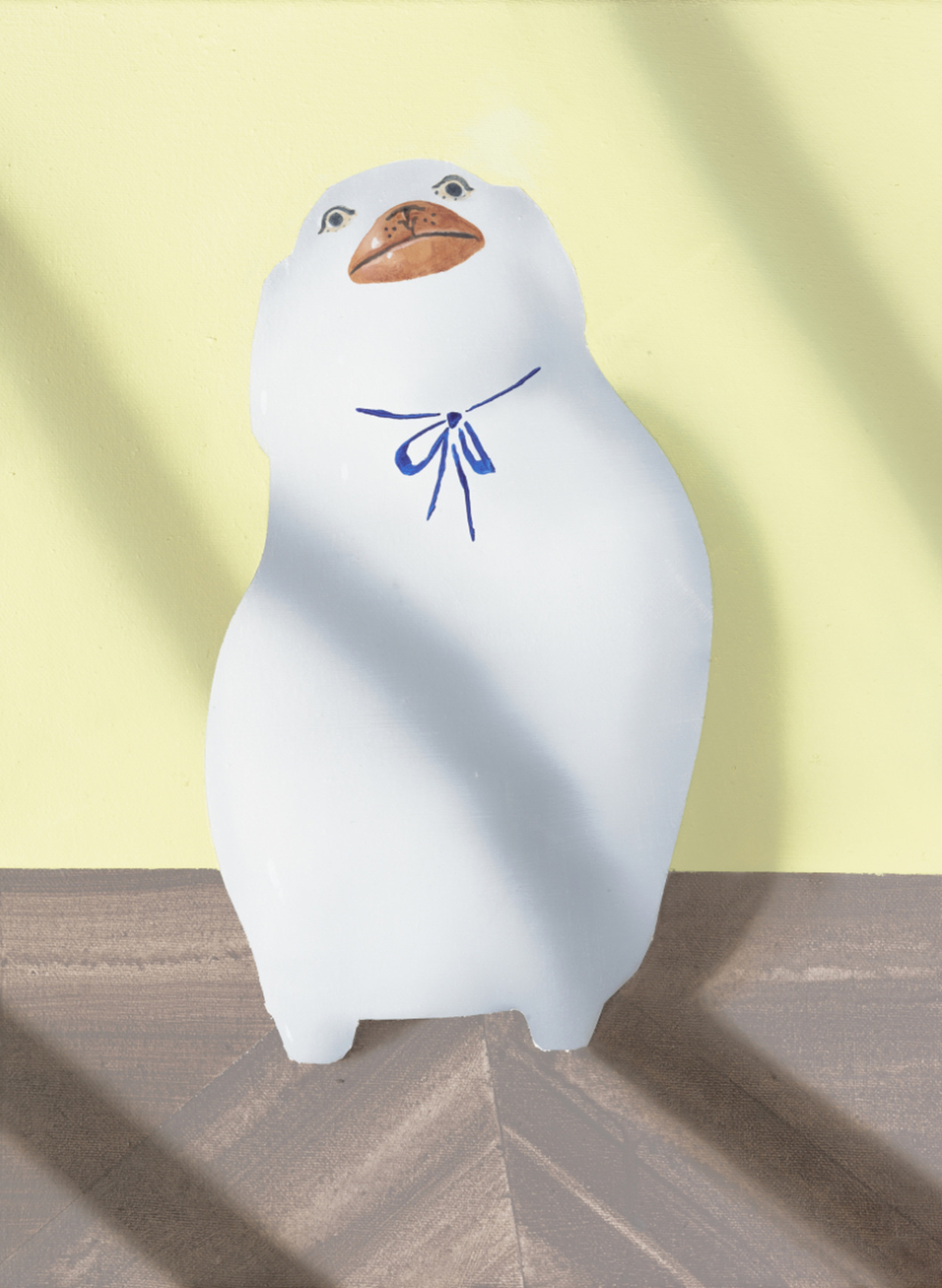 Stolzes Mitglied
2020
Oil and acrylic on canvas
40 × 30 cm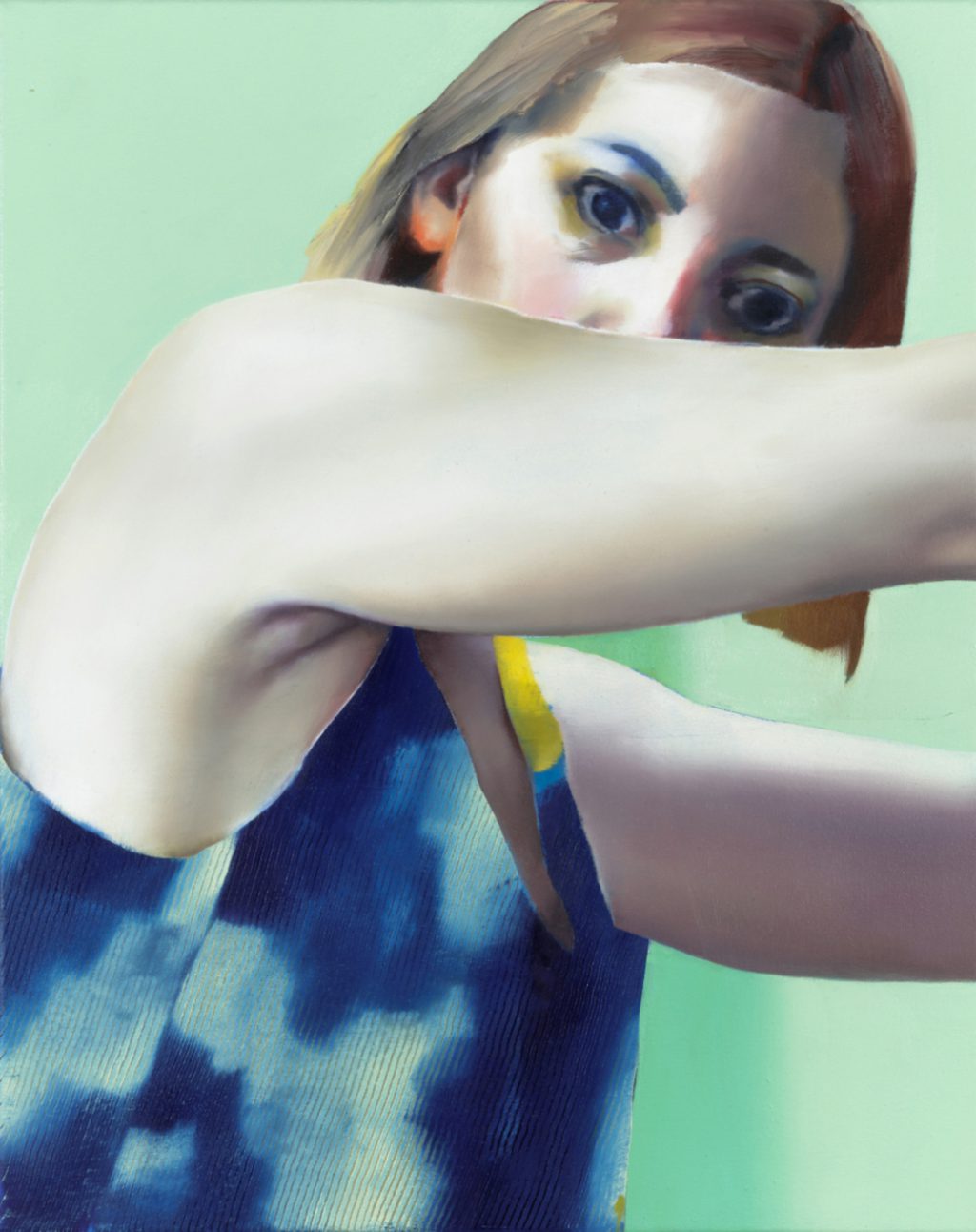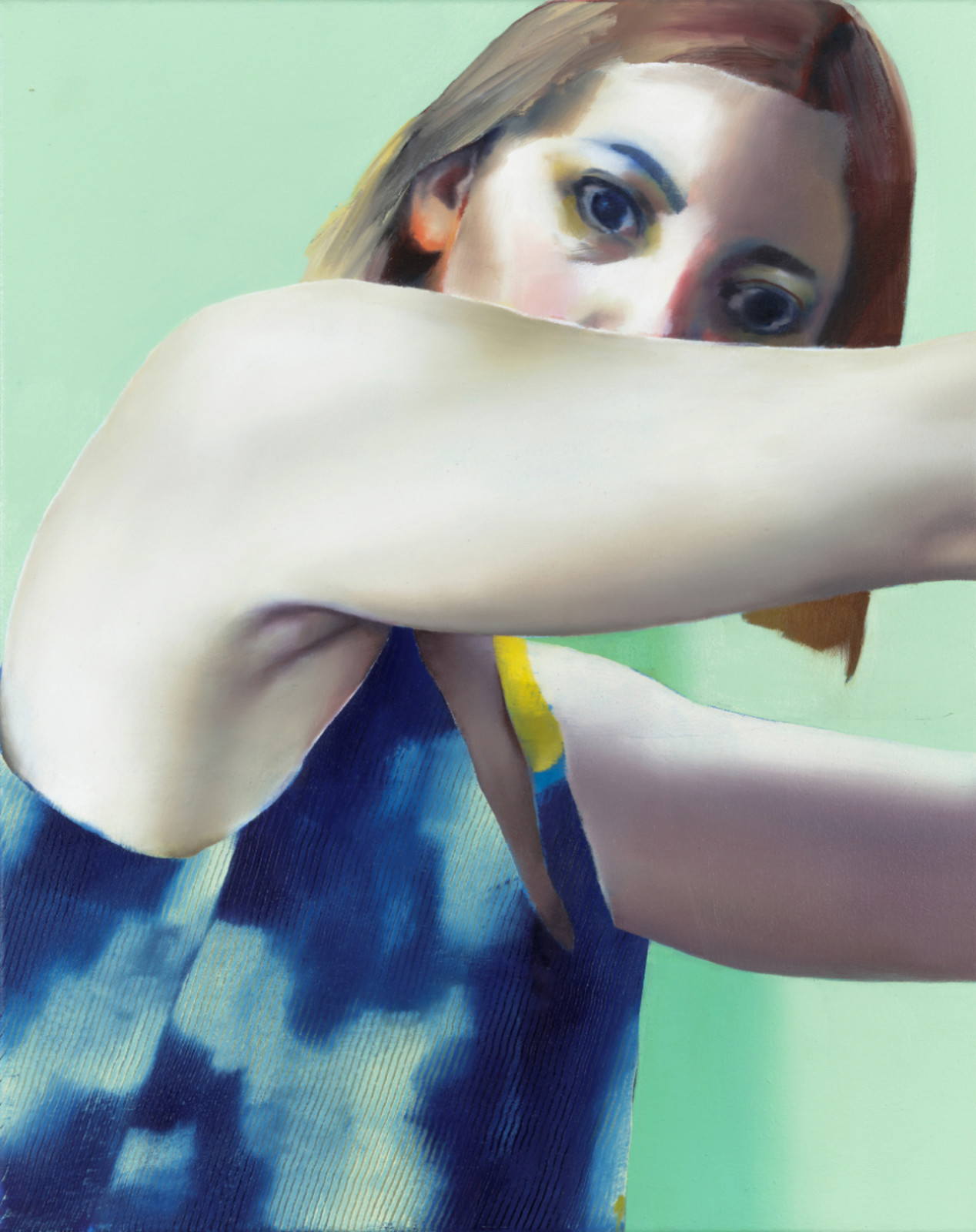 Behind the Arm
2021
Oil on canvas
50 × 40 cm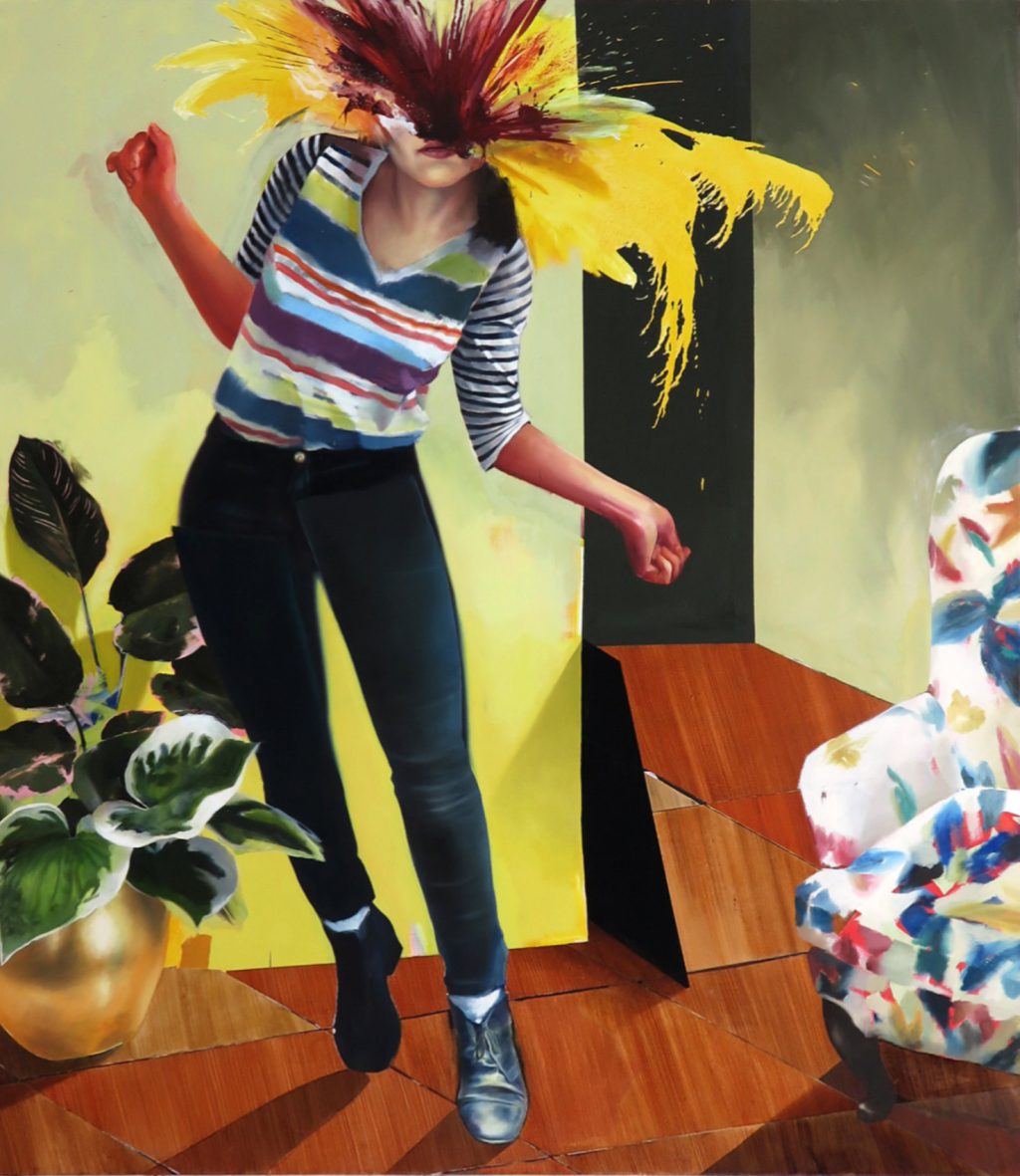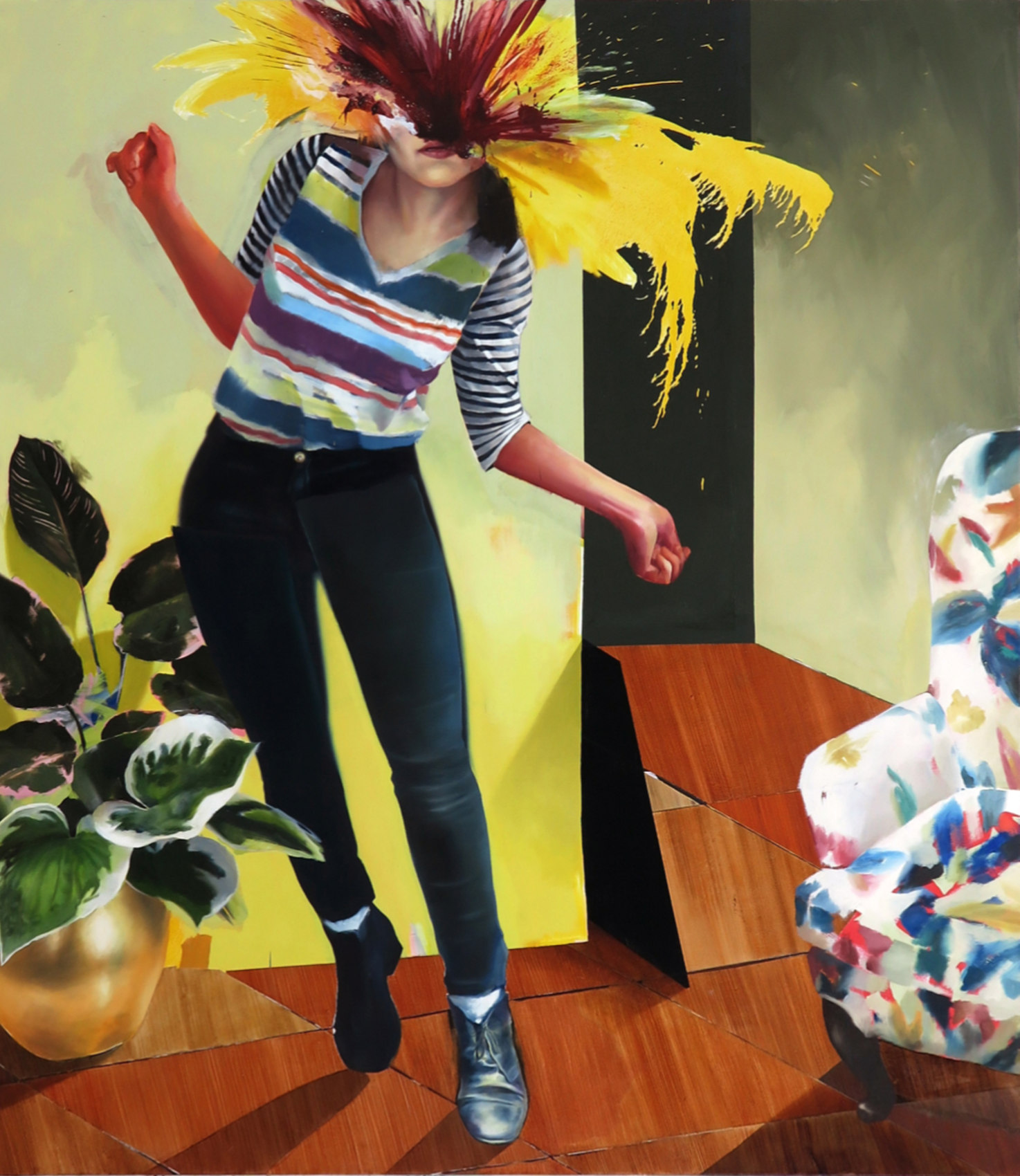 Head Explodes Due to Personal Reasons
2018
Oil on canvas
160 × 140 cm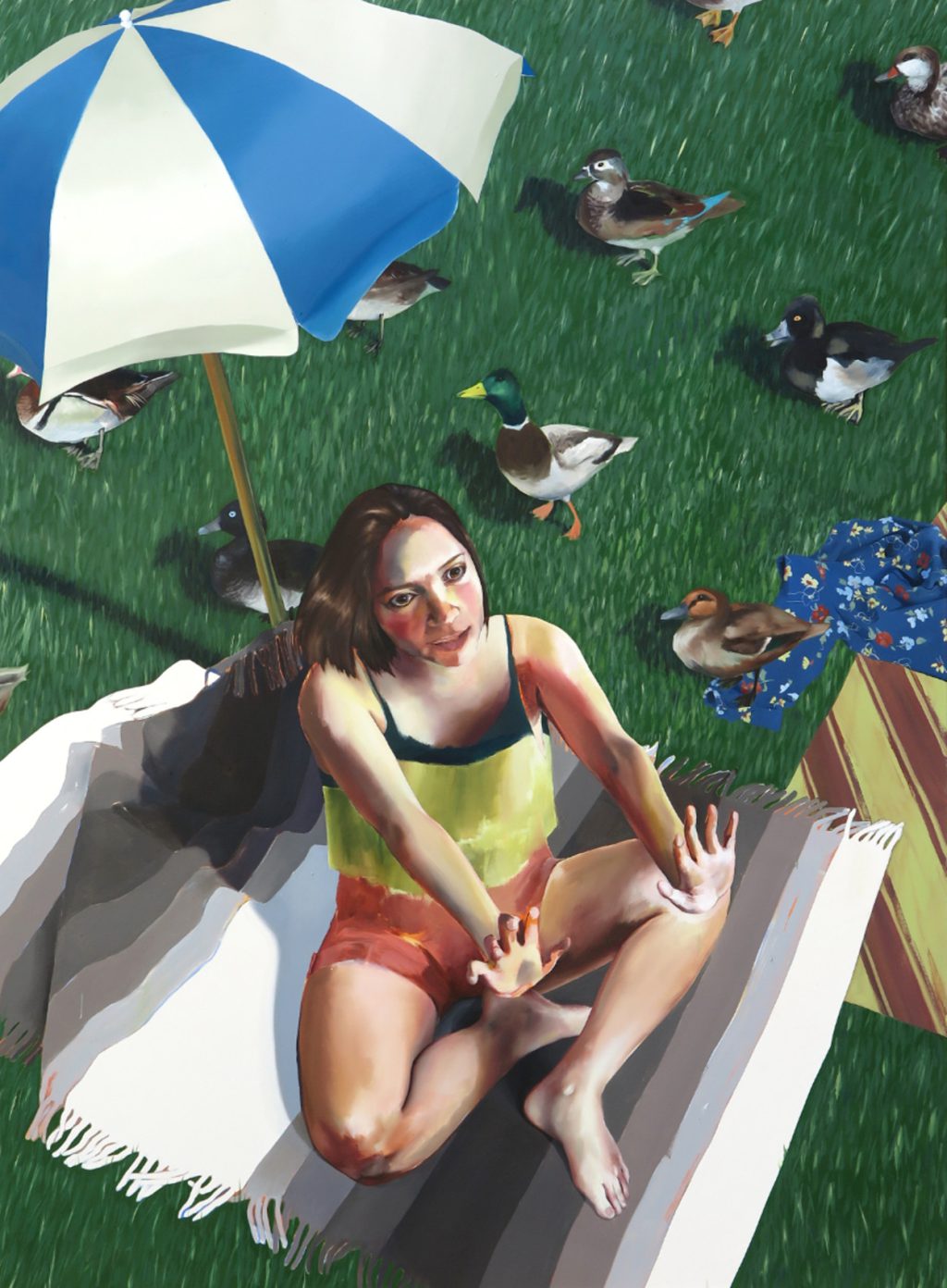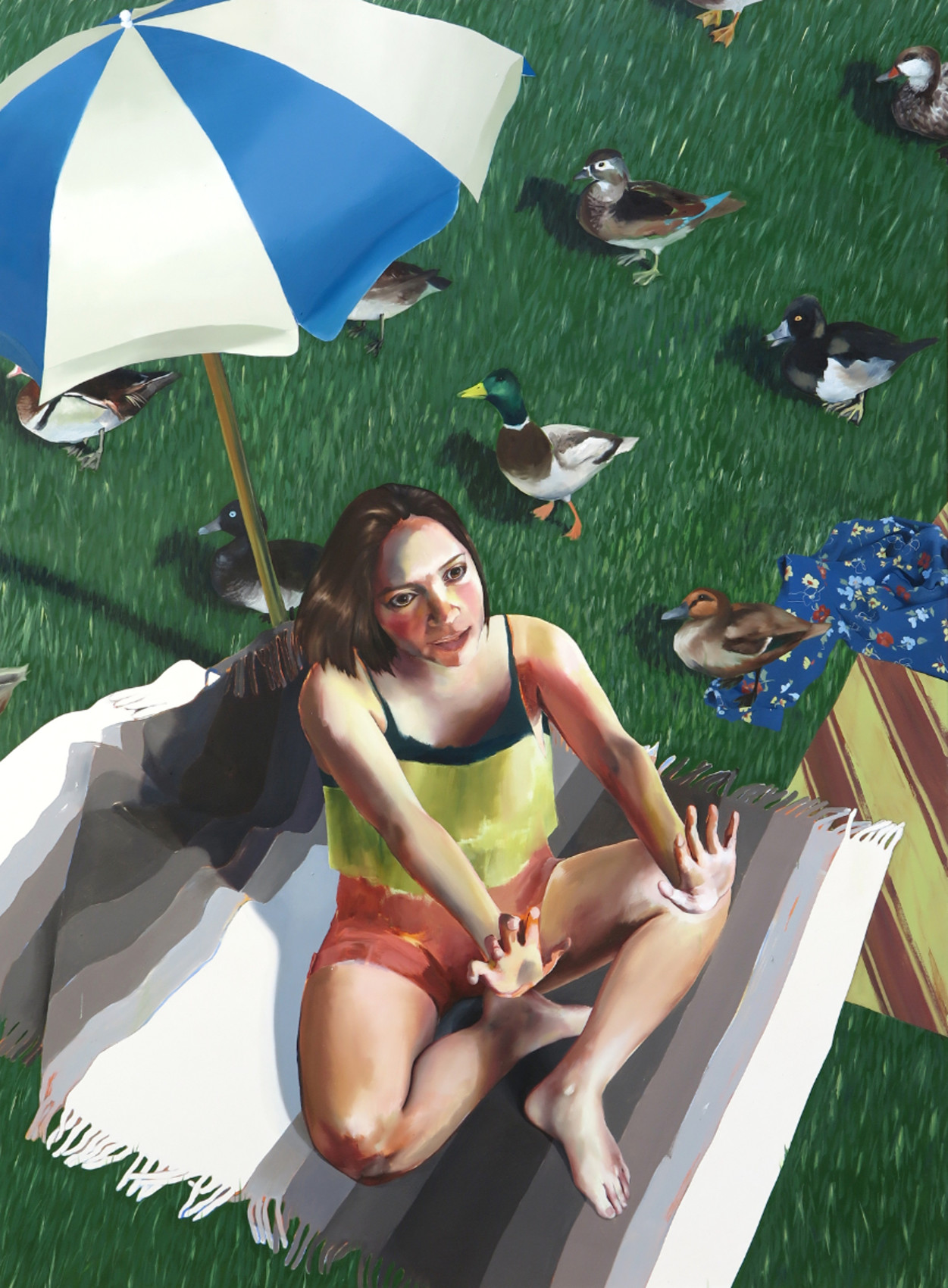 Ducks in the Park
2016
Oil on canvas
230 × 170 cm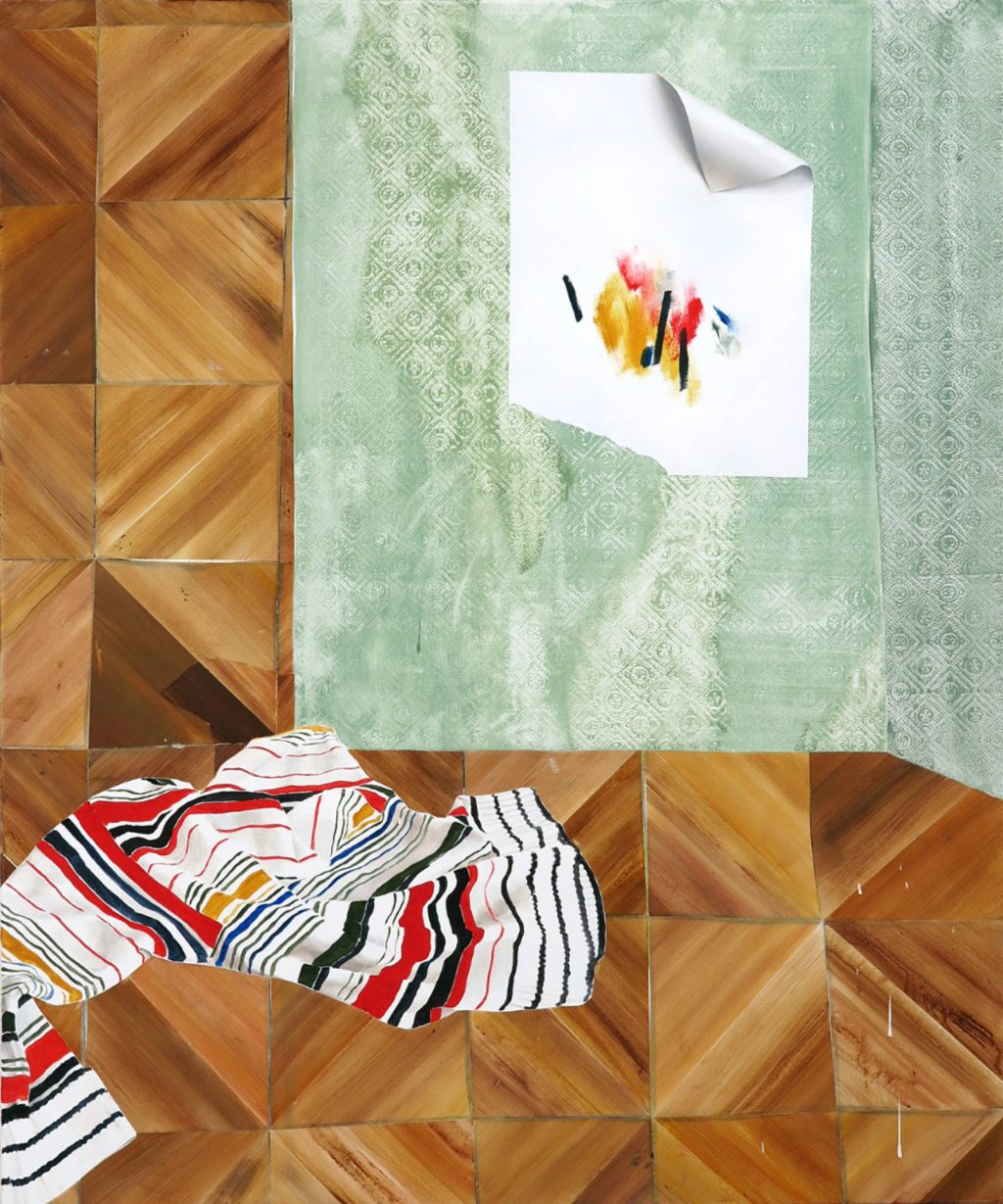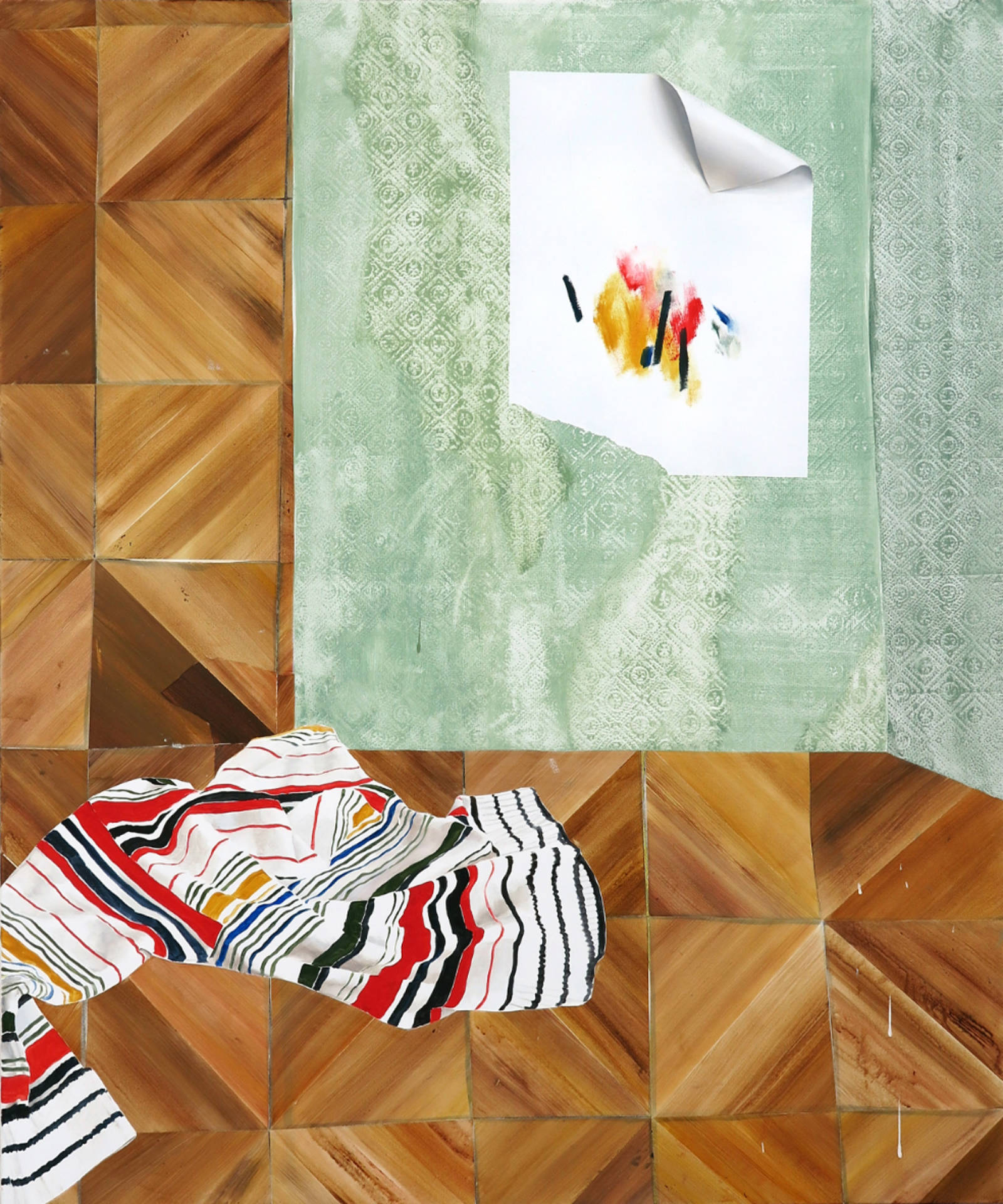 Attempt
2018
Oil and acrylic on canvas
120 × 100 cm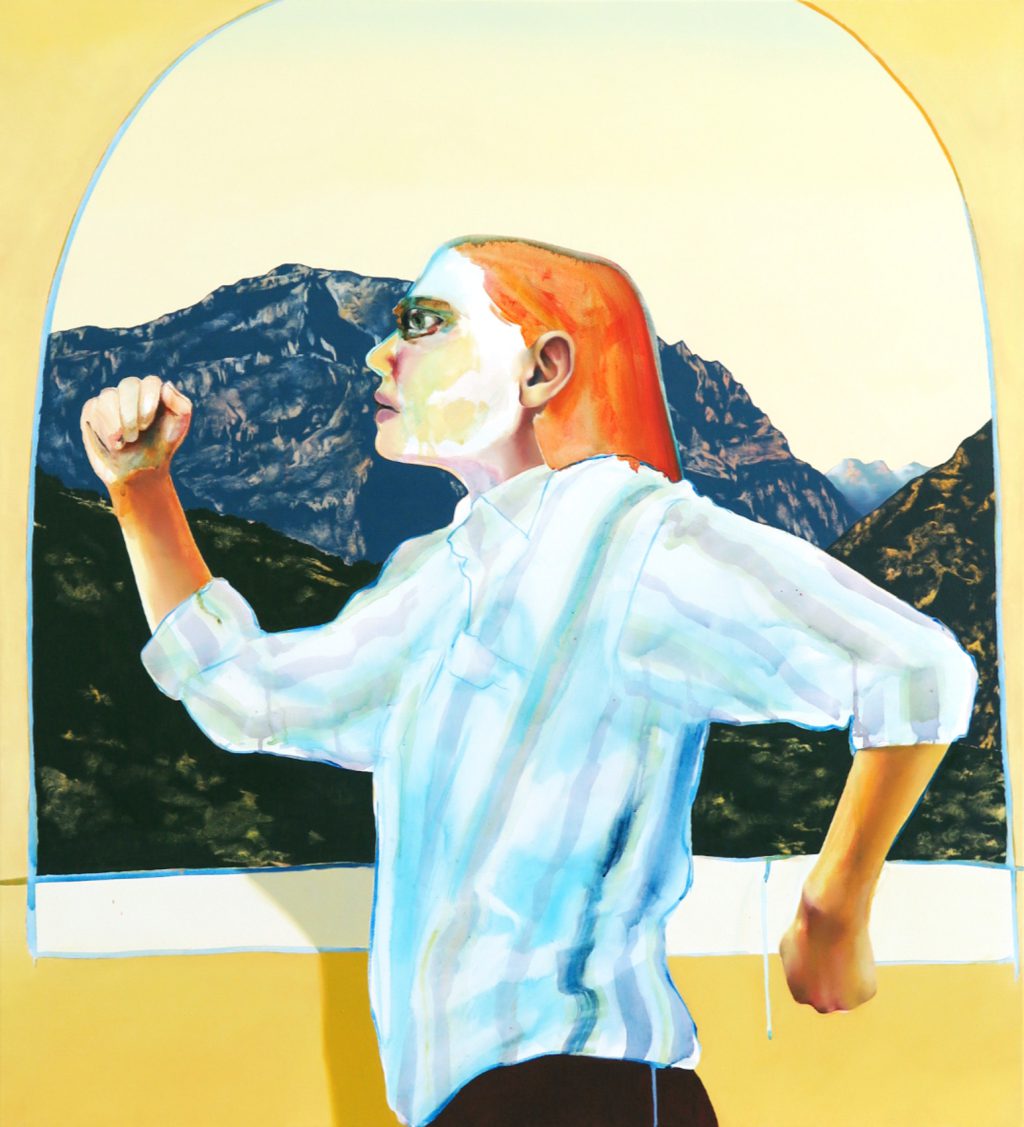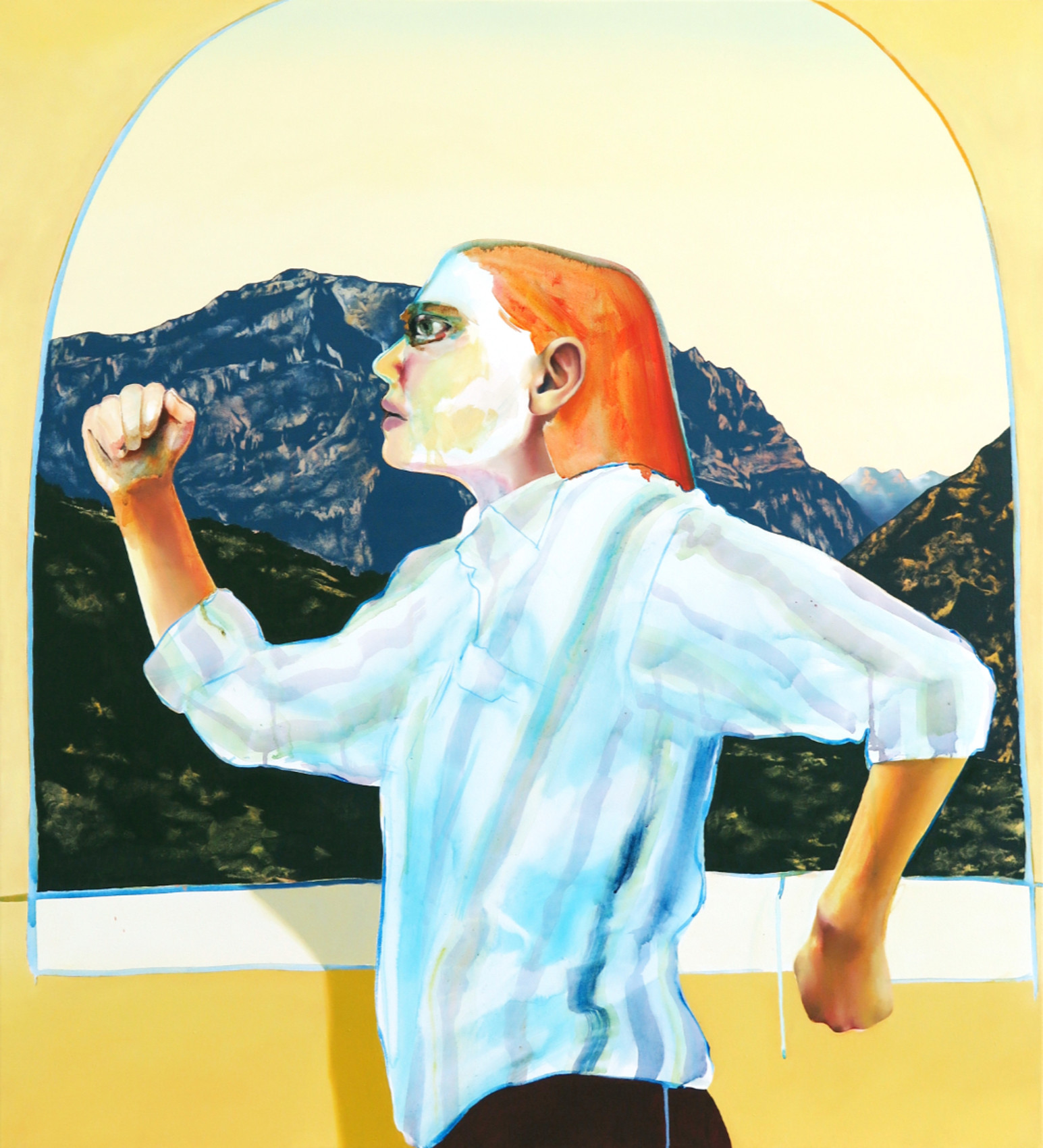 Running Heroically in Front of a Landscape
2017
Oil and acrylic on canvas
110 × 100 cm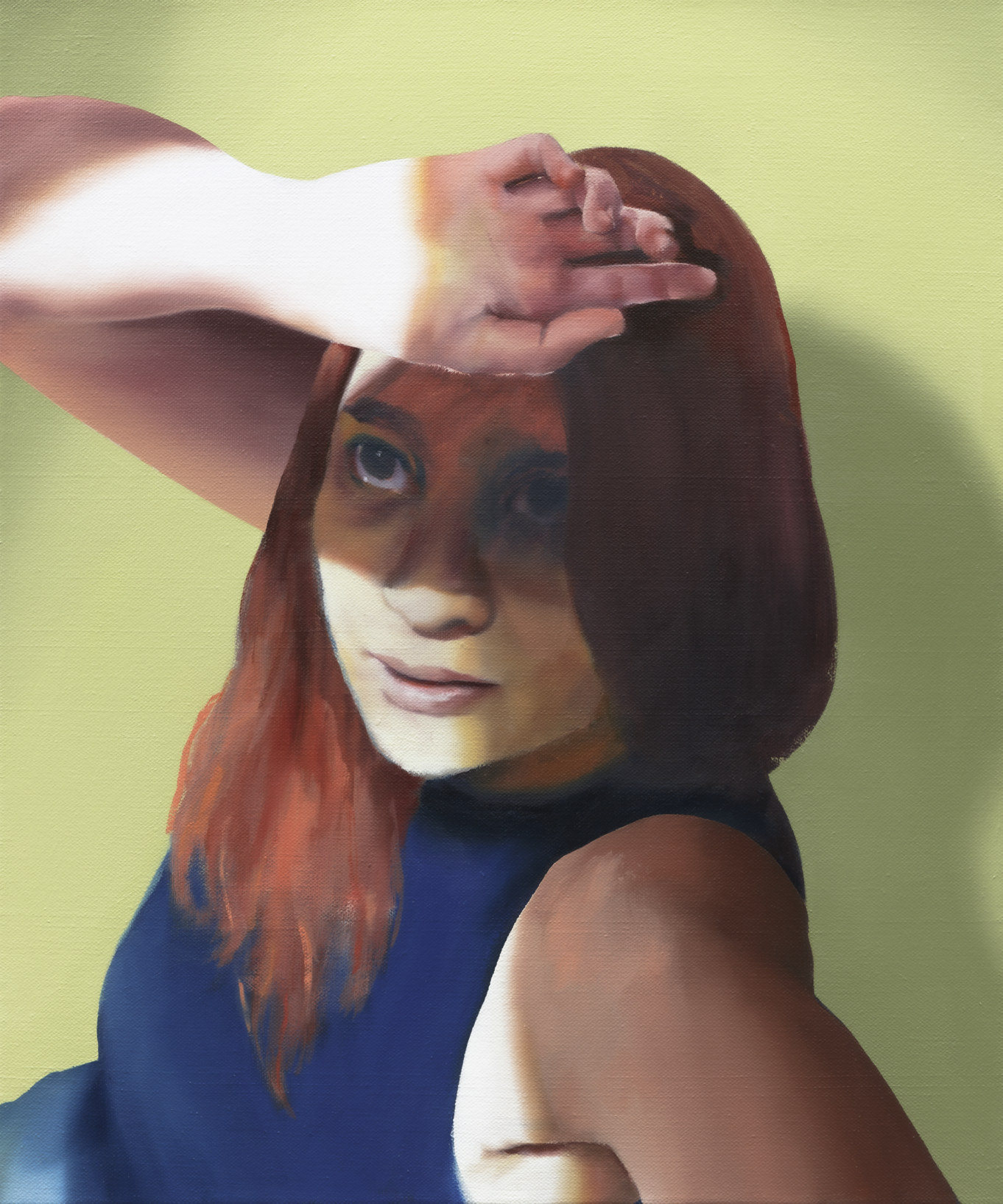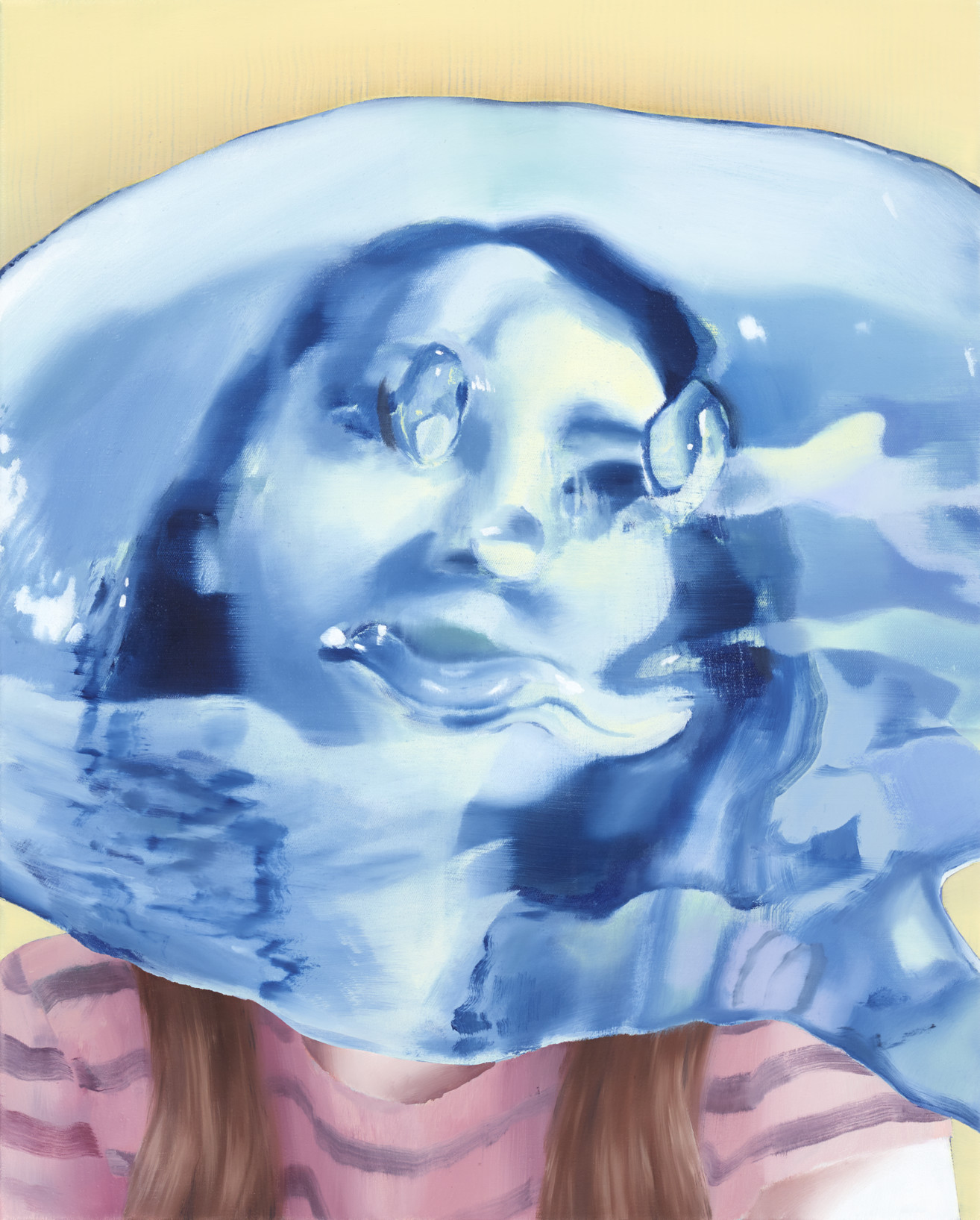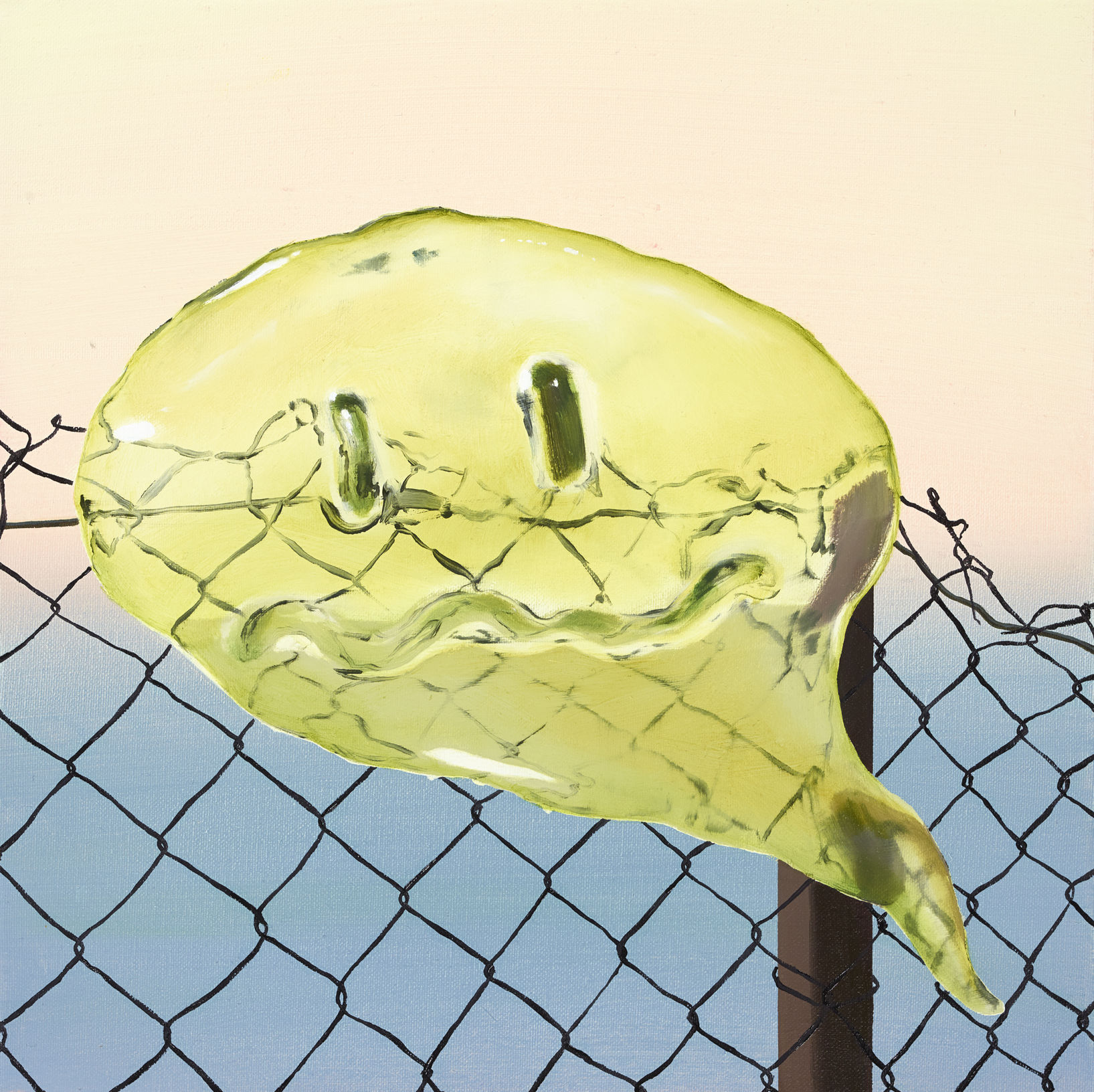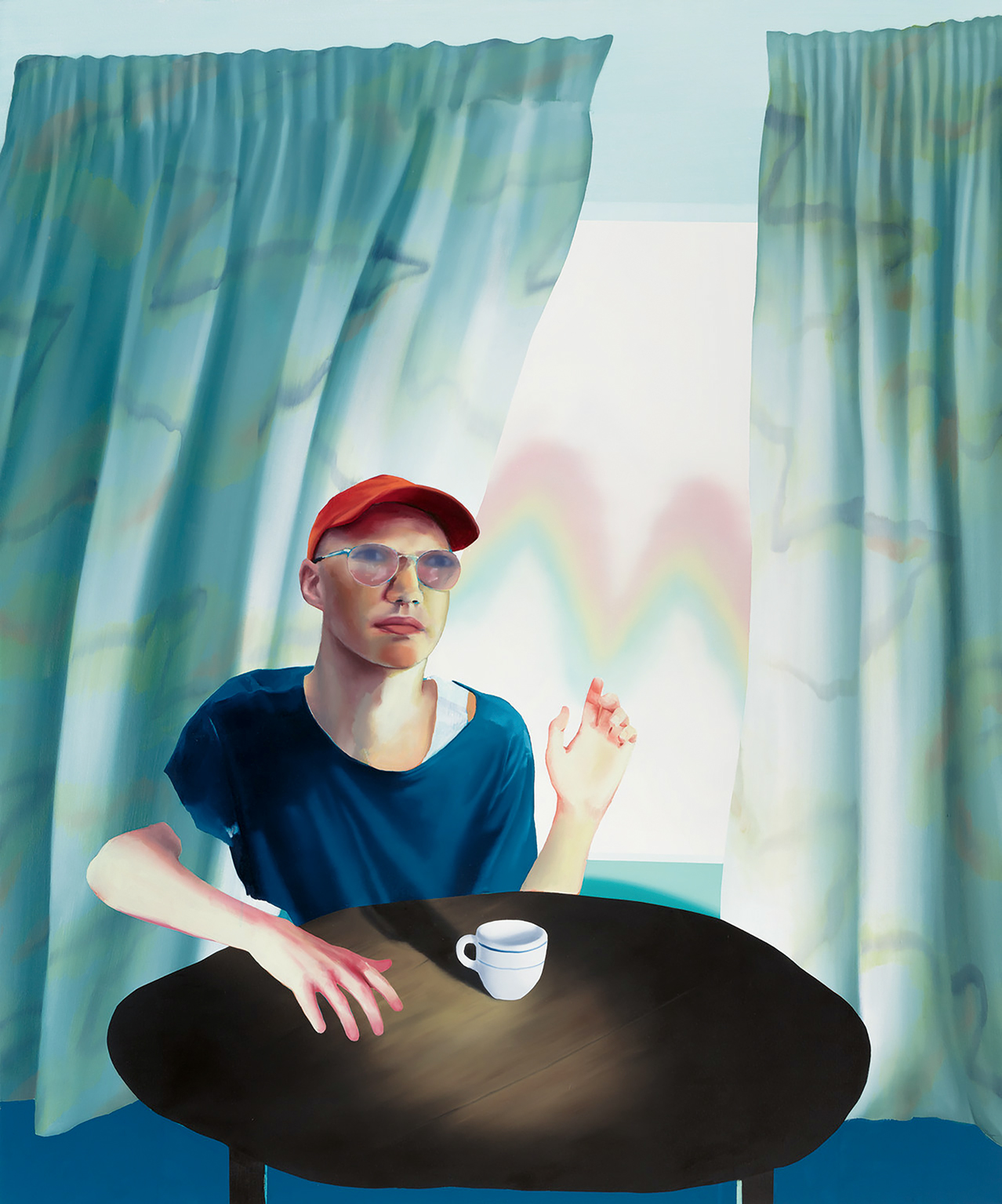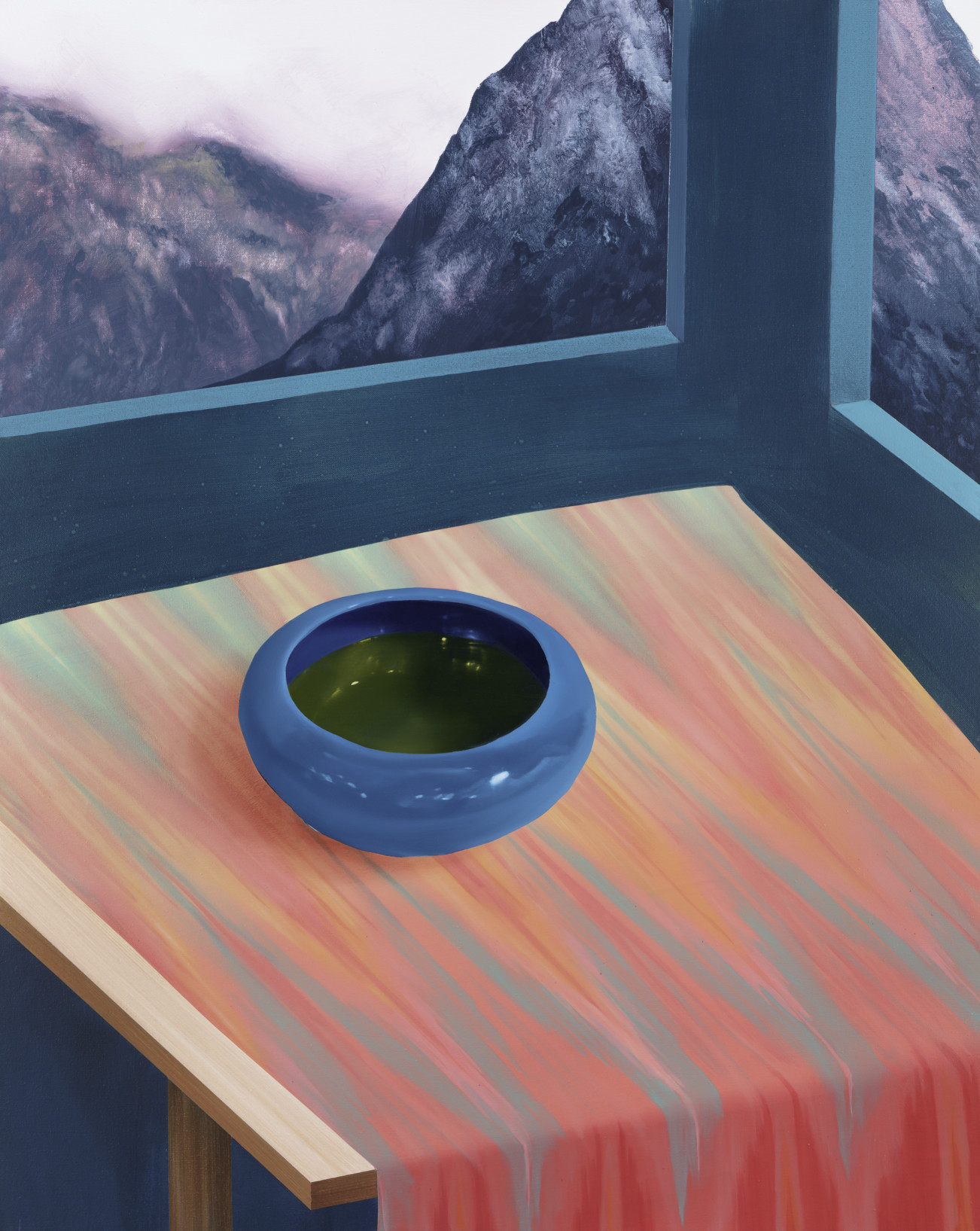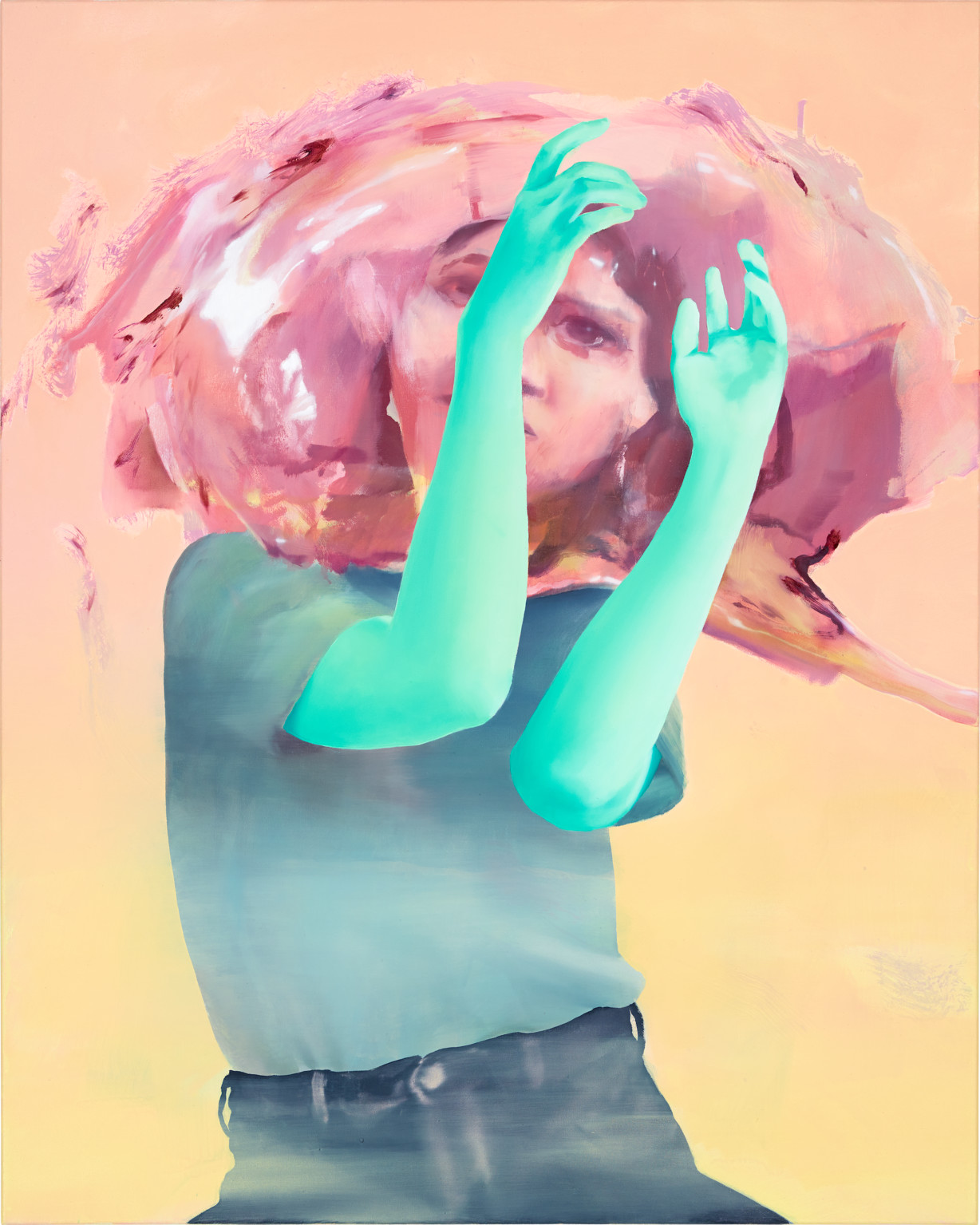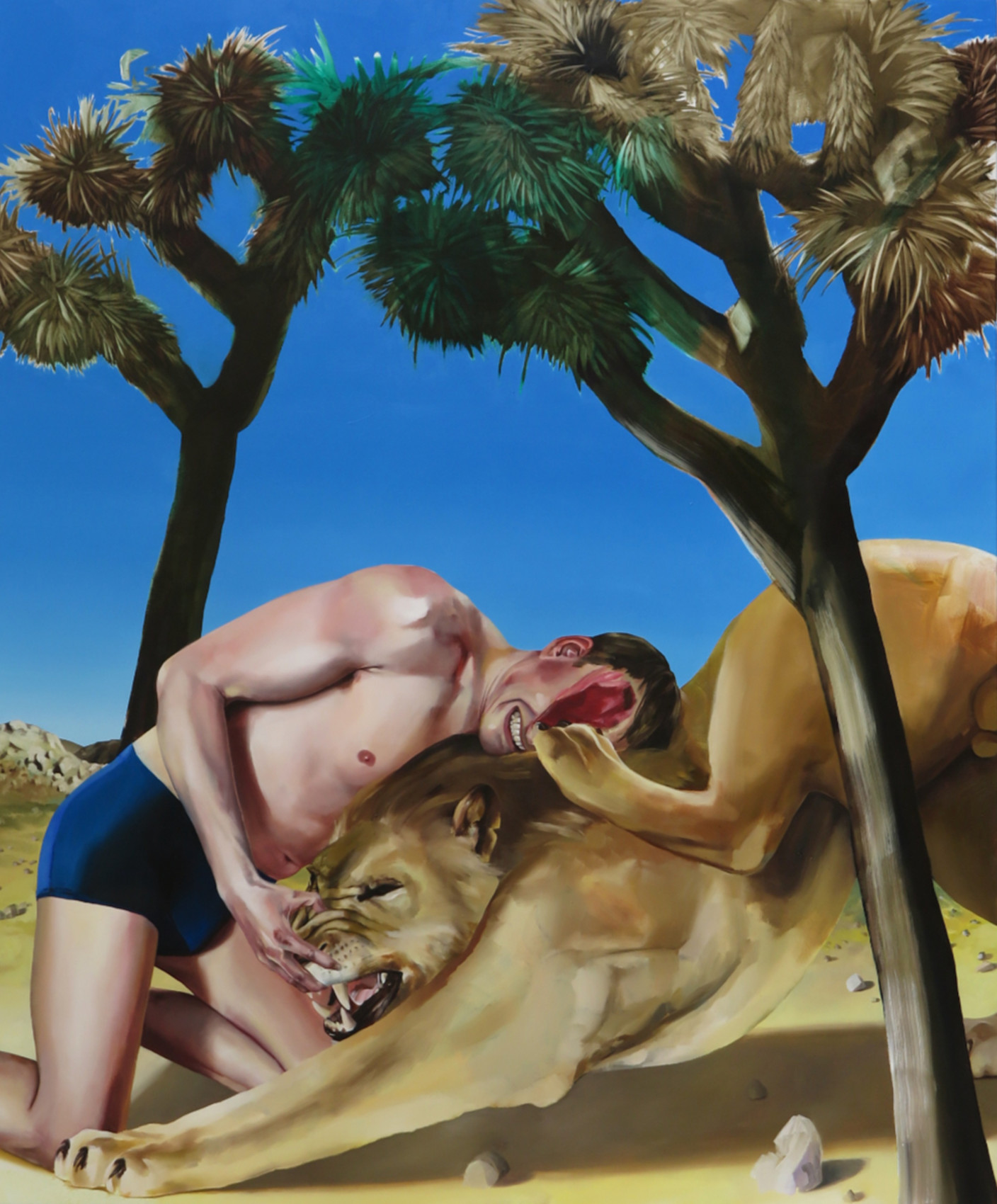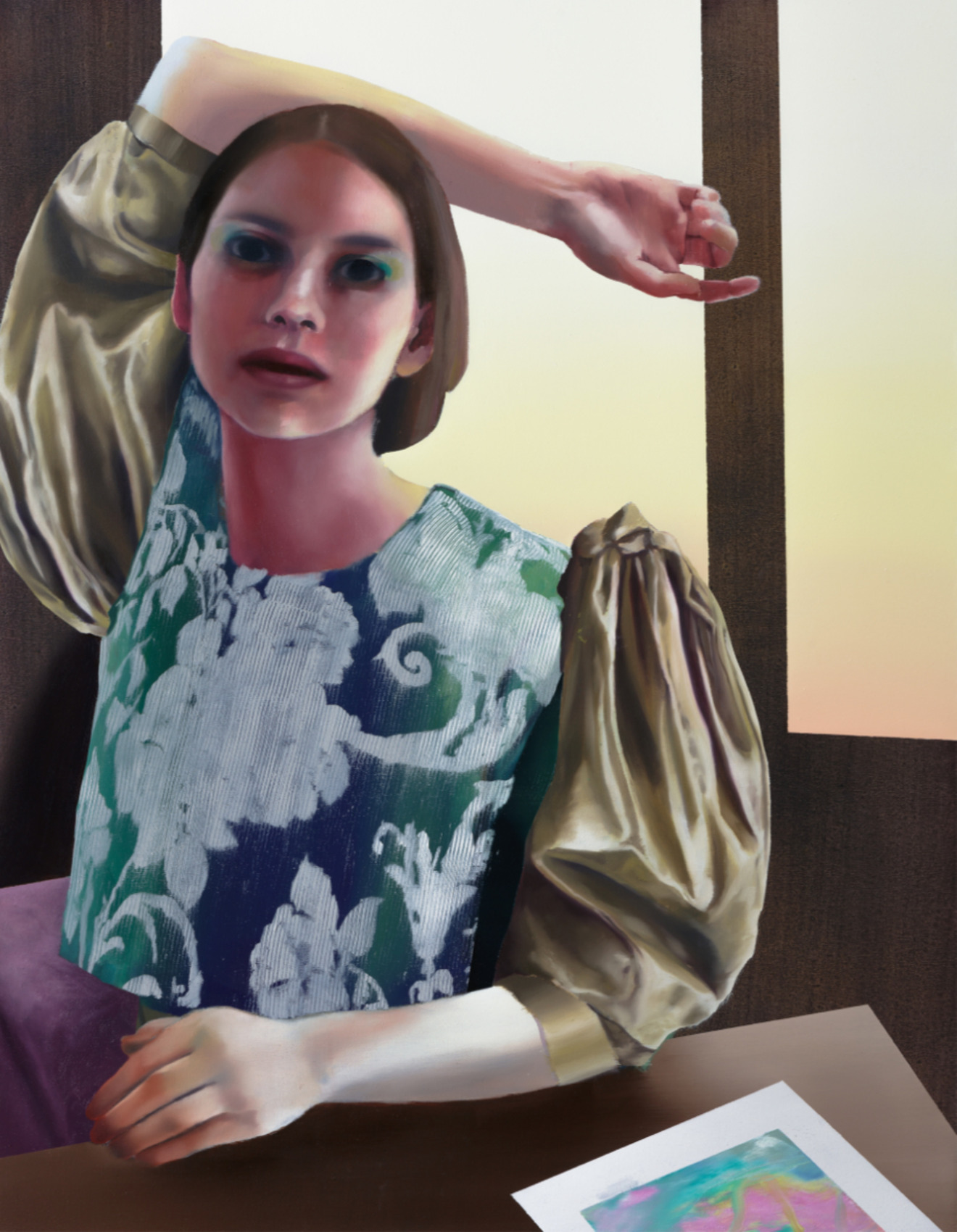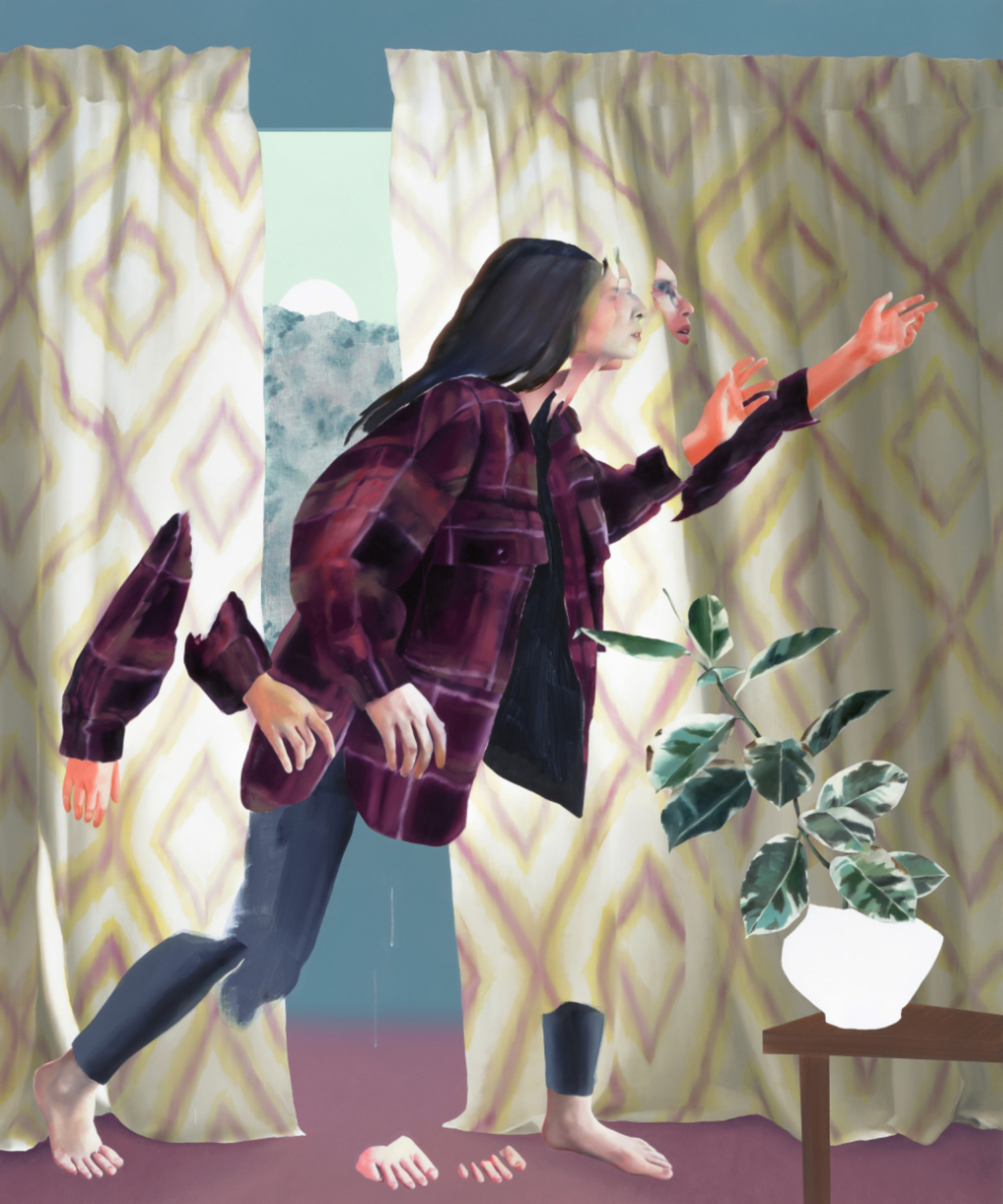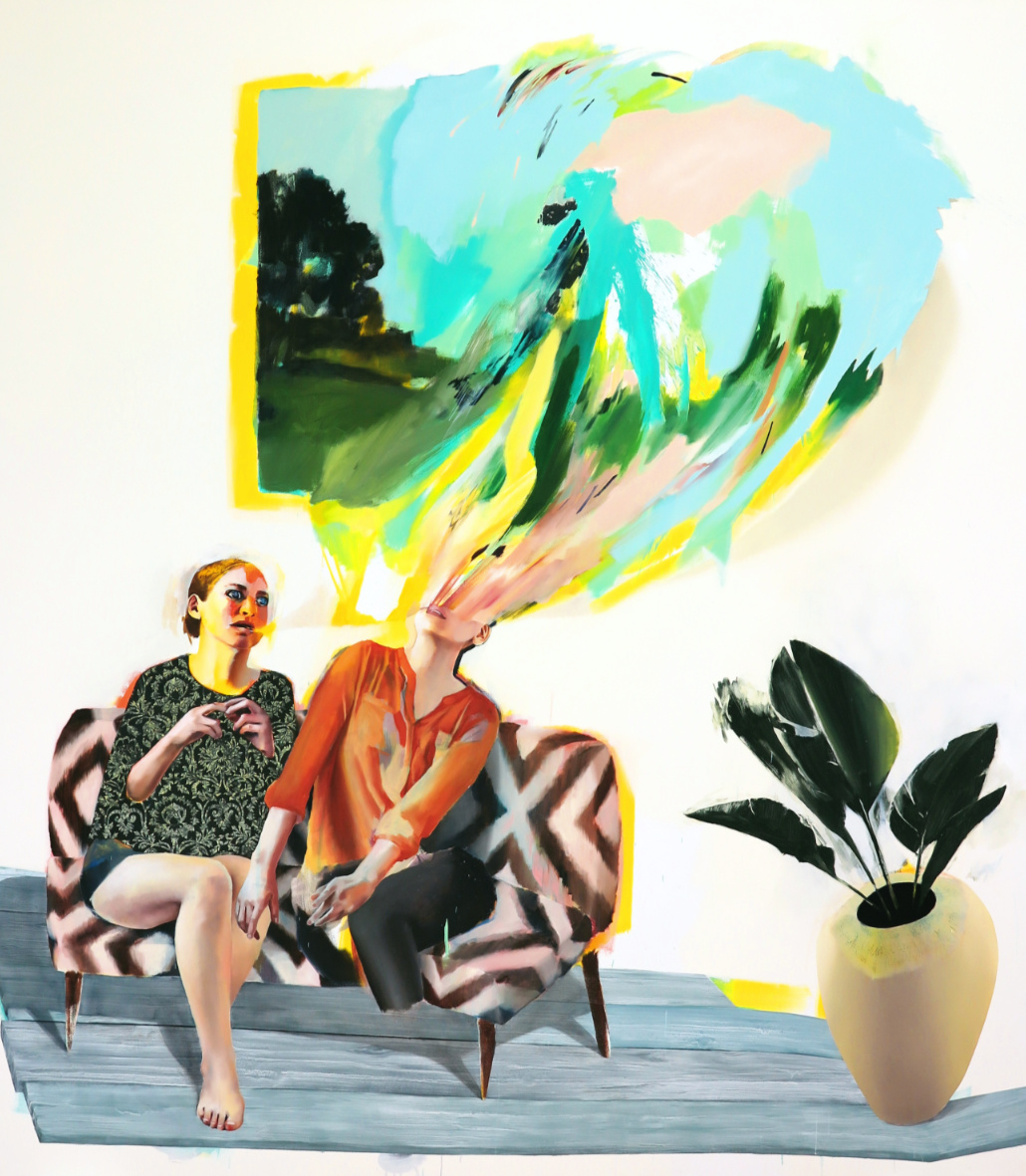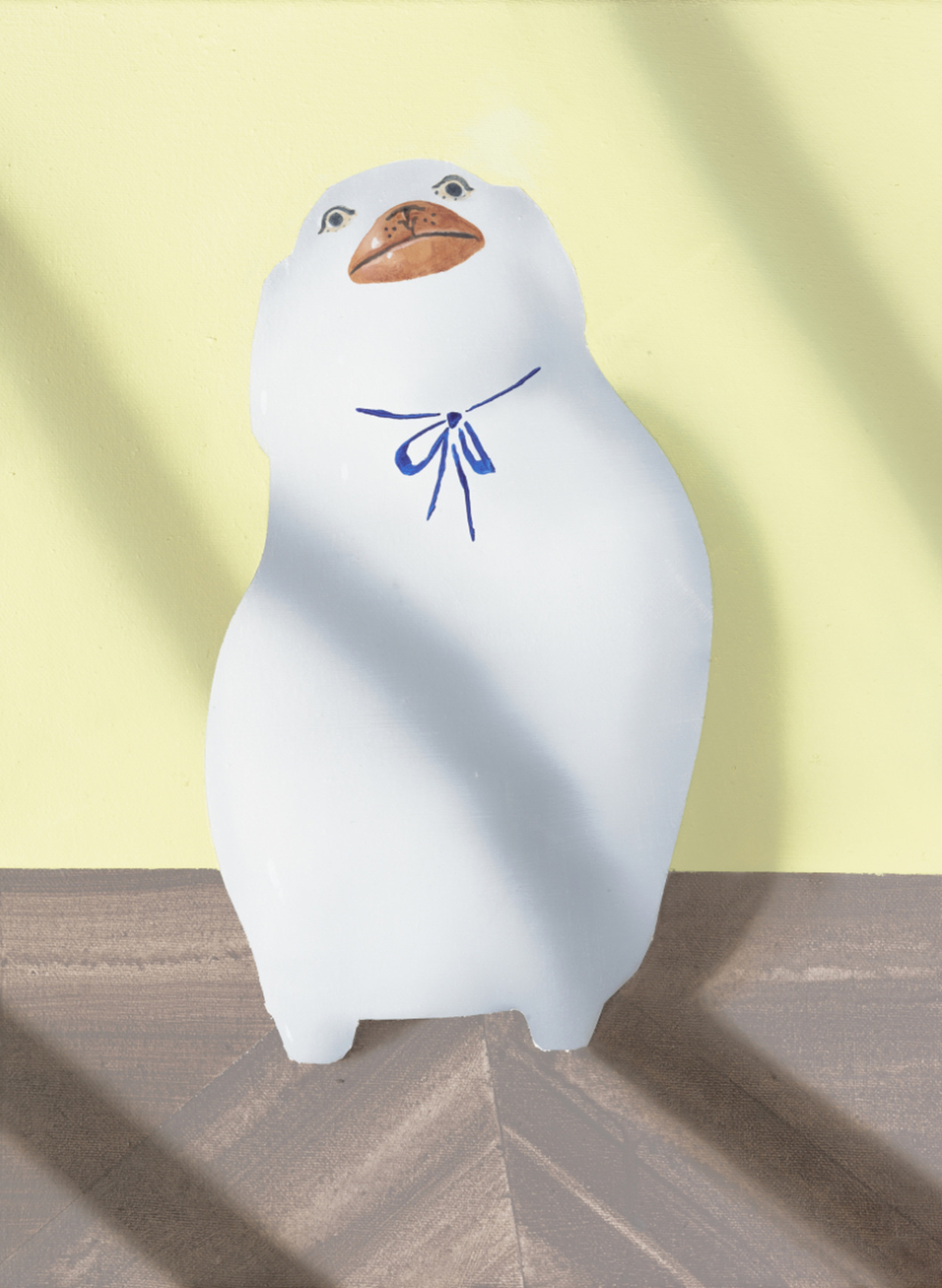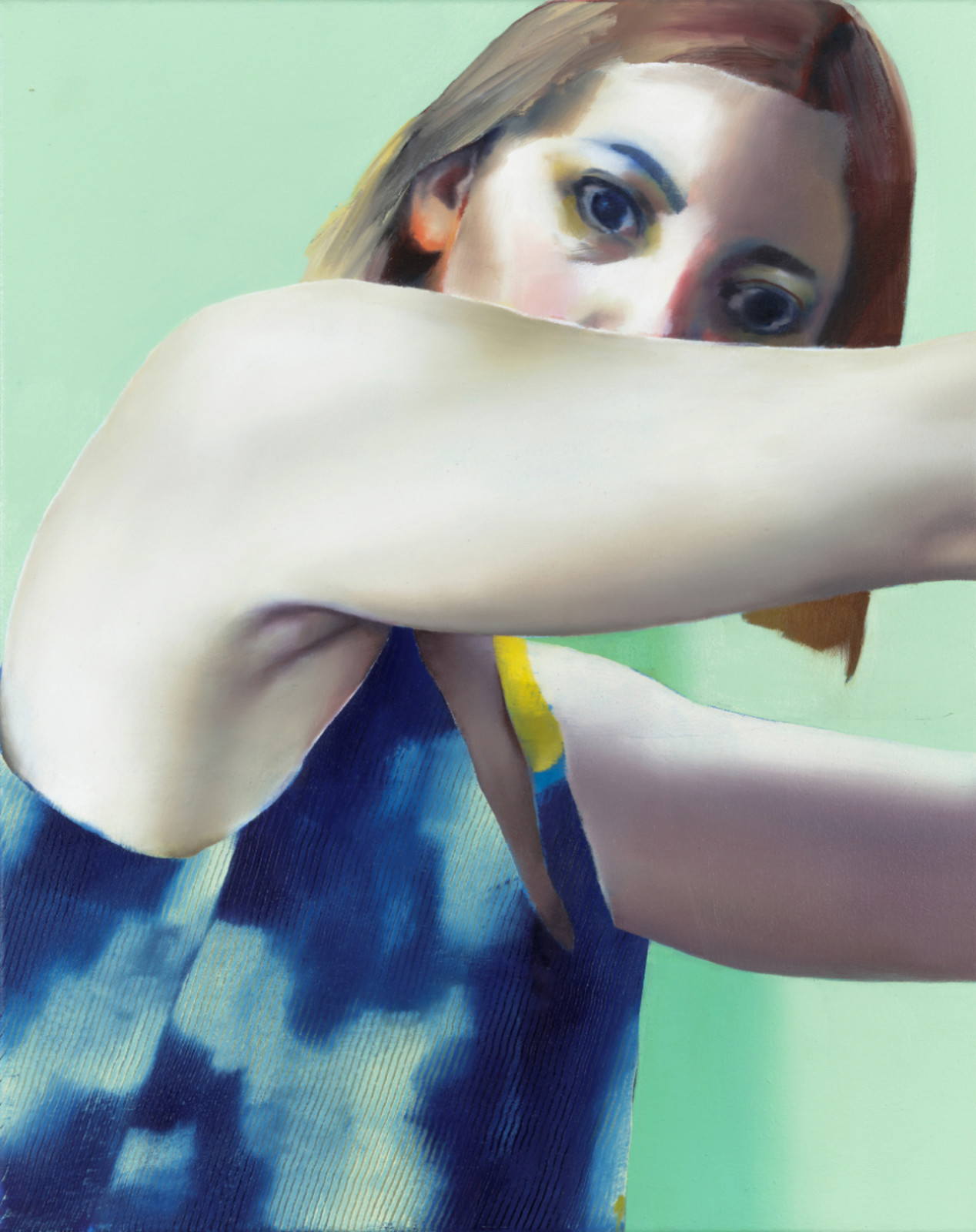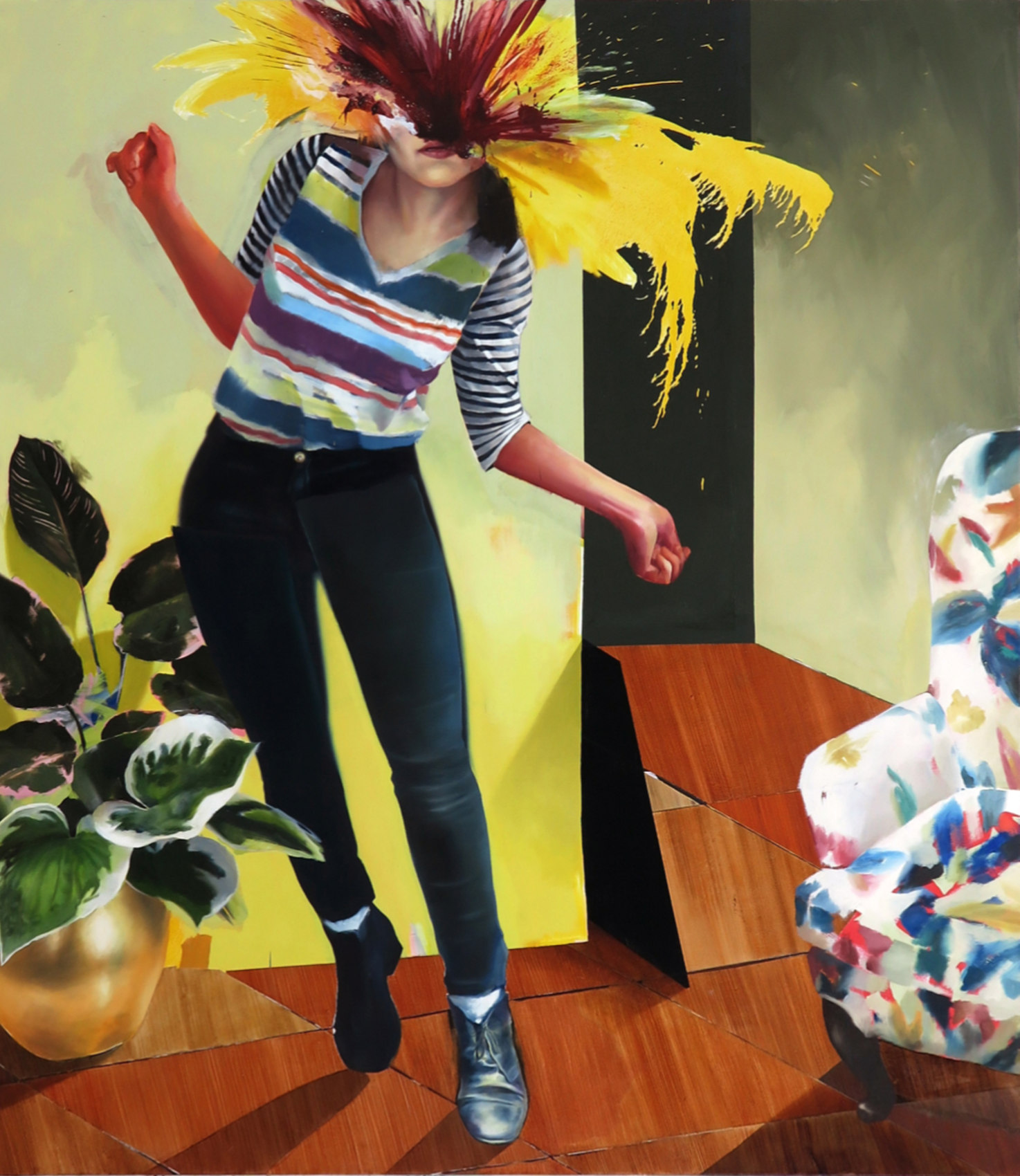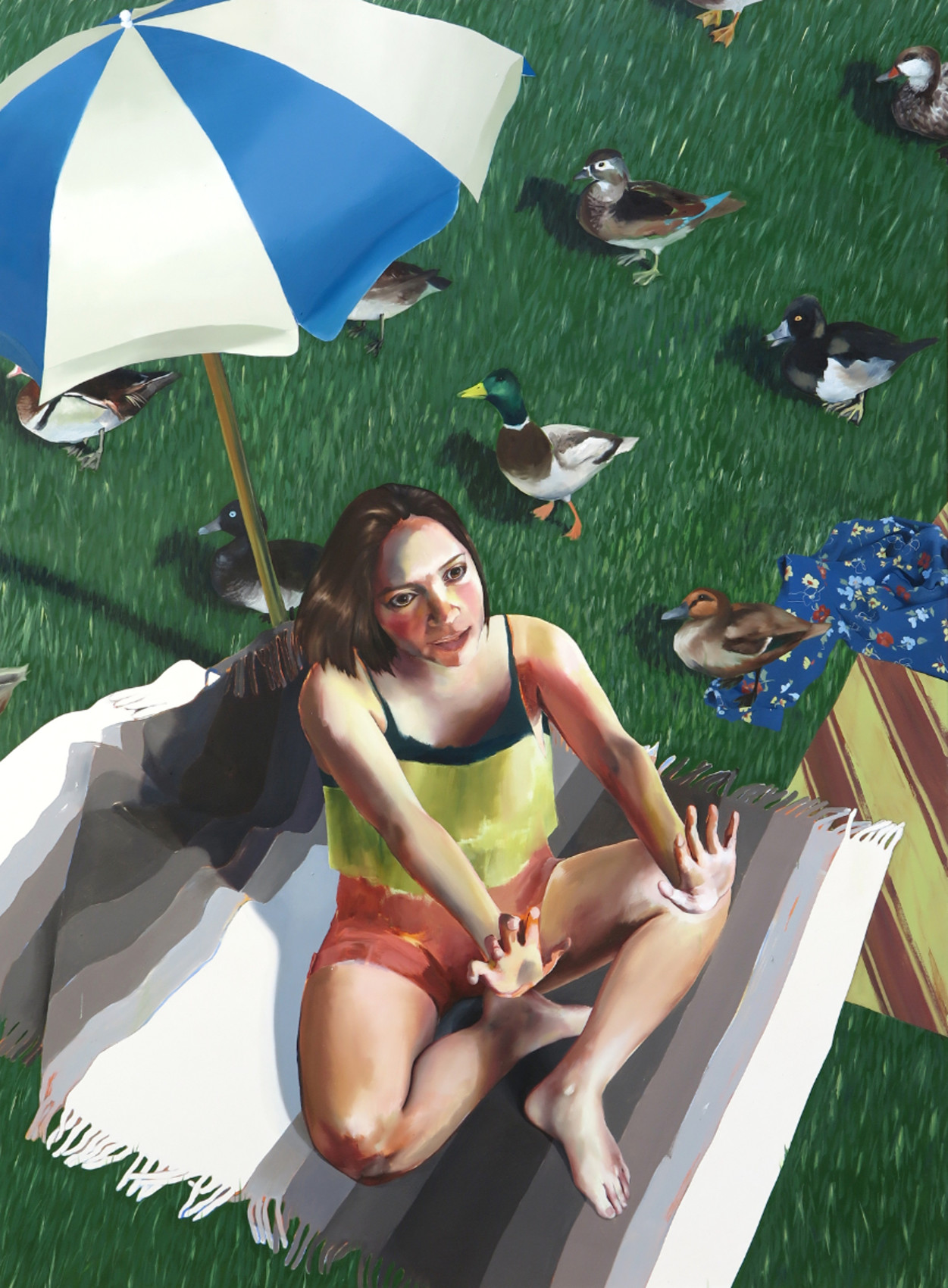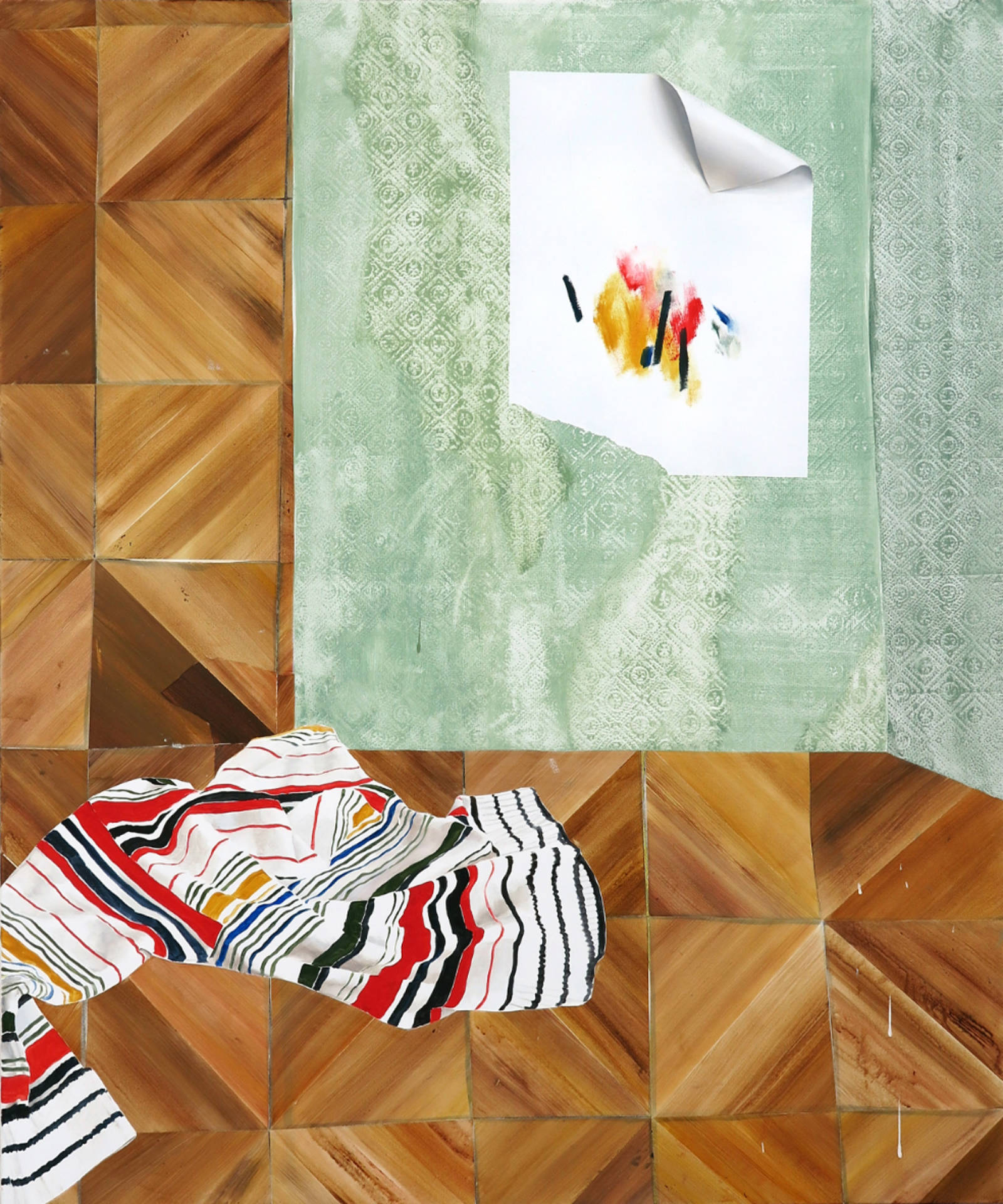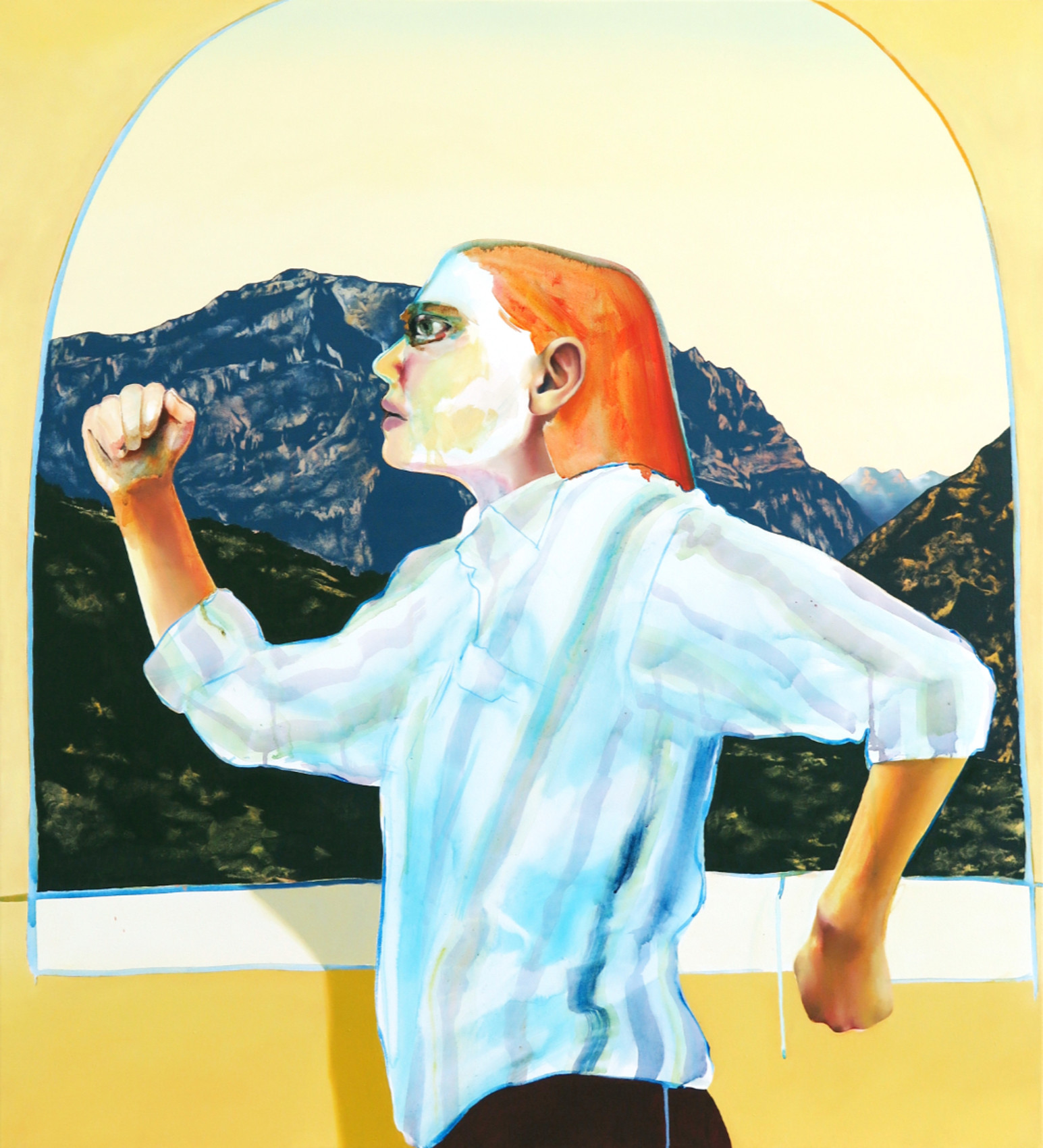 ---
About
Ellen Akimoto was born in Westlake Village, California, in 1988 and began studying Fine Arts at California State University in Chico in 2006. An exchange year led her to the Kunstakademie in Mainz – and was to give decisive contours to the artist's subsequent path. After returning to Germany in 2014, Akimoto studied as a "Meisterschülerin" of Annette Schröter at the Leipzig Hochschule für Grafik und Buchkunst until 2016. She has lived in Leipzig ever since. The young painter could not have found a more suitable environment, since Leipzig, after the German reunification, has been the hotbed of new figurative painting –– just think of the "New Leipzig School", the exponents of which have searched for and found ways of combining figurative and abstract elements!
This search also characterizes Akimoto's practice. For although her paintings always have a clear figurative content, Akimoto boldly deploys abstraction and digital alienation effects. This is especially the case when Akimoto describes relationships: those between human beings, their relation to animals and nature, the affiliation of objects to the surrounding space – and the relation of abstraction and figuration itself. Akimoto repeatedly puts plane, close to abstract moments in the service of figurative narrations, sometimes arranging her compositions in such a way that the result for a brief moment appears entirely abstract. In other cases, she implants abstract moments in very clear figurative narratives, interrupting the logic of the image and opening up the viewer's horizon to another perspective, or even another reality. The glistening, in some way Californian light that immerses everything in strong contrasts does not conceal the fact that we are dealing with ambiguous pictorial messages: there are objects suspended in the air, horses tumbling from the sky, and figures disintegrating as they walk and others, whose heads burst or melt in swooshing explosions of color.

Continue reading
In recent years, the artist's works have been exhibited widely in Germany and abroad. In 2020, Kerber Verlag published the first book on the artist, a catalogue for the exhibition at Galerie Rothamel in Frankfurt. Galerie Judin, which represents the artist since 2021, is preparing the next publication with Verlag der Buchhandlung Walther und Franz König. The book will be published to coincide with Akimoto's first major solo exhibition in Potsdamer Straße in 2023.
---
---
---
Chronology
---
Biography
1988
Born in Westlake Village, CA
2006–11
BFA California State University, Chico, CA
2010–11
Kunsthochschule Mainz, studied under Professor Anne Berning
2014–16
Hochschule für Grafik und Buchkunst Leipzig, Meisterschülerin of Annette Schröter
Lives and works in Leipzig.
Selected Solo Exhibitions
2023
Ellen Akimoto: My Eyes See Only What's Not in Front of Me, Galerie Judin, Berlin
Ellen Akimoto: Spinning in the Afterimage, Galerie Laetitia Gorsy She BAM!, Leipzig
2021
Ellen Akimoto: Digital Smear, Frankfurter KunstSäule, Frankfurt am Main
Ellen Akimoto: Dissipation Dance, Galerie Rothamel, Frankfurt am Main
Ellen Akimoto, Galerie Heimat, Saint-Rémy-de-Provence
2020
Ellen Akimoto: Creamy Feelings Curdle, Galerie Rothamel, Frankfurt am Main
2019
Ellen Akimoto: Tilted Lens, Galerie Oel Früh, Hamburg
2017
Ellen Akimoto: Protagonists, Galerie Rothamel, Frankfurt am Main
2013
Ellen Akimoto: Place Space, Overdose Gallery, Chico, CA
2011
Ellen Akimoto: On, On, Pliant Signifier, 1078 Gallery, Chico, CA
2010
Ellen Akimoto: Double Monologue, BMU 3rd Floor Gallery, California State University, Chico, CA
Selected Group Exhibitions
2022-23
Holy Holes (Ellen Akimoto, Zohar Fraiman, Anna Nero), Galerie Oel-Früh, Hamburg
2022
Auf der anderen Seite, Galerie Rothamel, Erfurt
WER SIND WIR // Figuration Heute, Galerie Robert Drees, Hanover
FAWC Visual Arts Fellows, Provincetown Art Association and Museum, Provincetown, MA
Minibar, Galerie Oel-Früh, Hamburg
Kunst und Sport, Kunstverein Barsinghausen, Barsinghausen
RAW, Gallery Vacancy, Shanghai
2021
Infrarosa, Galerie Kramer, Bremen
> 1000 Worte, Galerie Rothamel, Erfurt
2020
Twenties, Galerie Rothamel, Erfurt
SUPER!, Kunsthalle Darmstadt
Minibar, Galerie Oel-Früh, Hamburg
2019
Nous qui désirons sans fin, Galerie Jeune Création, Romainville
Painting Painting Painting, Raum Vollreinigung, Berlin
2018
Congratulations!, Kunstverein Speyer
25. Leipziger Jahresausstellung: Silber, Werkschauhalle / Halle 14, Leipzig
SCOPE, Galerie Rothamel, Erfurt
Nach dem Bild ist vor dem Bild – 75 Malerinnen aus Leipzig, KV Freunde Aktueller Kunst, Zwickau
2017
Ausstellung zum Wettbewerb um die Hans-Purrmann-Preise 2017, Städtische Galerie Speyer
2016
Meisterschülerausstellung 2016, HGB Leipzig Gallery
Schön / Hide –  Beautiful / Verstecken – Meisterklasse Annette Schröter, Galerie Leuenroth, Frankfurt am Main, and Galerie Elten & Elten, Zurich
Klassentreffen, Kunsthalle der Sparkasse Leipzig
2015
PR!NT, La Cambre Galerie, Brussels
Wunschlos Glücklich, Kunstverein Duisburg
Freistil, Kunstverein Speyer
Screen, Städtische Galerie Wolfsburg
2014
Stories 3: Ellen Akimoto, Haley Hughes, Trevor Lalaguna, Sienna Orlando, Brad Thiele, 1078 Gallery, Chico, CA
2013
2012 Crocker-Kingsley Prizewinners, The Crocker Art Museum, Sacramento, CA
2012
Stories 1: Ellen Akimoto, Haley Hughes, Trevor Lalaguna, Sienna Orlando, Brad Thiele, 1078 Gallery, Chico, CA
The Crocker- Kingsley Competition, Blue Line Gallery, Roseville, CA
Fluid Narratives: Ellen Akimoto and Ulises Meza, The Orland Art Center, CA
2011
From the Rooster to the Donkey: Ellen Akimoto and Elise de Castelbajac, Atelier Zukunft, Mainz
2009
Fifty-fifth Annual Juried Student Exhibition, University Art Gallery, California State University, Chico, CA
6th Ink/ Clay- CSU Chico ceramic work, Turner Print Museum, California State University, Chico, CA
Awards, Scholarships and Residencies
2021–22
Visual Artist Fellowship, Fine Arts Work Center in Provincetown, MA
2021
Galerie Heimat and NG Art Creative Residency Art Prize, Saint-Rémy-de-Provence
2020
Denkzeitstipendium from the Kulturstiftung des Freistaates Sachsen
2019
Elizabeth Greenshields Foundation Grant
2018
Arbeitsstipendium from the Kulturstiftung des Freistaates Sachsen
2015
DAAD Study Scholarship for Foreign Graduates
2012
Merit Award, The Crocker- Kingsley Competition, Blue Line Gallery, Roseville, CA
2011
Preis des Präsidenten, Johannes-Gutenberg-Universität Mainz
Exhibition Catalogues
2023
Ellen Akimoto: My Eyes See Only What's Not in Front of Me. Edited by Juerg Judin and Pay Matthis Karstens. Text by Lena Fritsch. With a conversation between Pay Matthis Karstes and Ellen Akimoto. Exh. cat. Galerie Judin, Berlin. Cologne: Verlag der Buchhandlung Walther und Franz König
2021
>1000 Worte. With texts from Annekathrin Kohout, Ina Peter, Jörk Rothamel, Christian Weihrauch, Alexander Wendt. Kerber Verlag, Berlin
2020
Ellen Akimoto: Creamy Feelings Curdle. Exh. cat. Galerie Rothamel, Frankfurt am Main