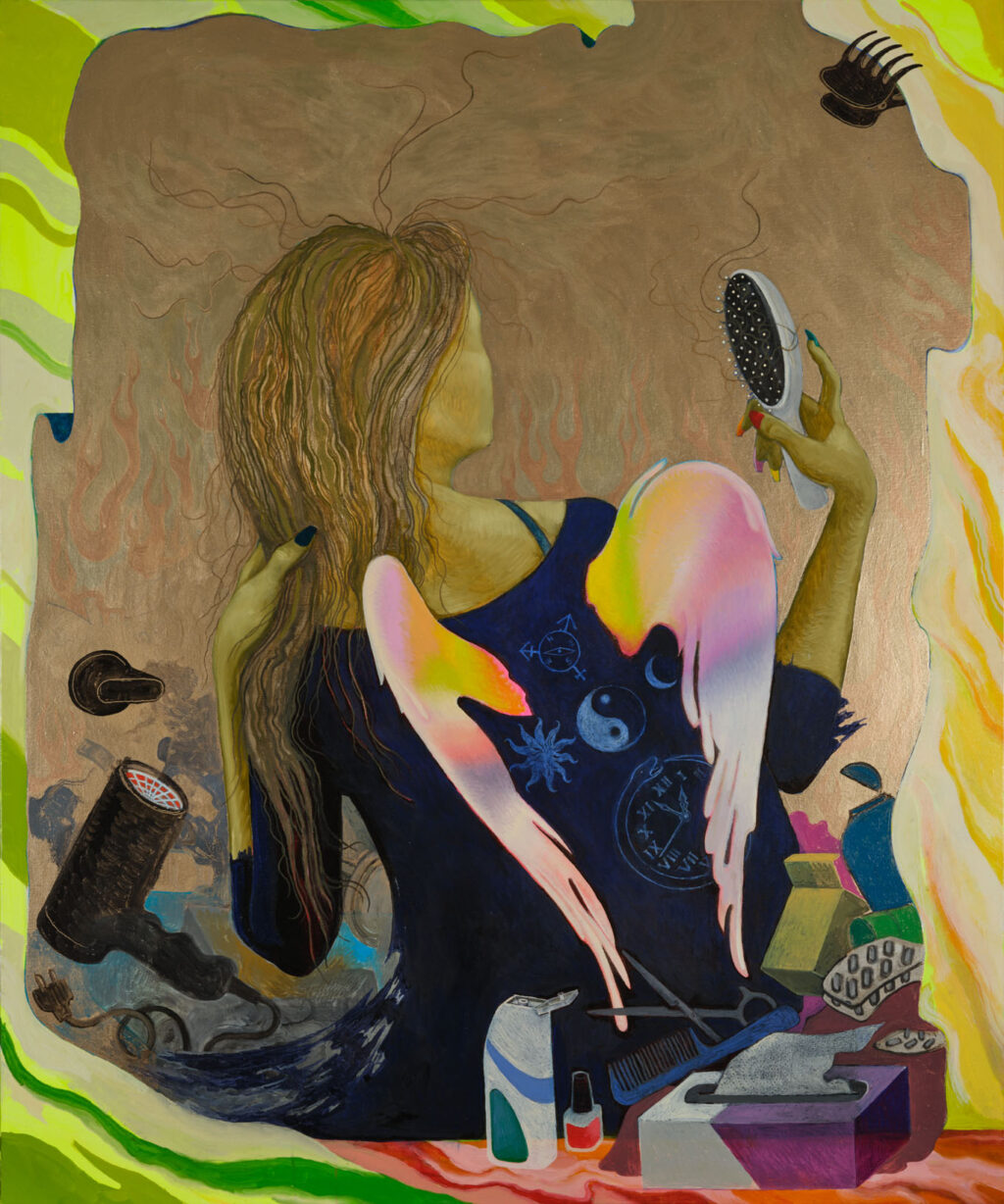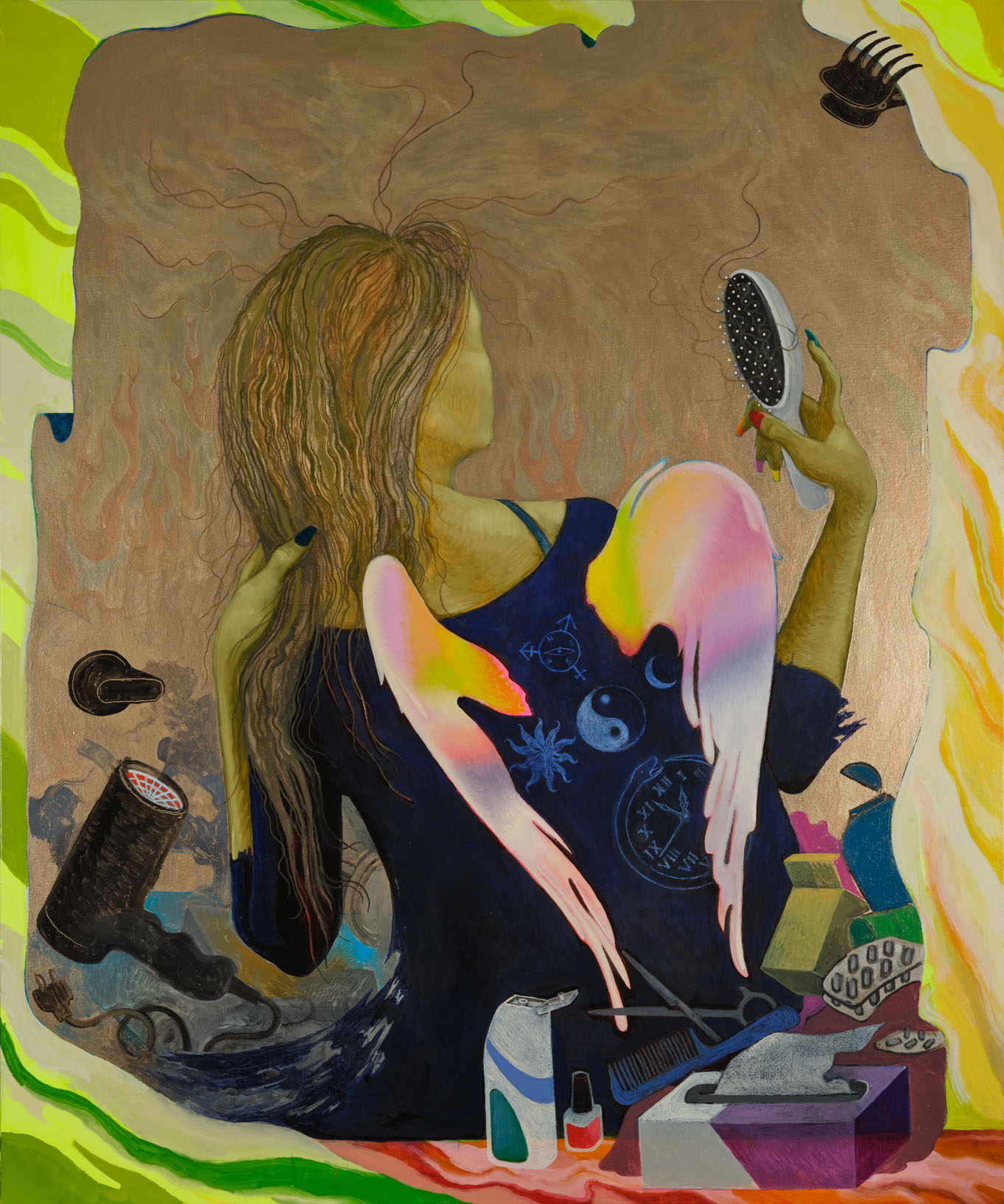 Years of Bad Hair Day
2022
Oil on canvas
120 × 100 cm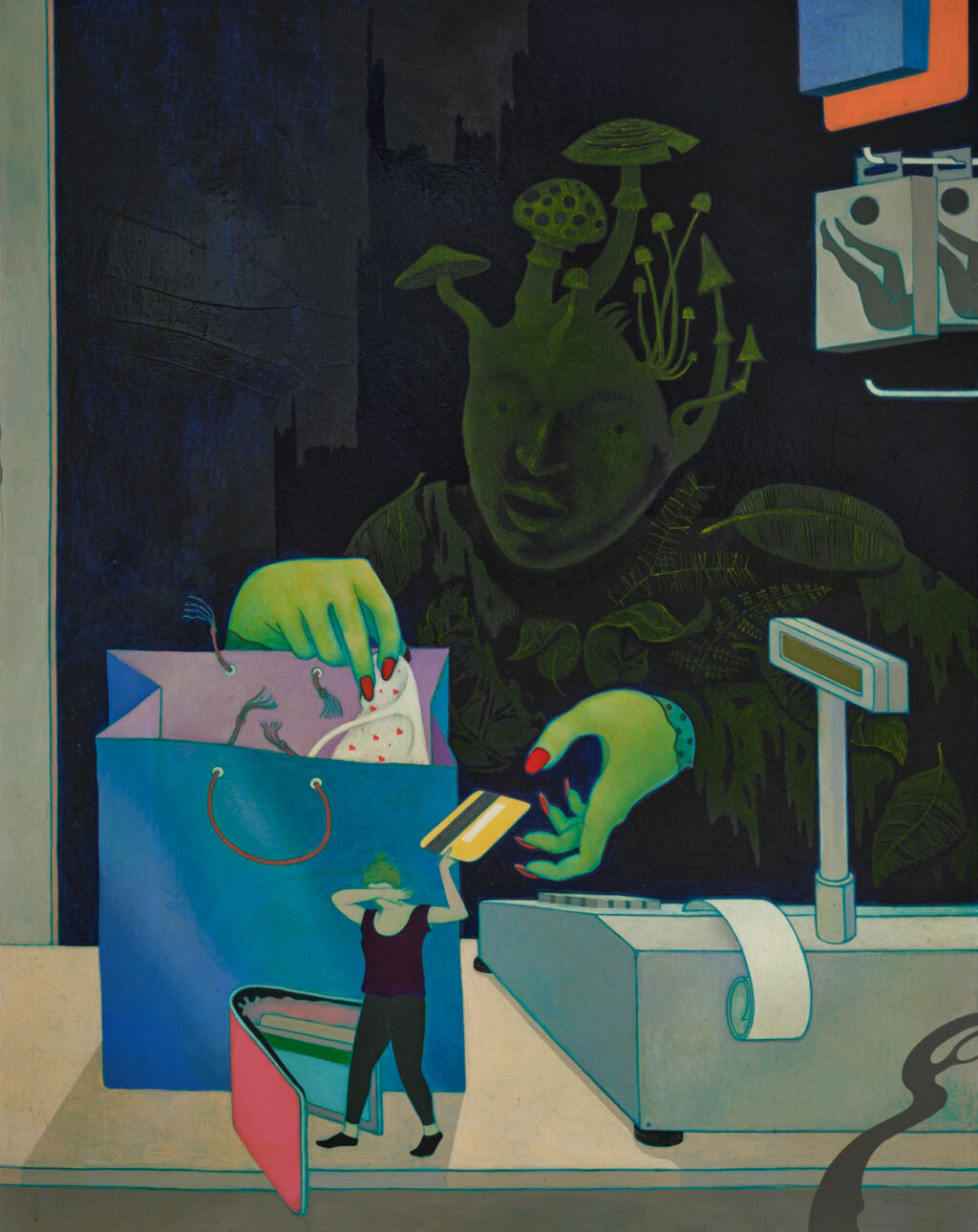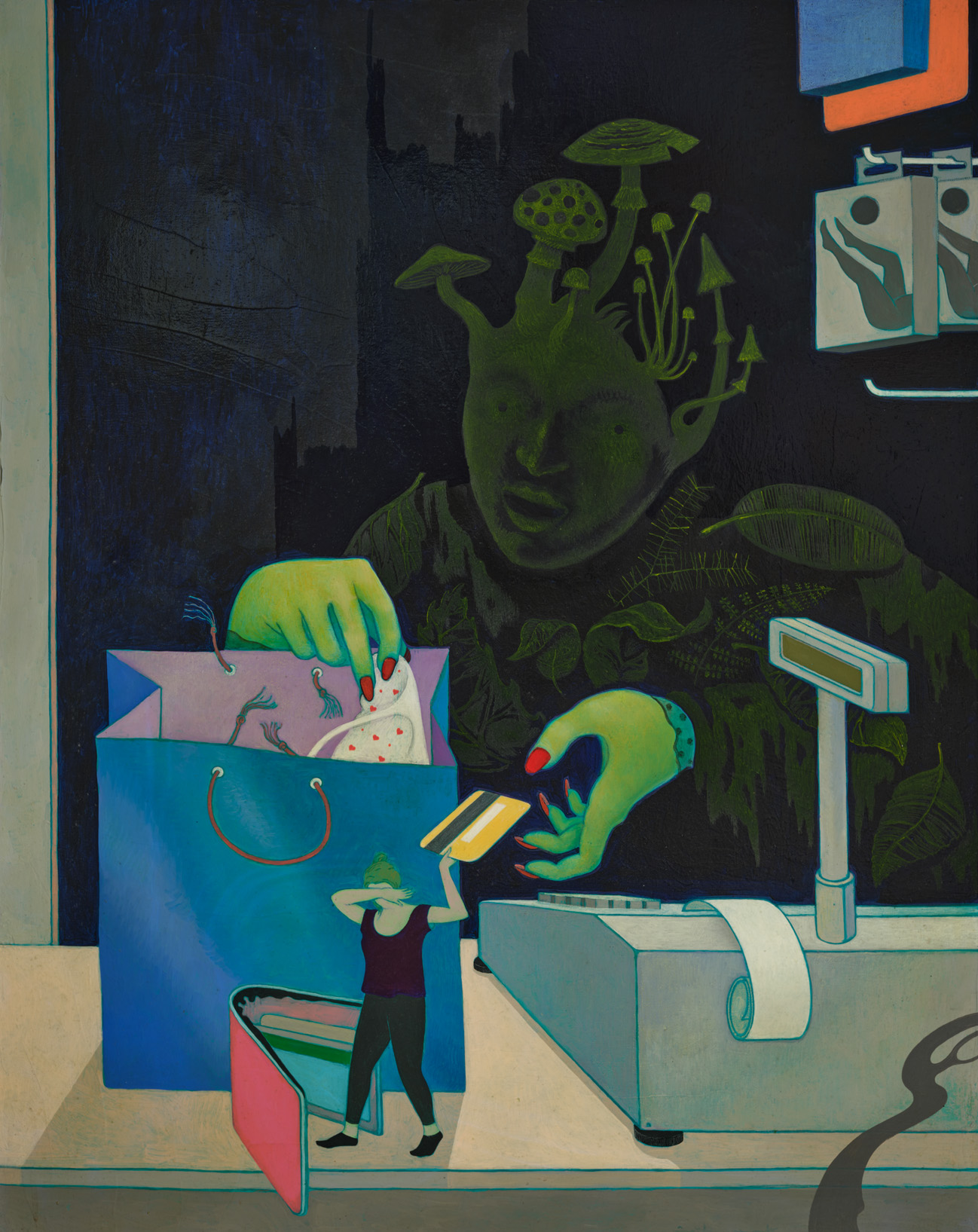 Natura Comertului
2019–23
Oil on canvas
100 × 80 cm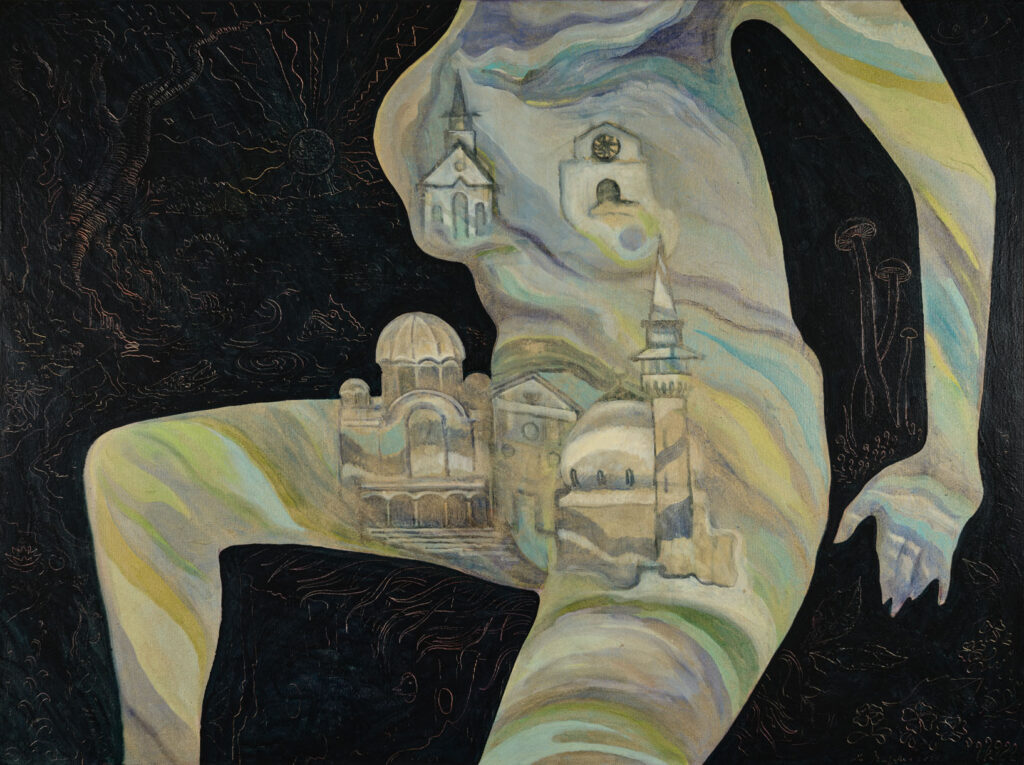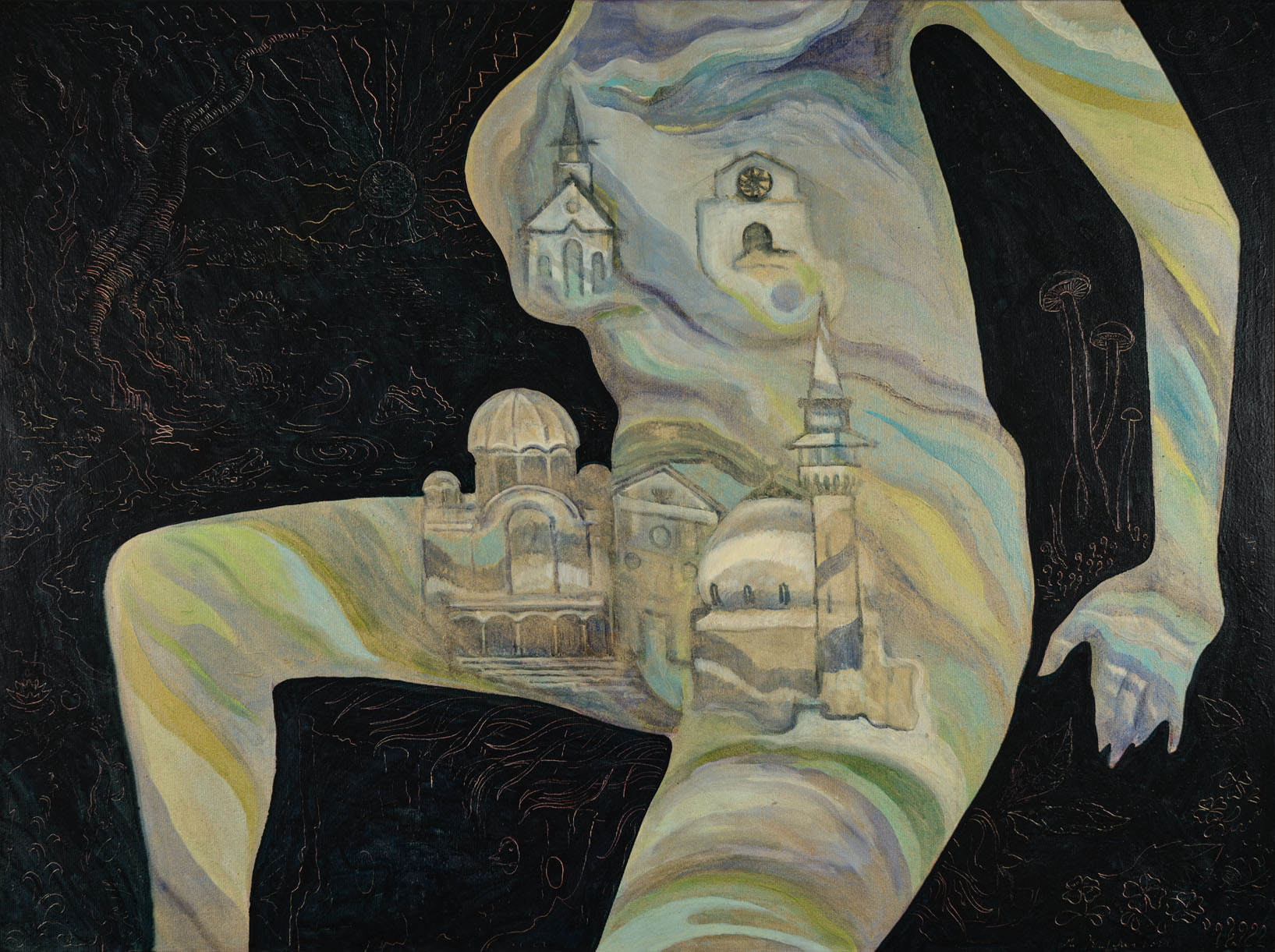 Religions on the Genitals
2023
Oil on canvas
120 × 90 cm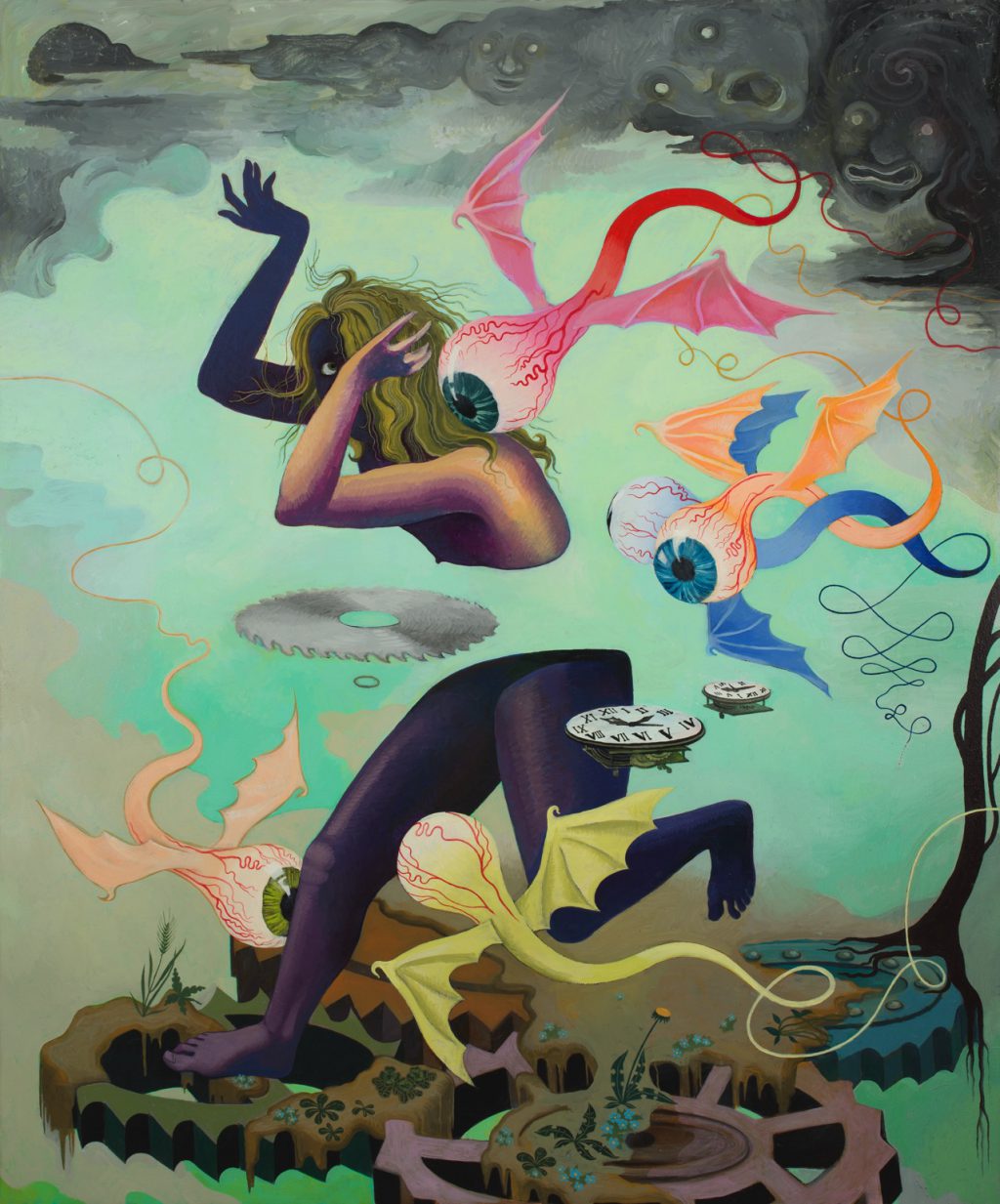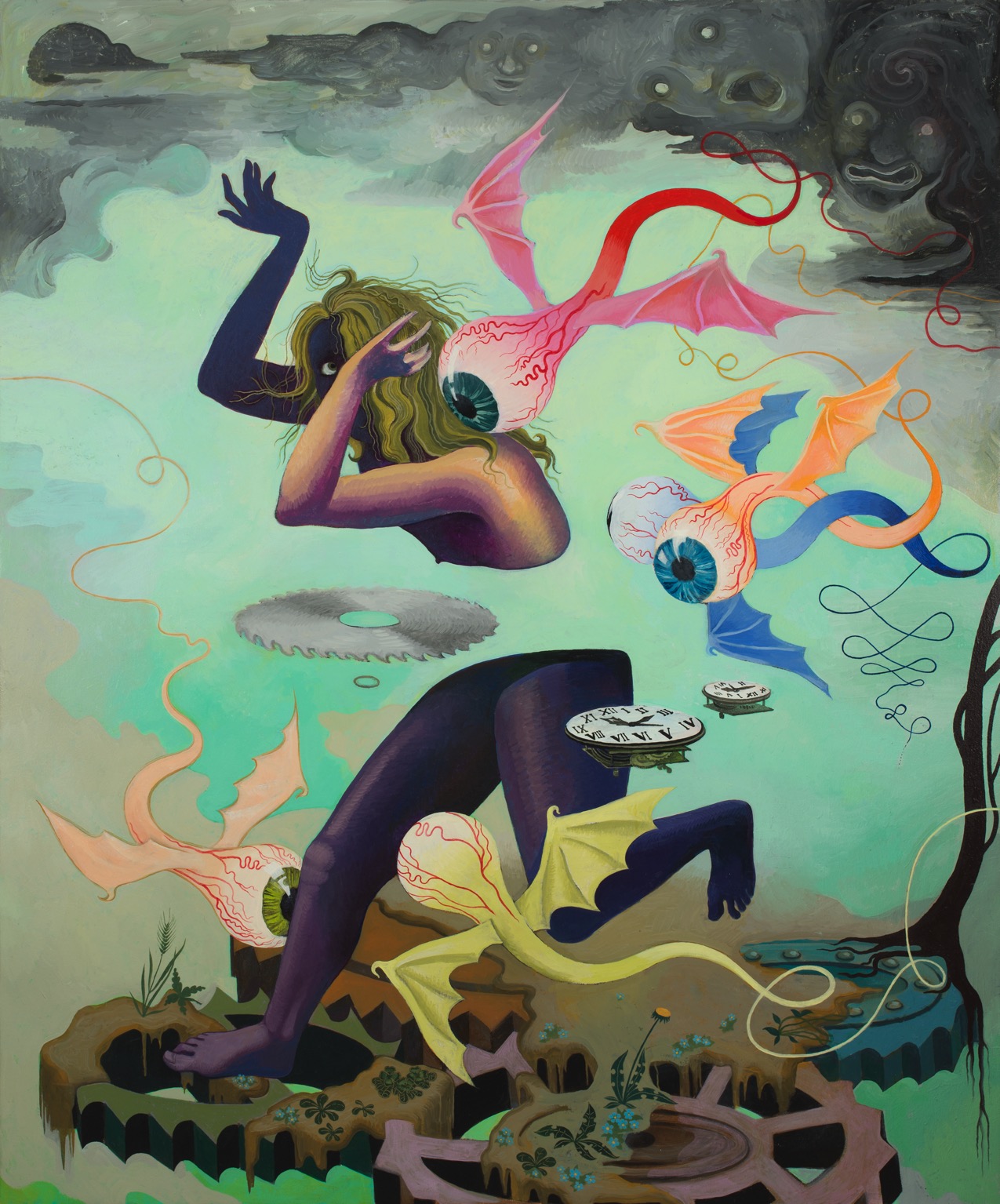 Social Anxiety
2019
Oil on canvas
190.2 × 158.3 cm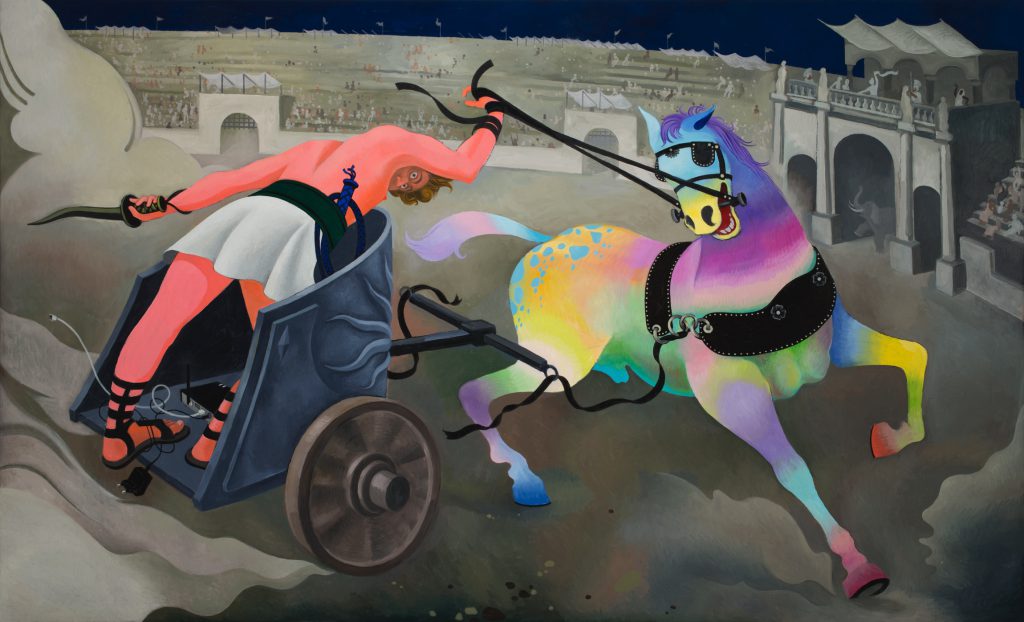 Elagabalus' Lover
2020
Oil on canvas
194.2 × 318.5 cm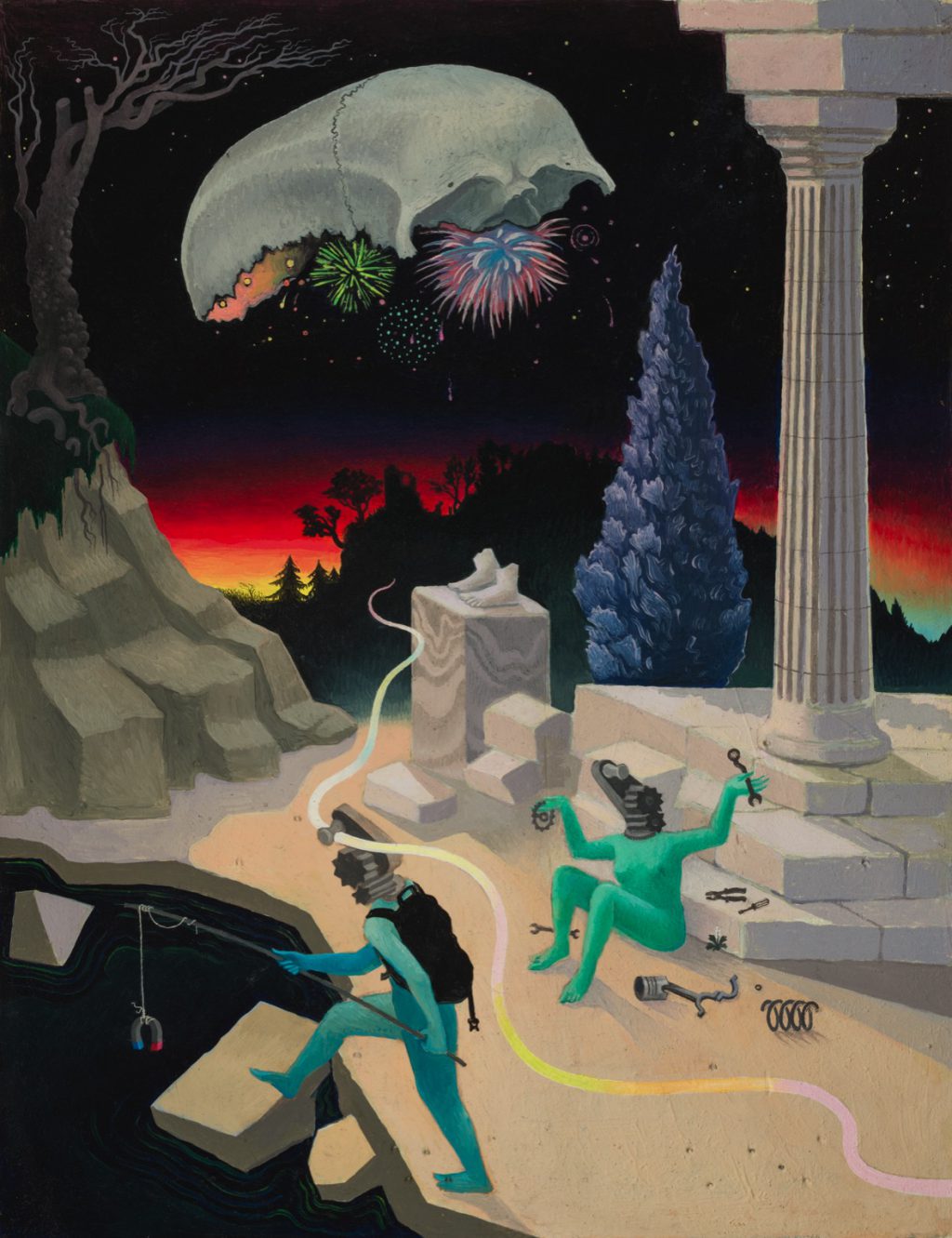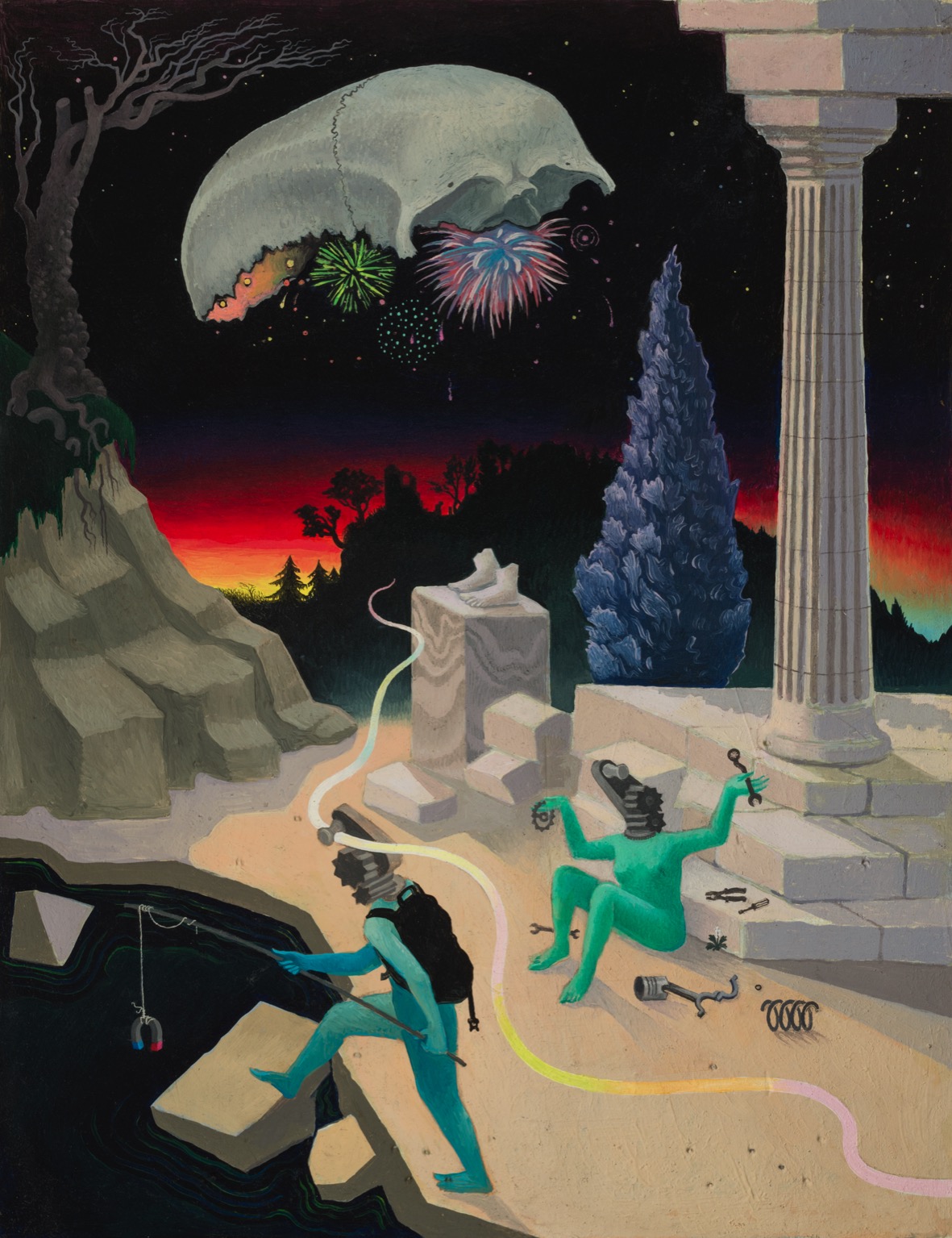 The Fireworks
2020
Oil on wood
53.5 × 41.5 cm
Show more works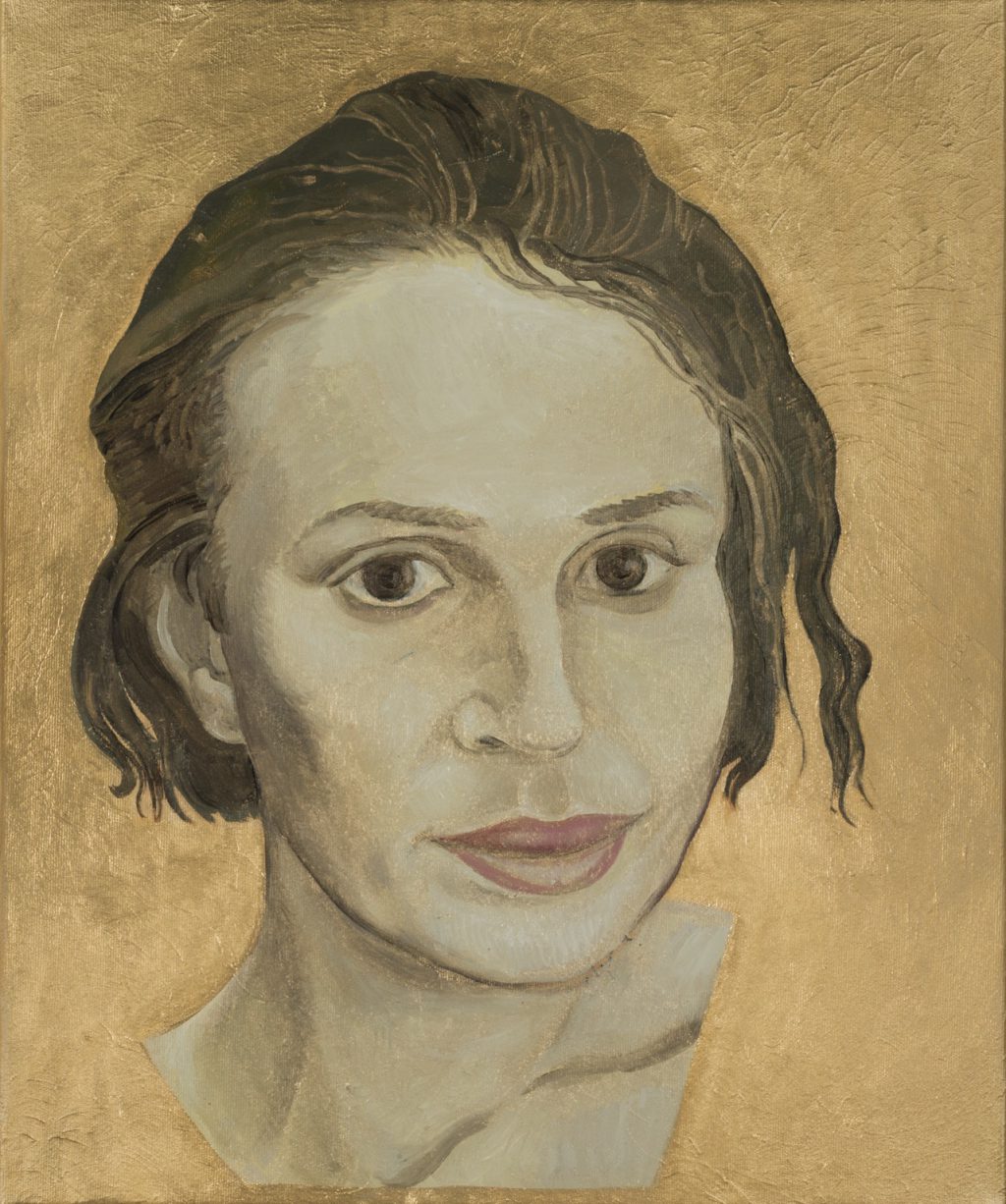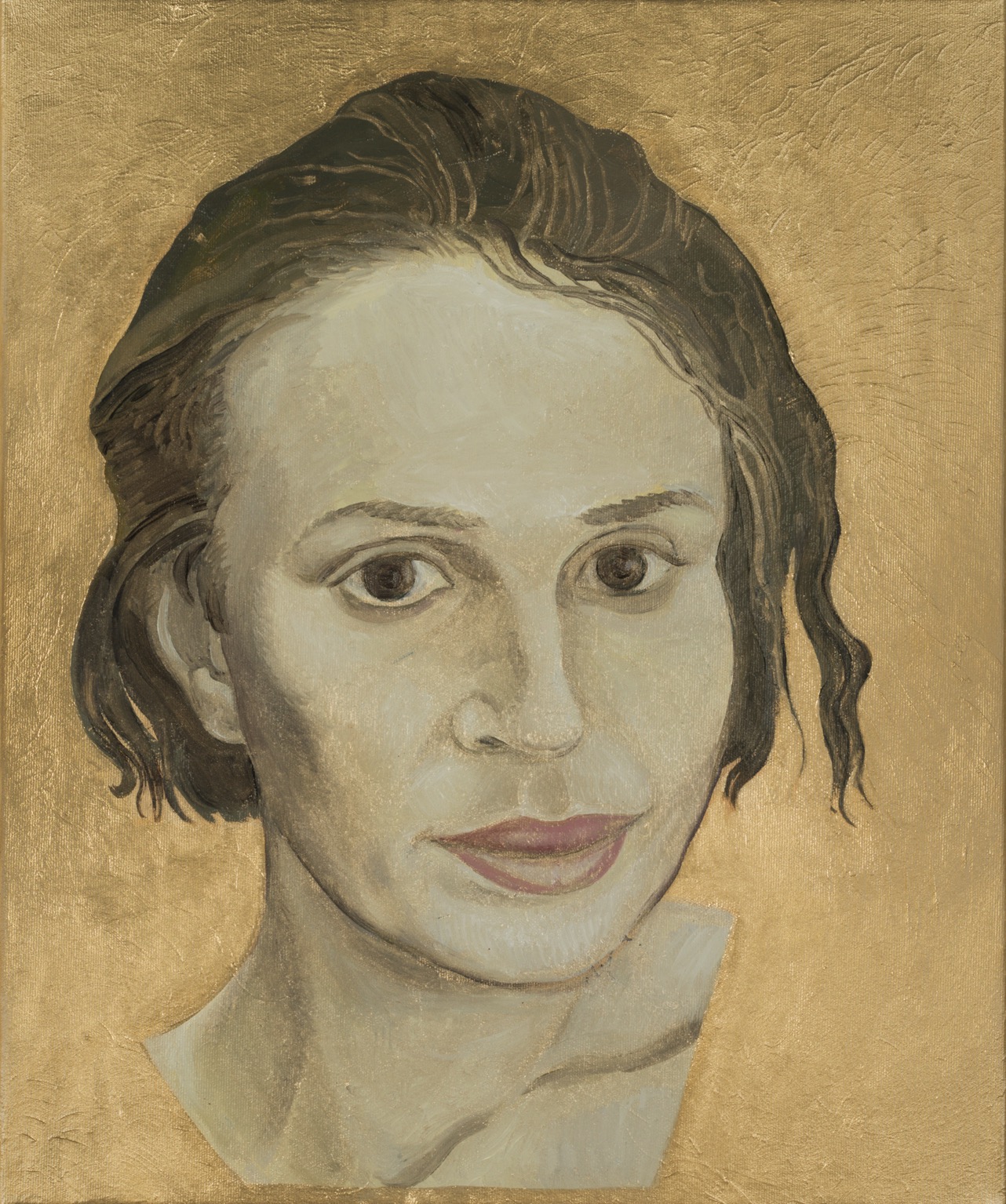 Self
2020
Oil on canvas
60.5 × 50.5 cm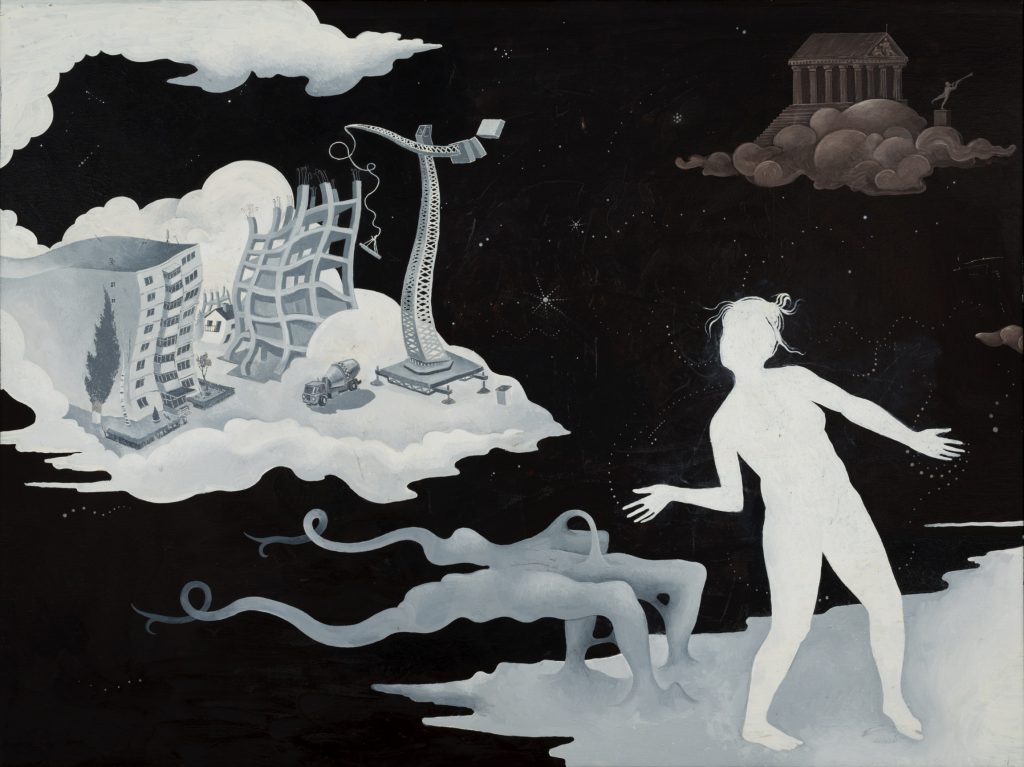 Cloud Nine
2020
Oil on canvas
120 × 160 cm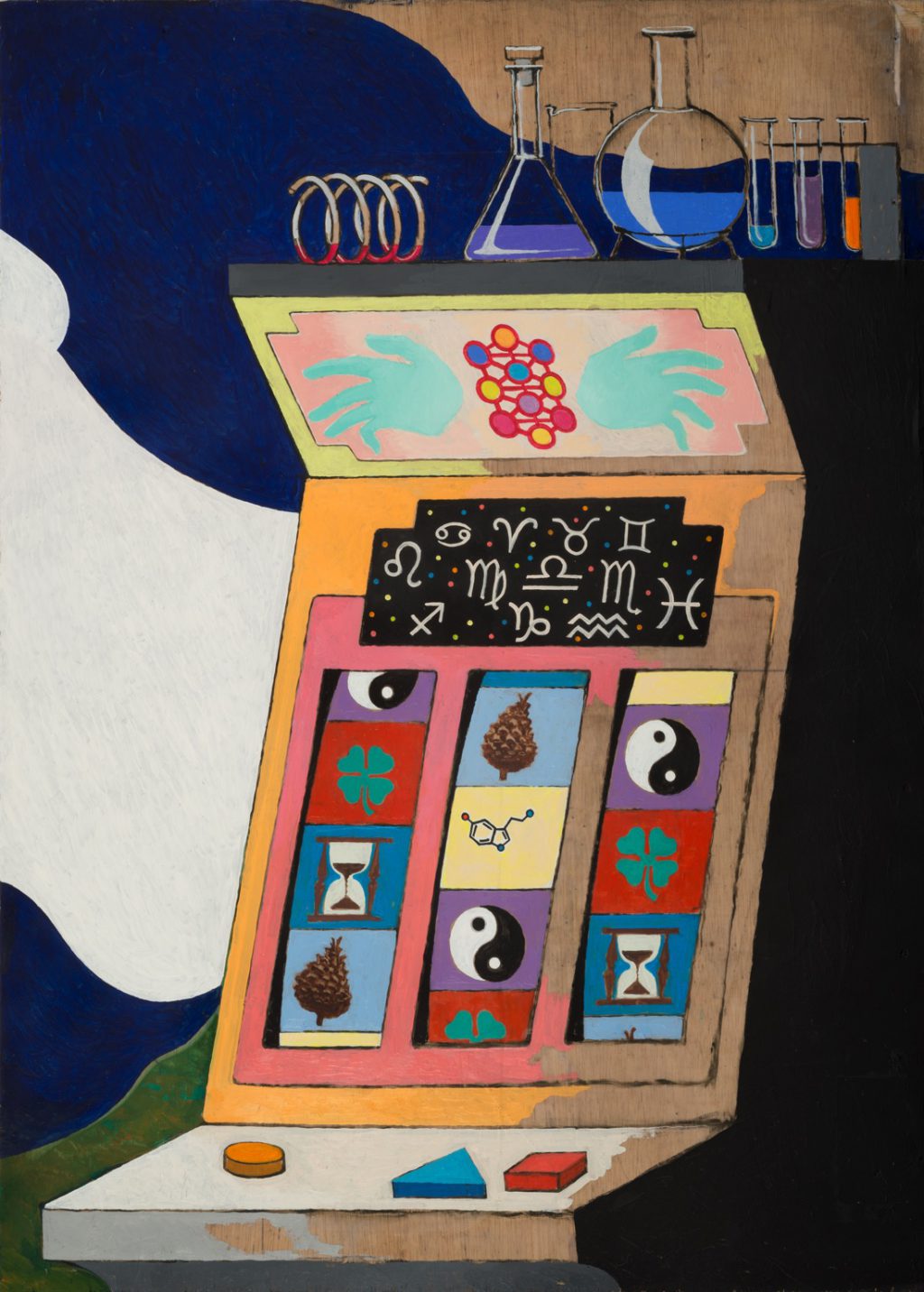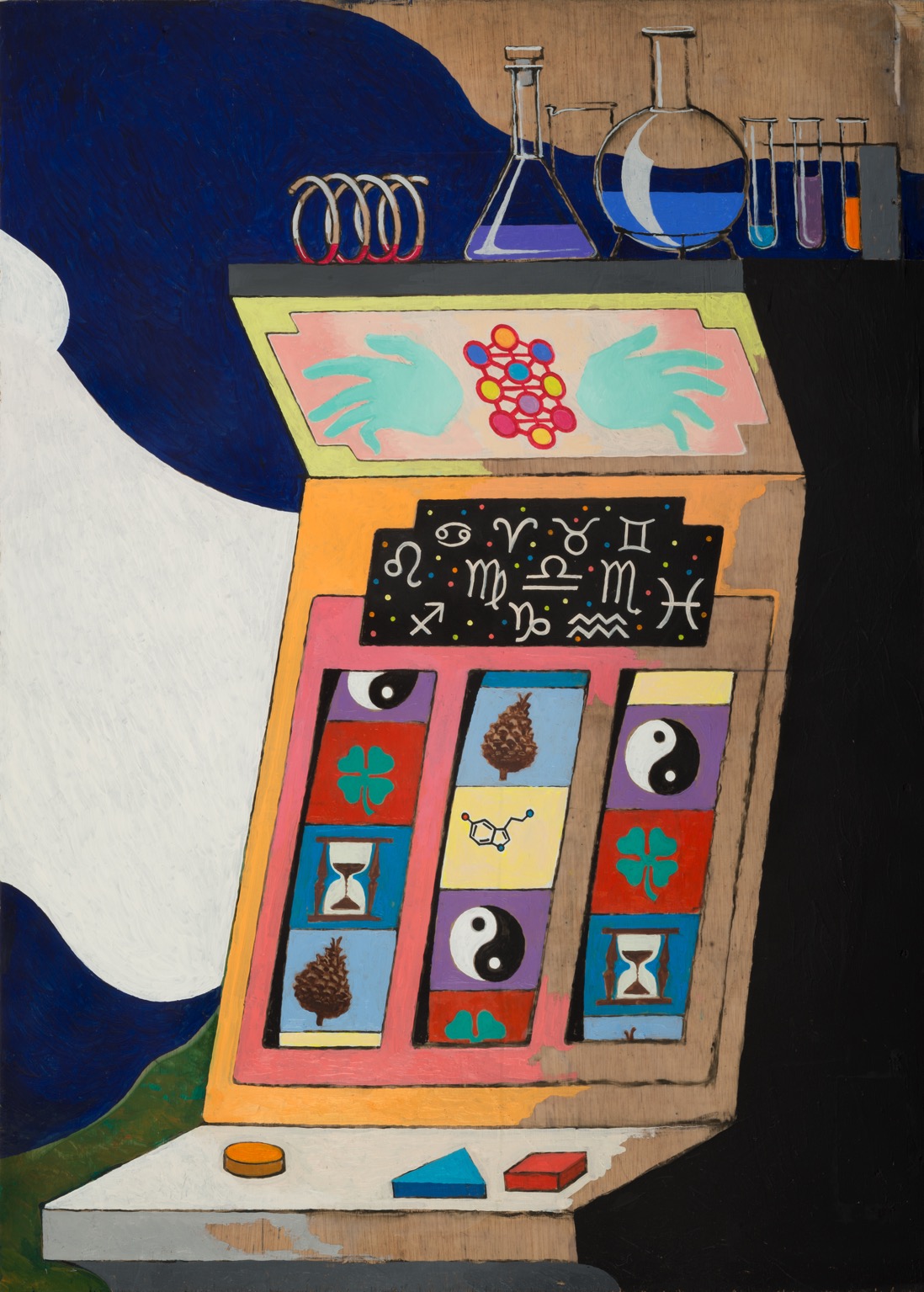 One-Armed Bandit
2018
Oil on wood
125 × 90 cm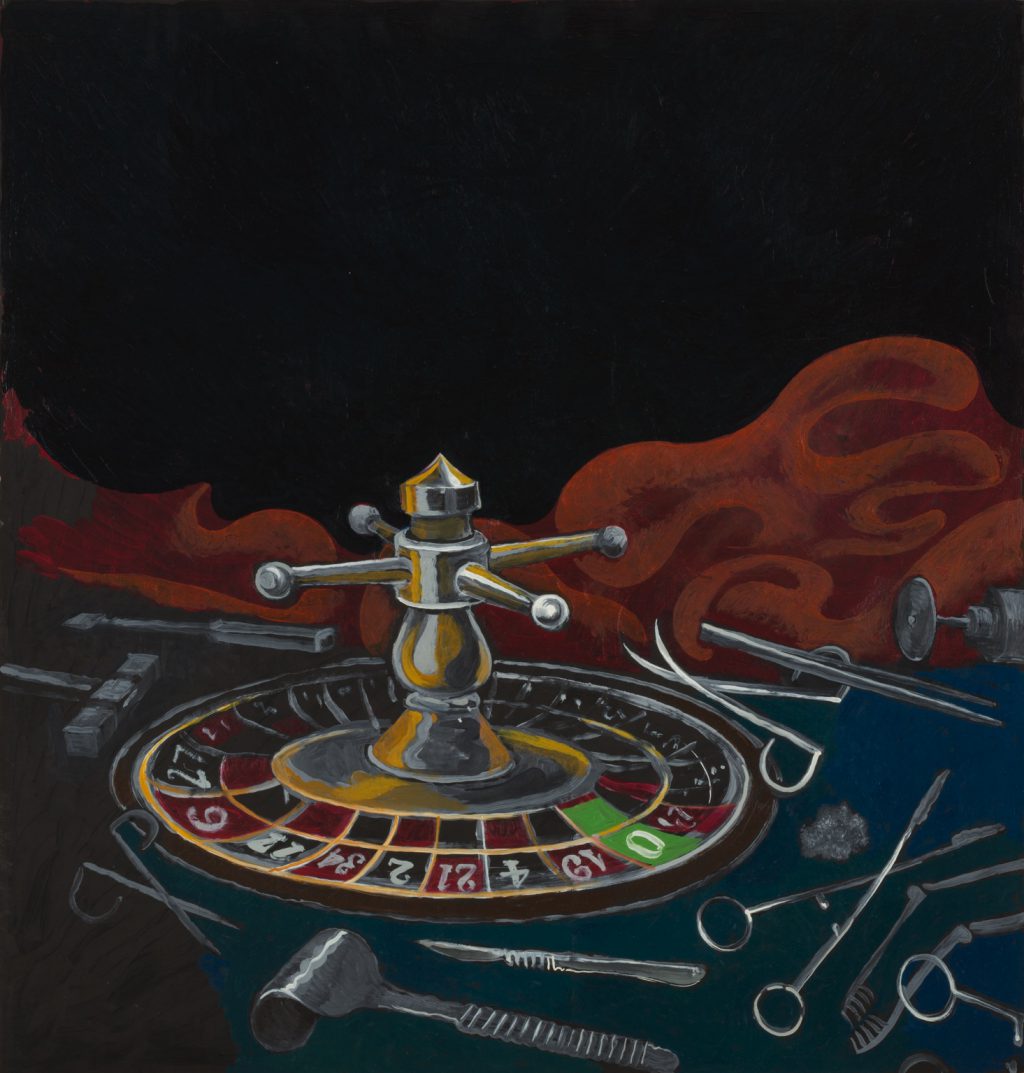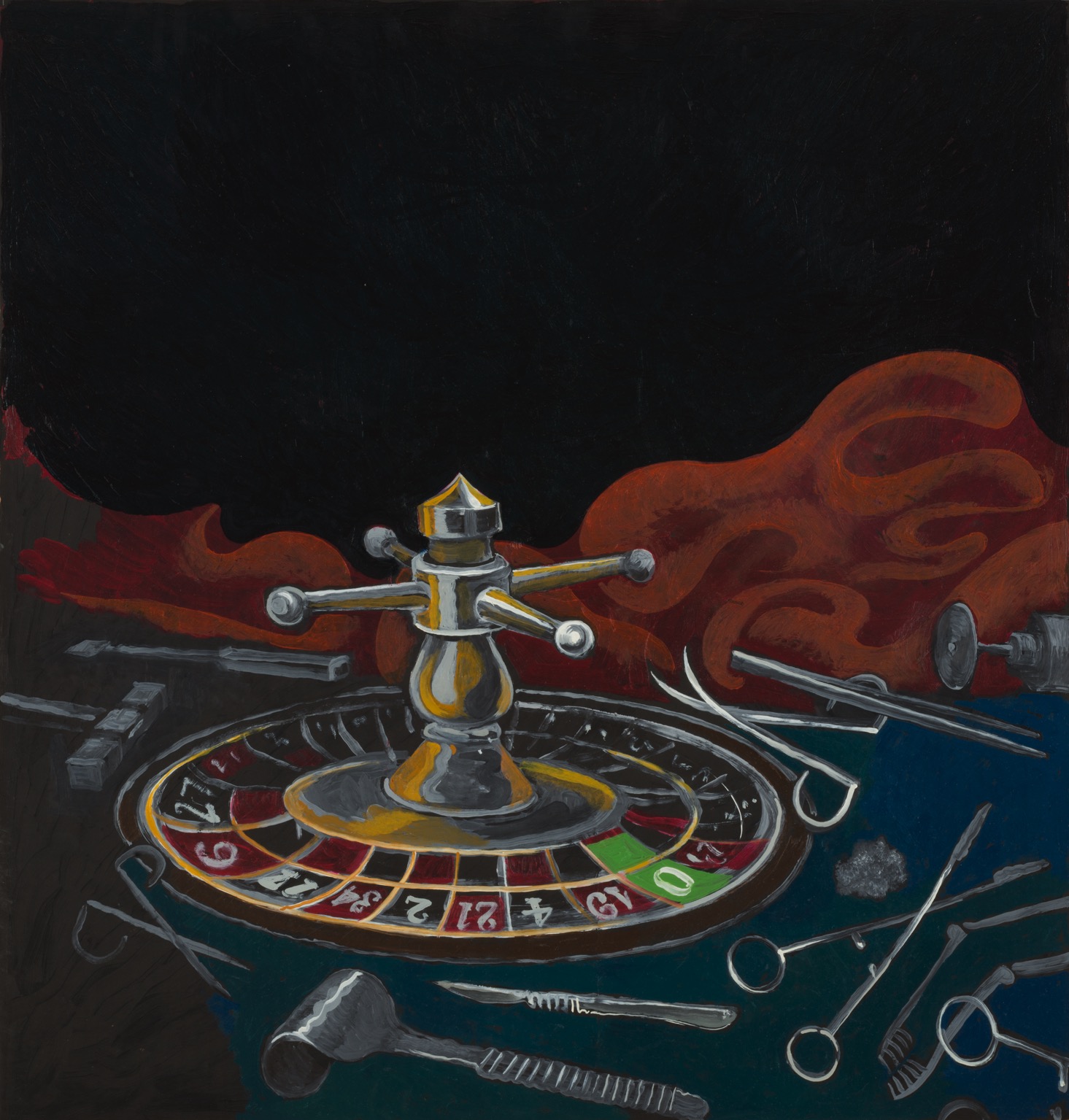 Roulette in Monte Carlo
2017
Oil on cardboard
79 × 75 cm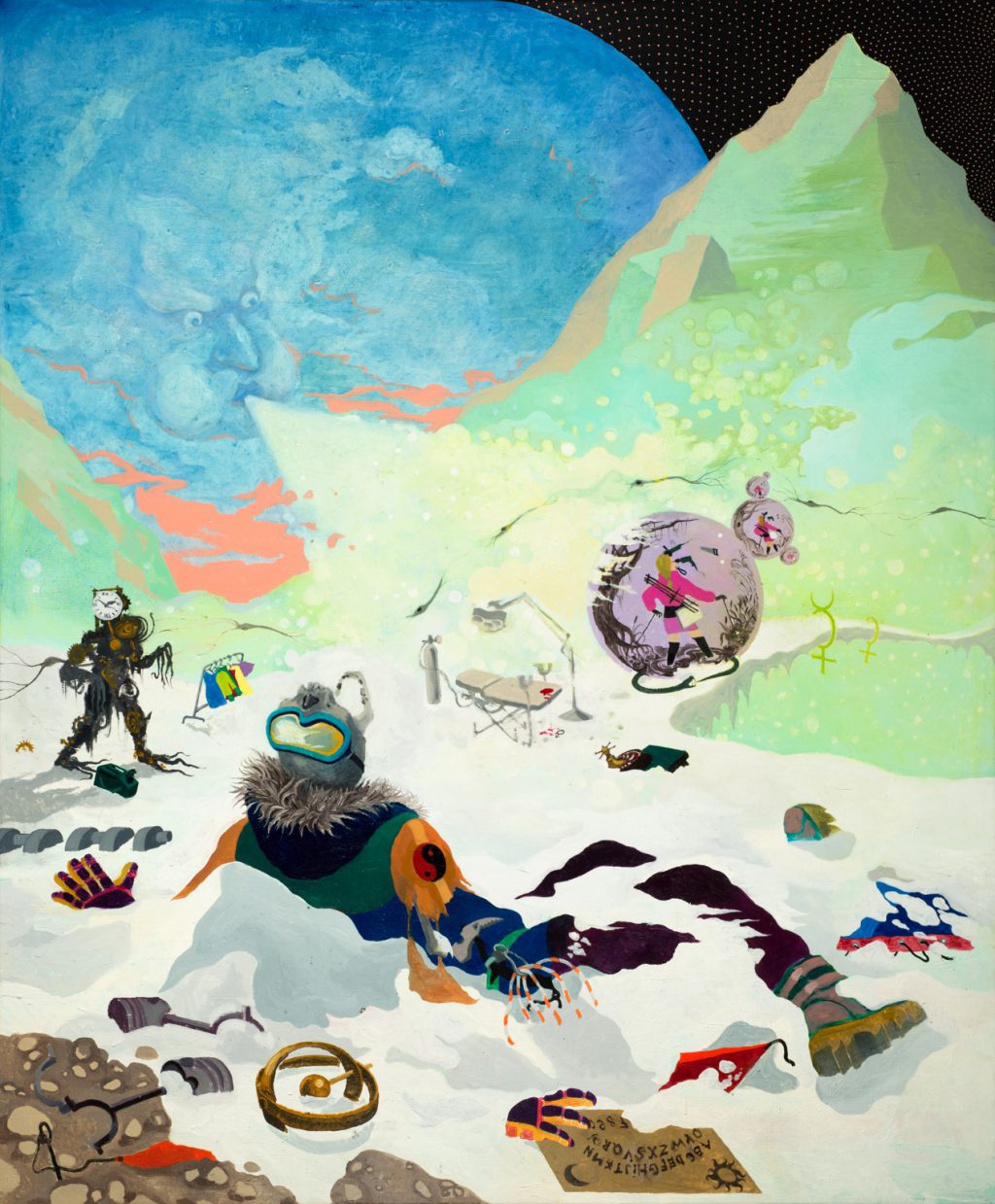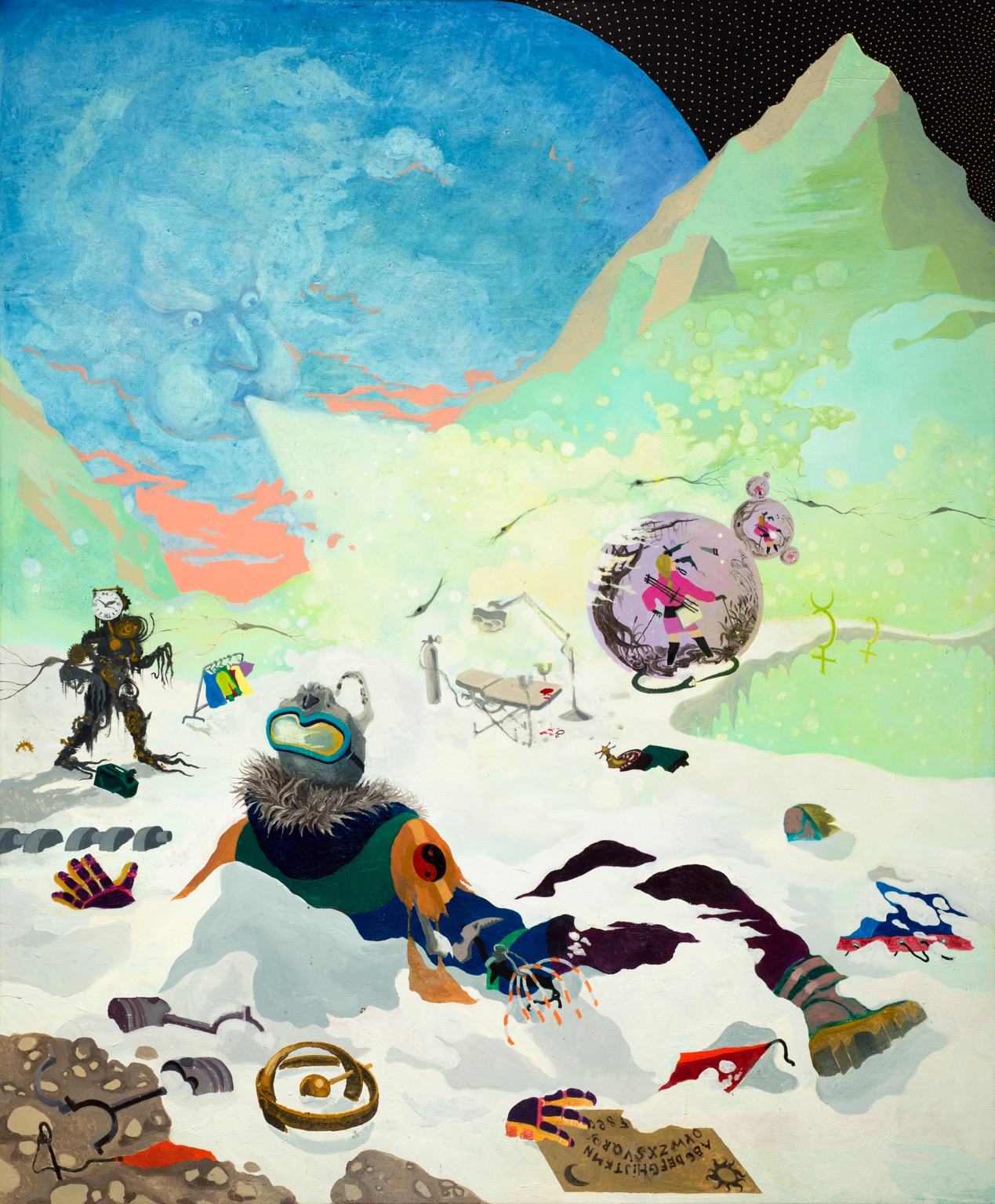 A Self-Fulfilling Prophecy
2016
Oil on canvas
229 × 187 cm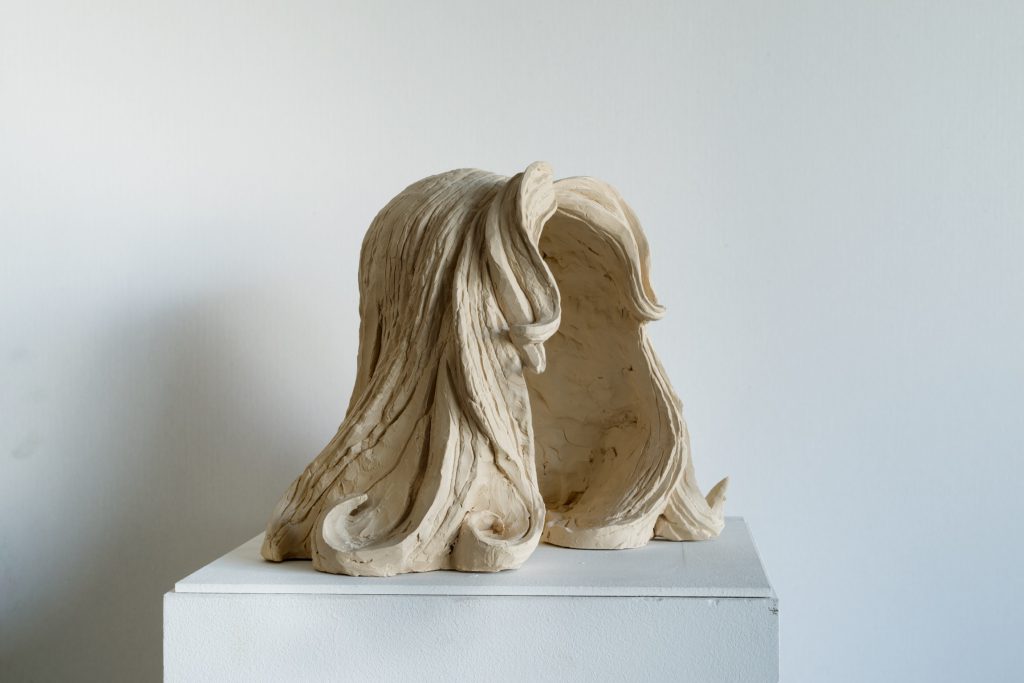 Bozzetto
2016
Terracotta
26 × 27 × 25 cm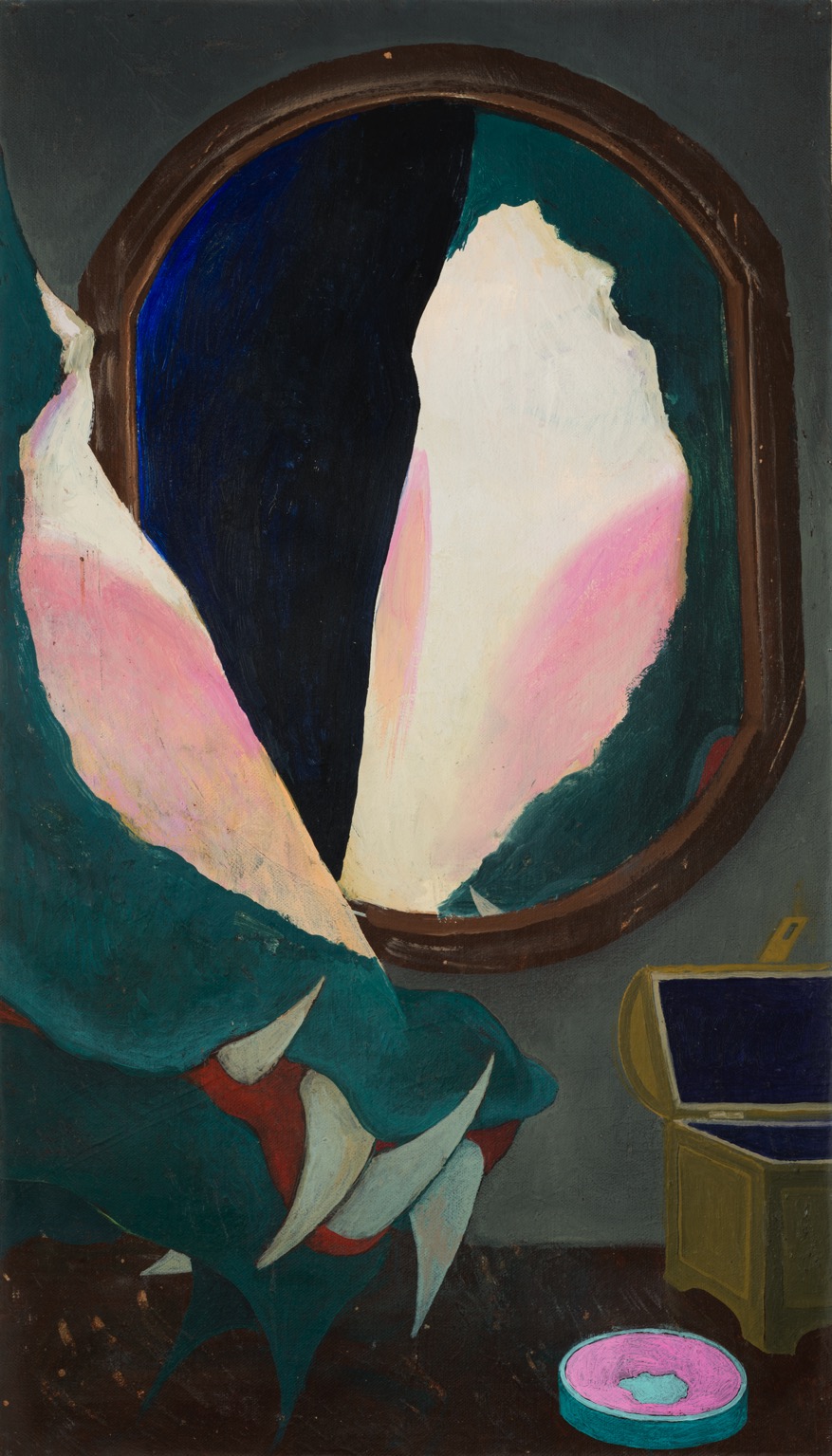 Trying to Be Beautiful
2016
Oil on canvas, mounted on wood
78 × 42.5 cm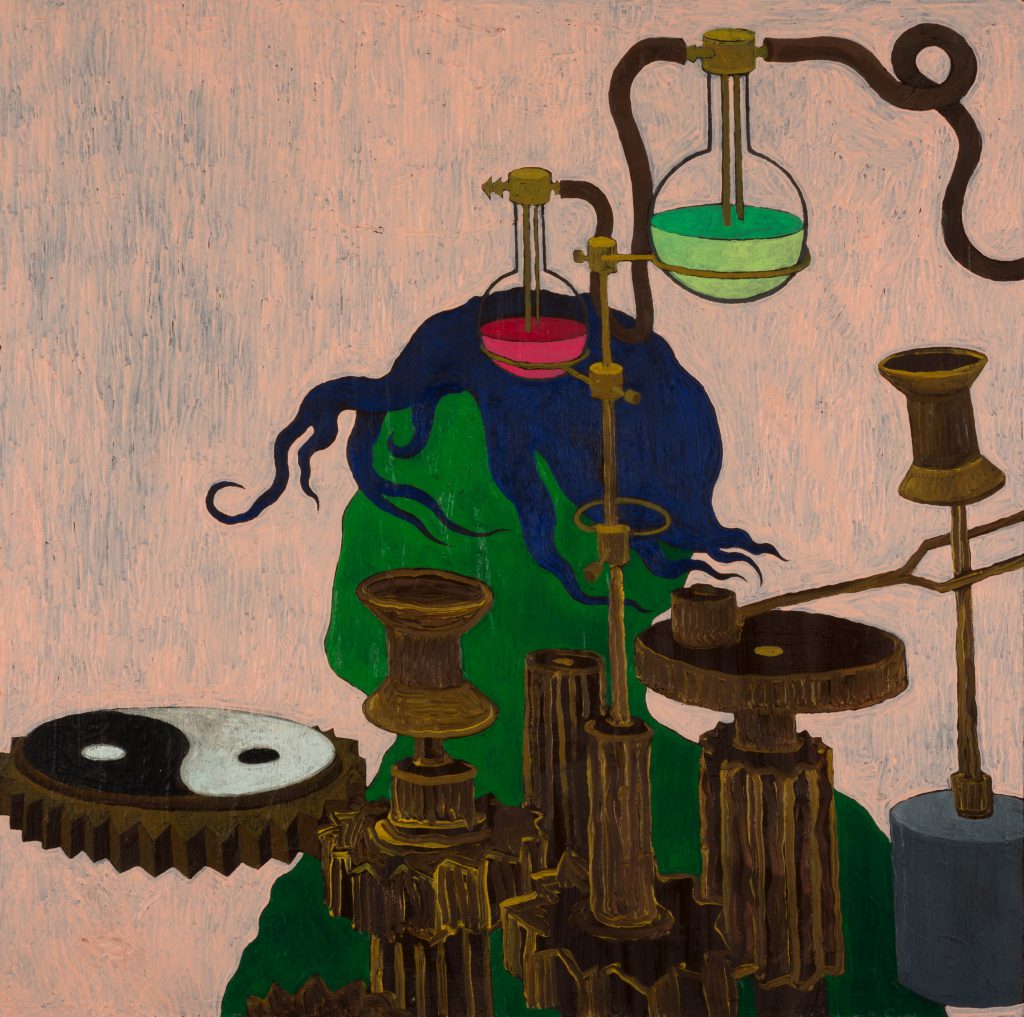 With the Help of Mendeleev
2016
Oil on wood
50.2 × 50.1 cm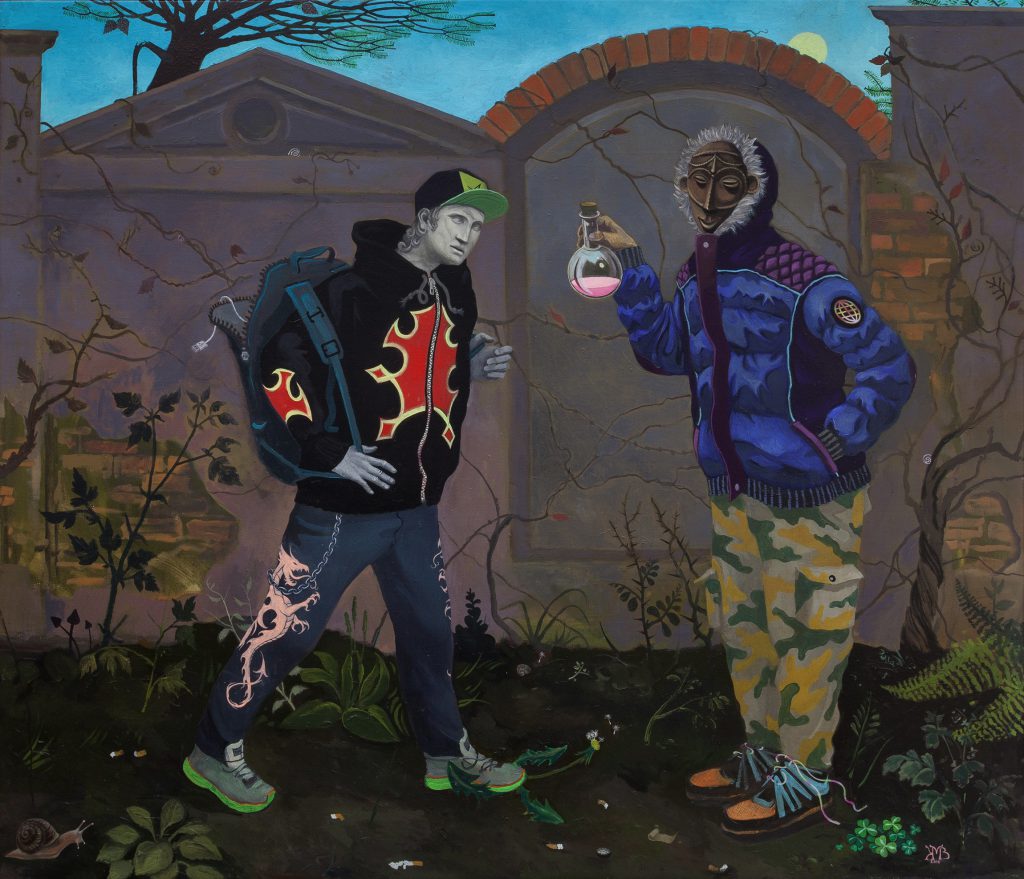 Alexander in Görlitzer Park
2016
Oil on canvas
183.5 × 214 cm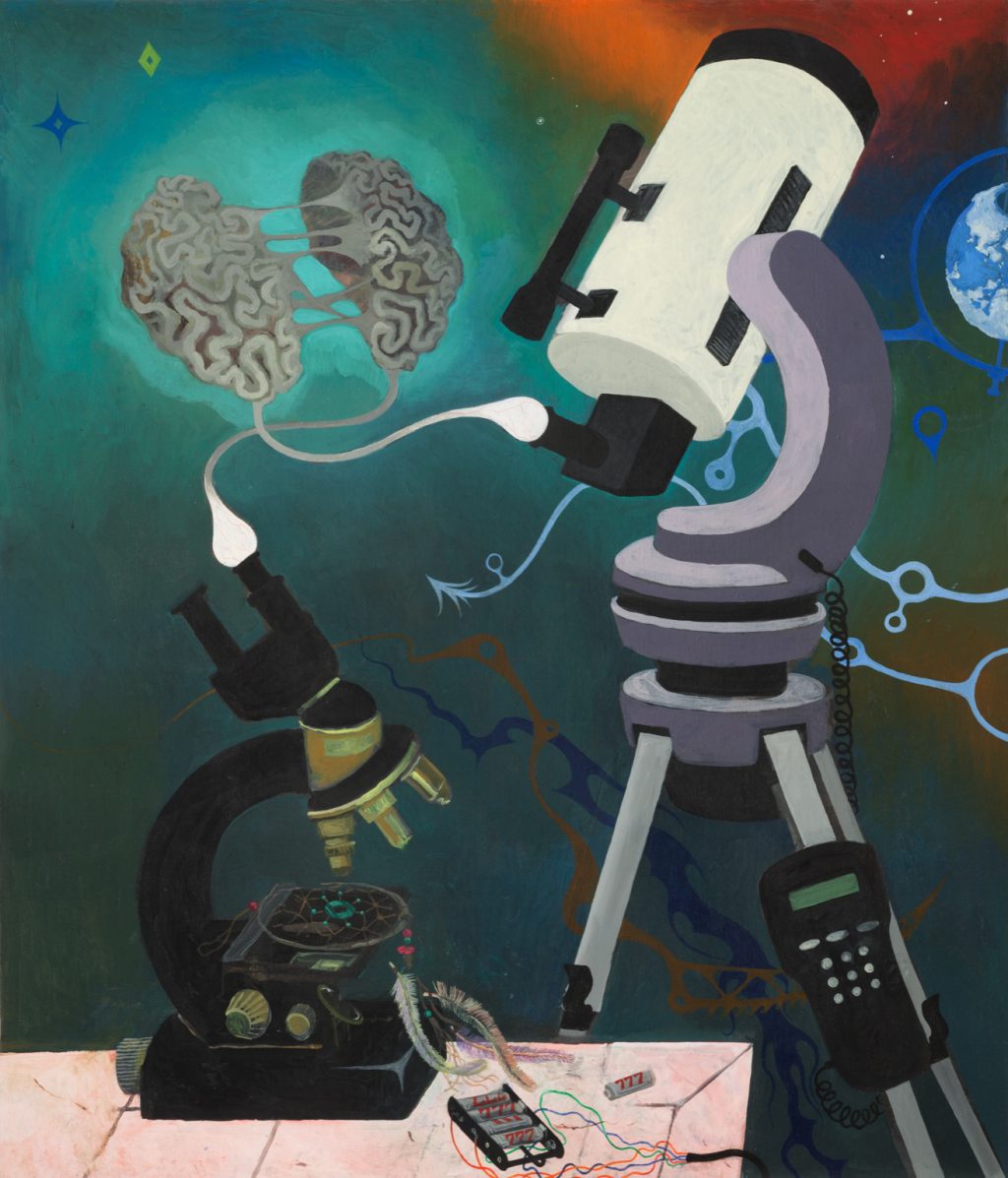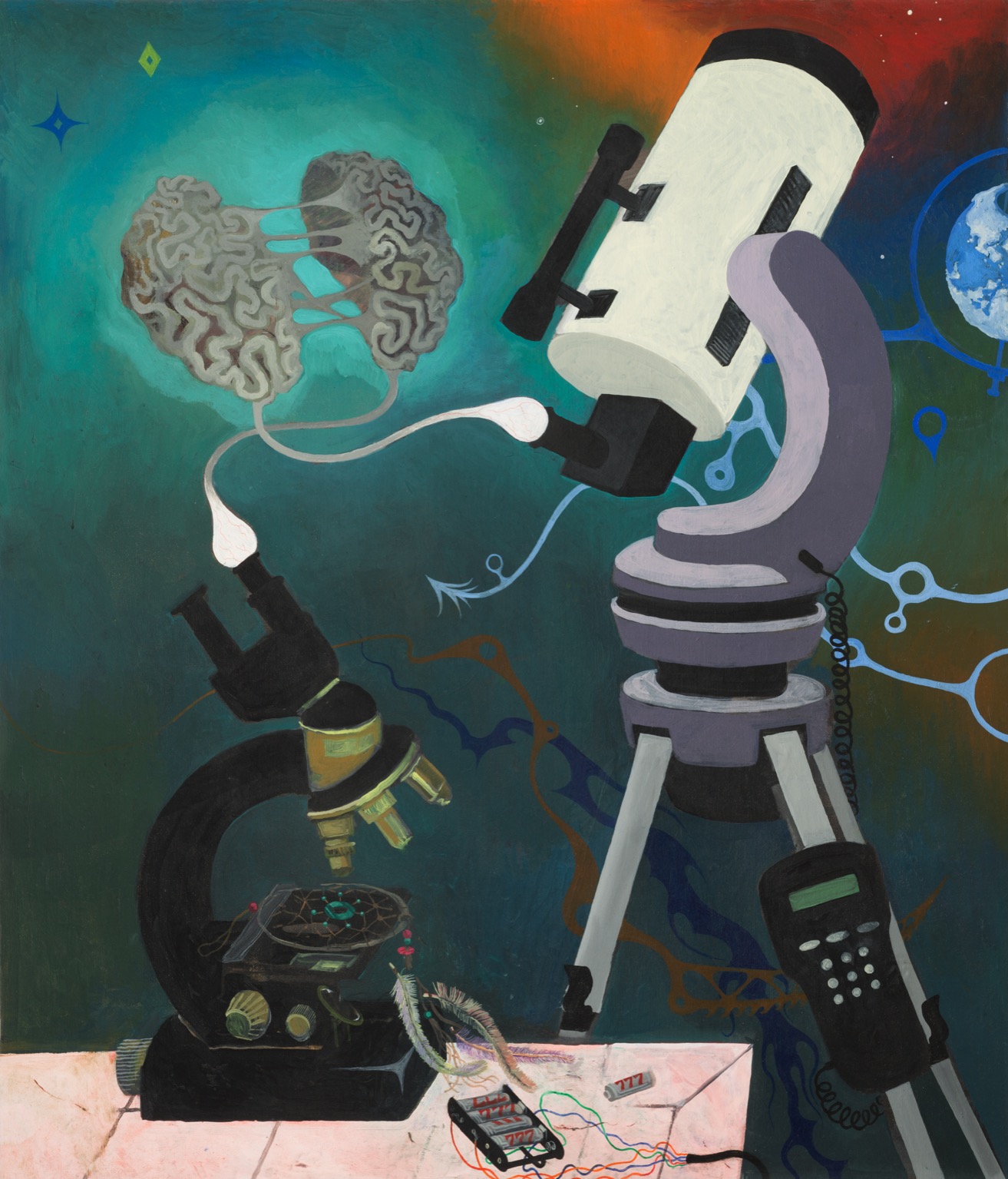 Between Micro and Macro
2016
Oil on canvas
mounted on wood
115 × 98.8 cm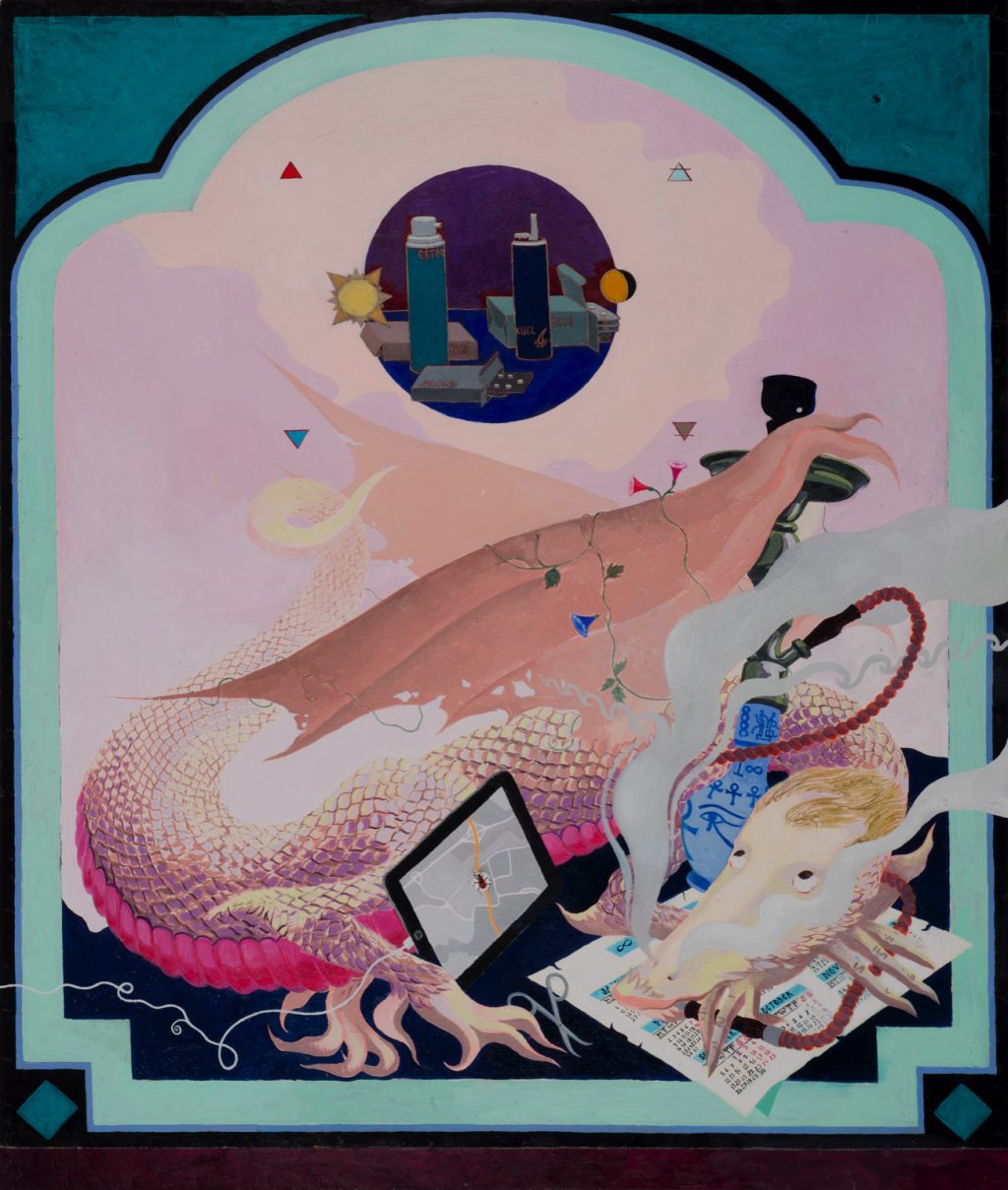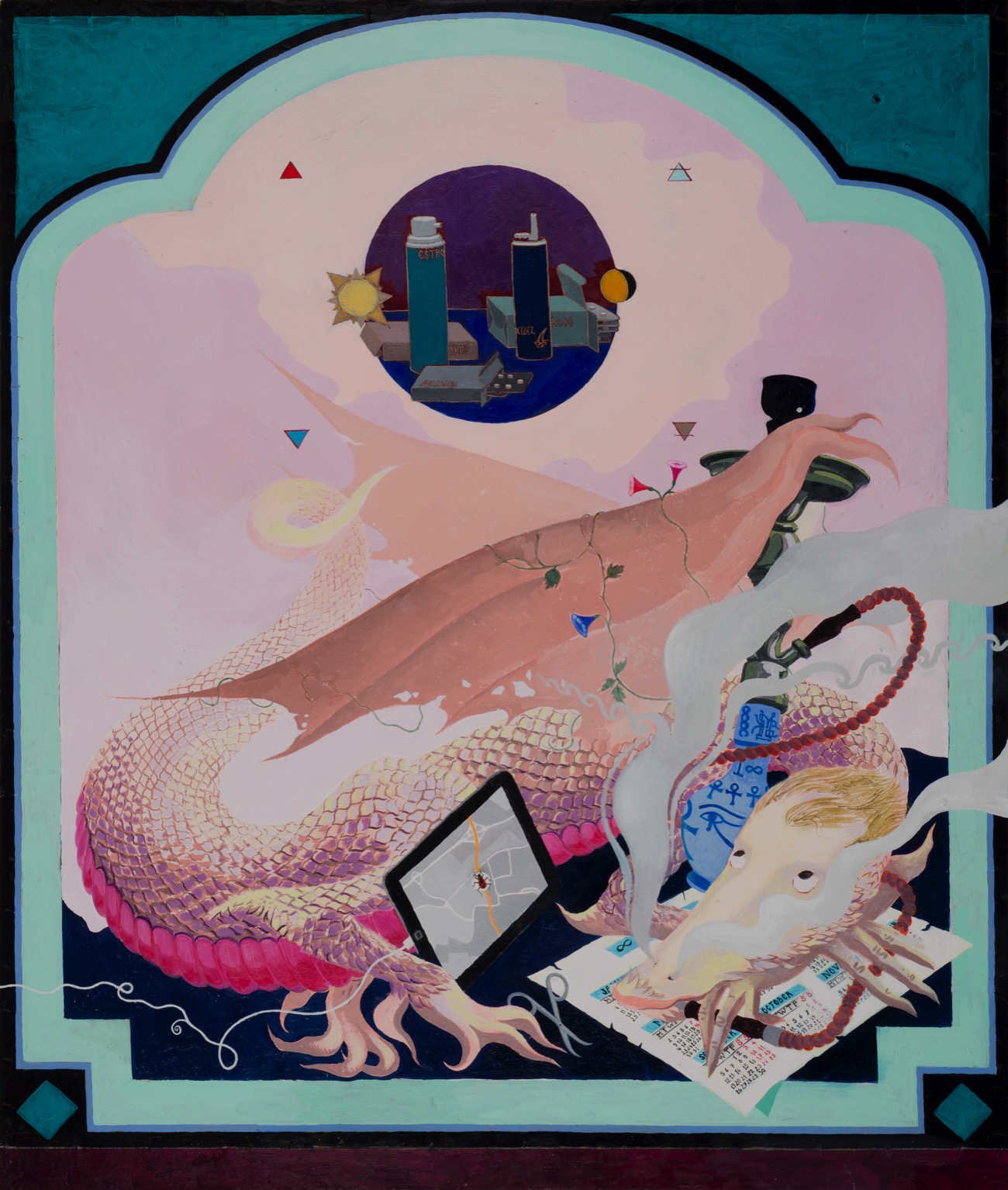 The Fifth Element
2016
Oil on wood
127 × 106 cm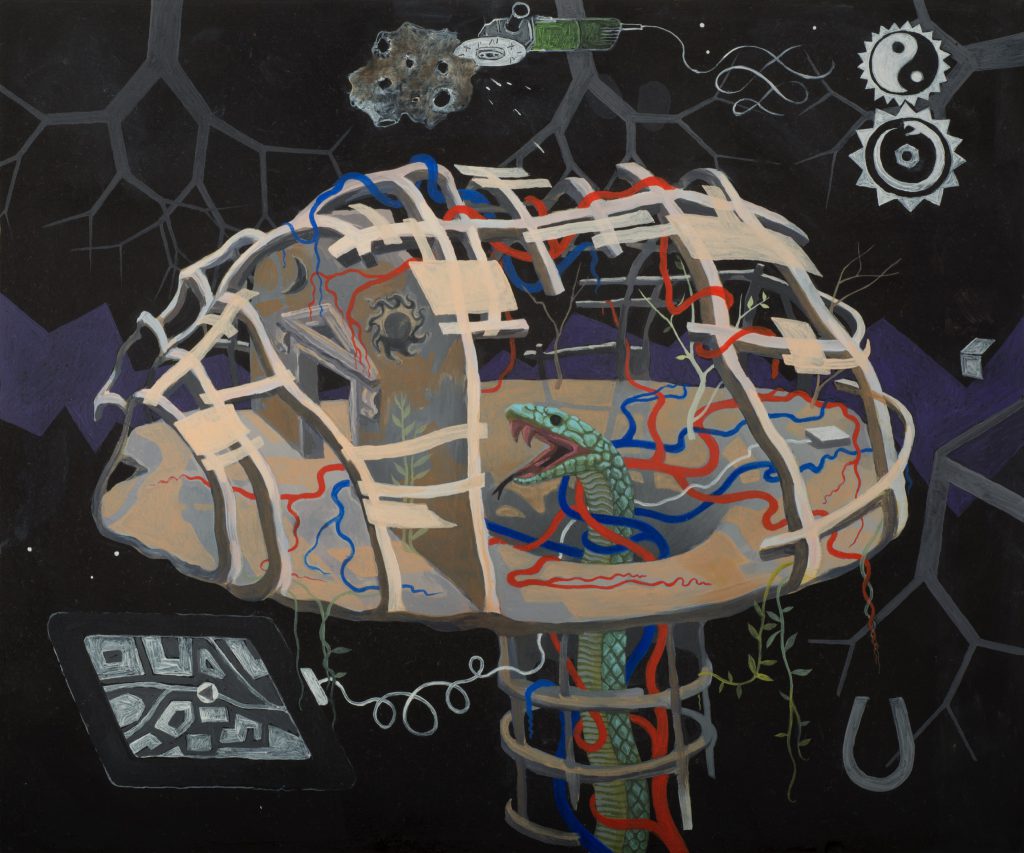 The Ancient Part of My Brain
2016
Oil on wood
49.7 × 59.7 cm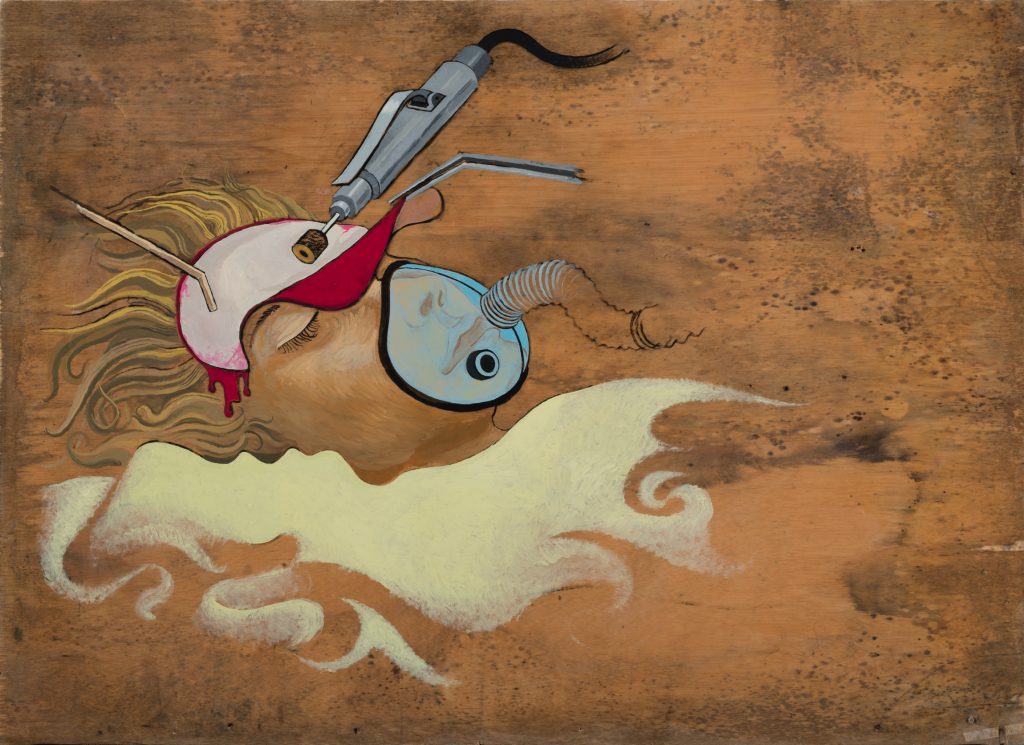 Sleep (Forehead Operation)
2017
Oil on wood
91 × 125 cm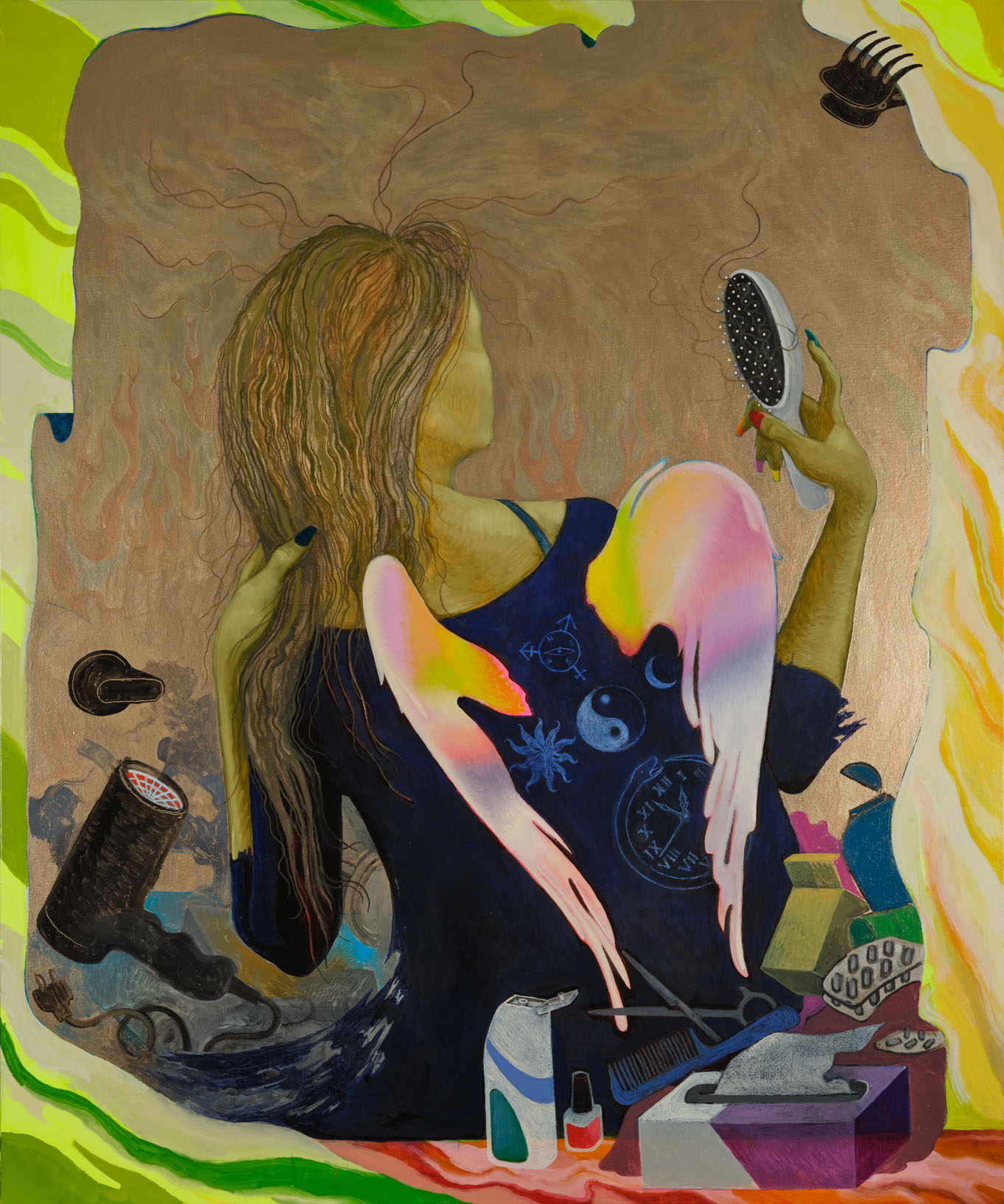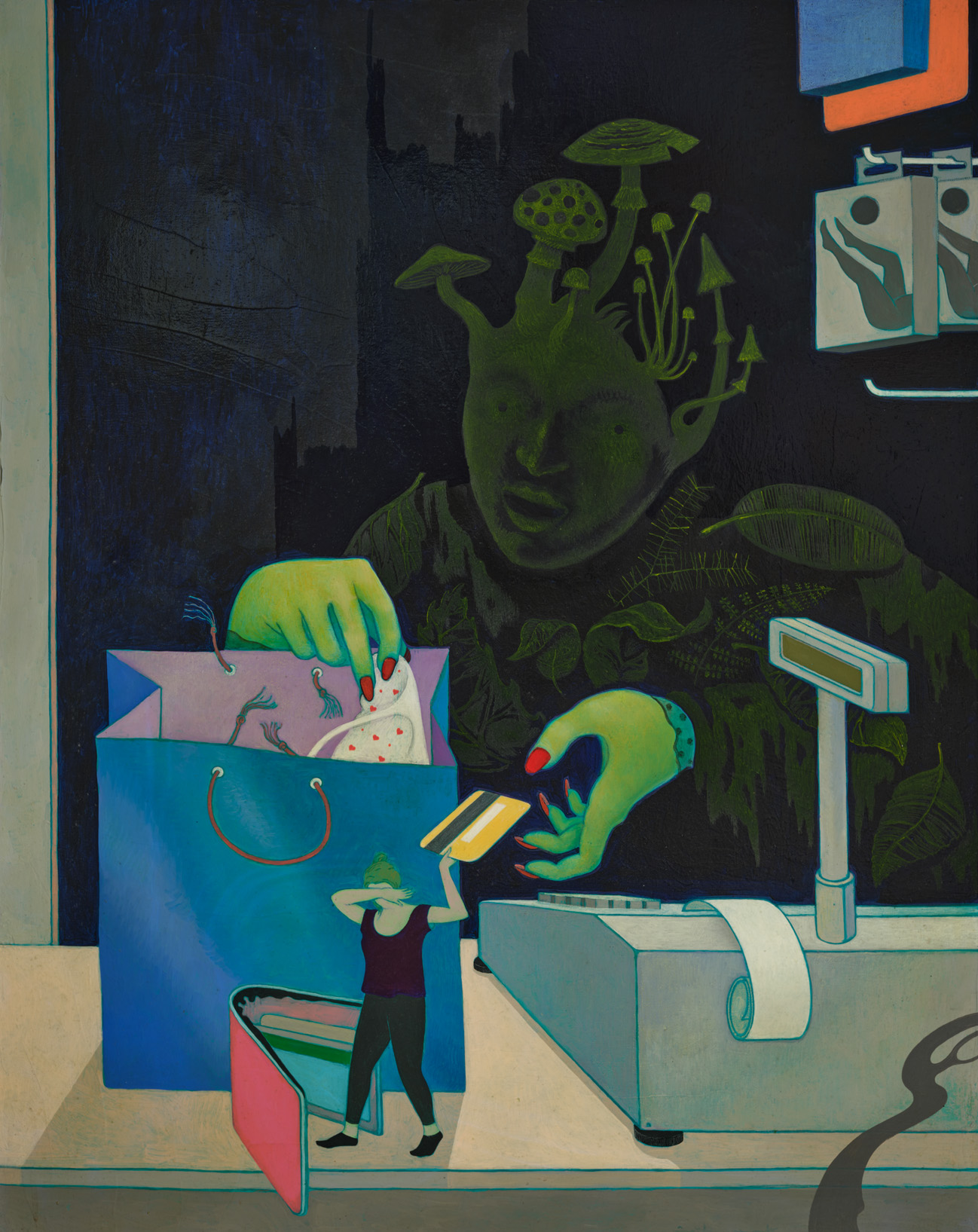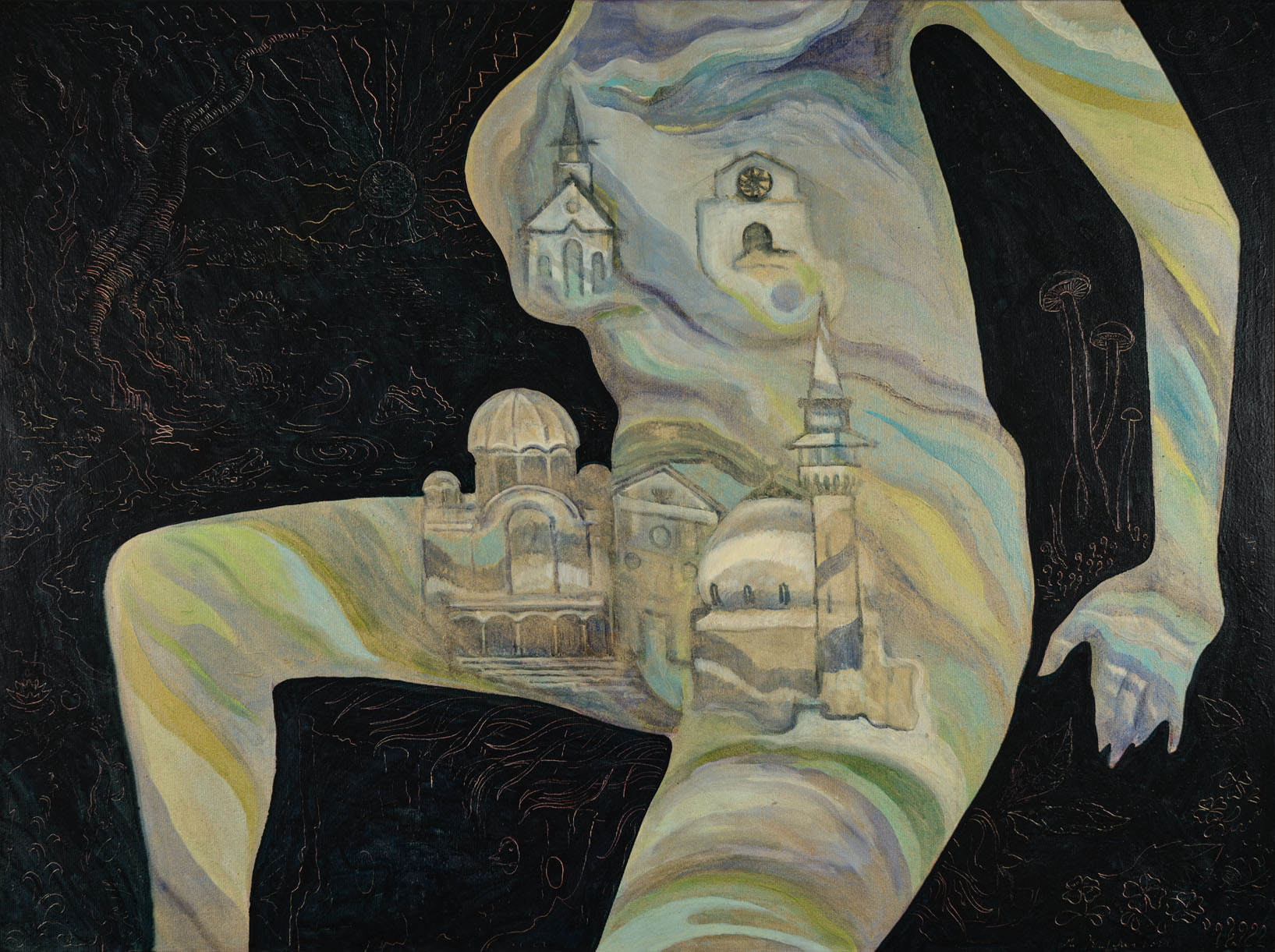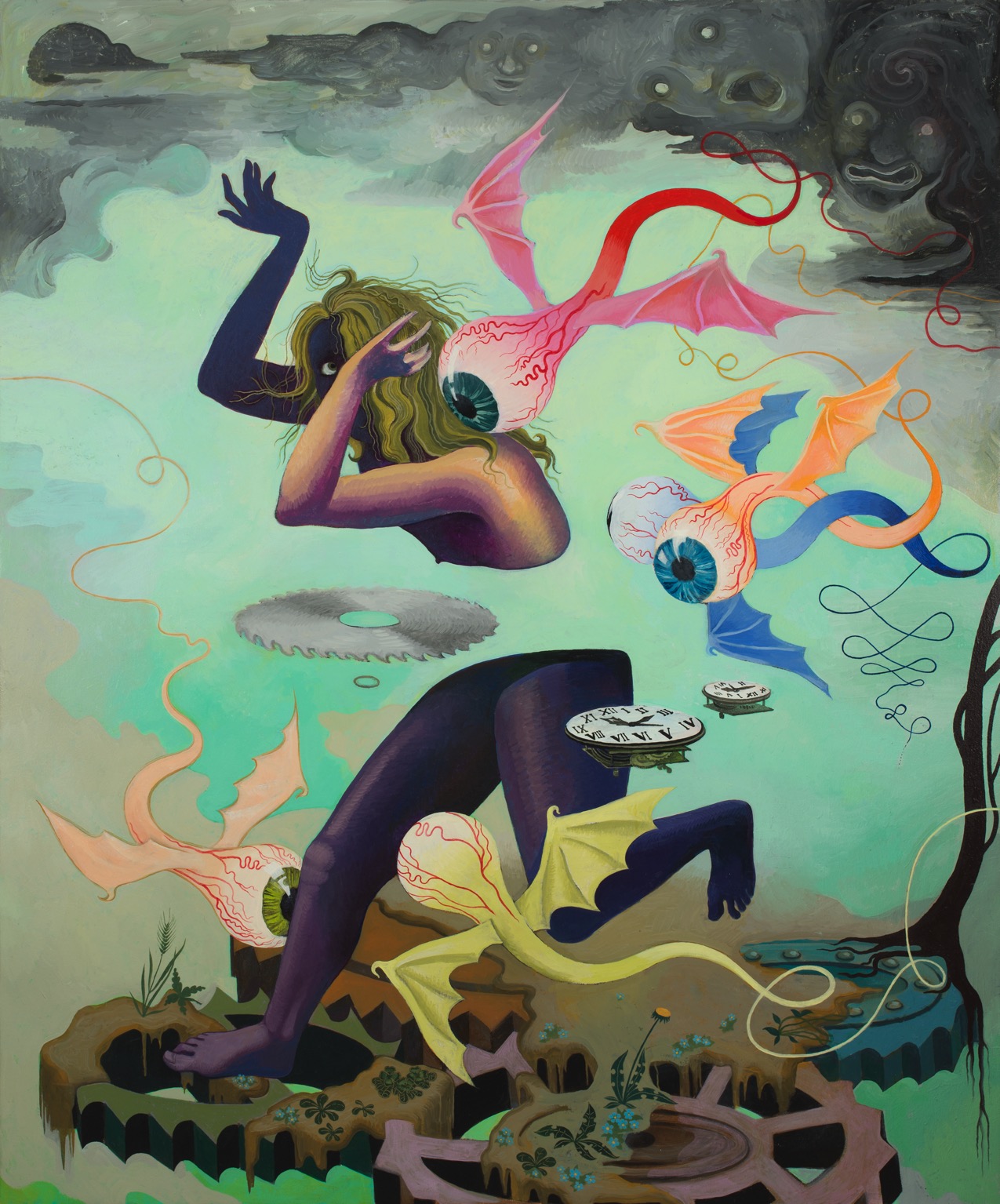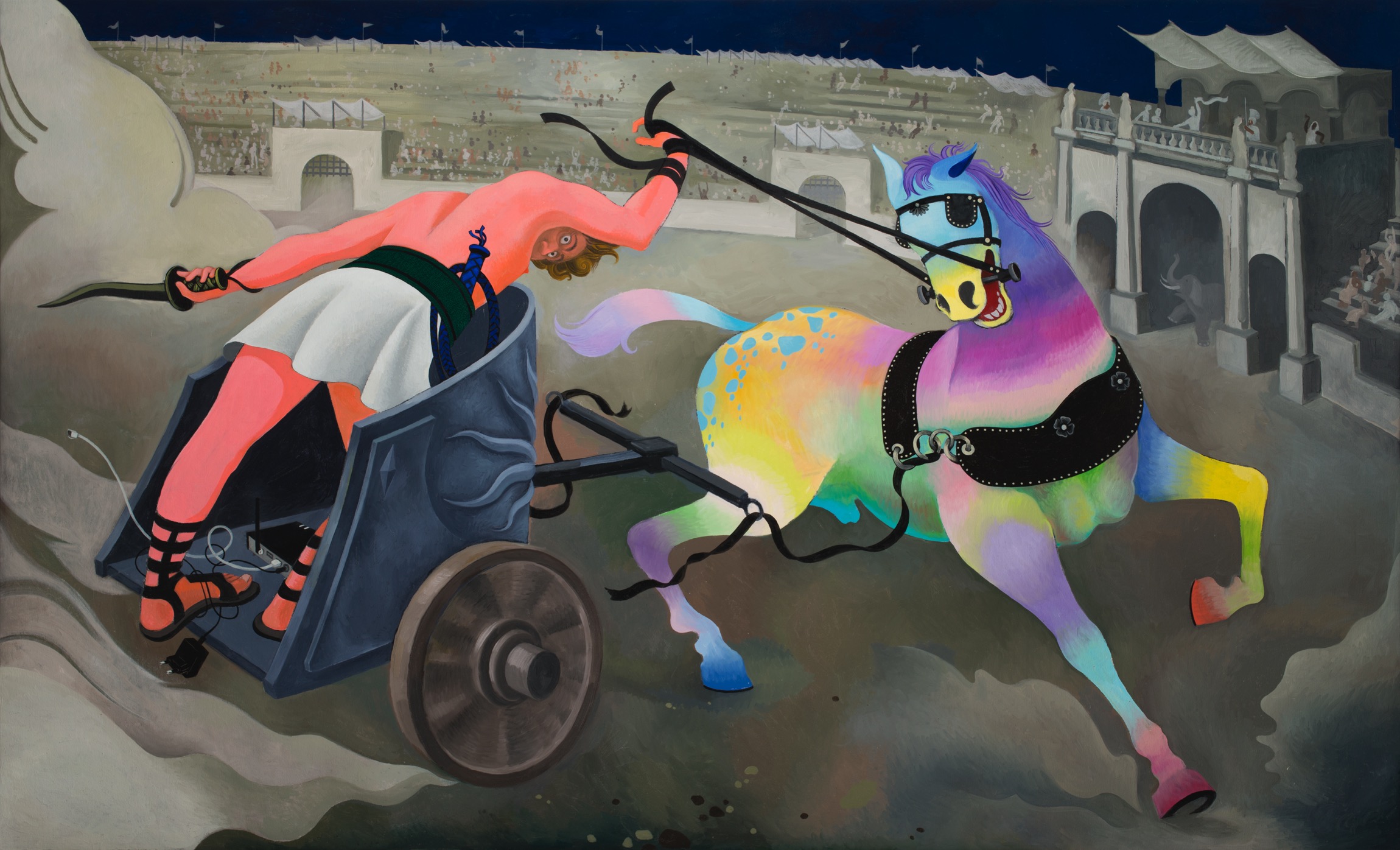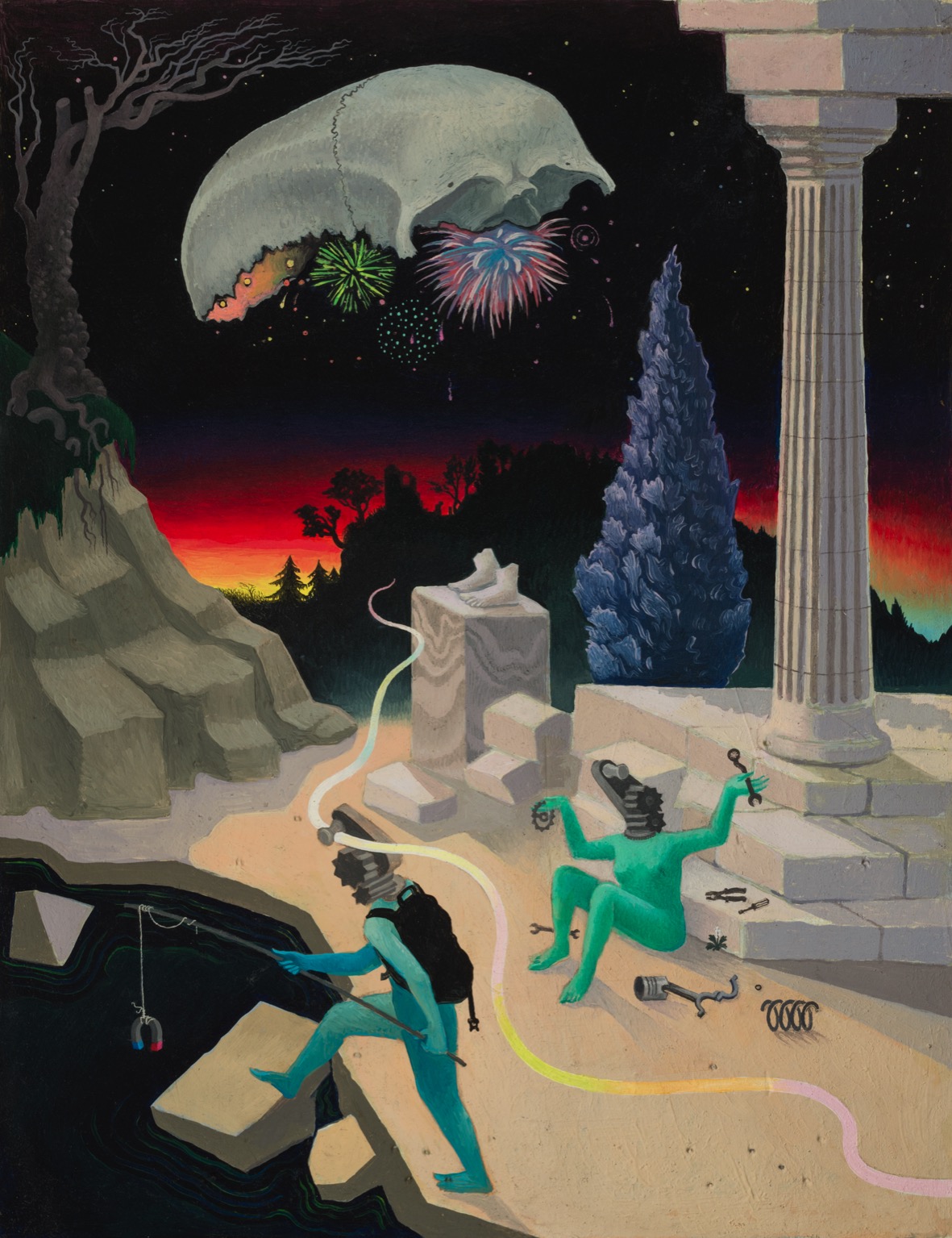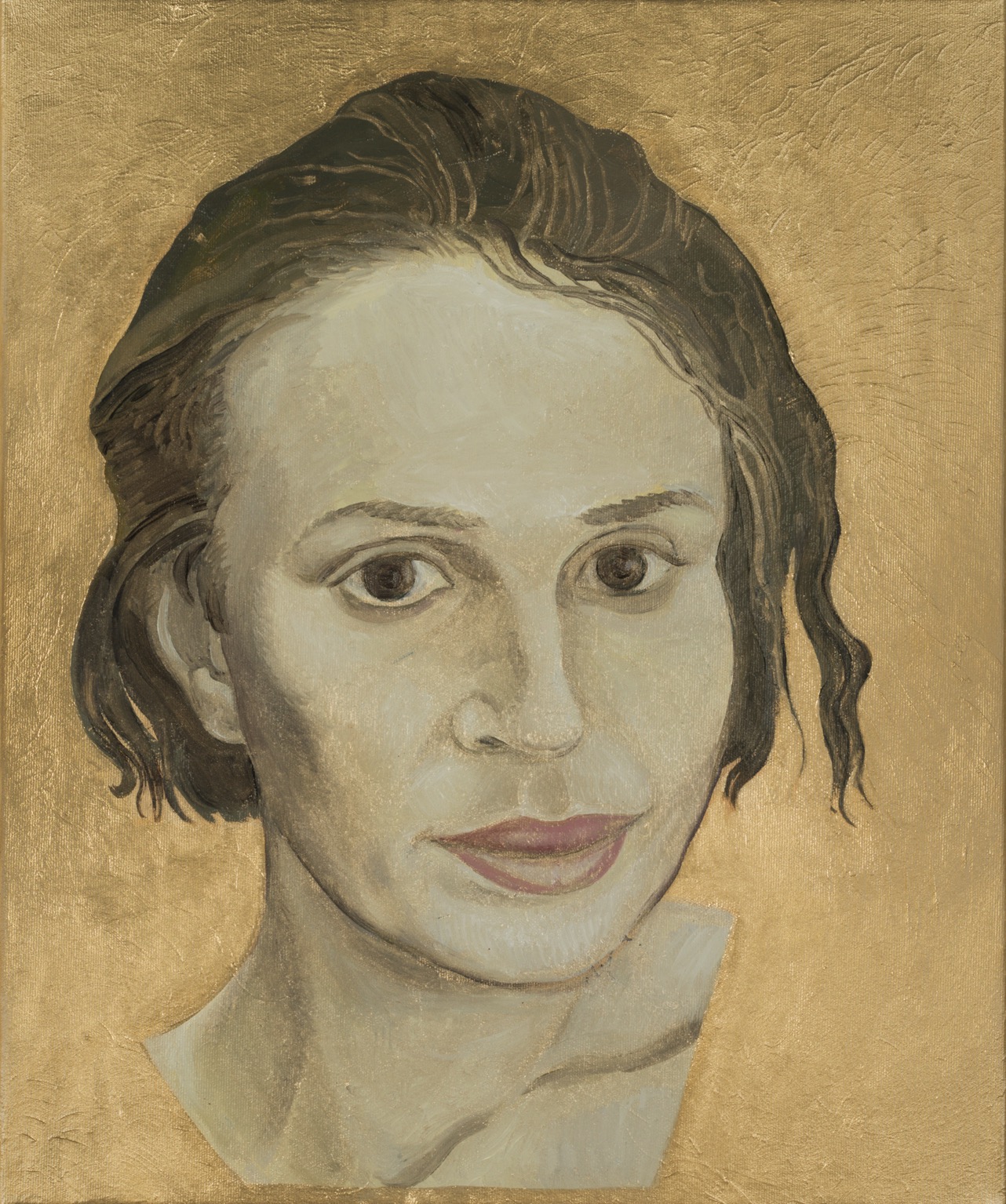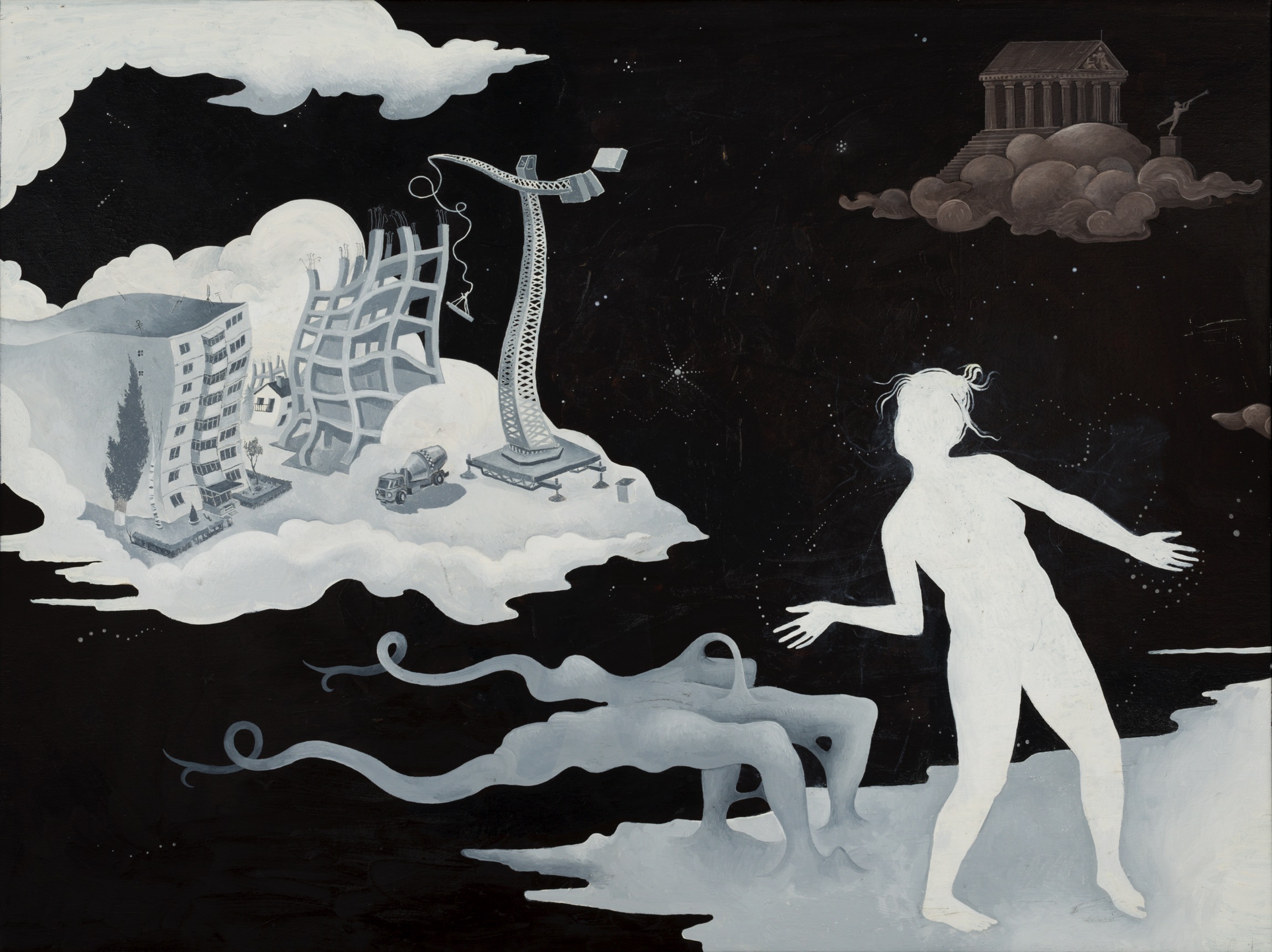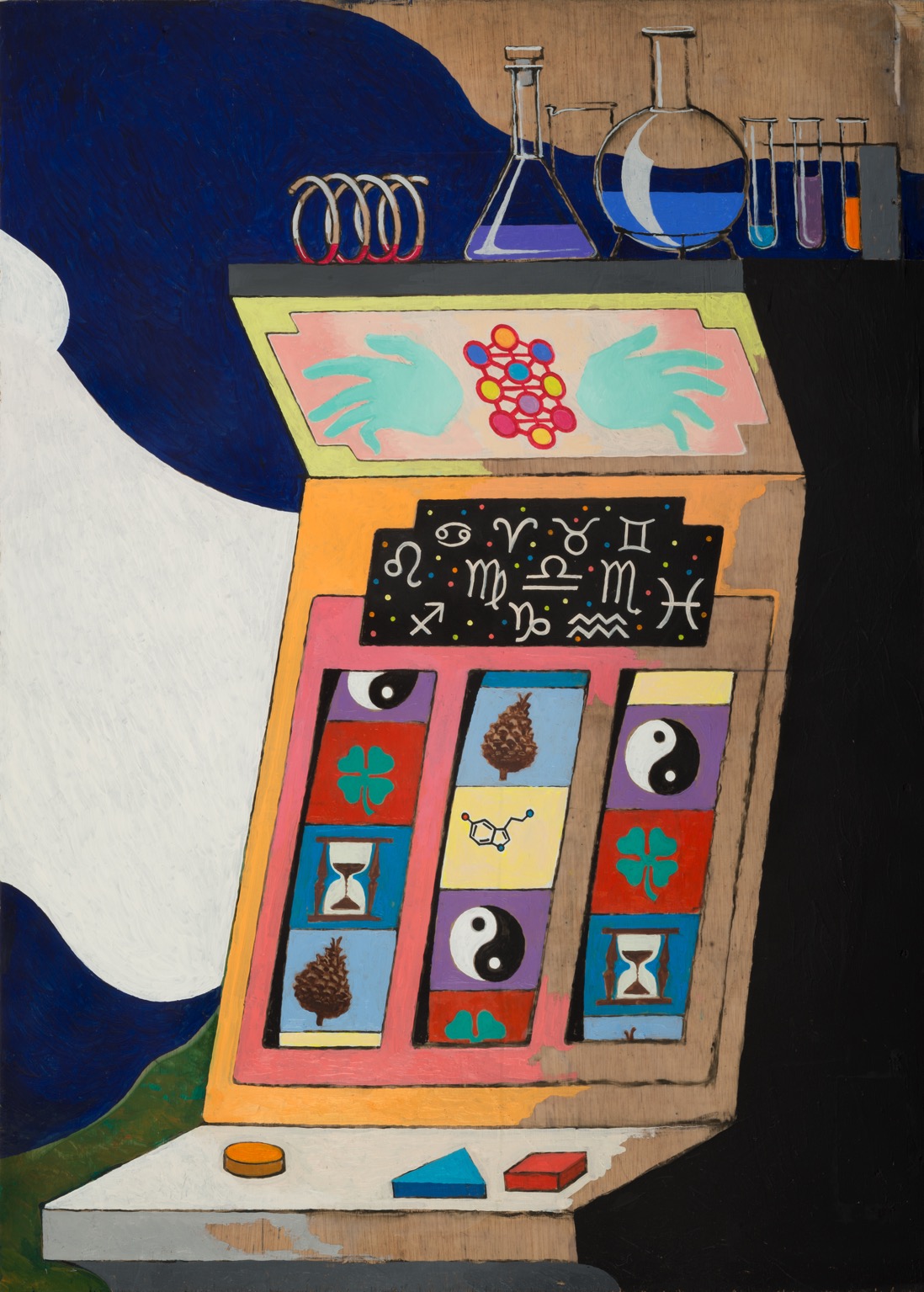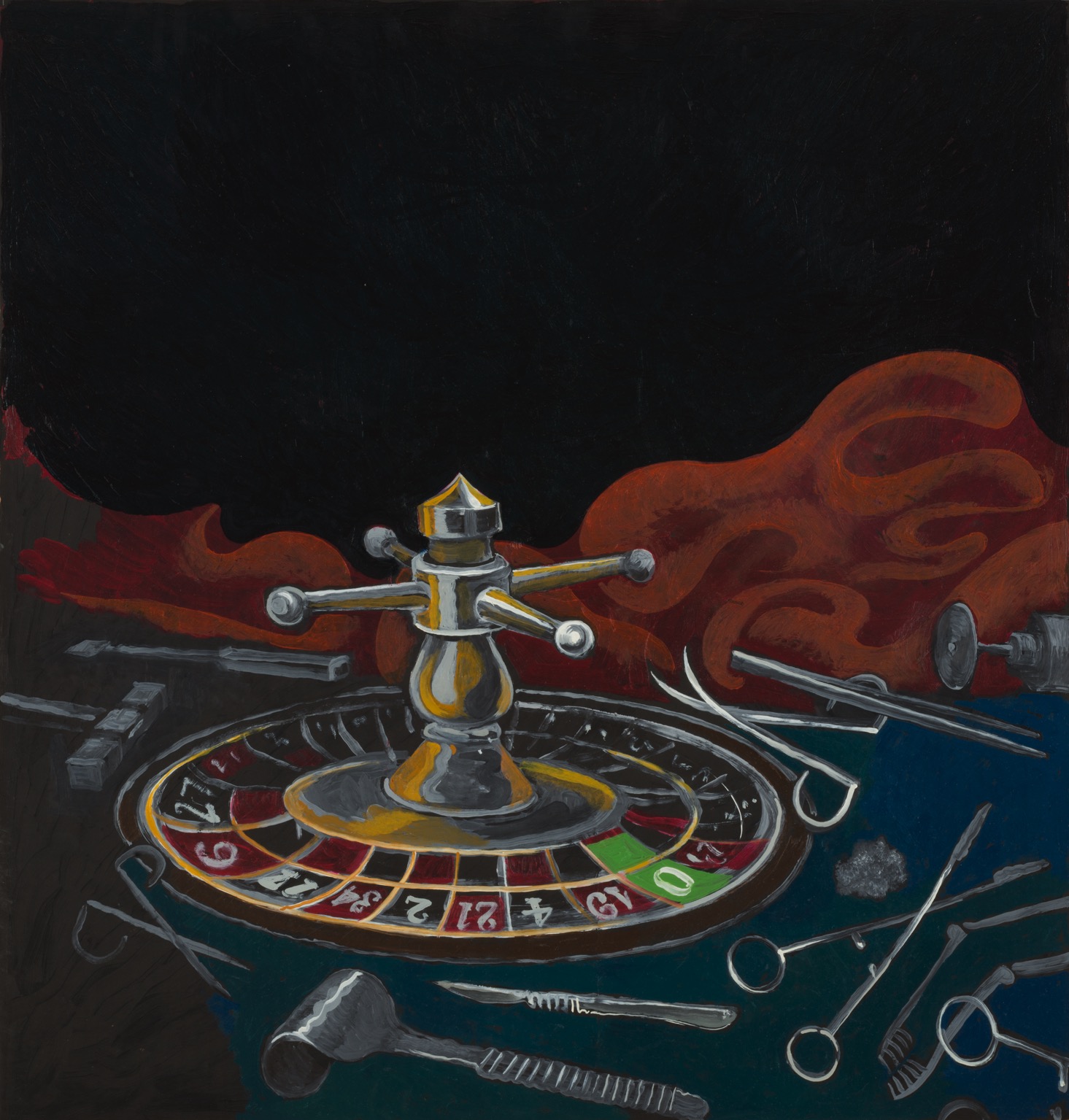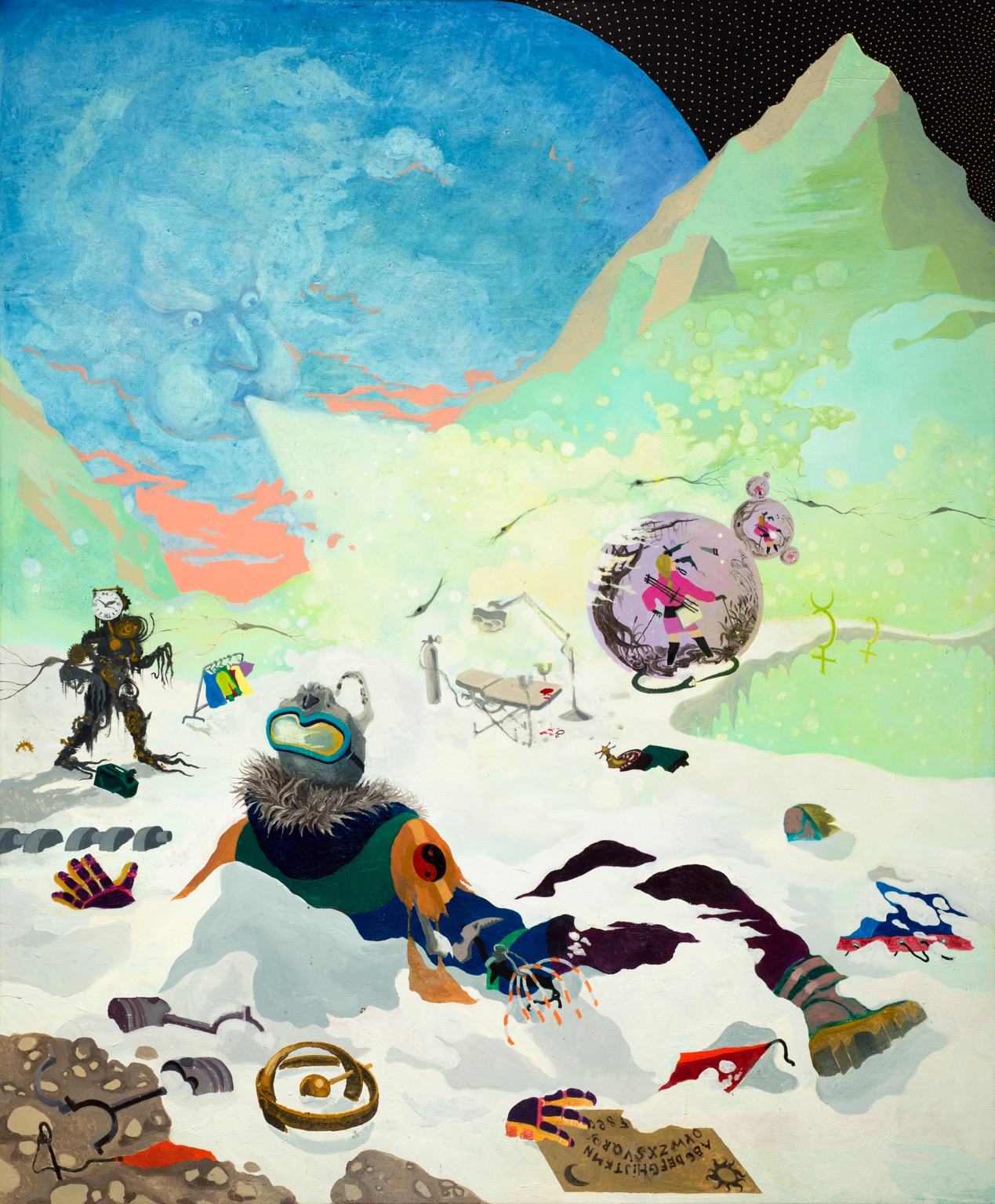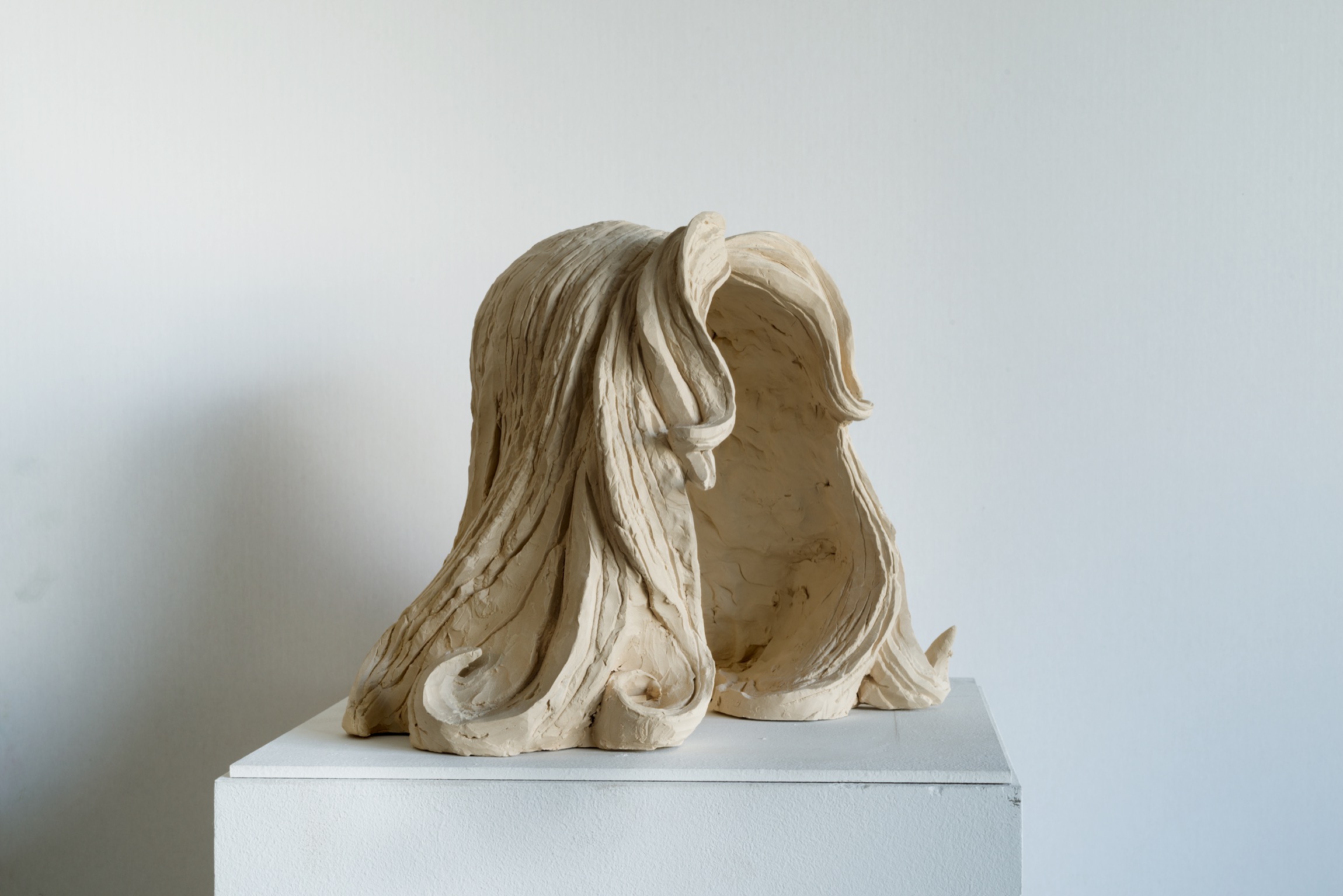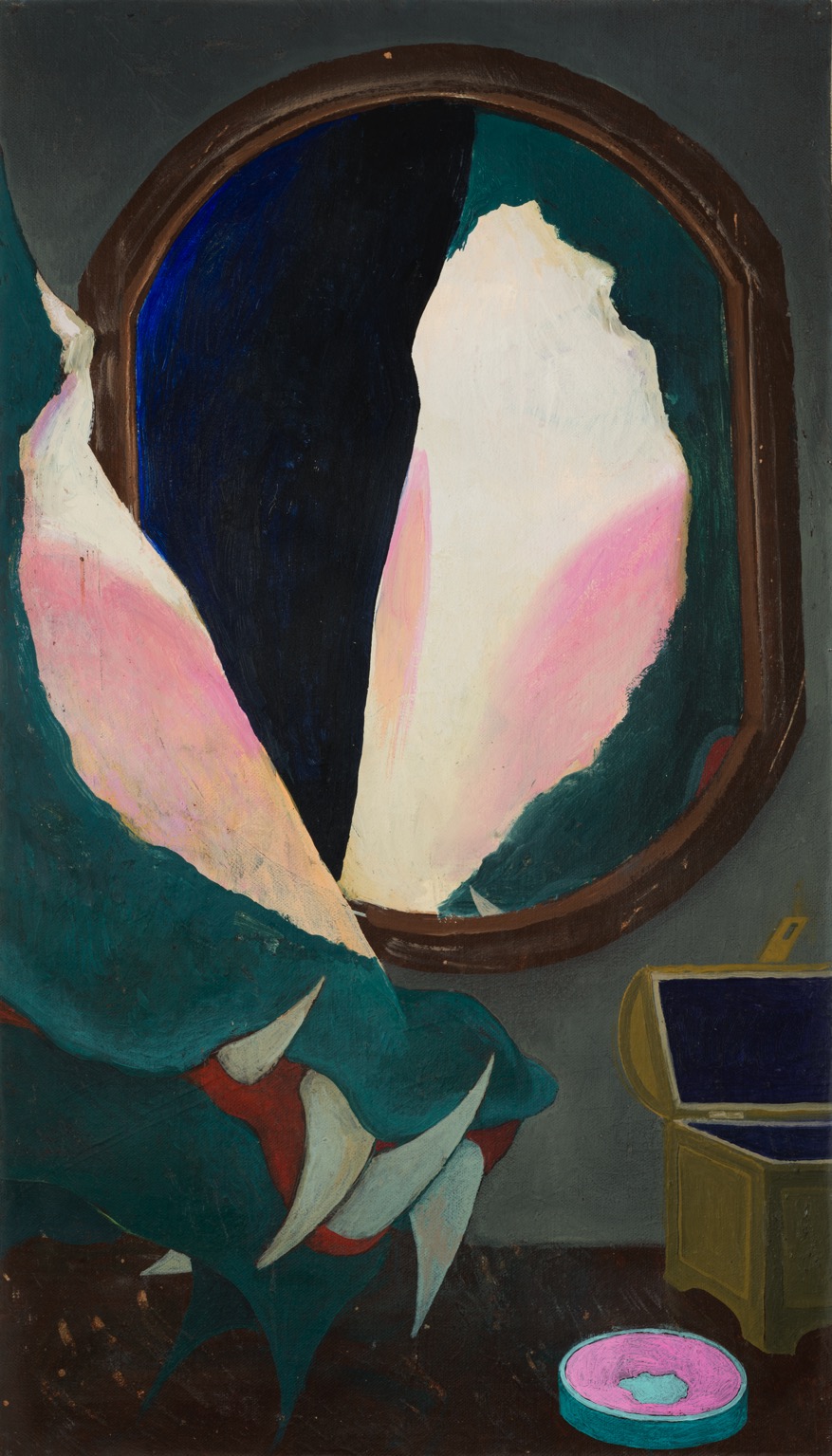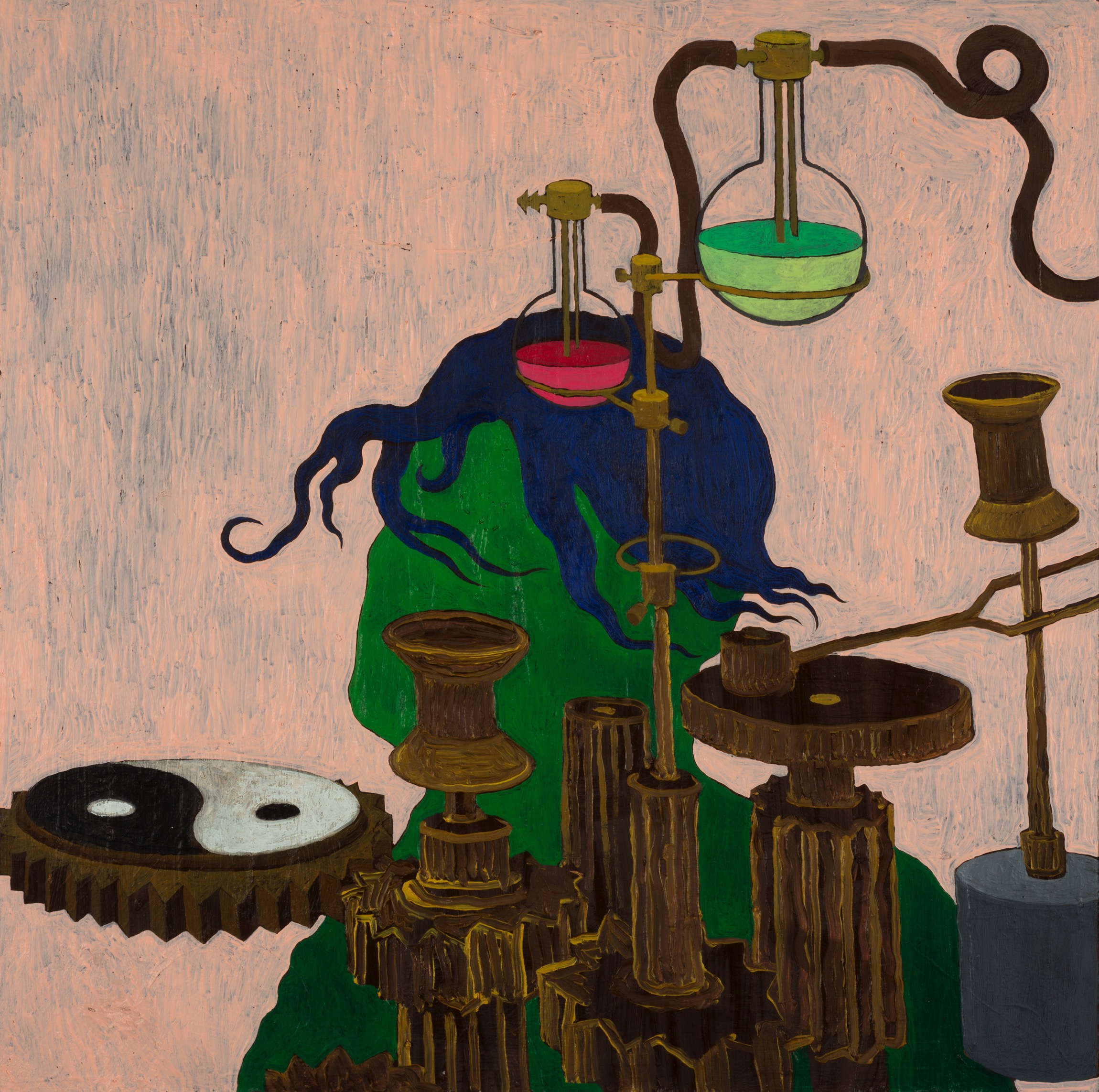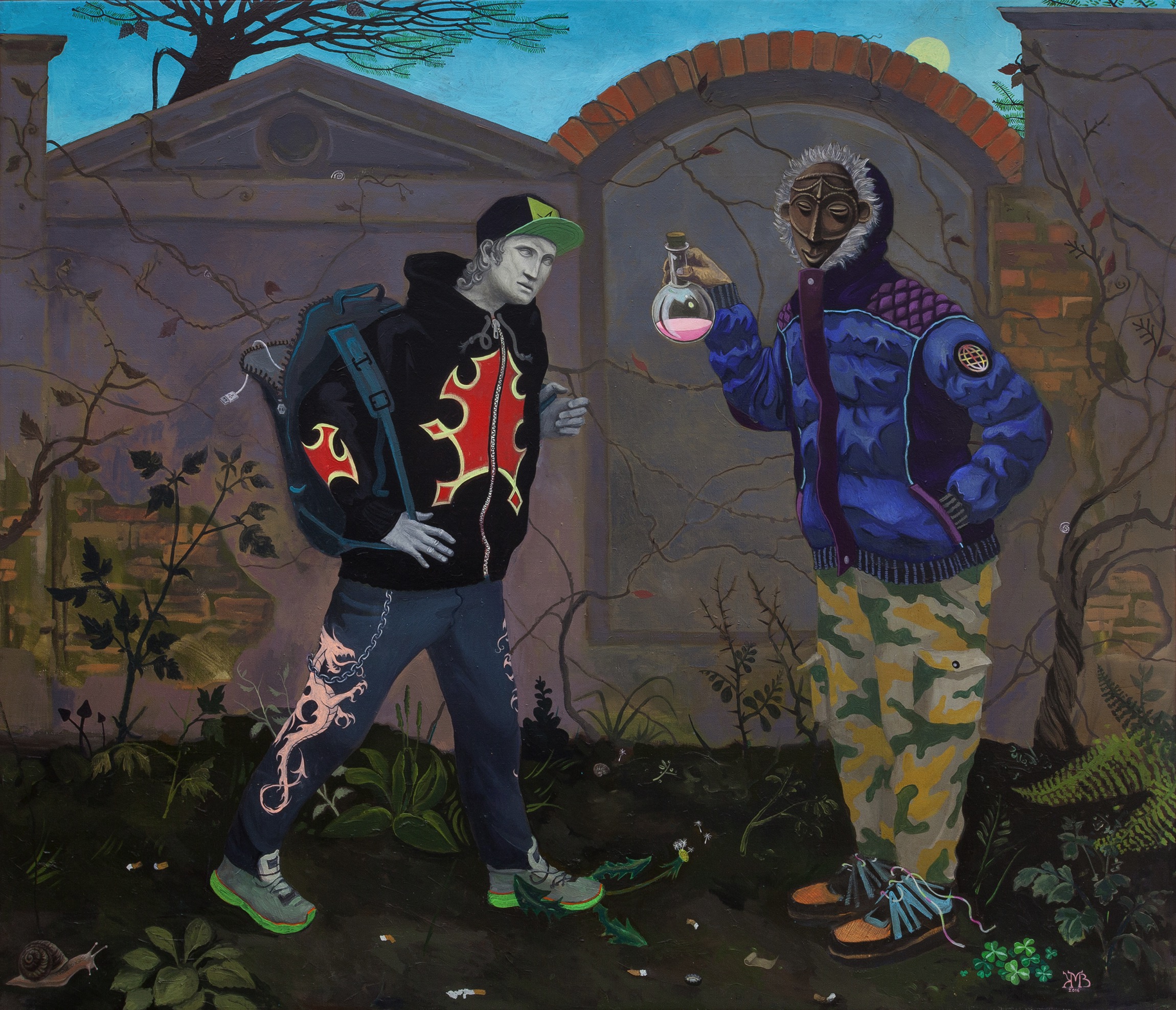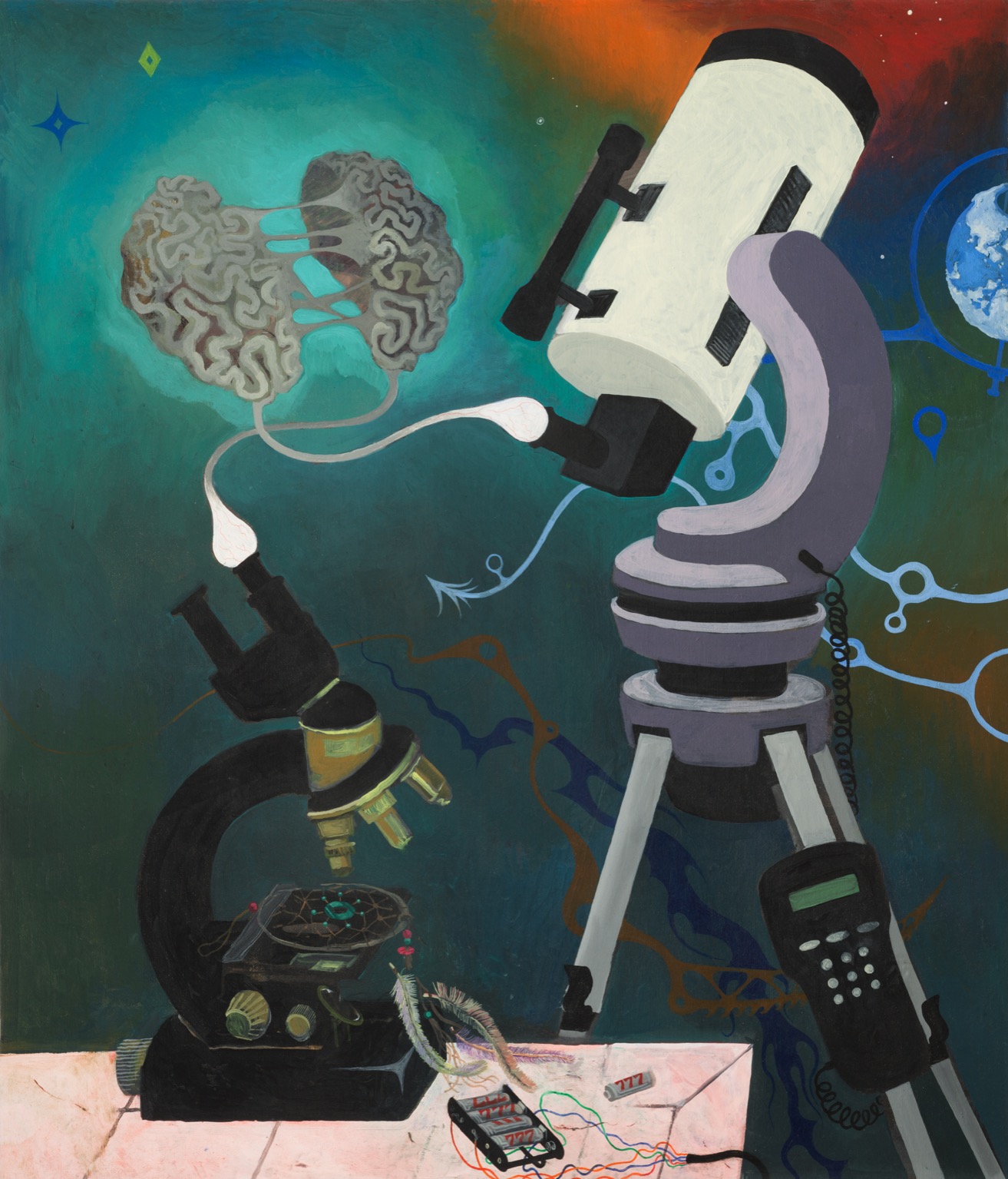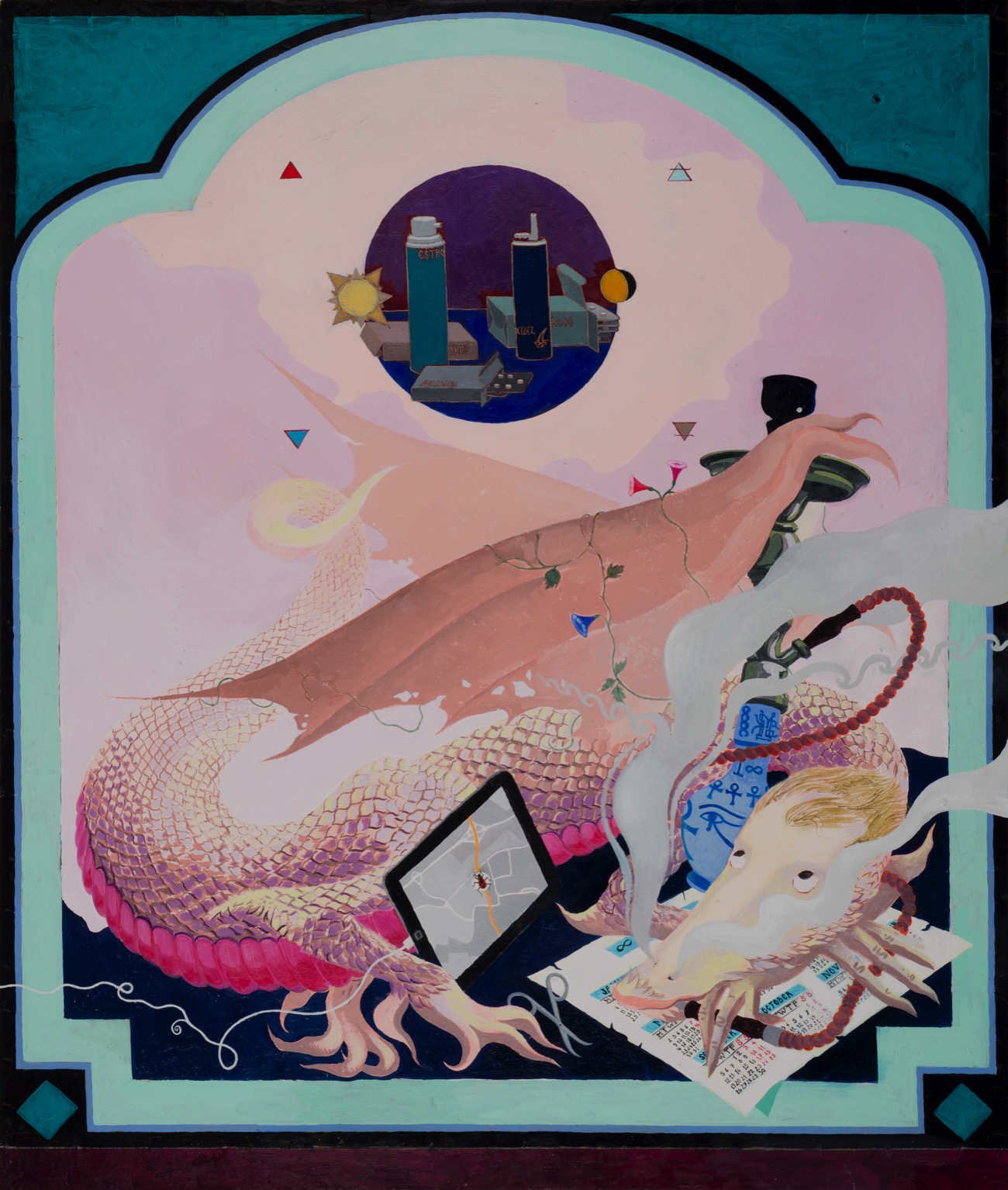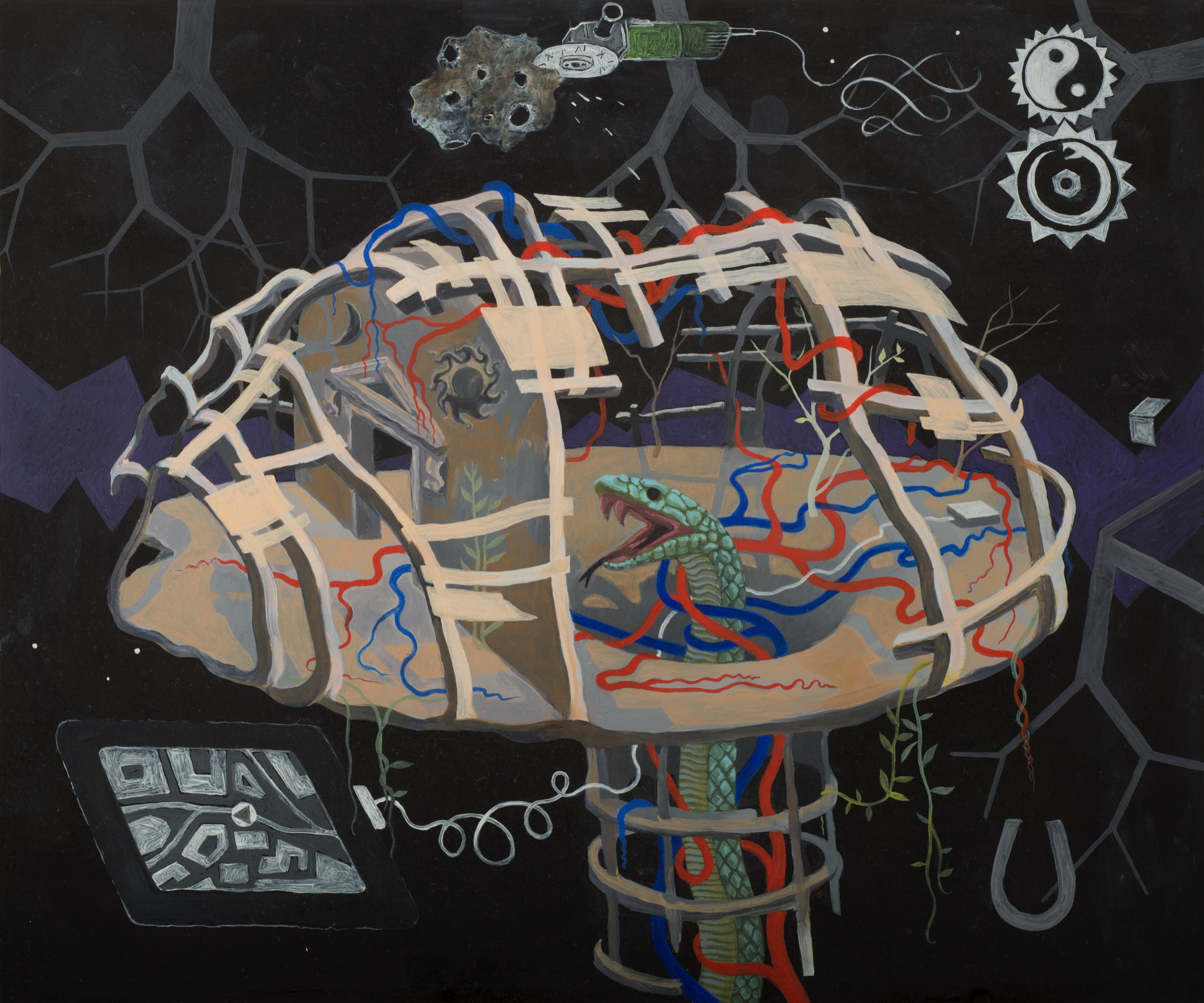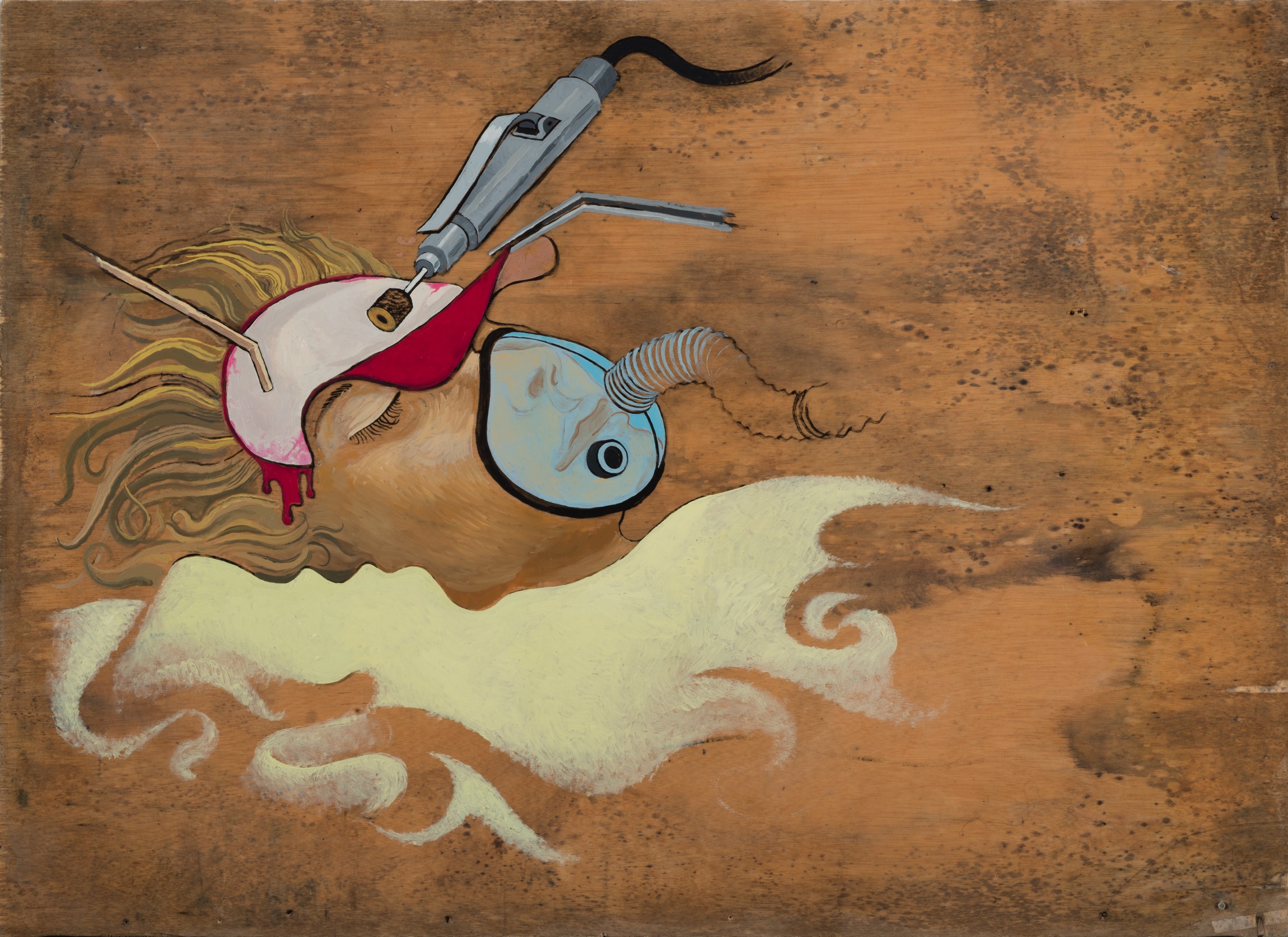 ---
About
Hortensia Mi Kafchin was born in the Romanian city of Galați in 1986. In 2010 she graduated from the University of Art and Design in Cluj, where she had specialised in pottery, glass and metal. Kafchin then worked as an assistant to the painter Adrian Ghenie, whose studio she later took over. Like Ghenie she belonged to a loose network of local artists who set up their studios in an abandoned factory, sharing traditional technical training and thorough knowledge of art history, both taught at the local art academy, as a common springboard for their art. About 20 years ago, these young artists captured the international art world as the Cluj Connection.
Kafchin stands out from this group in two respects. For one thing, she loves to experiment, and this has familiarised her with a broad range of artistic media from drawing, painting and sculpture to room installations blending all these techniques. For another, Kafchin has a distinctive canon of motifs which, like a kaleidoscope, reflect the collage-like visual environment of our media age. Hers is a fascinating iconography where science fiction blends with ancient myths. There are frequent encounters between humans and machines, sometimes as adversaries, but mostly as hybrids. Kafchin's figures, however, are not heroic symbols of technical perfection and superiority, but sensitive and melancholy mechanical beings whose status hovers between subject and object. Indeed, Kafchin often depicts the human body as a building site undergoing transformation. These bodies might be surrounded by scaffolding, placed in chemical laboratories or exposed to medication.

Continue reading
Hortensia Mi Kafchin, who grew up in a male body with the name Mihuț Boșcu Kafchin and is currently transitioning to her own gender, uses this canon to express personal and other constructions of gender and identity. The goal of becoming one's own body is repeatedly visualised, not only in the form of female and transsexual archetypes, but also by the symbol of yin and yang – the definitive reconciliation of internal and external opposites.
The young artist has long since found an international audience. After solo exhibitions in Cluj, Stockholm, Los Angeles, Paris and Budapest, the National Museum of Contemporary Art in Bucharest staged a major show of her work in autumn 2016. Kafchin has also taken part in many prestigious group exhibitions, including at the Austrian Museum of Applied Arts in Vienna, the Prague Biennale, La Triennale in Paris, the Espace Culturel Louis Vuitton, and the Centre Pompidou in Paris.
---
---
---
Chronology
---
Biography
1986
Born in Galați, Romania as Mihuț Boșcu Kafchin
2010
Graduated from University of Art and Design, Cluj, Romania
Lives and works in Berlin.
Selected Solo Exhibitions
2023
Hortensia Mi Kafchin: Years of Bad Hair, PPOW Gallery, New York, NY
2020
Hortensia Mi Kafchin: Death Is Not a Piece of Cake, Galerie Judin, Berlin
2019
Mi Kafchin: Chemtrails, Nicodim Gallery, Los Angeles, CA
2018
Mi Kafchin: Between Nights, Lyles & King, New York, NY
2017
Mi Kafchin: Self-Fulfilling Prophecy, Galerie Judin, Berlin
2016
Mihuț Boșcu Kafchin: Memories from the Depth of the Tethys Sea, The National Museum of Contemporary Art, Bucharest
Mihuț Boșcu Kafchin: Chronicles of My Fantastic Banality, BWA SOKÓŁ Gallery, Nowy Sącz
2015
Mihuț Boșcu Kafchin: Reverse Engineering of the Self, Trafó Gallery – House of Contemporary Arts, Budapest
Mihuț Boșcu Kafchin: Fraction of Lightnings, Plants, and Synapses, Sabot, Cluj
2014
Relative Kinematics of a Passing Moment, Gaudel de Stampa, Paris
Mihuț Boșcu Kafchin: If a Screw Falls in an Abandoned Robot Workshop and There's Nobody around to Hear, Does It Make a Sound?, Nicodim Gallery, Los Angeles, CA
2013
Mihuț Boșcu Kafchin: Immortals Have Fun, Crystal, Stockholm
II Clouds, Gaudel de Stampa, Paris
2011
Mihuț Boșcu Kafchin: A Prologue to Vanity and Self-Adoration, Sabot, Cluj
2010
Mihuț Boșcu Kafchin: How it's Made, Laika Art Space, Cluj
2009
Mihuț Boșcu Kafchin: Long Gone Future, Museum of Art, Cluj
Selected Group Exhibitions
2023
SIRANI. Thirteen Contemporary Painters and an Arresting Baroque Masterpiece: Ellen Akimoto, Alexander Basil, Norbert Bisky, Kyle Dunn, Adrian Ghenie, Christoph Hänsli, Hortensia Mi Kafchin, Brandon Lipchik, Lydia Pettit, Cornelia Schleime, Kiriakos Tompolidis, Hugo Wilson, Uwe Wittwer, Galerie Judin, Berlin
Looking Anew and Beyond: Contemporary Romanian Art from the Collection, Taubman Museum of Art, Roanoke, VA
My Rhino Is Not a Myth: Art Encounters Biennial 2023, Timisoara
Les Enchantées, HAUNT, Berlin
2022
Machines of Desire, Simon Lee Gallery, London
I'm Not Your Mother, PPOW Gallery, New York, NY
2019
The Influencing Machine, Nicodim Gallery, Bucharest
In-visible Realness: Berlin 50 Jahre nach Stonewall, PS120, Berlin
Listen to Us: Artistic Intelligence. Works From Art Collection Deutsche Telekom, City Art Gallery, Sklad
Ex-East. Past and recent stories of the Romanian avant-garde, Espace Niemeyer, Paris
Mircea Kantor: Chasseur d'Images, Musée de la Chasse et de la Nature, Paris
2018–19
Centre Pompidou's Romanian Season, Atelier Brancusi – Centre Georges Pompidou, Paris
2018
Peles Empire: Romanian* Art Now, Suprainfinity Gallery, Bucharest
Seeing Eye Awareness, Museum and Galleries of Ljubljana
Bio Perversity, Nicodim Gallery, Los Angeles, CA
The Unpleasant Show, Jecza Gallery, Timisoara
Formal Encounters, Nicodim Gallery, Bucharest
2017
Pólprawda / Half-Truth: Works by Central and Eastern European Contemporary Artists from Art Collection Telekom, Xawery Dunikowski Museum of Sculpture at the Królikarnia Palace, Warsaw
The Basilisk, Nicodim Gallery, Los Angeles, CA
2015
Art Encounters: Appearance and Essence, Timco Halls, Timișoara
La Chose, Centre d'Art Contemporain – La Synagogue de Delme, Delme
Mapping Bucharest. Art, Memory, and Revolution 1916–2016, MAK – Österreichisches Museum für angewandte Kunst / Gegenwartskunst, Vienna
Cluj Connection 3D, Galerie Judin, Berlin
2014
Transformation: Romanian Sculpture 25 Years After the Revolution, Museum Beelden aan Zee, Den Haag
Fragile Sense of Hope – Art Collection Telekom, me Collectors Room Berlin / Stiftung Olbricht, Berlin
A Few Grams of Red, Yellow, Blue: New Romanian Art, The Centre for Contemporary Art, Ujazdowski Castle, Warsaw
Report on the Construction of a Spaceship Module. Museum as Hub, New Museum, New York, NY
2013
Scènes roumaines, Espace Culturel Louis Vuitton, Paris
Yellowing of the Lunar Consciousness, Palazzo Bonvicini, Venice
Prague Biennale 6: Expanded Painting, Prague
It's Compulsory that we Have a Title, Salonul de Proiecte, Bucharest
2012
The Biennial of Young Artists, Bucharest
Original/Copy III, Peles Empire, Cluj
La Triennale: Intense Proximity, Palais de Tokyo, Paris
European Travellers – Art from Cluj Today, Műcsarnok – Kunsthalle Budapest
Original/Copy II, Peles Empire, London
2011
Walter Koschatzky Kunst-Preis 2011, MuMoK – Museum Moderner Kunst, Vienna
BERLIN SHOW #3: Glimpse, Galeria Plan B, Berlin
2009
International Student's Biennial of Small Sculpture Form, Poznań
Selected Exhibition Catalogues
2023
My Rhino Is Not a Myth: art sience fictions. Edited by the Art Encounters Foundation. Exh. cat. Art Encounters Biennial of Contemporary Art, Timisoara
2018
Mi Kafchin: Self-Fulfilling Prophecy. Edited by Juerg Judin and Pay Matthis Karstens. Exh. cat. Galerie Judin, Berlin
2015
Mapping Bucharest: Art, Memory, and Revolution 1916–2016. Edited by Christoph Thun-Hohenstein. Exh. cat. MAK – Österreichisches Museum für angewandte Kunst / Gegenwartskunst, Vienna
2014
Transformation: Romanian Sculpture 25 Years After the Revolution. Edited by Dick van Broekhuizen. Exh. cat. Museum Beelden aan Zee, Den Haag. Bucharest: Vellant
A Few Grams of Red, Yellow, Blue: New Art from Romania. Edited by Ewa Gorzadek. Exh. cat. The Centre for Contemporary Art Ujazdowski Castle, Warsaw
2013
Scènes Roumaines. Edited by Daria Ghiu. Exh. cat. Espace Culturel Louis Vuitton, Paris
Art Cities of the Future: 21st-Century Avant-Gardes. Edited by Kaelen Wilson-Goldie. London: Phaidon Press
2012
European Travellers: Art from Cluj Today. Edited by Judit Angel and Gábor Gulyás. Exh. cat. Műcsarnok – Kunsthalle Budapest, Budapest 
La Triennale: Intense Proximity: An Anthology of the Near and the Fear. Edited by Okwui Enwezor with Mélanie Bouteloup, Abdellah Karroum, Èmilie Renard and Claire Staebler. Exh. cat. La Triennale, Palais de Tokyo – centre national des arts plastiques, Paris. Paris: Artlys
Selected Collections
Art Collection Telekom
Centre national d'art et de culture Georges-Pompidou, Paris
evn collection, Maria Enzersdorf