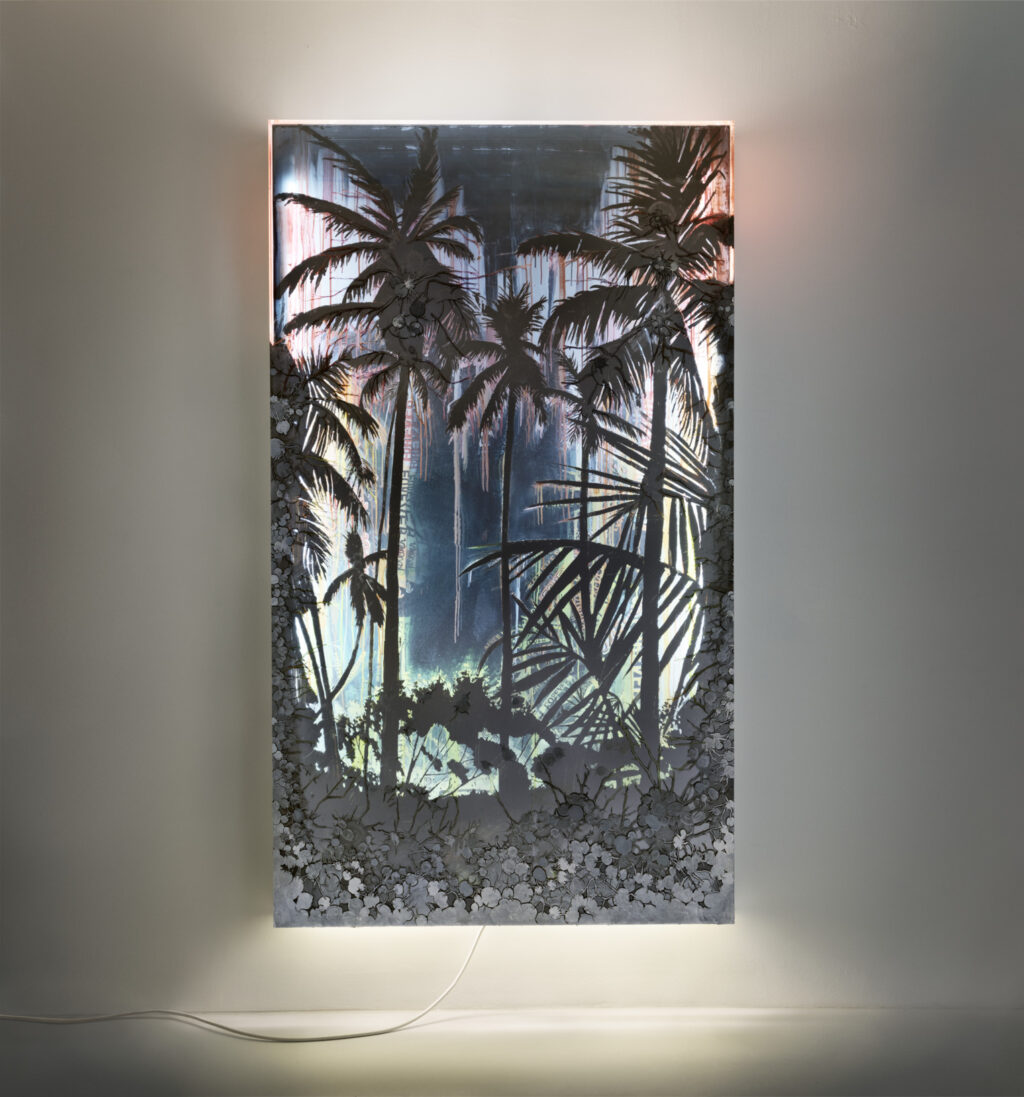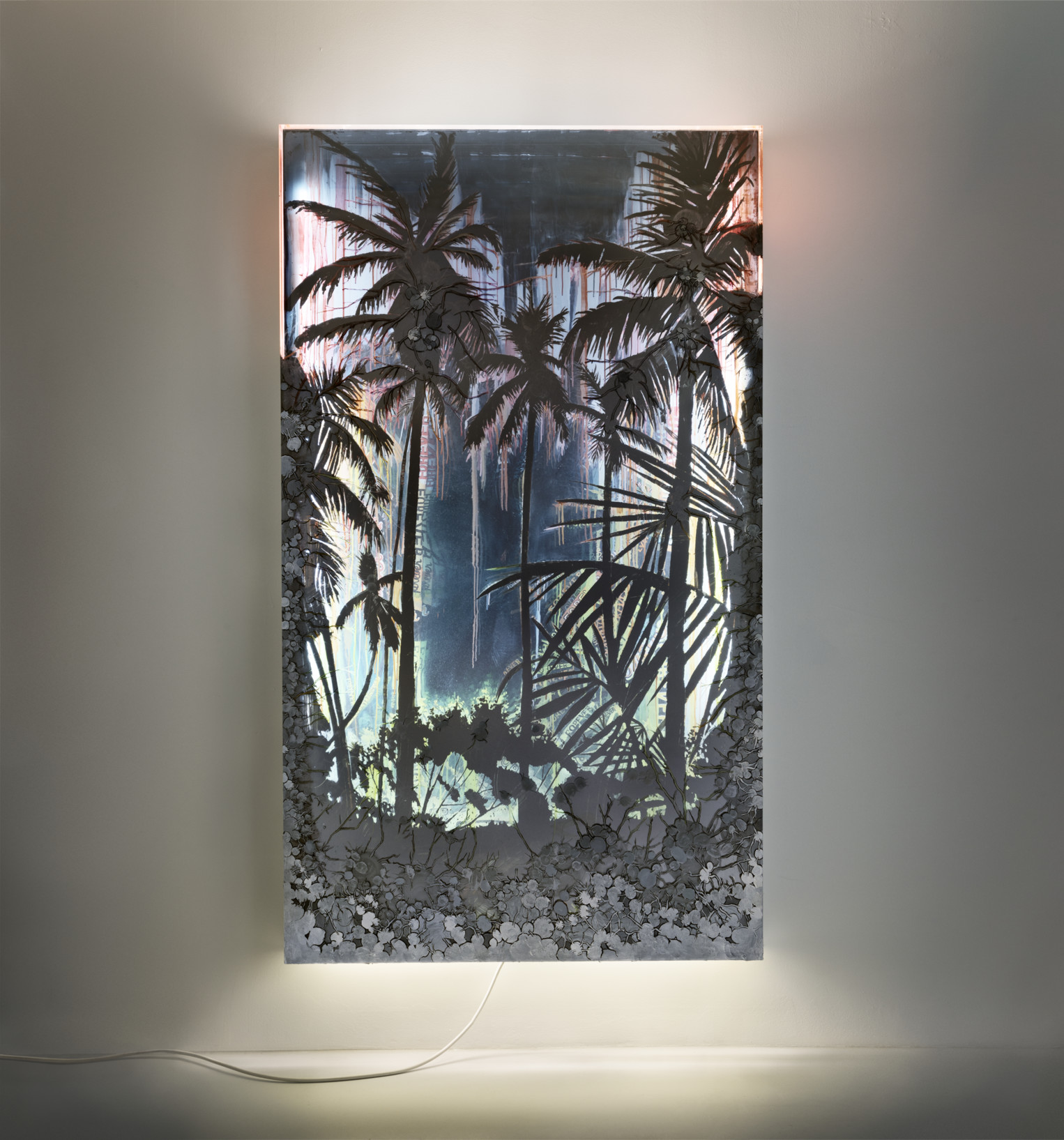 Fluids
2022
Oil on acrylic glass box, spy mirror, LED tube lights, cable and controller box
212 × 122 × 12.5 cm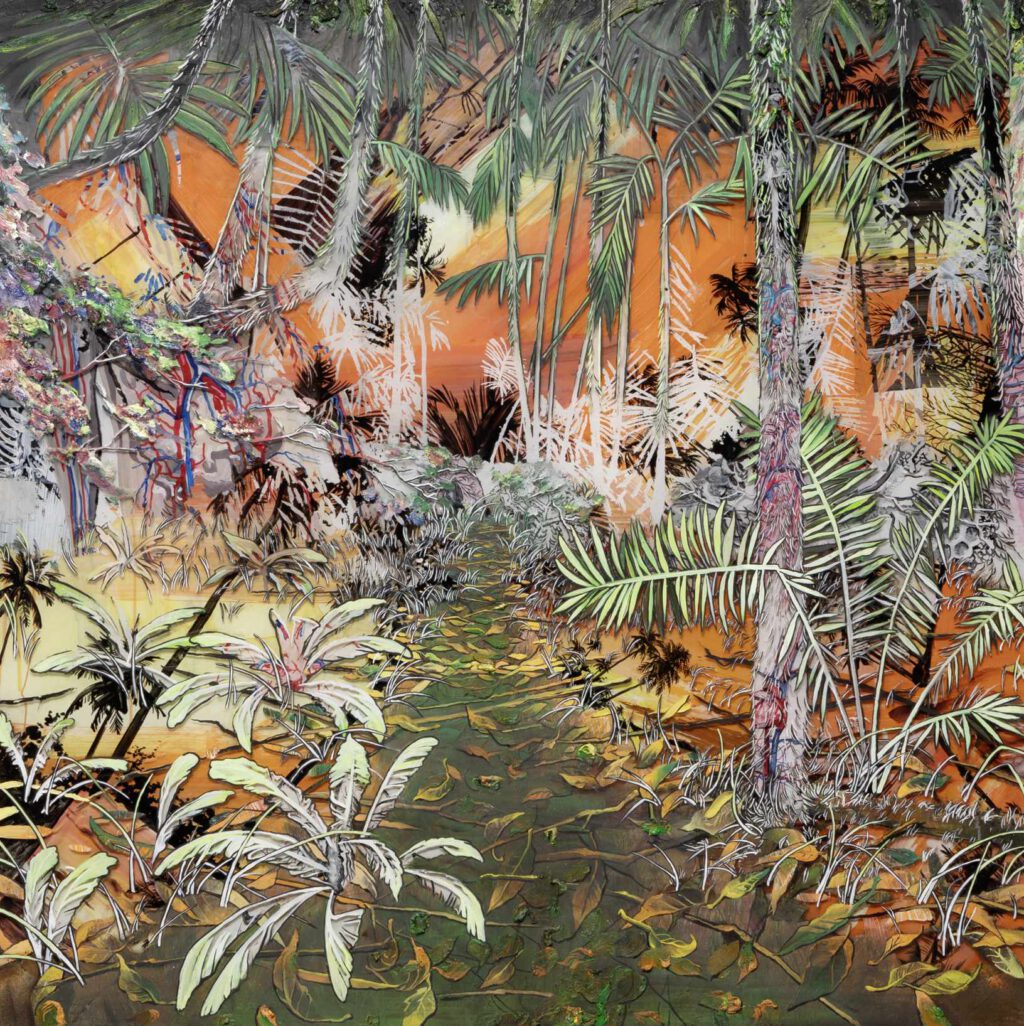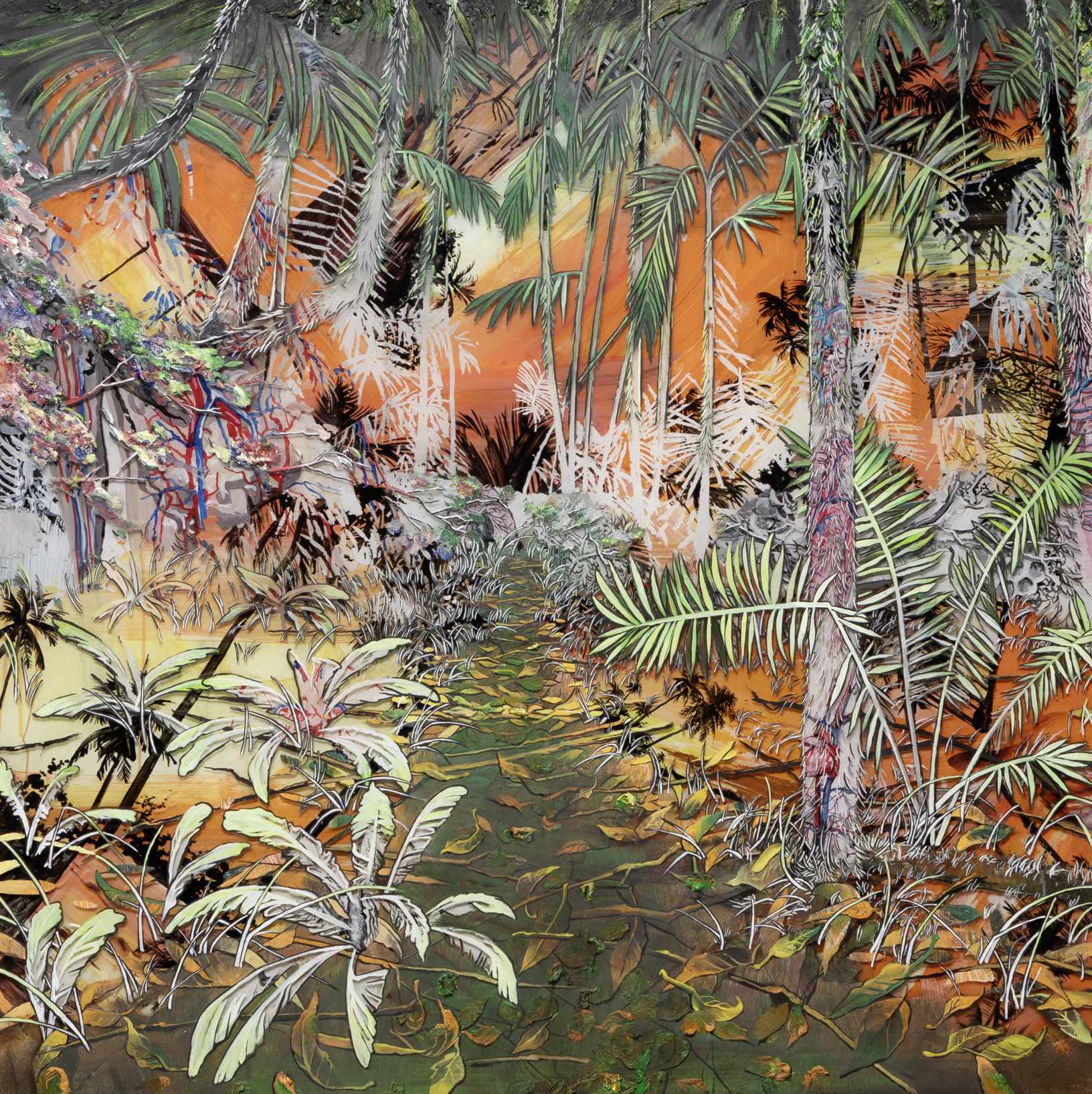 Ersatzwelt
2022
Oil and pencil on acrylic glass
120 × 120 cm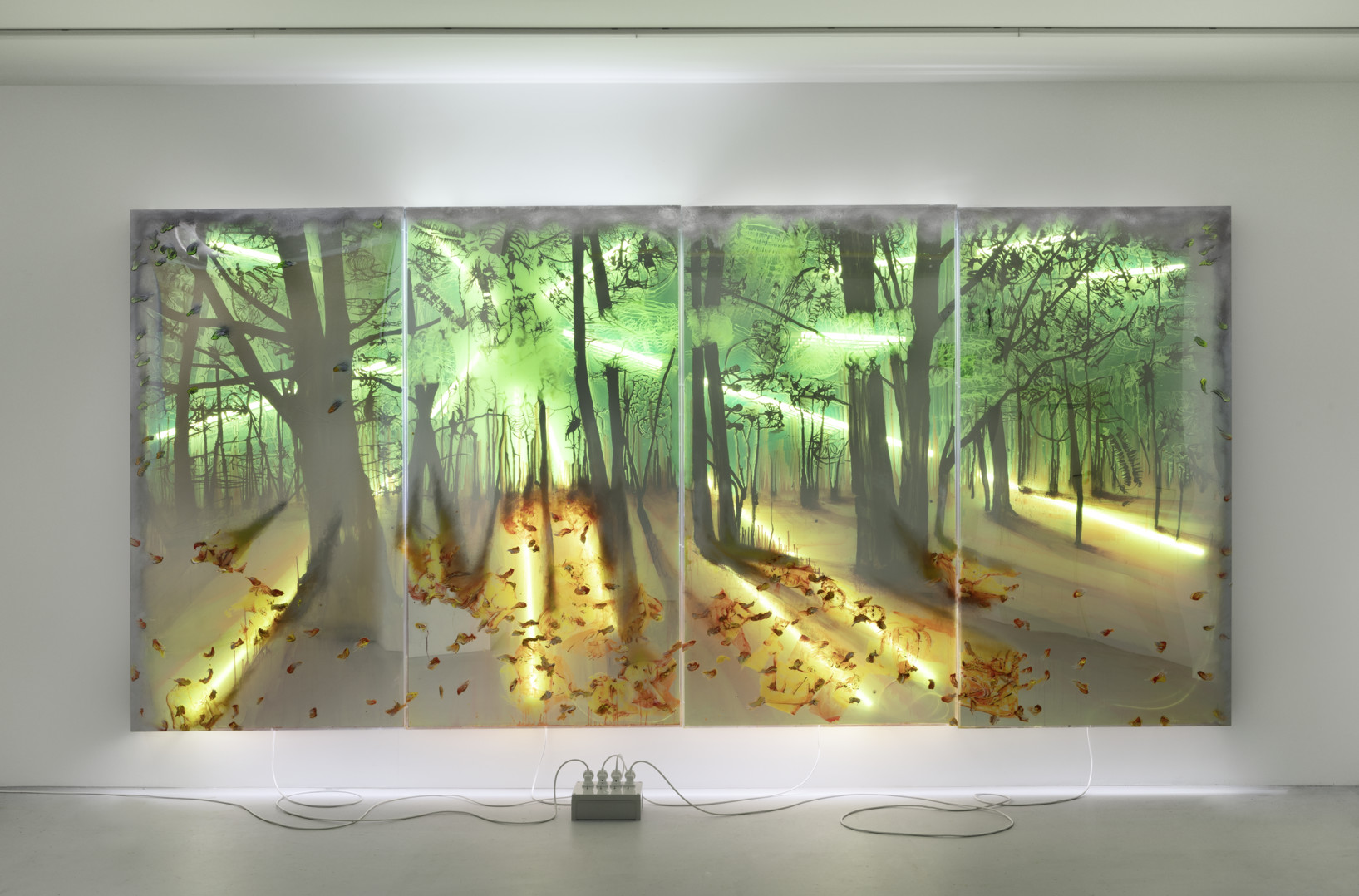 Wiederkehr
2023
Acrylic and oil on acrylic glass box, spy mirror, LED-tubes, cables and controller box
232 × 488 × 13.5 cm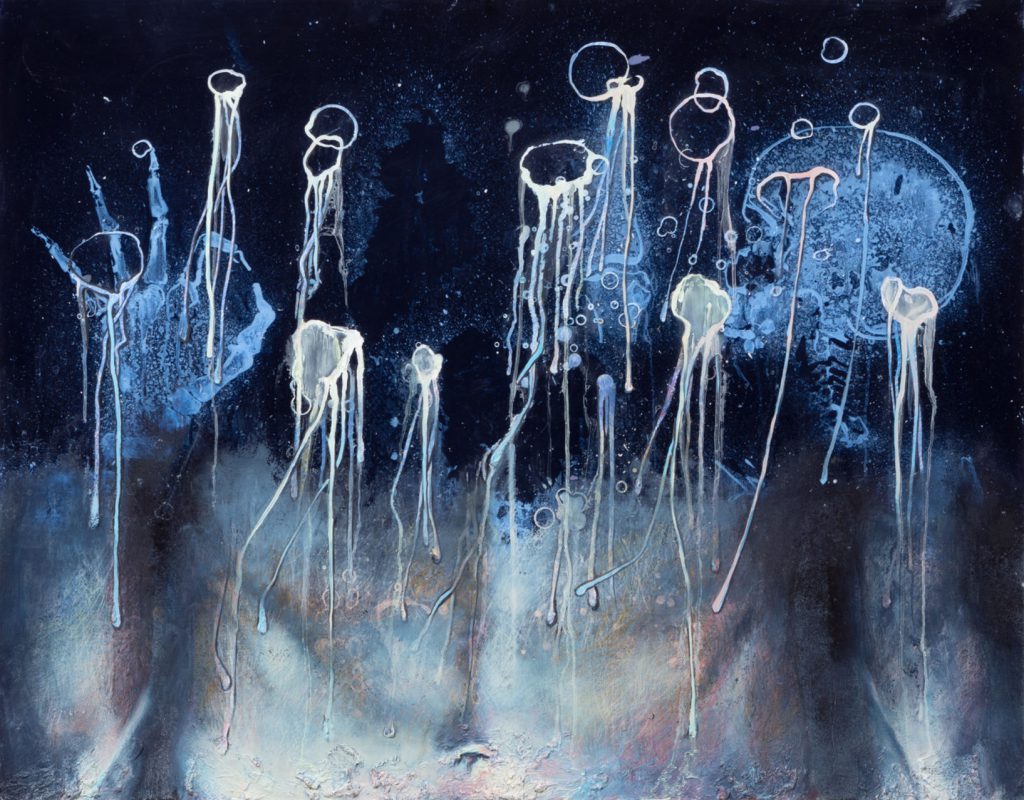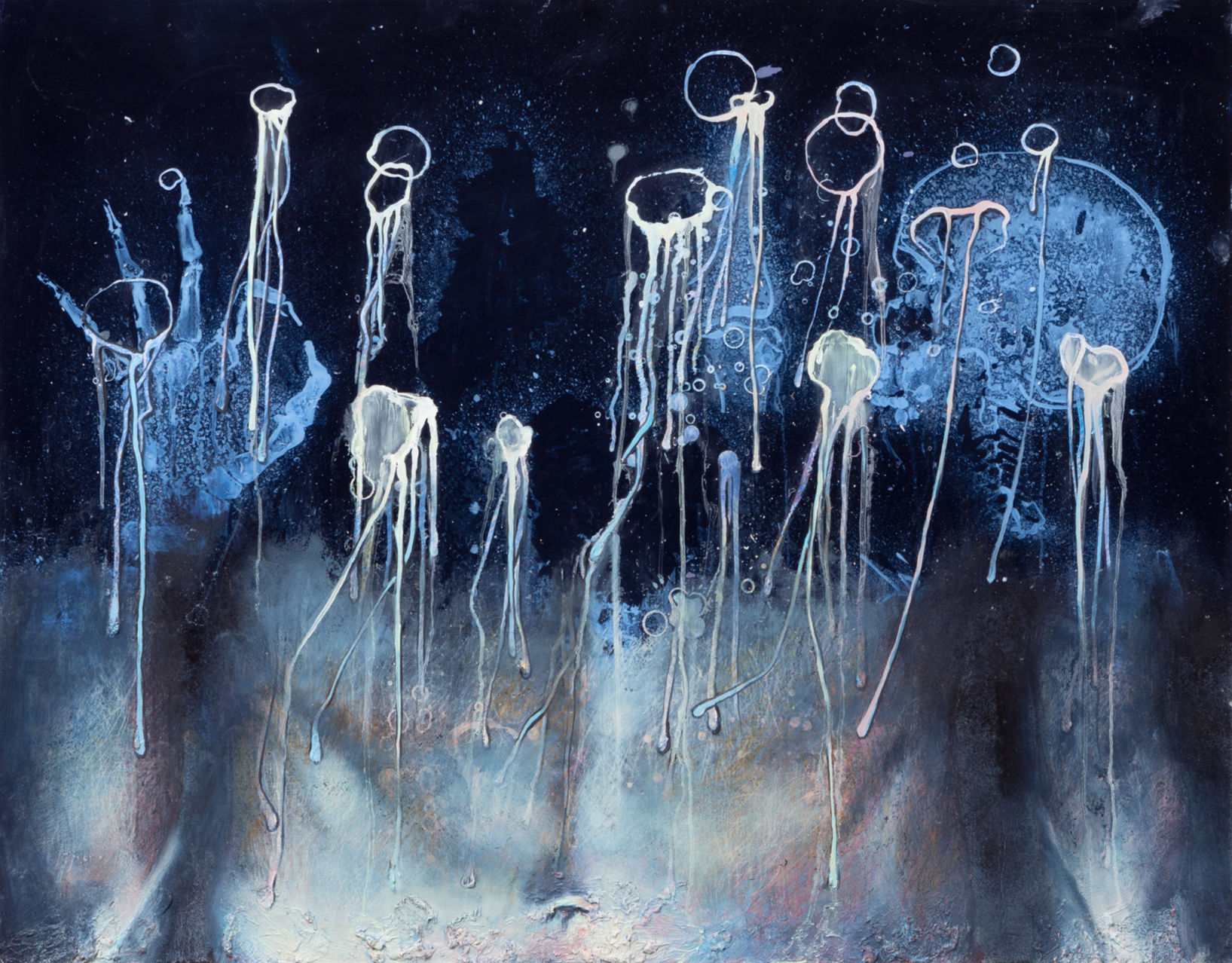 Living
2021
Acrylic, oil, and pencils on acrylic glass
78.7 × 100 cm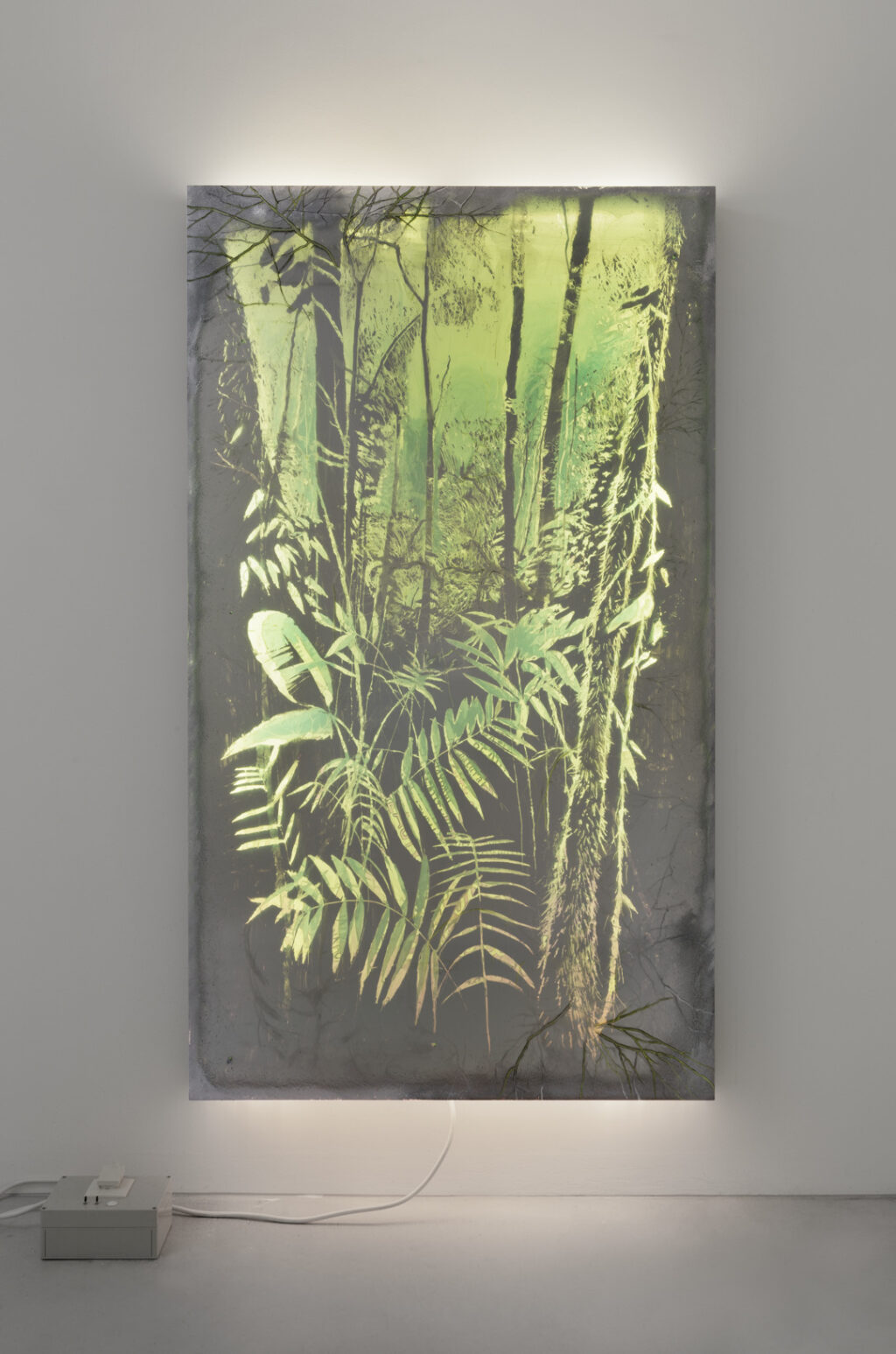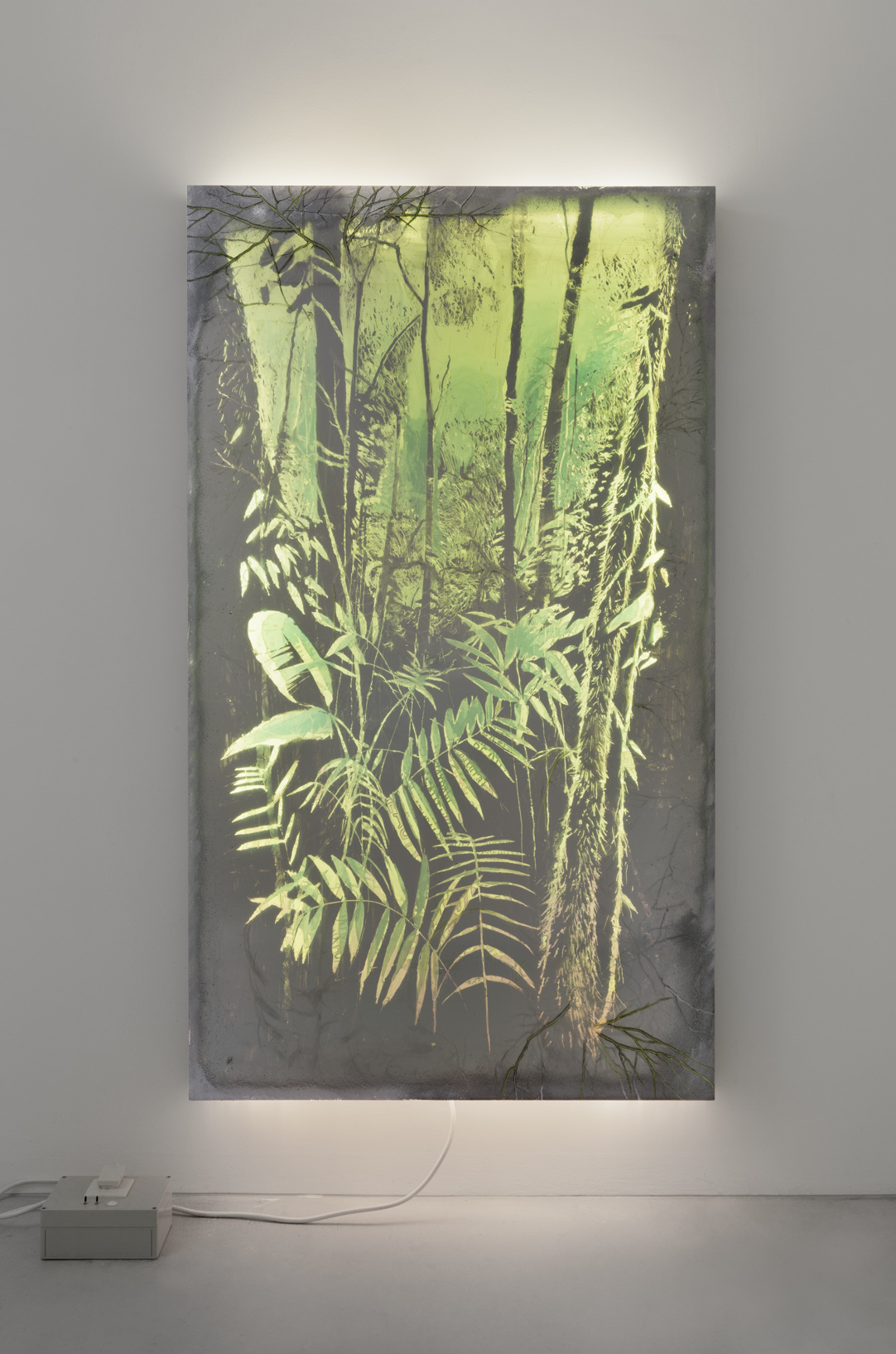 Bypass
2023
Oil and acrylic on acrylic glass, spy mirror, LED-tubes, cables and controller box
212 × 122 × 12.5 cm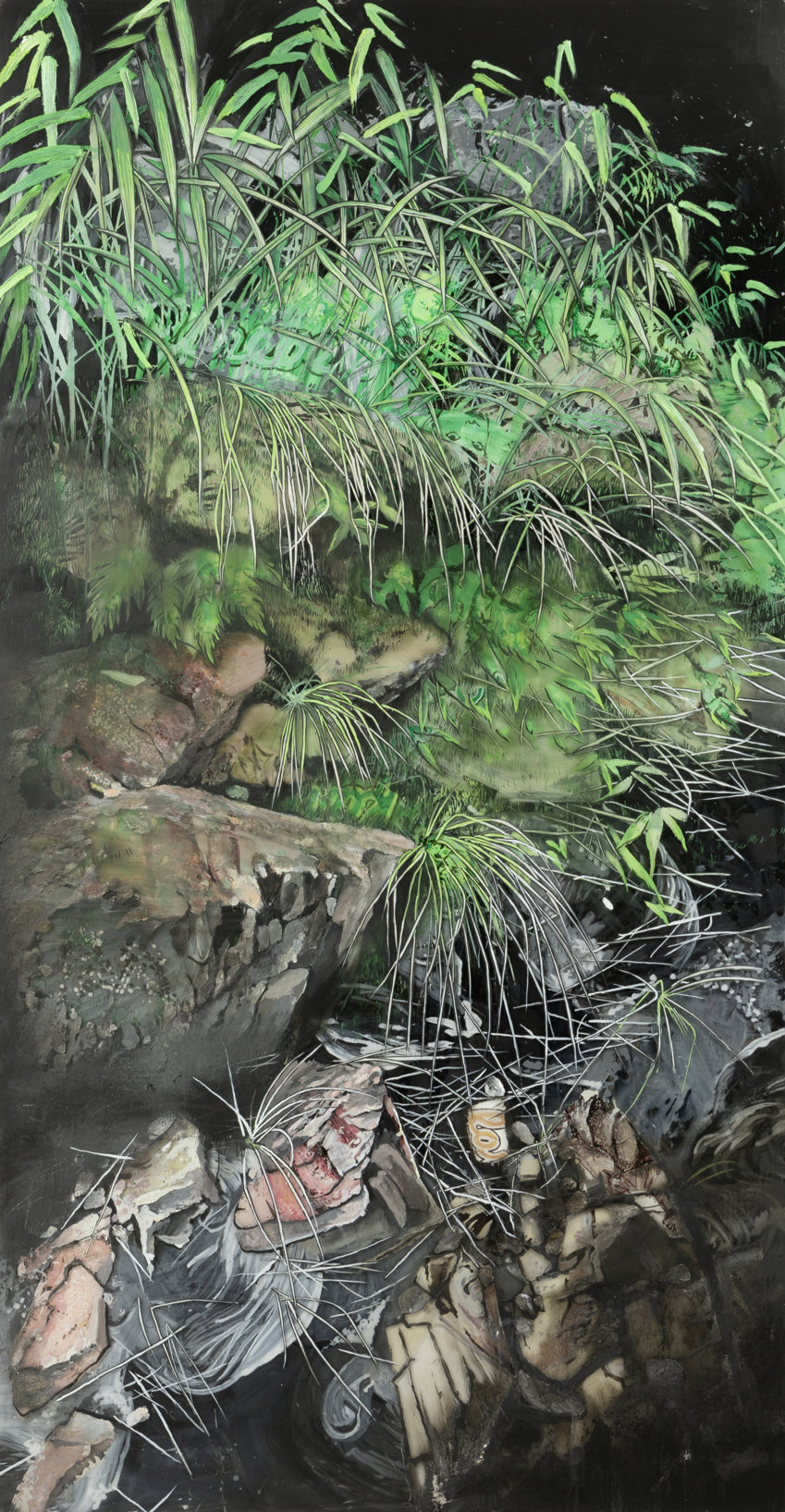 Replacement
2023
Acrylic and oil on acrylic glass
230 × 120 cm
Show more works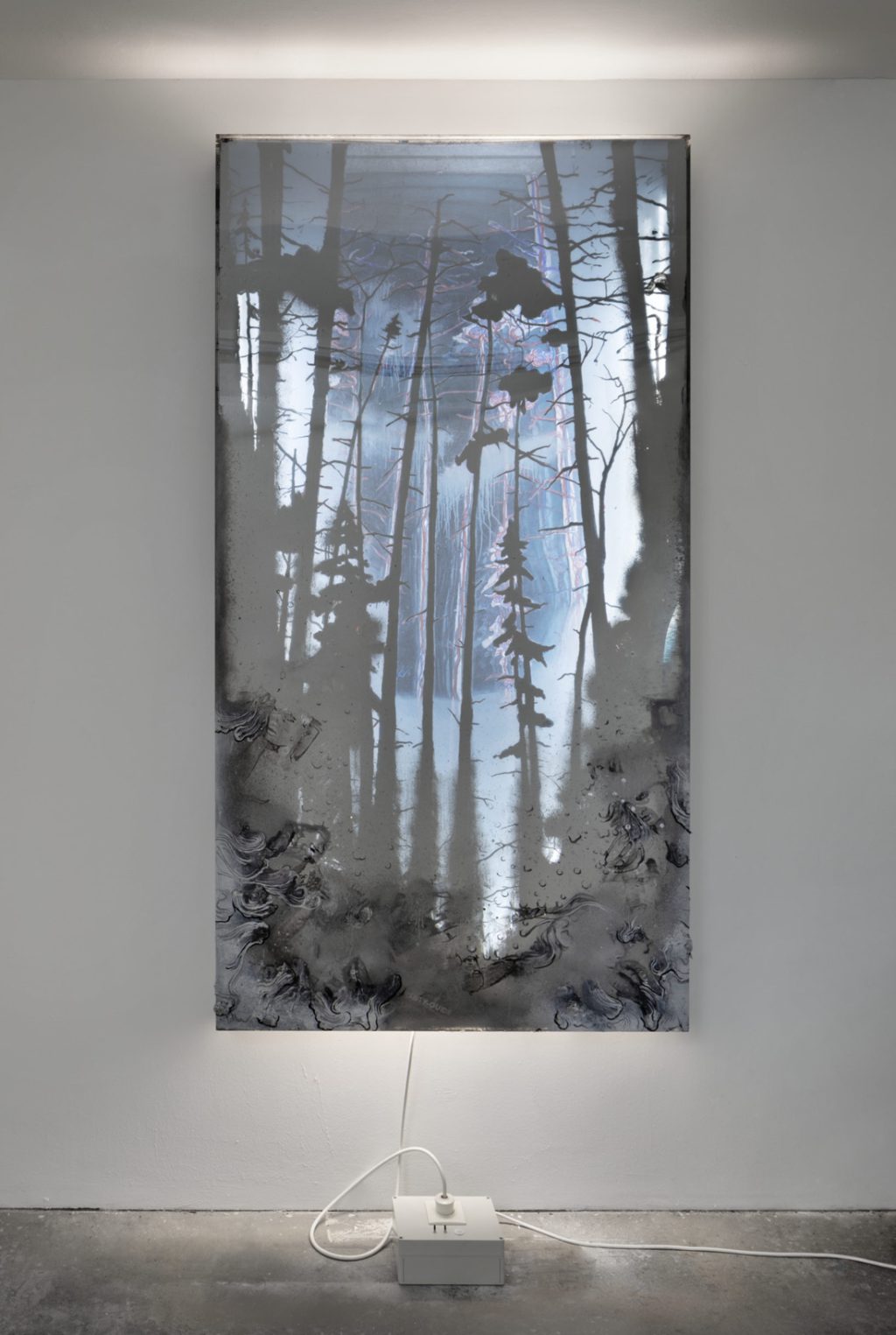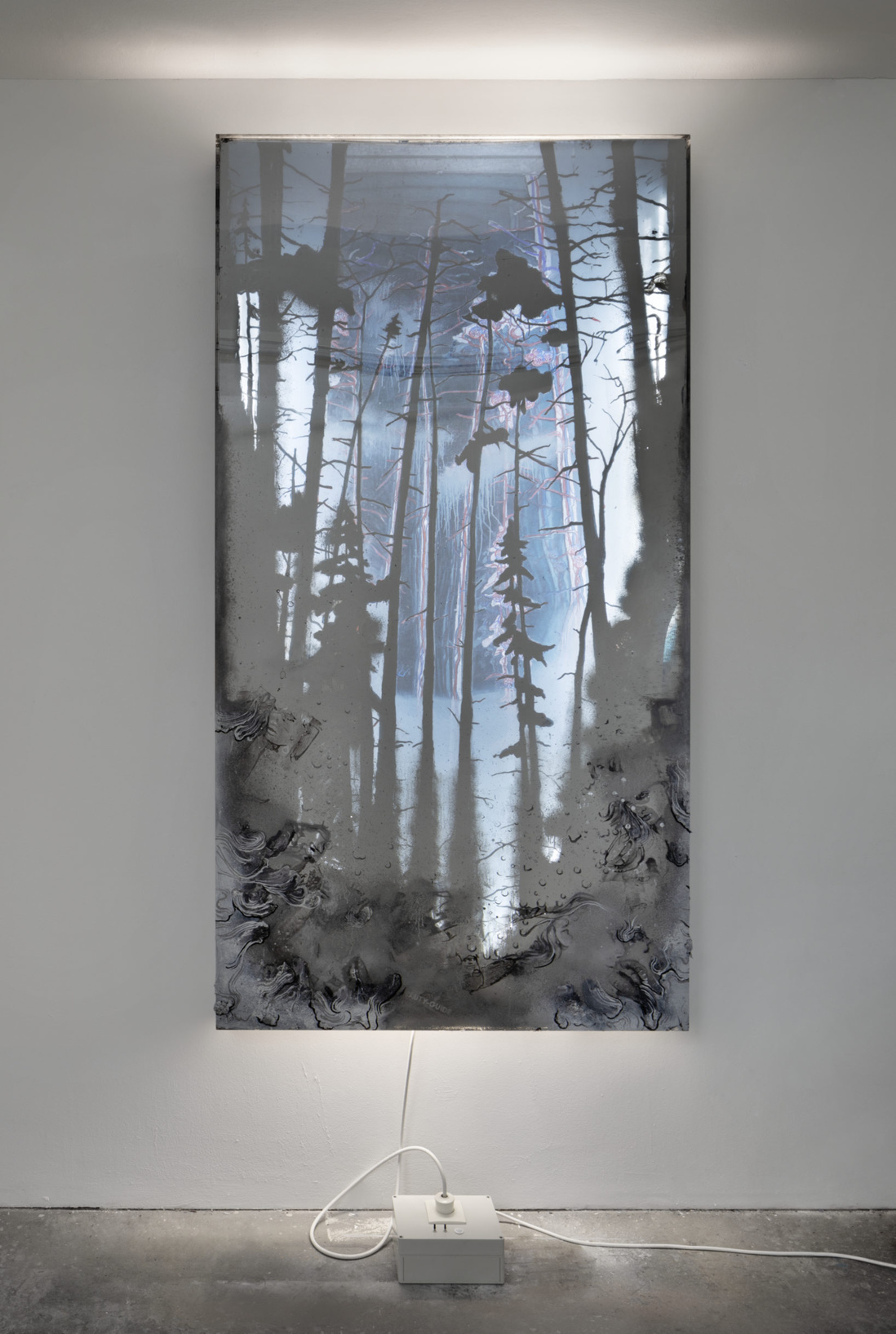 Austausch
2021
Acrylic and oil on acrylic glass, spy mirror, cables and controller box
232 × 122 × 10 cm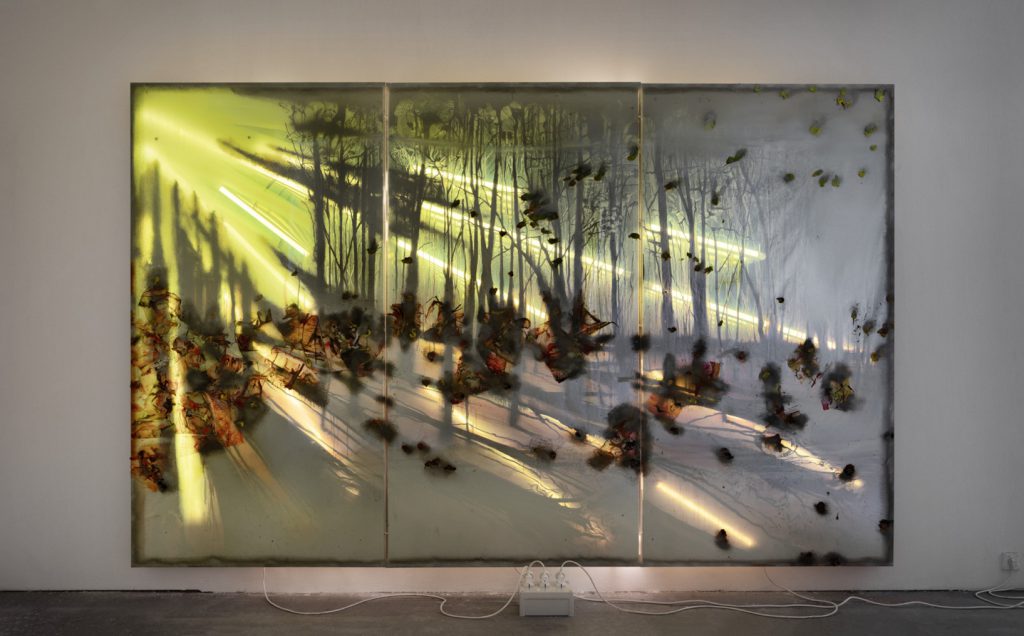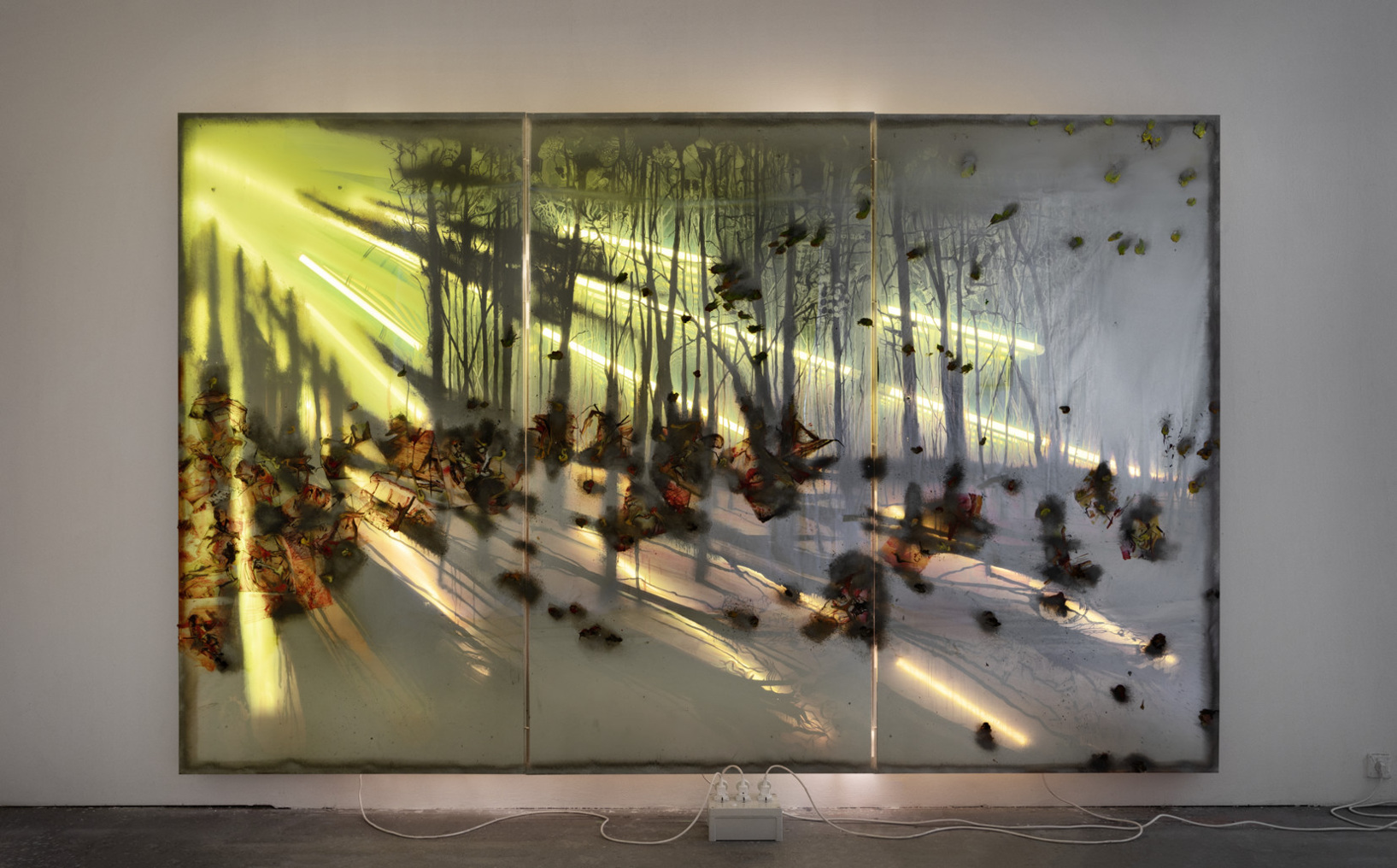 Erlösung
2022
Acrylic and oil on acrylic glass, spy mirror, LED-tubes, cables and controller box
232 × 366 × 12 cm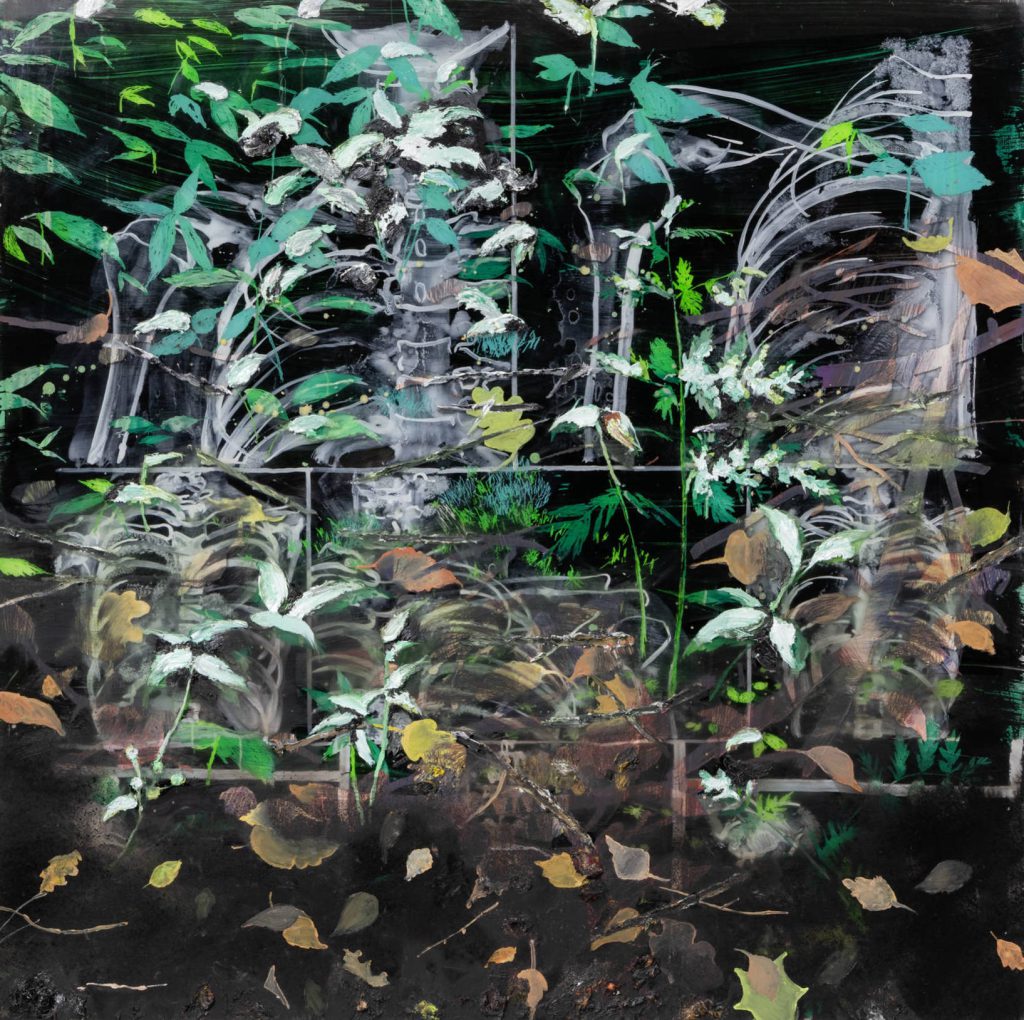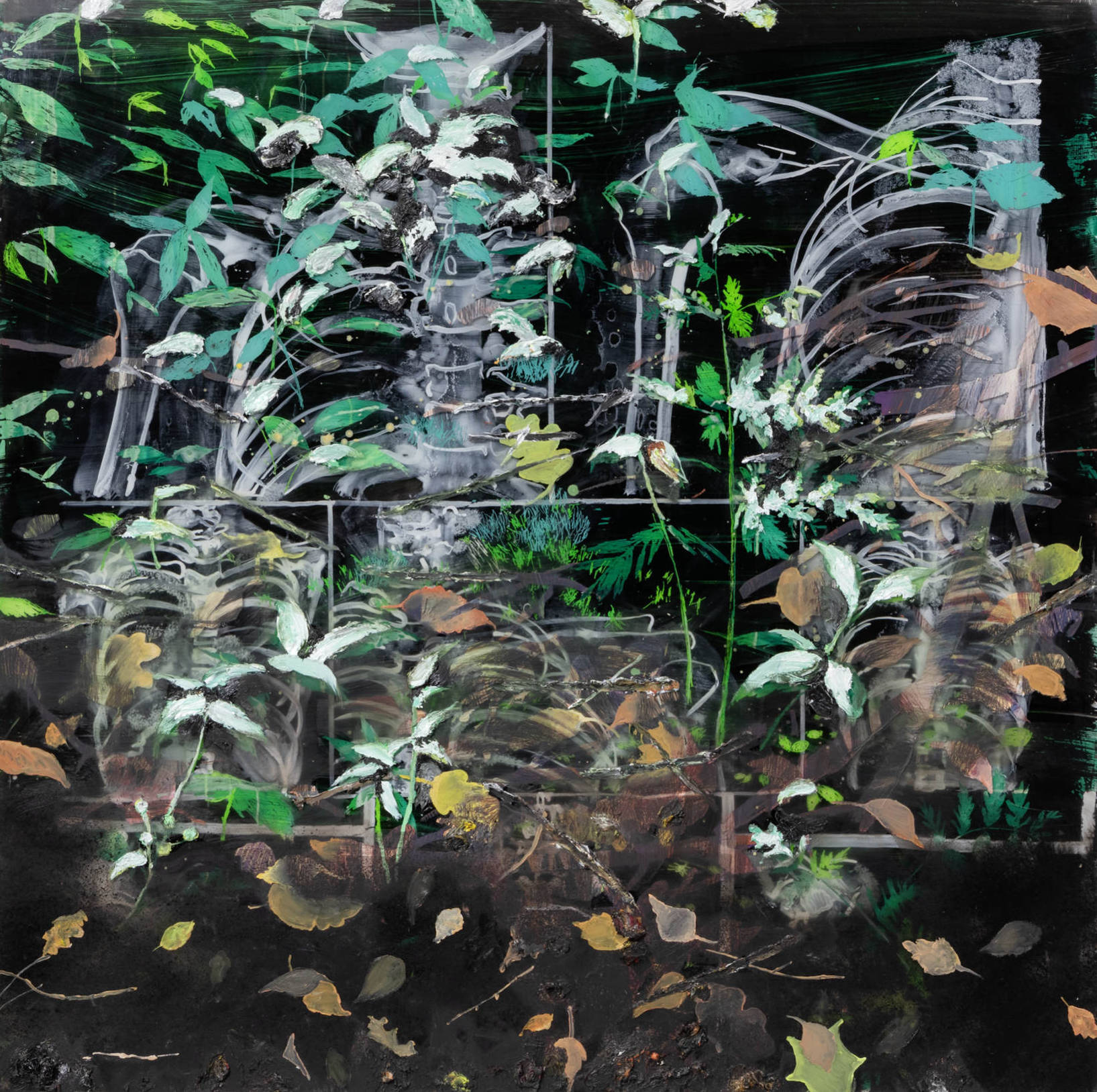 Waldboden
2021
Acrylic, oil, and pencils on acrylic glass
120 × 120 cm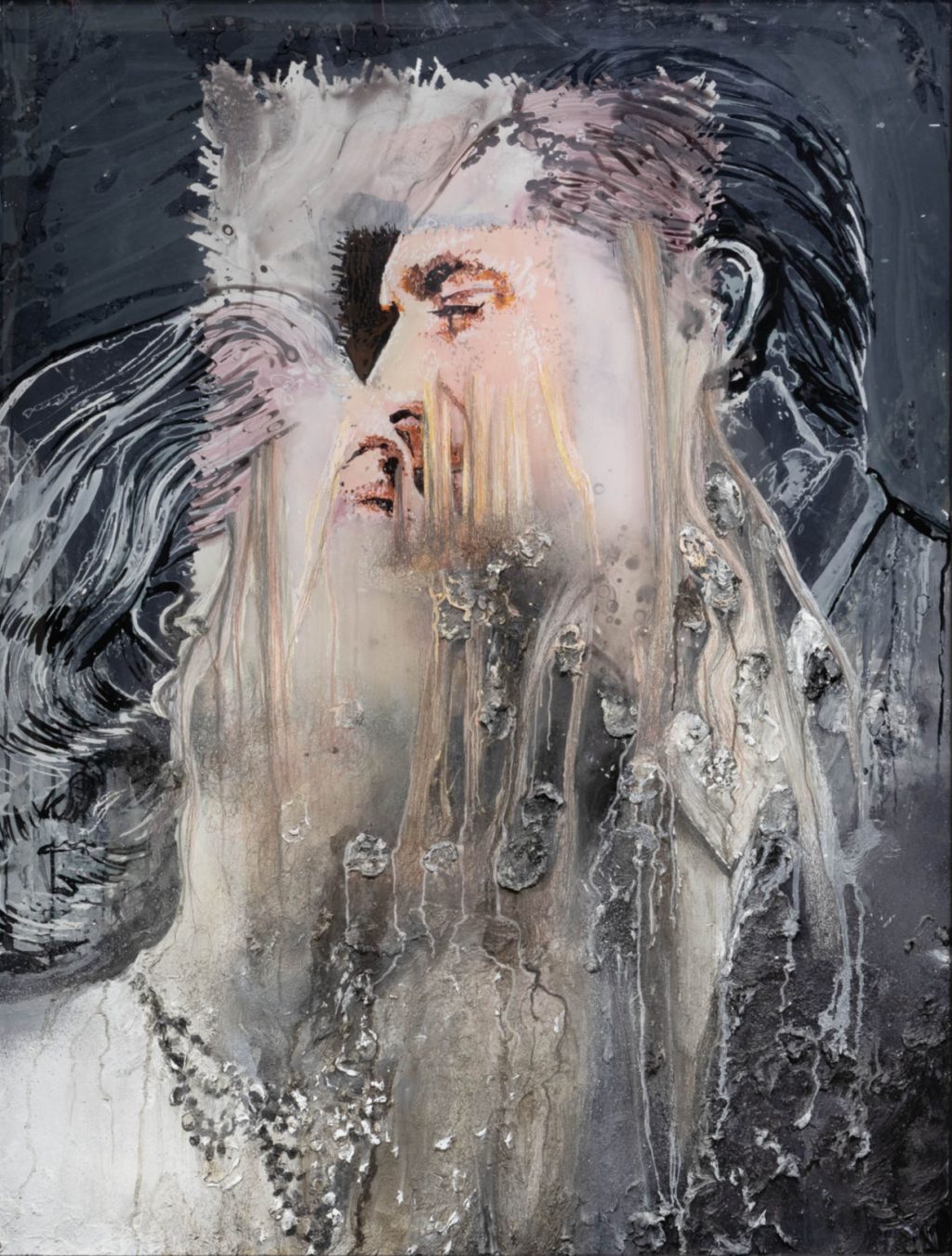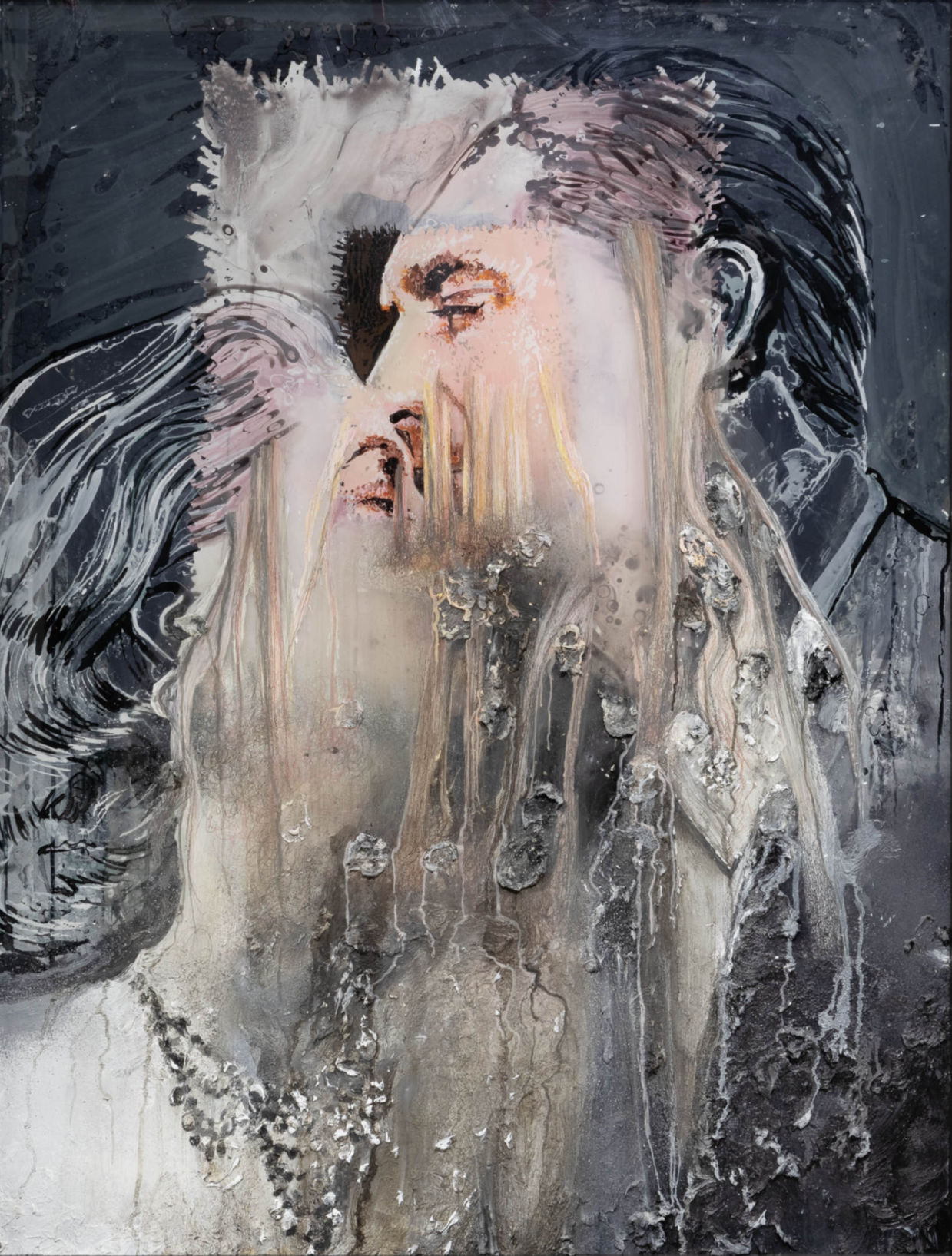 Movie Kiss
2021
Acrylic, oil, and pencils on acrylic glass
120 × 90 cm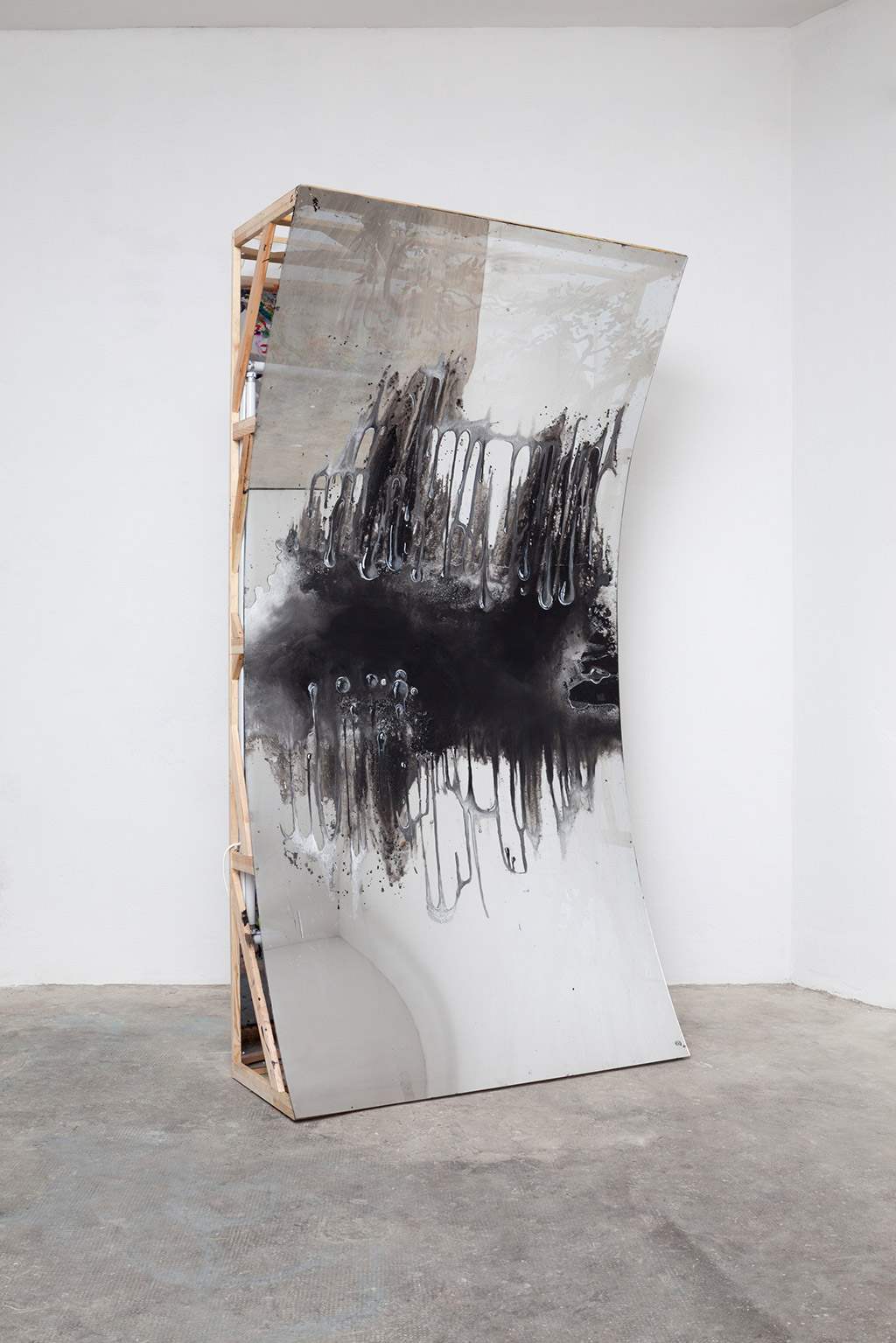 Wolfsschlucht, 326 Watt
2013
Acrylic and oil on two-way mirror, plastic, wood, fluorescent tubes and cable
232 × 122 × 46 cm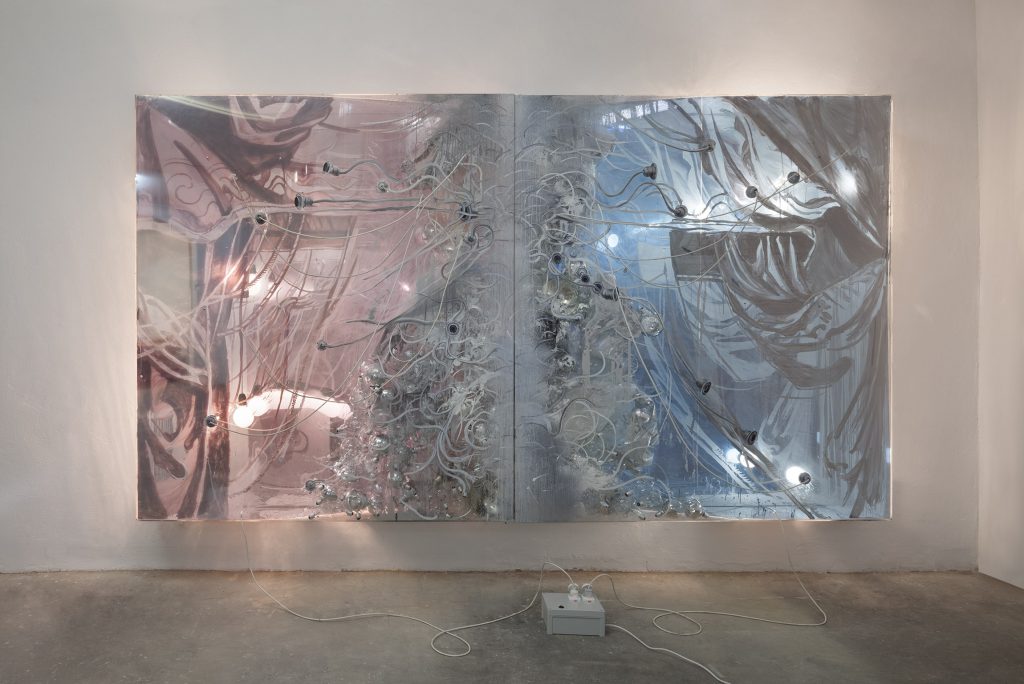 Paying Homage
2015
Oil on acrylic glass box, two-way mirror, foil, lightbulbs, wood and cables
Two-piece, 200 × 360 × 30 cm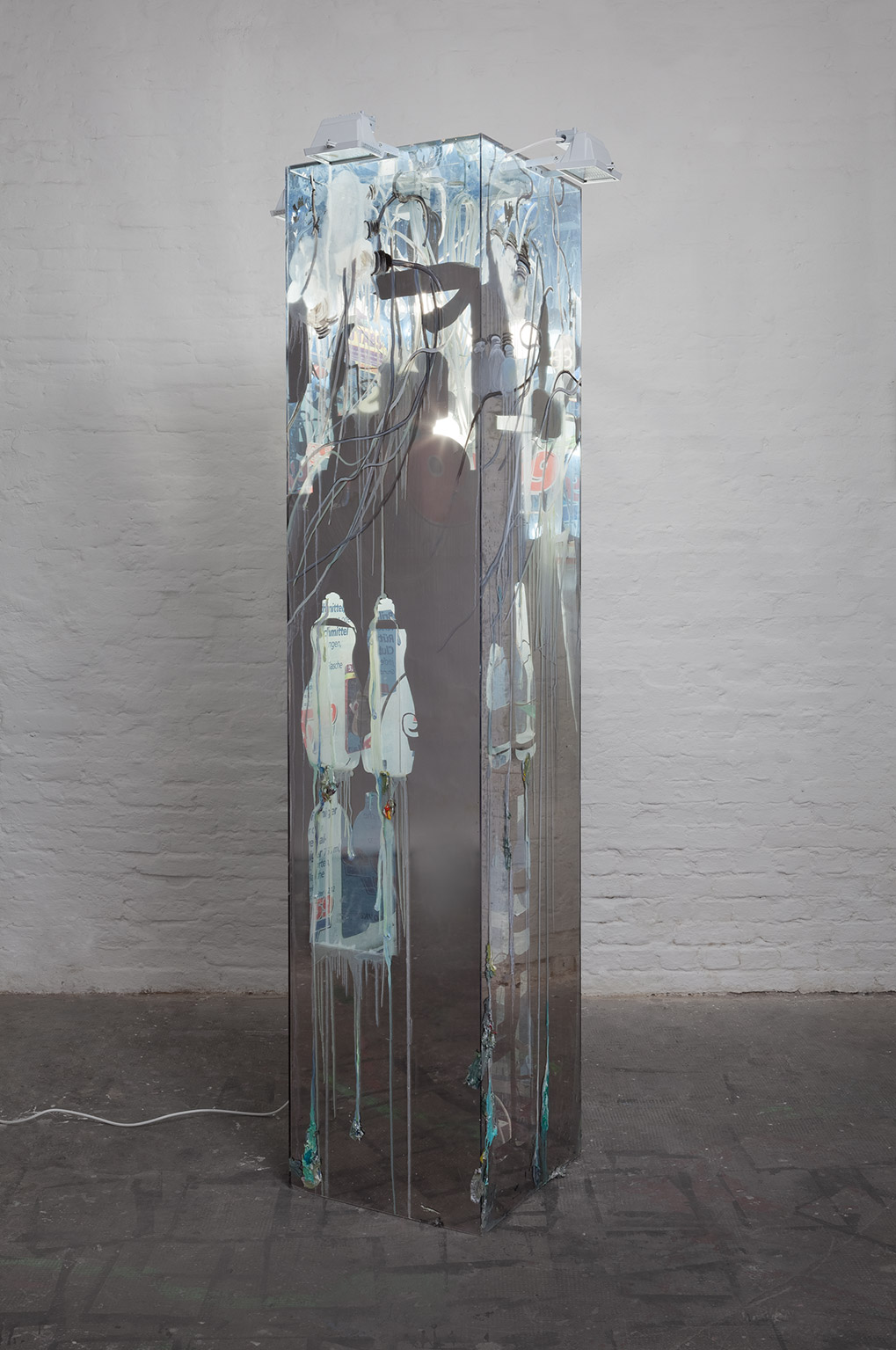 Kiosk
2015
Acrylic and oil on acrylic glass, two-way mirror, photographic print, lightbulbs, spotlights and cables
234 × 89 × 89 cm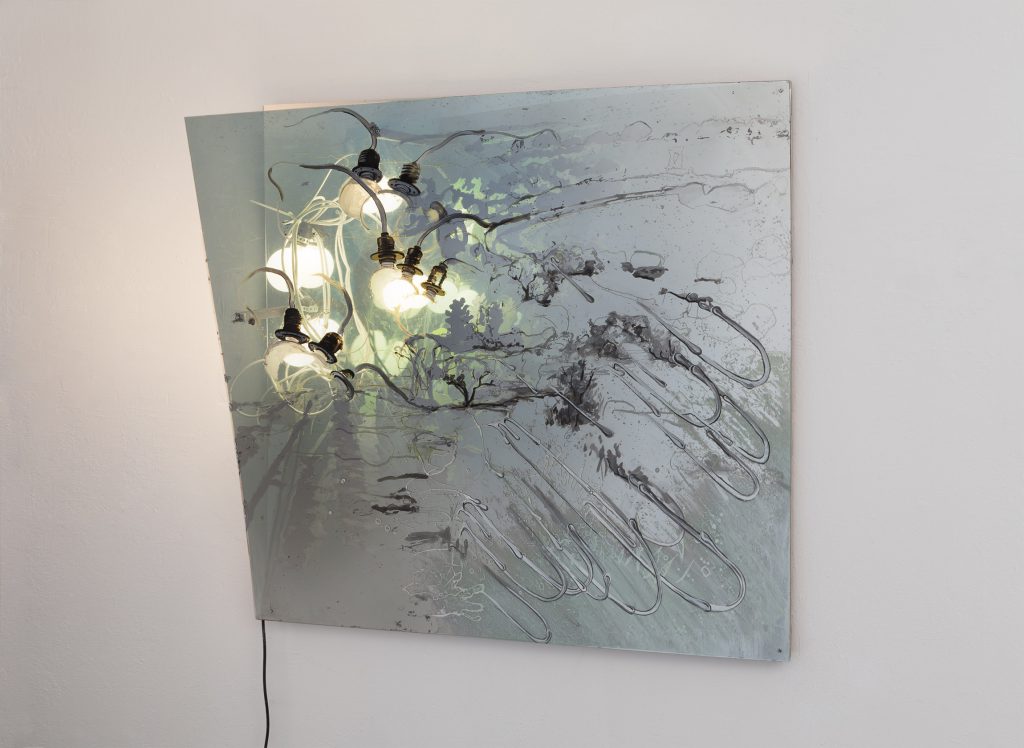 Birnen Bäume
2016
Acrylic and oil on acrylic glass, spy mirror foil, lightbulbs, cables, acrylic mirror, and wood
120 × 130 × 40 cm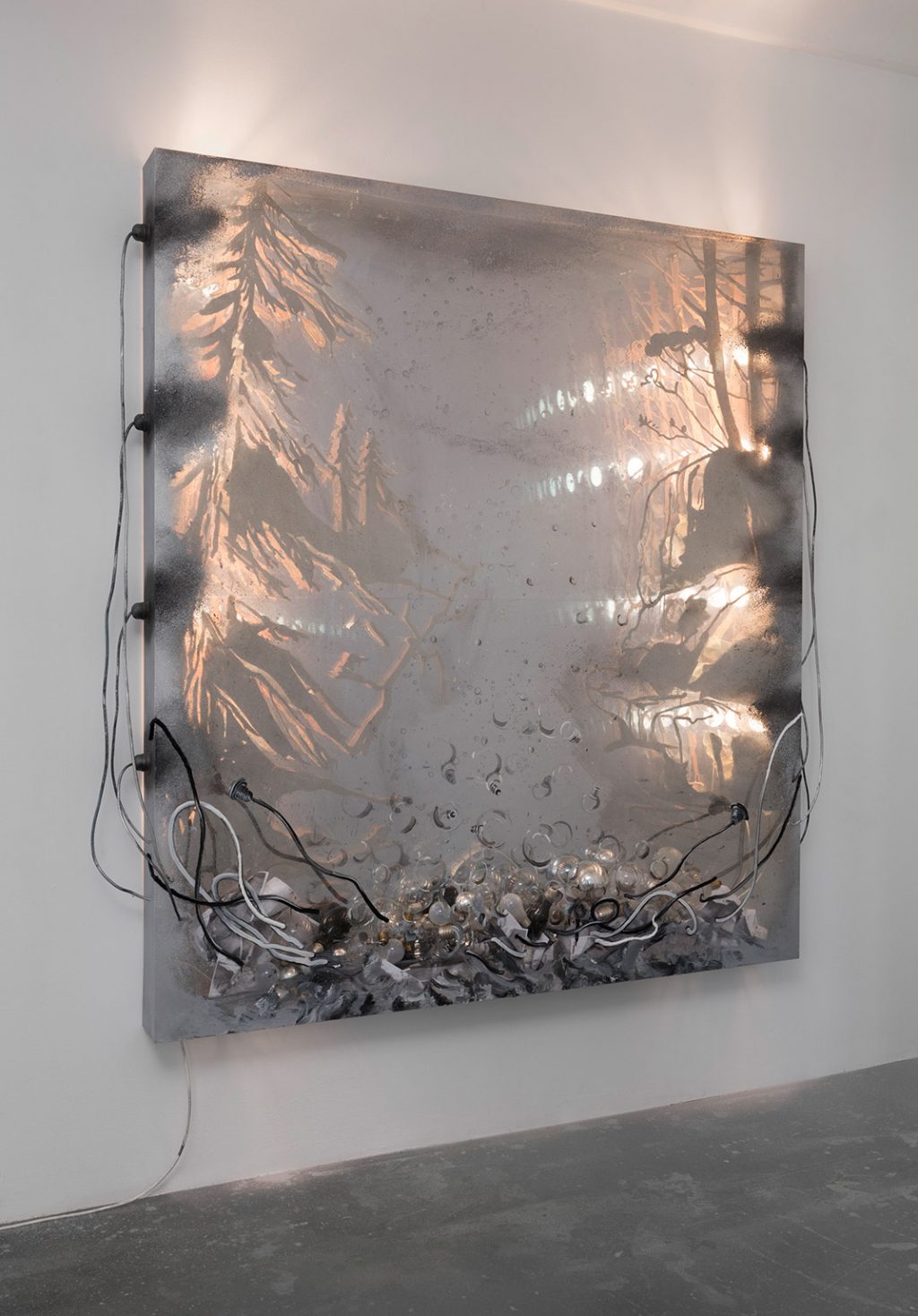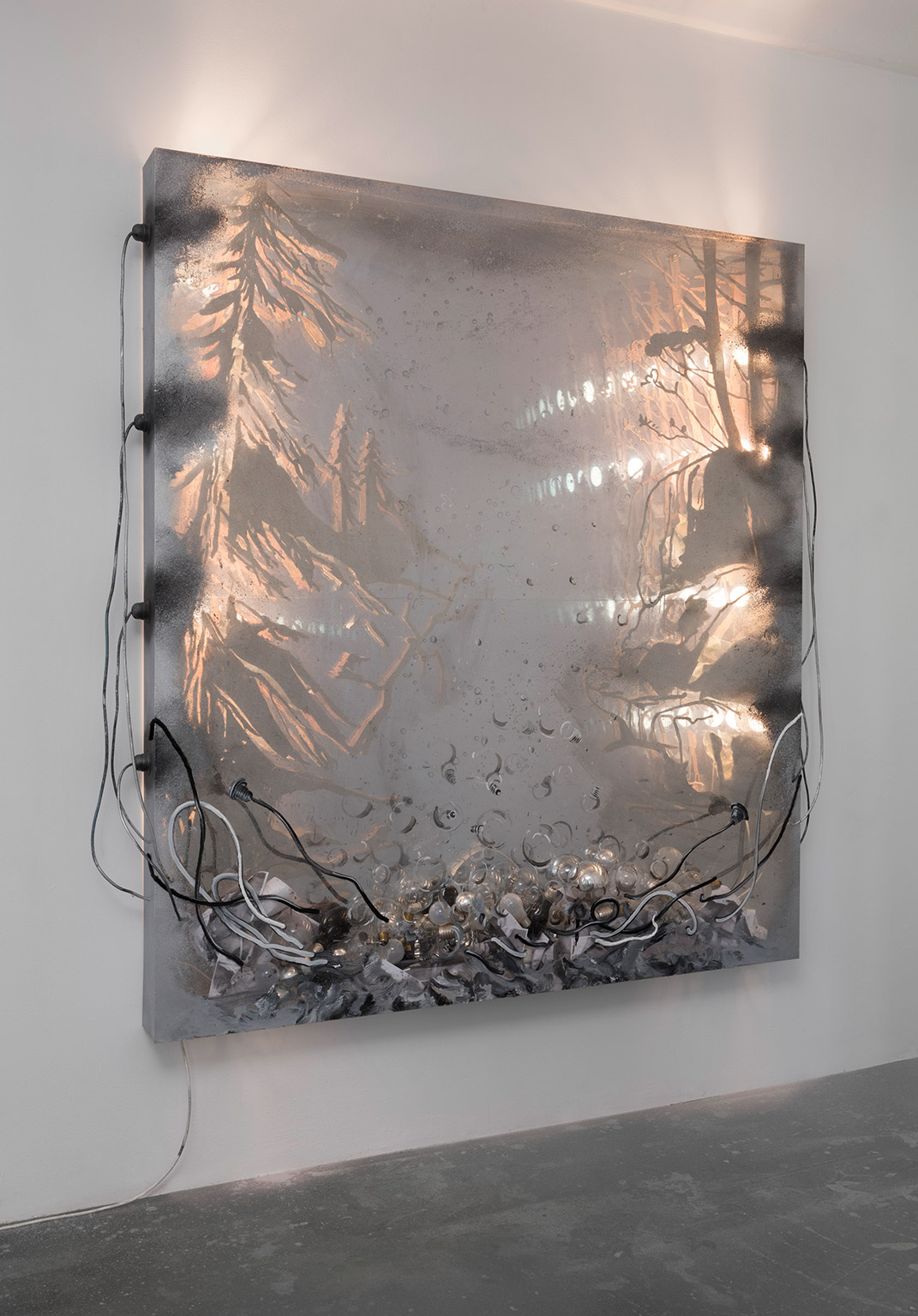 Walpurgisnacht I
2017
Acrylic and oil on acrylic glass box, two-way mirror, electric wire, lightbulbs, LED lights, control box and wood
200 × 190 × 23 cm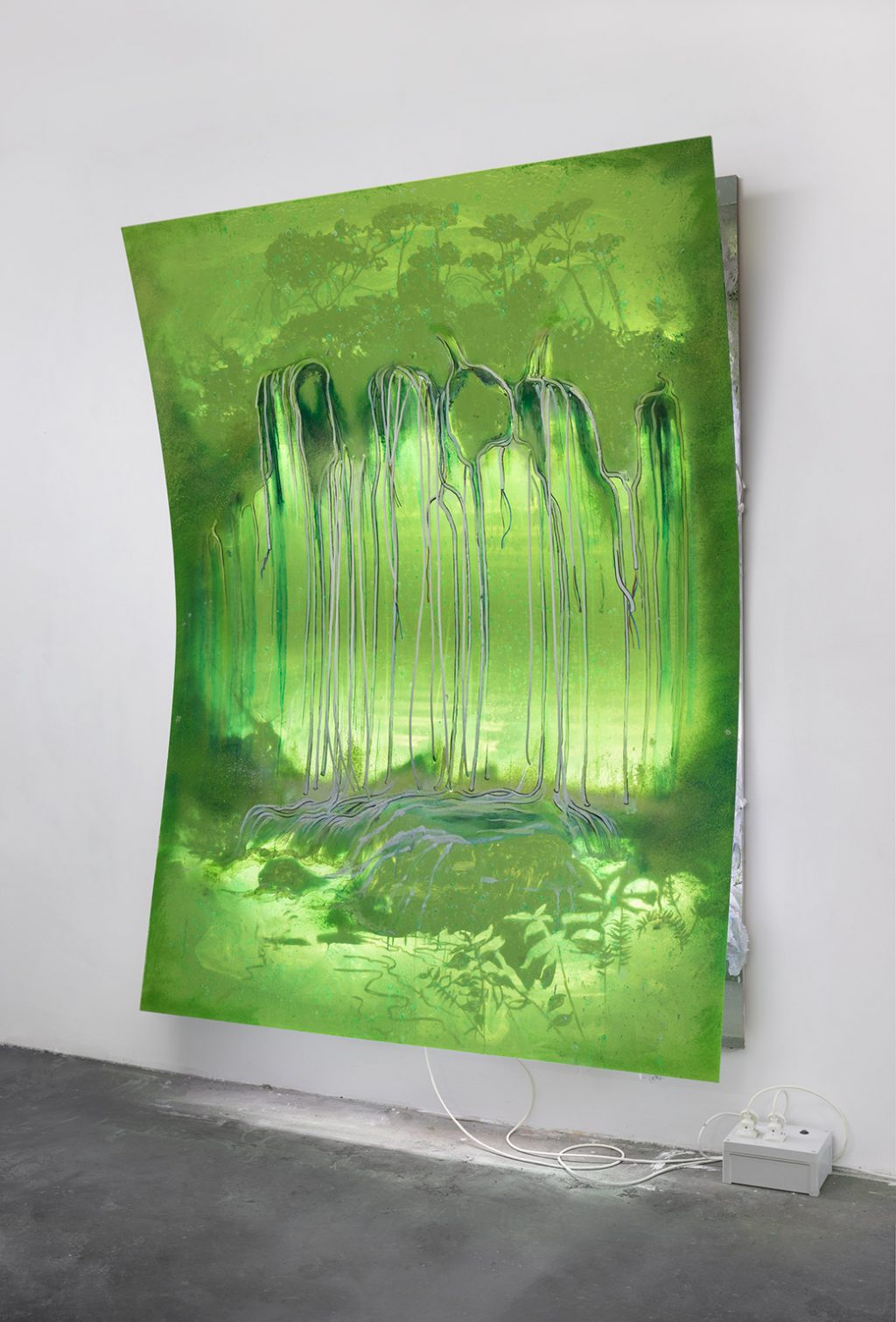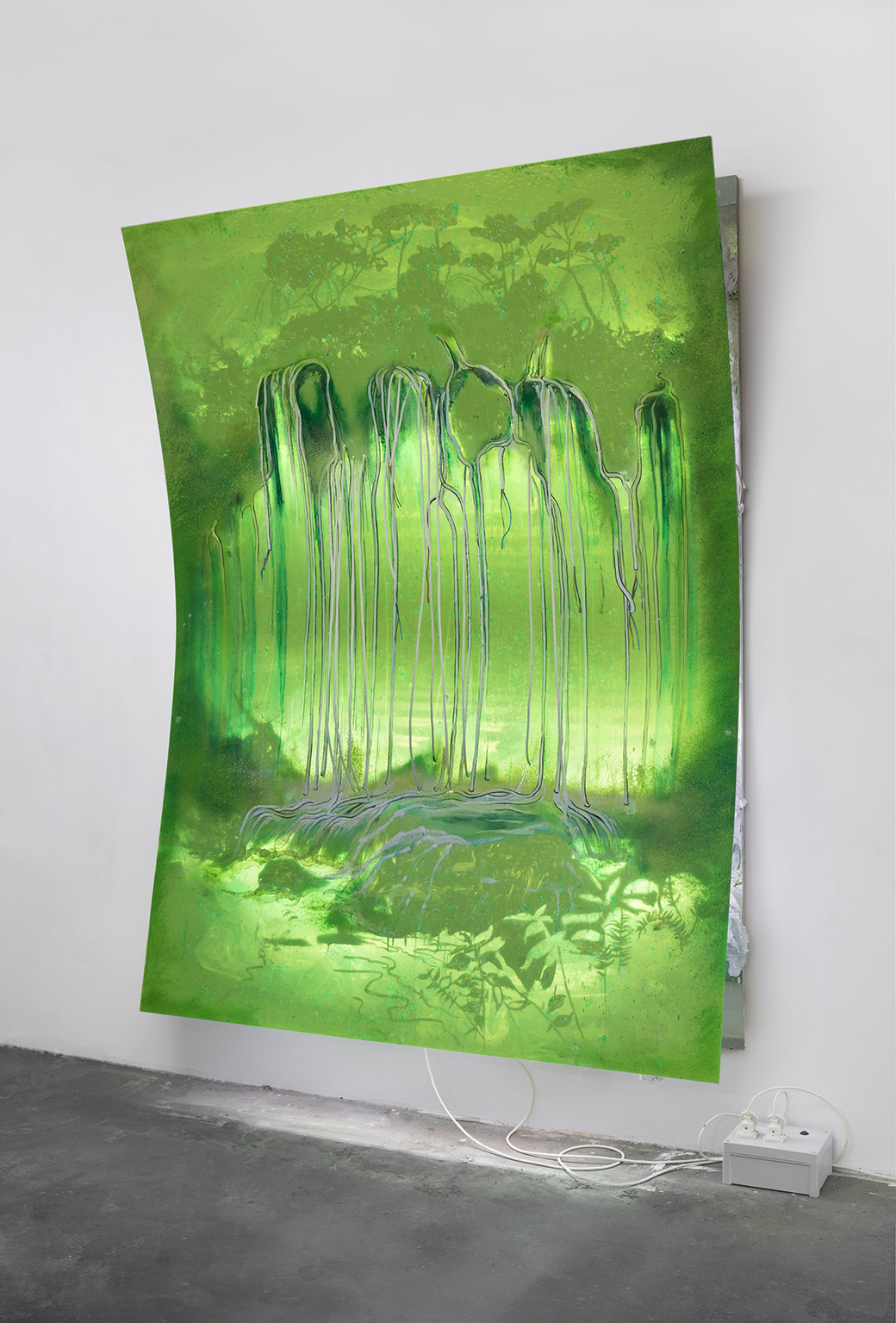 Green Falls
2017
Acrylic and oil on acrylic glass, two-way mirror, electric wire, plastic film, LED tube lights, control box and wood
230 × 178 × 37 cm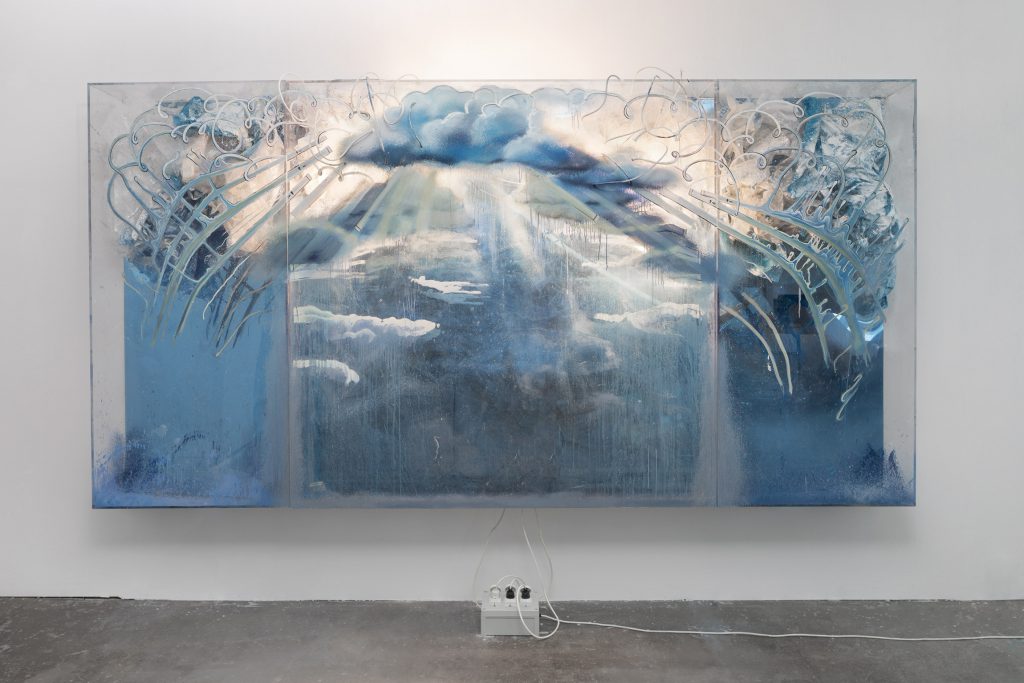 Vom Himmel durch die Welt
2017
Acrylic and oil on acrylic glass box, two-way mirror, electric wire, plastic film, LED tube lights, control box and wood
180 × 346 × 40 cm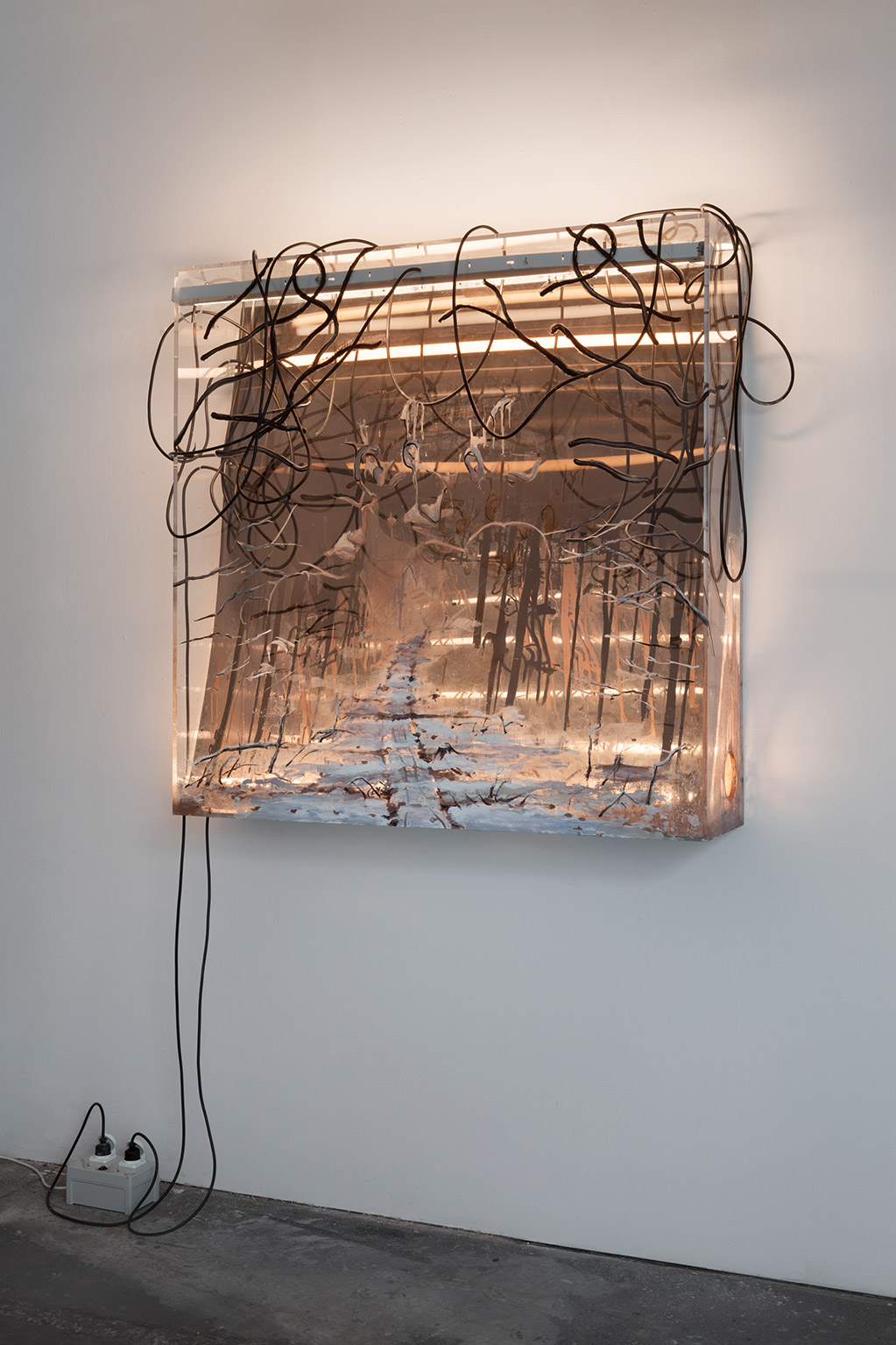 Tauwetter
2017
Oil on acrylic glass box, two-way mirror, electric wire, LED tube lights, control box and wood
125 × 140 × 38 cm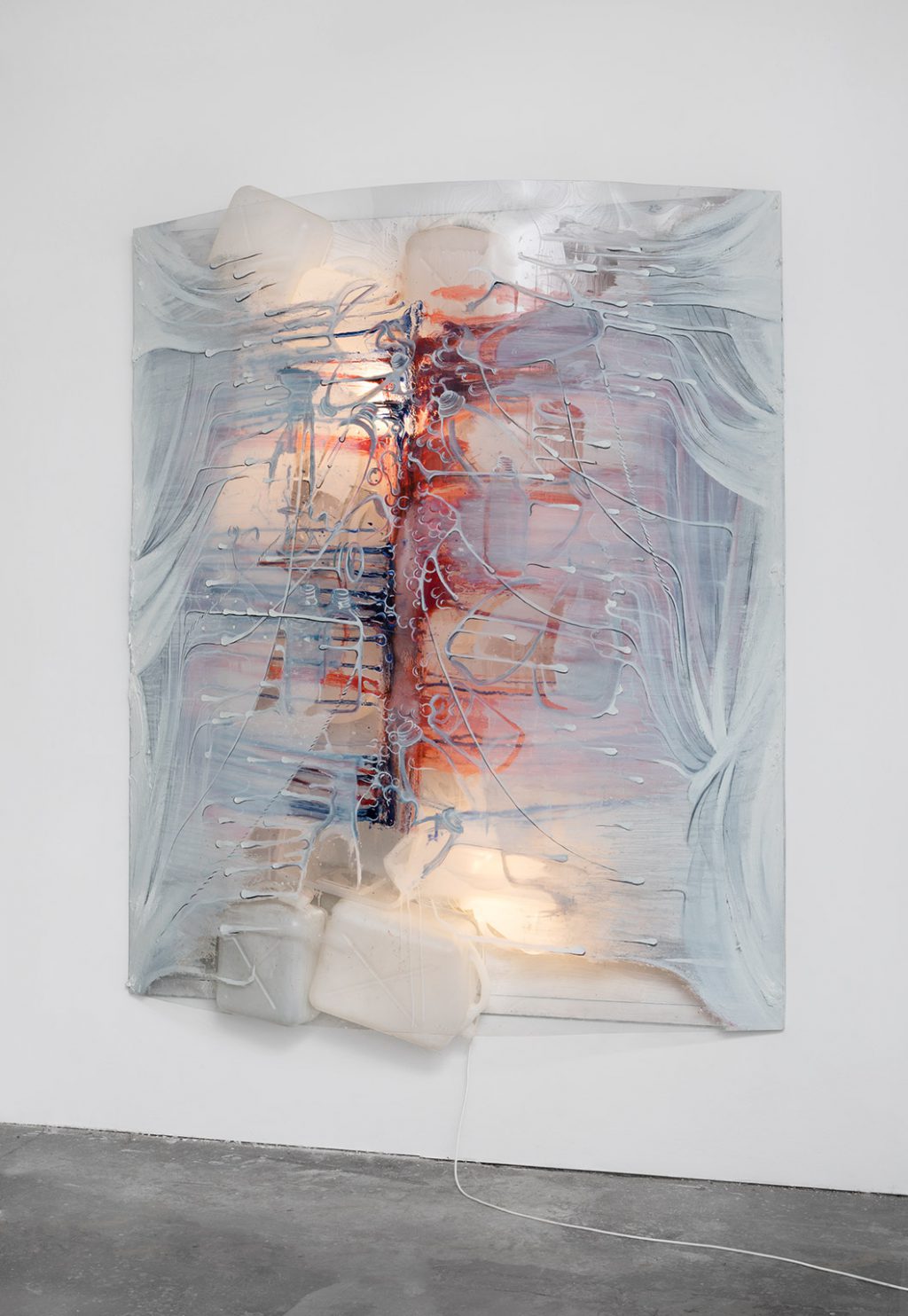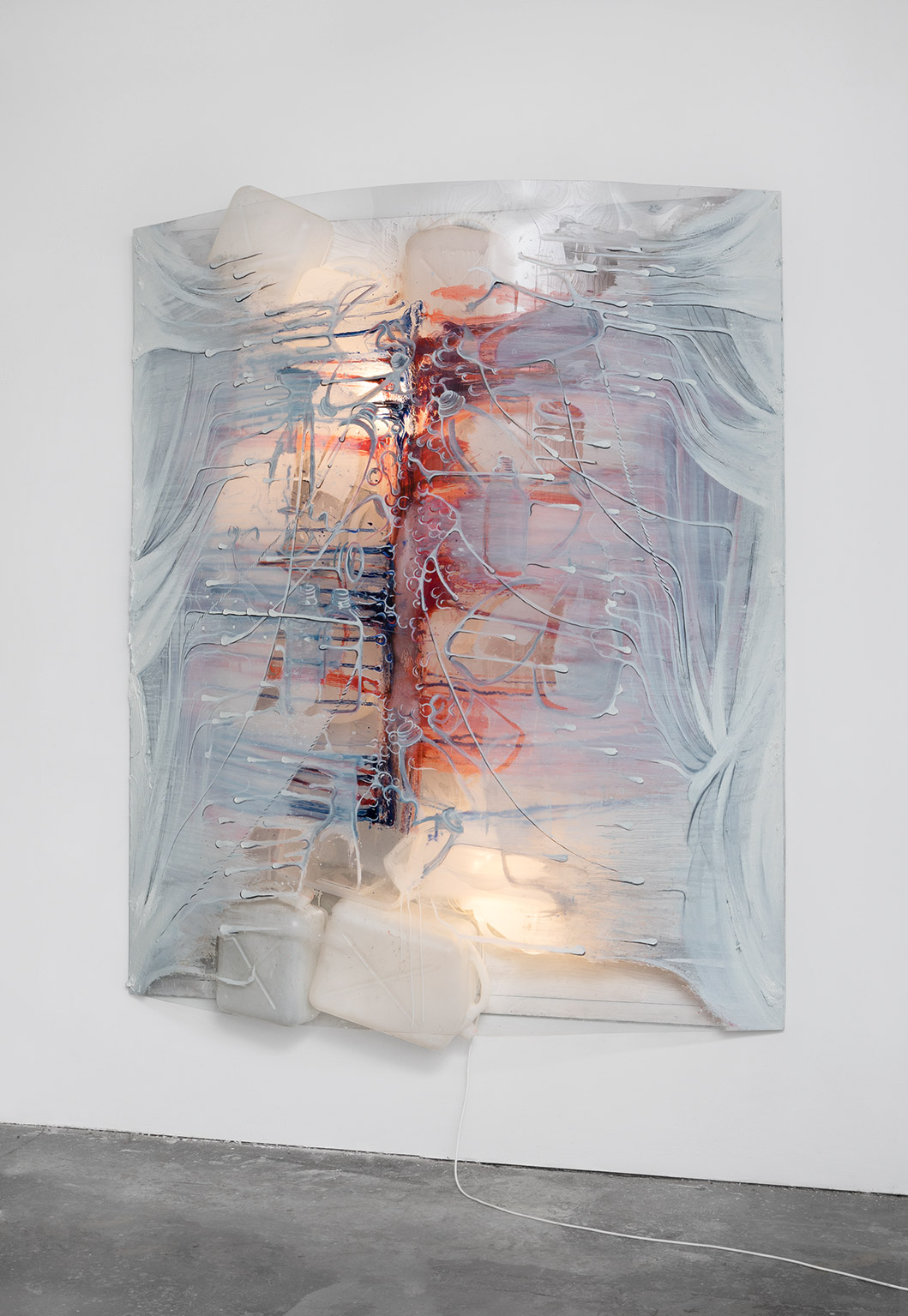 Tristan
2017
Acrylic and oil on acrylic glass, electric wire, plastic canisters and LED lights
200 × 170 × 26 cm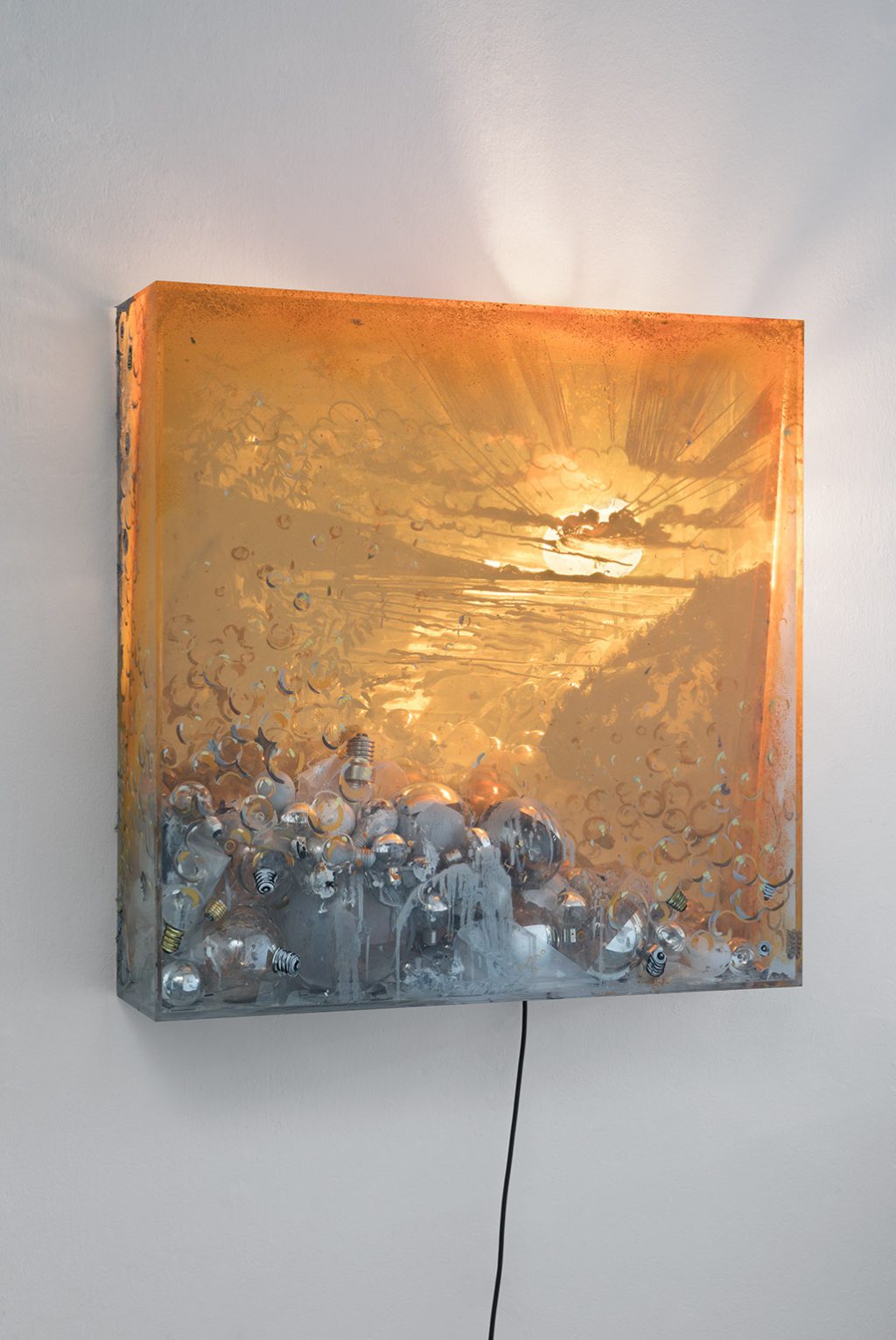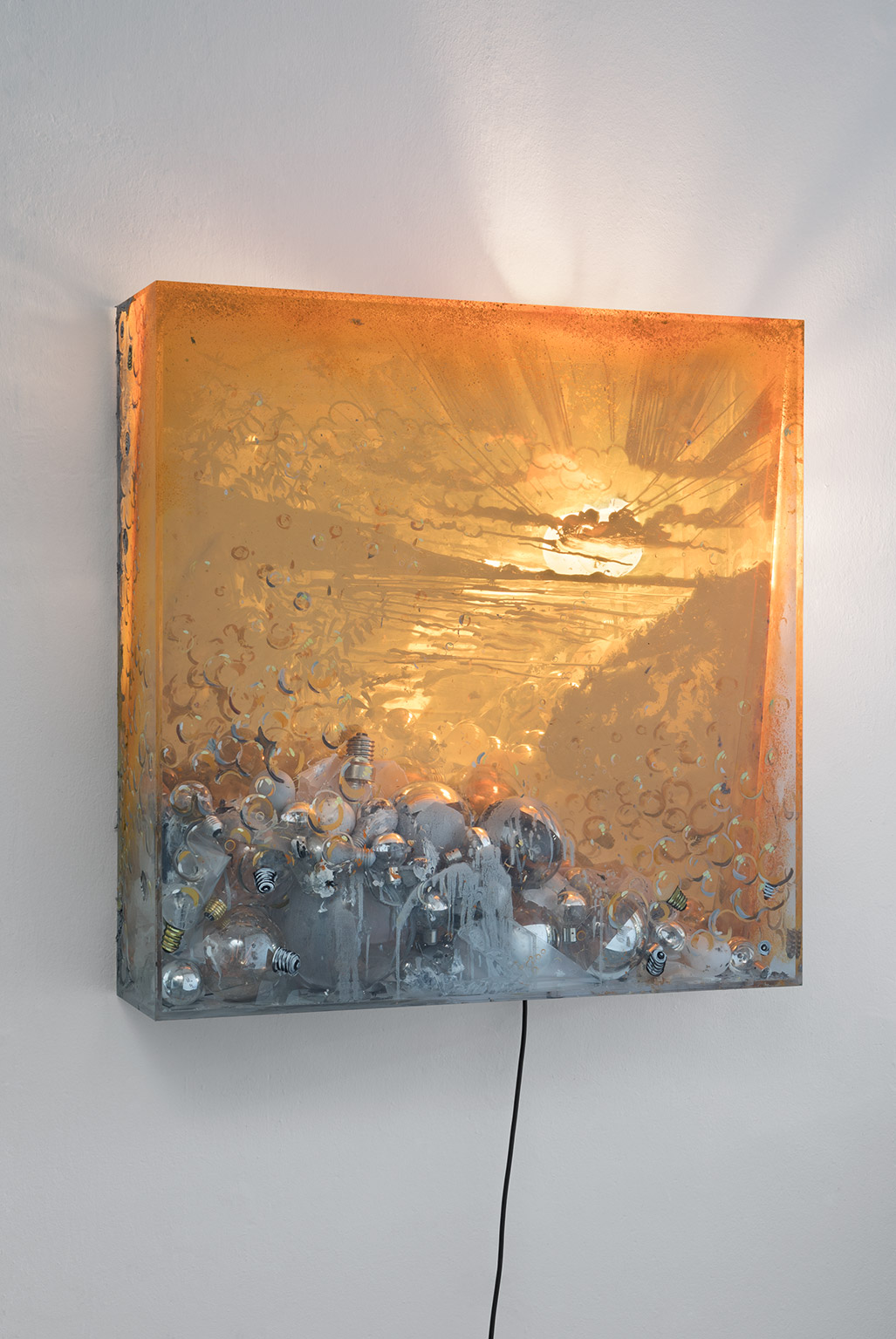 Tequila Sunrise
2017
Acrylic and oil on acrylic glass box, two-way mirror, electric wire, lightbulbs, LED lights and wood
93 × 93 × 25 cm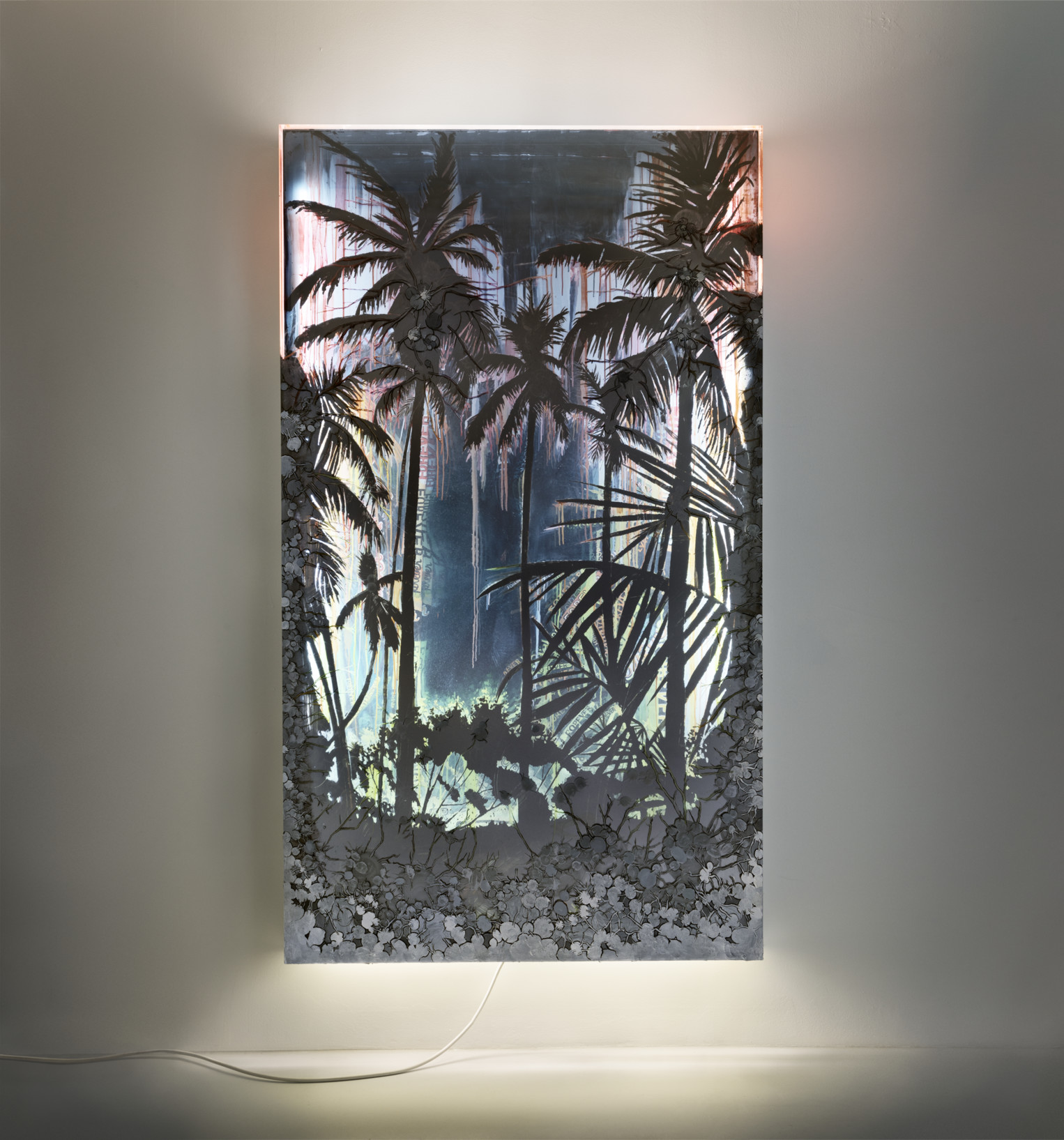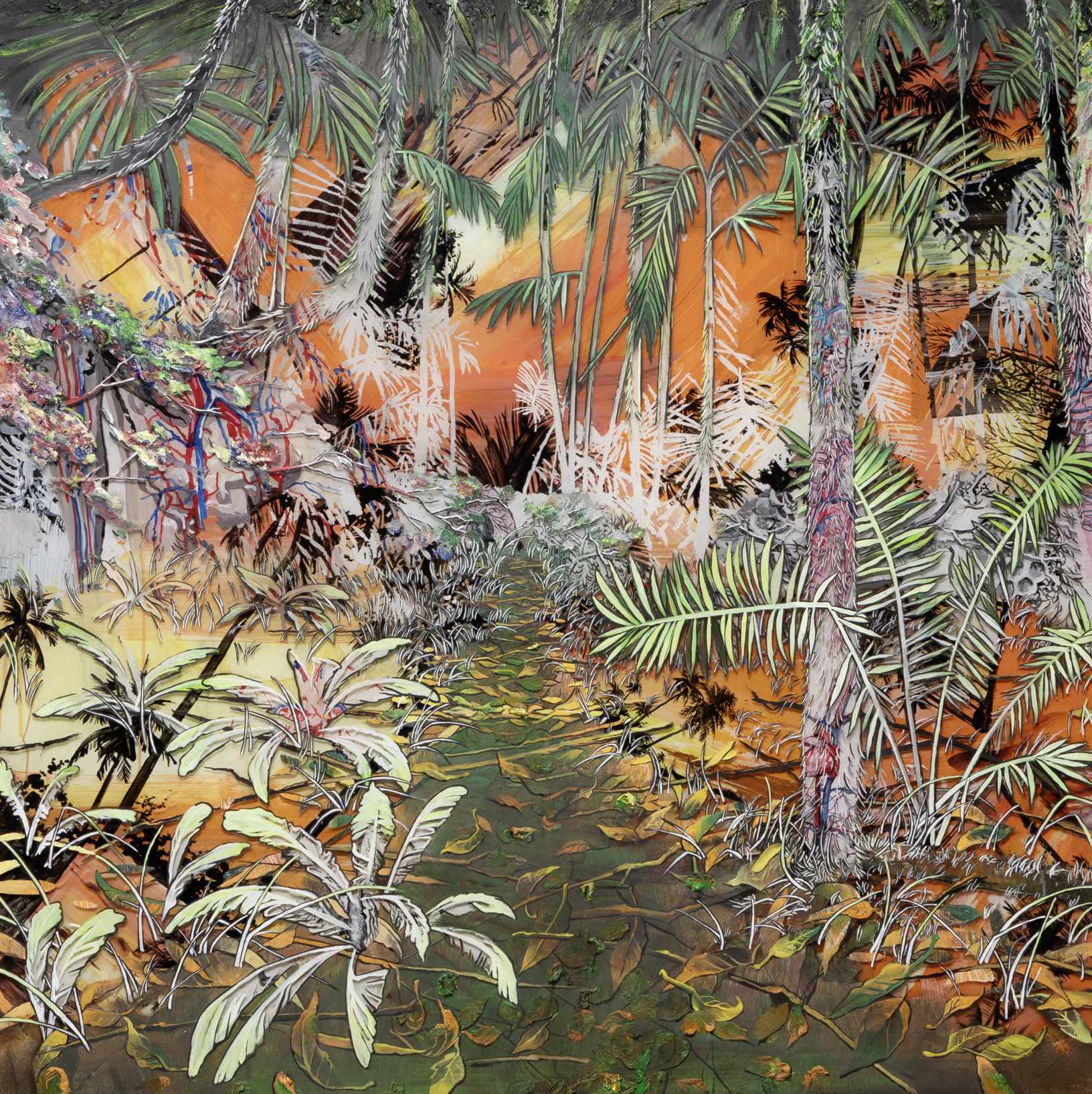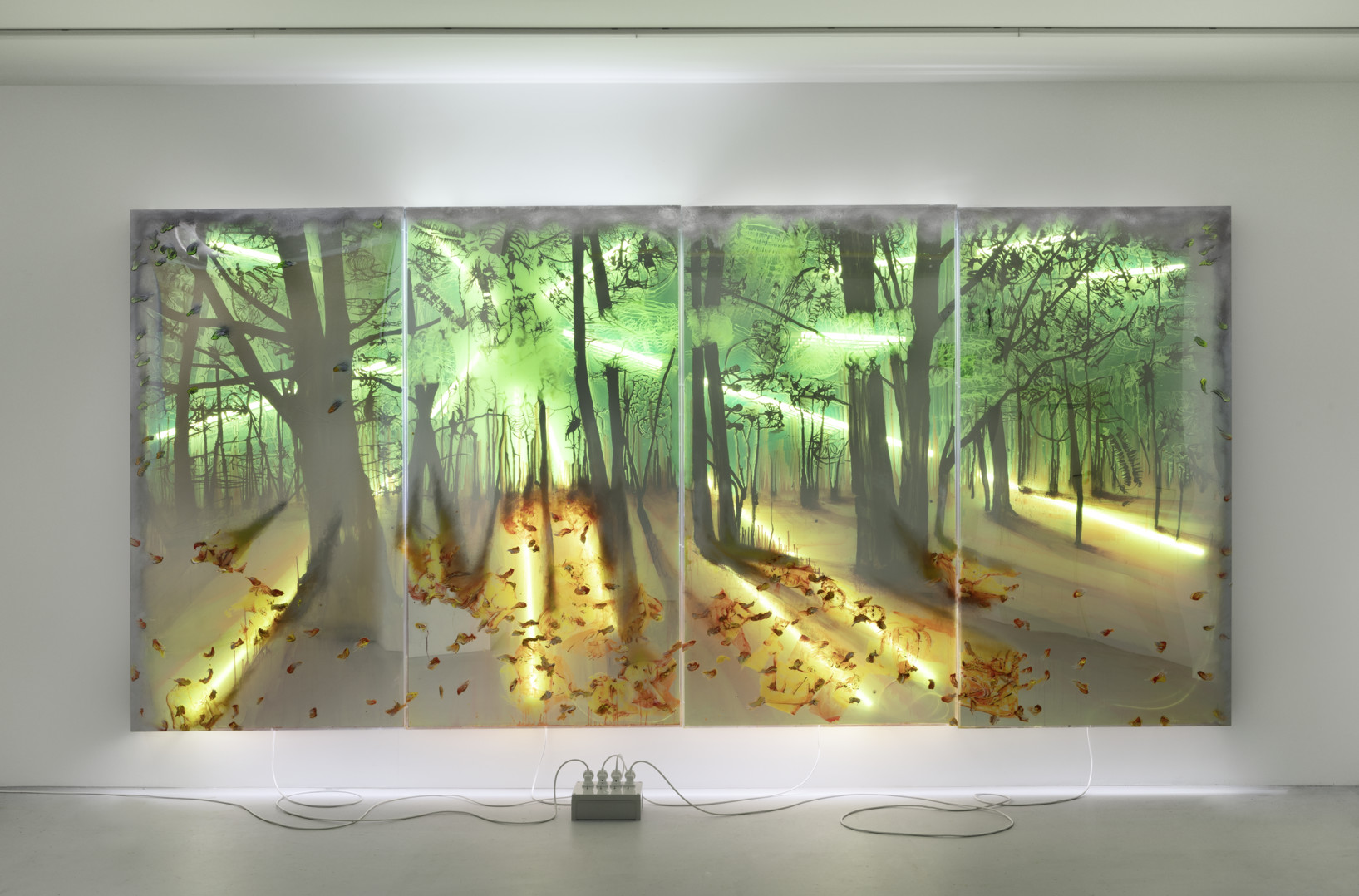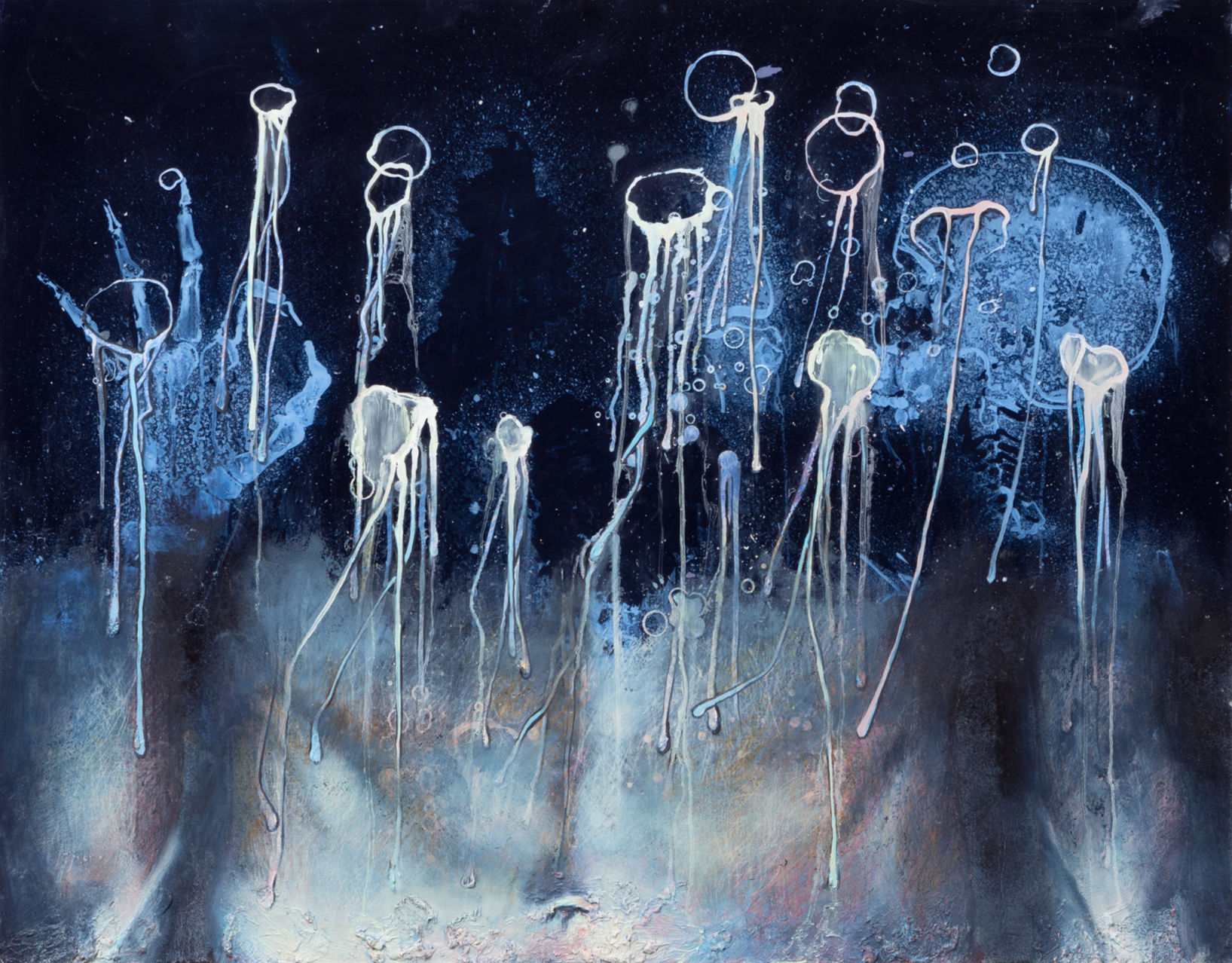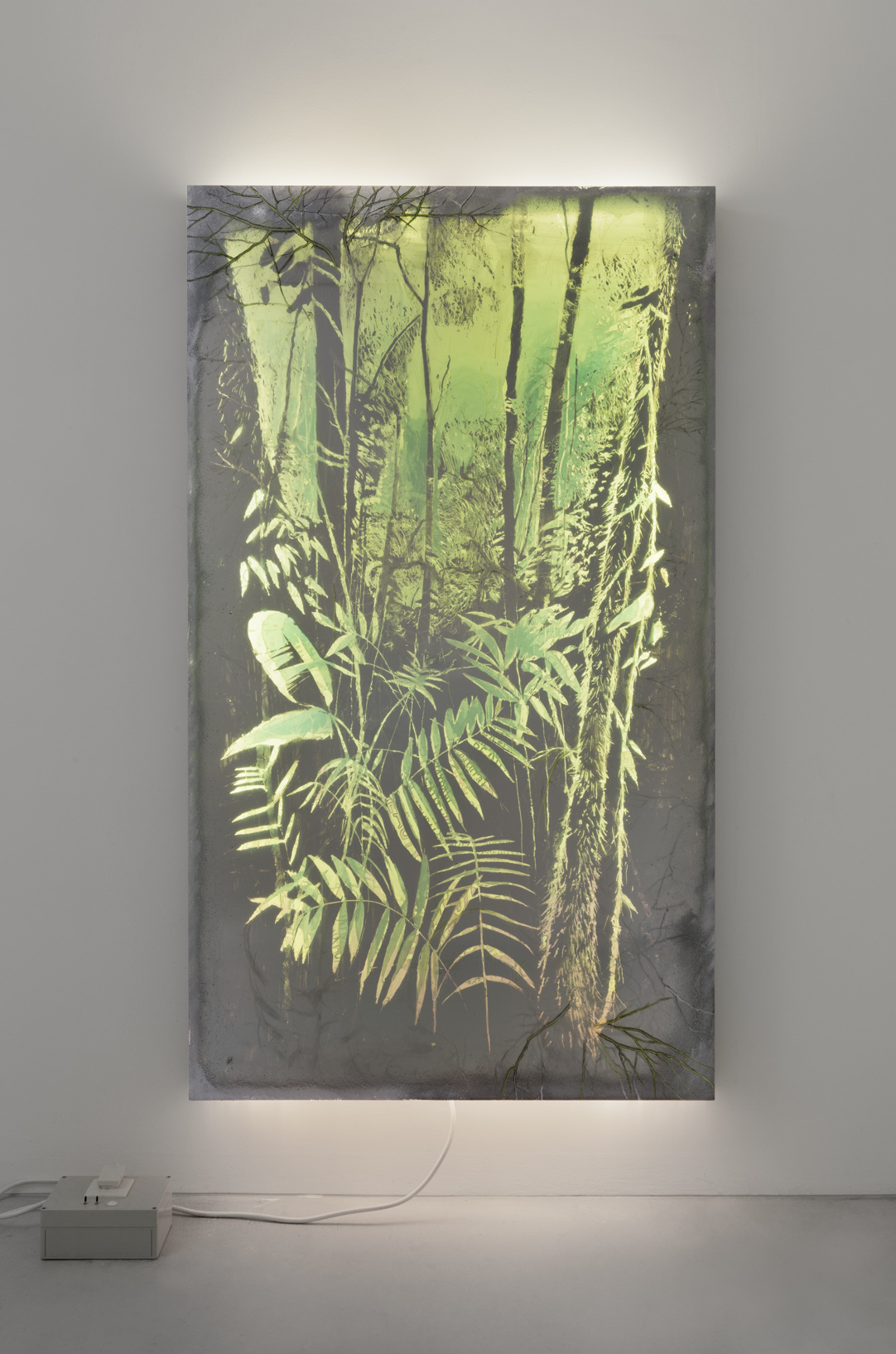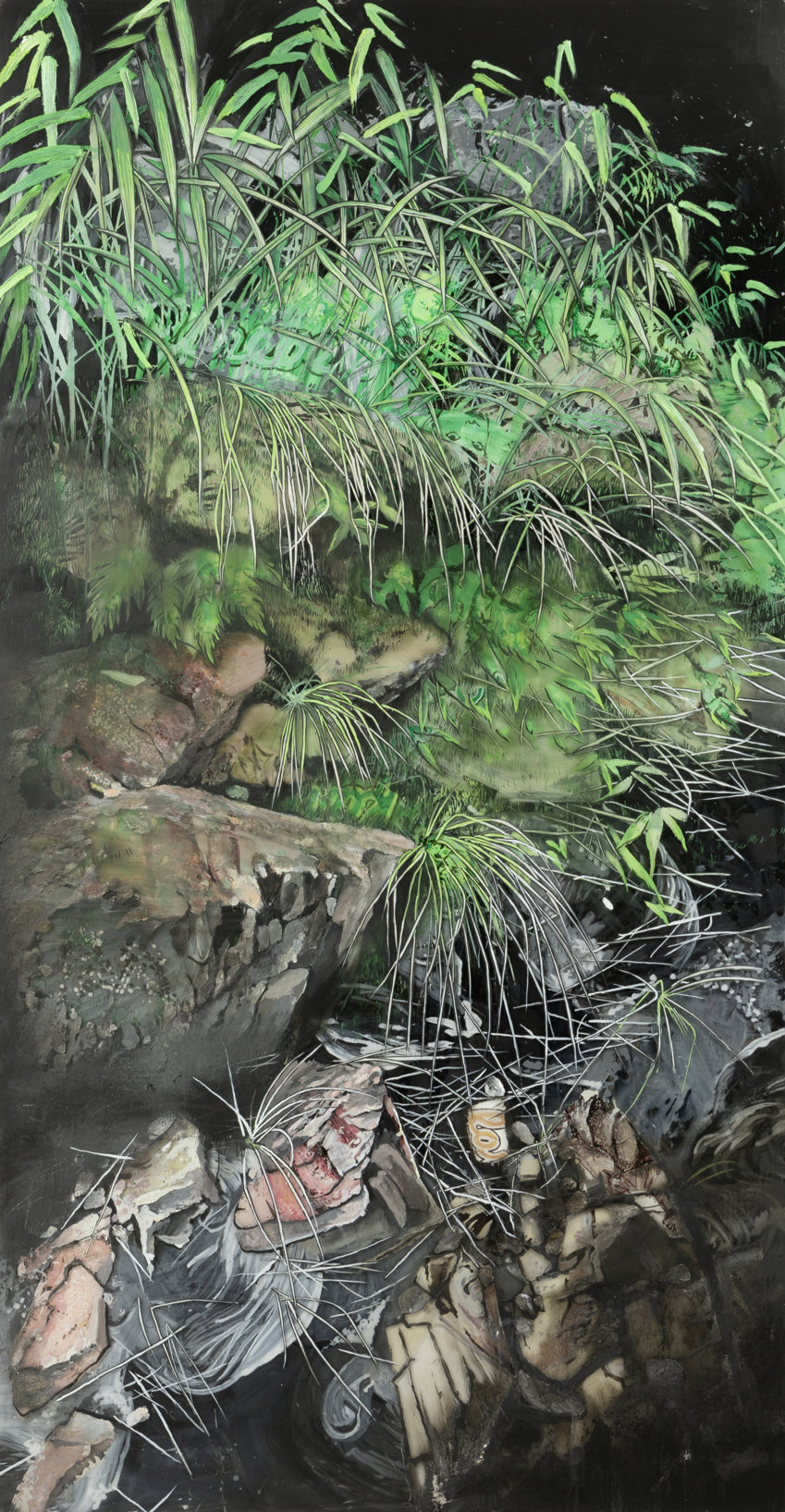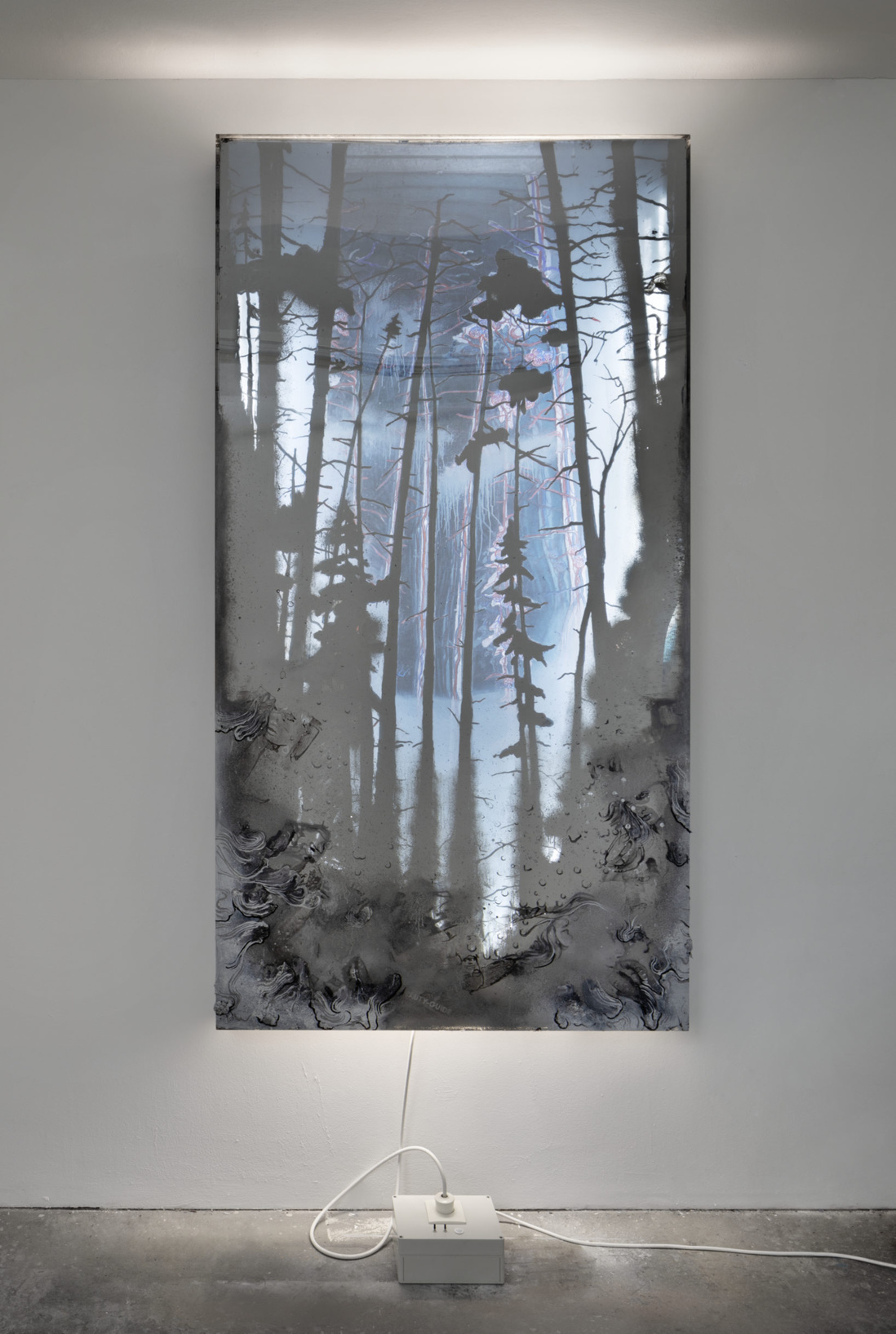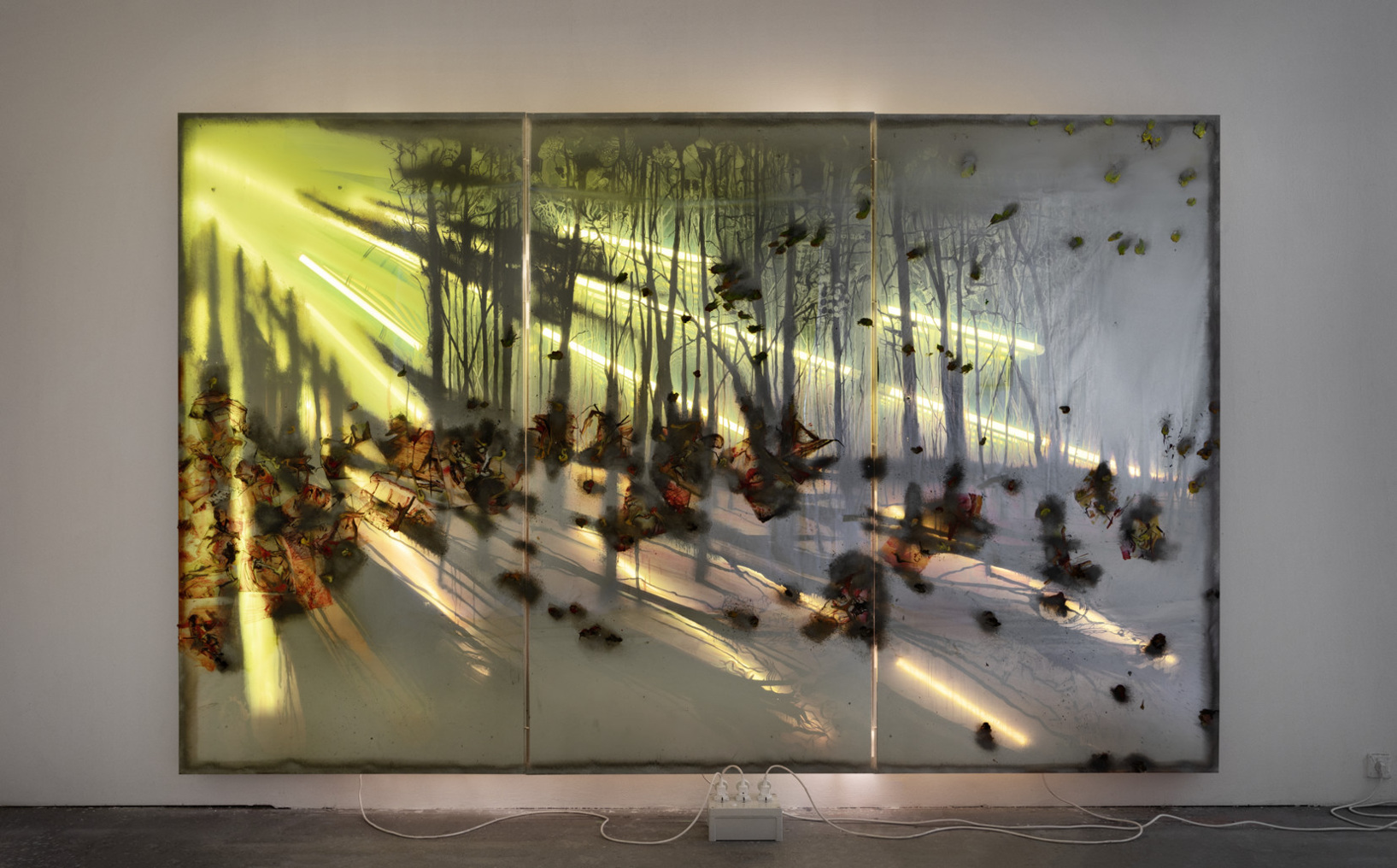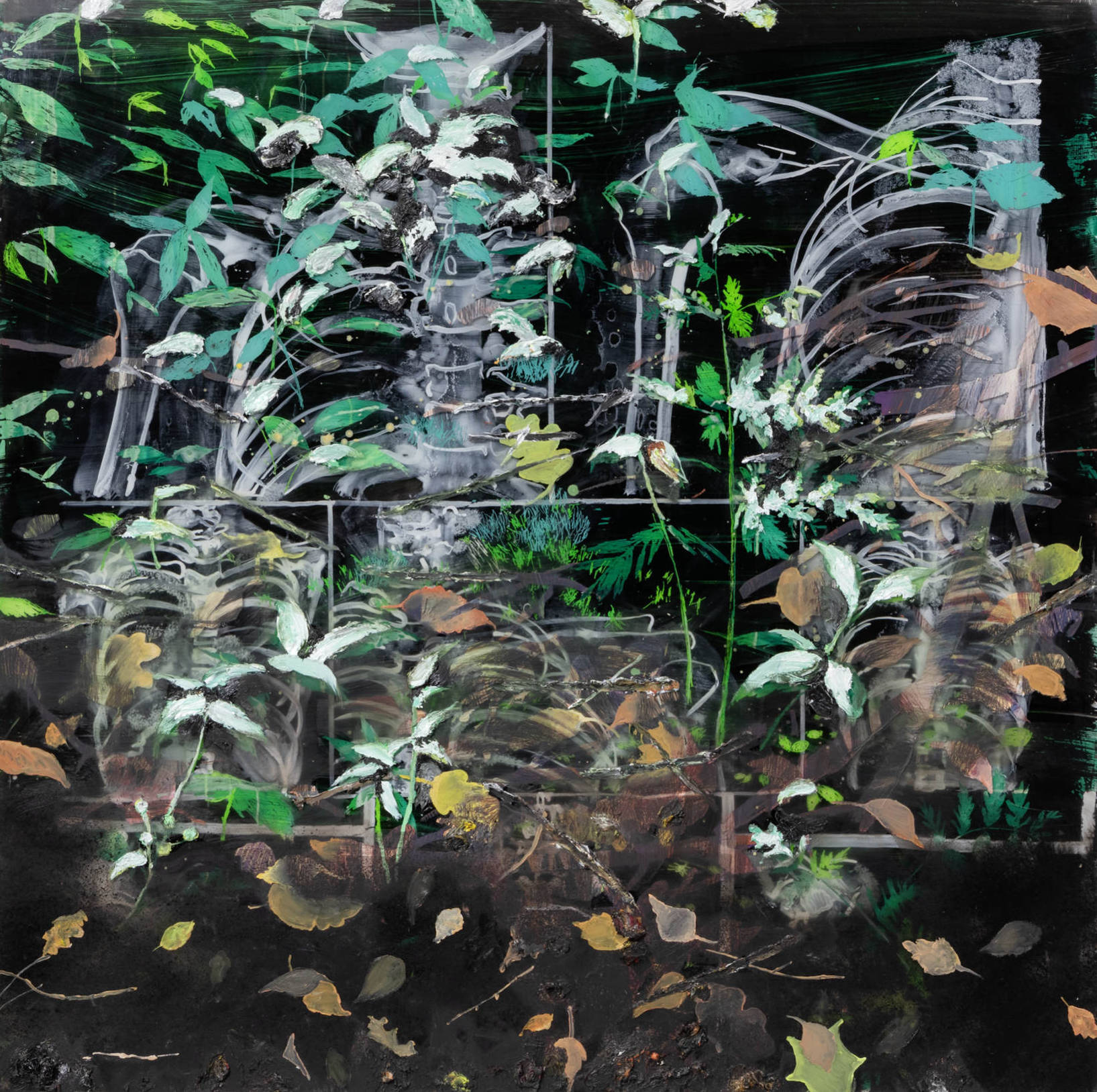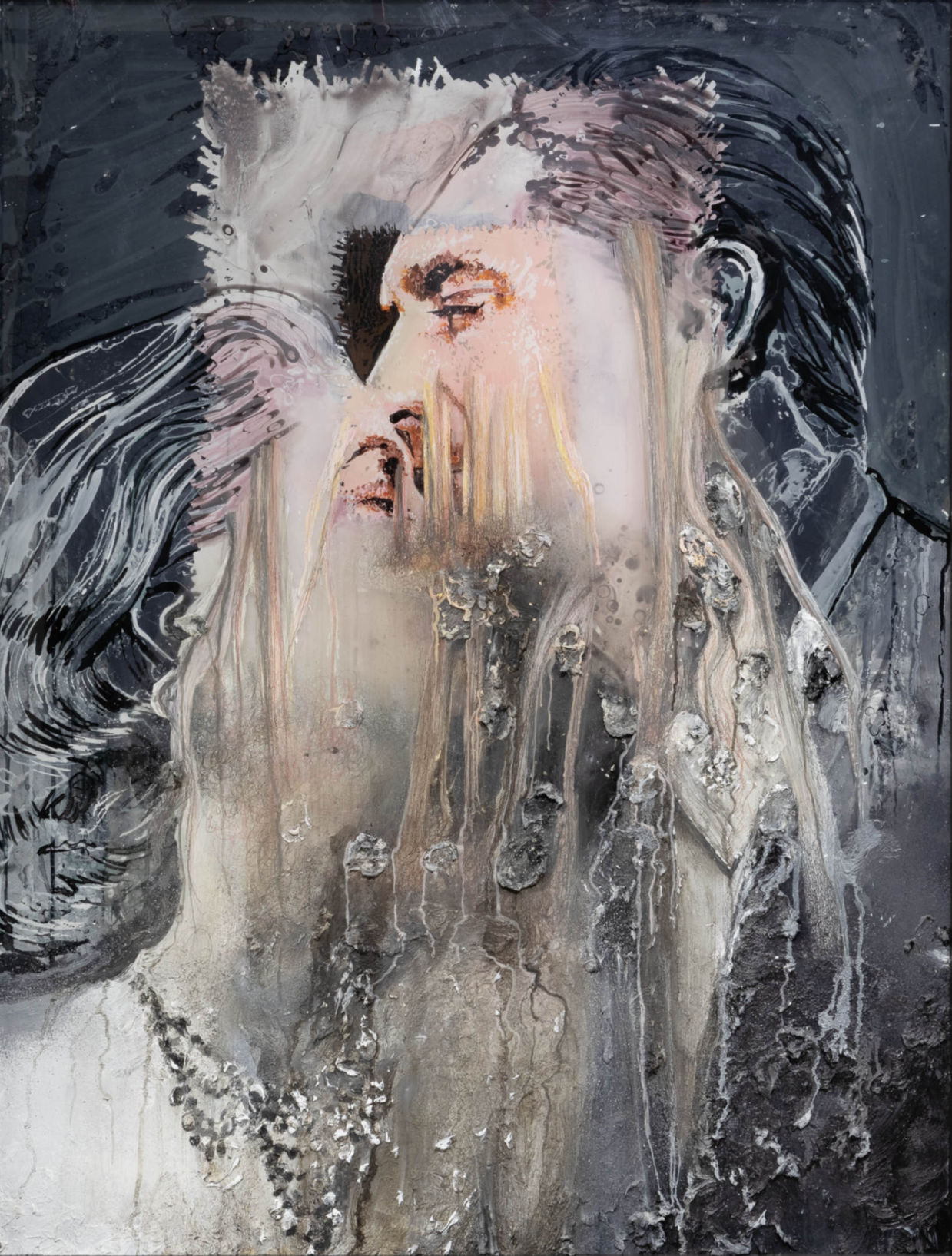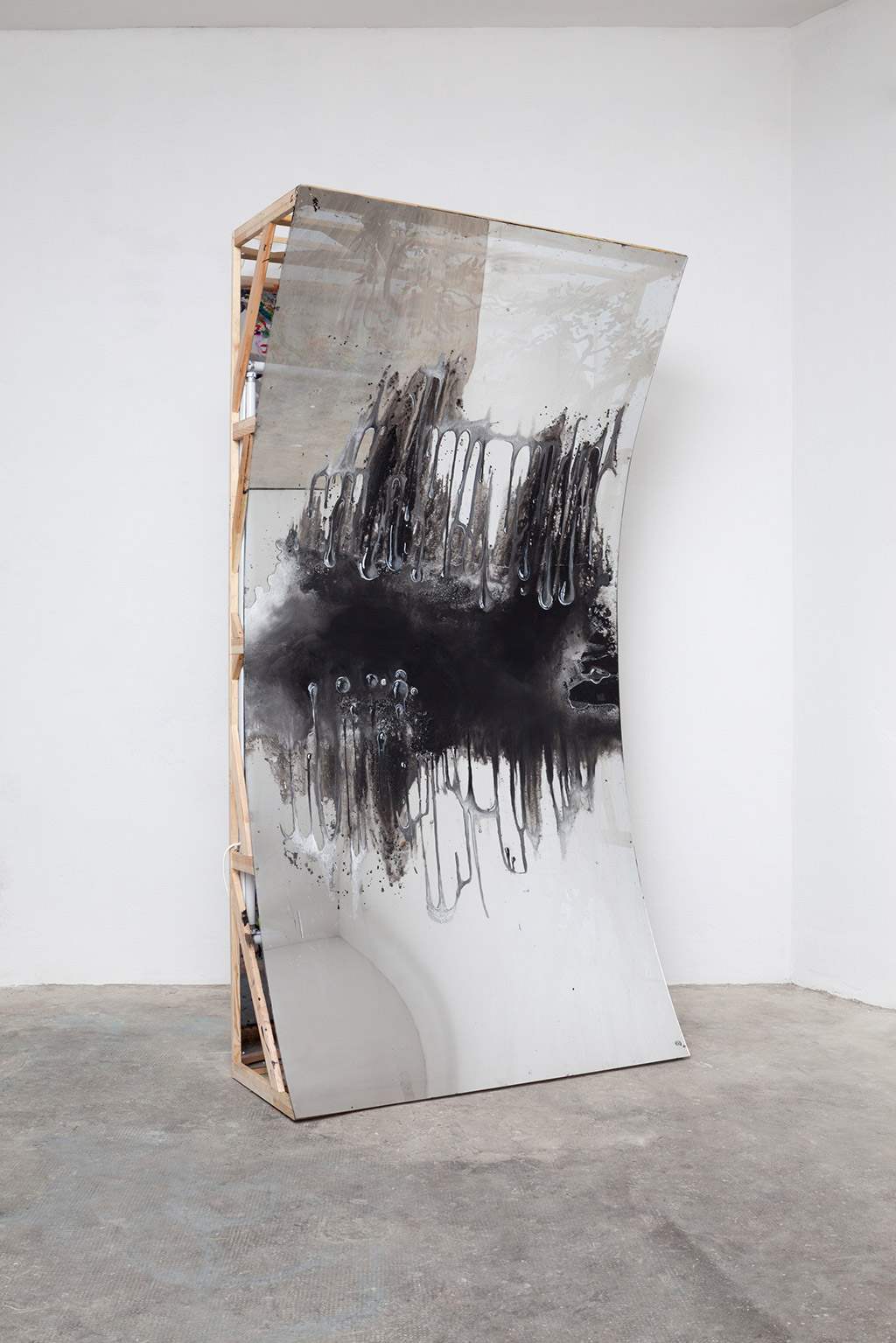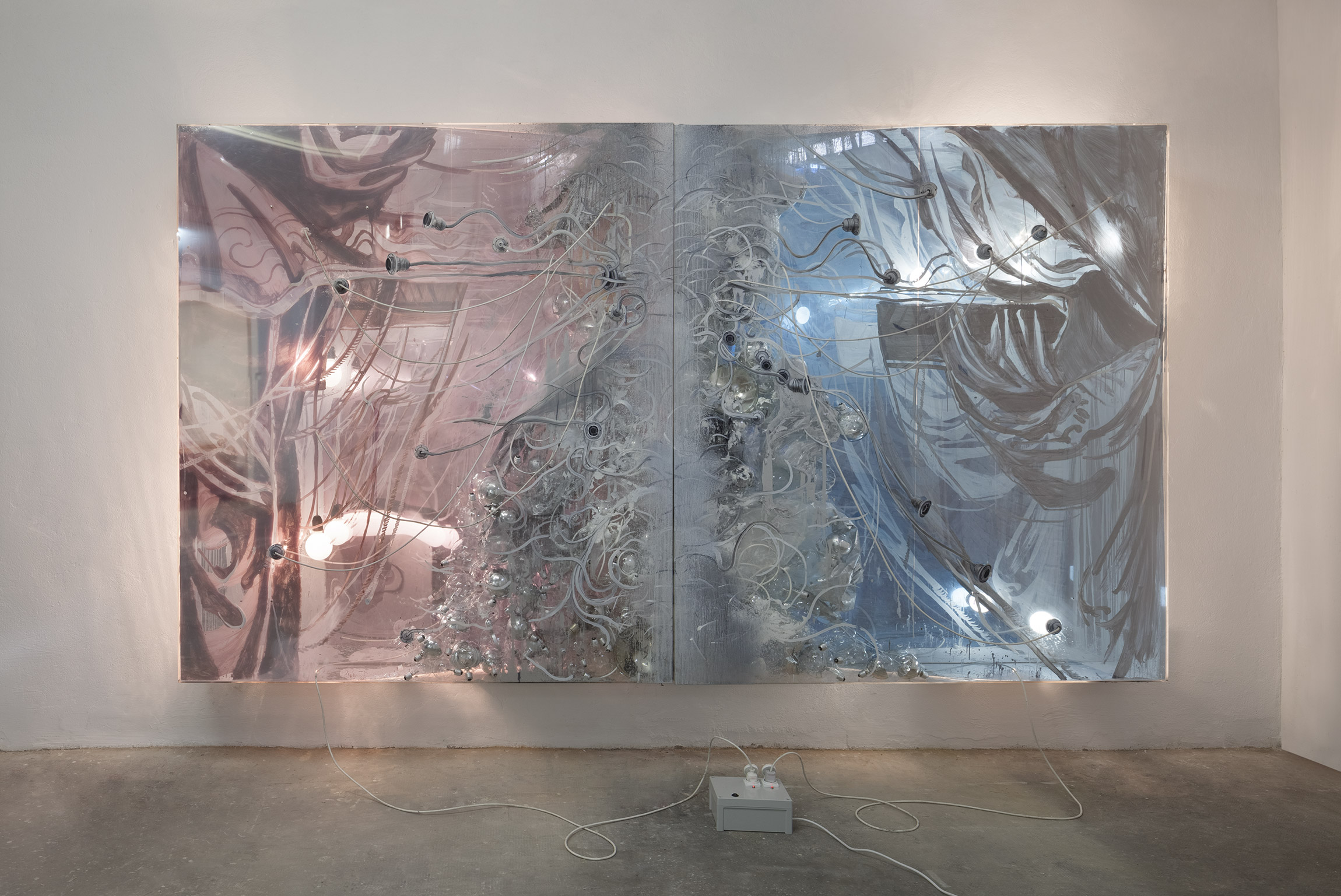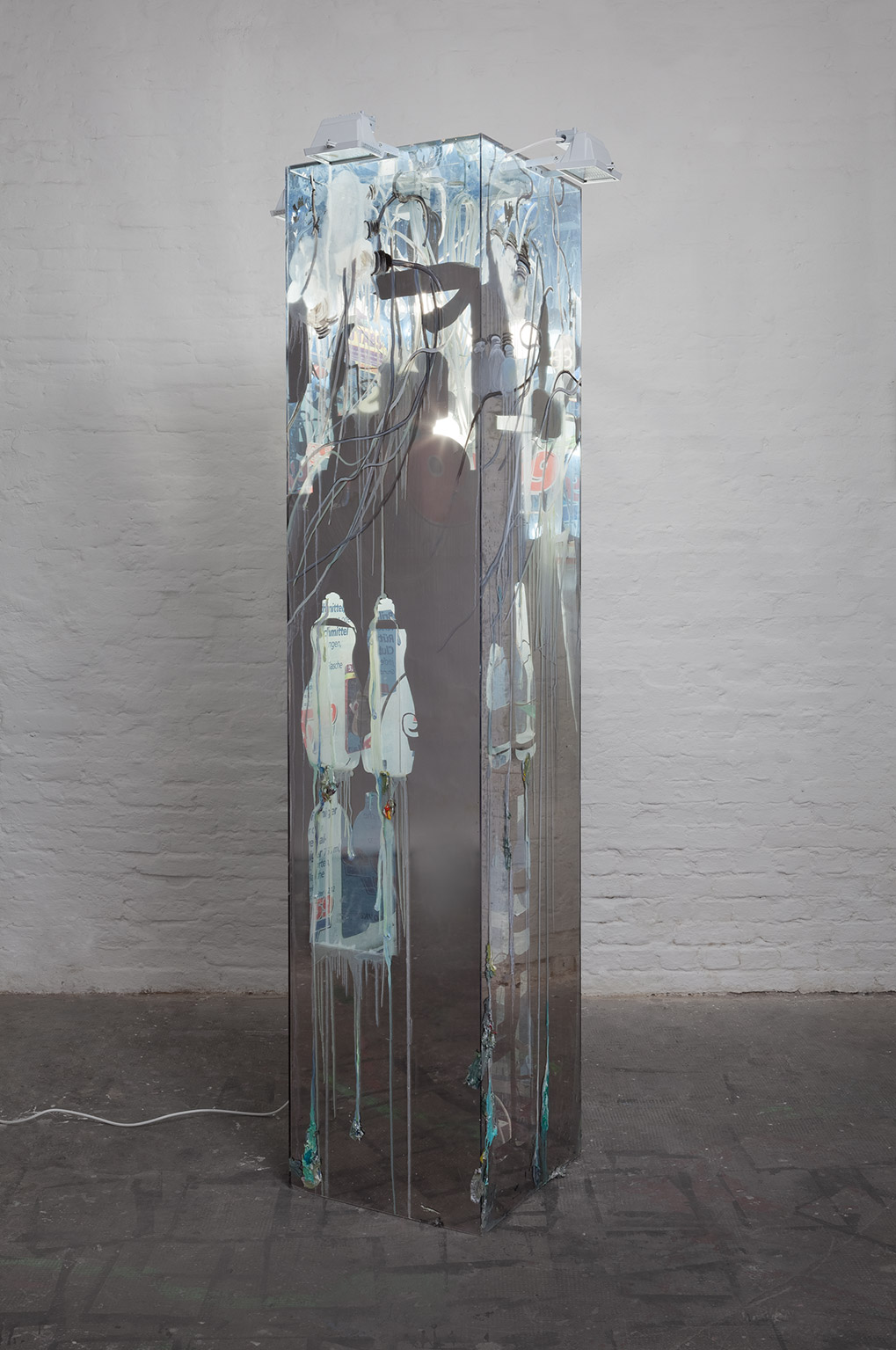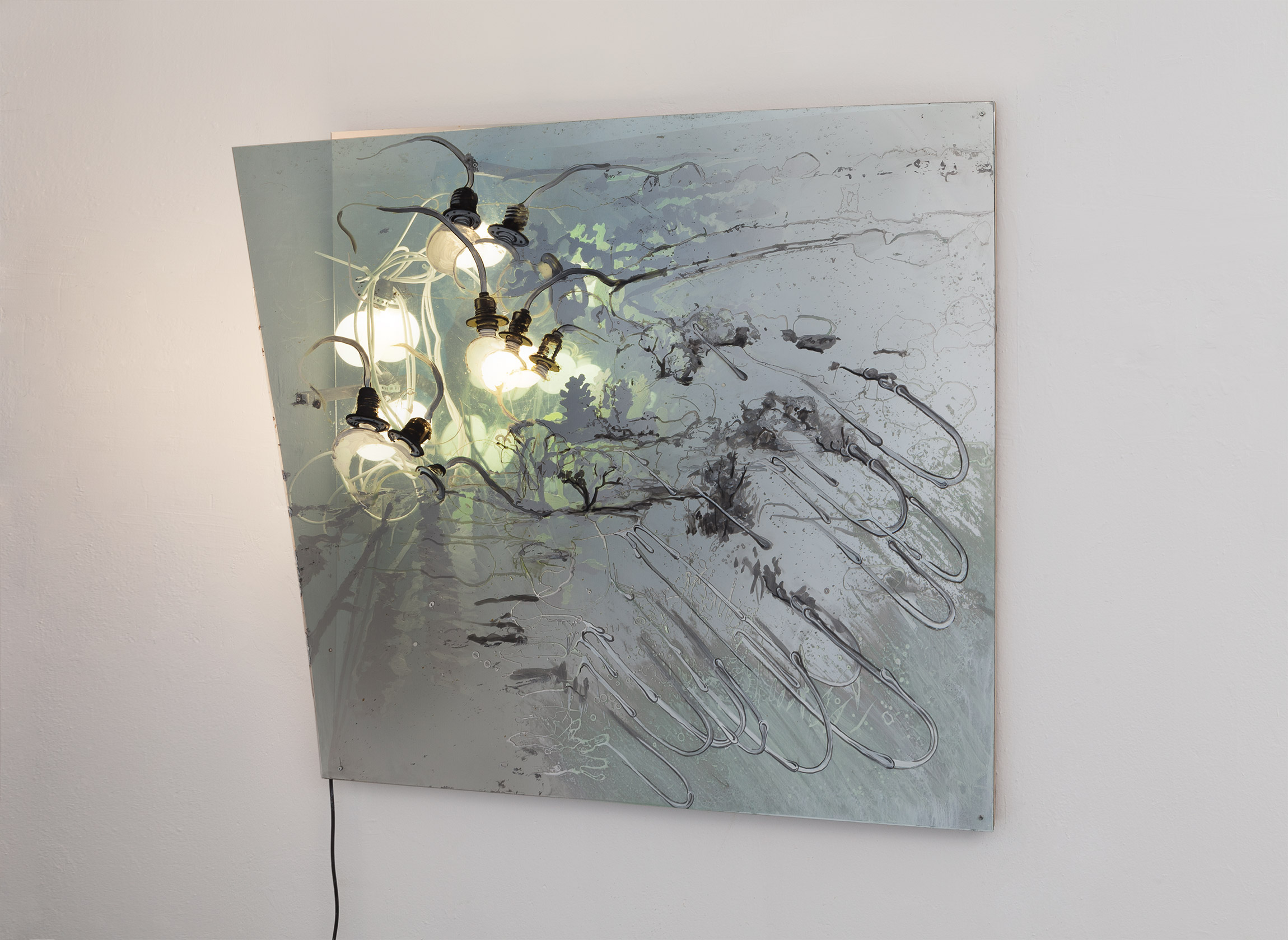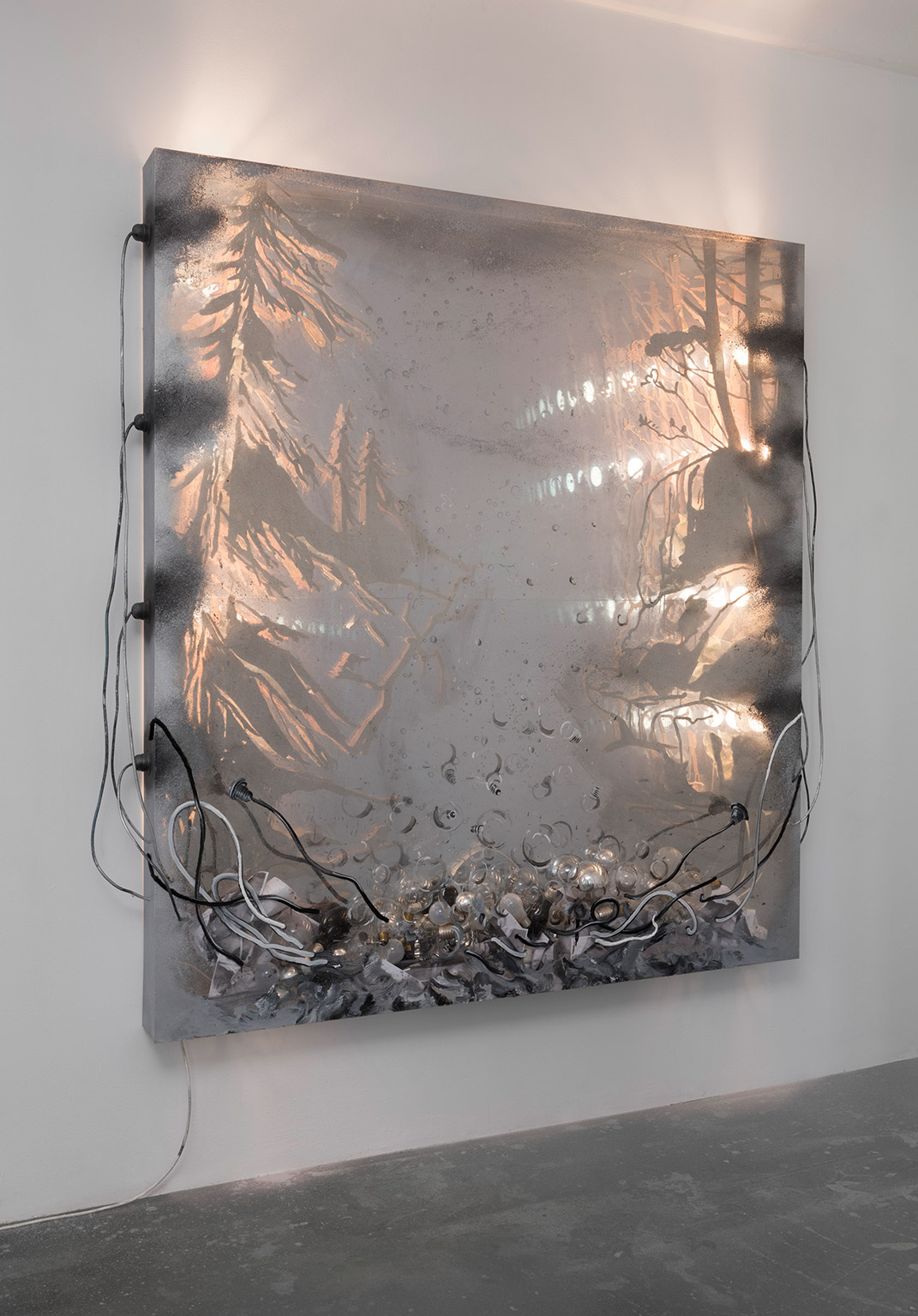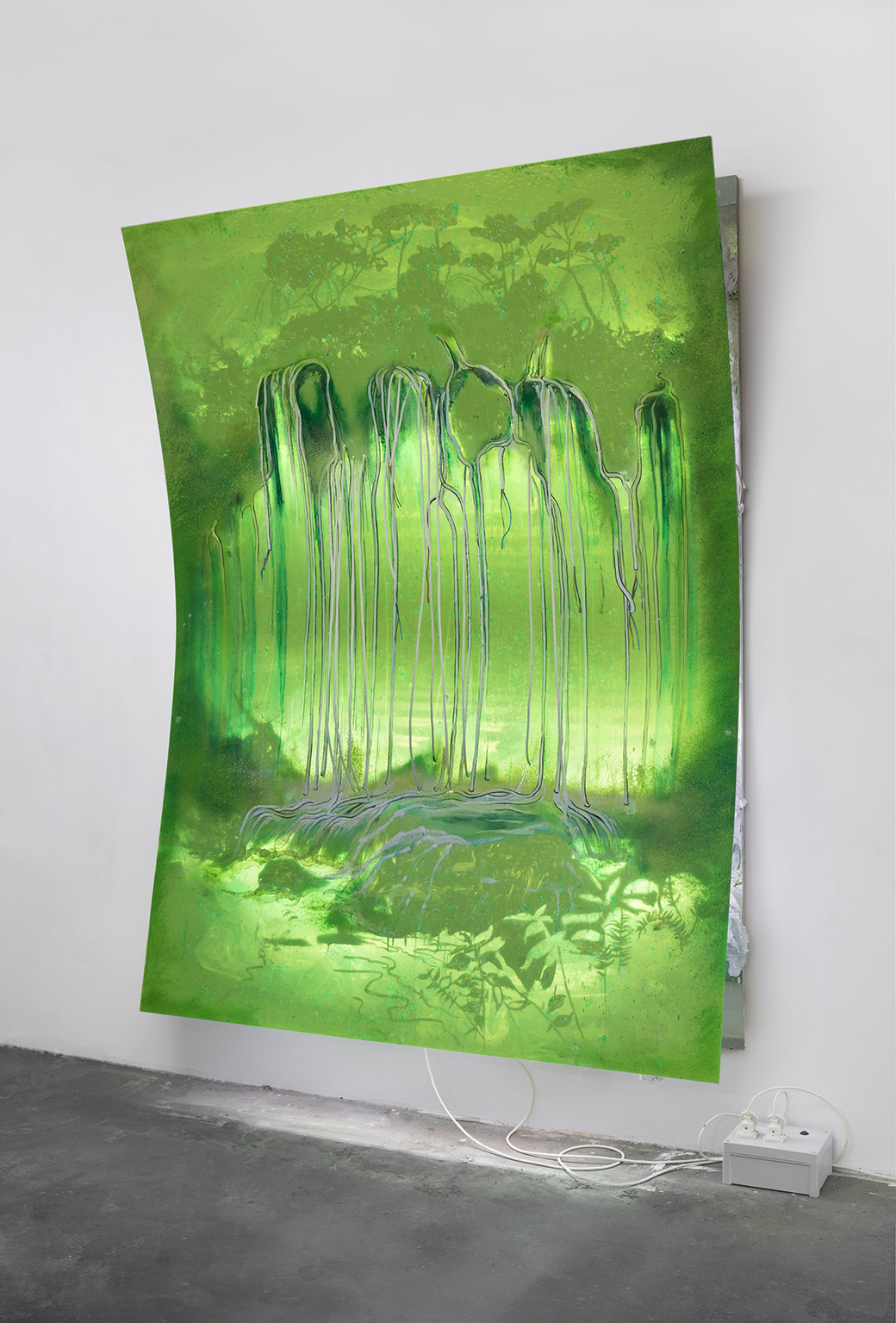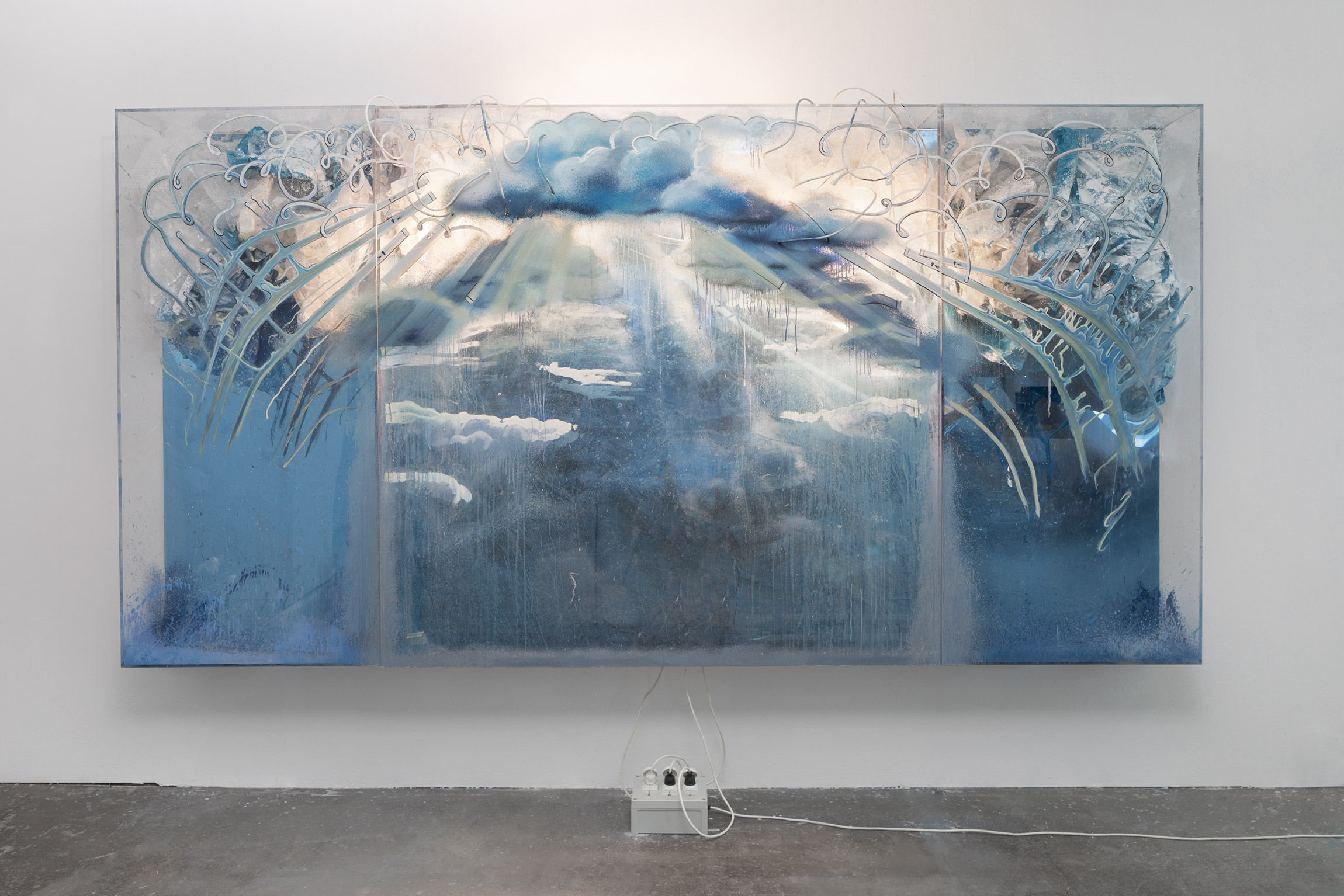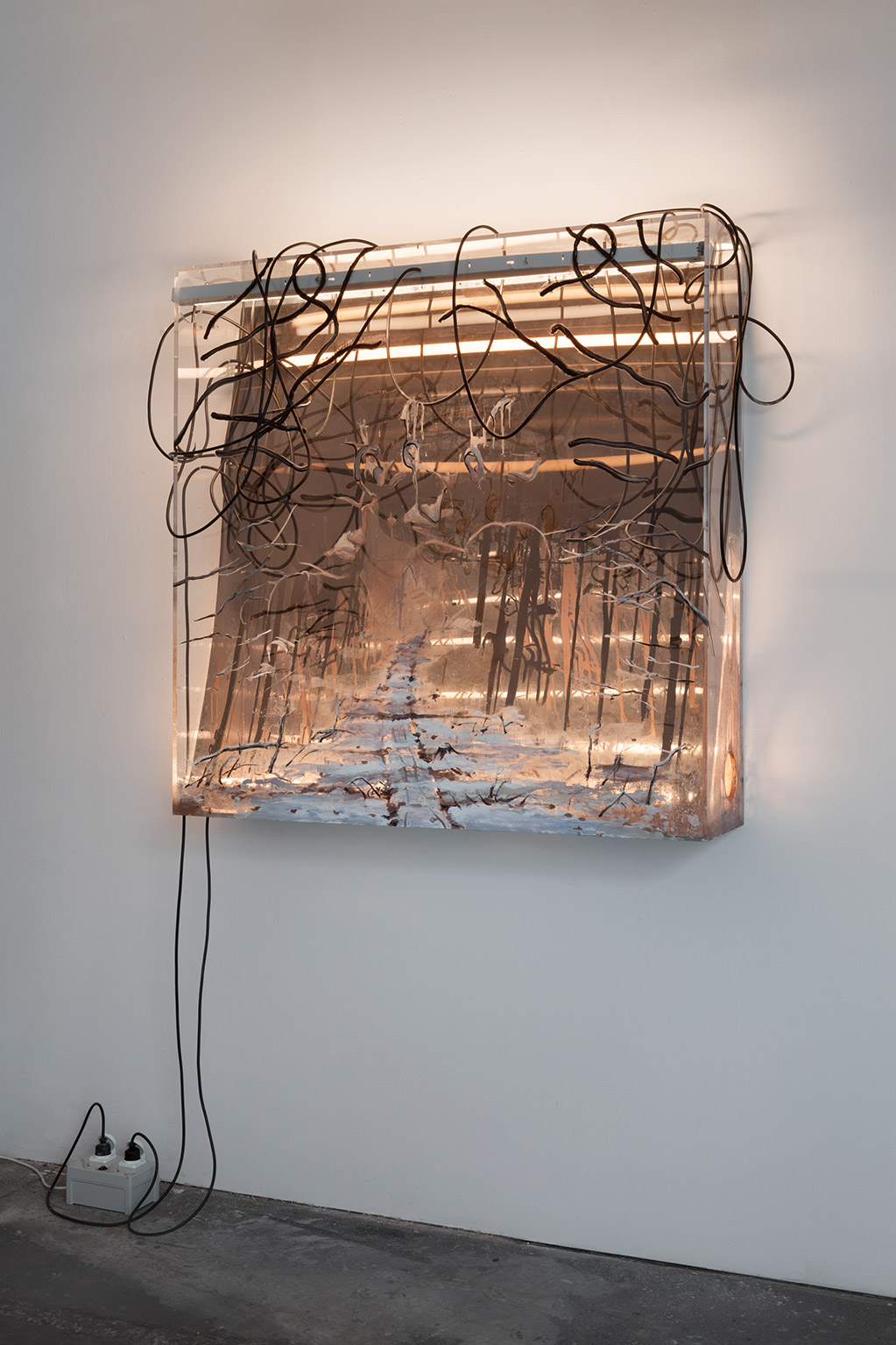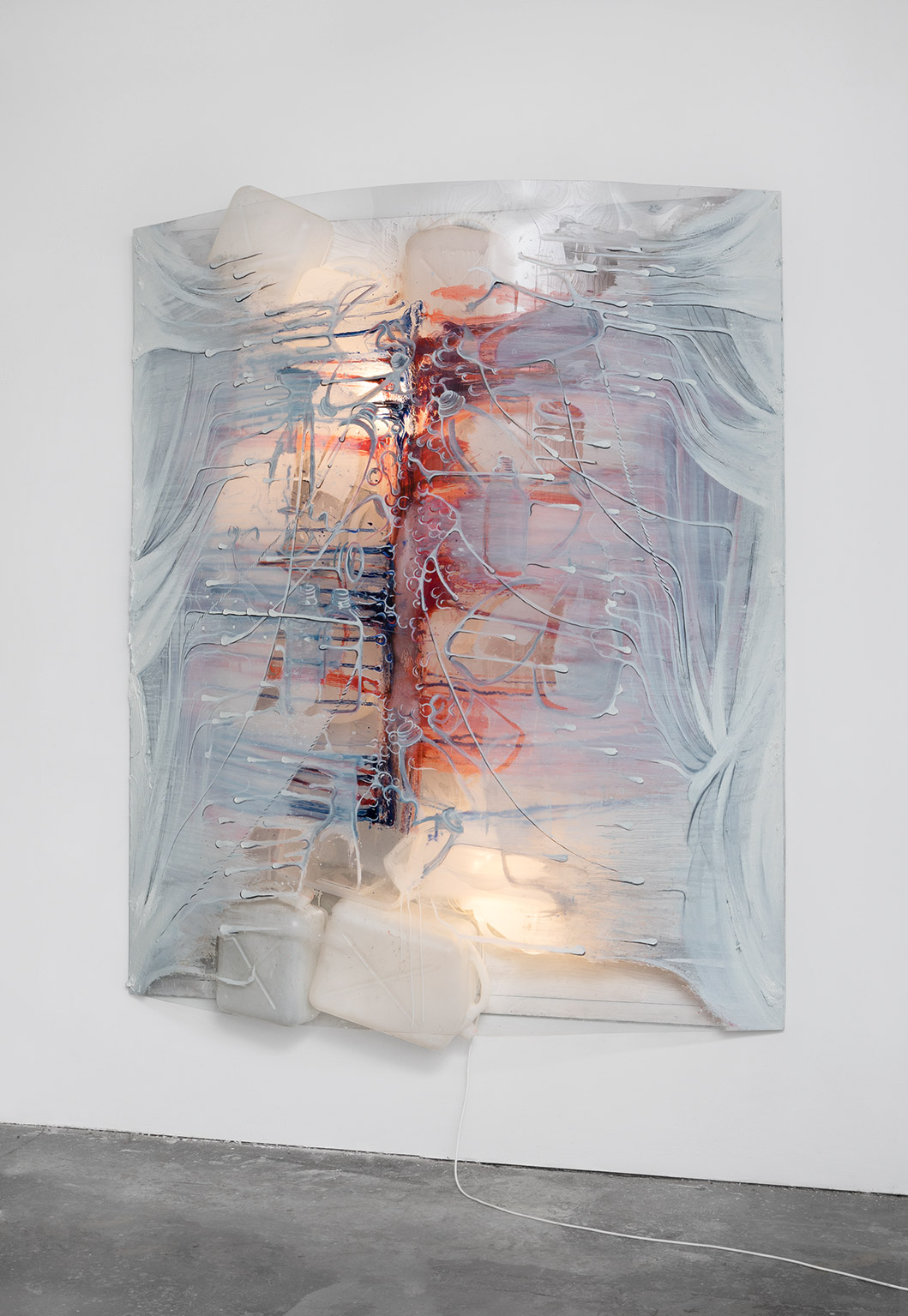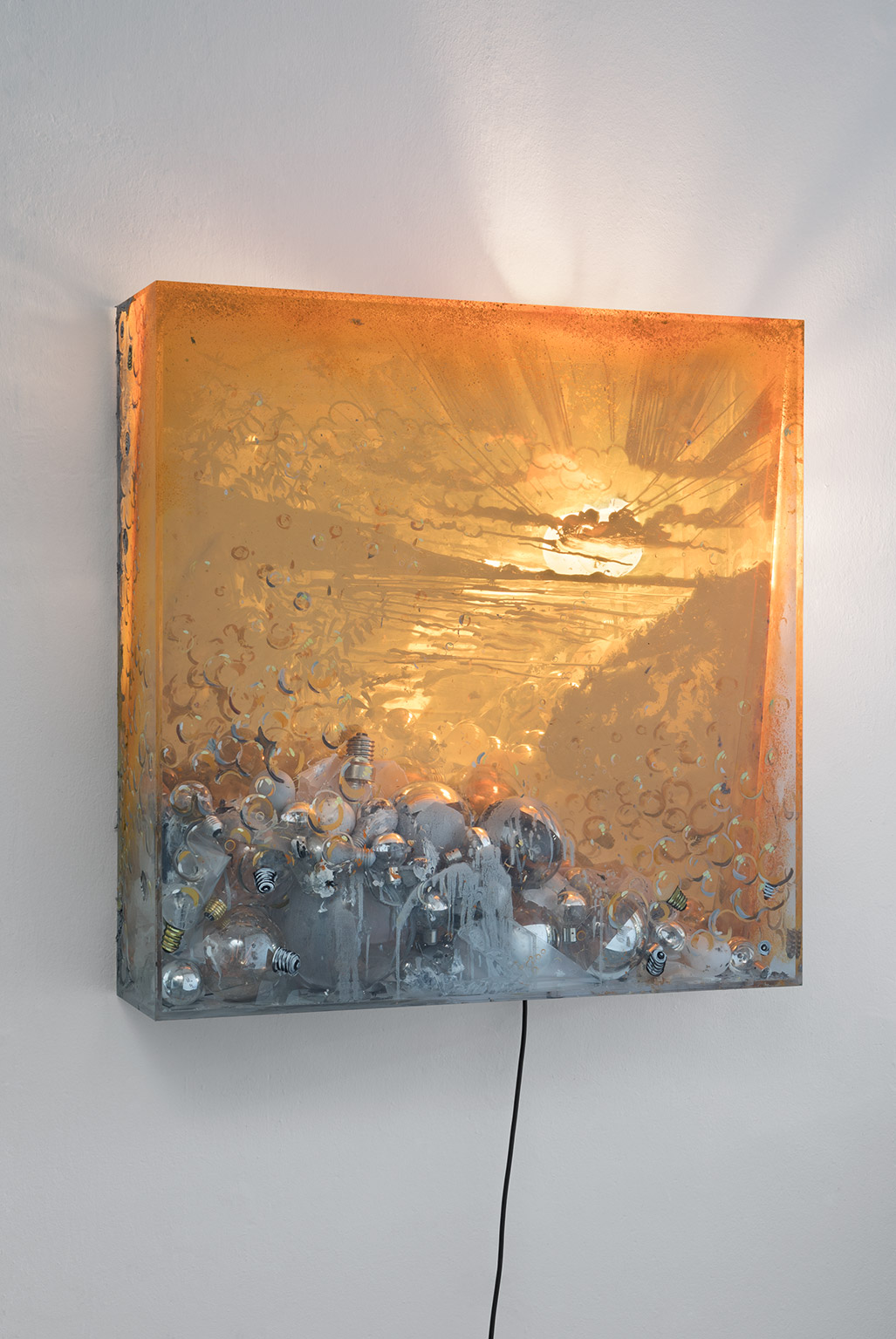 ---
About
"In me there are two souls, alas…", Faust's famous inner conflict also applied to young German artist, Philipp Fürhofer. In love with both art and music, Fürhofer grew up torn between pursuing a career as an artist, and as a pianist. Though he decided on art, music, and most notably opera, remain extremely important in his life and influential for his art practice.
Born in Augsburg, Bavaria in 1982, Fürhofer moved to Berlin to study under Hans-Jürgen Diehl at the Berlin University of the Arts in 2002. While there, he was visited by Hans Neuenfels, highly regarded for his work in experimental theatre. Neuenfels discovered Fürhofer's love of opera and invited him to assist him in stage design at theatres in Bayreuth and Zurich. It was this introduction that lead Fürhofer to the unique position he occupies today: he has created award winning set designs for many of the world's foremost opera houses including London's Royal Opera House and the Dutch National Opera in Amsterdam, while remaining fervently committed to his fine art practice.
Fürhofer's arrestingly beautiful art works are multi-layered and entrancing. They function as light boxes, but also as paintings. Depending on whether the light is turned on or off, the contents are either illuminated or shrouded for the viewer. In the works where the light rhythmically switches on and off via a timer, the viewer has to concentrate in order to consume the information relayed in these alternating states. This game interferes with the more straightforward act of looking that a viewer might adopt when perusing a traditional painting, instead placing him in a much more active role where he is encouraged to move around the work and adopt different positions of engagement.

Continue reading
Through his work for the stage, Fürhofer learnt how to captivate an audience by drawing them into a space in a constant state of flux, so that there is always something new unfolding for the duration of often lengthy performances. It is Fürhofer's awareness of the role of the viewer, that casts him in such a unique position as an artist. Not only is the viewer active, rather than passive in relation to his practice, the spy-foil surfaces of Fürhofer's works reflect the viewer when the light is off, and then banish his reflection when the light is on, causing him to look beyond his own image and into the interior of what the work contains. An easy comparison to arrive at when considering Fürhofer's practice, is a corporeal reading of the work. Indeed Fürhofer was first inspired to create his multi-layered objects with their light tubes, bulbs, rubber pipes and blend of organic and inorganic matter, after looking at x-rays of his own chest cavity when he was lying in a Berlin hospital. The strange sense of dislocation between looking into an image of one's own insides, while simultaneously presenting a contained, apparently hermetically sealed vessel to the outside world, was a strange, but inspiring paradox for Fürhofer.
It is important not to confine his practice to a strictly physical interpretation. There is a strongly spiritual quality to Fürhofer's creations. They not only encourage the viewer to participate in a visual game of looking and remembering, ordered by the controlled time frame, their evocative nature prompts the viewer to slip between temporal and spiritual planes, and reach for a higher order of things inspired by beauty, art and music. There is a strange poetry inherent in the everyday – even in the detritus that spills over in our lives – and Fürhofer is adept at capturing this, playing with the stereotype of creating a sense of theatre through experimenting with smoke, light and mirrors. At the heart of his practice though is a serious core: grounded in a deep awareness of the fragility of human existence and the interface between the spark of life and creativity and the shadowland that waits in the wings.
He lives and works in Berlin.
---
---
---
Chronology
---
Biography
1982
Born in Augsburg, Germany
2002-07
Studied fine arts at the Universität der Künste, Berlin
2008
Meisterschüler of Hans-Jürgen Diehl
Lives and works in Berlin.
Selected Solo Exhibitions
2023
Philipp Fürhofer: Phantominseln, Städel Museum, Frankfurt am Main
2022
Philipp Fürhofer: The Truths Behind, Galerie Judin, Berlin
2020
Philipp Fürhofer: Aura, Galerie Sabine Knust, Munich
2019
Philipp Fürhofer: Lost Paradise, The Collectors Room, Hamburg
2018
Philipp Fürhofer: Walpurgisnacht, Galerie Judin, Berlin
2017
Philipp Fürhofer: [Dis]connect, Schirn Kunsthalle, Frankfurt am Main
2016
Philipp Fürhofer: Shadows of Delight, Galerie Sabine Knust, Munich
Philipp Fürhofer: Reflexzone, Augsburger Kunstverein, Augsburg
2015
Philipp Fürhofer: In Light of the Hidden, Galerie Judin, Berlin
2014
Philipp Fürhofer: Diasphere, Galerie Sabine Knust, Munich
2013
Philipp Fürhofer: Akt II/4, 285 Watt, exhibition as part of "selected", VG & S Art Development, Hamburg
Philipp Fürhofer: n/Off Relations, Schmidt & Handrup, Cologne
2012
Philipp Fürhofer: Breakthrough, Bayerisches Nationalmuseum, Munich
Philipp Fürhofer: "…und immer nur Spuren von möglichen Welten…", Verein zur Förderung von Kunst und Kultur am Rosa-Luxemburg-Platz, Berlin
2011
Philipp Fürhofer: Hitzefrei, Galerie Carolyn Heinz, Hamburg
2010
Philipp Fürhofer: Plastic Romanticism, Grantpirrie Gallery, Sydney
Philipp Fürhofer: Missing Links, Galerie Lena Brüning, Berlin
2009
Philipp Fürhofer: Life Is Out There, not|fair Gallery and Accademia di Brera, Milan, Italy
Philipp Fürhofer: Artforum Berlin, Galerie Lena Brüning, Sektor Focus
2008
Philipp Fürhofer: Transference, Galerie Lena Brüning, Berlin
Meisterschülerausstellung, Universität der Künste, Berlin
2007
Philipp Fürhofer: HerZeigen, Galerie Lena Brüning, Berlin
Selected Group Exhibitions
2022
DISSONANCE. Platform Germany, Künstlerhaus Bethanien, Berlin
2018
Du bist Faust – Goethes Drama in der Kunst, Kunsthalle München, Munich
New Editions, Galerie Sabine Knust, Munich
2017
Under Construction, Schau Fenster, Berlin
Fountain of Youth, Galerie Reiter, Leipzig
2016
Höhenrausch, Galerie Eigen+Art Lab, Berlin
Mirrors: Spiegelungen, Projektionen, Reflexionen, Künstlerhaus Dortmund
Elective Affinities: German Art Since the Late 1960s, Arsenal Fine Arts Museum, Riga
2015
There is Never a Stopp and Never a Finish, Kreuzberg Pavillon, Berlin
2013
Between Appropration and Intervention, Kunstraum Kreuzberg
Rohkunstbau XIX: Moral, Kulturschloss Roskow, Brandenburg, Germany
2012
Material Matters, prinz-georg // raum für kunst, Berlin
2011
Between Appropration and Intervention, Kunstverein Kristiansand
Award holder's exhibition of Sommer.Frische.Kunst, Bad Gastein
2010
Enlightenment, Verein zur Förderung von Kunst und Kultur am Rosa-Luxemburg-Platz, Berlin
Festival de Beaux Arts, Galerie Sabine Knust , Pinakothek der Moderne, Munich
Ich weiß was du nicht siehst, Kunstraum Kreuzberg, Bethanien, Berlin
Transformation, Torstraße 95, Berlin
Künstler der Galerie III, Galerie Lena Brüning, Berlin
2009
Werkschau 1, kunst:raum, Sylt
Philipp Fürhofer and Martin Mohr: Art and Spirit, Karl-Hofer-Gesellschaft and Atelier Interroll, Locarno
Tape Modern 9, Tape Club, Berlin
Exotica, Forgotten Bar Project, Berlin
Philipp Fürhofer und Ina Bierstedt: Korrespondenz. Ein analoger Dialog, Hier Projekt, Berlin
Award holder's exhibition of Karl-Hofer-Gesellschaft, Berlin and Atelier Interroll, Ticino
Künstler der Galerie II, Galerie Lena Brüning, Berlin
2008
Was Ist Das, LOFT, Galerie Suzanne Tarasiève, Paris
Meisterschüler, Universität der Künste, Berlin
2007
Variable Dimensions, WilmerHale, Berlin
Papierarbeiten, Galerie Lena Brüning, Berlin
Theater Works and Exhibition Design
2023
Set design for Tristan and Isolde by Richard Wagner, director: Stephan Märki, Staatstheater Cottbus
2021
Exhibition design for Thierry Mugler: Couturissime, Musée des Art Décoratifs, Paris
Set design for Parsifal by Richard Wagner, director: Christian Thiellemann, Wagner Festival, Bayreuth
2020
Set design for Hamlet  by William Shakespeare, Royal Danish Theatre, Copenhagen, director: Morten Kirkskov
2019
Set design for Drot og Marsk by Perter Heise, director: Kasper Holten, Amy Lane, conductor: Michael Schonwandt, Royal Danish Opera Copenhagen
Exhibition design for the Gynoid Gallery Thierry Mugler: Couturissime, Museum of Fine Arts Montreal and Kunsthal Rotterdam
Set and costume design for Orlando by Georg Friedrich Händel, director: Jörg Weinöhl, condutor: Michael Nündel, Staatstheater Darmstadt
2018
Set and costume design for Pelleas and Melisande by Claude Debussy at Glyndebourne Festival, Lewes, director: Stefan Herheim
Set and costume design for Carmen by Georges Bizet at Konzert Theater Bern, director: Stephan Märki
Exhibition design for the exhibition Du bist Faust, Goethes Drama in den Künsten, Kunsthalle München
2016
Set and costume design for Macbeth by Giuseppe Verdi at Badisches Staatstheater, Karlsruhe, director: Holger Müller-Brandes
Set and costume design for Pique Dame by Pjotr I. Tschaikowski at the Dutch National Opera, Amsterdam and Royal Opera House, Covent Garden, London, director: Stefan Herheim
Set design for Der Fliegende Holländer by Richard Wagner at the Finnish National Opera, Helsinki, director: Kasper Holten
2015
Set and costume design for Ariadne auf Naxos by Richard Strauss at Luzerner Theater, Lucerne, director: Holger Müller-Brandes
2014
Set design for Alcina by Georg Friedrich Händel; director: Nadja Loschky, conductor: Howard Arman, Luzerner Theater, Luzern, Switzerland
2013
Set design for Les vêpres Siciliennes, Giuseppe Verdi; director: Stefan Herheim, conductor: Antonio Pappano, Royal Opera House, London (Laurence Olivier Award for Best New Opera Production, 2014)
Set and costume design for The Passenger, Mieczysław Weinberg; director: Holger Müller-Brandes, conductor: Christoph Getschold, Badisches Staatstheater, Karlsruhe
2011
Set design for Eugene Onegin, Pjotr Iljitsch Tschaikowski; director: Stefan Herheim, conductor: Mariss Jansons, De Nederlande Opera, Amsterdam
2008
Set and costume design for Bluebard's Castle, Béla Bartók; director: Werner Heinrichmöller, conductor: Panagiotis Papdopoulos, Aedes am Pfefferberg, Berlin
Awards and Residencies
2014
Laurence Olivier Award – Best Opera Production for Les Vêpres Siciliennes, Royal Opera House, London
2011
Kunstresidenz Next Gastein, Bad Gastein, Austria
2009
Karl-Hofer-Gesellschaft and Atelier Interroll, Ticino, Switzerland
Erwin-Steinblum-Residenz, Kunst:Raum Sylt Quelle and Jozi Art:Lab, Johannesburg
2005
Clément-Stiftung, Opernhaus, Zürich
Selected Catalogues and Monographs
2023
Philipp Fürhofer: Phantominseln. Edited by Svenja Grosser. Texts by Philipp Demandt, Svenja Grosser, Philipp Fürhofer, Christine Lemke-Matwey. Berlin: Hatje Cantz, 2023
2020
Philipp Fürhofer: (Dis)illusions. Edited by Thierry-Maxime Loriot. Texts by Thierry-Maxime Loriot, Jean-Luc Nancy, Sir Norman Rosenthal, Emily Ansenk, Ulrich Baer, Thomas Rogers, Denise Wendel-Poray, Rufus Wainwright. Rotterdam: nai010 Publishers, 2020
2016
Philipp Fürhofer (Kuenstler – Kritisches Lexikon der Gegenwartskunst 116/24). Neu-Isenburg: Kunstmedien MME
2014
Philipp Fürhofer: Diasphere. Edited by Sabine Knust and Matthias Kunz. Texts by Andreas Beitin and Mark Gisbourne. Exh. cat. Galerie Sabine Knust, Munich. Ostfildern: Hatje Cantz
2013
Rohkunstbau XIX: Moral. Edited by Ulrike Grelck. Text by Mark Gisbourne. Exh. cat. Kulturschloss Roskow. Roskow: Heinrich-Böll-Stiftung
2012
Philipp Fürhofer: Breakthrough. Edited by Bayerisches Nationalmuseum. Text by Gudrun Szczepanek, Exh. cat. Bayerisches Nationalmuseum, Munich. Munich: Bayerisches Nationalmuseum
2011
Sommer.Frische.Kunst – Kunstresidenz Bad Gastein, Stipendiaten 2011. Edited by Andrea von Goetz for Tourismusverband Bad Gastein. Text by Julia Ziegenbein. Hamburg: VGS Art
2010
Philipp Fürhofer: Missing Links. Edited by Galerie Lena Brüning. Texts by Susanne Prinz and Christine Lemke-Matwey. Exh. cat. Galerie Lena Brüning, Berlin