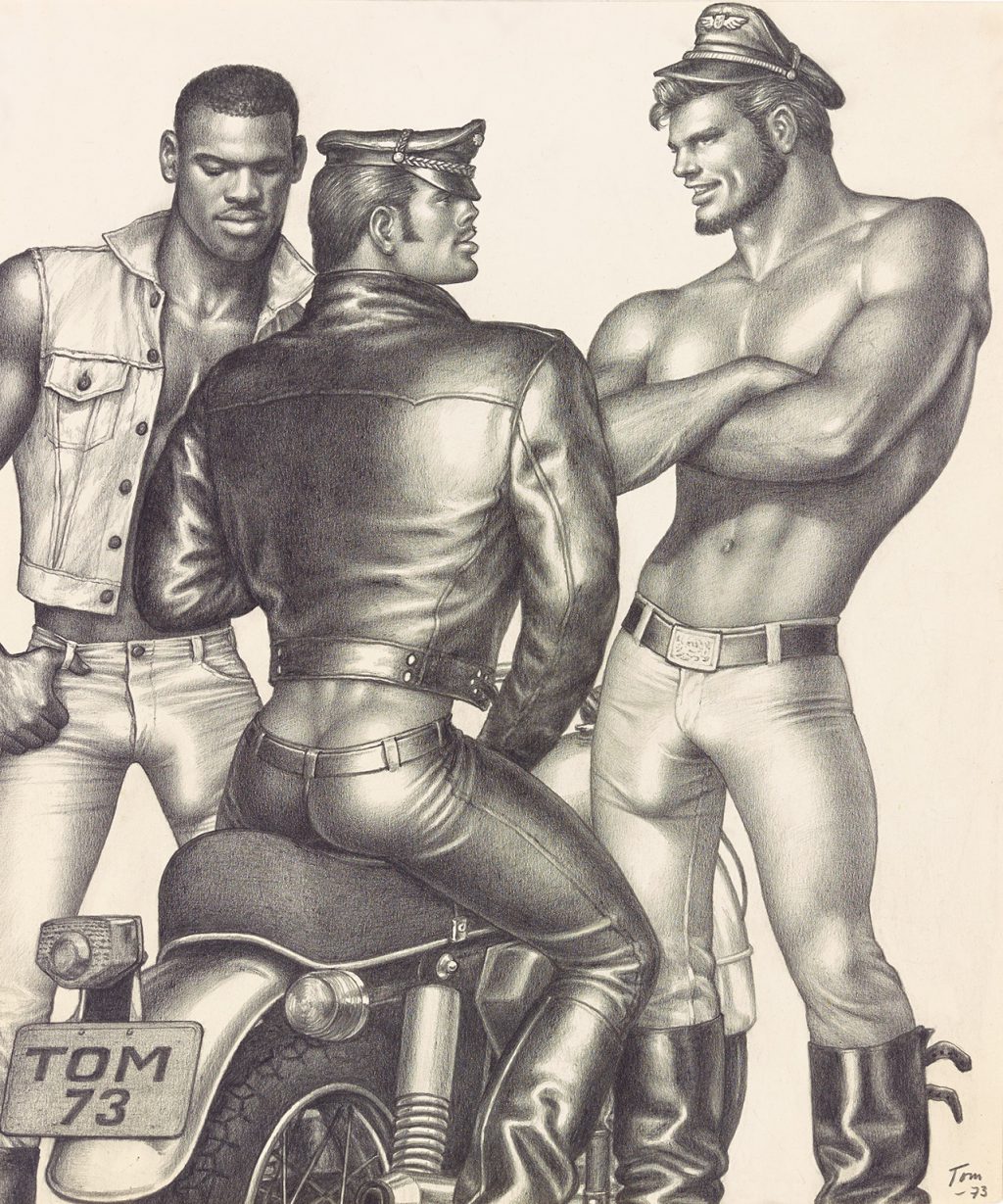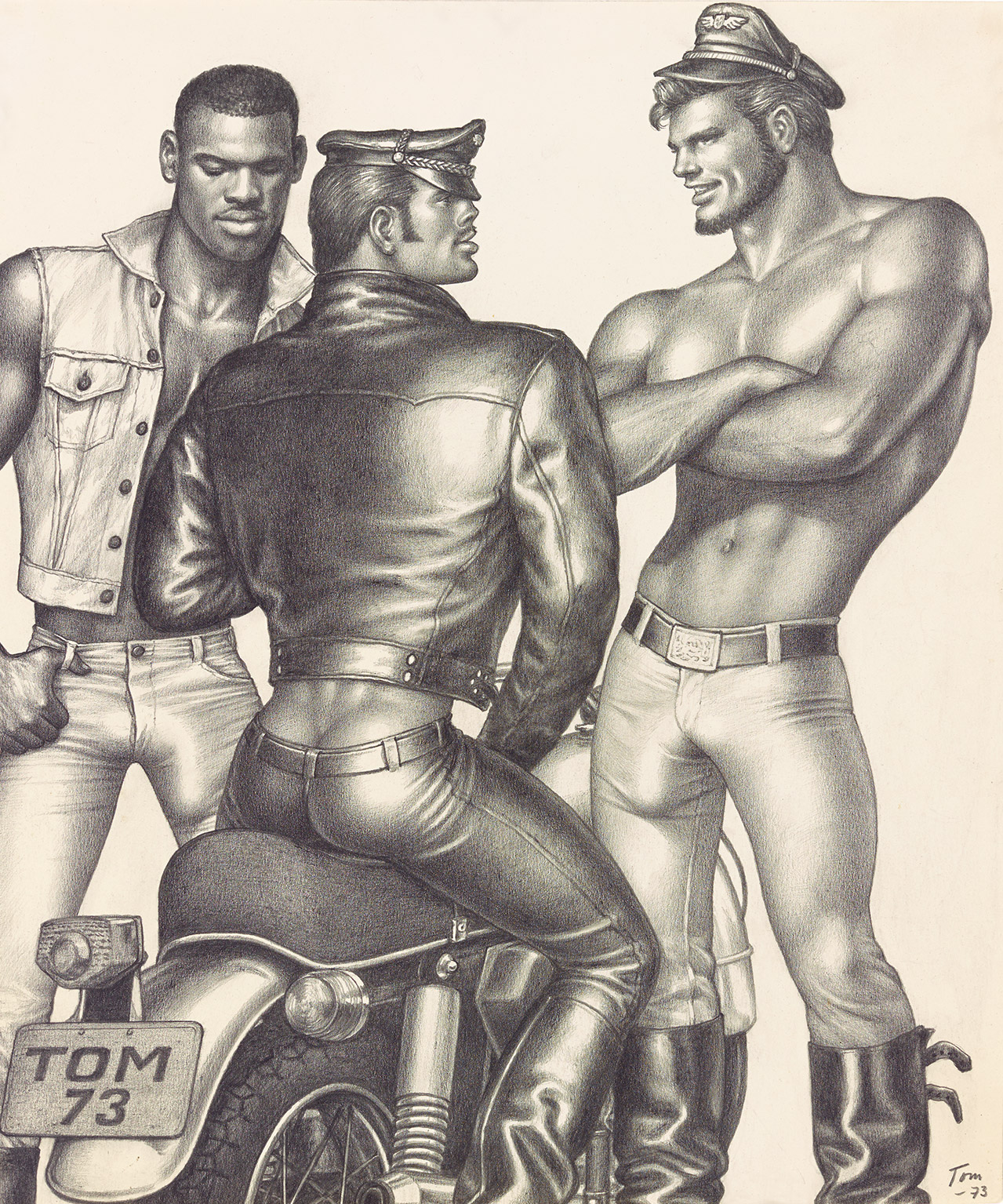 On the Bike
1973
Graphite on paper
30 × 25 cm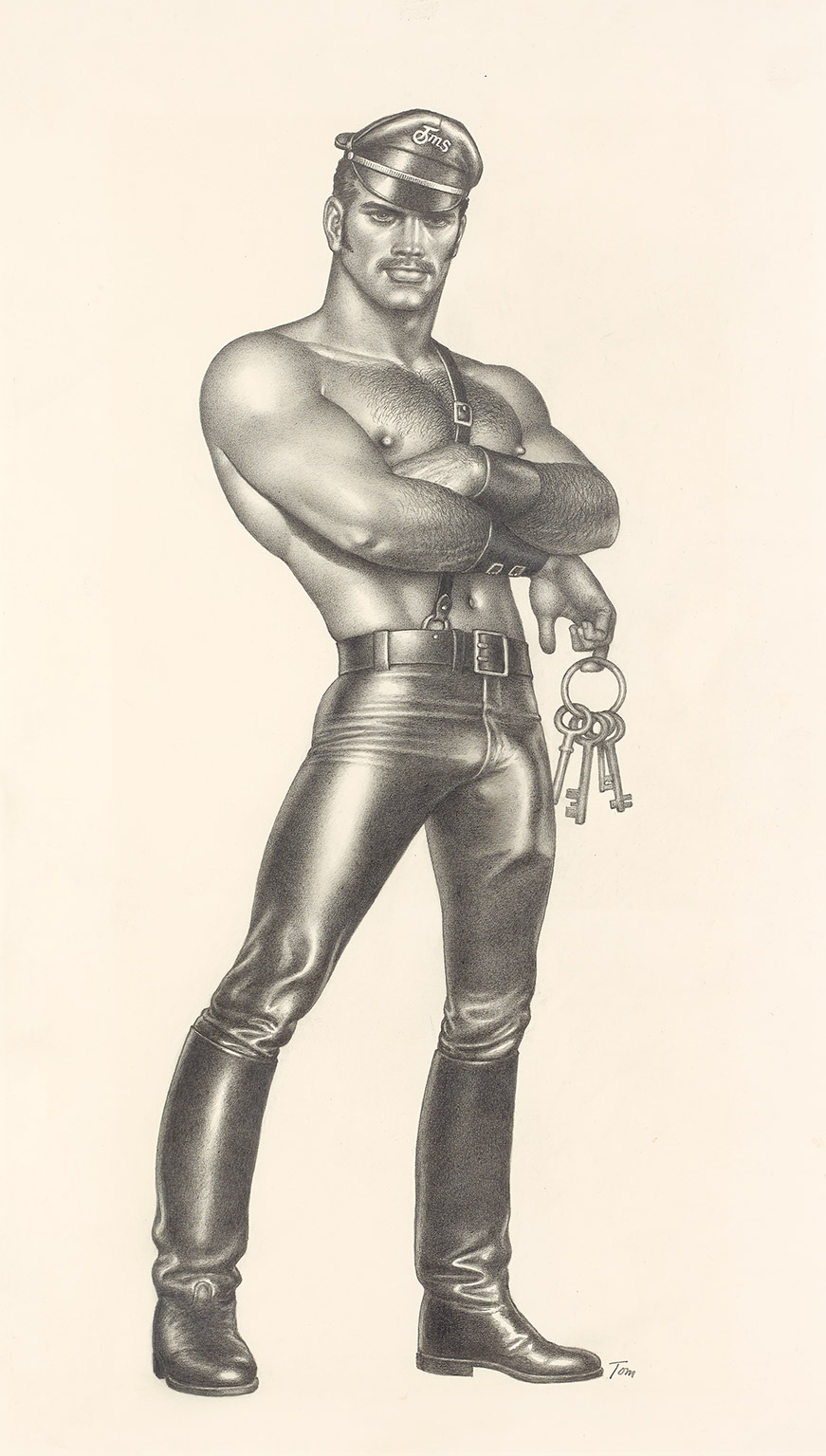 Untitled
1974
Graphite on paper
49 × 29.5 cm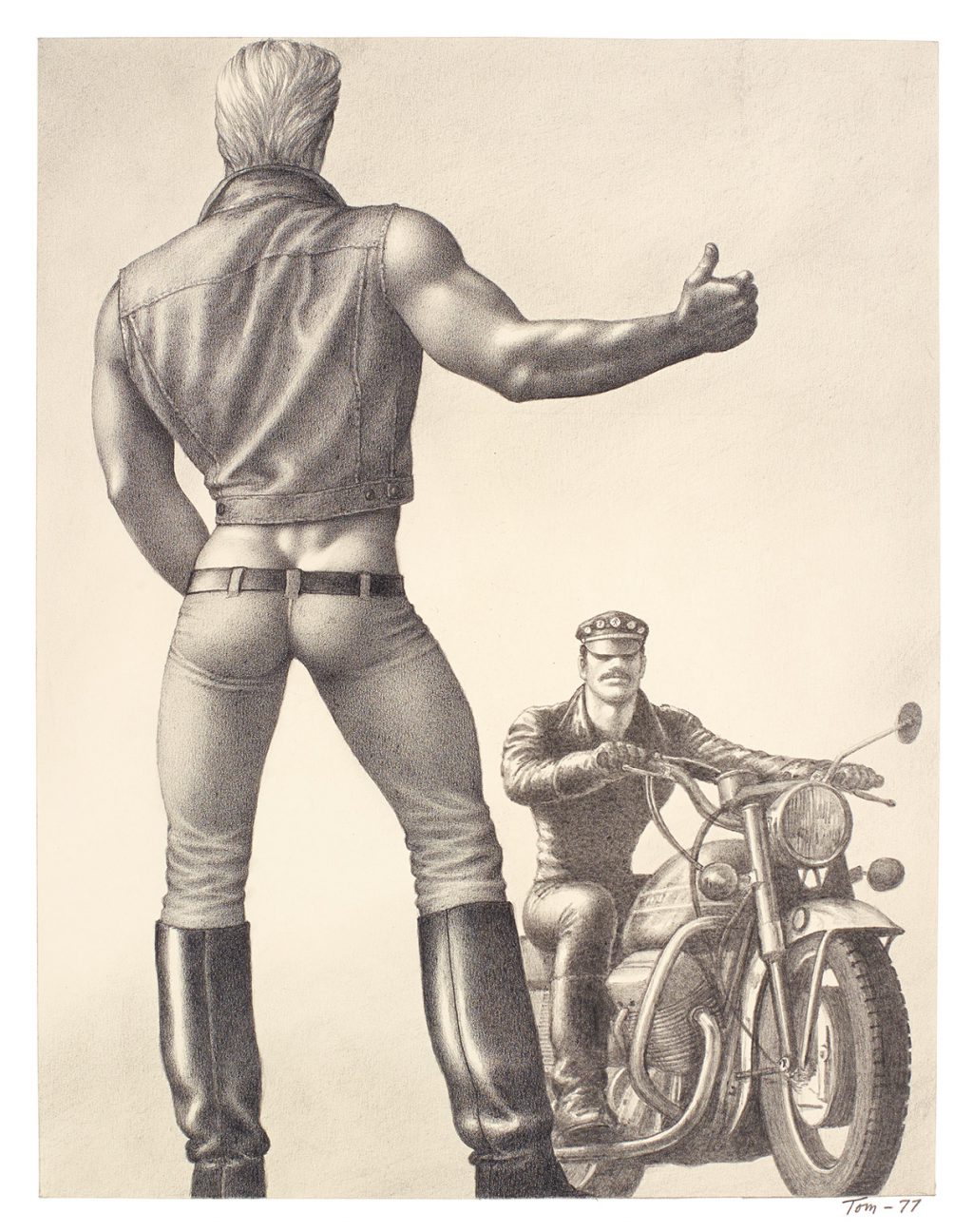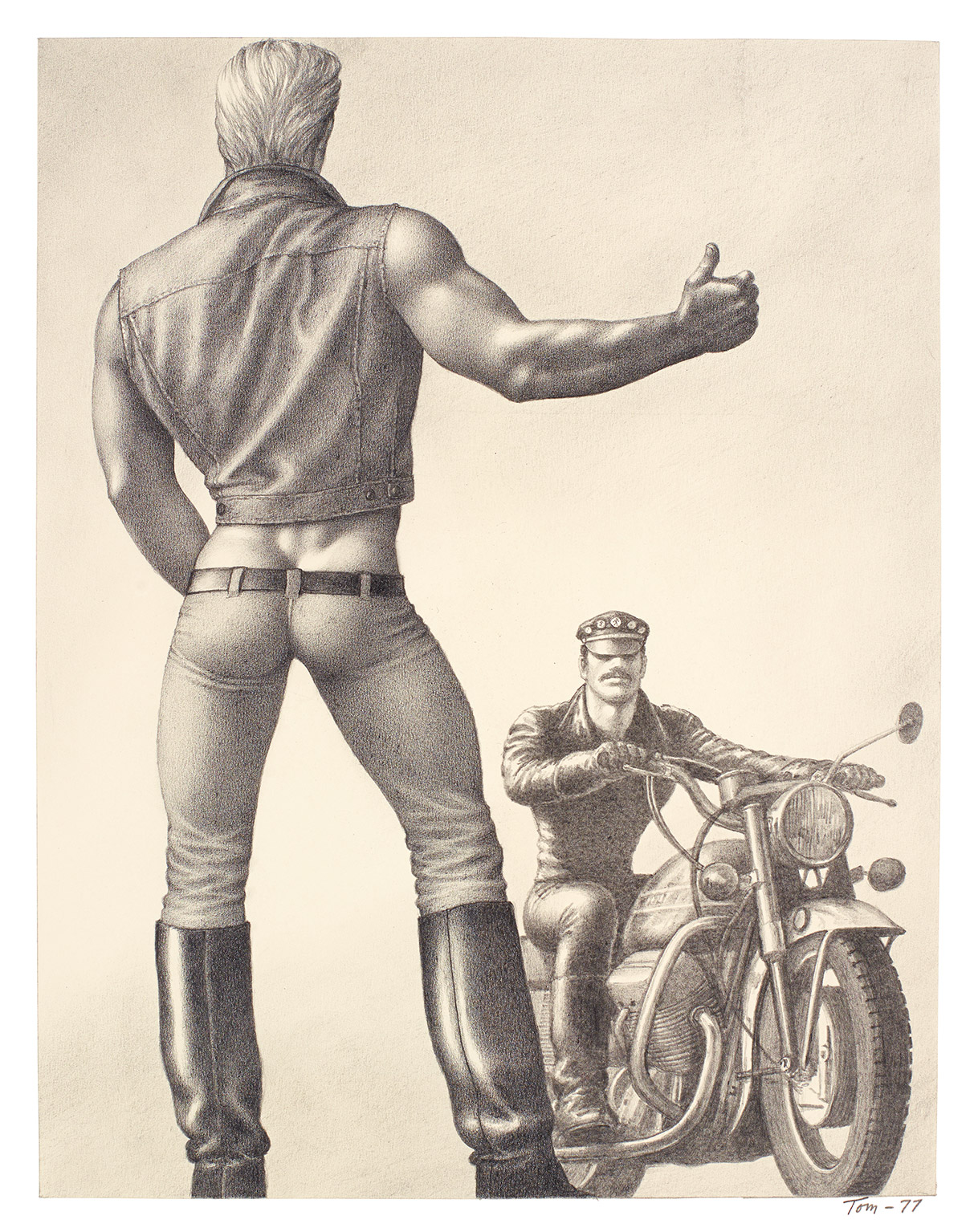 Untitled
1977
Graphite on paper
40 × 31.2 cm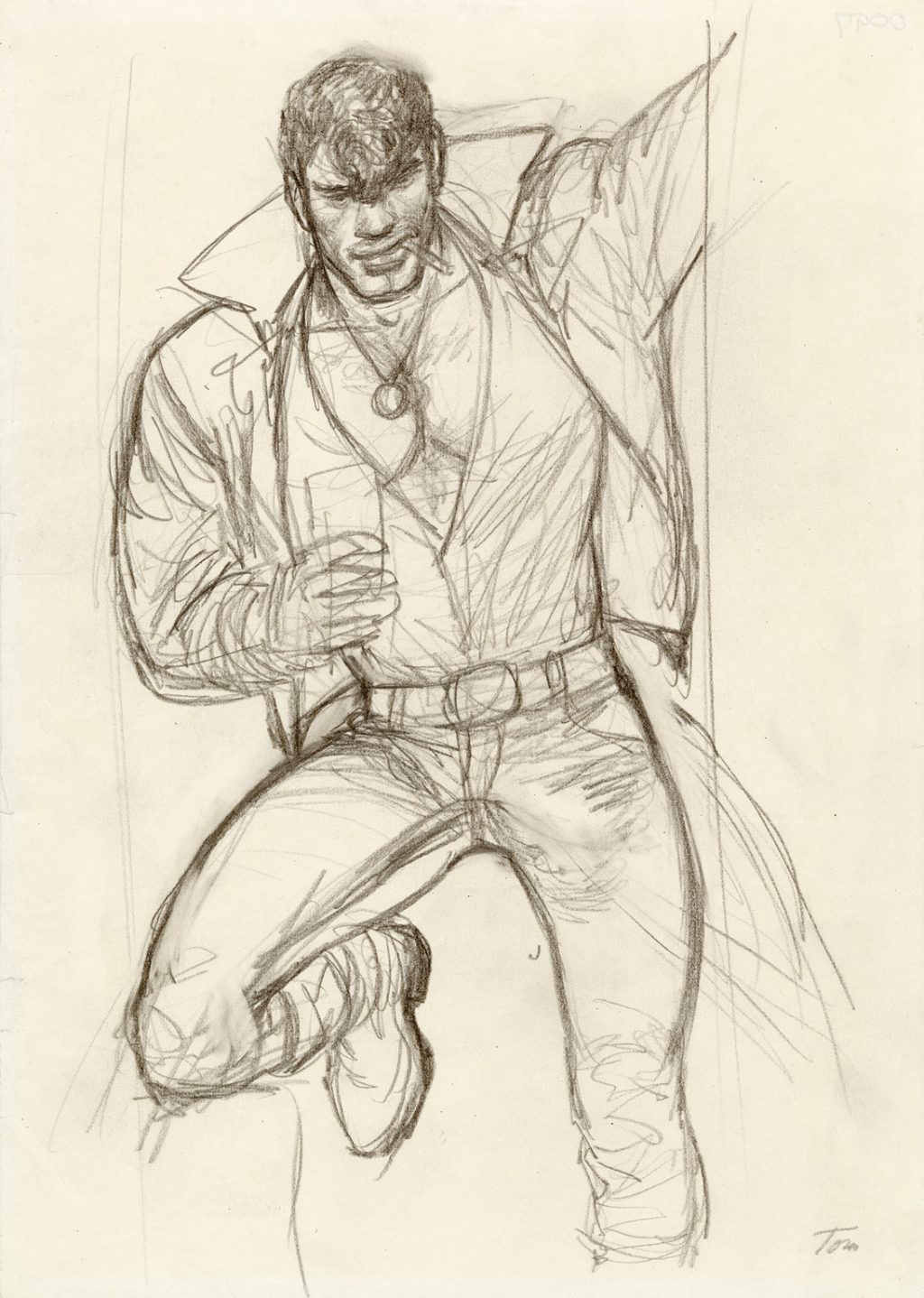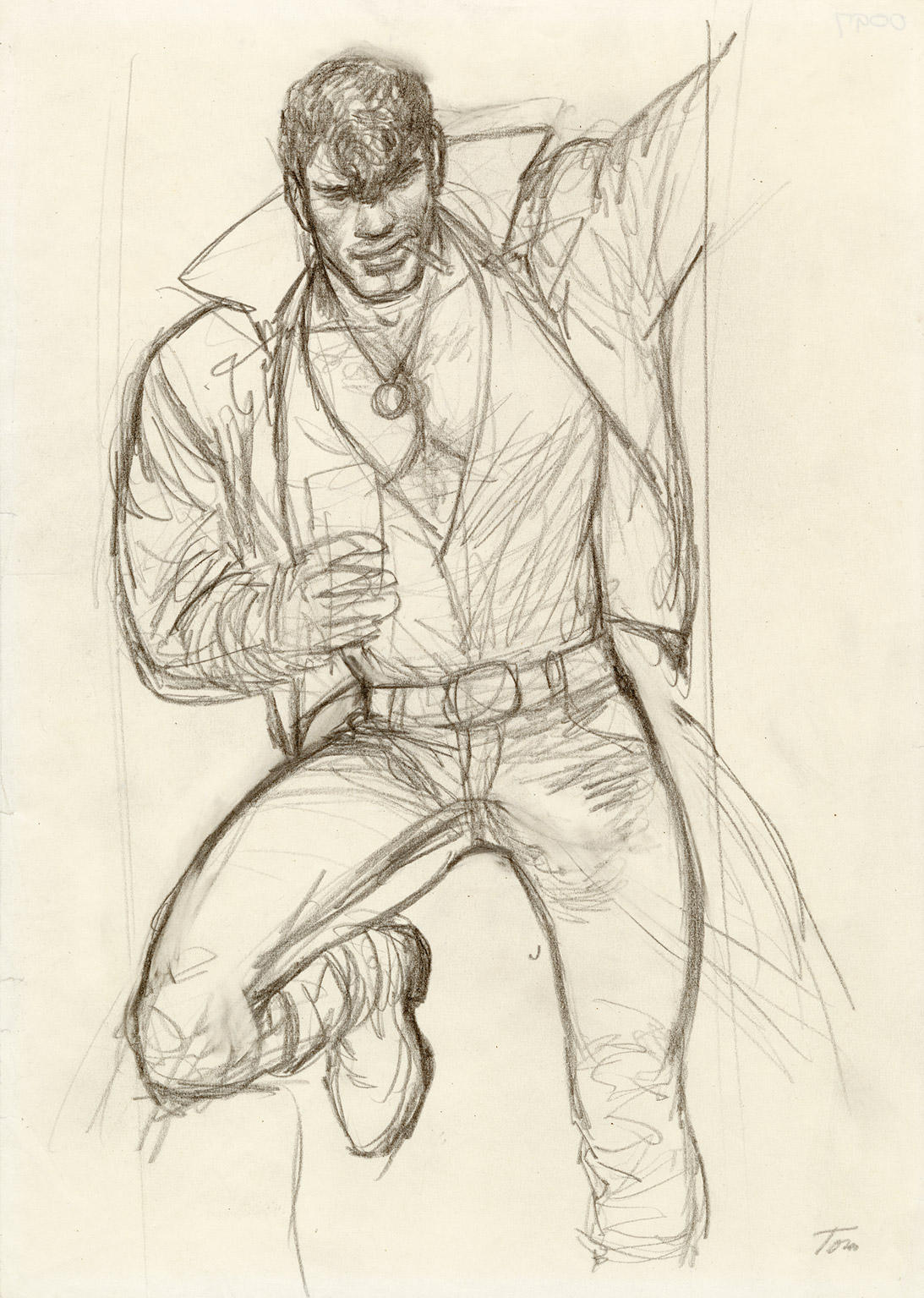 Untitled (Preparatory drawing)
c. 1964
Graphite on paper
29.2 × 21 cm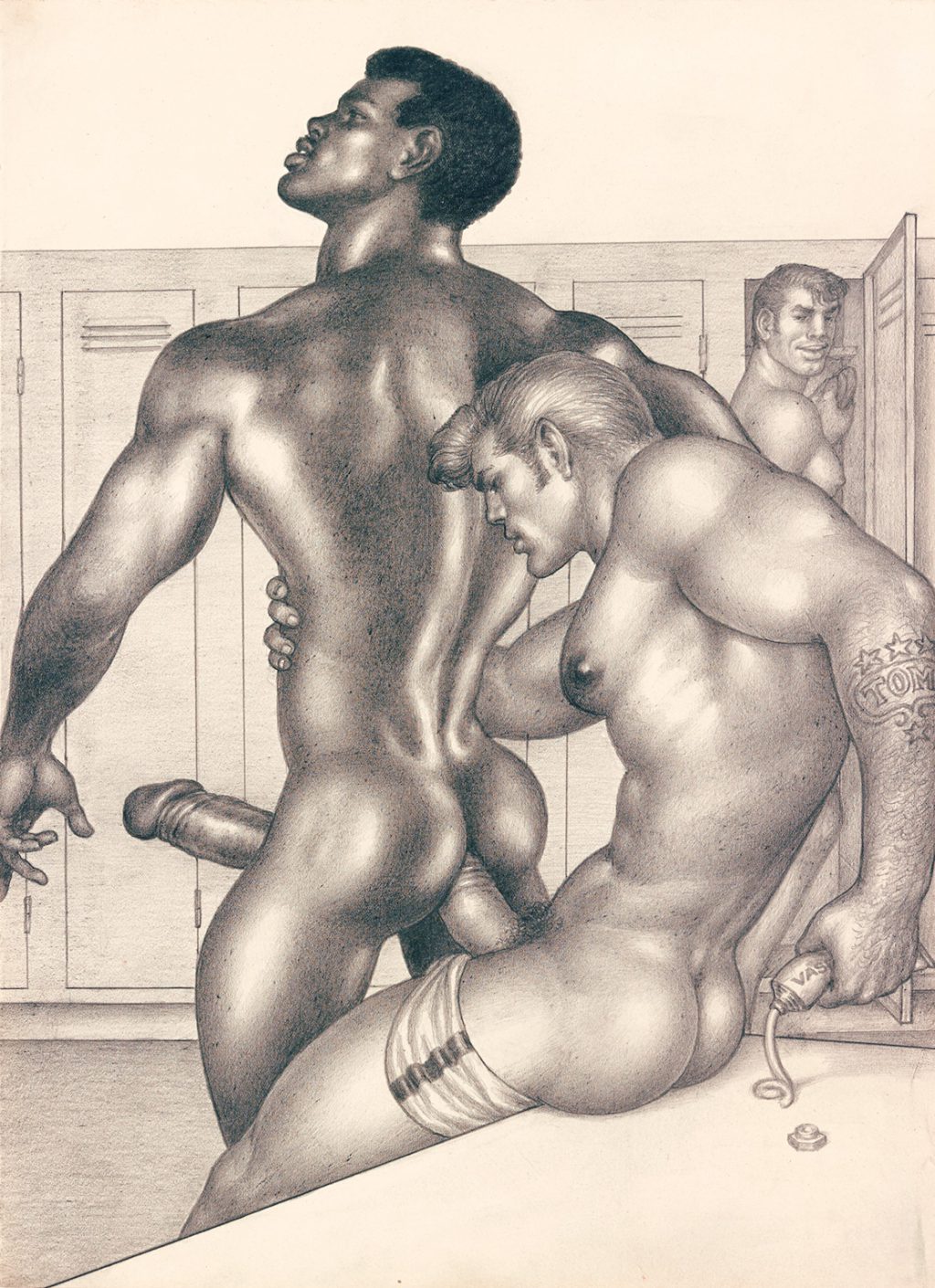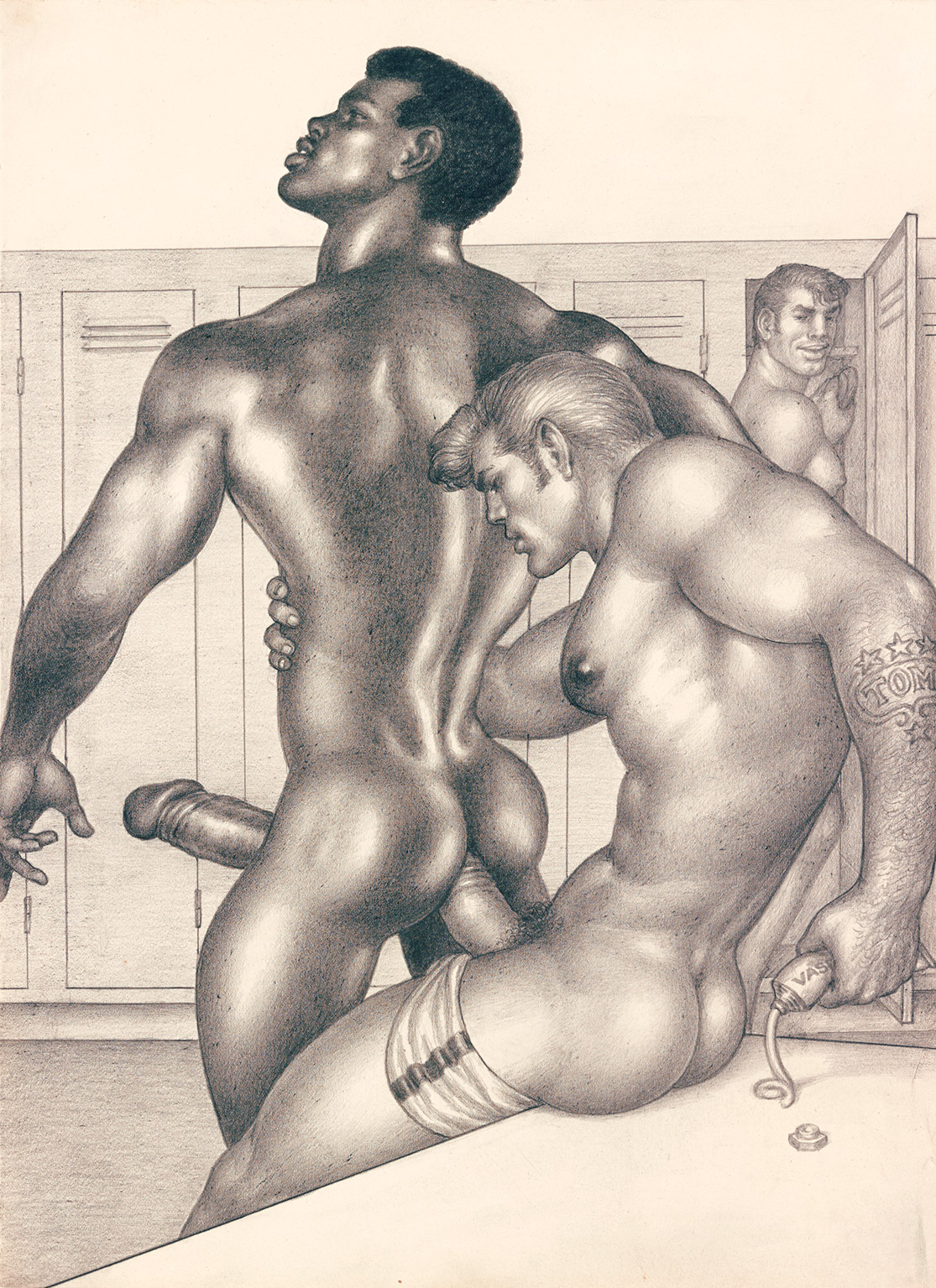 In the Locker Room
1965
Graphite on paper
31.2 × 22.5 cm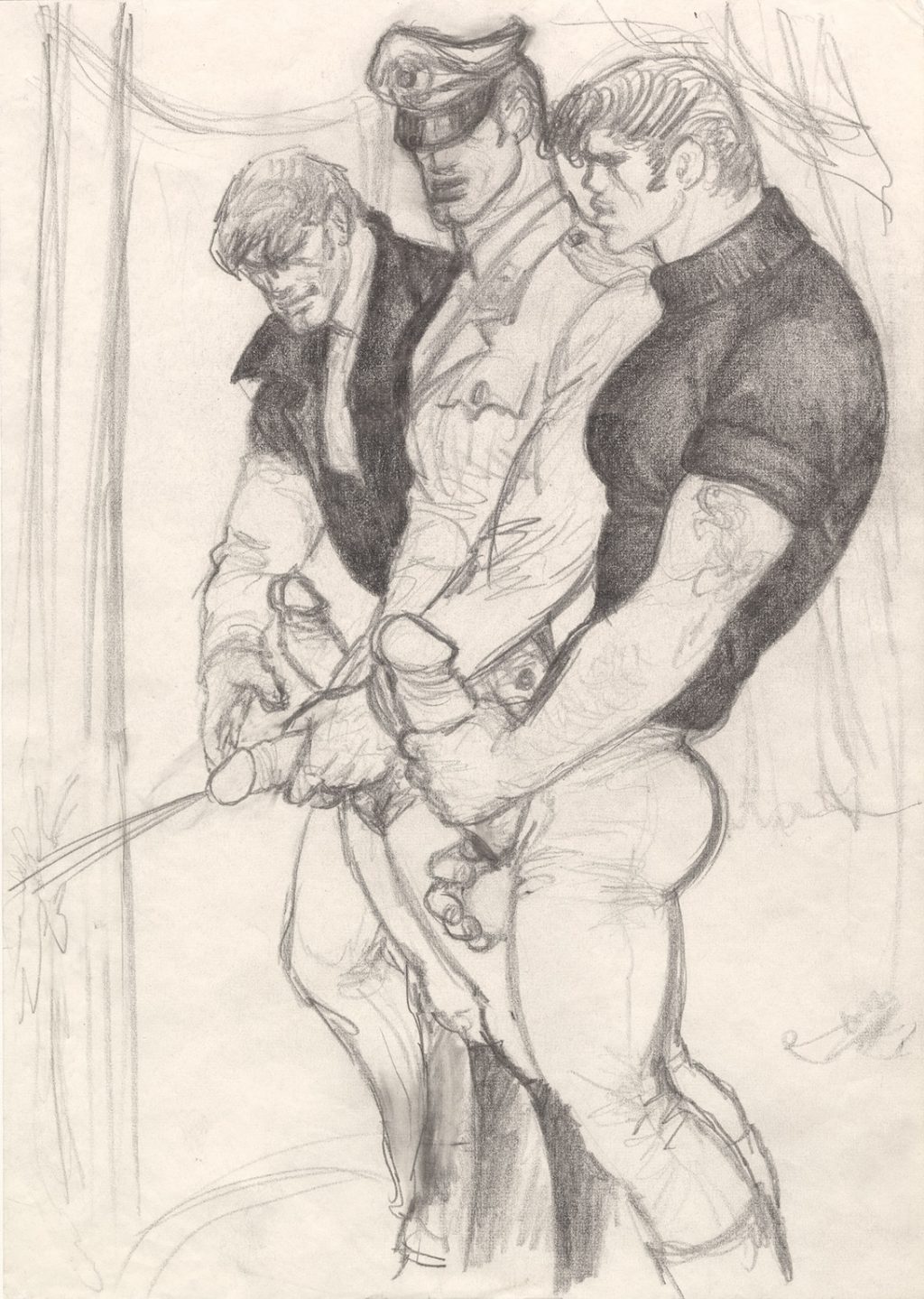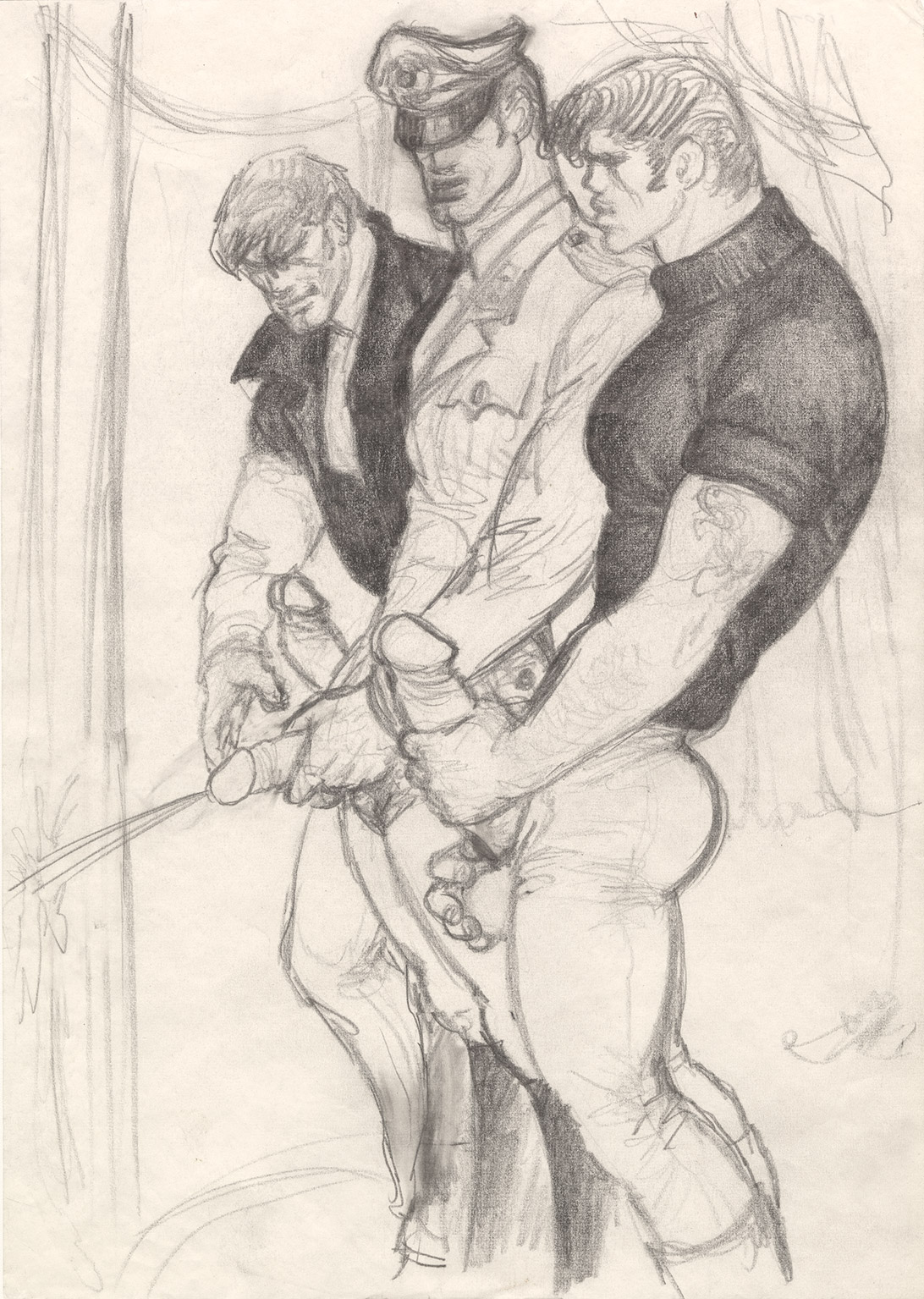 Untitled (Preparatory drawing)
c. 1966
Graphite on paper
29.5 × 21 cm
Show more works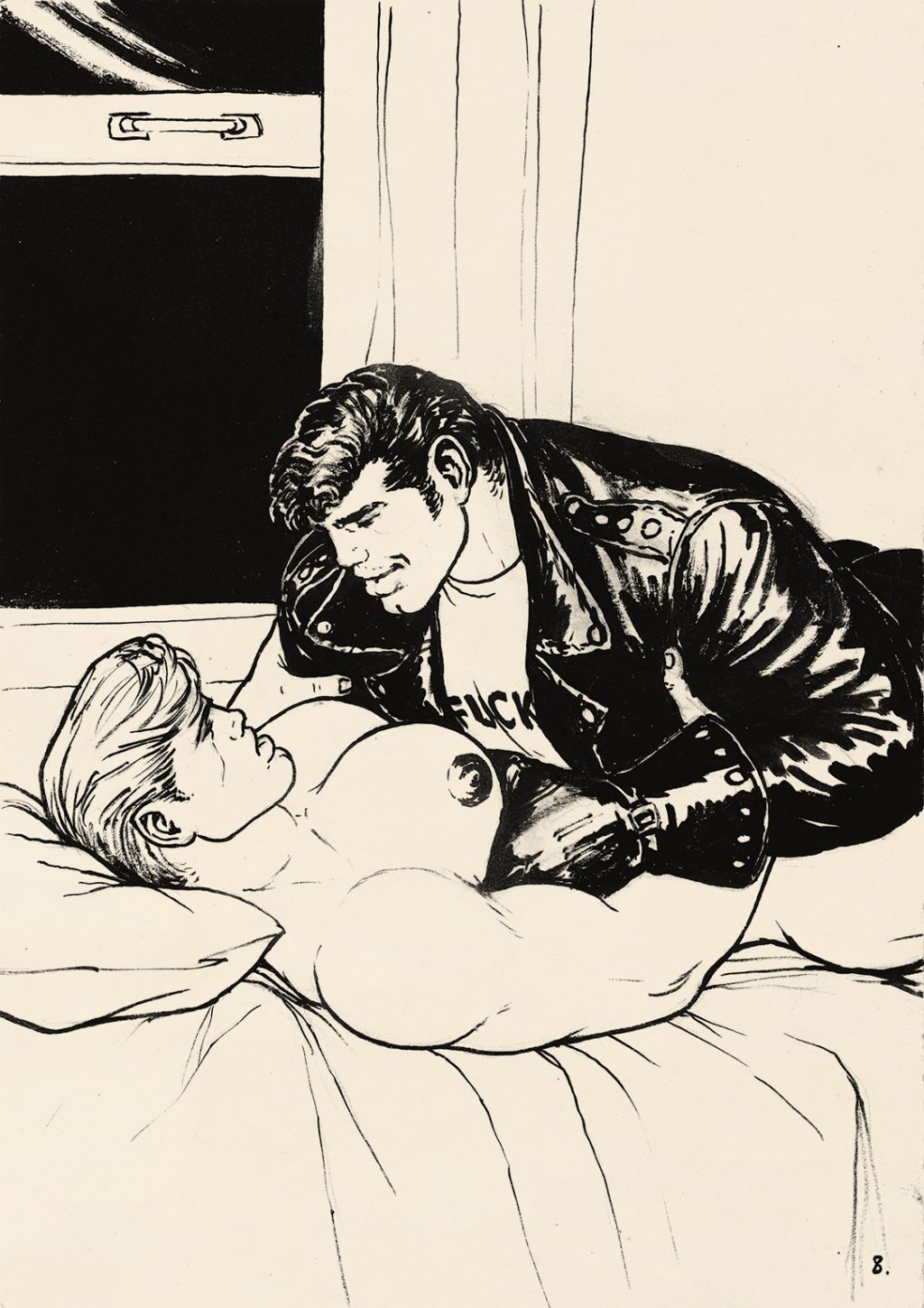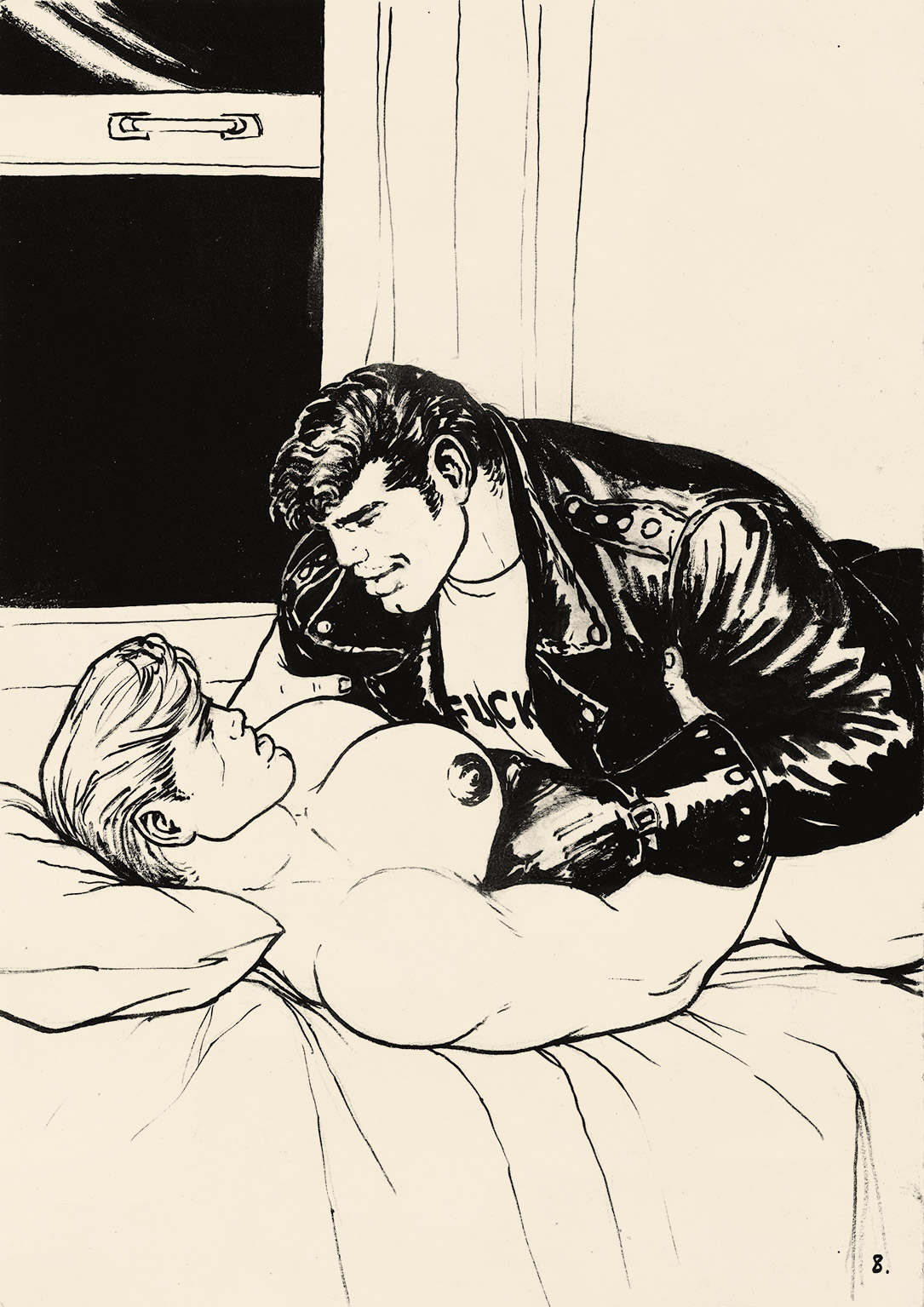 Kake, vol. 1, "The Intruder" (VIII)
1968
Graphite and ink on paper
21 × 14.9 cm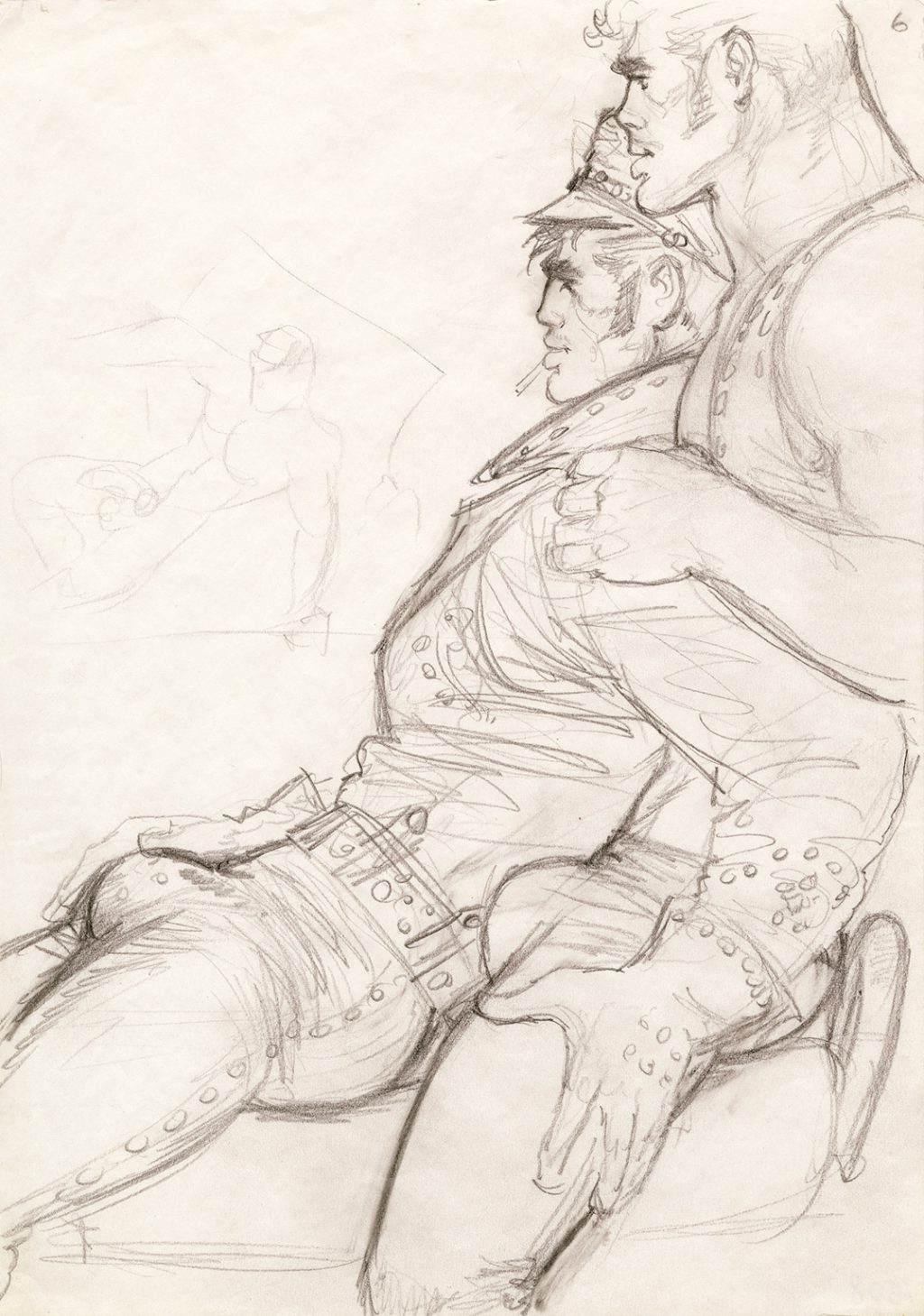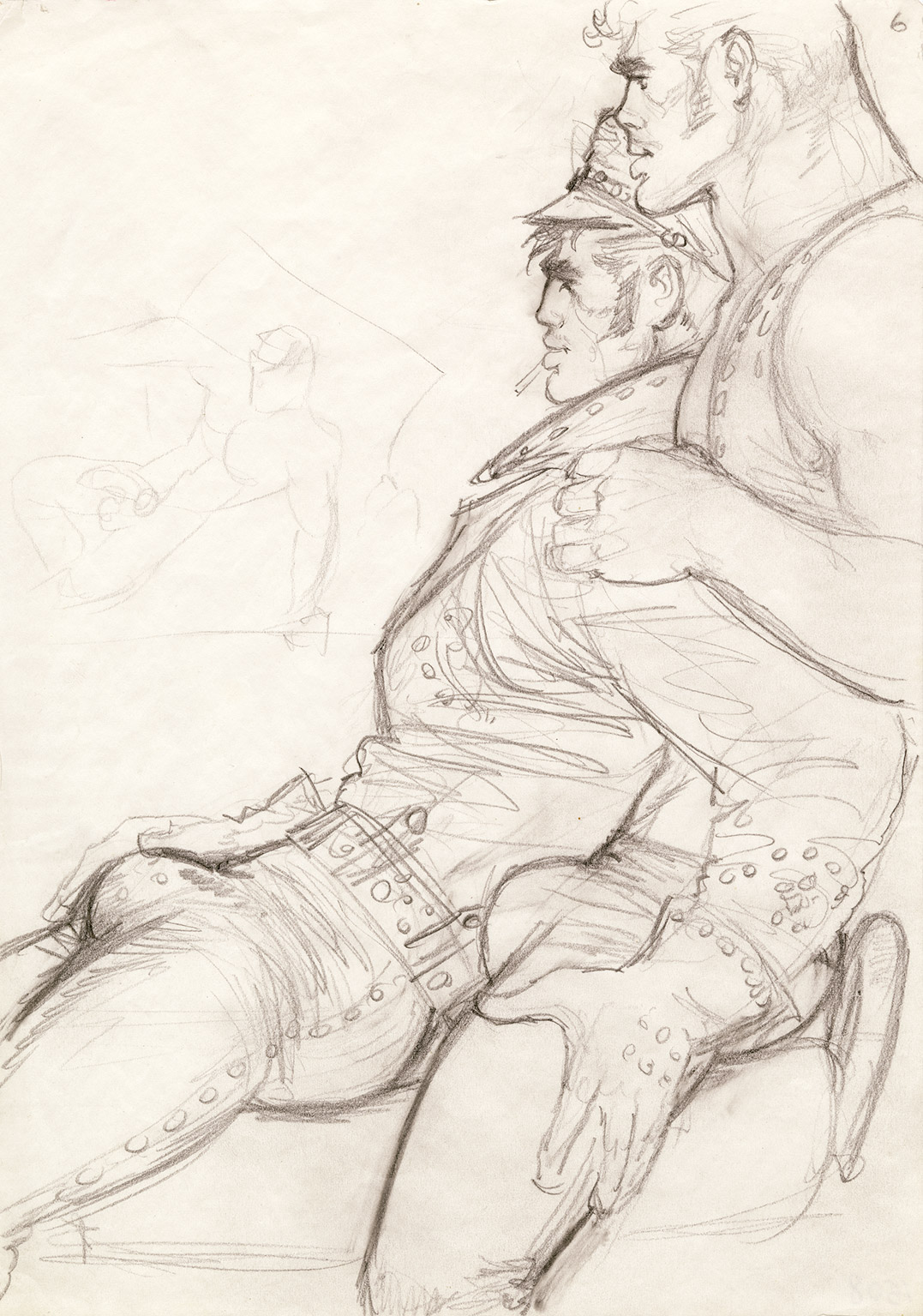 Untitled (Preparatory drawing)
1973
Graphite on paper
28.6 × 20.3 cm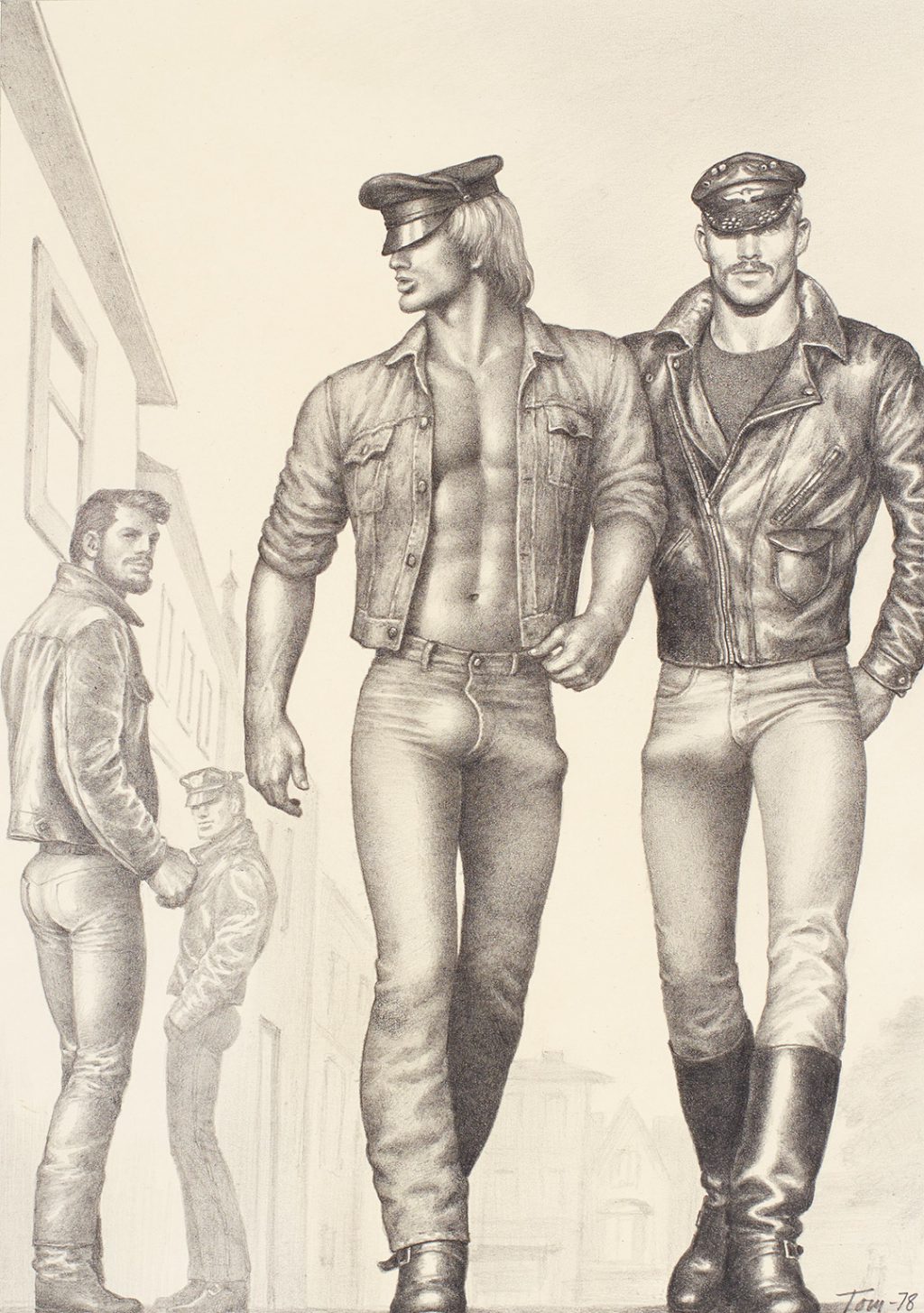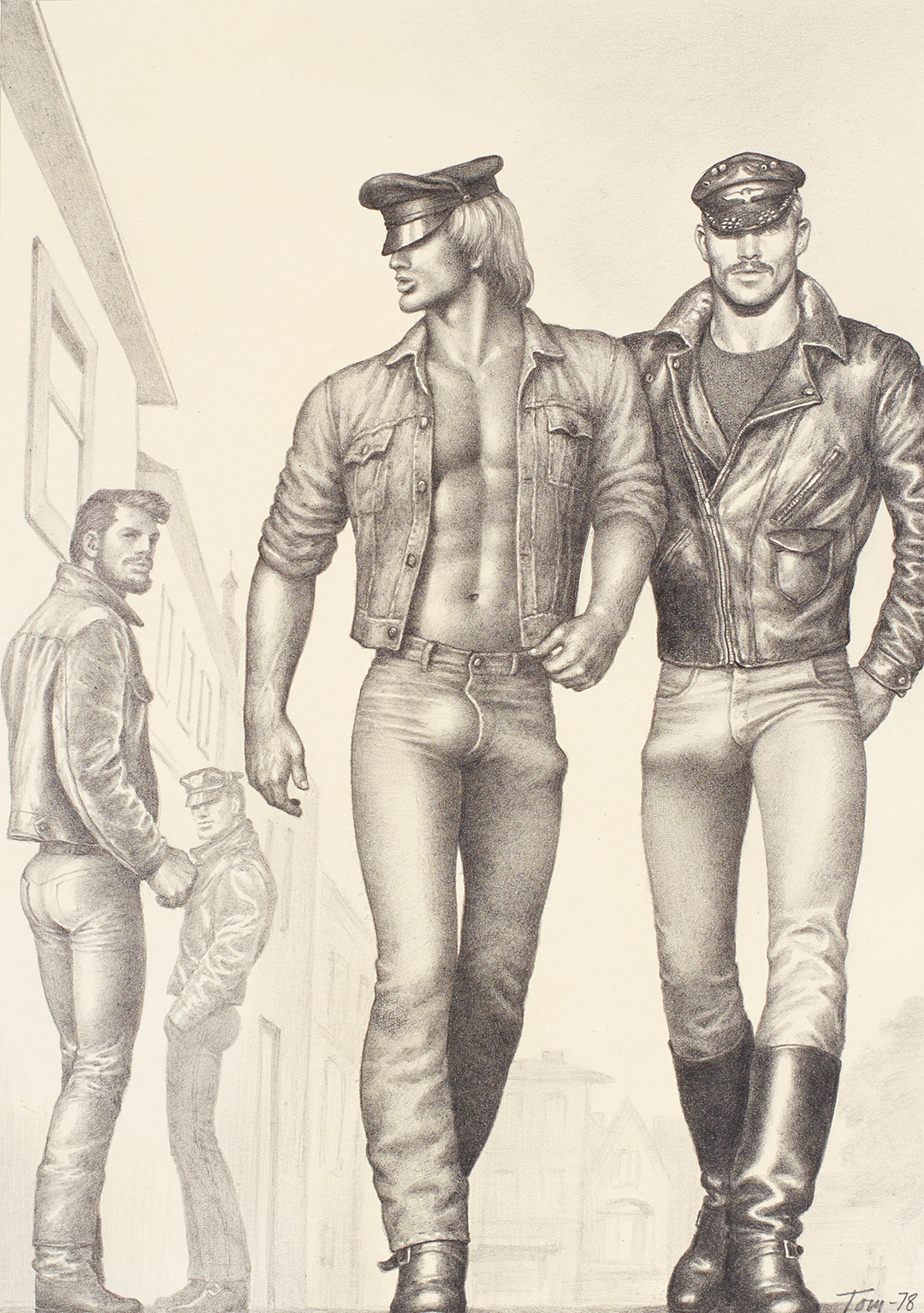 Untitled
1978
Graphite on paper
40 × 29.6 cm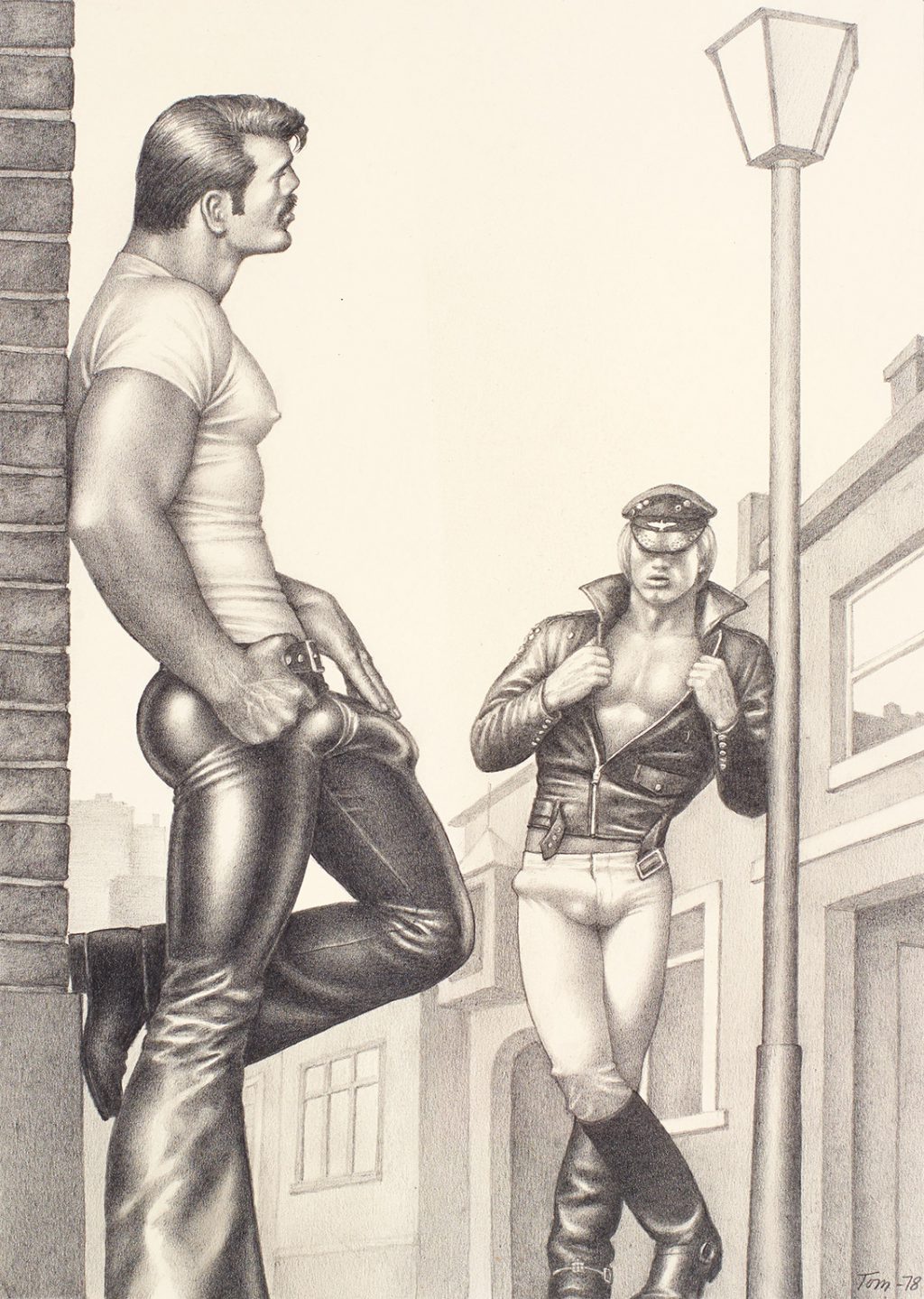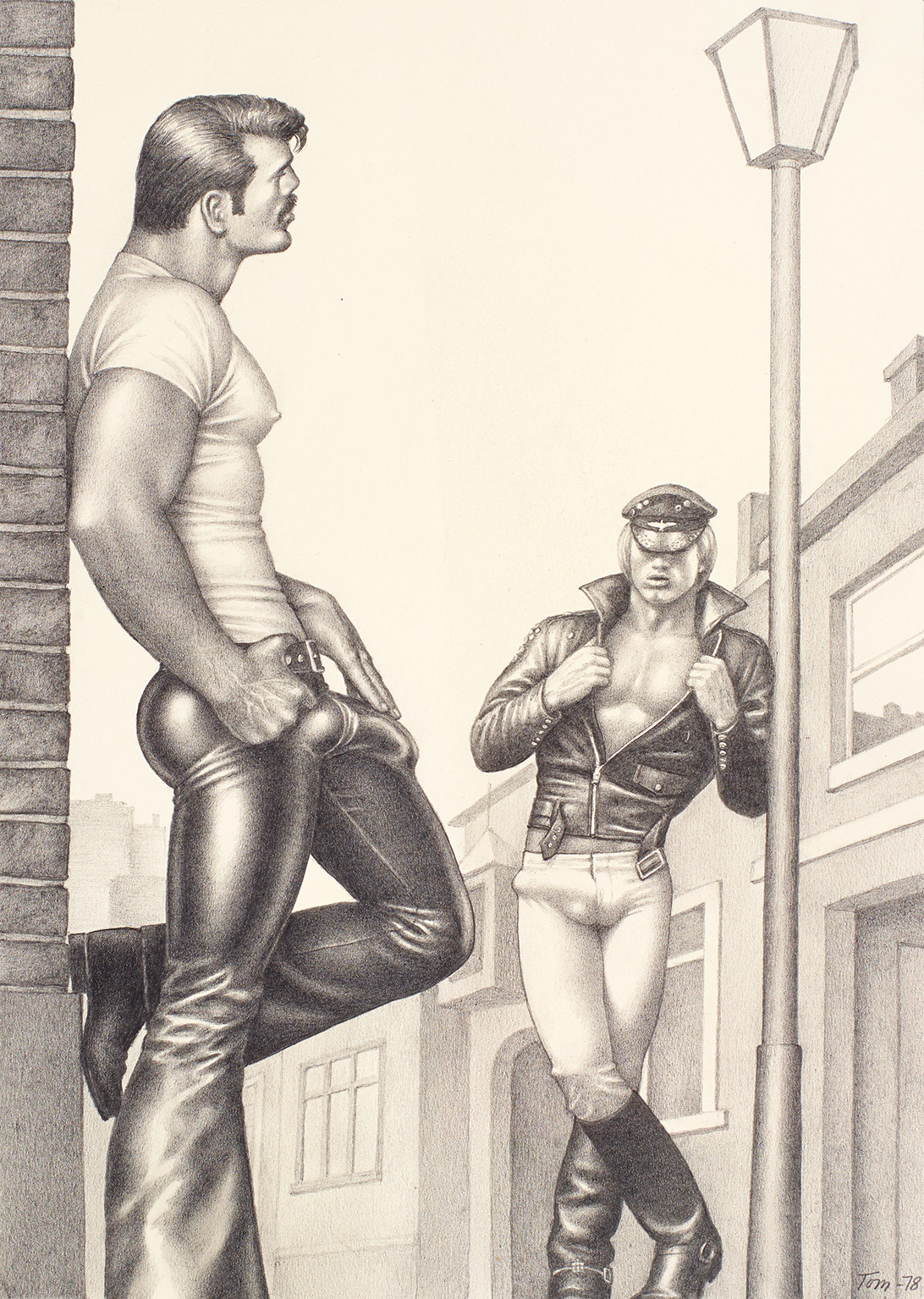 Untitled
1978
Graphite on paper
41.8 × 31.2 cm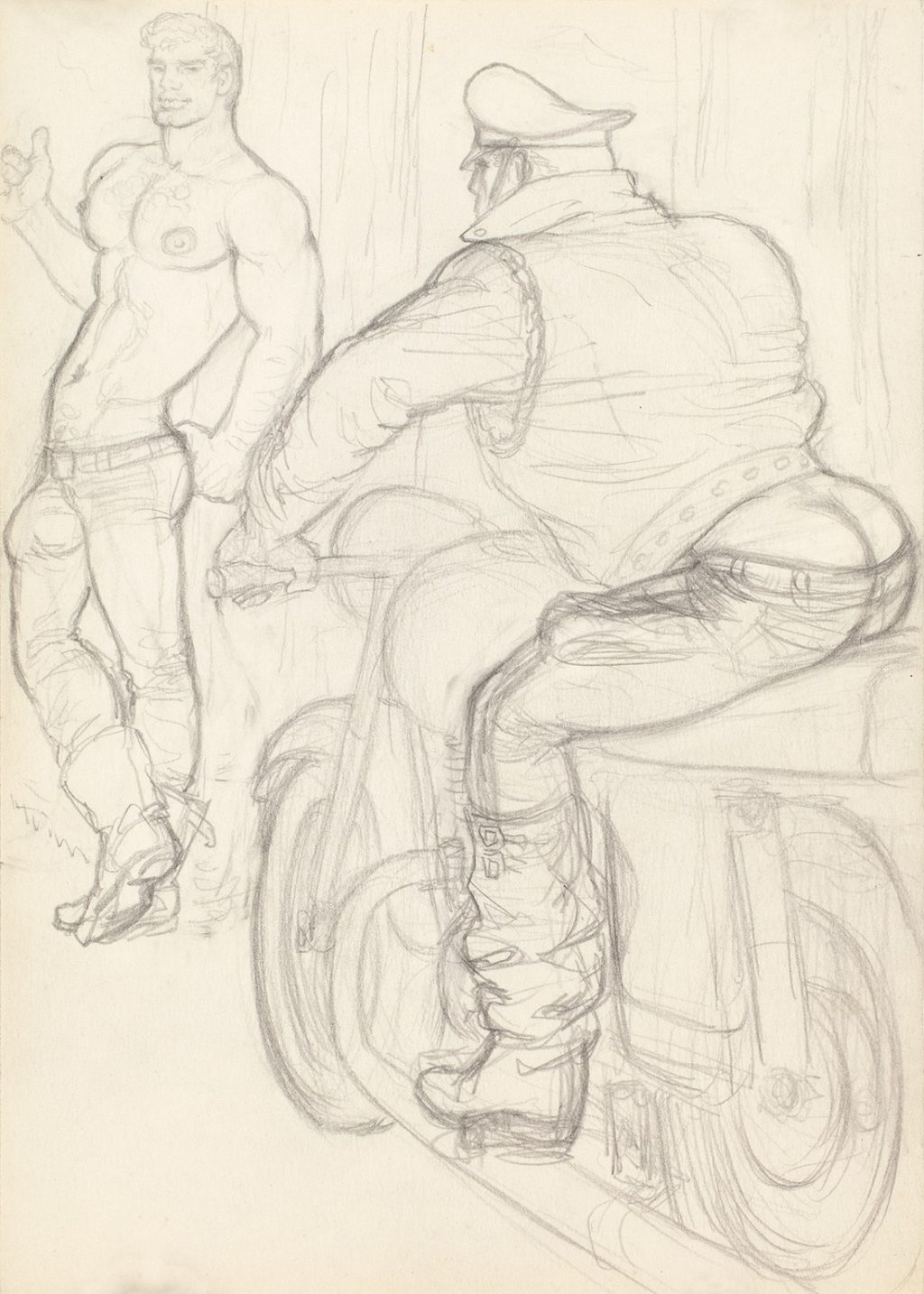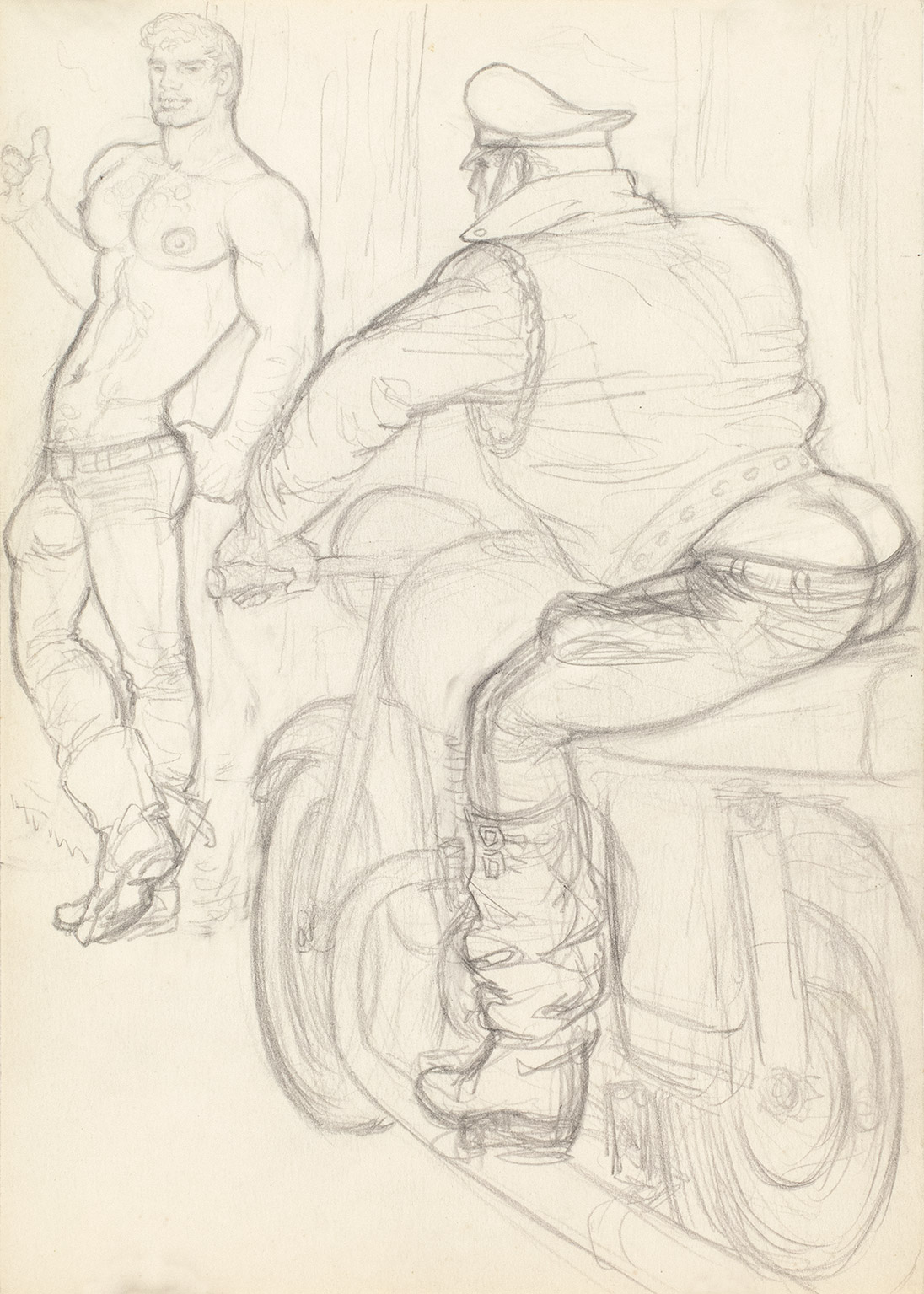 Untitled (Preparatory drawing)
c. 1965
Graphite on paper
21 × 15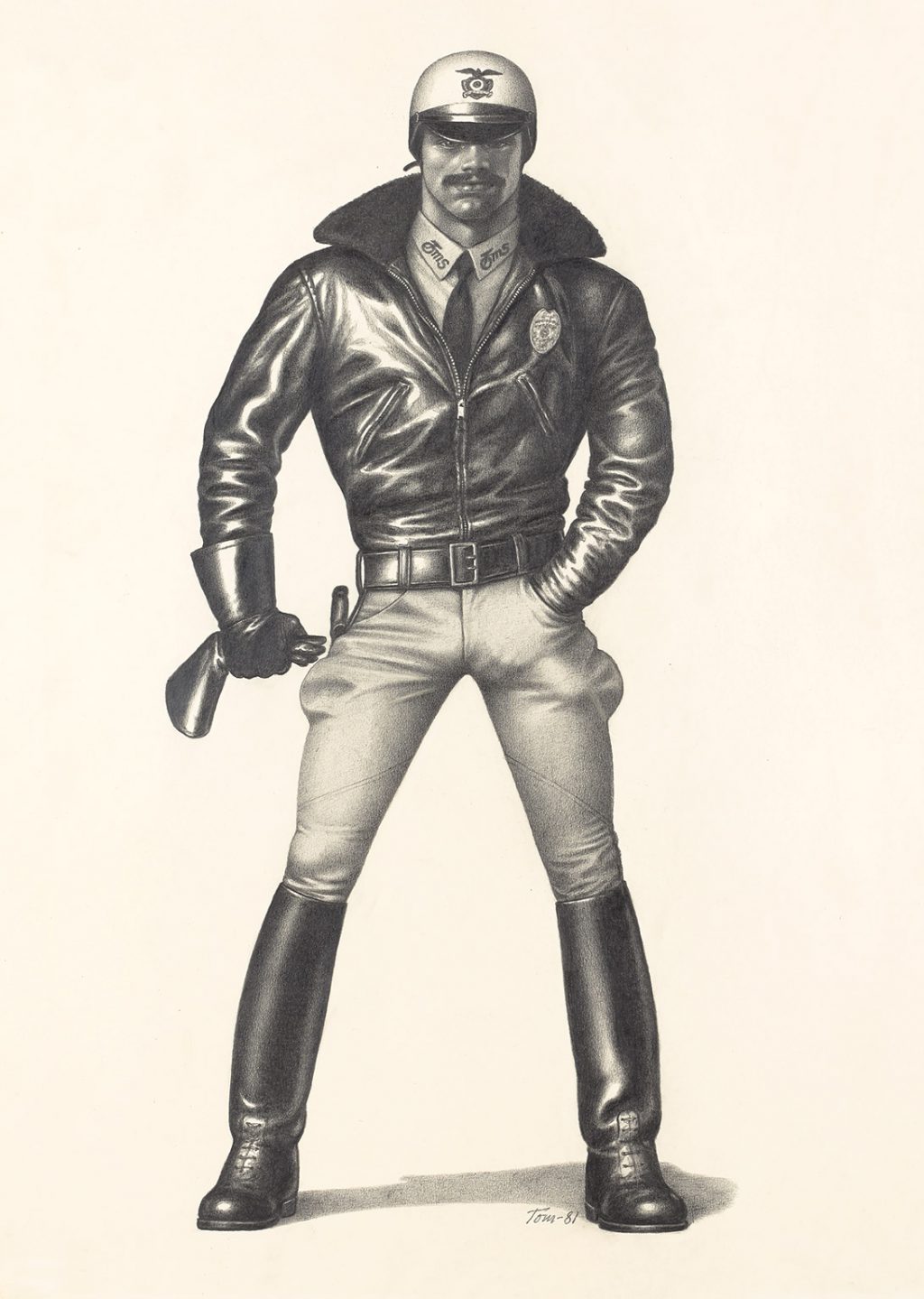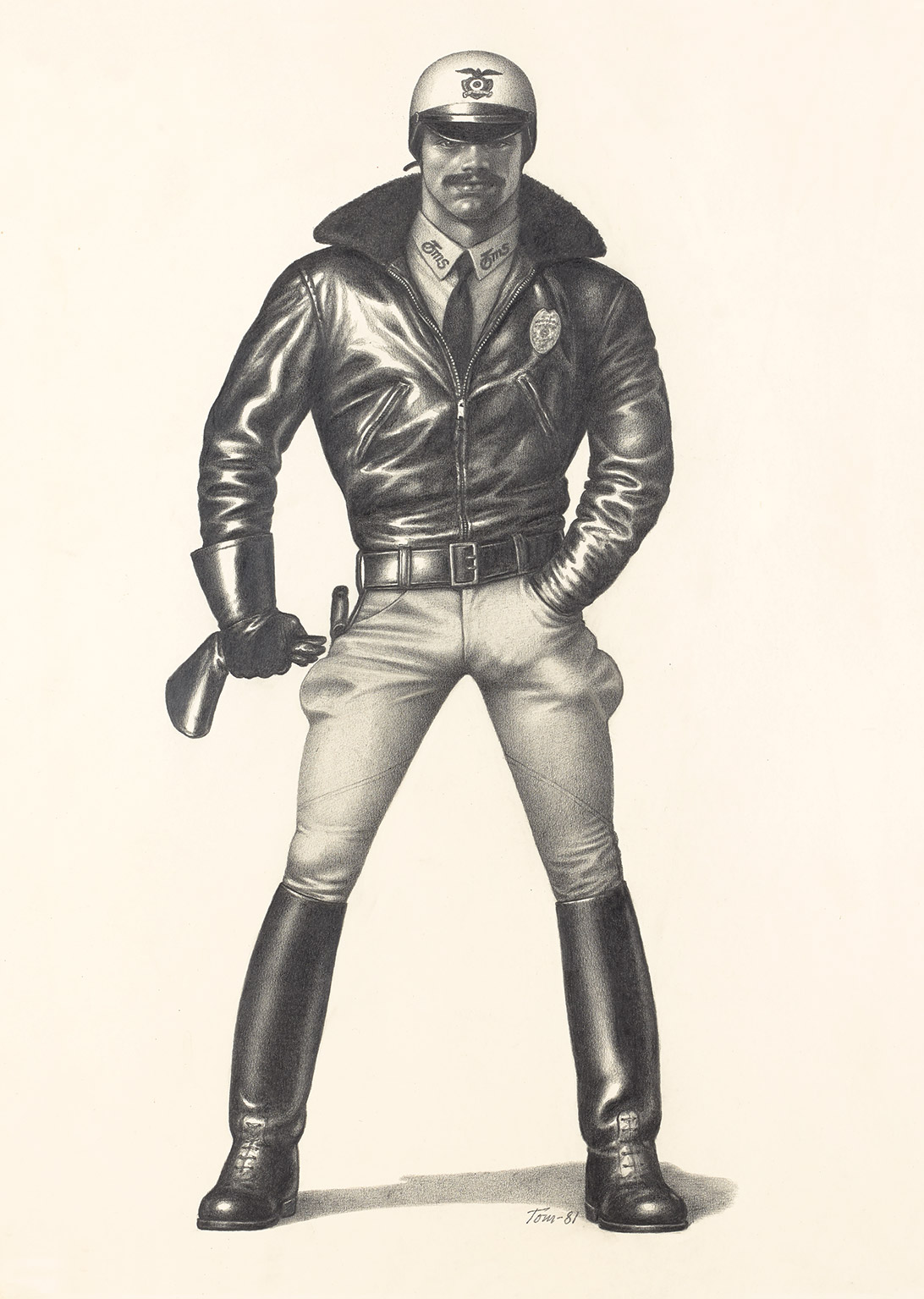 Untitled
1981
Graphite on paper
46 × 33 cm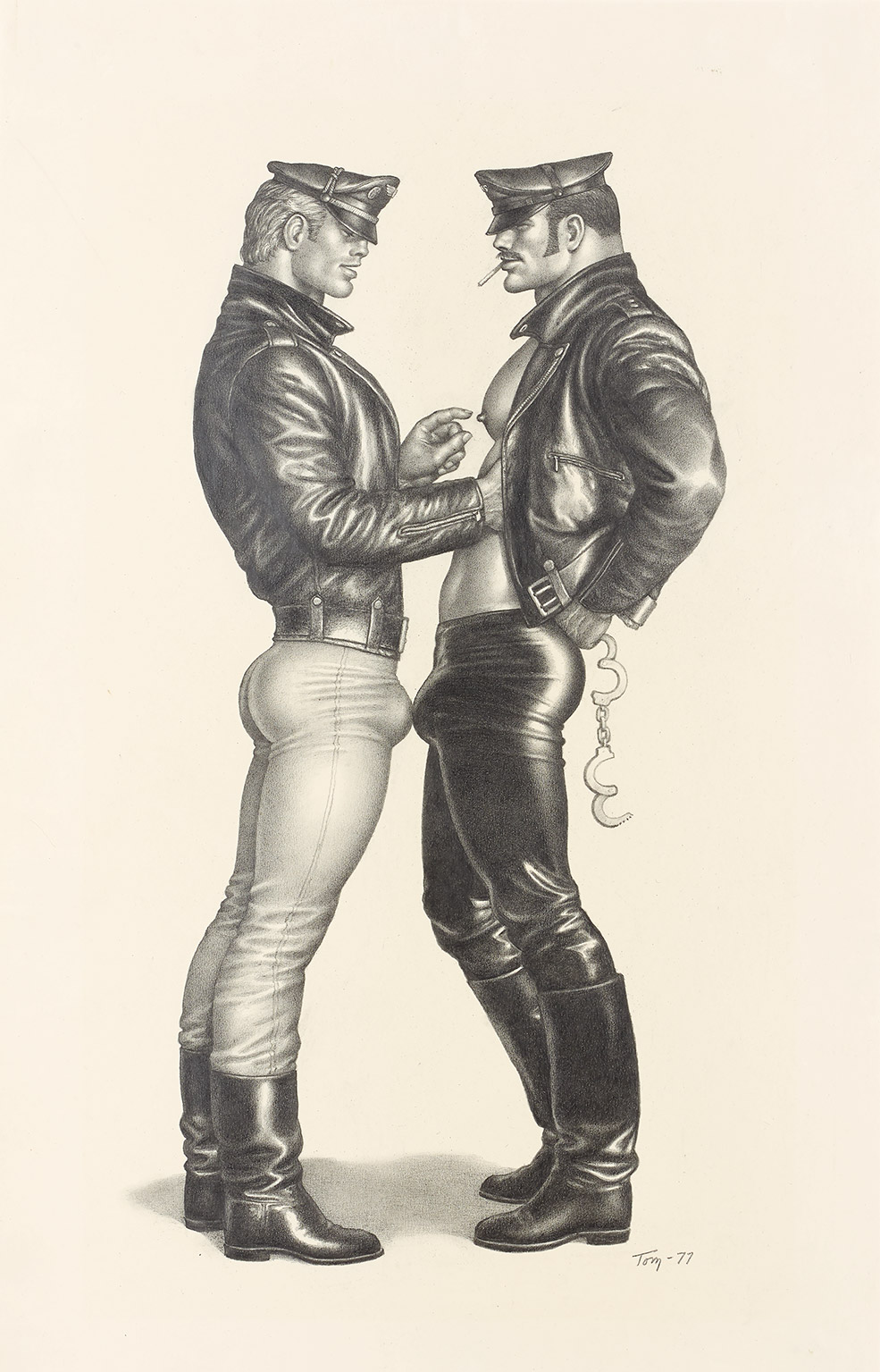 Untitled (Template for a US Tom's Saloon branch mural)
1977
Graphite on paper
43 × 27.5 cm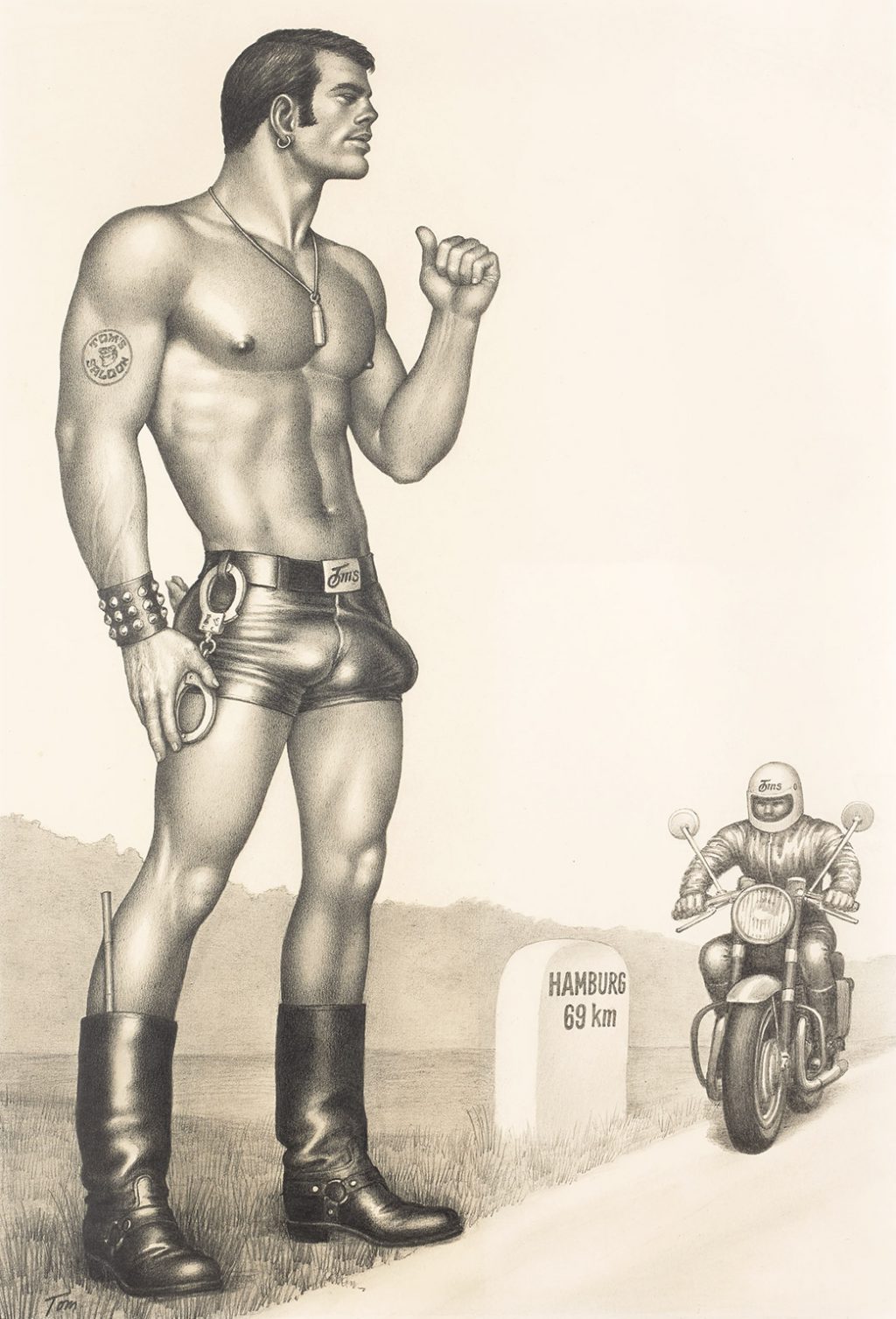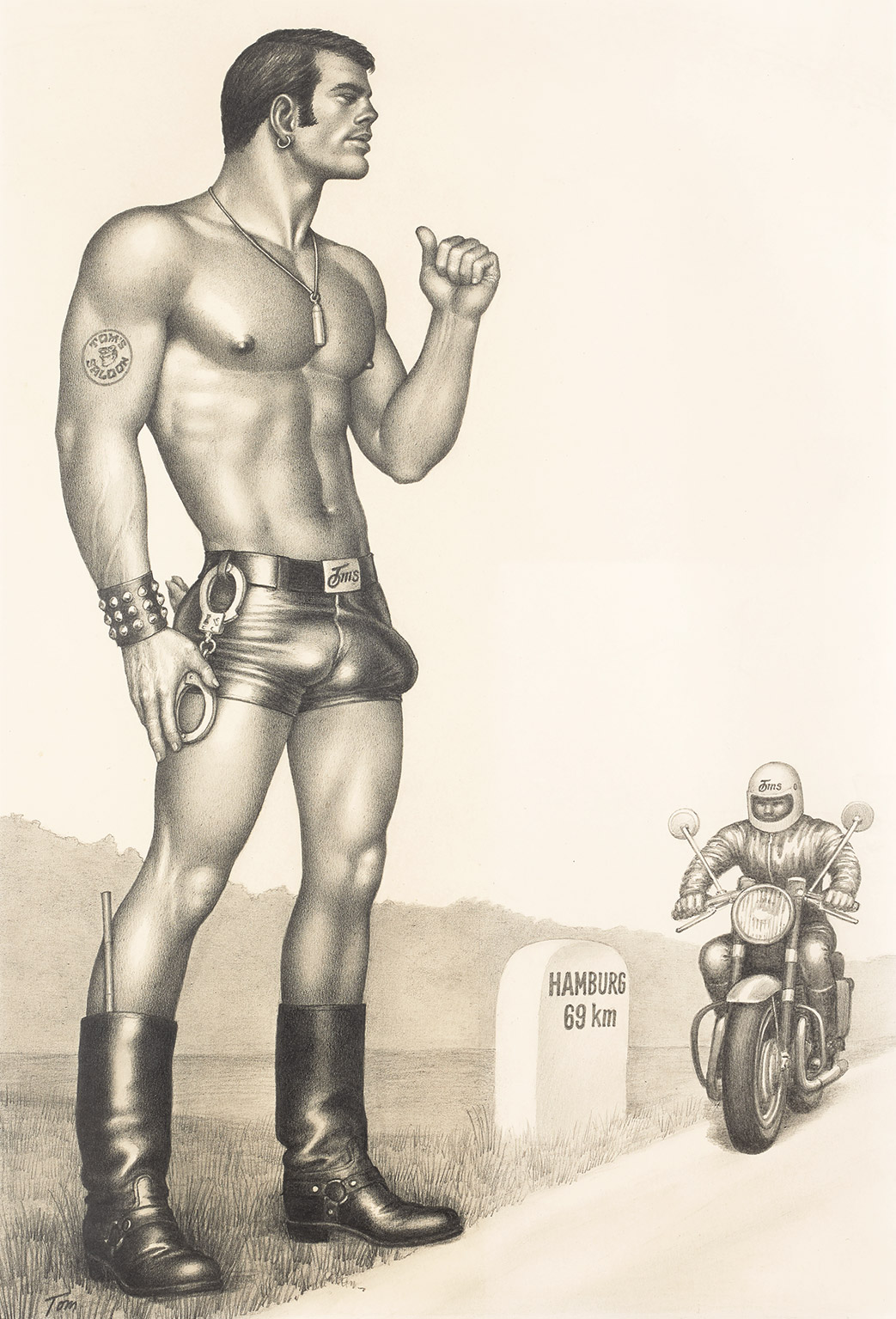 Untitled
1976
Graphite on paper
51.9 × 37 cm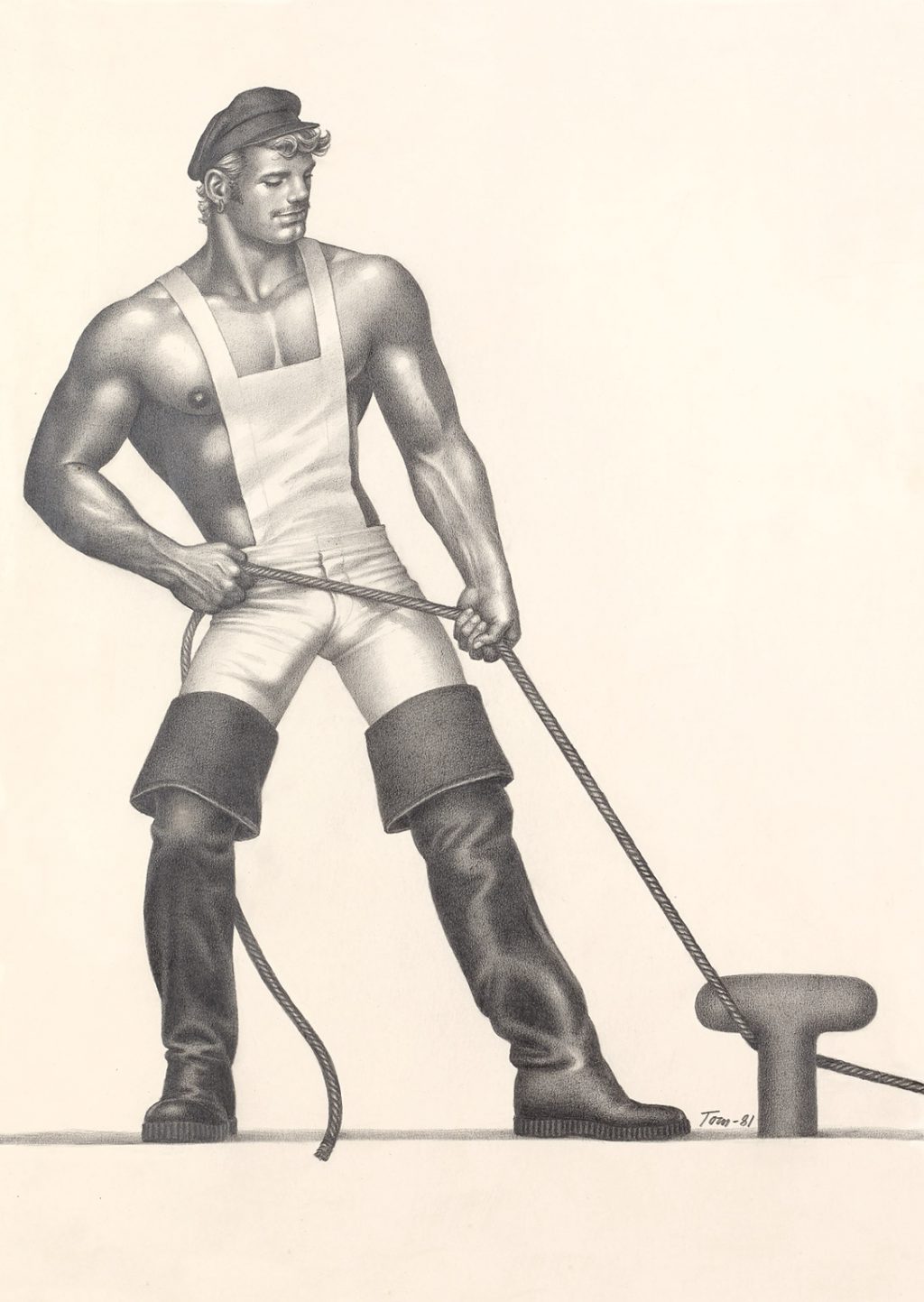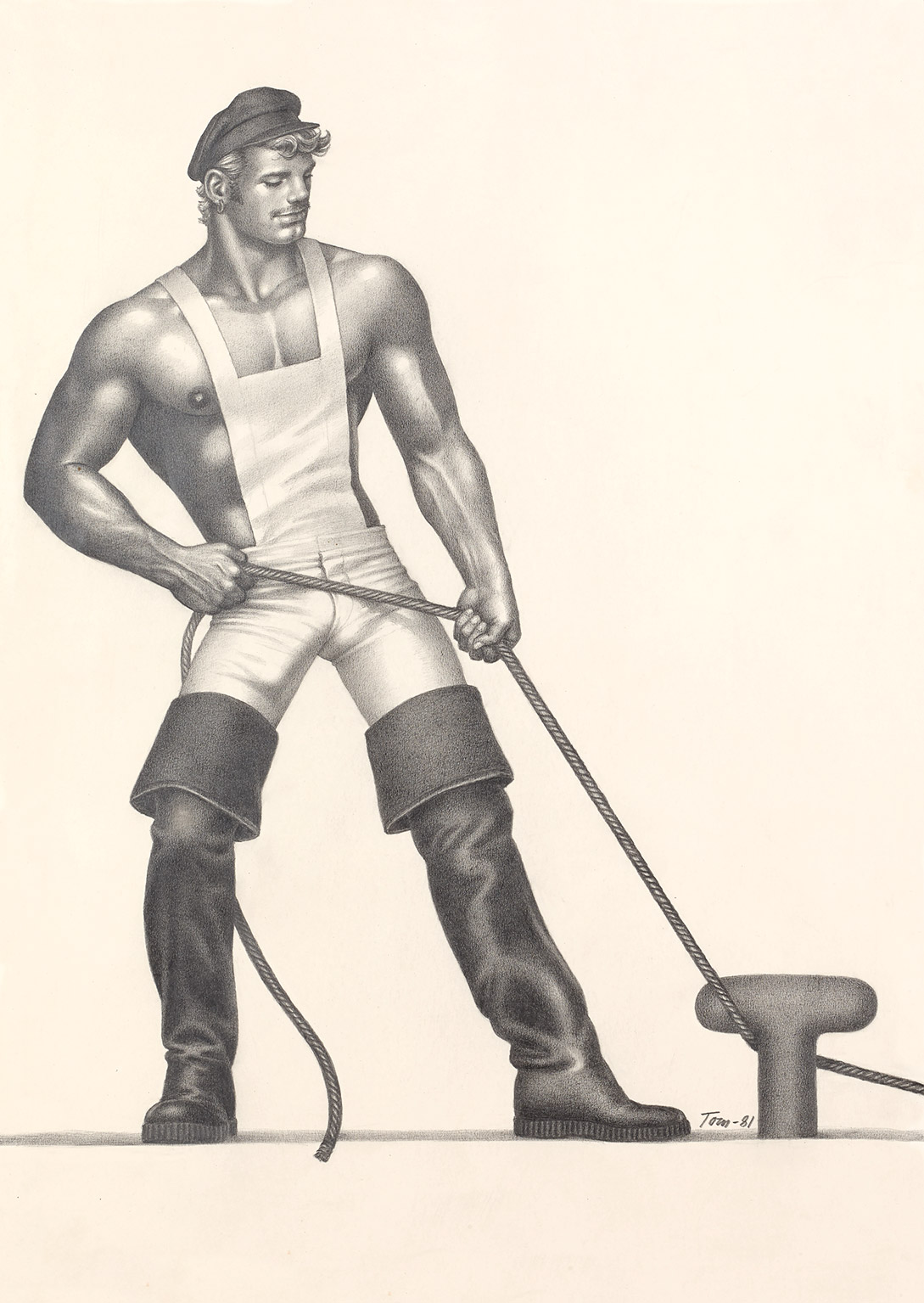 Untitled
1981
Graphite on paper
45 × 33 cm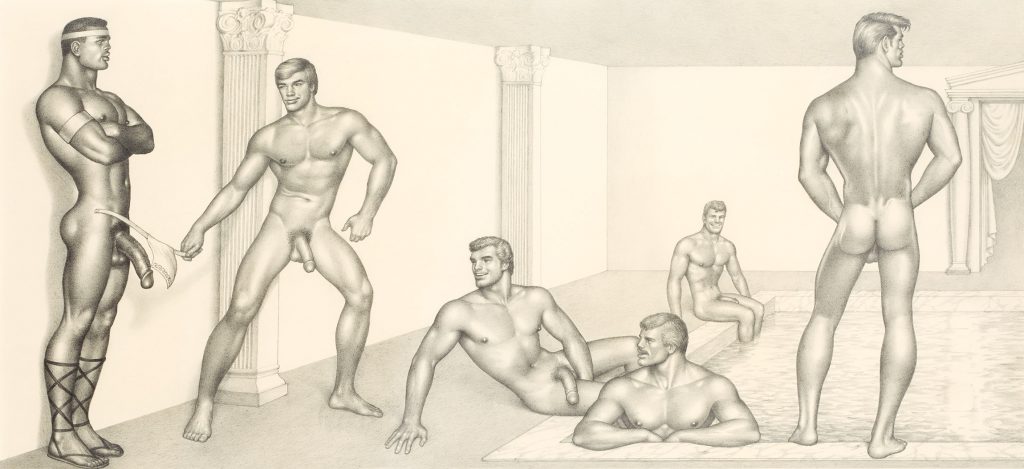 Untitled (Club Uhlenhorst mural, left)
1973
Graphite on paper
27.4 × 61.6 cm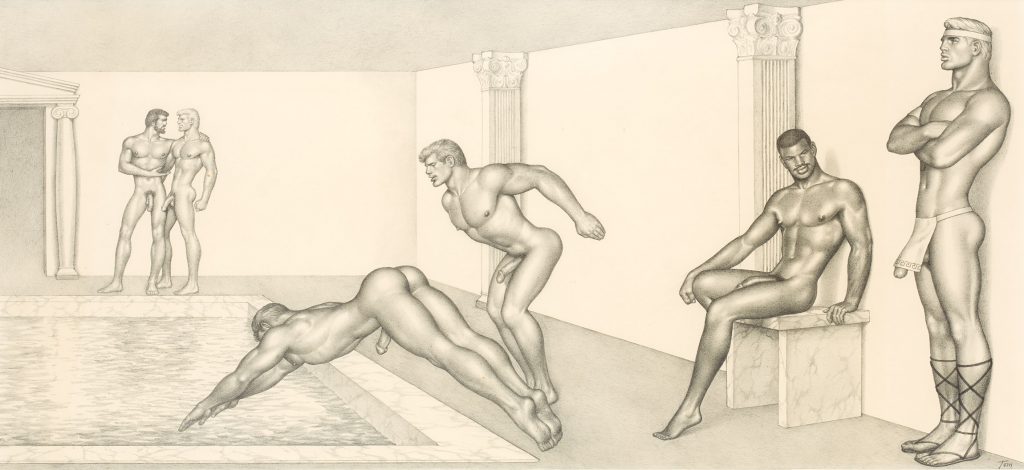 Untitled (Club Uhlenhorst mural, right)
1973
Graphite on paper
27.4 × 61.6 cm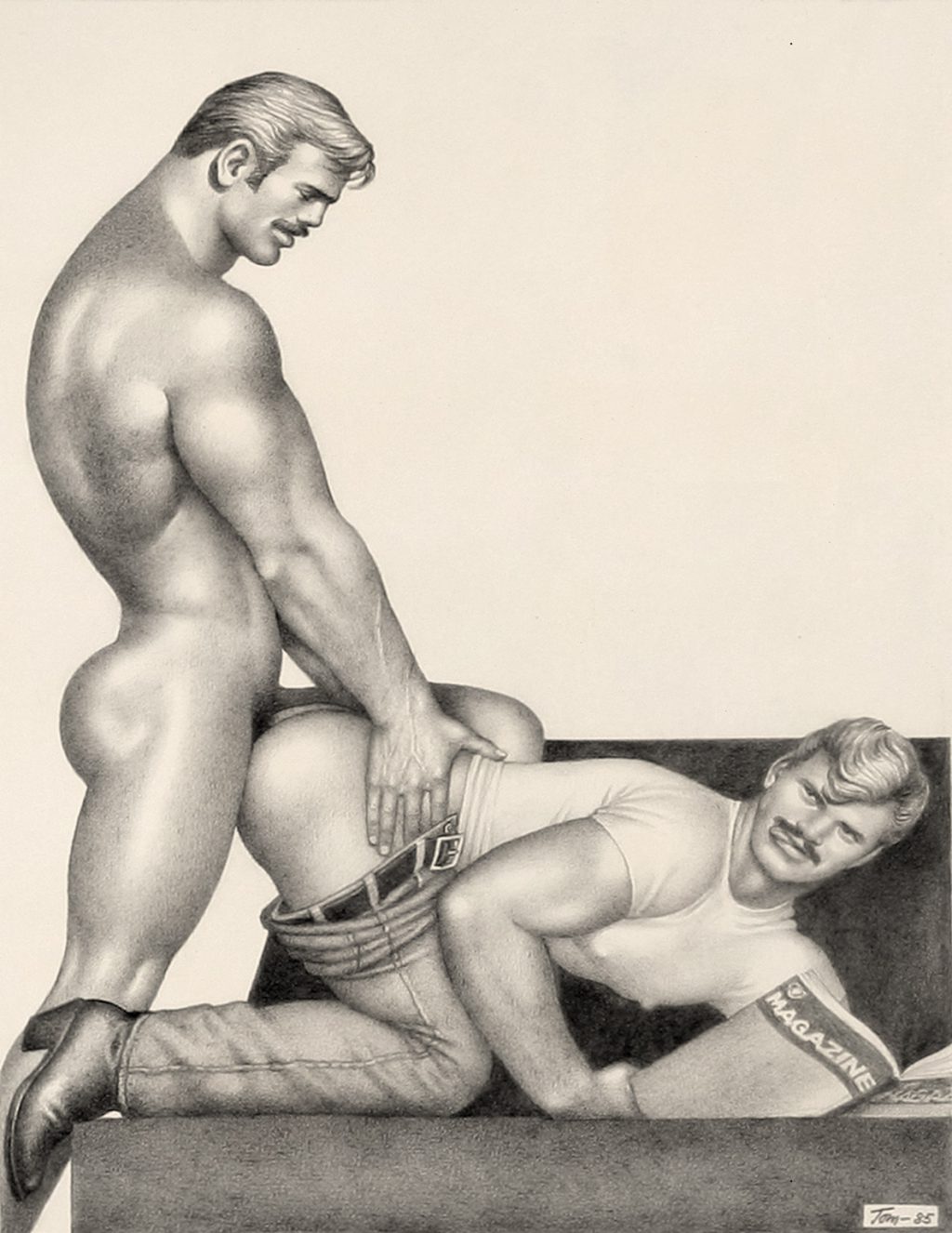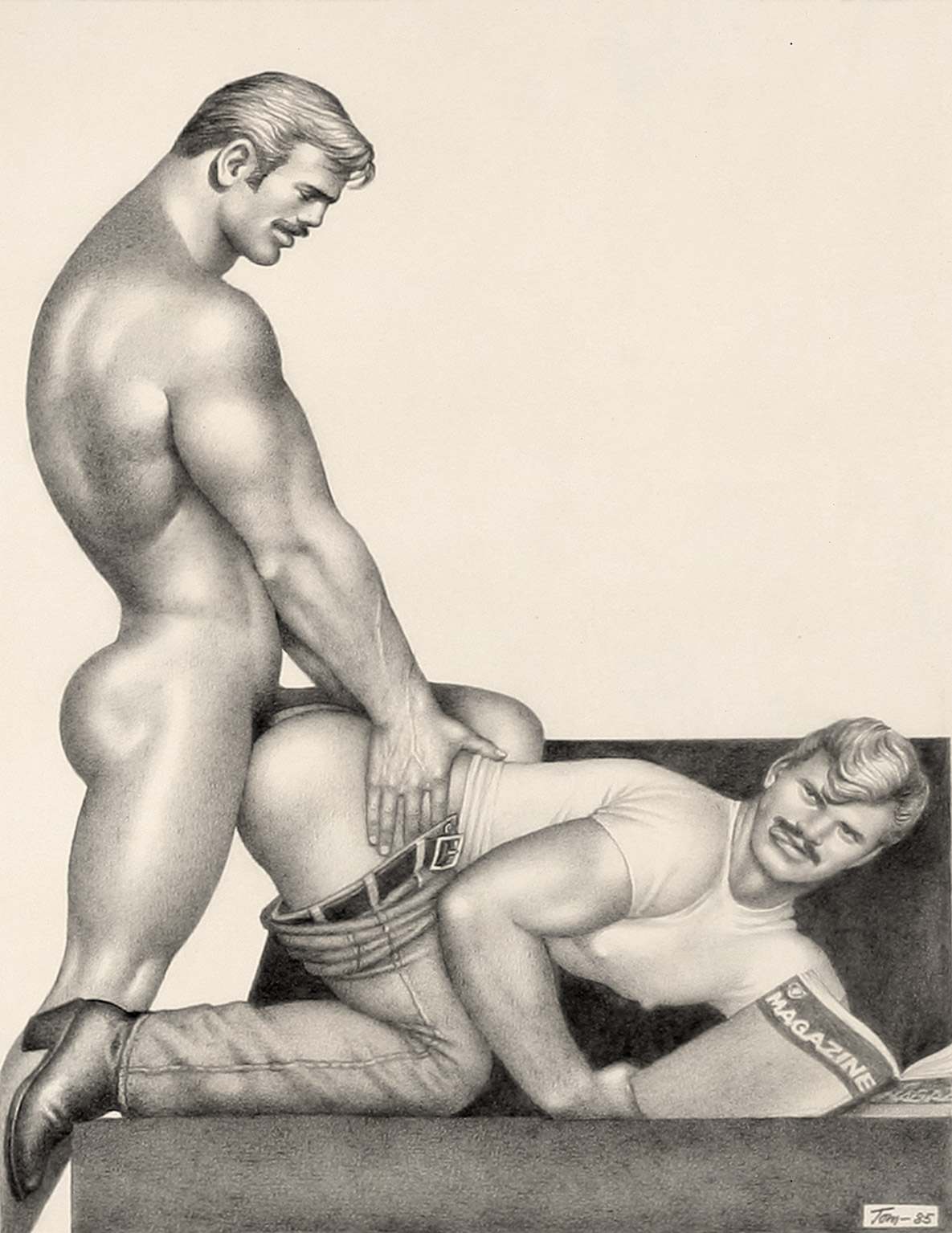 Untitled
1985
Graphite on paper
36.5 × 30.1 cm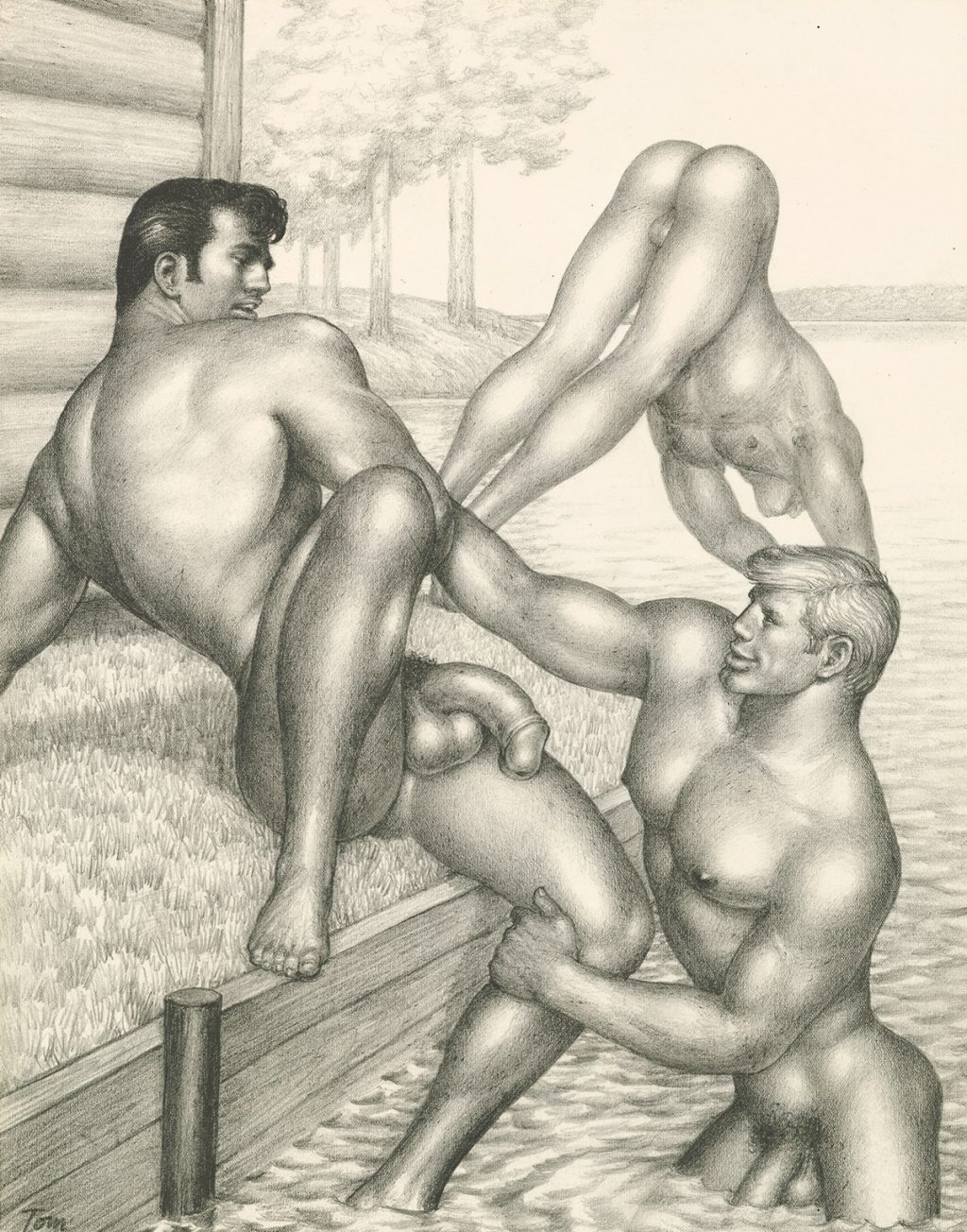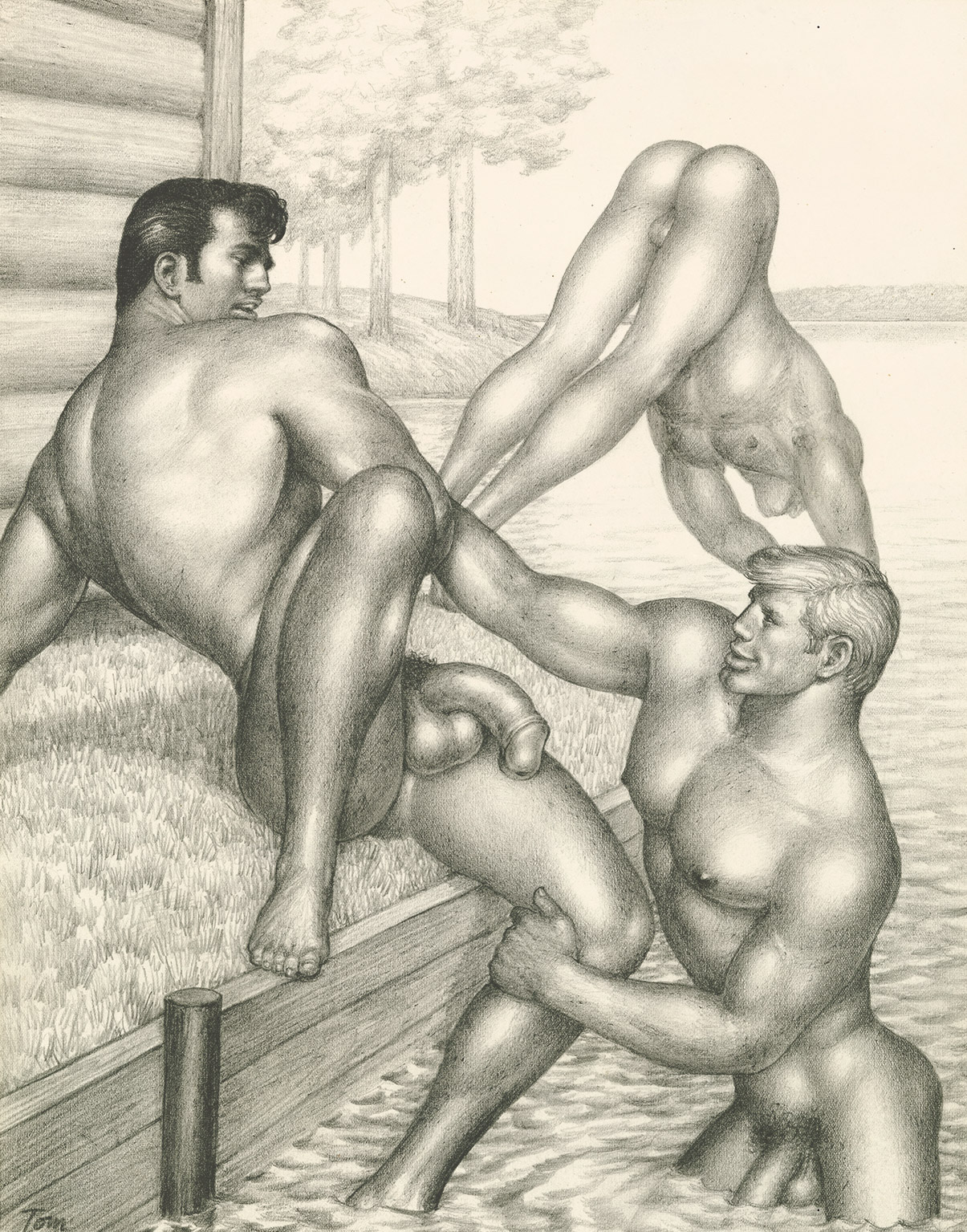 Dunked
1968
Graphite on paper
30.2 × 24 cm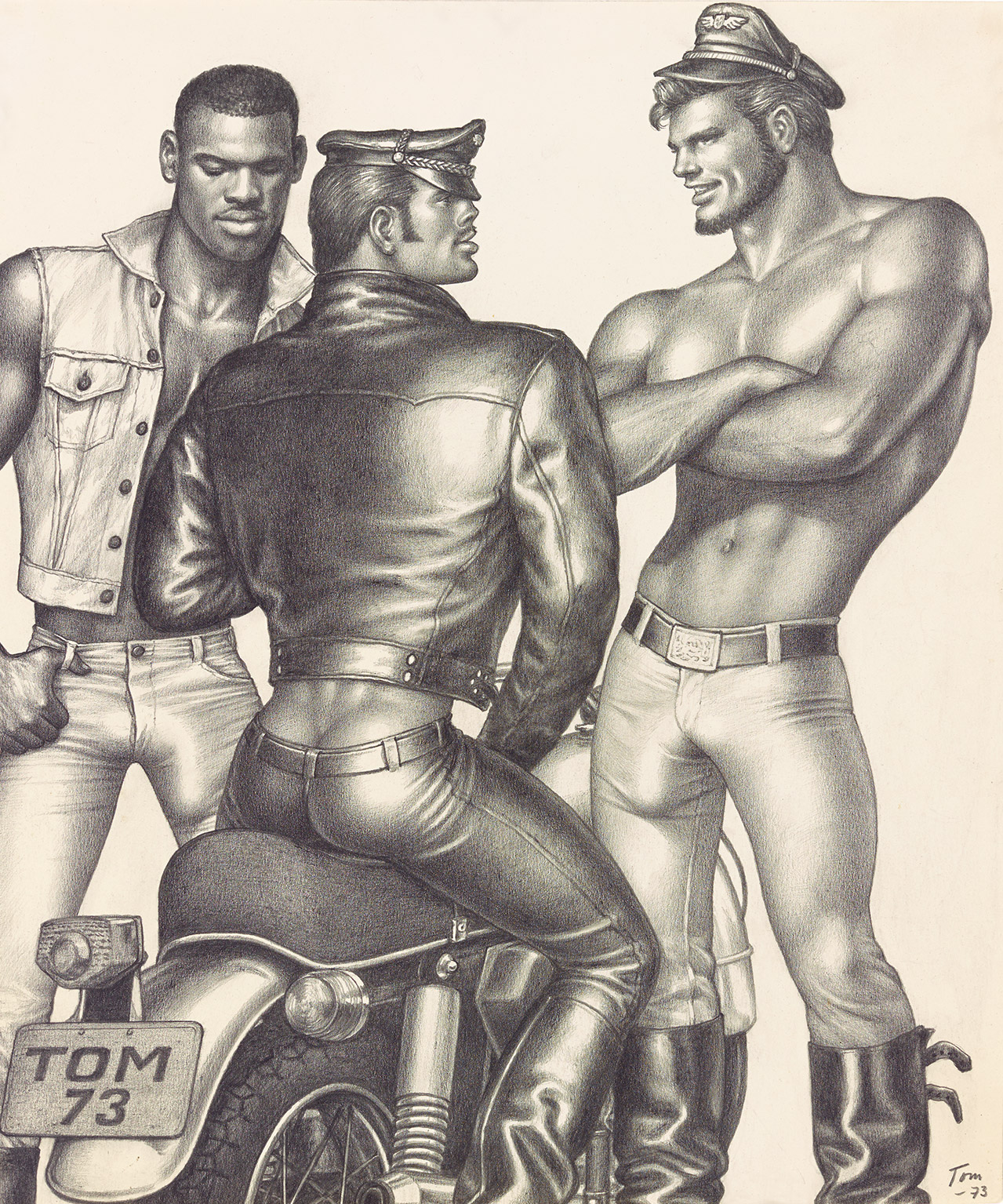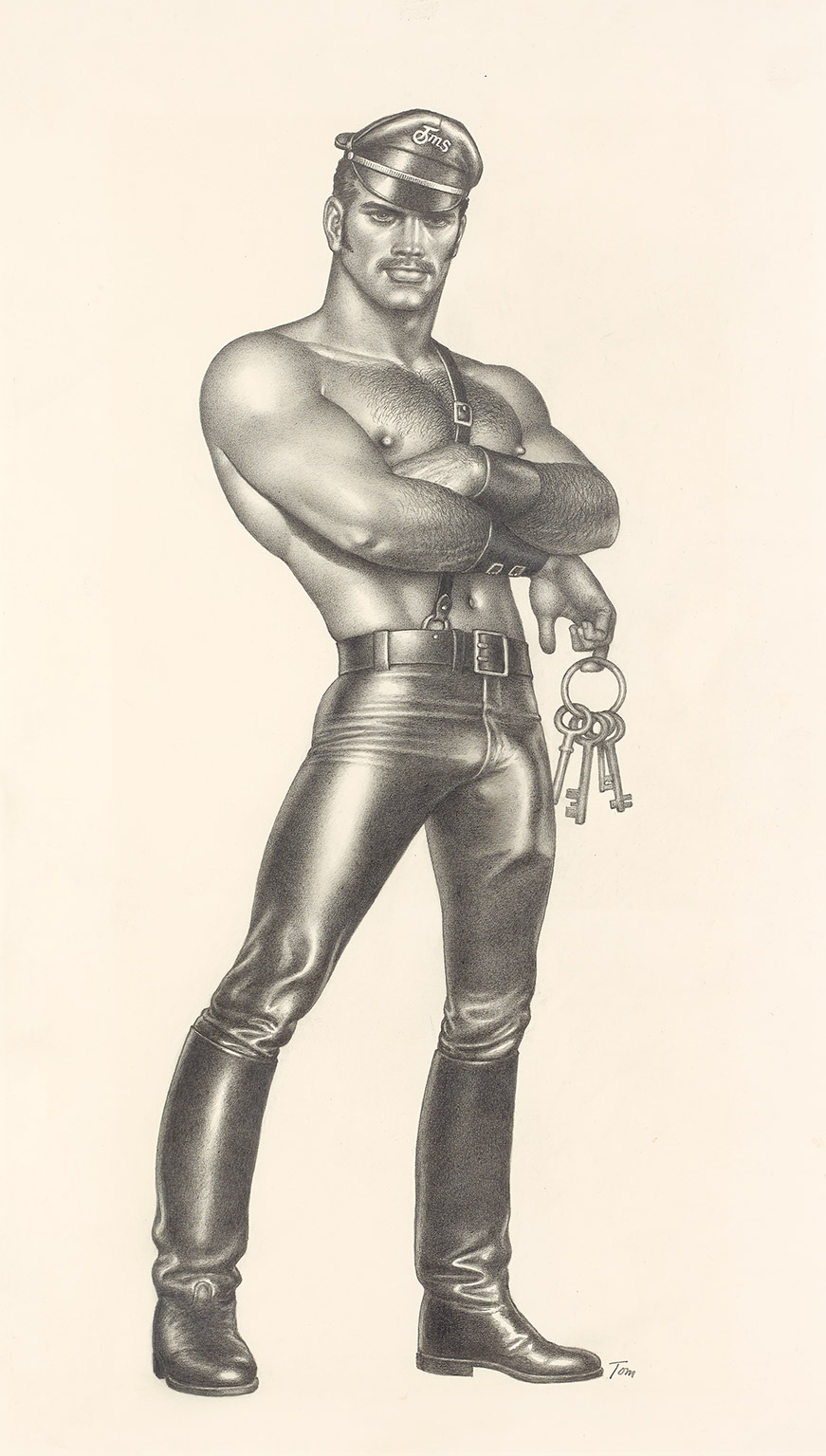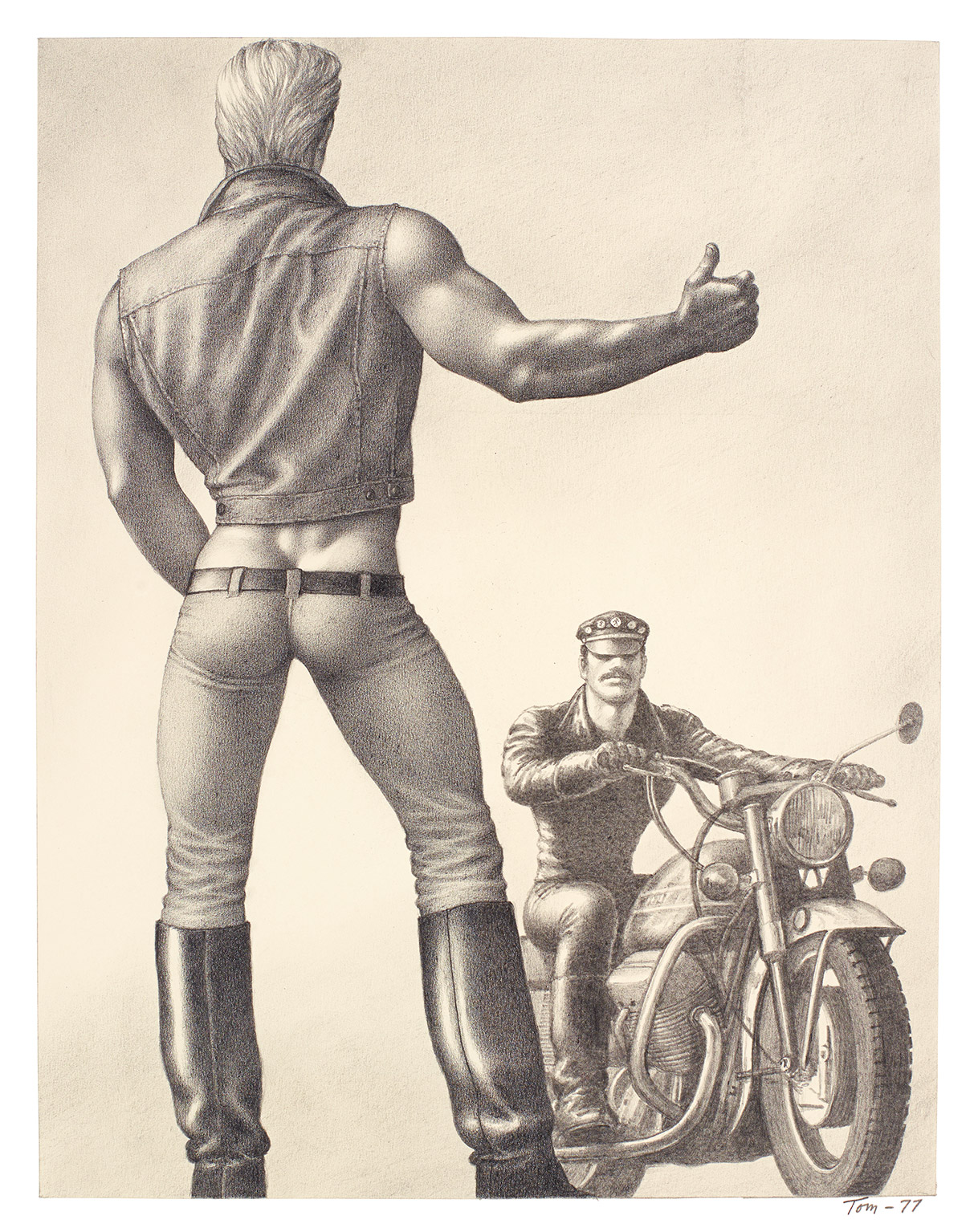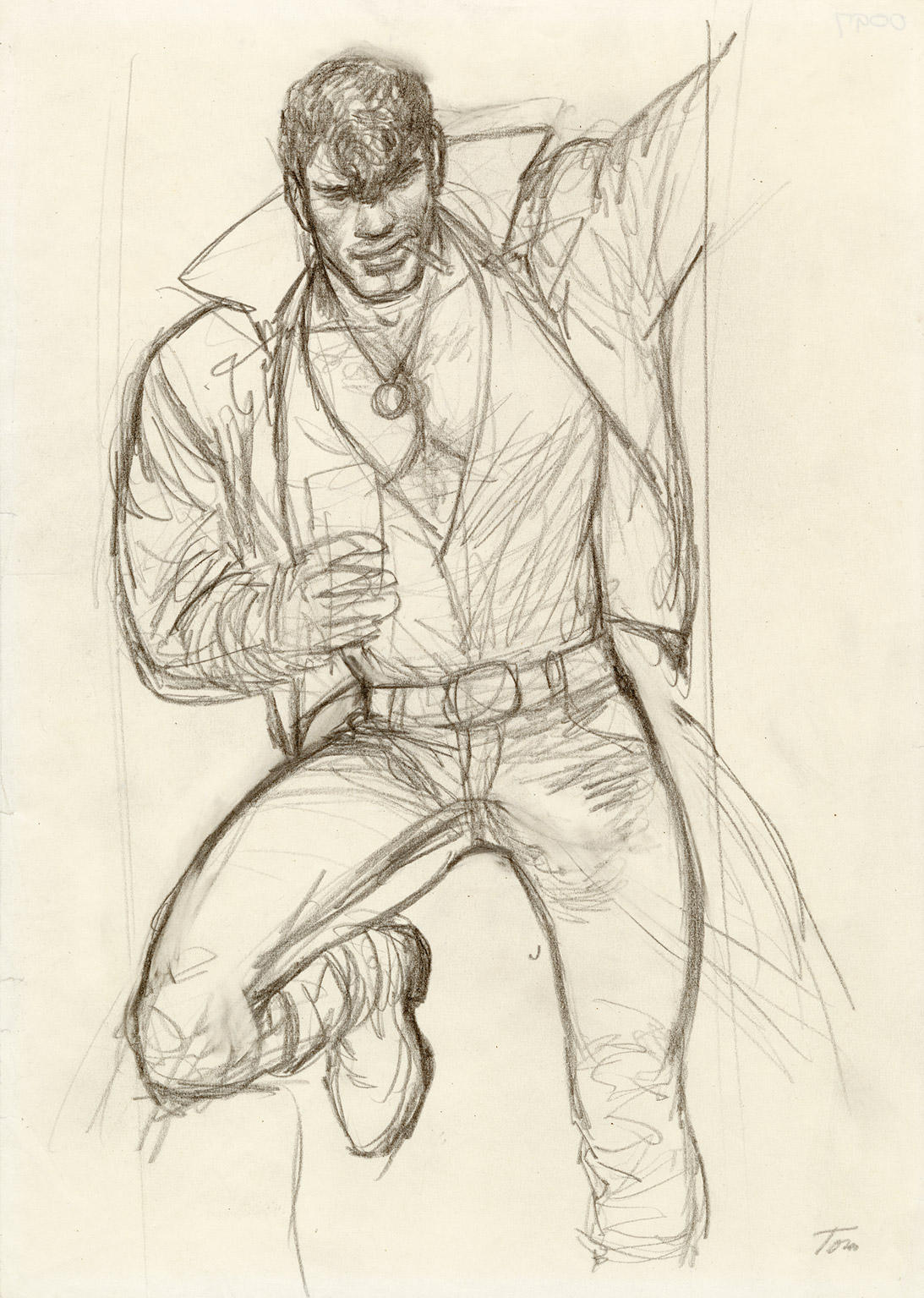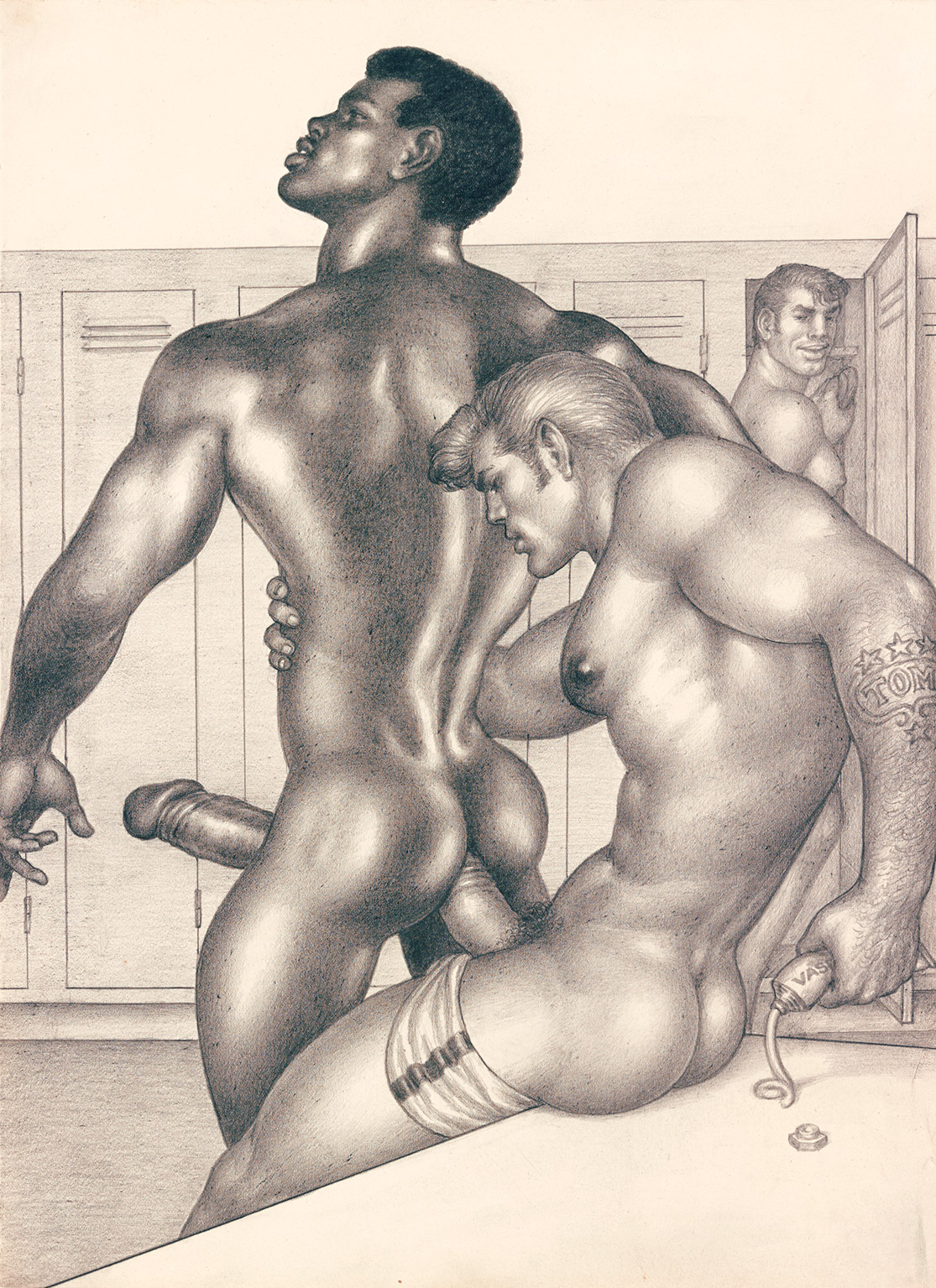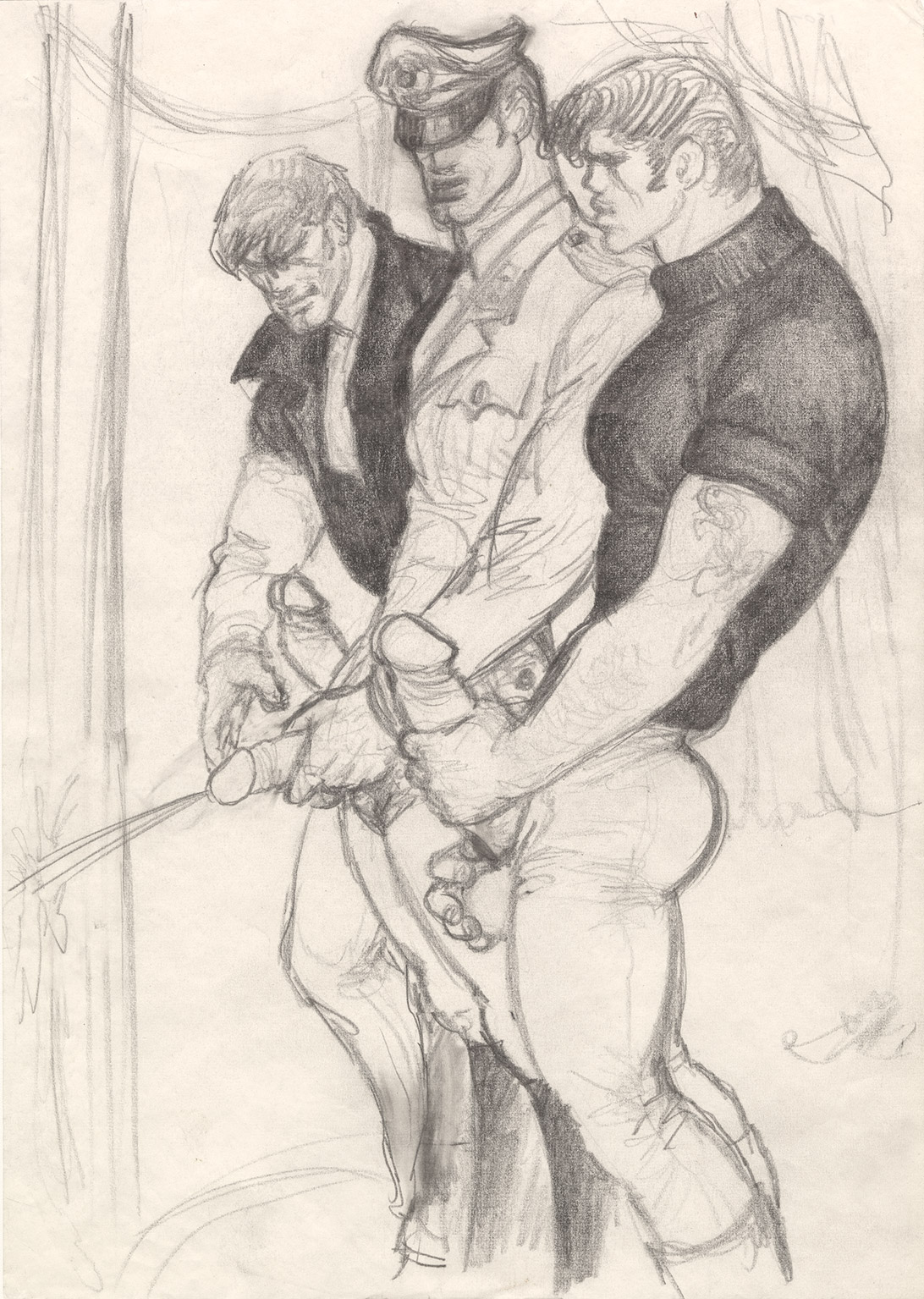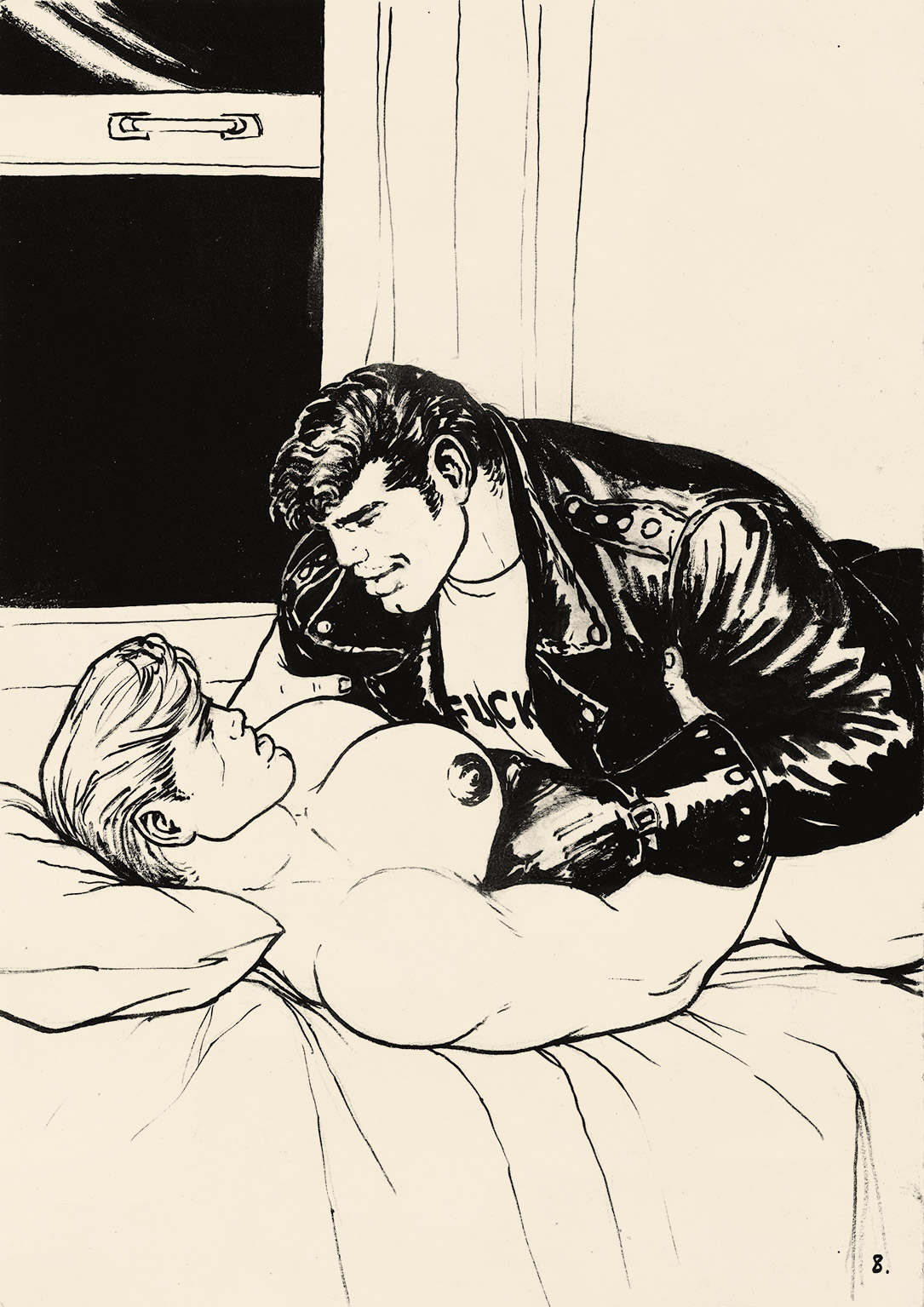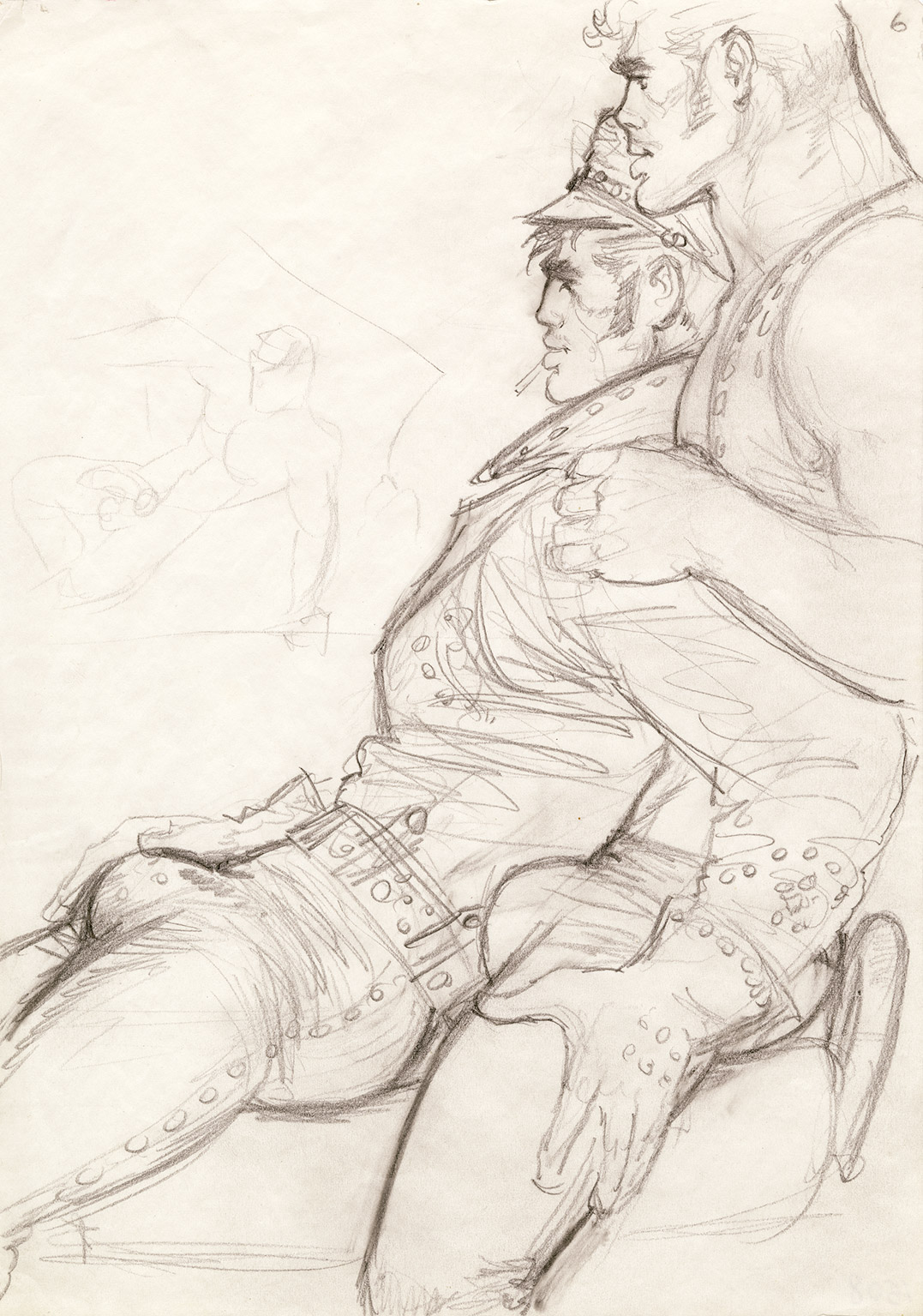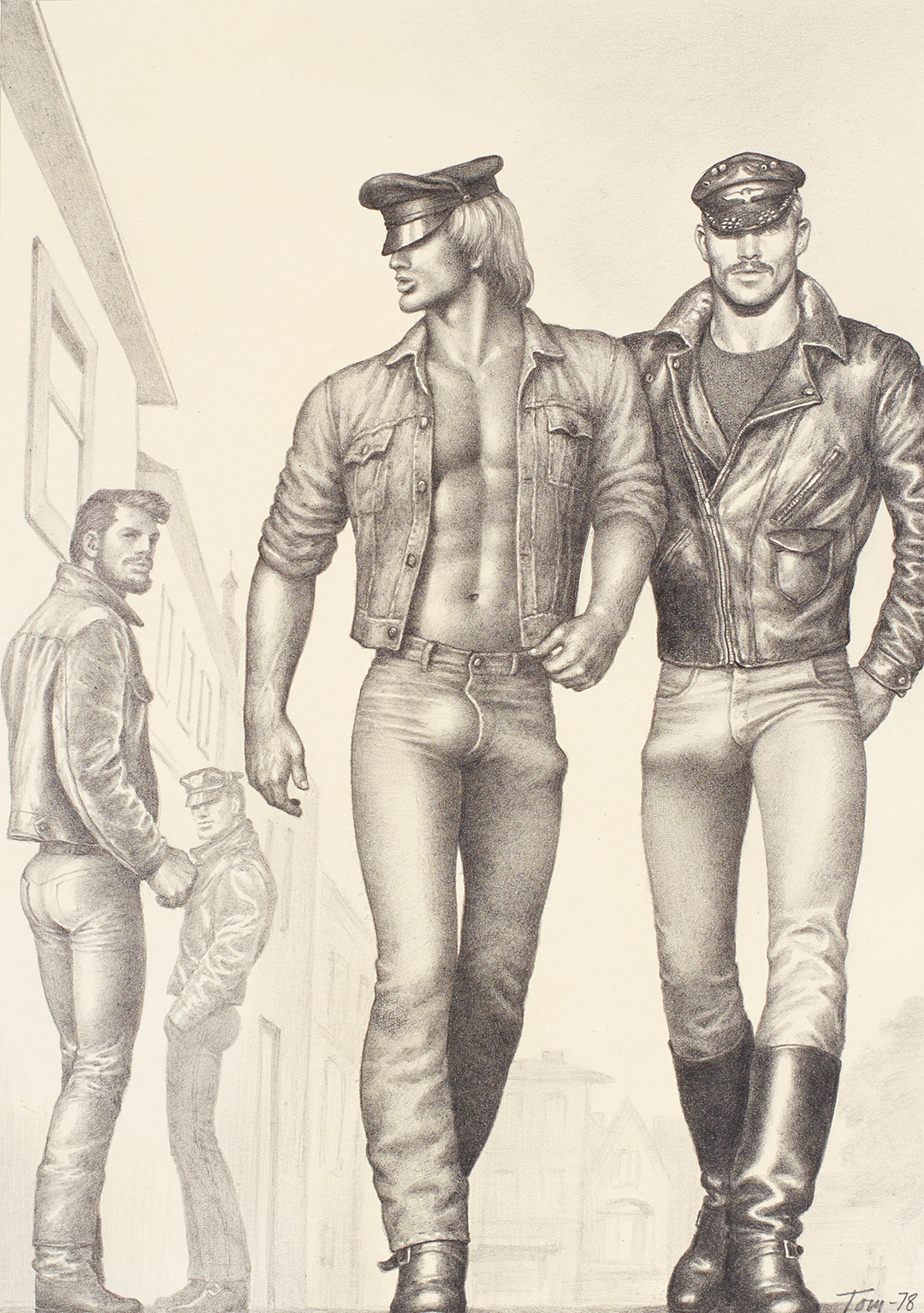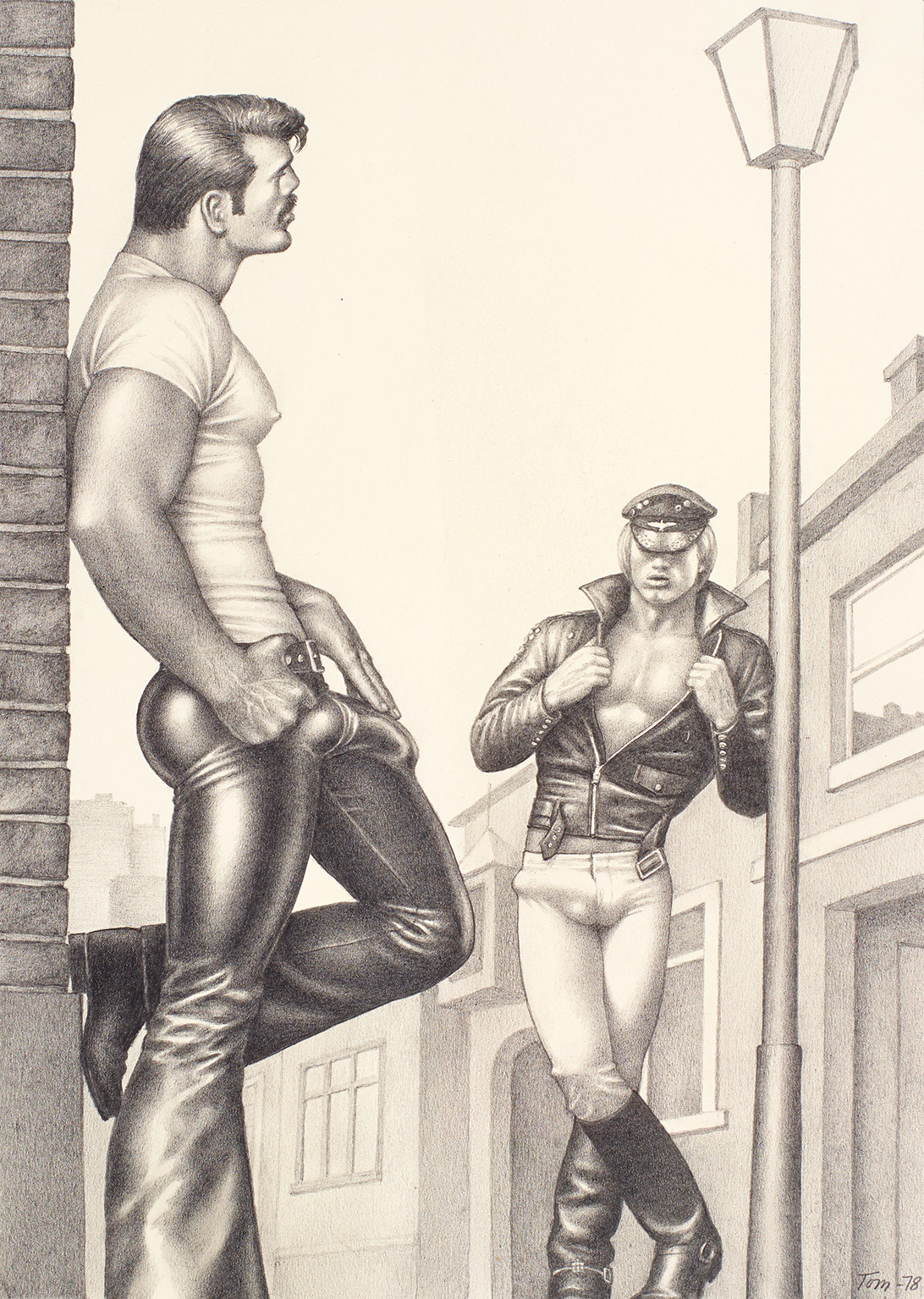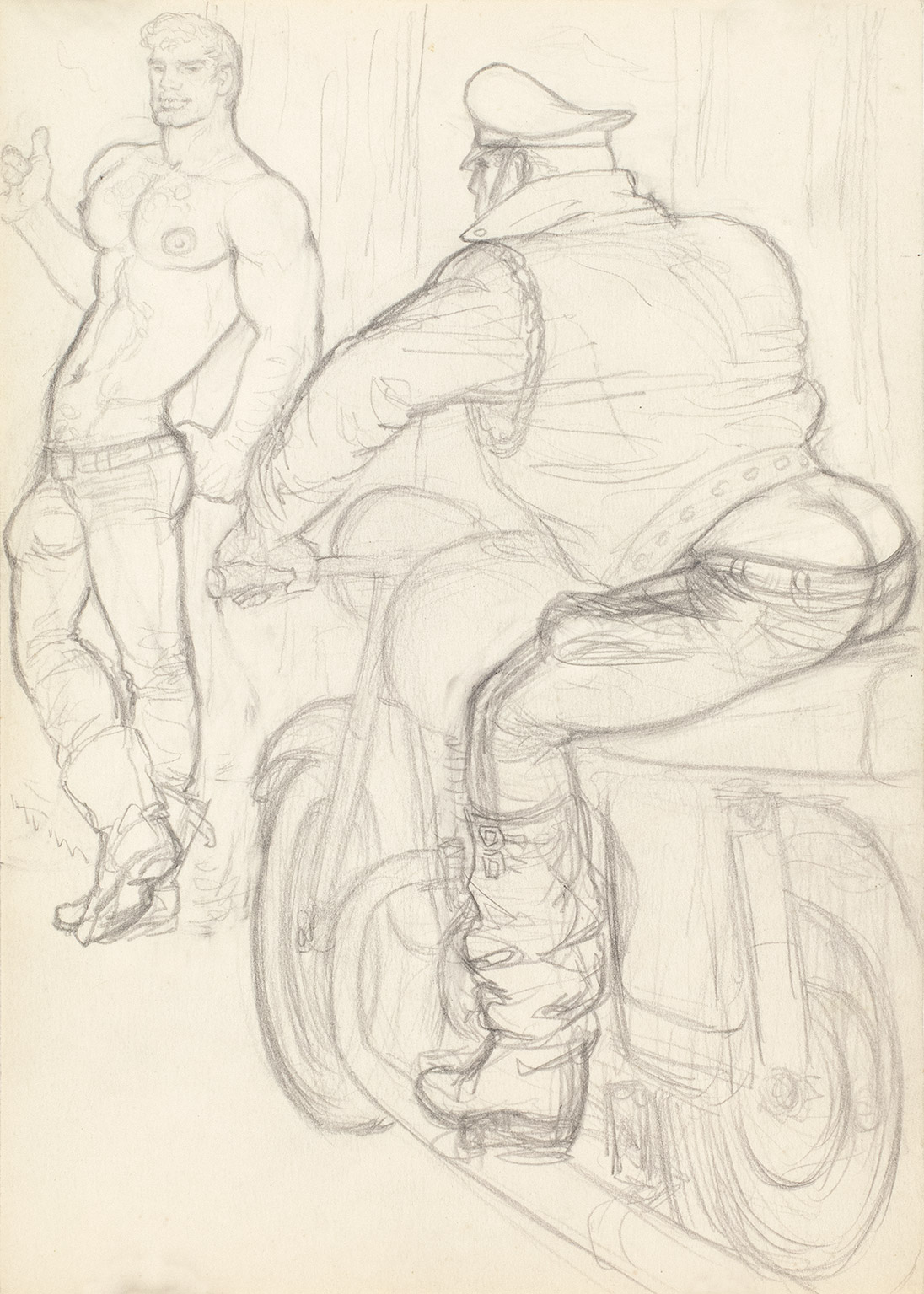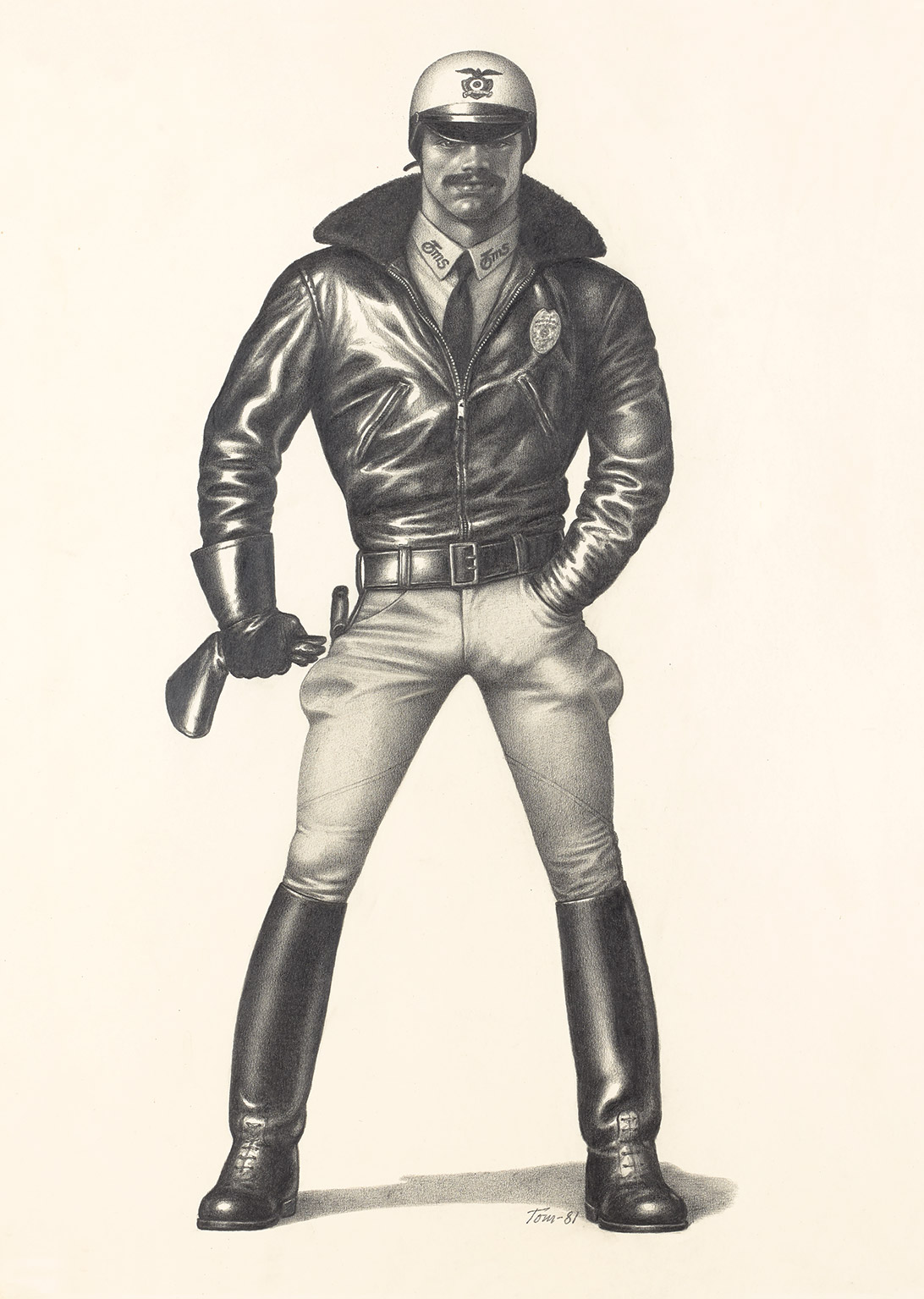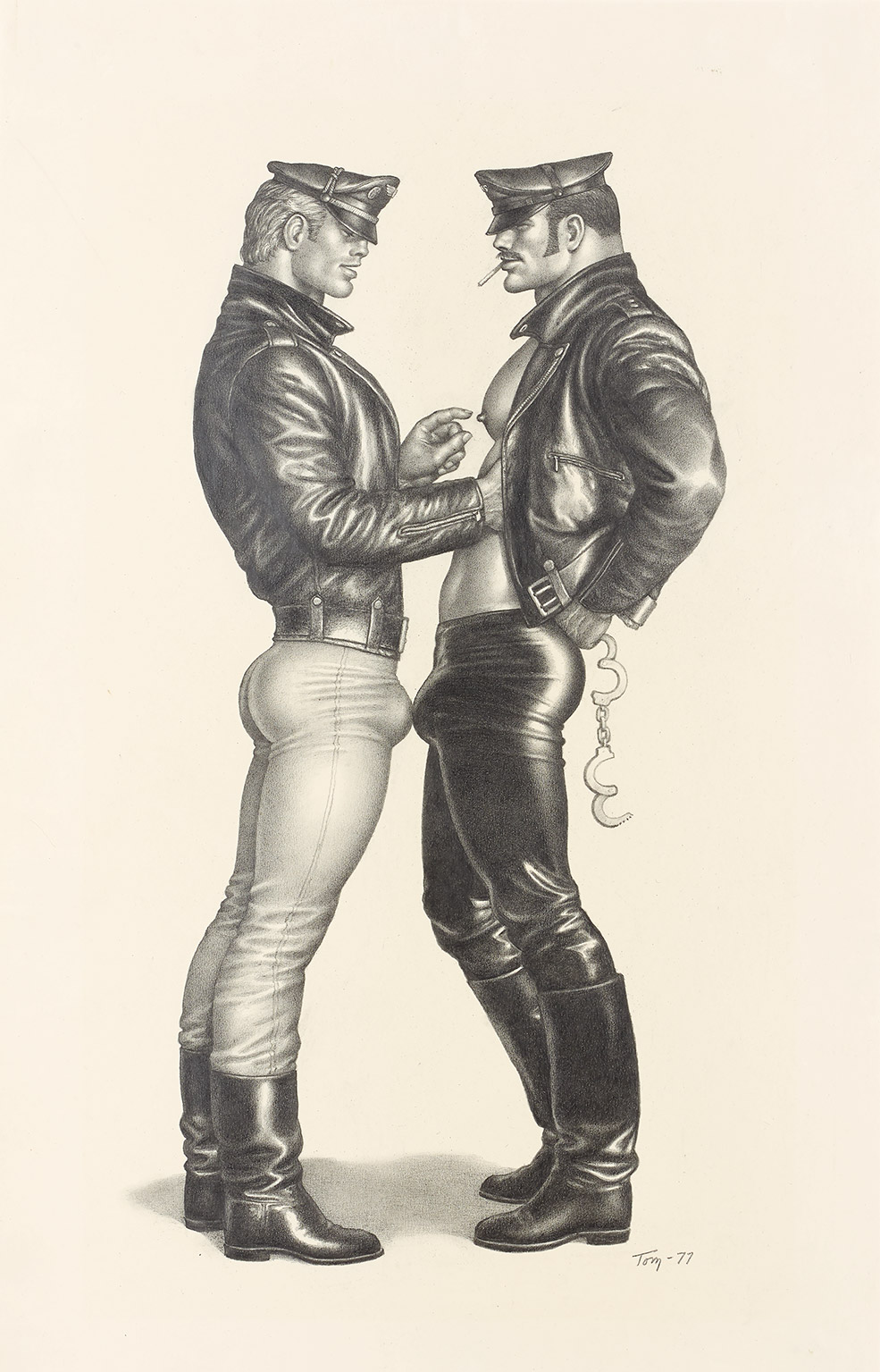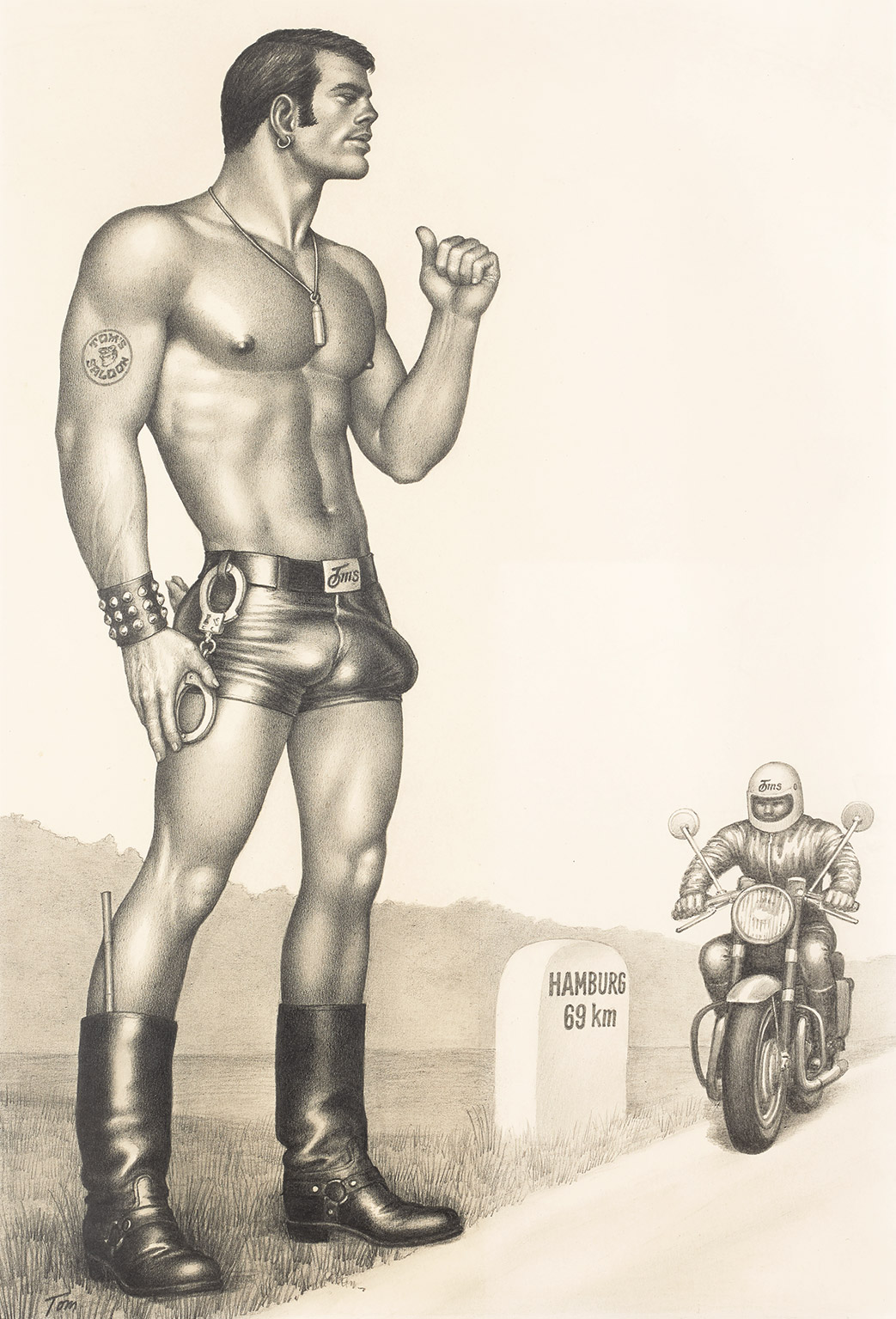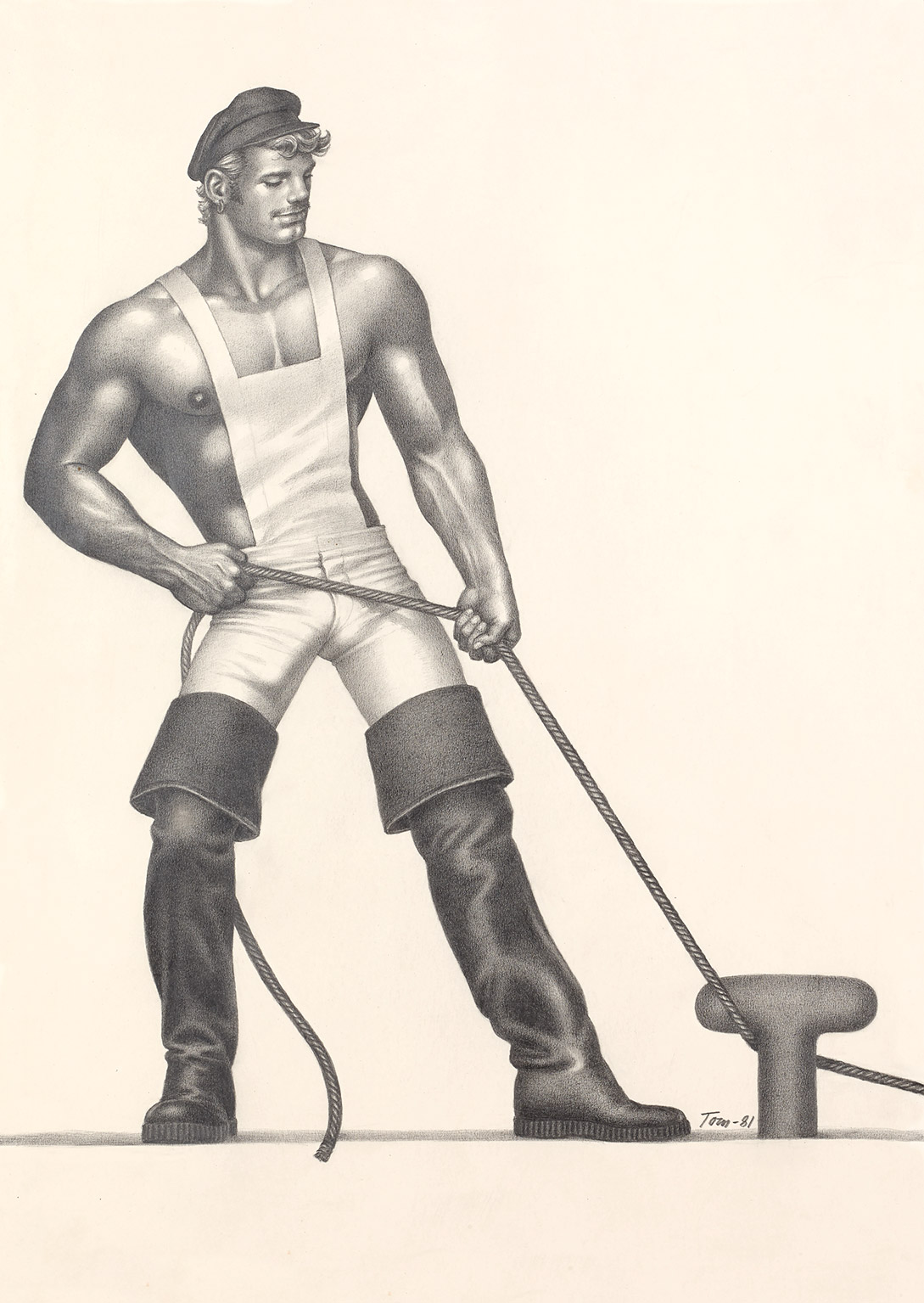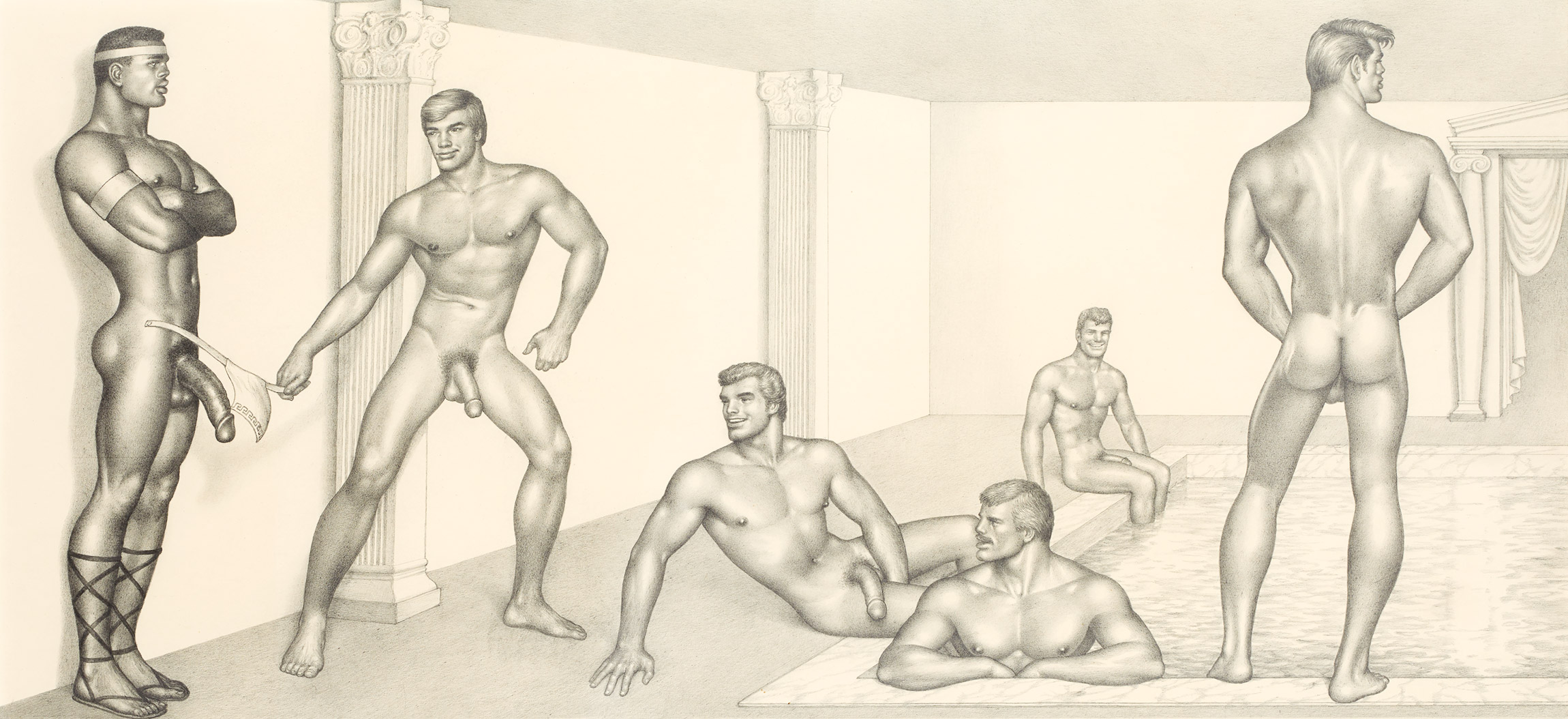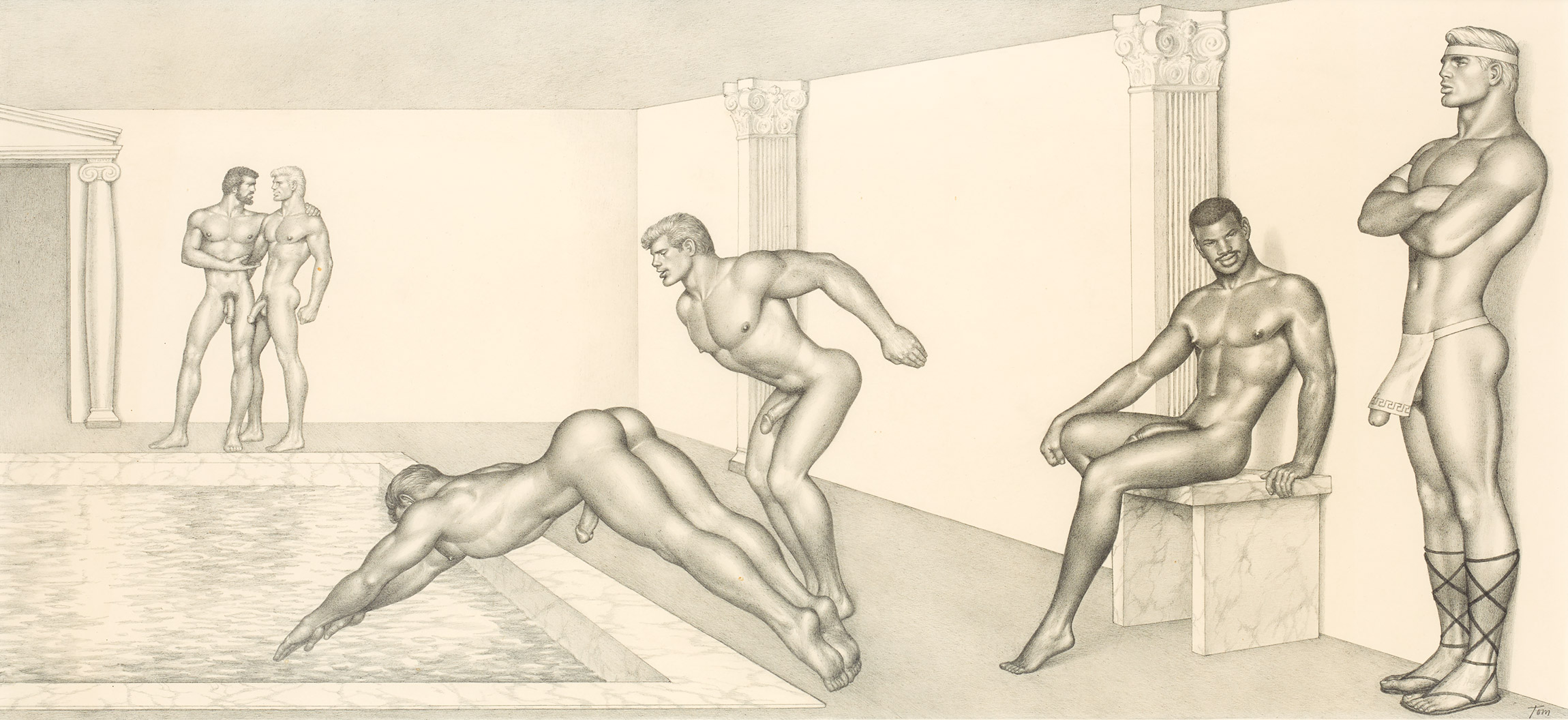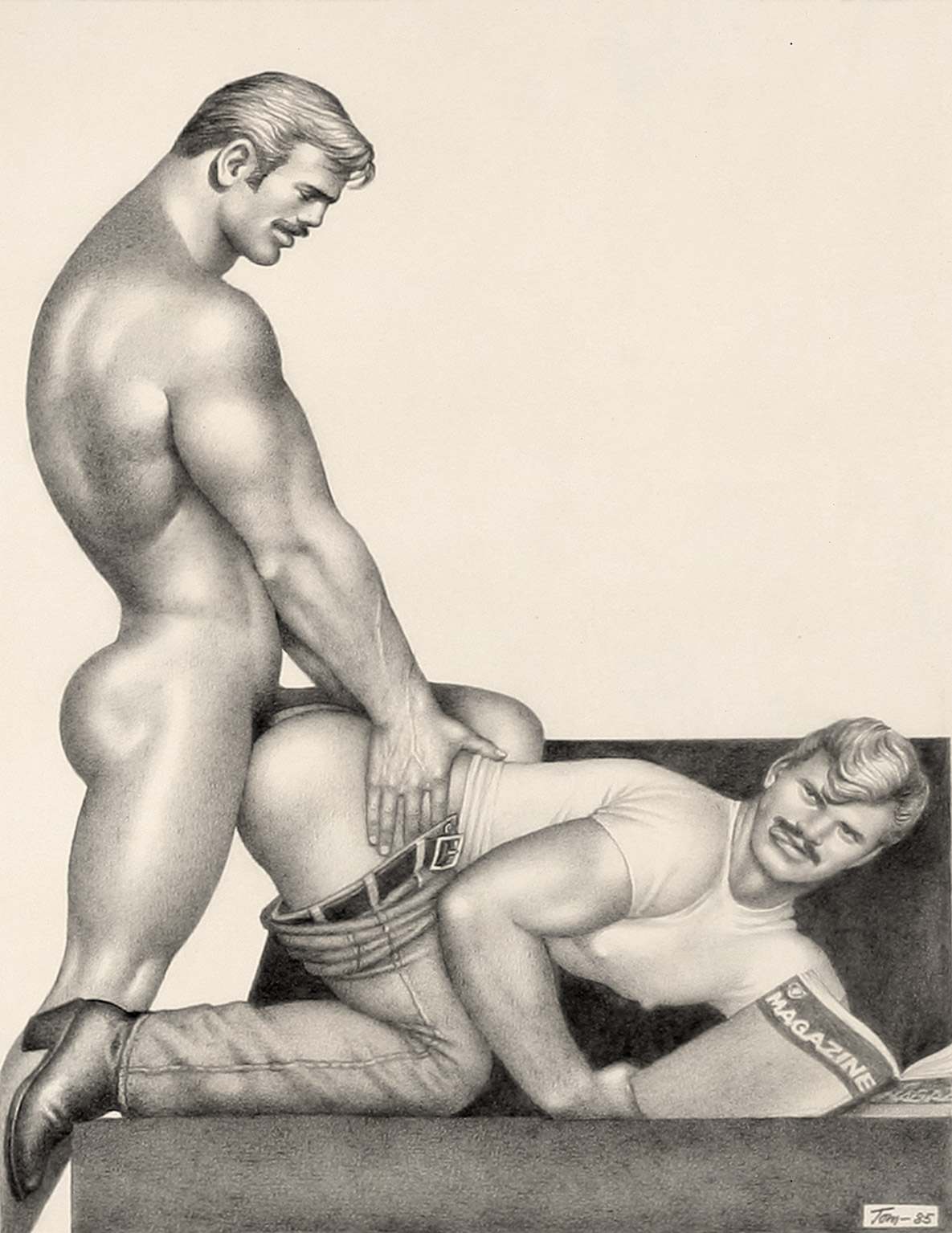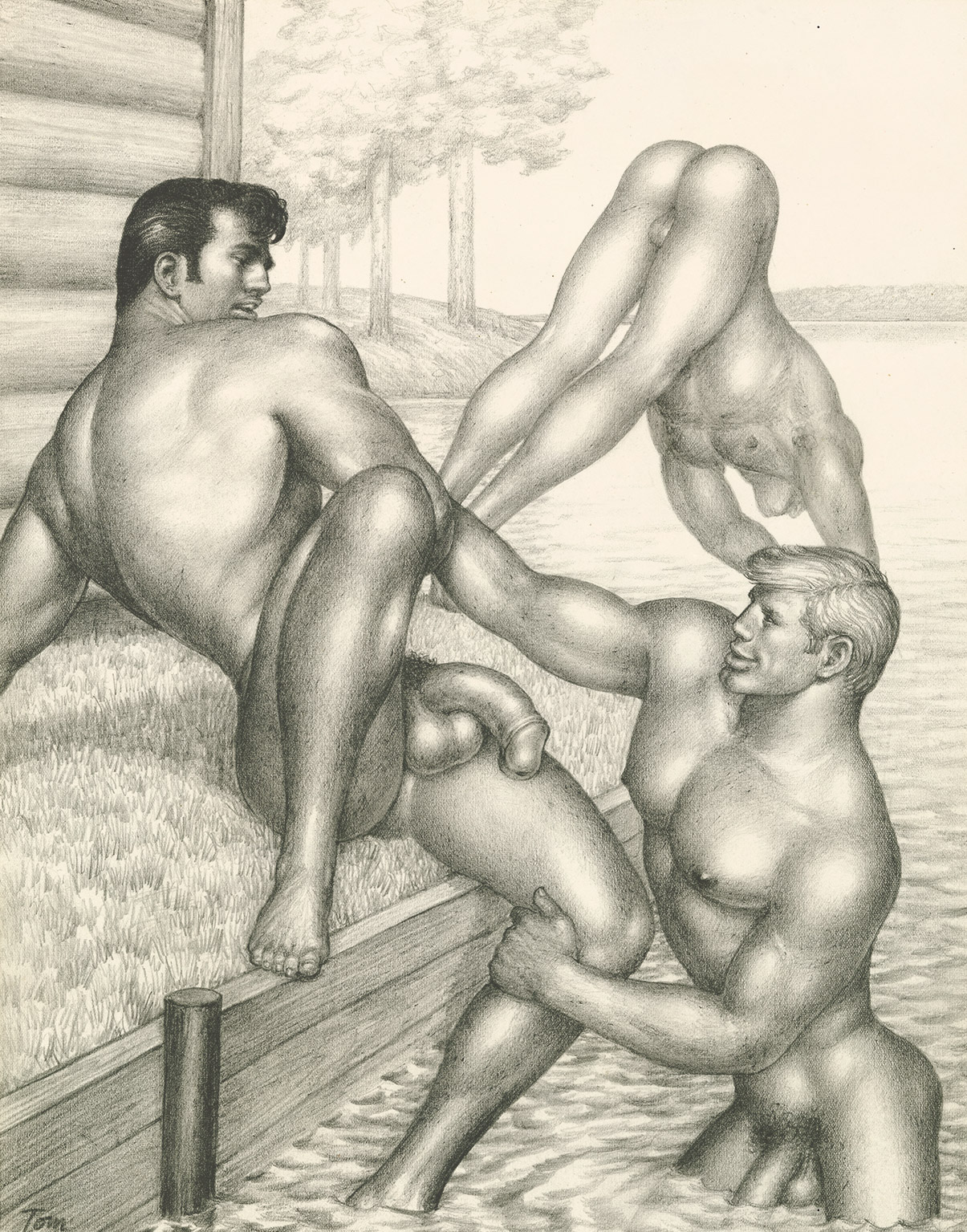 ---
About
Tom of Finland is a gay icon. His drawings of well-built men in rugged attire and his depictions of man-to-man lust, shaped a strong image of gay identity. He drew males having sex without shame, proud and full of confidence. Tom of Finland is the artist's name of Touko Laaksonen (1920–1991). He signed his erotic work "Tom" and when his drawings were first published in 1957, the now world-famous "Tom of Finland" was born. The name Touko Laaksonen was kept for family and colleagues; both friends and fans have always simply called him Tom.
Touko Laaksonen was born on 8th May in southwest Finland. Both his parents were teachers at a primary school, where the family also lived. The arts played a major role with the Laaksonens. Touko's father had a dedicated interest in music and – directing a local choir – he introduced his five children to singing at an early age. Touko's mother encouraged her children with their crafts and drawing. After graduating from high school in Turku in 1939, Touko started distance studies in advertising and marketing – the same year as the outbreak of World War II. In early 1940, he was enlisted into the Finnish army. By late the same year, he was commissioned second lieutenant and promoted to lieutenant in 1943. While stationed near Helsinki, Touko had the chance to frequently indulge in the classical music concerts the capital offered. The city's blackouts at night proved fruitful for enjoying the company of the many other lonely men hungry for sex. An excellent pianist and experienced chorister, he organized a choir in his artillery unit, boosting their moral. The unit was transferred in 1944 and Touko was then engaged in the important and brutal battles which eventually stopped the advance of enemy forces.

Continue reading
Touko spent almost five years in military service – from basic training to decorated officer. Helsinki's postwar gay culture appeared flamboyant to Touko and he tried to fit in, but he had come of age in uniform, having sex with others in uniform. He just felt more at home with the tougher types he had known. Touko had a fascination with uniforms from an early age, always remembering his school-bus drivers. During the war, when Finland was inundated with soldiers and sailors, boots and uniforms became fetishes for him. After the war ended, he completed his advertising course while studying music at the famed Sibelius Academy in Helsinki. He finished his studies in composition and piano at the Academy in 1949. As there wasn't much work for a concert pianist, Touko took jobs as a rehearsal pianist and was part of an ensemble that played at restaurants and clubs for the next decade.
While defending his country at war, there was little opportunity for Touko to indulge his personal interest in drawing. During peacetime, once he had the privacy of his own room, he could live out all his fantasies on paper, while hooking up with men in the parks and public meeting places of Helsinki. Touko shared a sublet with his sister and her classmate, who then moved out. Touko met Veli "Nipa" Mäkinen (1932–1981) in the park, invited him home, and he never really left. Eventually the couple moved to their own apartment. The Laaksonen family was fond of Nipa and never asked questions about the two men's relationship; Nipa was always referred to as Touko's "room-mate".
Touko worked in advertising by day. His favorite assignment was to draw people, but clients complained that the fathers in his perfect Finnish families were "too sexy". He wasn't fired, but moved into management and eventually became the main art director for the firm. Despite these successes and advancements, he was never completely fulfilled by this "straight" job.
Until the mid-1950s, Tom's "dirty drawings" – as he modestly referred to them – had never been officially published. Tom had given some to friends, and photographed others, which were passed around in private circles. This changed in 1957, when Bob Mizer first used one on the cover of his magazine Physique Pictorial. Tom of Finland's drawings added something new to this world of "muscle magazines" – desire. He set about going beyond beefcake to represent his men lusting for each other. It played out with naturalness, humor and joy. His men were at ease with their sexuality, their wants and their bodies. They were gay.
Tom made small photographic reproductions of his work to circulate and offered prints to be purchased either directly from him or his publishers. The prints were sold individually, as well as in sets, through mail-order. In 1973, Tom made the decisive move to devote himself full time to his art. He left the advertising agency, and his new-found dedication to his passion fueled his recognition abroad. In Finland, though, it was hard to imagine that a Finn had actually drawn something this bold!
In 1976, Tom had the first exhibit of his original drawings. It was held in Europe's first gay-only sex shop, located in Hamburg. Tom finally visited the USA in 1978. Within that year, he had two solo exhibitions, one in Los Angeles and one in San Francisco – and a show in New York with artist Etienne, arranged by Canadian-born Durk Dehner (*1949). This trip to the States was worthwhile and his career took a significant leap forward. Tom needed someone to manage his business and Durk, who lived in Los Angeles and had hosted him on his first visit, turned out to be just this man: trustee, model, lover and business partner. Together they formed the Tom of Finland Company, followed in 1984 by the non-profit Tom of Finland Foundation, helmed by Durk to this day.
During the 1980s, Tom divided his time between Los Angeles and Helsinki, working on exhibitions in both Europe and America, publications, commissioned artworks and his own fantasies. In 1990, shortly before his death, his peers in Finland awarded him the highest prize for comics. The artist died of COPD (chronic obstructive pulmonary disease) on 7th November 1991, at the age of 71.
---
---
---
Chronology
---
Biography
1920
Born as Touko Valio Laaksonen in Kaarina, Finland
1957
First publication of his works under the pseudonym Tom of Finland
1991
Died in Helsinki, Finland
Selected Solo Exhibitions
2023
Tom of Finland: Bold Journey, Kiasma Museum of Contemporary Art, Helsinki, Finland
Tom of Finland: Highway Patrol, Greasy Rider, and Other Selected Works, David Kordansky Gallery, New York City, USA
2021
Tom of Finland: The Darkroom, Fotografiska, New York City, USA
Tom of Finland: Pen and Ink, David Kordansky Gallery, Los Angeles, USA
2020
Tom of Finland: Made in Germany, Galerie Judin, Berlin, Germany
Tom of Finland: Love and Liberation, House of Illustration, London, England
Tom of Finland: The Darkroom, Fotografiska Tallinn, Tallinn, Estonia and Stockholm, Sweden
2018
TOM House: The Work and Life of Tom of Finland, Museum of Contemporary Art Detroit, Detroit, USA
2017
The Man Behind Tom of Finland: Loves and Lives, Salon Dahlmann, Berlin, Germany
Touko Laaksonen: The Man Behind Tom of Finland. Ecce Homo – The Preliminary Drawings, Galerie Judin, Berlin, Germany
2015/16
Tom of Finland: The Pleasure of Play, Artists Space, New York City, USA; Kunsthalle Helsinki, Finland
2015
Tom of Finland: Early Work 1944–1972, David Kordansky Gallery, Los Angeles, USA
2014
Sealed with a Secret: Correspondence of Tom of Finland, Postal Museum, Tampere, Finland
2012
Tom of Finland, Kulturhuset, Stockholm, Sweden
2011
Tom of Finland, Logomo – The Centre of Culture, Turku, Finland
2006
Tom of Finland, Helsinki City Art Museum, Helsinki, Finland
1999
Tom of Finland, Jyväskylä Art Museum, Jyväskylä, Finland
1994
Tom of Finland, Schwules Museum, Berlin, Germany
1993
Tom of Finland, Galerie Daniel Buchholz, Cologne, Germany
1992
Tom of Finland: A Memorial Retrospective, Leslie-Lohman Museum of Gay and Lesbian Art, New York, USA
1976
Originalzeichnungen und Gemälde aus "The Loggers" von Tom of Finland, Revolt Shop, Hamburg, Germany
Group Exhibitions since 2008
2023
The AllTogether Clubhouse, The Community, New York City, USA
2022
AllTogether, The Community, Paris, France and Venice, Italy
2019
Camp: Notes on Fashion, The Metropolitan Museum of Art, New York City, USA
Art & Porn, Kunsthal Charlottenborg, Copenhagen, Denmark and ARoS Aarhus Art Museum, Aarhus, Denmark
The Foundation of the Museum: MOCA's Collection, MOCA: The Geffen Contemporary, Los Angeles, USA
2016
Desire, Moore Building, Miami, USA
2015
Slash: In Between the Normative and the Fantasy, kim? Contemporary Art Centre, Riga, Latvia
2014
Abandon the Parents, Statens Museum for Kunst, Copenhagen, Denmark
2013
Bob Mizer & Tom of Finland, The Museum of Contemporary Art, Los Angeles, USA
Keep Your Timber Limber (Works on Paper), Institute of Contemporary Arts, London, Great Britain
Rare and Raw. The 2013 Queer Caucus Exhibition for the College Art Association, Leslie-Lohman Museum of Gay and Lesbian Art, New York, USA
2012
We the People, Robert Rauschenberg Foundation, New York, USA
2011
Comics Stripped, Museum of Sex, New York, USA
2009/10/11
Compass in Hand: Selections from The Judith Rothschild Foundation Contemporary Drawings Collection, The Museum of Modern Art, New York, USA; Institut Valencià d'Art Modern, Valencia, Spain; Martin-Gropius-Bau, Berlin, Germany
2009
The Collectors, The Danish and the Nordic Pavilions, La Biennale di Venezia – 53rd International Art Exhibition, Venice, Italy
2008
Pre-Revolutionary Queer: Gay Art and Culture Before Stonewall, The Kinsey Institute Gallery, Bloomington (Indiana), USA
2008
Homotopia CUC Liverpool Biennial, Liverpool, Great Britain
2008
Glossolalia: Languages of Drawing, The Museum of Modern Art, New York, USA
Selected Collections
The Museum of Modern Art, New York, USA
San Francisco Museum of Modern Art, San Francisco, USA
Leslie-Lohman Museum of Gay and Lesbian Art, New York, USA
Los Angeles County Museum of Art, Los Angeles, USA
Kiasma – Museum of Contemporary Art, Helsinki, Finland
Portland Museum of Art, Portland, USA
The Art Institute of Chicago, Chicago, USA
Tom of Finland Foundation, Los Angeles, USA
Selected Publications
2020
The Official Life and Work of a Gay Hero. Text by F. Valentine Hooven III. London: Abrams & Chronicle Books
Tom of Finland: Made in Germany. Edited by Juerg Judin and Pay Matthis Karstens. Texts by Juerg Judin, Pay Matthis Karstens, Alice Delage, Kati Mustola. Milan: Skira
2017
Tom's Men. Edited by Juerg Judin and Pay Matthis Karstens. Text by Juerg Judin and Pay Matthis Karstens. Berlin: Edition Judin
2016
Tom House. Edited by Michael Reynolds. Text by Mayer Rus. New York: Rizzioli
2012
Tom of Finland – Life and Work of a Gay Hero. Texts by F. Valentine Hooven III, Durk Dehner and S. R. Sharp. Berlin: Bruno Gmünder
2009
Tom of Finland XXL. Edited by Dian Hanson. Texts by Edward Lucie-Smith, Camille Anna Paglia, Armistead Maupin, Todd Oldham and John Waters. Köln: Taschen
2006
Berndt Arell and Kati Mustola, Tom of Finland: Ennennäkemätöntä – Unforeseen, Helsinki: Like / Kustantaja
1992
Tom of Finland – His Life and Times. Text by F. Valentine Hooven III. New York: Saint Martins Press