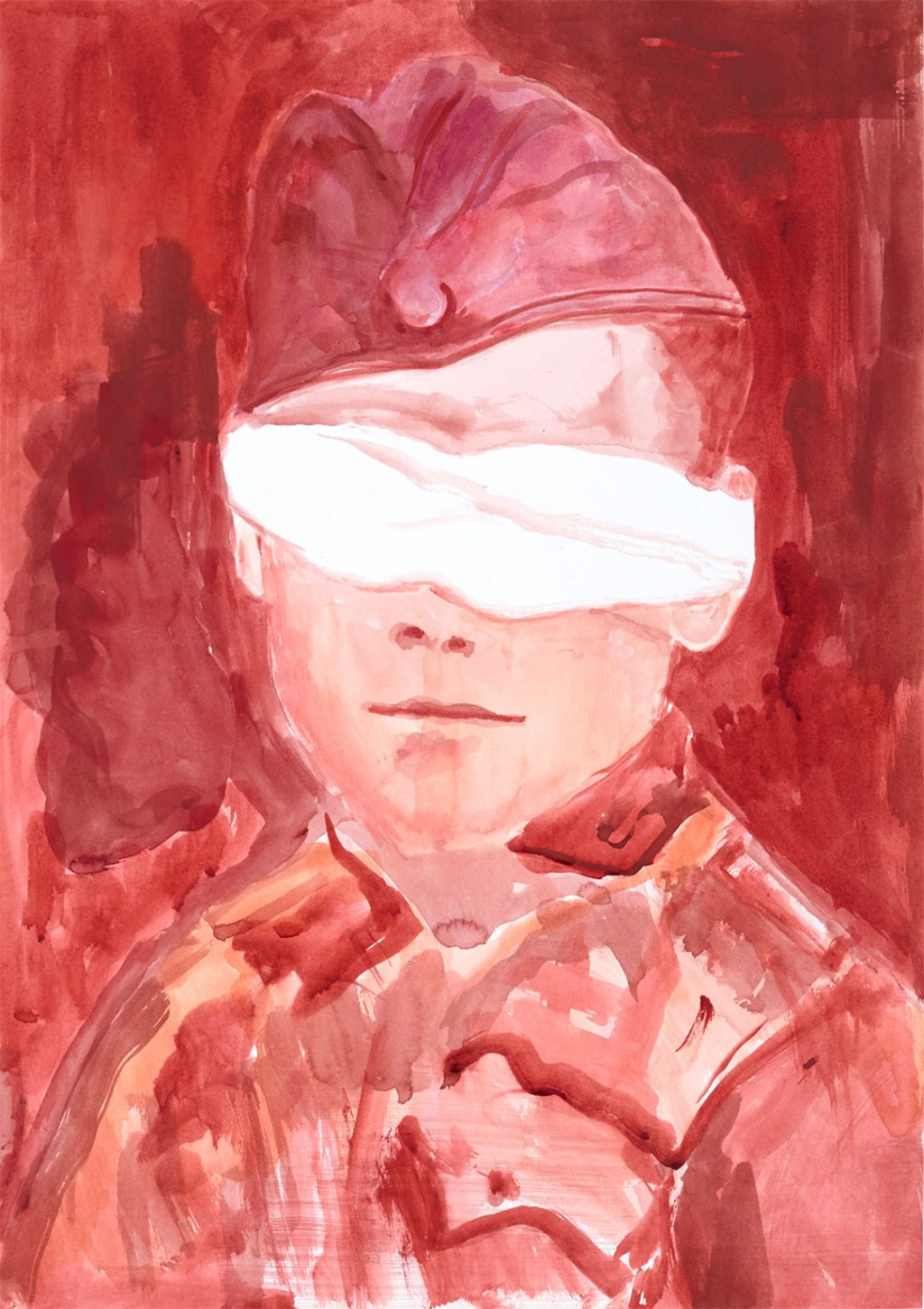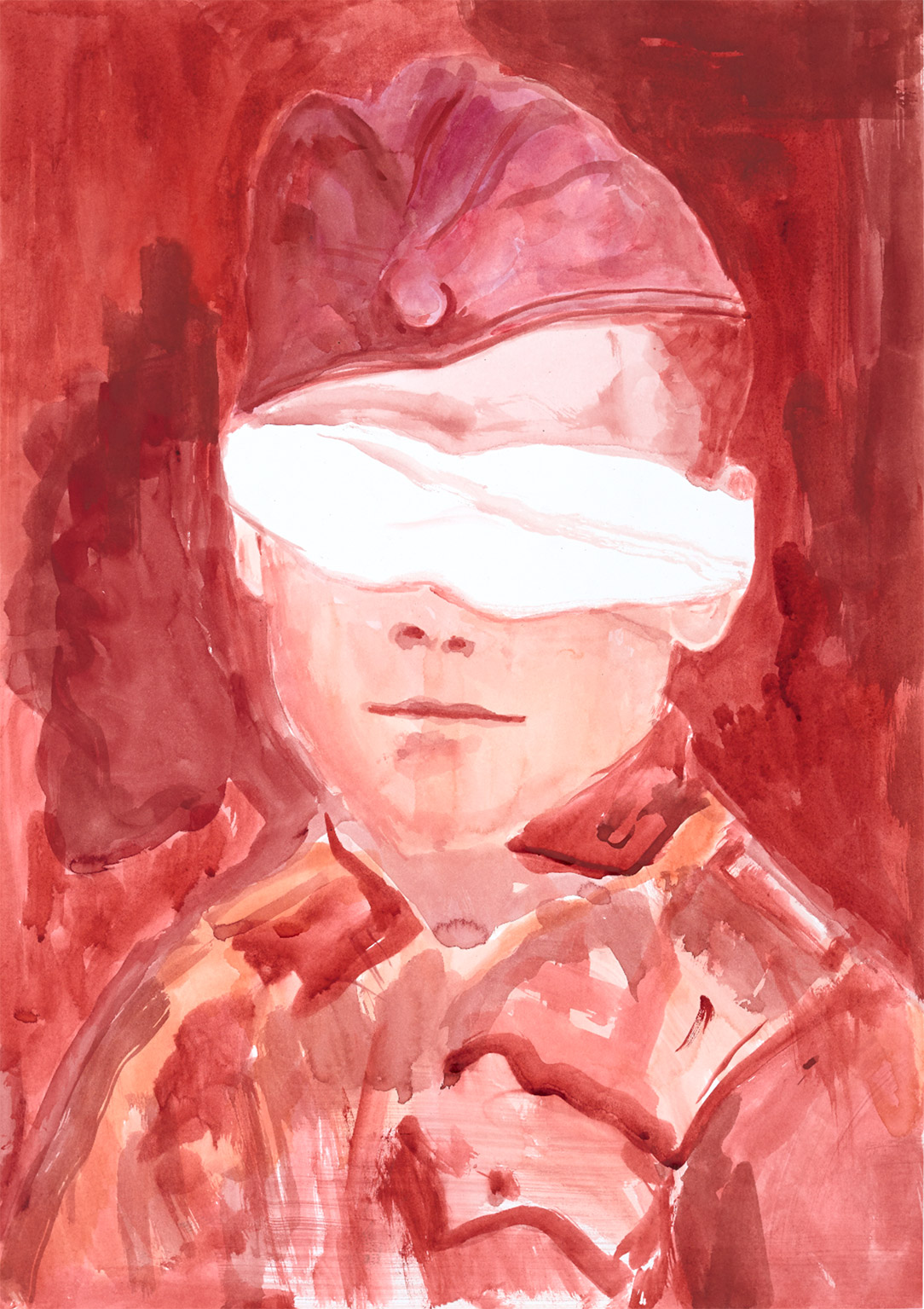 Dritter Wanderer
2021
Watercolor on paper
50.7 × 35.8 cm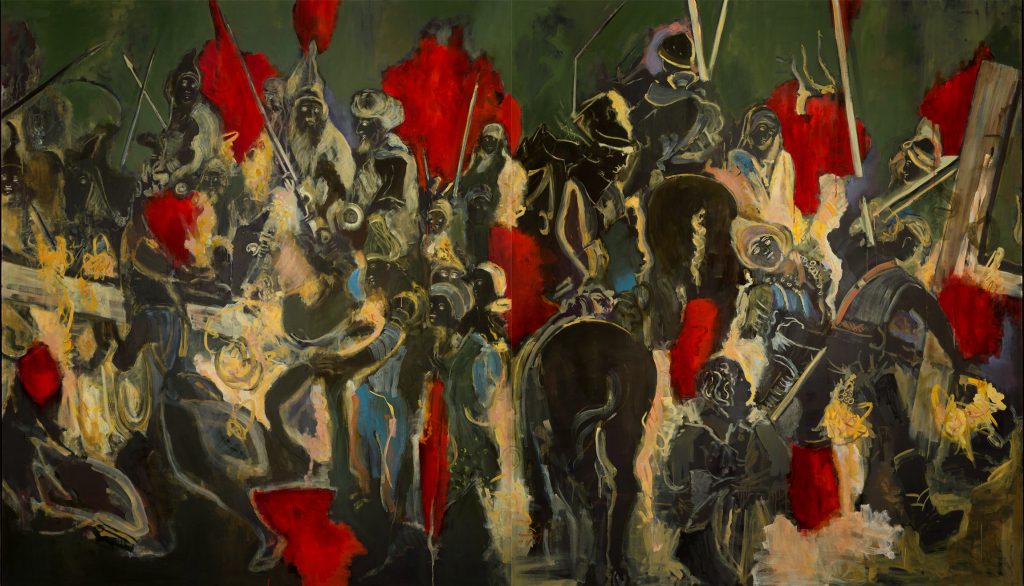 Dichtgedrängt nach Schongauer
2021
Oil on canvas
195.5 × 340.5 cm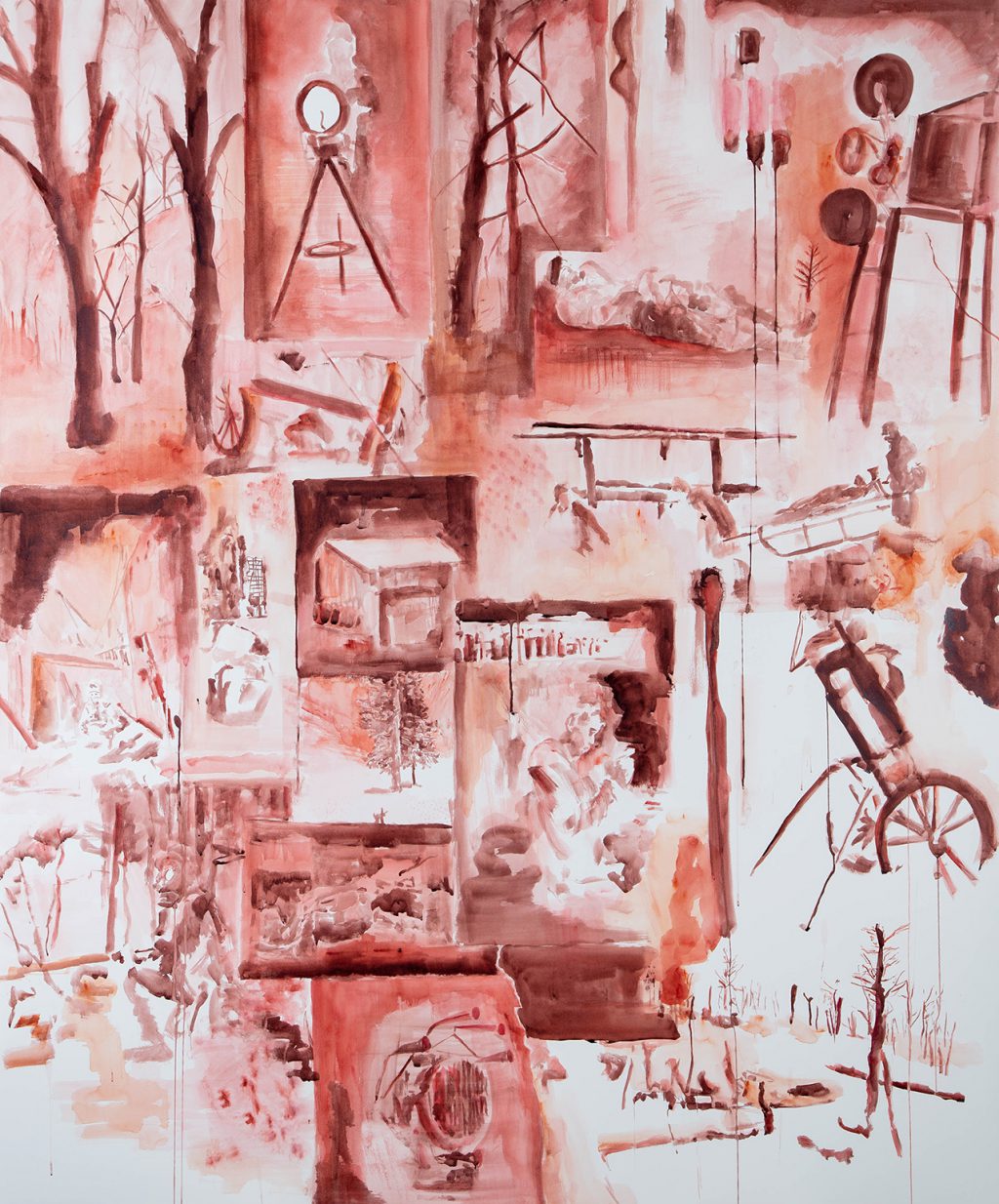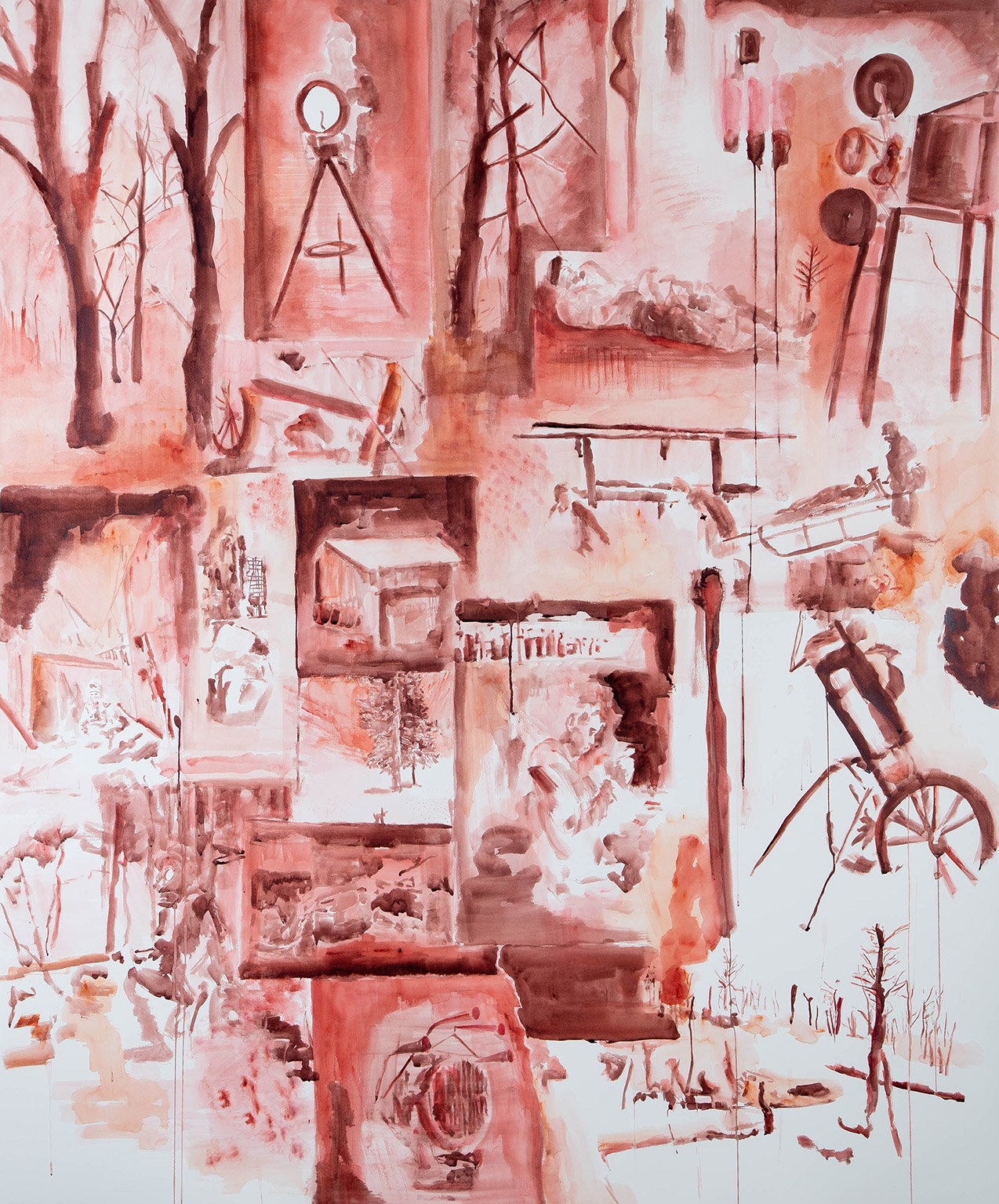 Im Walde
2018
Watercolor on paper
180 × 150 cm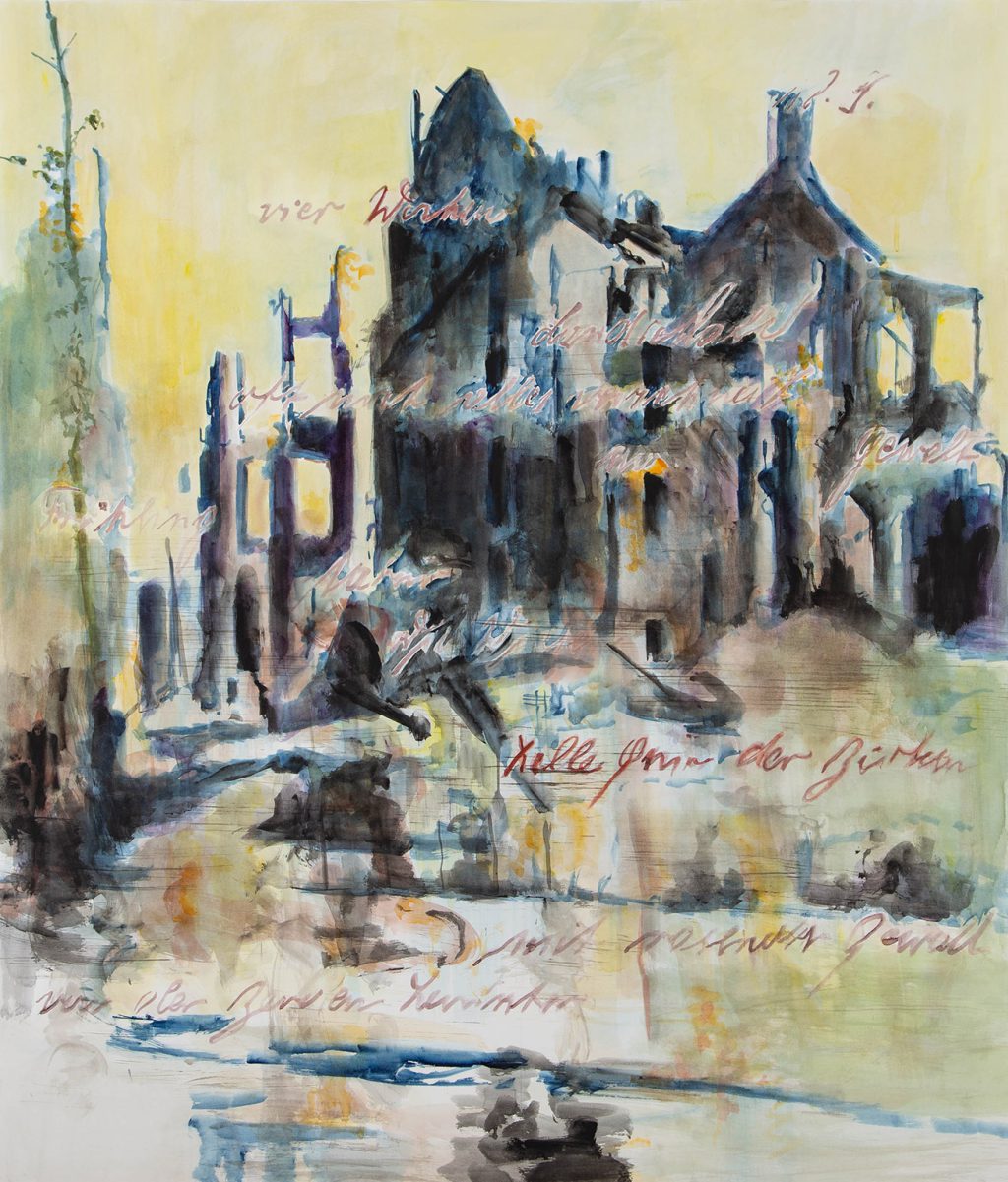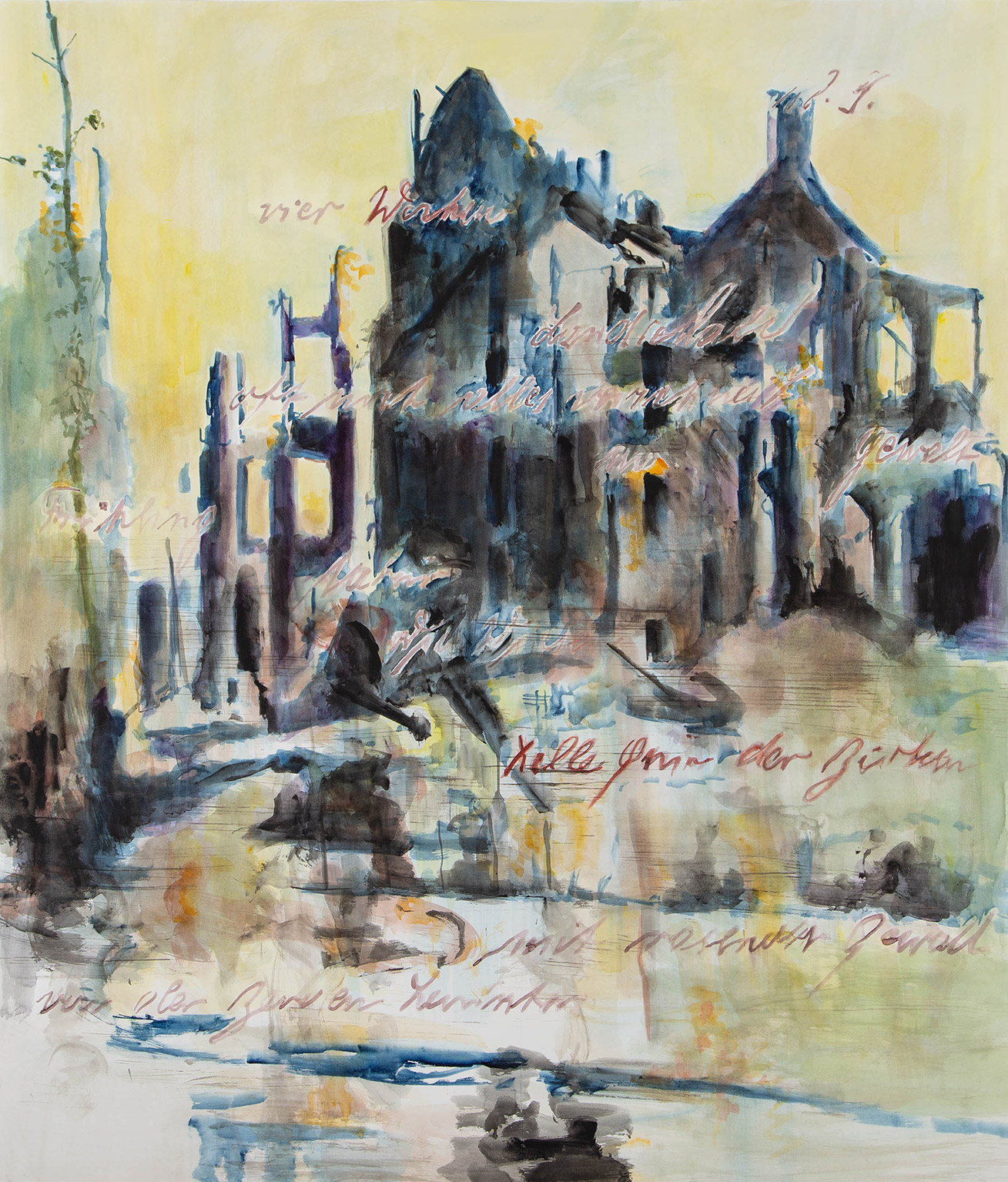 Ruine
2019
Watercolor on paper
130 × 111 cm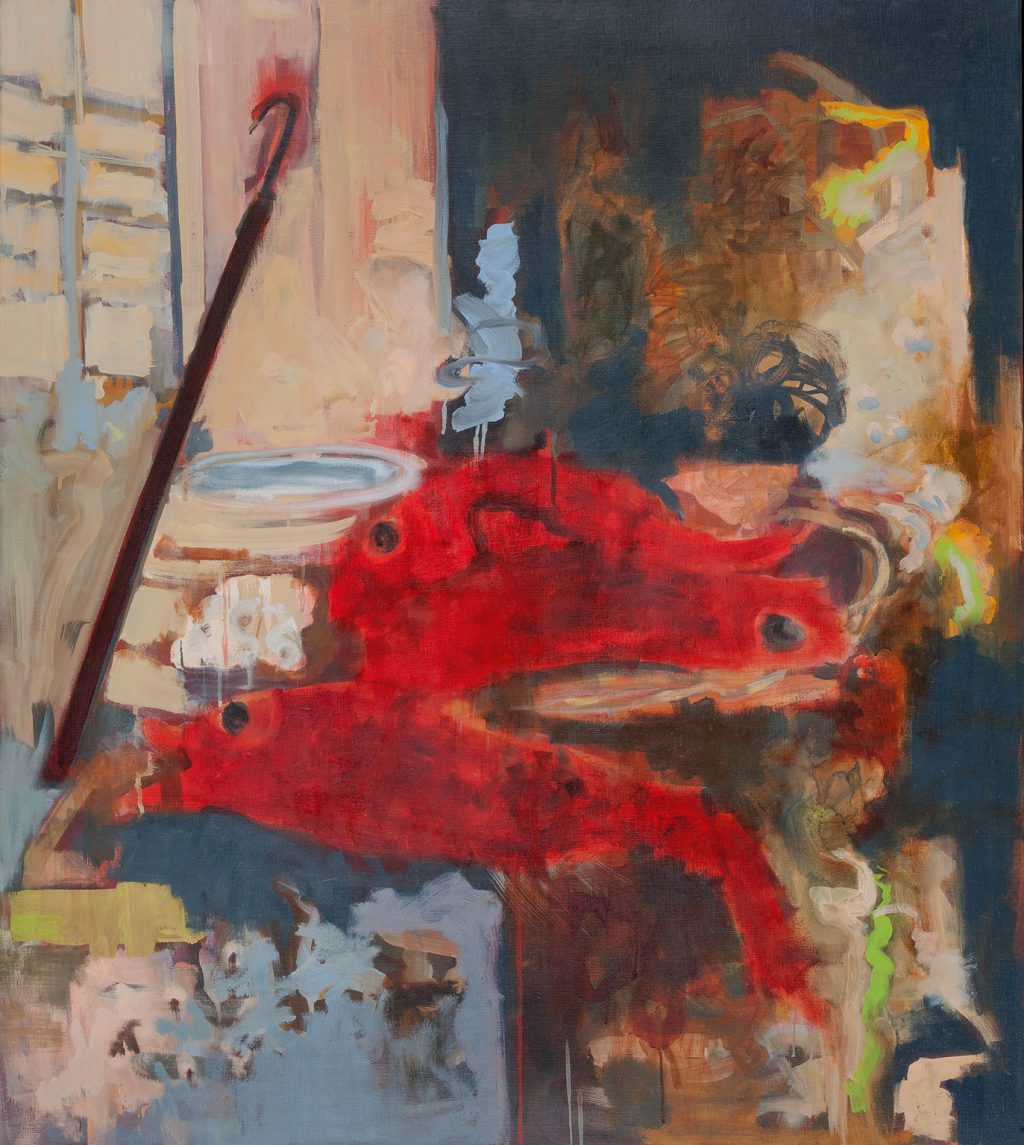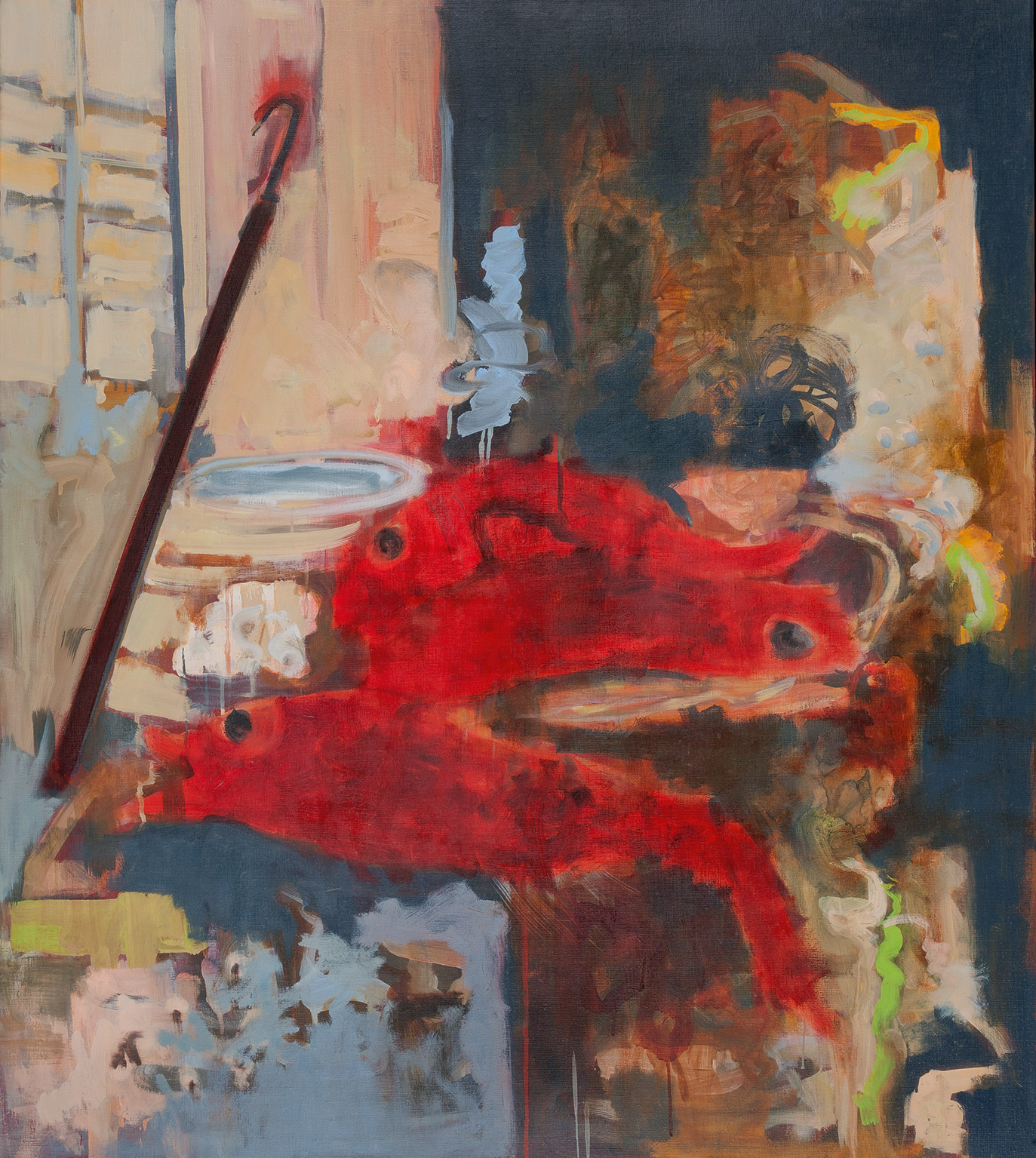 The Spoils of Ward Eight
2018
Oil on canvas and artist's frame
100.2 × 89.3 cm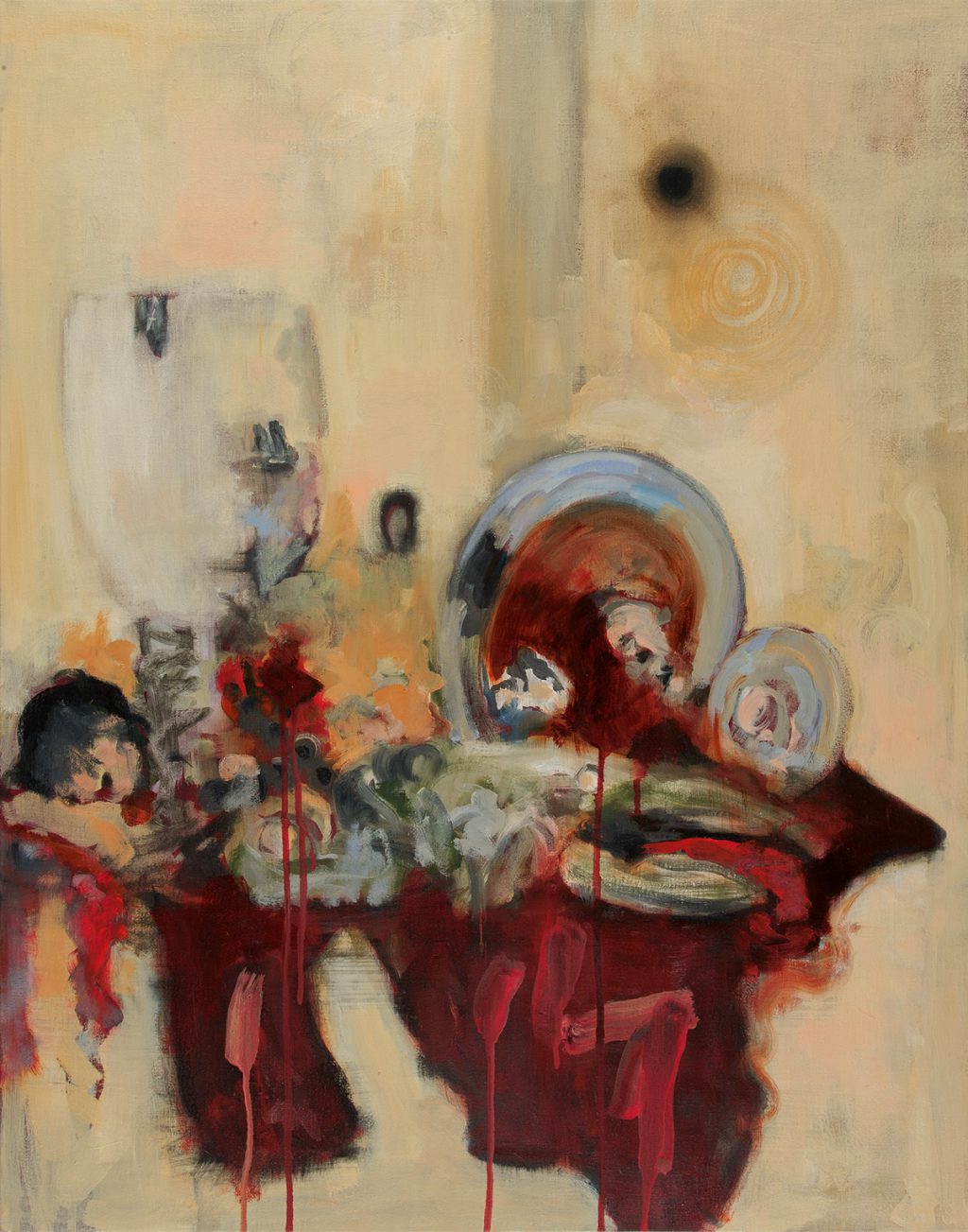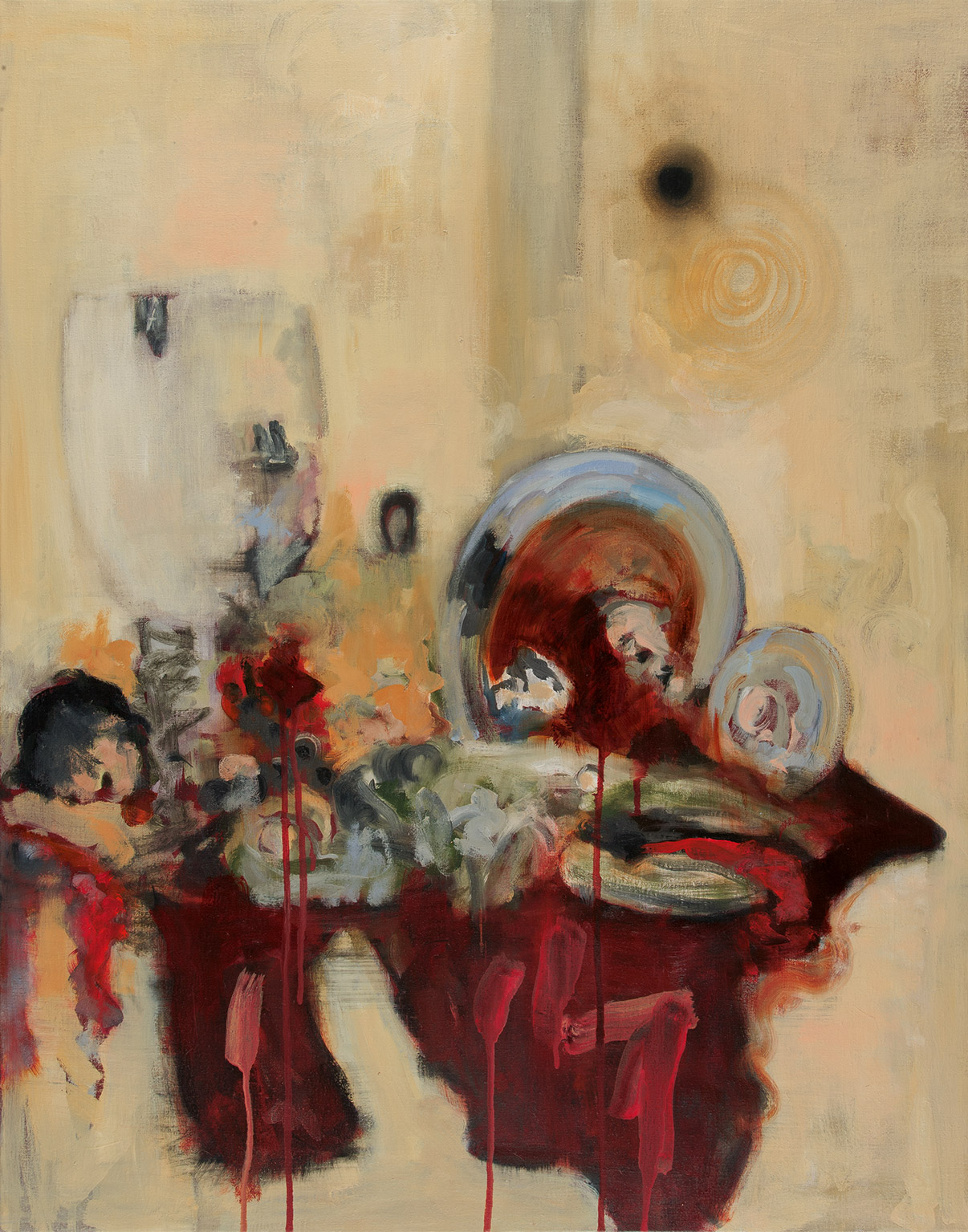 The Spoils of Ward Nine
2018
Oil on canvas and artist's frame
80 × 63.1 cm
Show more works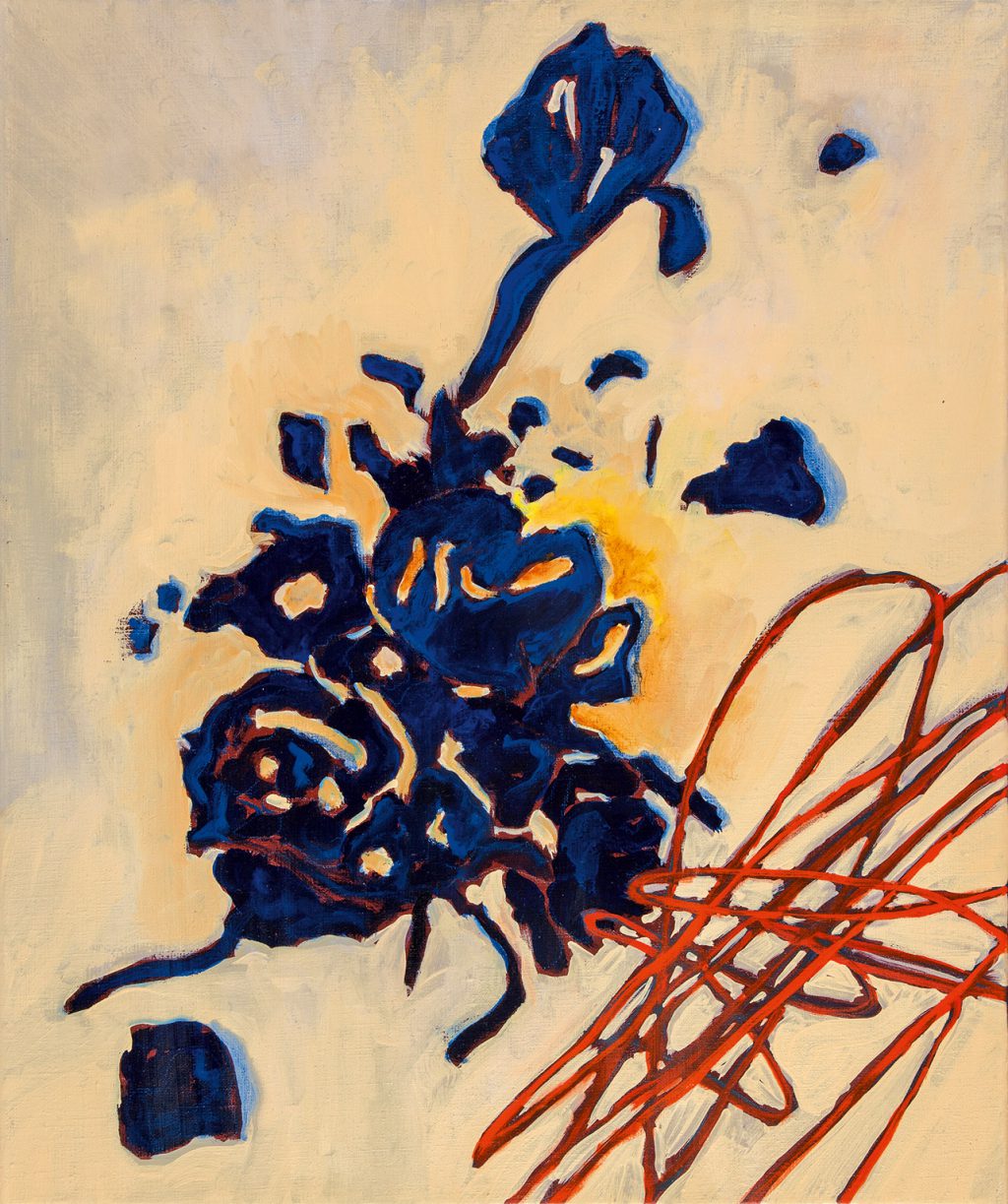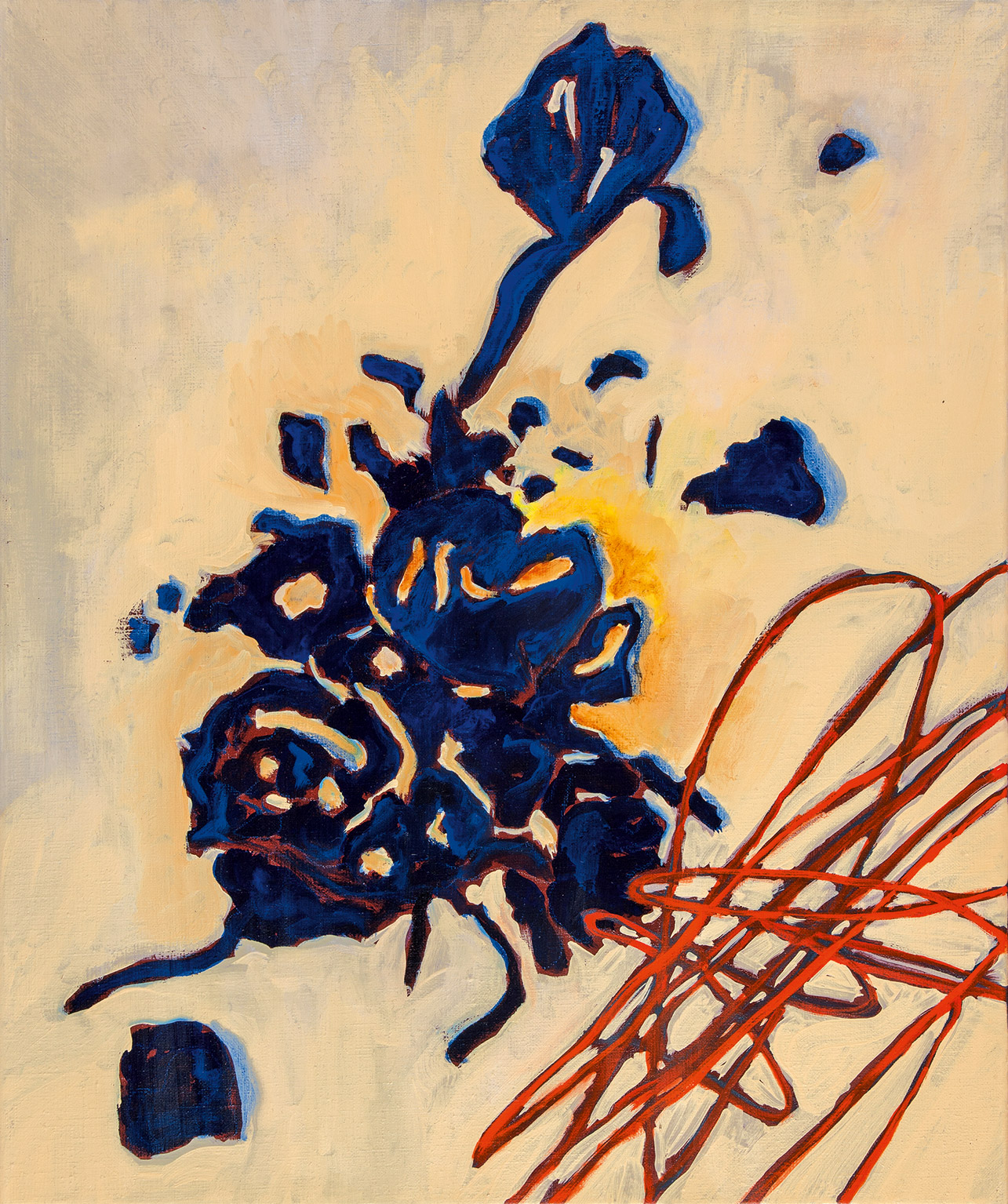 The Spoils of Ward Sixty-five
2018
Oil on canvas and artist's frame
48.2 × 40 cm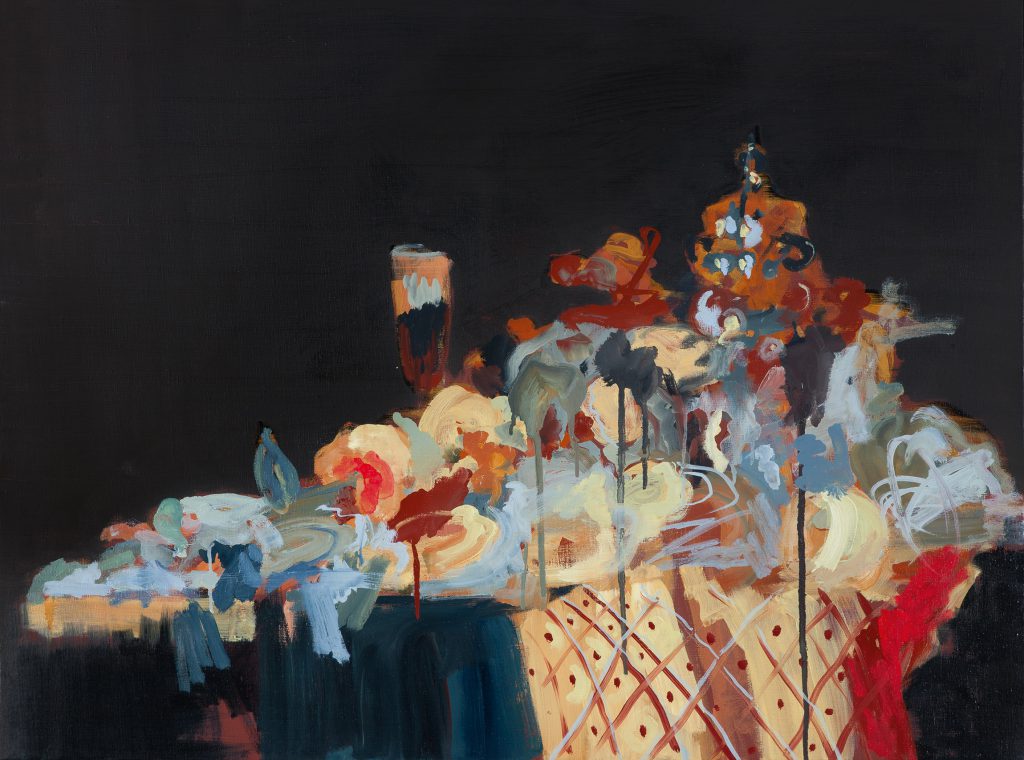 The Spoils of Ward Thirty-five
2018
Oil on canvas and artist's frame
65.2 × 87 cm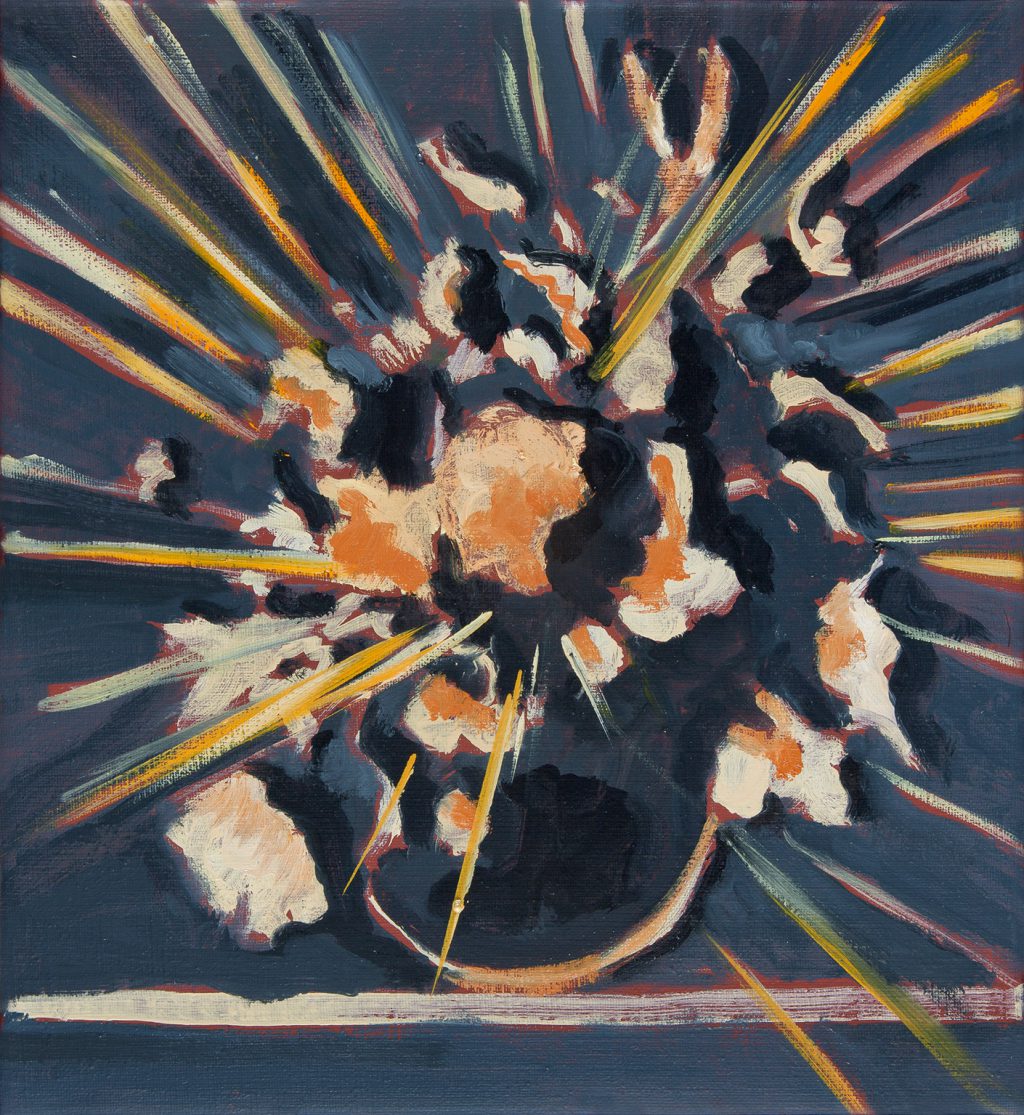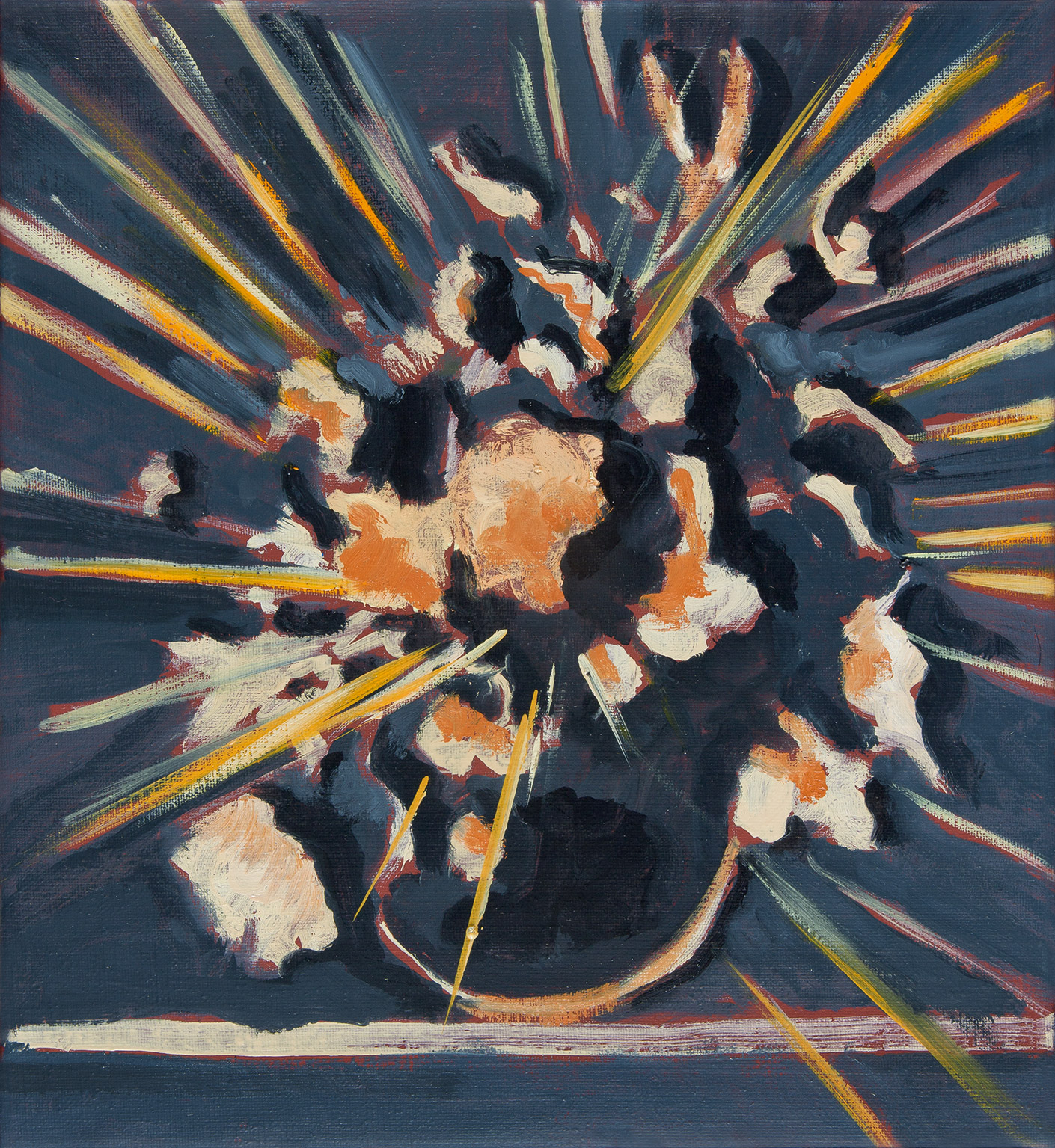 The Spoils of Ward Sixty-six
2018
Oil on canvas and artist's frame
26.2 × 24 cm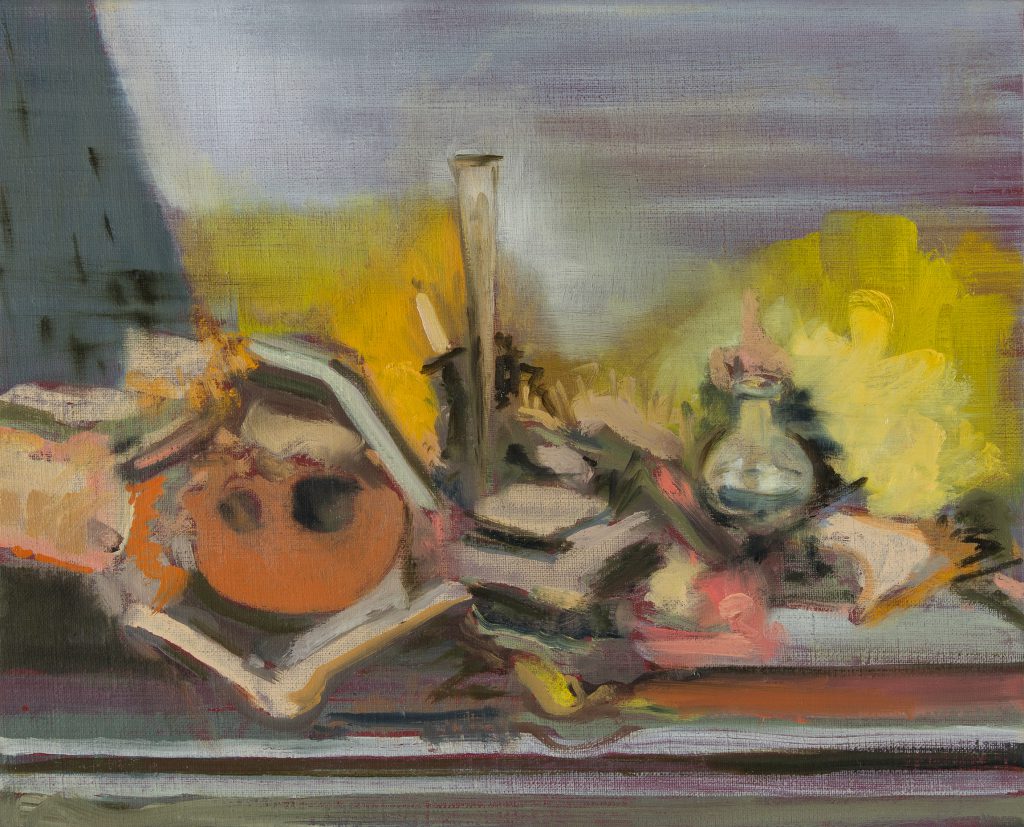 The Spoils of Ward Seventyseven
2018
Oil on canvas and artist's frame
25.2 × 31.1 cm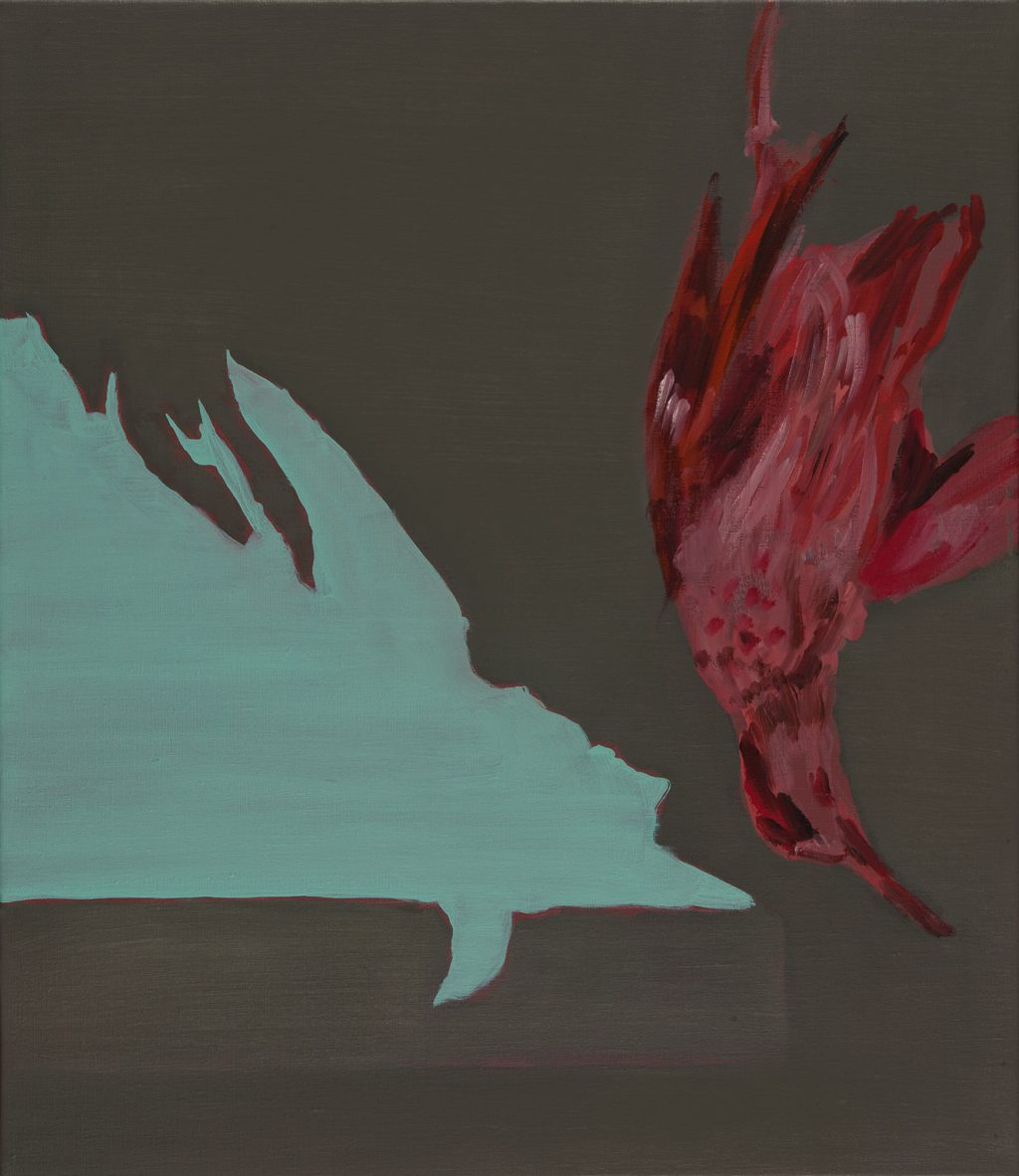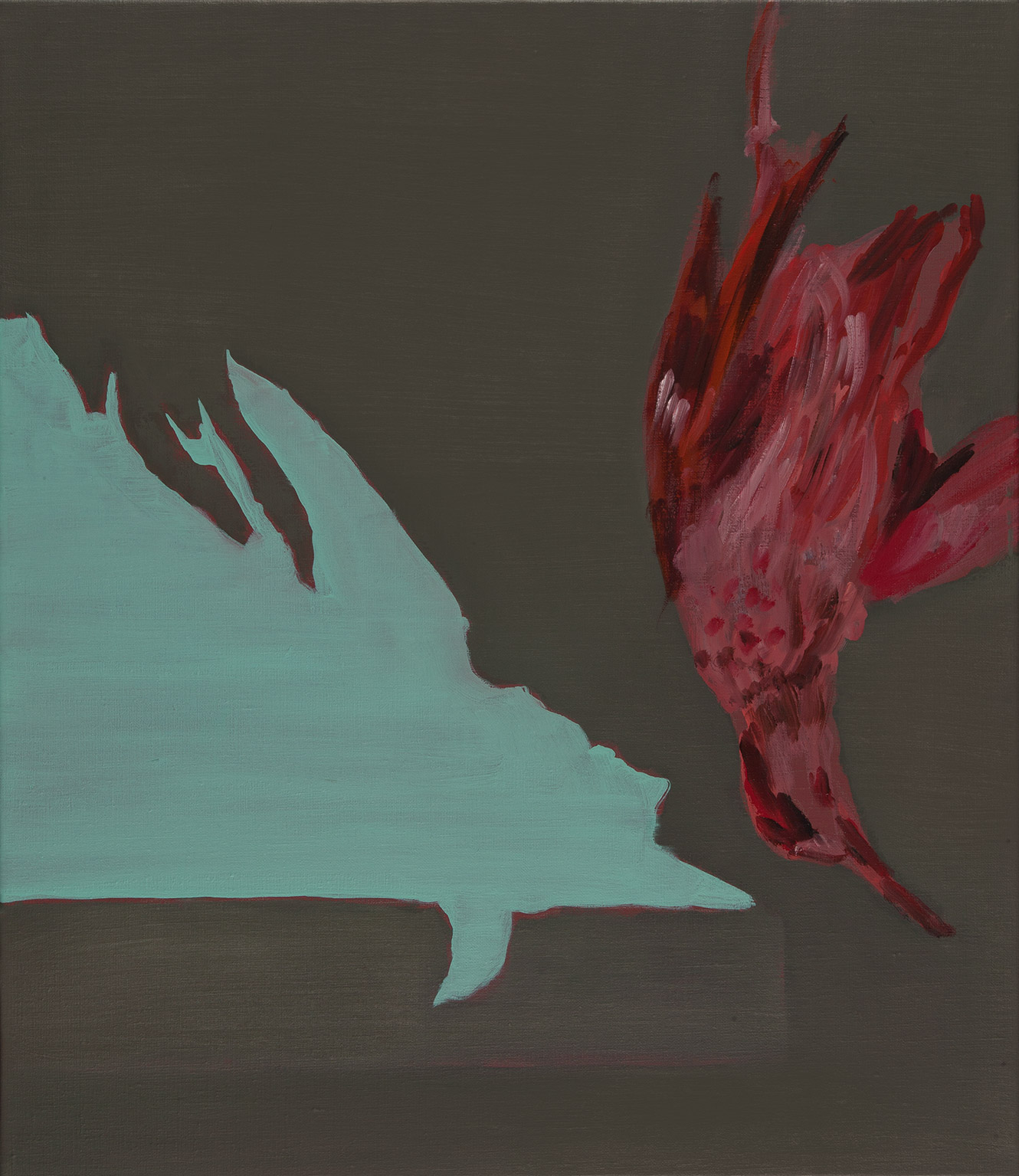 The Spoils of Ward Ninety
2018
Oil on canvas and artist's frame
52.2 × 45 cm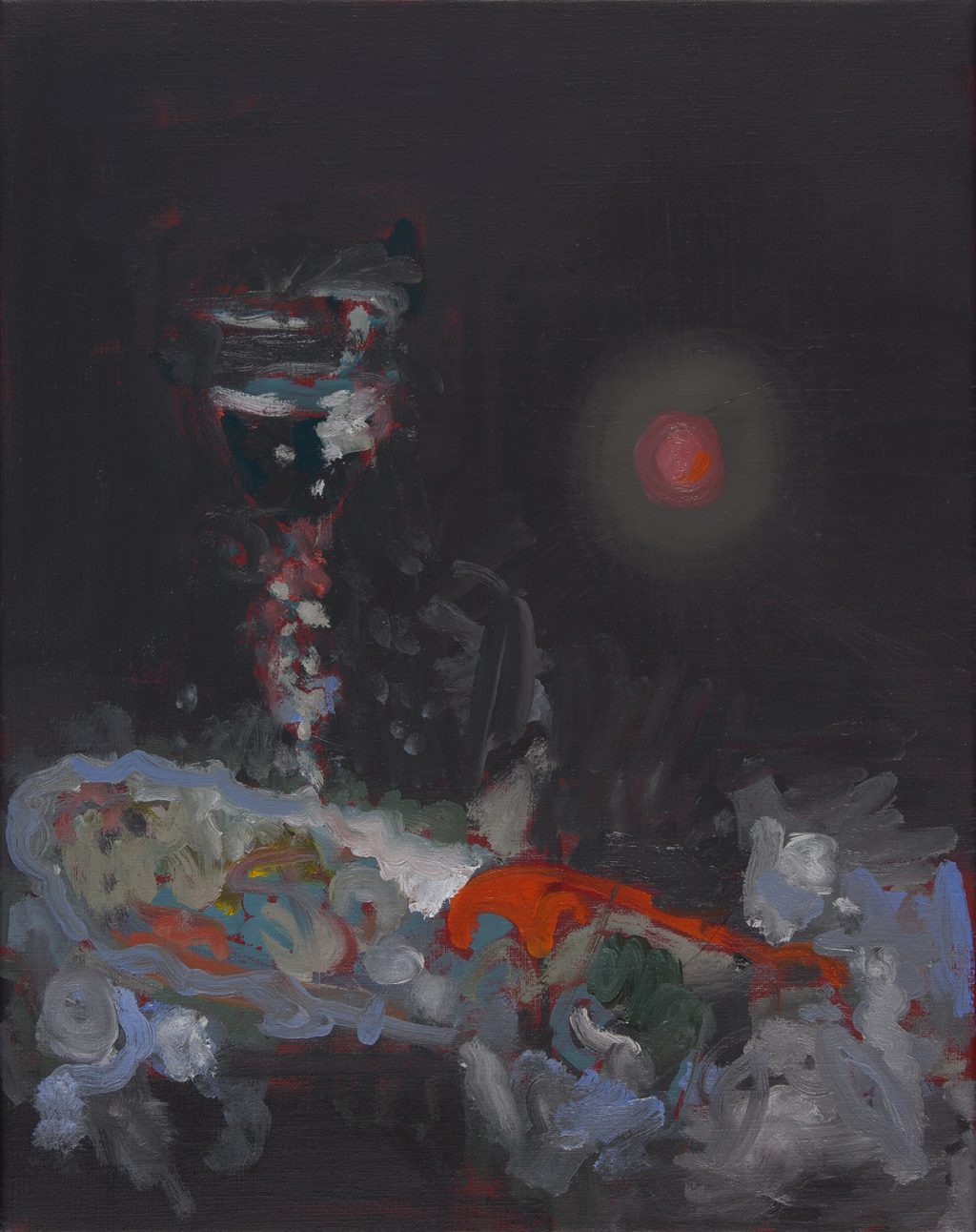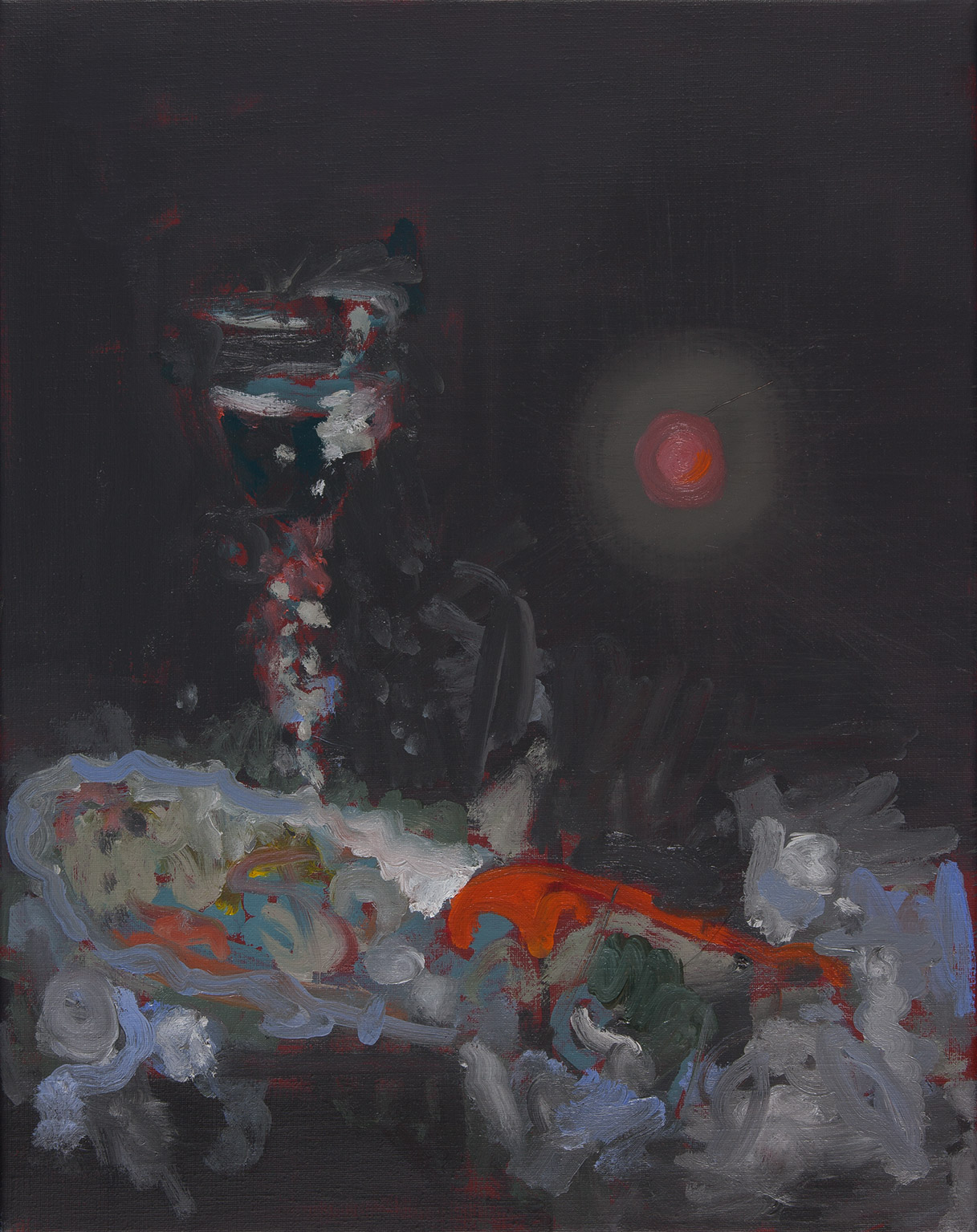 The Spoils of Ward Eighty-five
2018
Oil on canvas and artist's frame
38 × 30 cm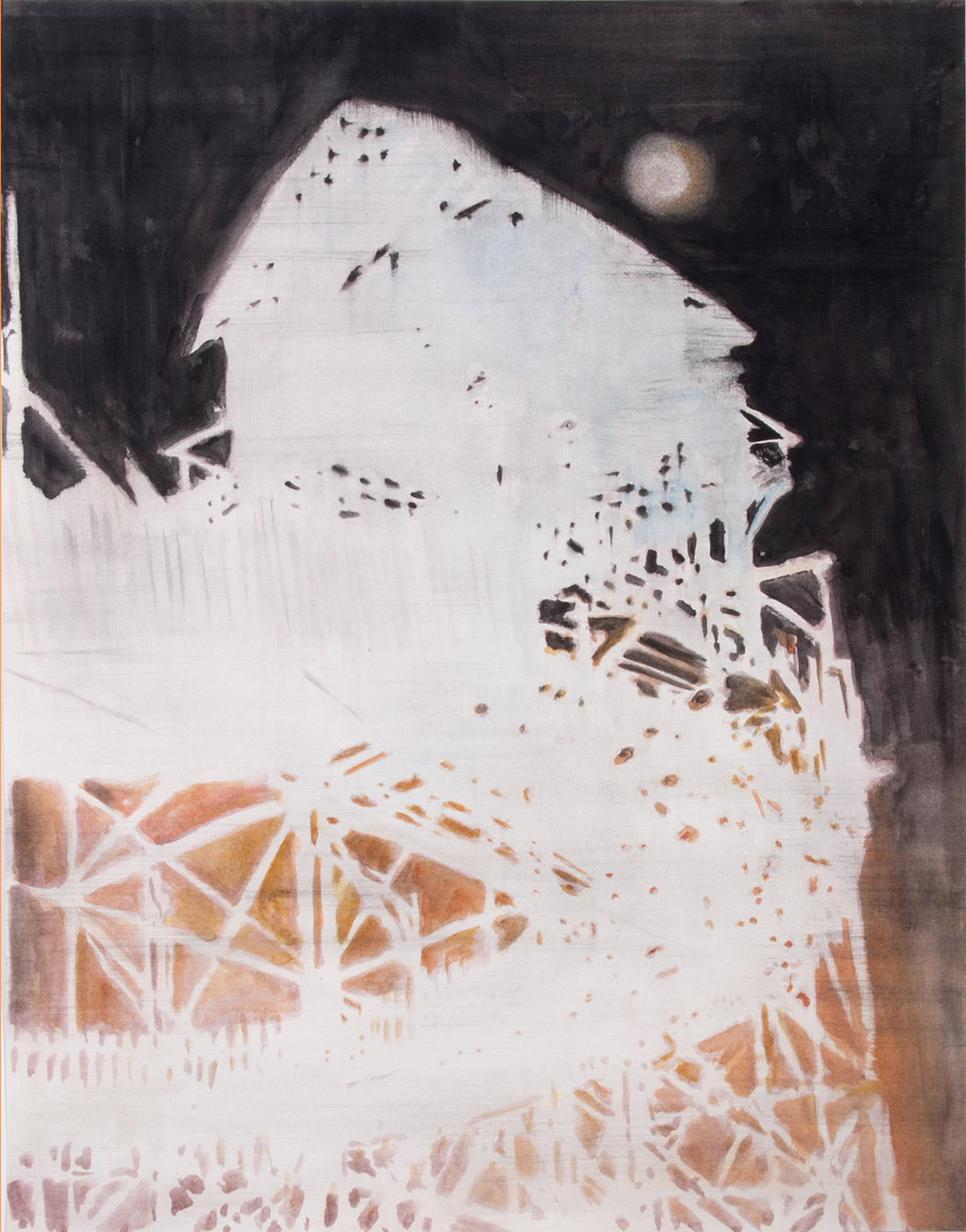 Gradient negativ. Rhyl
2018
Watercolor on paper
70 × 55 cm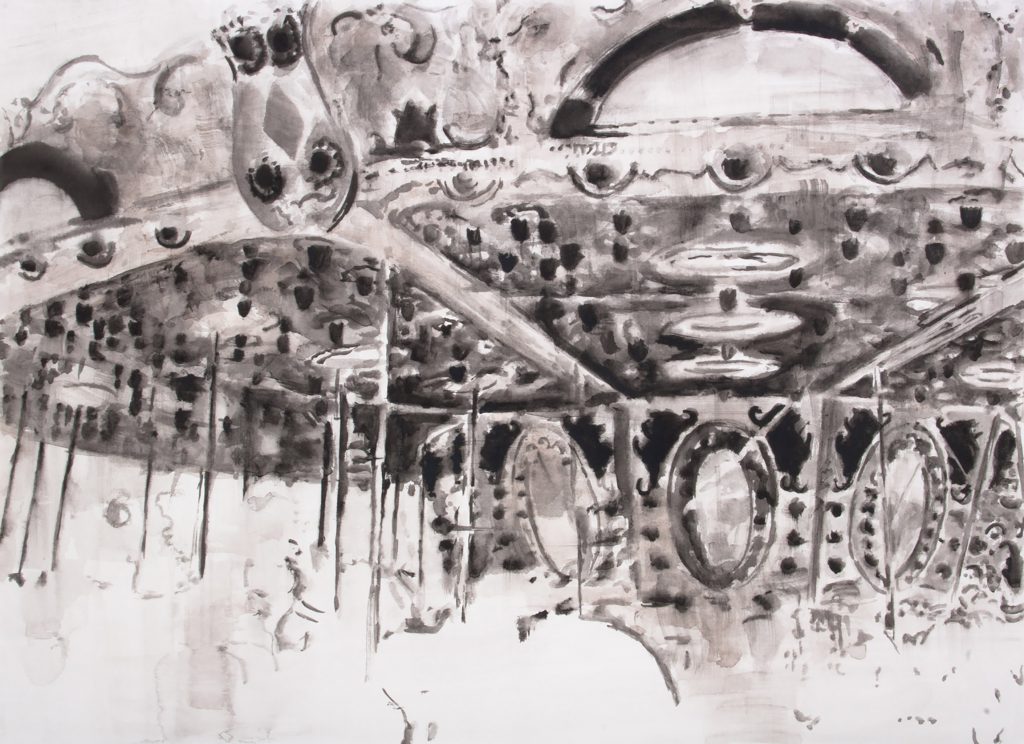 Karussell
2016
Watercolor on paper
54 × 74 cm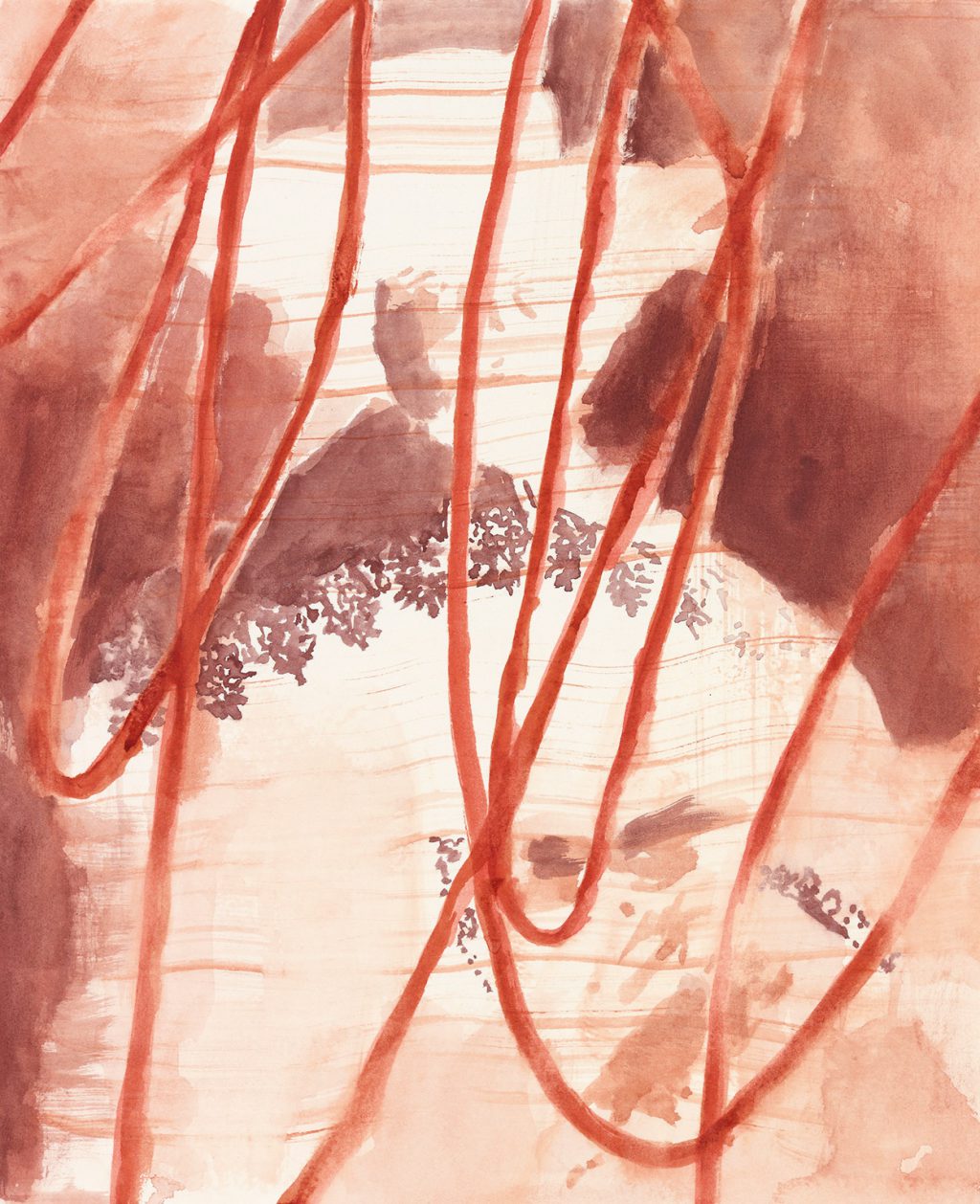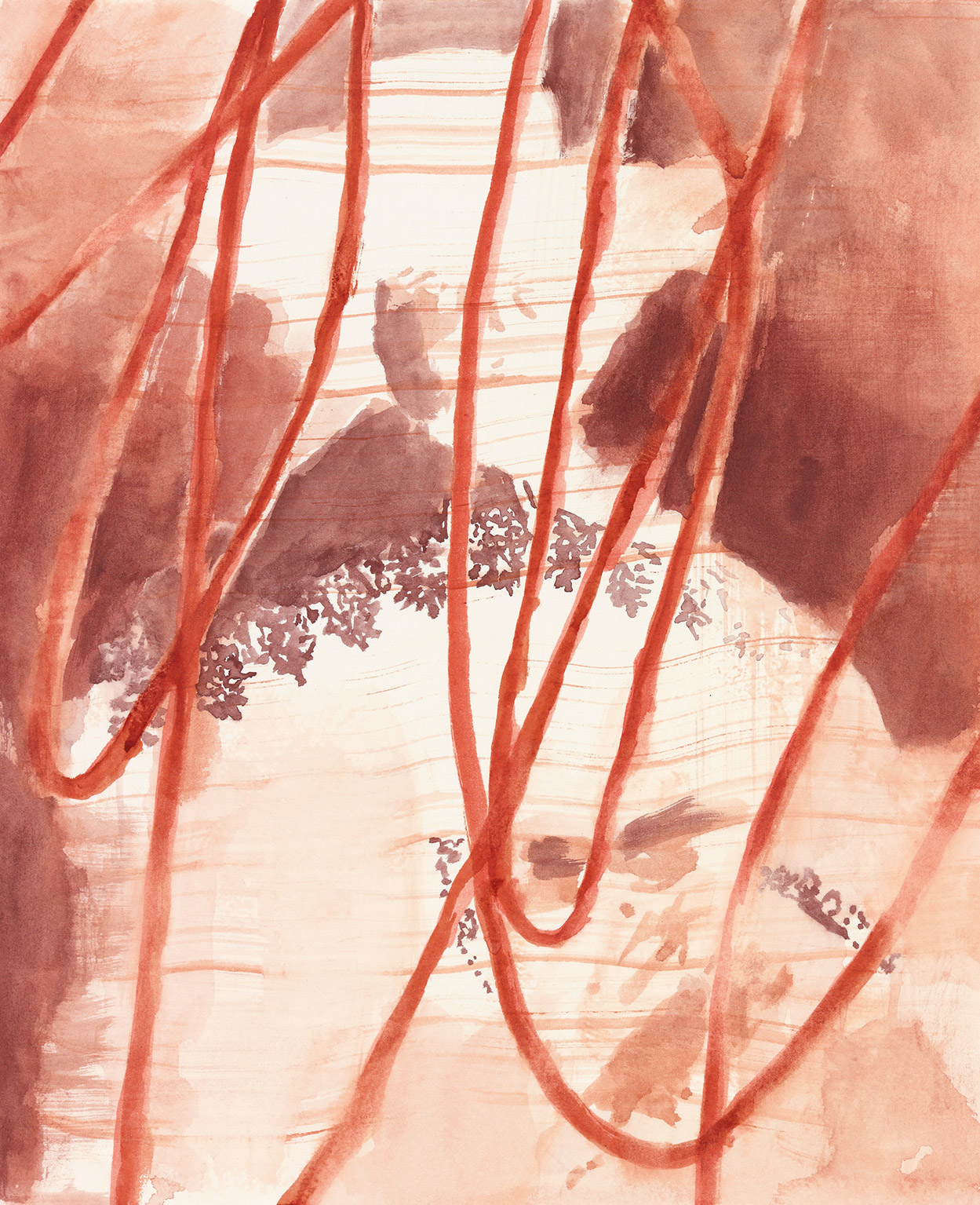 Widerschein negativ nach Cuyp
2016
Watercolor on paper
28.3 × 22.9 cm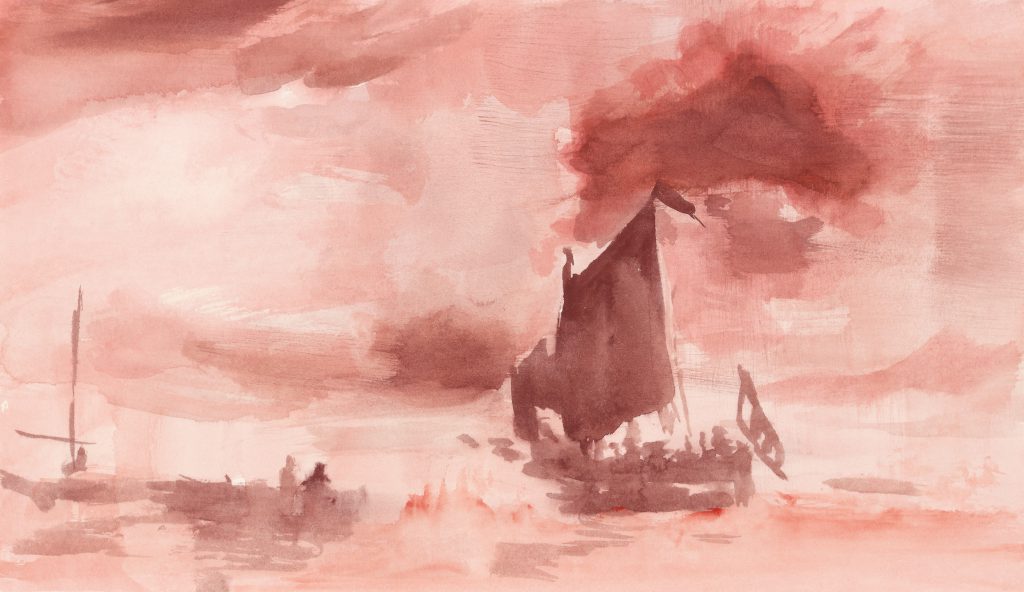 Widerschein nach van de Cappelle
2016
Watercolor on paper
20.8 × 35.7 cm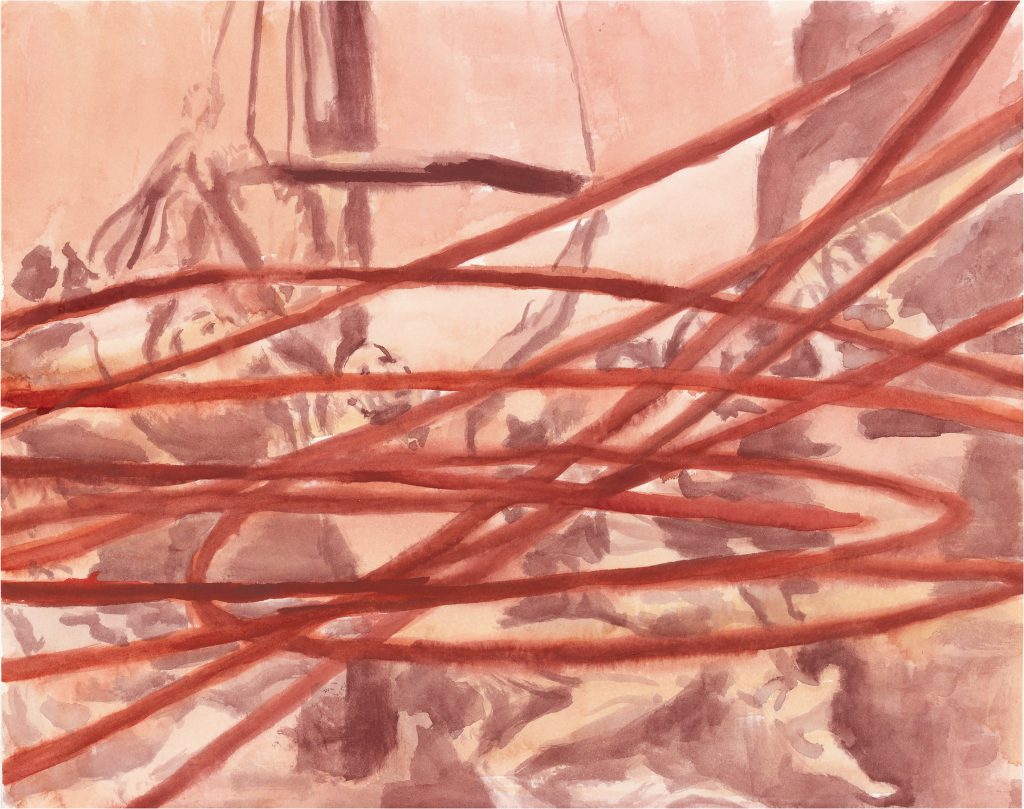 Widerschein nach de Ribera
2016
Watercolor on paper
23.9 × 30.1 cm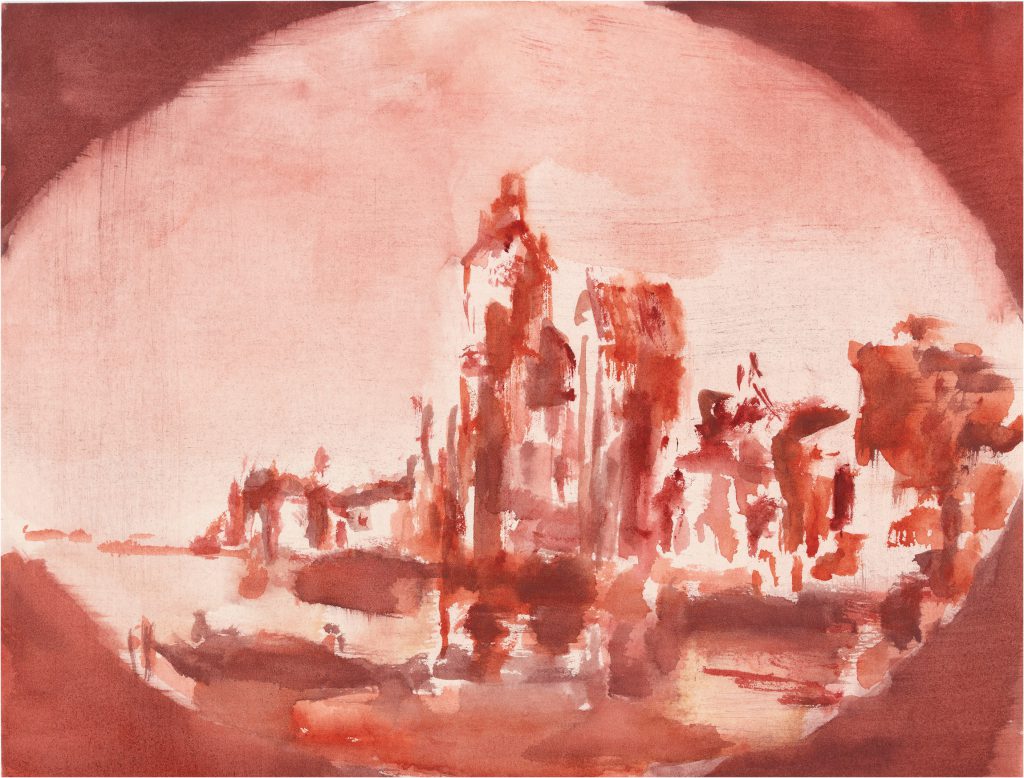 Widerschein nach de Hulst
2016
Watercolor on paper
20.6 × 27.4 cm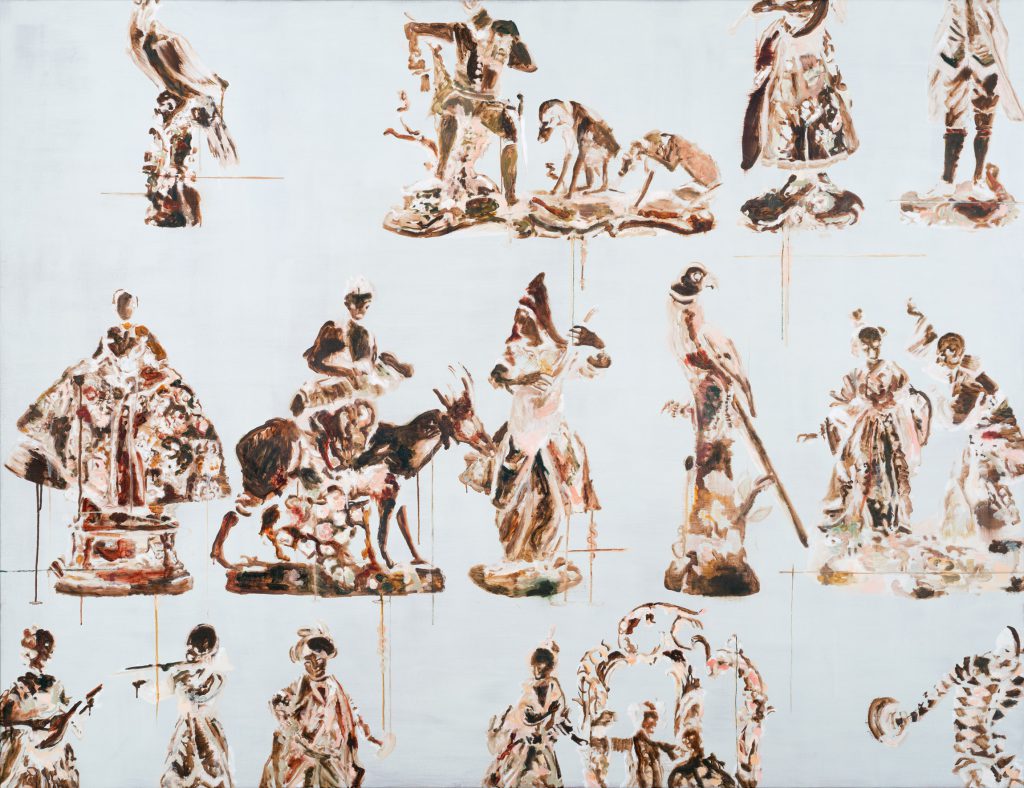 Figurinen negativ
2016
Oil on canvas
150 × 195 cm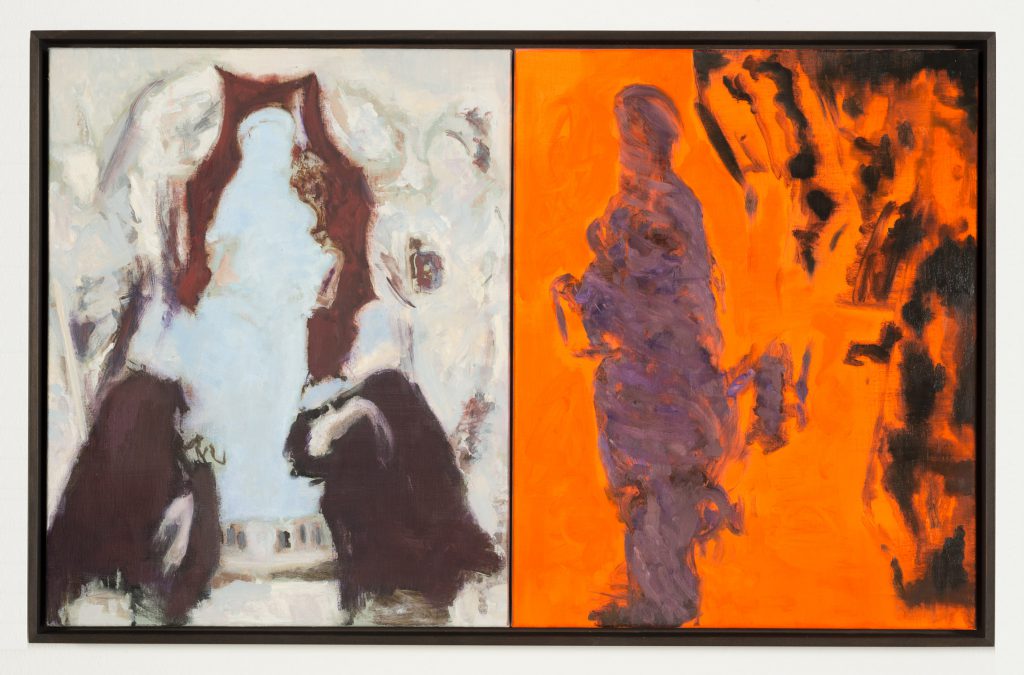 Kleiner Spiegel
2016
Oil on canvas
50.2 × 80.5 cm (Diptych)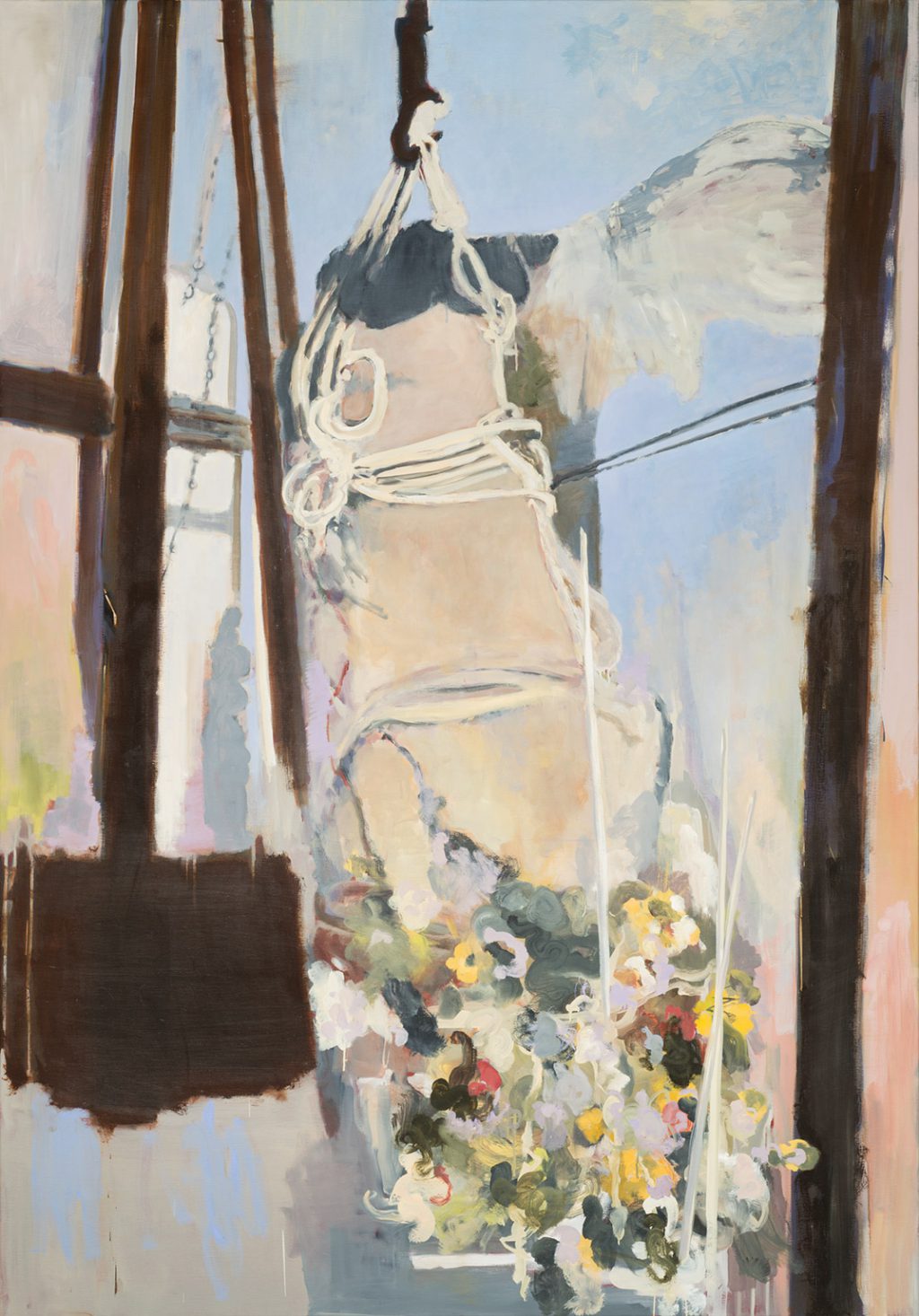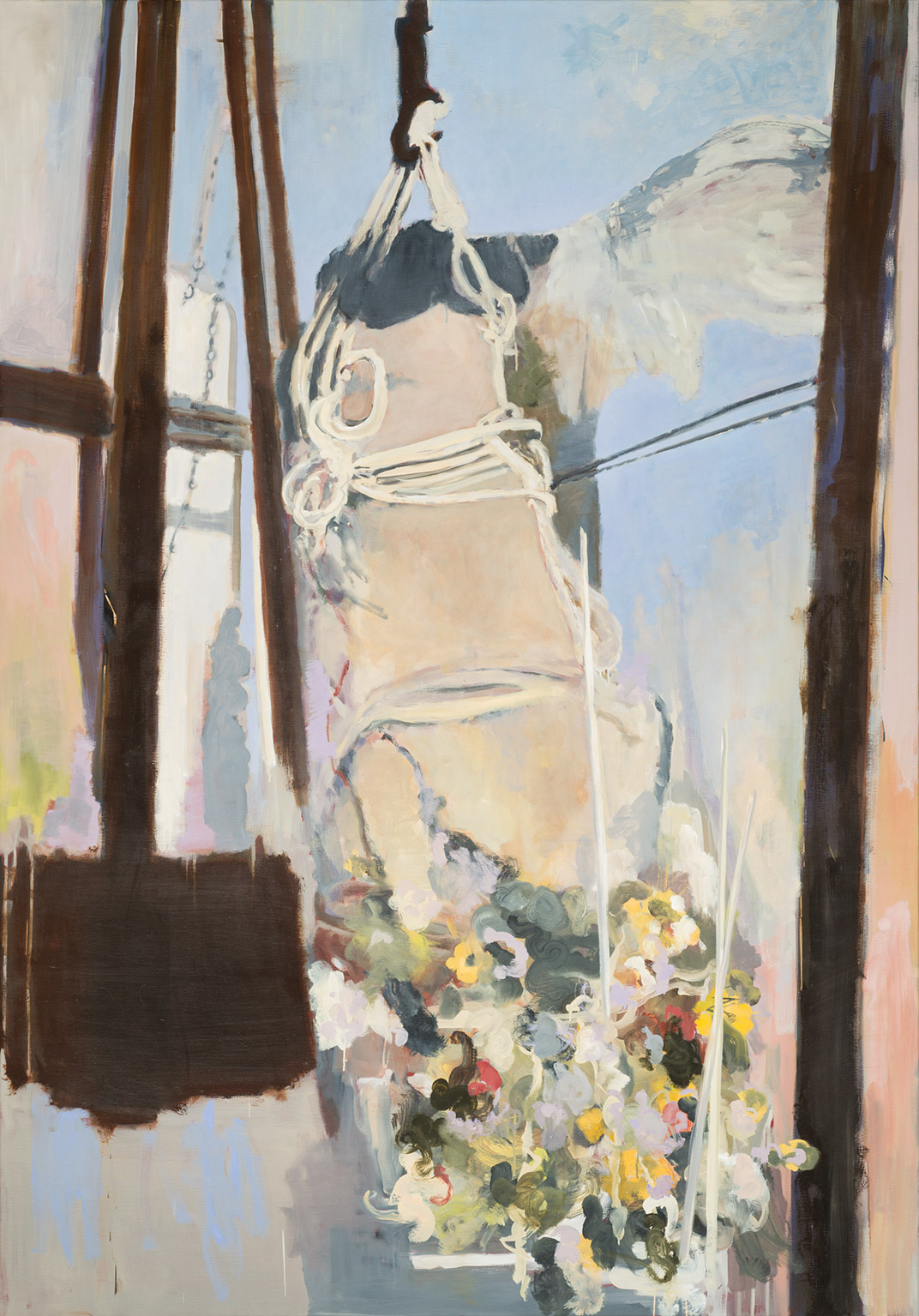 Nike von Samothrake
2016
Oil on canvas
200 × 140 cm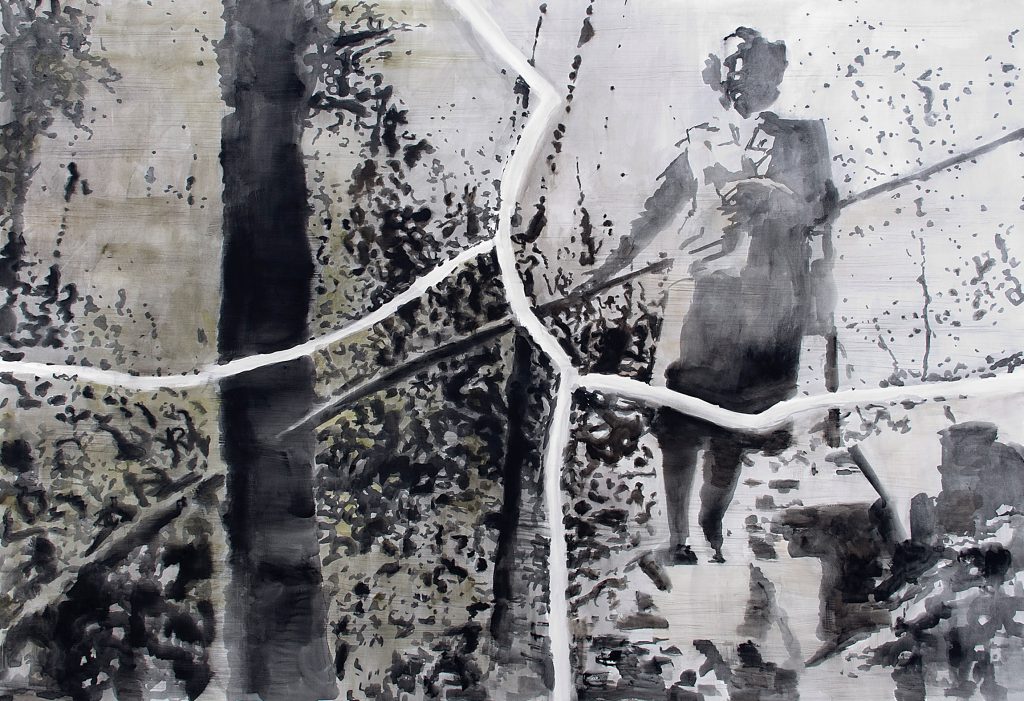 Waldtreppe
2013
Watercolor on paper
90 × 130 cm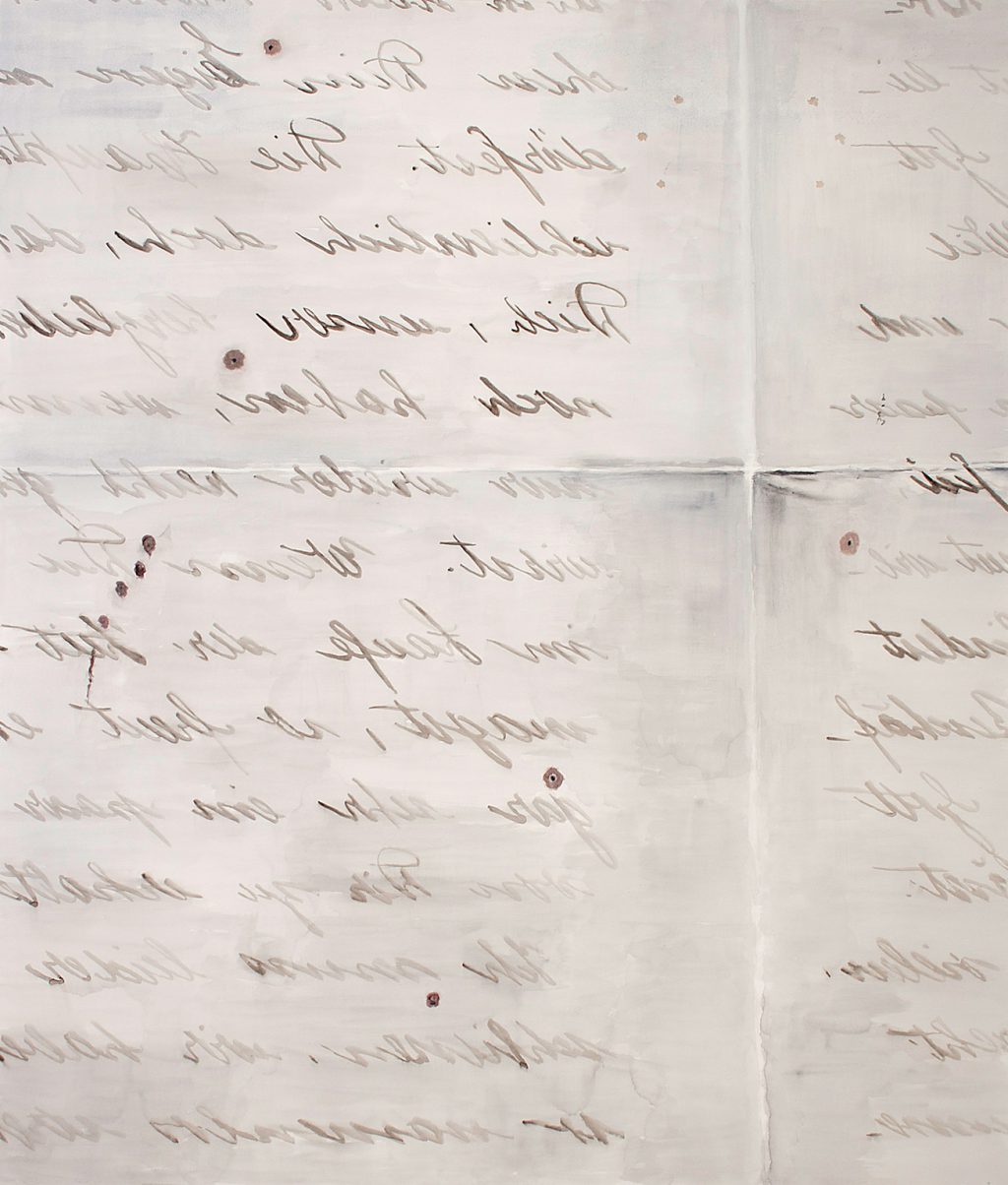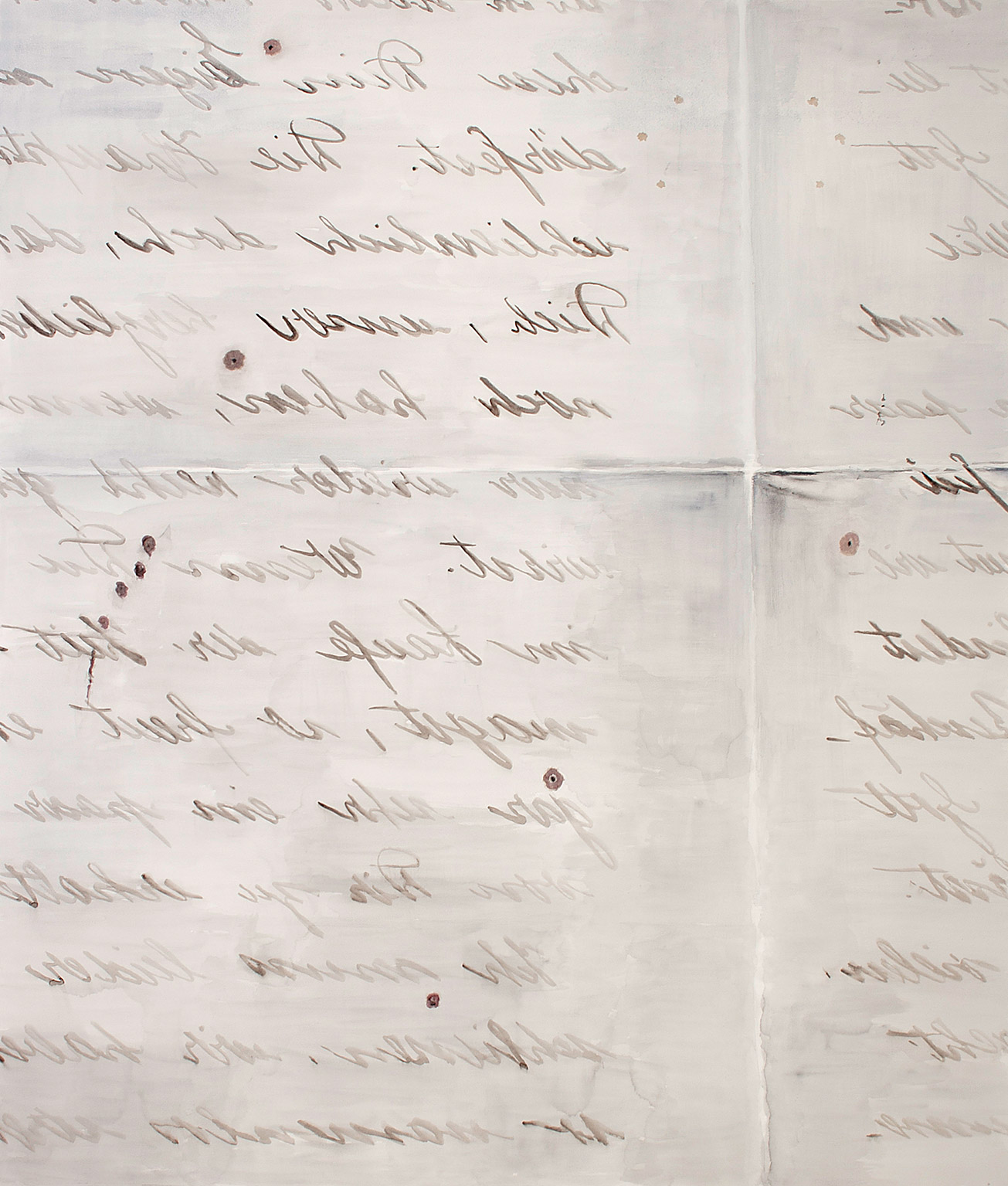 Brief
2013
Watercolor on paper
180 × 154 cm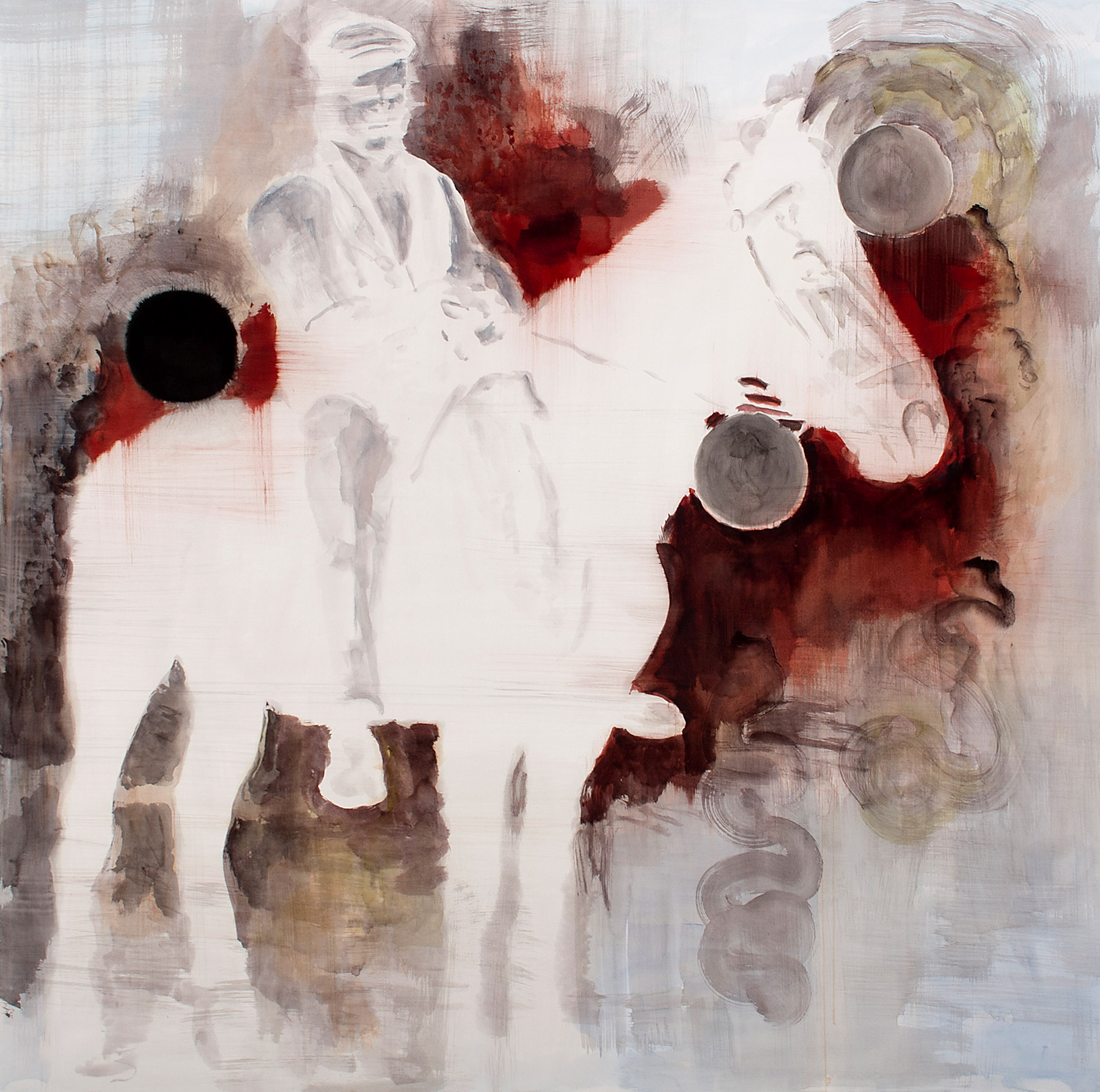 Reiter negativ
2013
Watercolor on paper
114 × 114 cm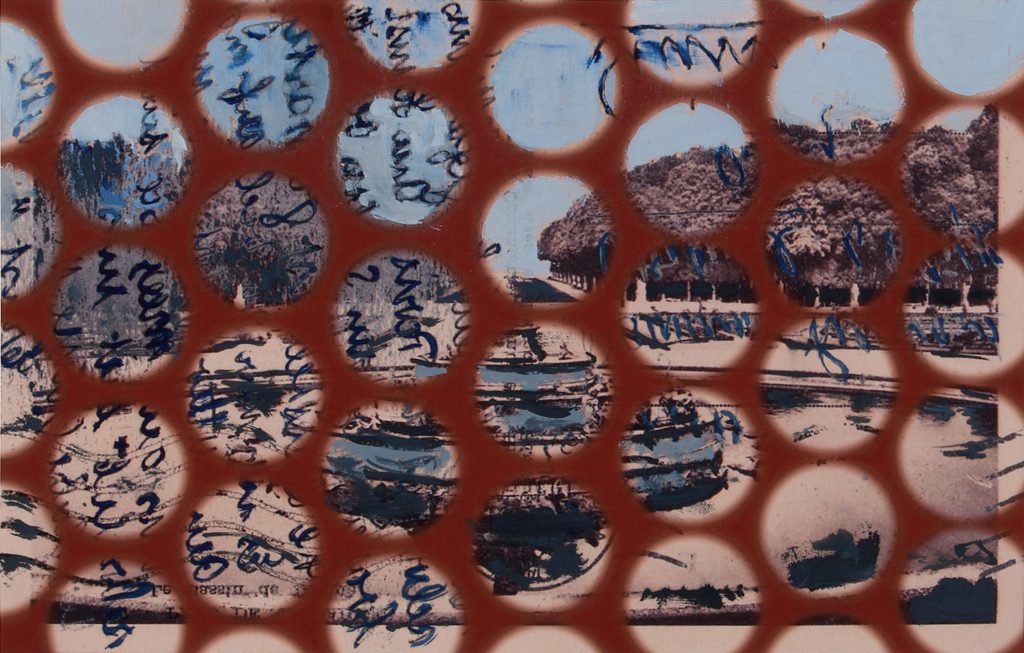 Versailles
2013
Mixed media on paper
14.6 × 23 cm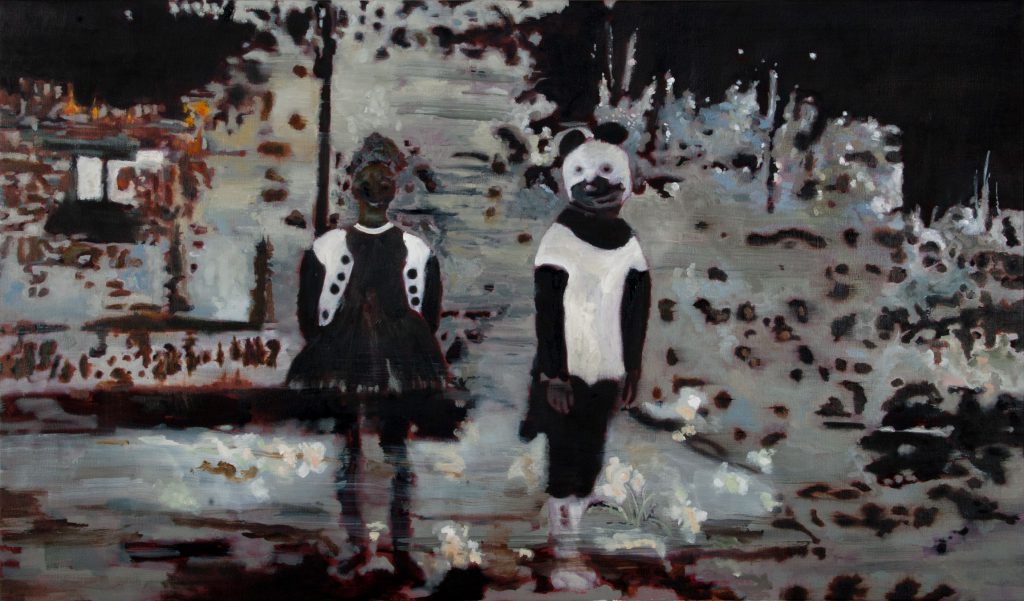 Im Garten
2011
Oil on canvas
65 × 110 cm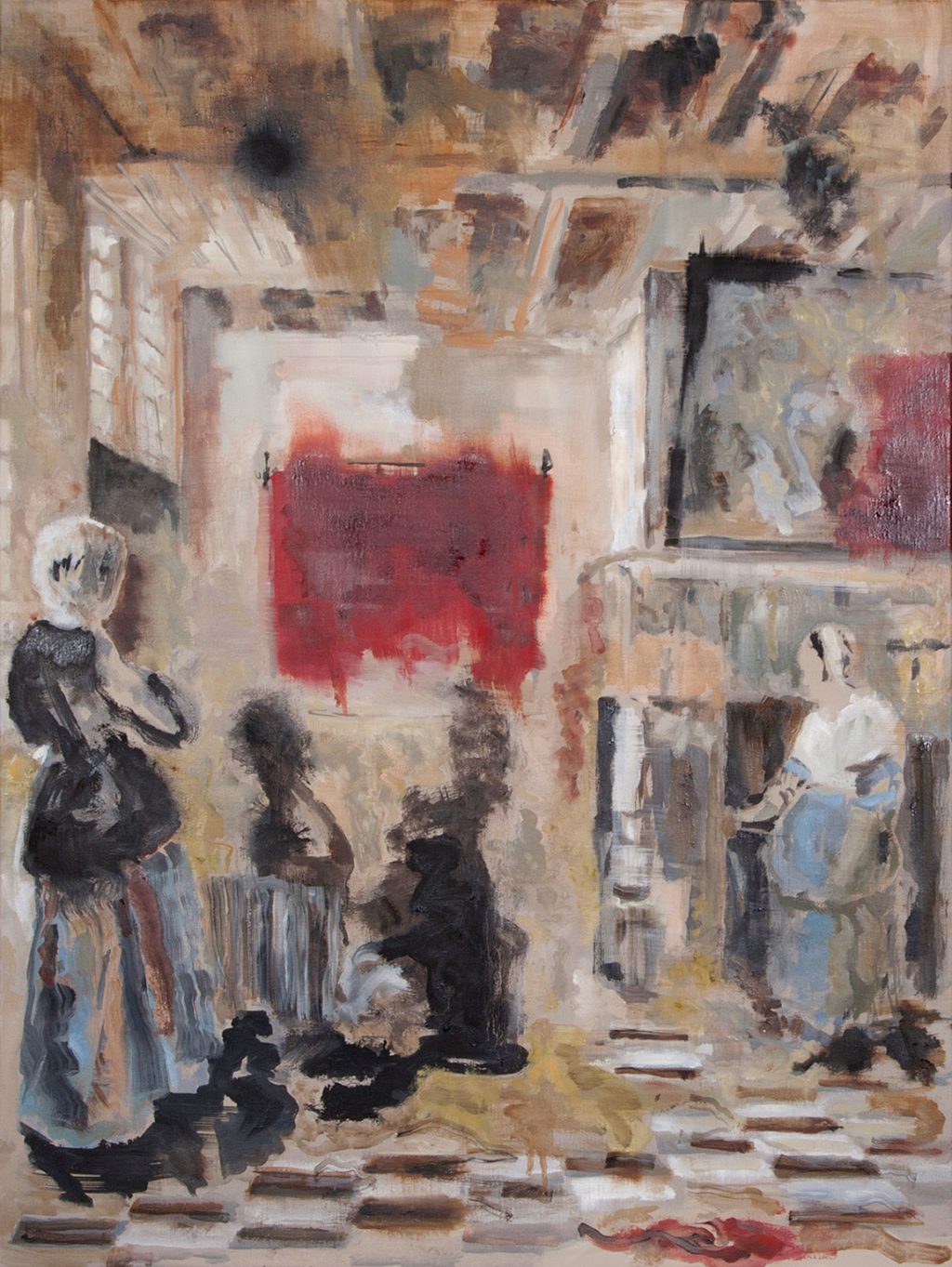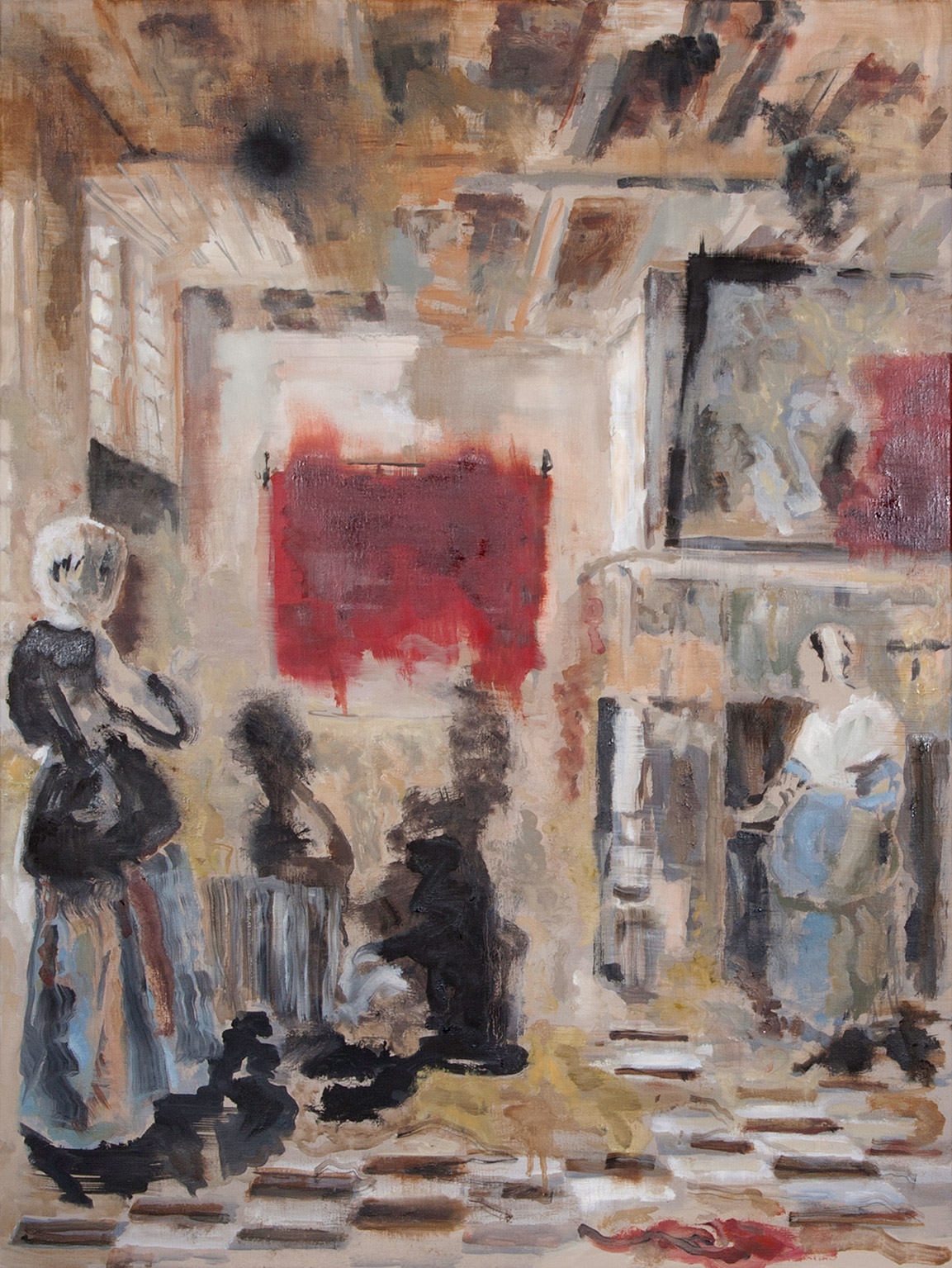 Interieur nach De Hooch
2011
Oil on canvas
80 × 60 cm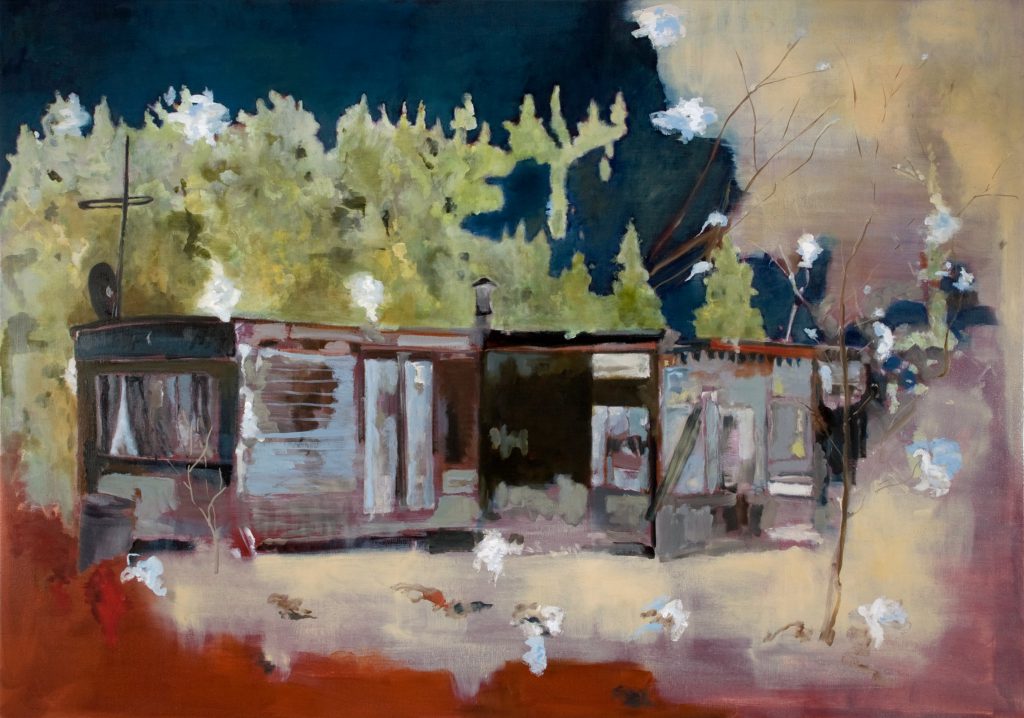 Caravan negativ
2010
Oil on canvas
140 × 200 cm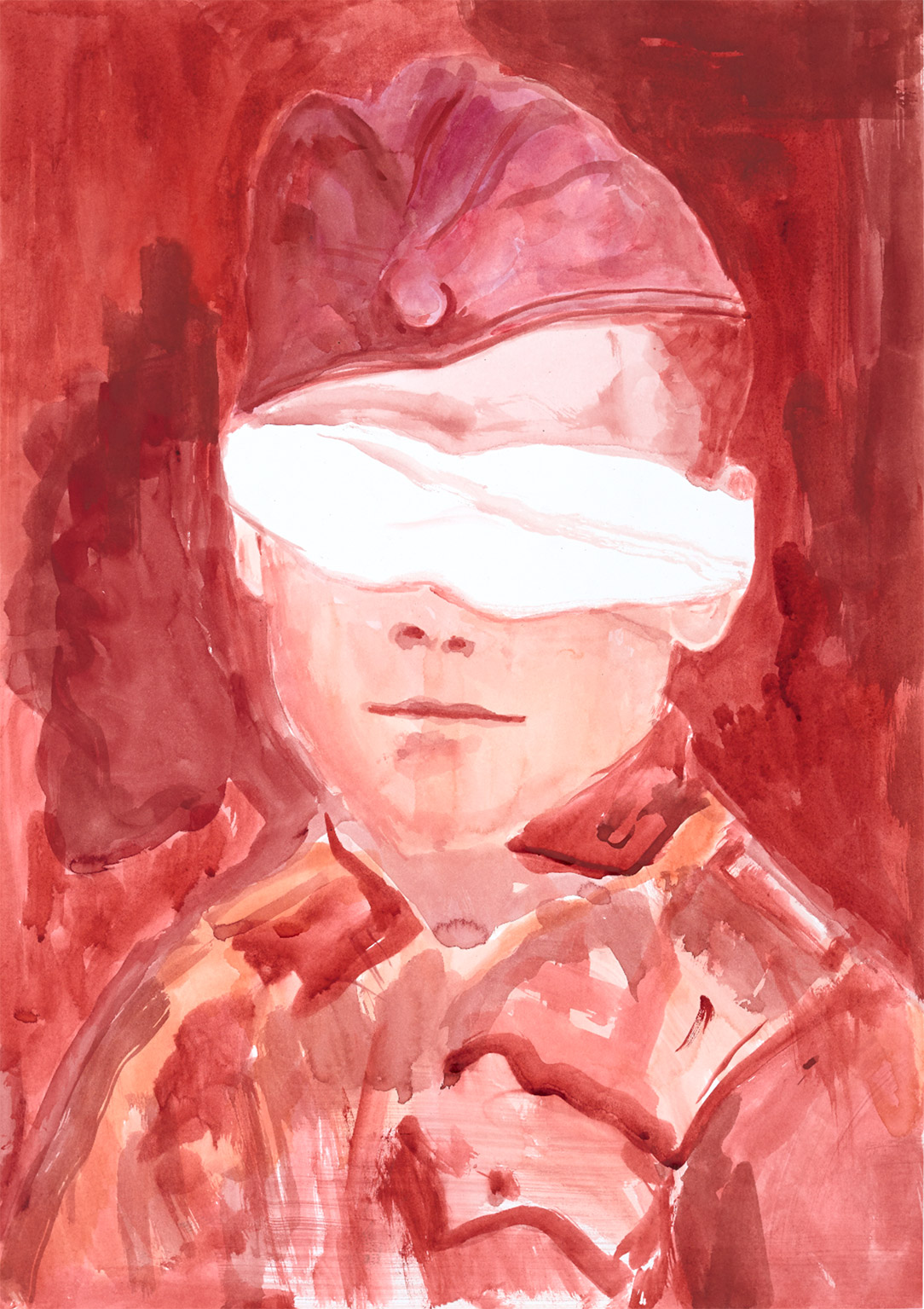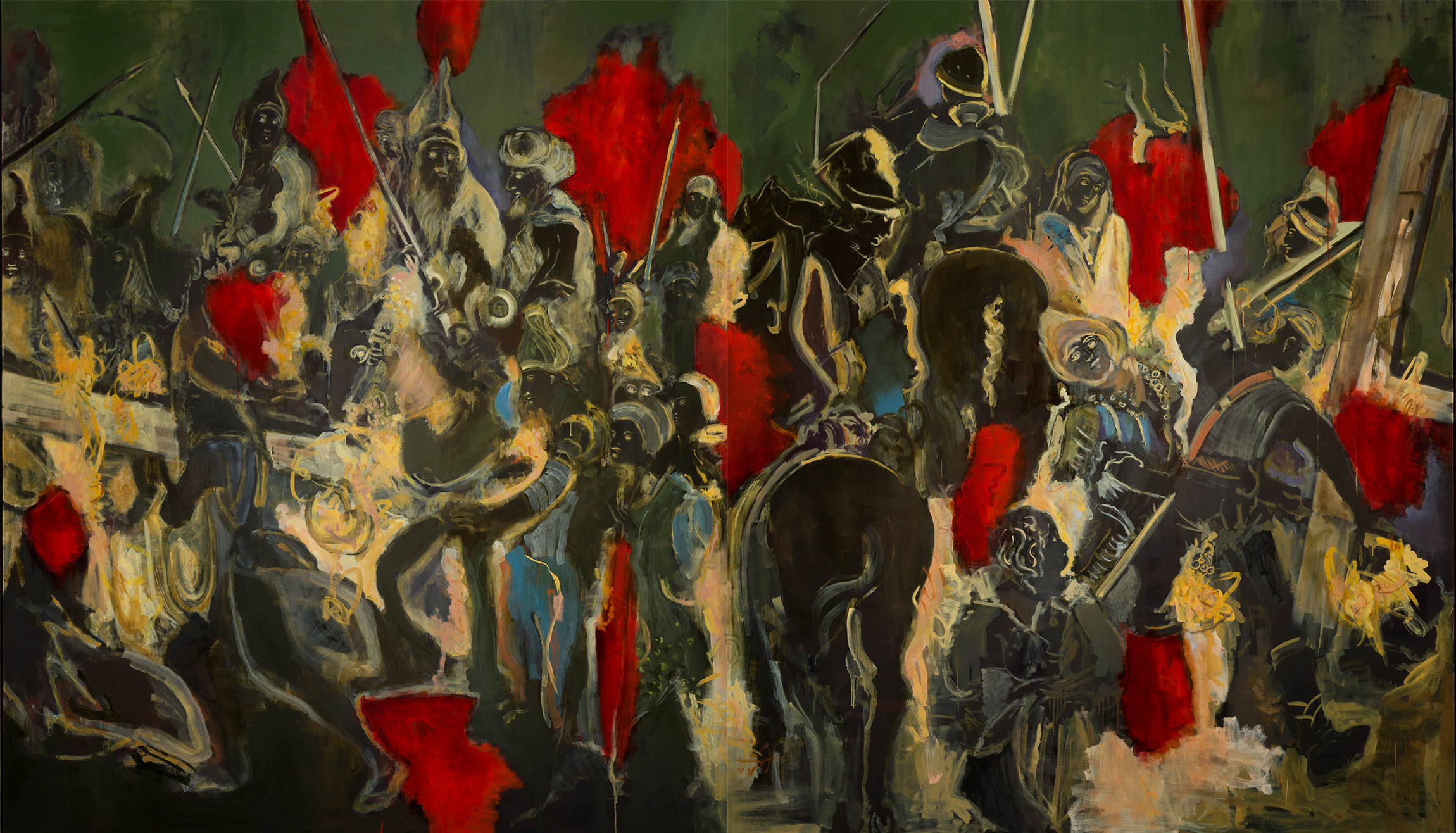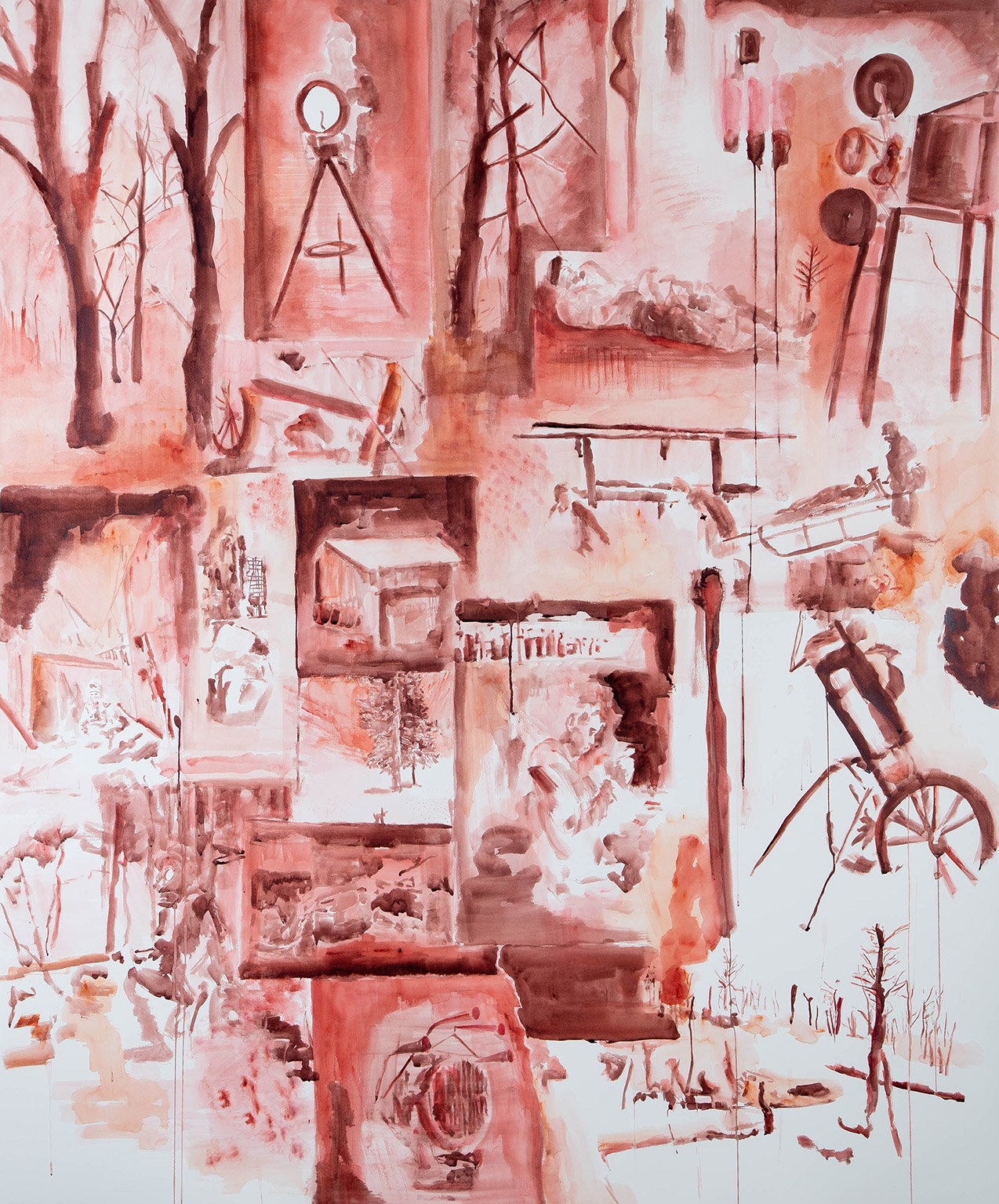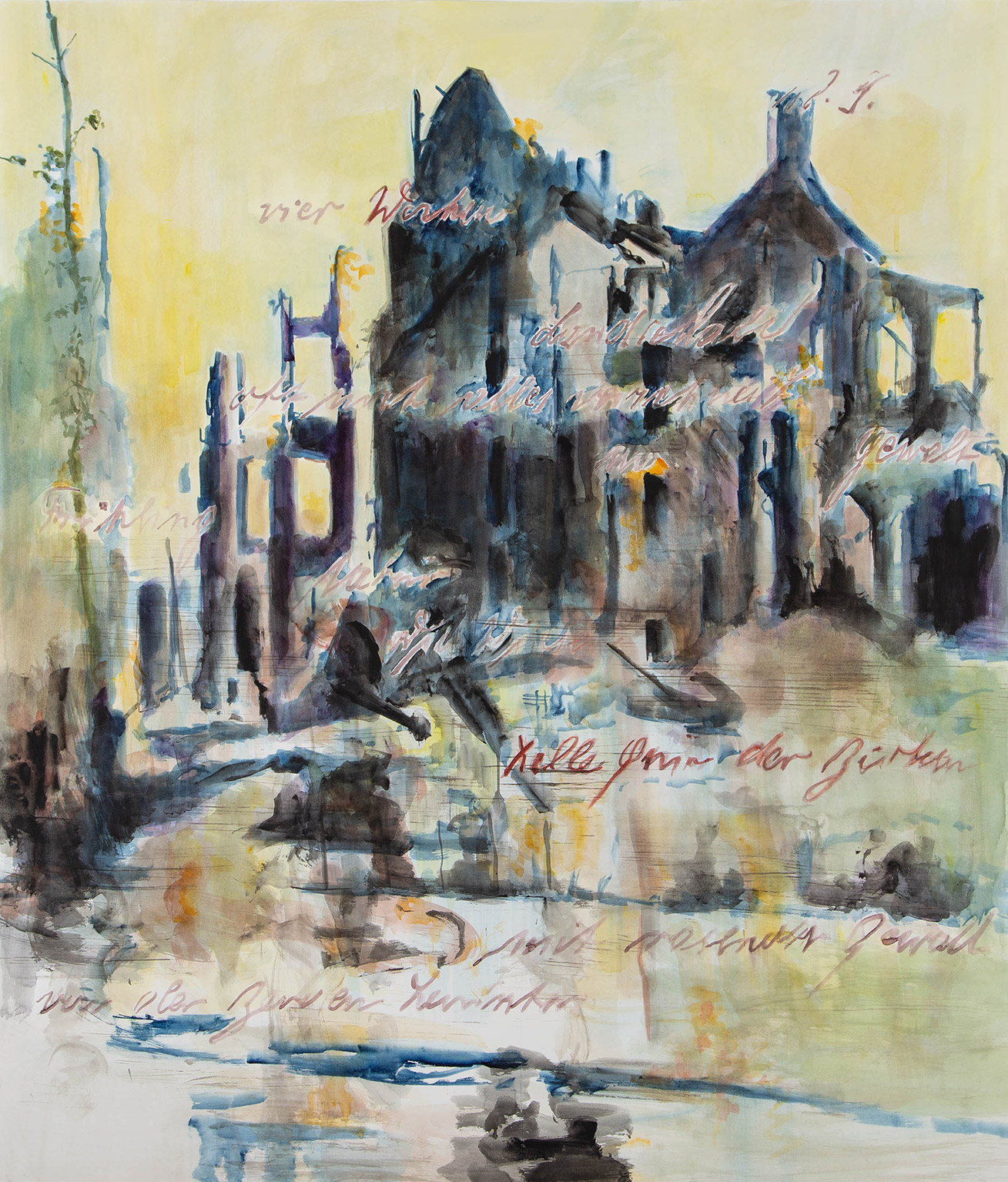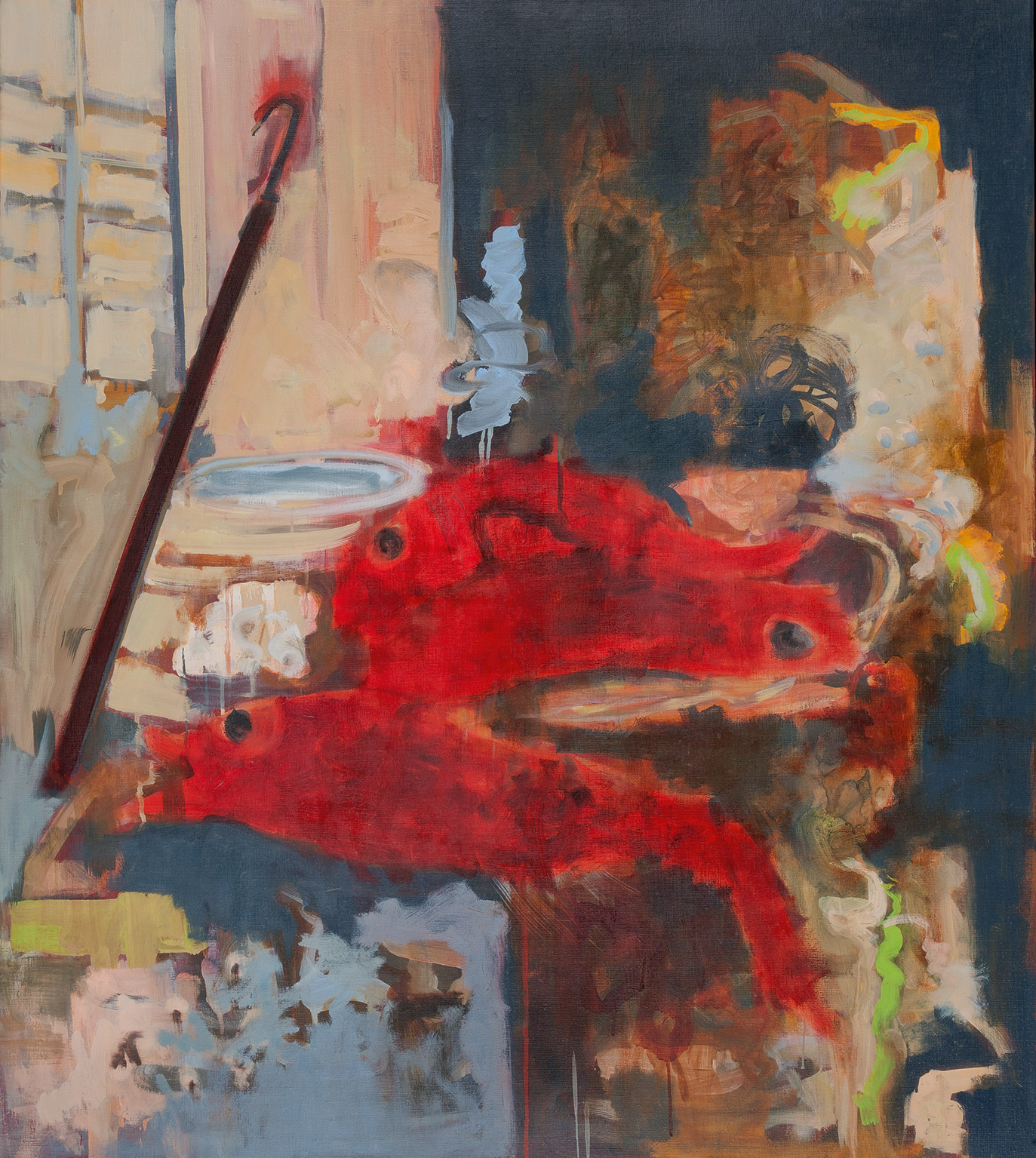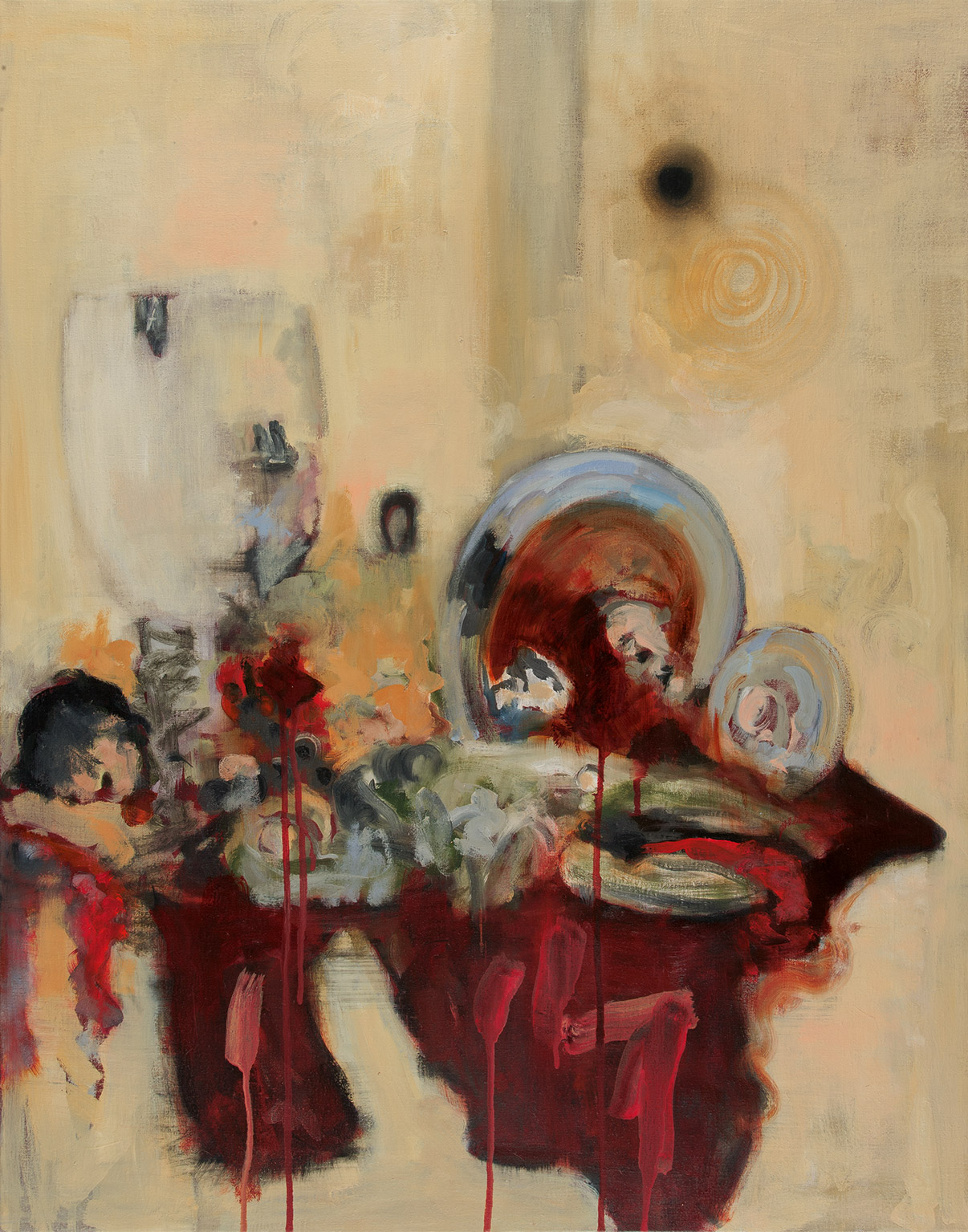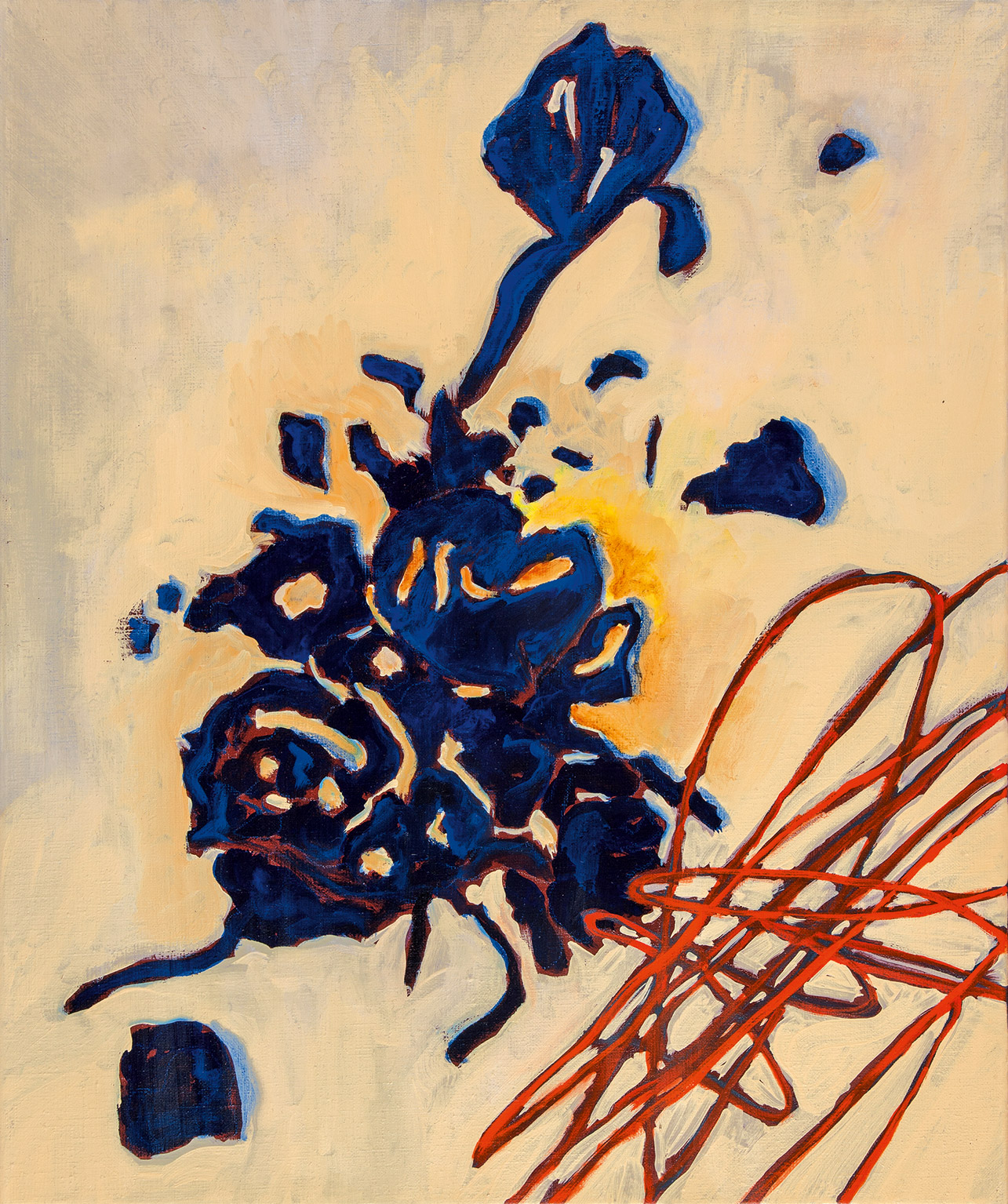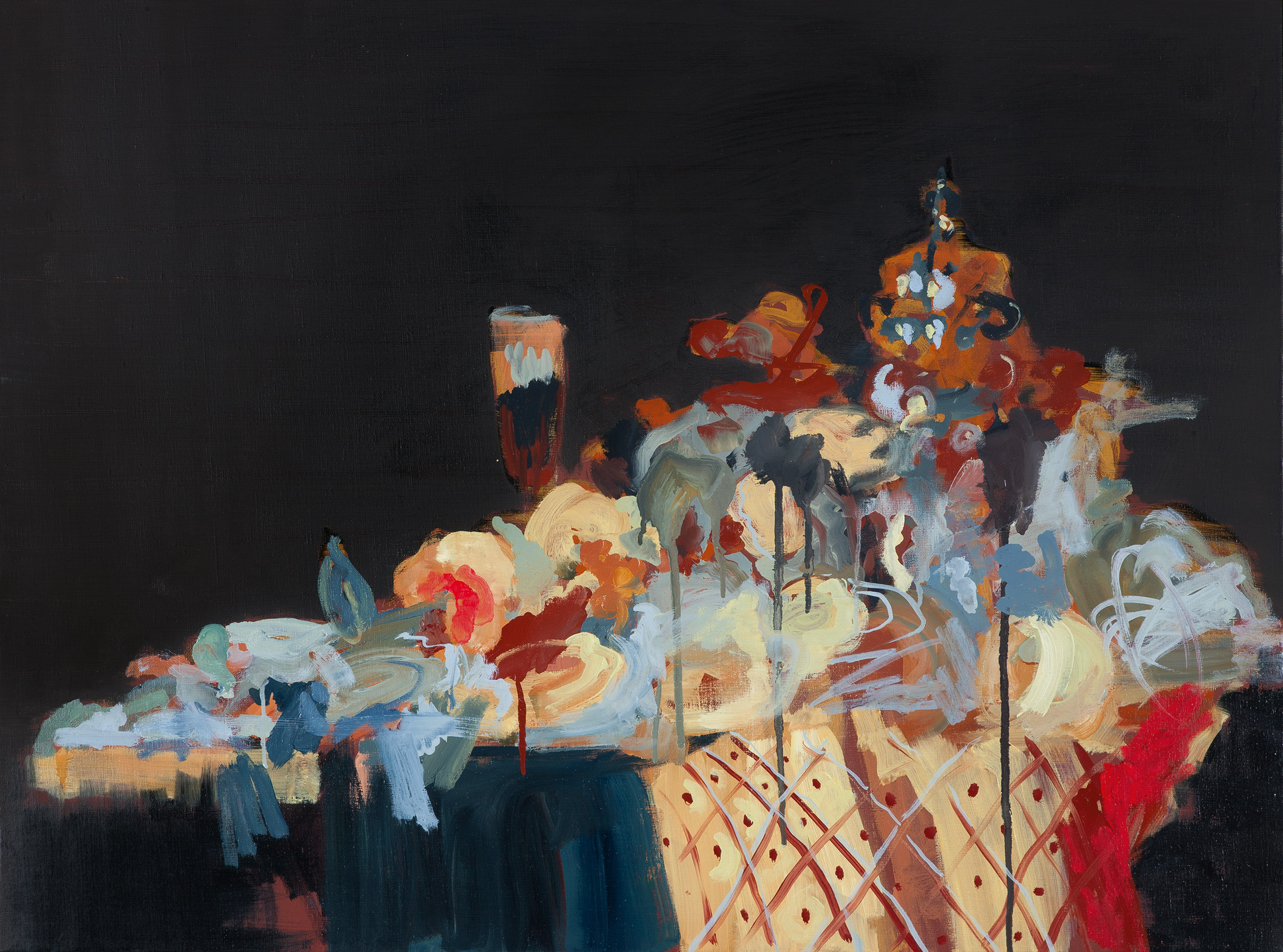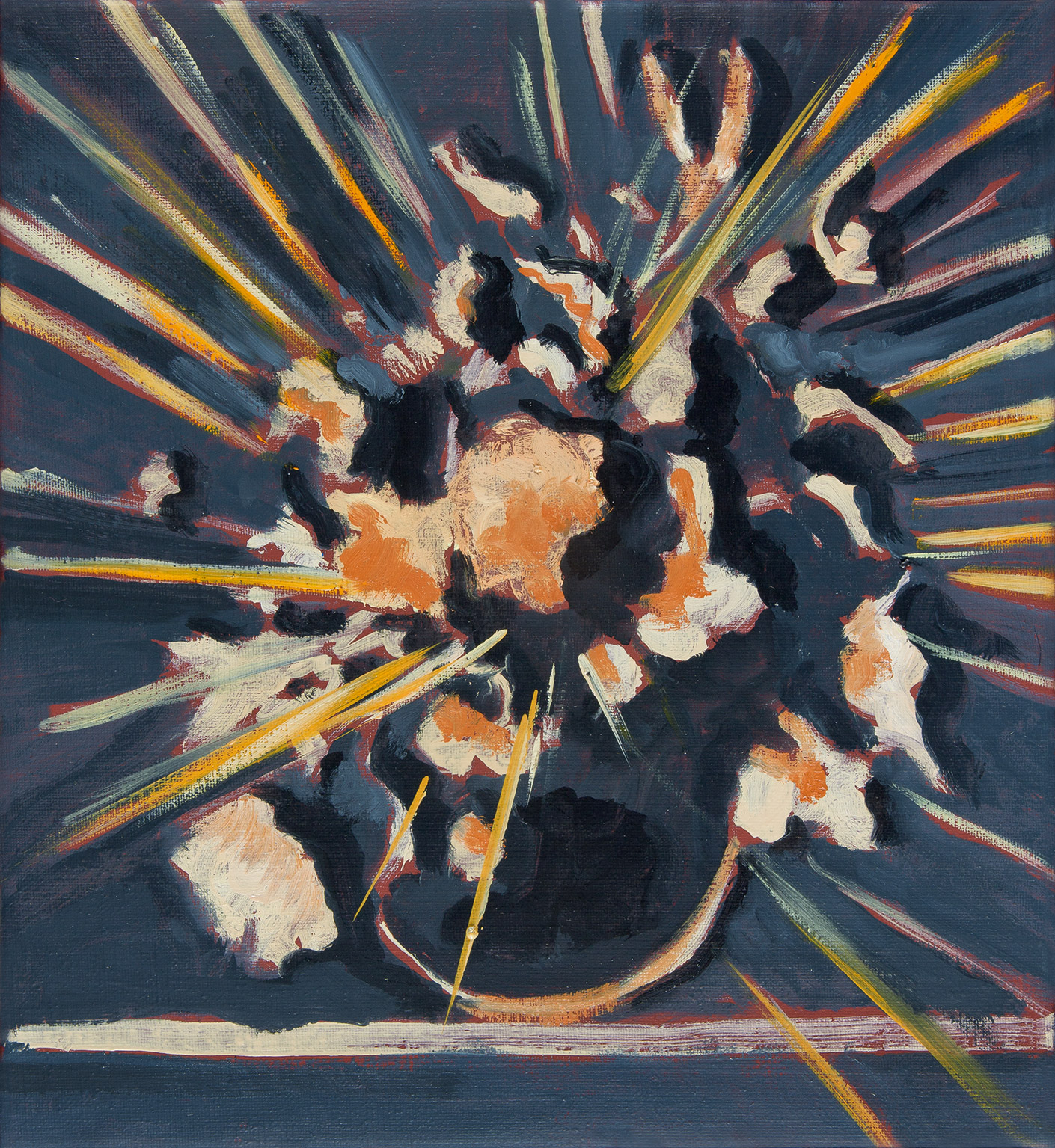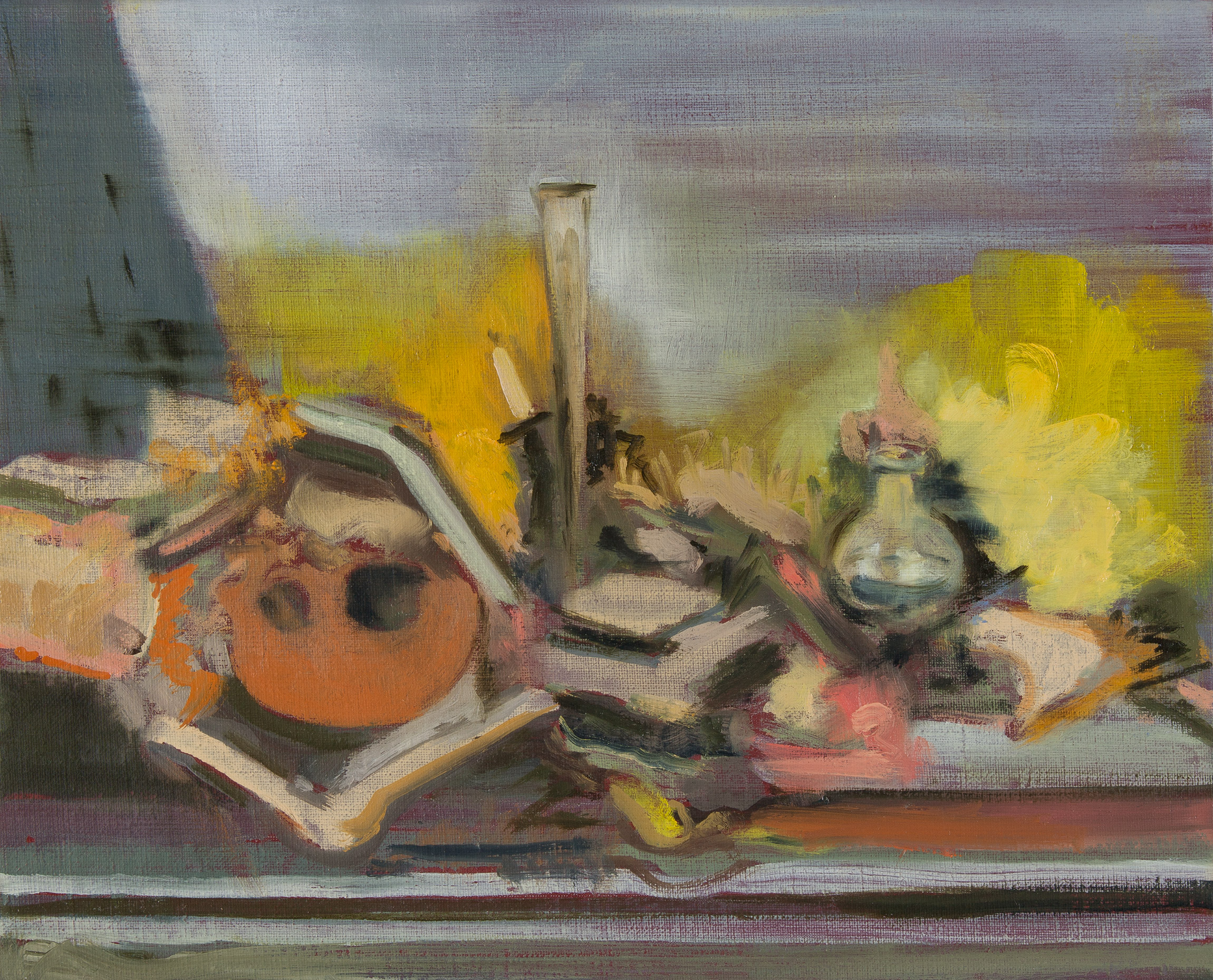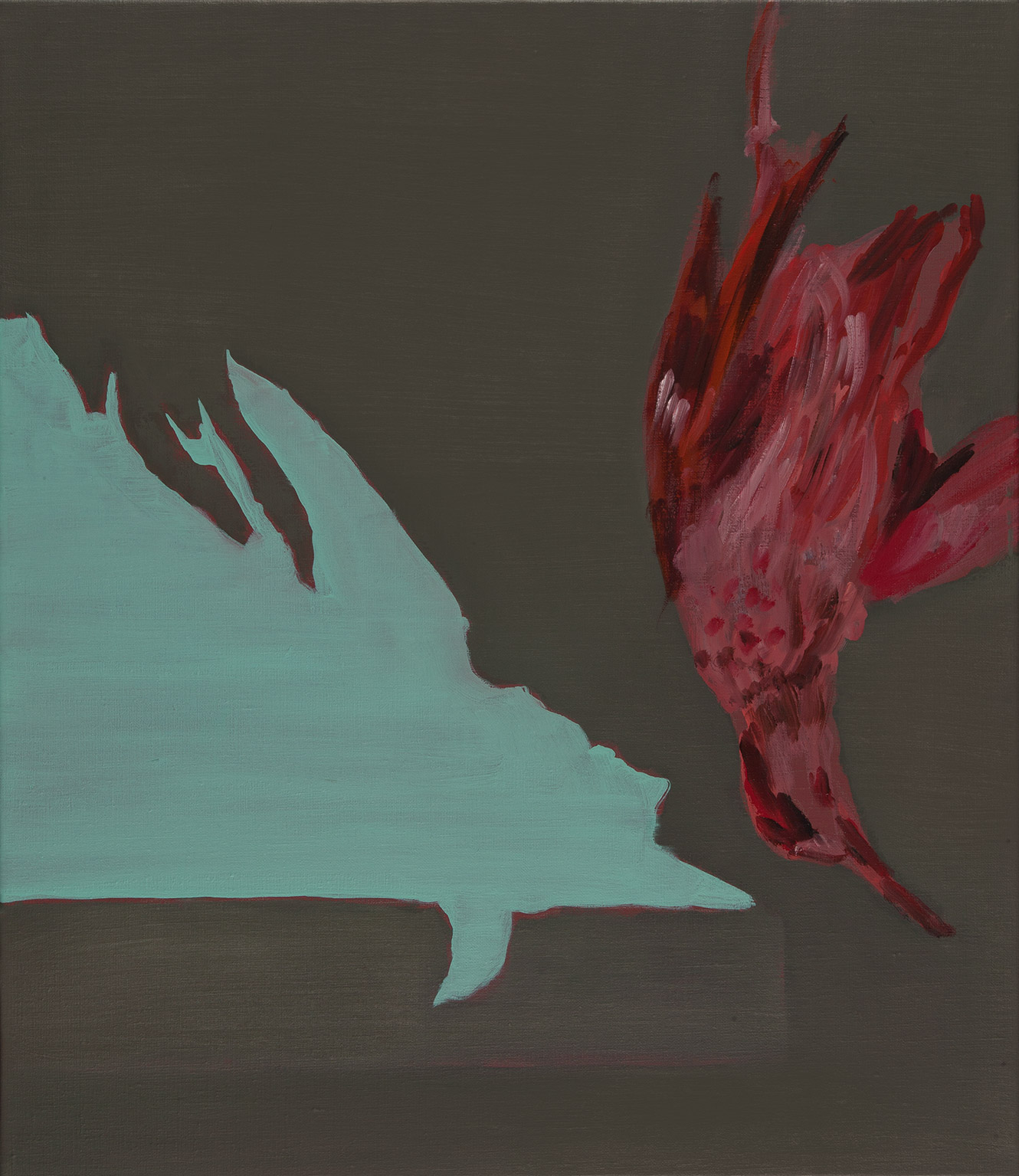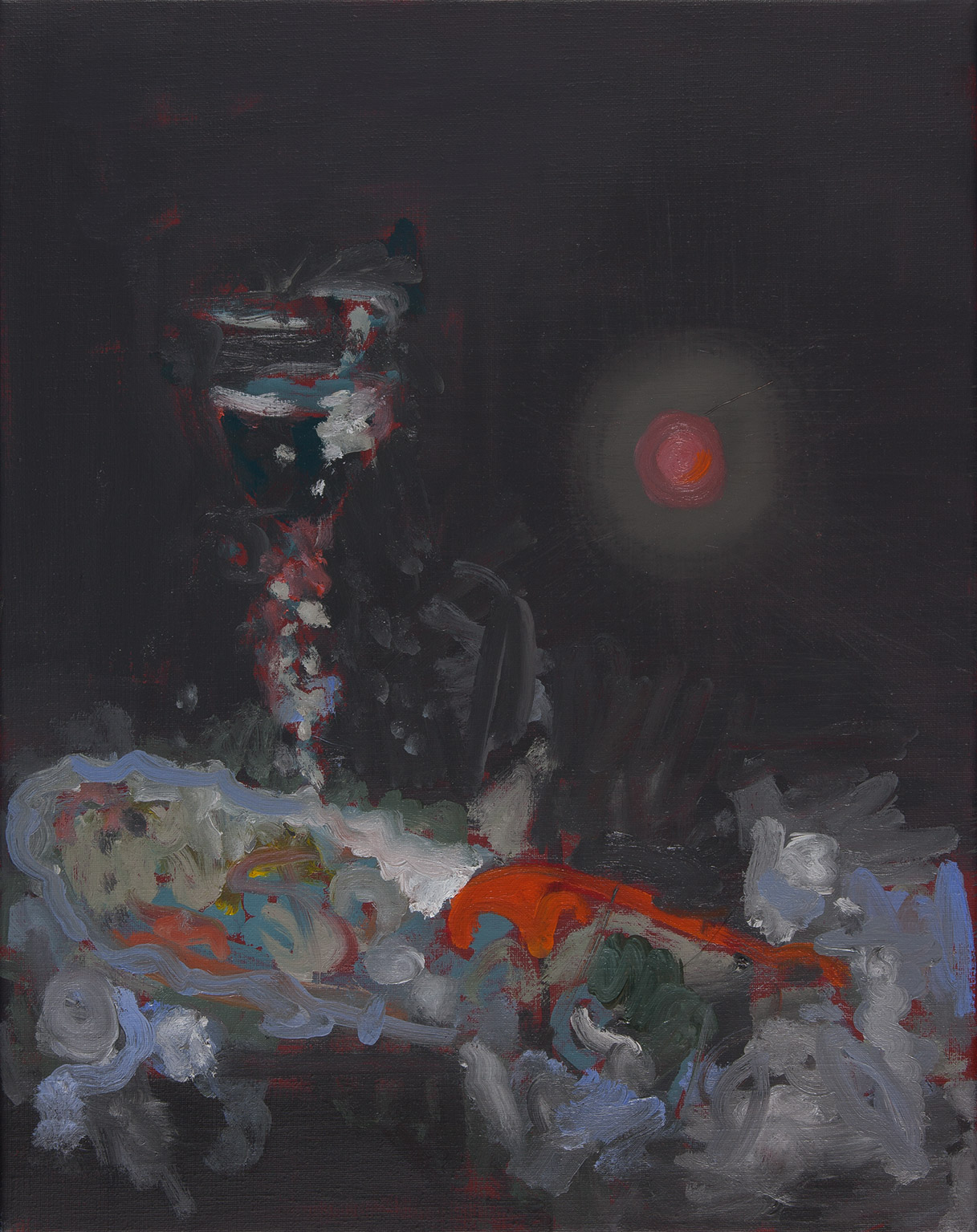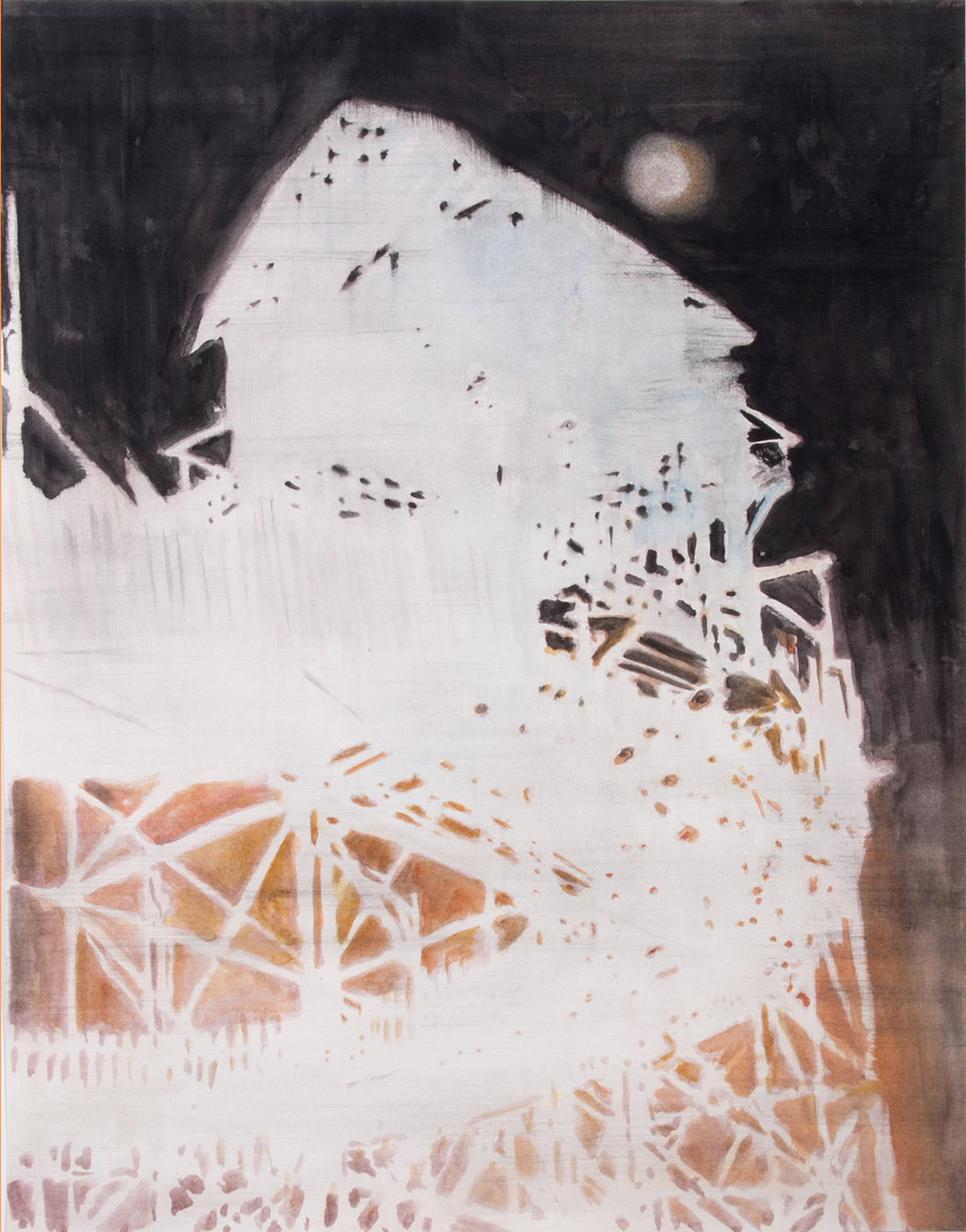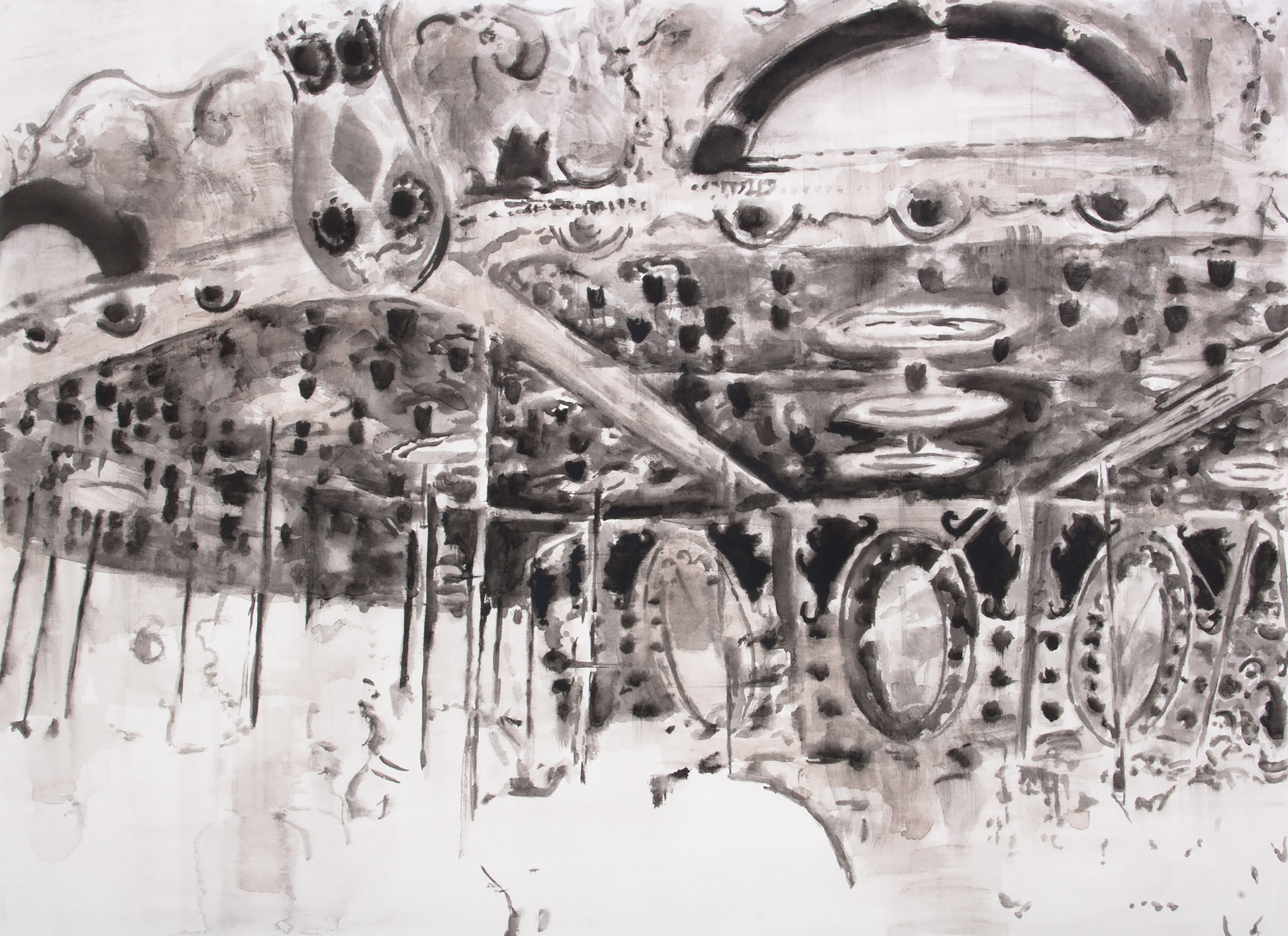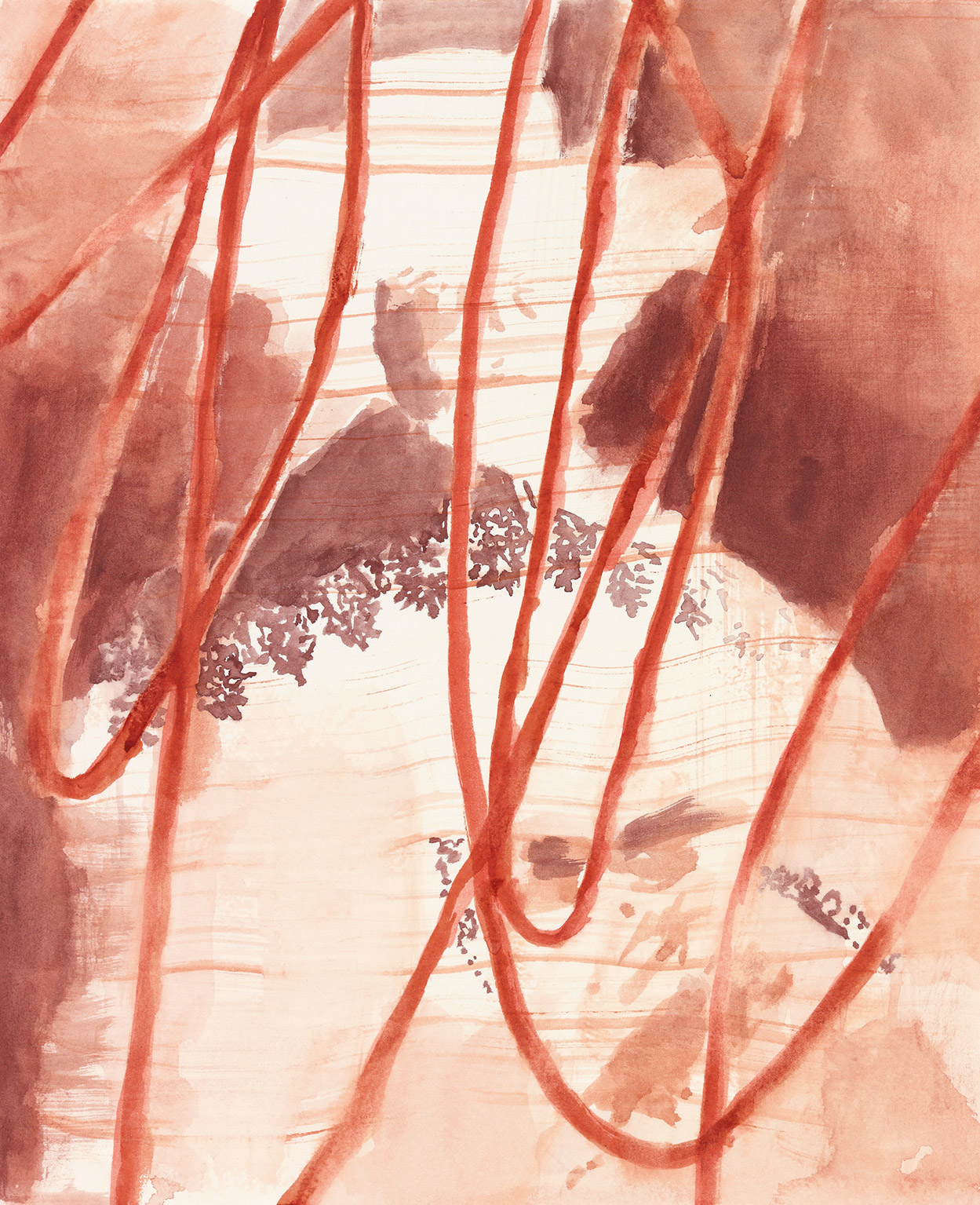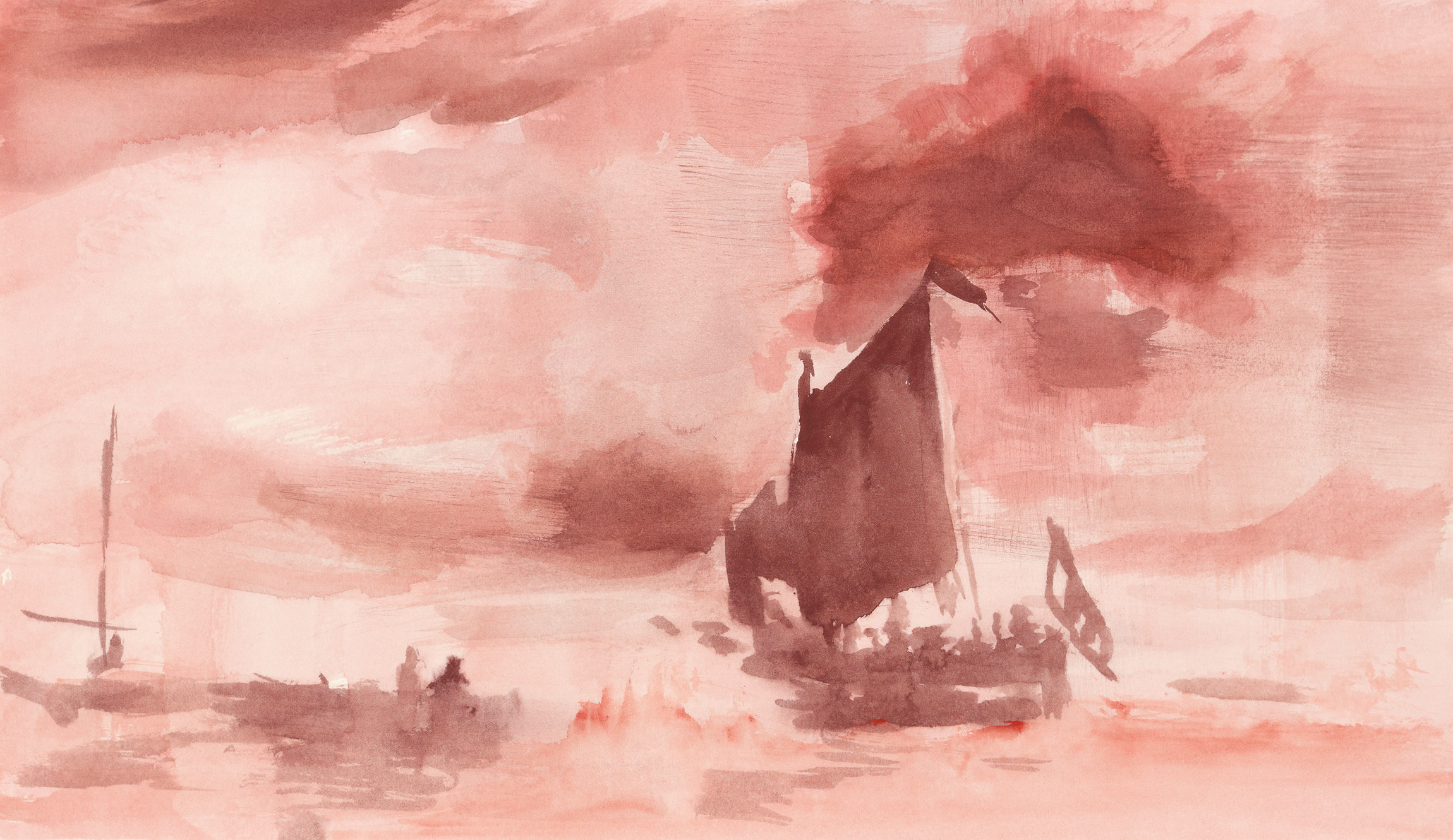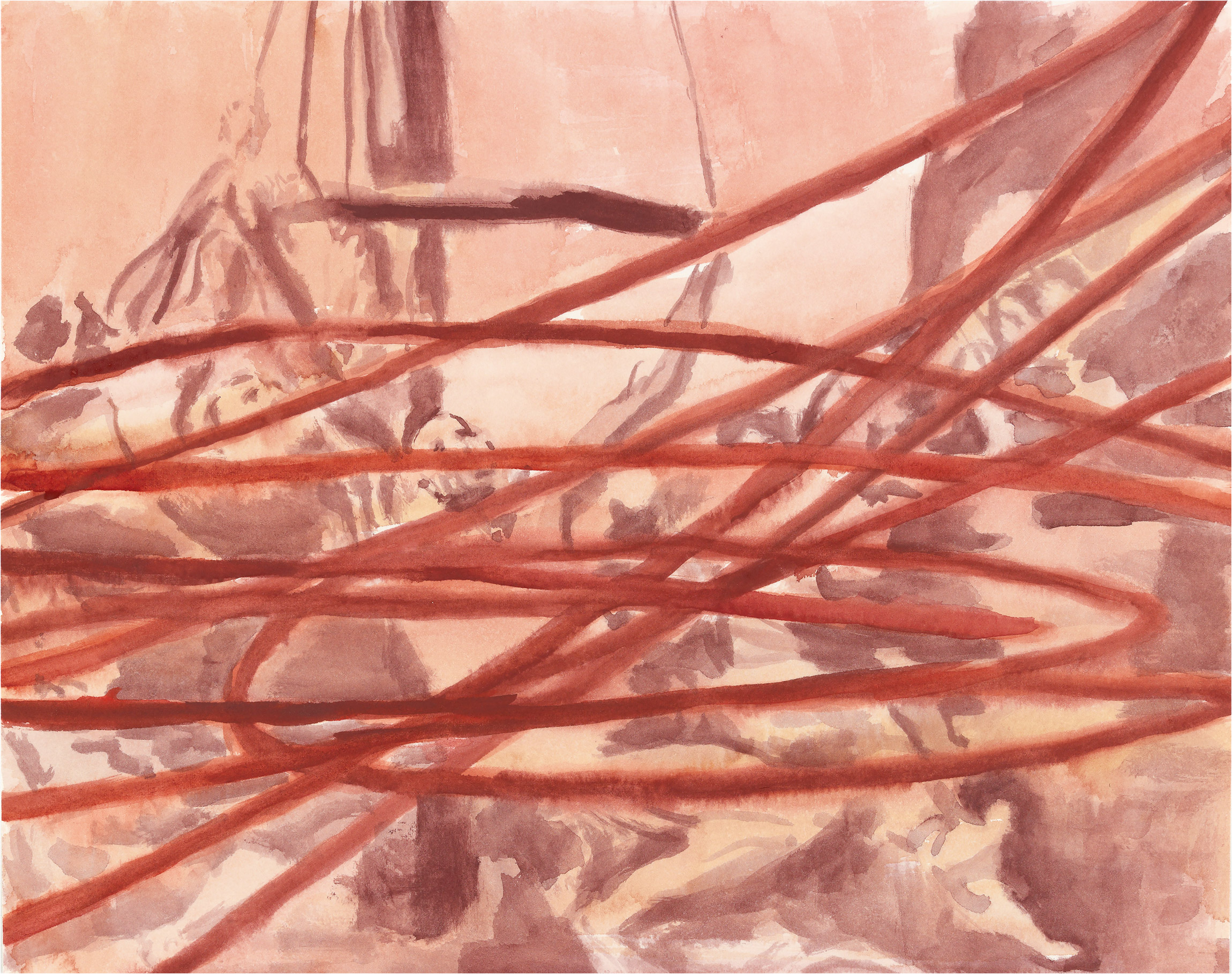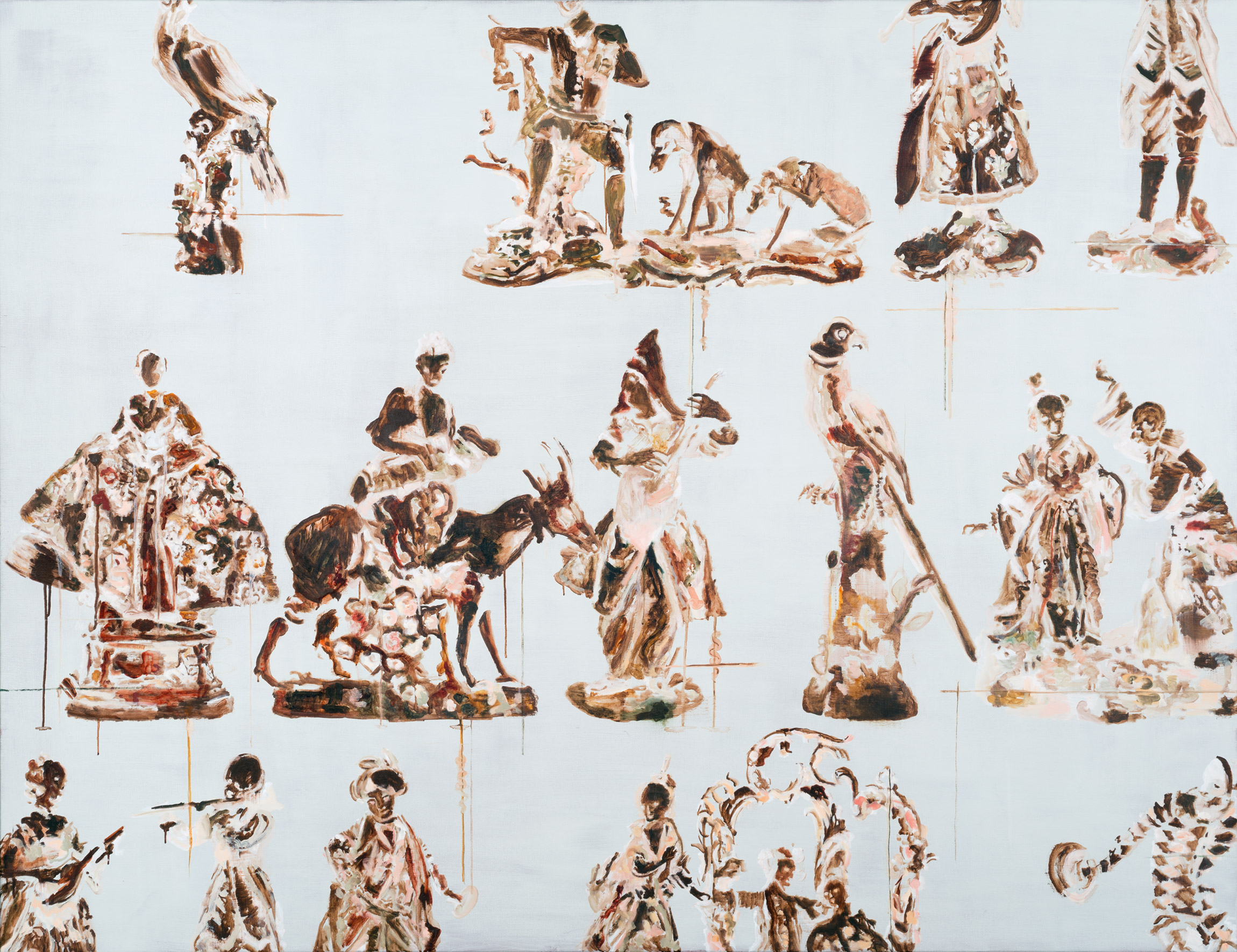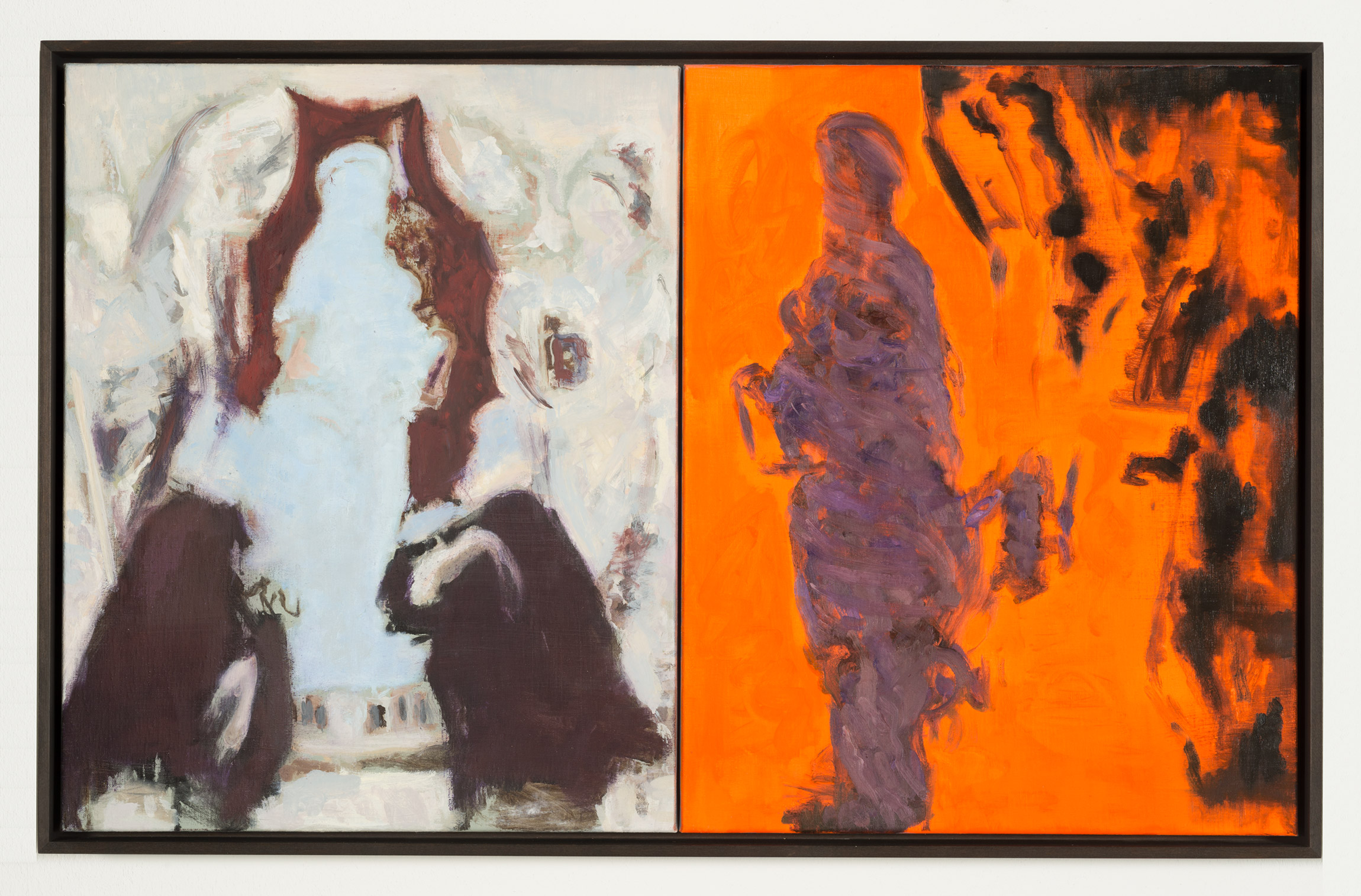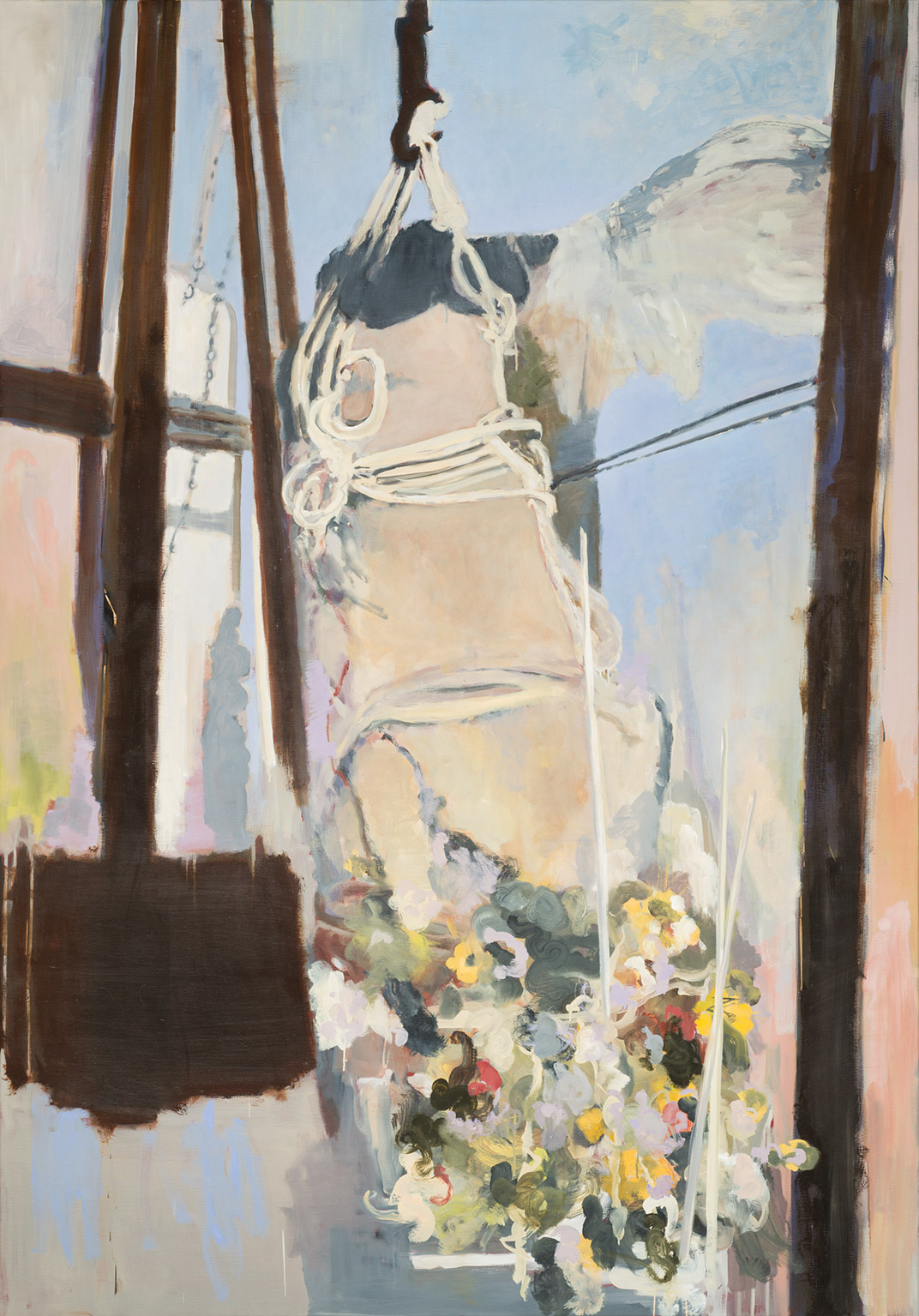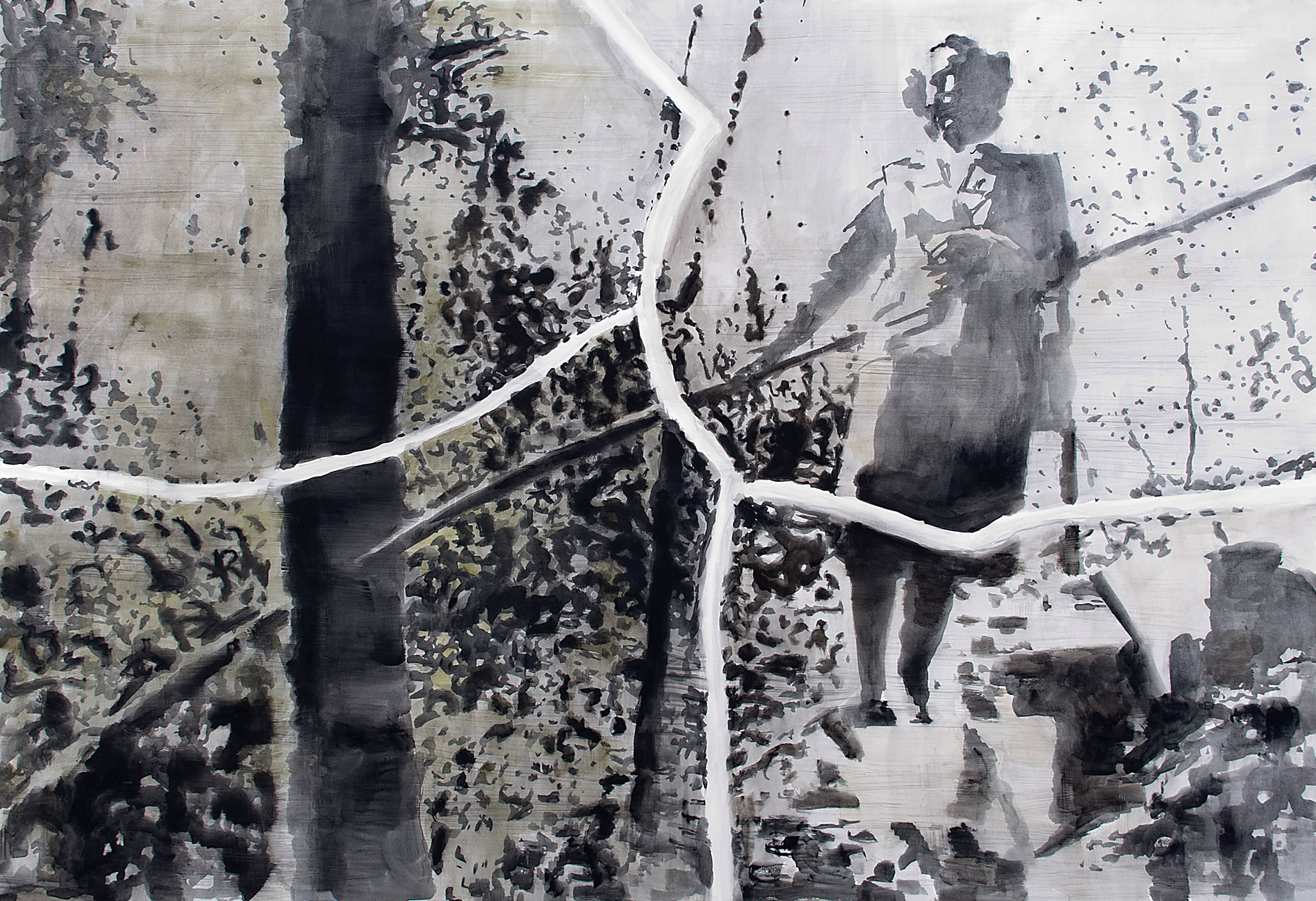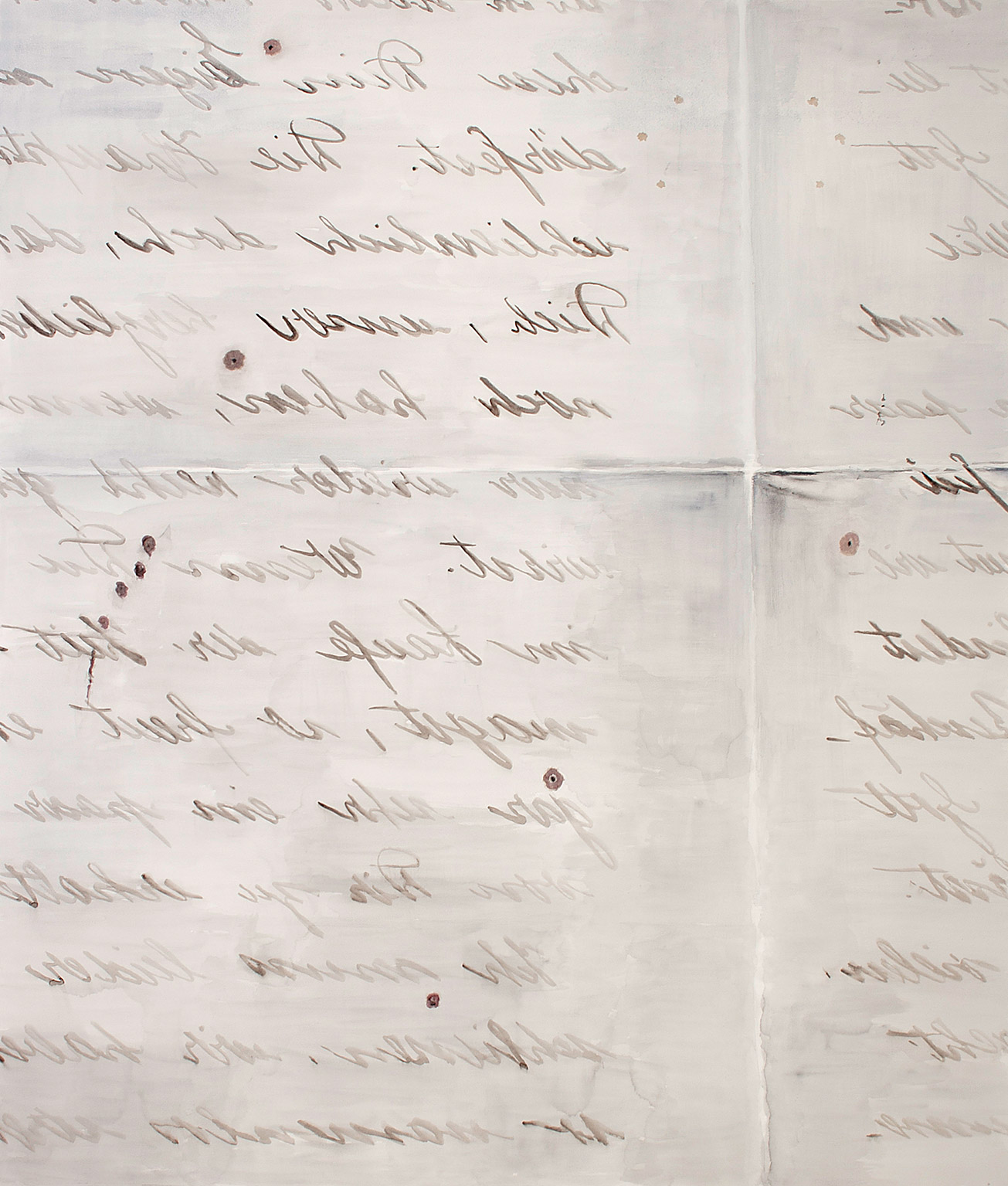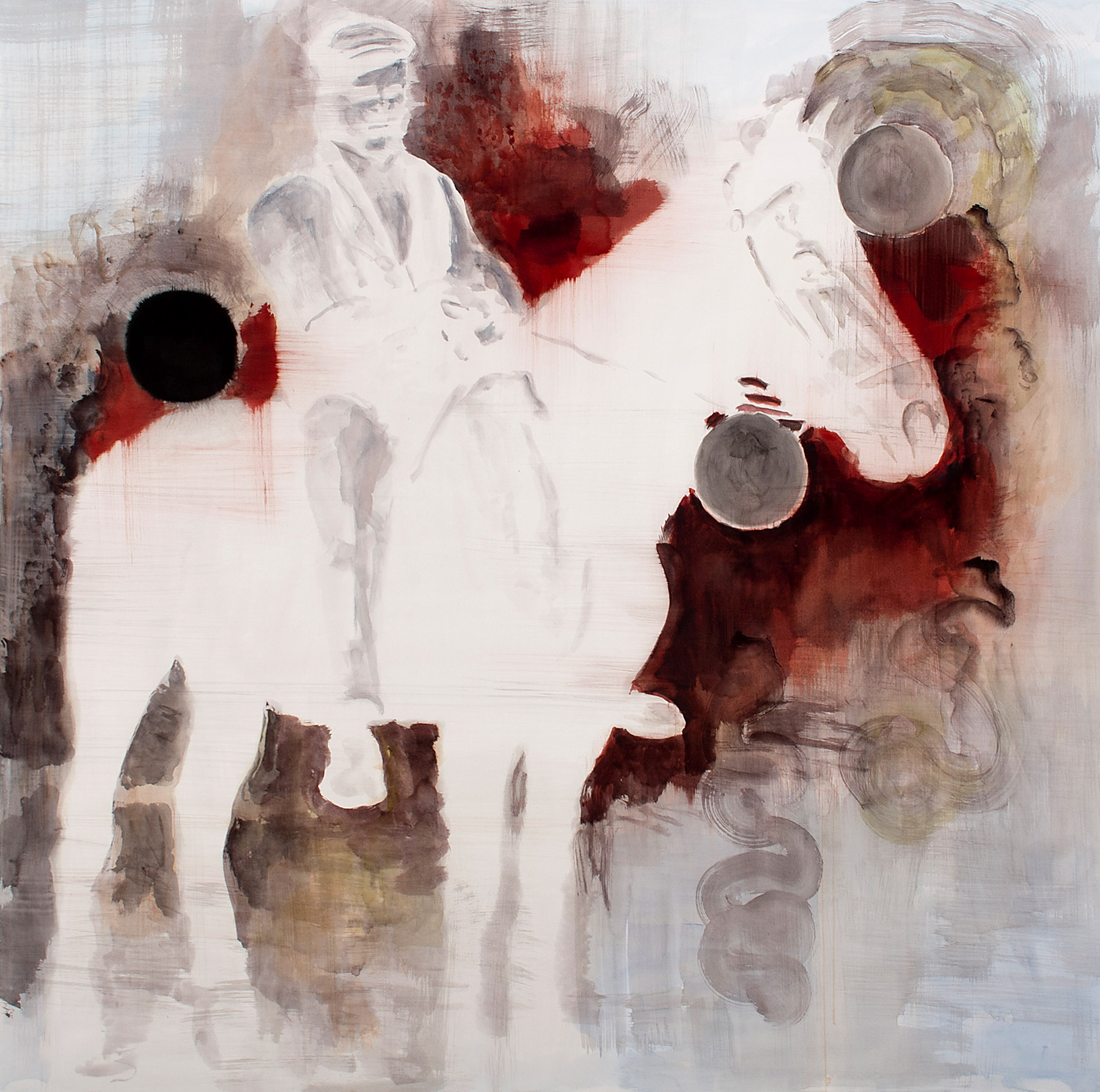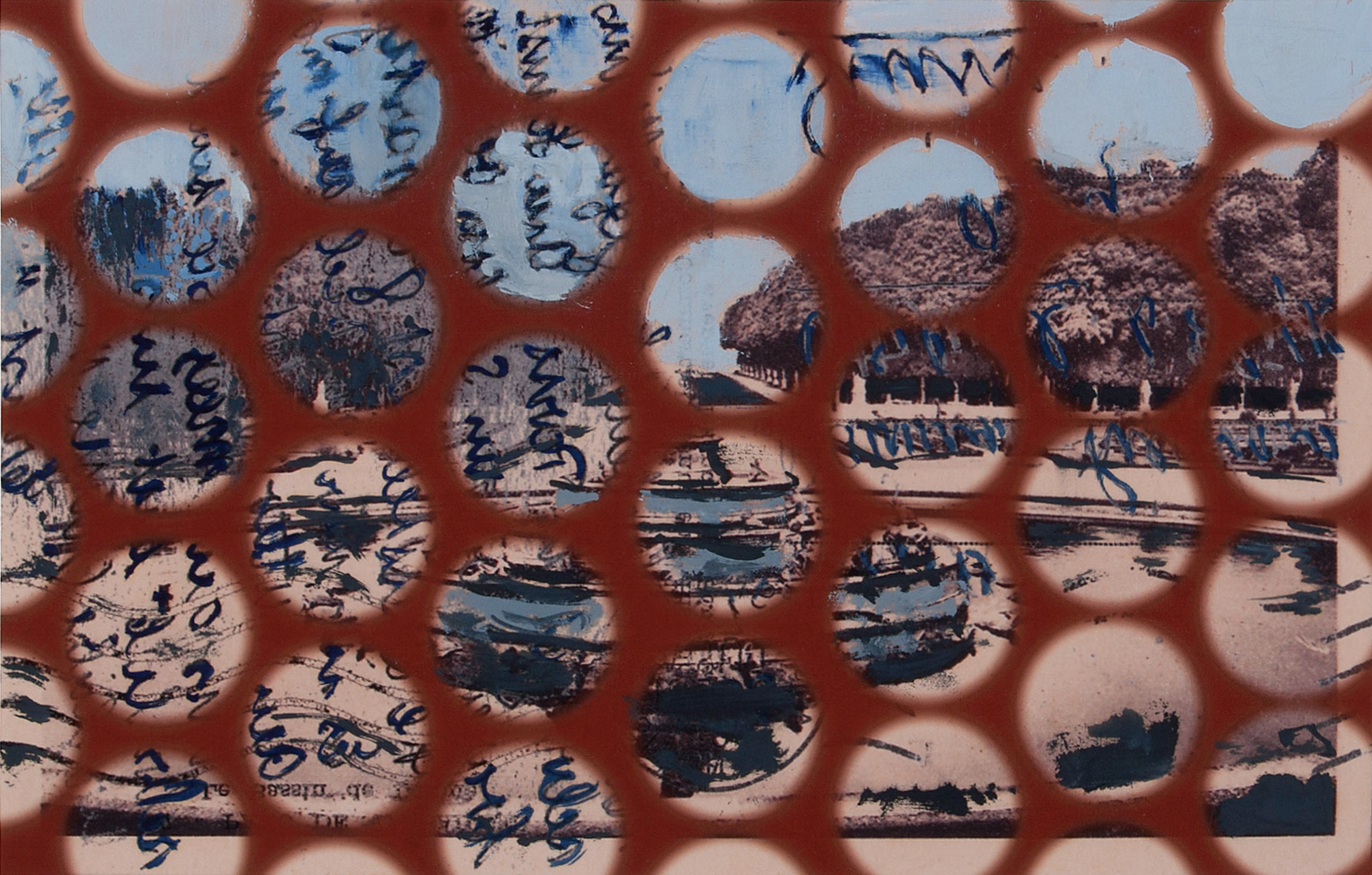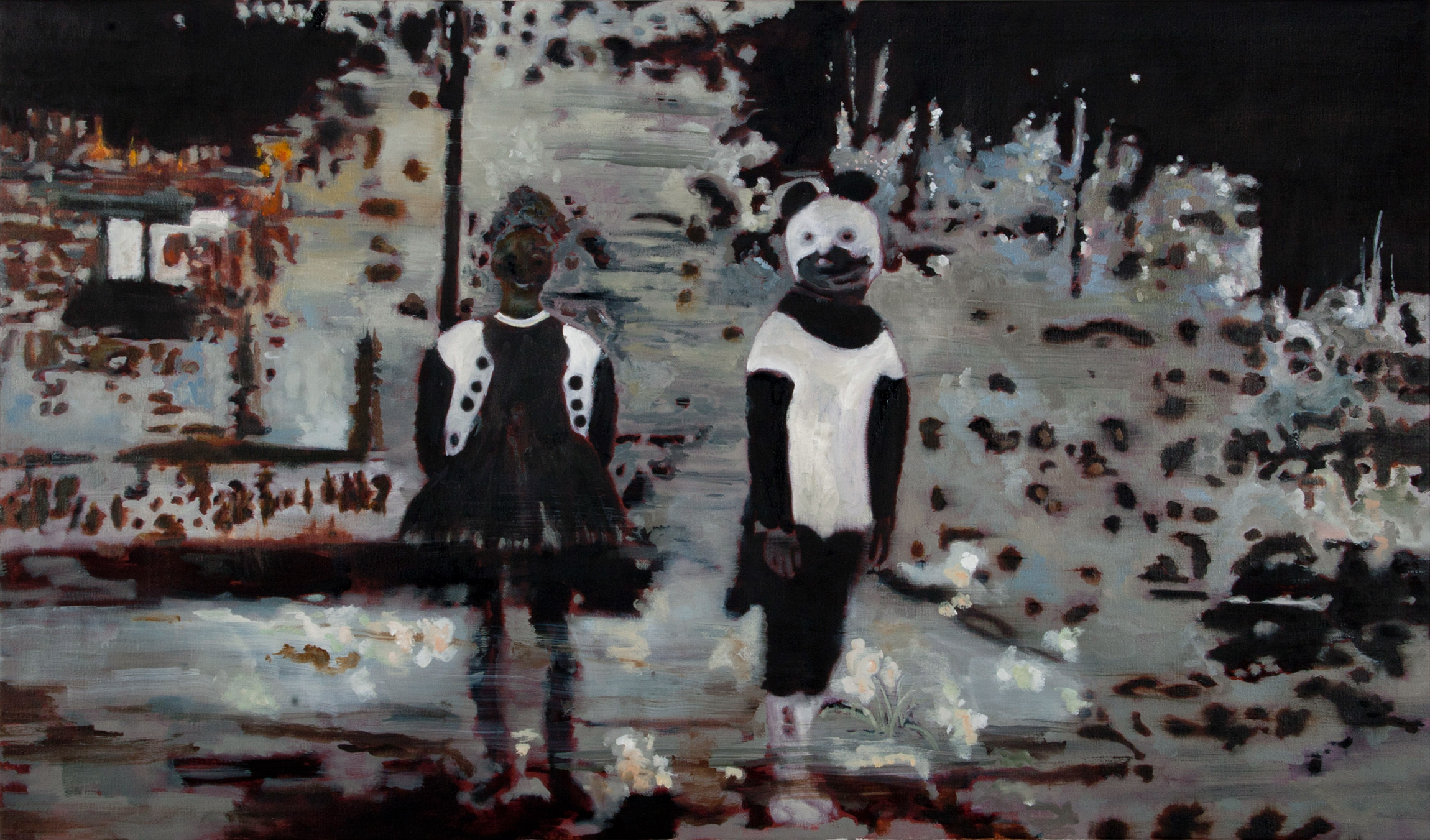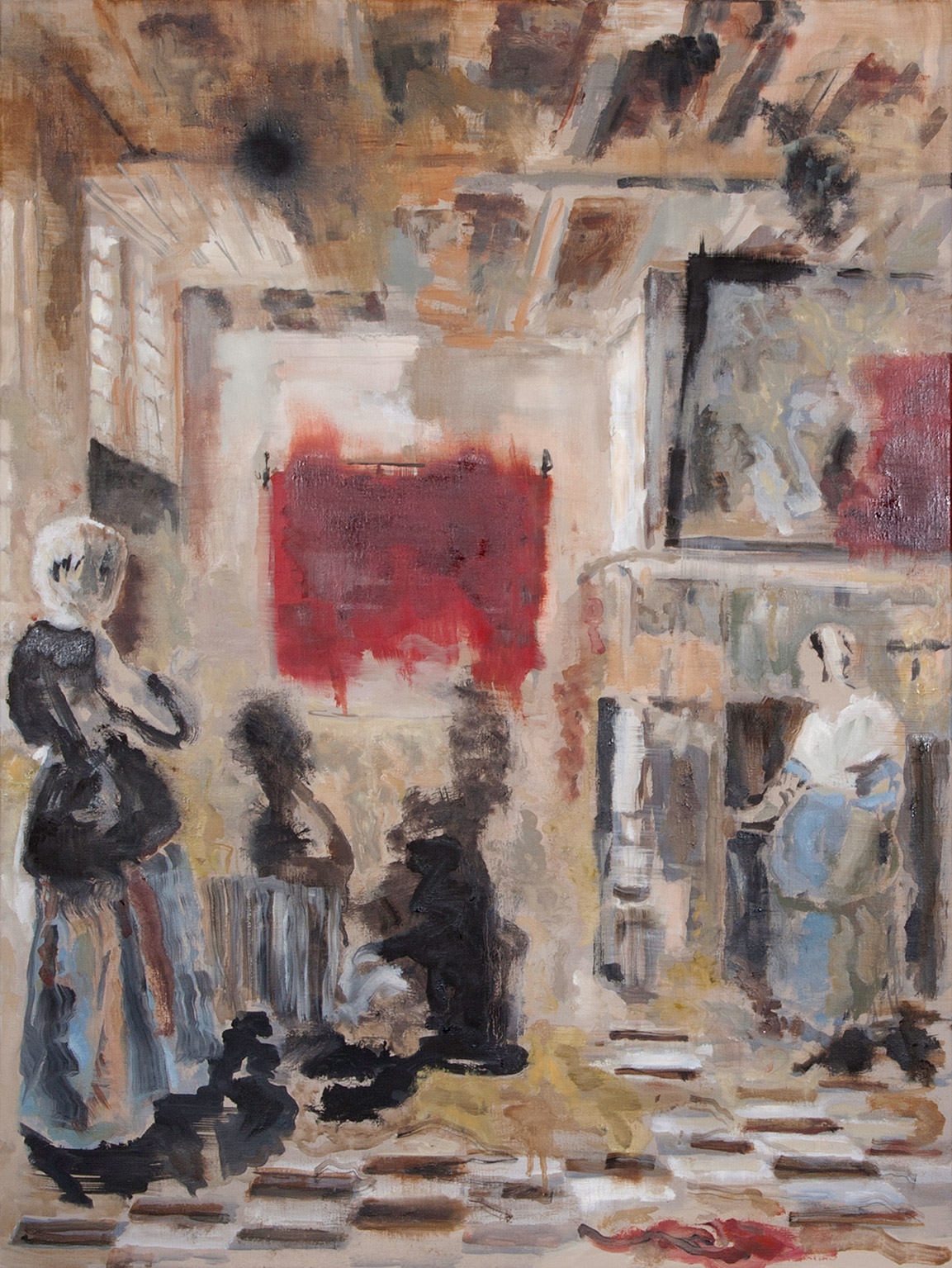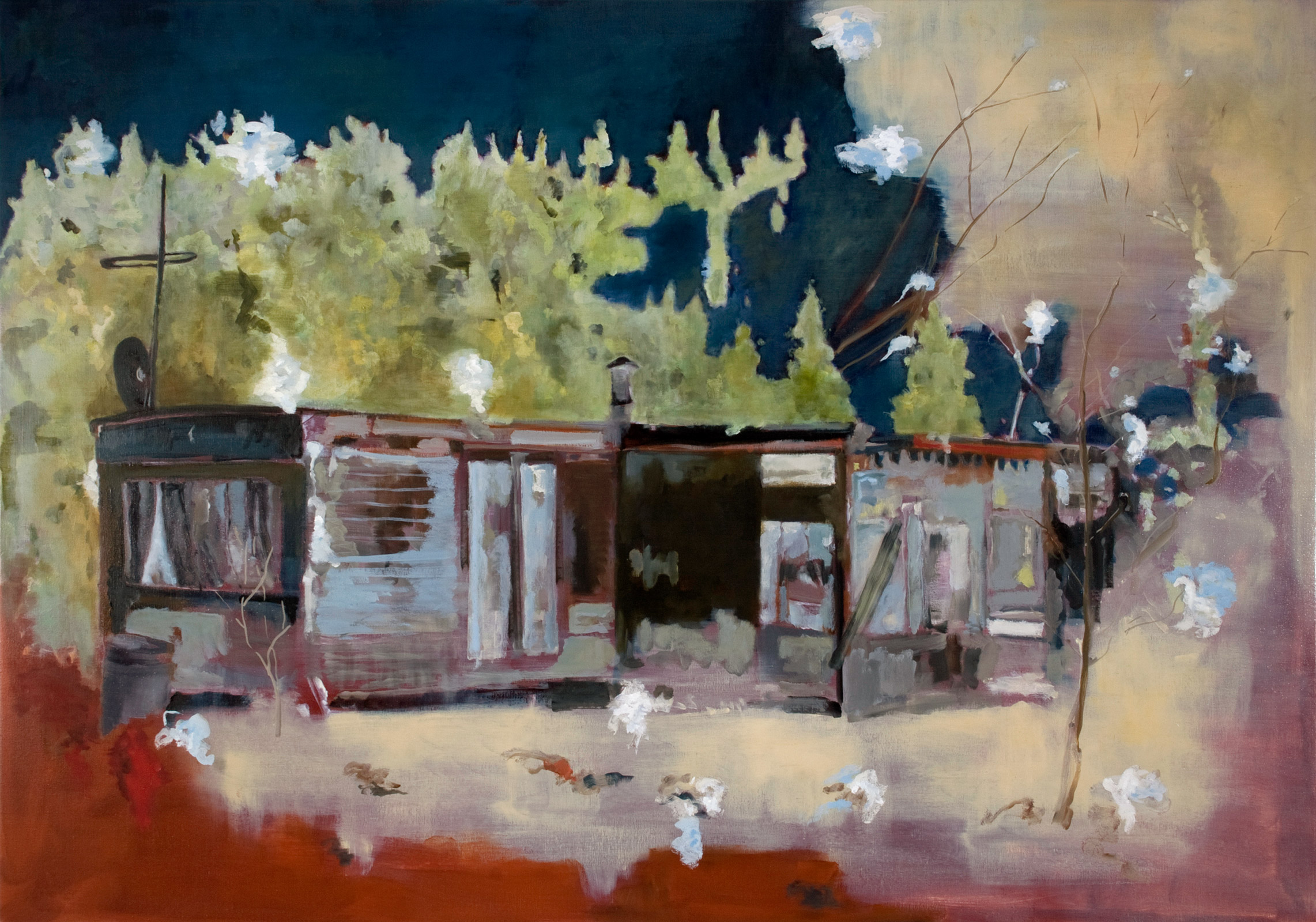 ---
About
In his paintings, watercolors and inkjet prints, Swiss-born Uwe Wittwer (*1954) subverts and calls into question the beholder's viewing habits and expectations. The enchanting beauty and sensuality of his works are often only a lure that, upon closer inspection, gives way to the latent horror lurking behind the façade of bourgeois ways of life. All of Wittwer's works display a deliberate haziness, which removes the motives from immediate readability. The still-lives, interiors, landscapes and portraits are not representations of a visible reality, they are rather tools for questioning our own viewing habits. Wittwer's series, developed over a long period of time, inquire into the overriding question of image, effect, and reality – an almost existential question in the age of the internet and the resulting difficulty of distinguishing between "real" and "fake." The internet is thus also one of Wittwer's main sources in his search for motives. The point of departure for this appropriation of images was an intense encounter that the artist had with the Old Masters in the London National Gallery. On the internet, he chanced upon amateur photographs taken by American soldiers during the Vietnam war, showing the banality of quotidian military life. Wittwer went one step further back into history with his interpretation of photographs depicting the fragile idyll that was Eastern Prussia before World War II. Wittwer engages with these series not in chronological order, rather, he repeatedly takes up their motives in new works. This simultaneous, increasingly focused development of series allows the artist to reflect on the understanding of an image throughout the entire breadth of different media, overthrowing the established hierarchies (small drawing – large painting). Here, too, the viewer has to rethink his viewing habits and expectations.
---
---
---
Chronology
---
Biography
1954
Born in Zurich
1986
Grant by the Canton Zurich
1988
Scholarship of the City of Burgdorf
1989
London Studio Grant by the Stiftung Binz 39, Zurich
1991
Grant by the Canton Zurich
Louise Aeschlimann Grant by the Bernische Kunstgesellschaft
1992
Grant by the Canton Zurich
1994
Studio Grant by the City of Zurich at the Cité International des Arts, Paris
Prize of the Bern Biennial by the Commission for Visual Arts, Canton Bern
Federal Prize for Visual Arts, Switzerland
1997
Prize of the Foundation for Graphic Art in Switzerland
2000
Prize of the International Print Triennial, Grenchen
2004
Studio Grant Schloss Wiepersdorf by the Bundeskulturstiftung Berlin
2007
London Studio Grant, Kulturstiftung Landis & Gyr
Lives and works in Zurich.
Selected Solo Exhibitions
2022–23
Uwe Wittwer: The Mission, Parafin, London
2021
Uwe Wittwer: Schwarzer Schnee, Galerie Judin, Berlin
Uwe Wittwer: Holzfäller.Spiegel, Galerie Peter Kilchmann, Zurich
2020
Uwe Wittwer: Schatullen des Zorns, Musée Ariana, Geneva
2019
Uwe Wittwer: Die schwarzen Sonnen, Kunsthaus Grenchen
Uwe Wittwer: Im Walde, Galerie Peter Kilchmann, Zurich
2018
Uwe Wittwer: The Spoils of Ward, Galerie Judin, Berlin
Uwe Wittwer: Shelter, Parafin, London
2017
Uwe Wittwer: Erlkönig – Spiegel, Lullin + Ferrari, Zurich
2016
Uwe Wittwer: Im Widerschein – Scherben, Galerie Judin, Berlin
2015
Uwe Wittwer: The King's Tear, Parafin, London
2013
Uwe Wittwer: Margate Sands, Lullin + Ferrari, Zurich
Uwe Wittwer: In The Middle Distance, Abbot Hall Art Gallery, Kendal
Uwe Wittwer: Der Brief, Nolan Judin, Berlin
2012
Uwe Wittwer: New Works, SMAC Art Gallery, Cape Town
Uwe Wittwer: Observers Delight, Void, Derry
2011
Uwe Wittwer: New and Recent Paintings, Haunch of Venison, London
Uwe Wittwer: Andere Orte – Wäldchen, Nolan Judin, Berlin
2010
Uwe Wittwer: Tainted Memory, Art + Art Gallery, Moscow
Uwe Wittwer: The Unknown Photographer, Lullin + Ferrari, Zurich
2009
Uwe Wittwer: Aquarelle 1999–2009, Galerie Fred Jahn, Munich
Uwe Wittwer: Raised Hide, Haunch of Venison, London
Uwe Wittwer: Verwehung (Drift), Nolan Judin, Berlin
2008
Uwe Wittwer: Arbeiten auf Papier, Kunst(Zeug)Haus, Rapperswil-Jona
Uwe Wittwer, Cohan and Leslie, New York
2007
Uwe Wittwer: Hail and Snow, Haunch of Venison, Zurich
2005
Uwe Wittwer: Geblendet (Dazzled) – Werke 1990–2005, Kunstmuseum Solothurn and Ludwig Forum Aachen
Uwe Wittwer: Swimming at South China Beach, Fabian & Claude Walter Galerie, Zurich
Uwe Wittwer: Eingebrannt – Malerei, Wandmalerei, Arbeiten auf Papier, Spielhaus Morrison Galerie, Berlin
2004
Uwe Wittwer: Travaux récents, Galerie Anton Meier, Geneva
Uwe Wittwer: Estampes, Musée des beaux-arts, Le Locle
2003
Uwe Wittwer, Galerie Ulrike Buschlinger, Wiesbaden
2002
Uwe Wittwer, Galerie Knapp, Geneva
Uwe Wittwer, Fabian & Claude Walter Galerie, Zurich
2001
Uwe Wittwer: Das ferne Bild, Galerie Margit Haldemann, Bern
Uwe Wittwer, Kunsthalle Winterthur
2000
Recent Works by Uwe Wittwer, a Contemporary Swiss Artist, University Art Gallery, Pittsburgh, PA
Uwe Wittwer, Galerie Ulrike Buschlinger, Wiesbaden
Uwe Wittwer, Fabian & Claude Walter Galerie, Basel
Uwe Wittwer: Bilder, Universität Witten/Herdecke
1999
Uwe Wittwer: Meine Gärten, Galerie Ulrike Buschlinger, Wiesbaden
Uwe Wittwer, Houldsworth Fine Art, London
1998
Uwe Wittwer, Helmhaus, Zurich
Uwe Wittwer: Neue Arbeiten, Galerie Margit Haldemann, Bern
1997
Uwe Wittwer: Am Fluss, Kunstverein Leverkusen
Uwe Wittwer, Galerie Ulrike Buschlinger, Wiesbaden
Uwe Wittwer: Ölbilder, Galerie Silvia Steiner, Biel
Uwe Wittwer, Museum Schloss Morsbroich, Leverkusen
1996
Uwe Wittwer: Druckgrafik 1982–1996, Cantre PasquArt, Biel
Uwe Wittwer, The Huberte Goote Gallery, Zug
Uwe Wittwer: Ölmalerei und Aquarelle, Galerie Franz Mäder, Basel
1995
Uwe Wittwer: Stille Leben – Malerei, Galerie Margit Haldemann, Bern
Uwe Wittwer, Centre PasquArt, Biel
Selected Group Exhibitions
2023
SIRANI. Thirteen Contemporary Painters and an Arresting Baroque Masterpiece: Ellen Akimoto, Alexander Basil, Norbert Bisky, Kyle Dunn, Adrian Ghenie, Christoph Hänsli, Hortensia Mi Kafchin, Brandon Lipchik, Lydia Pettit, Cornelia Schleime, Kiriakos Tompolidis, Hugo Wilson, Uwe Wittwer, Galerie Judin, Berlin
Gardiens du silence, Musée Jenisch Vevey
Uwe Wittwer, Aiko Watanabe, Jürg Halter: Das imaginäre Haus, Gewerbemuseum Winterthur
Andriu Deplazes, Kubra Khademi, Yehudit Sasportas, Uwe Wittwer: Works on Paper, Galerie Peter Kilchmann, Zurich
2022–23
Uwe Wittwer, Michael van Ofen, Slawomir Elsner: Musèe Imaginaire, Monica de Cardenas, Zuoz
2022
(Un)certain Ground: Aktuelle Malerei in der Schweiz / Peinture actuelle en Suisse, Centre PasquArt, Biel
2020–21
Interieur – Exterieur: Die KWS-Sammlung zu Gast, Museum Franz Gertsch, Burgdorf
Uwe Wittwer, Aiko Watanabe, Jürg Halter: Das Imaginäre Haus, Musée Ariana, Geneva
2018
Journeys With 'The Waste Land' – A Visual Response for Coventry to TS Eliot's Poem, Herbert Art Gallery & Museum, Coventry
Im Streiflicht, oder: Die Lust an der Malerei, Kunsthalle Palazzo, Liestal 
Group Show, Galerie Peter Kilchmann, Zurich
2017
Die Augen der Bilder – Porträts von Fragonard bis Dumas, Museum Langmatt, Baden
2015
Blow Up – Painting, Photography and Reality, Parafin, London
Slawomir Elsner und Uwe Wittwer: Abraham – Ovid – Das Andere, Lullin + Ferrari, Zurich
2013
Das doppelte Bild – Aspekte zeitgenössischer Malerei, Kunstmuseum Solothurn
2012
Review, Centre PasquArt, Biel
Holzwege – Schweizer Kunst aus der Sammlung der Mobiliar, Museo Cantonale d'Arte, Lugano
Look, I Am Blind, Look, Centre PasquArt, Biel
The Observer, Haunch of Venison, London
2011
Watercolour, Tate Britain, London
À l'eau – Aquarelle heute, Centre PasquArt, Biel
2010
Exhibitionism – The Art of Display, The Courtauld Institute of Art, London
2009
Mythologies, Haunch of Venison at the Royal Academy, London
2008
No Leftovers, Kunsthalle Bern
Glückliche Tage? Kinder in der Schweizer Kunst vom 18. Jahrhundert bis zur Gegenwart, Museum zu Allerheiligen, Schaffhausen
2007
Der gestillte Blick – Der Schriftsteller Klaus Merz und die Bilder, Museum Strauhof, Zurich
Fade Away and Radiate, Cohan and Leslie, New York, NY
2006
Judy Millar, Sophia Schama, Uwe Wittwer, Spielhaus Morrison Galerie, Berlin
Reprocessing Reality, MoMA PS1, New York, NY
2005
Flower Myth – Vincent van Gogh to Jeff Koons, Fondation BeyeIer, Riehen/Basel
Lichtblicke aus Privatsammlungen – Von Arp bis Varlin, Galerie Carzaniga, Basel
2004
Kunstsammlung Beat H. Koenig, Kunsthaus Langenthal
2002
In Between – Bildmedien im Dialog, Kunsthaus LangenthaI
Balsam, Helmhaus, Zurich
Inauguration, Fabian & Claude Walter Galerie, Zurich
L'immagine ritrovata, Museo Cantonale d'Arte, Lugano
Frozen Flowers, Galerie Margit Haldemann, Bern
Big Is Beautiful, Musée d'art et d'histoire de Neuchâtel
Neighbourhoods, Fabian & Claude Walter Galerie, Basel
2001
Die Kunst der Mobiliar, Kunstmuseum Bern, Bern
2000
Schafft Land! 14 Positionen zur Landschaft, Stadtmuseum Siegburg
15. Internationale Triennale für Originalgrafik, Grenchen
1999
Landgang, Fabian & Claude Walter Galerie, Basel
1998
Die Schärfe der Unschärfe – Aspekte zeitgenössischer Schweizer Kunst, Kunstmuseum Solothurn
Swiss Contemporary Art, Sungkok Art Museum, Seoul
Gravure, vous avez dit gravure? Musée jurassien des Arts, Moutier
1997
Sammlung Bosshard, Museum zu Allerheiligen, Schaffhausen
1996
Snuff – Tatort London, Galerie Christa Schübbe, Düsseldorf
1995
Landschaft Heute, Galerie Silvia Steiner, Biel
1994
3. Berner Biennale, Kunsthaus LangenthaI
Preisträger des Eidgenössischen Stipendiums, Musée d'art et d'histoire de Neuchâtel
1992
Überschlag – 8 Schweizer Künstler in Berlin, Pfefferberg, Berlin
1991
17. Berner Kunstausstellung, Kunsthalle Bern
1990
Winterreise, Galerie Mesmer, Basel
Awards and Grants
2007
London Studio Grant, Landis und Gyr Stiftung, Zug
2004
Studio Grant, Künstlerhaus Schloss Wiepersdorf, Kulturstiftung des Bundes, Berlin
2000
Award, 15. Triennale Grenchen
1997
Award, Stiftung für die Graphische Kunst in der Schweiz, Zurich
1994
Studio Grant, Cité internationale des Arts, Paris
Award, 3. Berner Biennale, Commission for Visual Arts, Canton of Bern
1992
Grant, Canton of Zurich
1991
Grant, Canton of Zurich
Award, Aeschlimann Corti Stipendium, Bernische Kunstgesellschaft, Bern
1989
London Studio Grant, Stiftung Binz39, Zurich
1988
Scholarship of the City of Burgdorf
1986
Grant, Canton of Zurich
Selected Collections
Banca deI Gottardo, Lugano
Bonnefantenmuseum, Maastricht
Caldic Collection, Rotterdam
Centre PasquArt, Biel
Cleveland Clinic Art Collection, OH
Collection Foundation Kunst(Zeug)Haus, Rapperswil-Jona
Collection of Canton Bern
Collection of Canton Zurich
Collection of the City of Bern
Collection of the City of Burgdorf
Collection of the City of Geneva
Collection of the City of Zurich
Collection of the Swiss Confederation, Bern
Credit Suisse Collection, Zurich
David Roberts Art Foundation, London
Helvetia Art Collection, Basel
Kunsthaus Zürich, Zurich
Kunstmuseum Bern
Kunstmuseum Solothurn
Musée d'art et d'histoire, Neuchâtel
Museum für Kommunikation, Bern
Museum zu Allerheiligen, Schaffhausen
Richemont Art Foundation, Vaduz
Richmond Collection, Wellington
Roche Collection, Basel
Sammlung Ludwig, Aachen
Schweizerische Mobiliar Versicherungsgesellschaft, Bern
Soho House Art Collection, London
Syngenta, Basel
The Met Collection, New York, NY
UBS Art Collection, Zurich
ZKB Art Collection, Zurich
Books by the Artist
2017
Uwe Wittwer: Brandherd. Bern: Verlag Rothe Drucke
2009
Uwe Wittwer: Verwehung (Drift). Edited by Juerg Judin. Text by Heinz Stahlhut. Berlin: Nolan Judin
2005
Uwe Wittwer: Monsun I–III. Edited by Markus Stegmann. Basel, Zurich and Berlin: Fabian & Claude Walter Galerie and Spielhaus Morrison Galerie
1999
Uwe Wittwer: Relative Stille. Zurich: Edition Ideal
Monographs
2018
Uwe Wittwer: The Spoils of Ward. Edited by Juerg Judin and Pay Matthis Karstens. Text by Lena Fritsch. Exh. cat. Galerie Judin, Berlin
2016
Uwe Wittwer: Im Widerschein – Scherben. Edited by Juerg Judin and Pay Matthis Karstens. Exh. cat. Galerie Judin, Berlin
2013
Uwe Wittwer: Paintings. Edited by Juerg Judin, Etienne Lullin and Ben Tufnell. Texts by Brian Dillon and Juerg Judin. Ostfildern: Hatje Cantz
2007
Uwe Wittwer: Hail and Snow. Edited by Juerg Judin. Text by Sarah Kent. Exh. cat. Haunch of Venison, Zurich
2005
Uwe Wittwer: Geblendet (Dazzled). Werke 1990–2005. Edited by Christoph Vögele. Texts by Adrian LeBlanc, Harald Kunde, Klaus Merz, and Konrad Tobler. Exh. cat. Kunstmuseum Solothurn, Solothurn and Ludwig Forum Aachen, Aachen. Heidelberg: Kehrer
2002
Uwe Wittwer: Movimento. Malerei als Erinnerung nach vorn (Musterbuch II). Edited by Fabian & Claude Walter Galerie. Exh. cat. Fabian & Claude Walter Galerie, Basel
2000
Uwe Wittwer: Musterbuch. Edited by Fabian & Claude Walter Galerie. Exh. cat. Fabian & Claude Walter Galerie, Basel
1998
Uwe Wittwer. Edited by Kathrin Frauenfelder. Exh. cat. Helmhaus, Zurich
1997
Uwe Wittwer: Am Fluss. Edited by Uta Mischke. Exh. cat. Kunstverein Museum Schloss Morsbroich, Leverkusen
1996
Uwe Wittwer: Druckgrafik 1982–1996. Edited by Andreas Meier. Exh. cat. Centre PasquArt, Biel. Basel: Edition Mäder
Uwe Wittwer. Edited by Michael Bockemühl. Exh. cat. The Huberte Goote Gallery, Zug
Uwe Wittwer: Ölmalerei und Aquarelle. Edited by Galerie Franz Mäder. Exh. cat. Galerie Franz Mäder, Basel. Basel: Edition Franz Mäder
Selected Catalogues
2023
Jürg Halter, Uwe Wittwer: Verlassenes Boot treibt Richtung Mond. Edited by Mirjam Fischer. Text by Jürg Halter. Zurich: Scheidegger & Spiess
2022
Jetzt und Hier: Gegenwartskunst aus der Sammlung der Zürcher Kantonalbank. Edited by Zürcher Kantonalbank. Texts by Paolo Bianchi, Thamar Ette, Patrick Frey, et al. Zurich: Scheidegger & Spiess
2018
Fonds d'art contemporain de la Ville de Genève: Collection 2004–2016. Edited by Michèle Freiburghaus. Geneva: Art & Fiction
2017
Die Augen der Bilder – Porträts von Fragonard bis Dumas. Edited by Markus Stegmann. Exh. cat. Museum Langmatt, Baden. Berlin: Hatje Cantz
2012
Holzwege – Schweizer Kunst aus der Sammlung der Mobiliar. Edited by Elio Schenini. Exh. cat. Museo Cantonale d'Arte, Lugano
2011
Credit Suisse Collection – Art in a Business Context. Edited by André Rogger and Barbara Hatebur. Zurich: Scheidegger & Spiess
2008
Glückliche Tage? Kinder in der Schweizer Kunst vom 18. Jahrhundert bis zur Gegenwart.Edited by Daniela Hardmeier and Markus Stegmann. Exh. cat. Museum zu Allerheiligen, Schaffhausen and Kunstverein Schaffhausen, Schaffhausen. Zurich: Scheidegger & Spiess
2007
Der gestillte Blick – Sehstücke / Klaus Merz. Edited by Peter Erismann. Exh. cat. Museum Strauhof, Zurich. Innsbruck: Haymon Verlag
2005
Flower Myth – Vincent van Gogh to Jeff Koons. Edited by Fondation Beyeler. Exh. cat. Louisiana Museum of Modern Art, Humlebæk and Fondation Beyeler, Riehen/Basel. Riehen/Basel and Wolfratshausen: Fondation Beyeler and Edition Minerva
Lichtblicke aus Privatsammlungen – Von Arp bis Varlin. Edited by Galerie Carzaniga. Exh. cat. Galerie Carzaniga, Basel
2004
Kunstsammlung Beat H. Koenig. Edited by Kunsthaus Langenthal. Exh. cat. Kunsthaus Langenthal, Langenthal. Solothurn: Greiben Verlag
2002
In Between – Bildmedien im Dialog. Edited by Marianne Burki. Exh. cat. Kunsthaus Langenthal, Langenthal
2001
Kunst. Welt. Stadt. Zürich – Zürcher Gegenwartskunst bei ZKB Private Banking. Edited by Hans-Jörg Heusser. Zurich: Zürcher Kantonalbank
2000
Schafft Land! 14 Positionen zur Landschaft. Edited by Gert Fischer. Exh. cat. Stadtmuseum Siegburg, Siegburg. Siegburg: Rheinlandia-Verlag
1998
Lokaltermin Atelier II – 45 Künstlerinnen und Künstler: Das Louise-Aeschlimann-und-Margareta-Corti-Stipendium 1988–1998. Edited by Fred Zaugg. Bern: Bernische Kunstgesellschaft
Why Make Prints – Printing in Switzerland Since 1960: Artists, Printers, Publishers. Edited by Stiftung Pro Helvetia. Exh. cat. Pro Helvetia, Arts Council of Switzerland, Zurich. Zurich: Pro Helvetia
Gravure, vous avez dit gravure? – Productions de l'Atelier de Gravure de l'Association Jurassienne d'Animation Culturelle. Edited by Arno Hassler, Véronique Bacchetta, Valentine Reymond, et al. Exh. cat. Musée Jurassien des Arts, Moutier
Die Schärfe der Unschärfe – Aspekte zeitgenössischer Schweizer Kunst. Edited by Michael Biberstein. Exh. cat. Kunstmuseum Solothurn
1995
Die Preisträgerinnen und Preisträger des Eidgenössischen Wettbewerbs für freie Kunst.Edited by Bundesamt für Kultur. Exh. cat. Musée d'art et d'histoire de la Ville Neuchâtel, Neuchâtel. Bern: Bundesamt für Kultur
1994
Berner Biennale 1994. Edited by Kunsthaus Langenthal. Bern: Kunsthaus Langenthal
1992
Überschlag – 8 Schweizer Künstler in Berlin. Edited by Gabriele Kaiser and Kulturamt Prenzlauer Berg. Exh. cat. Pfefferberg, Berlin. Berlin: Kulturamt Prenzlauer Berg
1991
17. Berner Kunstausstellung – Heinz Mollet, Ka Moser, Dieter Seibt, Uwe Wittwer. Edited by Kunsthalle Bern. Exh. cat. Kunsthalle Bern
1990
Winterreise – eine Ausstellung der Galerie Mesmer. Edited by Galerie Mesmer. Exh. cat. Galerie Mesmer, Basel
Selected Articles
2017
Meier, Philipp. "Ich bin ein bildskeptischer Mensch. Über Bildmaschinen und blinde Flecken – bei Uwe Wittwer im Atelier zum Gespräch." In: Neue Zürcher Zeitung 59, March 11, p. 50
2012
Meier, Philipp. "Im Zwischenraum der Erinnerung. Uwe Wittwers Gemälde in einer Monografie."In: Neue Zürcher Zeitung 297, December 20, p. 21
2008
Layaz, Michael. "Haus." In: Der Literarische Blick – Schweizer Autorinnen und Autoren schreiben zu Schweizer Kunst des 20. Jahrhunderts aus der Sammlung Nationale Suisse. Edited by Daniel Bruckner and Andreas Karcher. Zurich: Limmat, pp. 190–197